I love a posh wedding, I love a laid back wedding done on a shoestring, I love a winter wedding and summer weddings and everything in between.  My absolutely favourite kind of wedding though is one where everyone seems to be having such an amazingly good time, like today's gorgeous day.
Meet Wesley and Rosie, who married on Sunday 28th May 2017 at Holy Trinity Church, Stroud, followed by a festival style reception which they held at Miserden cricket pitch, Gloucestershire.
Rosie works as a care assistant while Wesley is Chef and Director of Dinner at Six in Stroud, as well as Director of Birch Catering, who the couple used for a large amount of the food they supplied to their guests on the day, as well as hiring Sam Gil-Mitton from the company as Event Planner.
"I (Wesley) have a catering company so we have a lot of experience in planning and catering at events.  We wanted the day to be a little different and also reflect our personalities and tastes. We also didn't want to be restricted as to how many guests we could invite or have a strict timeline and curfew."
Photography by Camilla Reynolds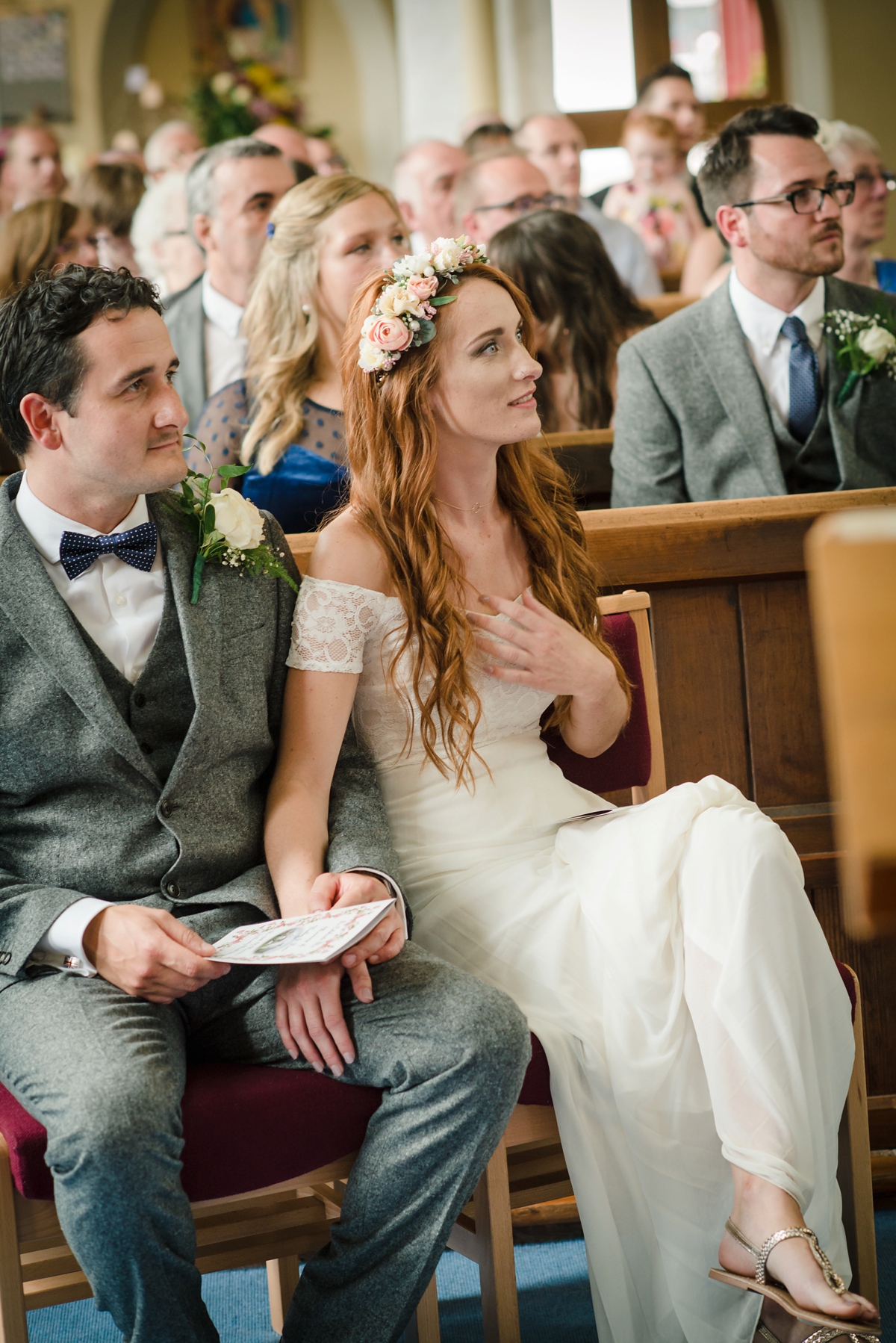 ca
Rosie and her bridesmaids got ready at Dinner at Six, which was closed to guests on the day of the wedding, of course!  Rosie looked gorgeous in a simple but very lovely dress which she purchased online from ASOS and paired with sparkly flat sandals from Primark.
"My dress was simple, elegant and inexpensive. Spending less on a dress meant we could invite more guests and I didn't want to be worried about spilling wine or food on it."
In her wonderful red hair Rosie wore a beautiful floral crown which she purchased from ByKochetova via Etsy, while styling was the work of Individual Glamour. Make up was by Jade Mather.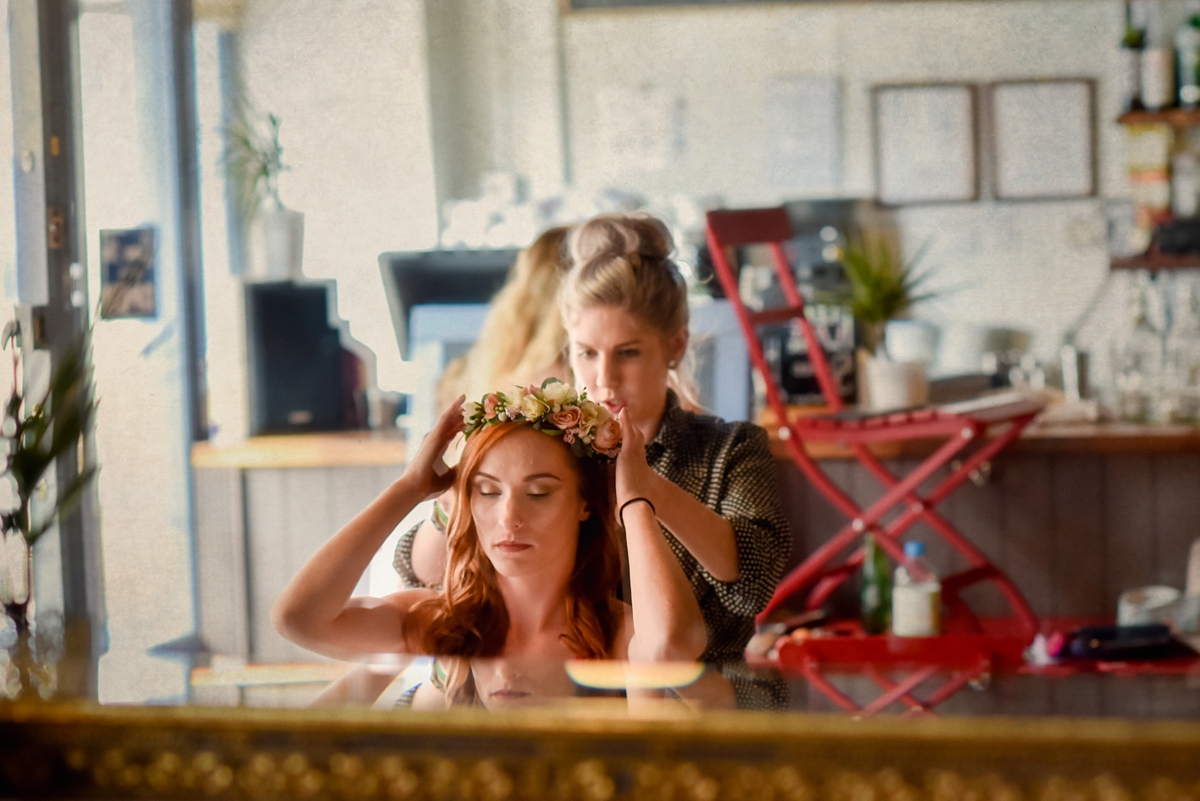 The bridesmaids looked fab in knee-length floral dresses from Quiz, while Wesley and Rosie's little girl looked very sweet in a  pale pink dress, purchased from Next.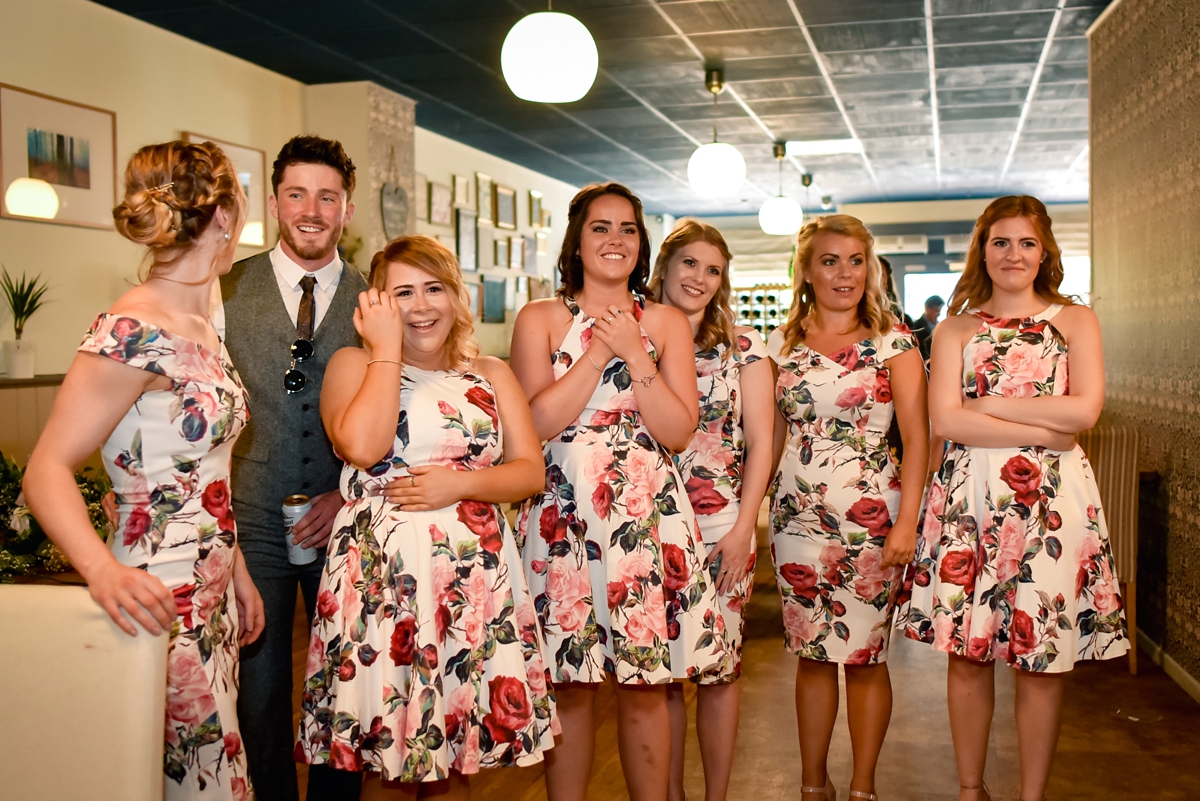 "We met in Stroud around eight years ago and became good friends.  Several years later we were both single and shared a few meals as friends before things progressed into a relationship."
"We got engaged on Rosie's birthday in 2015.  I used my daughter as a prop and had a custom baby grow made with the words 'Please will you marry my daddy?'.  Inevitably Rosie couldn't refuse our one month old daughter and we were engaged for eighteen months before marrying."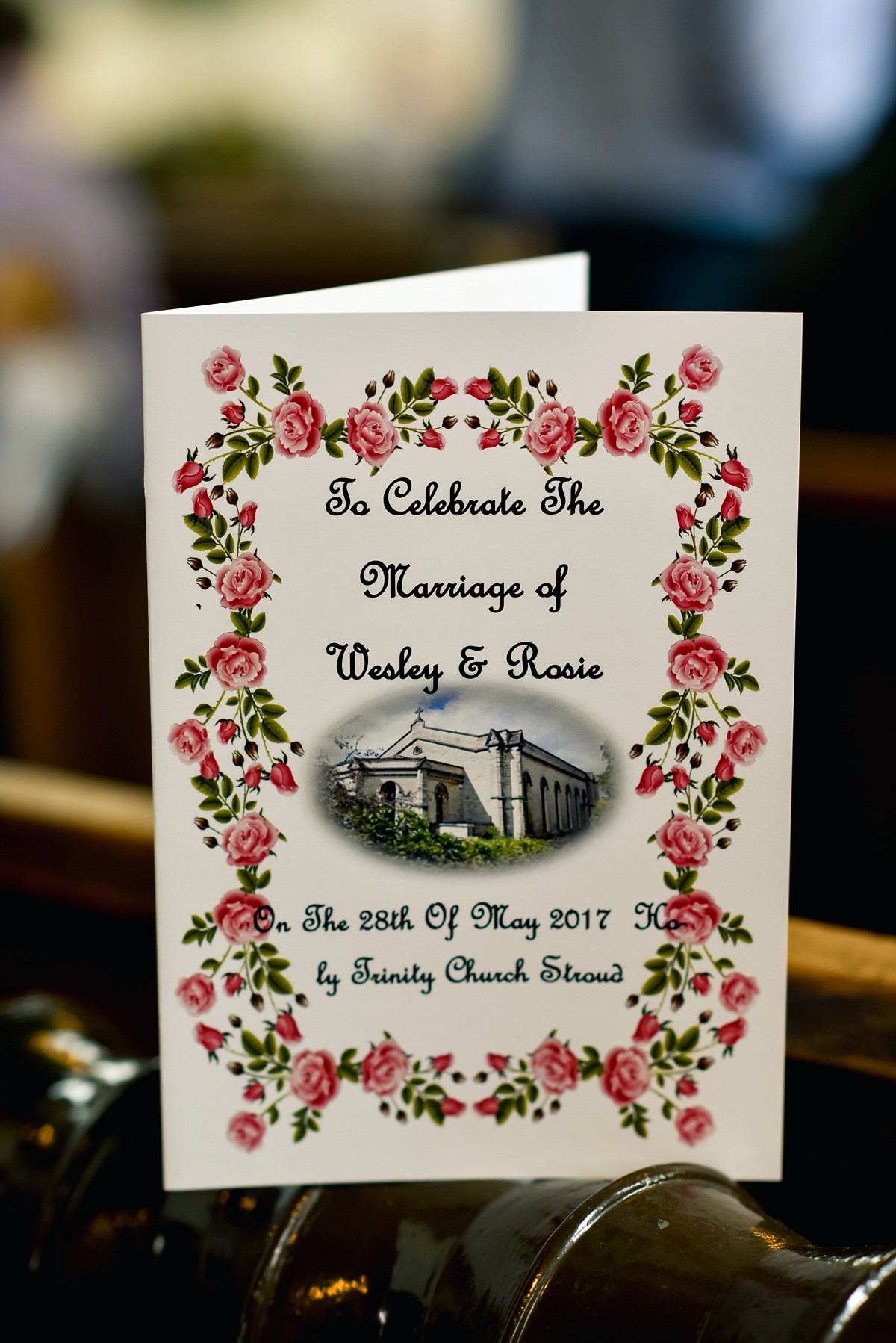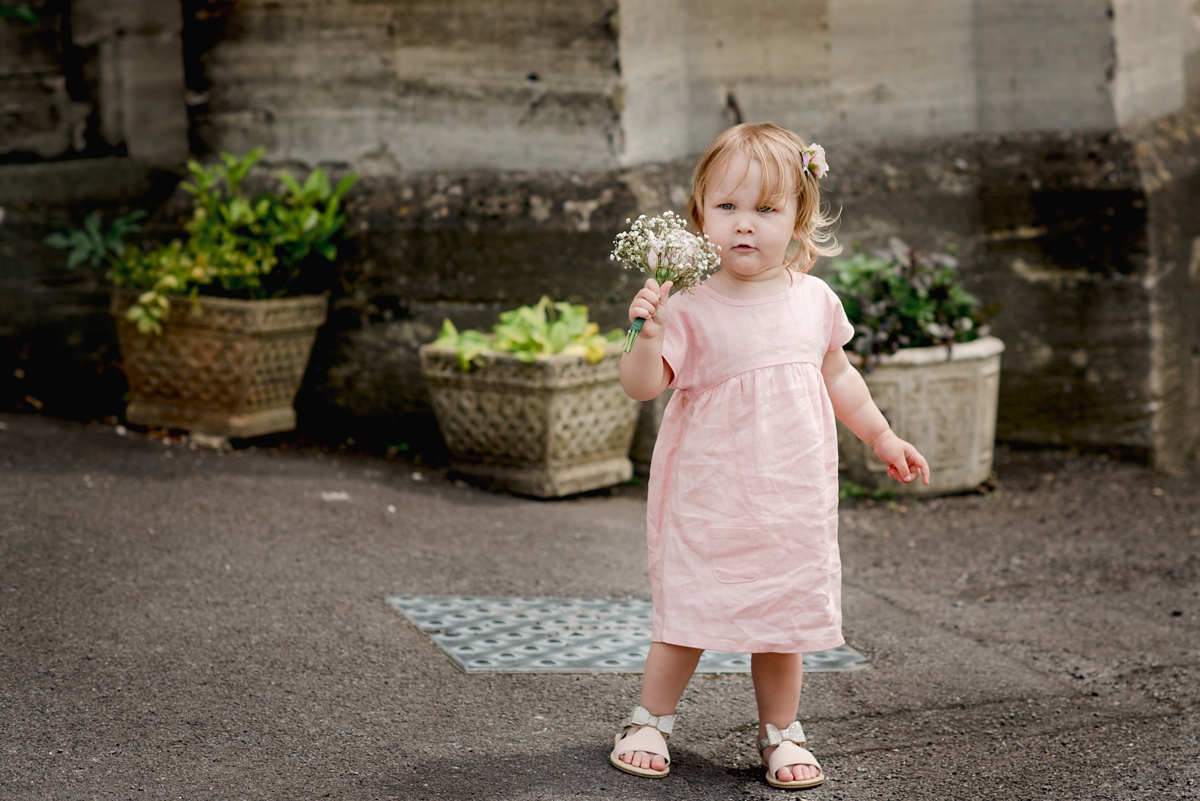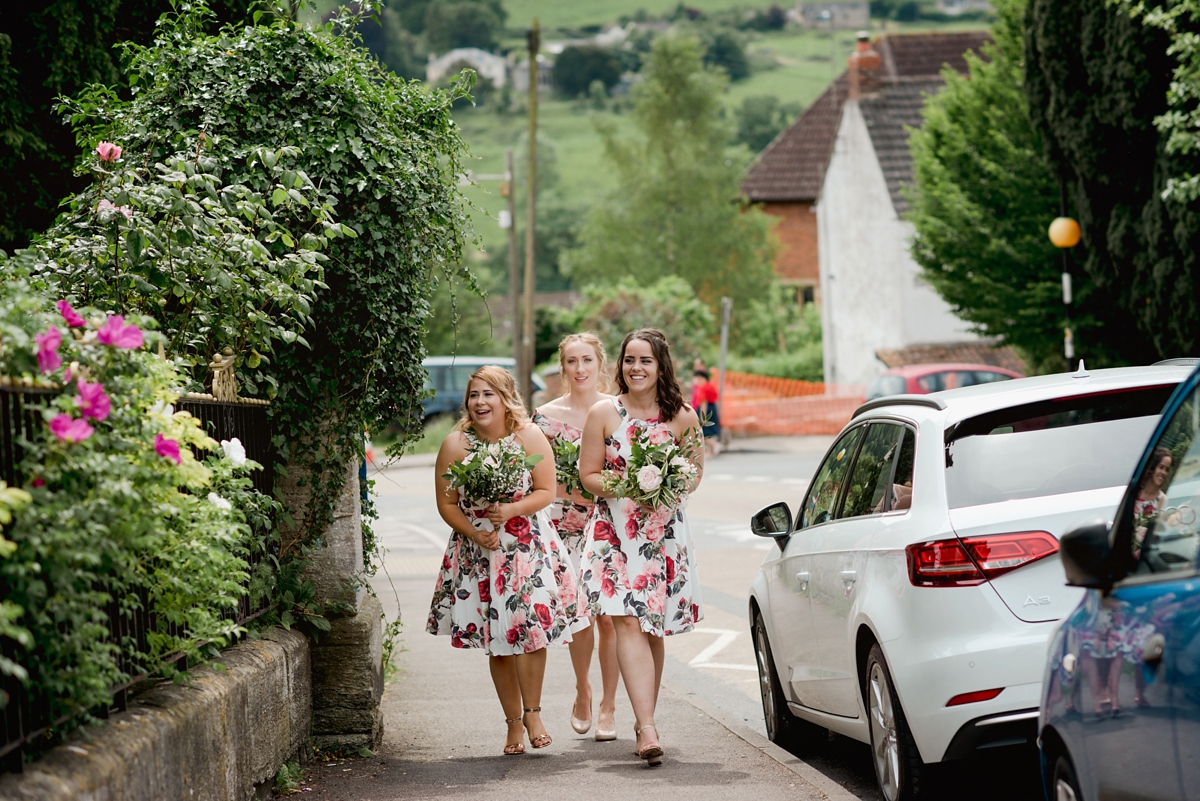 Rosie was driven to church in Wesley's Uncle's 1975 Citroen Concours SM before walking down the aisle with her brother Harry.
"Rosie's grandfather read 'You're here for a reason' in a cracking Yorkshire accent.  I (Wesley) read it to our daughter every night and it has a beautiful and positive message.  We also played 'A Thing Called Love' by Johnny Cash in memory of Rosie's father."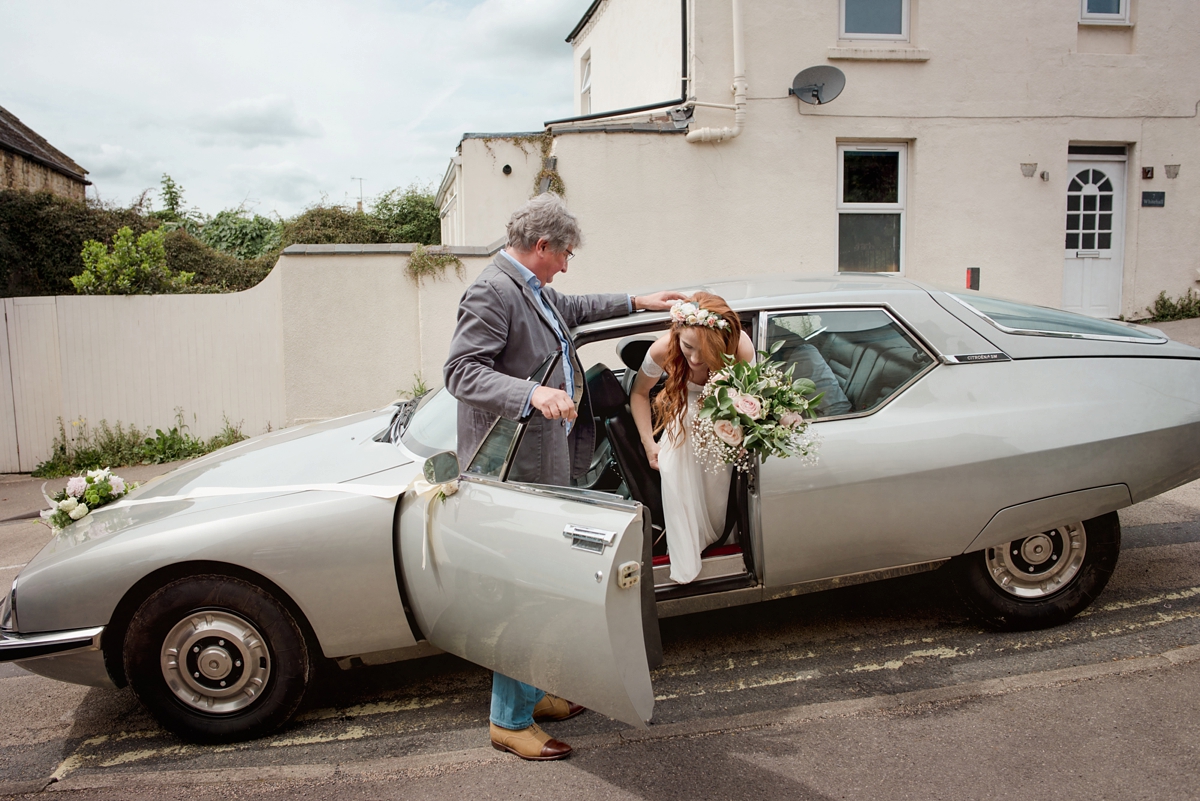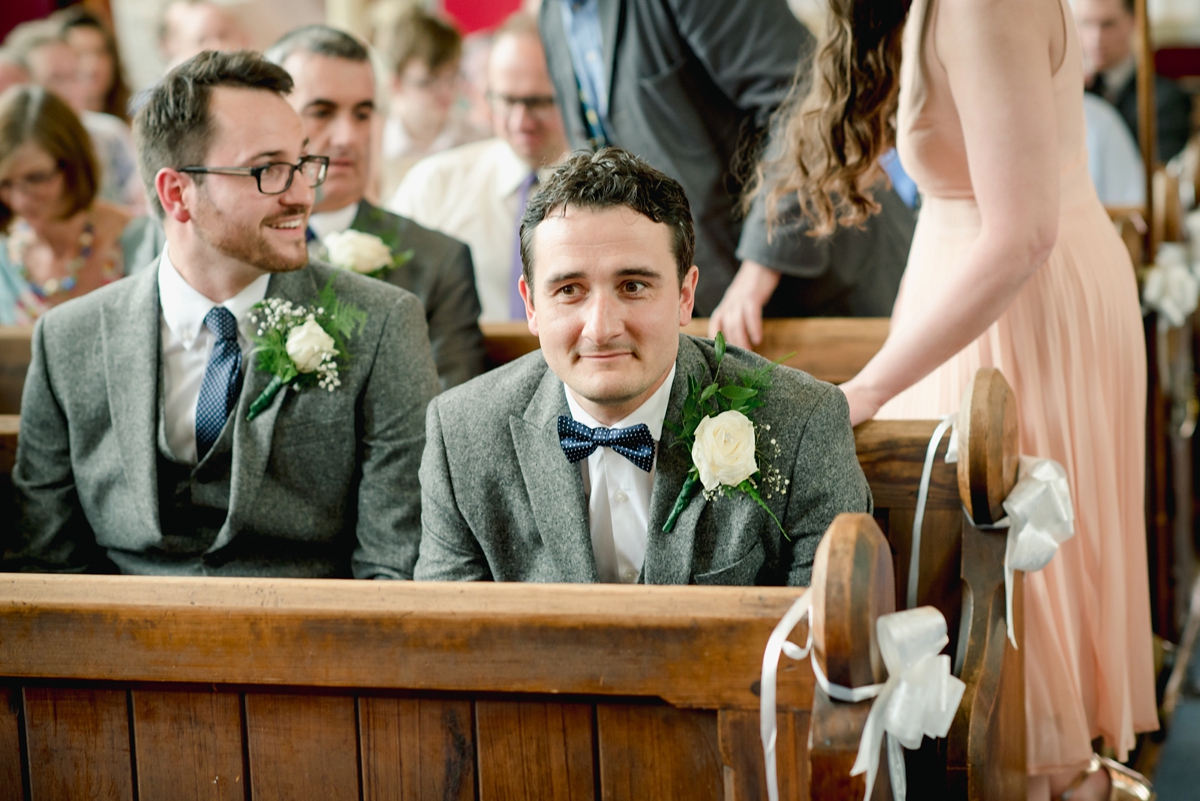 Flowers were by Julian Harvard, while Rosie's church bouquet was provided by a friend.
"Julian operates outside the restaurant on Saturdays during the farmers markets. We love his flowers and he did an incredible job for us with wild meadow flower style displays."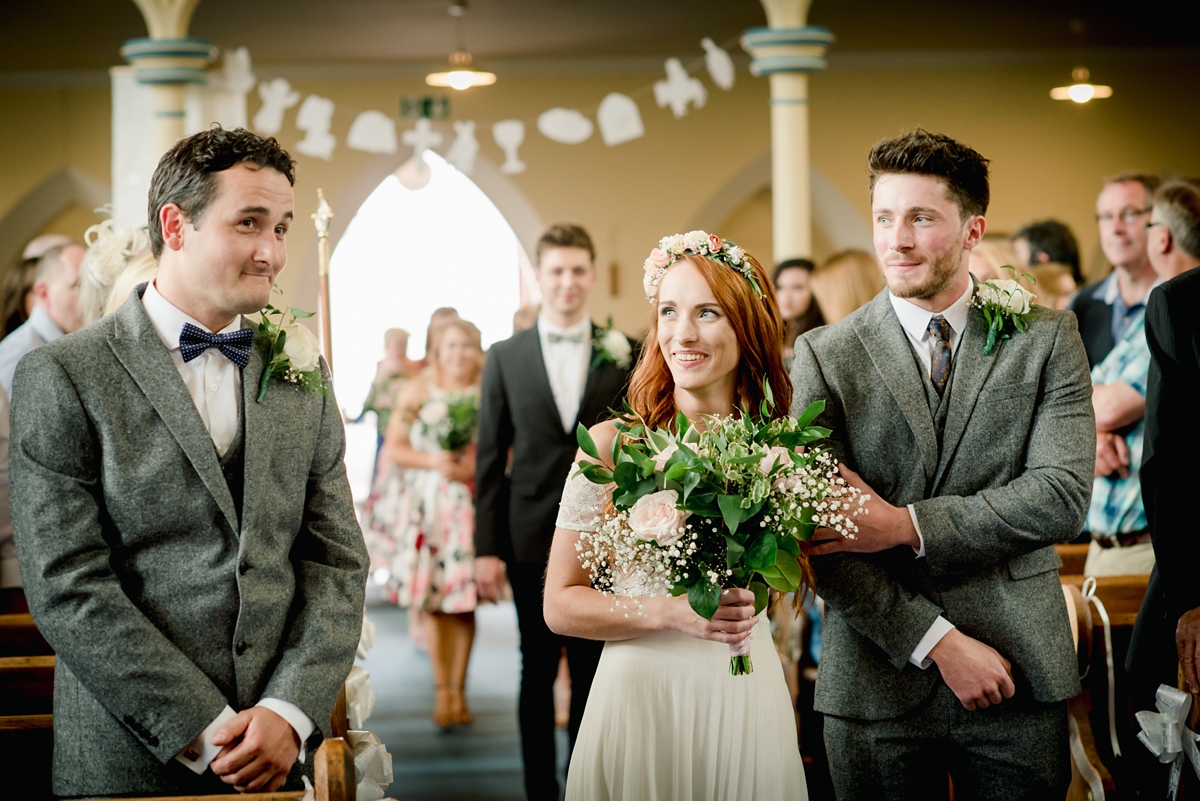 Instead of confetti guests were given ribbon sticks to wave at the couple and I'm told that Wesley and Rosie's toddler daughter waved hers around and danced to Amazing Grace in the church during the ceremony, making everyone laugh- too cute.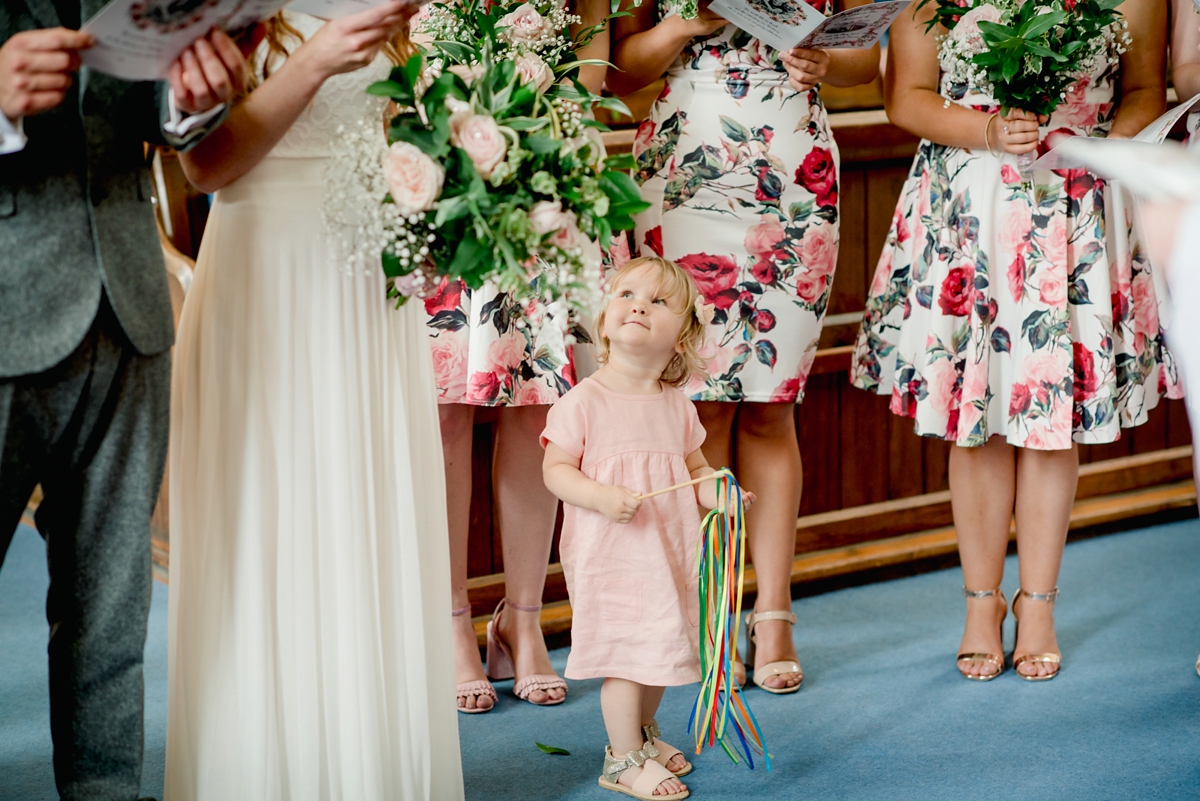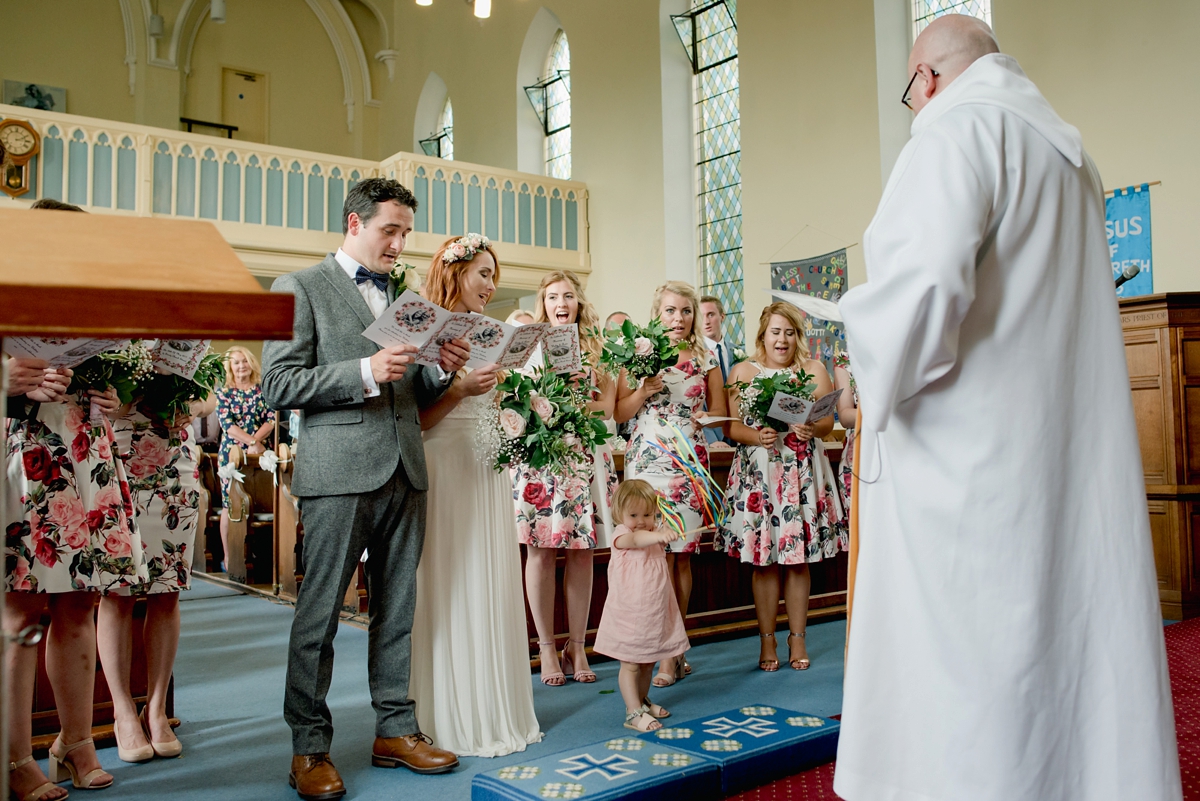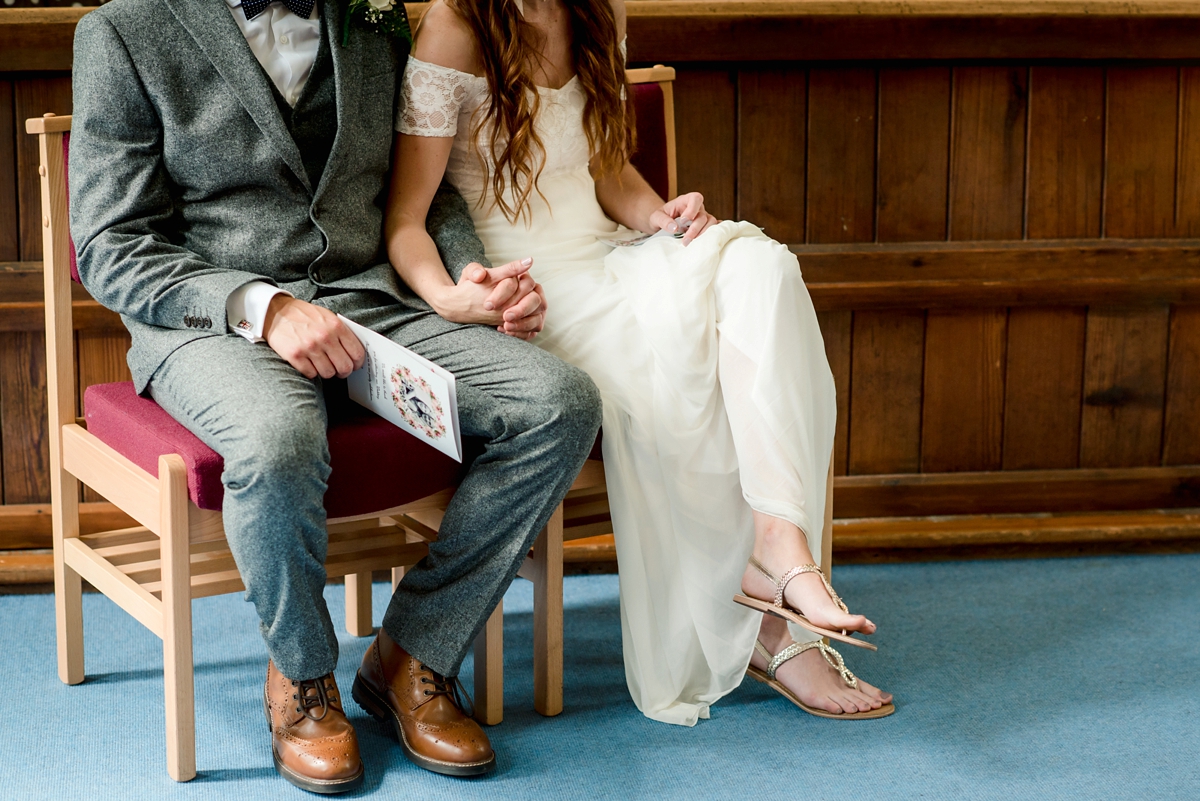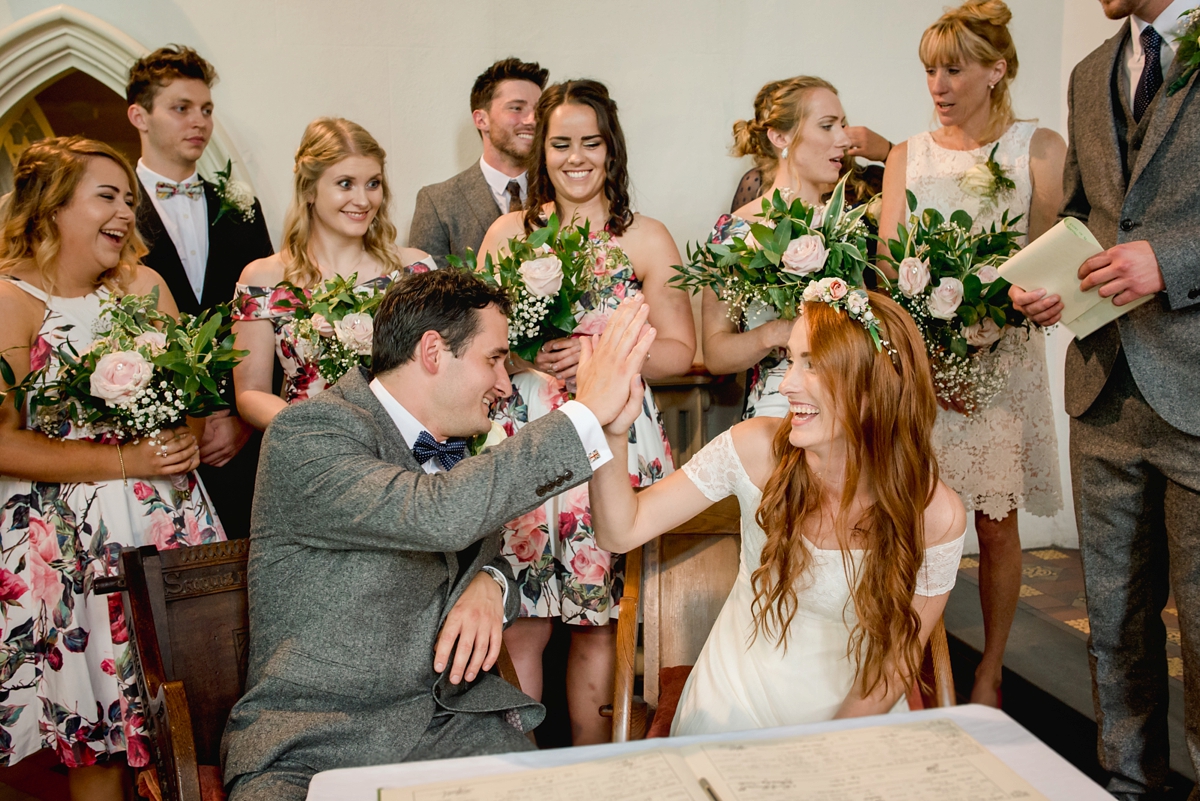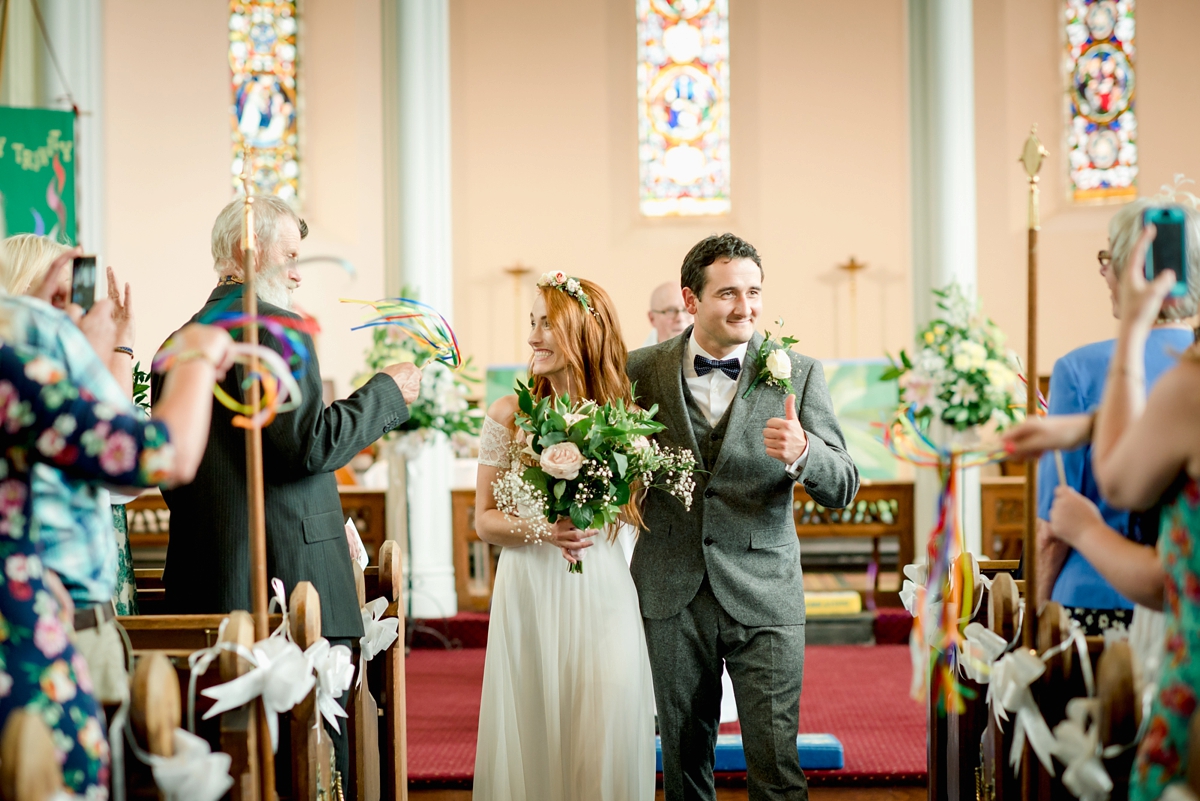 The talent behind today's beautiful images is Camilla of Camilla Reynolds Photography, who captured this day in her trademark light and bright style. Rosie and Wesley were thrilled with her work.
"Camilla was incredible!  We booked her a year before our wedding as we had seen her work and knew she would provide everything we required and wished for."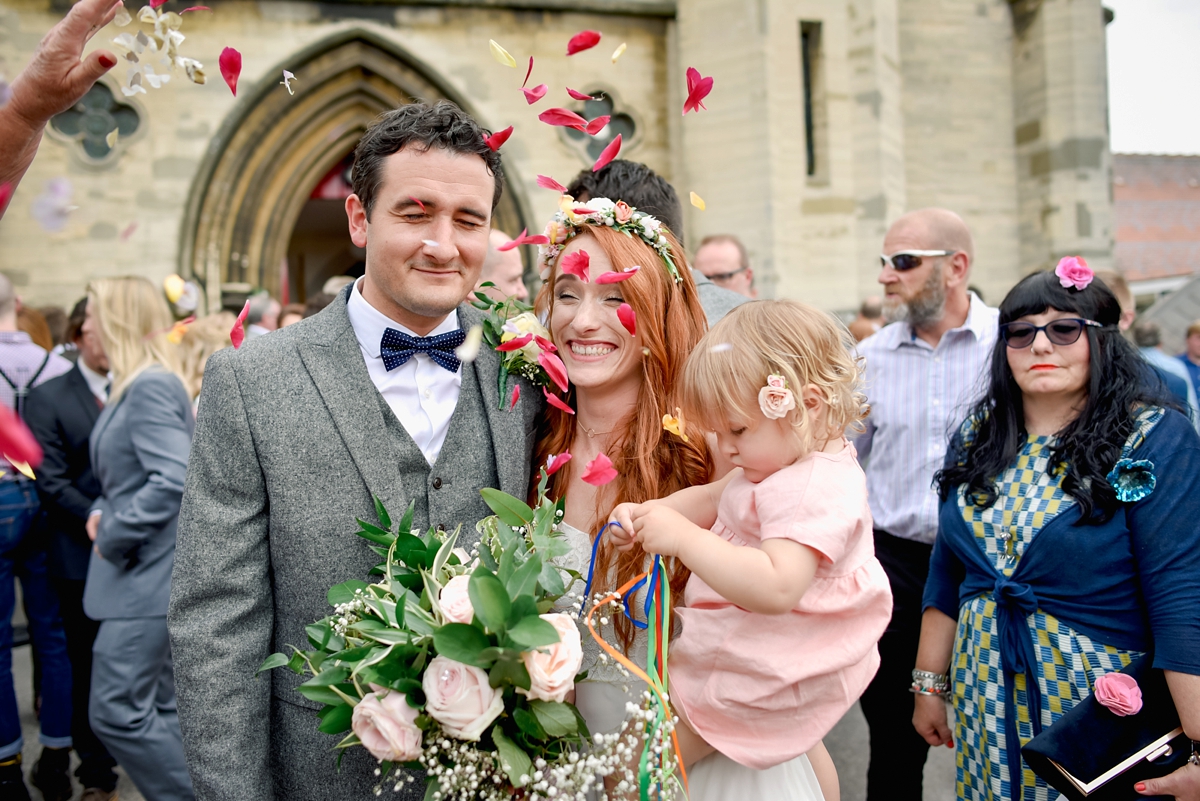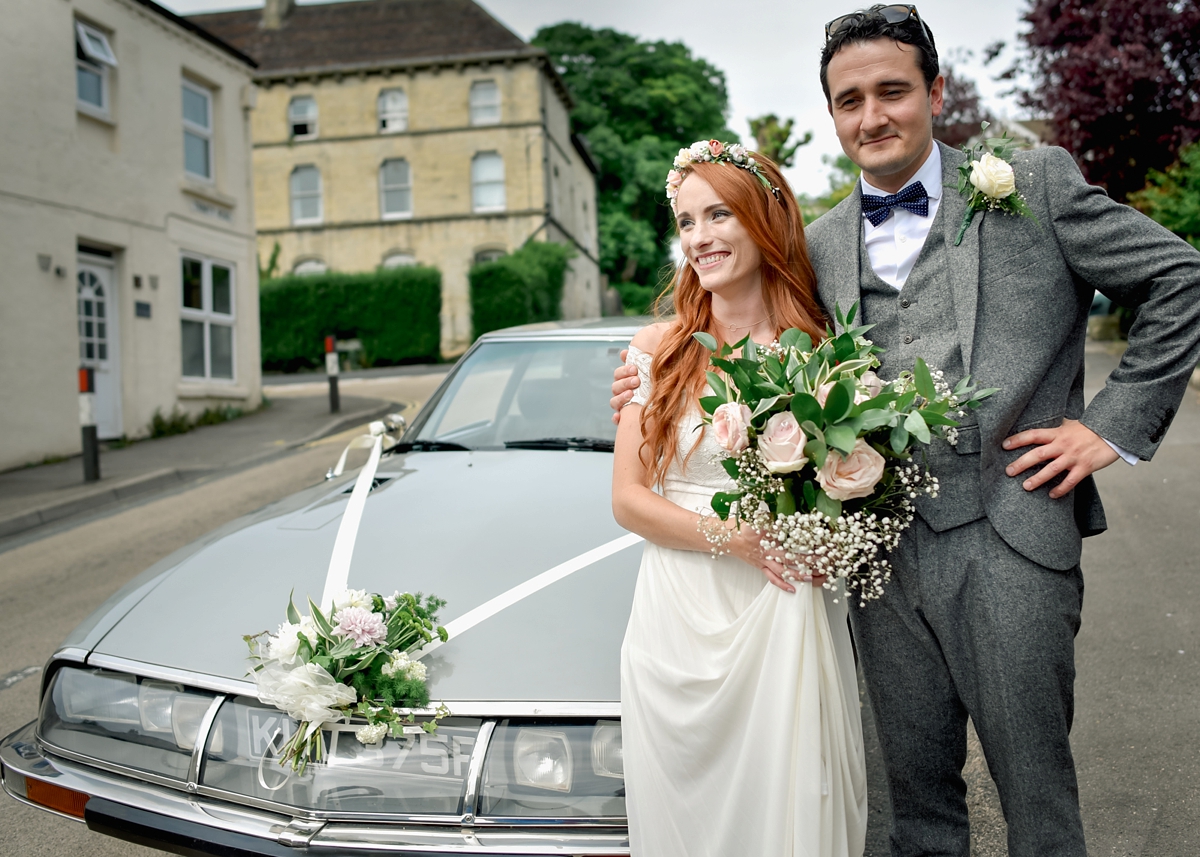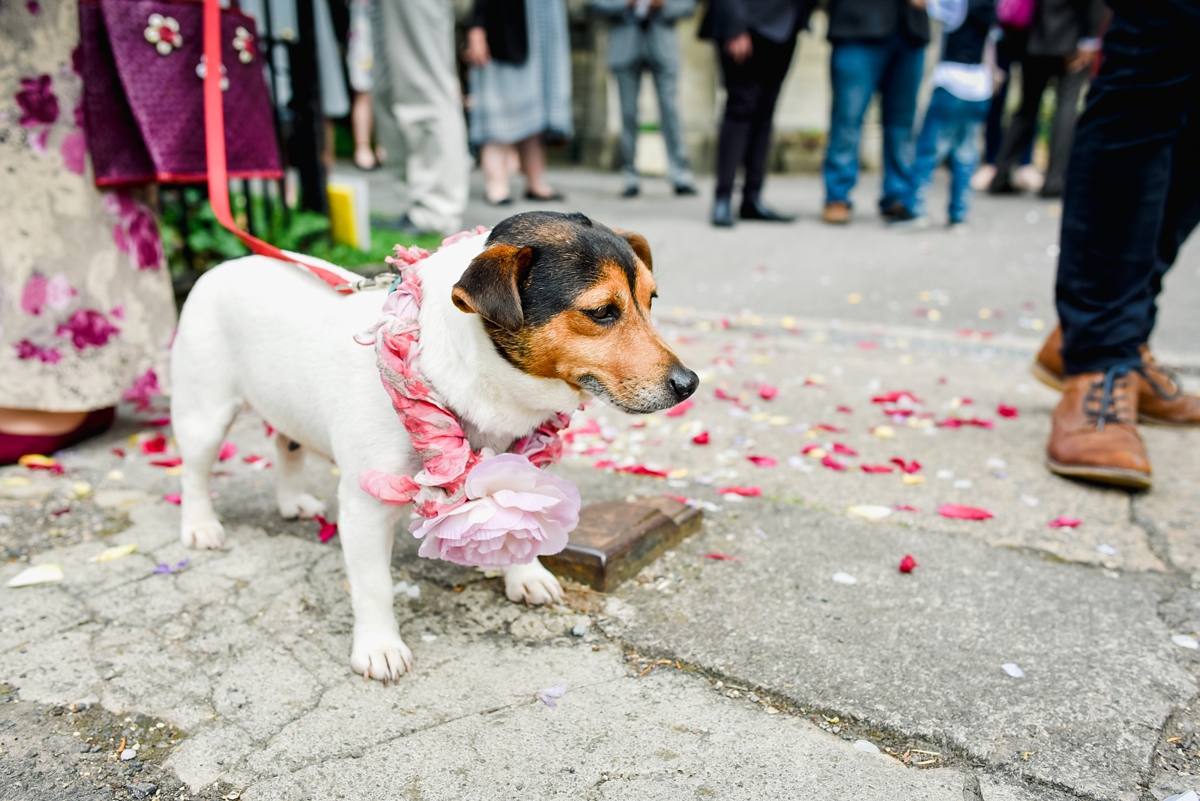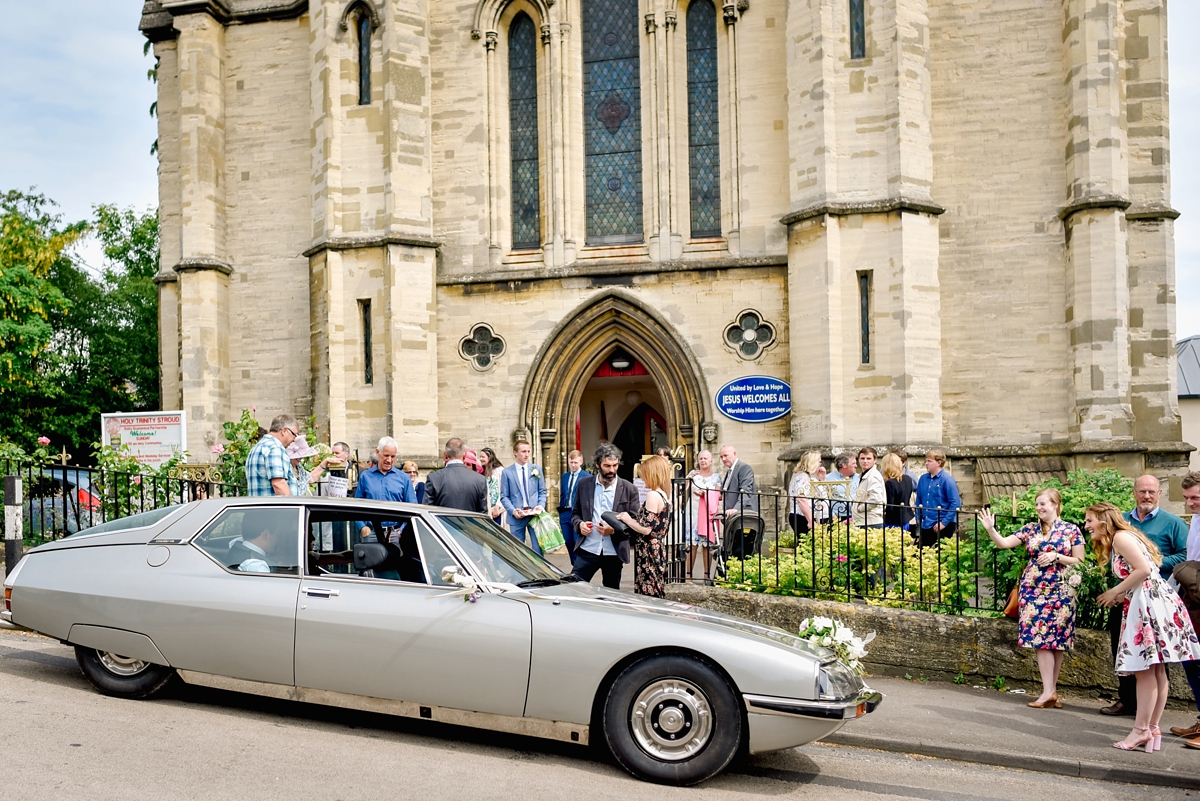 The reception venue was decorated in classic festival style, with hay bales, oak barrels, bunting, dream catchers and lanterns dotted around, as well as a bouncy castle and stalls with baubles, games, glitter, tattoo transfers and face paints.
Straw bales were used for outdoor seating and fire pits kept guests warm into the evening.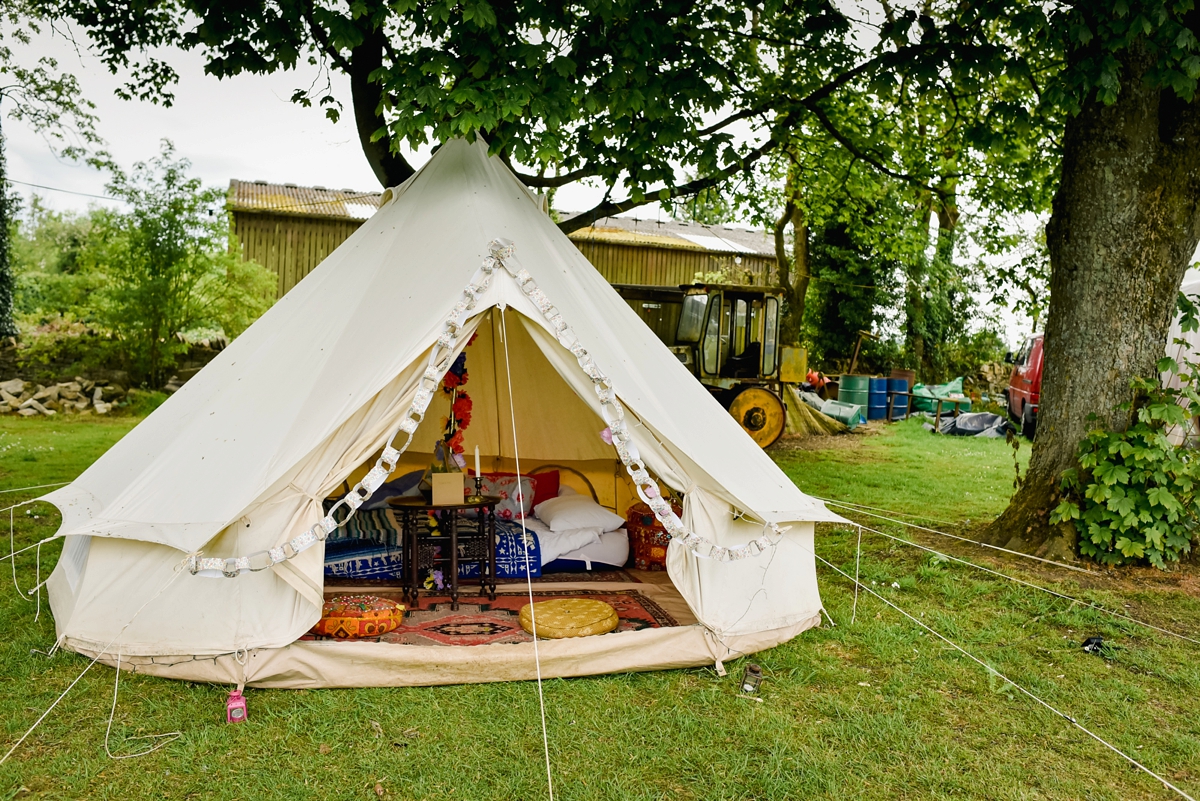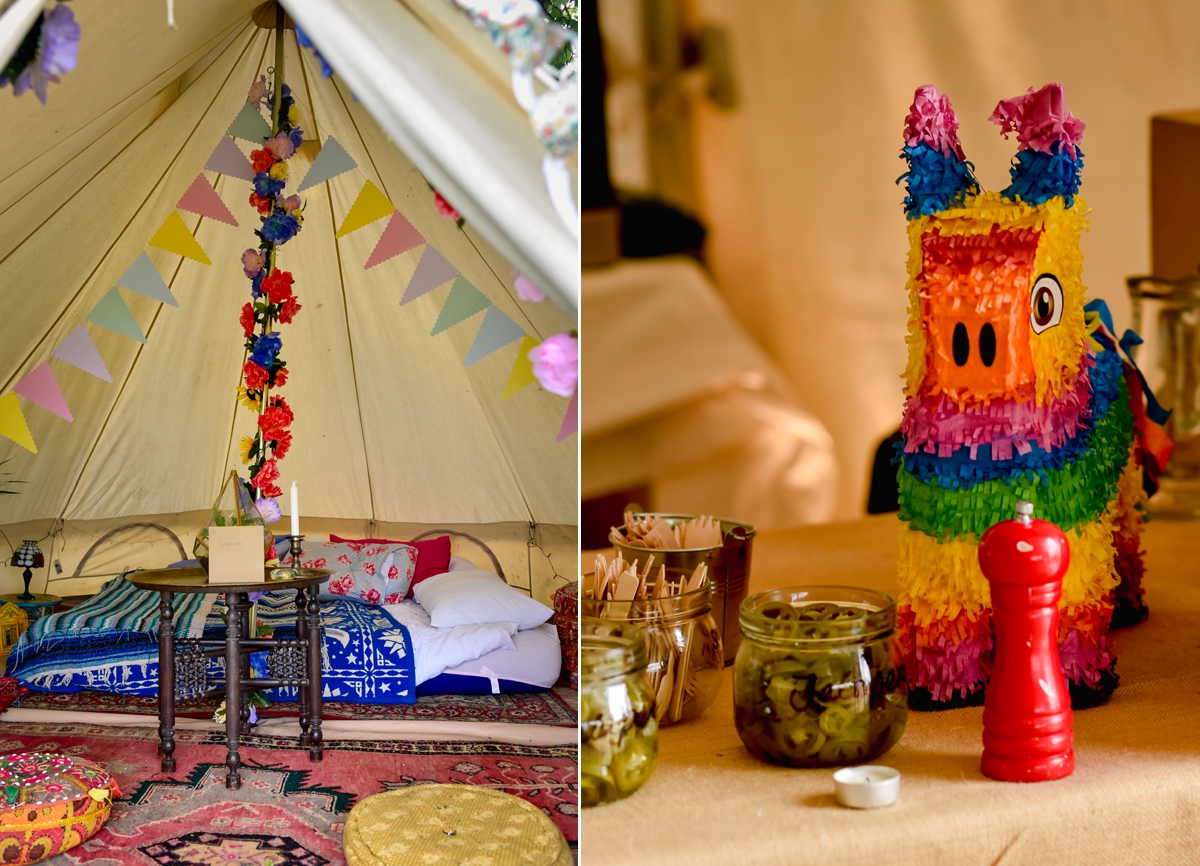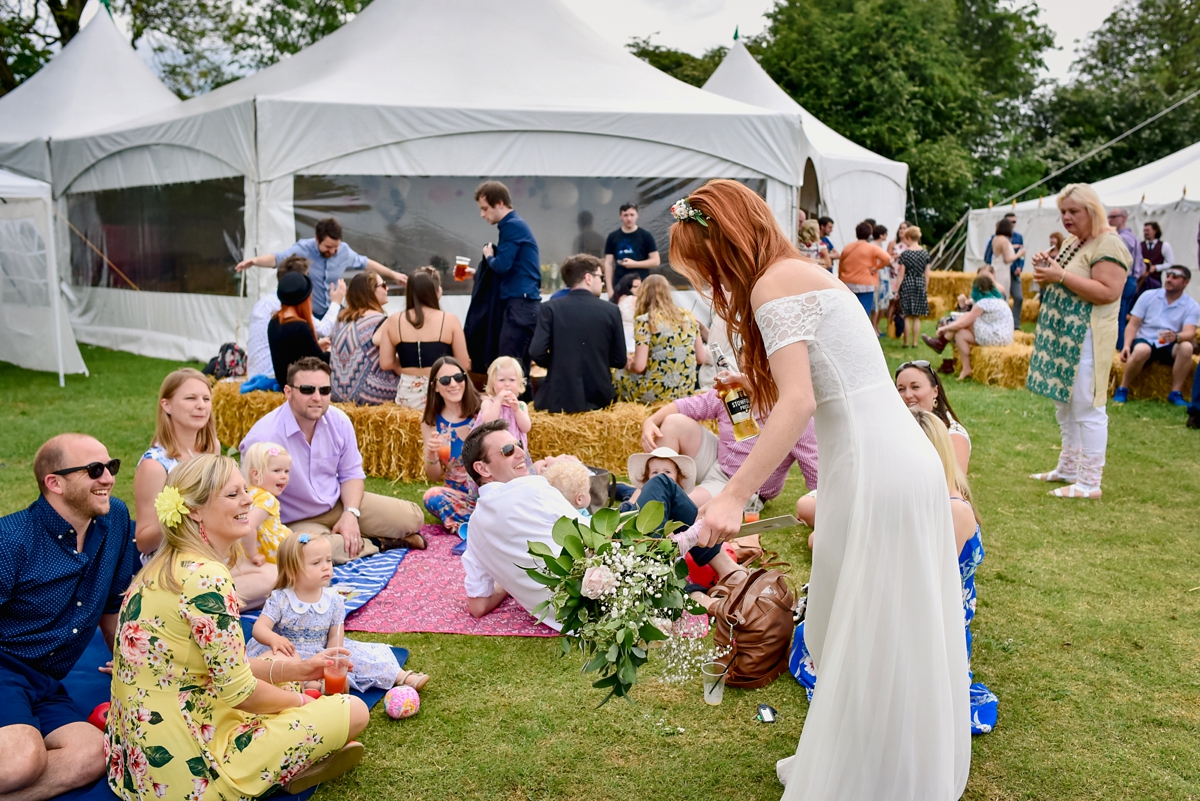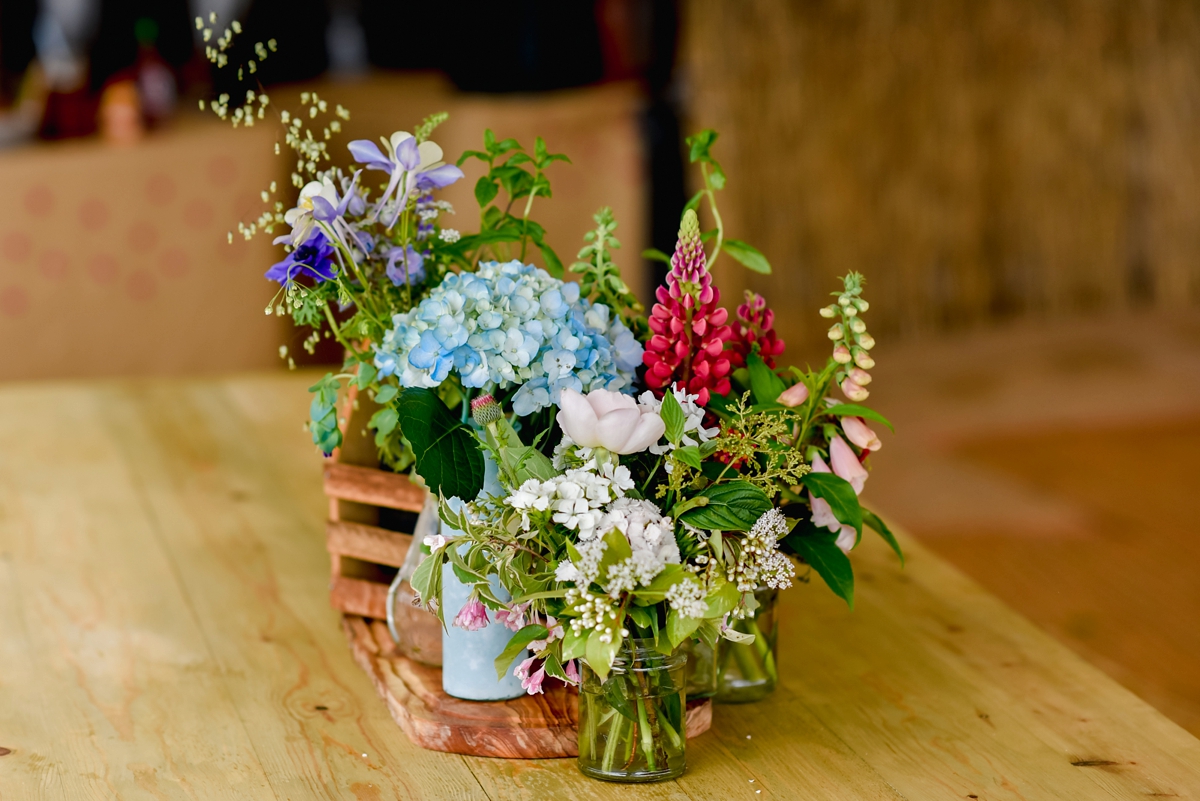 The impressive five-tier stepped cake was made by Wesley's business partner Kylie Hughes (head chef at Dinner at Six) and decorated with fresh flowers.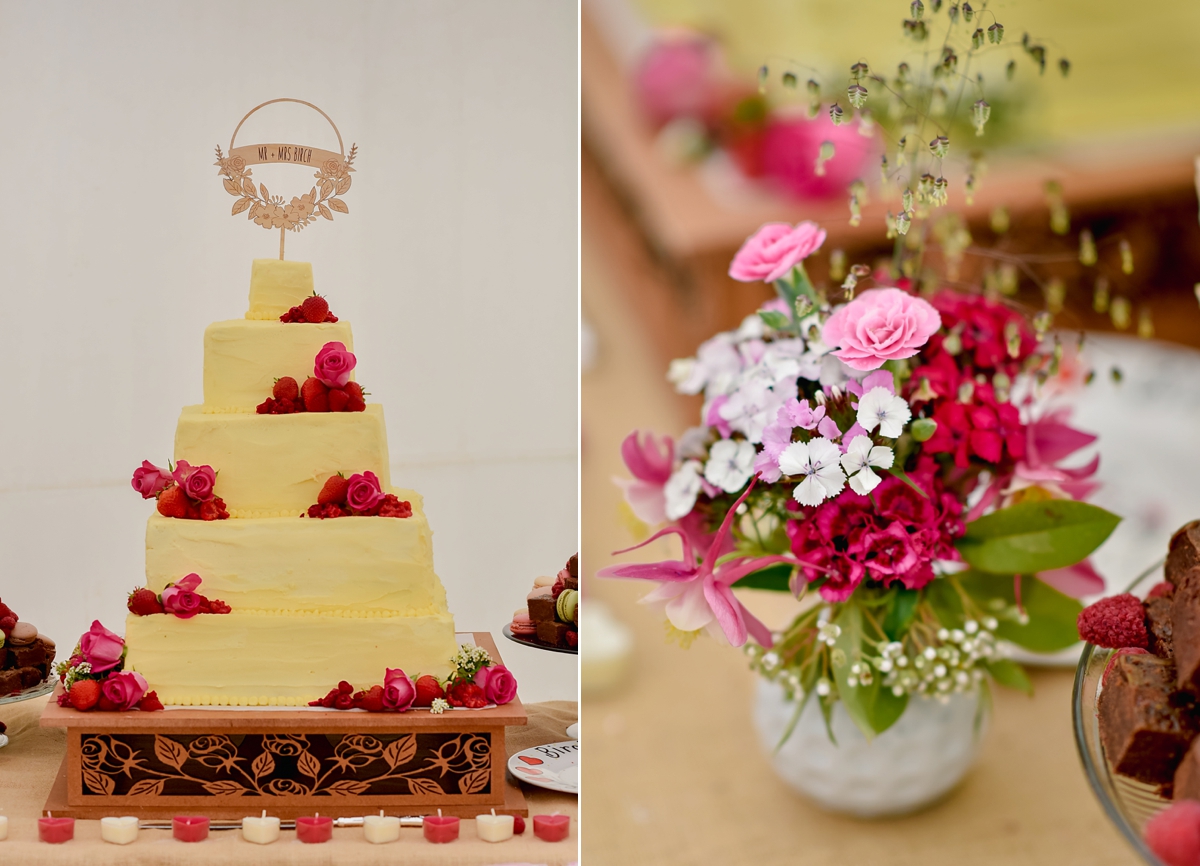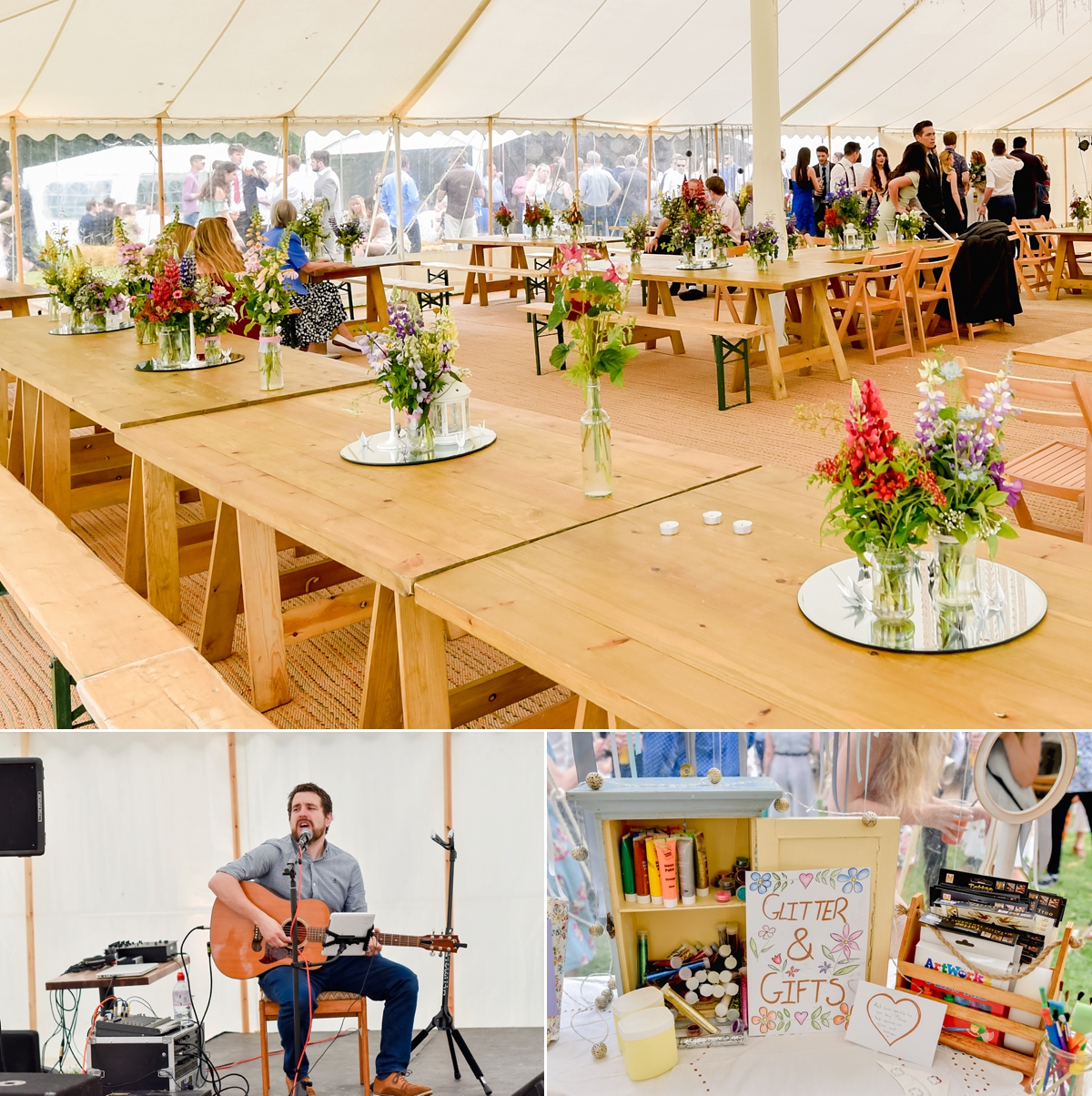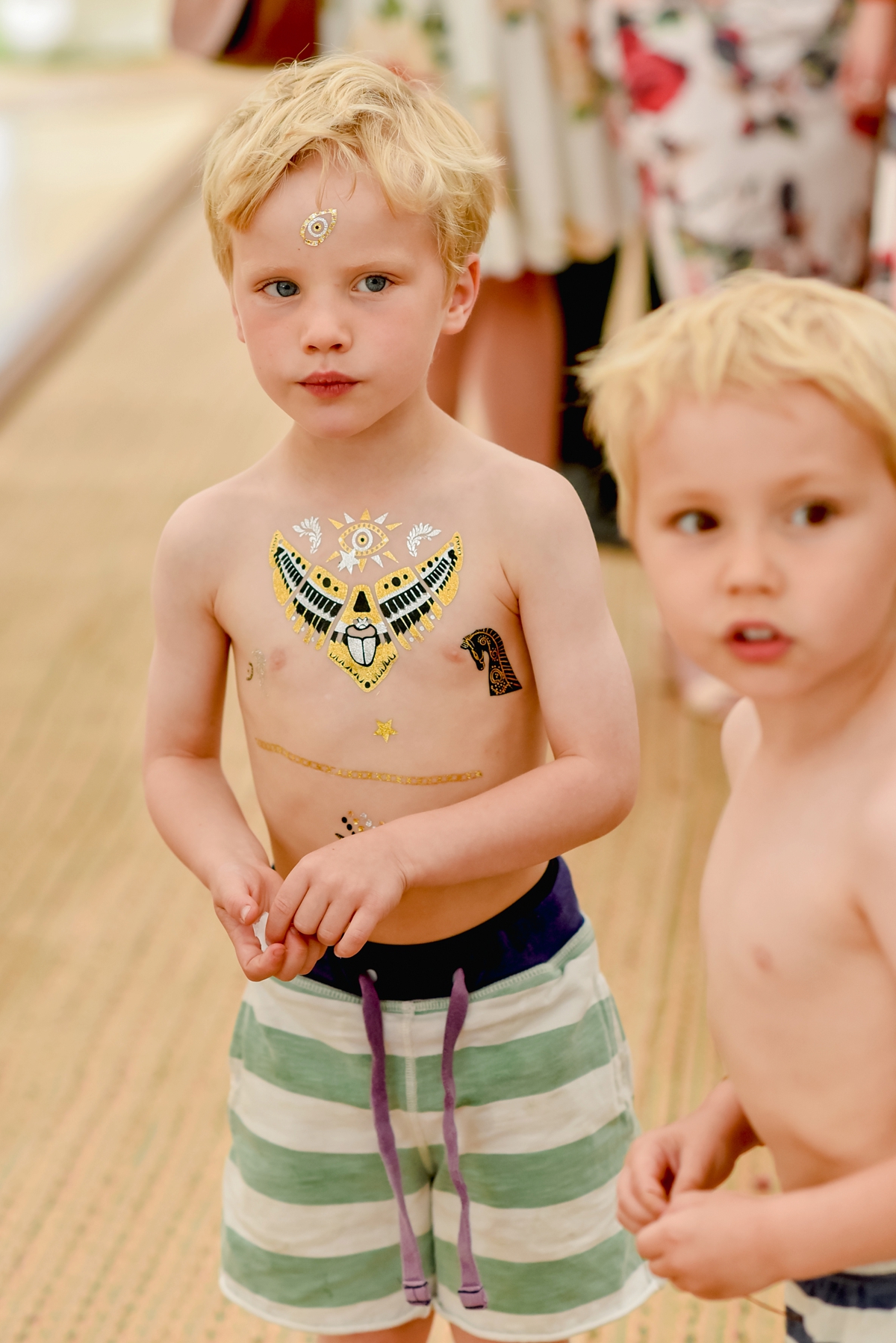 Wesley's catering company provided the majority of the food and the couple went all out with festival style fast food such as chilli and churros, while fish and chips and Mexican food stalls were provided by Cotswold Catering and Thai street food by Niang's Thai snacks.
Pizzas from Fattoni were served in the evening and an ice cream van from Cotswold Vintage Scoop served locally made Winstones ice cream.  The bar served Stroud Brewery craft beers, keeping as much of the food local as possible.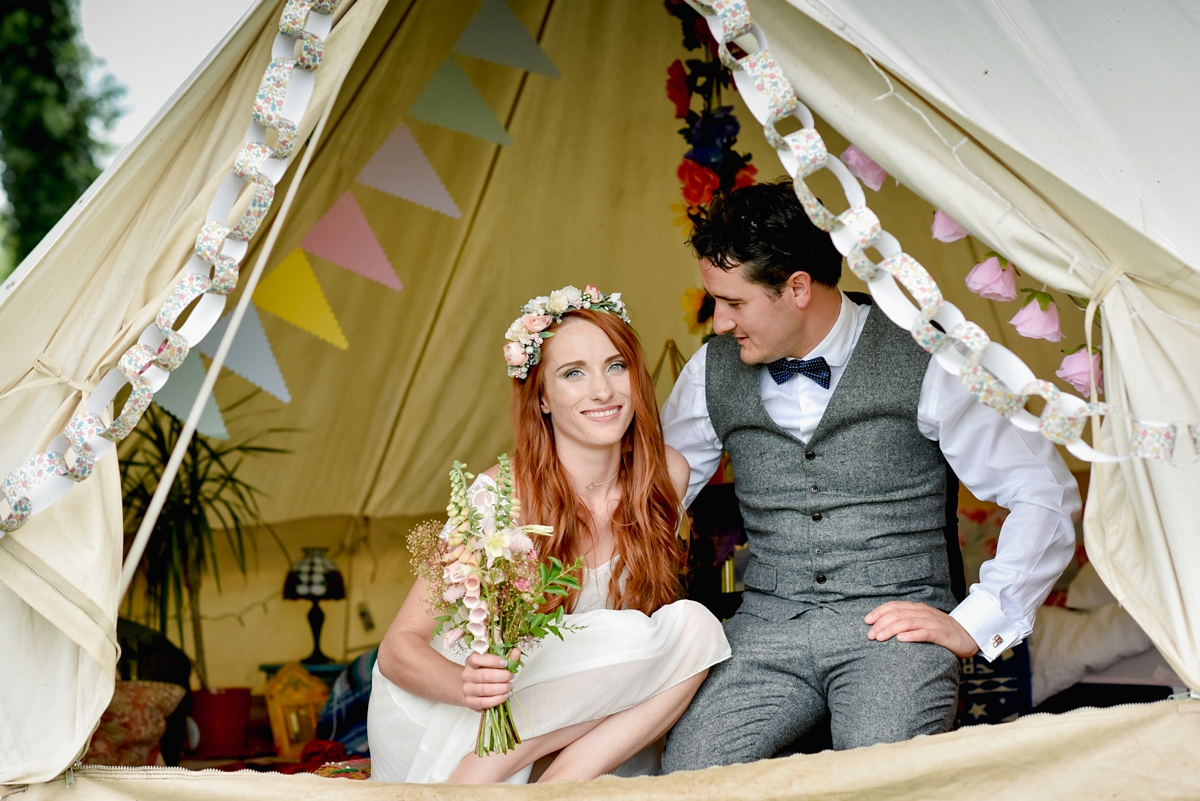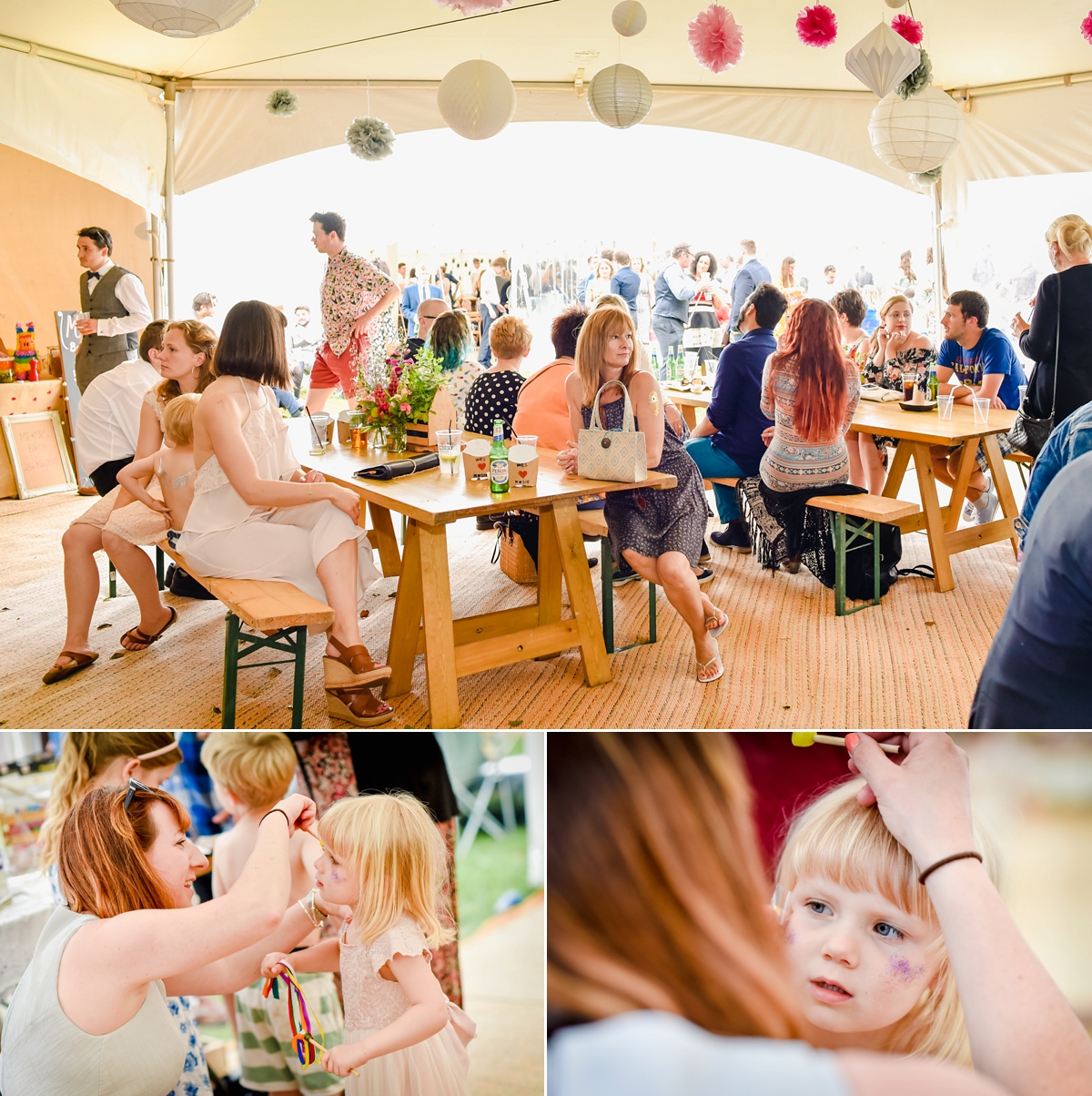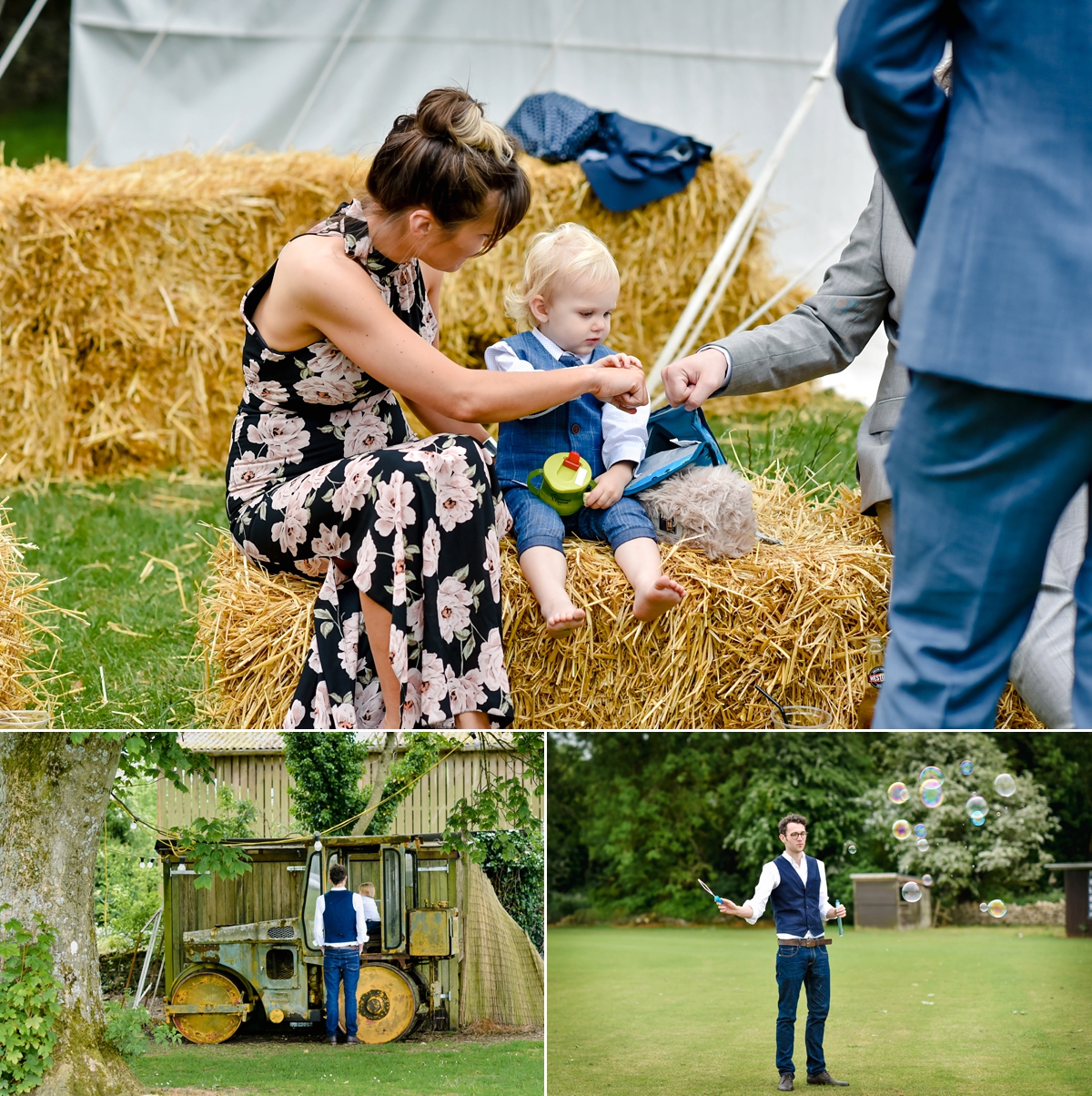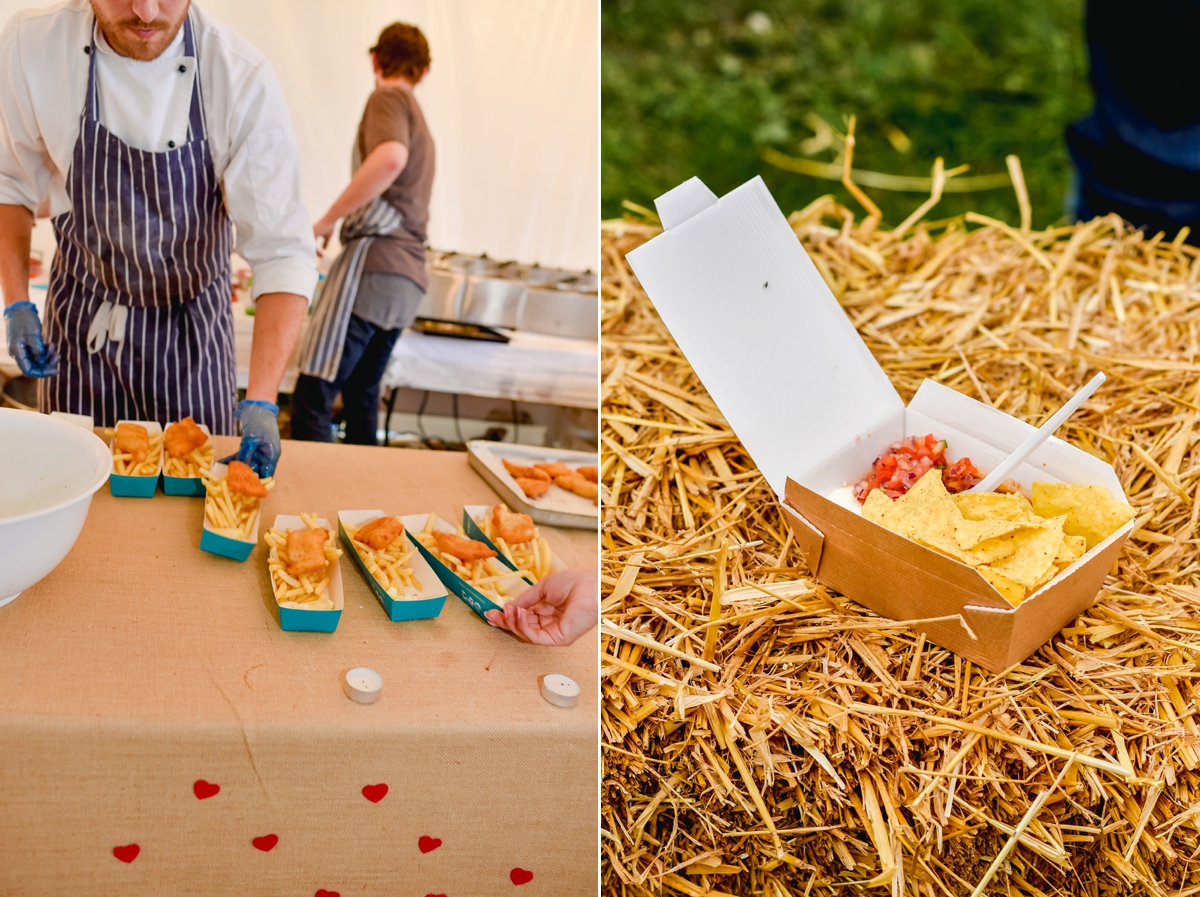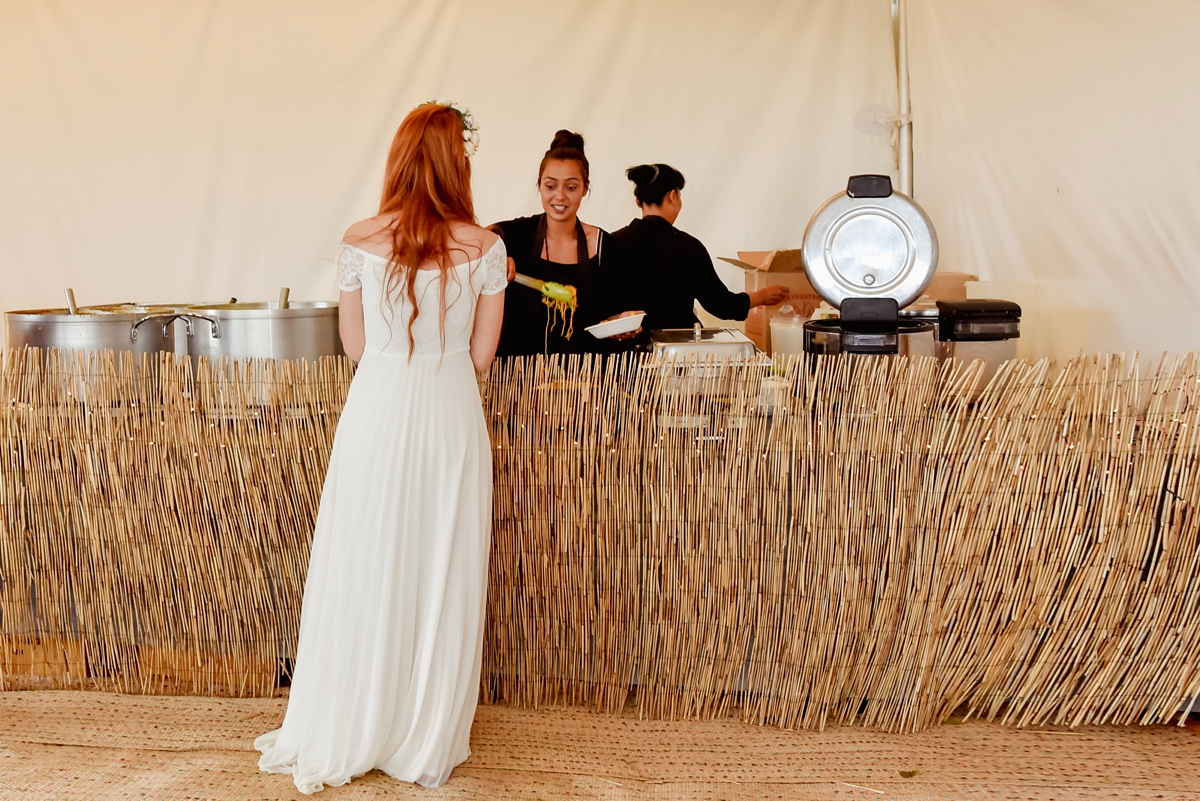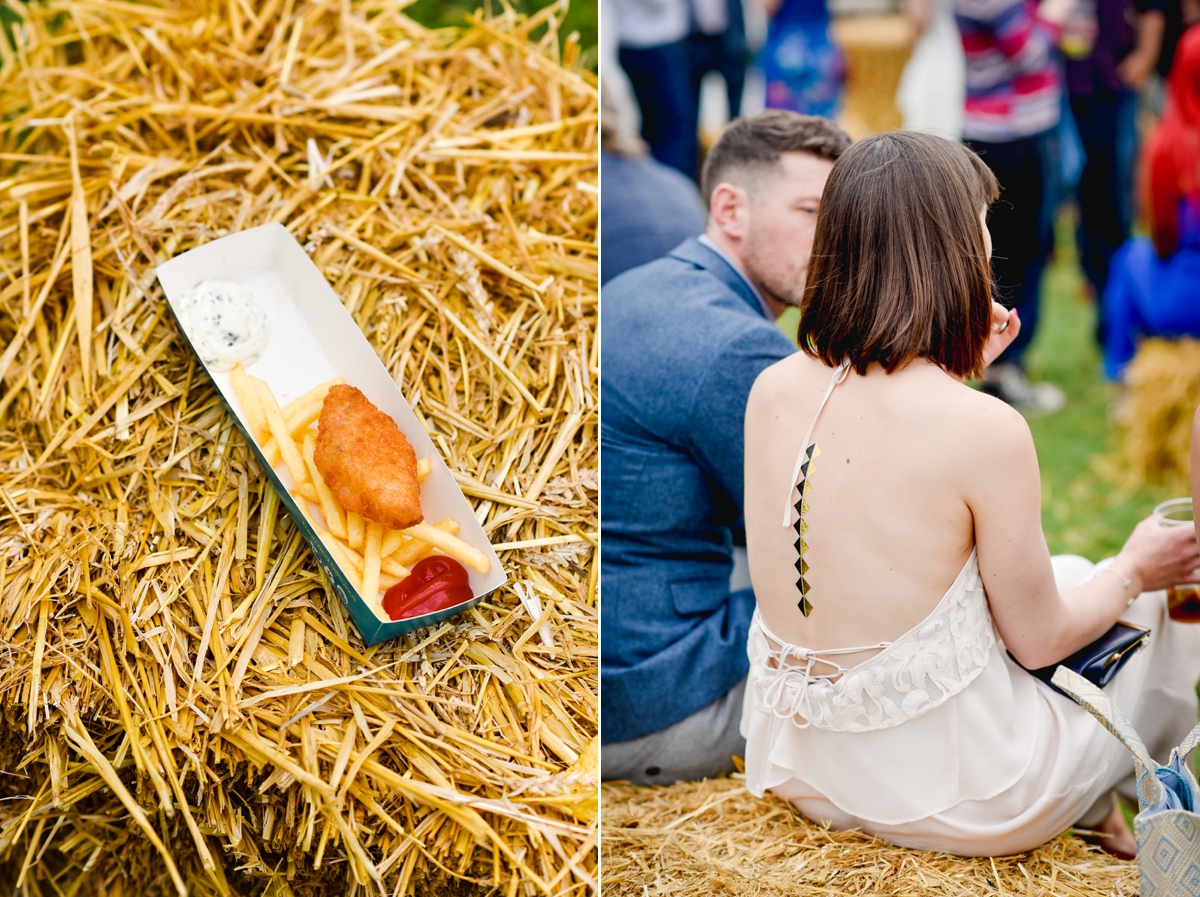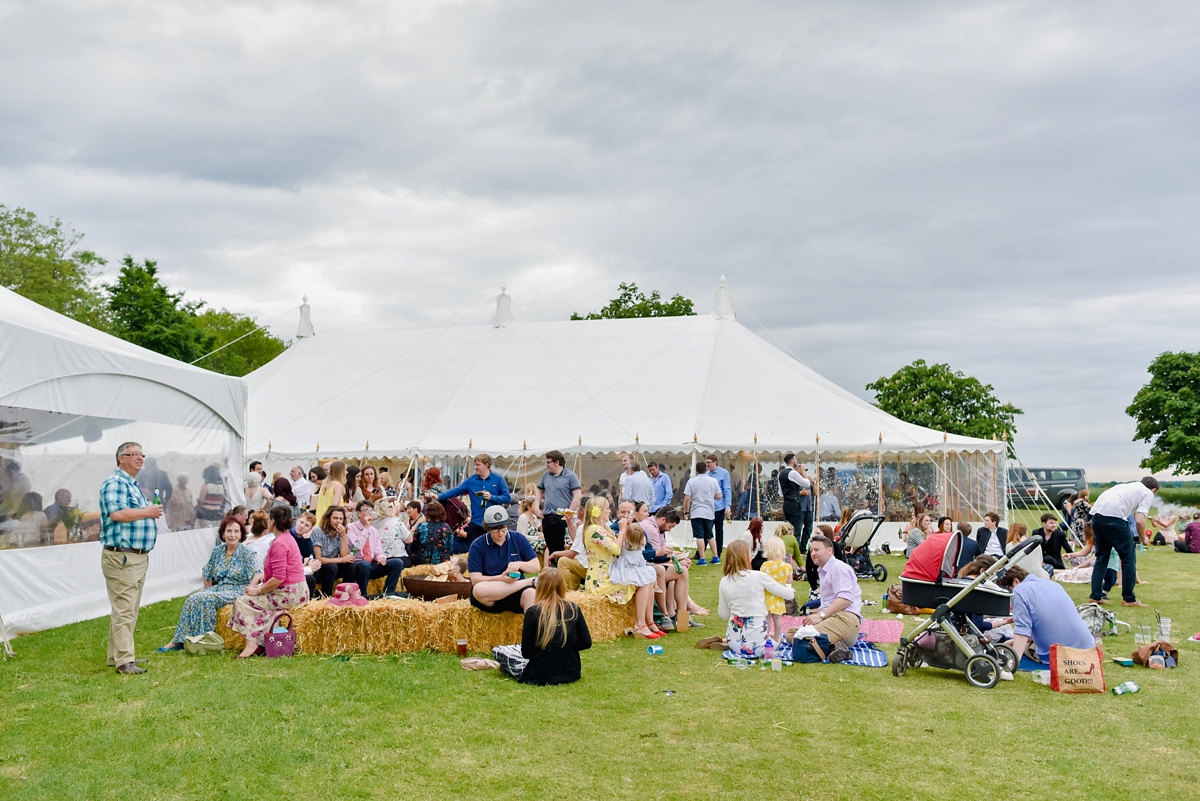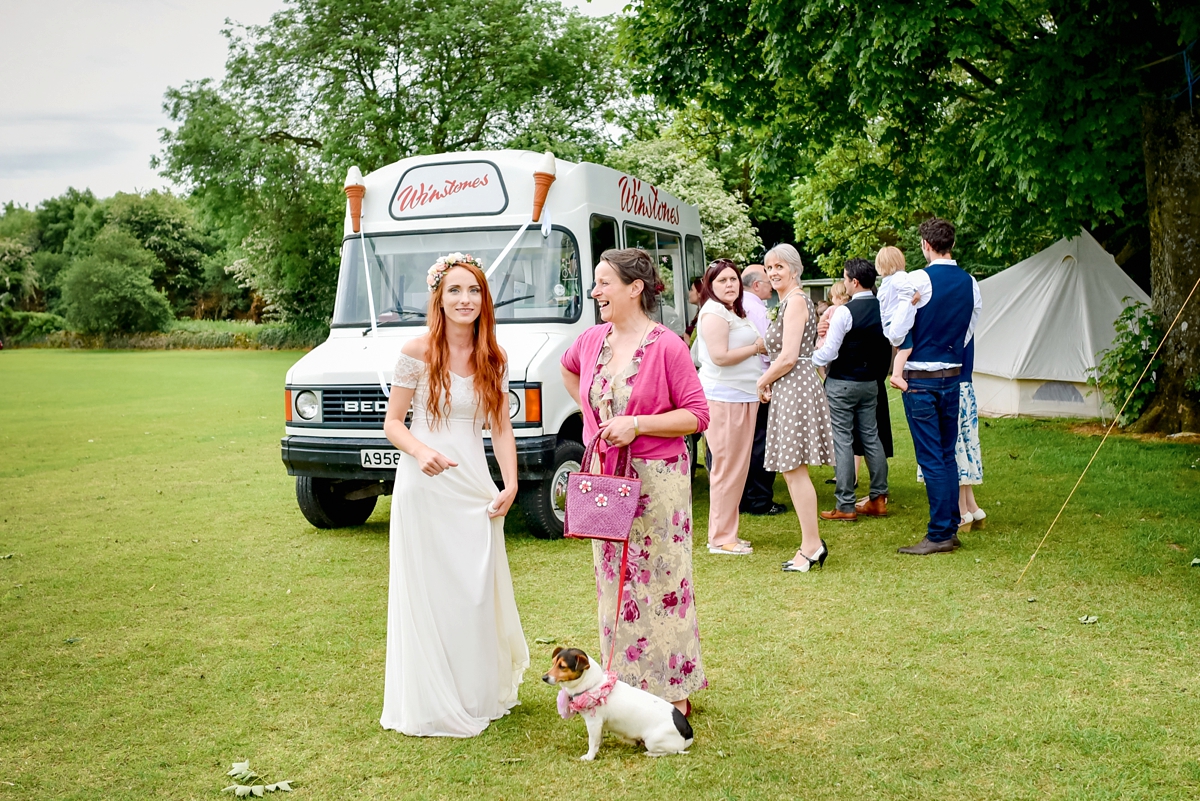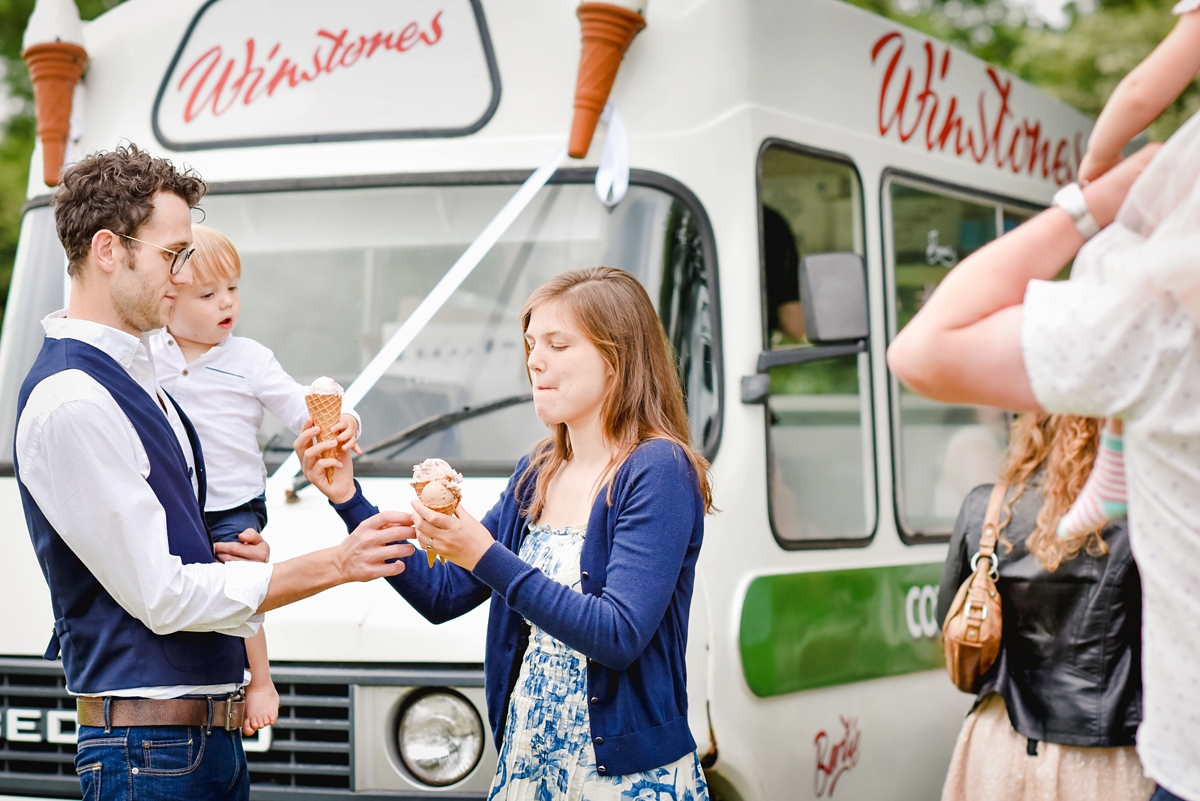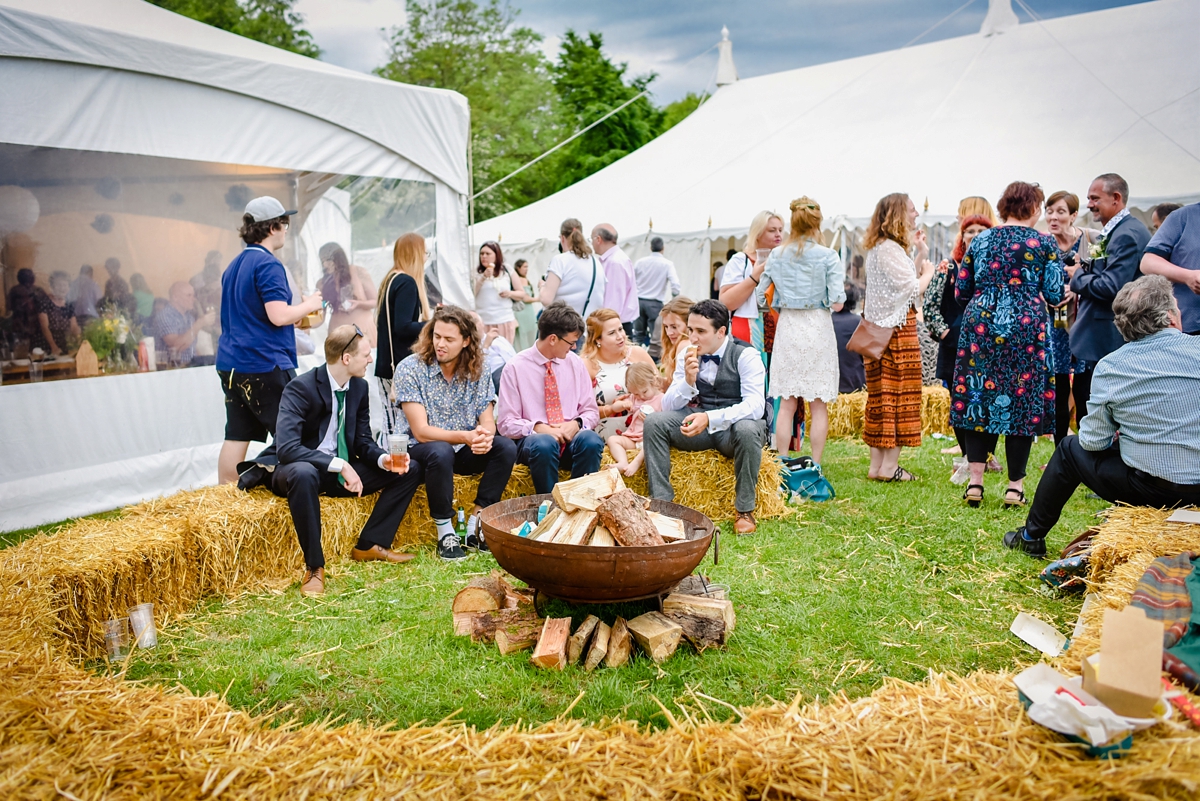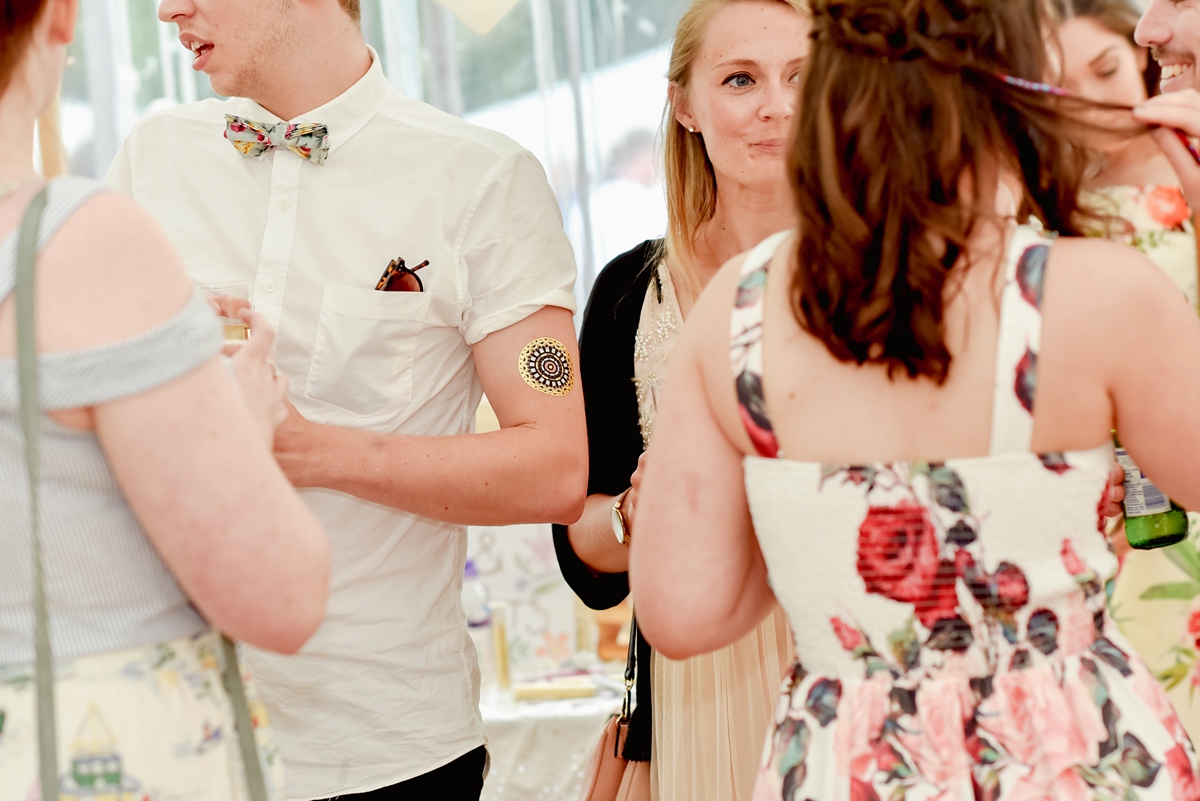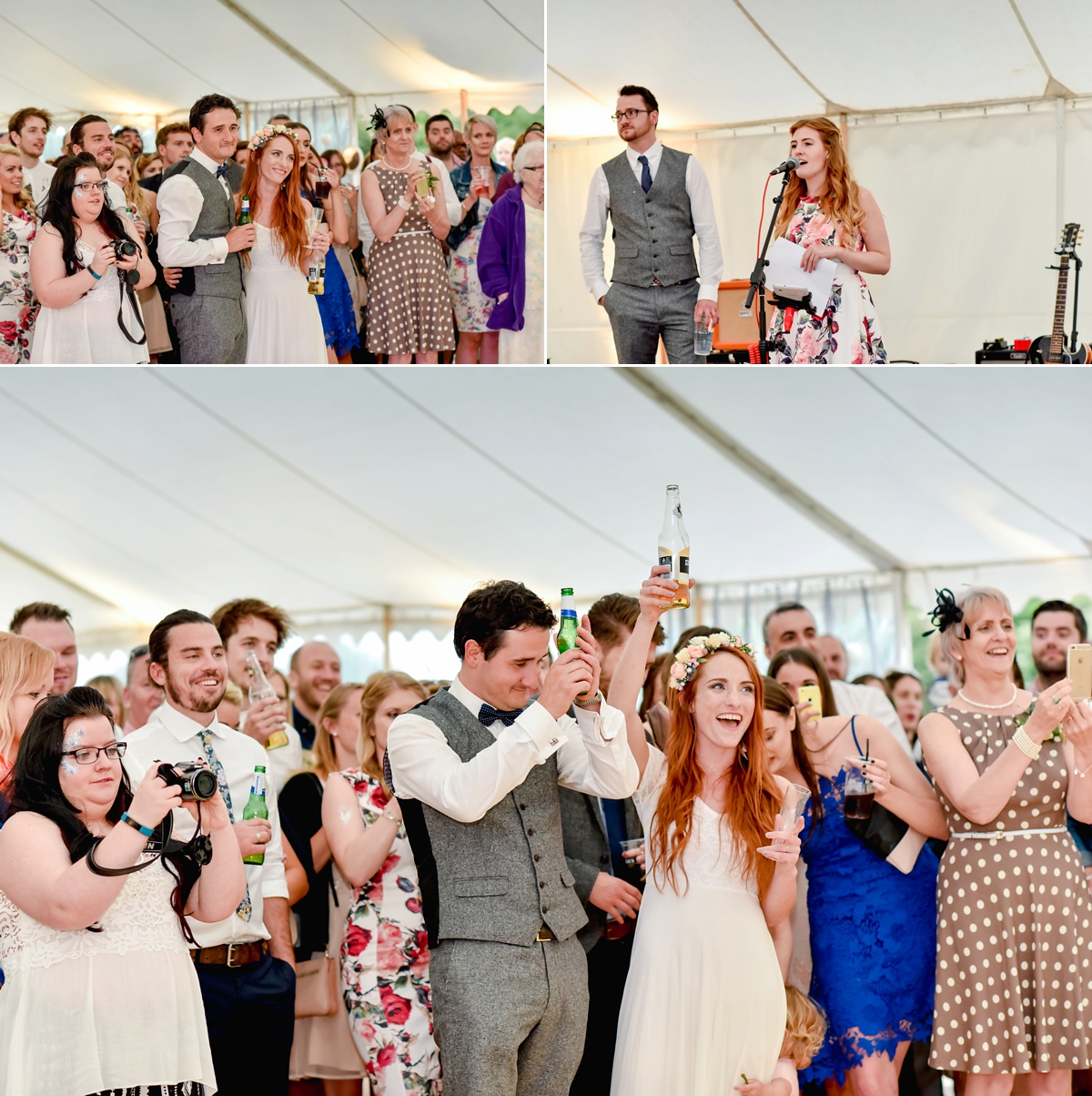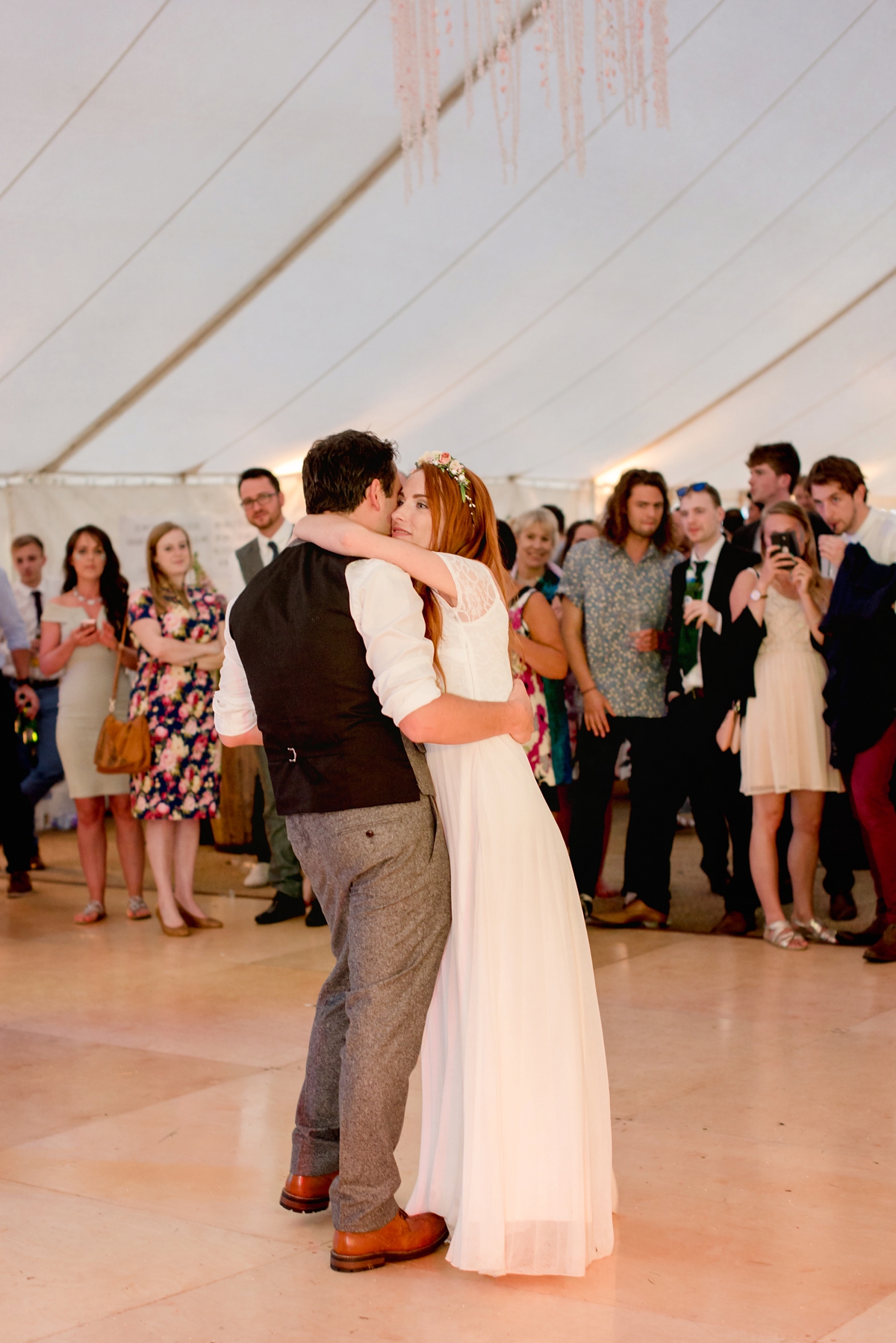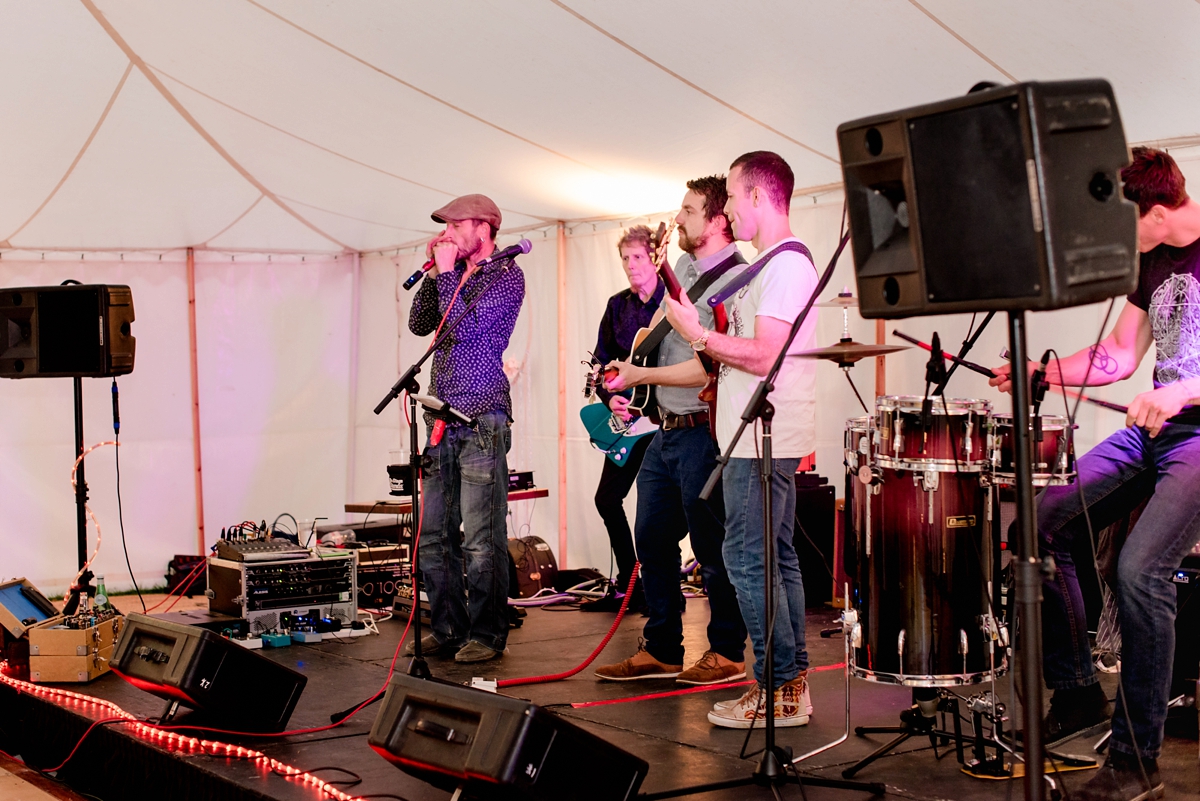 Entertainment came in the form of Steve and The Achievers and the newlyweds had their first dance to 'Love you till the end' by The Pogues.
"Our favourite part of the day was arriving at the venue after we were married and seeing everyone we love and care about there to help us celebrate such an immense and important day (and the glitter war towards the end of the day!)"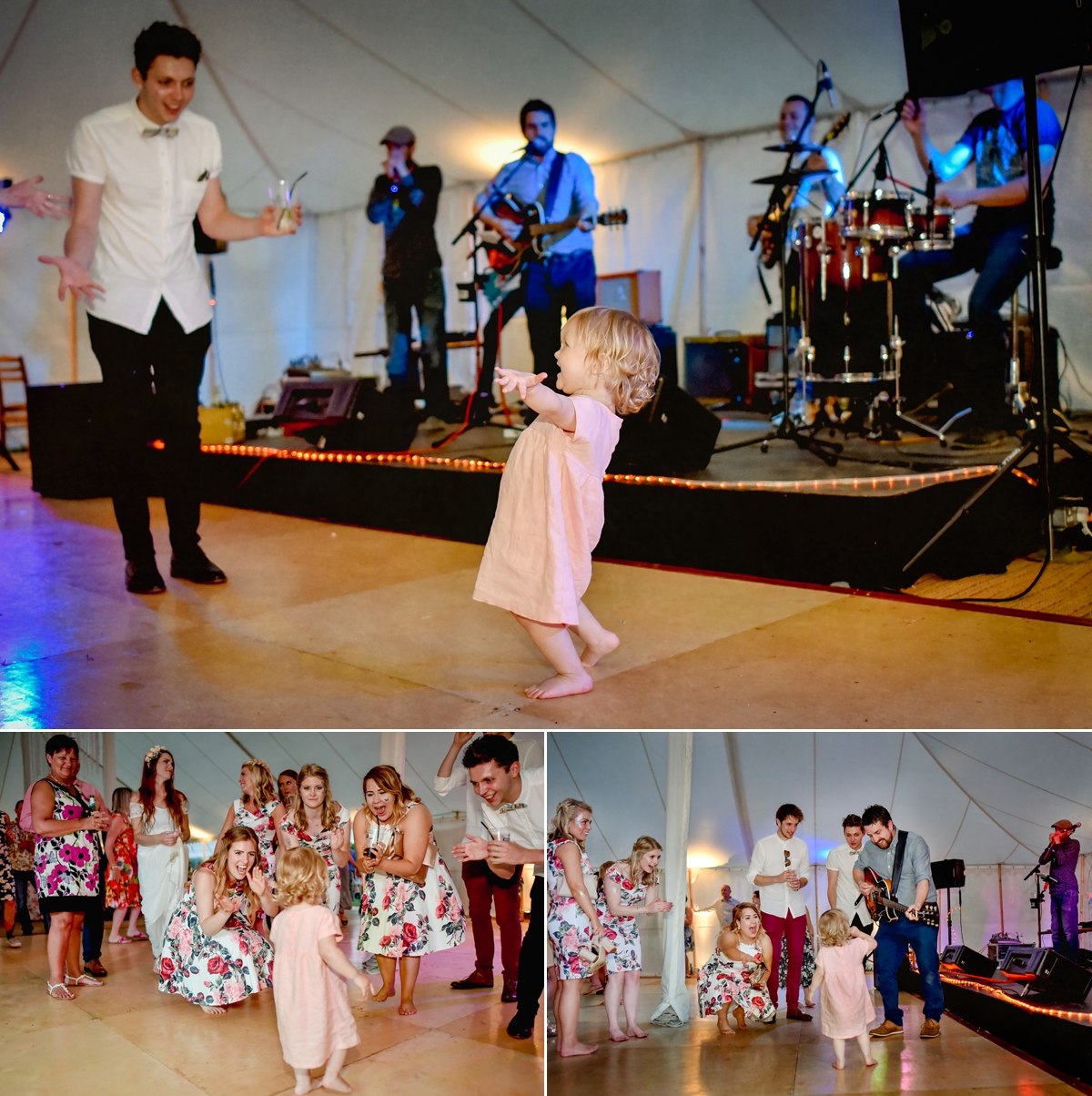 Words of Wedded Wisdom
"Make your day your own.  It's supposed to be the happiest day of your life yet can be the most stressful.  Try to avoid turning into a stressed bridezilla by trusting in the people you employ to help make your dreams a reality with a hint of realism.  If the power fails for a short while, the wheels of life keep turning- there's alcohol and merriment to see you through until someone reboots the generator.  It will only ruin your day if you let it."
"Look at who you are with and who you've married and everything else will fall into place."
Huge thanks to Rosie and Wesley for sharing their fun filled day with us- I just love that this wedding is so full of fun and laughter, as well as moments of pure emotion- so lovely.  If a festival wedding sounds like your kind of thing, take a peek here to see some other weddings in this style which we have featured in the past.
Much love,
Shona x