Delicate, pretty, full of beautiful handmade details, today's wedding is guaranteed to bring a splash of summery colour to your day.
A celebration of wildflowers, nature and butterflies, the bride has mixed her own edgy style with the exquisite elegance of a Justin Alexander gown and Britten Weddings veil. So sit back, and please enjoy this wedding with its lovely photography by Gabrielle Bower.
Amy and Chris married on 11 August 2016 in a civil ceremony and reception at The Carriage Hall, Plumtree, Nottinghamshire. Inspired by the location of their very first date at The Butterfly House near Sheffield, their day was filled with natural elements and charming floral-inspired details, from Amy's butterfly necklace to the beautiful detailing on her hand-painted shoes.
'The place where we went on our first date was a butterfly house and ever since then I have been obsessed with butterflies, so the main theme of our wedding was nature and butterflies."
Photography by Gabrielle Bower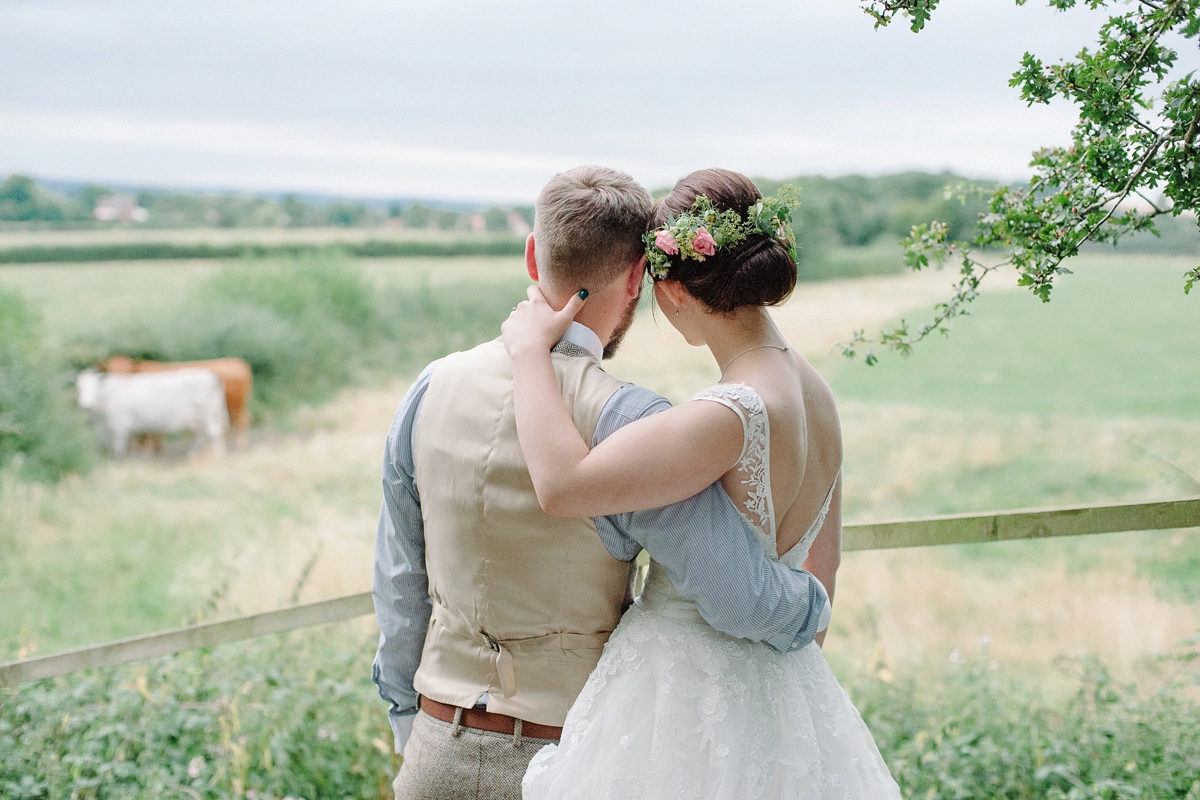 We were a touch delighted to discover that Amy loved visiting these blog pages so much when planning her wedding. Thank you so much Amy!
"I just loved the frequency of features and the beautiful inspiration on Love My Dress. I liked the detail and the respect that you feel is given to each feature."
The bride's shoes from Elizabeth & Rose are very special indeed; there is so much detail in their hand-painted design. We first featured the work of talented artist Sohpie Naylor earlier this year – take a look at this blog feature which is full of images of Sophie's beautiful illustrated shoes.
"I had a consultation and they drew up a design inspired by my wedding bouquet. Absolutely gorgeous, unique shoes!"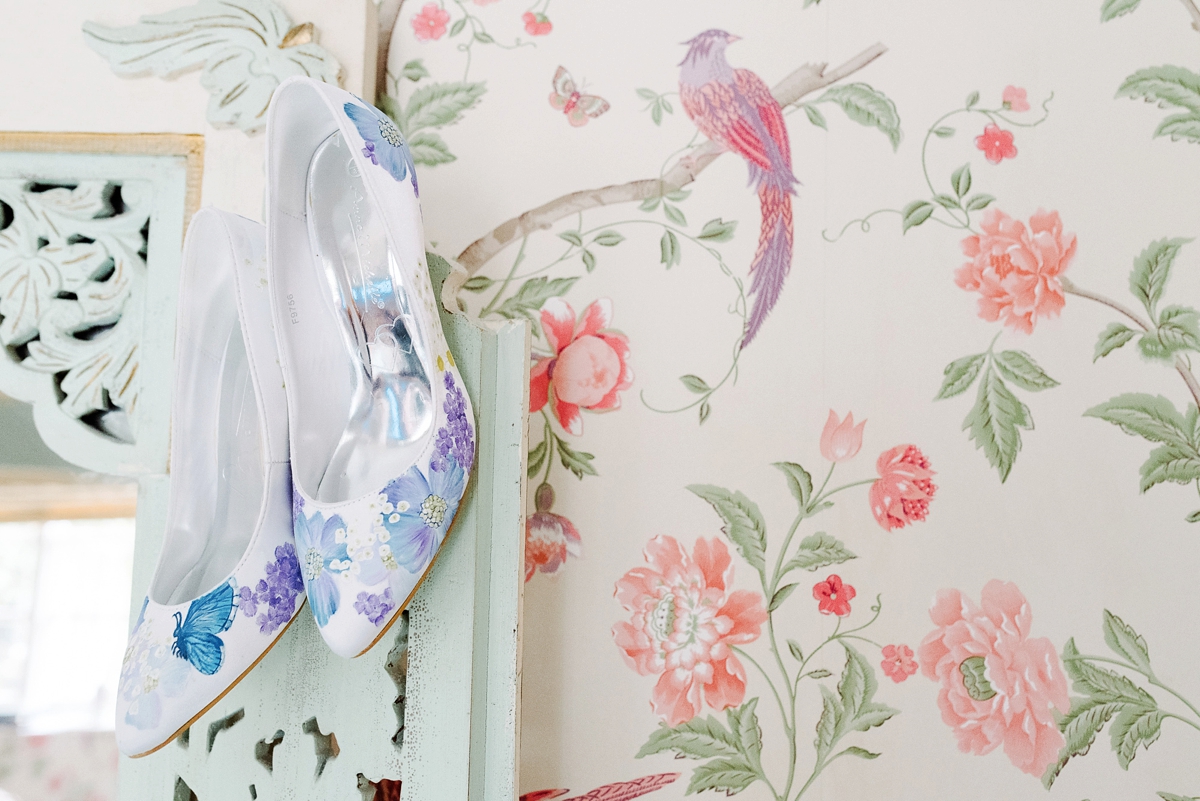 Amy's young bridesmaids wore embellished blue and white dresses from Monsoon and Next, topped off with beautiful dried flower crowns from Lotus Floral Art.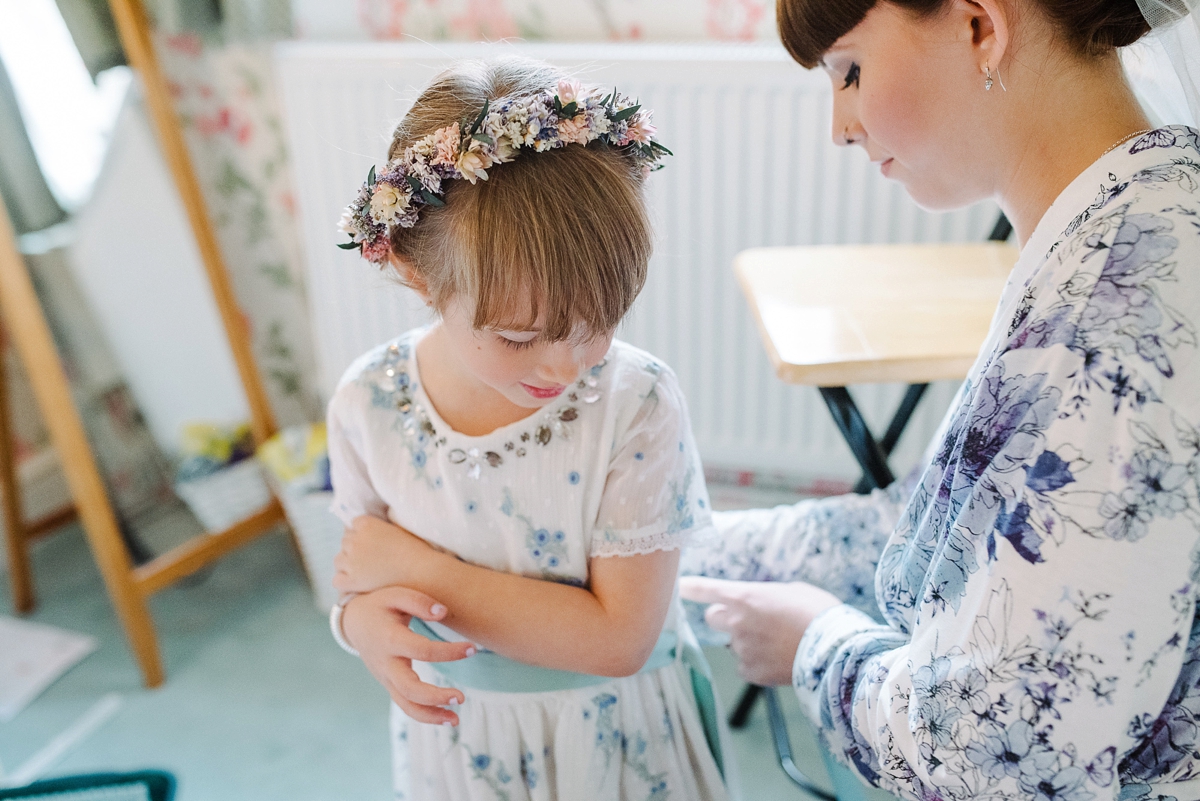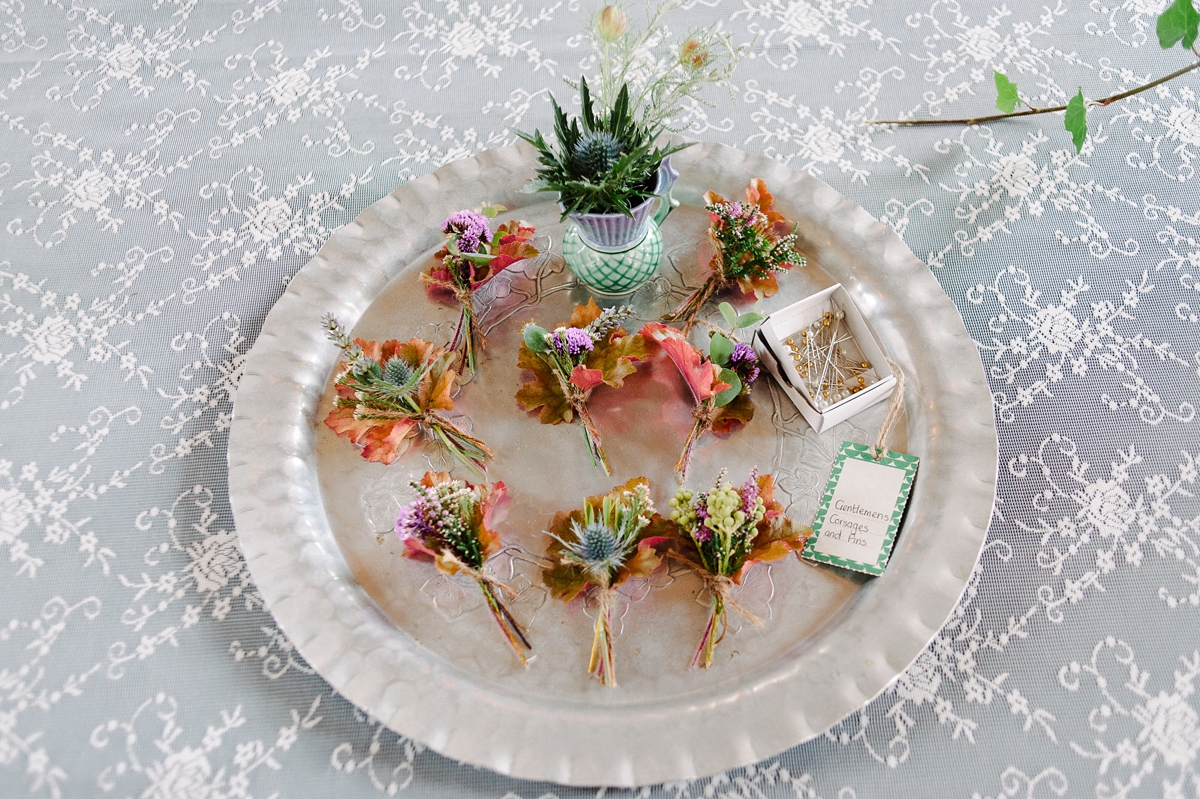 Amy's 'Isabella' veil is fine-textured and light. I love how it's fastened back with her colourful floral headpiece. If you like this, please do head to Britten's Look Book page to see more of their bridal accessory and veil designs.
The bride combined a full-skirted Justin Alexander gown with a veil sourced from Love My Dress favourite and Little Book for Brides member Britten Weddings. If you look carefully at the wide straps of the gown, you can see an intricate foliage design which reflects the natural theme of the day so well.
"I chose this dress because I thought it was absolutely beautiful. I wanted a dress that was elegant and timeless – the dress was so flattering and made me feel amazing. I loved the shape and the detail."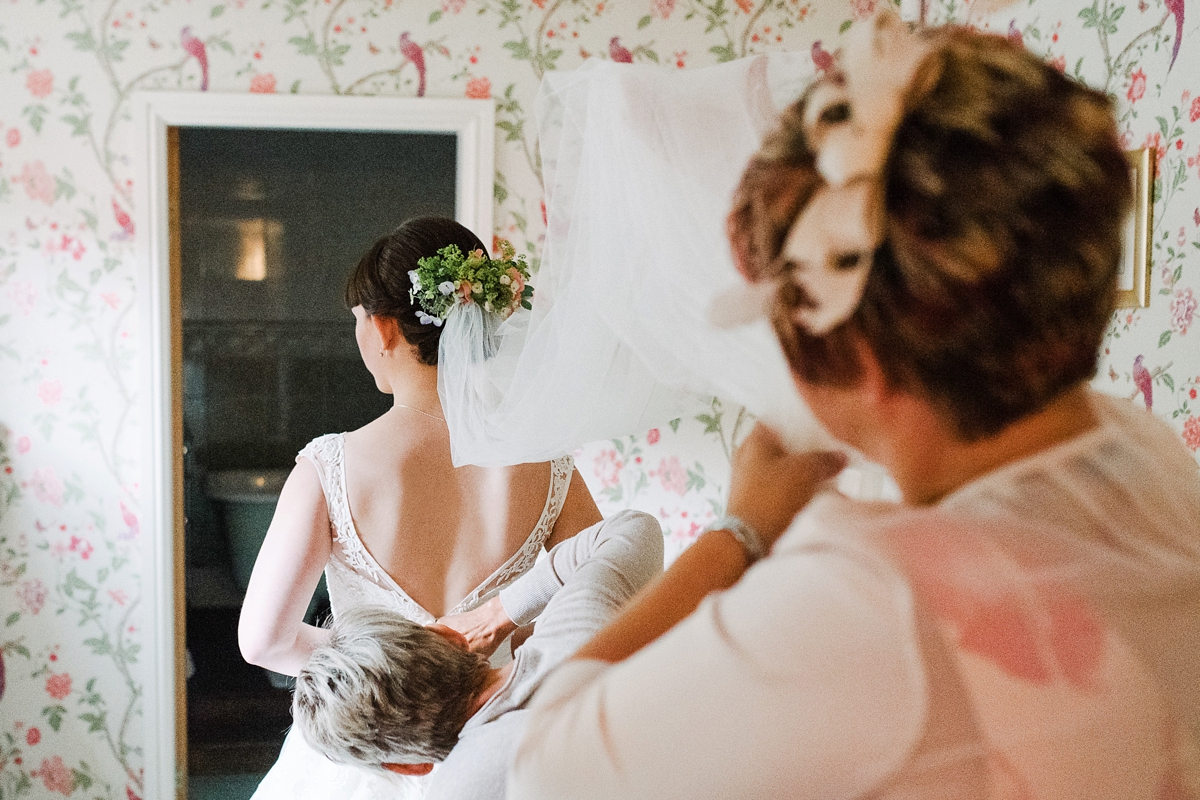 The natural theme for the day was even included in Amy's jewellery.
"Chris picked up some lovely acorn earrings from a local jewellers, which were symbolic of where we got engaged in Sherwood Forest and the Major Oak. Fiona Luing, a friend from Edinburgh, handmade me a beautiful butterfly necklace to wear on the day."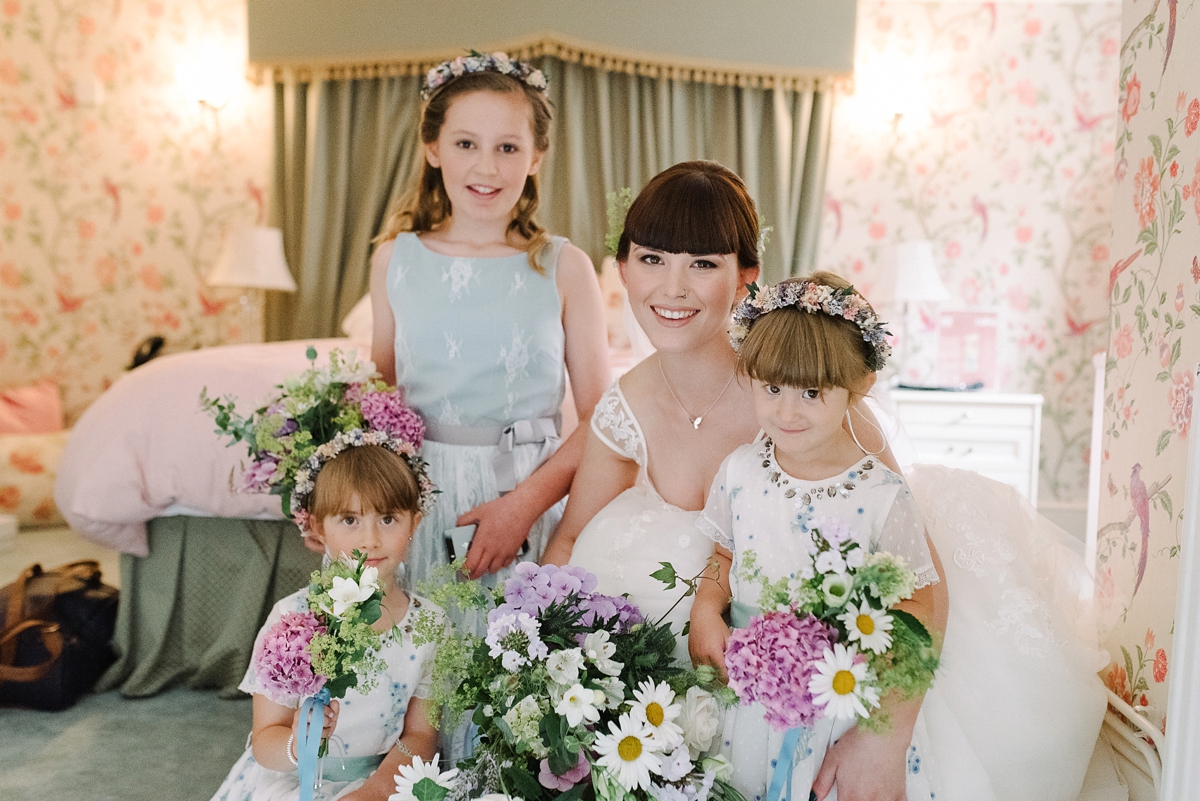 The bouquets look natural, fresh and summery, grown and put together by Gail Snell. I love how Amy worked to track down her florist having met her years earlier.
"I remembered a lady that I met a few years previously that owned a little flower and vintage gift shop in the town when I grew up, I used to visit her shop often and mentioned to her if I ever got married I would love it if she did my flowers. Unfortunately her shop shut down and I moved away and I didn't have any way of contacting her."
"After weeks of getting in touch with people in the local area I eventually got her phone number, she agreed to do our flowers and I was so thrilled. We had several meetings over coffee and Gail really listened to what I wanted from the flowers. She isn't a florist but she is really amazing with flowers and has amazing creativity with flower arranging. Gail hand grew all of our flowers in her back garden and then I gave her full reign on design and finish."
Mon Amie styled Amy's dark hair into a retro-feel up-do with a small beehive, her full fringe kept down to add a cool edge to her pretty gown and veil.
"I hired a professional makeup artist and had two trials but I wasn't happy with the way I looked so I panicked last minute and went to a Bobbi Brown counter in a House of Fraser shop in Edinburgh. They did a 'Bride' tutorial with me and I bought all the products I needed. On the morning of the wedding my good friend Julie Noble who had flown in from Australia made me up."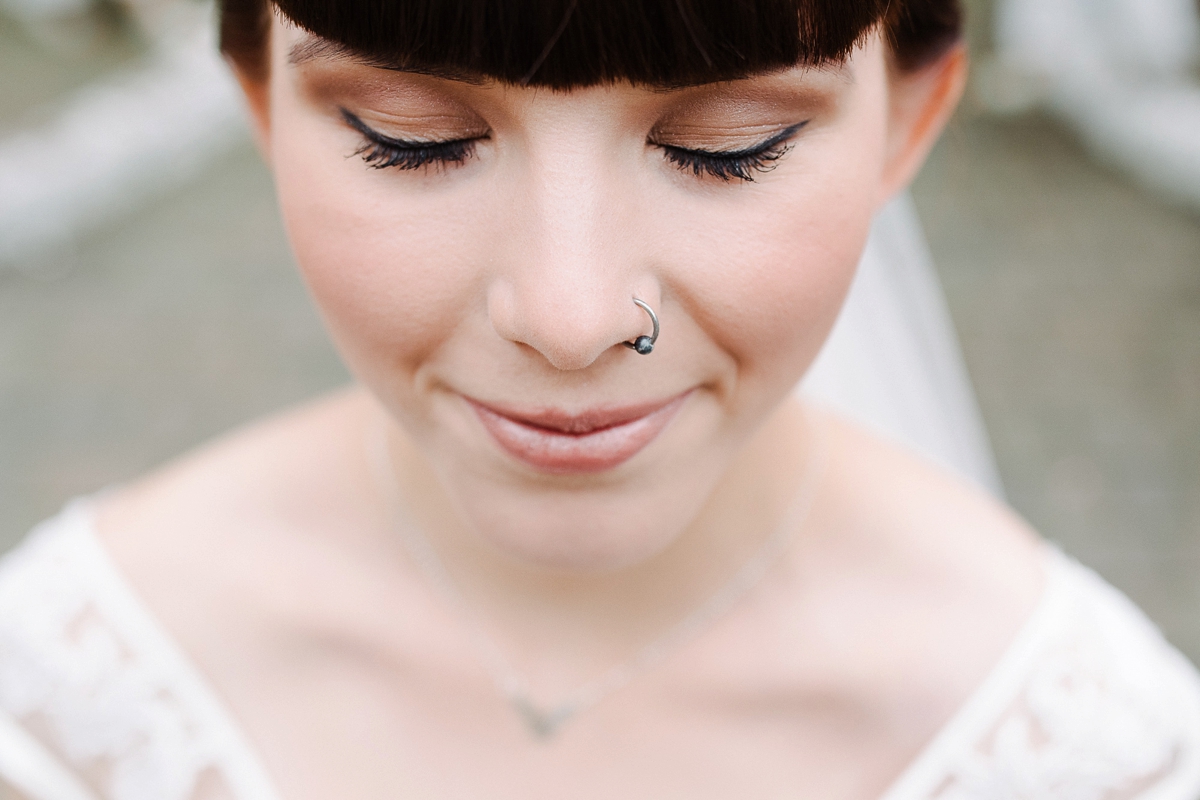 The bride and groom are based on the Isle of Raasay on the North West coast of Scotland. They met through work back in January 2013, and became engaged after Chris returned from travelling.
"Chris was quite persistent and asked me out on a date nearly every time I saw him! Finally I gave in and we went on our first date together on 12 February 2013. Our boss gave us every Tuesday off together and we went on a date every Tuesday for a few months. Fast forward to May 2015 when Chris wanted to do some solo travelling."
"We missed each other that much that whilst he was in Bolivia he visited a silver mine and bought the engagement ring there. Chris returned home in June 2015 but proposed on 12 July (the day before my birthday) in Sherwood Forest in front of the Major Oak. I was not expecting Chris to propose to me at all and I actually walked off and didn't believe him! I then realised he was being serious, which was awkward but I said yes."
To complement the natural feel of the day, Chris opted for  light-coloured trousers and waistcoat from Walker Slater in Edinburgh, along with an heirloom gold pocket watch passed down through generations of his family. His groomsmen wore striped suits in the same design, and were gifted pocket watches to carry.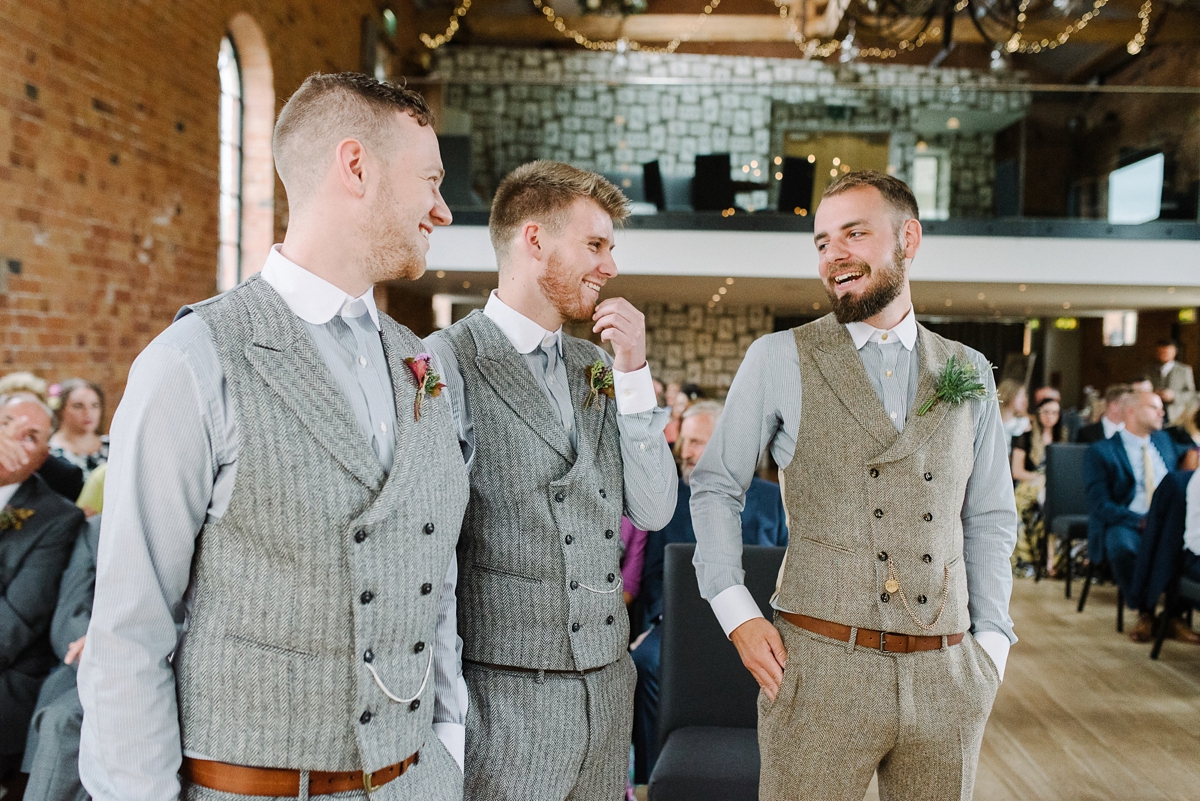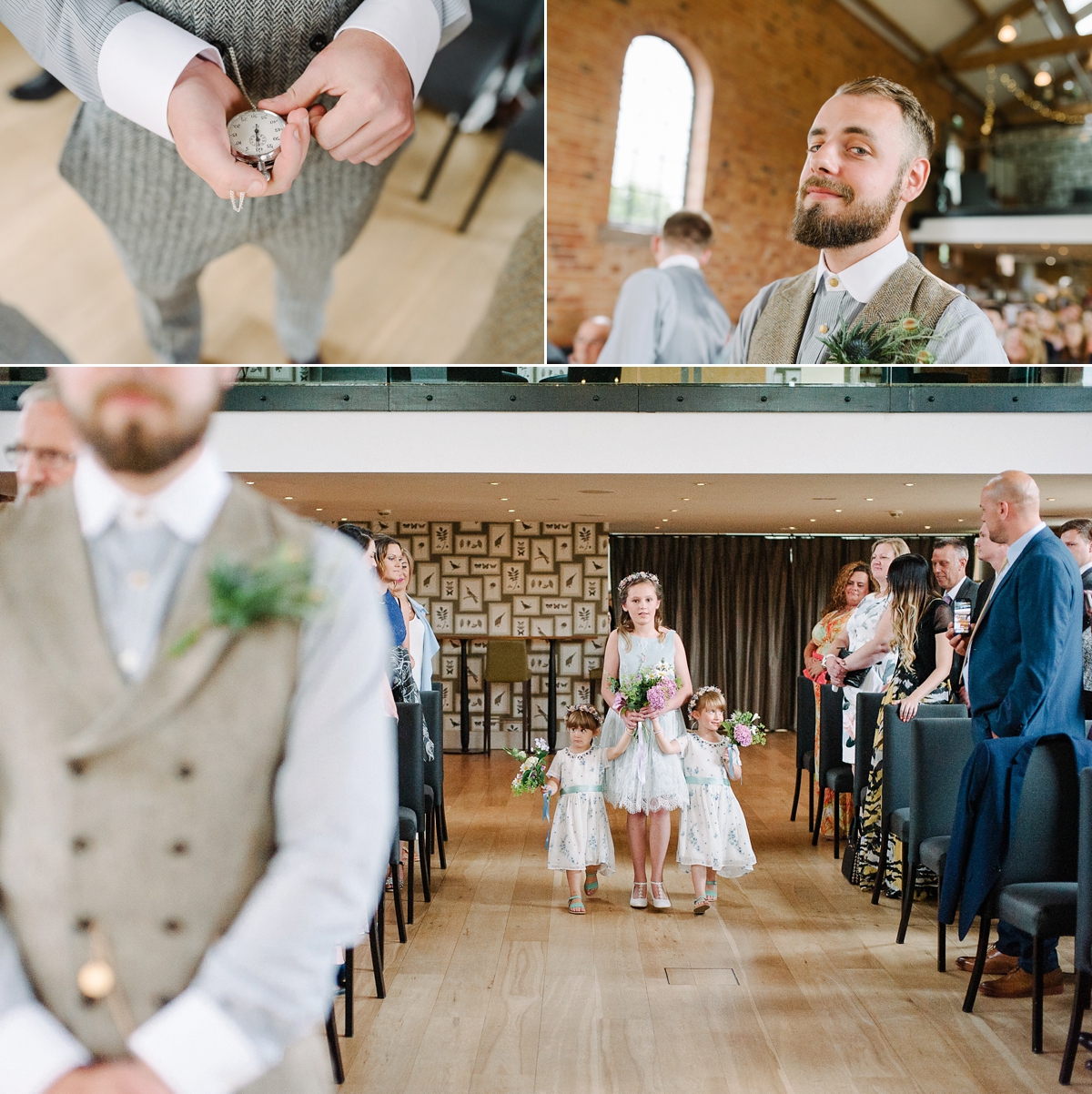 After a surprise trip in a vintage VW Camper Van, Amy entered the ceremony room on the arm of her father to the sound of Ben Howard's 'Old Pine' before exchanging vows and rings with Chris.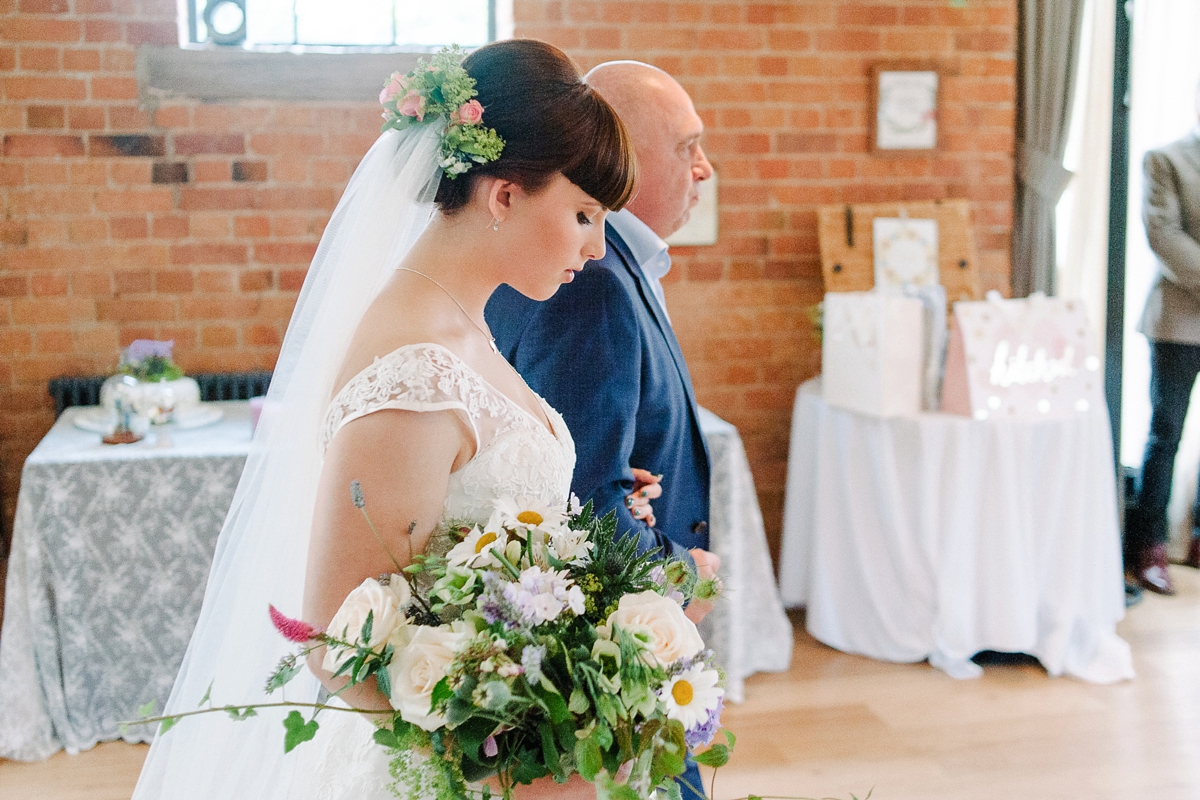 "We didn't create our own vows; we are both private people and we know how we feel towards each other."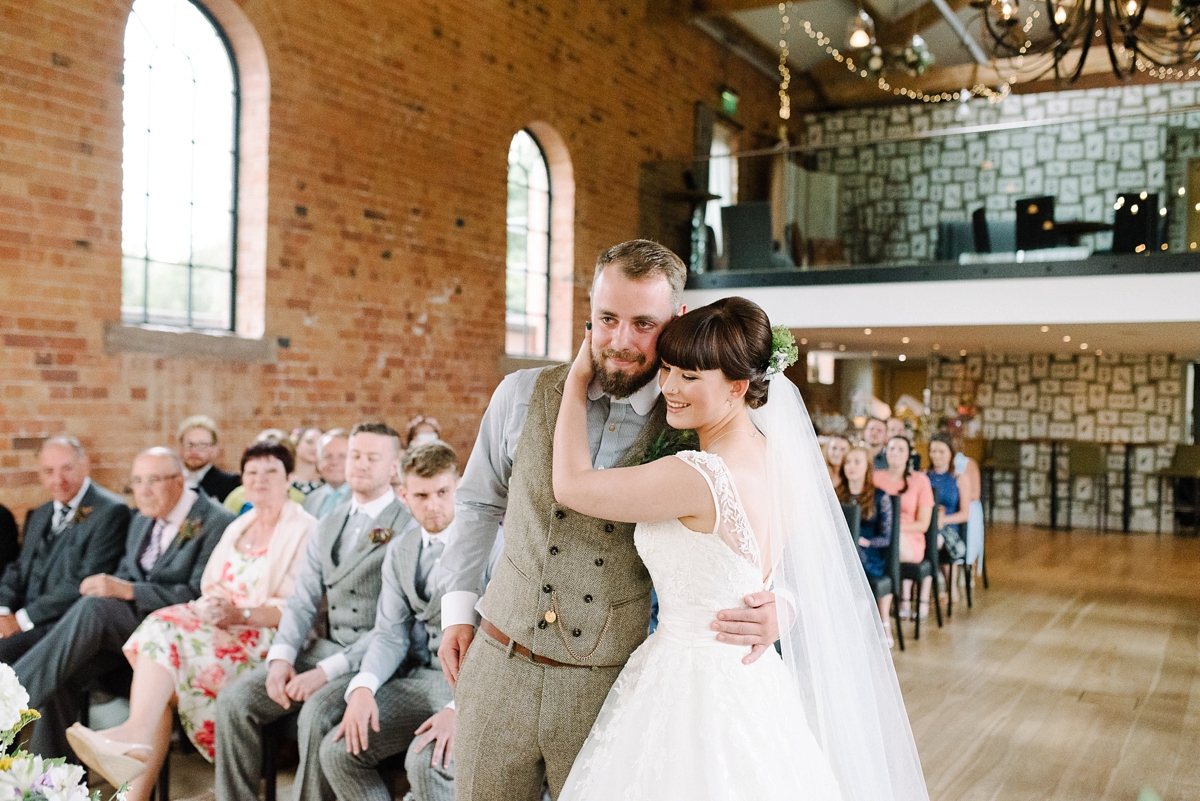 I really like the idea of crafting my own ring, which is just what this bride and groom did.
"We went to a 'make your own wedding rings' a workshop with Donna Barry in Leith, Edinburgh. We decided quite early on that if we could we wanted to make our own rings, so that they were personal. Donna was great and we now have beautiful handmade wedding rings."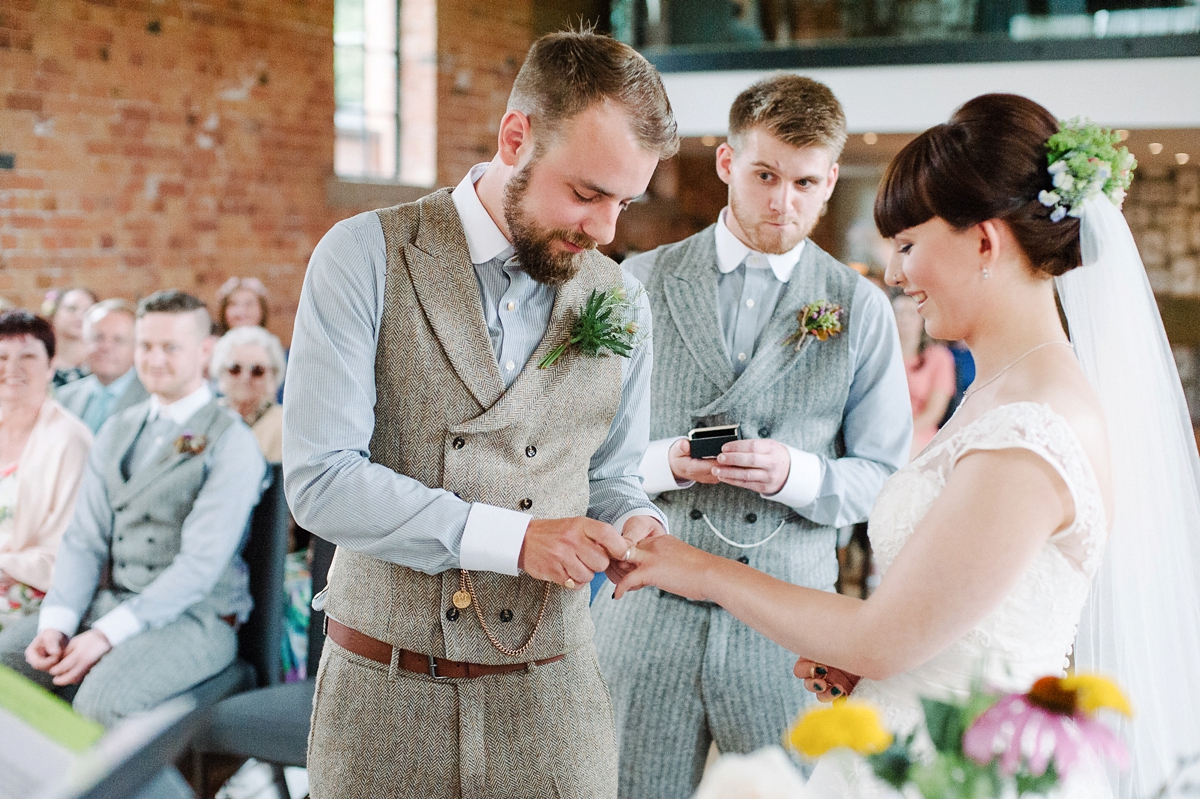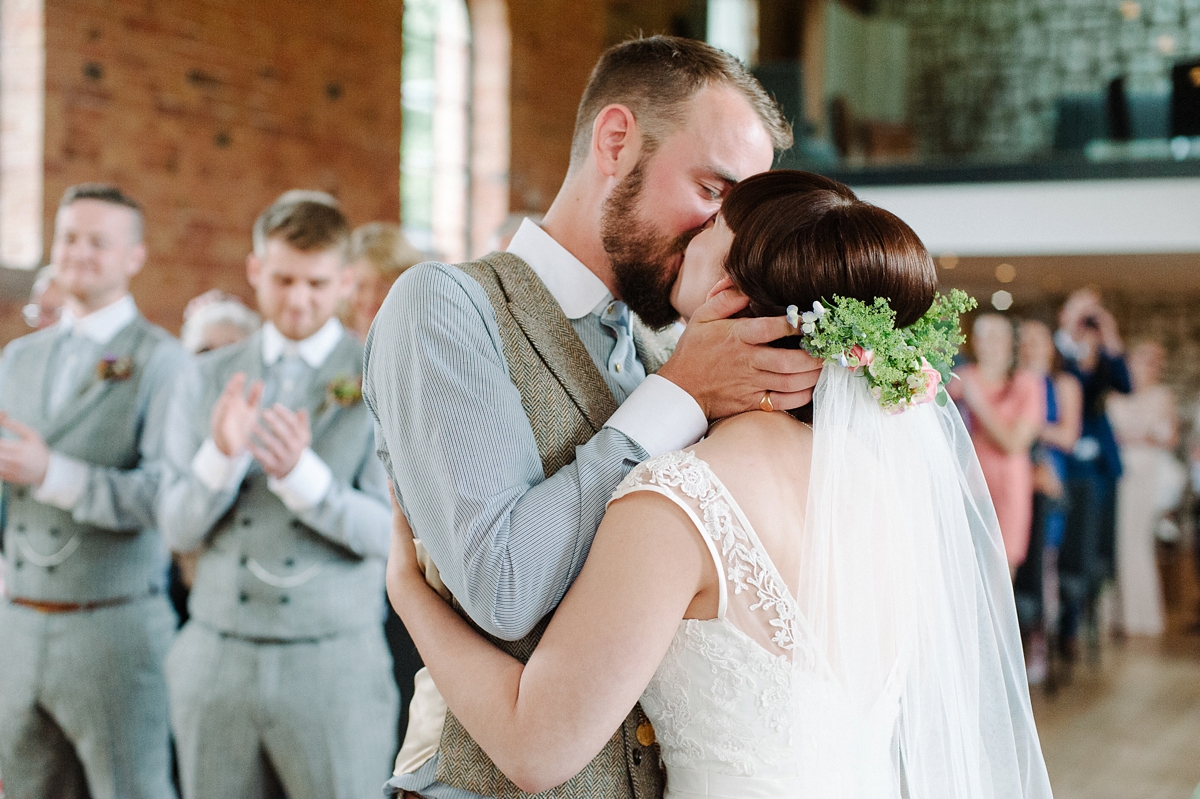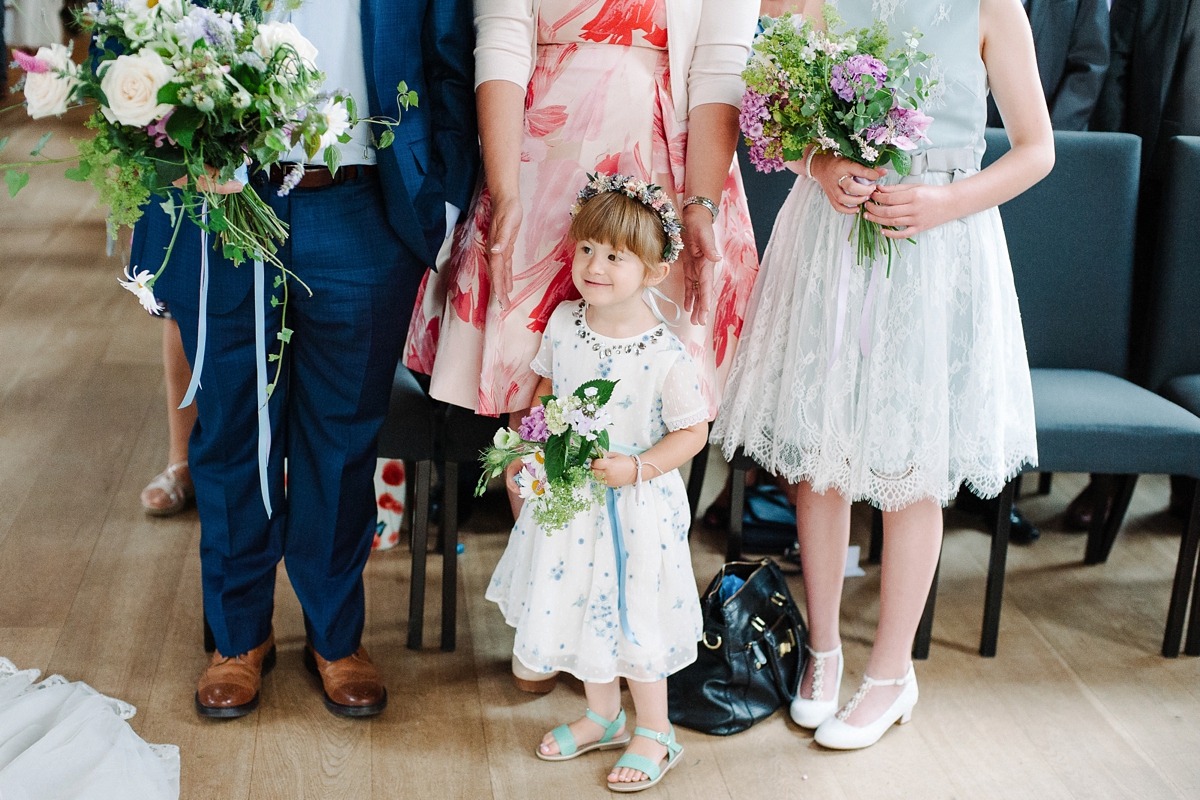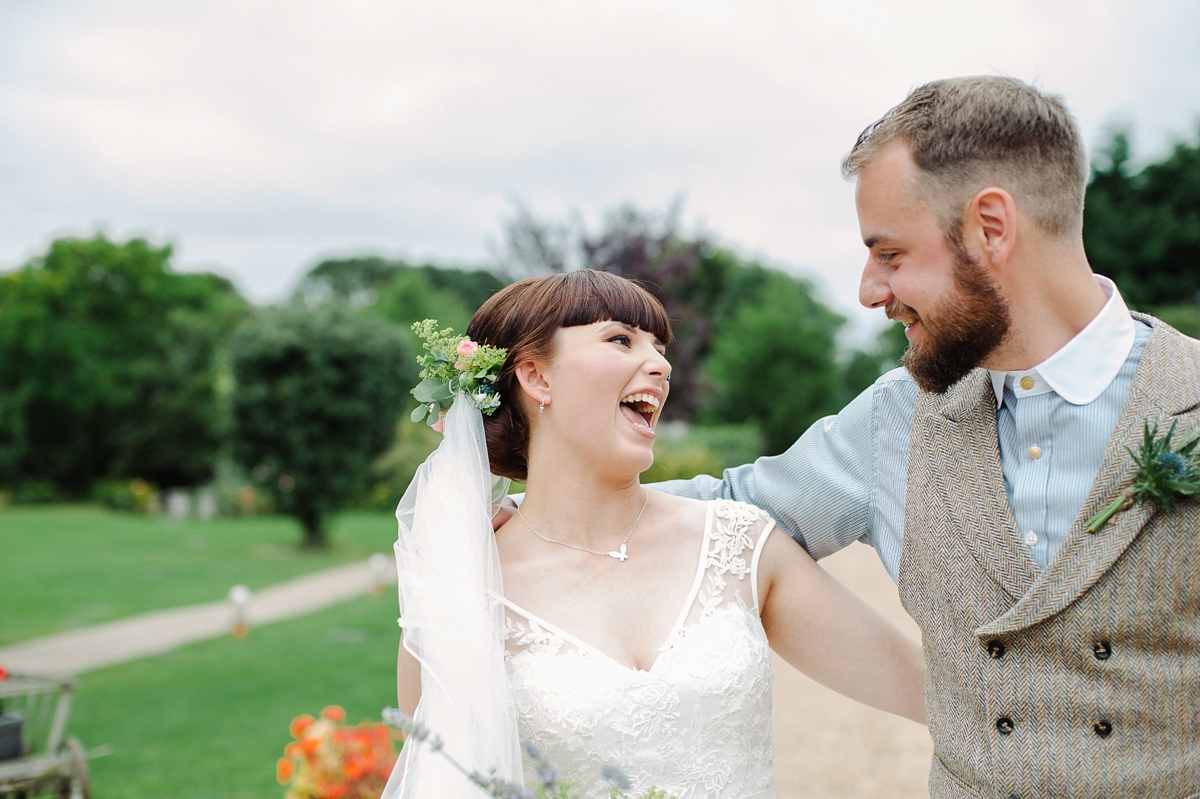 After the ceremony the guests and bridal party had an opportunity to relax in the garden before the wedding breakfast.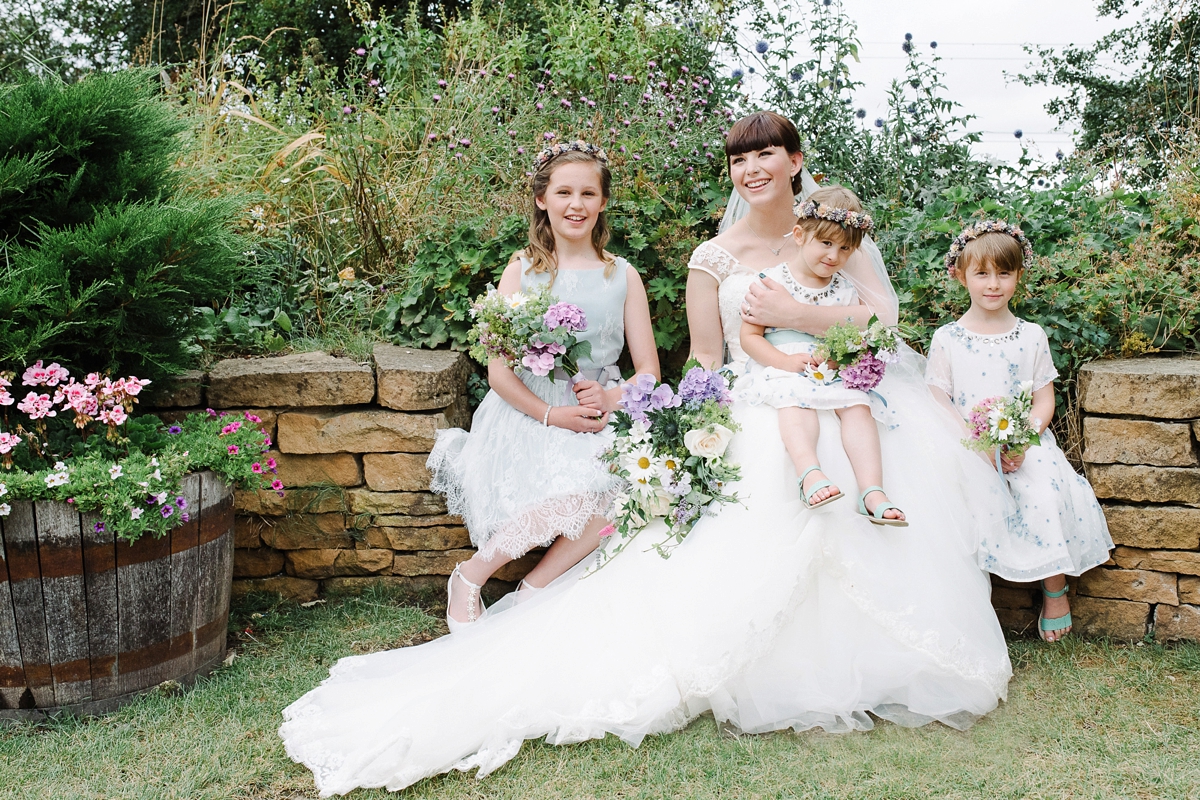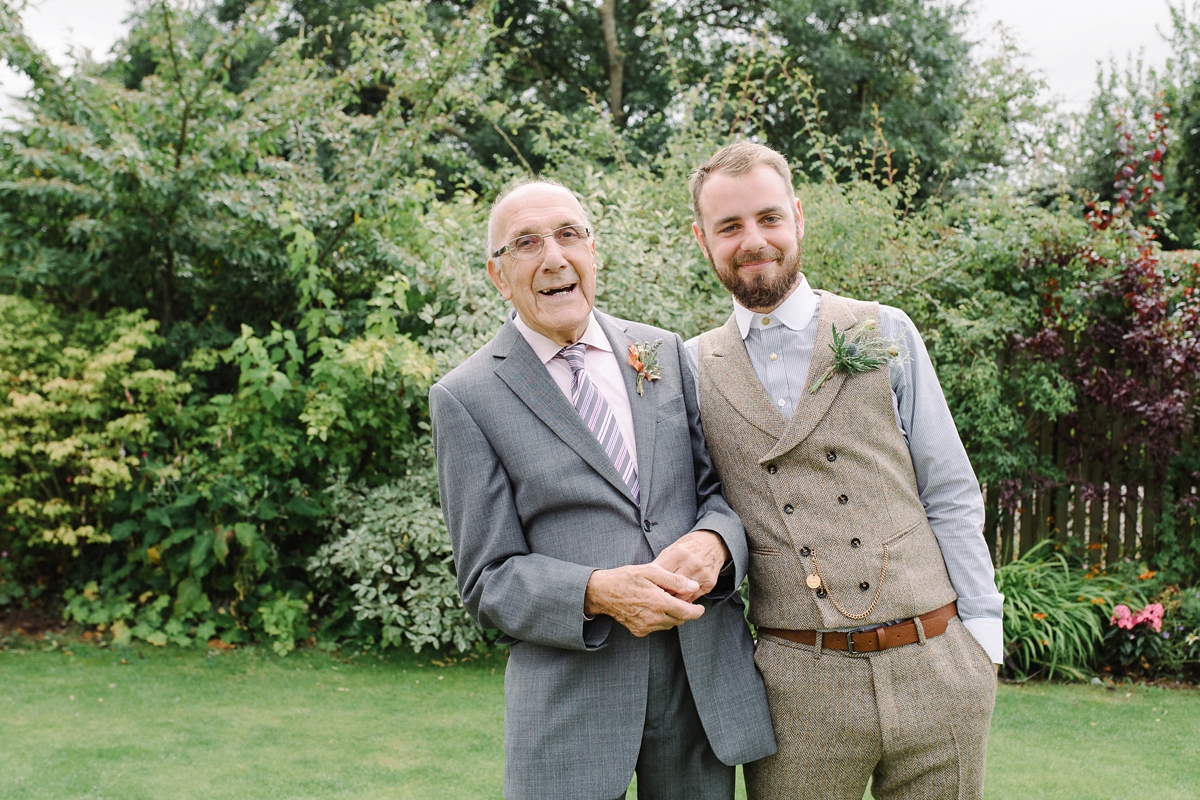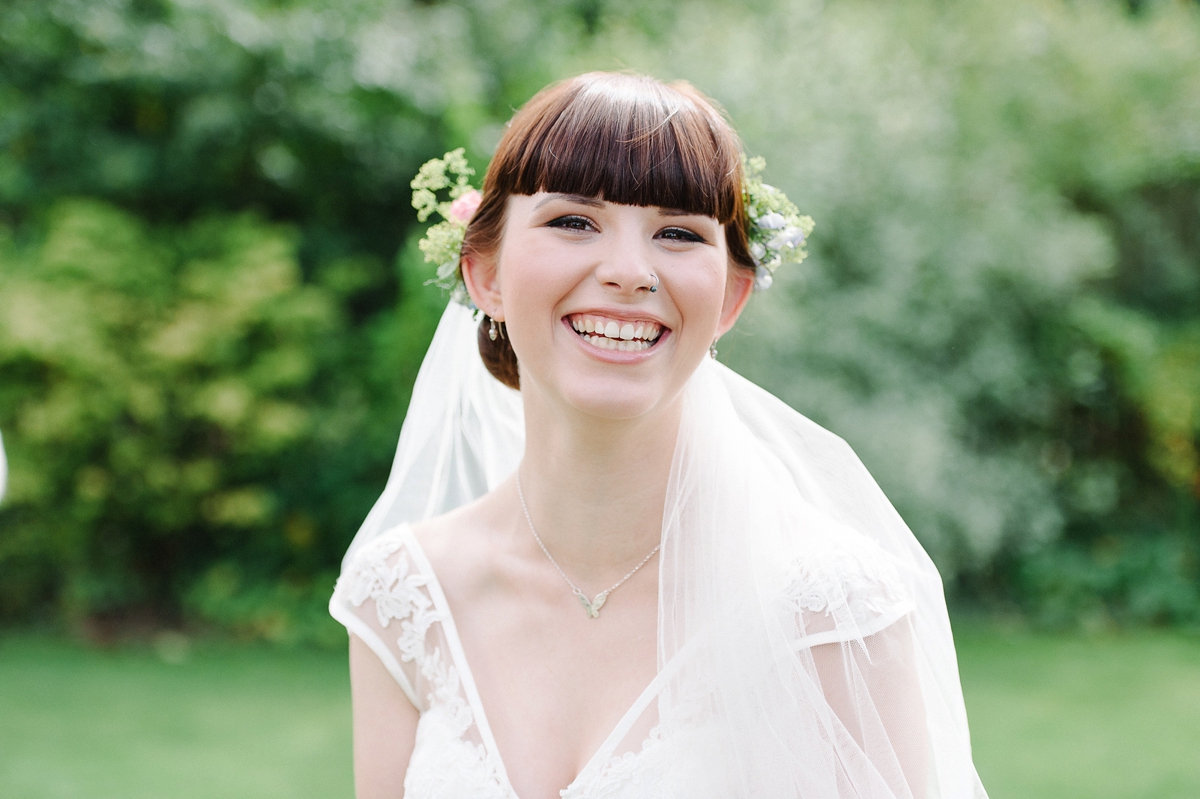 These wonderful light-filled images are the work of Gabrielle Bower. My absolute favourite is that of Amy with a butterfly resting on her finger – sheer perfection.
"Gabrielle was absolutely outstanding, Chris doesn't like his photo being taken at all but Gabrielle was so amazing at her job that he honestly didn't know his photo was being taken throughout the day. We absolutely loved our photographs and will cherish them forever."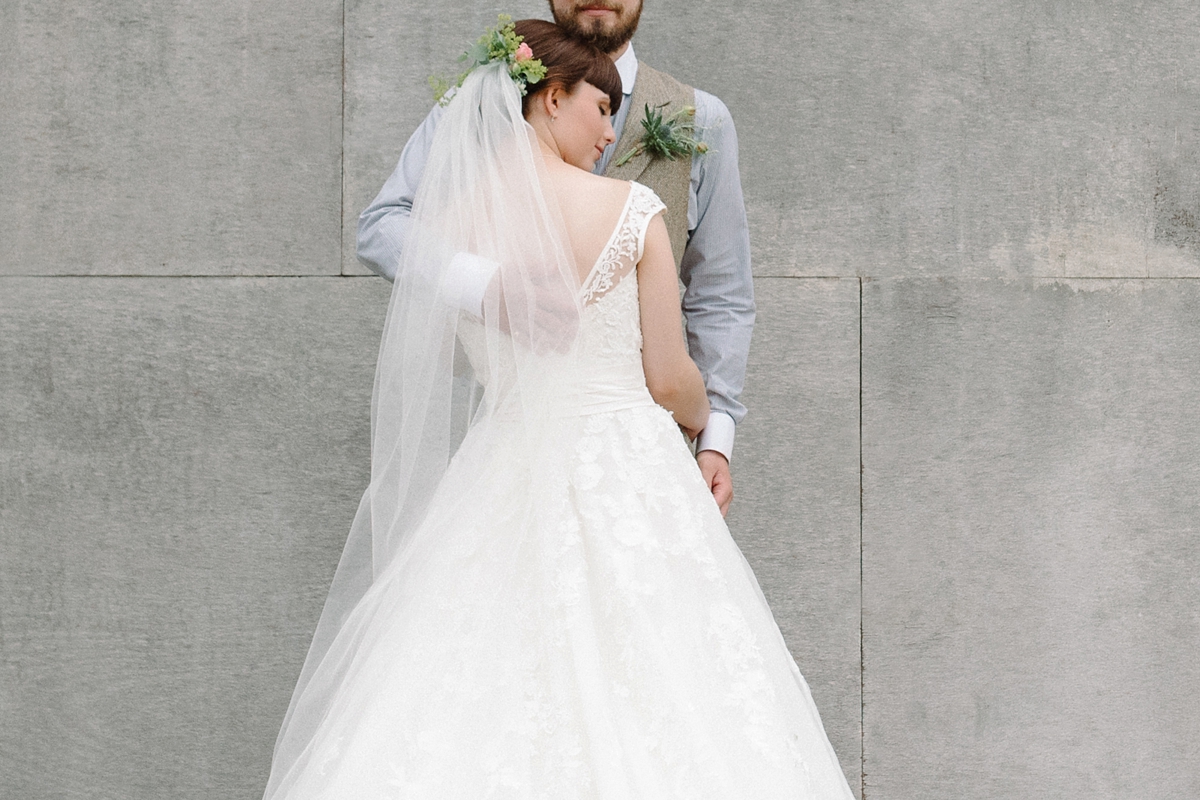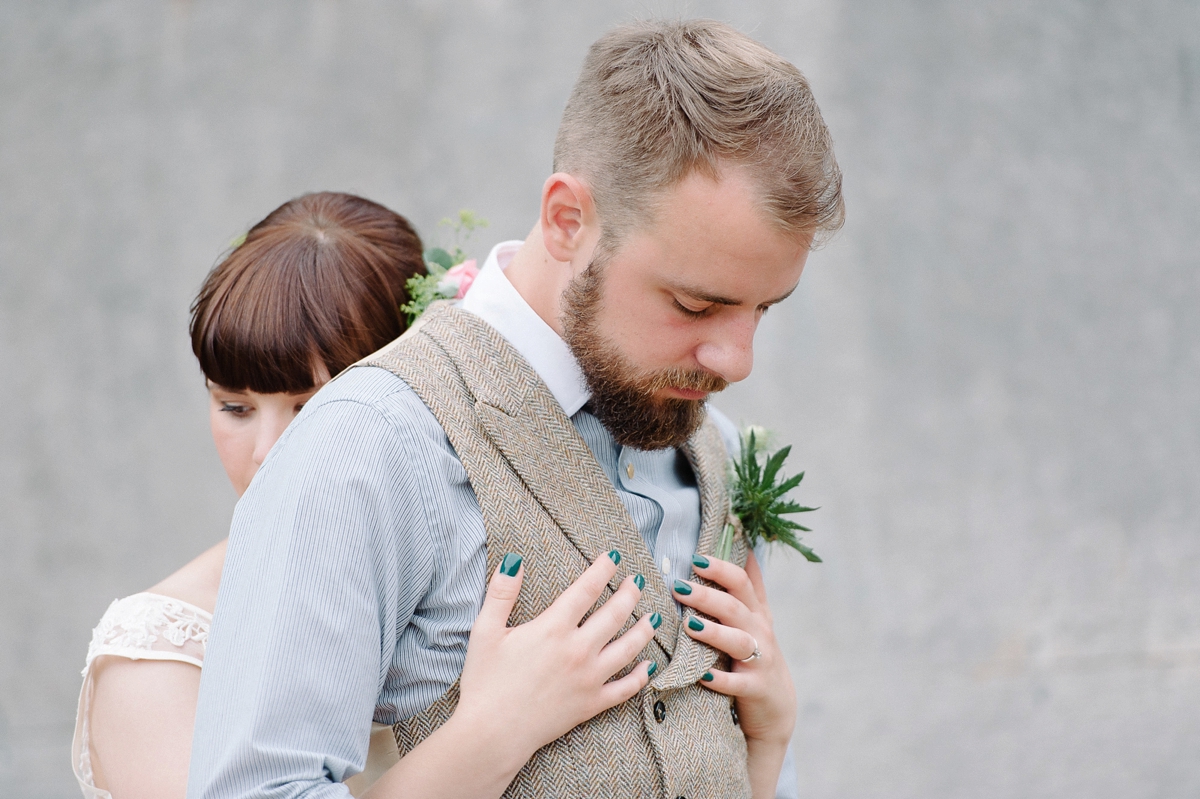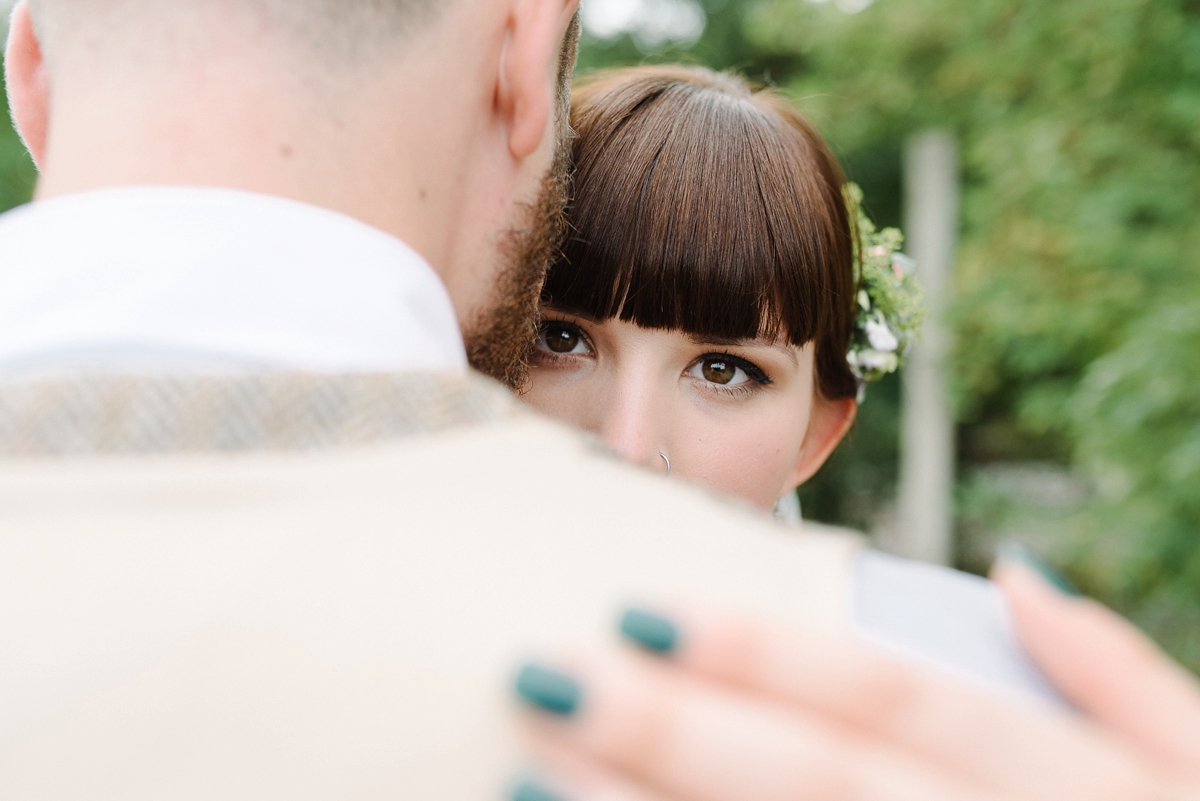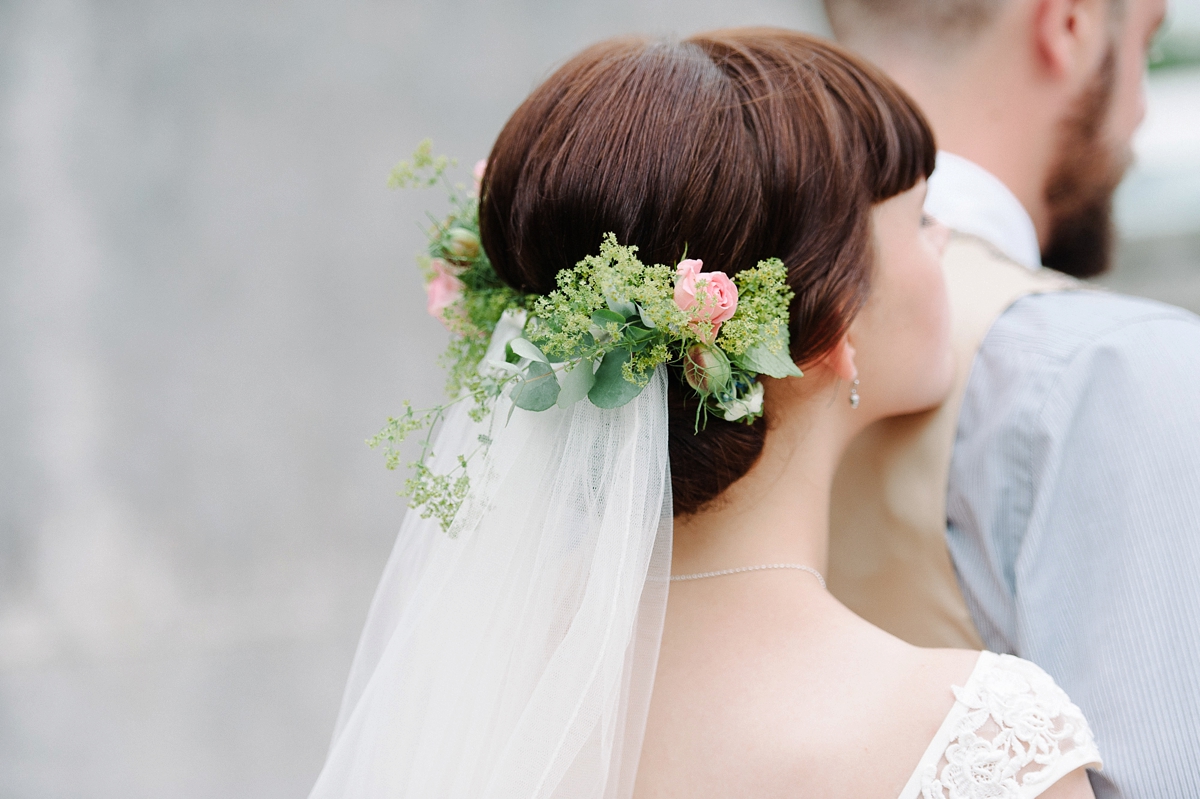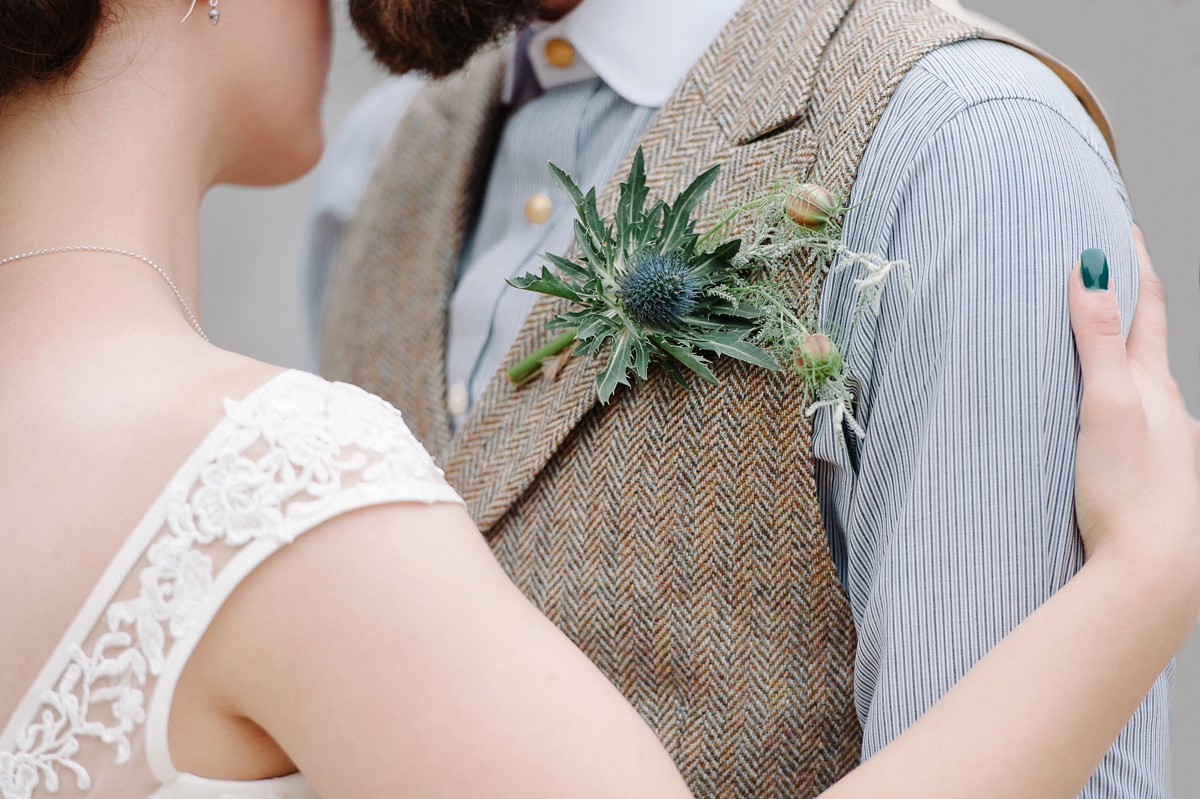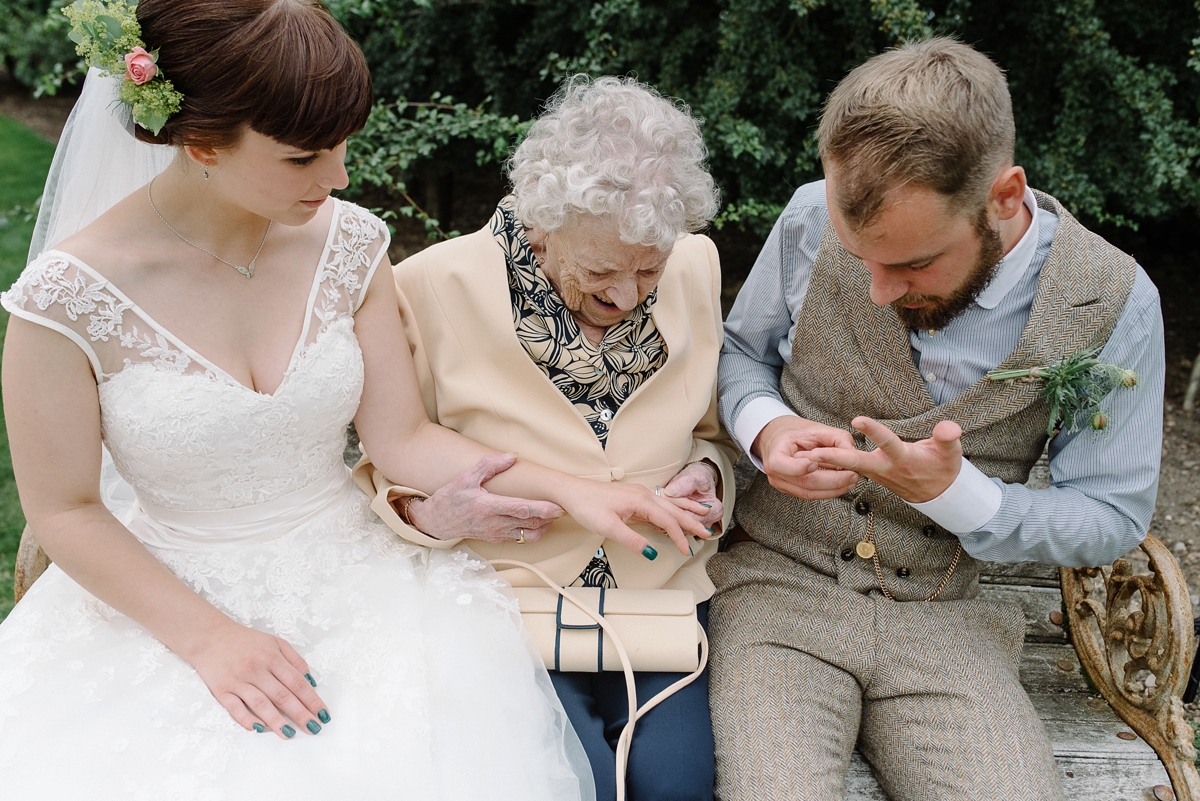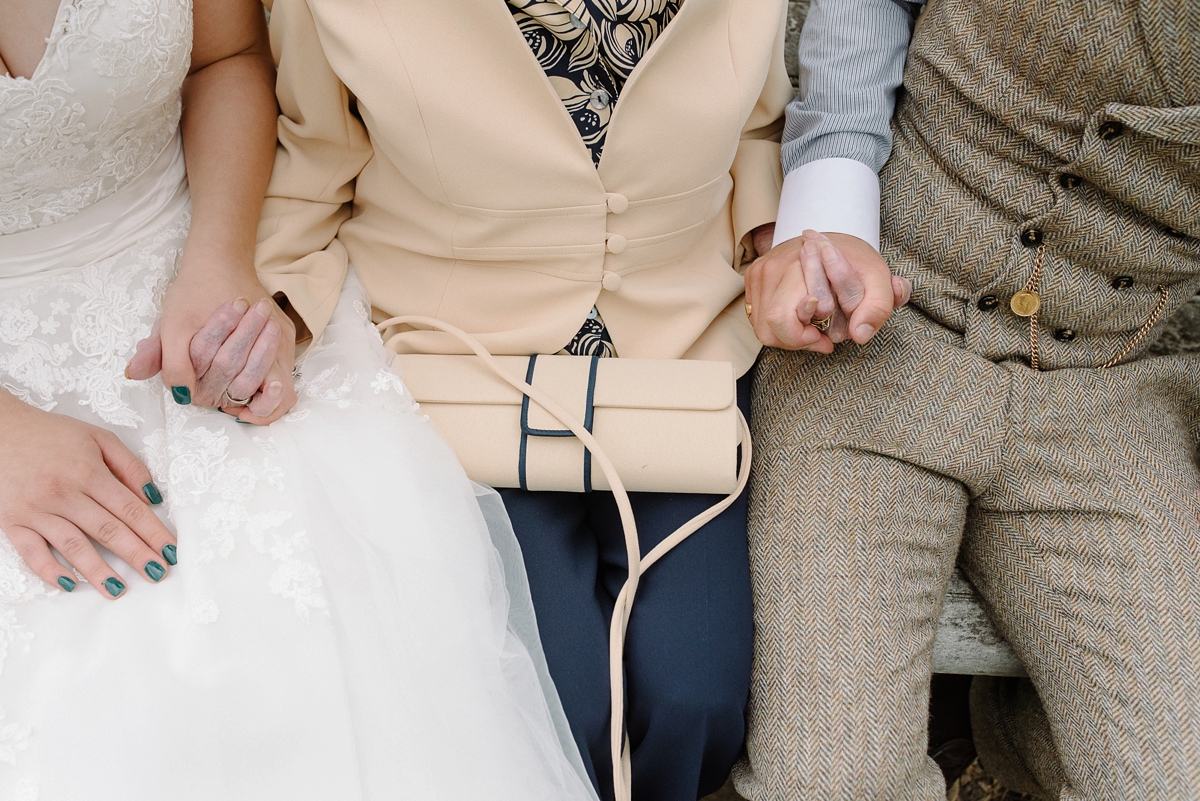 In a final gesture to their love of butterflies, the couple had a 'butterfly release' bought for them by Chris's mum; this was Amy's favourite part of the day.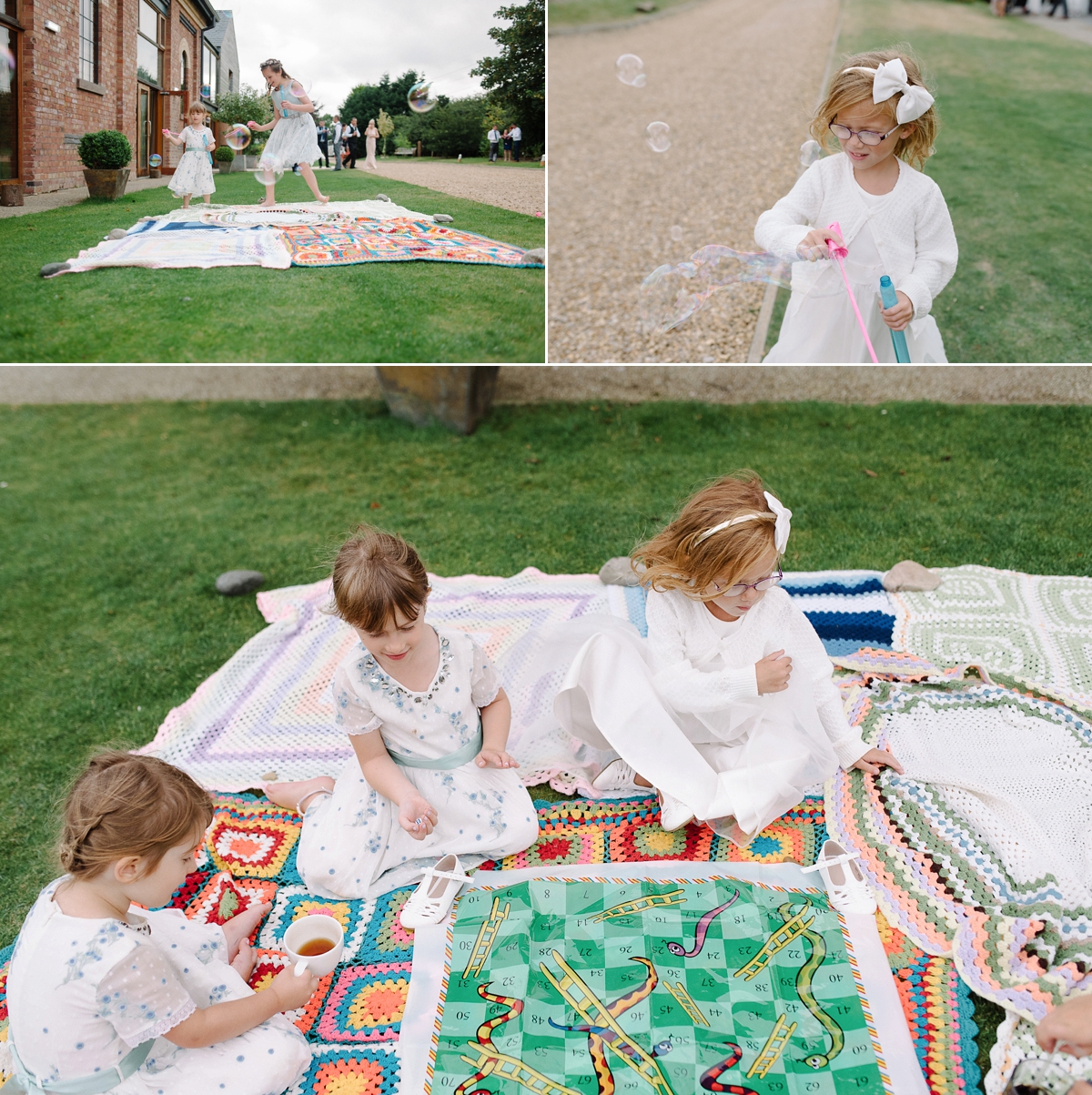 The couple eventually chose The Carriage Hall after a long search for a wedding venue.
"We spent months and months searching for a venue and we had many boxes to tick. We spent hours and hours looking online and visited several places but I kept finding things that were wrong and that didn't suit what we wanted. I visited the Carriage Hall on my own without Chris and just instantly fell in love – it was just a feeling."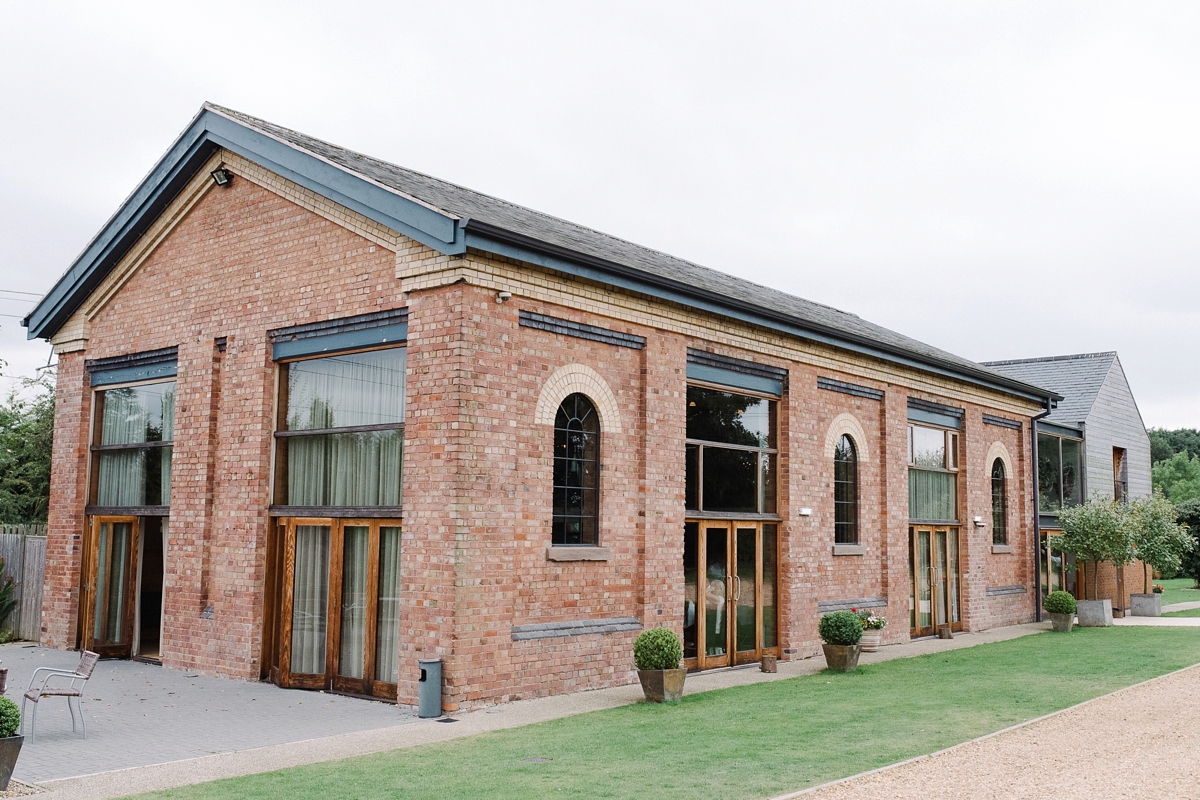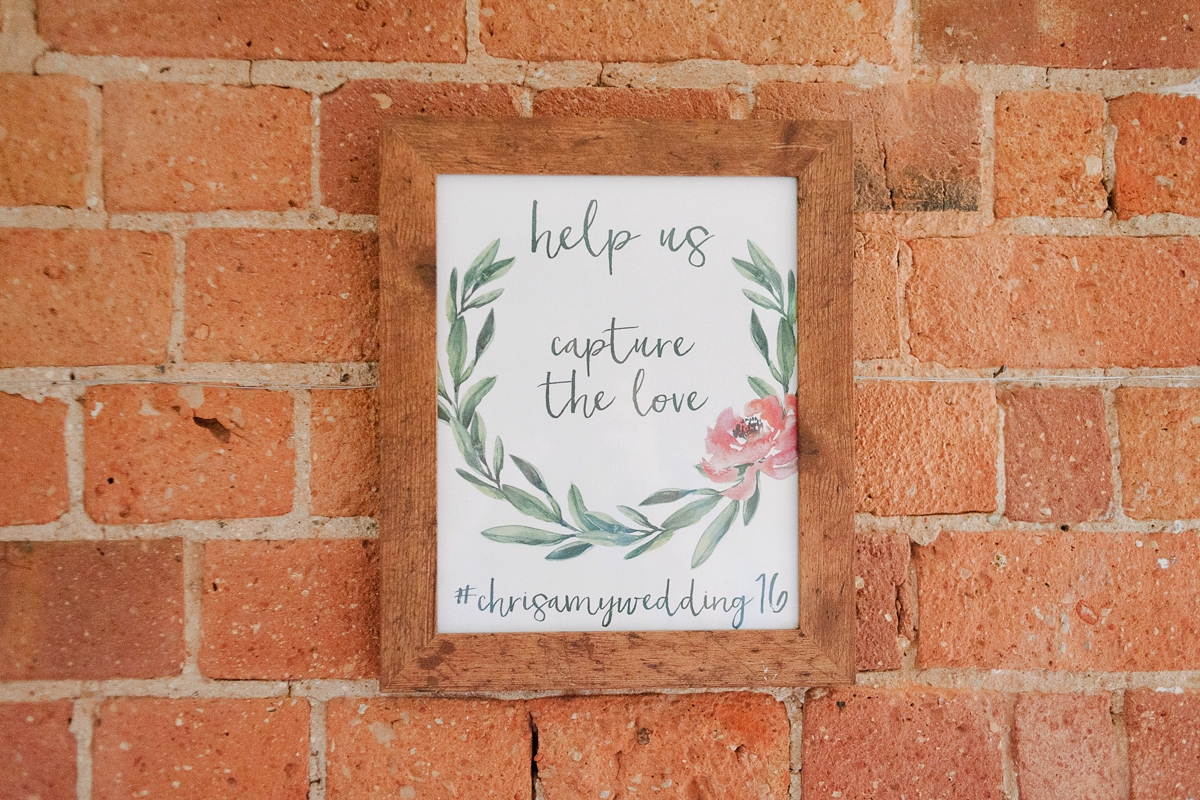 The beautiful weather on the day allowed the wedding guests to enjoy the venue's lovely gardens, and Gabrielle Bower has done a fine job of capturing the guests and the newly-weds relaxing and chatting. Inside the venue, Amy and Chris added lots of handmade details and wildflowers, but made sure that the venue's own style shone through.
"We wanted the decoration of the building to be quite minimal as we thought it was really beautiful as it was. We had lots of wildflowers and purchased items that we loved from charity shops, car boot sales and flea markets."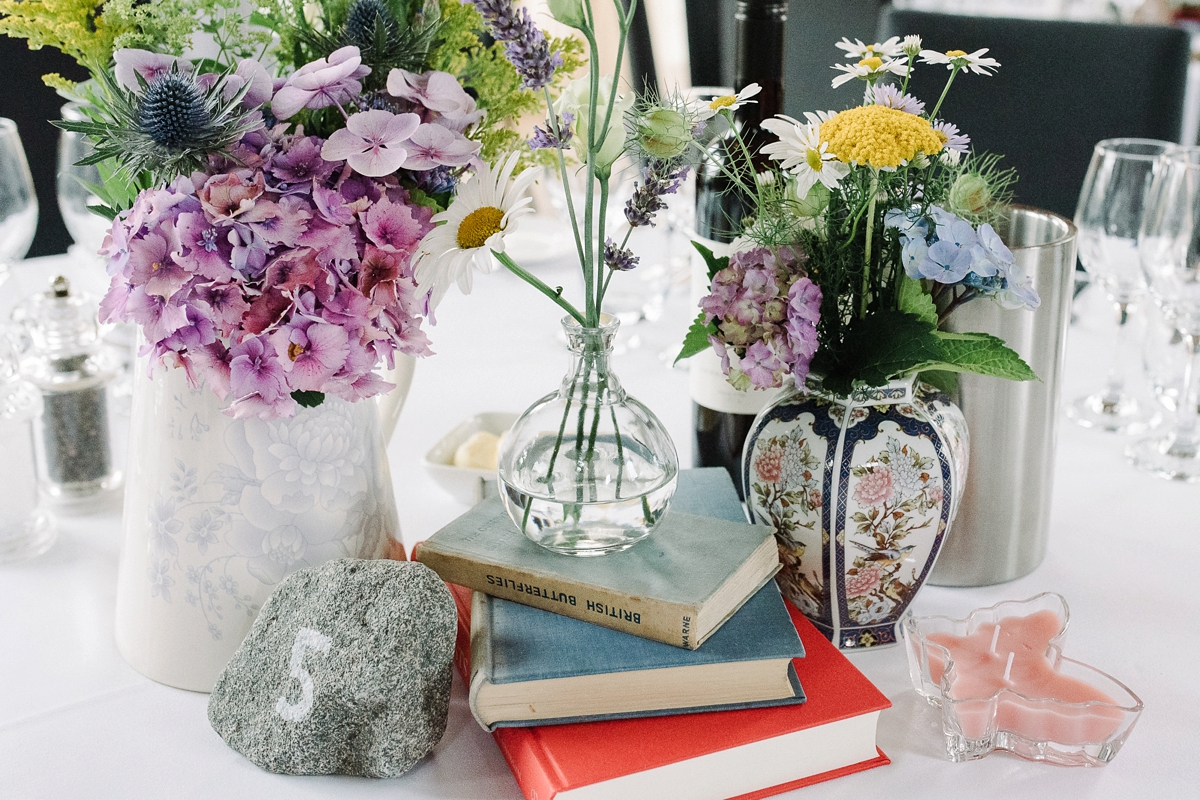 To reflect the wildflowers which brought the outside in, the couple gave the guests little packets of seeds, and the wedding stationery was made by Amy herself.
"I used brown card throughout and purchased vintage cigarette cards from the 1940's from a local flea market and glued them together to make the place cards. The table plan was handwritten by me on a lovely mirror my parents purchased from a local independent furniture shop."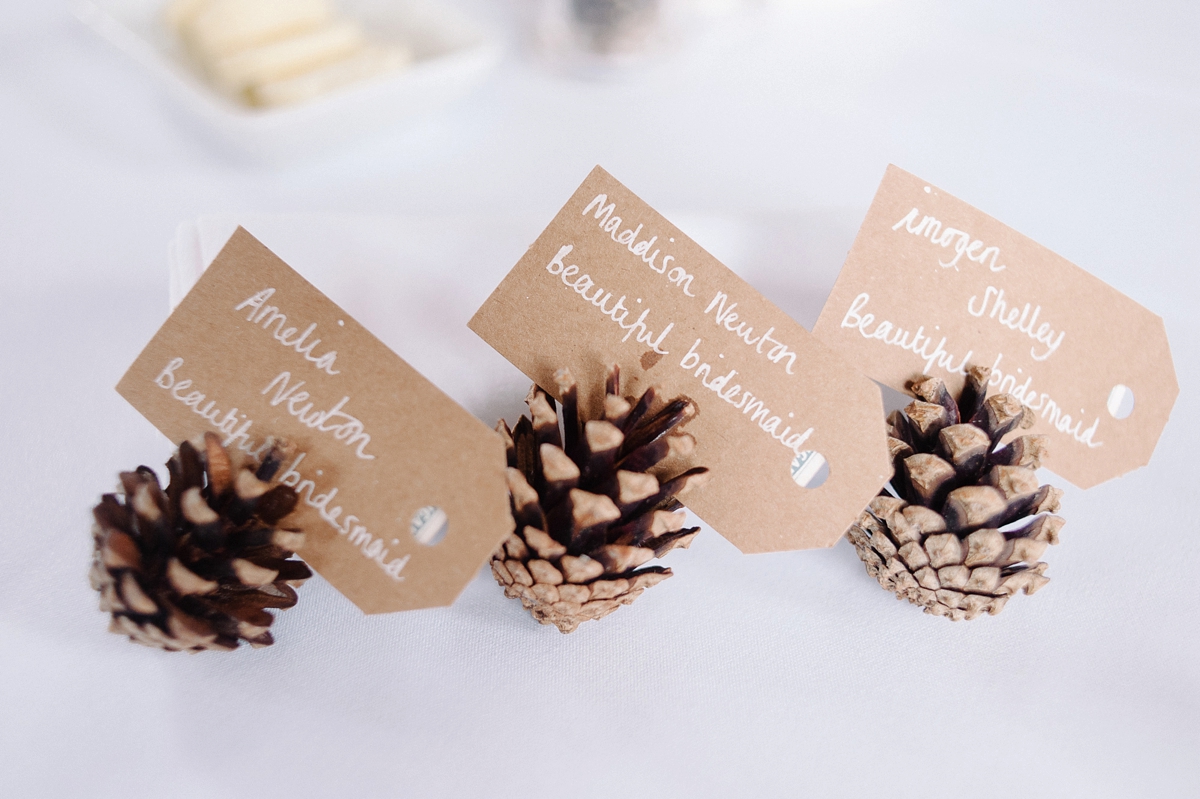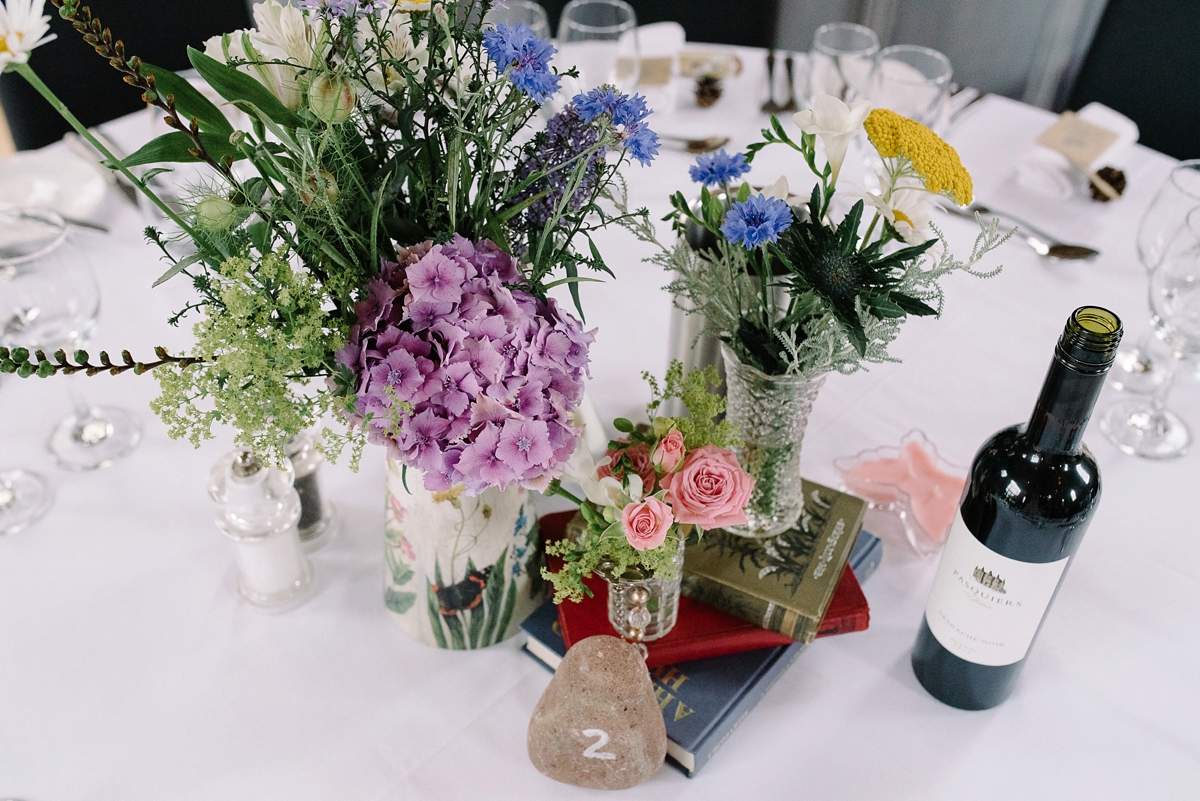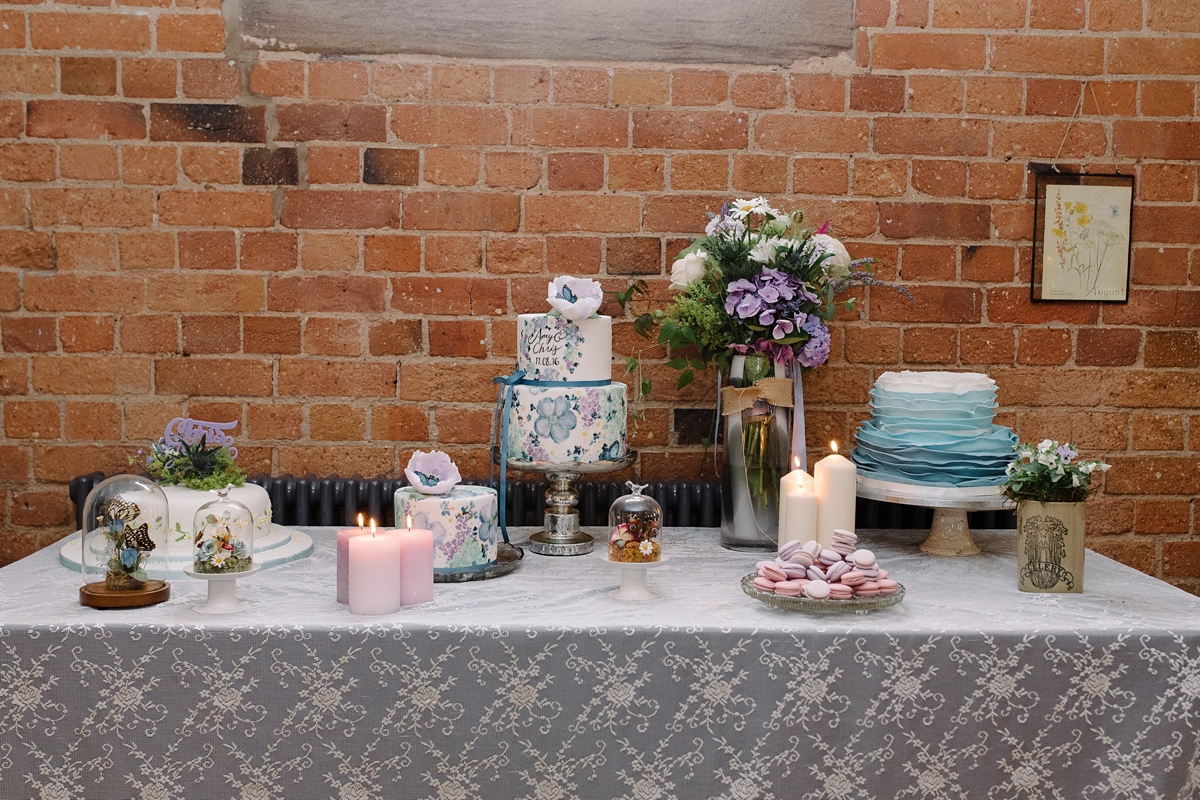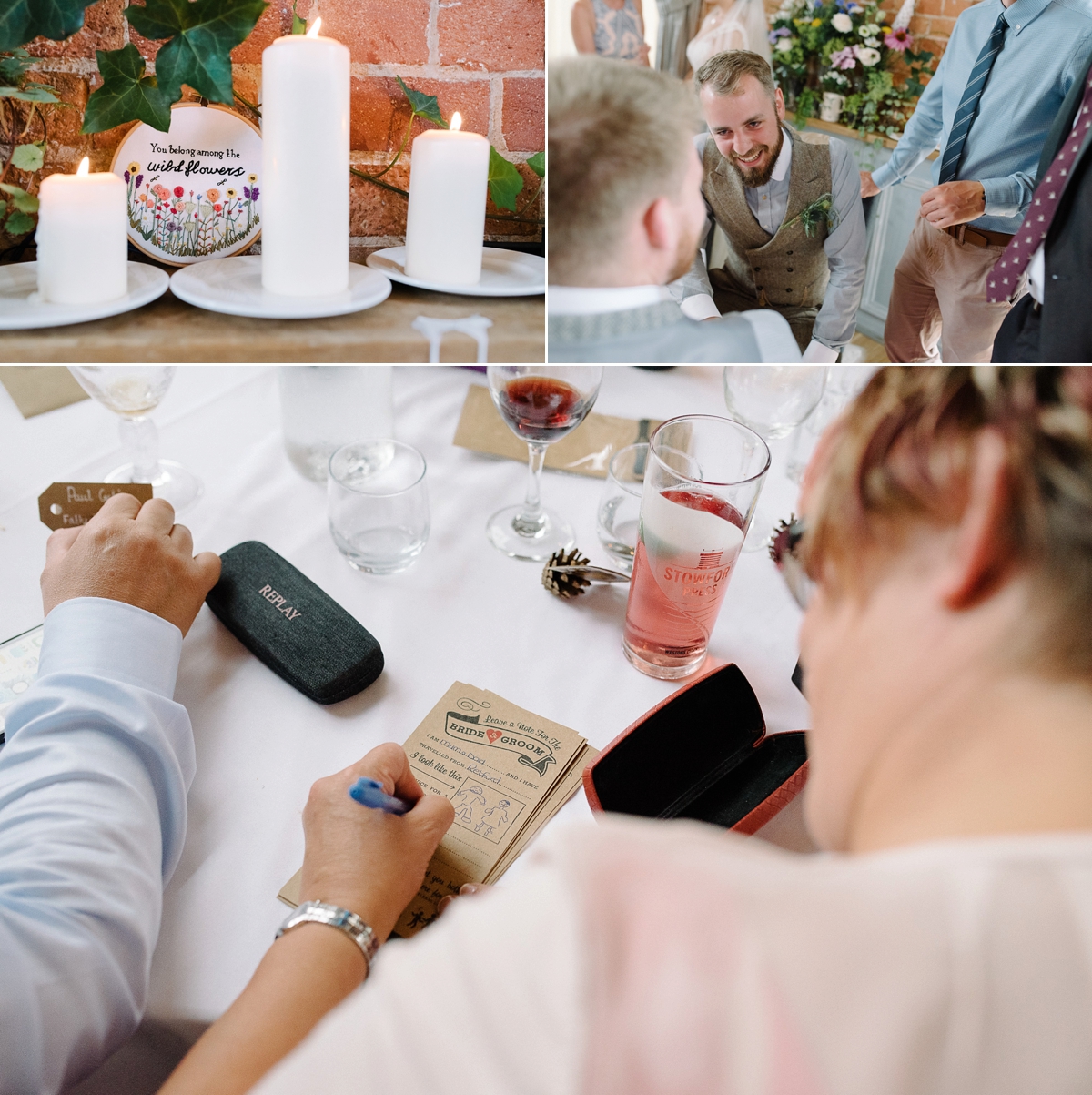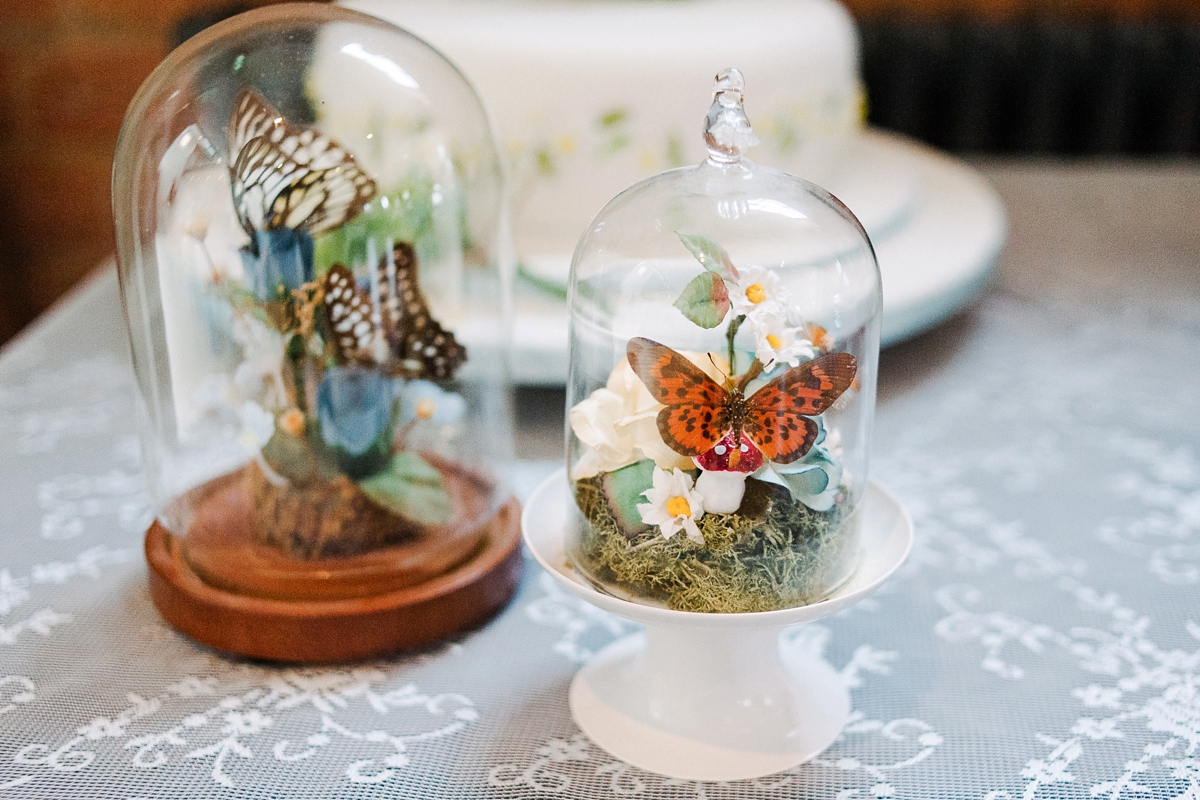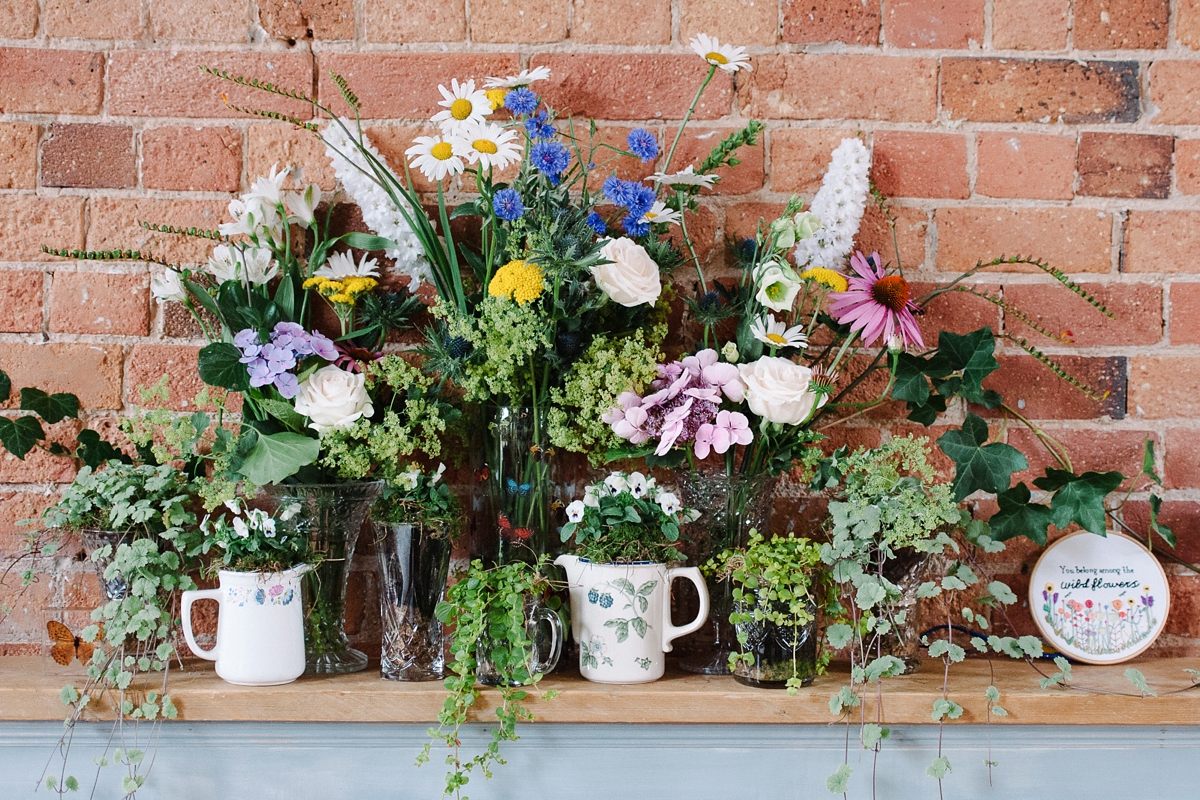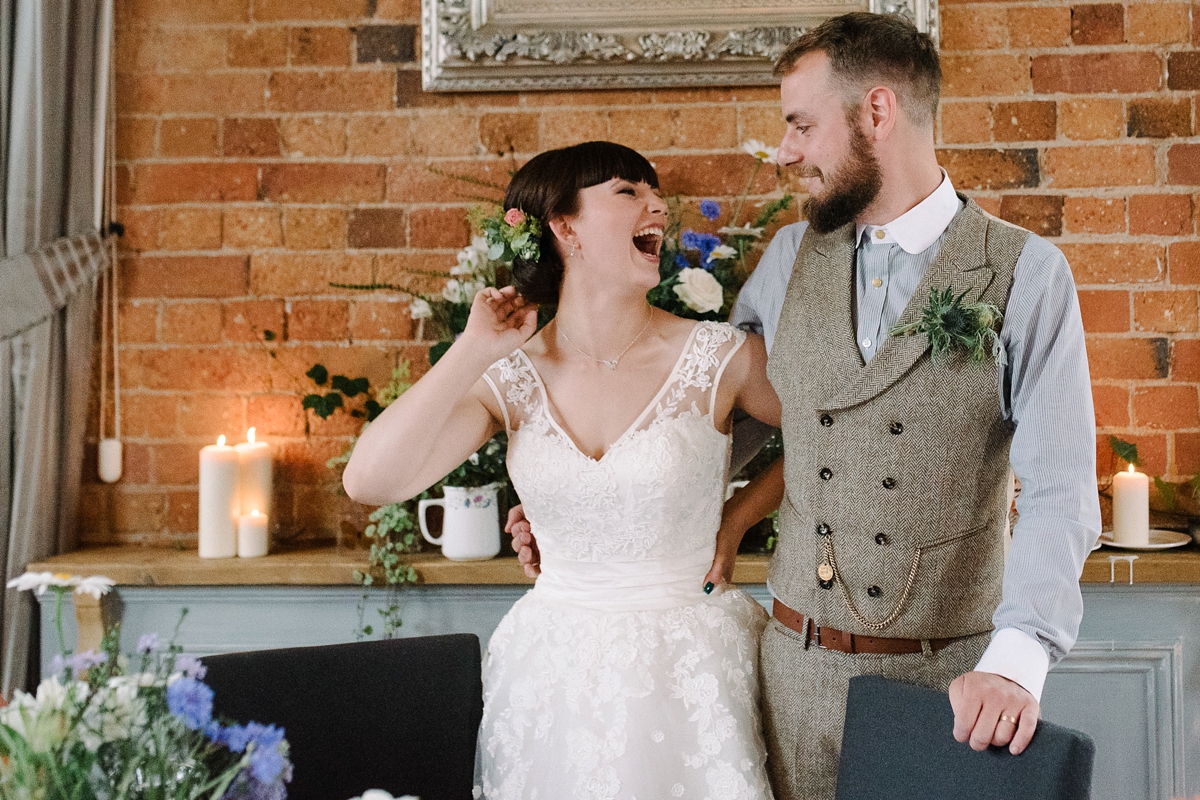 The couple hired Ben Hicklin for their musical entertainment, and chose Red Hot Chili Peppers' 'Hard to Concentrate' for their first dance.
"We opted not to do speeches as I didn't want to put pressure on anybody but Chris's grandad stood up spontaneously and read out a poem that related to butterflies going on their life journey. It was so emotional and I'm really grateful for that. He sadly passed away a few months later."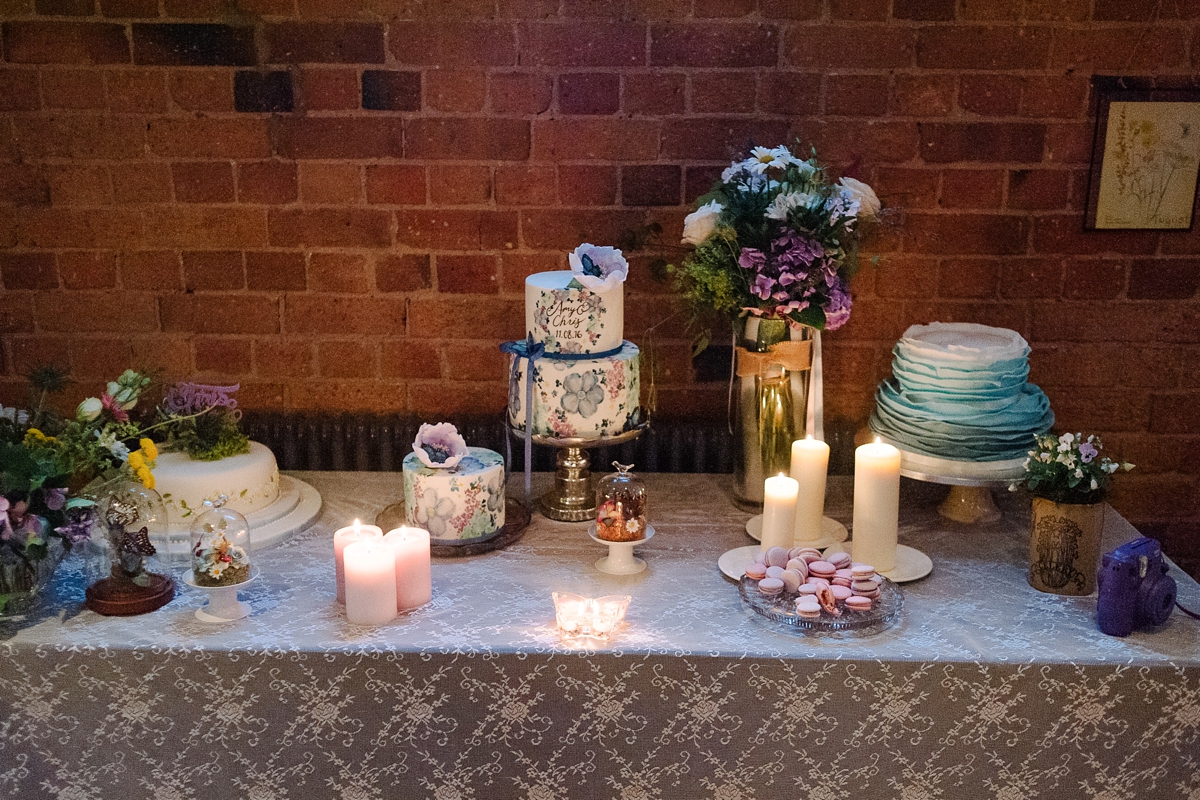 "I wanted a centrepiece cake and The Sugared Rose made me a beautiful orange drizzle two-tier personalised hand painted cake which was beautiful! I then wanted a vegan cake and That Old Chestnut made this for me – a ruffled two tier baby blue vanilla sponge cake. My grandma also made me an iced fruit cake and then asked Vie for Vegan to make me a deconstructed vegan macaron tower."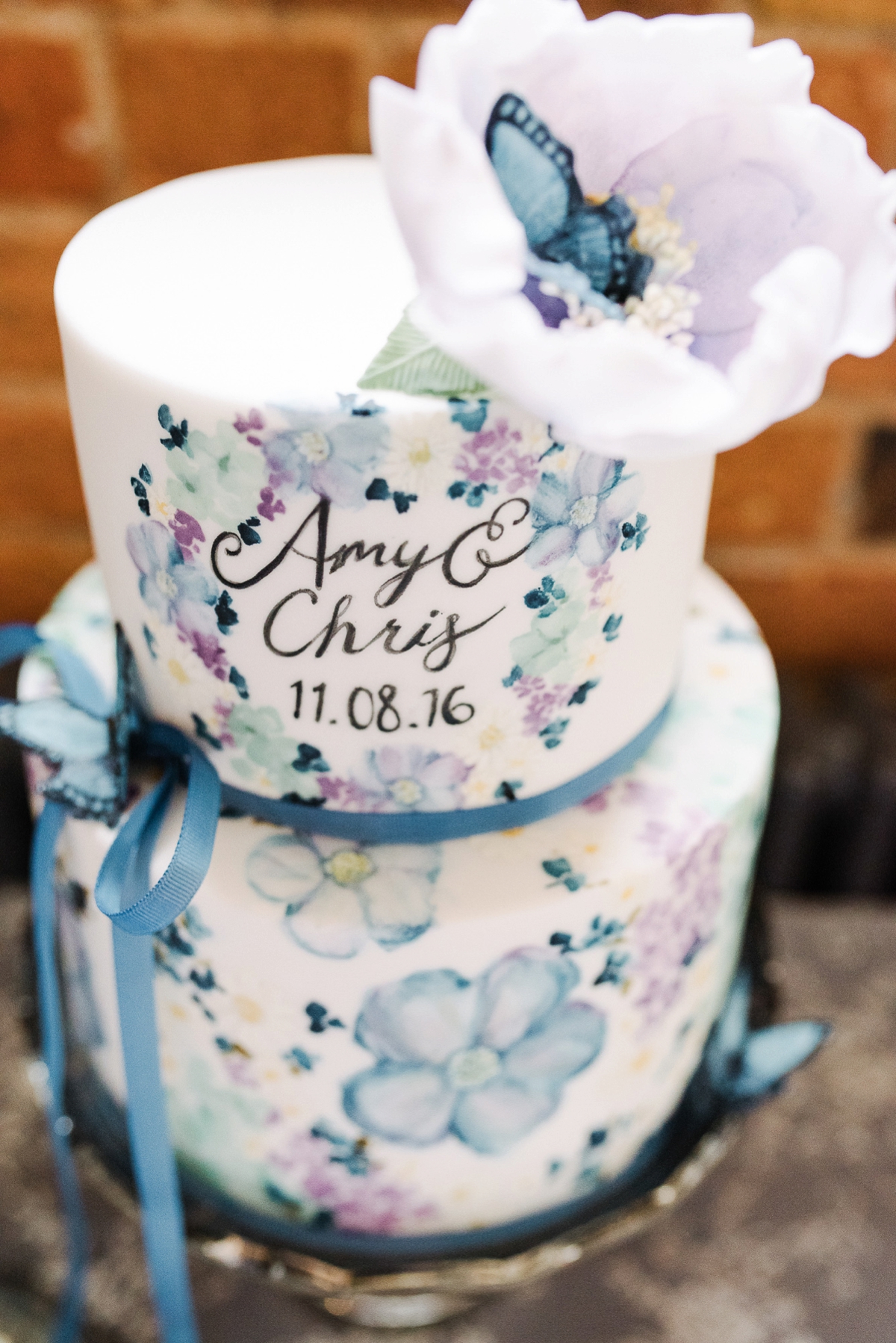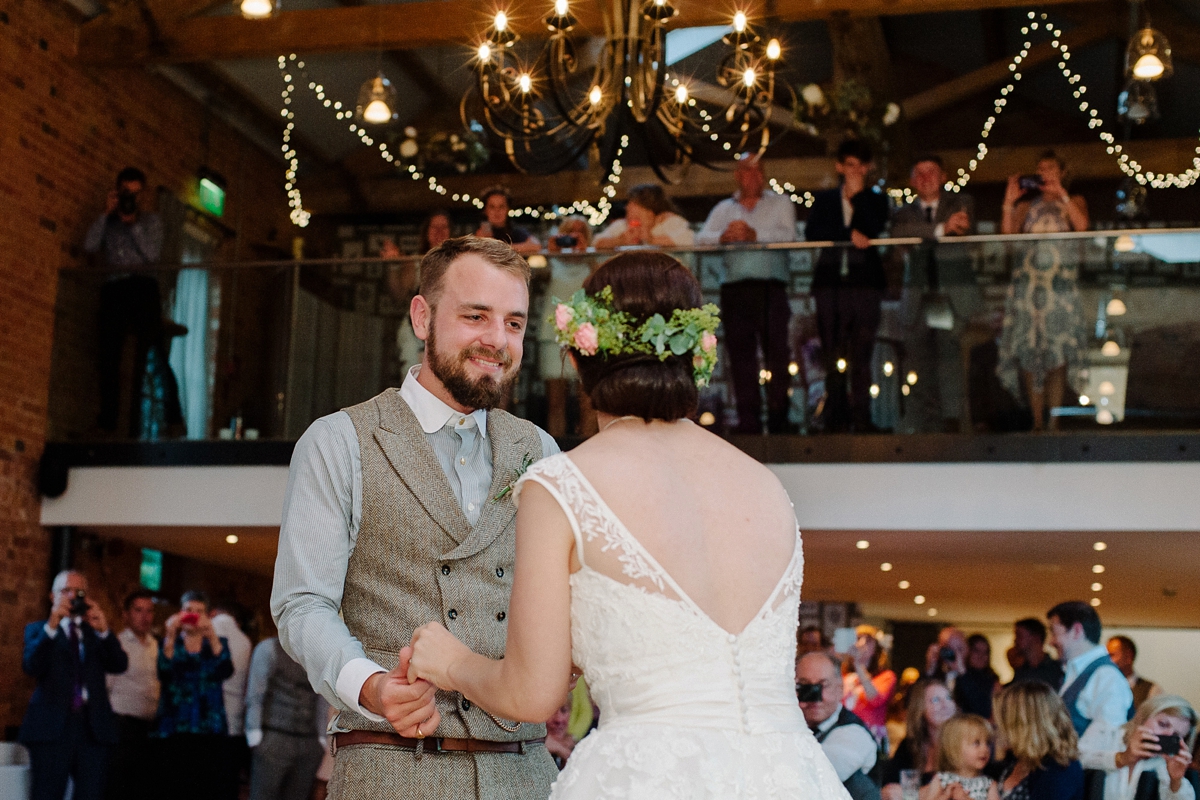 Words of Wedded Wisdom
"I wish I had spoken to my guests more; there were people that I didn't even say hello to and I regret that but time passed so quickly and I don't know what I could have sacrificed in order to do this."
"Stay true to what you want deep down. You will be able to find the right venue and suppliers – it may just take a while. Have a vision and know that you may change your mind. Don't commit to anything you're not one hundred per cent on and know that things won't be perfect but it will be amazing."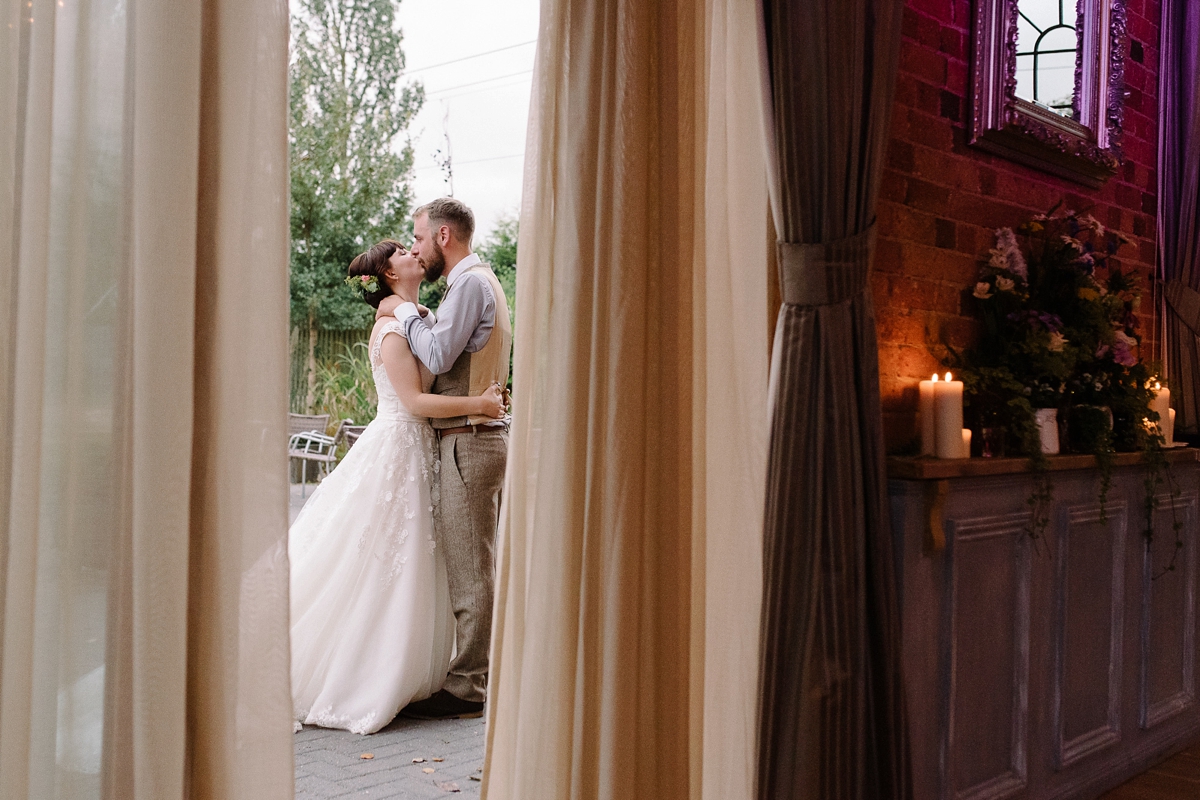 Amy and Chris, thank you so very much for sharing your beautiful day with us. I love how you've woven in your wildflower and butterfly theme so simply and elegantly. Gabrielle, your photographs are so lovely and the relaxed feel of the day shines through, so thank you.
You might like to know that the bride and groom have just set off on a two year trip around the world, visiting fifteen countries and complete voluntary work. If you'd like to keep up to date with their journey, feel free to follow them on Instagram @amyvictoria_johnson and @christophjohnson.
Wishing you all a lovely day
Ele xx