A few years ago now, I went to a rather glam award ceremony in London with Annabel. During the drinks reception afterwards, I met the brilliant designer Naomi Neoh and I admit that I was a little bit starstruck.
Naomi is super talented, so incredibly passionate about what she does and flipping lovely too. I'm beyond thrilled to introduce you to the 2018 Celestial collection from the wonderful Naomi Neoh and it's a massive privilege to hear from the designer herself. If you love elegant, romantic style and are looking for a wedding dress of your own, then Naomi Neoh should be on your list of gowns to try on.
For readers who are new to your label, would you like to introduce yourself?
"I started sewing almost purely by accident. I had to leave my job due to illness and I started making bridesmaids dresses to fill the time during my recovery – it sort of snowballed and now we have a few UK stockists and a shop in Pimlico. I later found out I have a genetic condition and I wasn't going to get better so I needed to run my own business because I can't work 9 to 5. I'm a fabric obsessive and I love the technical aspects of my job. I love doing made to measure and crafting each design to flatter and compliment the individual figure of the bride."
"I design my dresses with both the inside and outside in mind so it helps to create beautiful bridal gowns that are wearable for women of all different body types. The internal corsetry provides that hidden support and creates a smooth silhouette, which makes the bride look and feel confident on her big day, which is so important. I want brides wearing my dresses to feel as amazing as they look in the dress.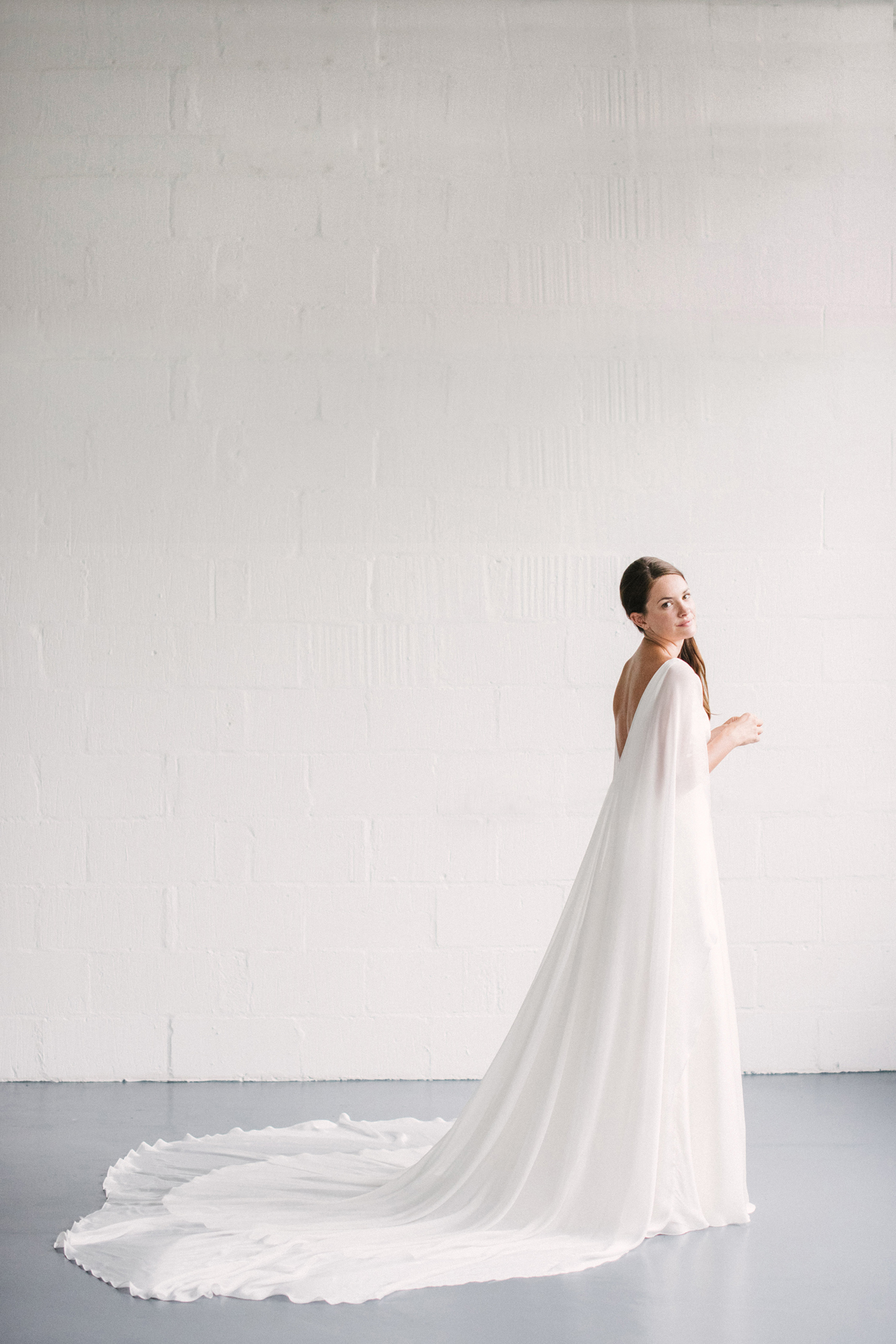 Can you tell us more about the new Celestial collection?
"I have developed new corsetry for the new 2018 collection which gives the dress a softer structure – I have always aimed to make dresses which are supportive but comfortable – so you don't need to wear a bra (no Spanx – ever!) to create a smooth bodice and flatter the figure. All of the 2018 collection contains the elastic corsetry – even the styles with super low backs, so it gives brides a lot more confidence when wearing these styles."
What are the standout features in the new collection in terms of fabrics, styles and embellishments?
"In terms of standout features in the collection I would definitely have to say the sandwash silk used on the 'Pearl' dress, it just feels and drapes so beautifully and looks so luxurious. I've also introduced a new colour into the collection – the dusky lilac 'Venus' dress which has a skirt of soft tulle layered over a subtly shimmering sparkle organza."
"Another favourite new creation is the skirt of the 'Serena' dress, I wanted to design a big full skirt without the stiffness of a petticoat so the organza moves and floats freely – I'm so pleased with the outcome and it seems to be a favourite amongst my team!"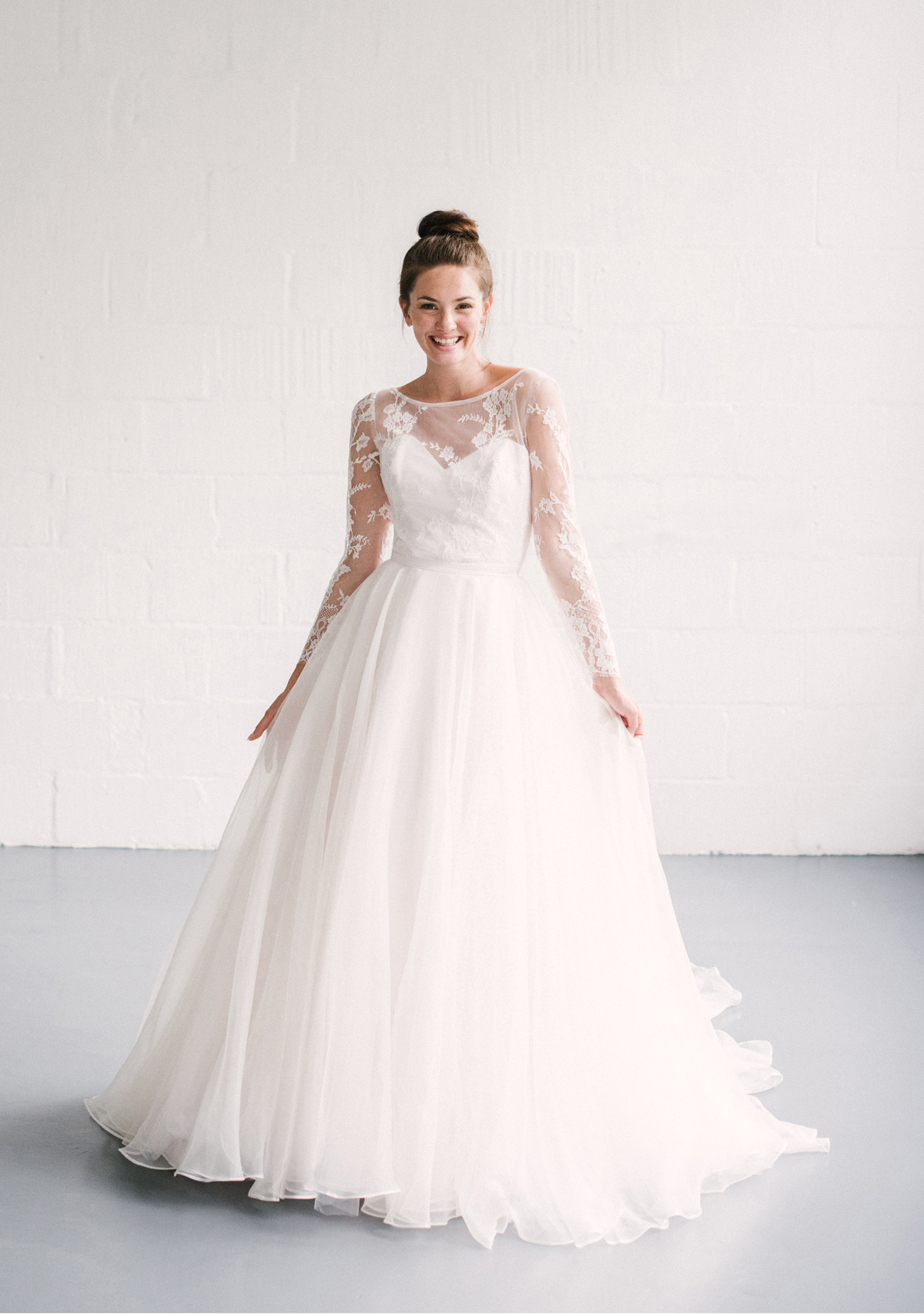 What was the inspiration for the new collection?
"The Celestial collection is inspired by the wilderness of the heavens and the natural beauty of the sky. There is so much beauty above our heads every day and at times we never stop to take a moment to take it all in. The natural colours in the sky created by sunrise and sunsets, the twinkling of the stars in the midnight sky and soft floating clouds were the main inspirations behind this collection."
Can you tell us more about how you go about designing a brand new collection?
"I sketch constantly – I have about 1000 ideas going at any one time – I dream about them a lot – so I keep a notepad by my bed. Then I start draping – I make a huge mess pulling out piles of fabrics and pinning them round a dress dummy to see if I can make my sketch work. I do this a lot at home in my attic as I think best at night. I'll usually take a photo at this stage and send it to everyone in the office to see what they think. "
"If it's all looking good we'll start making it. I think it's really important that the inside supports the outside of the dress – for the most part I want anyone to be able to wear my dresses – you don't need to be a size 8 or 5ft 10″. I think about how I would like to feel wearing the dress – and how my staff would feel wearing the dress. So, the structure, cut and form are all as important as the embellishment."
Do you have a favourite design from the new range?
"It changes all the time – but currently I love Pearl – she is fully corseted, yet backless and completely flattering and looks soft, utterly simple and floaty. The fabric is incredible – I'd like luxury pyjamas in it – it's so soft."
Did you have a specific bride in mind when you were designing these gowns?
"The brides I work with in our Pimlico store inspire me a lot. I love to hear about how and why brides chose their dress.  They give me loads of design ideas! And my staff! They all play a big part – we don't make anything that doesn't get team approval."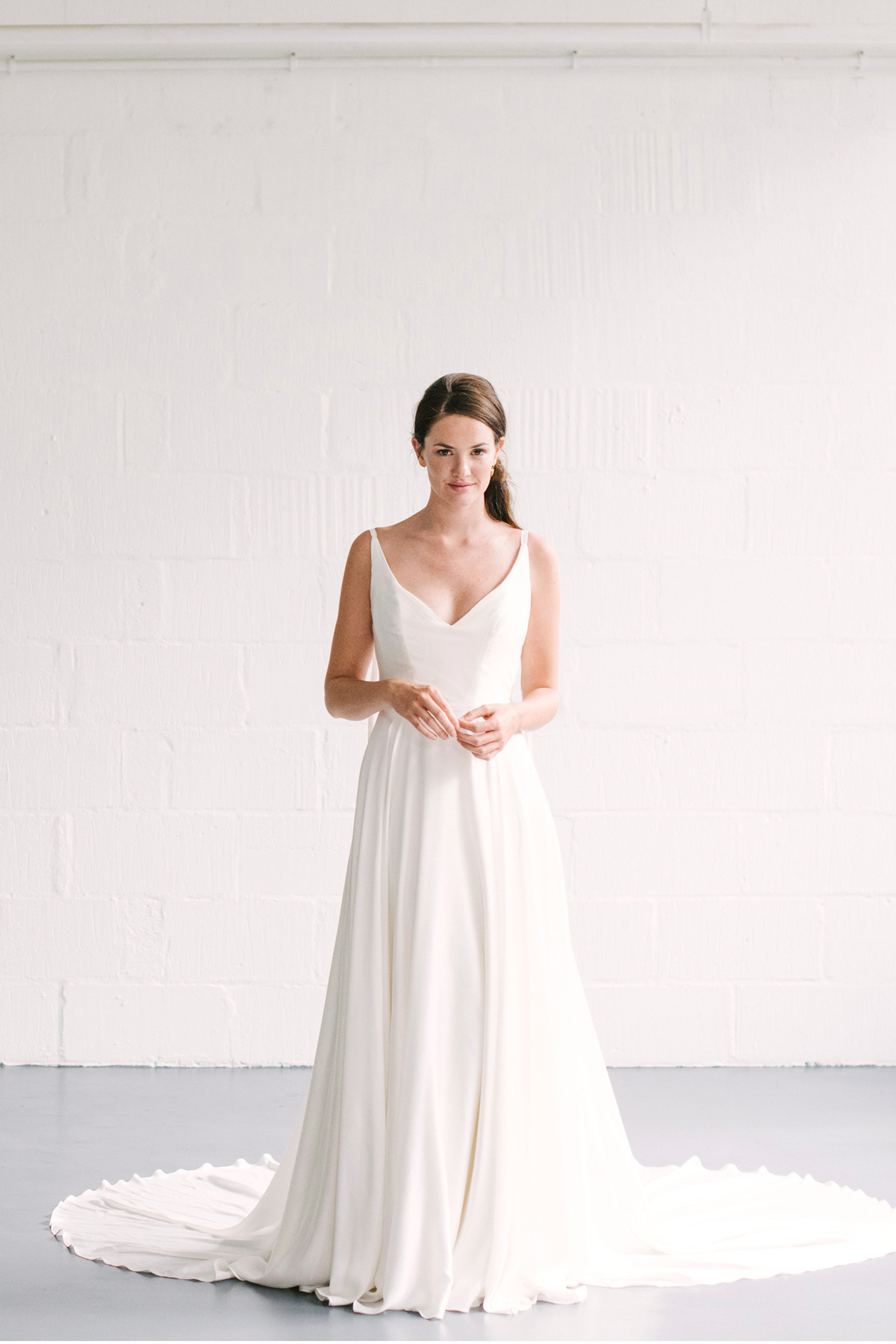 "I think our brides are light hearted, fun loving individuals who want to feel romantic, confident, comfortable, beautiful, relaxed, and above all – like a bride – that may sound silly but even though I love the fashion element of bridal – you don't get to wear a wedding dress very often so it needs to be very special."
What advice would you like to give brides who are looking for their perfect wedding dress?
"I'm a recovering perfectionist – so I try not to use the word perfect! Find the dress you feel good in – that may not be on your Pinterest board and it may not be the dress you chose online – because that one may not feel right when you put it on. Keep a really open mind and try on a good range of dresses. Don't get disheartened if the dress you thought was the one you wanted doesn't work when you put it on. Choose elements you like from the dress – neckline, fabric, embellishments etc. – and look for those elements in other styles."
When will these beautiful new designs arrive with stockists/be available to brides?
"They will arrive with our UK stockists from end of November 2017 and are available to try on now at our London showroom."
Oh Naomi, the Celestial collection is just a triumph. I love the beautiful back detailing in these dresses, the super feminine shapes and the heavenly silhouettes. If you're a bride to be who wants elegance, sophistication and a timeless, delicate, impeccably made gown, this is the collection for you.
To find out more about wedding dresses by Naomi Neoh, do take a look at the website. Here you'll also find details of the London showroom, stockists and much more and you can look through our archive of real brides wearing Naomi Neoh dresses here (we've some gorgeous weddings coming up in the next couple of months that we'll be adding to this collection).
Love,
Tamryn x