Good morning lovely readers.  Today we have for you the most beautiful and elegant wedding. The ceremony took place in the chapel of a stunning Oxford University College and the laid back reception in a pub on the river.  Funnily enough I'm actually sat in a (different) Oxford College  as I type, so it seems the perfect time to write up this lovely day- surrounded by the dreaming spires themselves.
Meet Warren, a PHD student in Japanese History and Kaoru, who works in international business development for a Japanese fashion and lifestyle brand, who married in Exeter College chapel on the 14th of August 2016, followed by a reception at The Perch, Oxford.
"Having had a Shinto Japanese style wedding ceremony, and a British-Japanese fusion garden party in Japan, we wanted to have a traditional Church of England ceremony for our UK wedding and then for the party to be in a British country pub.  My mother, Kaoru, loves Inspector Morse, and the Exeter College Chapel church was used in one of the episodes, which made the experience even sweeter."
Photography by Jacqui McSweeney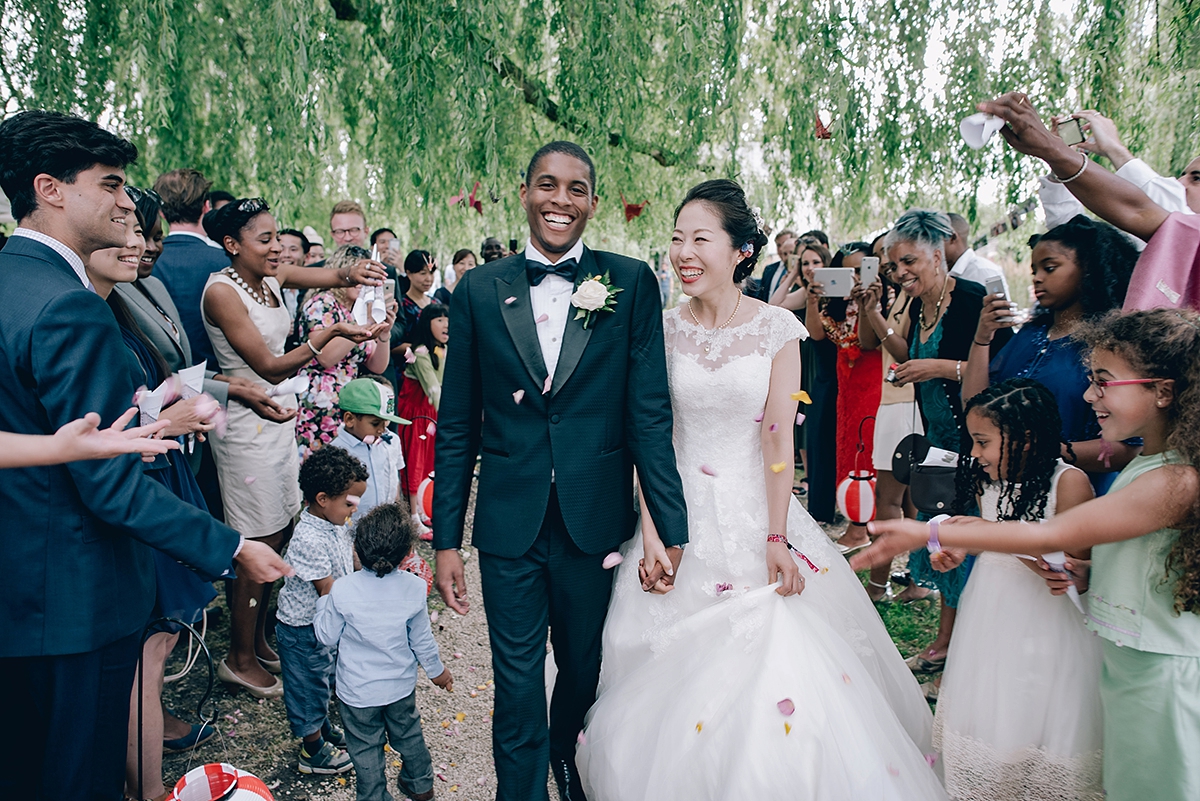 Our much loved Little Book For Brides directory member, the talented Jacqui McSweeney, captured every moment of the elegant ceremony and fun filled reception celebrations.  We love sharing Jacqui's work on Love My Dress – her signature style is light and clean.
"We took one look at the fashion-magazine, fairy-tale like photographs on Jacqui's website and we were sold.  Everything about our experience with Jacqui was first class- the pre-wedding preparation chat, during the wedding her photos were fast, thoughtful and discreet and when we eventually received the beautifully packaged box of carefully selected photos along with a lovely wooden USB stick with the full album, we were blown away by the quality.  The fact that we still regularly keep in touch with Jacqui today says it all."
The couple met in 2014  at a party at Warren's workplace, through a mutual friend.  Kaoru had spent a year in the UK as a high school exchange student which piqued Warren's interest and the two got talking.  They got engaged a year later in the summer of 2015 and had their first wedding ceremony in Japan in spring 2016, before their UK wedding in the summer of 2016.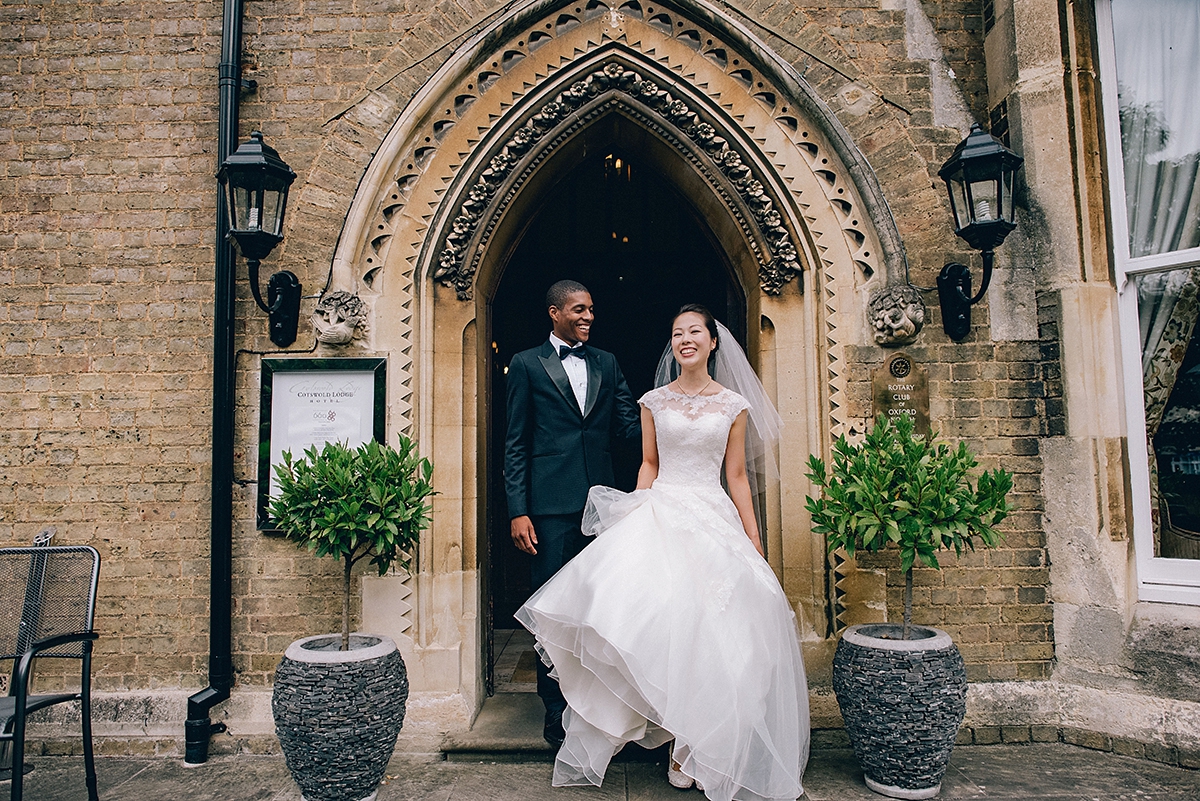 Kaoru looked lovely in a beautiful full-skirted gown she bought from a pre-loved dress shop in Yokohama and brought with her to Oxford.
"Because I wore a pretty short dress at our wedding in Japan, I wanted to choose a more elegant one for the church ceremony.  It perfectly fit my size and I absolutely loved it- especially how it looks from the back."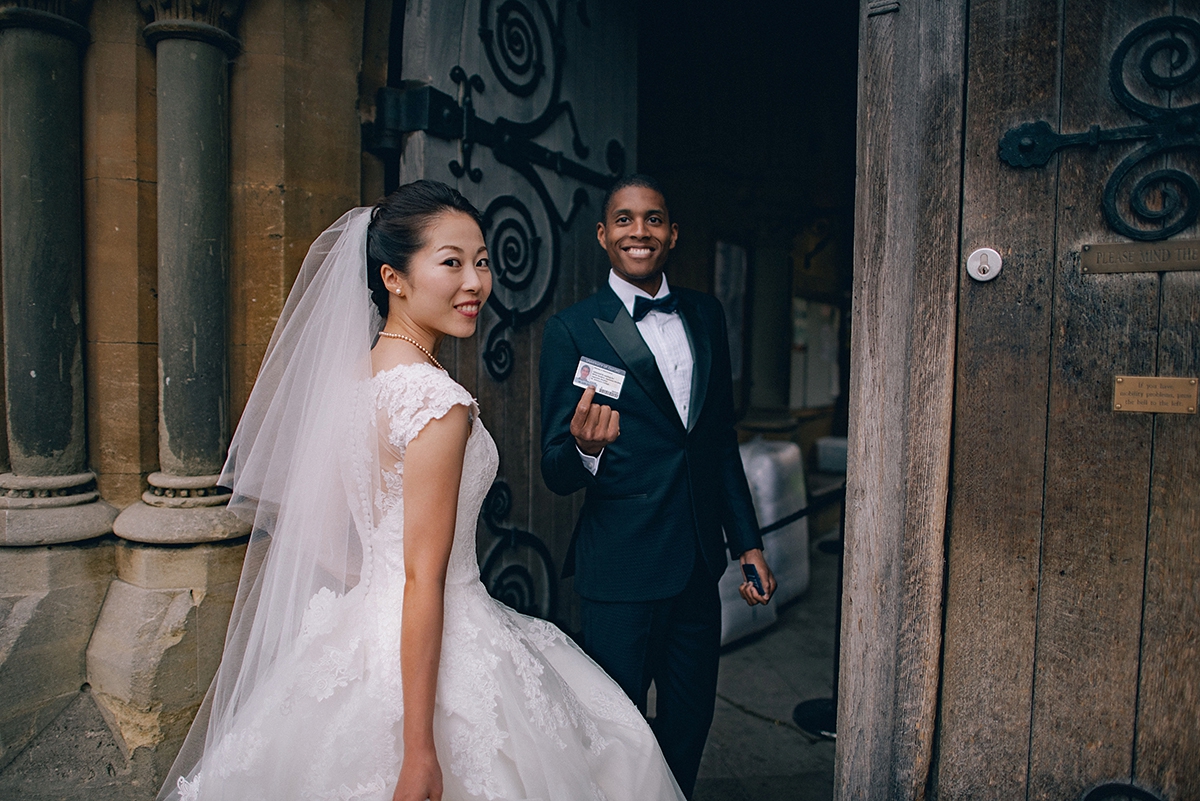 Warren looked very smart indeed in a Paul Smith suit, paired with a bow tie from Reiss– a very classic and sharp look.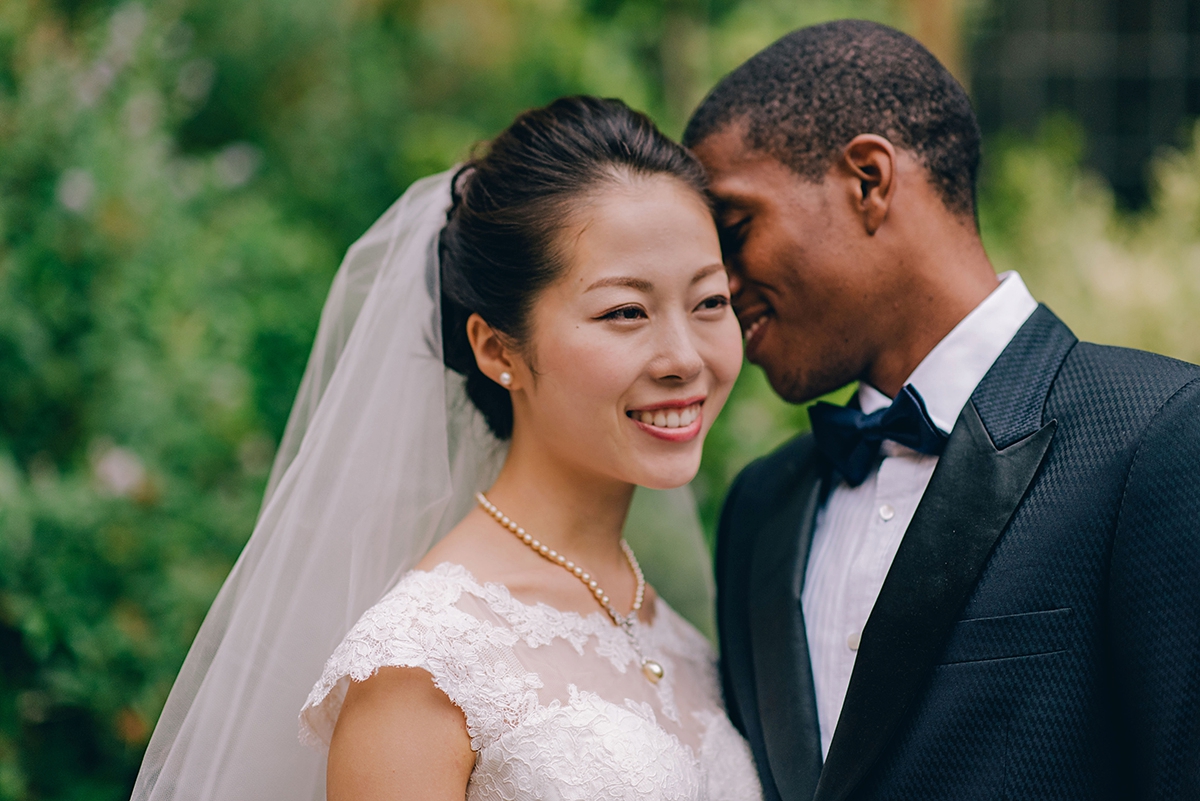 Kaoru's veil was from a boutique in Shibuya, while her shoes were handmade lace heels found on eBay. In her hair she wore an accessory from Warren's mother, while for jewellery she wore an antique pearl necklace and earrings purchased by her mother.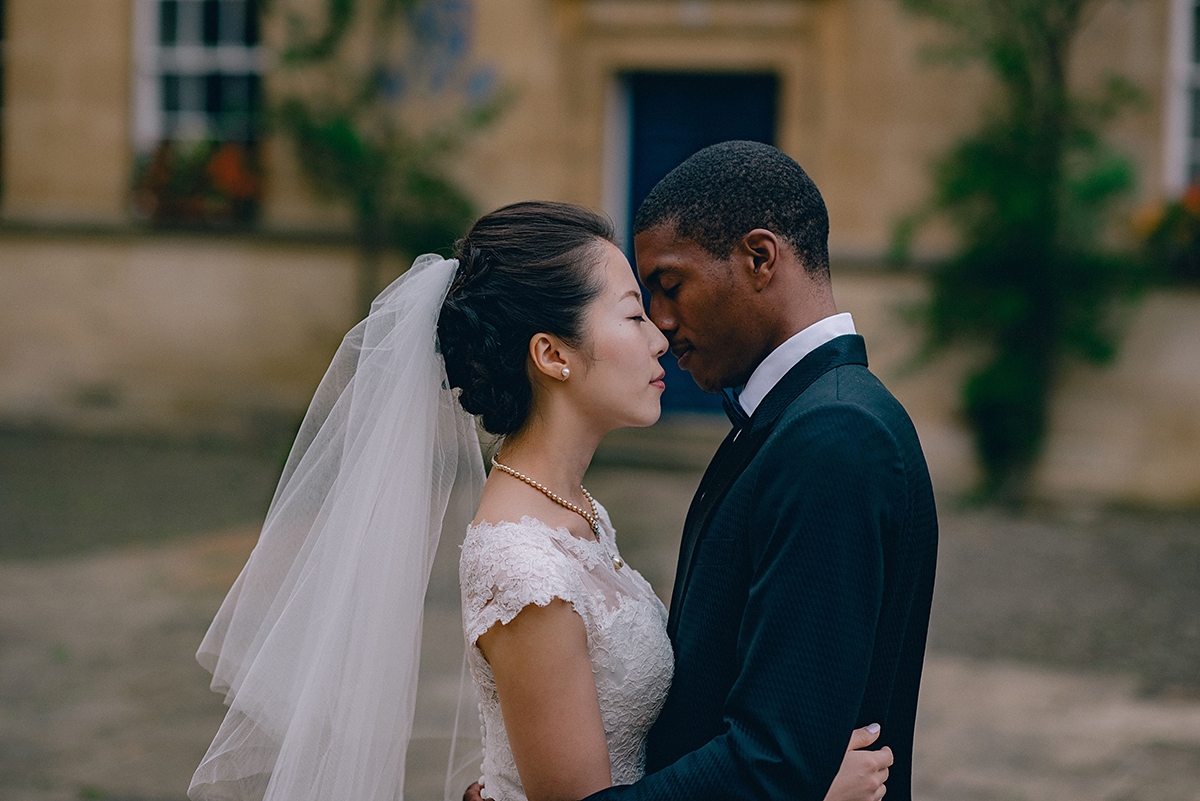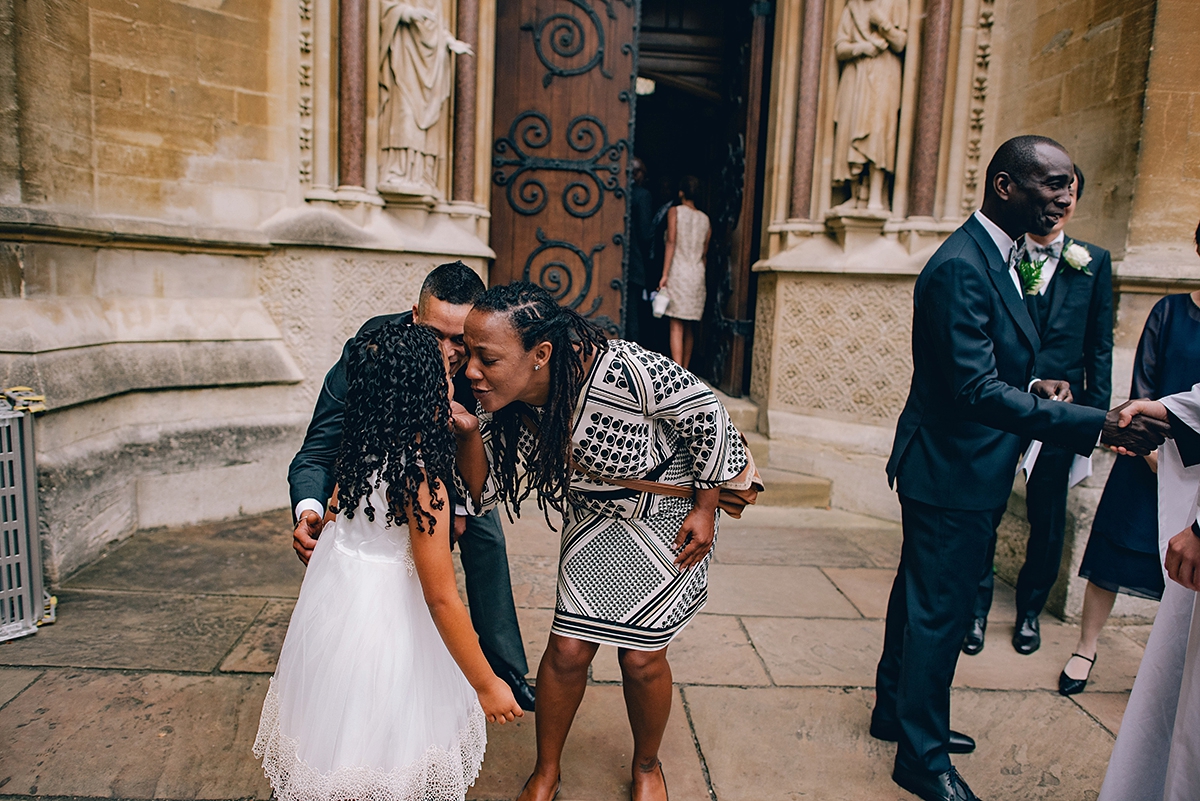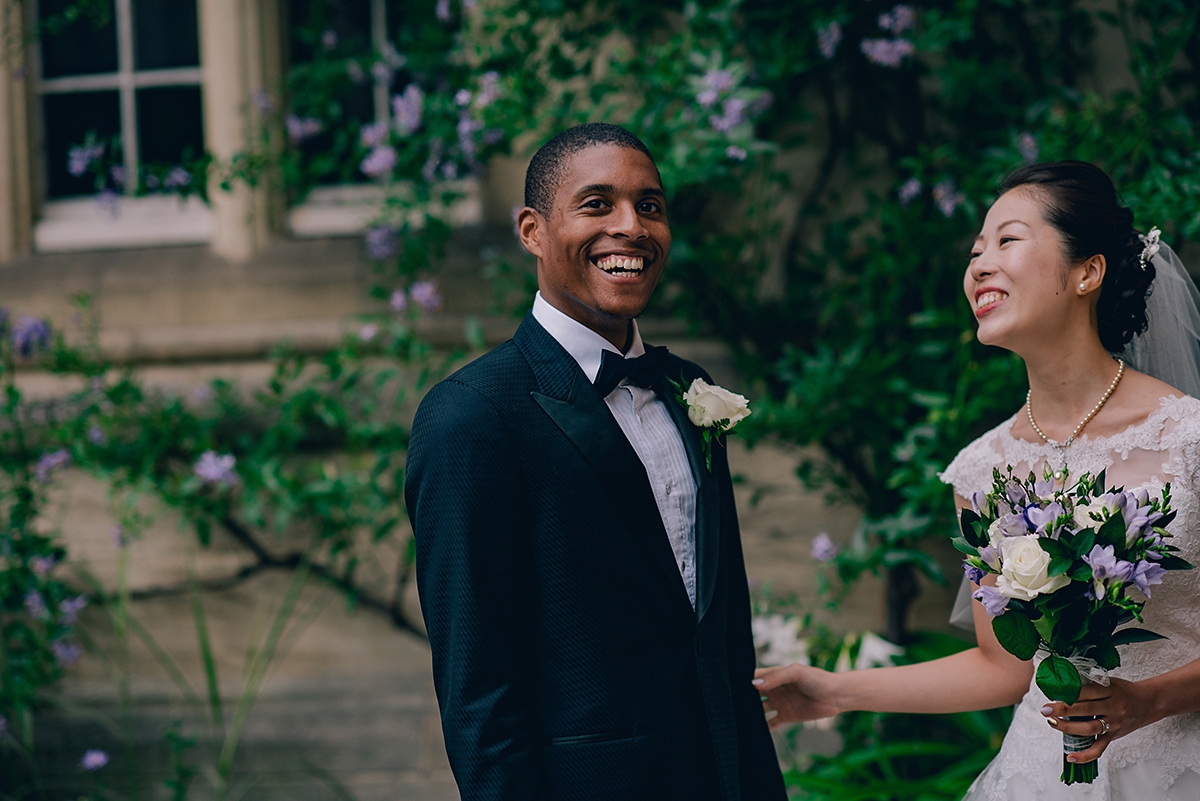 Both sets of parents walked down the aisle behind the bride and groom to the incredible sound of a choir from the college chapel singing 'Morning has Broken'.  Warren and Kaoru spoke the traditional Church of England vows and for readings, chose Song of Solomon 4:9-14, 4:16 and 2:13, 16, followed by a Japanese poem by Fujiwara no Yoshitaka.
"I always thought I would give my life to meet you only once, but now, having spent a night with you, I wish that I may go on living forever."
The newlyweds exchanged rings from Ginza Diamond Shiraishi, a Japanese jeweller who work with ethically sourced diamonds and provided an excellent service to Warren and Kaoru.
They even offer a 'proposal ring' service that allows you to place the diamond in a temporary size-adjustable ring to propose with, which you can then return and replace with a permanent ring, allowing one to make a surprise proposal without worrying about ring size. What a fantastic idea!
Warren says: "My favourite part of the day was the wedding ceremony itself.  Our family and friends gathered together in the intimate chapel lit by the natural light shining through the stained glass windows, we had hymns sung by a four- voice choir, my cousin played the piano, the Japanese national anthem played on the organ, and the final hymn was 'All creatures of our God and King', (this was the only hymn Kaoru and her parents knew – their reference was Mr Bean!).  It felt as though time had stood still and we were present in the moment."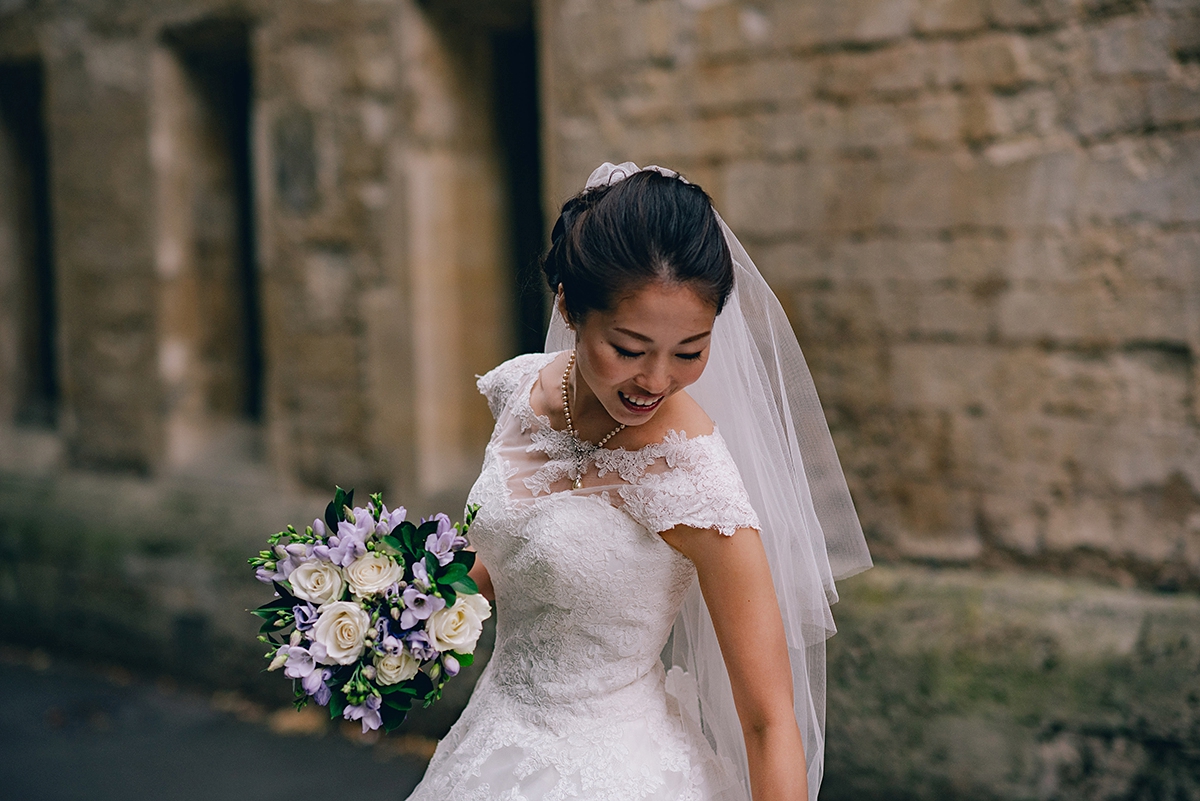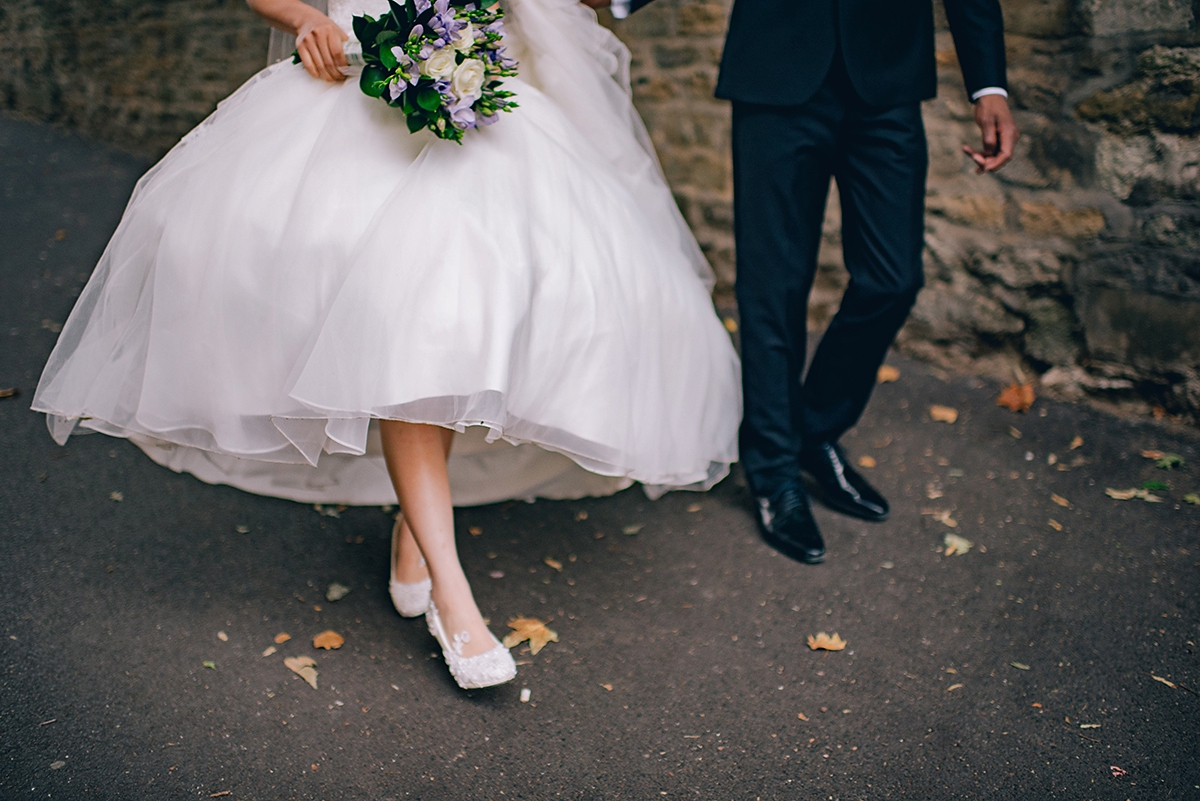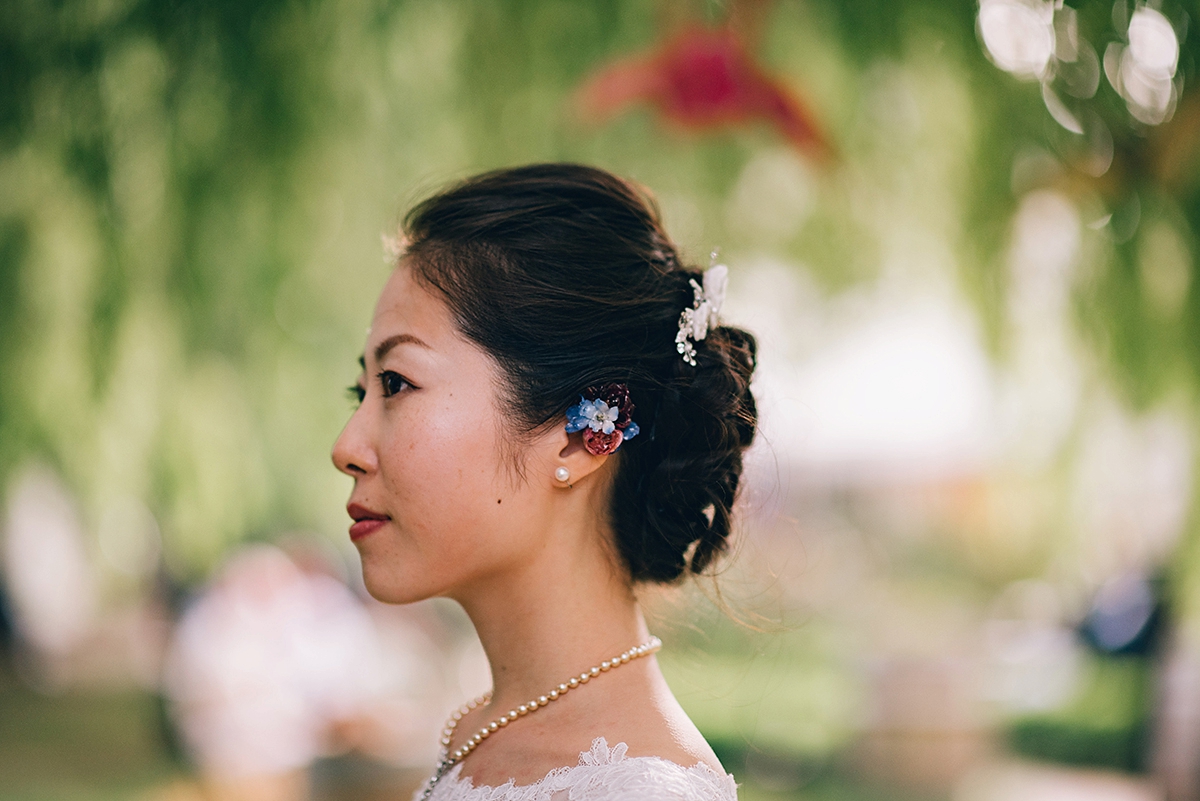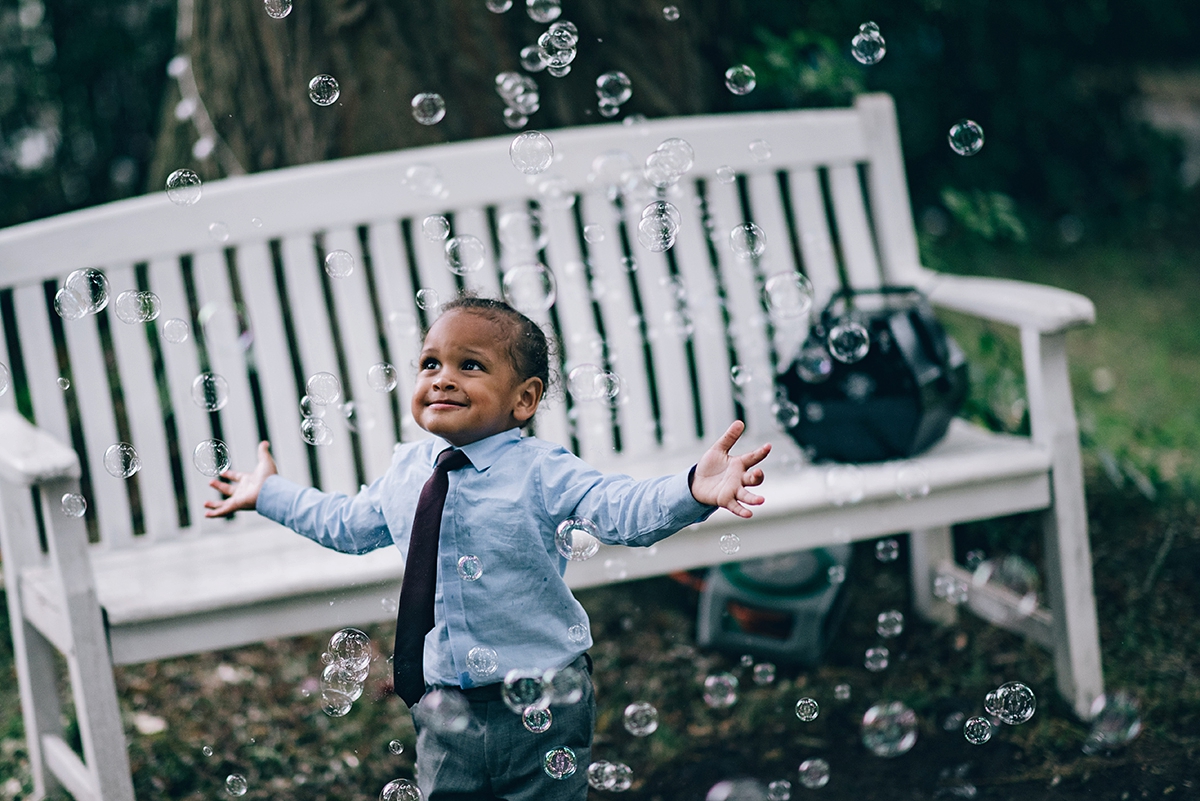 For the reception celebrations, the newlyweds and their guests moved to The Perch which they and their family decorated with a range of Japanese stationery, traditional lanterns and fans. They even used a Shinto shrine prayer book for their guestbook.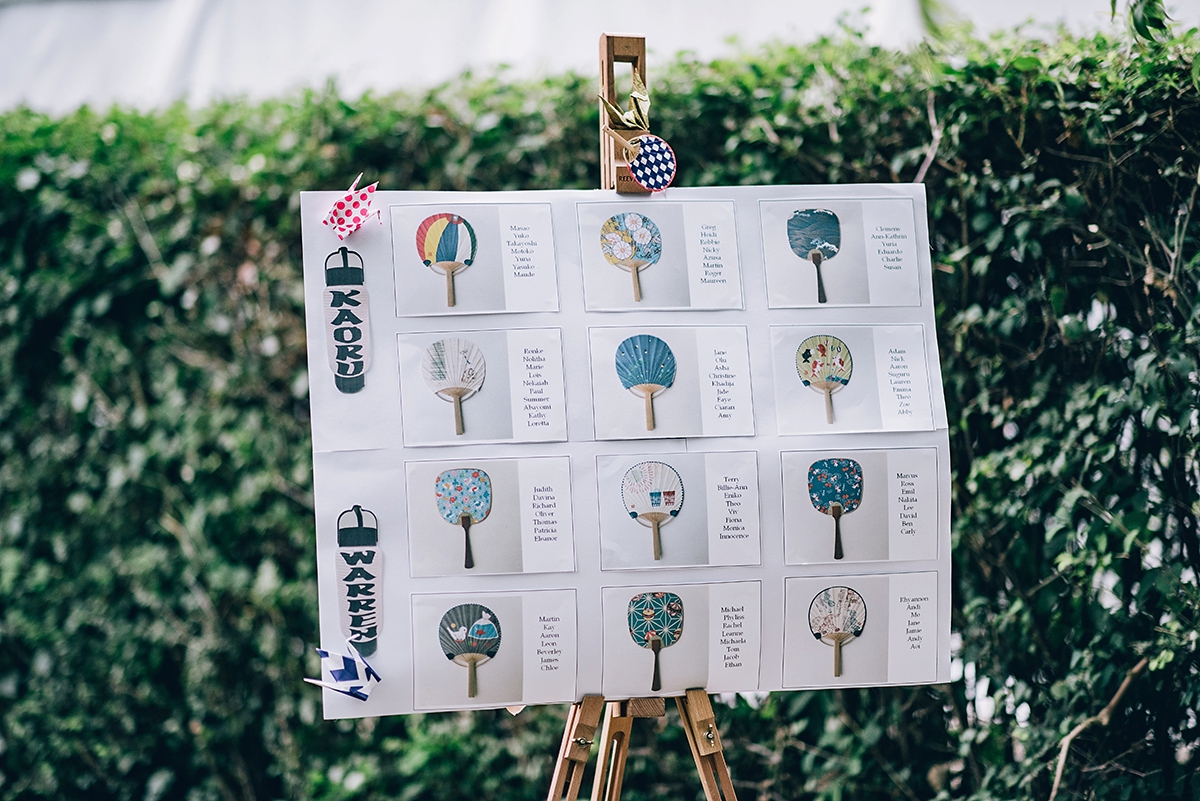 Kaoru's family's favourite florist decorated the venue and designed both the bouquet and hair accessories and a talented friend later remade the flowers into a preserved flower ear-cuff.
"For the party we included lots of Japanese elements so that our British guests could get a taste of Japanese culture. We brought Japanese summer festival lanterns, a sake tasting bar, Japanese sweets and snacks, origami cranes for the decoration, fans for the seating plan instead of flowers, and a barrel of sake which we cracked the lid open to begin the celebrations.  It was a whole family effort for the setting up of the decorations the day before and on the morning."
Catering was provided by the pub, while the delicate floral painted cake came from Cutter & Squidge, (which has to be one of the most wonderful bakery names there is…)
During the meal, Jazz band 'Quintessential', who are family friends of the couple, created the perfect atmosphere.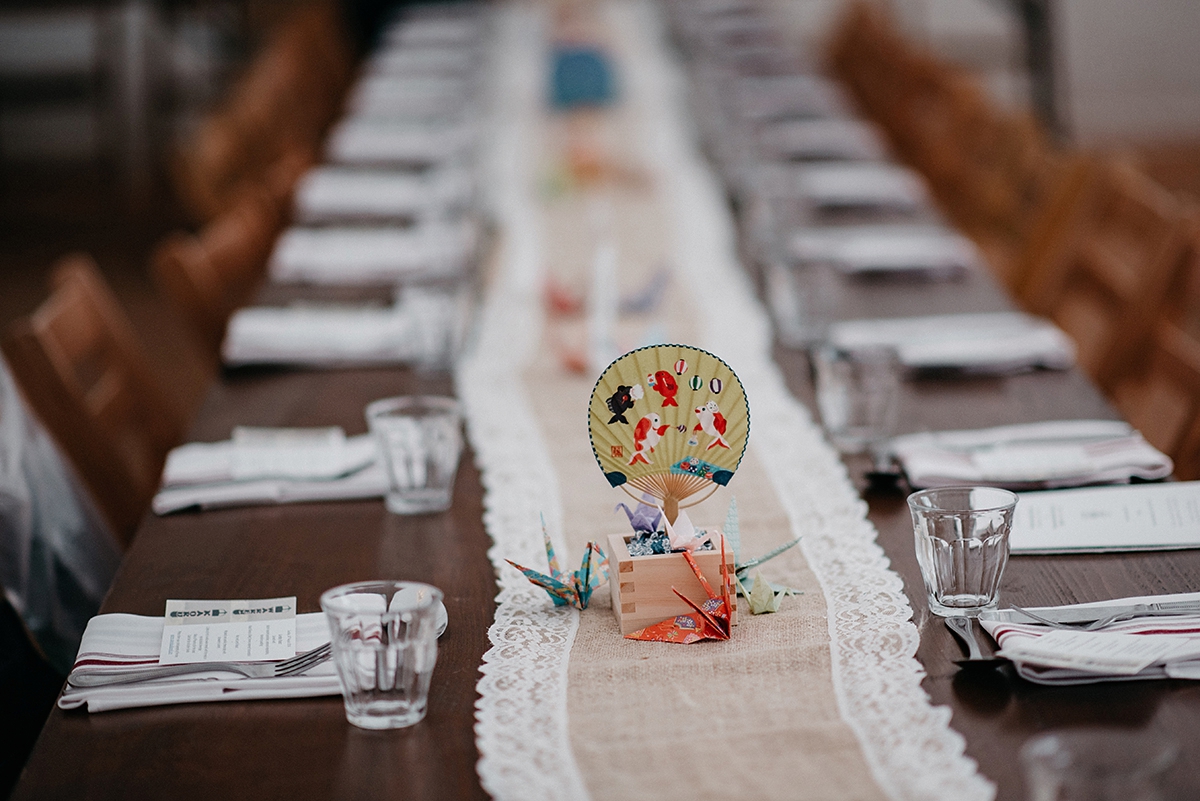 "It is difficult to choose one moment but the wedding breakfast was one of my favourite parts of the day. Traditionally, Japanese weddings and dinners tend to be a bit too serious and we have to follow a lot of customs, but ours was a lot more casual, full of laughter and a few tears, with a live jazz band in the background."
"I loved sneaking out with Warren and Jacqui to take pictures on the green under the sun, and I had plenty of time to talk to every single guest who gathered to celebrate with us."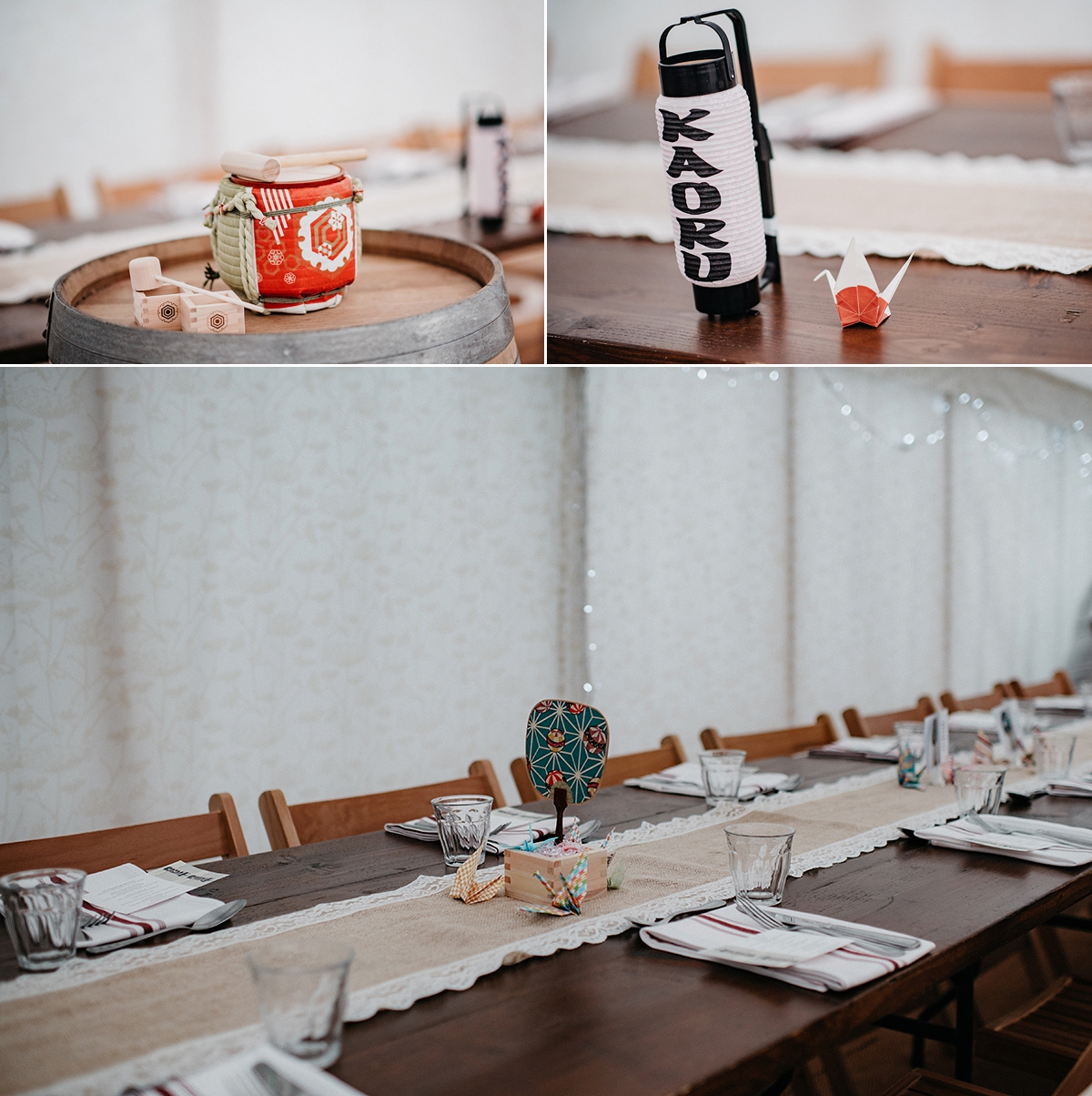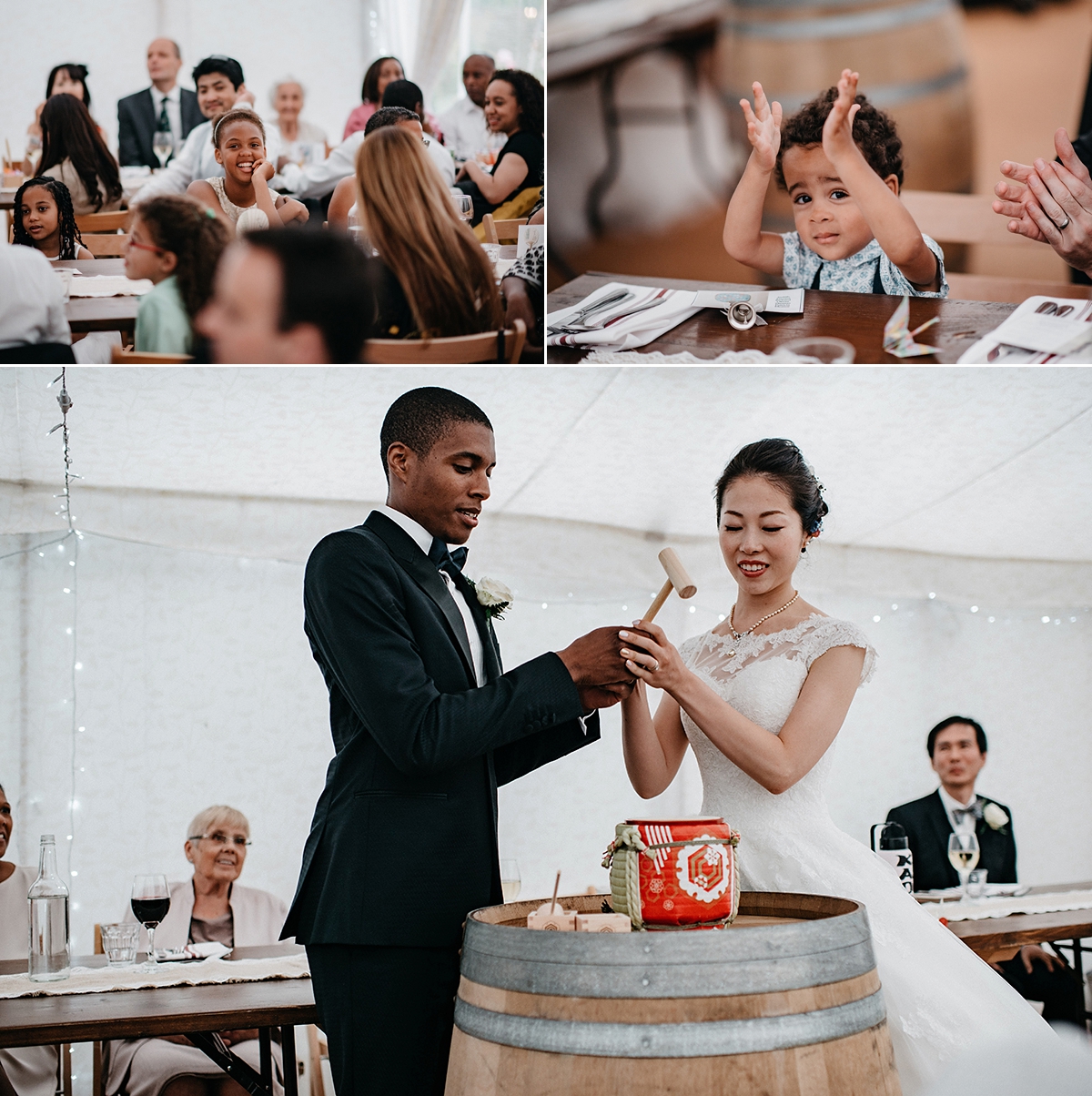 Words of Wedded Wisdom
"Enjoy every single step you take during the preparation, when you walk down the aisle, and towards the long journey with your brand new family."
"If you do a speech, prepare it at least three days before the wedding so that you do not have to spend your last night as a single at your desk scribbling.  I wrote my speech on the plane on the way from Tokyo to London and had it checked by Warren, but still got a bit nervous when I had to read it out in English in front of all our guests."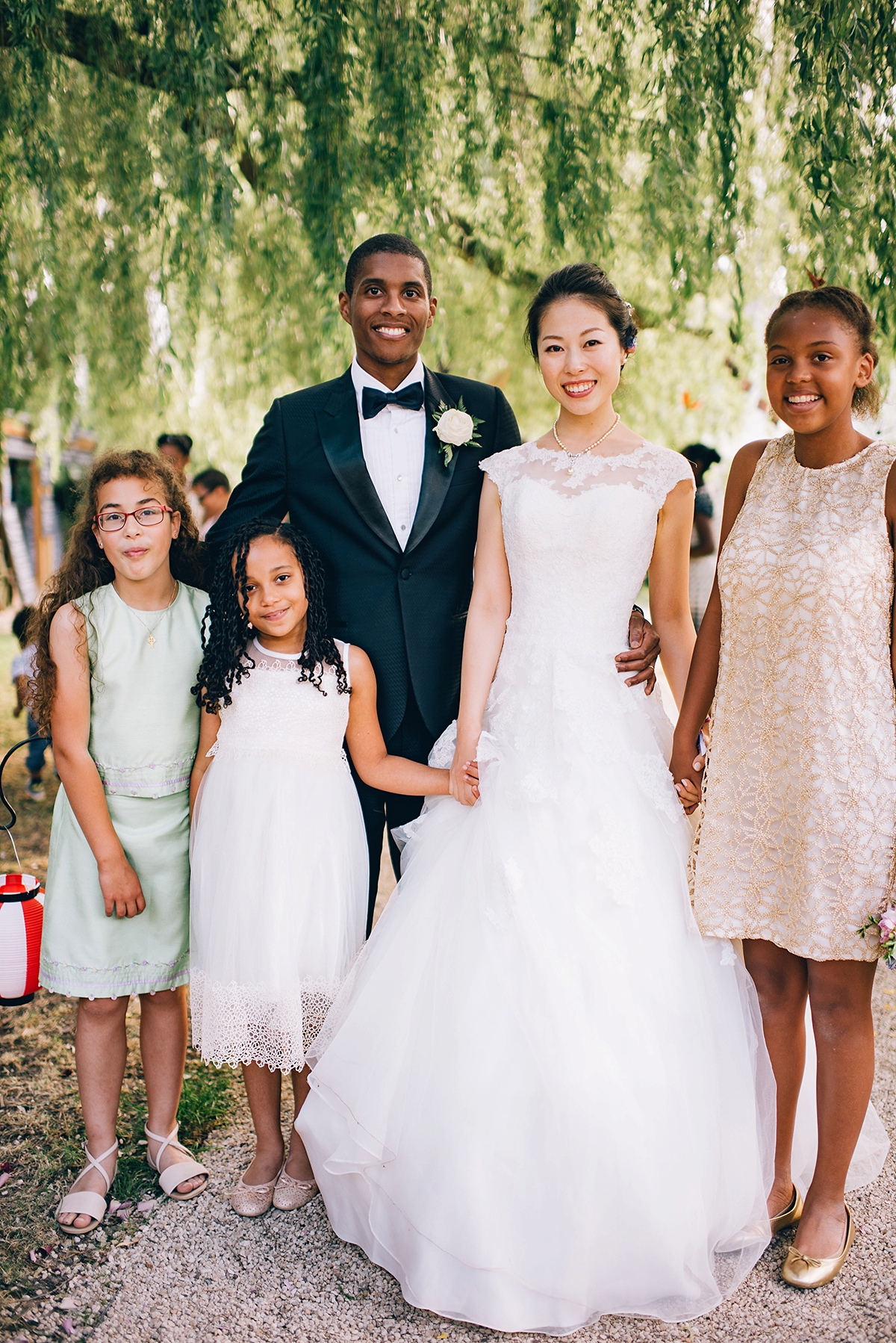 Huge thanks to Kaoru and Warren for sharing their beautiful wedding with us today.  Unfortunately, only alumni and associates of Oxford Colleges can marry there, but we do have another couple of Oxford University weddings on the blog for you to take a look at if you've enjoyed Kaoru and Warren's day.  Click here to take a look.
Shona x