Ladies, did you follow our Instagram Stories last night? Our founder Annabel attended the launch of the new Halfpenny London Black Edit collection – we'll be sharing on the blog very soon).
We're so proud to support this brilliant British bridal fashion brand, Kate is a joy to work with and her vision and design craftsmanship is second to none.  We've having a bit of a Halfpenny London celebration on the blog this week in fact – yesterday we shared a Halfpenny London bride's wedding, and today we have another. Nuala and Gary married on 22 April 2017 at Rise Hall, East Yorkshire in an elegant day full of fresh yellow and white springtime flowers, with subtle and creative allusions to 'Alice in Wonderland'. Their fresh, springtime colour palette was inspired by the bride's favourite colour, yellow.
I have to share these moving words from Nuala about her mum and late dad.
"My late dad would have been so proud of me and I wish he could have been there, not only to see what I've become but what a beautiful, strong and wonderful woman the mother of his children is. My mum was determined to give me the best day ever which she did beyond my wildest dreams. I forever grateful to her for the woman I have become. I love her so much."
Photography by Jemma King Photography
It is always so lovely to see Little Book for Brides members featured in Love My Dress weddings. Nuala's gown is the unmistakably work of Halfpenny London who we love to support on Little Book for Brides. If you love this gown, please do visit our Style File pages which feature Kate Halfpenny's latest collection. The slip and lacy overlay are elegant and flattering, and I really like the deep V-back with delicate cap sleeves. Nuala added a dramatic veil, which looks wonderful in the historic setting.
"My friend gave me an old bridal magazine and I saw a Kate Halfpenny Dress – I knew that was the dress for me so I pursued a stockist."
The couple had changed their venue just eight weeks before the wedding, but managed to pull everything together with the help of Rise Hall's concierge, Helen Davies. Nuala is an architect, and her enthusiasm for this beautiful hall is clear to see.
"Helen made me feel like Rise Hall was ours for the weekend. The thing about Rise Hall not only is it a stunning building it really is an exclusive venue, just the bride, groom, their families and friends. The venue made me feel special, almost aristocratic! Helen gave me so much clarity. She explained how the day would pan out and how things would go. She made the whole process stress-free and really helped me finalise things like the catering, the order of service and my choice of music."
"We changed our venue eight weeks before we married which was a bit risky. We had booked a 'high end' contemporary golf club but unfortunately the venue seemed to go downhill fast. I took my mum to view the place and I had a strong feeling of regret. In a panic I spent time desperate to find another venue."
"Every venue I called were booked on our wedding date; I was clutching at straws when I thought of Rise Hall. Helen Davies made me the happiest woman ever that afternoon when she confirmed the venue had that date available. I was overwhelmed with happiness and the venue literally took my breath away with its magnificent architectural stature."
"Such an impressive, stunning venue restored from the brink of dereliction by Sarah Beeny and her husband, Rise Hall is set in fabulous grounds. I spent the next few days pinching myself as I thought the whole thing was a dream."
With such a statement gown and veil, accessories were kept to a minimum. Nuala's beautiful vintage-feel shoes are Rachel Simpson (whose Little Book for Brides listing you can see here), and she added jewellery lent to her by her family; diamond earrings from her sister and a solitaire engagement ring which her mum inherited.
"I am drawn to yellows and wanted a spring feel; something fresh to represent new beginnings. Gary and I have had a tough time while we've been together. Yellow is my favourite couple; it makes me feel happy."
Springtime flowers were put together by Hull florist Floral and Lace.
"I wanted a big bouquet as opposed to a posy. I didn't want tidy, neat flowers, but a messy look with some unusual blooms."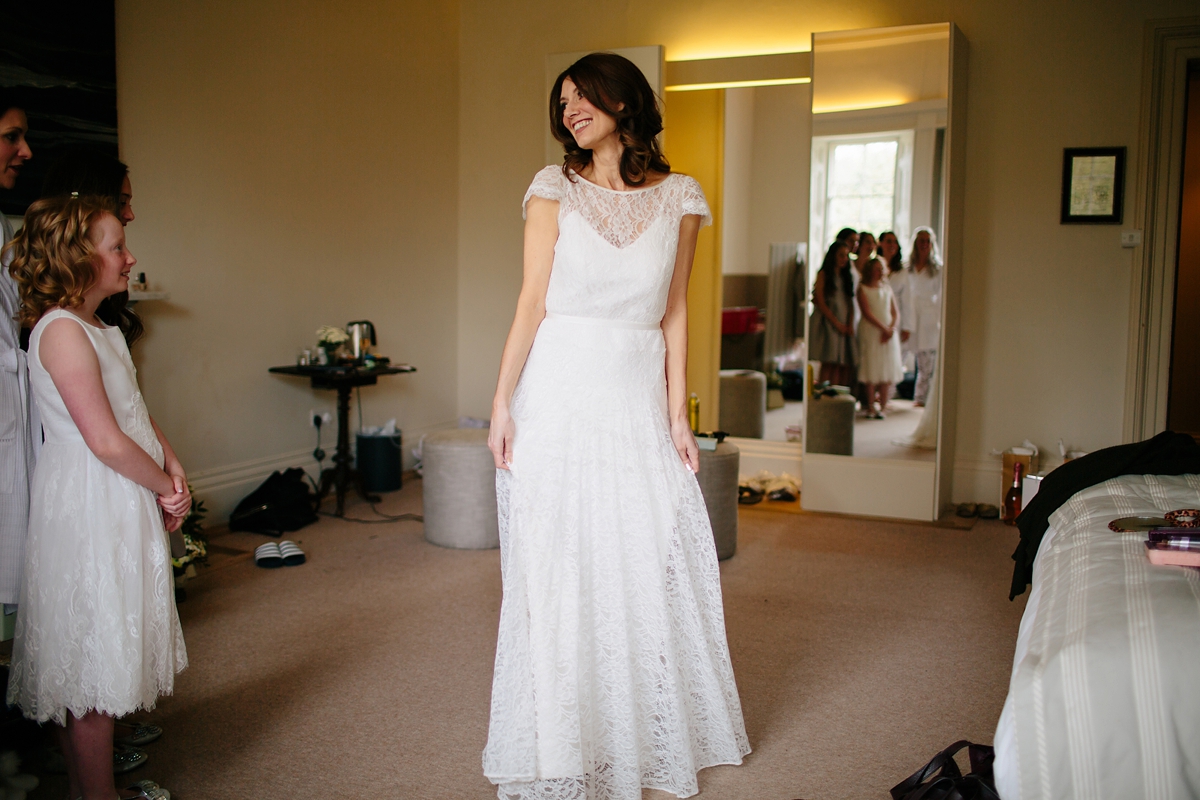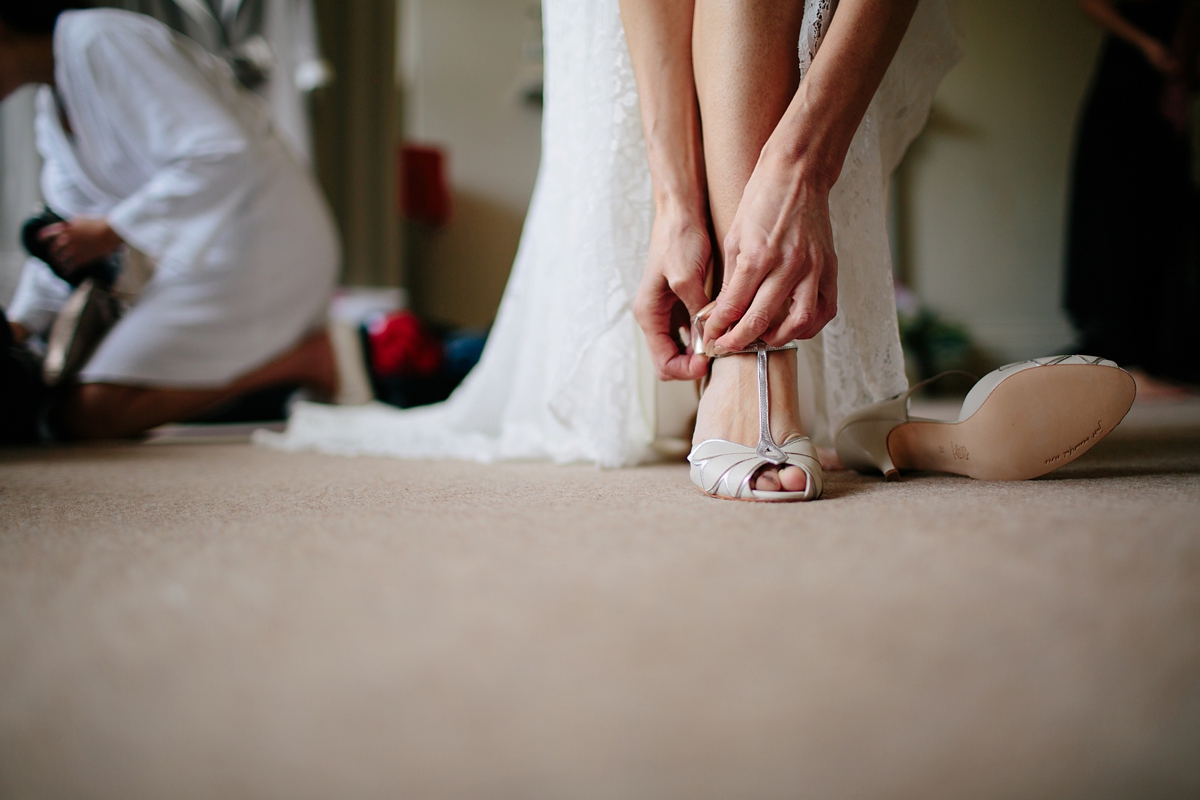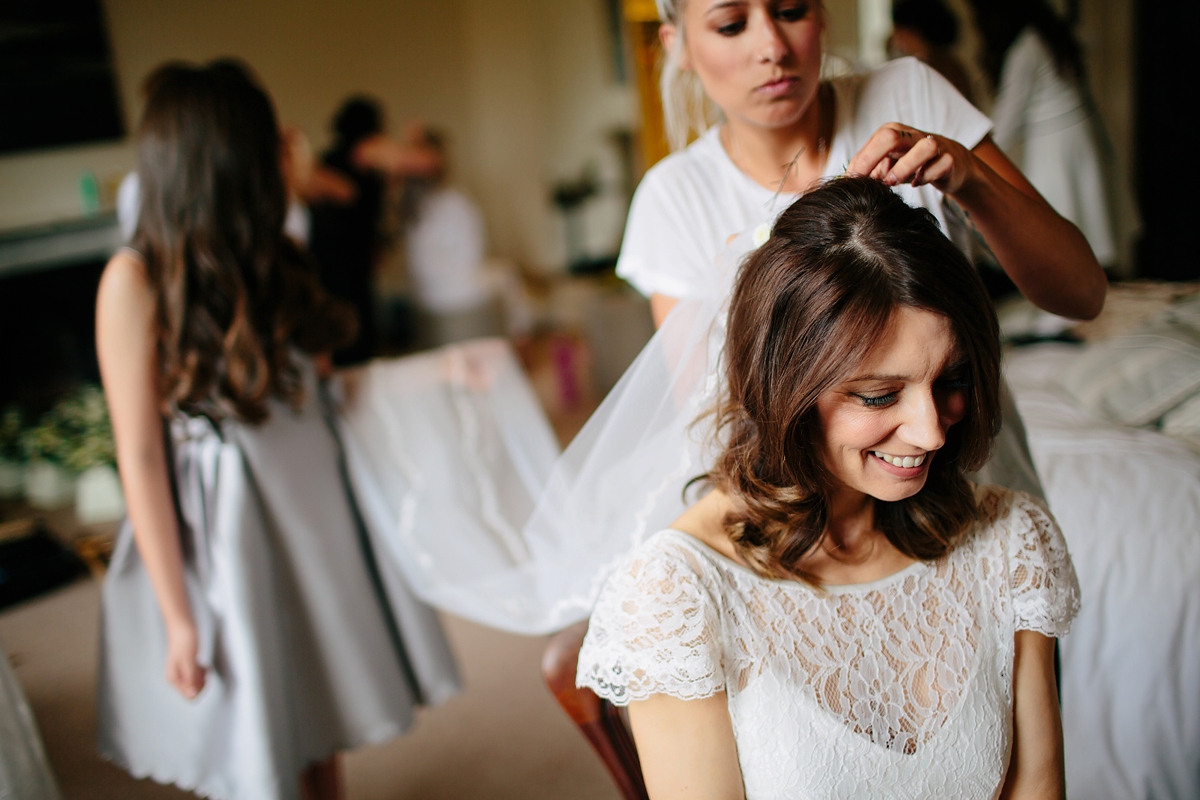 "I wasn't going to have a veil but the moment I tried a couple on I was reduced to happy tears. That's when I really felt like I was going to be a bride!"
The couple met ten years ago and now have two sons.
"Gary was a Sales Manager for T-Mobile. I bought a phone from them and I thought he was very handsome from the moment I saw him. I thought I'd be bold and so sent him a letter in the post telling him so. Sadly the next day Gary sent me a message to say he had a girlfriend but he was flattered all the same."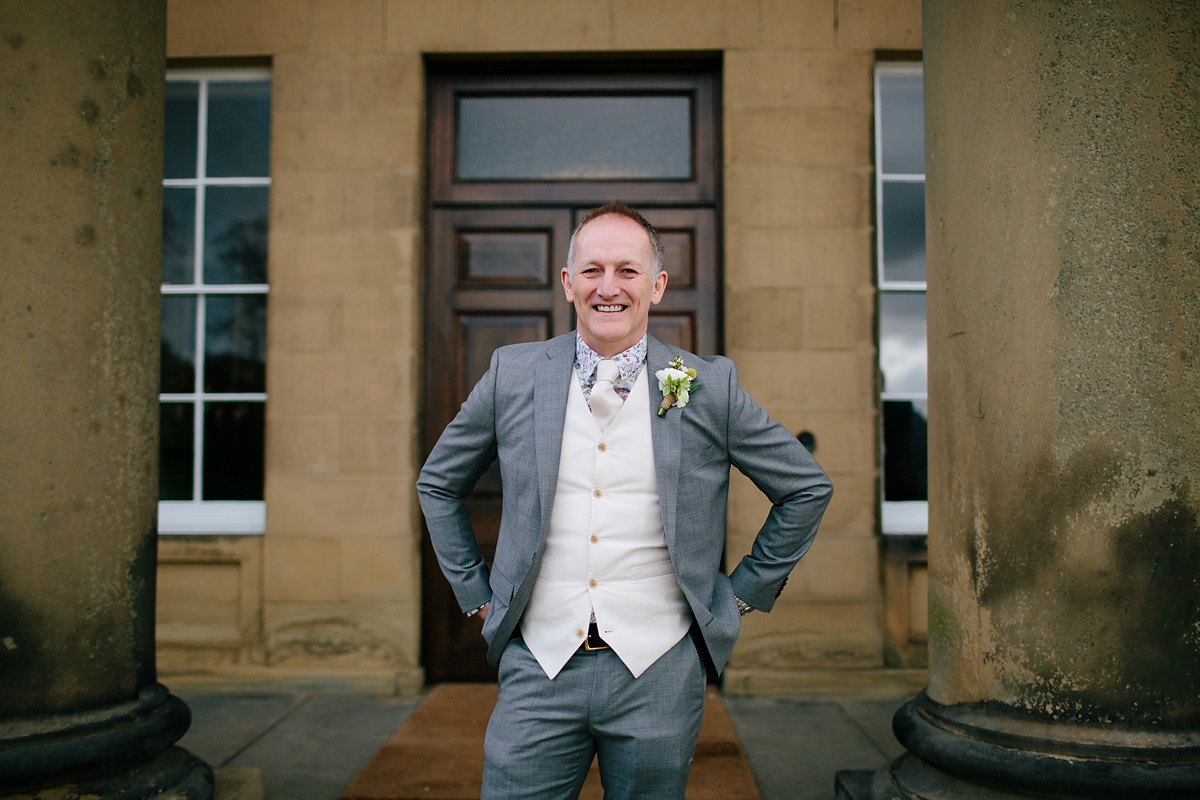 "Three months on I got a text out of the blue; we played a bit of a guessing game as we exchanged messages as I didn't know who it was. He had split from his then girlfriend and wondered if I was still single. We got engaged in October 2015, an unexpected surprise!"
"I started to plan our wedding which was supposed to be a very small wedding with an evening soirée of about fifty guests. The whole event snowballed into a huge wedding. I wasn't going to delay things as I didn't want to be an old bride."
The page boys, two of whom are the couple's sons, looked laid-back and smart in their jeans and jumper outfits. I love the country feel of their chunky knitted sweaters, and how the couple let them have a say in their wedding outfits.
"We had Ralph Lauren cable knit sweaters for the two older page boys and my younger son wore a Ralph Lauren cable knit tank top and bow tie. All three boys wore grey skinny jeans, white shirts and Converse. My younger son Jack is quirky so he wore high top Converse and a trilby as a bit of a contrast."
To match the laid-back look of the boys, the flowergirls wore sweet little Monsoon dresses. Nuala chose to have five grown-up bridesmaids, whose pale lemon floor-length Morilee gowns and floral hairpieces go so well with the springtime feel of the day.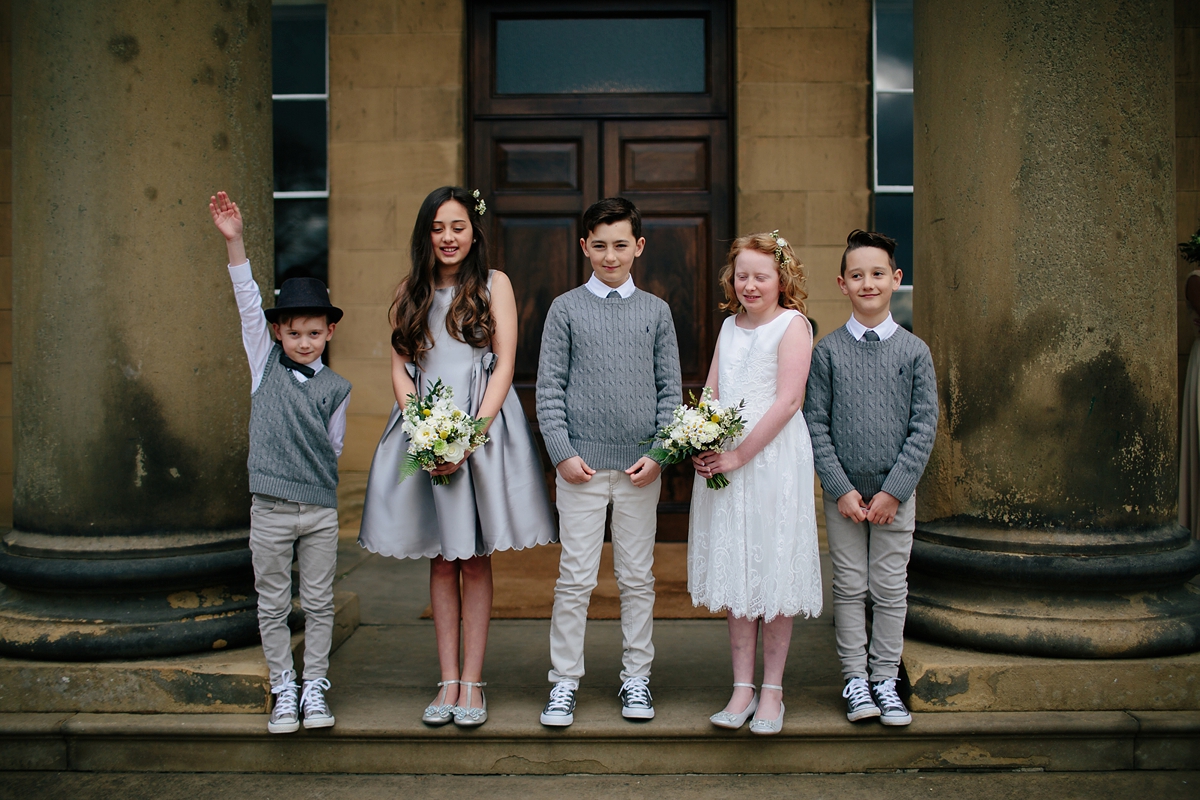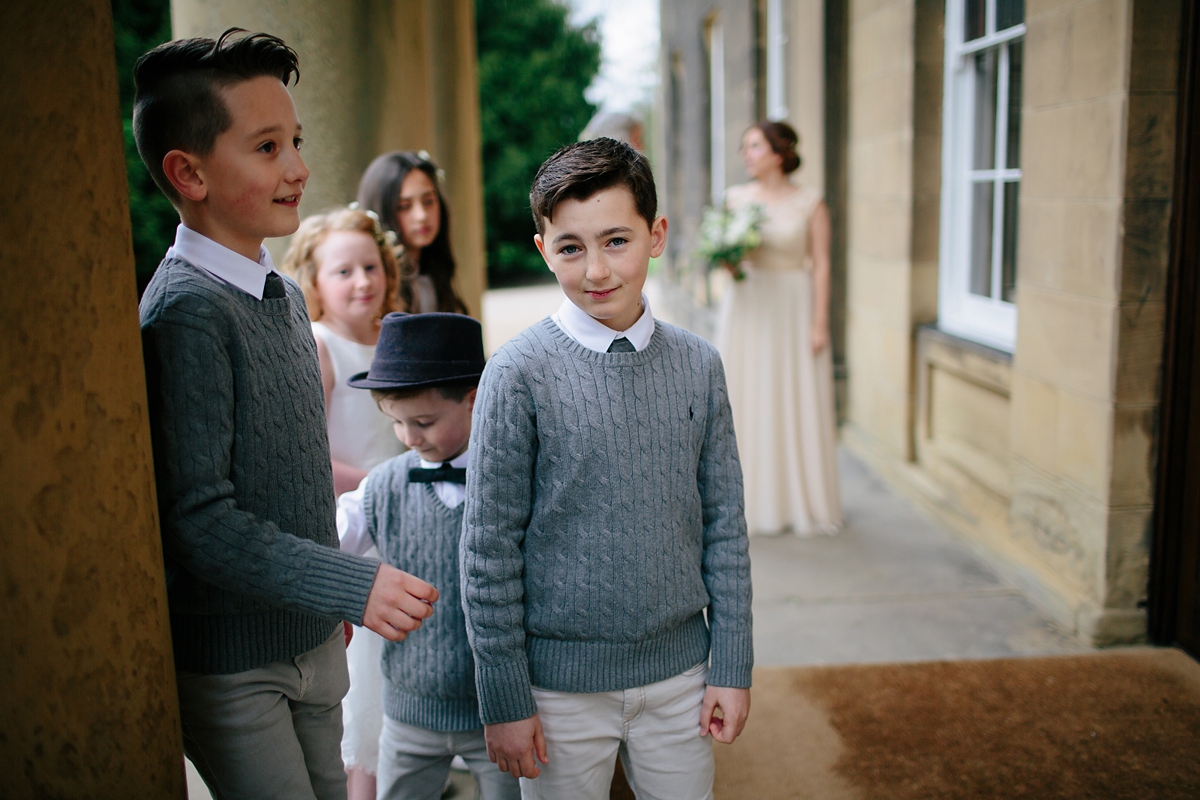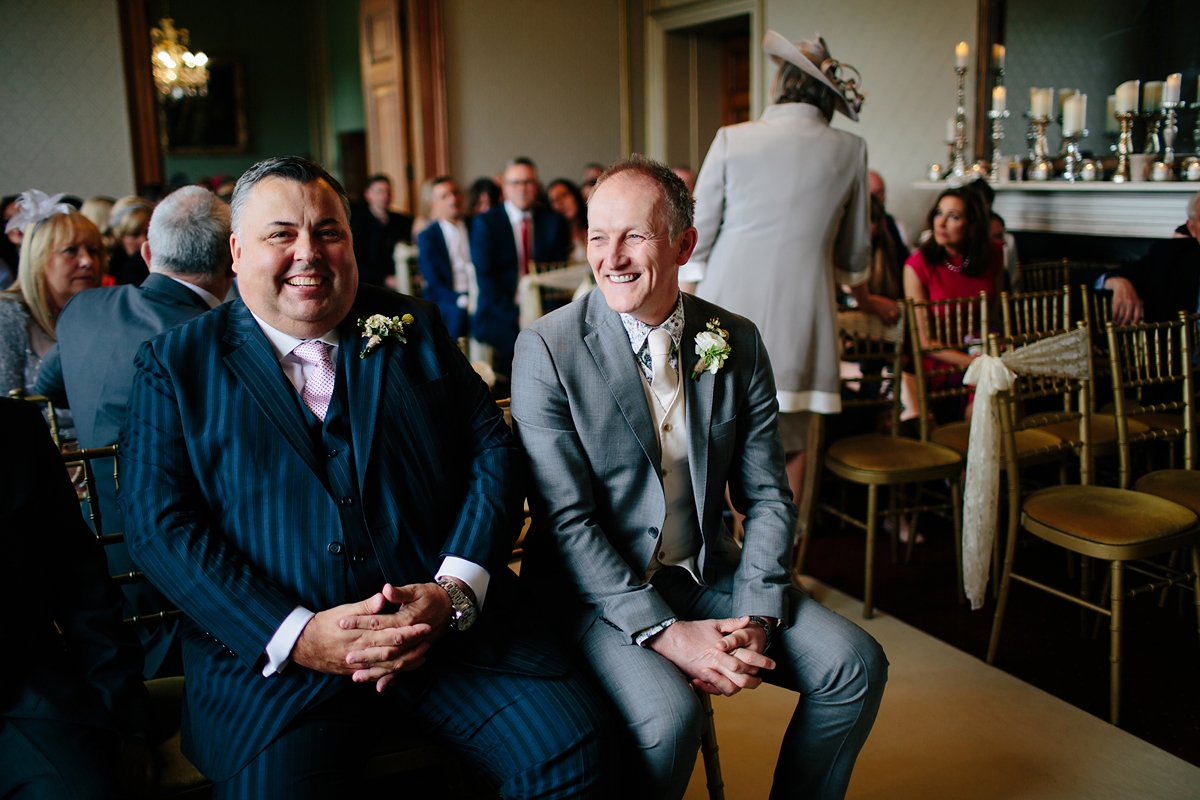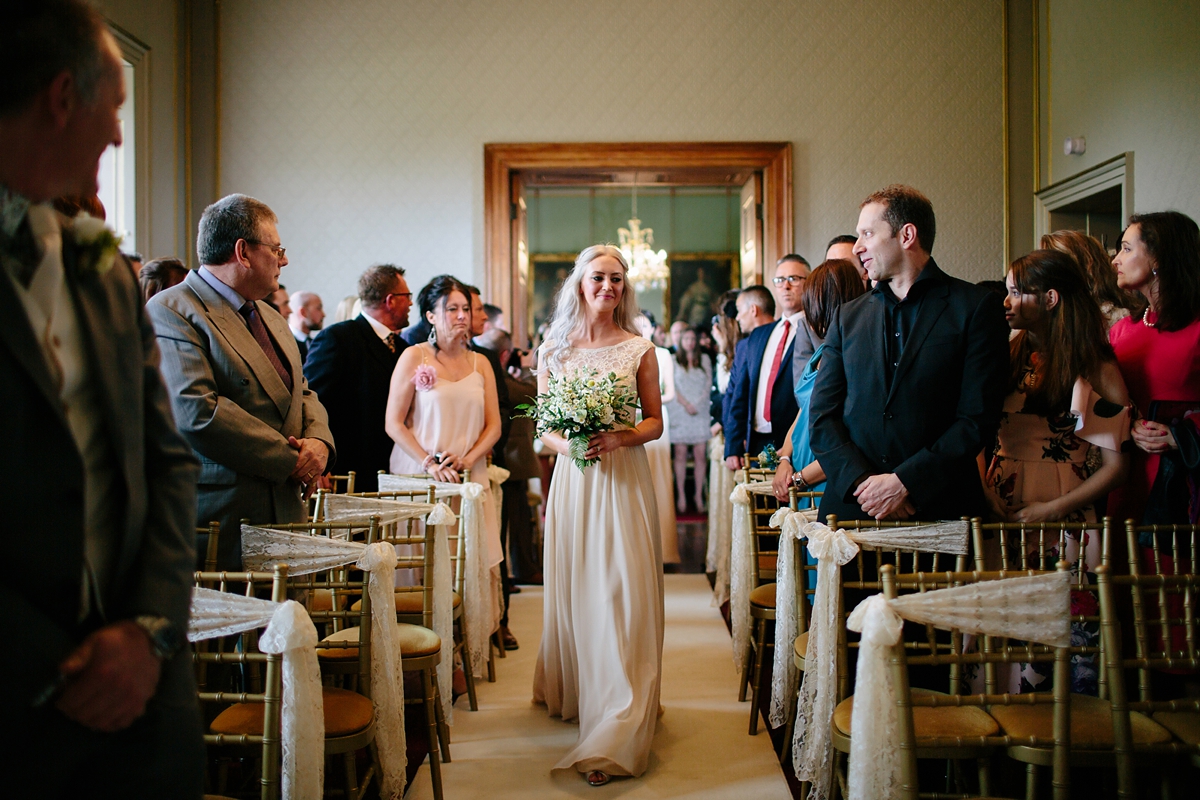 Nuala walked down the aisle to meet Gary on the arm of Ben, her brother. They said traditional vows to each other, before exchanging rings from Gladstones Jewellers of Hull. Nuala recommends going to a local jeweller to get a really personal service.
"We had originally gone to a larger jeweller. My friend told me about a local family jeweller who could produce the same quality rings at a fraction of the price which they did. I also valued their honest opinion and their approach to customer service. It was definitely a more personal experience than we had initially experienced."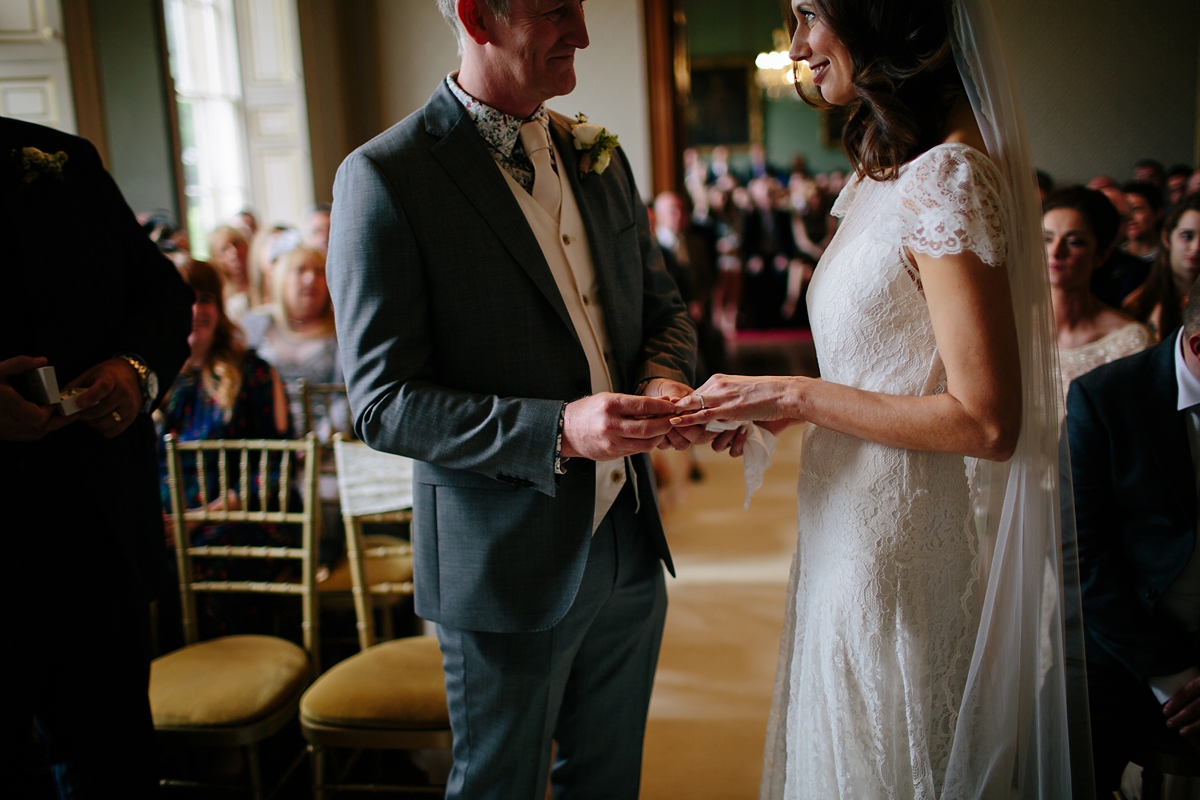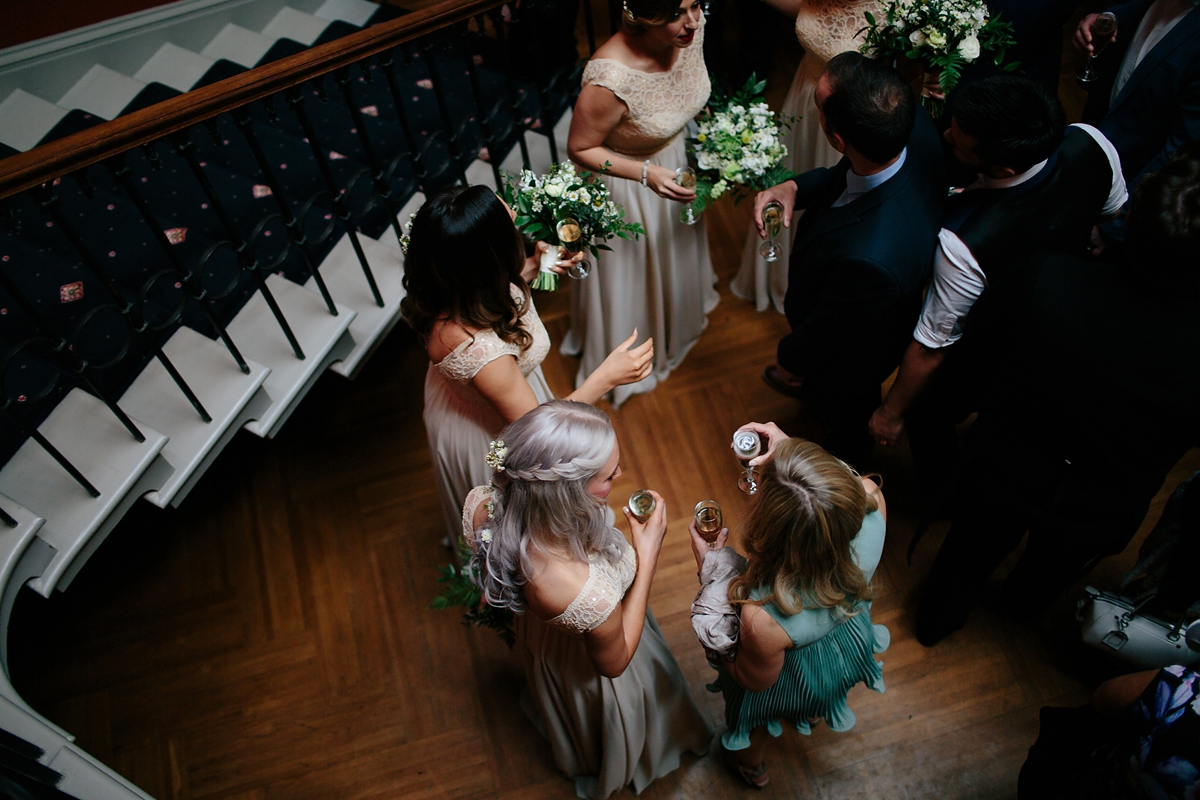 The couple walked out of their ceremony to the upbeat track by Wham, 'Wake me up Before You Go Go'.
"My husband was a huge George Michael Fan and was deeply saddened by his death. We thought this track would liven the congregation up which it did."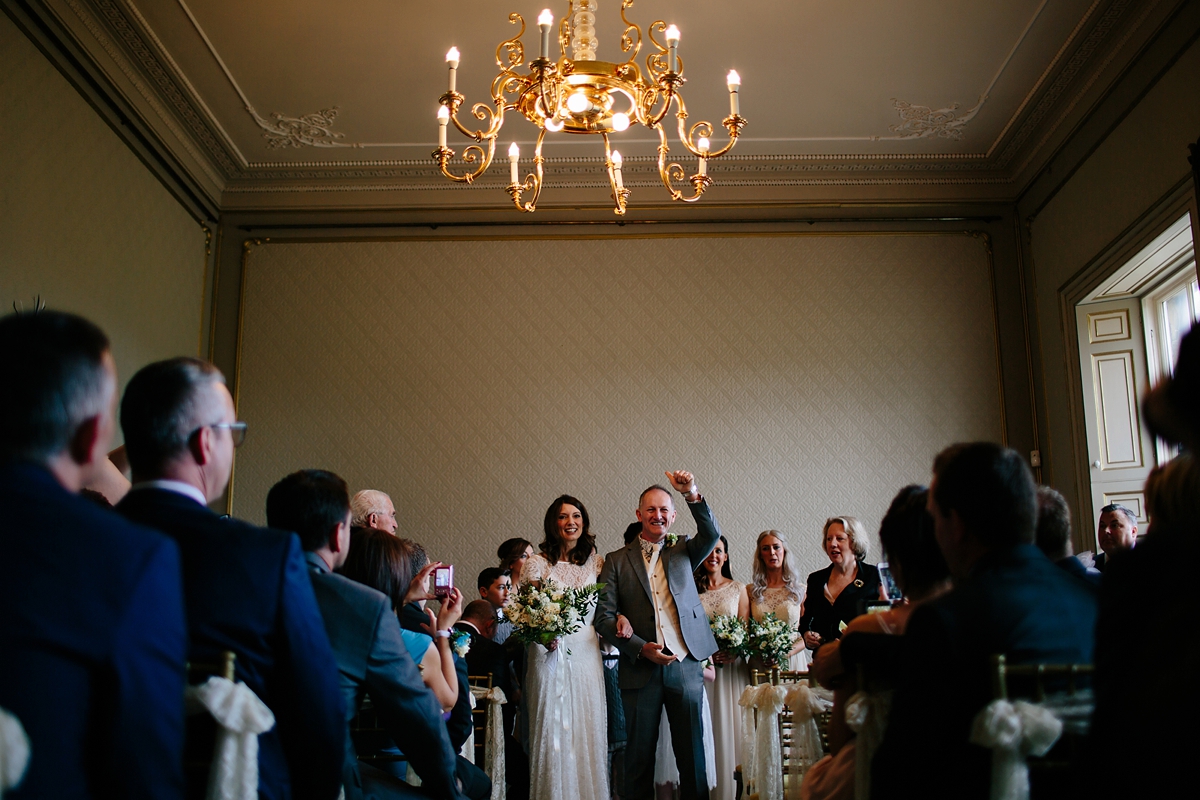 Photographer Jemma King has captured the day so wonderfully with an informal and intimate style. I particularly like the images of the bridal party preparing in the beautiful surroundings.
"Jemma captured our day in a very informal way, just what we wanted. We felt very relaxed and sometimes unaware. Our photos captured every moment from getting ready to the first dance. You can really sense the happiness, anticipation, nerves and enjoyment throughout the day. Jemma was fun and easy to work with, not at all intrusive or under your feet. I didn't notice her presence."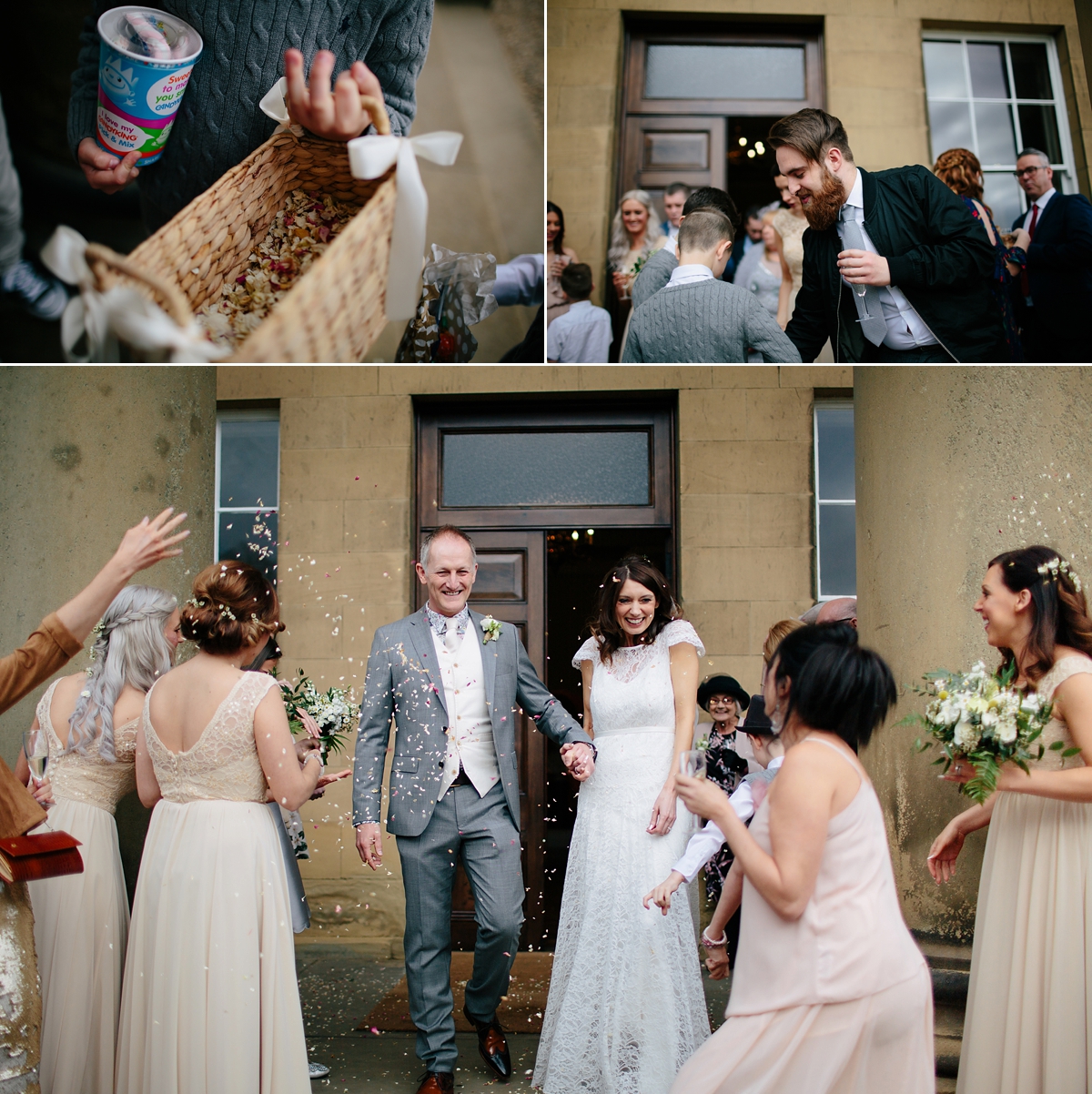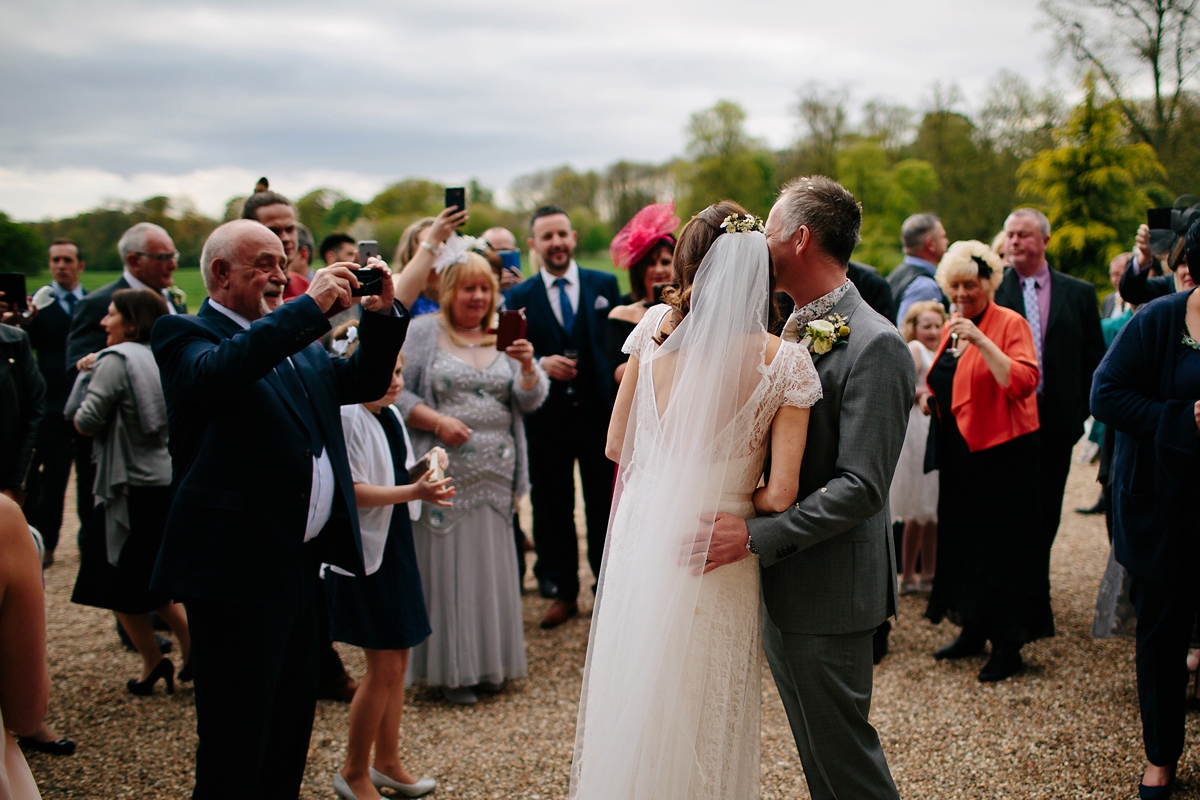 Rise Hall is hired out as a real blank canvas, so Nuala and Gary were able to truly make it their own with their own choice of caterers, styling, entertainment and guests. I love these images of the newly-weds and her guests chatting and relaxing on the lawn.
"The 'Alice in Wonderland' theme was beautifully executed – subtle yet effective. I am a creative person and wanted a unique twist, something our guests would remember. I named all my tables after the 'Alice in Wonderland' characters: The White Rabbit; The Mad Hatter, Cheshire Cat, March Hare, Tweedle Dee, Tweddle Dum and so on. Underneath the name I added a quote from that character."
"The menus were titled 'Eat Me' and my favours (miniature demi-John bottles filled them with homemade limoncello as well as brandy, gin & tonic and sparkling rose juice) were labelled 'Drink Me'."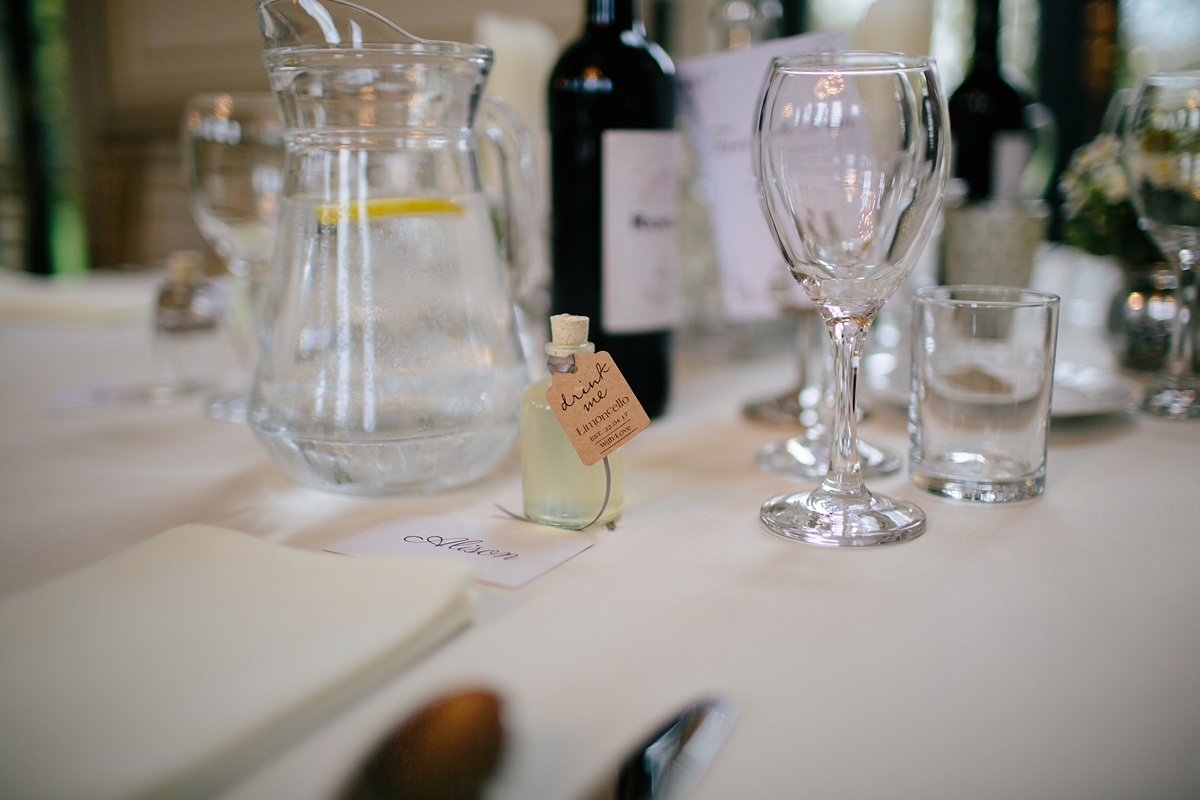 "My mum met a couple of drag artists at a legal event in Leeds. They were dressed fabulously as The Mad Hatter and The White Rabbit. Mum suggested I hire them to meet and greet guests. It turns out my friends in Manchester know them which was perfect."
"Both guys were delighted to have been asked. They entered the room before we did. It was amazing, a total surprise for our guests! They walked in smiling and waving – truly magnificent."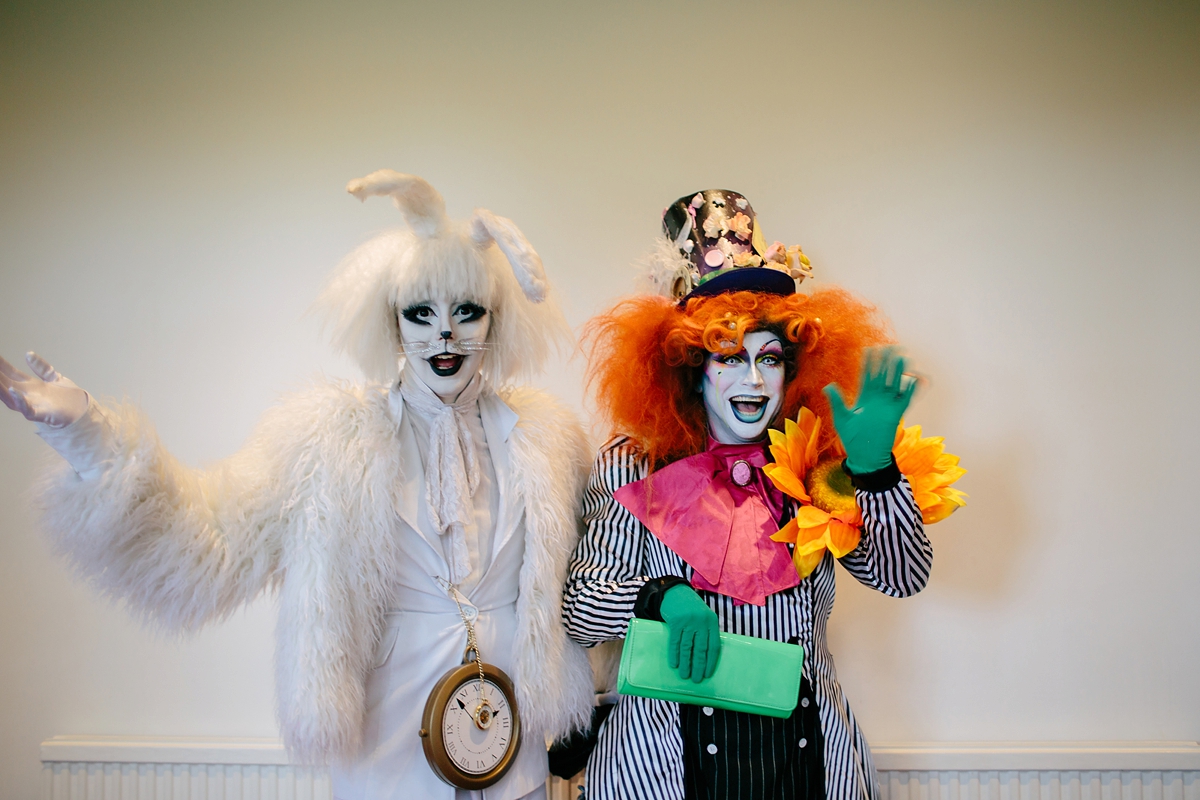 The groom looked so stylish in a Hugo Boss suit, Paul Smith floral shirt and shoes from Jeffery West.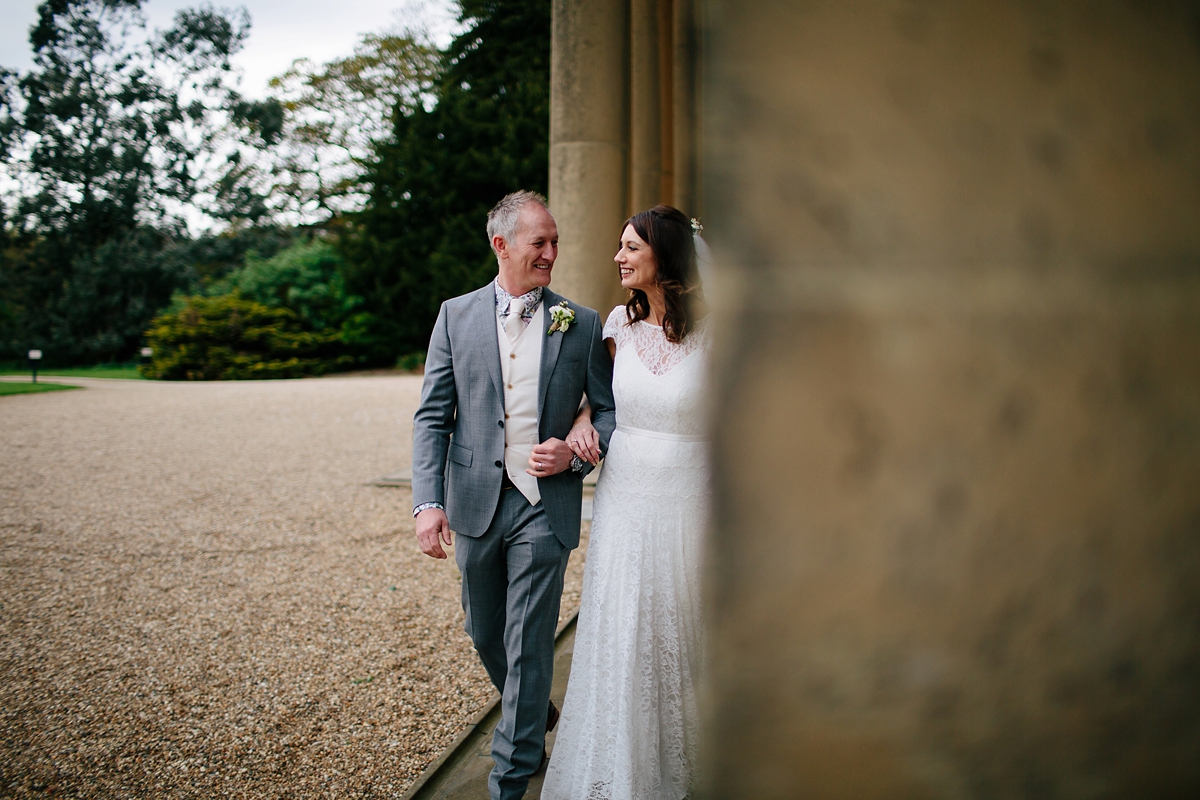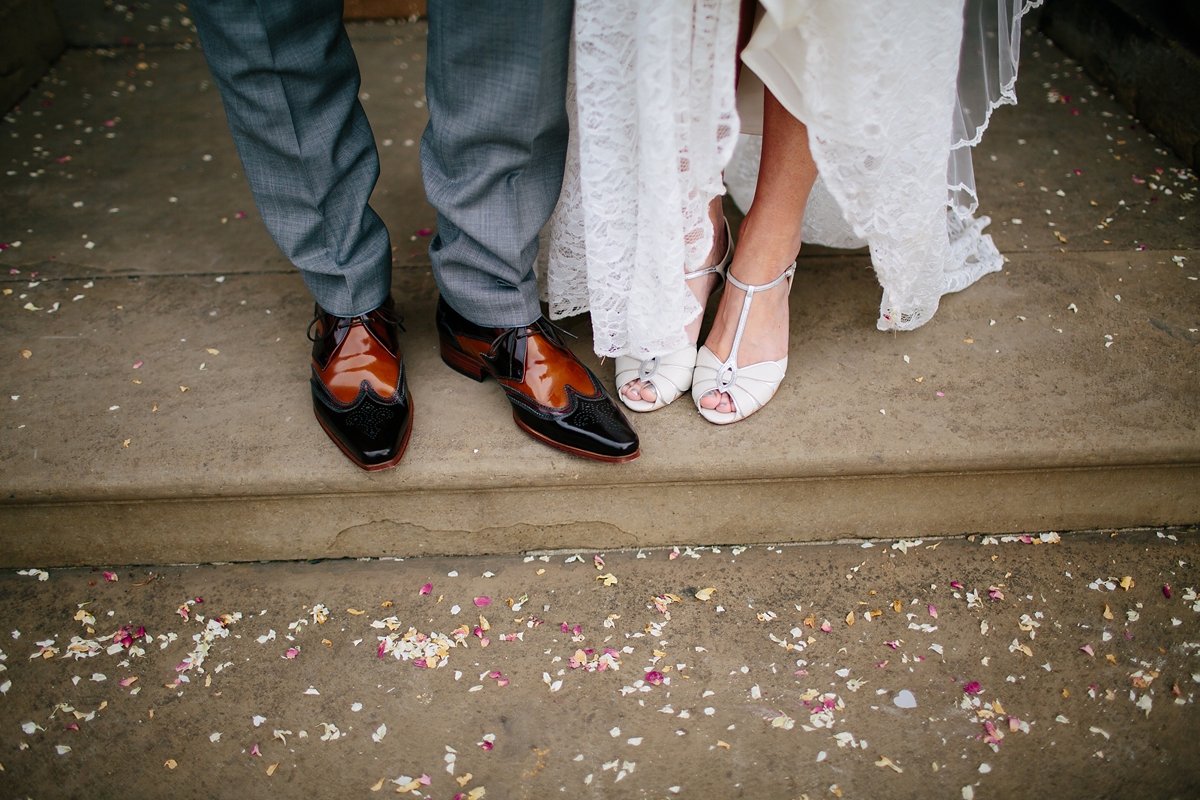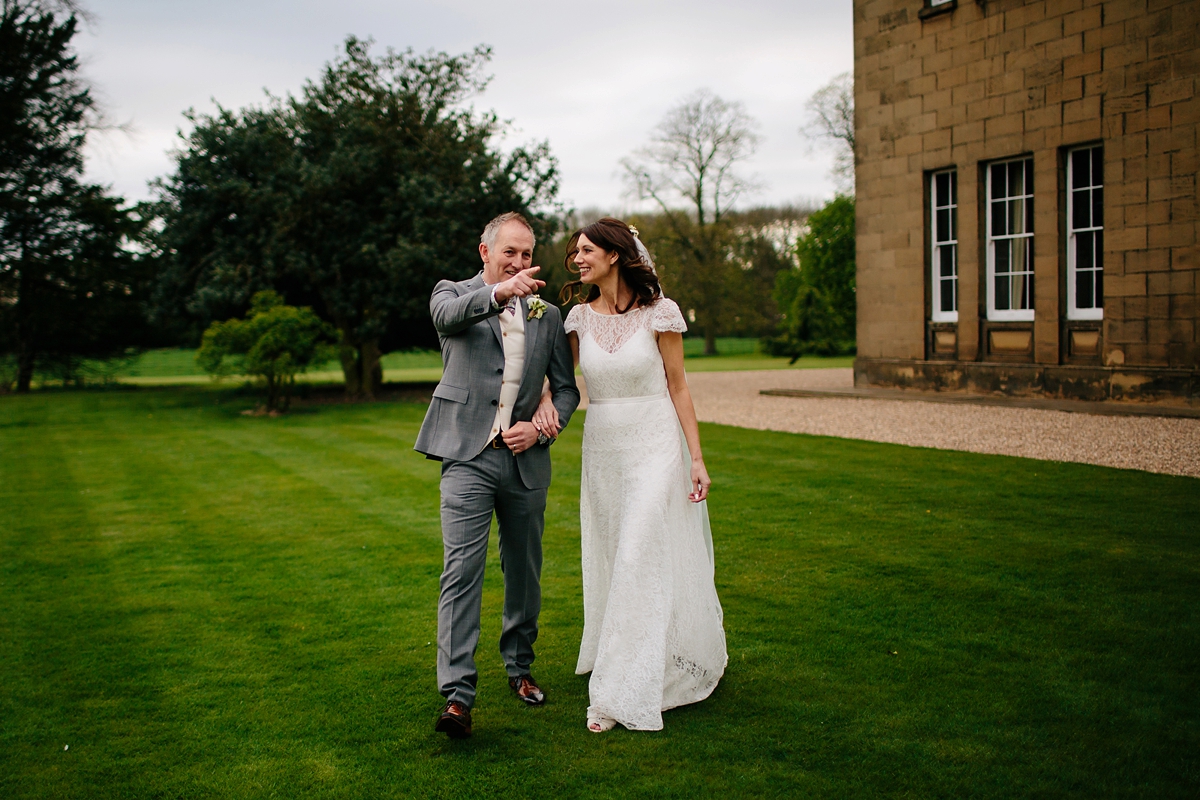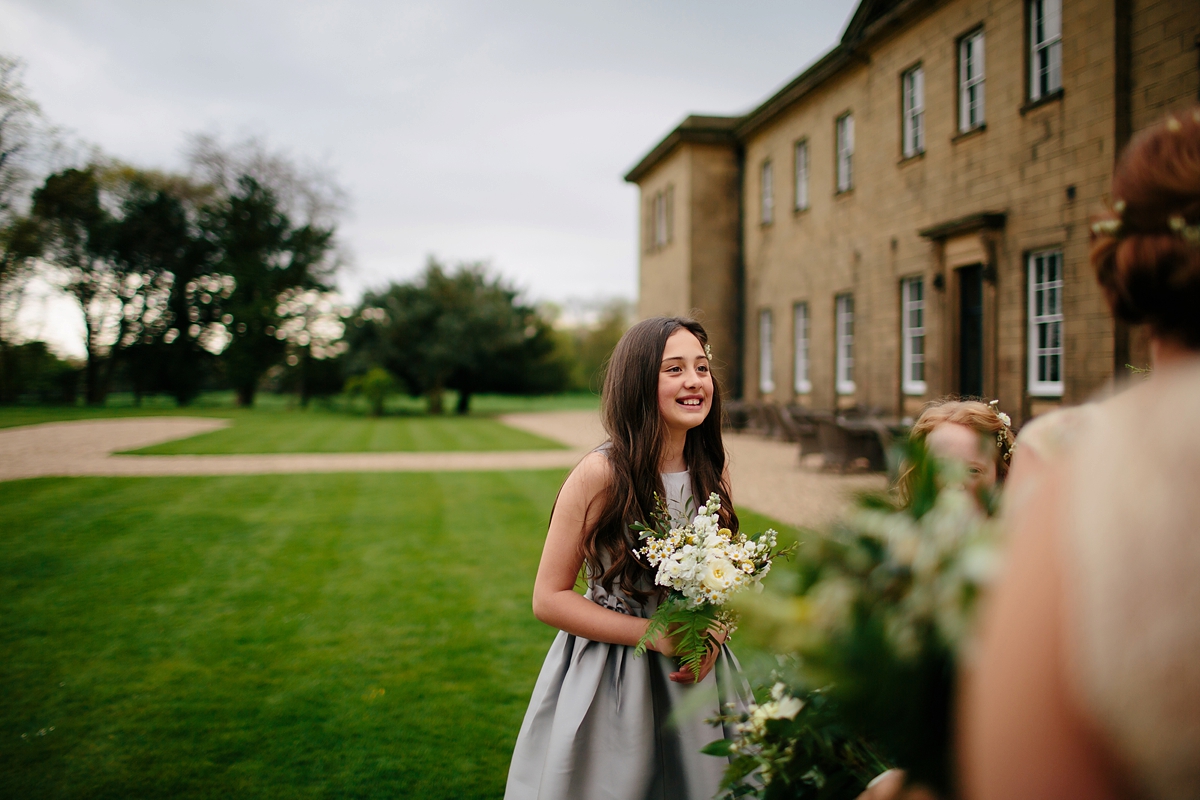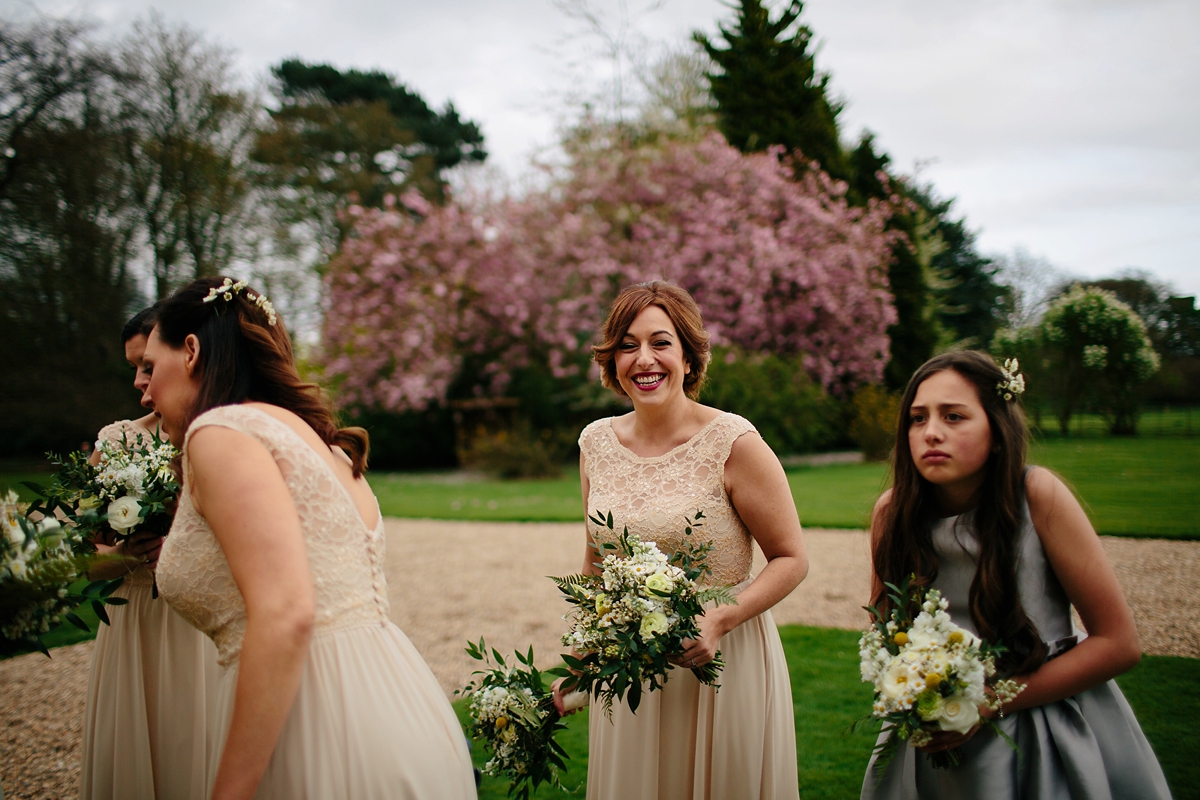 Words of Wedded Wisdom
Spend some time alone to appreciate yourself, to look at yourself, really closely. To enjoy the last moments of being a single woman. Take yourself in and to remember to feel beautiful."
How lucky this couple were to find such a beautiful venue with just eight weeks notice. Nuala and Gary, I've thoroughly enjoyed finding out all about your lovely day, so thank you for sharing it on Love My Dress.
Many thanks also go to Jemma King; we hope to see more of your work on these pages soon. If you've been inspired by Nuala's Halfpenny London gown, then we have a lovely selection of brides wearing her designs here
Ele xx