Hi lovelies, how is Monday treating you so far? I can't believe that autumn is upon is! I'm loving the cascades of jewel-bright leaves started to flutter down from the trees, and the fact that I've been able to wear tights and start to break in my new ankle boots.
The sunshine feels like a thing of the past at present (did we even have a summer actually?) but I'm about to bring you back to brighter days as I introduce you to the lovely Lucy and Dipak, who wed on 26th May this year in their hometown of London. Their ceremony at The Gate Cinema was followed by a reception at The Tabernacle and accents of rich burgundy and glistening gold ran throughout the day.
"We decided to also film our day and chose IKKI as we loved the way they edited their videos and made them so personal. Both guys were really easy to work with on the day and had some slightly out there ideas, such as a bridal party Vs groom's party basketball match in the courts opposite the venue! We can't wait to see what they've created."
Film by IKKI
"The main criteria for our wedding was that it felt like 'us'. We wanted to mix in Dipak's Indian heritage so we had an Ambassador car from Karma Kabs, exchanged flower garlands during the ceremony and had Indian food at the reception. It was also the starting point for our colours of burgundy and gold, and we then added in blue and coral as the wedding came together. We also knew straight away that our wedding would happen in London. It's where Dipak is from and I've lived here for over ten years, and it's our home."
Photography by We Heart Pictures
"Dipak had done a shoot at The Tabernacle in the past and always had it in the back of his mind as a possible wedding venue. When we got engaged he took me there and I fell in love with it too. Niki at the venue mentioned that The Gate Cinema was licensed for weddings and suddenly our whole day fell into place. We are both huge cinephiles and also met working in a cinema so it felt perfect. Throw on top of that the fact it is a stunning 1930s art deco screen and it was a done deal."
Lucy chose a stunningly intricate long-sleeved gown from Needle & Thread, which she paired with shoes from Next and a pretty hair piece from Her Curious Nature. A pair of earrings from Rijksmuseum in Amsterdam complemented a smattering of vintage jewellery, including Lucy's antique engagement ring and her nan's wedding band.
"I tried on 'proper' wedding dresses but none of them felt like me. I knew I wanted all-over beading but no bridal salons seemed to have anything like what I had in my head. I went online instead and found Needle & Thread and immediately fell in love with my dress. It's a shape I love with its high neckline and long sleeves and the beading is just stunning."
"I definitely had the 'bridal moment' when I first tried it on and was so relieved to have found my dress at last. The whole bridal party had mendhi done by a very talented local artist, it was beautiful and went perfectly with my dress. My five year old niece loved having hers done for the first time."
Lucy's flower girl looked sweet in her Monsoon ensemble while the dashing page boy wore a suit from M&S and a burgundy bow tie, tying him in perfectly with the groomsmen and with Dipak. Beautiful bridesmaids looked picture-perfect in burgundy-toned ASOS gowns, which look so striking alongside the intricate mendhi tracing their hands and the stunningly rich colours of their bouquets, arranged by florist Vanilla Rose.
You can find this talented artist in the pages of our curated directory, Little Book for Brides, and with studios both in London and near Loch Lomond in Scotland, they're spreading the floral love far and wide.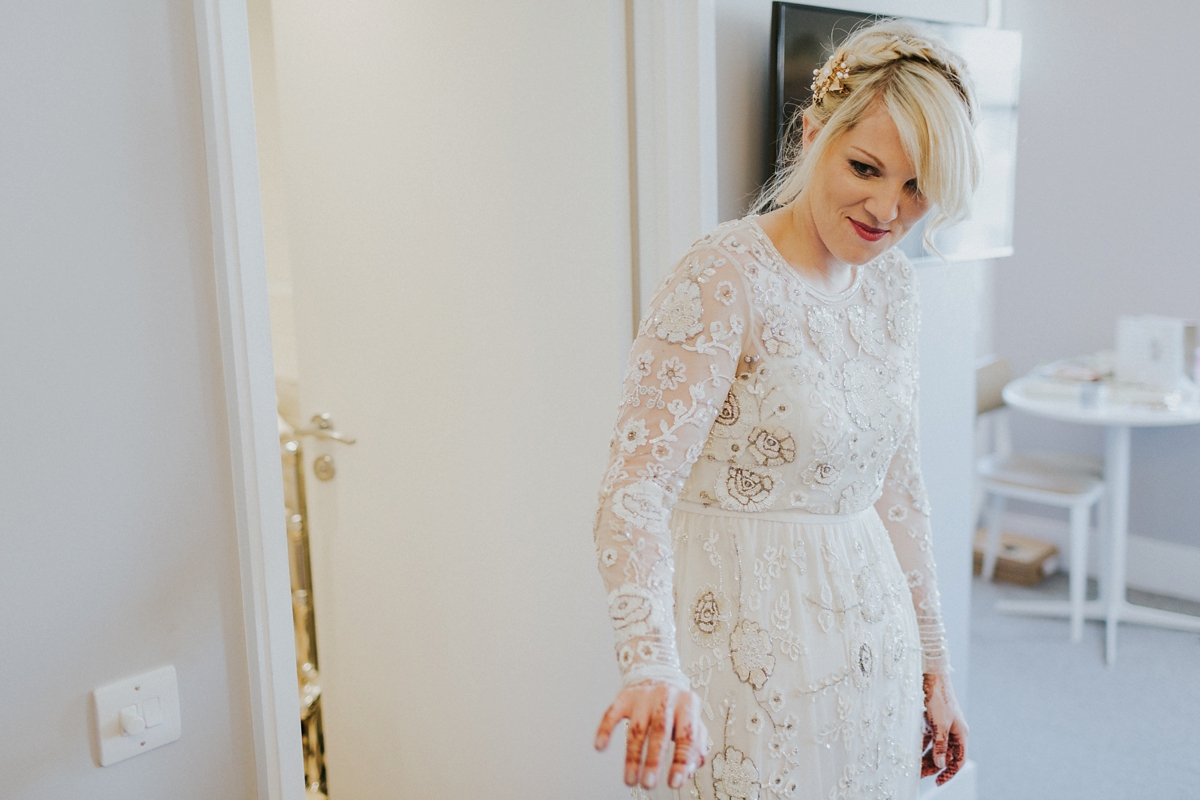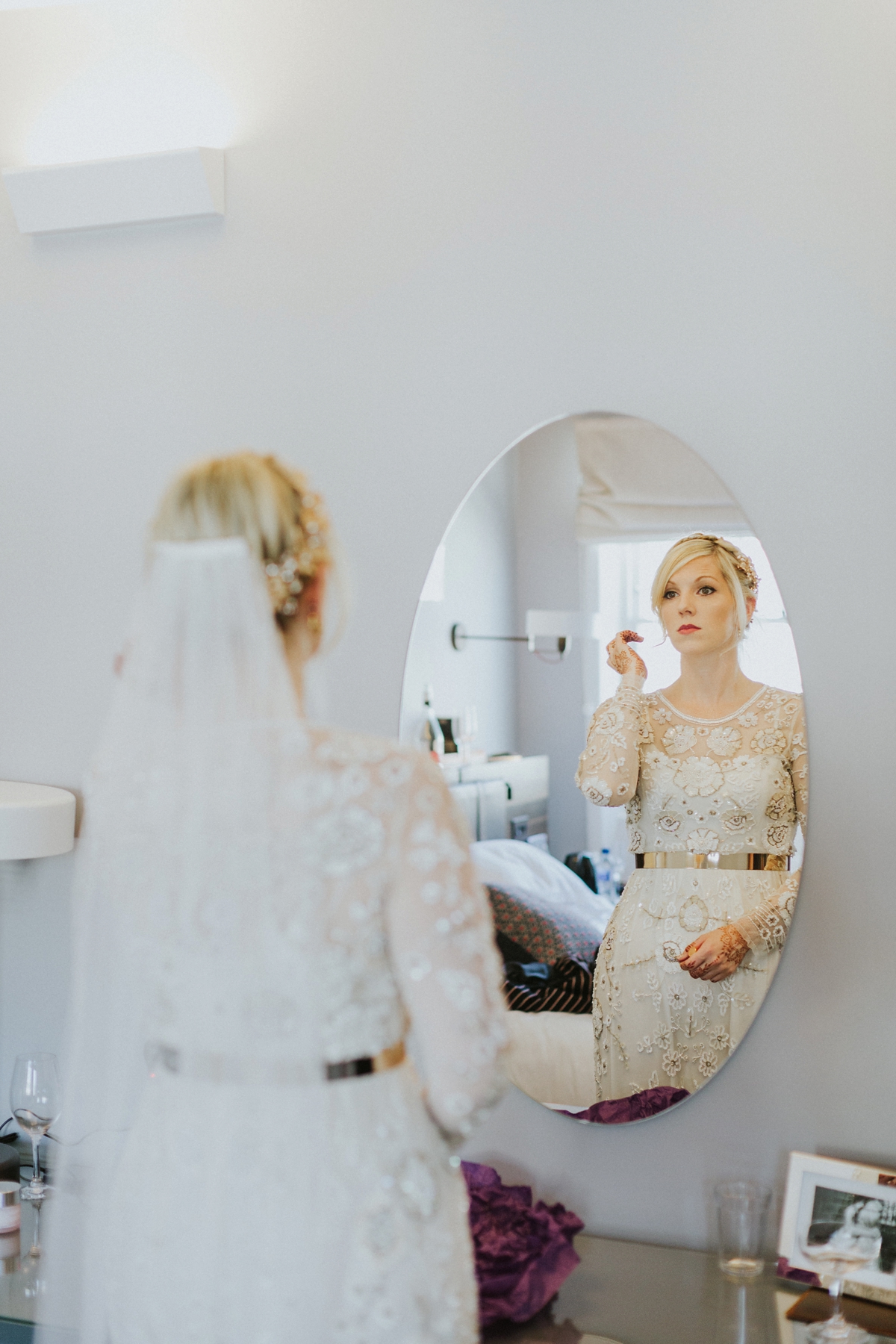 "We went with florist Vanilla Rose who are based in Putney. They really understood the kind of flowers I wanted and the rustic look I was after."
"My main criteria was peonies in red and coral and they did the rest. I completely loved my bouquet, it was so beautiful. They also created a flower halo for my niece to wear as a flower girl which she loved."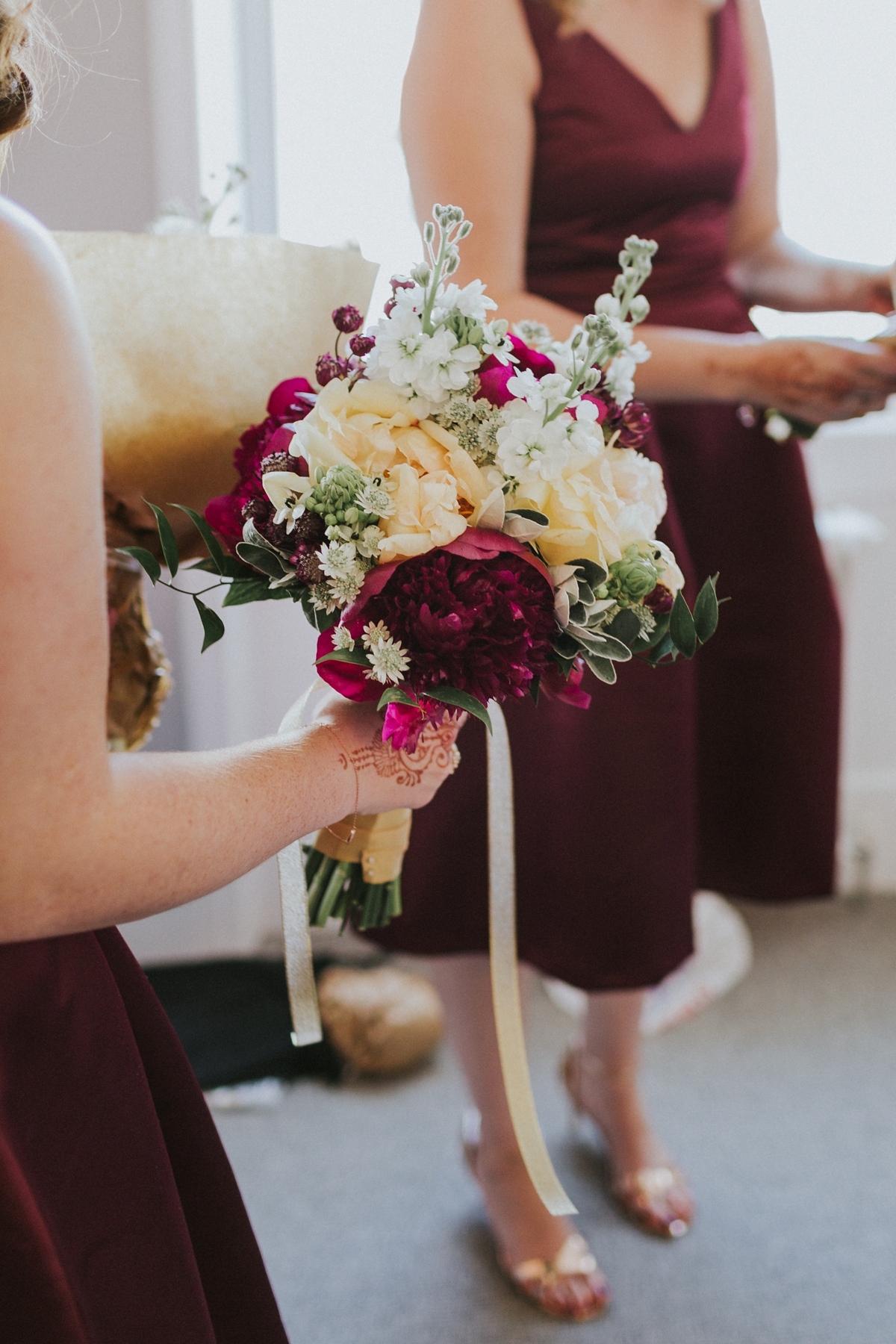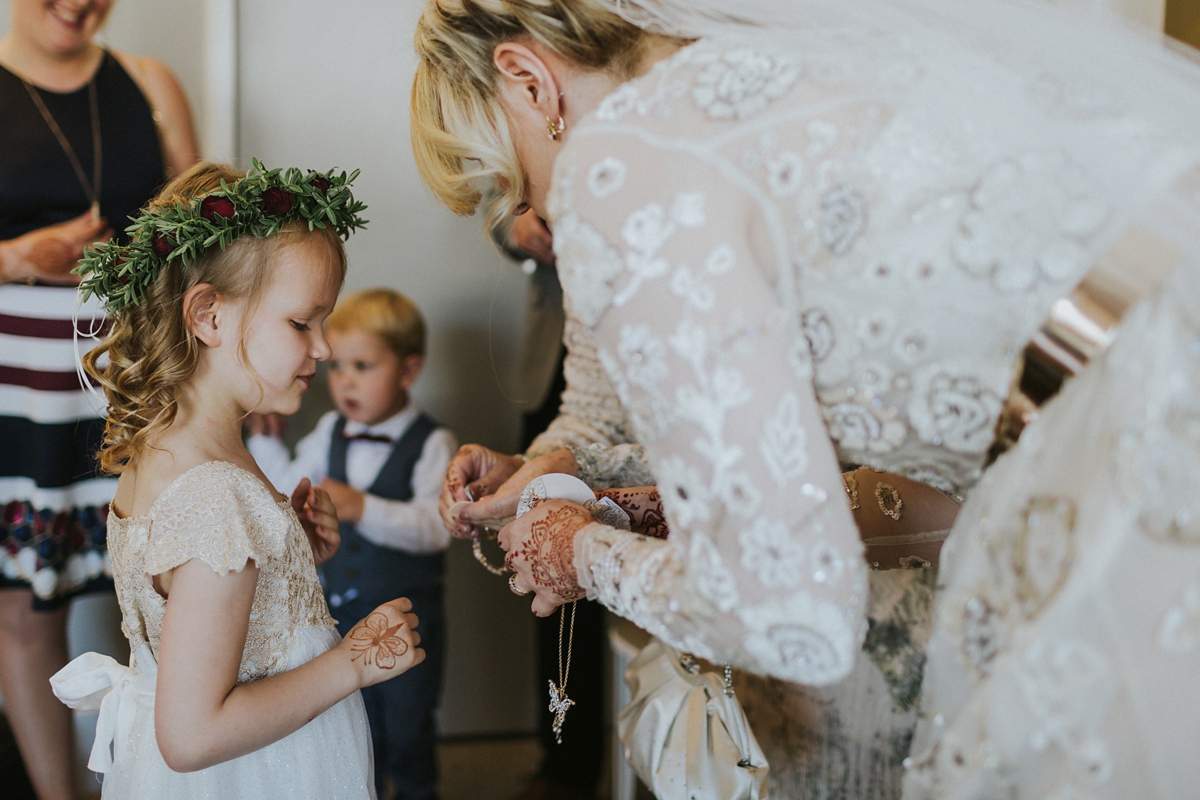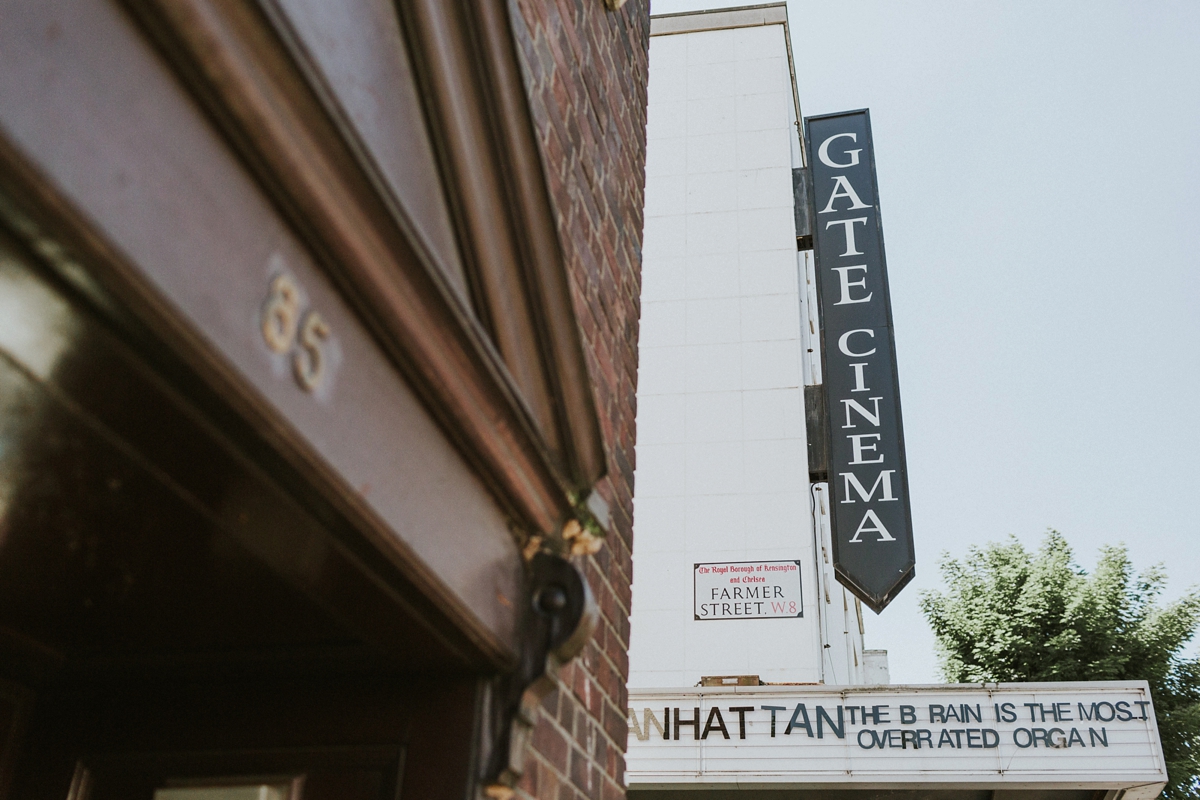 "Dipak's suit was from Next. He knew he wanted a burgundy suit and loved the fit of this one. He got his best men the same suit in blue and the three groomsmen had slightly different blue suits also from Next."
"He completed his look with shoes from Topman (with burgundy laces) and a skinny navy tie. I bought him a tie pin with a skull and our wedding date engraved on it (to go with our theme) and also a pocket square by Simon Carter."
Lucy walked into the 1930s beauty of The Gate Cinema to the sounds of 'Us' by Regina Spector, and exited to 'Hounds of Love' by The Futureheads with her brand new husband.
I actually got goosebumps when I read that the couple's friend Helen recited an extract from 'Stardust' by Neil Gaiman during their ceremony – it's very probably the exact same reading that my wonderful friend Amber surprised us with during my own wedding, reducing me, my husband and pretty much the entire room to tears. Dipak's sister also read a scene from the episode 'The One with the Truth about London' from Friends, the part where Joey conducts the marriage of Chandler and Monica.
The newlyweds also exchanged flower garlands in the Indian tradition, as well as wedding rings. I love the fusion of traditions and gestures and the way it makes their ceremony so unique.
These wonderfully vibrant and happy details have been so wonderfully documented by photographers We Heart Pictures, who Lucy and Dipak chose specifically for the way they capture urban unions. These images are positively joyful and fresh with a fun, light-hearted edge.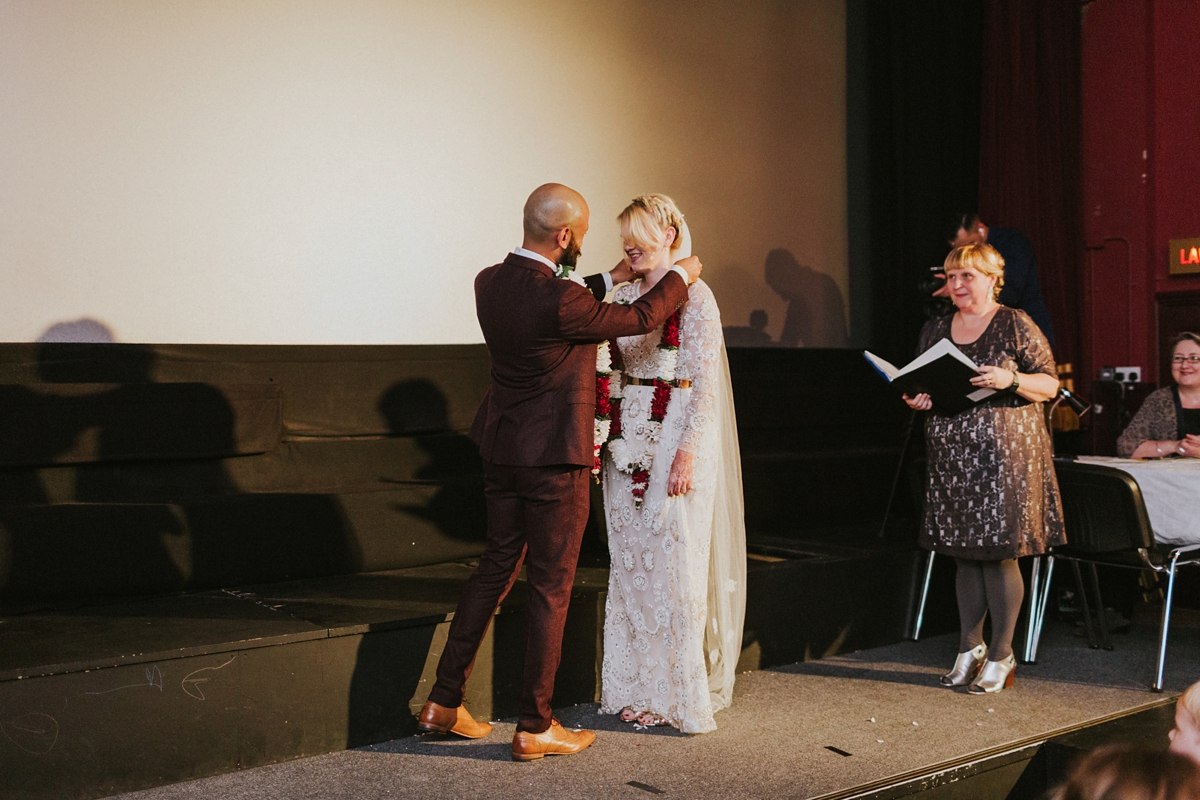 "We found We Heart Pictures on Instagram and immediately loved the way they shot urban weddings. We met them for a coffee a few months before and they completely got the kind of look we wanted for the day."
"We were a bit nervous of being in front of the camera but Hector put us so at ease and was really fun to hang out with. The photos we have are so much more than we could have hoped for and we have loved showing them to all our family and friends."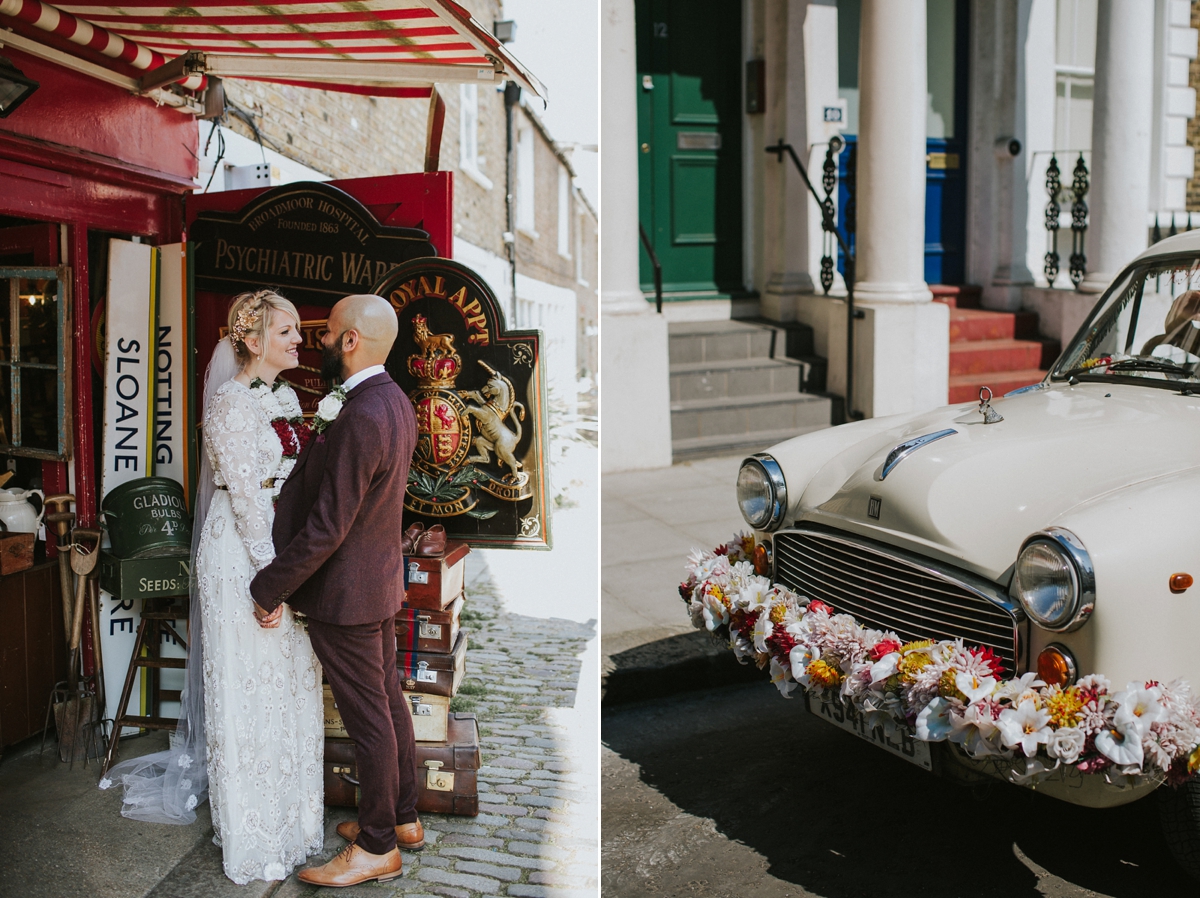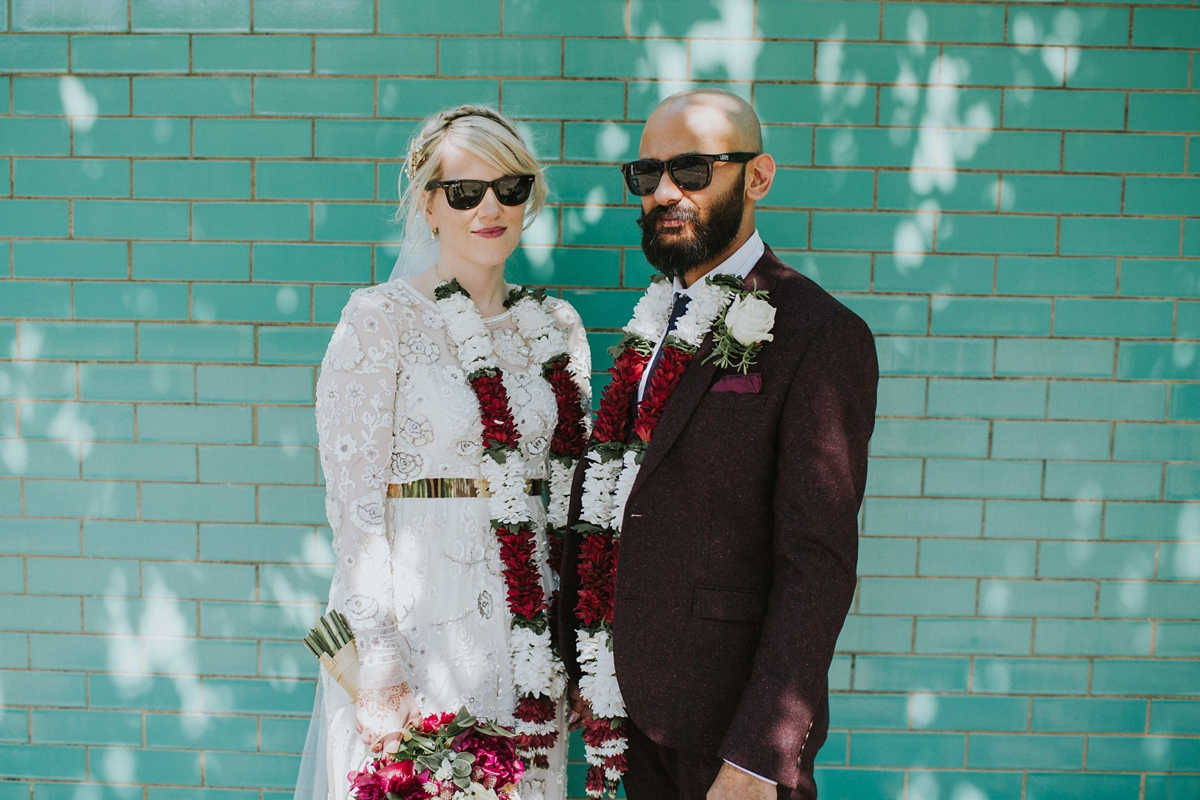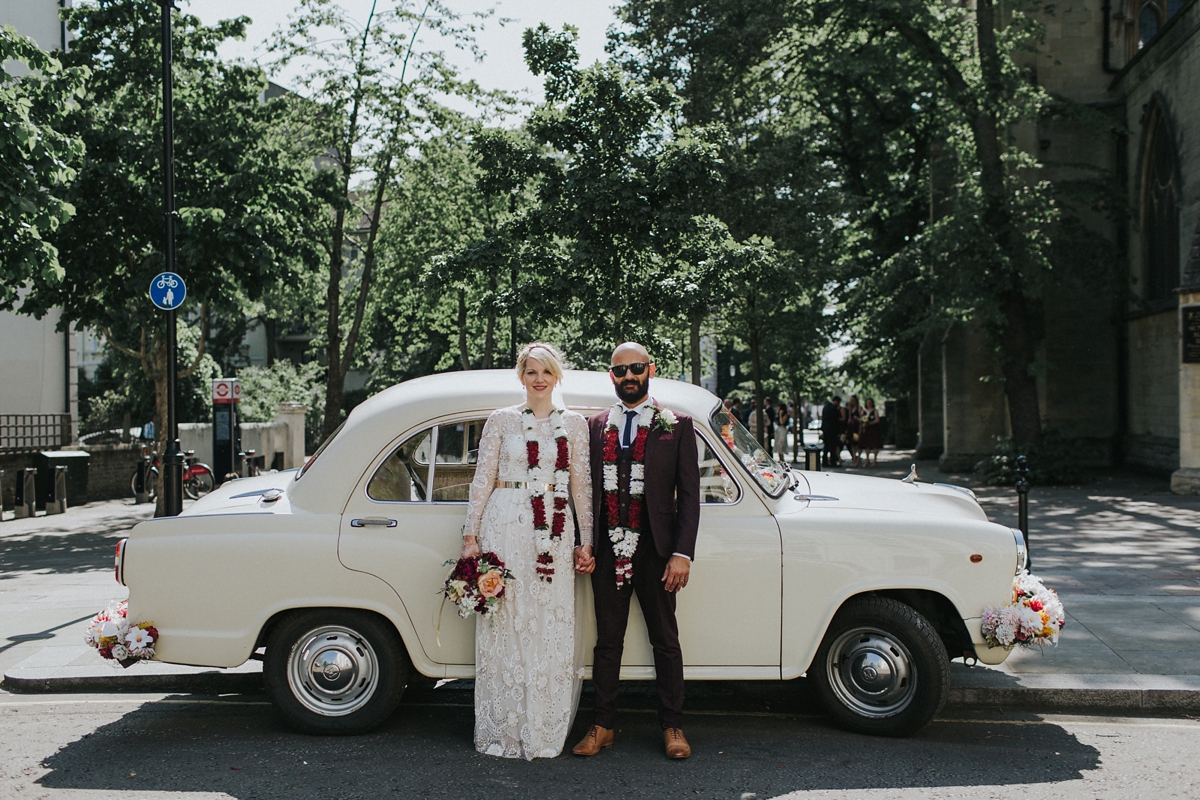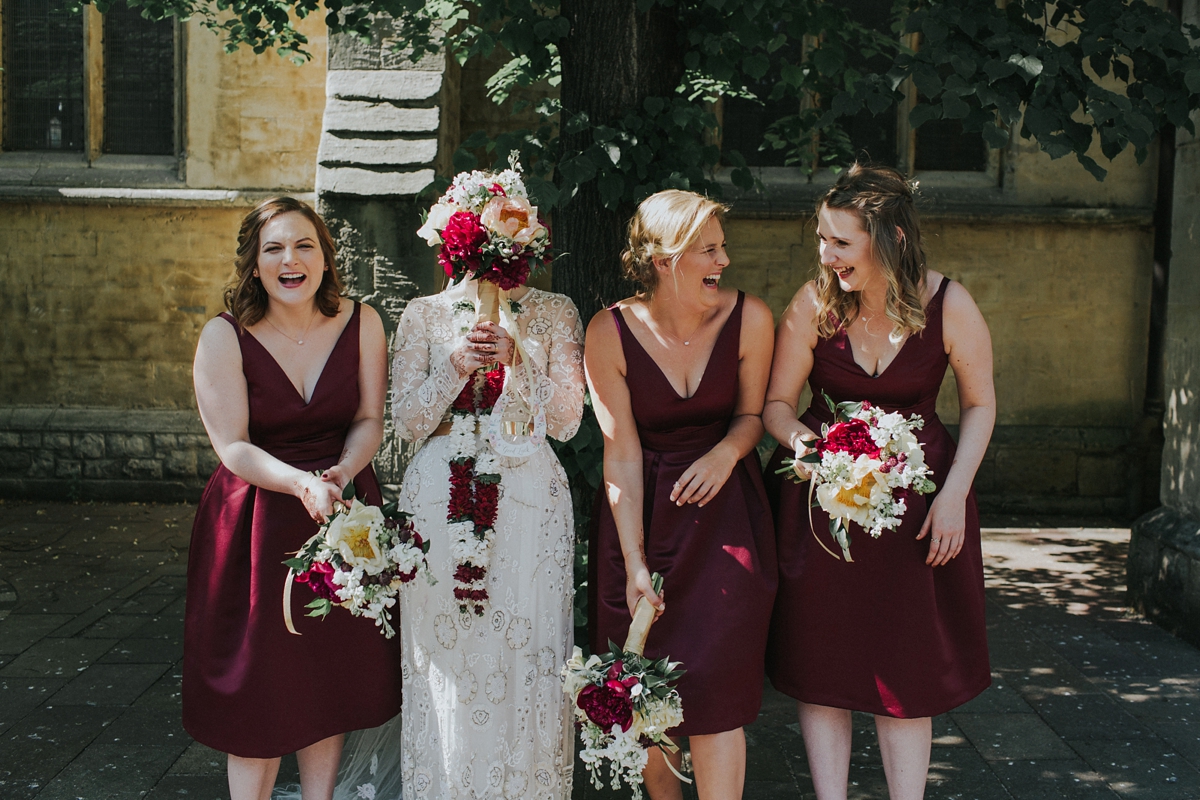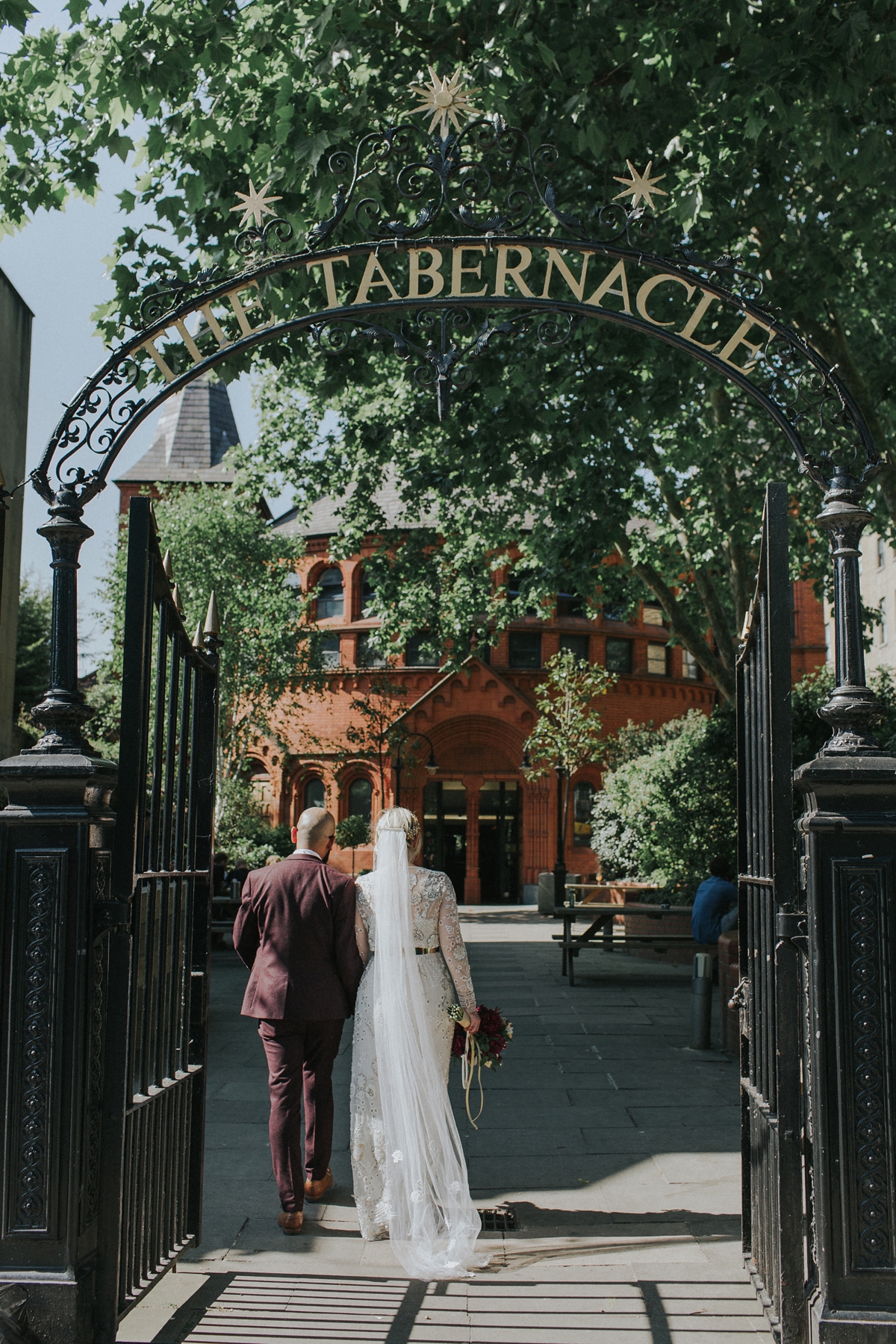 Lucy and Dipak thoughtfully and fittingly provided their guests with popcorn after the ceremony to tide them over until they reached the Indian feast prepared in-house by The Tabernacle, a plethora of pakoras, bhajis and samosas with dips, and vegetarian and chicken curries accompanied by rice.
Dessert sounds just heavenly; salted caramel ice-cream, all topped up later in the evening by mini pizza. The couple loved their reception venue's performance space, with its iron ceiling beams, railings and outside space for their guests to enjoy an early summer's evening, which they brought to life with an eclectic mix of signage and decoration.
"We designed our own invites which had a skull and pineapple on them and this carried through to the order of service, name tags and signage. We designed it all but printed with Moo. We incorporated this on the day by spray painting real pineapples gold and put them on each table. Our wedding favours were also small gold pin badges with our logo on them. I'm a big fan of antiques so we used my old dressmaker's dummy and my grandmother's Singer sewing machine for the table plan. We also used old vinyl records for the table names, using pictures of all the kittens we have fostered over the years."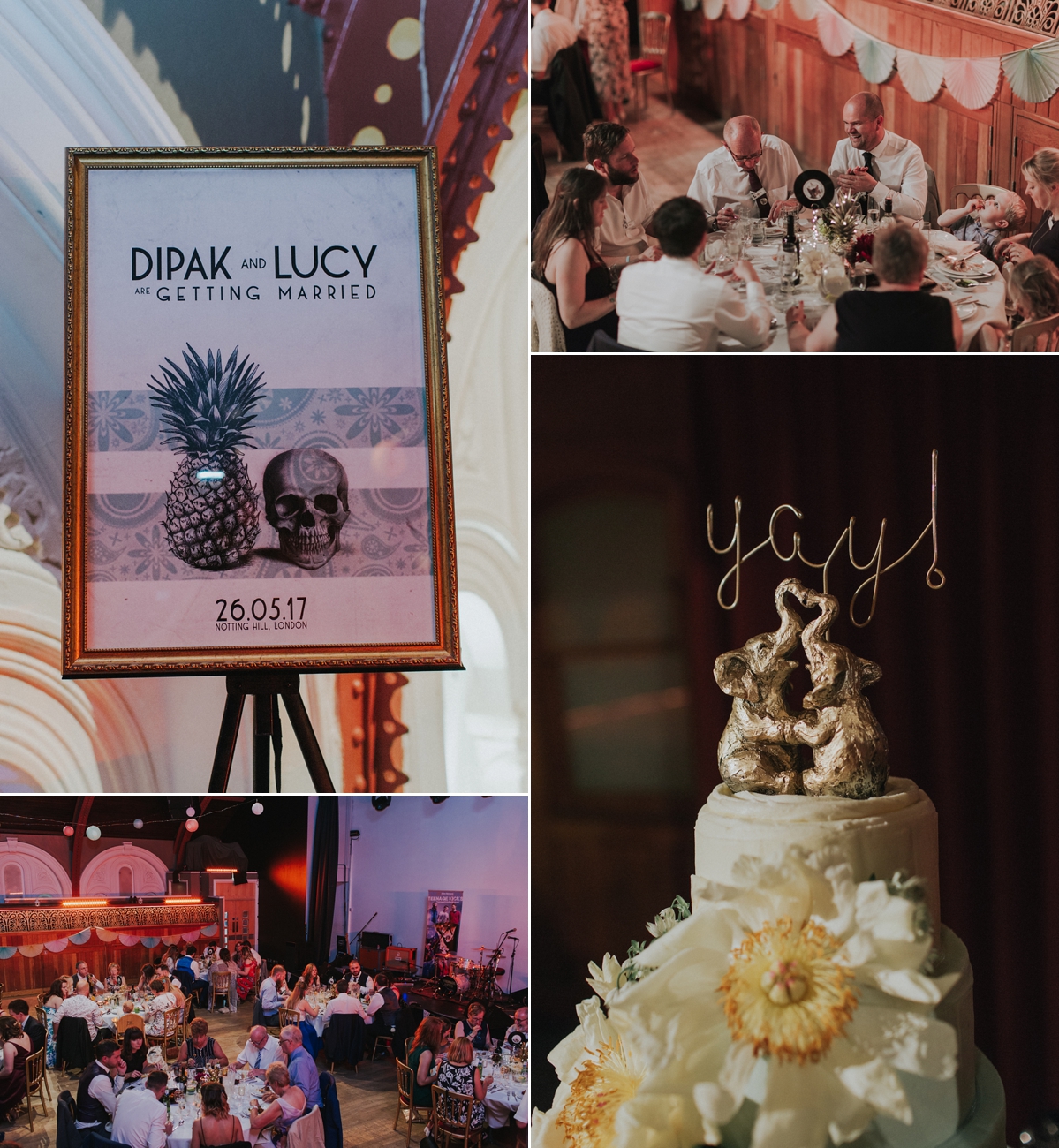 The newlyweds commissioned a scrumptious wedding cake from the Primrose Bakery, a speckled sponge cake with buttercream icing, which is making me seriously hungry! The ombre blue tone tied in with their custom wedding stationery, crowned with a gold elephant topper and colourful peonies. If cake isn't the perfect fuel for a first dance, I don't know what is, and Lucy reliably informs us that their baked masterpieces was nothing short of delicious.
"Apart from the ceremony my favourite moments were all the speeches, we had four my dad, best men, groom and chief bridesmaid. They were so funny and at times moving, and it was just lovely to hear people supporting our marriage."
"I also loved our first dance, completely unrehearsed, a little tipsy and so much fun. For the next two songs afterwards we just only danced with each other, taking a few minutes to catch up and take it all in."
"Teenage Kicks were brilliant and everyone commented what a fantastic band they were. Our first dance was 'Hooked on a Feeling' by Blue Swede as we have a mutual love of Guardians of the Galaxy. The band took on board our favourite bands while also making sure they played all the classics to keep everyone on the dance floor. We also hired a photo booth from The Photo Booth Guys and we couldn't be happier with how much fun everyone had using it and how great the pictures came out on the night – a great souvenir for our guests."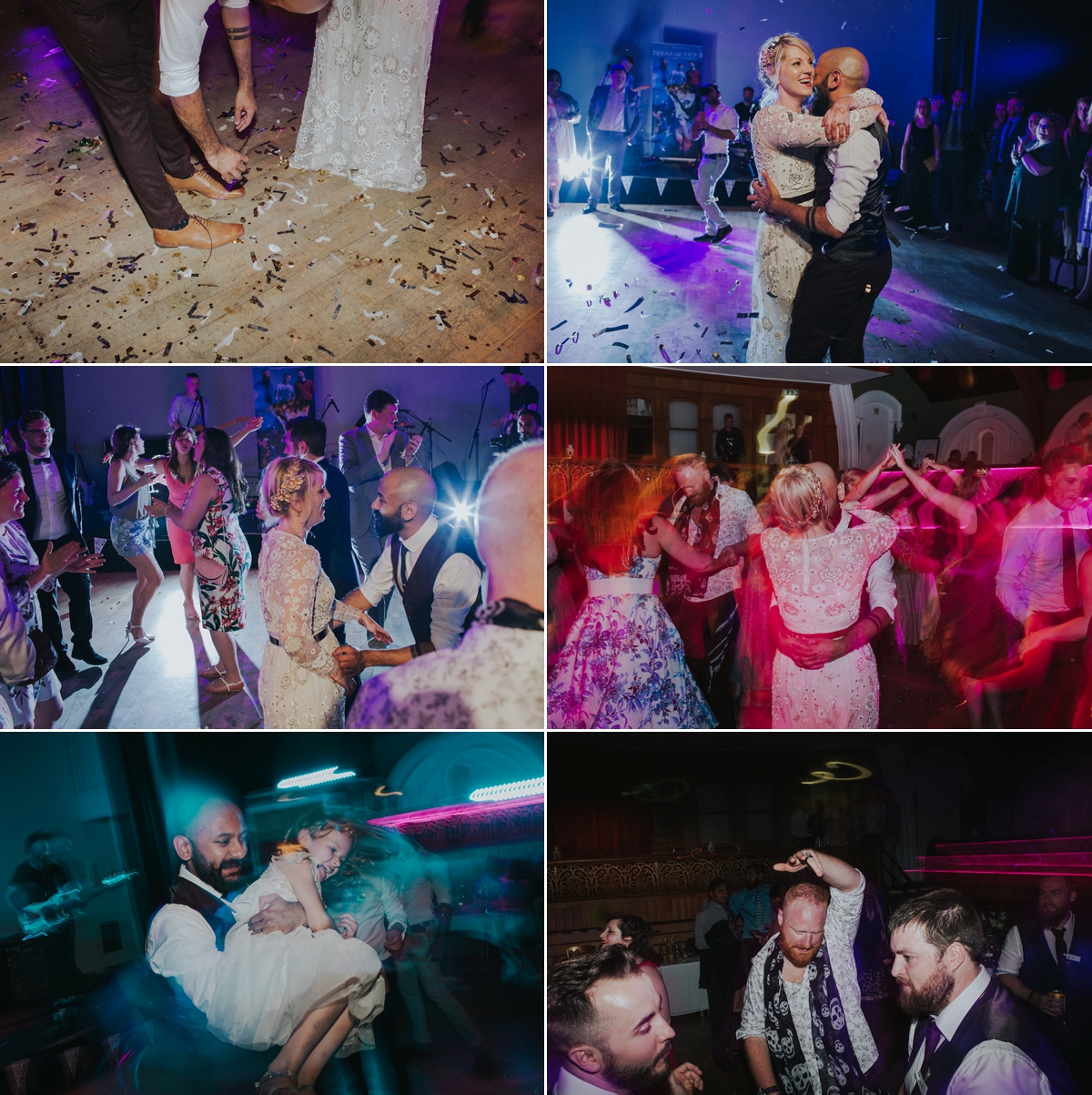 That just leaves me to say a huge thank you and congratulations to Lucy and Dipak on their nuptials, and of course to also thank We Heart Pictures for these love-filled images. For more gorgeous real weddings documented by these talented artist, simply click here.
Em x