Good afternoon lovely ones  – how are you faring today? Back to work after a summer holiday? I'm feeling for all the mum's out there today whose children are already back or due back later this week, and especially those who work from home like I do.
It's a frightening prospect, the thought of trying to 'fit it all in' during the summer break, but by the end of it, I always find myself yearning for more and missing the wonderful freedom and fun times with my family. I shared a few thoughts today over on Instagram and would love to hear from you.
Shifting my focus back to work (and reminding myself this is a job I utterly love), I'm so pleased today to be able to share this exclusive interview with you. Sanyukta Shrestha is a designer I have an immense amounts of love and respect for. Whilst based in London, Sanyukta's roots are in Nepal and she goes to great lengths to support the artisan communities of crafts women and weavers there.
Sanyukta's gowns are all ethically produced using organic silks and fibres that are prepared with pure love, passion, skill and talent – so if the provenance of your wedding dress was ever an issue, you might want to read on.
We adore Sanyukta Shrestha – she is a member of our Little Book For Brides wedding directory, and you will also find her details, including all her social media links, listed over in our Look Book.
Can you give a little overview of how you came to be a bridal designer?
At just 17, I created the dress Miss Nepal wore in the 1998 Miss World pageant. This truly was a milestone in my journey as a fashion designer and an exciting start to my career. It remains a very special moment in the early memories of my career. From this, I went on to be awarded Best Designer for my first ever design, and this really opened up the doors to the fashion world for me.
The first wedding dress I designed was for my sister in 1999, which was a mesmerising moment for me as a designer. After graduating from The London Collage of Fashion, I worked in the Bridal industry in the UK for 5 years. From this, I was able to gain enough experience to then open up my own bridal label in 2011.
It has been an amazing journey since then and I feel incredibly honoured to have been awarded several times and it makes it even more special, receiving it for something I truly believe in. It's very fulfilling to be able to bring out the inner beauty of the bride on the most special day of her life.
When you start to design a new collection, what is the process? Do you start with an overview of what you want to collection to be or a mood board with the elements you want to include?
Firstly, in the process of a new collection I start with resourcing the material to inspire my collection and expressing this on mood boards using images, fabrics and sketches. I then bring this into designing where I fuse each bride's unique style with my love for fashion and their simple yet individual style gives me great inspiration.

Sanyukta Shrestha with villagers in her native Nepal
What part of the design process do you enjoy most?
A bride herself is my muse as she is indeed my main source of inspiration while designing wedding dresses. For me the most beautiful part of design process is bringing out the best of her personality, making her the best version of herself and seeing the bride feel content in her wedding dress. 
How many drafts of a design might you go through before reaching a finished design? 
The most challenging part I needed to work with fabrics that sometimes, haven't been used ever before. For me a strong foundation of good design is the harmony between fabric and its creation. After receiving the fabric, I first allow the fabric to speak for itself- twisting and turning it to the desired level of tactility before I begin to sketch. Sometimes it takes 3-4 toiling before reaching to the final dress.
The Milca gown, for example, is a wedding gown which is made from milk fibre. As a fabric, milk is light, soothing and iridescent. I absolutely love this fabric because of its fragile and delicate nature. However it took creating 3 dresses before justifying its true beauty into becoming a perfect Milca gown.
Do you design on your own or is it a more collaborative process? 
I design on my own – as design process for me is a natural expression of my vision, experience and my dreams! I am a vivid dreamer and a lot of the time I find myself waking up in the middle of the night and quickly sketching a new creation. Brides also inspire me a great deal with their unique thoughts and dreams.
What are your design influences right now?
Fashion design is a constant learning process and trends keep on changing. Nevertheless, as a bridal designer I have to interpret traditional designs into modern creations that stand the test of time. I think ultimately, that is what I aim for every time I begin working on new pieces.
Where do you look to spot 'trends' and keep abreast with what brides are looking for?
Our brides are unique in their own way. I aim to bring out a bride's vision as a wedding gown should be an extension of her personality, it should reflect the best version of herself inside out, and it should be timeless. I am true believer of what Coco Chanel said once "Fashion changes, but style endures". So, I do not follow trends, I capture the emotions, dreams & stories that brides have shared with me over the years.
Do you tend to design with a certain type of bride in mind?
Yes, as a designer I feel I should know the woman I design for so that I can bring out the best of her beauty. An independent stylish, forward thinking modern woman who possesses an appreciation for style quality and comfort. A bride who desires a gown with a difference that really enables her inner beauty to shine through.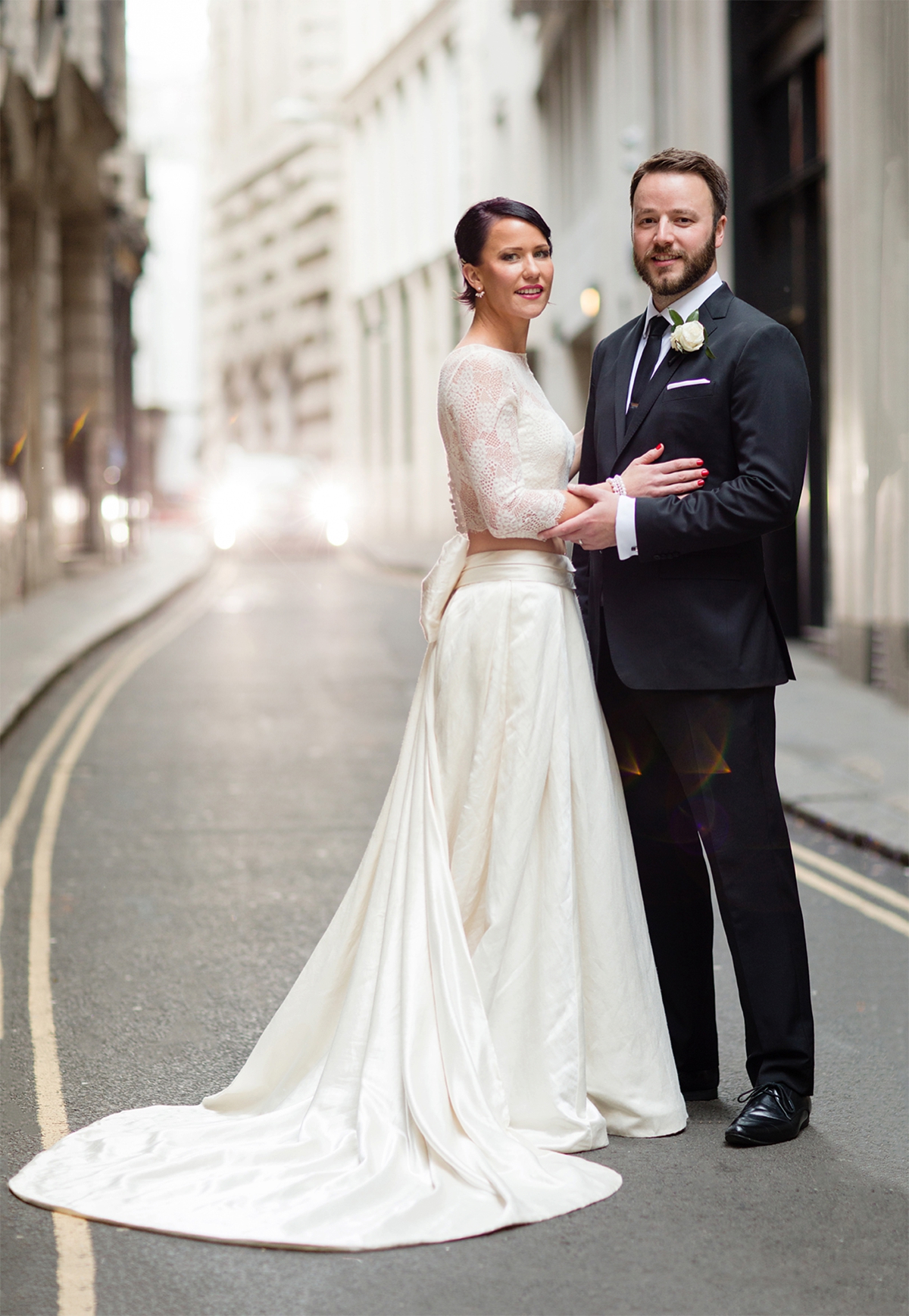 What are you favourite materials/embellishments to work with? 
I use fabrics like organic silk, hemp silk, bamboo, milk, soya and organic cotton.
The fabric that are close to my heart and are my favourites – hand-loomed organic cotton and bamboo fabrics made by women from the Tulsi Mehar Mahila Ashram which houses homeless and destitute women. The Ashram is the first social non-governmental organisation (NGO) that was set up in 1927 dedicated to helping deprived women of challenging backgrounds in Nepal. The Ashram provides free living quarters, a small hospital, a kindergarten school, a play area for children and production workshops.
The goal of residence at the Ashram is to provide these vulnerable women with shelter and training while educating their children. My team then turns the handmade and hand spun fabrics created by these skilful women into wearable art. Our fabric producers are from remote and mountainous areas. All these remarkable women are given the chance to employ their traditional skills in their own homes to generate extra income.
What, in your opinion, sets your brand apart? What are your core values?
Our dresses are made from natural and organic handmade fabrics such as hemp silk, organic cotton and bamboo. The fabrics used in my collections have skin nourishing, breathable and antibacterial properties which is perfect for a bride as comfort is key. She should enjoy her day without worrying and compromising comfort. What makes this celebratory attire even more special is that one can rest assured that by wearing a Sanyukta Shrestha gown, one also supports sustainability, fair trade, women's equality and an ethical workforce and therefore can share fully in the happiness of this joyous occasion of a wedding. 
What are your proudest moments workwise?
I have been lucky enough to receive many awards throughout my journey as a designer and I feel very blessed. The proudest moment for me was to bring a smile on those faces who are much in need. Through blending sustainability with ethical believes, I have been able to create opportunities for village women in Nepal, by merging and turning their traditional skills into delicate fabrics and designs. I feel incredibly privileged as a designer, to be able to put their inspirational skills to good use. I am committed to continue my support in reviving their industry further as my bridal collections evolve.
To be able to empower women in need through my work is certainly the most gratifying feeling for me as a responsible designer and a human.
 
Organic silks and fibres and the community of talented artisan weavers that Sanyukta employes
What do you do to relax? How do you escape from the wedding world?
Spending time with my three year old daughter Ameya and dipping into her fantasy world with fairies and wizards is the most blissful and relaxing moment I get.  
What are the biggest challenges you face?
One of the biggest challenges I still face is lack of awareness among the masses. We have almost forgotten that we have been gifted with abundance of natural resources to use which protects us as well as the environment. It is rather difficult to establish your vision in a market where there is scarcity of demand for sustainable clothing and lesser awareness. I took an initiative at a very young age to help bring awareness to save the environment through my work. Every dress has its story of a woman who has been empowered to live a better life and these dresses certainly need a voice to be heard. Today, I can proudly say that I am reaching my ultimate goal, in terms of spreading awareness and making women feel special through skin nourishing stunning dresses.
What are the most important things brides should keep in mind whilst choosing their gown?
The best advice I would give any bride-to-be, is to keep an open mind when it comes to choosing the wedding dress. Everyone is different, we all have different personalities and we all have unique shapes, sizes and curves. The 'dream dress' a bride-to-be has seen on another bride or model might not necessarily be the right dress. A bride should try on different styles to get a feel for what flatters her figure and suits her personality.
A wedding dress should be 'Beauty with comfort' brides should follow their heart and not trends. The perfect wedding dress is the one that reflects a bride's personality, compliments her figure and most importantly, it's the one she feels most comfortable in. So I would say: "Stay true to yourself and stick to the shapes you know work. You should feel beautiful and happy while you are wearing it!"
If you weren't designing wedding dresses, what do you think you would be doing?
I would surely be an artist. I have been an aspiring artist from the age of 4, as far I recall my childhood. I remember winning many awards for dancing and sketching during my childhood so I was inclined towards a creative field since then. I would have found a different way of combining my skill to give back to the community. My purpose would have been the same, only the medium of expression would have been different.  
What should we expect next from your label?
During my visit to Nepal earlier last year, I visited the Tulsi Meher Ashram that I have developed a close working relationship with. I was so impressed by the artisan skills that they are training these marginalised women to use as means of income for them and their families. Their skills go far beyond textile crafts and I hope to help create a stable income for them with my upcoming lifestyle range.
_____
You can find out more about Sanyukta Shrestha by visiting her website at sanyuktashrestha.com.