I love being a writer but sometimes a wedding comes in and it instantly makes me want to rush off and become a florist – although I have always fancied that anyway!
This is, without a doubt, one of the most beautifully styled days I have ever seen and all done by bride and freelance stylist Anna of Weasel and Rose.  Anna married her beau Rob at Eccleston Church, with the reception in a marquee in her parent's garden in Chester.  The couple were set up on a blind date by one of Anna's bridesmaids, Polly, and got engaged in Paris a year and a half later before marrying on the 15th of September.
"We wanted the day to have a slightly secret garden/Bloomsbury floral feel to fit in with the garden surroundings but, still wanted it to feel modern and refined at the same time. We didn't really have a colour palette as such and I really tried to not make it look too matchy – I tended to just pick things which I loved and which went well together, although looking back at everything now I suppose there was a reoccurring pop of hot pink!  We both really just wanted it to be very full and colourful and have lots of atmosphere later on in the evening when the candles were all lit."
Photography by Rachel Hayton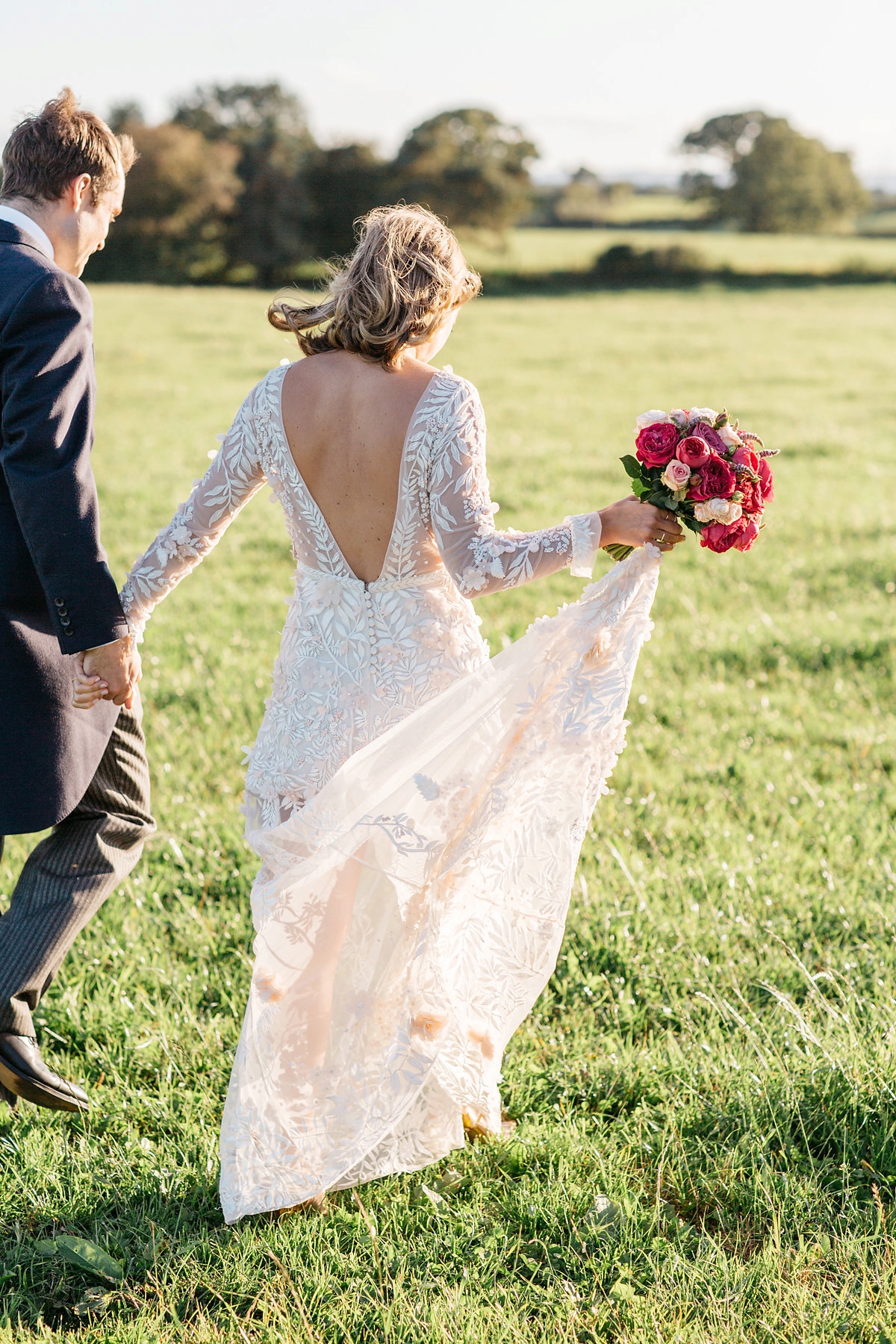 Anna looked wonderfully elegant in a Hermione de Paula rosewater silk, crepe de chin, organza and tulle bespoke dress with matching veil.  I'm completely in love with the embroidery on the dress and the appliqué flower detail on the bottom of the veil.  The fabric also looks like it was absolutely stunning (I have a bit of a thing for fabulous textiles).
Make up was the work of Caroline Sims while hair styling was by Sky Cripps Jackson.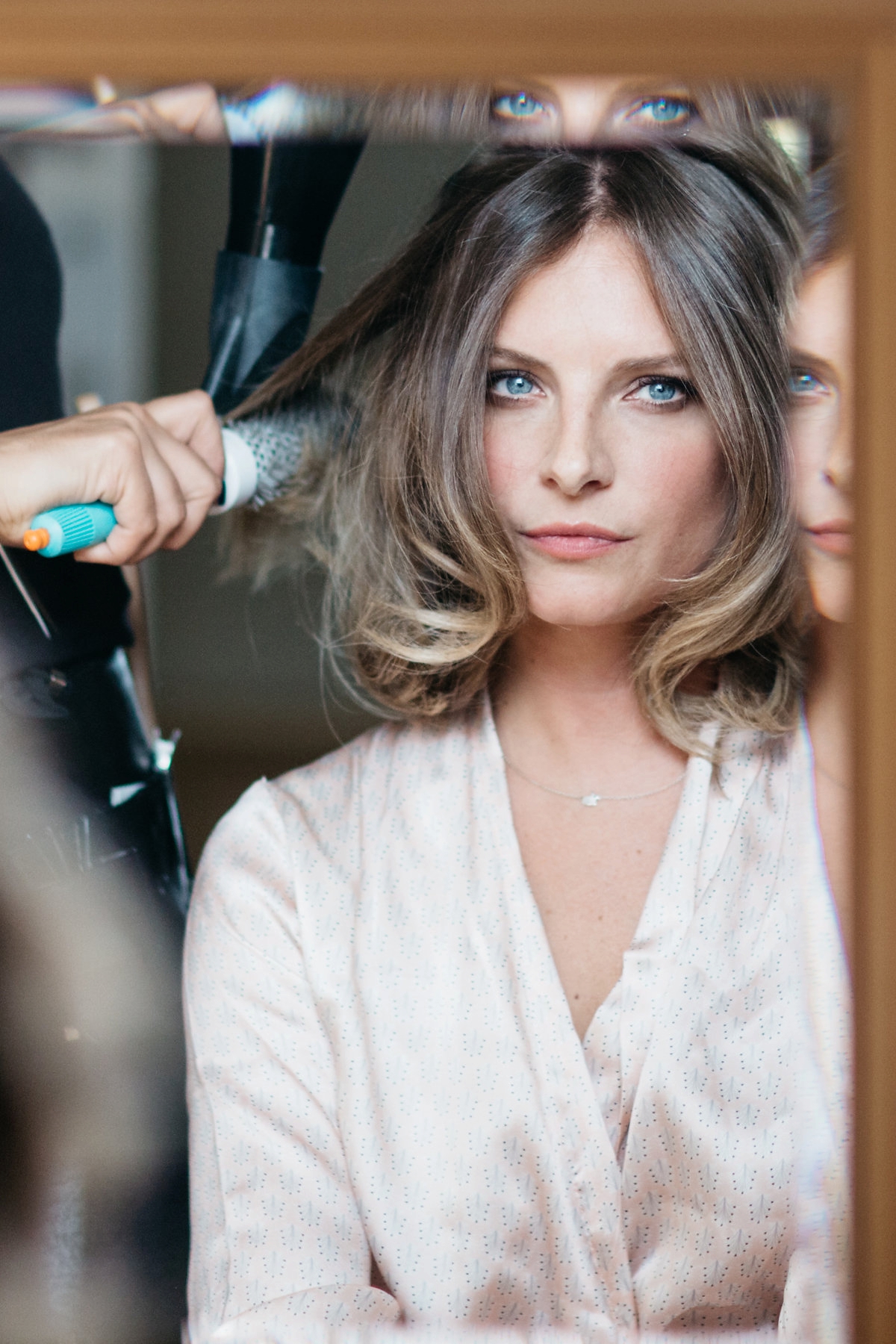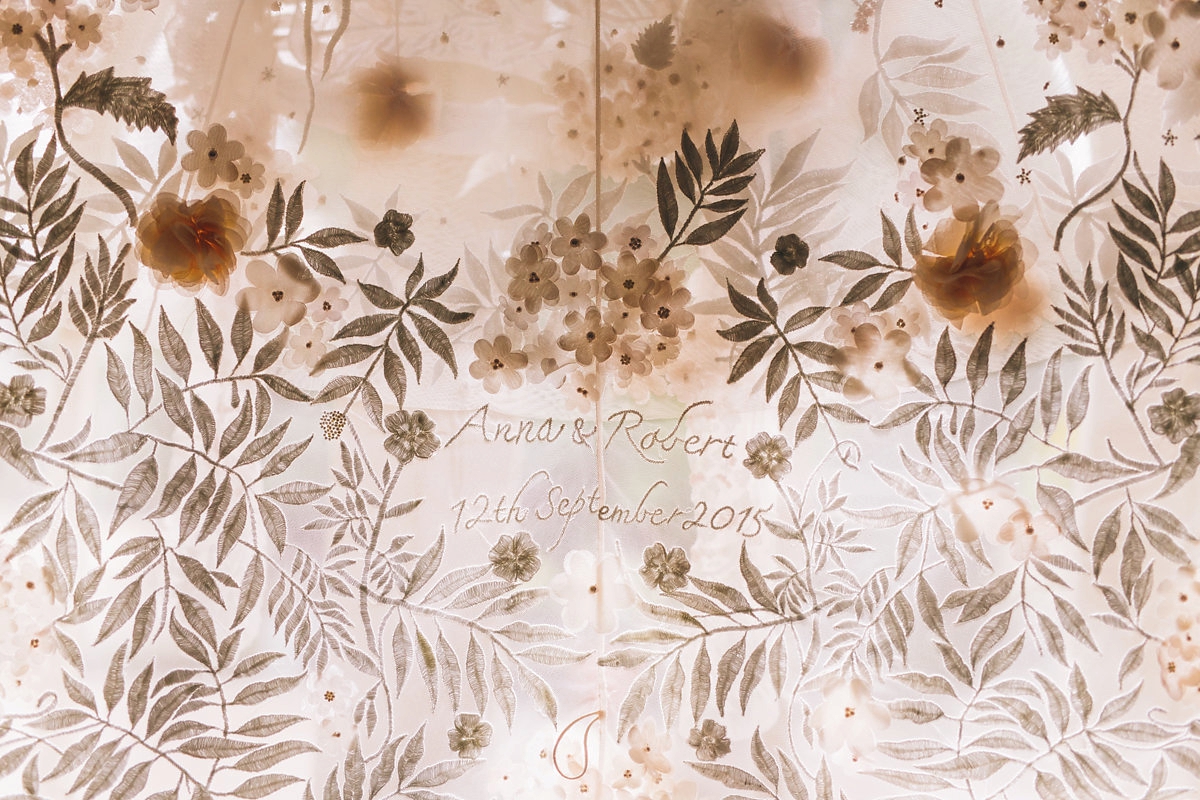 "As soon as I came across Hermione's dresses I knew her style was exactly what I wanted.  I had looked at a few dresses already but nothing felt right or amazing and I knew I wanted something slightly different."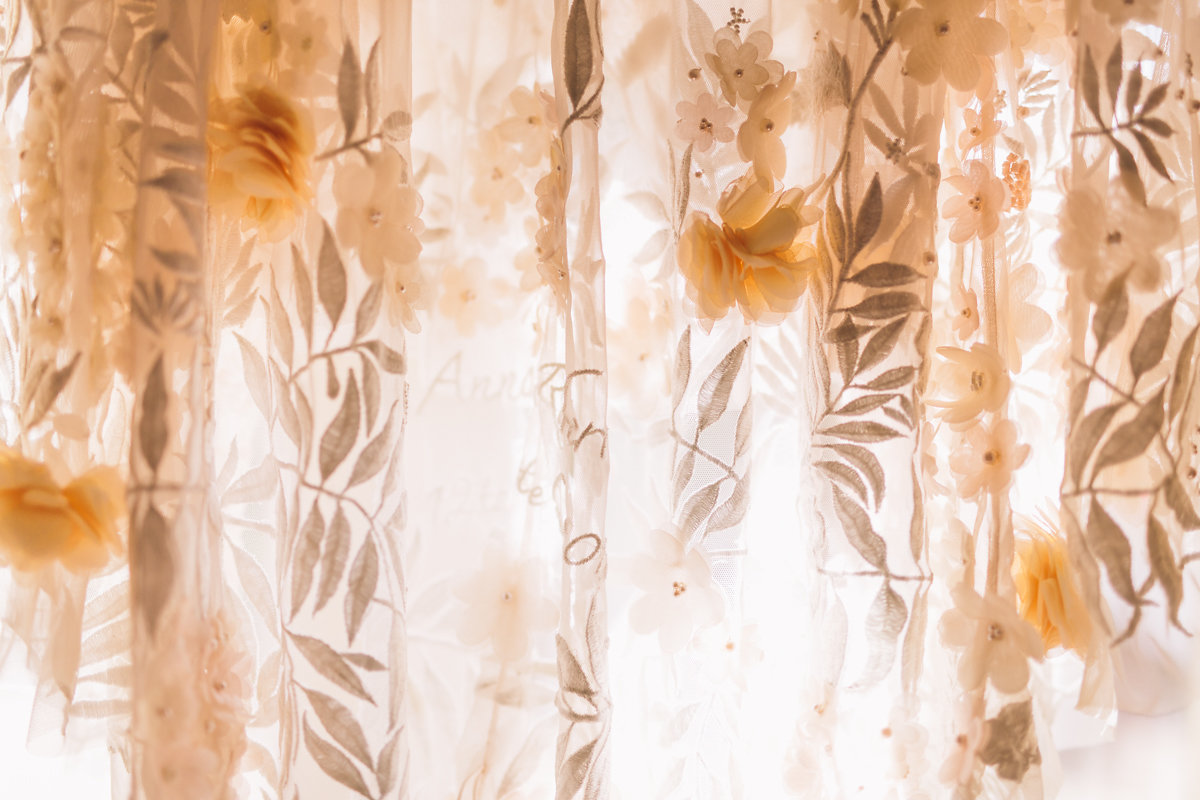 "Working with Hermione to create my dream dress was so much fun!  When we first spoke my brief was something romantic, modern, whimsical, relaxed and sexy and she completely understood."
"The embroidery design was based on my love of climbing wisteria and the wedding flowers – roses and sweet peas.  I loved the open back detail and also the bespoke message on the back of the train."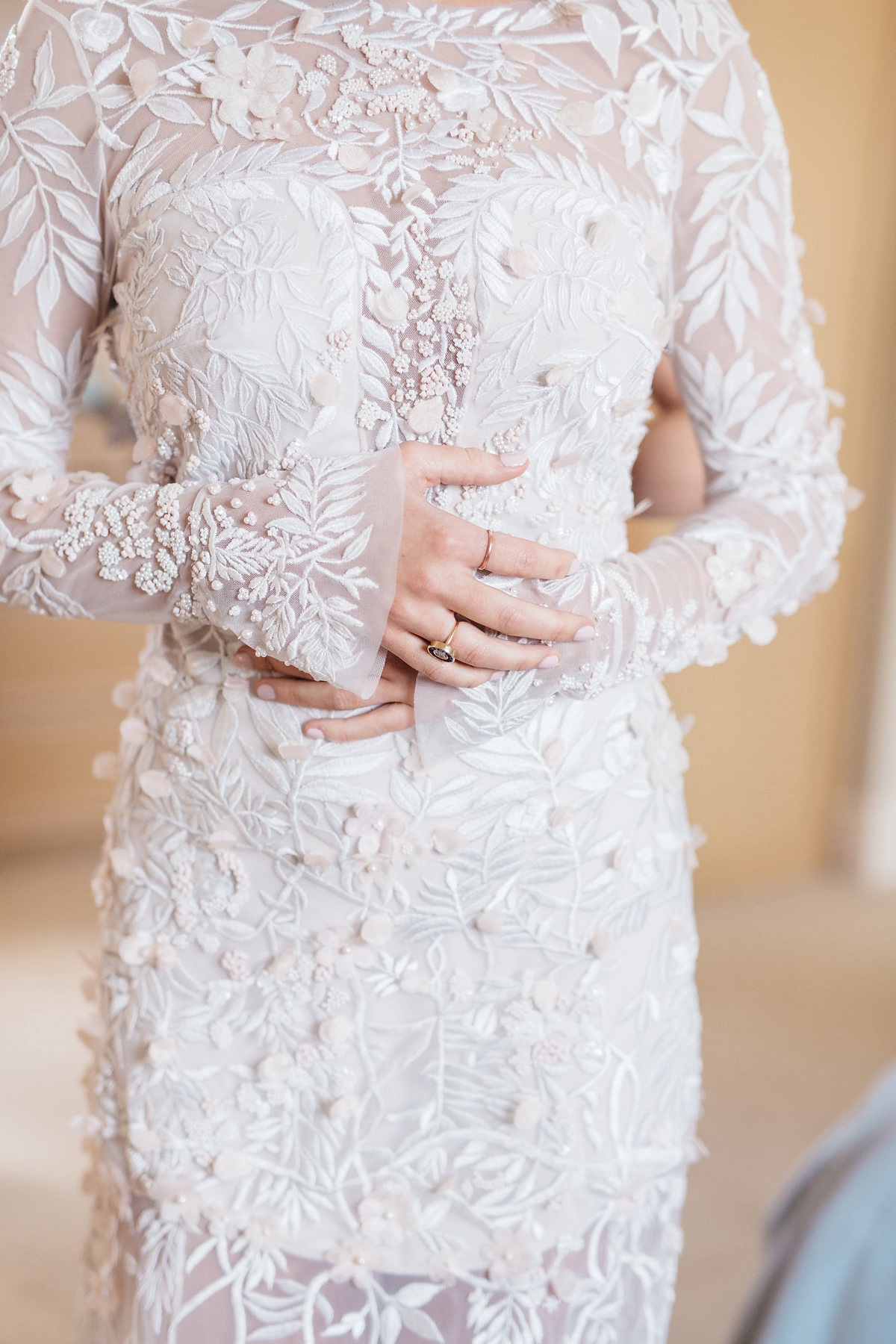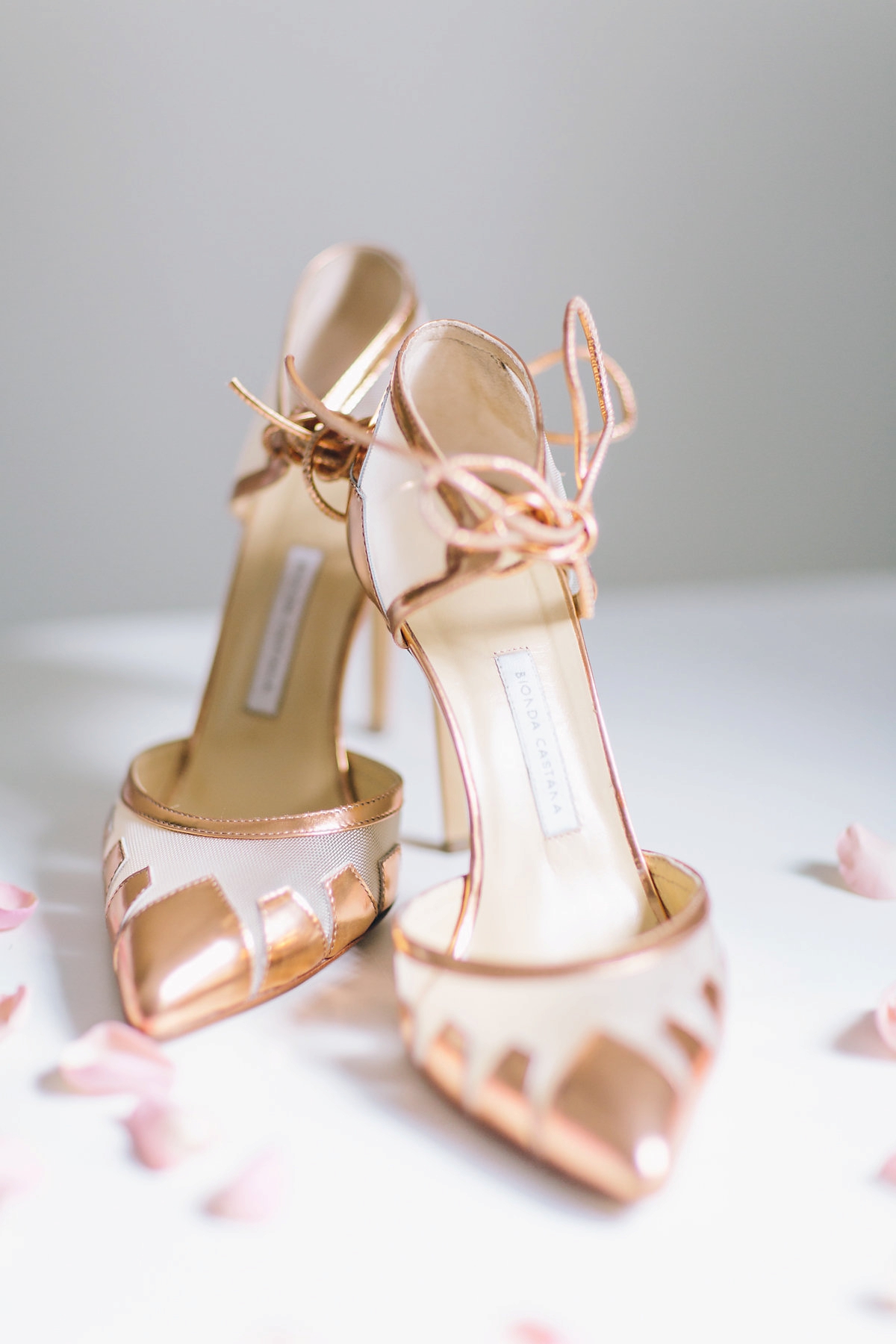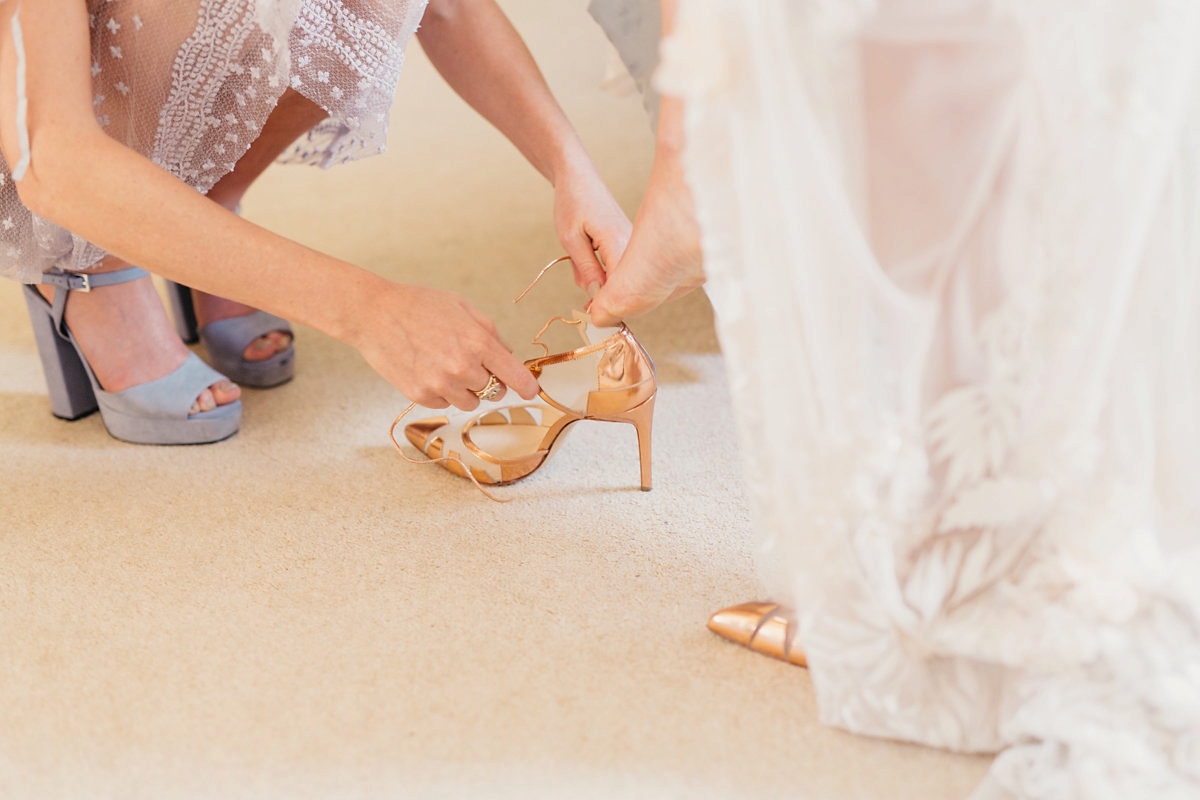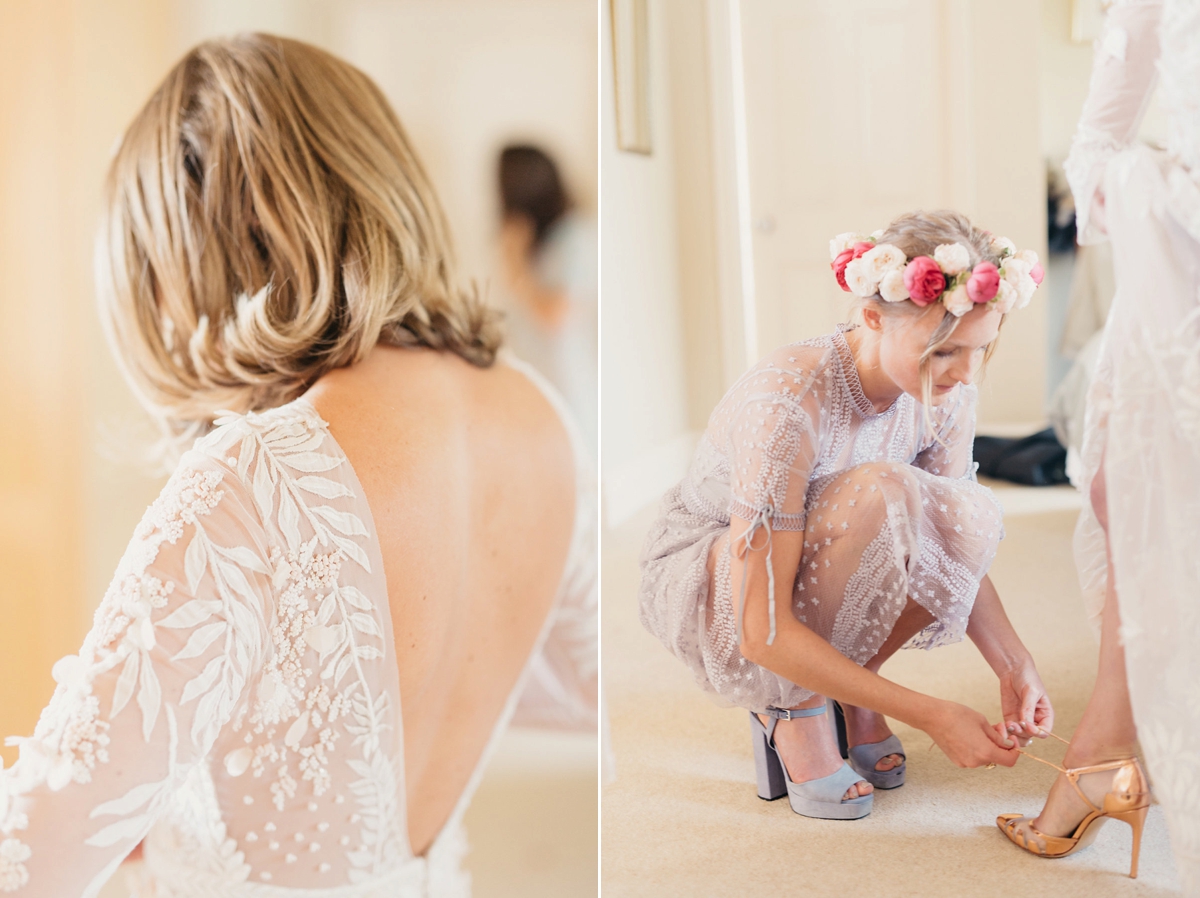 Anna wore bronze leather Bionda Castana pumps. In her hair she opted for a beautiful Hermione de Paula crown with rose gold pearl and metal leaf details.  For scent she chose her favourite Diptyque Eau Duelle.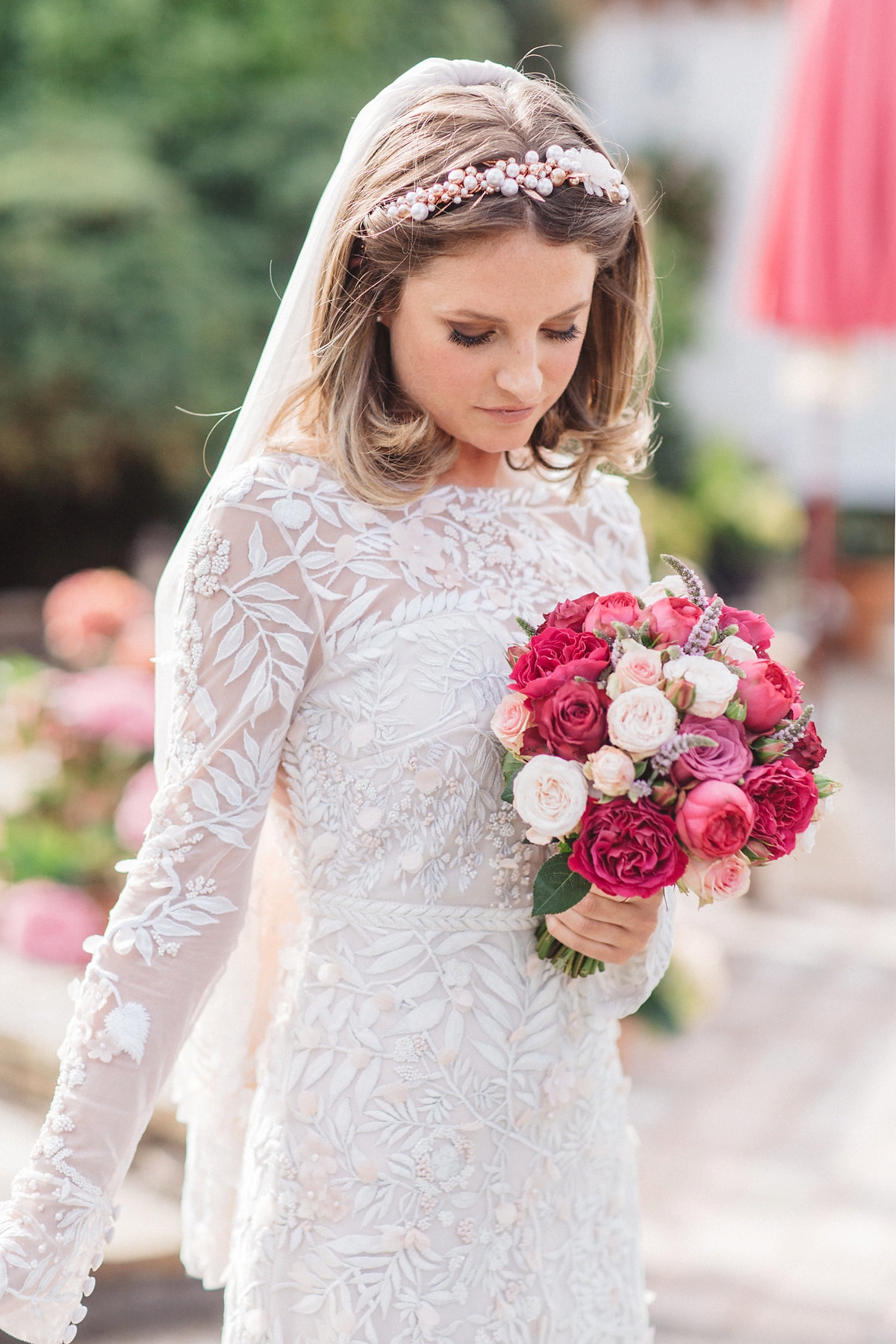 "Susannah Garrod illustrated and designed all of our invites, wedding crest, cocktail menus, table names and the chalk table planner.  Her illustrations are really beautiful and I felt like they fitted in perfectly with the wedding.  She is extremely talented and her illustrations really felt very personal to us and are something we can frame and keep forever."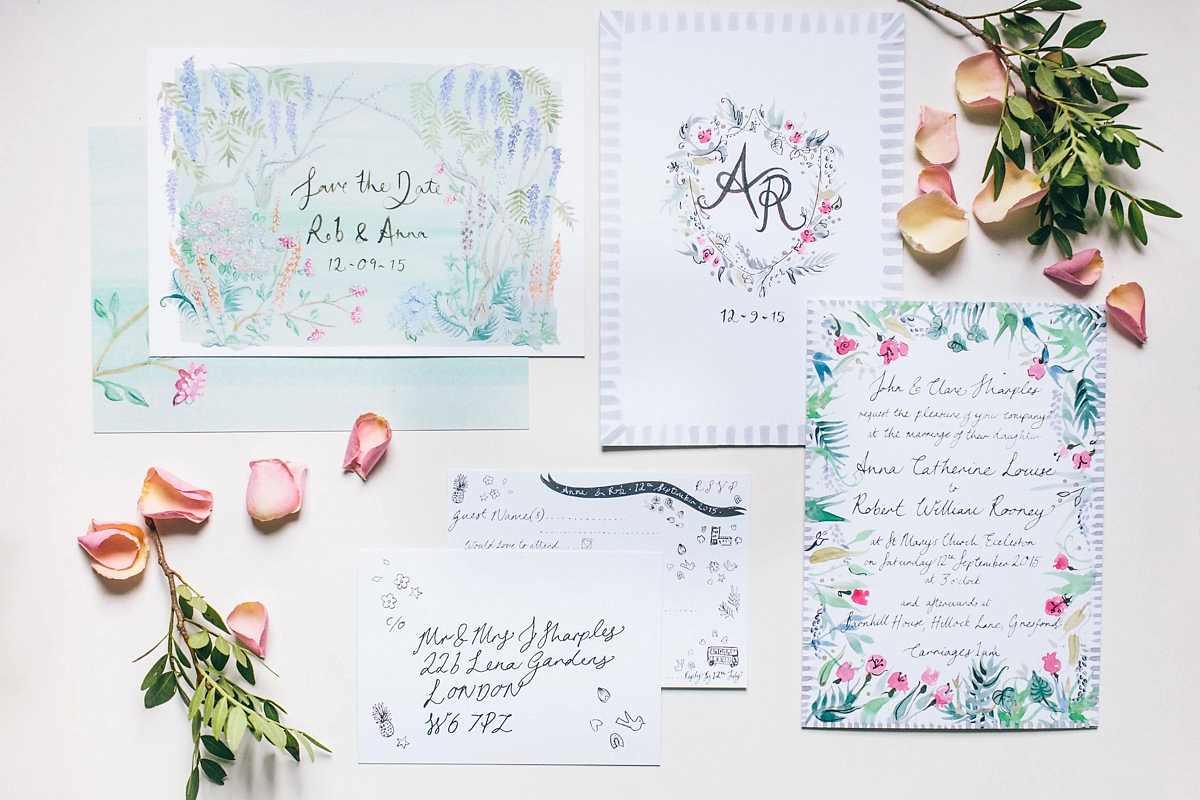 "Rob's suit and waistcoat were from David Saxby.  Most of the suits from there are vintage which we both felt was a nice idea and saved some money too. It was the first place we visited and we both instantly fell in love with his navy morning coat."
With his vintage suit Rob wore a tie from Hermes, shirt from Hackett and shoes from Russell & Bromley.  The groomsmen wore their own waistcoats in varying colours and wore a mixture of ties which all had different animals on, including giraffes, turtles, rhinos and elephants.
"Rob's younger brother Ross has Down's Syndrome and they are incredibly close to each other.  Ross was the first family member Rob introduced me to and I know how important it was that he liked me – which luckily he did.  Ross did his own speech which was hilarious and had everyone in stitches."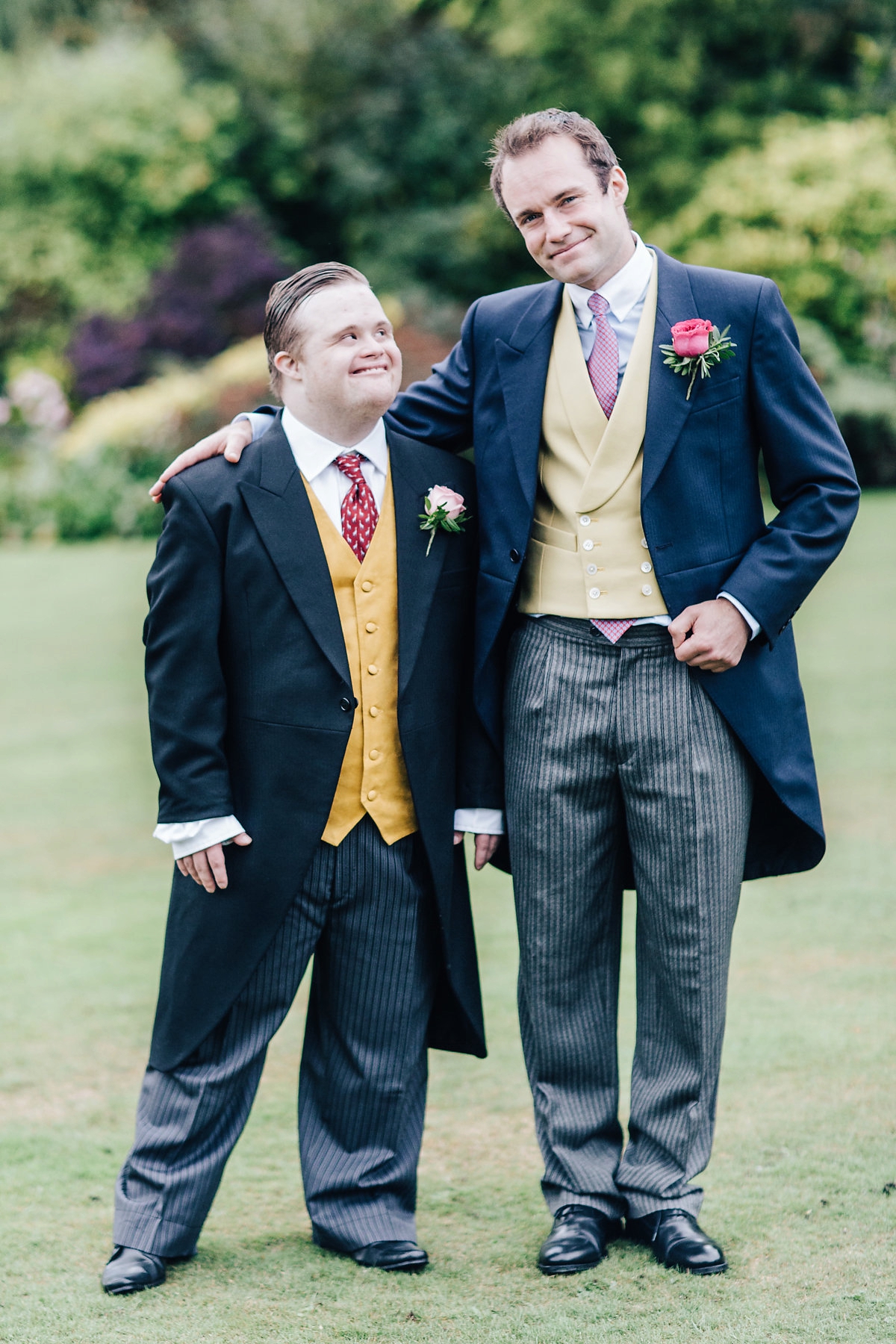 Anna and her Father were transported to the church in a cute convertible Beetle from Lovely Wheels before he then accompanied her down the aisle.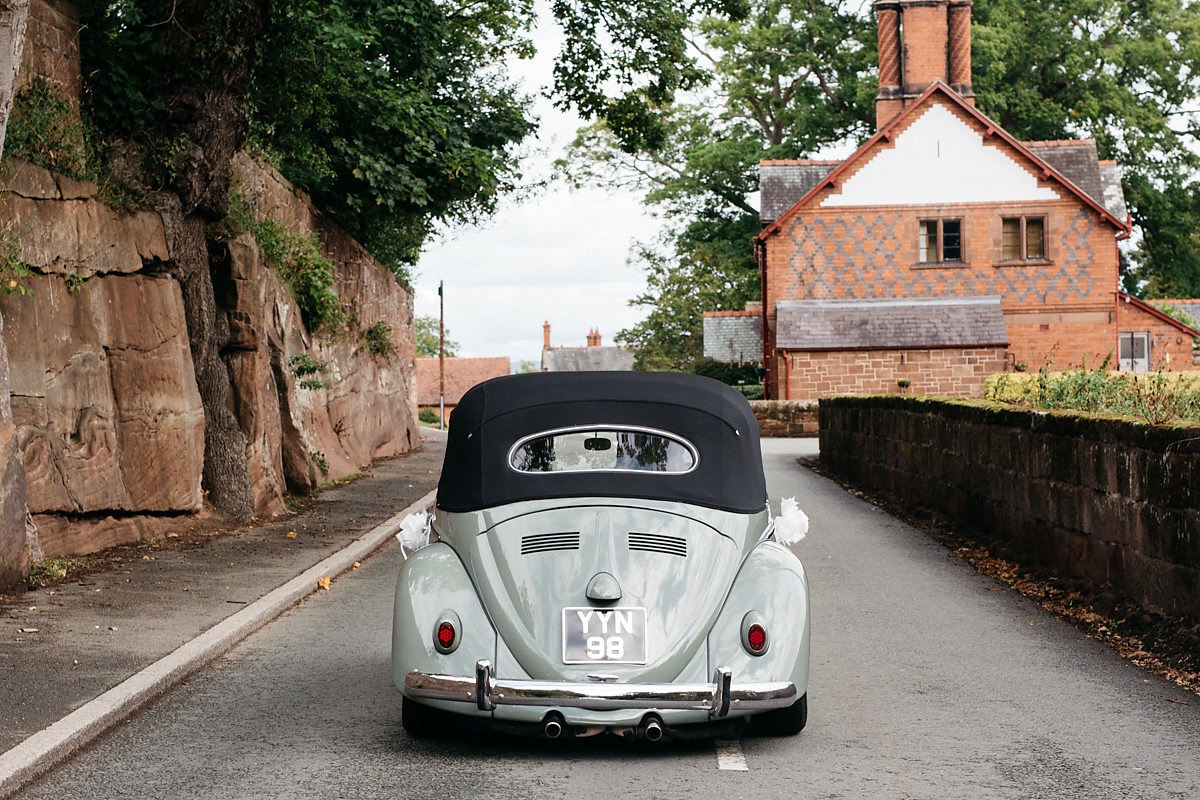 Each maid wore a floral circlet with pink and white roses which just adds to the romantic dreamy feel of this wedding.  Each maid also wore a Monica Vinader gold pendant engraved with their initials as a gift from Anna.
"I didn't want my bridesmaids to be in matching dresses.  They all have very different styles and I wanted them each to wear something that suited them and which they could keep and wear again.  In the end a soft pastel palette worked best and their outfits were a mixture of ASOS (floral dress), Self Portrait (soft violet dress) and Vilshenko (soft pink skirt), with shoes from Zara, New Look and Coast."
To cement their promises Anna and Rob exchanged wedding bands designed by Hattie Rickards. Anna's brother and Rob's father both did readings, her brother choosing an extract from Captain Corelli's Mandolin, while Rob's father read 'He Wishes for the Cloths of Heaven' by WB Yeats, one of his favourite poems.
Love is not breathlessness, it is not excitement, it is not the promulgation of promises of eternal passion. That is just being in love, which any fool can do. Love itself is what is left over when being in love has burned away, and this is both an art and a fortunate accident.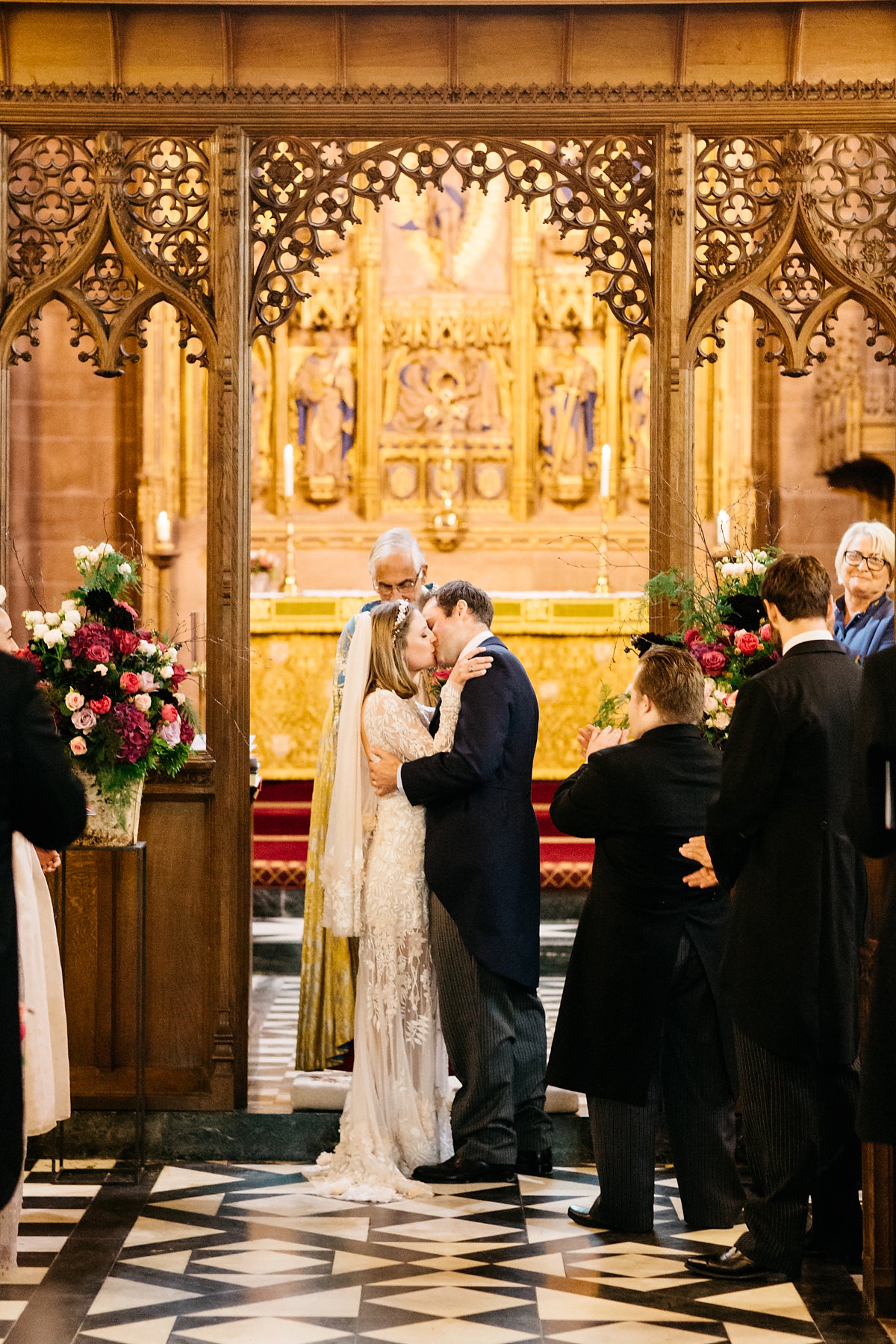 "Eccleston Church is so incredibly beautiful and the entrance has real wow factor.  After you walk through beautiful wrought iron gates it has an amazing pathway lined with trees. One of my family friends got married here and after seeing her wedding pictures it looked so special and beautiful."
The amazing floral creations were by The Little Potting Shed, who really pulled out the stops to create an incredible garden feel inside the marquee, while Anna's Dad worked on the outside.
"I wanted lots of brightly coloured flowers everywhere, especially hanging in the marquee.  I never really had a theme as such, just as many flowers as we could fit in!  We decided on David Austen roses, a mixture of garden roses, sweet peas and hydrangeas- all very traditional English flowers which were in keeping with my parents garden.  My father had spent months making sure the garden looked perfect and planted lots of beautiful hydrangea pots and rose plants."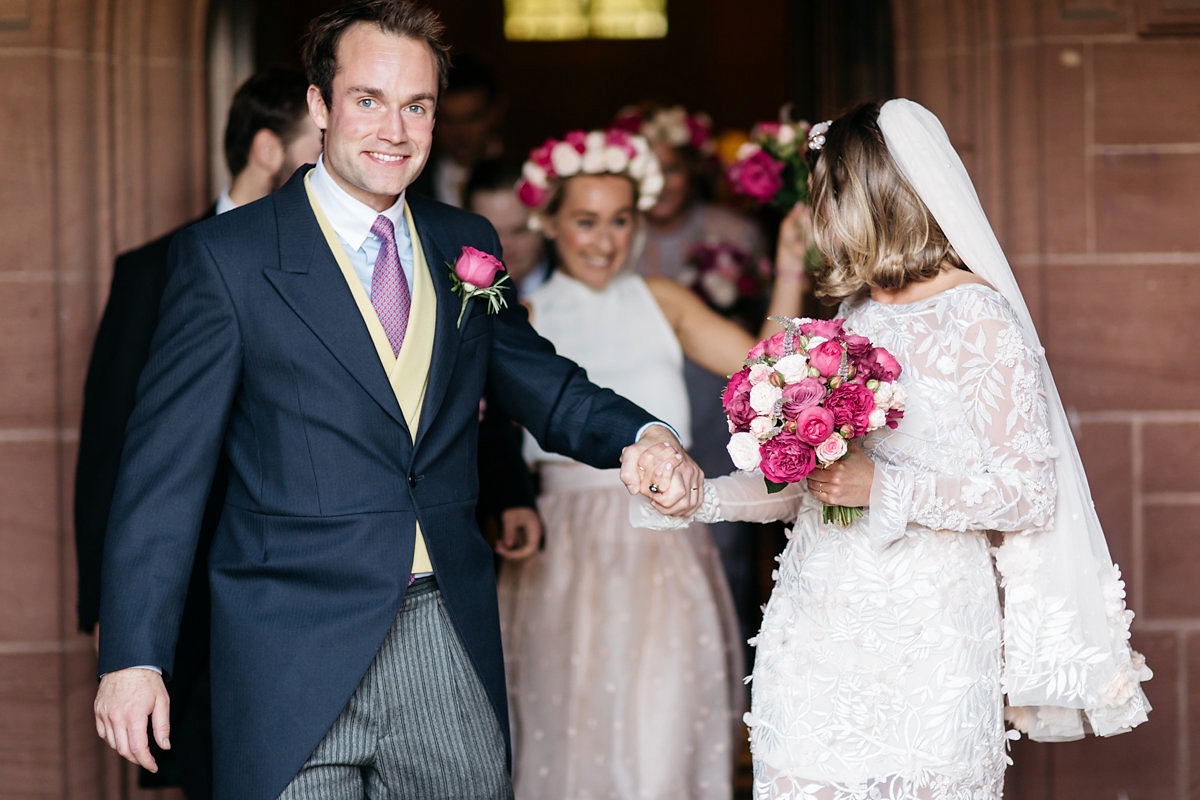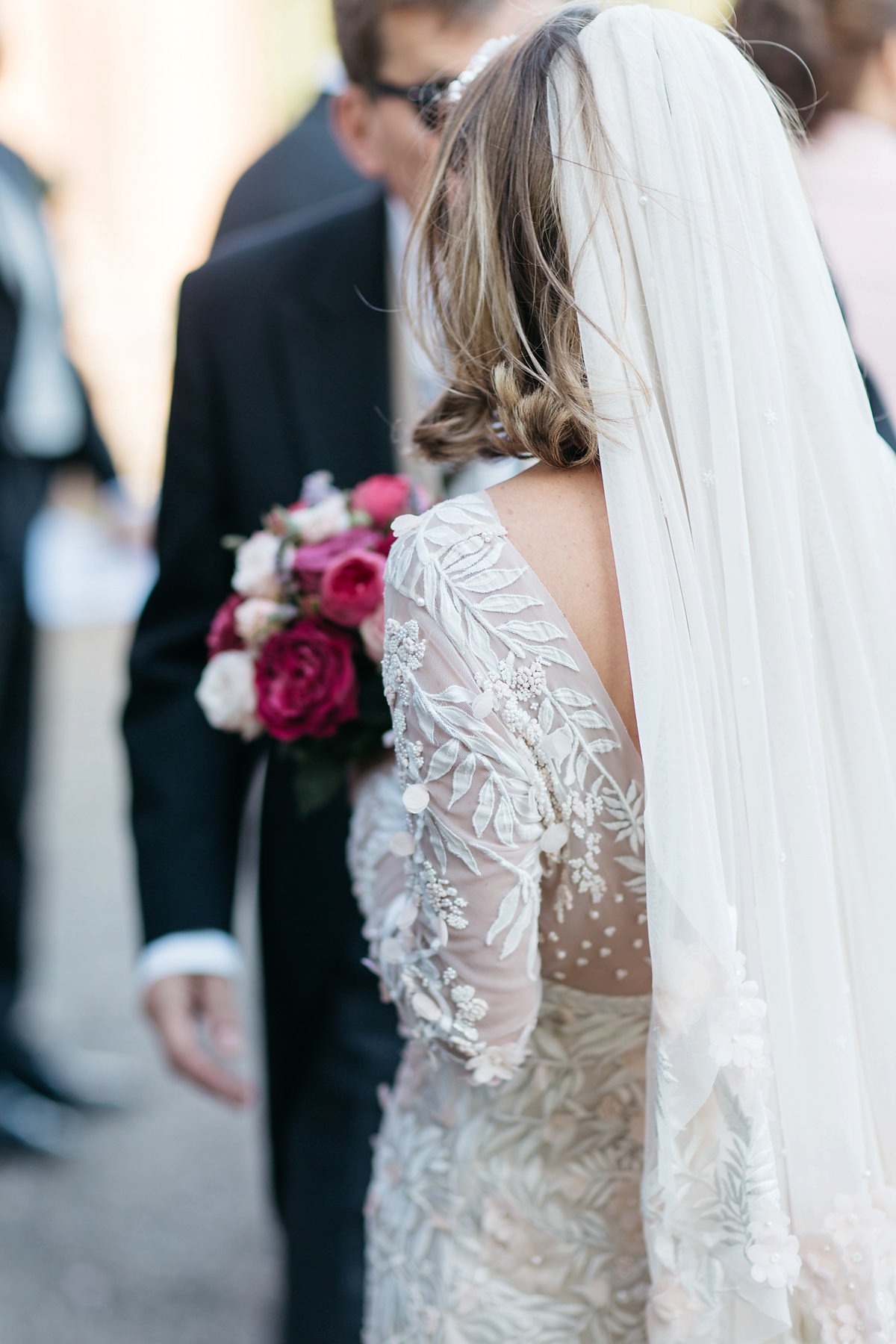 "Our caterer Catherine Skates made our cake as we also wanted it to be the dessert.  It was a chocolate and Guinness triple layer cake with Baileys cream cheese frosting and decorated with fresh flowers.  The Guinness was inspired by Rob's Irish heritage."
"Catherine is wonderful and full of inspired creative ideas. We tried to have all the ingredients as locally sourced as possible and Cathy even grows all of the vegetables in her garden."
Rachel Hayton was the talent behind the lens today- take a peek here for some other beautiful weddings expertly photographed by this lovely lady.
"Rachel was the photographer at my friend's wedding a couple of years ago and I loved her pictures.  I hate having my photo taken and wanted someone who made me feel at ease, didn't do too many staged photos and just took beautiful shots.  Rachel ticked all of these boxes and is also one of the loveliest people."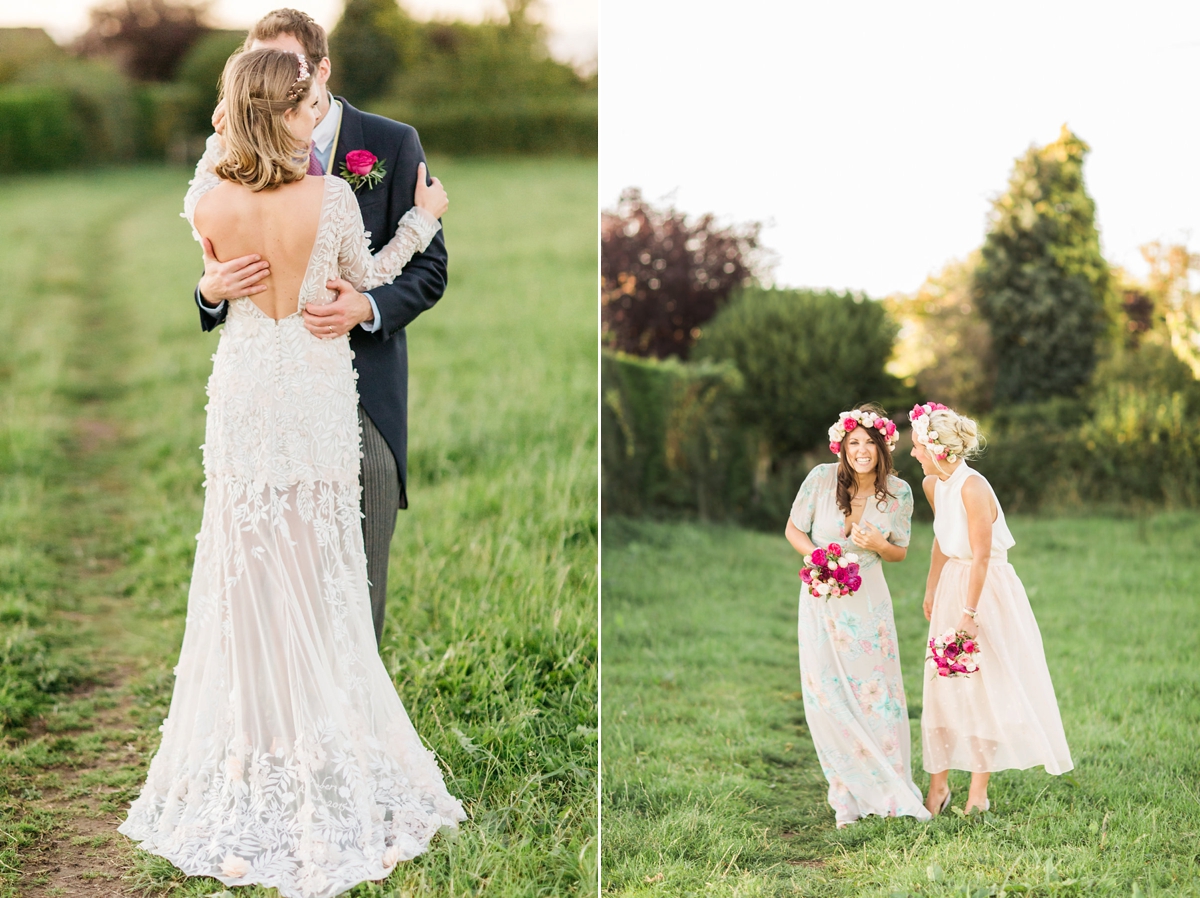 "The hanging flowers in the marquee made the day and looked beautiful.  I wanted the marquee to have real wow factor and I had my heart set on flowers hanging down from the roof.  I got the idea for the rows of individual hanging flowers after walking past Scott's restaurant during Chelsea flower show.  They had something very similar and I thought it would work really well above the rows of tables."
For favours the couple gave small rose plants as a reminder of the flower-filled day and each guest also had a small bottle of homemade damson gin (yum) at their table place.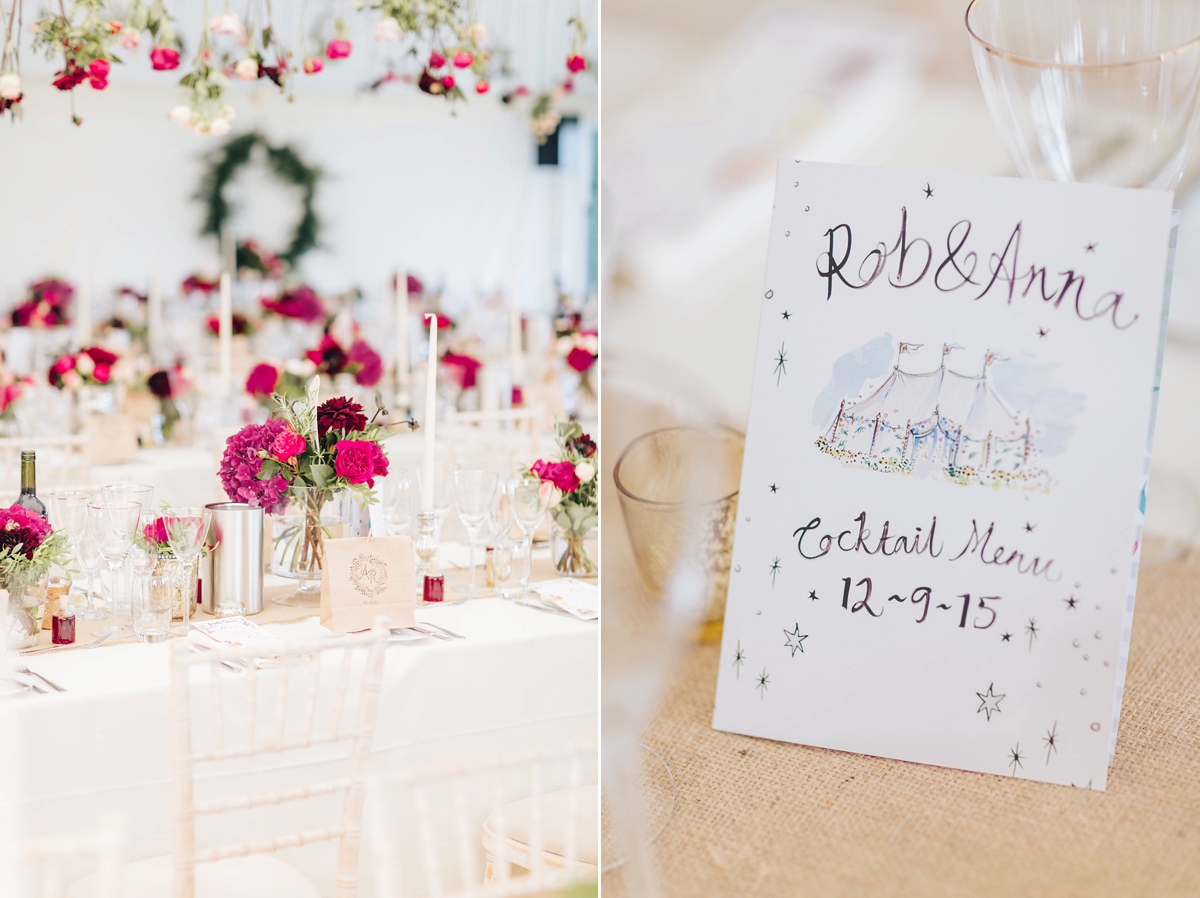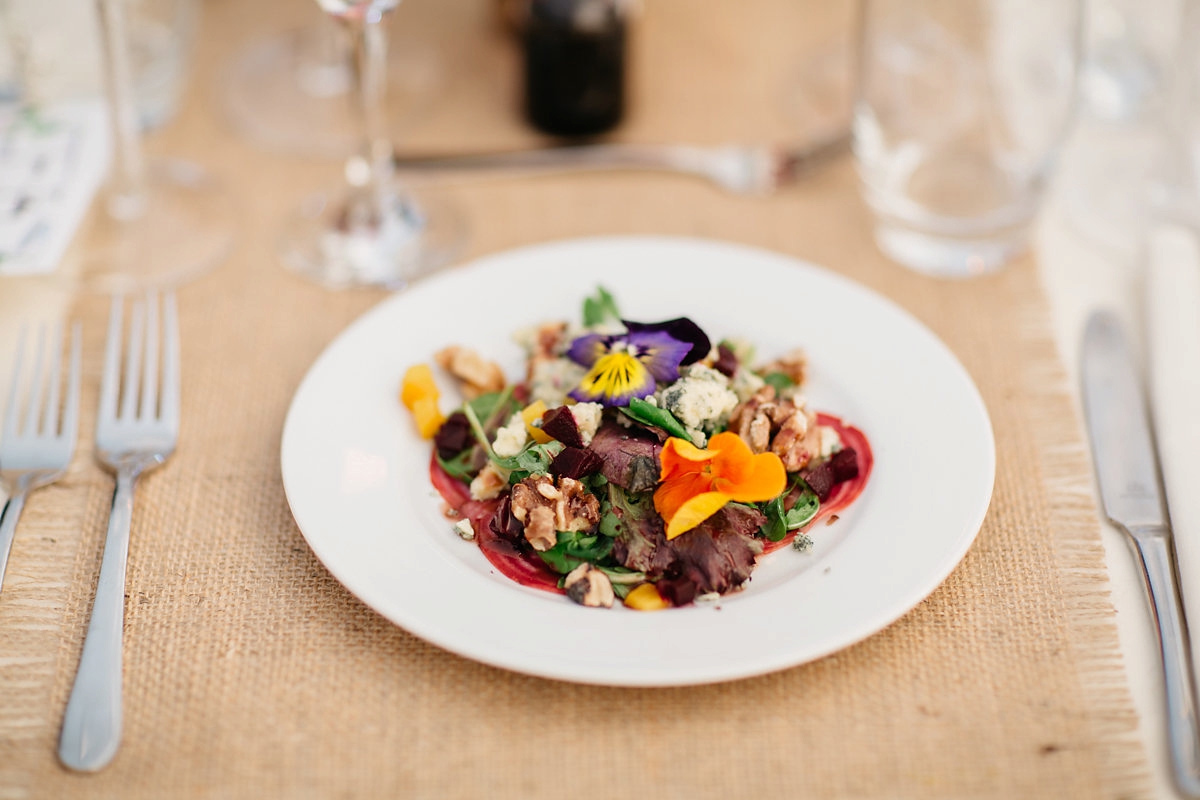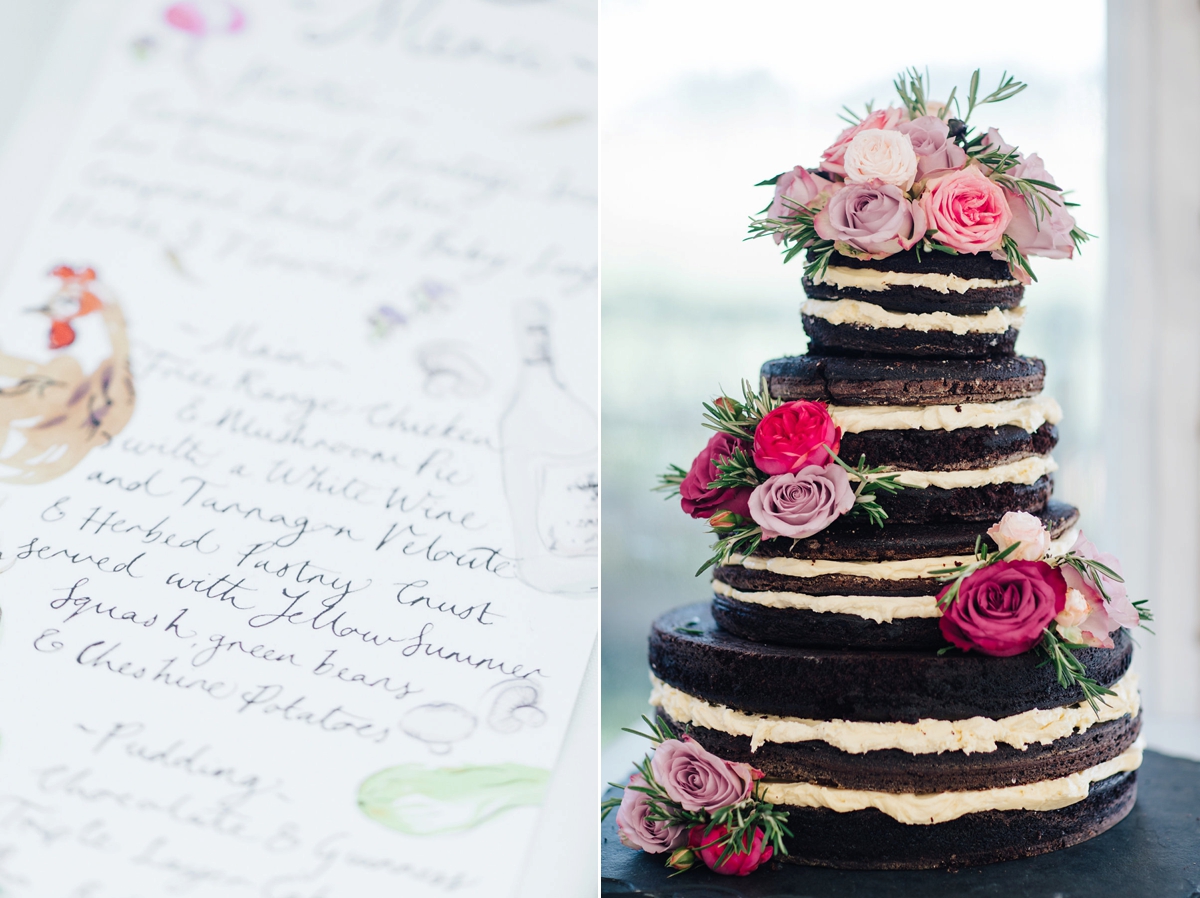 "There were so many special moments but the speeches were probably the most memorable- they were all amazing."

After the speeches, guests danced the night away to the sounds of The Twenty Somethings band, followed by a DJ provided by Hey Mr Wilson.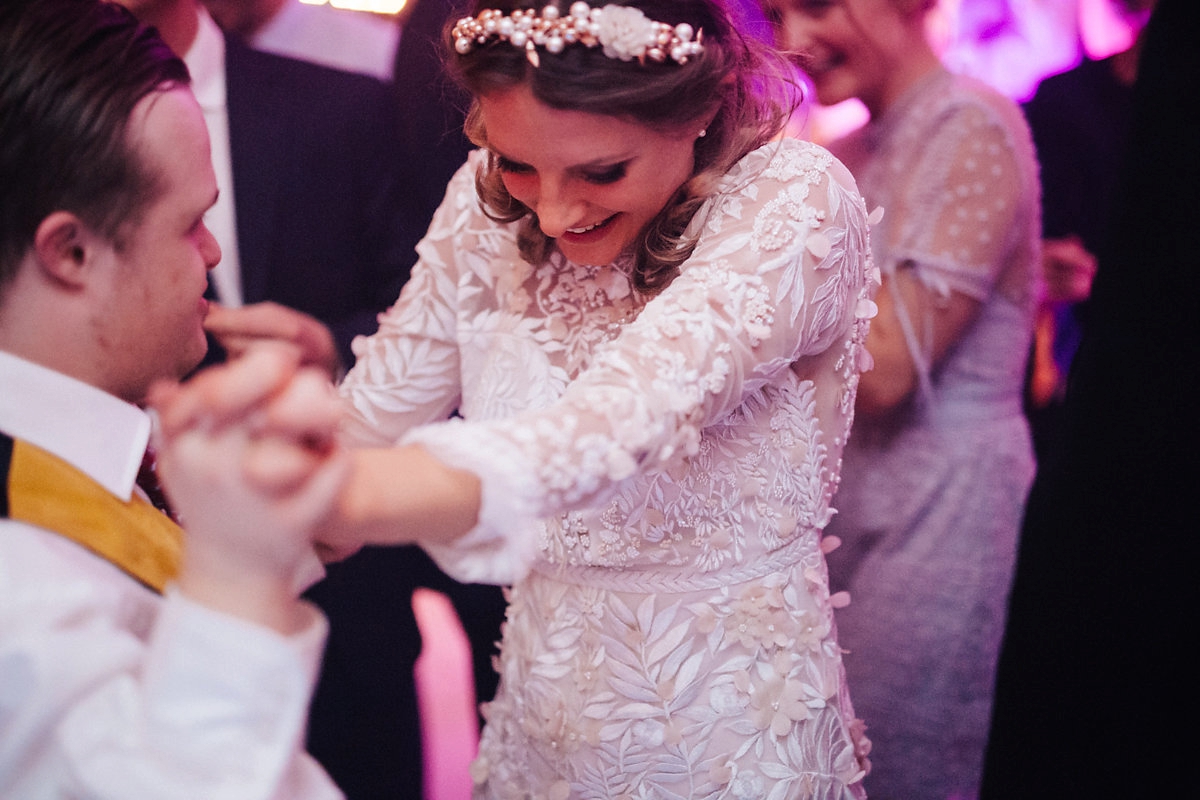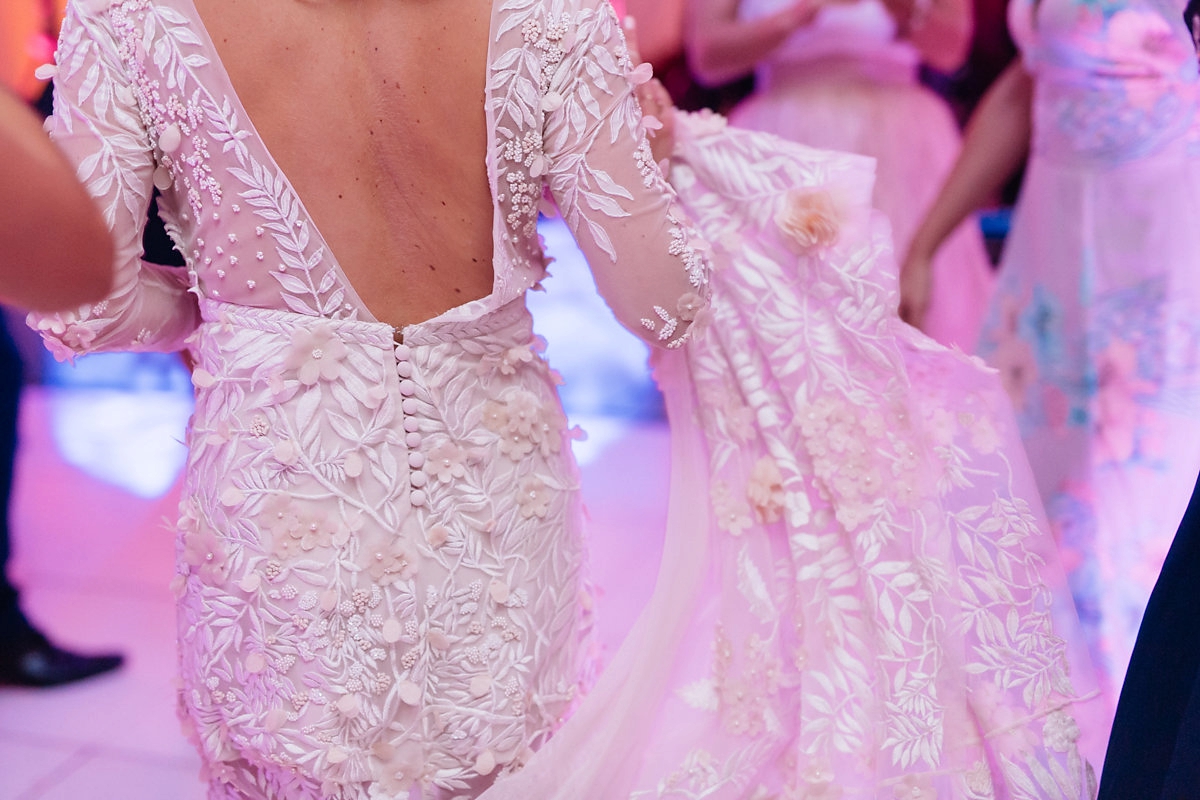 Words of Wedded Wisdom
"It's so important to take five minutes on the day to step away with your husband and catch up.  The day flies by and you will barely have time to speak so make sure you have a moment together that you will remember."
"Rob and I went upstairs inside my parents house and looked down on everyone having fun and I will always remember that moment."
Such an incredibly beautiful day- thank you to Anna and Rob for sharing.  Love Anna's to-die-for gown?  Take a look here for more Hermione de Paula dresses to get your heart racing.
Much love,
S x