I'm turning back the clocks to the glorious season that is spring for this utterly divine wedding where you'll fall in love with every detail.
Nicole, a book conservator, married Tom, a graphic designer, on the 20th of May 2017 at St Catherine's Church in Drayton, Somerset then headed to Park Farm in Pitney for their reception, where they had complete freedom to do and decorate as they liked. Nicole hails from this picturesque county, so the couple were keen to marry in the area and I can totally understand why, as you'll see in these stunning images by Mark Tattersall Photography, of the woodland setting looking out over the Somerset Levels.
Let's begin with the couple's beautiful meeting story, which influenced their styling choices for the big day.
"We met when we were at Exeter College of Art, after which we travelled the world together and 9 years later Tom proposed when we where living in Ireland! We have since moved to Edinburgh and we married a year and a half later. We knew we wanted to get married in Somerset and have a relaxed wedding that also had a bit of elegance about it. We both went to art school so we were confident in designing and making things that would all fit together in our own unique way."
Photography by Mark Tattersall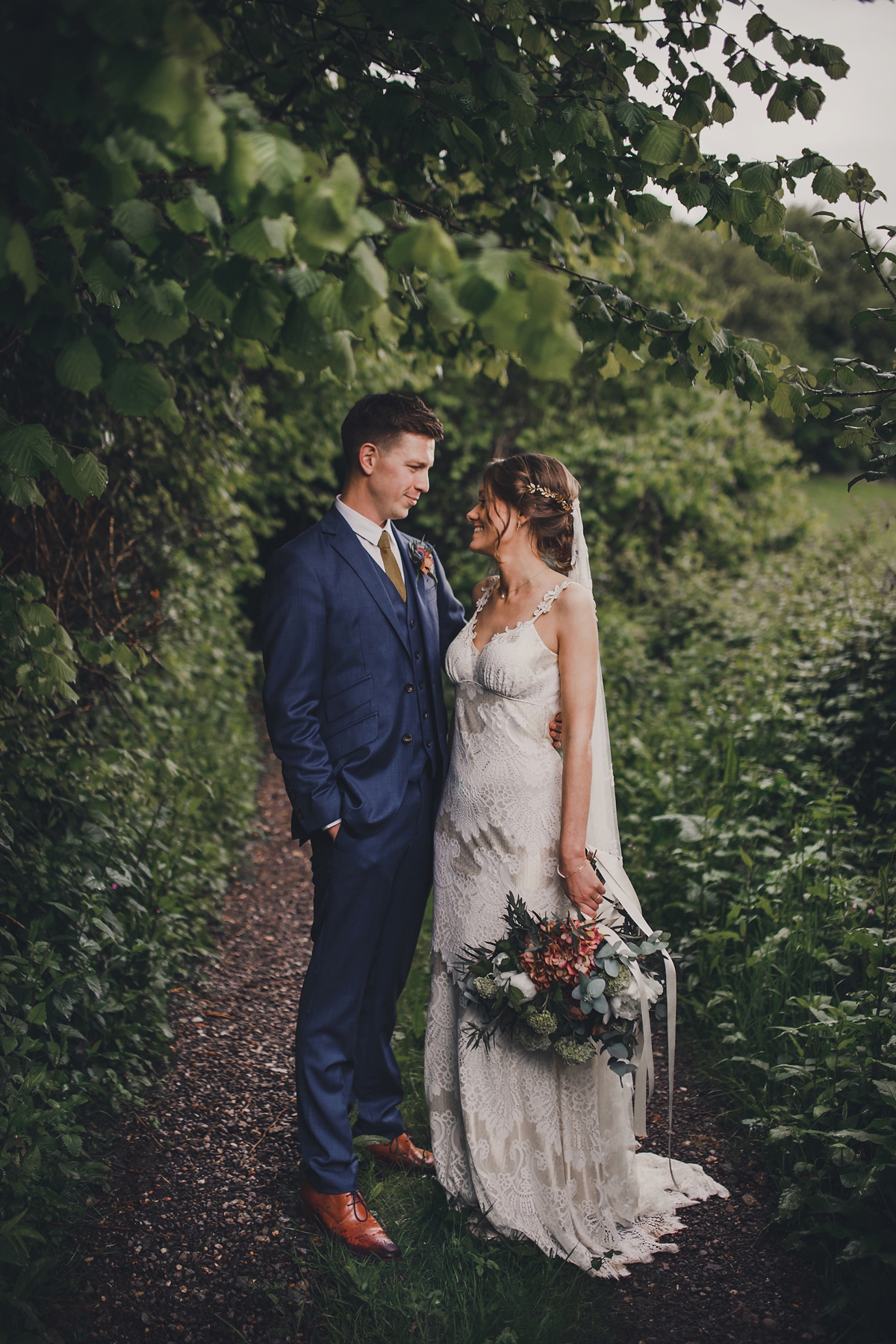 The adorable page boy looks so sweet in his wee Marks & Spencer outfit with a funky bow-tie and braces.
"We would definitely recommend Mark Tattersall as a wedding photographer. We loved his portfolio and his presence on the day was just right. He was fun on the private shoots and discreet around the event — he managed to cover everything."
Ohhh Claire Pettibone, you really do make simply divine wedding gowns! Nicole's style with a low back and gold lace oozes elegance. We are big fans of this uber talented designer – you can view more Claire Pettibone loveliness here.
"I had tried on white and ivory dresses and none of them felt right. I wanted something that I would not usually wear, but still feel comfortable in. I loved the gold lace and the low back on the dress and as soon as I tried it on I knew it was the one."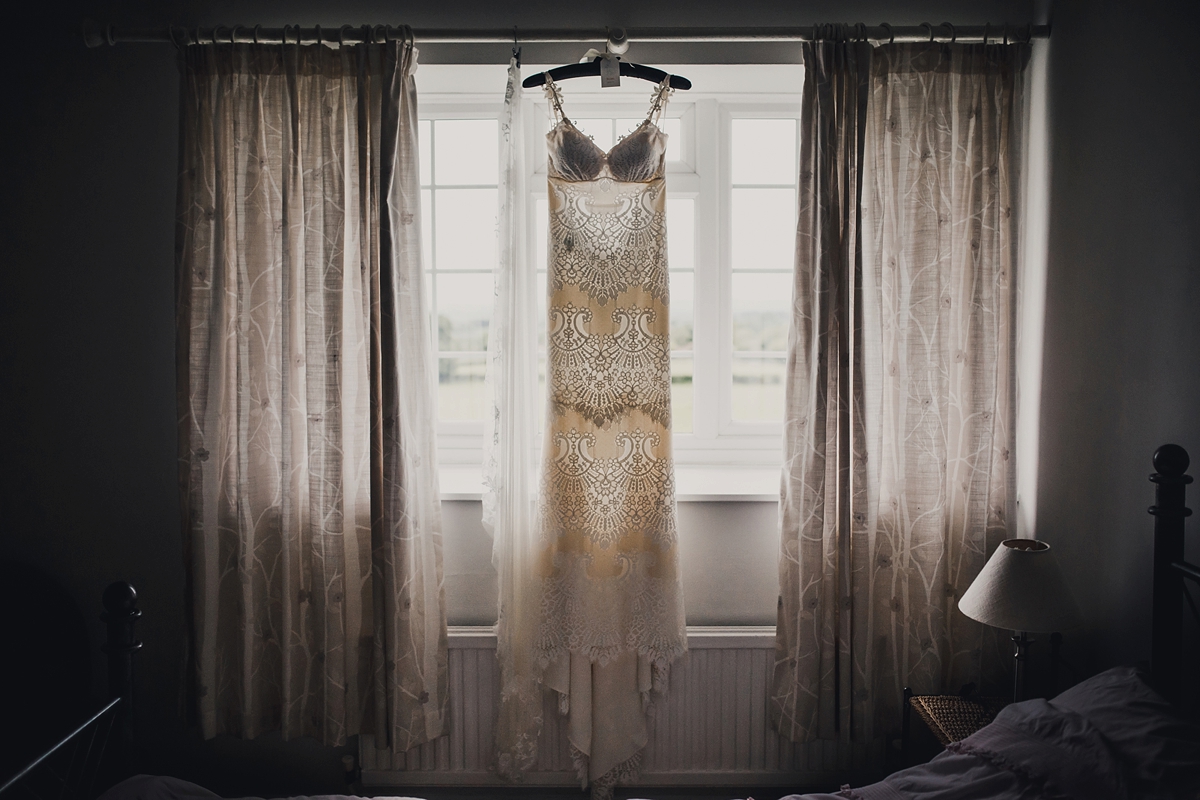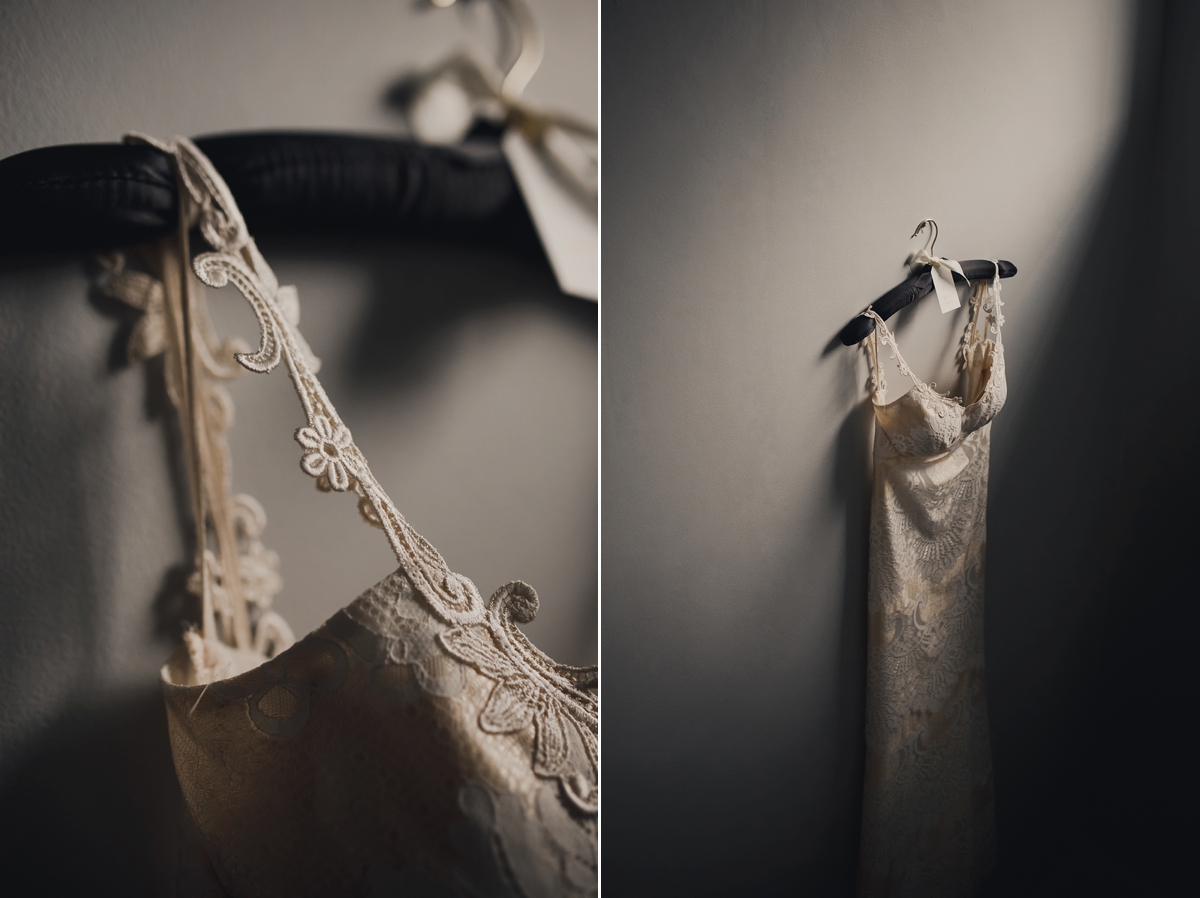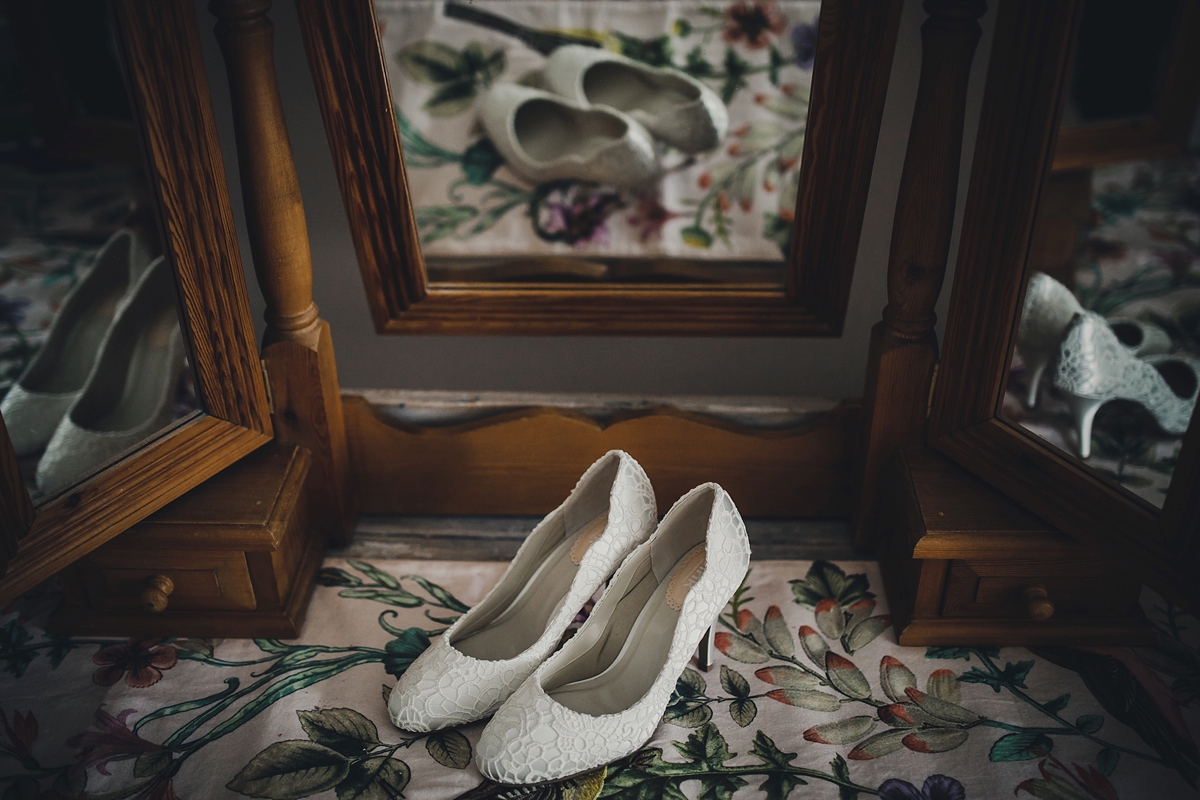 Nicole's pretty hair accessory was bought via Little Book for Brides member, Agnes Walker as a surprise by Tom for her birthday to wear on the wedding day. She finished off her stylish look with Debenhams heels, gold leaf earrings from Anthropologie and a necklace that was her 'something borrowed' from her mum.
The lovely upswept hairstyles were by Louise Alway and make-up was by Amy-Elizabeth.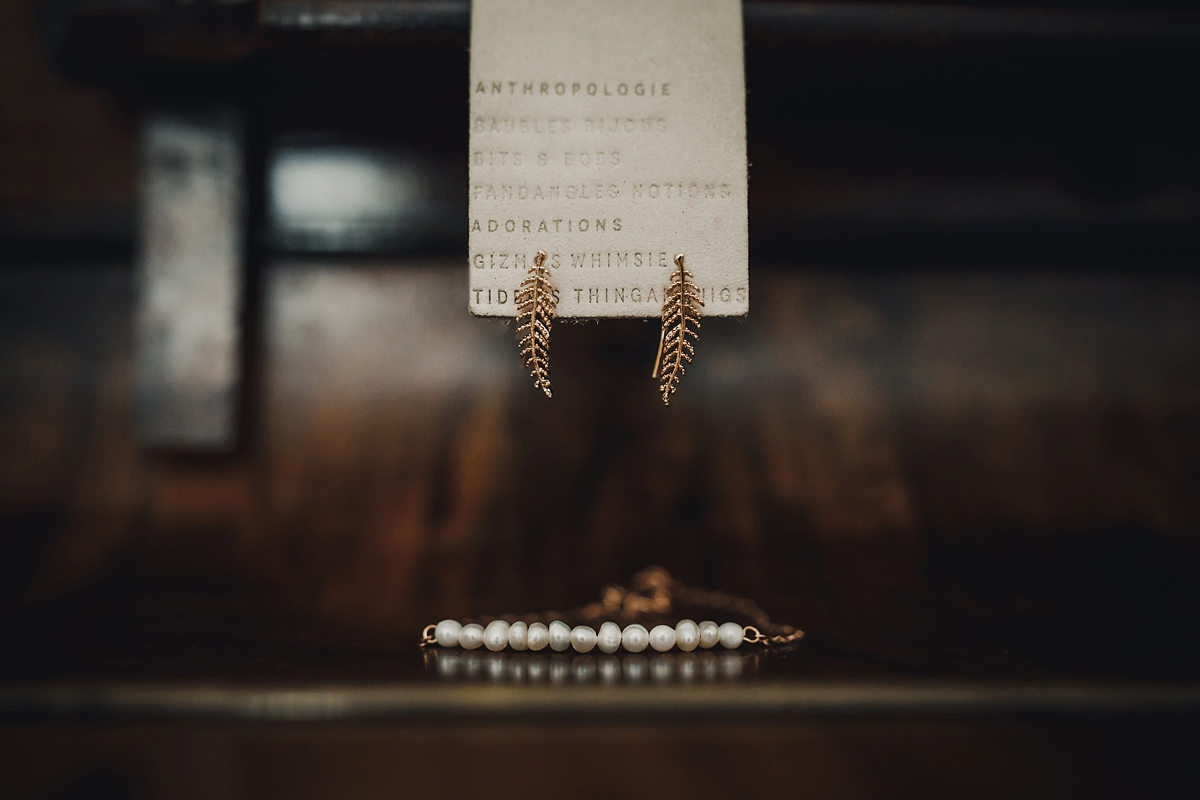 "The florist we chose was Just Maria, based in Ilchester, Somerset. She did a brilliant job and delivered exactly what we asked for – the flowers were beautiful and complemented the day brilliantly."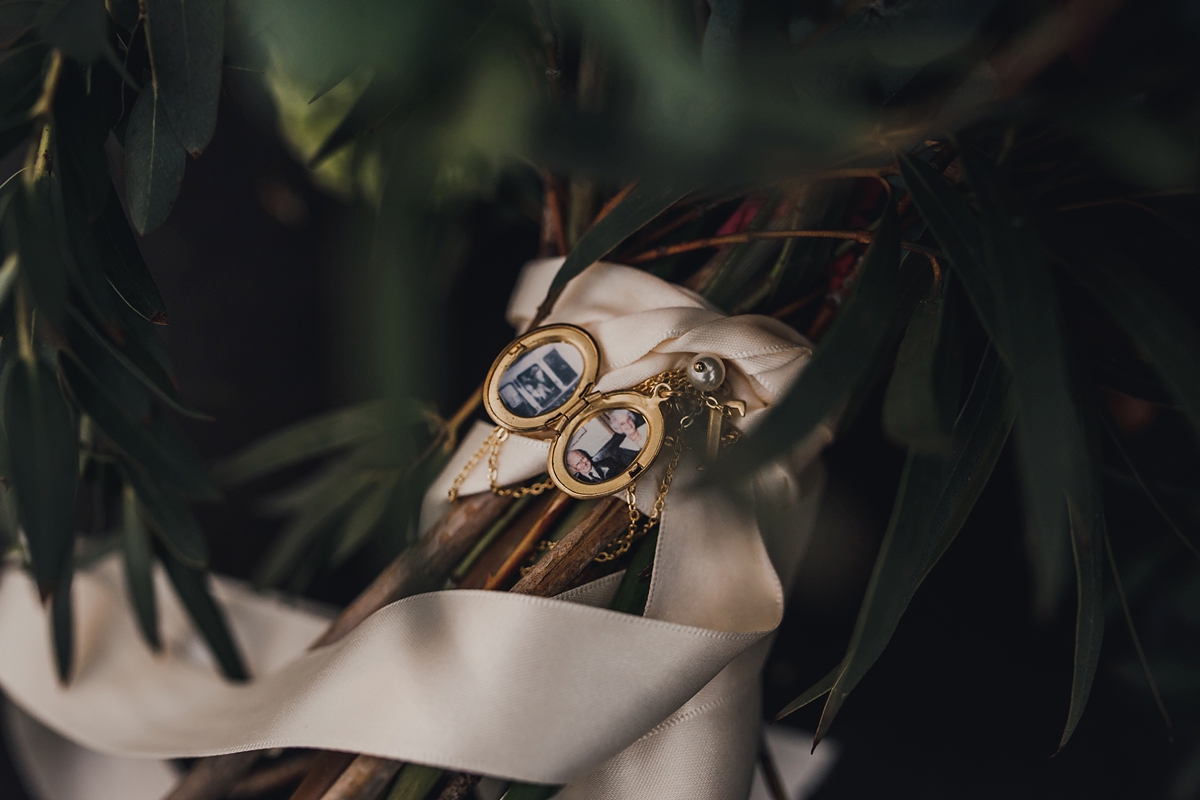 The bridesmaid's wore utterly gorgeous flowing gowns with lace in dusky pink and blue from ASOS; paired with Dorothy Perkins heels and Anthropologie hair accessories.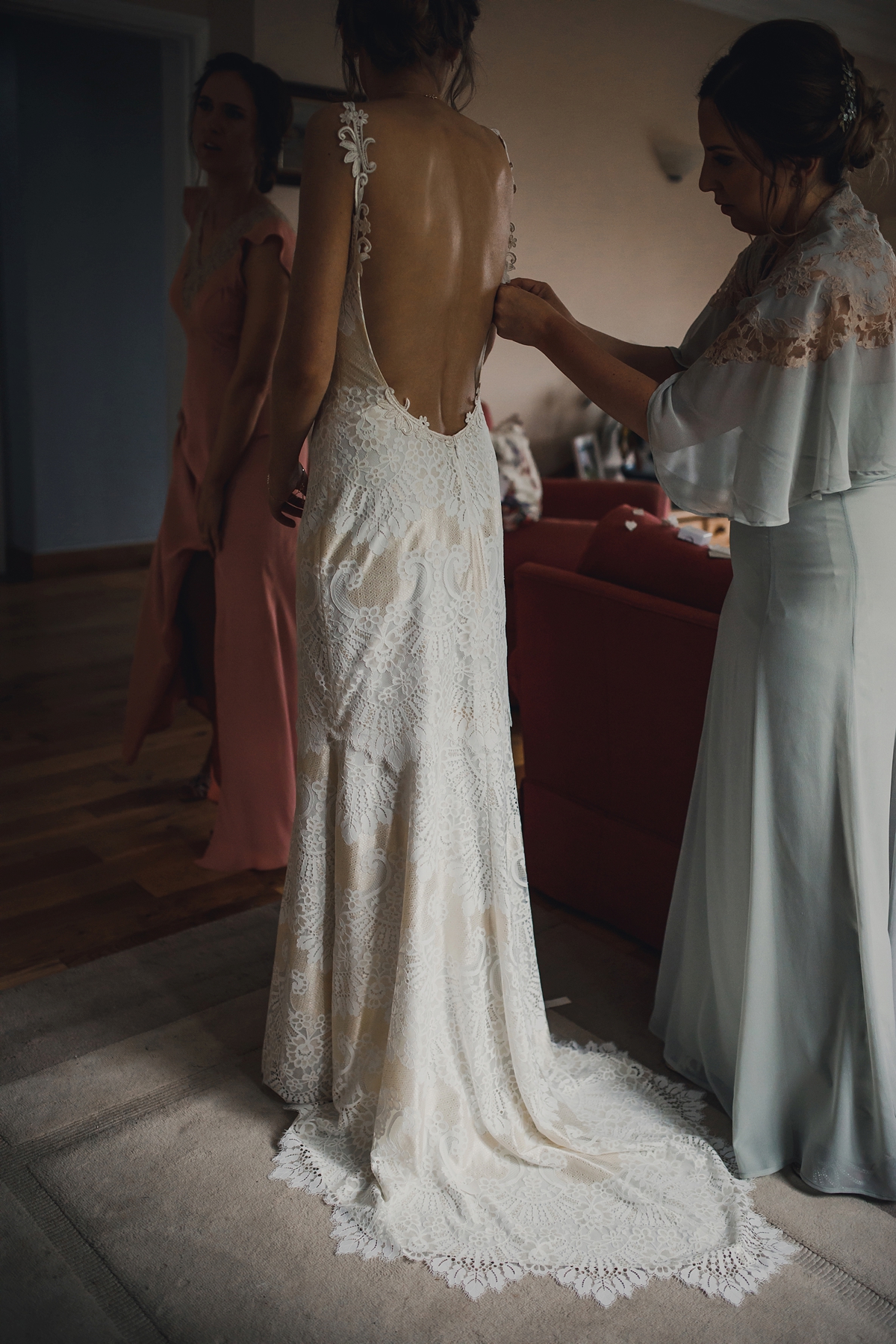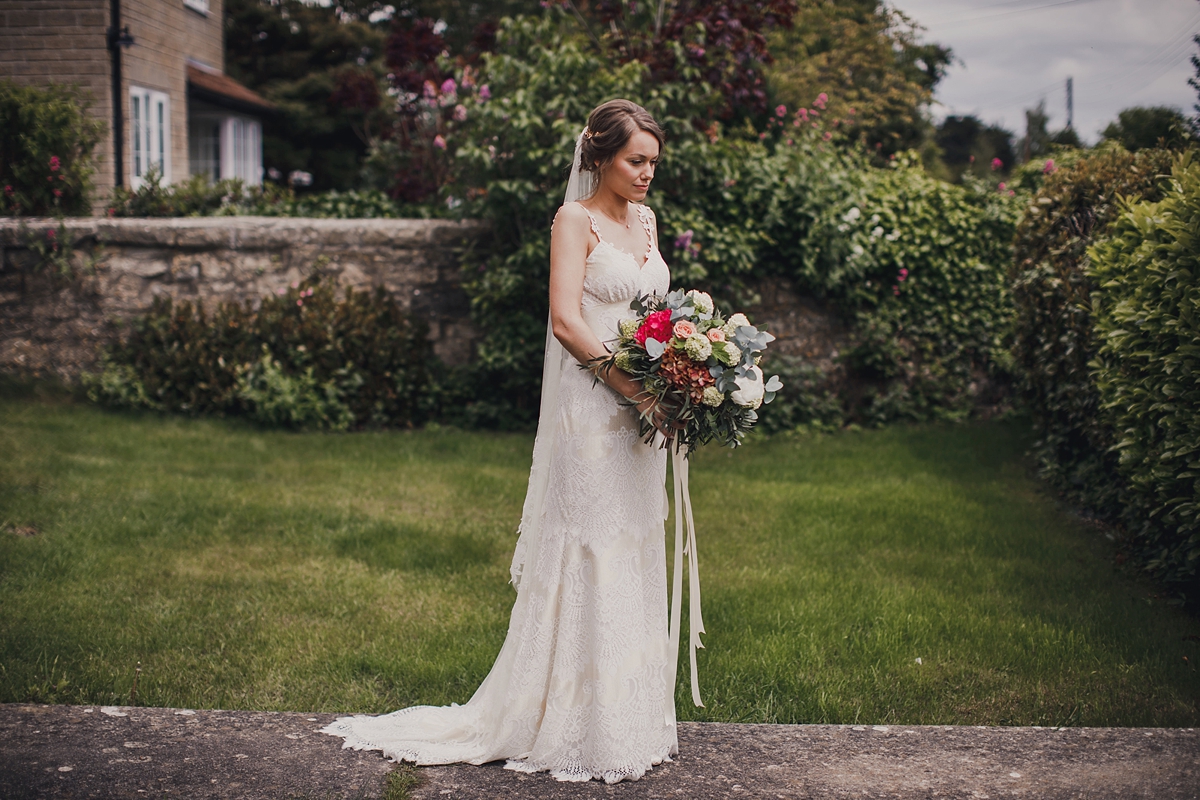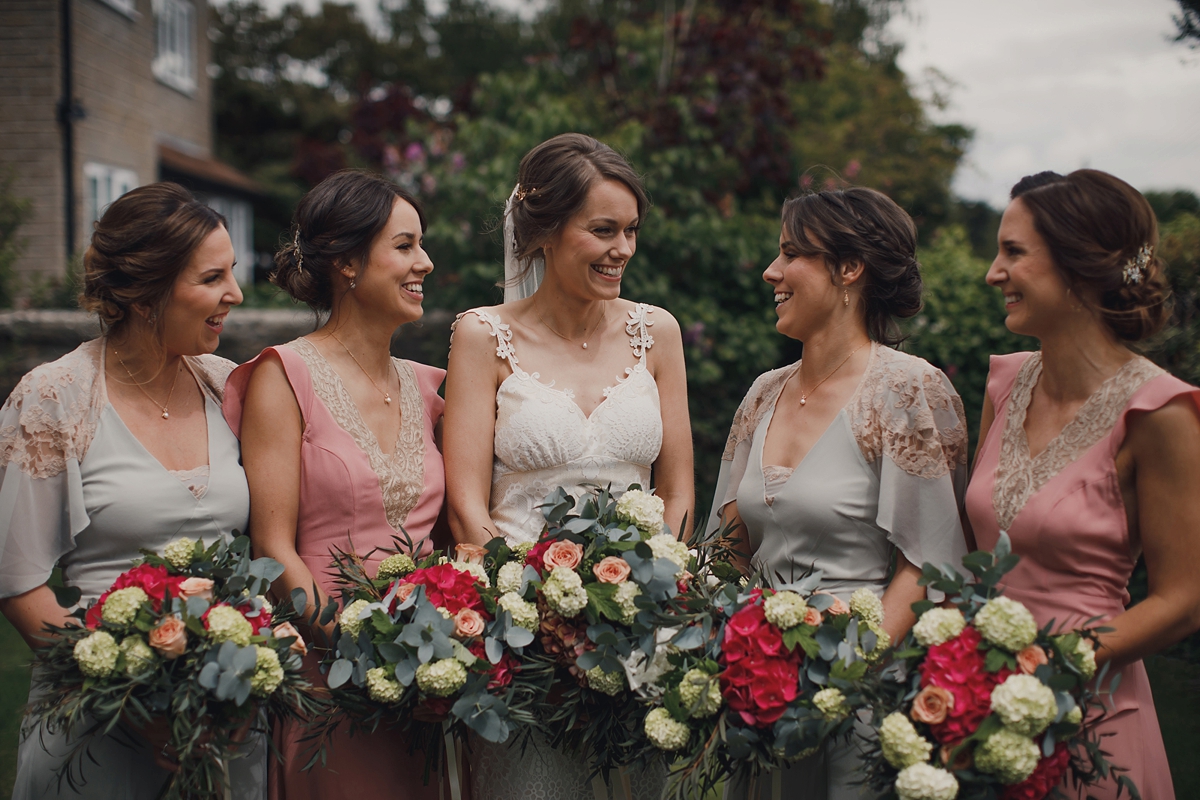 The groom sported a tailor made three-piece by Hackett – whose service offered a consultation and option to choose every detail. Tom added a Next tie, shoes from Dune and a shirt from House of Fraser.
The best men and groomsmen's complementary suits were Ted Baker, hired from Little Book for Brides member Moss Bros.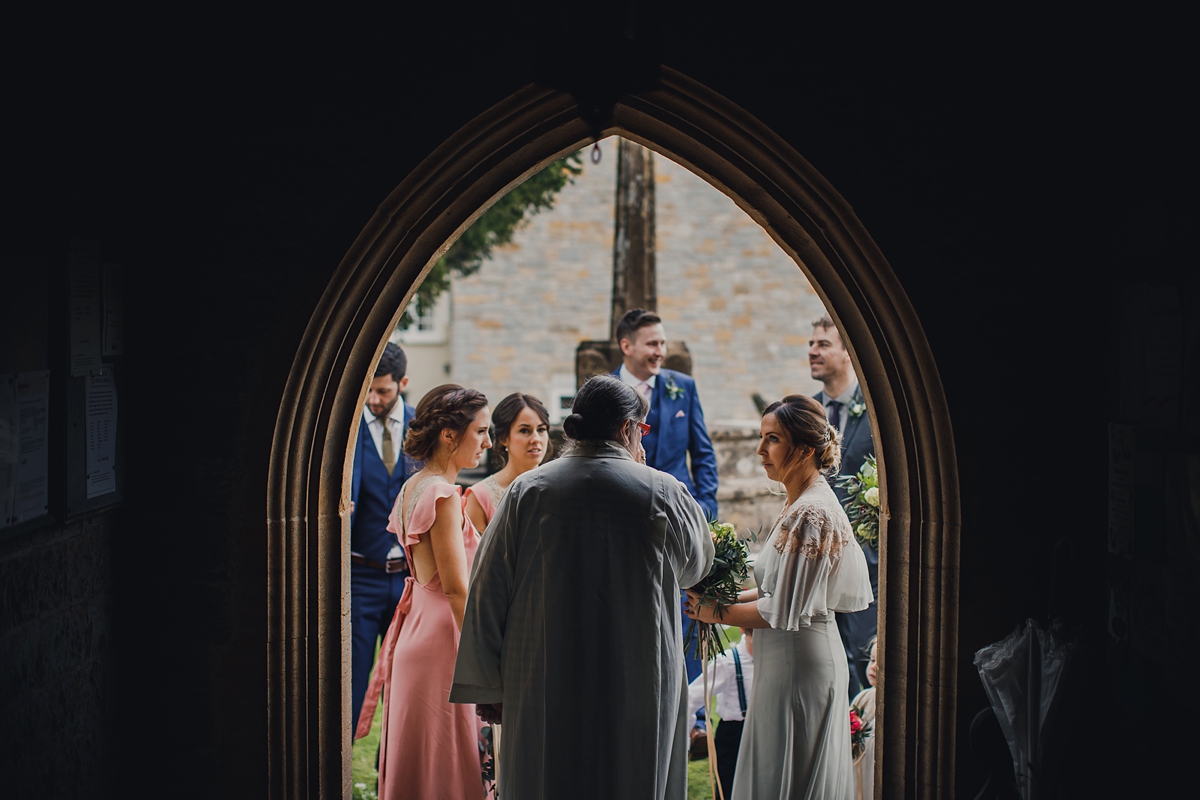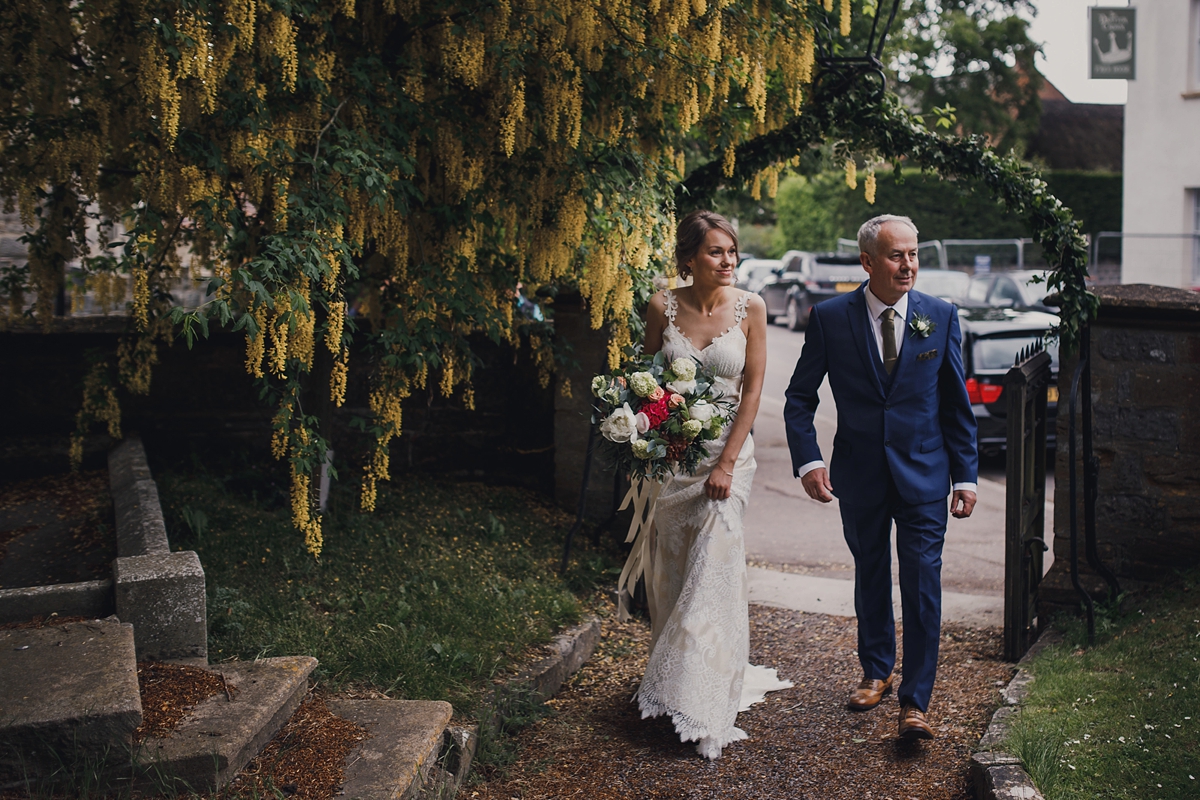 "My dad walked me down the aisle and we chose traditional vows for the ceremony. We had three readings. We asked the readers to choose their own readings and one of my friends went above and beyond and wrote it himself. The first time I heard it was in the church and it bought to tears. This is something we will never forget. Below are a few lines. 
The Prelude
So here we are at the prelude of a brilliant book.
Not one that sits on the shelf collecting dust
but a page turner that everyone adores.
Tom and Nicole popped along to a silversmith in Edinburgh to make their wedding rings. I wish I had thought about this! Many LMD couples have done this wedding task together and it's such a special wedding prep memory to have.
"We wanted to do something special for the wedding rings, so decided to make each other's rings with Donna Barry. Donna was brilliant and it was an amazing day and we are so glad we did it."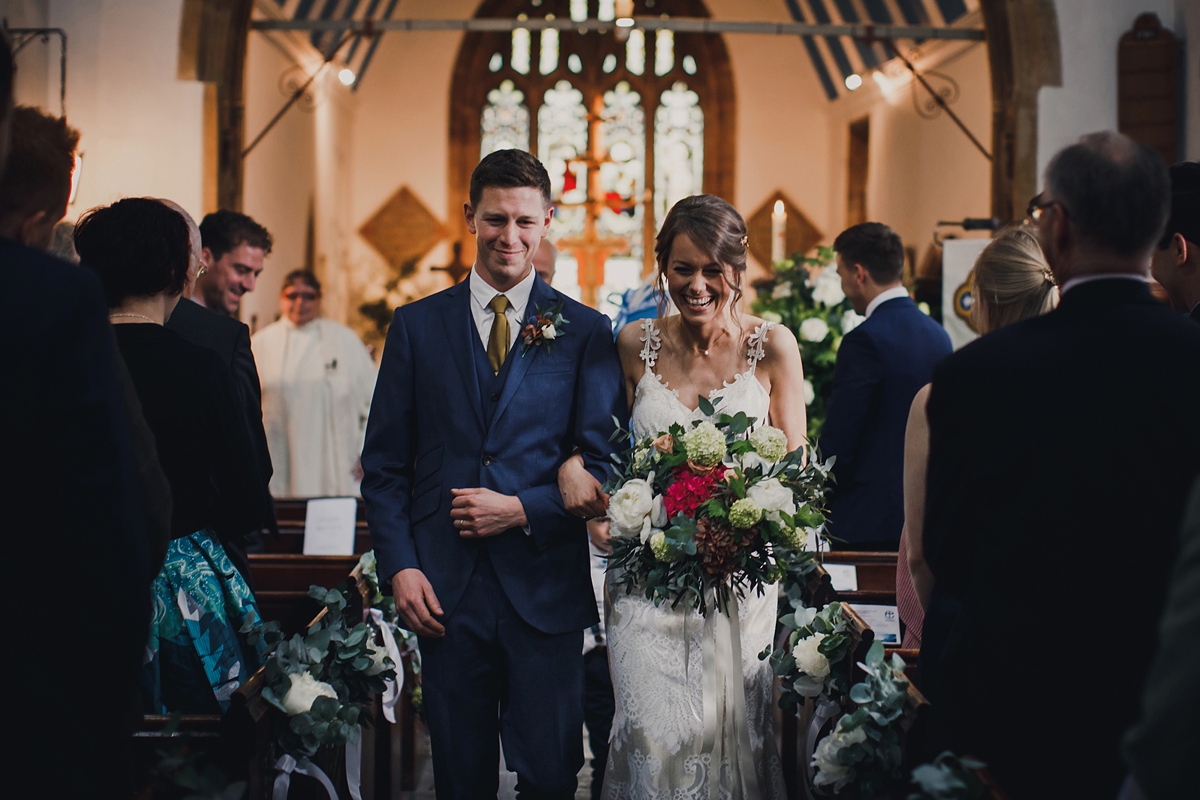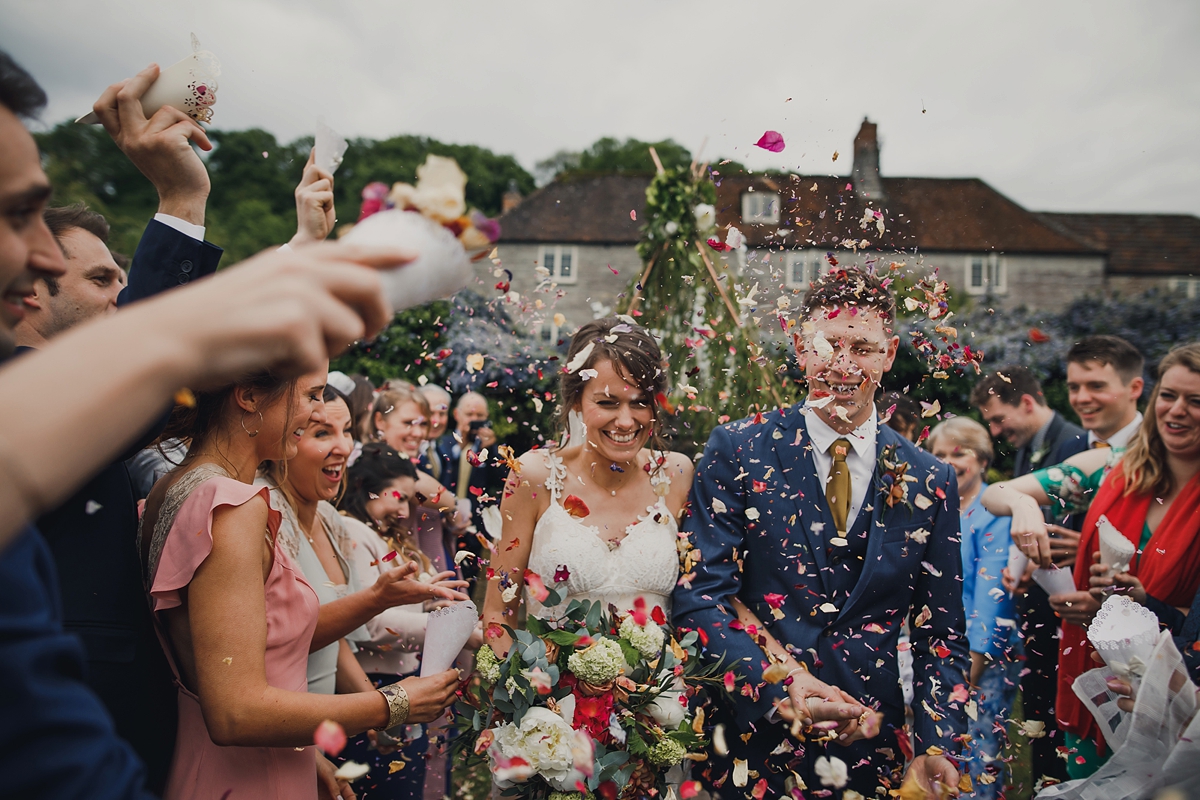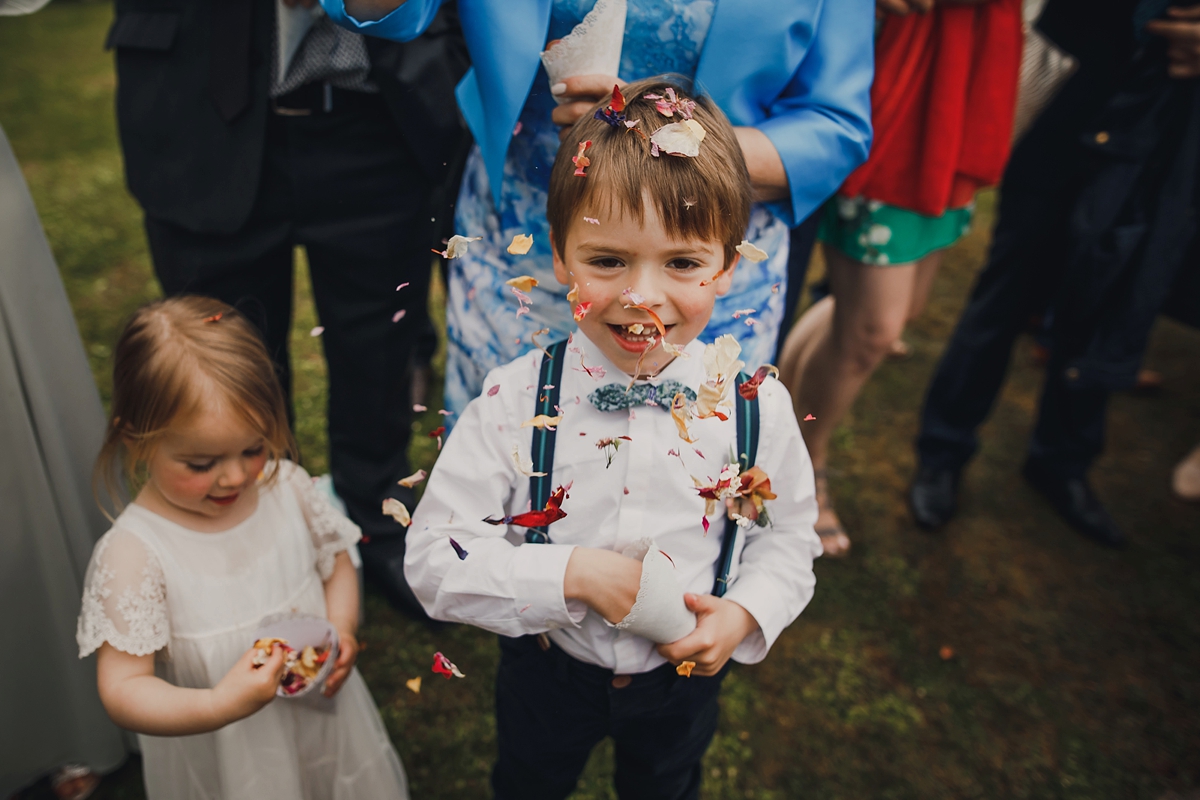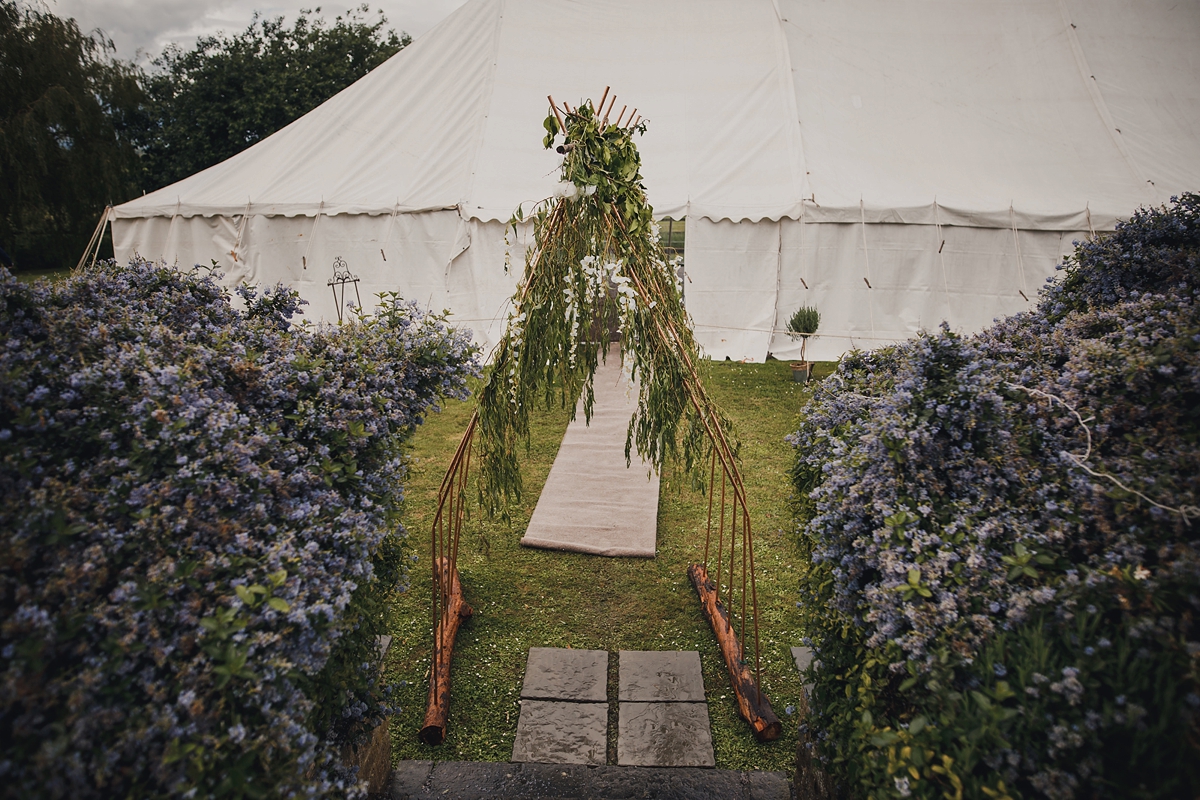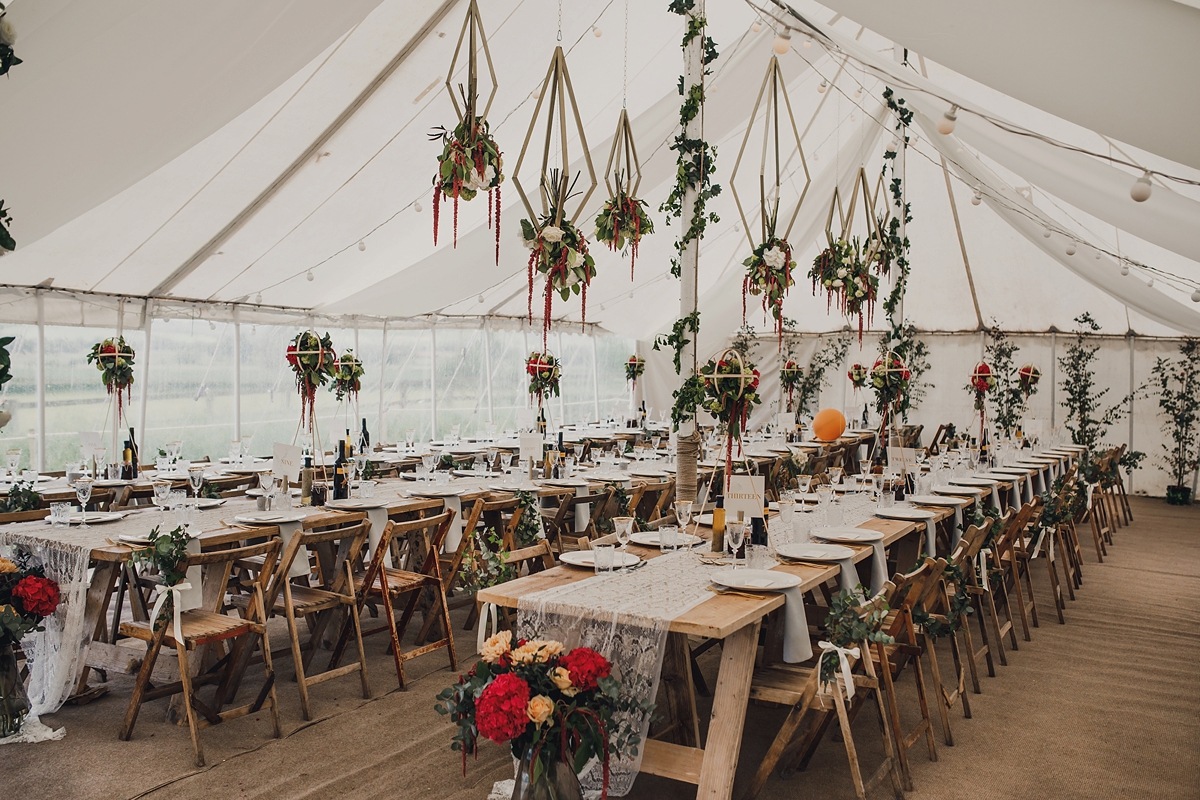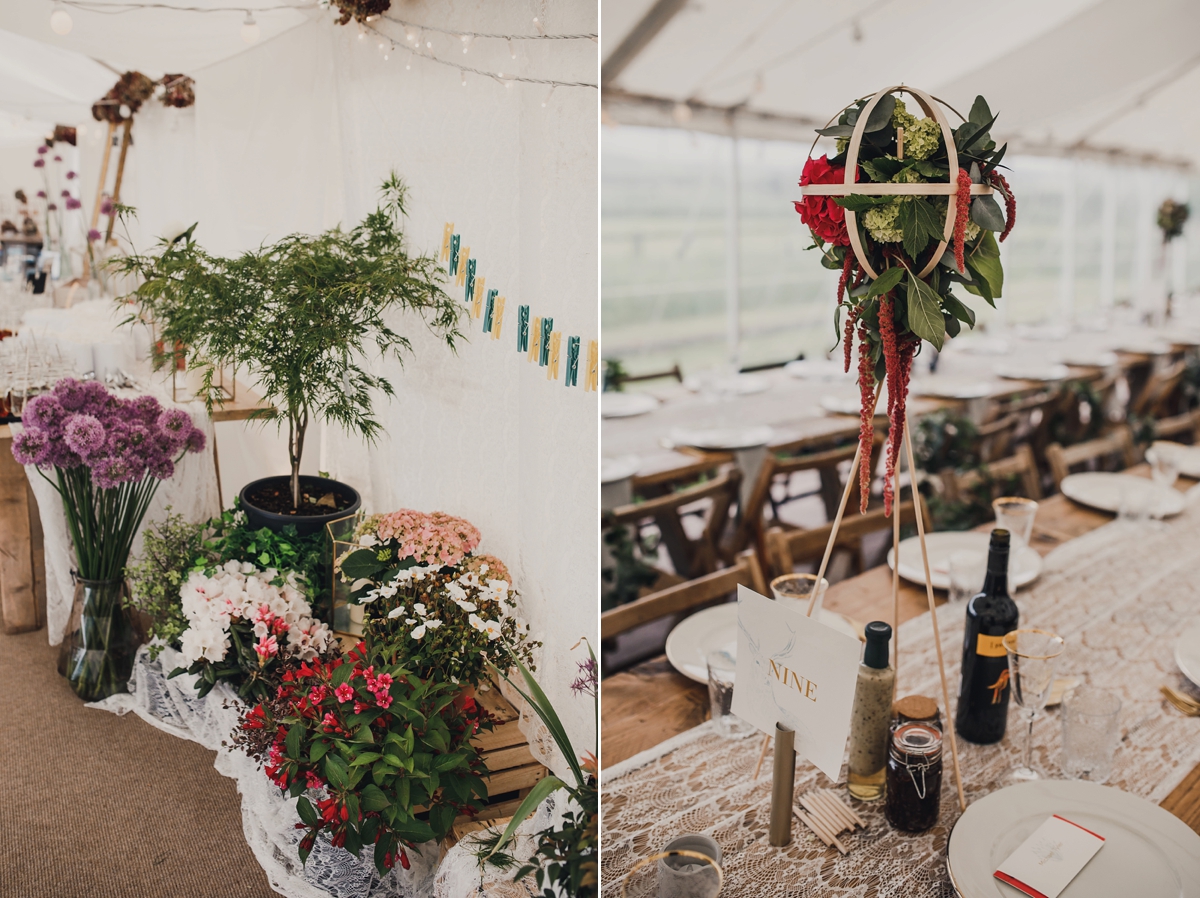 Kingston Kitchen prepared the tempting cuisine – and the couple's cake was made by a friend of  Nicole's mother and topped with native Scottish thistle flower.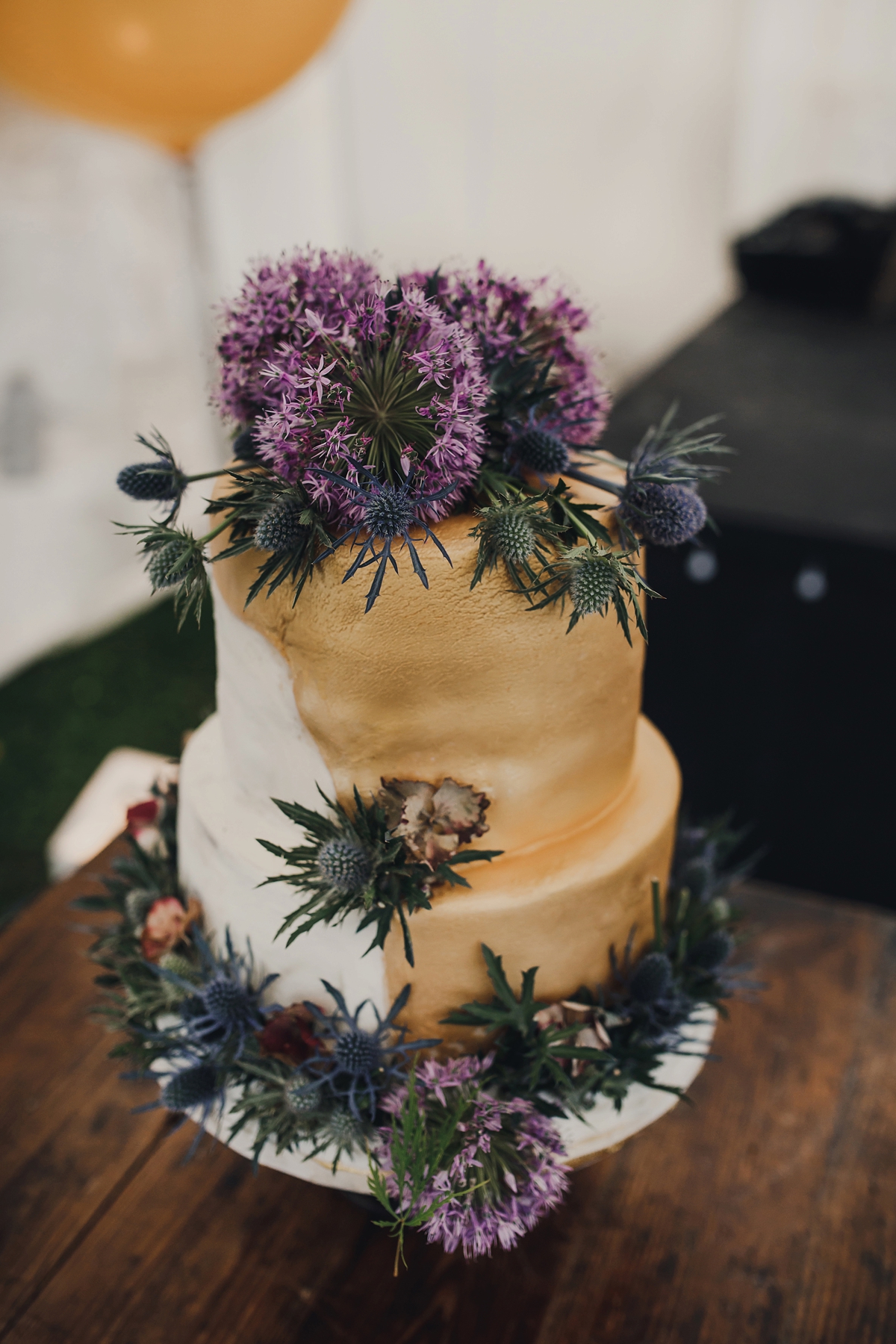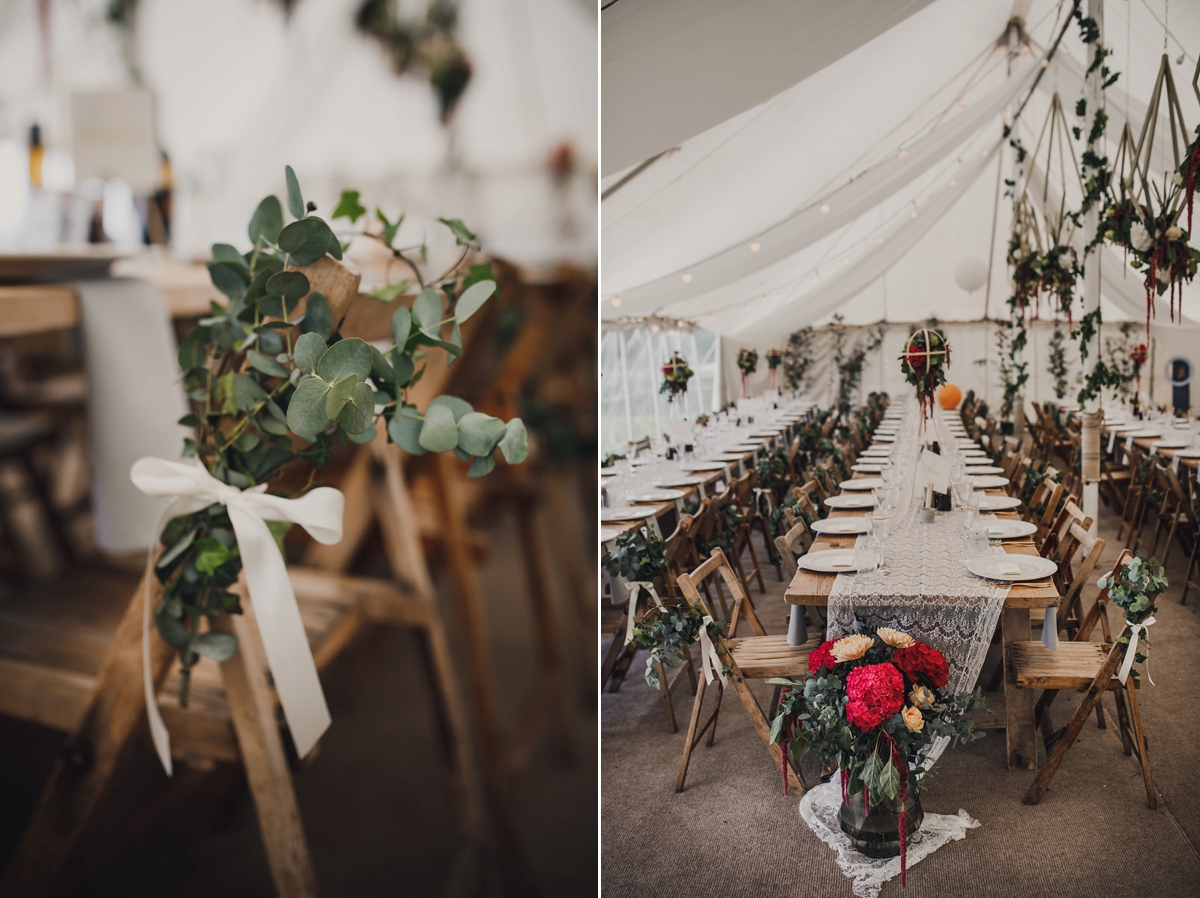 How incredible are the geometric floral displays hanging in the marquee? They were made by a very creative member of the family and I'm in absolute awe!
"We knew what we wanted on the table and hanging from the marquee but we couldn't find it anywhere, so we gave my talented brother-in-law a sketched picture and he made them for us. They were exactly what we wanted."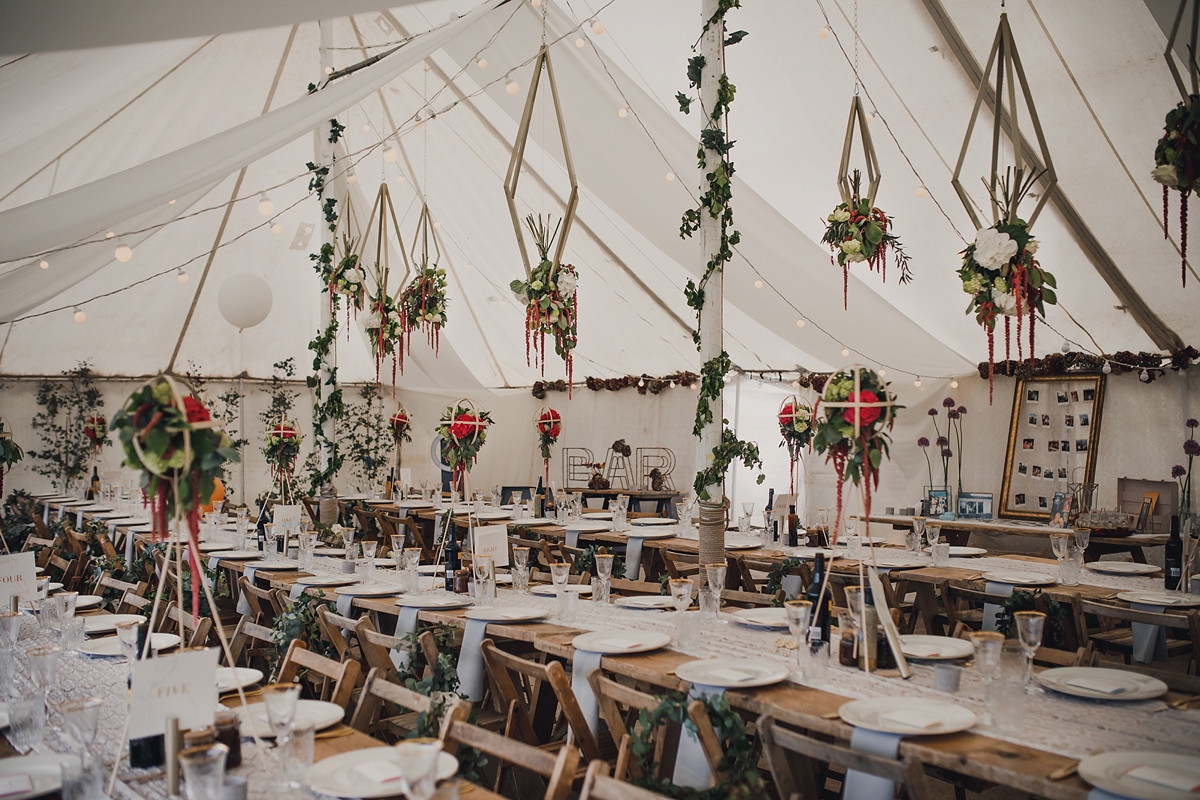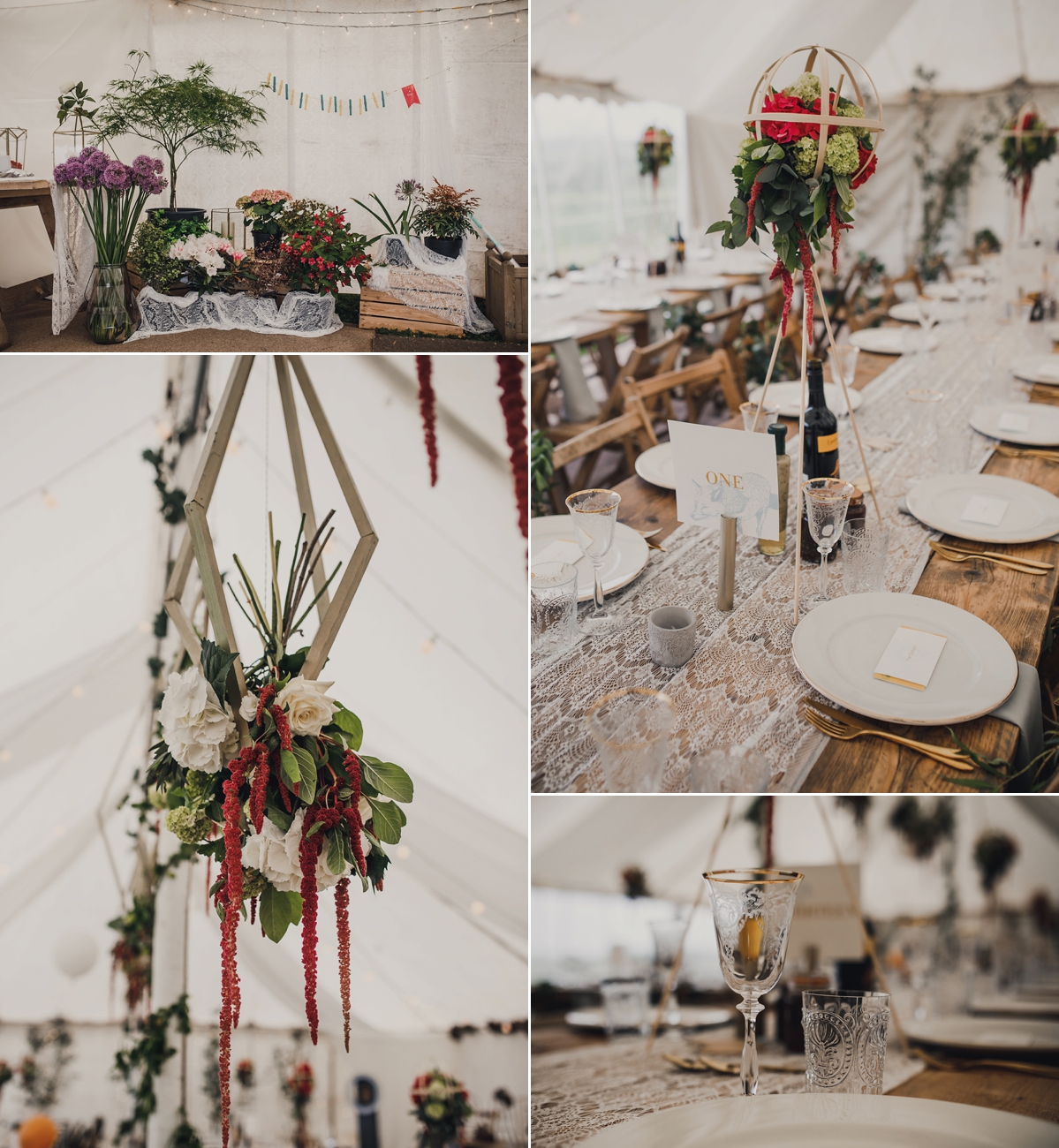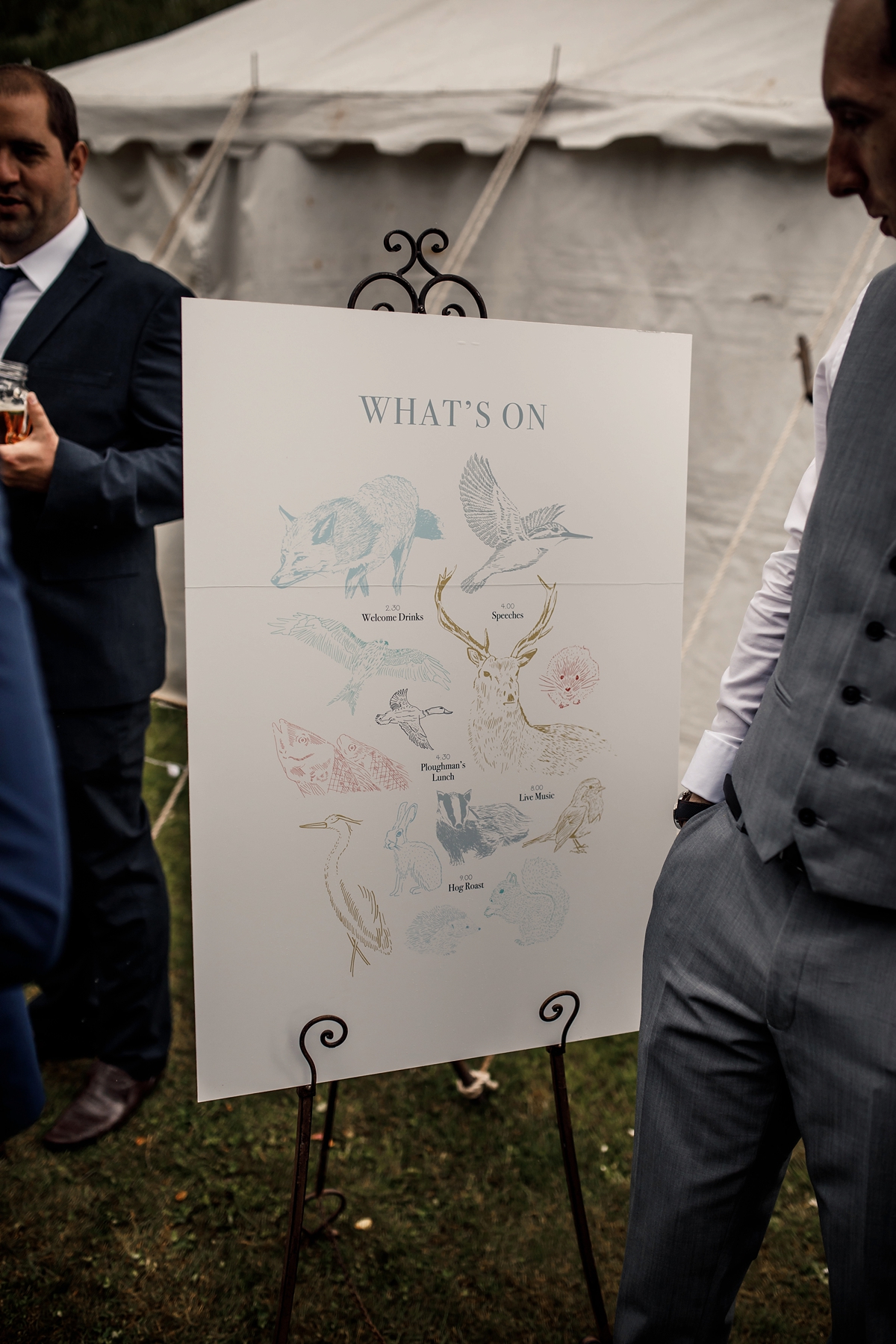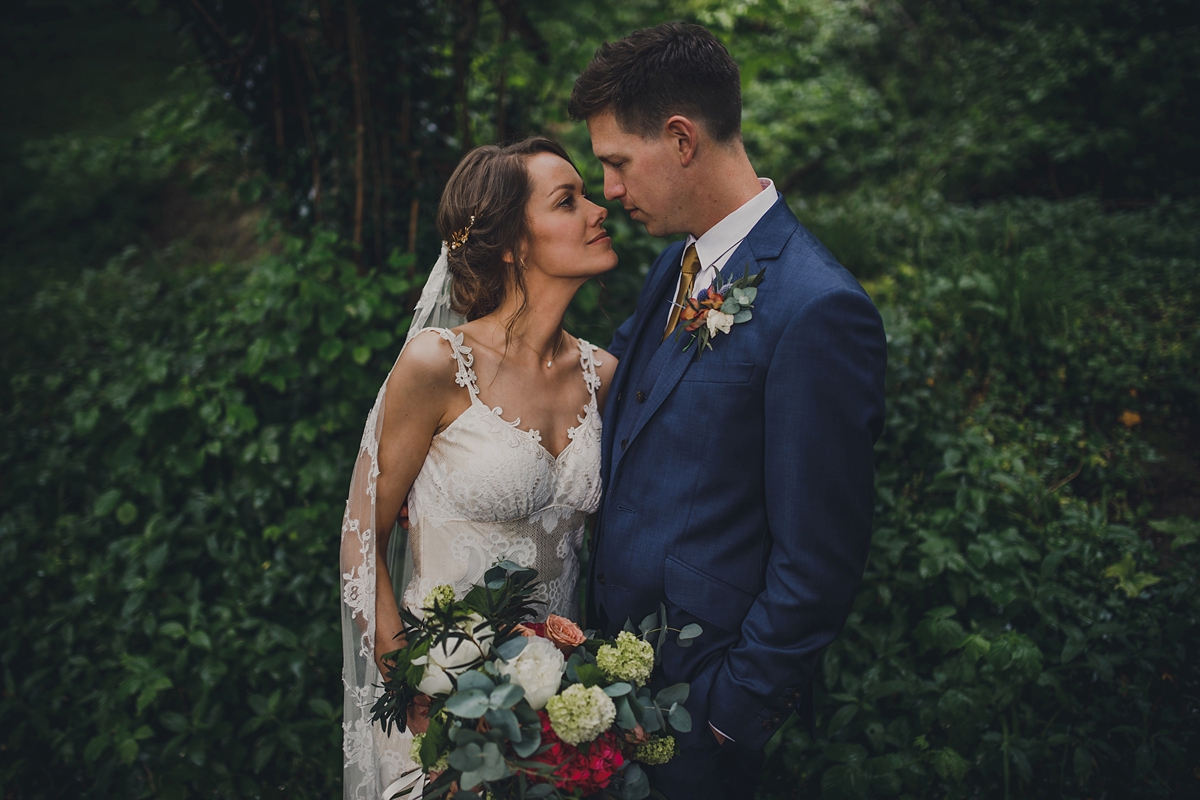 The Guns band got everyone up dancing groovy moves – and the couple's first dance song was to a beautiful tune.
"Our first dance was to 'Sweet Caroline' by Neil Diamond, as this is a song that has happy memories for both of us."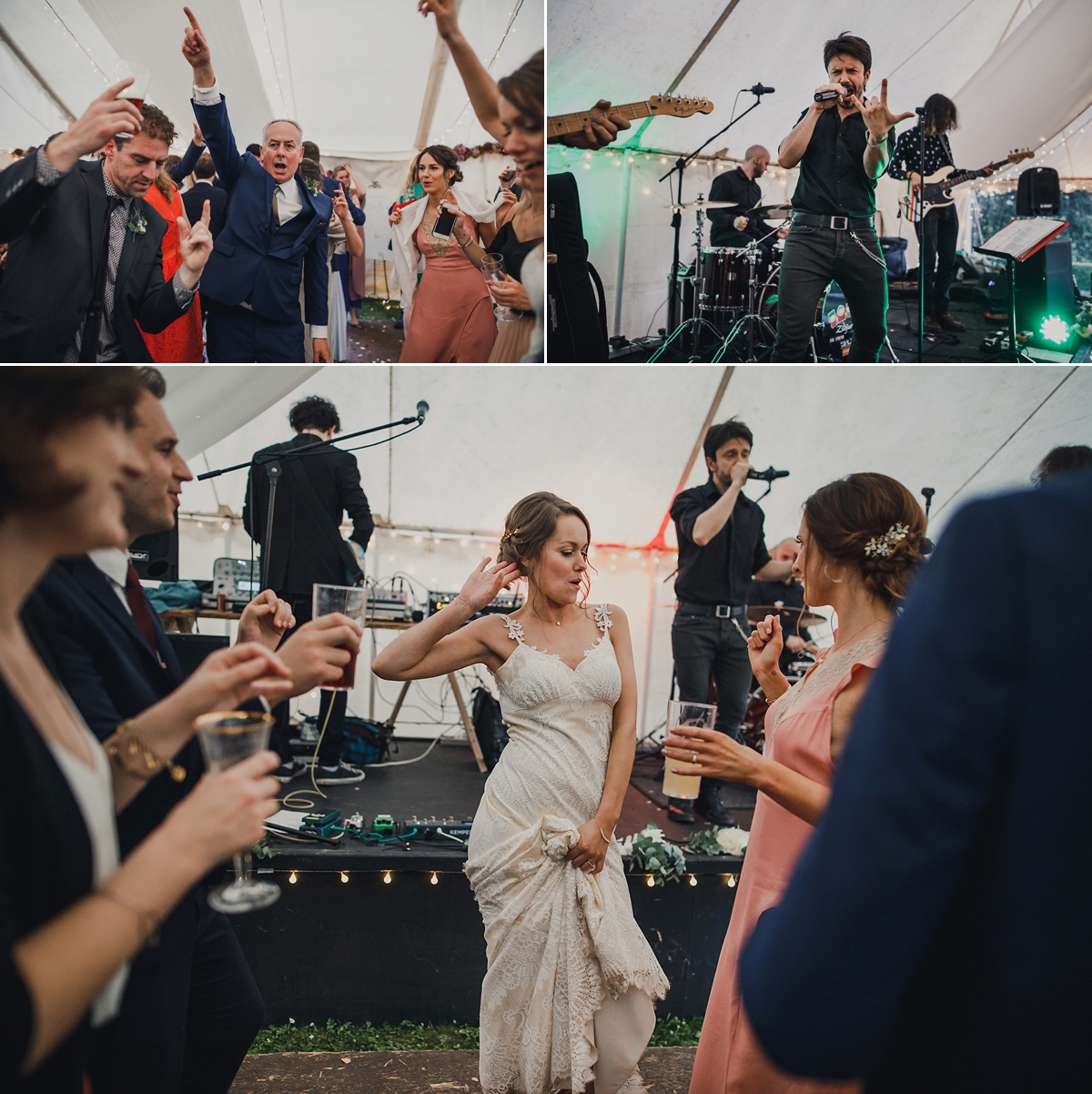 Words of Wedded Wisdom
"Be inspired by blogs and magazines, but try and feel out what you want and like; create something that is unique and personal to both of you. We browsed a few magazines – we were living in Ireland for most of the time that we planned the wedding and the shops there had a different selection to most in the UK."
"We kept to our initial budget – this was mainly down to designing and making a lot of things ourselves, or with friends and family."
I'm the luckiest lady to have been tasked with bringing you lovely readers the very sweet and stylish nuptials of Nicole and Tom – and a big thank you to Mark for capturing the multitude of emotions of their most beautiful day.
If you're wondering if a springtime wedding is to your liking, be sure to browse our extensive archives for many more flower-filled and simply superb spring weddings.
Love Jo -xo-