Ever since Annabel set up our secret Facebook group for Brides, we've had lots of submissions from brides themselves, which is fabulous because they tell us so many lovely stories of how supportive the group was and how helpful they found both the online community and the blog while planning.  Today's bride, Stacey was one of these lovely ladies.
Stacey and her beau, Stu tied the knot on Sunday 25th June 2017 at the beautiful Rivervale Barn in Hampshire, surrounded by their family and friends. Stacey and Stu's engagement story was also featured on the blog a little while ago- take a peek here to read more.
Film by Bride and Zoom
"Our number one priority of the day was for it to reflect both me and Stu.  Neither of us are big fans of colour so we went for a lot of natural greenery with eucalyptus and succulents filling the venue.  The floral decoration led our styling and the look and feel of the day followed after our initial conversations with our florist."
Photography by Mary-Anne Weddings
"I joined the Love My Dress Facebook group early into our engagement and very quickly found it a huge source of inspiration. I spent hours sharing and commenting on other couples creations and it really encouraged me to try my hand at DIY.  Alongside the handmade chalkboard signs, my proudest DIY of the wedding was the foliage hoops that decorated the wall behind our top table."Stacey wore the absolutely gorgeous 'Loucia' by Anoushka G, which she purchased from Boa Boutique in Richmond.
"The team at Boa Boutique are incredibly friendly and they made me feel welcome right away.  I had been shopping with family a few weeks before and had found it quite overwhelming so I decided to visit Boa Boutique alone and was reassured the moment I met the salesperson, Lucy."
"The Loucia was the first dress I picked out and tried on.  My one dress requirement was sleeves, as I knew I would feel most confident that way and comfort was key for me.  I hadn't pictured myself in an embellished gown, but as soon as I tried on the Loucia I could imagine it sparkling in the light of the barn."
Hair was by Becky of Rivervale Beauty, while for make-up Catherine Taylor joined the group and made the entire bridal party look and feel fantastic.
"Becky was fantastic and a huge help – even helping me into my shoes when we were running a little late."
Stacy chose a simple fingertip length veil, also from Boa Boutique.  To add extra sparkle she chose a headpiece by Ivy & Pearl, who she discovered via another bride on the Facebook group.
"With the embellishment of my dress and head piece, I wanted to keep my other accessories simple.  I found a pair of gold ear cuffs from Butterfly by Matthew Williamson and added a gold Kate Spade bangle.  For shoes, I chose Rachel Simpson– after seeing so many of her shoes feature on Love My Dress, I knew she was the designer for me."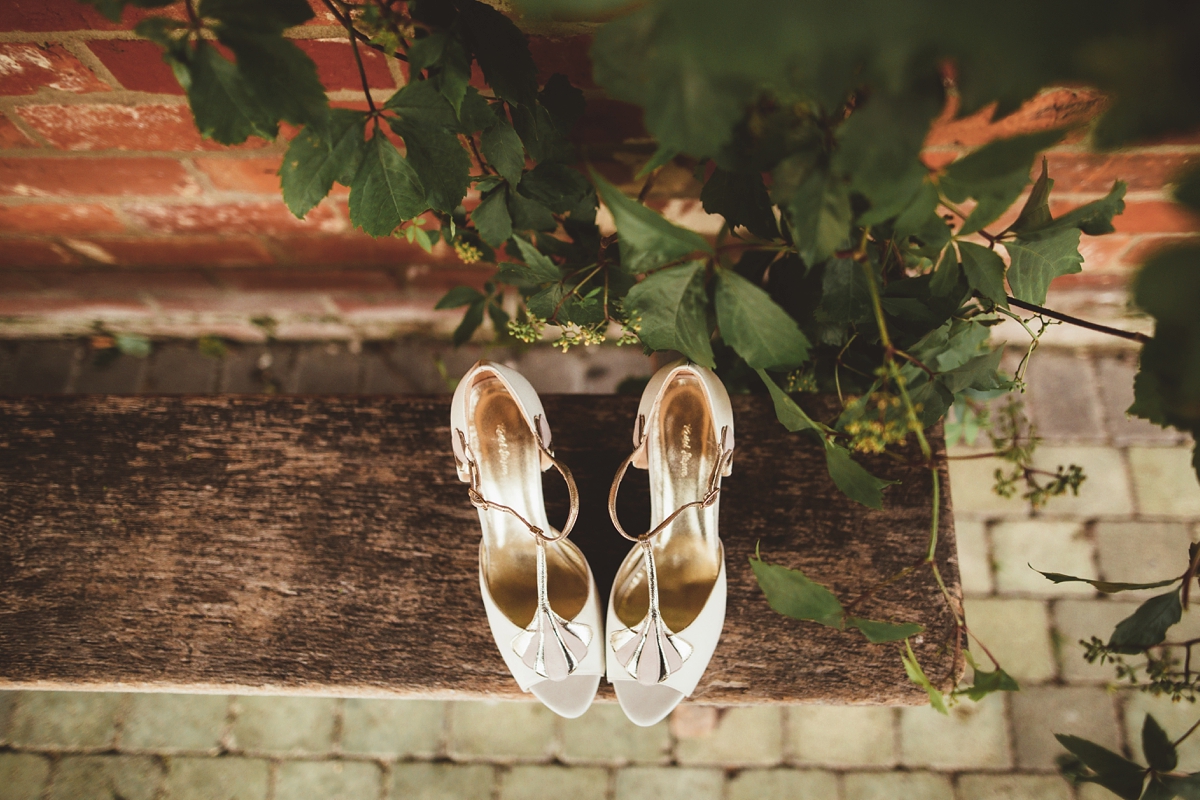 "As soon as we visited Rivervale Barn we fell in love with the beautiful natural light and incredible gardens.  We live in London and getting married near the home we'd made was very special to us.  Rivervale Barn was the perfect mix of country near the city."
"They also provided a planner – Hayley – who was simply fantastic.  From providing a last minute sip of water before heading down the aisle to secretly placing two pizzas in the honeymoon cottage at the end of the day, Hayley and her team thought of everything."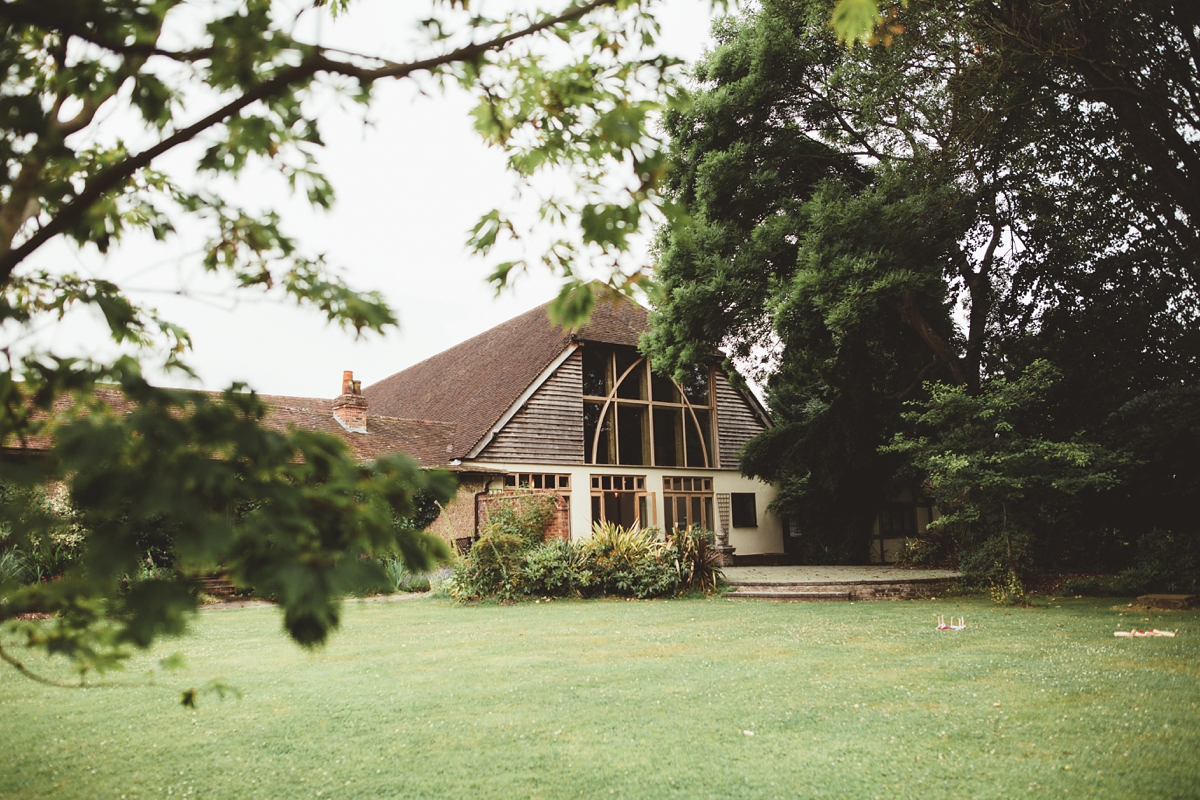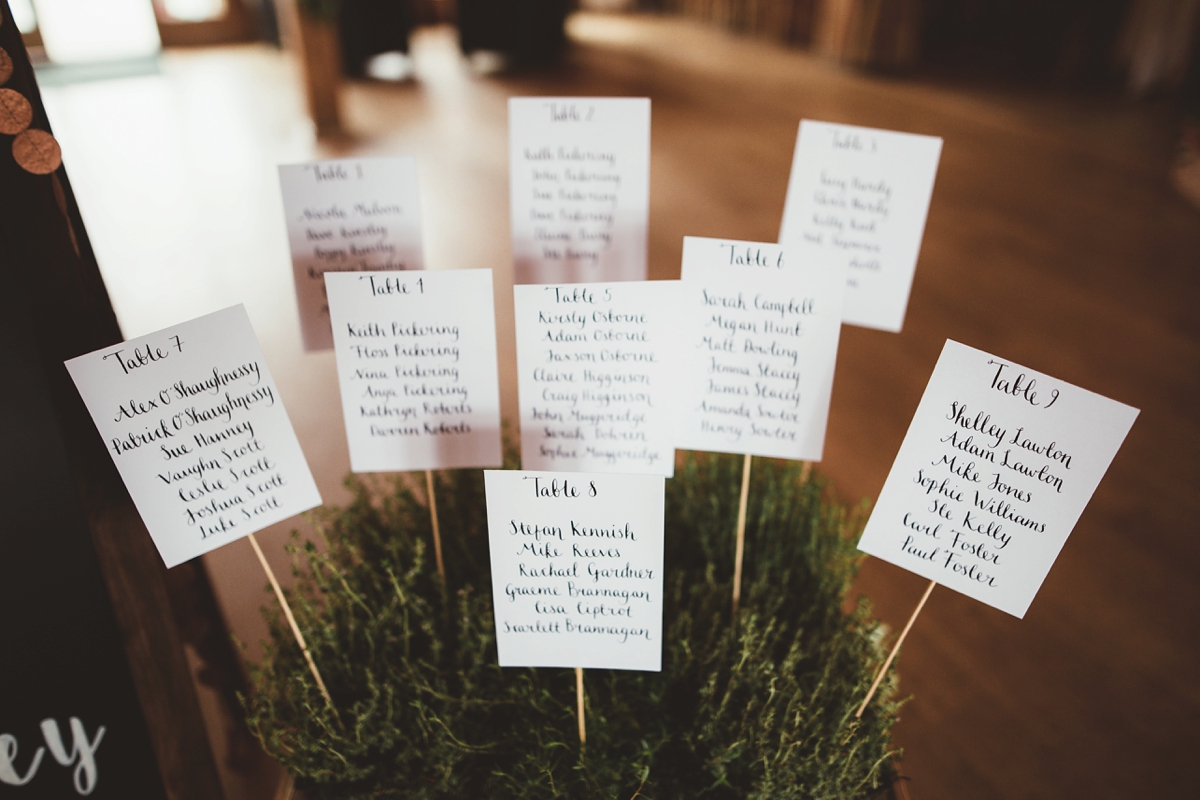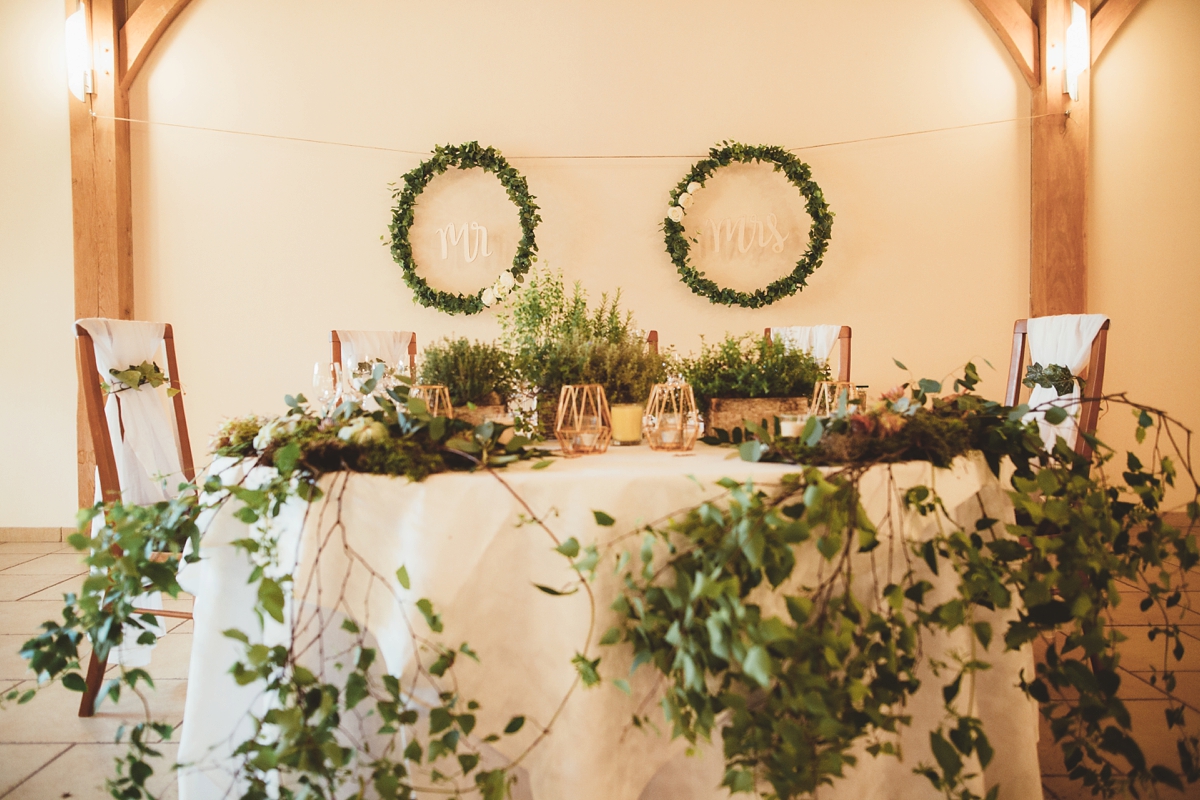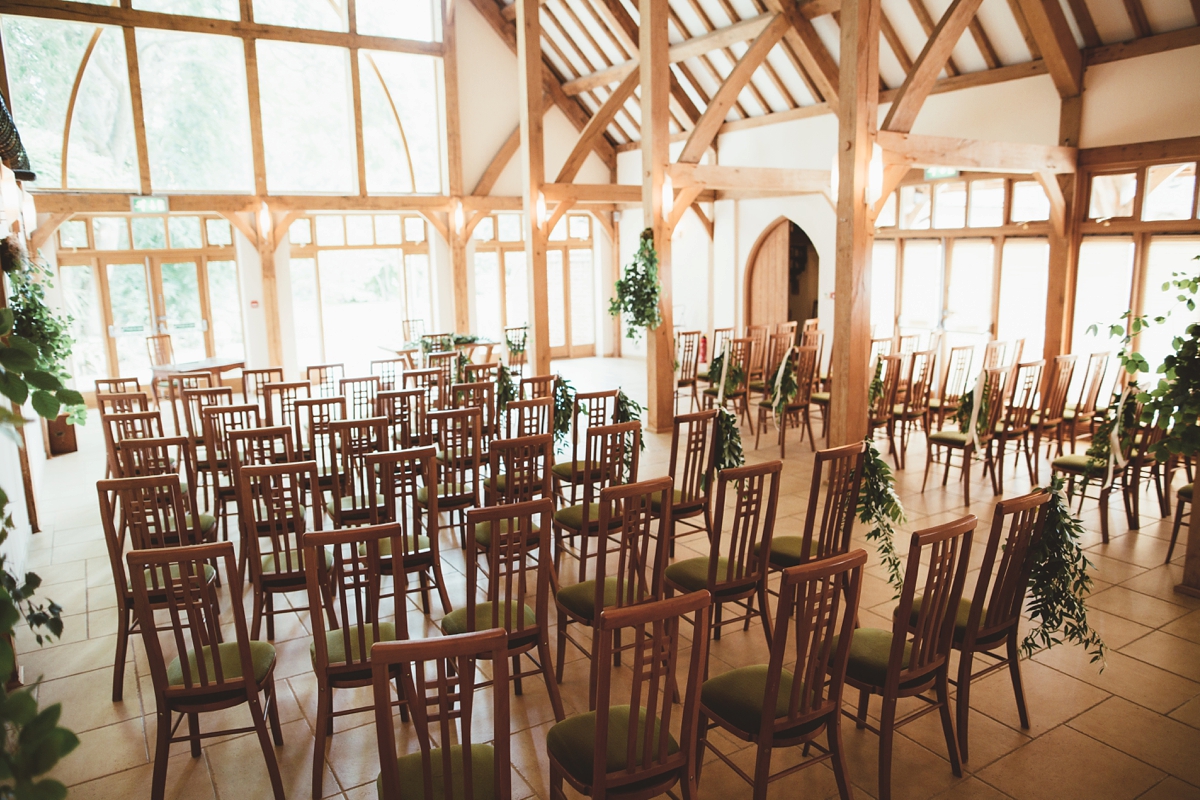 The bridesmaids looked lovely in dresses from ASOS, worn with pink suede shoes from New Look and rose gold drop earrings from Matthew Williamson, which were a gift from Stacey.
The little flower girl looked very sweet in a silk and tulle gown.
Stacey and her Mum walked to a Vitamin String Quartet cover of 'New America Classic' by Taking Back Sunday.
"My mum has brought myself and sister up as a single parent since I was very young, so it was natural to have her walking with me on the biggest day of my life."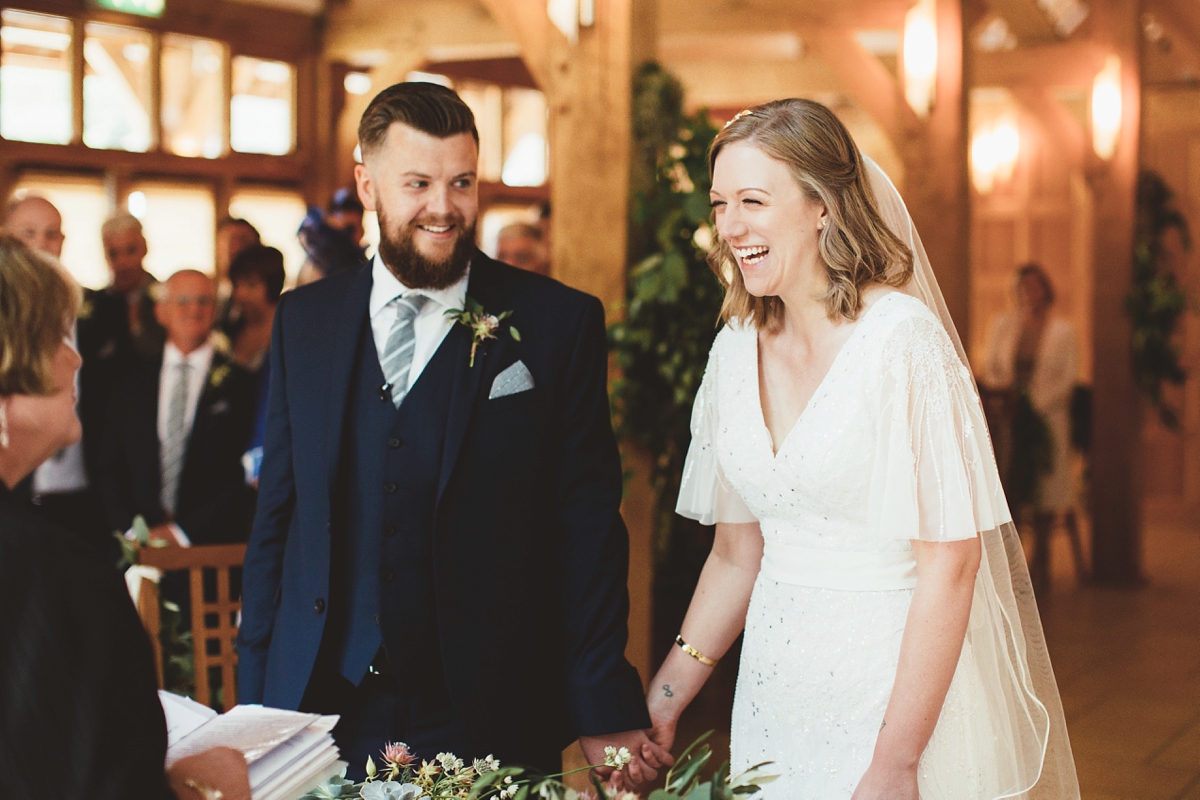 "Choosing vows was quite overwhelming really.  Stu was quite set on having traditional vows but neither us realised that by having a civil ceremony, the traditional vows weren't an option.  We decided to blend a few of the vow options provided and added our own personal touches.  We also included guest vows, which we really loved as it encouraged our guests to be a part of the ceremony and celebrate with us."
Two friends, Lucy and Kelly, read 'Today is a Day you will Always Remember' and 'The One' (both by unknown authors).
"Both me and Stu wanted modern readings that reflected love and relationships in a modern and realistic way.  We felt both of these did the job perfectly."
"We chose my engagement ring in Brighton together, so when it came to picking our wedding rings we headed back to our favourite town.  We found our rings at Vogue Diamond on the North Lanes in Brighton."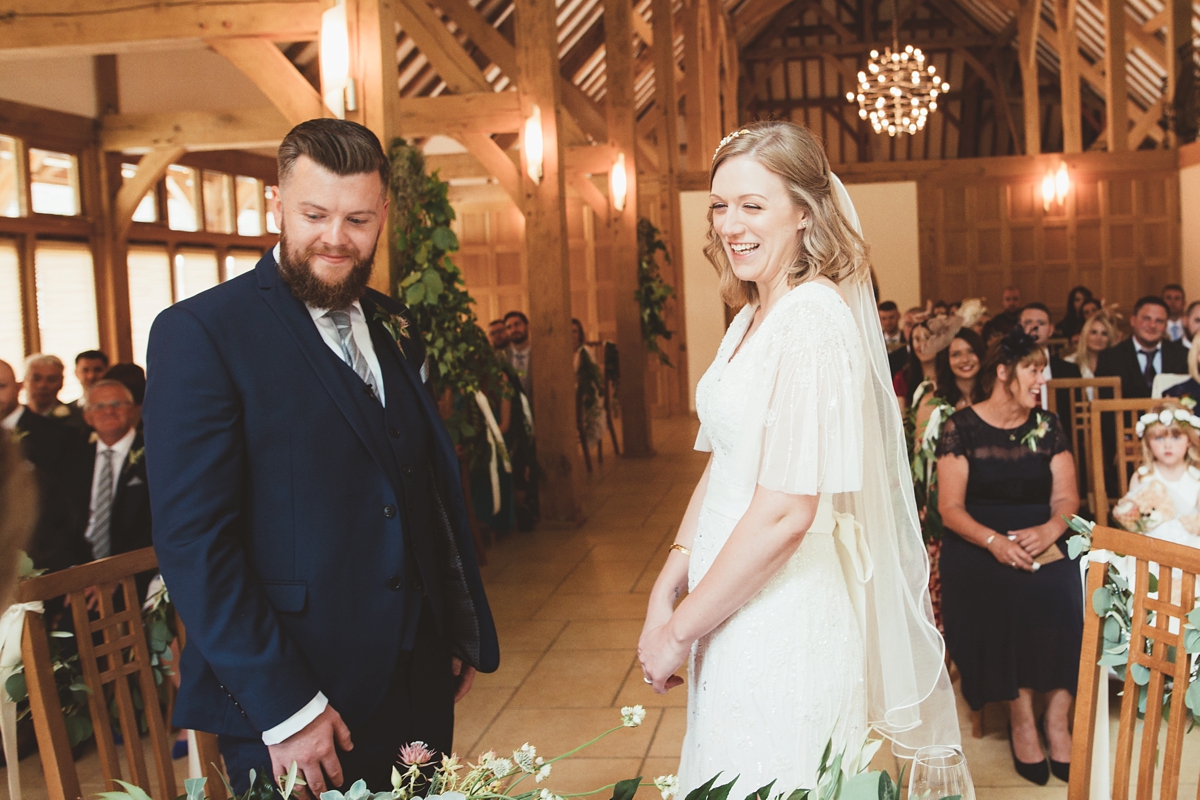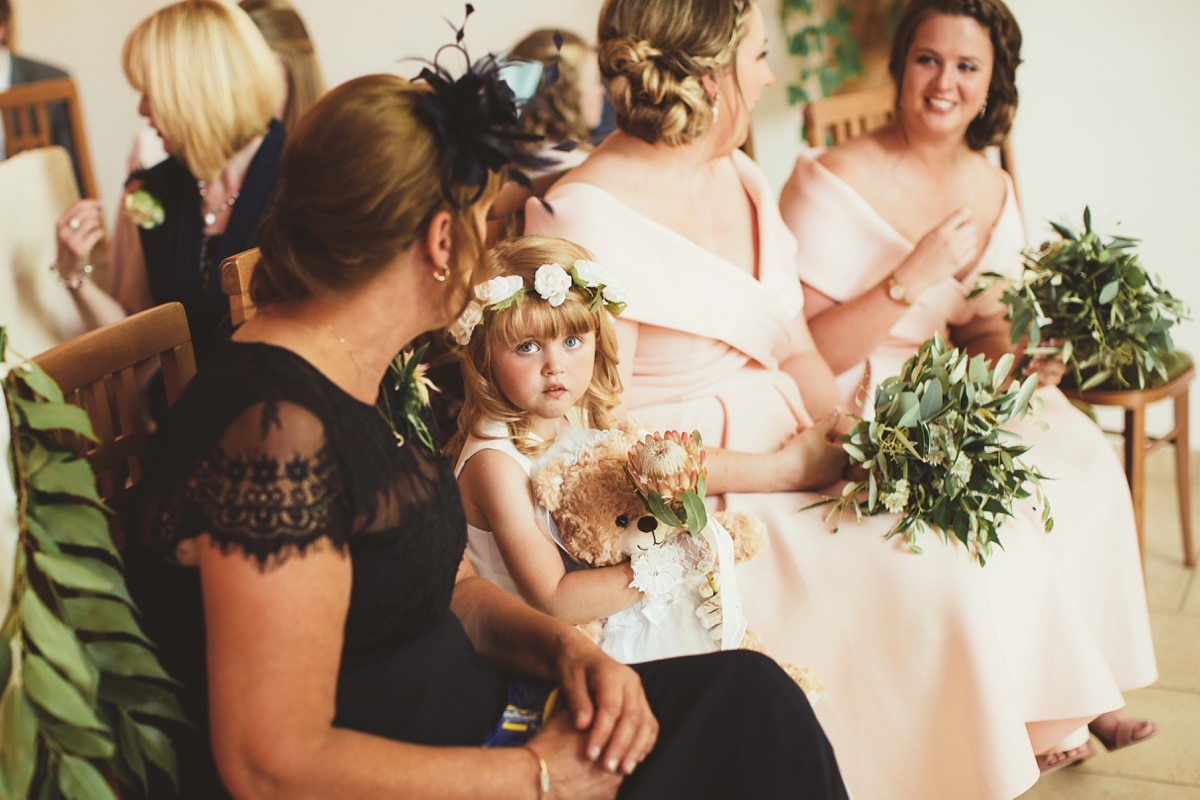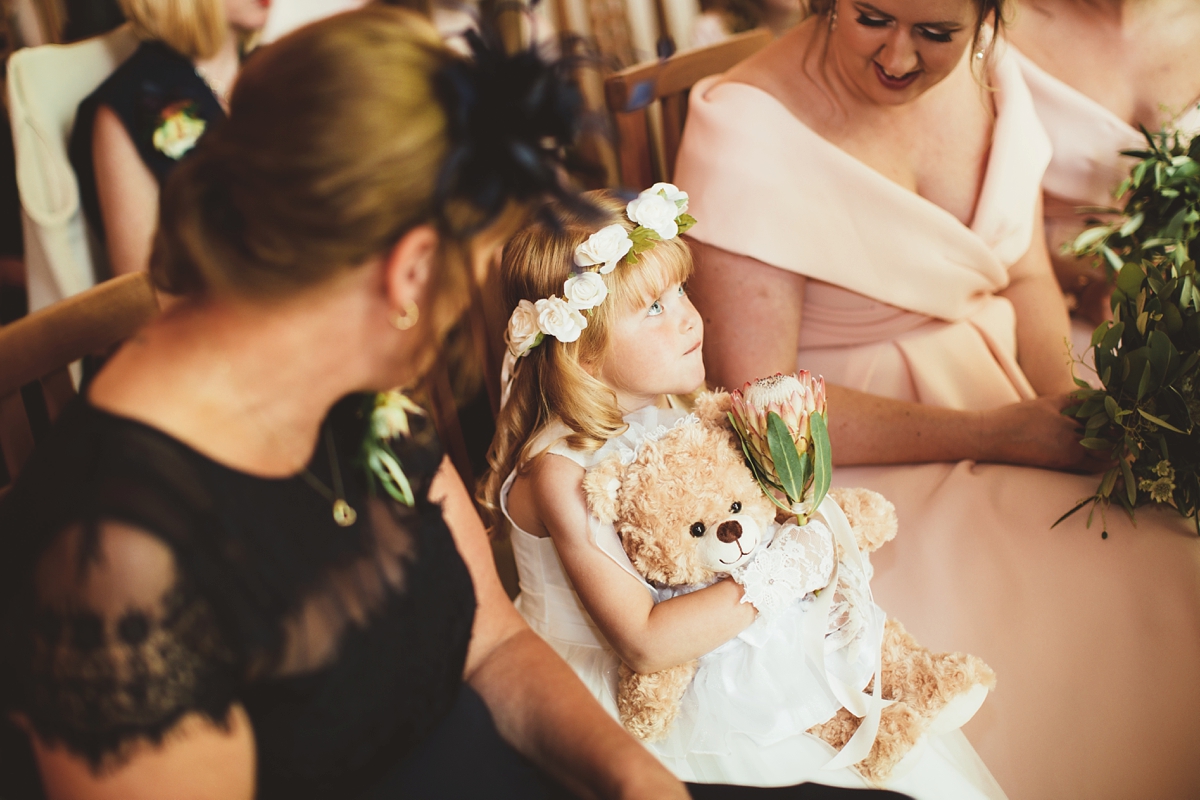 "I met our florist Jo of Columbia Creative at a work event.  Floral decoration was to be our main decoration on the day and I wanted the space filled with beautiful greenery and scent."
"Jo took our initial ideas and developed them into something unique to us and when I took a sneak peek the morning of the wedding, it took my breath away."
"After the ceremony and cocktails, me and Stu sneaked off to have some photographs taken and the barn team had laid out some canapés and drinks on a private table for us so we had a few minutes together post-ceremony to chat and relax.  I really cherish that moment."
Stu looked very smart in a blue three-piece suit from Suits Direct, worn with brown leather shoes and belt from Next, a pocket square from French Connection and a tie from Next, the process of finding he describes as the most stressful part of the whole planning!
"We found our photographer Mary-Anne Weddings on Instagram and fell in love with her beautiful images.  We met for a cup of tea and I immediately asked her to be part of our day.  Mary-Anne captured the day perfectly and has a really special way with light."
"Our 'golden hour' photos captured at sunset are some of our favourites.  We're not a particularly romantic couple, so the idea of standing for posed photos was a bit scary.  Mary-Anne and our videographer Russell had us laughing the whole day through and those images, I feel, really reflect us."
"An amazing videographer was high up on my list of priorities, whereas Stu wasn't as comfortable with the idea of being filmed.  We had a call with Russell of Bride and Zoom Films and right away felt away that he understood us as a couple.  He was a great addition to our day."  You can see highlight film from Stacey and Stu's beautiful day here.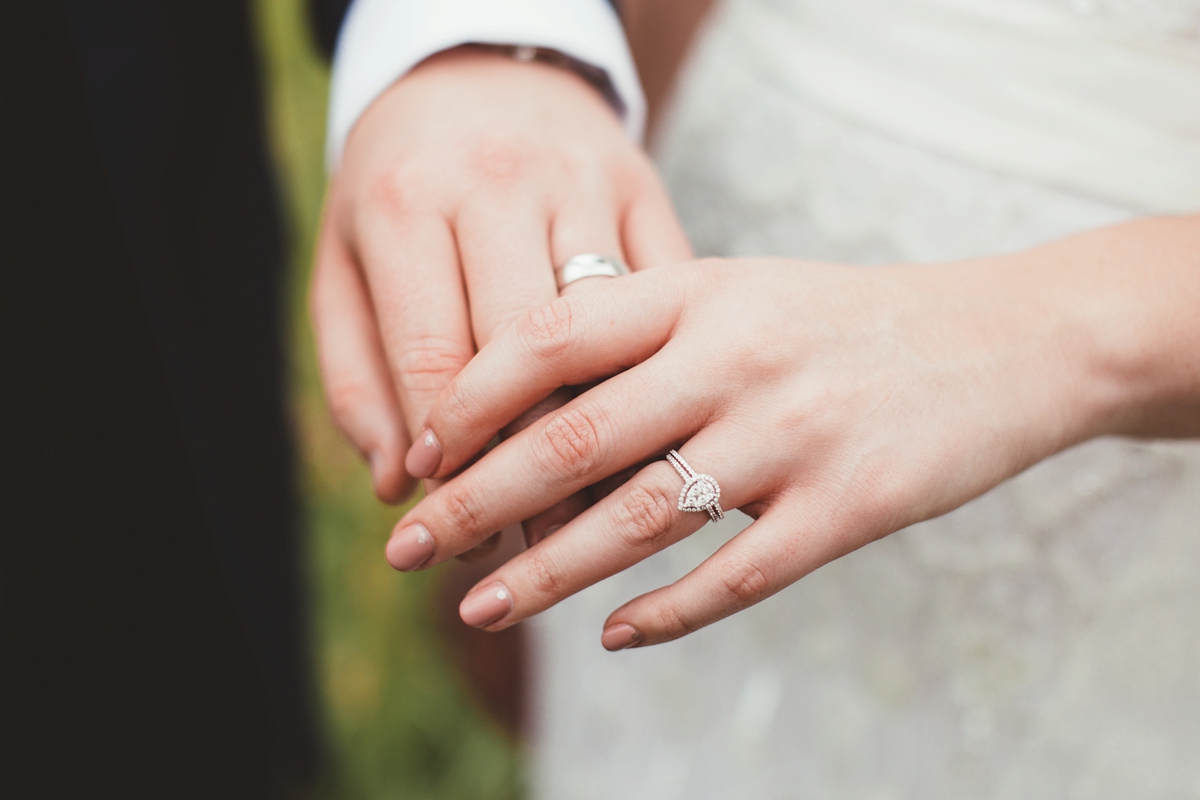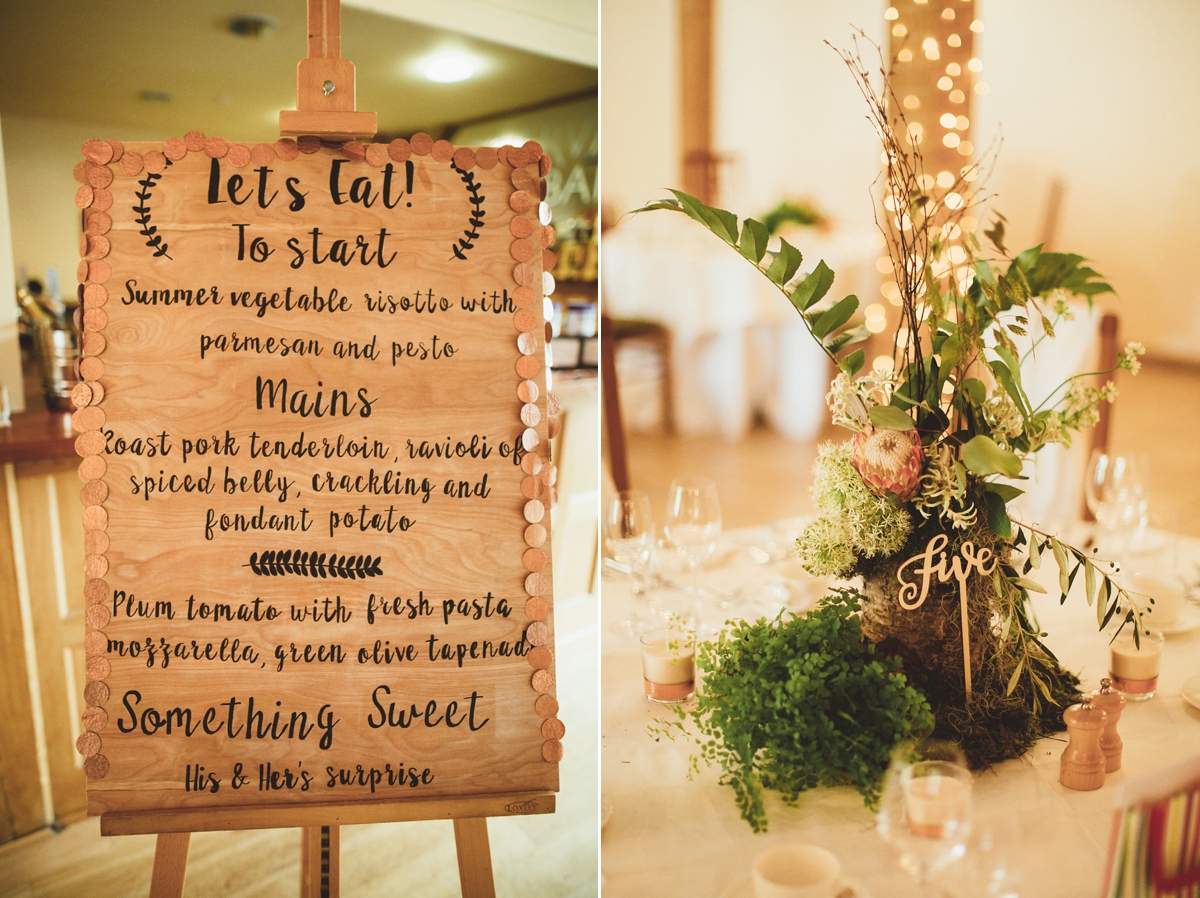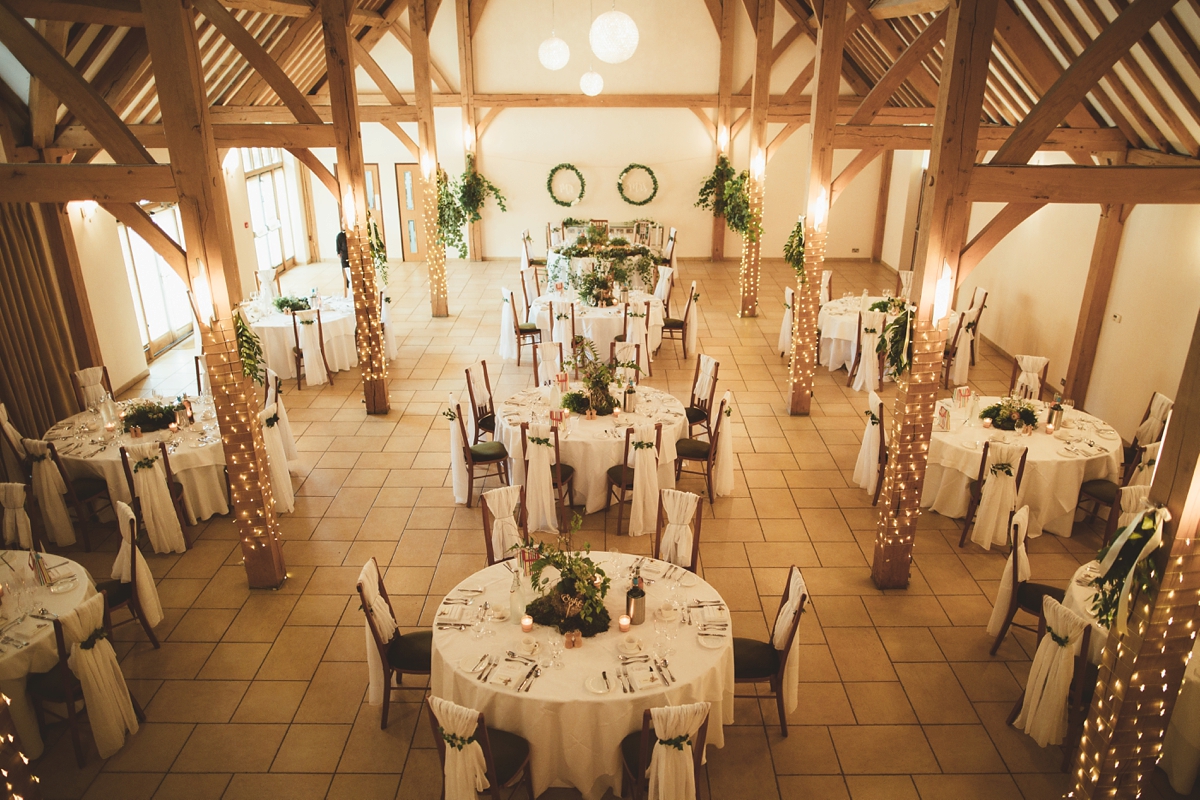 Save the Dates and Invitations were created by Pear Paper Co– another Love My Dress Facebook group recommendation and Stacey did the other stationery herself, having taken a calligraphy course at Quill London.
"We decided against wedding favours but Rivervale Barn kindly offered use of their popcorn machine."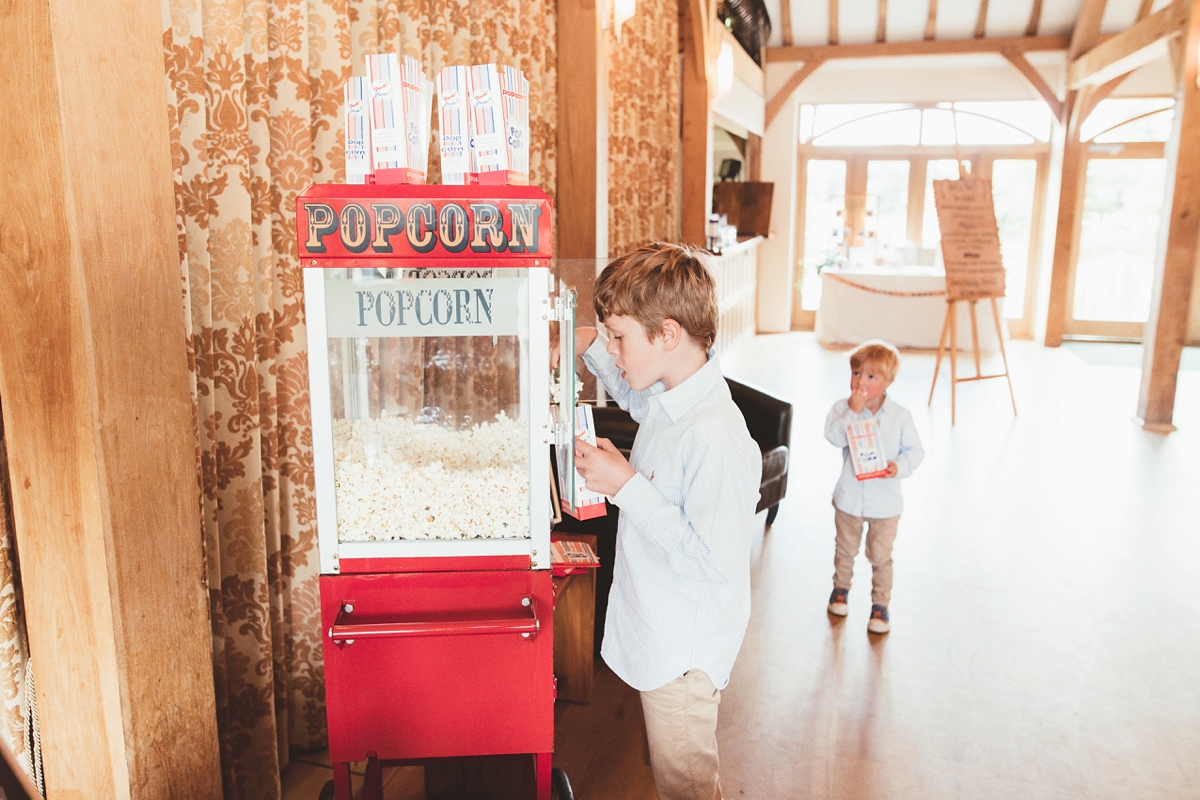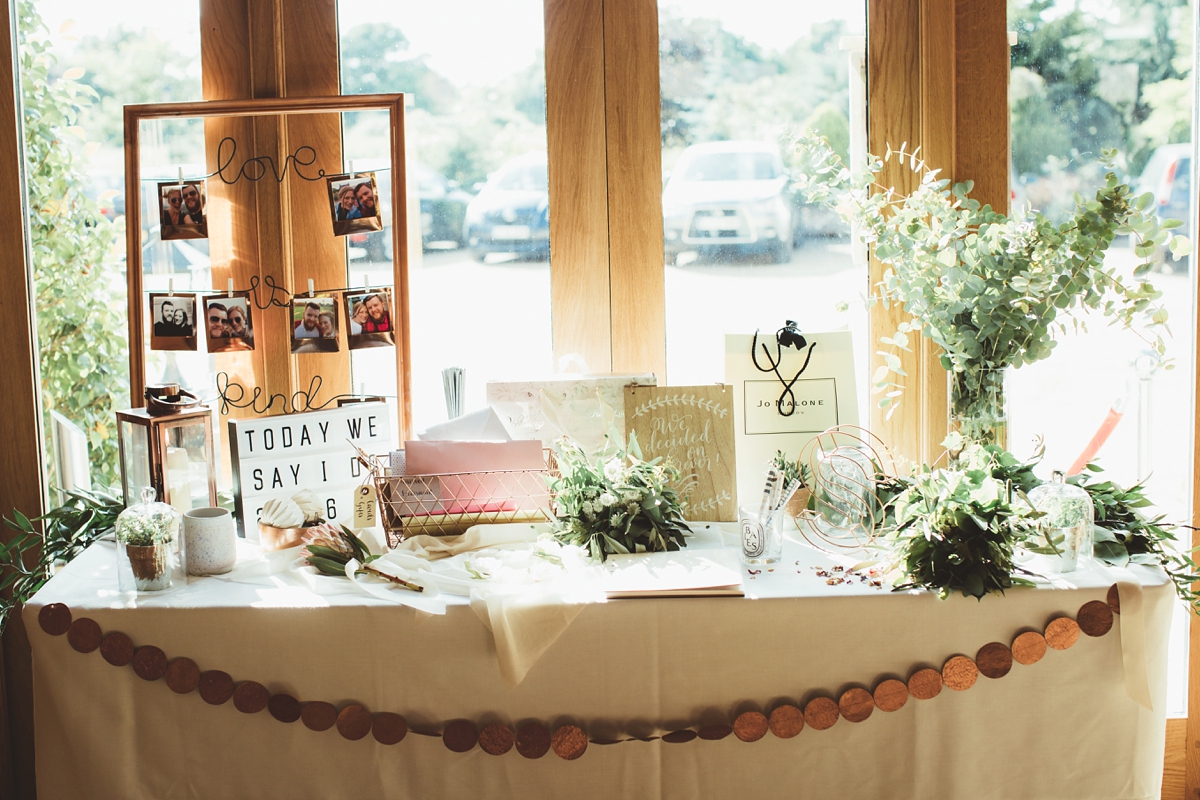 "Catering was provided by Galloping Gourmet at Rivervale Barn.  For evening food we had to have pizza (having met at Pizza Hut) and Rivervale Barn offer use of its outdoor pizza oven, which was perfect."
"Stu is gluten intolerant so we luckily found Megan of Blossom and Crumb on Instagram.  We met with Megan for a delicious afternoon of cake tasting and settled on a gluten free salted caramel and burnt butter single tier cake.  We wanted a surprise element too, so asked Megan to add blue icing for 'Something Blue'.  Not only did it taste delicious but guests loved the colour."
"Our DJ, Darren from Innovents, did a great job at keeping the dance floor busy.  We also had a band- Saint– booked via Warble.  Stu's mum had brought lots of inflatable guitars and guests joined in air guitaring.  Stu is a big rock music fan, so finding a band that played the songs he loves was super important."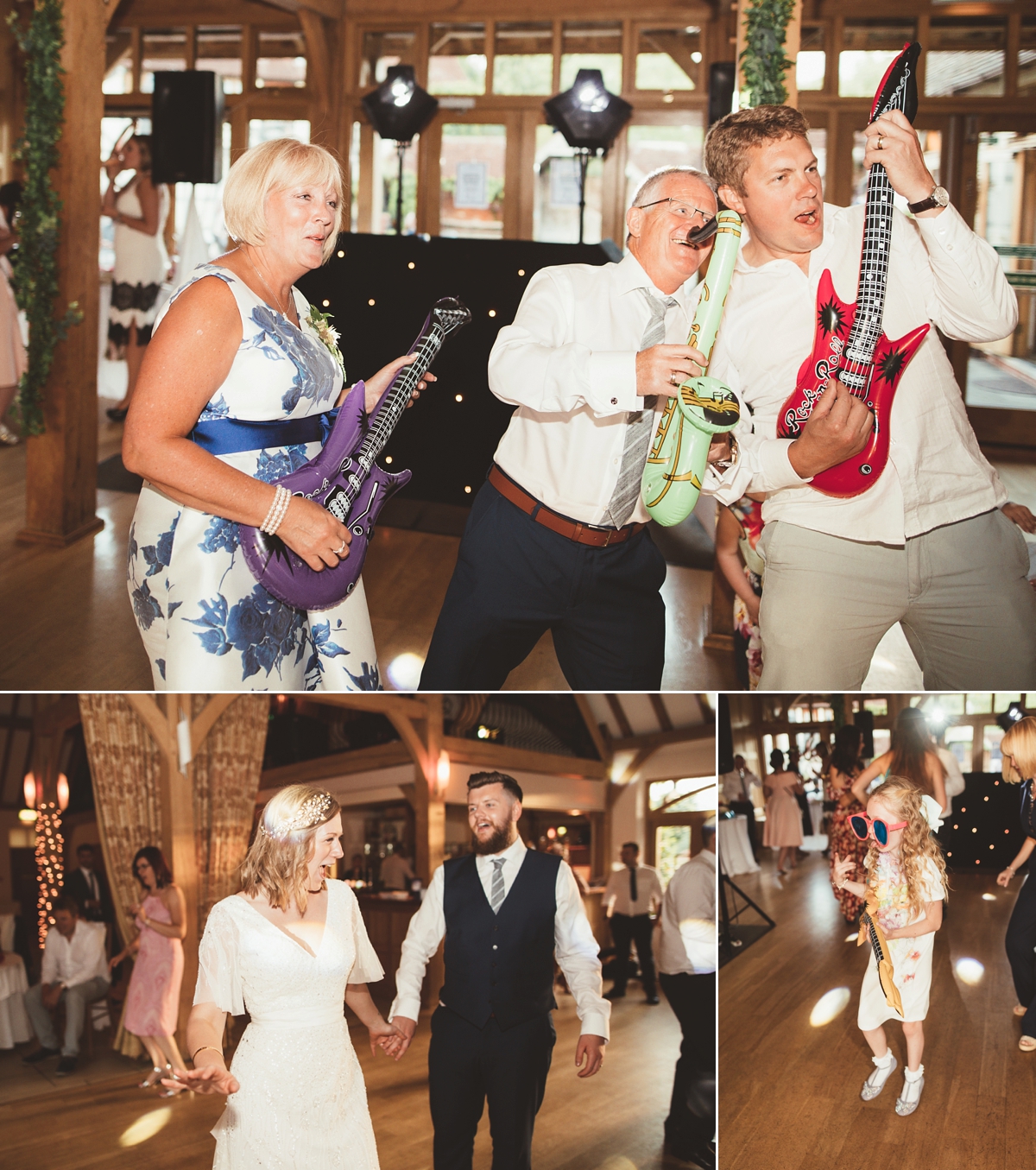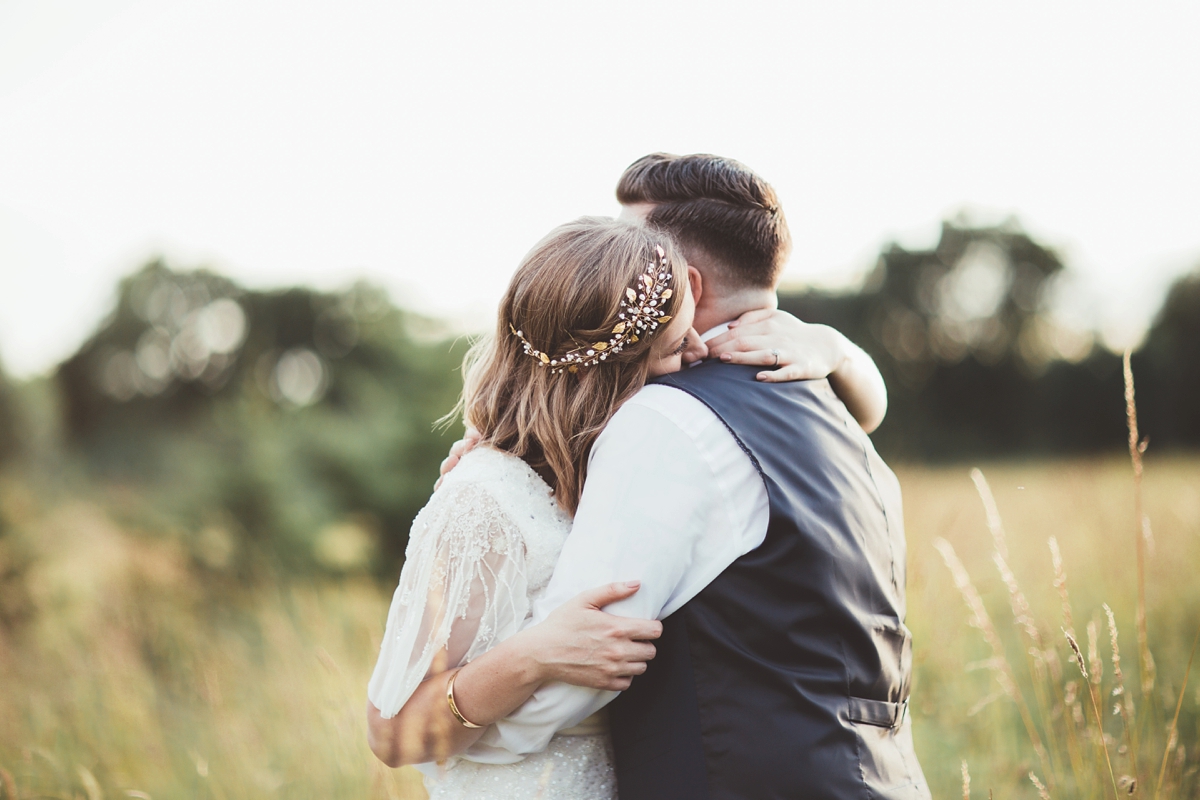 Words of Wedded Wisdom
"Make sure you take time throughout the day to take everything all in.  Also, make sure you pick food and drink you want as a couple.  We spent hours thinking about what guests would like and expect.  In the end we went with what we wanted and everyone enjoyed it."
"Stu said he'd prefer a beer during the cocktail reception, so we ordered a beer drum full of bottles of his favourite lagers.  It went down a storm with the guests."
Huge thanks to Stacey and Stu for sharing this beautiful, very personal day.  If you've been inspired by a barn wedding, take a peek here for further inspiration.
Much love, S x