I don't know if any of you feel the same, or if my husband is right and I'm just a little bit crazy, but I suddenly cannot wait for Christmas. So when I first set eyes on the stunning celebration I'm about to share with you – a candlelit, cosy, oh-so-stylish winter wedding – my festive little heart just about burst.
Without further ado, allow me to introduce you to Charly, a political journalist, who wed Bobby, a political consultant, on Friday 13th January this year at The West Mill in Derbyshire. This fun-loving couple wanted to create a day that their loved ones could enjoy, and a little insight into their joy-filled union are the favours their gave their guests – lottery tickets, reclaiming Friday 13th as a lucky date, which I absolutely love.
I have to dive right in and start with Charly's gorgeous bridal styling, a mixture of haute-couture elegance and Hollywood screen siren glamour, made even more beautiful by that stunning smile. Our Little Book for Brides darling Amanda, of Lipstick & Curls is responsible for this vision, a lady both immensely knowledgable about era inspired beauty, and a lover of clean modernity.
"The wonderful Amanda from Lipstick & Curls did my hair and makeup, along with the bridesmaids and the eldest flower girl. Make-up was a really big deal for me because I have suffered with bad acne and horrible skin since I was a teenager, it was one of my biggest worries for the day of the wedding. It was such a reassurance having Amanda there and she managed to make me look flawless (if I may say so myself!) – I felt a type of confidence I haven't for a long time."
Photography by Emma Case Photography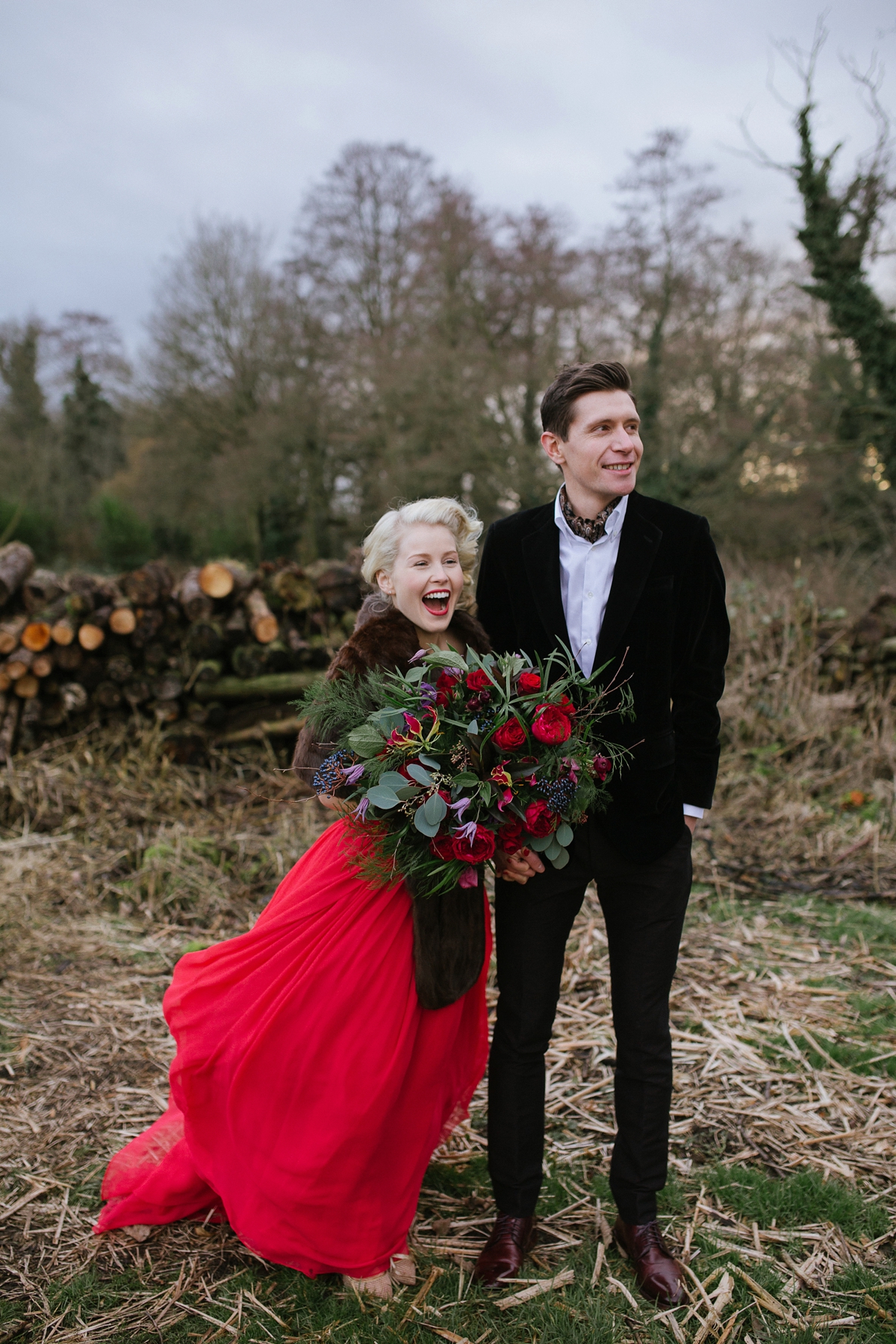 "Amanda intuitively knew what I wanted and totally got the style of wedding and also listened to all my bridesmaids and made them all look so beautiful too. I don't know how she managed to get through us all in time and remain so calm. Amanda also made a fuss of the oldest flower girl and made the effort to make her feel included in what the 'big girls' were having done, which just shows how kind she is.""I had always, before Bobby and I were even a couple, had a really clear idea of the wedding I wanted. It would be a small, summer wedding in the south of France – we ended up having a big winter wedding in the East Midlands! I am so glad that it was so completely different to everything I had imagined previously because it meant that Bobby and I planned everything together."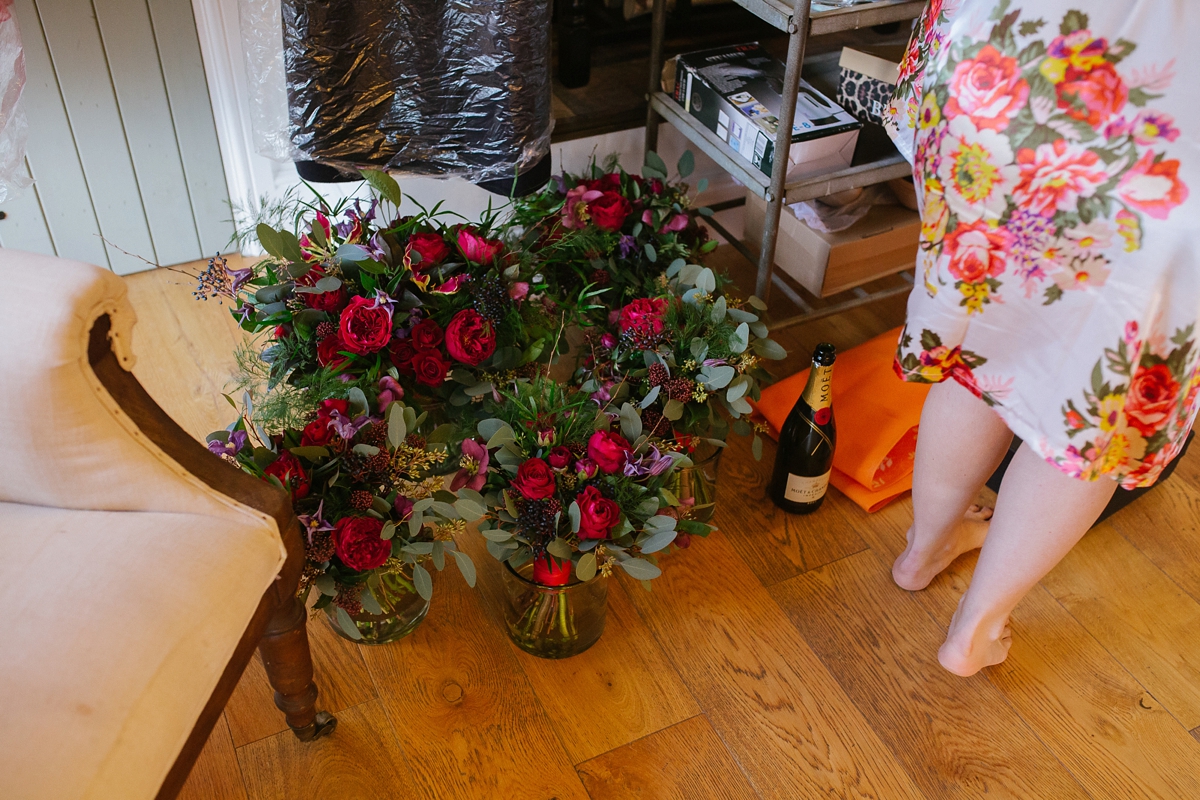 "The inspiration came from the venue and the time of year and the red, black and gold colour scheme fell together. A lot of people said we had an 'old school Hollywood glamour' vibe, which I think was inspired by my dress and the hair and make-up. We didn't want anything traditional and did what we could to make sure it was our guests who were at the front of our decision-making. We just wanted everyone to have some fun."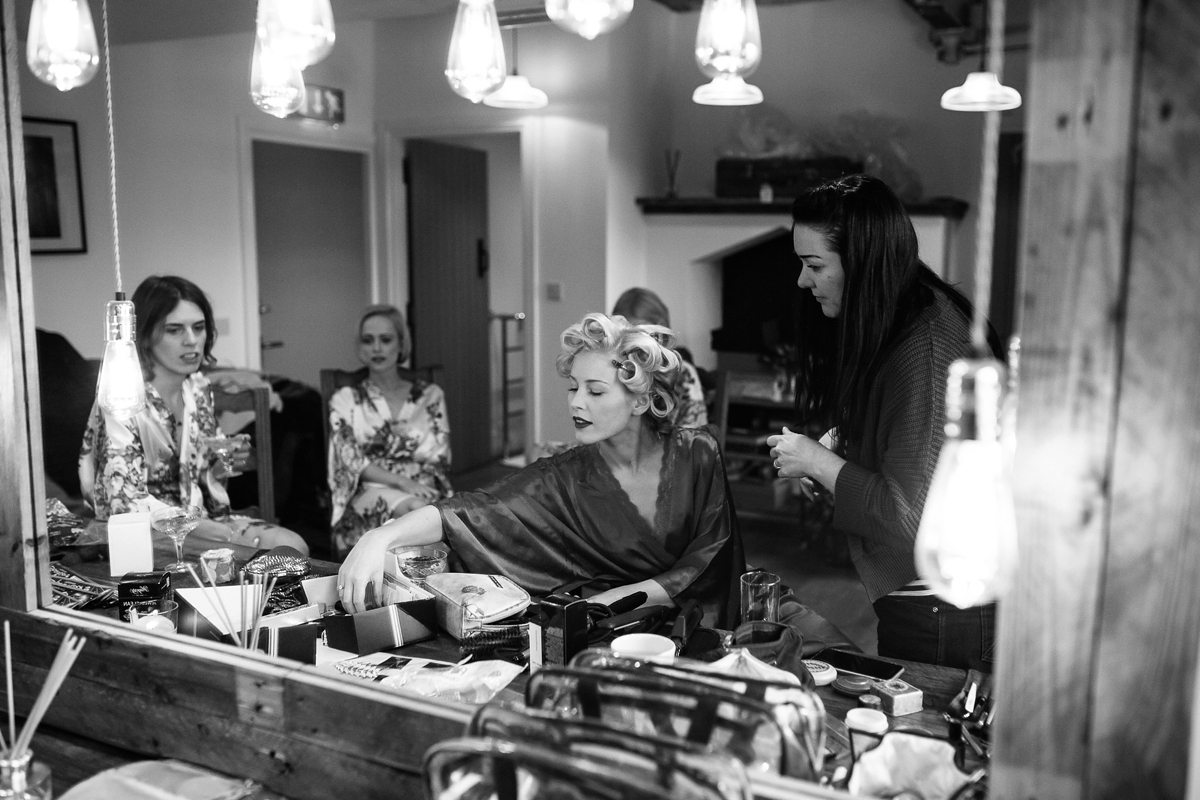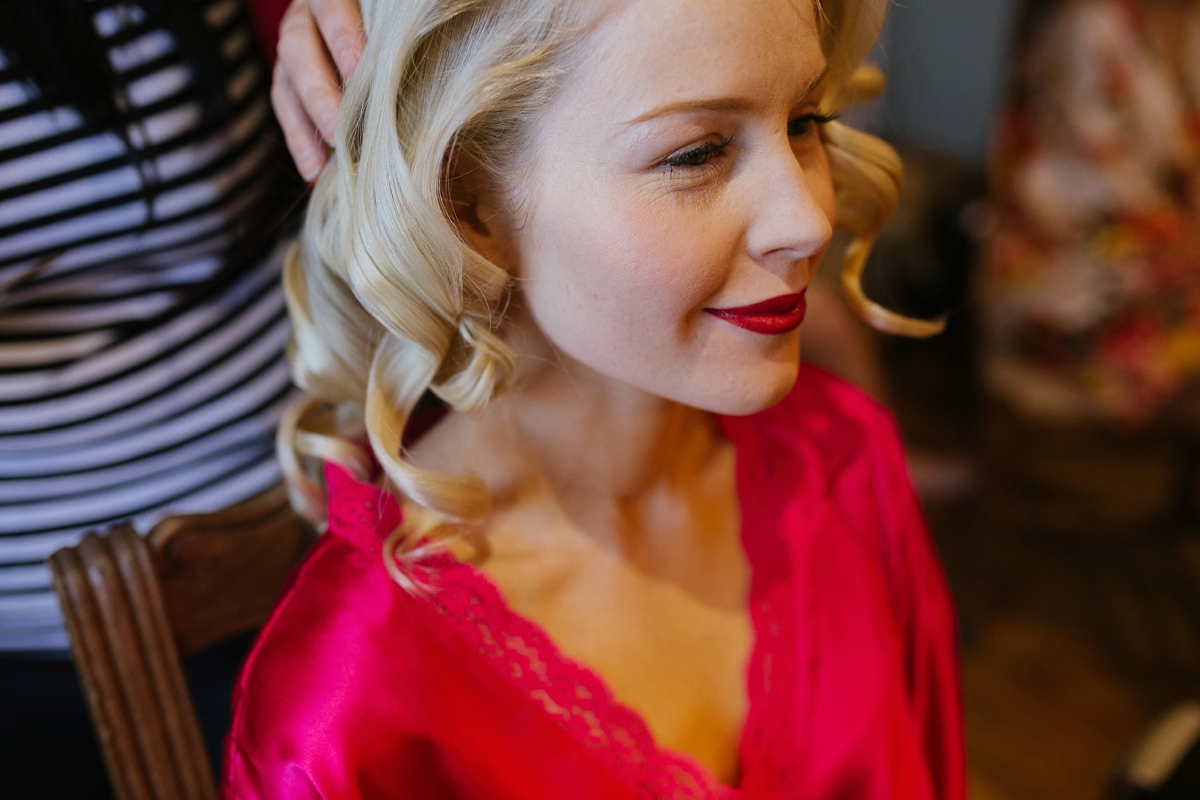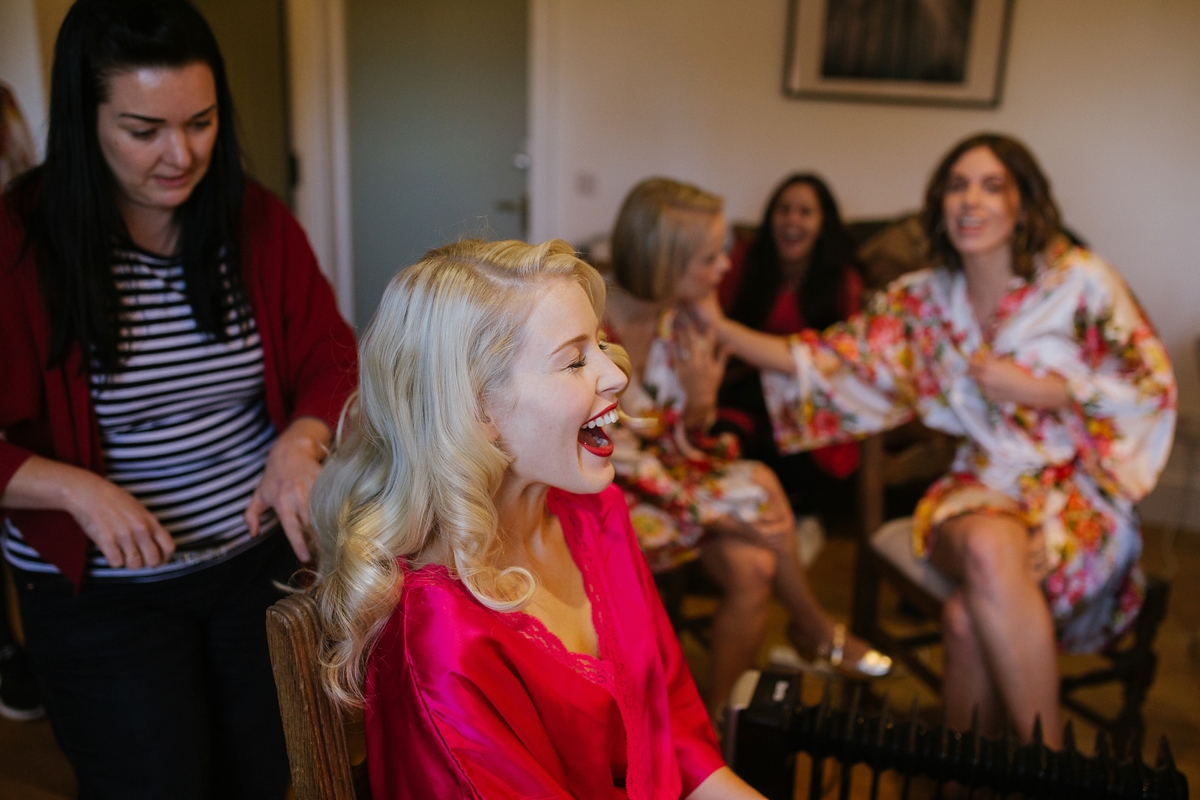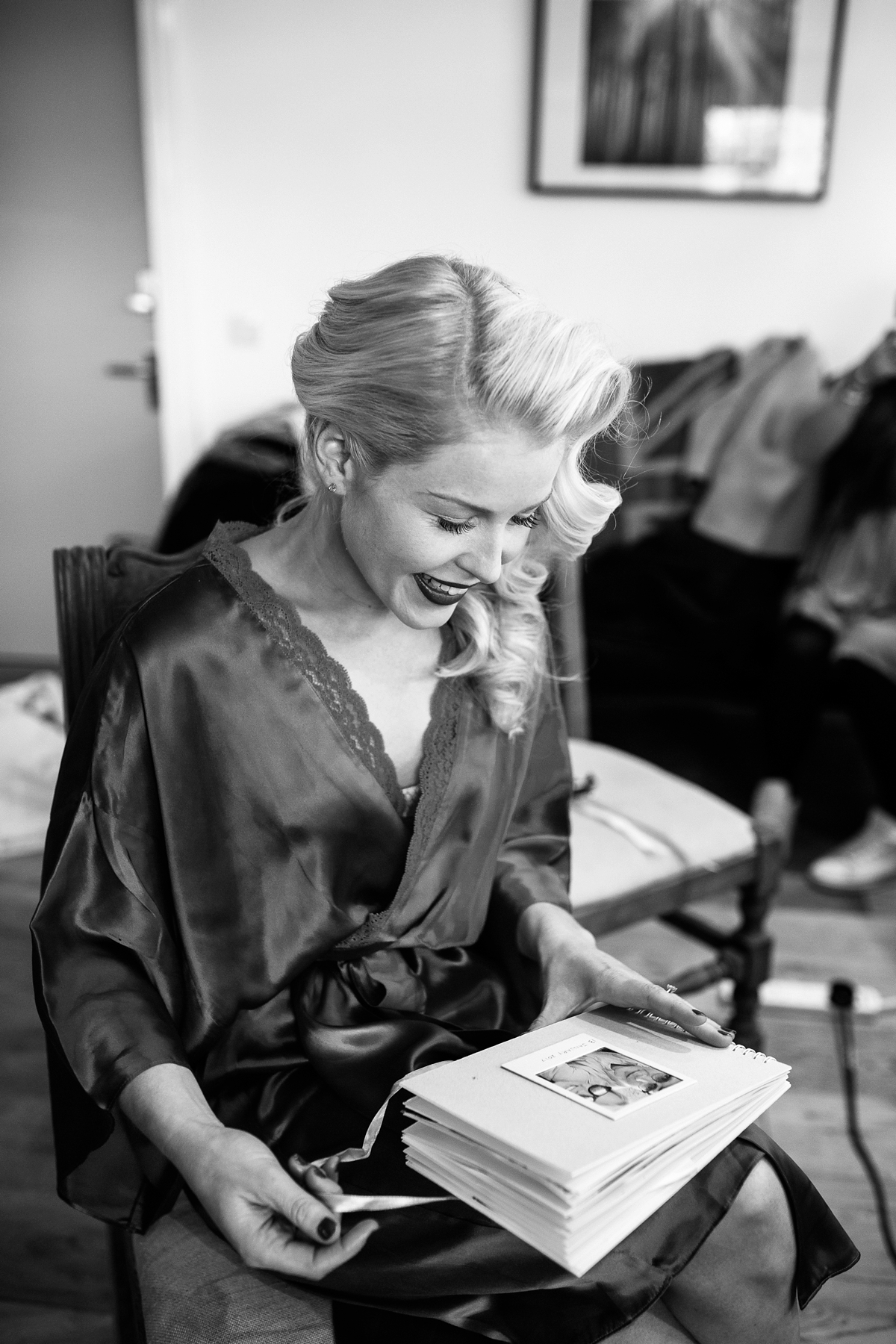 Charly found a pair of Louboutins on eBay, sold by another bride, their red soles a subtle nod to the colour scheme and our bride's sensational red gown. She accessorised with a pair of diamond earrings bought for her by her sister as a surprise on the day, and a leafy gold hair comb, a bargain at £10 in the Accessorize sale.
A spritz of Chanel No.5, which has always been the perfume of choice for our bride's mum, was a special finishing touch and so evocative of Charly's childhood.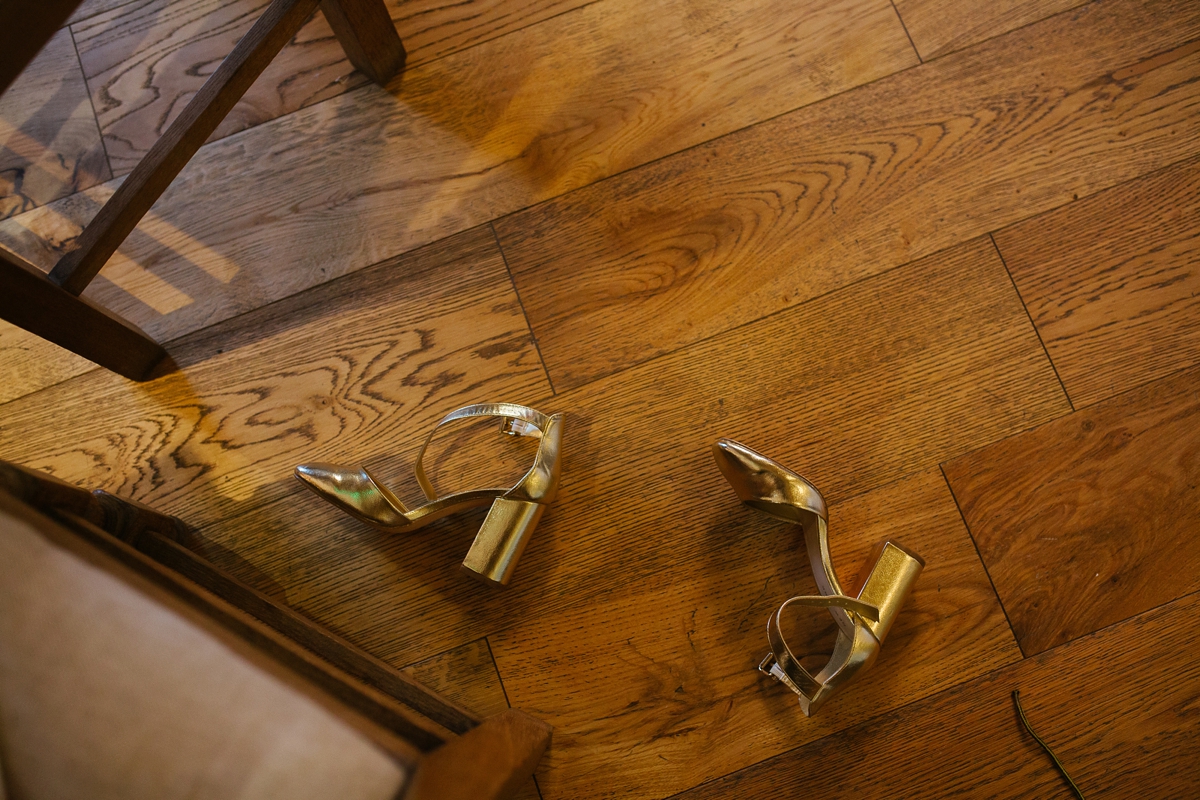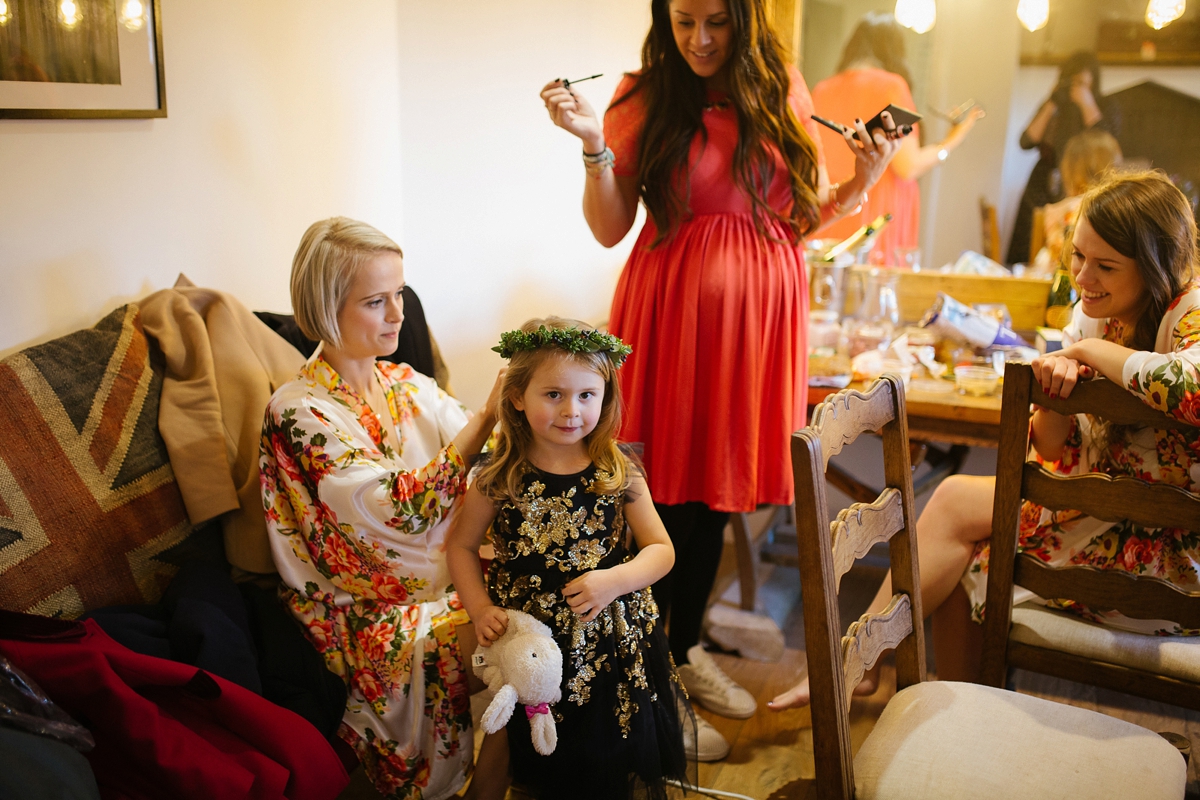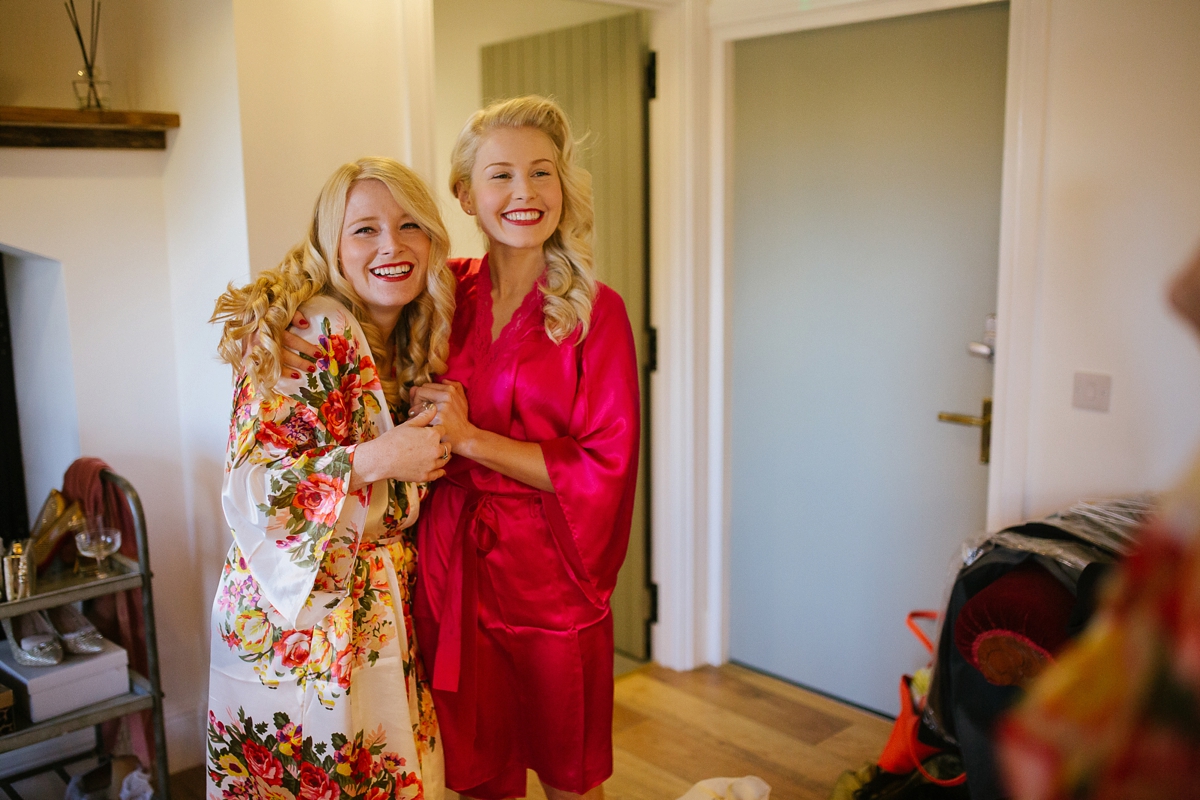 "The dress is the Jason Wu 'Camilla' gown, but mine was a very fortuitous purchase from a woman selling it on eBay. I visited a couple of beautiful wedding dress shops and tried on some beautiful dresses but I didn't look good in any of them. My sister found an image of an amazing dress on Pinterest and I felt really excited about it, and sister-in-law has an encyclopedic knowledge of fashion and knew the designer and the actress in the image."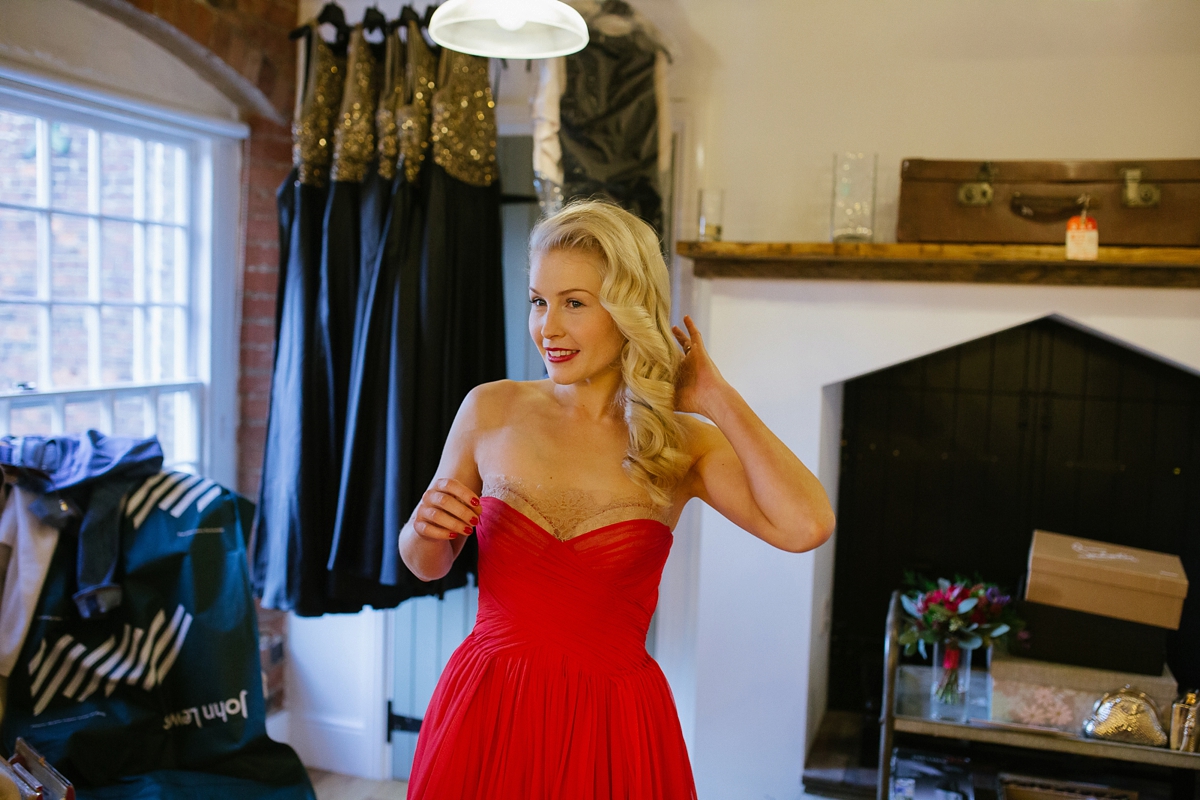 "I popped it into Google and, to my surprise, an eBay listing came up of the EXACT dress in my size. I put it on and it felt really special, like I had found a dress which flattered me rather than buying something that I was expected to wear. It was secondhand so had some damage, but Alison spent a painstaking week mending it all and it looked like new by the time she was done."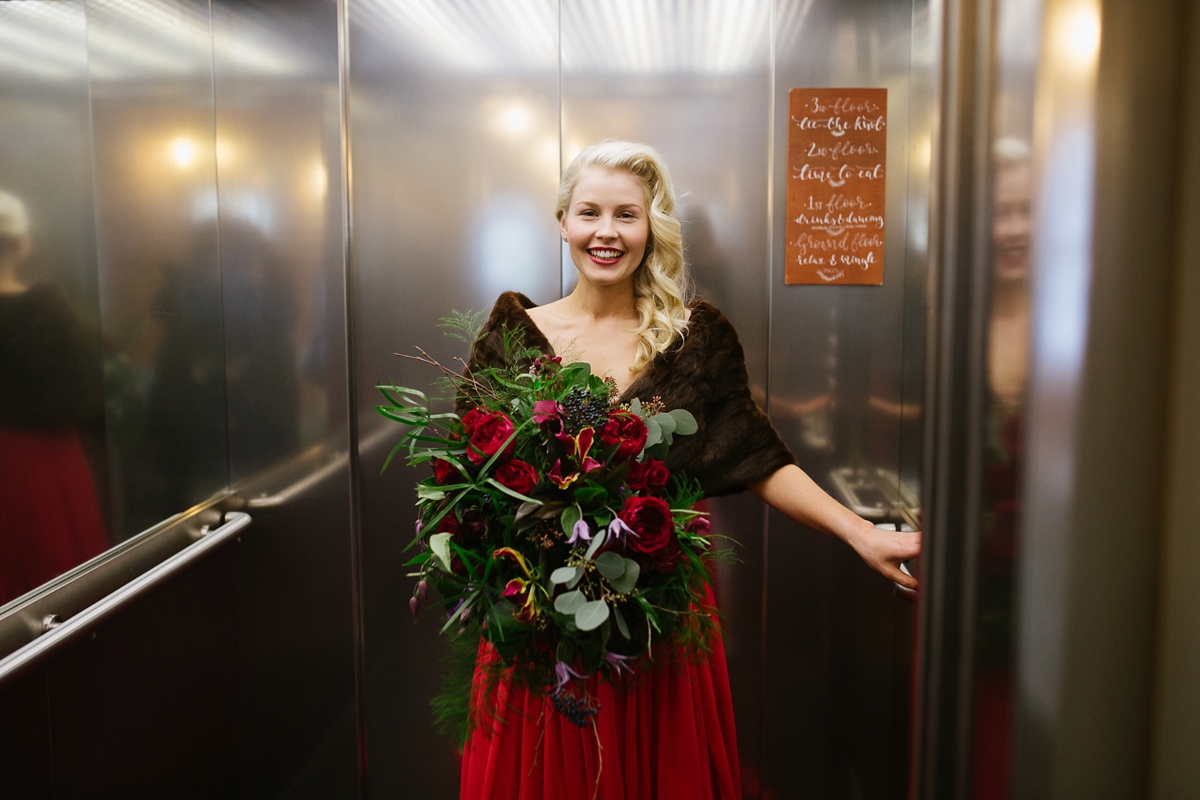 I'm a fellow second-hand-gown-wearing bride, and pretty much in awe of Charly's stunning eBay finds, including the beautiful velvet dress worn by the littlest flower girl, while older mini maid, Aurelia, wore a pretty frock from Monsoon.
"Bobby tried on suits from London to Edinburgh, Italy to America – he struggled to find something 'different' that wasn't too crazy. I think his outfit was perfect, it reflected his style while matching the wedding. He wore a black velvet suit jacket with a deep red lining, which was bespoke from A Suit That Fits with a sharp, slim-fit white shirt from Reiss, shoes and trousers which were an amazing find from Paul Smith, and a neck scarf he's has had in his wardrobe for years, bought from a charity shop in Leeds while at uni there. Bobby also wore special socks imported by one of his groomsmen, who runs a sock business (as well as a rum bar!)"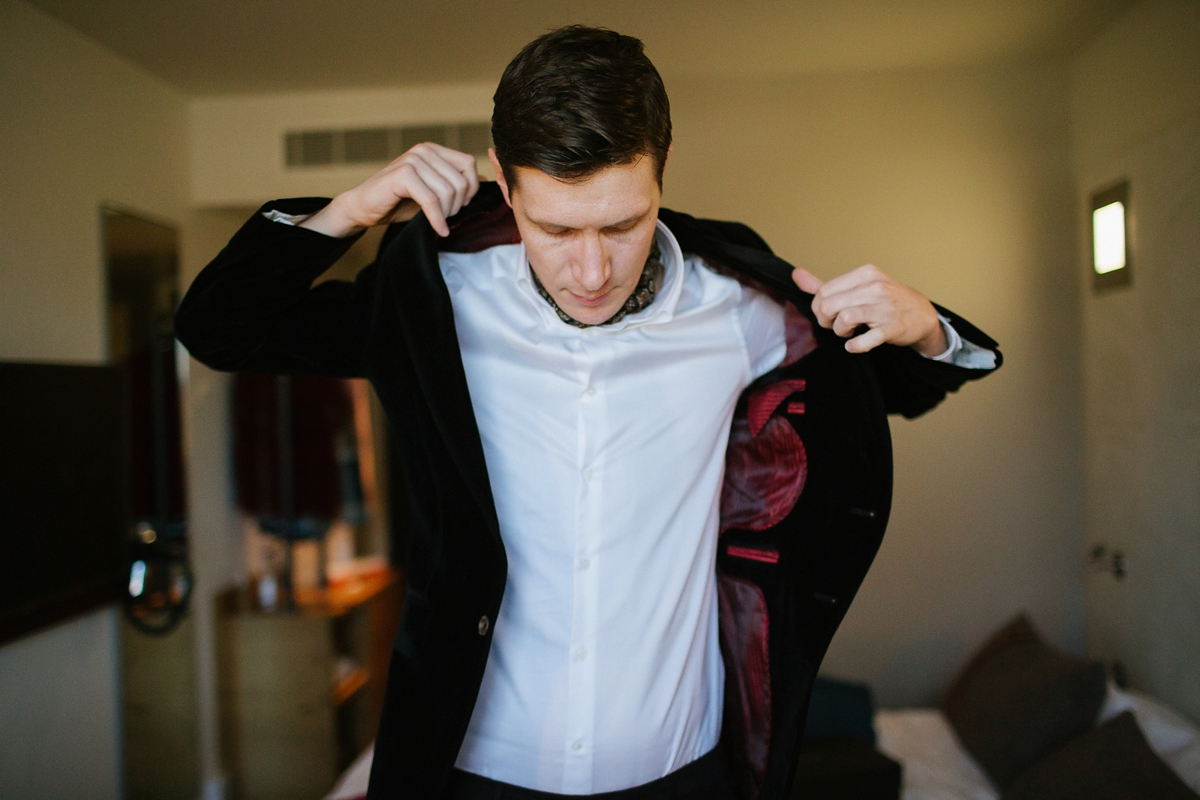 "We met at university, we were on the same course. Bobby was the first person I saw when I walked into the lecture room -and I remember seeing him for the first time so clearly. We lived in the same area so would often walk home together, but we quickly fell into the 'friend zone'. We were close friends and after graduating, we were both offered jobs in London so it made sense to get a short term let together."
"Three years later, we thought that living together was going so well that we would buy a flat together – just as friends. People would always ask if there was something more going on and it used to really annoy us. They clearly knew something that I hadn't worked out, because six months later, we had a drunken kiss and two weeks later Bobby packed up his stuff and made the big move from his bedroom to mine!"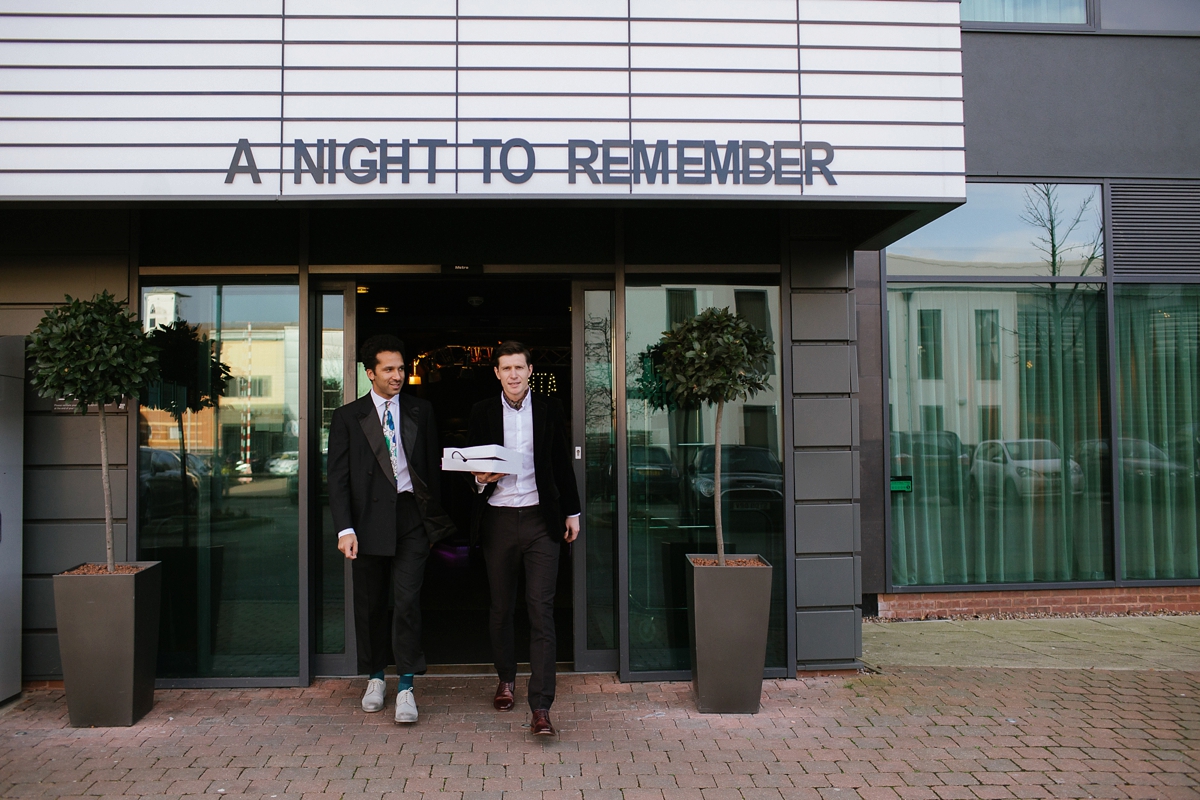 "It was about two years after that that Bobby proposed. It was on a wintry Friday evening and I had just cycled home in the pouring rain so was in soaking wet lycra and also very sweaty. The last thing I expected was to walk into a candlelit flat and for Bobby to propose. The proposal was a re-creation of Steve's proposal in our favourite TV show 'Him and Her,' which was funny and sweet all in one."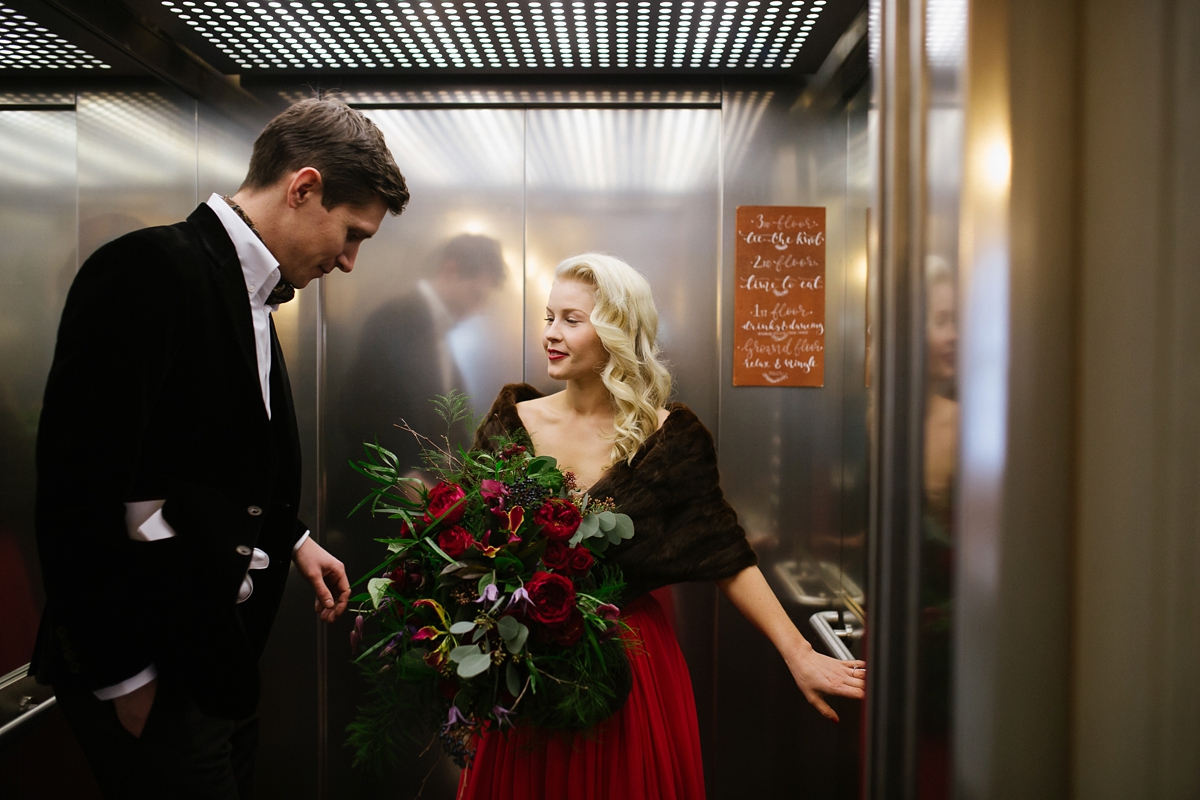 "We were engaged for 13 months. My wonderful sister found the The West Mill and I immediately loved everything about it. I sent it over to Bobby saying 'What do you think about getting married in Derbyshire – is it a bit of a random location?' Bobby replied saying it was round the corner from where his Dad grew up. We couldn't believe we'd found somewhere so perfect with a lovely family connection too."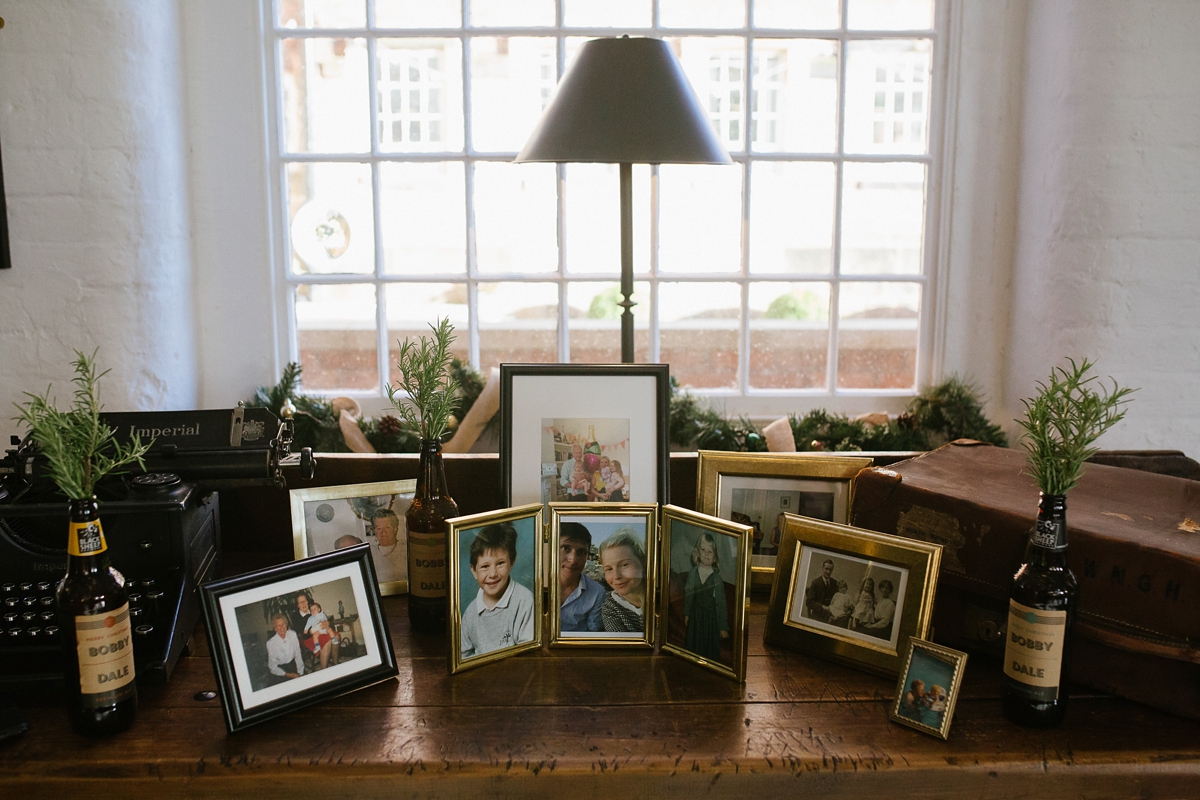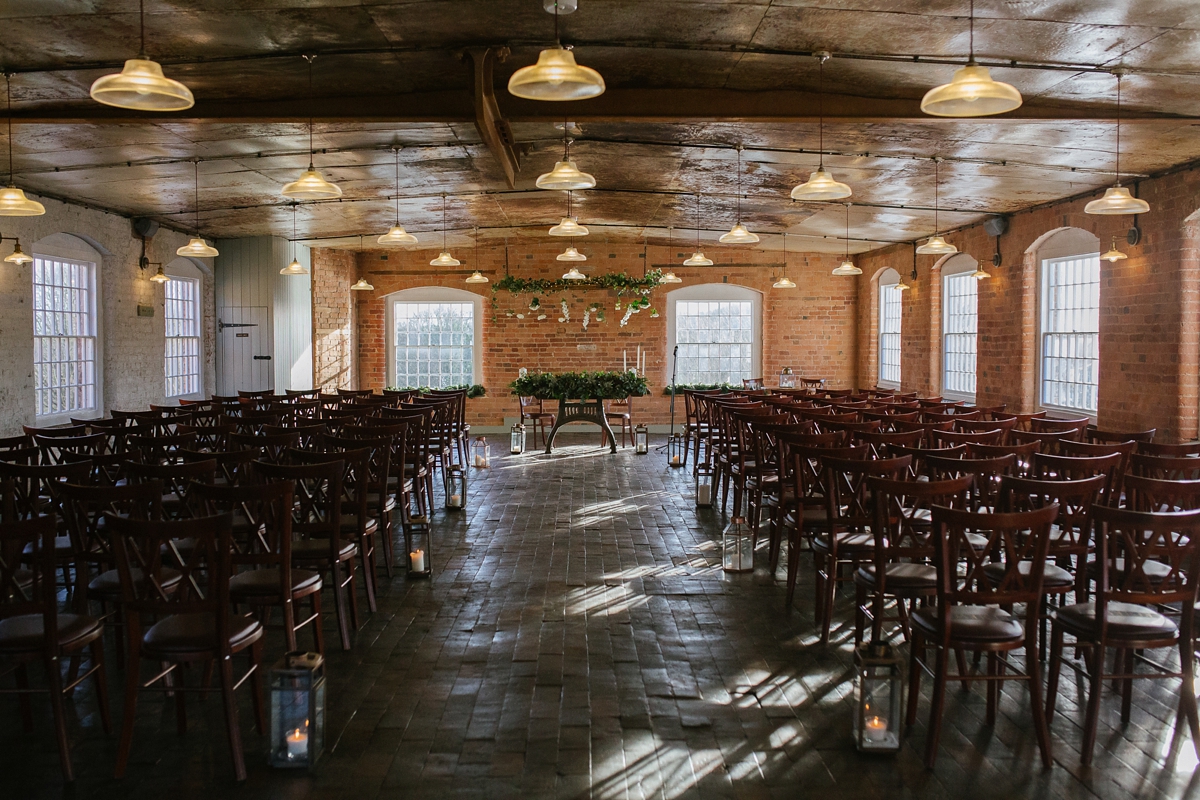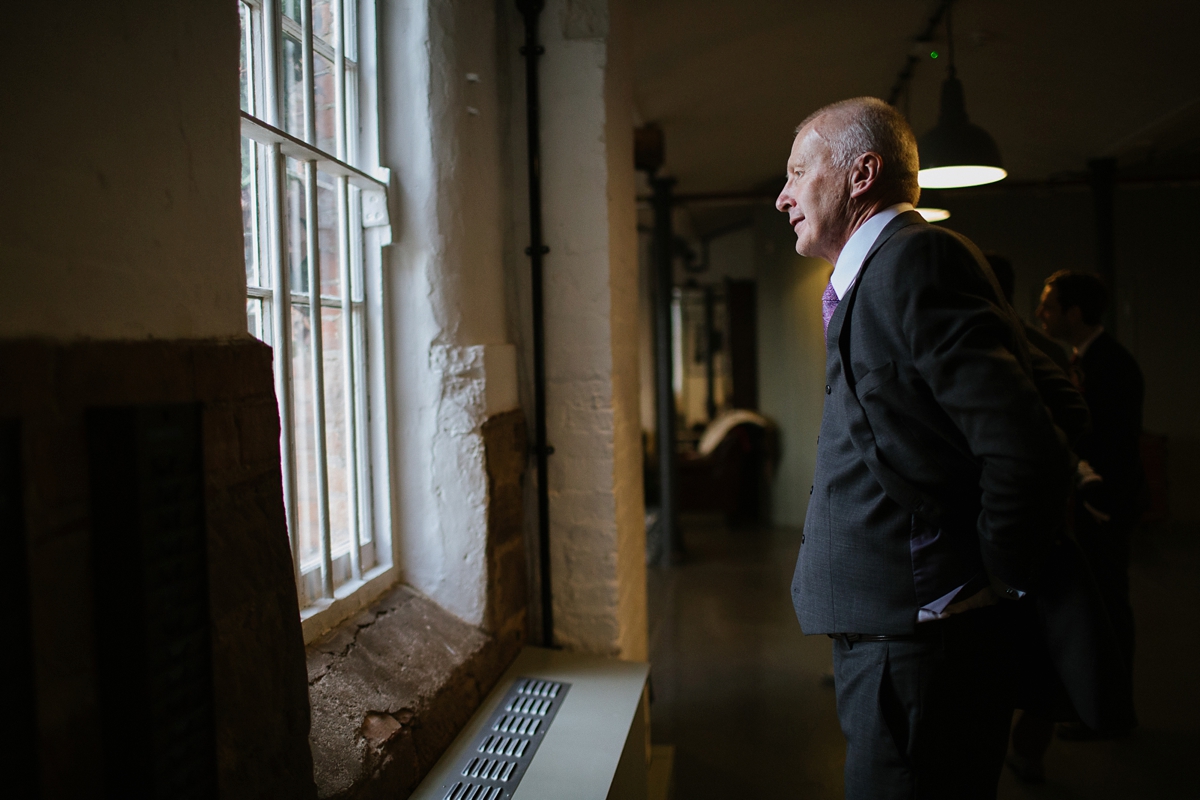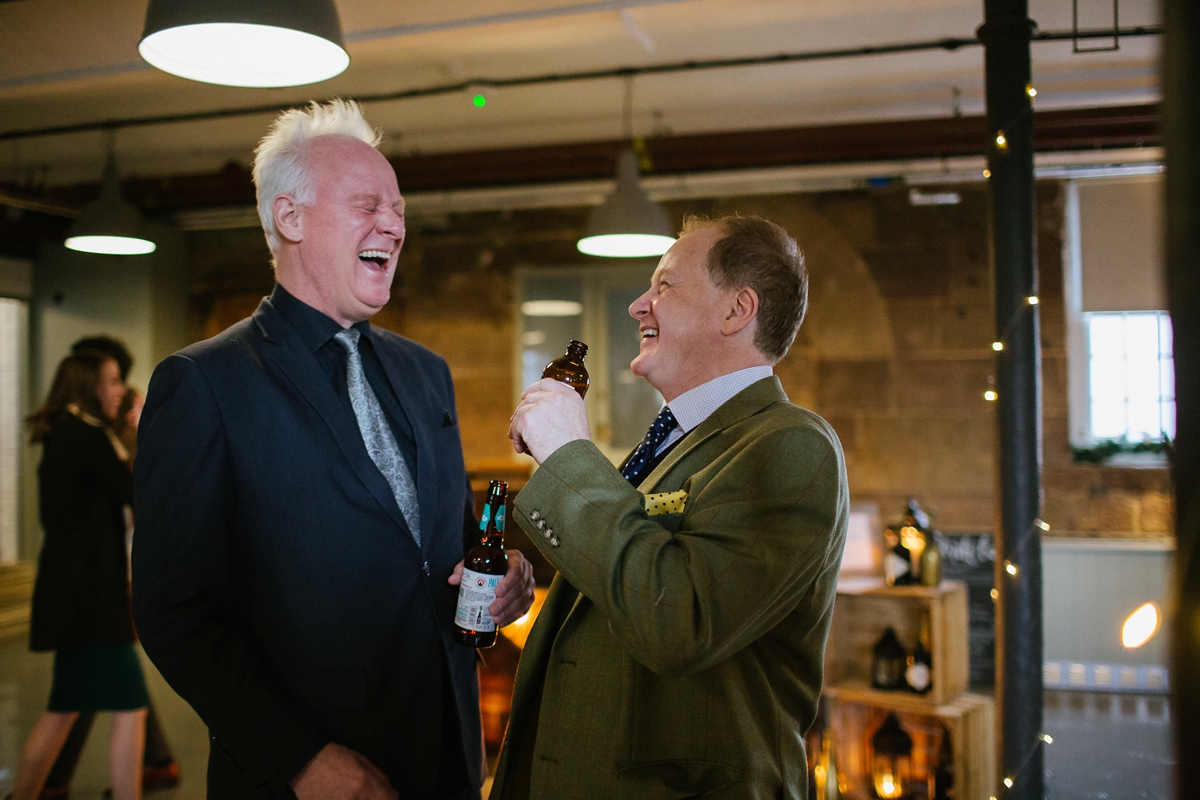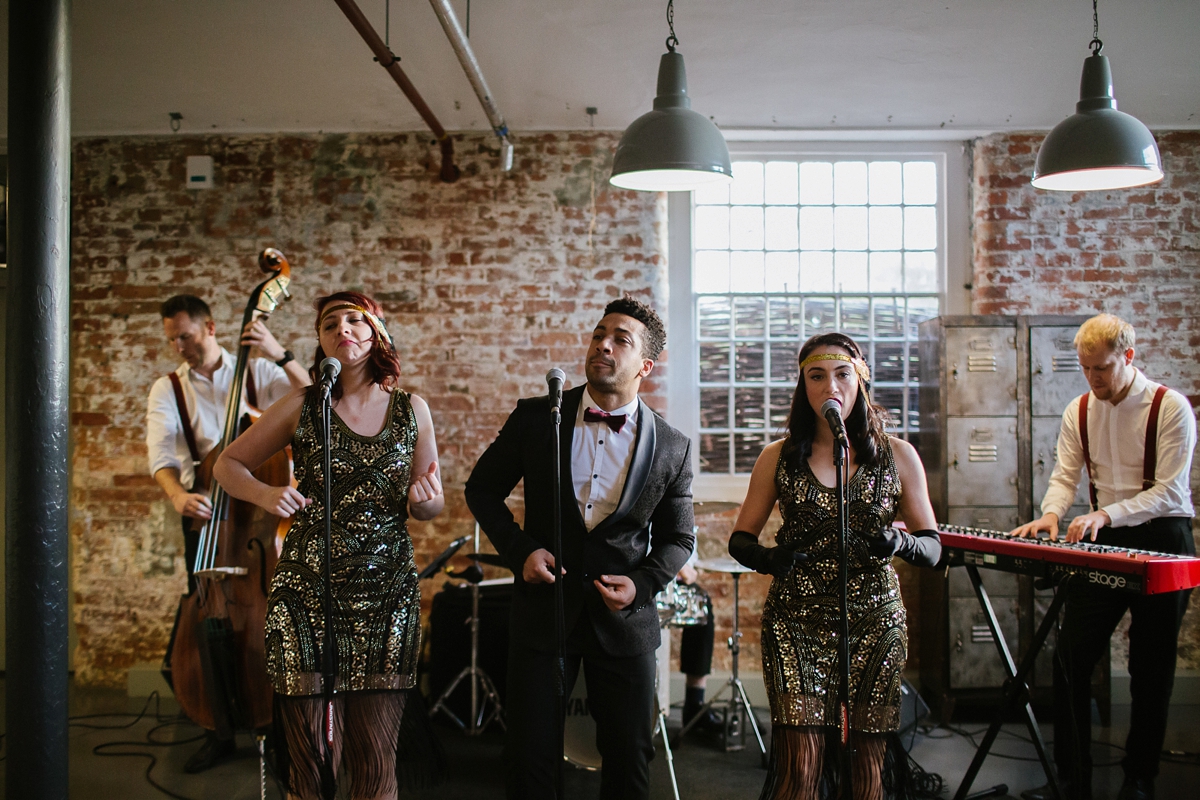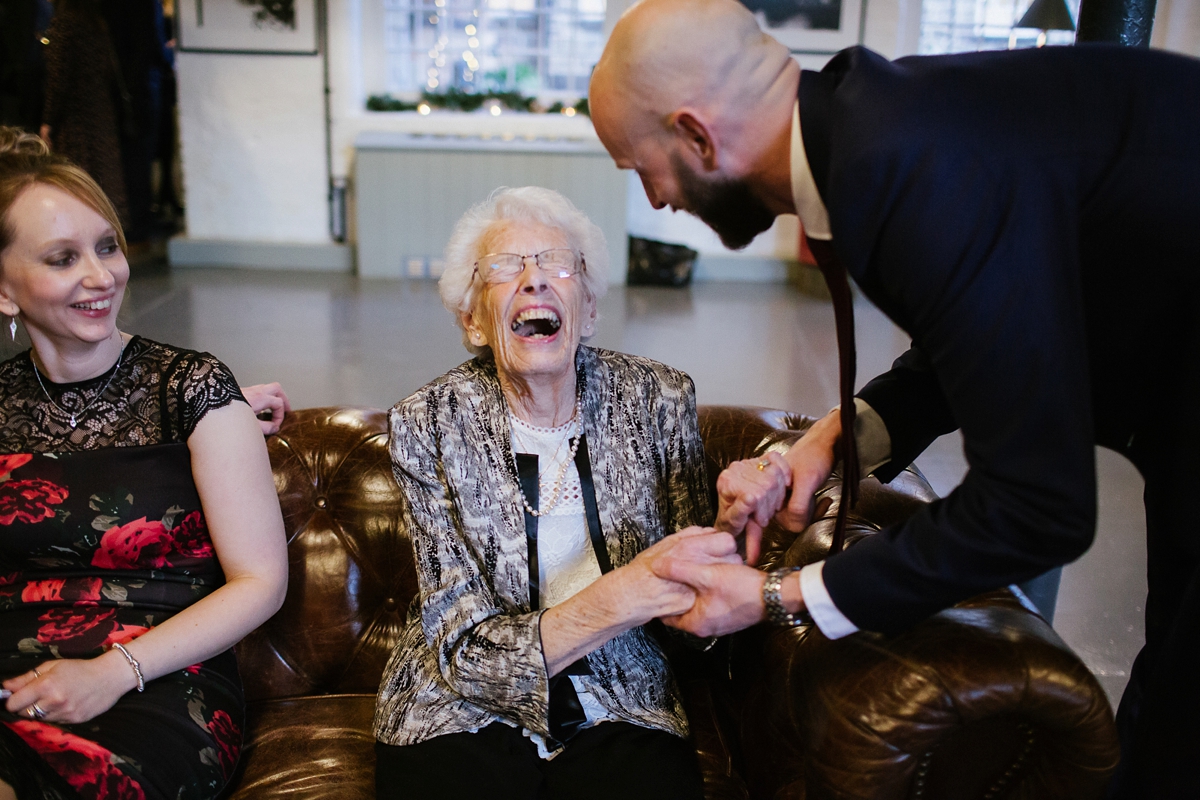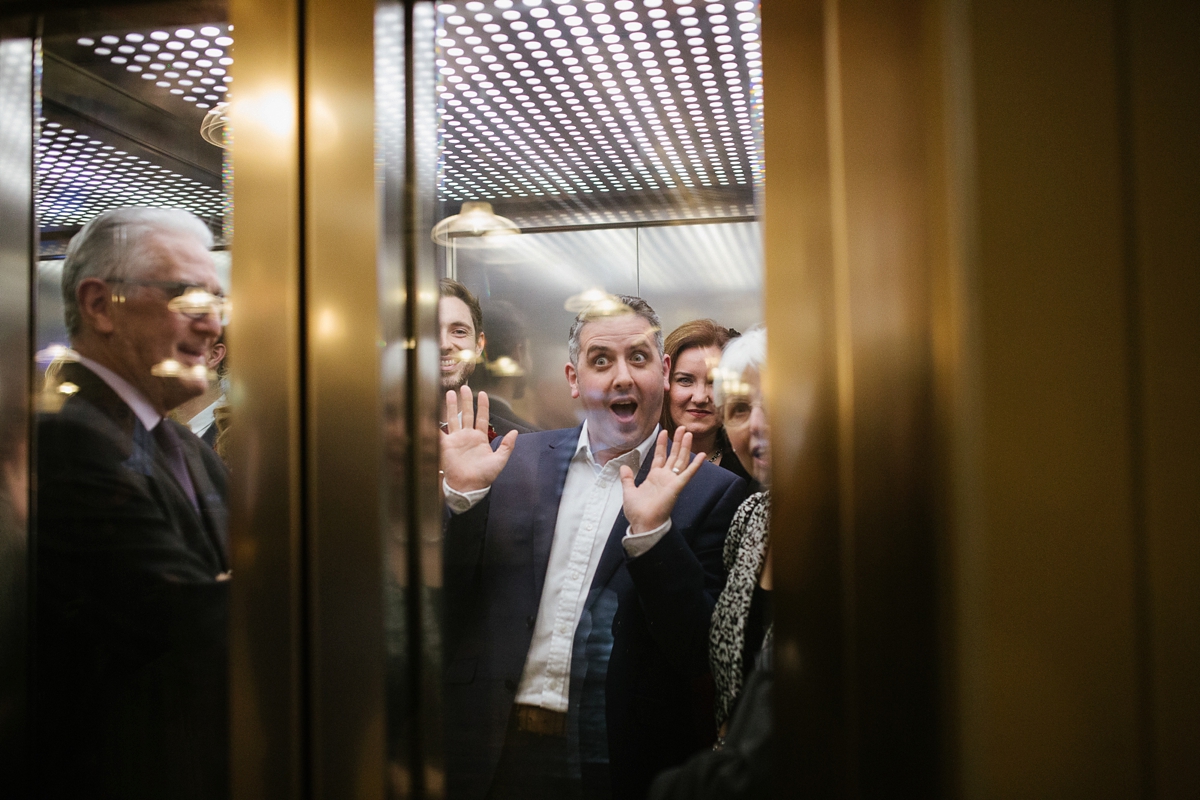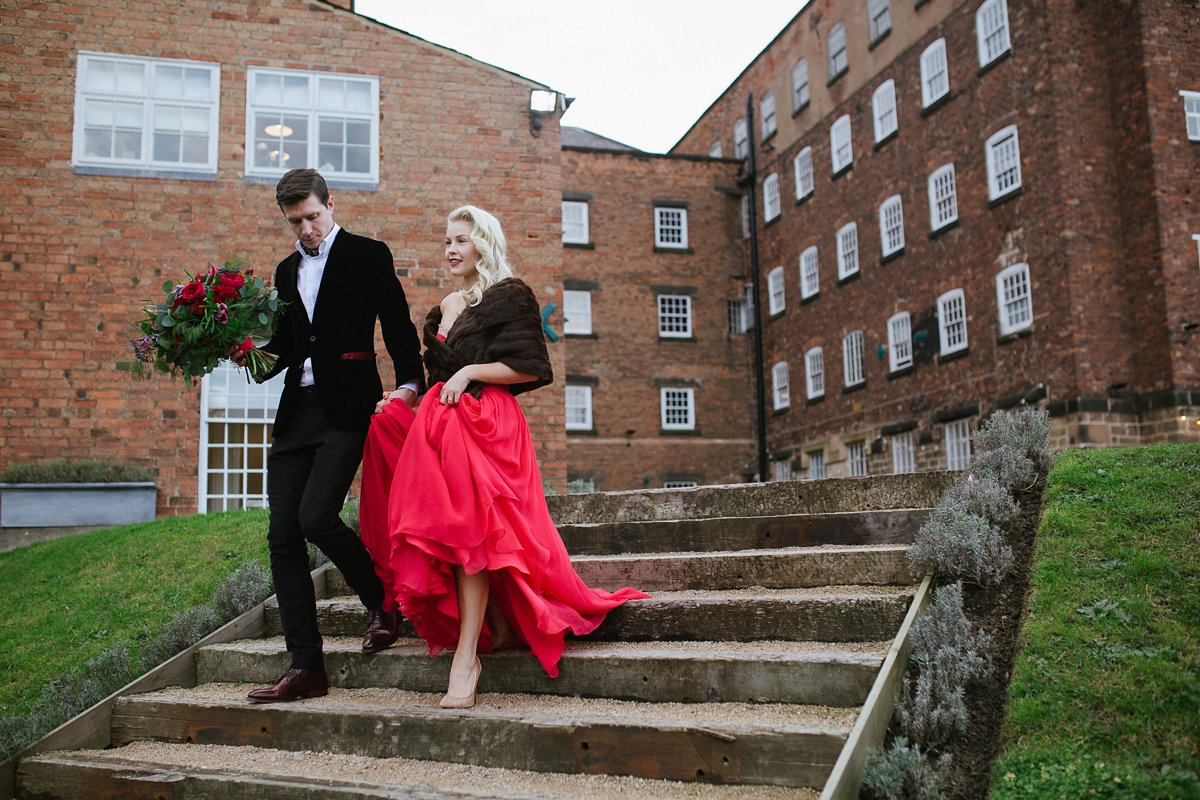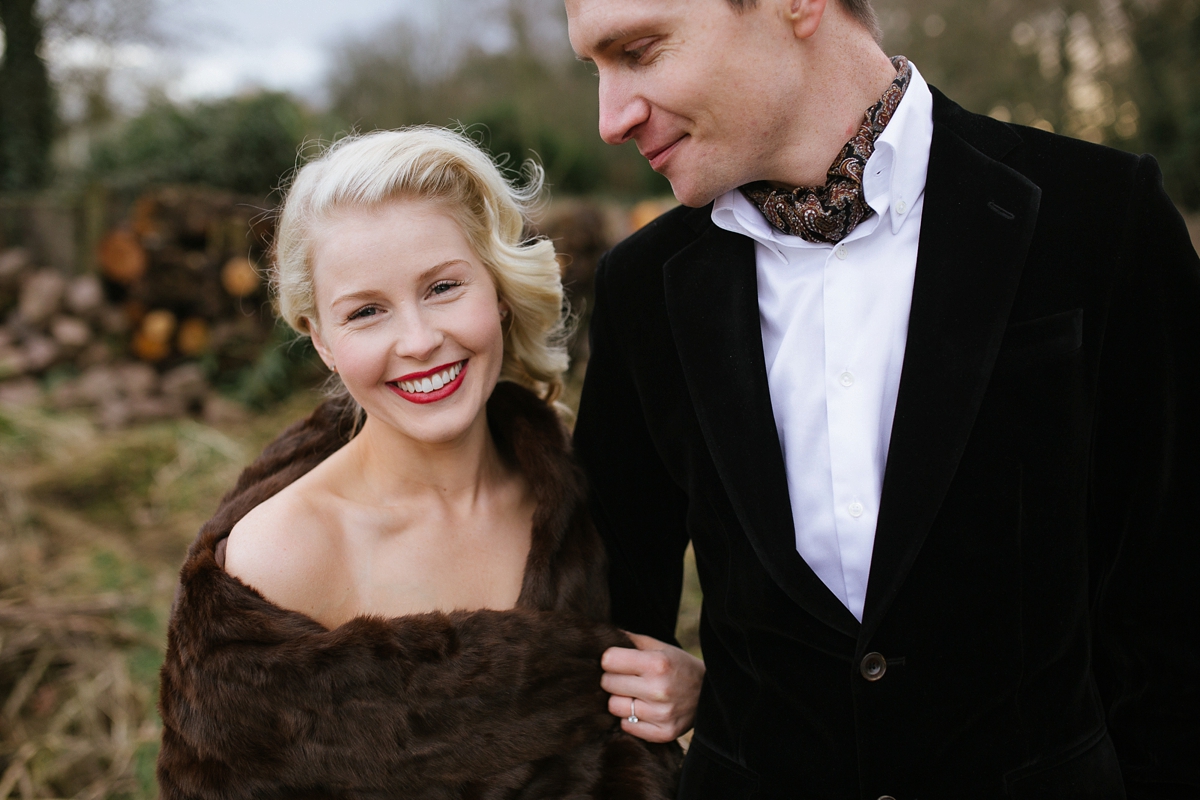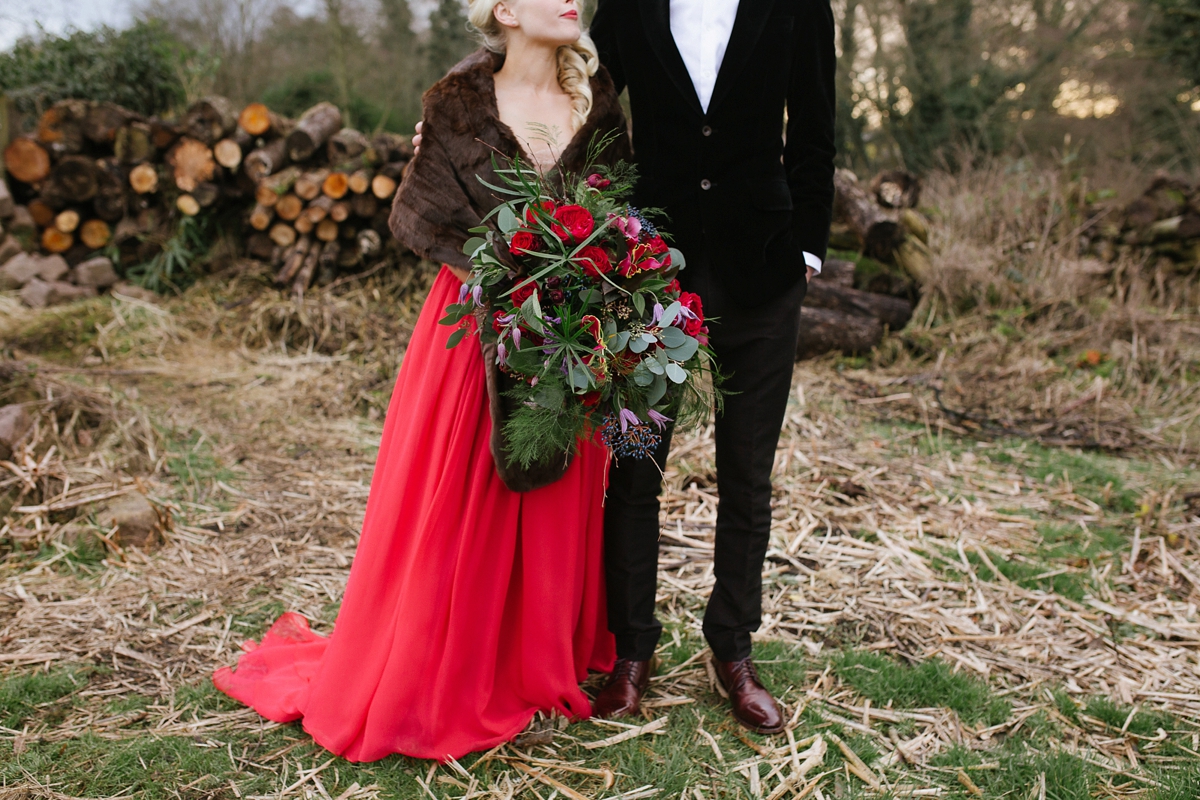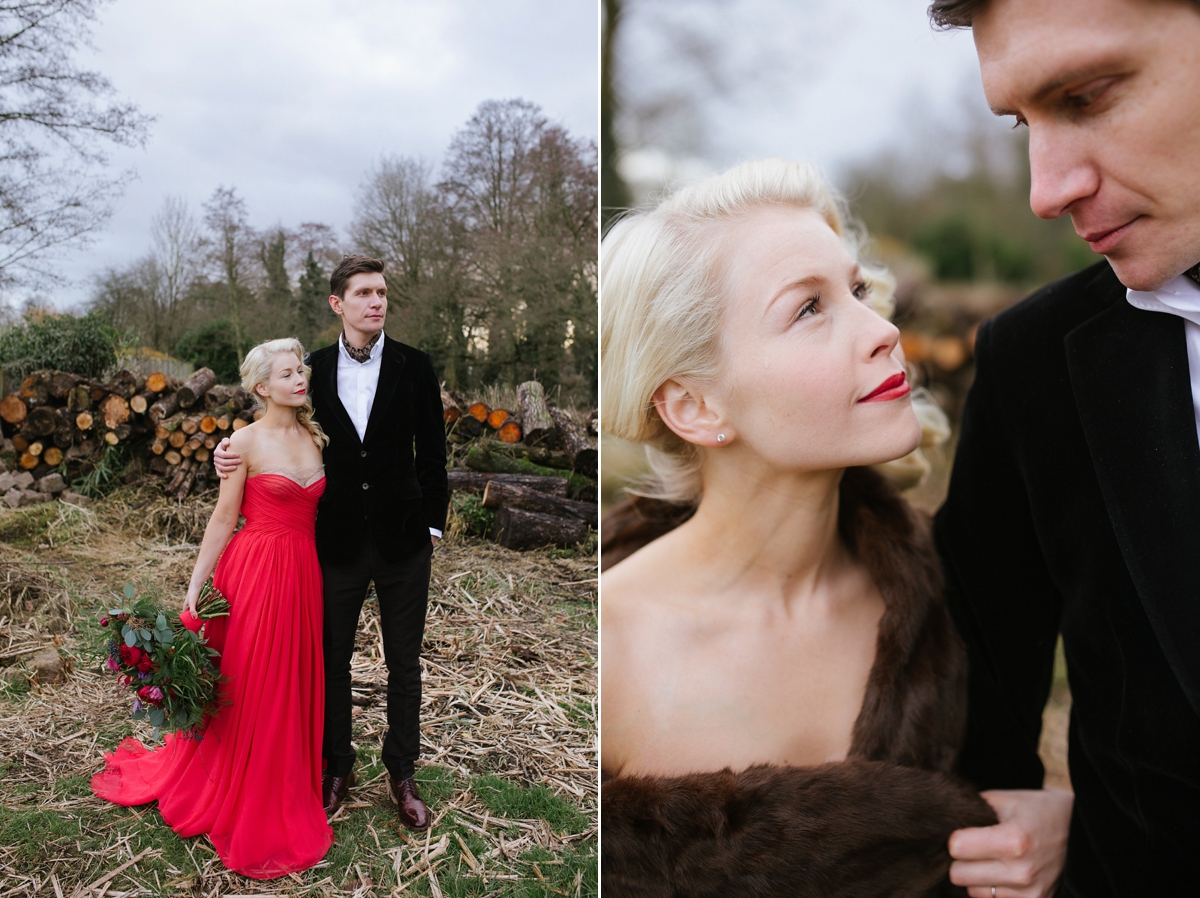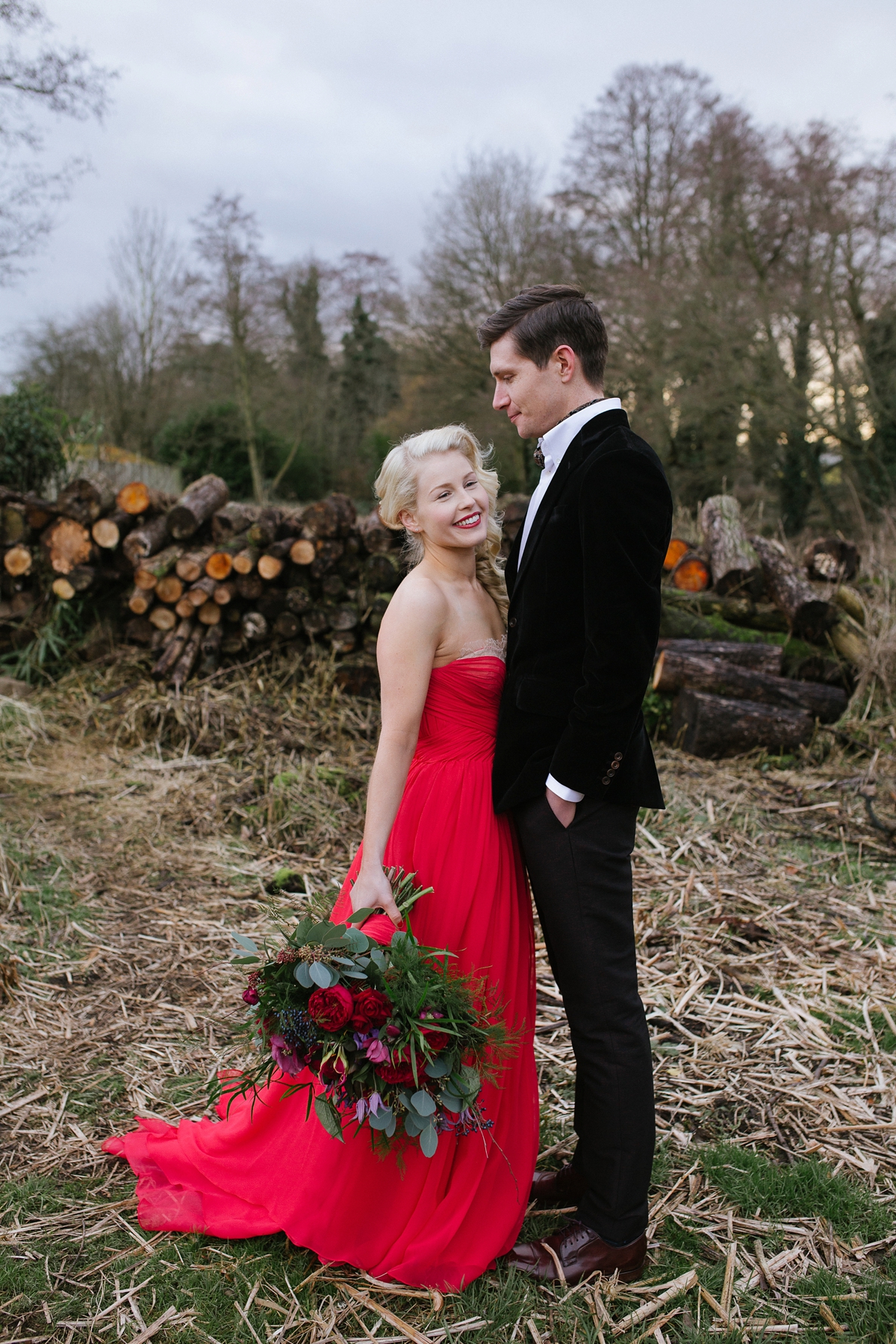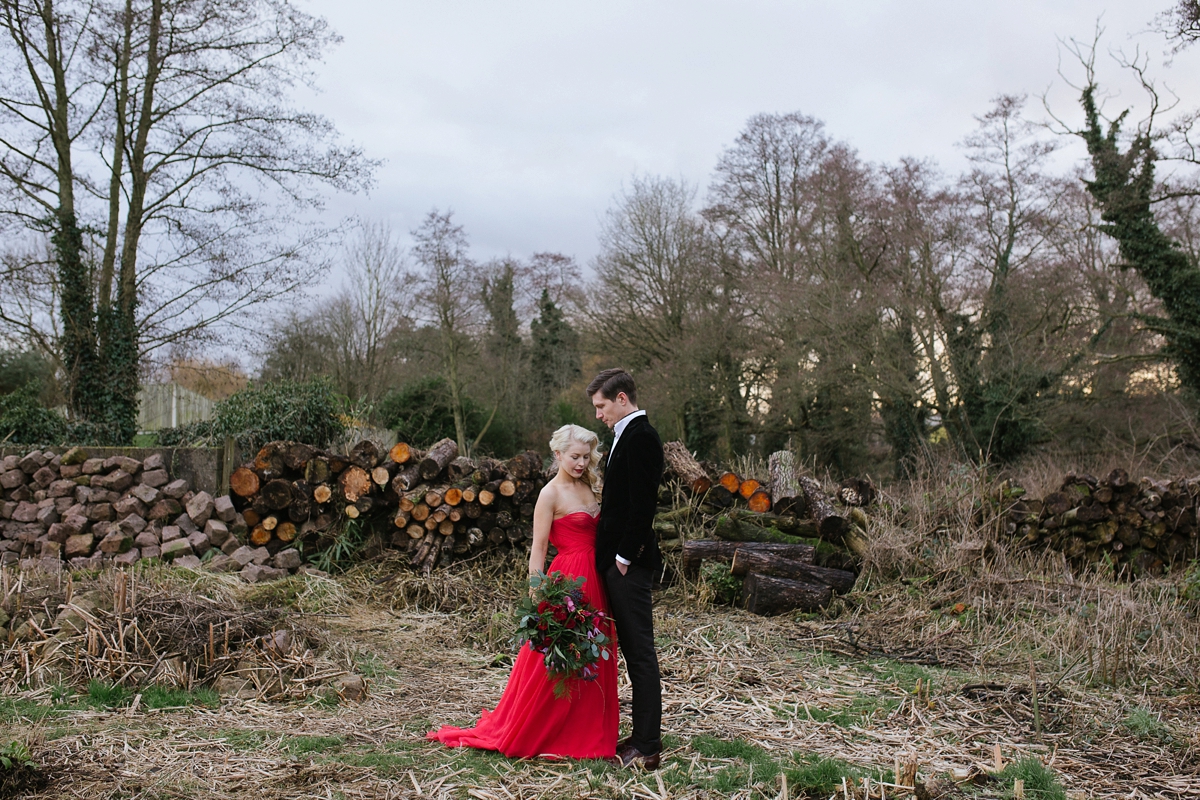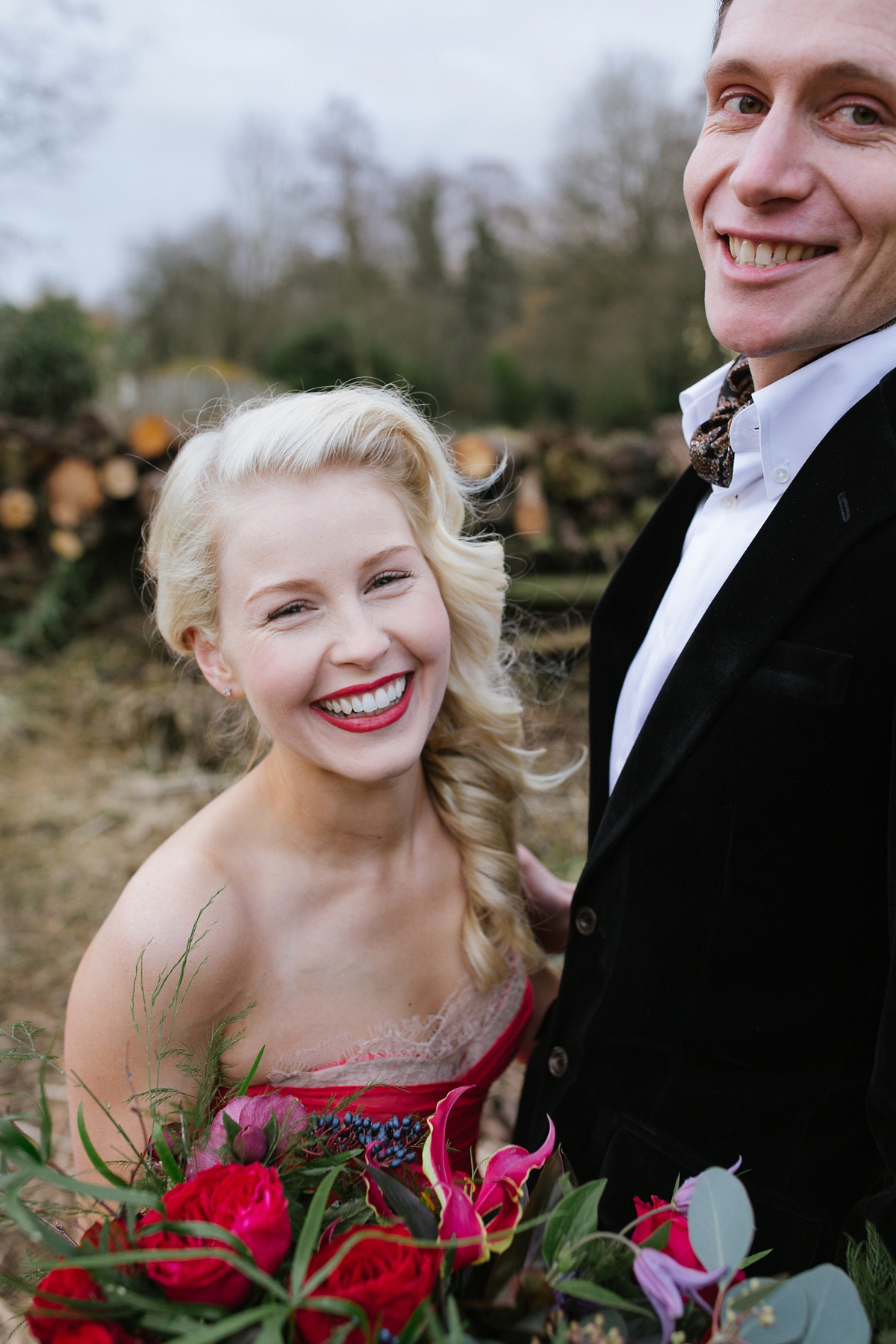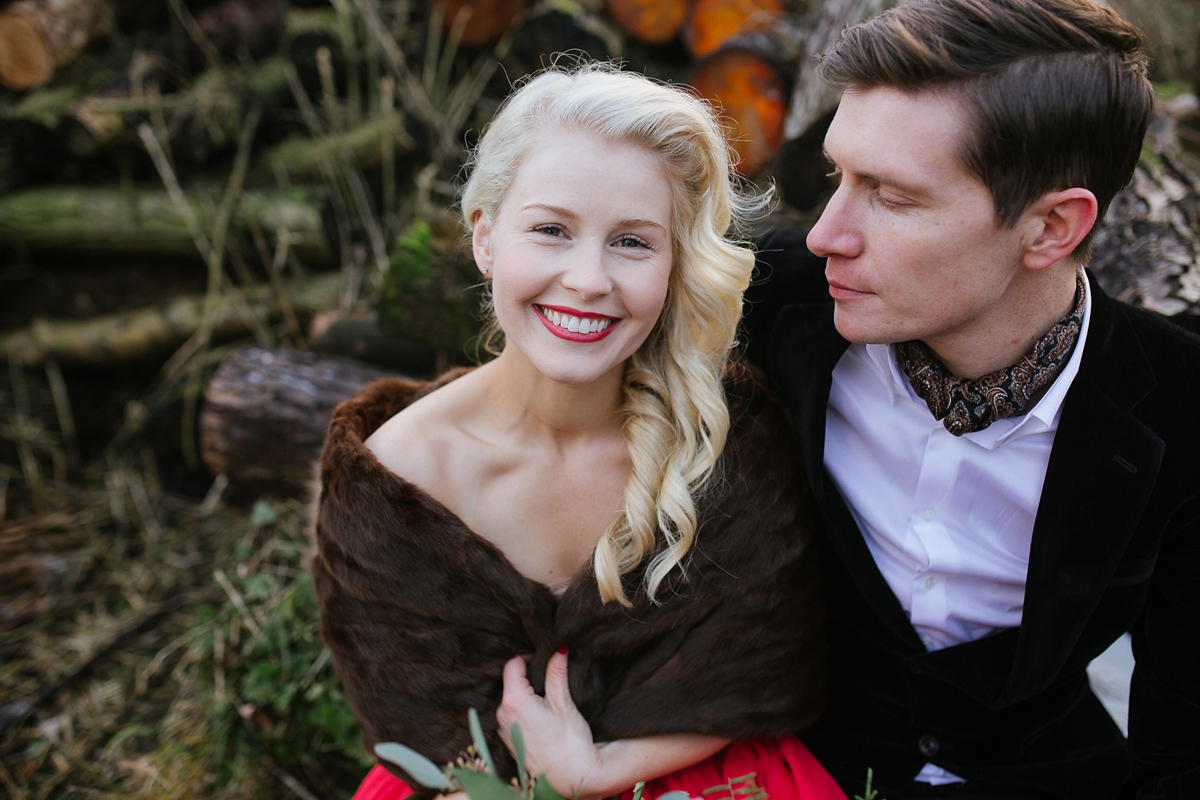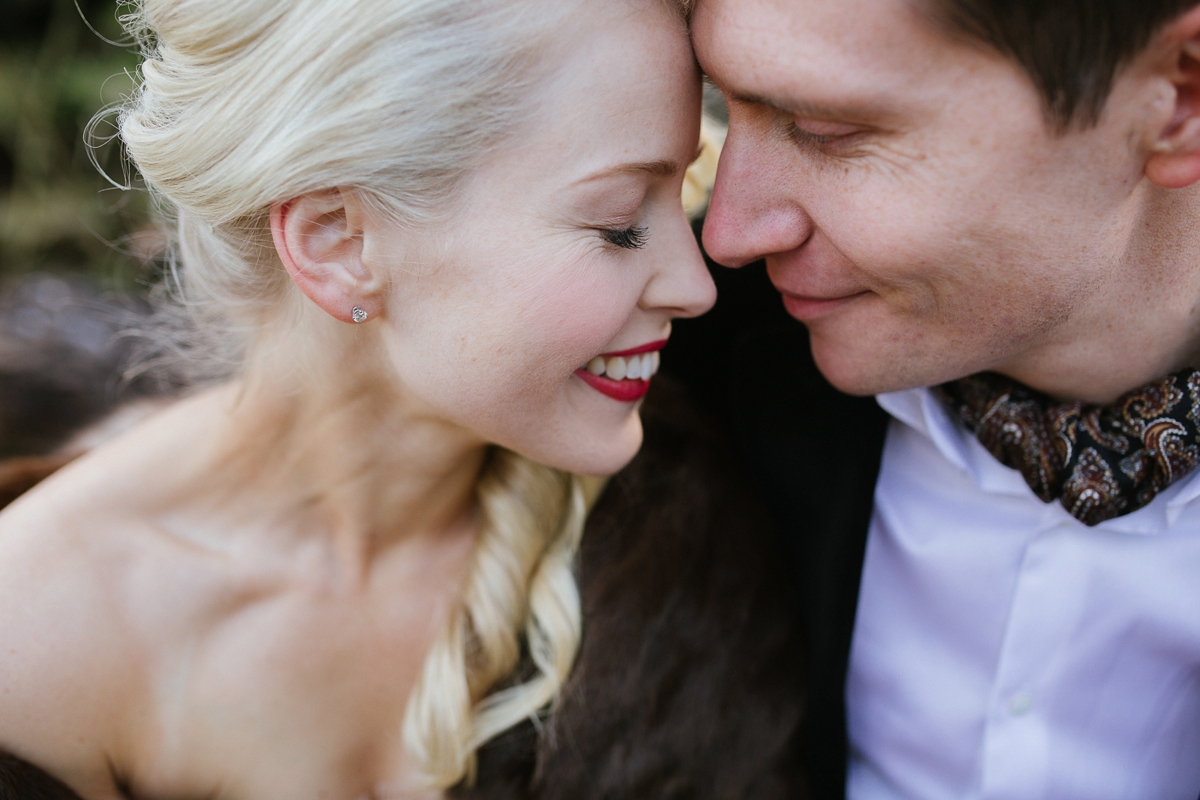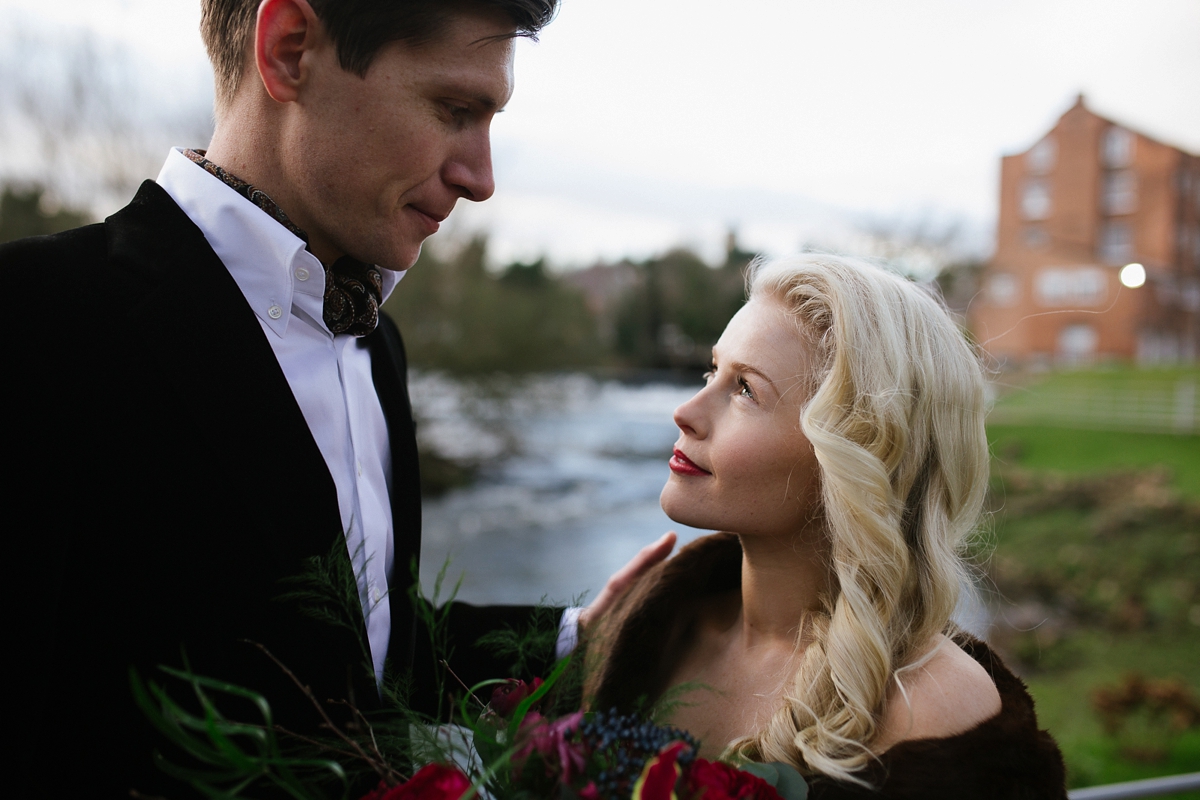 The West Mill is such a beautiful venue that the couple felt there was very little for them to add in terms of decoration, opting instead to fill their ceremony space with an abundance of atmospheric, flickering candles. At 4pm, when the couple exchanged their vows, this warm, golden light is stunningly impactful.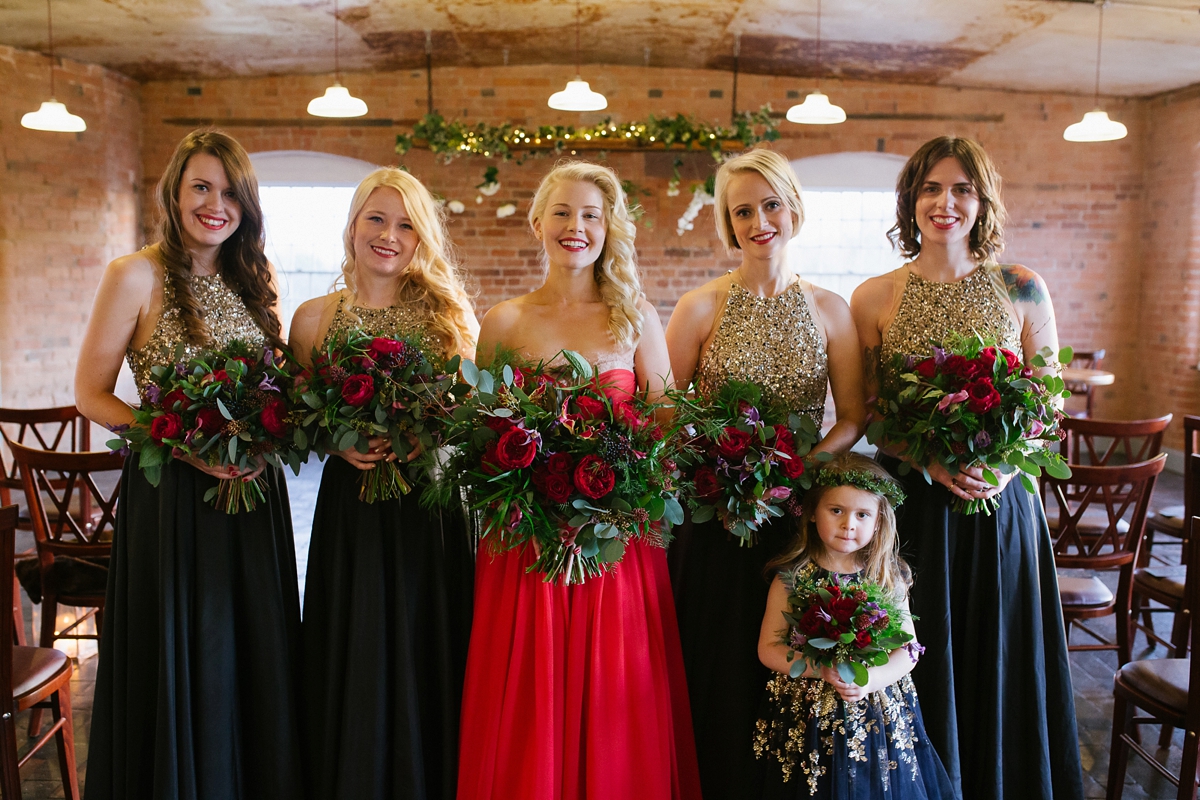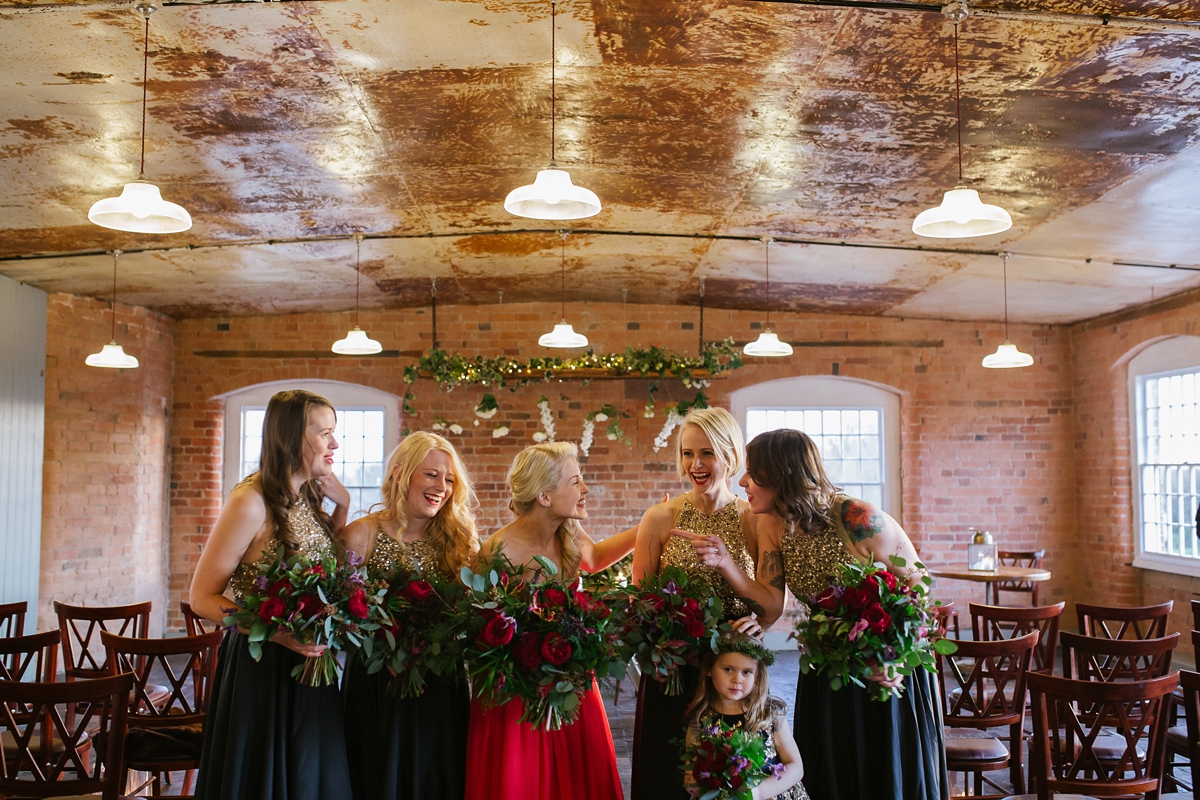 "The bridesmaids dresses were another bargain in the John Lewis sale. I love how they sparkled in the candlelight and the drama of how the long black skirt fell. They all looked, and I hope felt, beautiful on the day."
"They picked their own shoes but I did suggest gold (and I bought them engraved gold pineapple necklaces to wear) and the ones they chose were from ASOS, New Look, River Island and Hattie wore her favourite pair of sparkly gold Converse."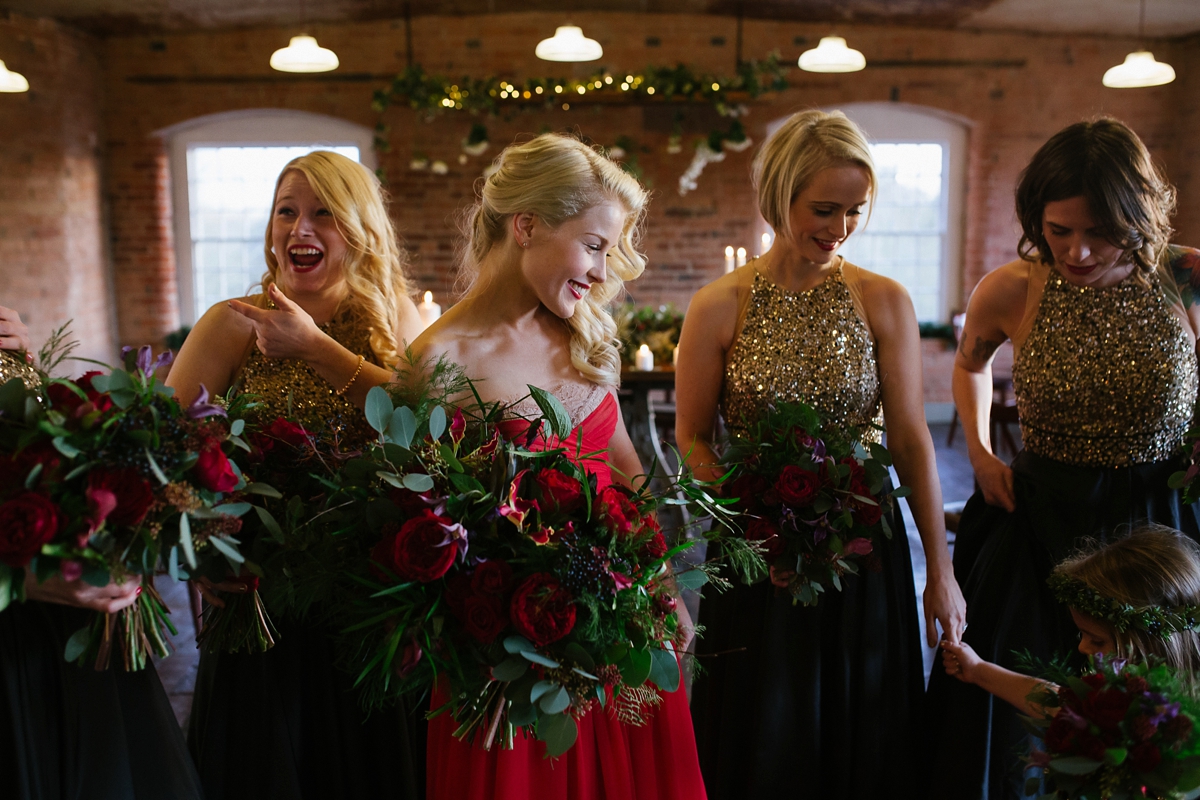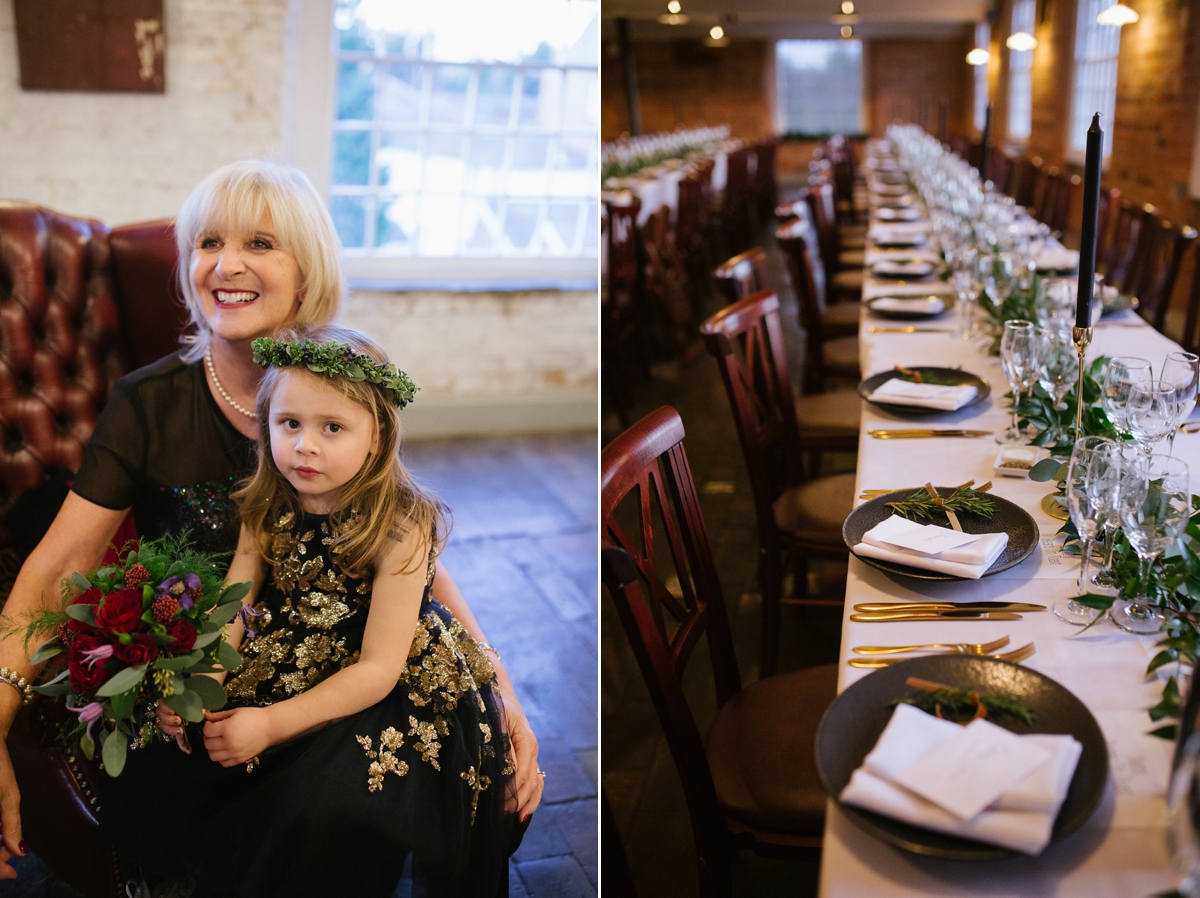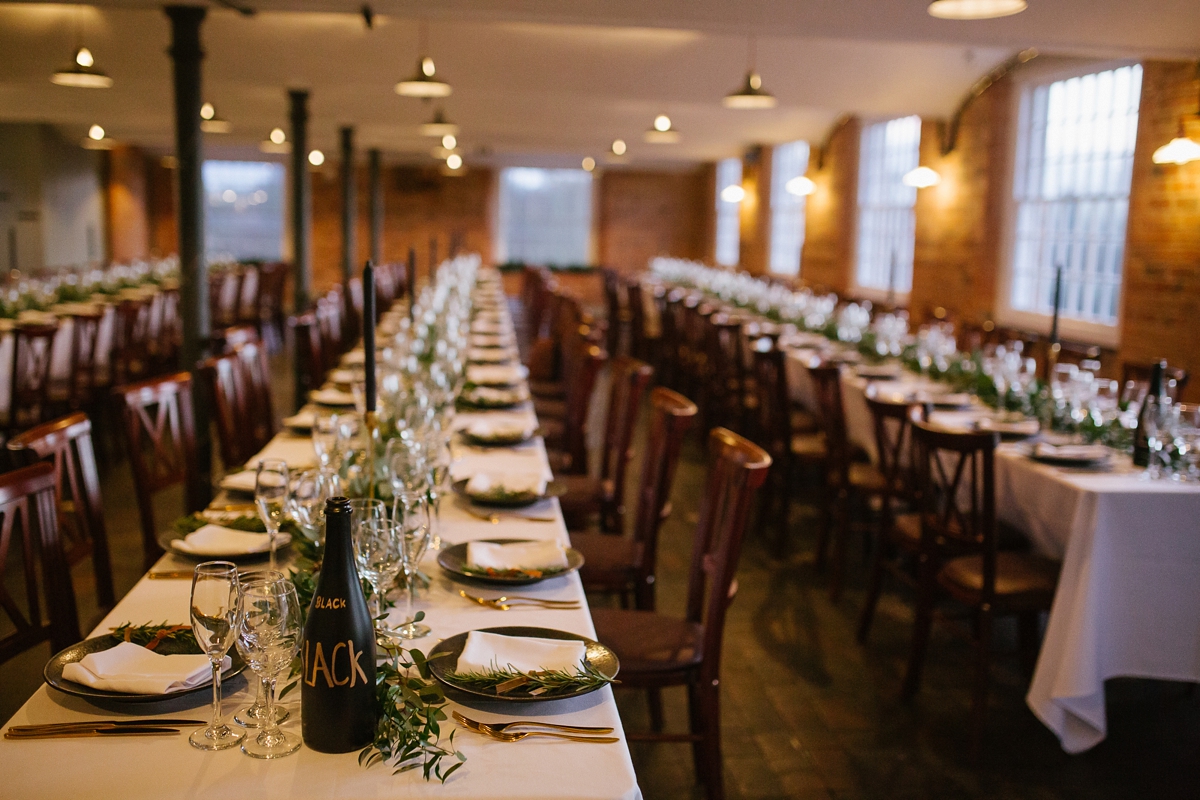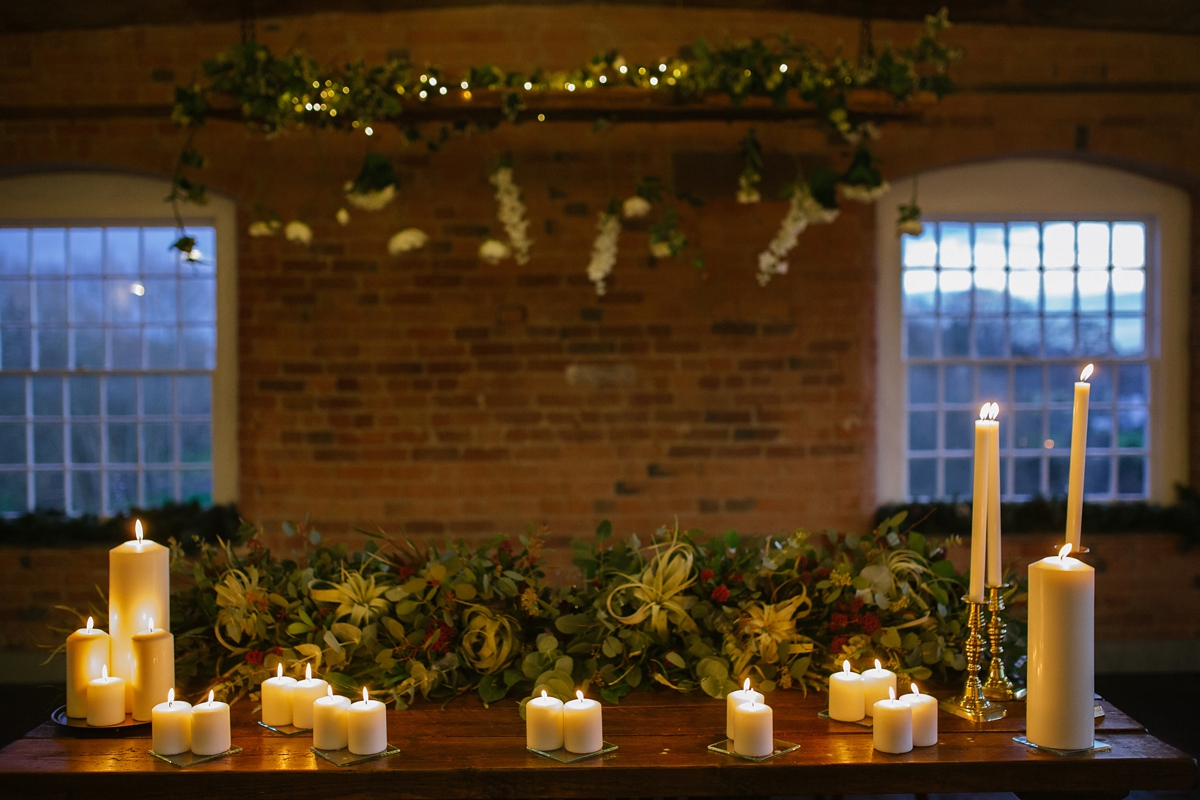 Charly walked down the aisle with her dad, clinging tightly to his arm and revelling in the special joy of the moment. Our beautiful girl doesn't remember what her dad said to make her laugh as they took that walk together, but it's certainly made for a sensationally evocative photograph.
Charly and Bobby wanted their ceremony to be fun and informal and asked the bride's family friend, Timmy, to lead proceedings, who was brilliant at keeping everyone relaxed and smiley.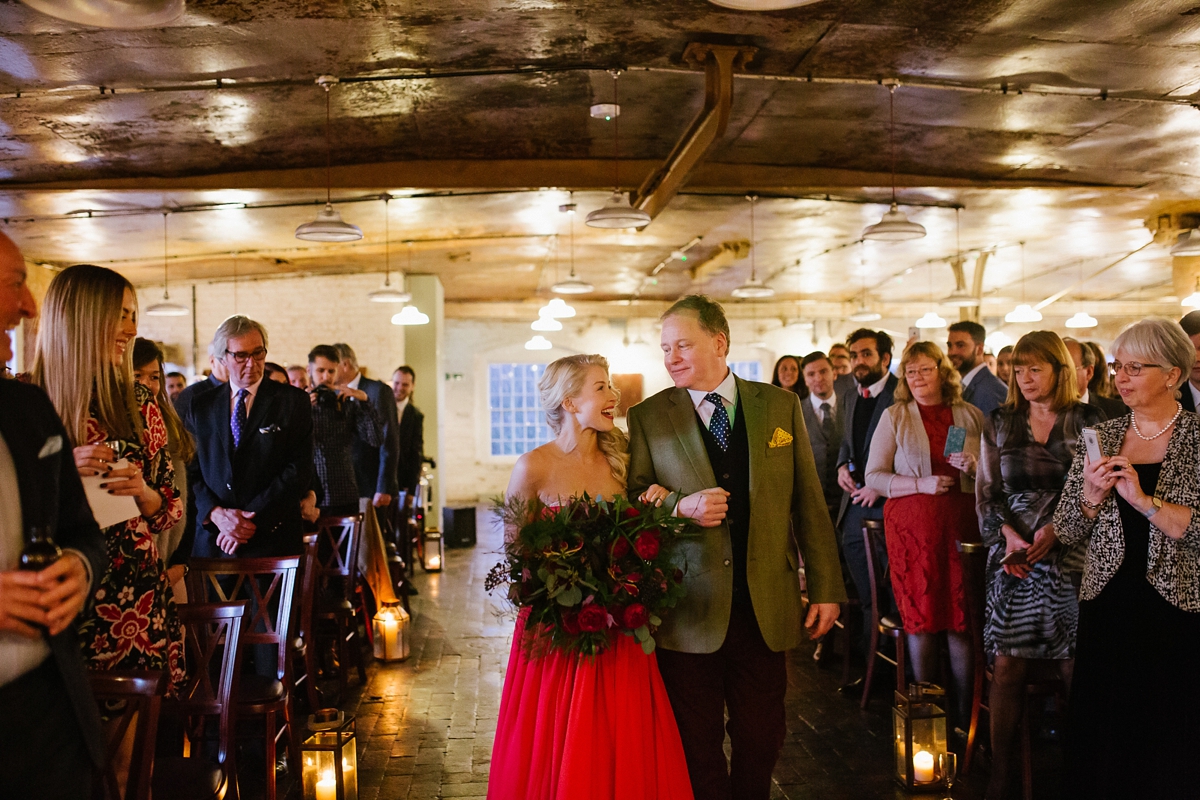 "We all (Bobby and his mum included) walked down the aisle to a beautiful cover of The Beatles' 'All My Loving' sung and played on the guitar by one of mine and Bobby's dearest friends, Chris Parton. Chris lived with me and Bobby for a number of years and was one of Bobby's ushers. There were lots of tears from guests because Chris performed it so well, and it was extra special because it was his first time ever singing in public. Chris had taken his inspiration from this."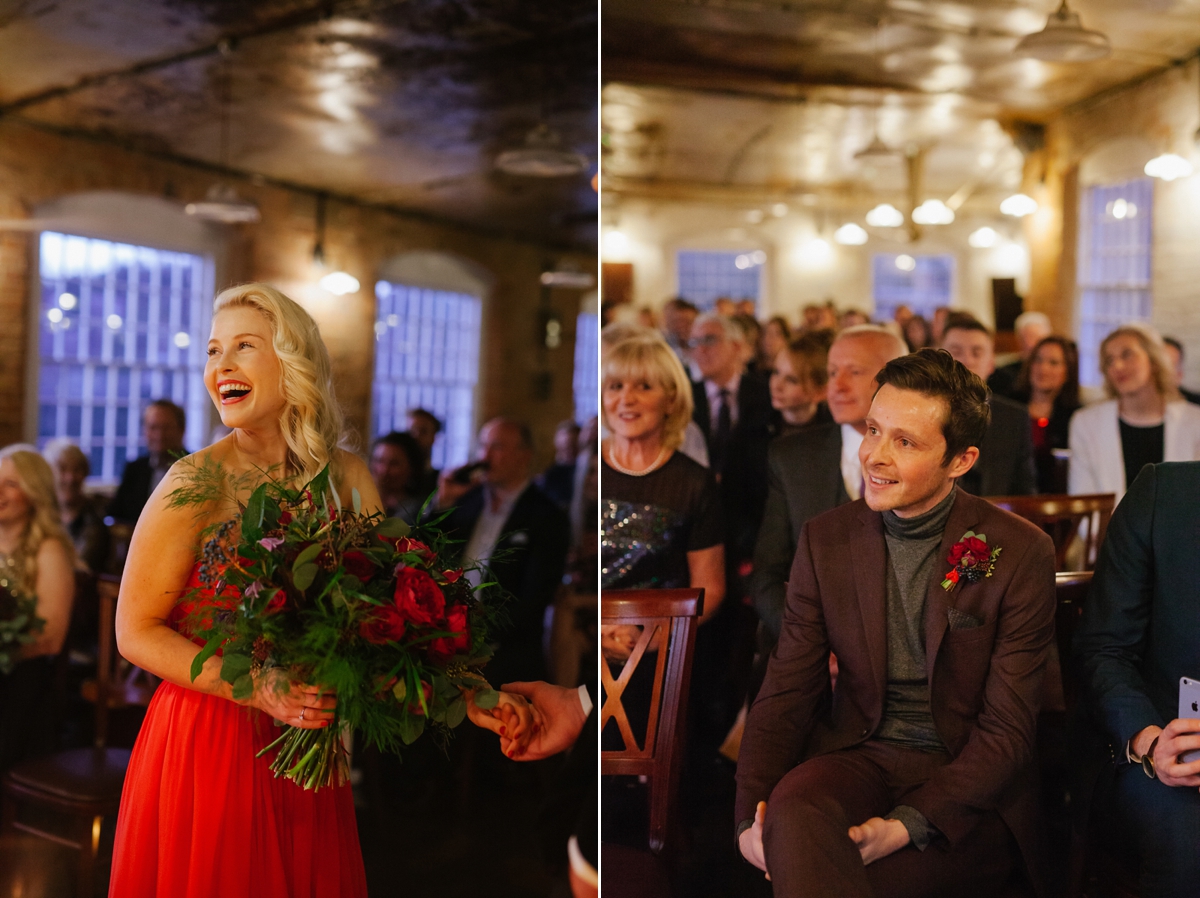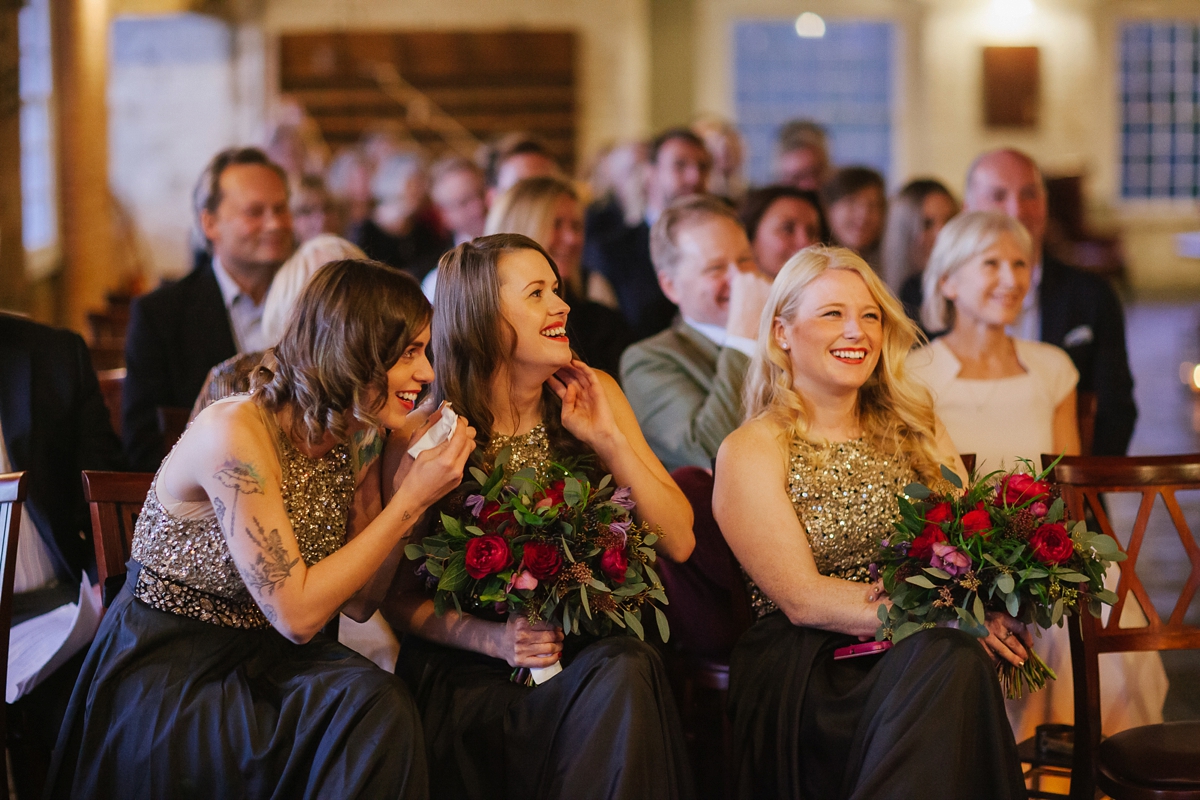 "We had one reading from Bobby's uncle, Gordon, who had come all the way from America with his wife, Sheila, for the wedding. He read Baz Luhrmann's 'Everybody's free to wear sunscreen'. He had the whole room hanging on his every word and nearly every guest came and told me a particular line that had resonated with them. The second reading was a nod to mine and Bobby's obsession with Friends. We had two very brave friends, Bex and Emma, read Joey's first version of the wedding ceremony he has written for Chandler and Monica and it was brilliant."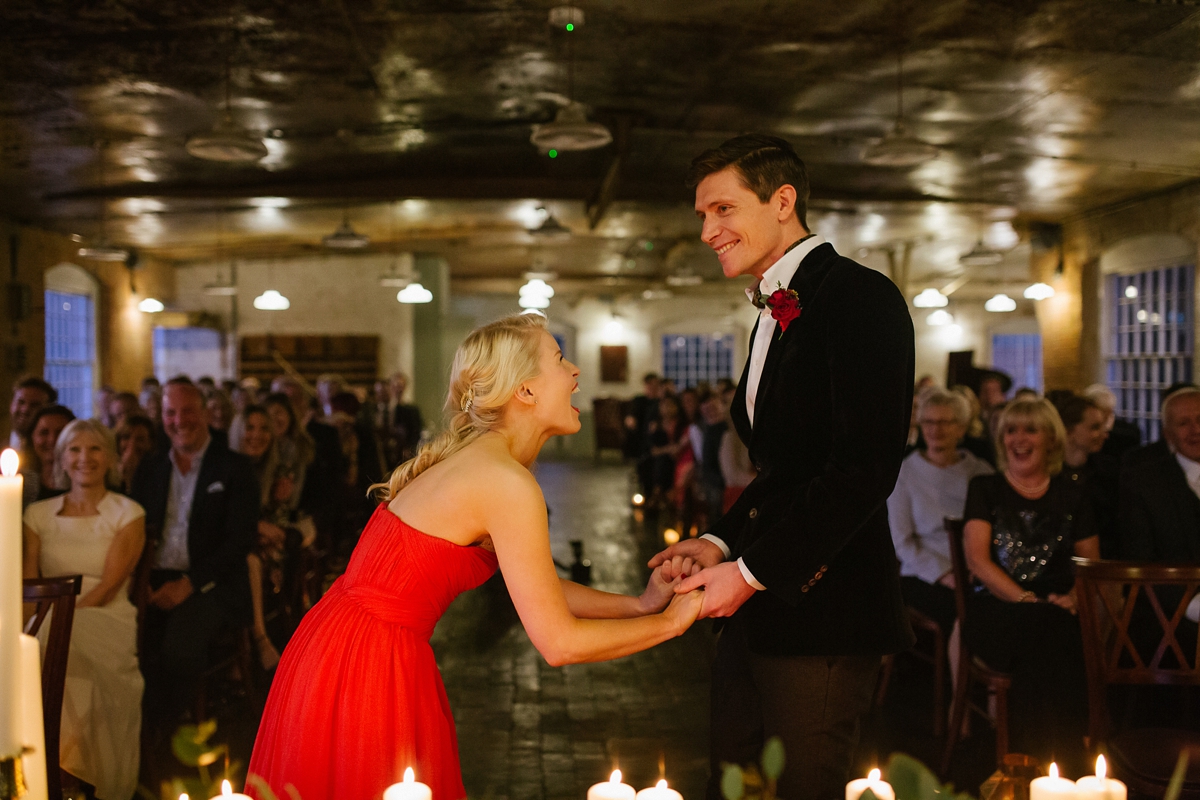 The backdrop to their union was lovingly crafted by florist Nadia Di Tullio, who used fresh foliage to create a fresh, organic masterpiece.
"We got so lucky with our suppliers, Nadia Di Tullio was another dream to work with. Even though we only communicated over email, I knew from the moment we made contact that she was the perfect person for our wedding. I knew I wanted a green and red bouquet and for it not feel too stiff or structured because my mum's mum had had a beautiful cascading bouquet and I had wanted to emulate that."
"Nadia had so many wonderful ideas – even now when I look at photos of my bouquet or the bridesmaid's, I see something new that I love. Nadia also created beautiful buttonholes for the boys, which had elements of my bouquet in each."
"My sister in law had an amazing idea too, which Nadia helped us with. As I am so tiny, I had A LOT off the bottom of my red dress so Nadia wrapped the leftover material around each bouquet and buttonhole for the boys, so everyone had a flash of my red dress with their flowers. Nadia also did the foliage for the ceremony room, an incredible wild table runner to be the central focus of the ceremony, and she also created the green foliage which ran down the middle of each dining table. She totally got that we needed to keep costs down too and helped me find the most beautiful flowers without breaking the bank."
The newlyweds exchanged rings passed down through Charly's family, weddings bands that had belonged to her great grandmother and great grandfather. No amount of money could have matched the unique and meaningful nature of those rings for our couple, and just like Charly, I still get a tingle of excitement every time I catch a glimpse of my husband's ring on his finger.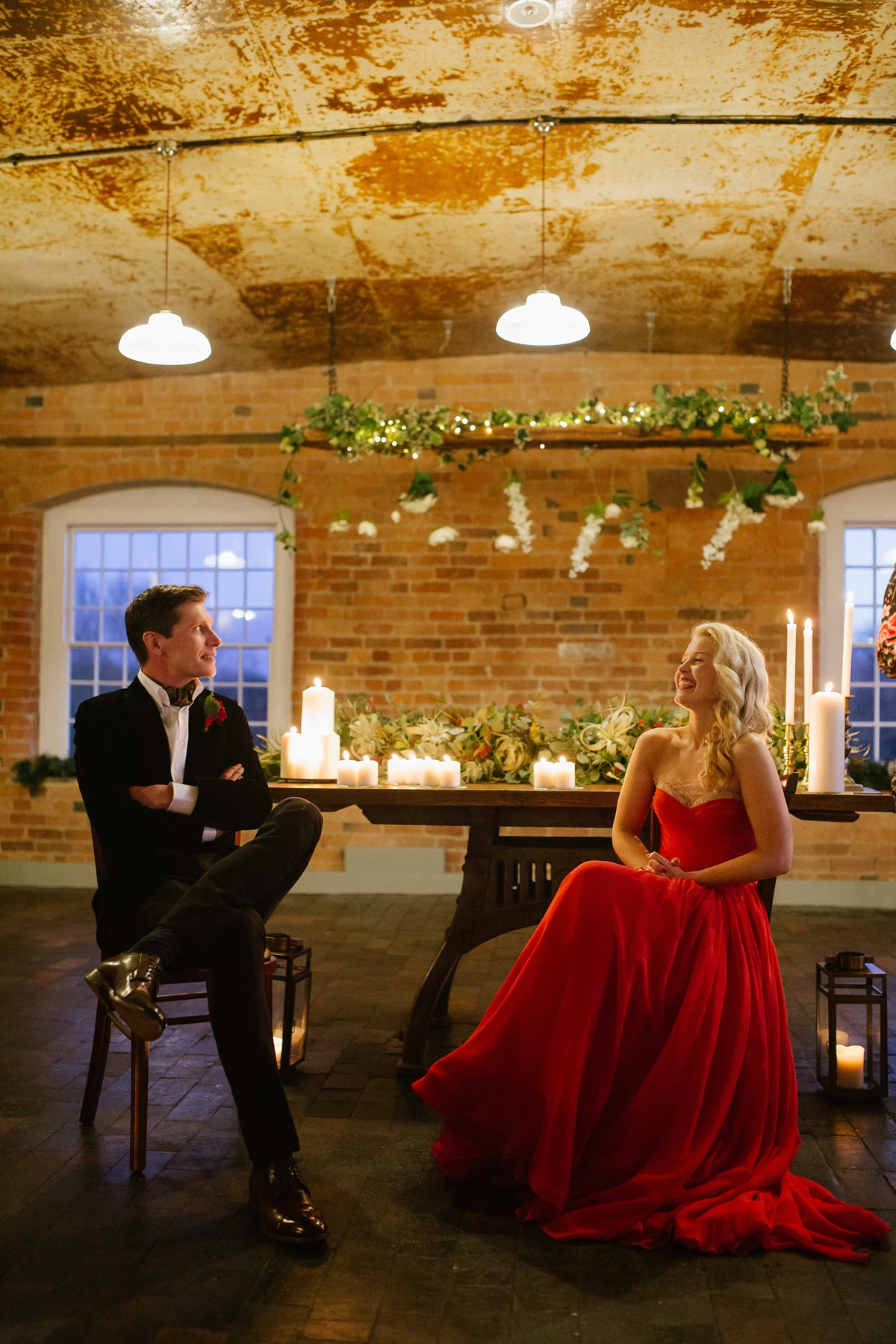 Speaking of wonderful suppliers, Charly and Bobby couldn't not have been happier with their chosen photographer, Emma Case. I'll make no secret of the fact that I adore Emma and partner Pete's work, it's so full of light and emotion, and always so wonderfully evocative, the images seem to just come to life on screen.
"Our photographers were one of the best choices we made, we absolutely LOVED Pete and Emma. We met them when they photographed Bobby's brother's wedding (I was his date, but we were still just friends) which had been some six years previous. I was totally blown away by how fun and friendly they are – warmth and kindness just radiates from them. When I then saw how beautiful and totally unique the photos they produced from the wedding were, I knew I wanted to use them myself. On the day, it was like having mates you had known all your life by your side."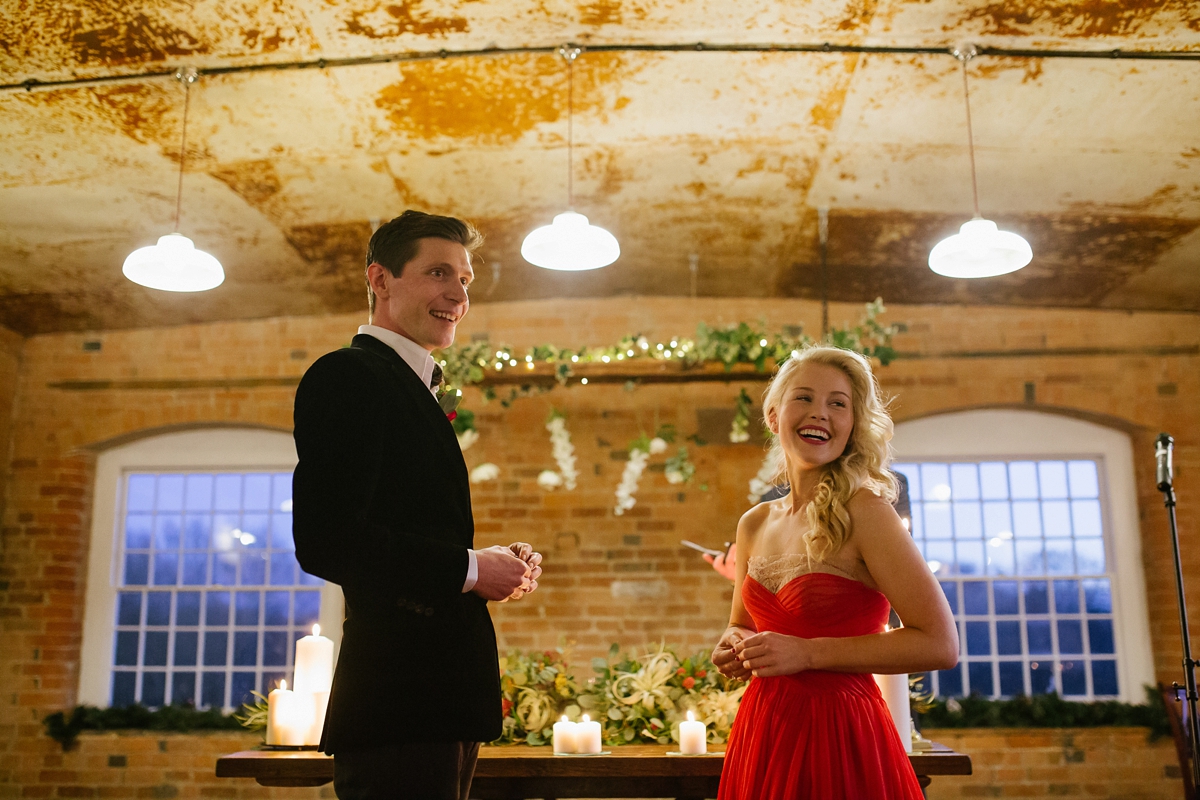 "Emma knows British Sign Language too, and my sister and some of our friends are deaf – they loved being able to sign with her. It also meant they felt completely included and could follow Emma's instructions during group photos – just another thing that makes Emma and Pete so special and so unique."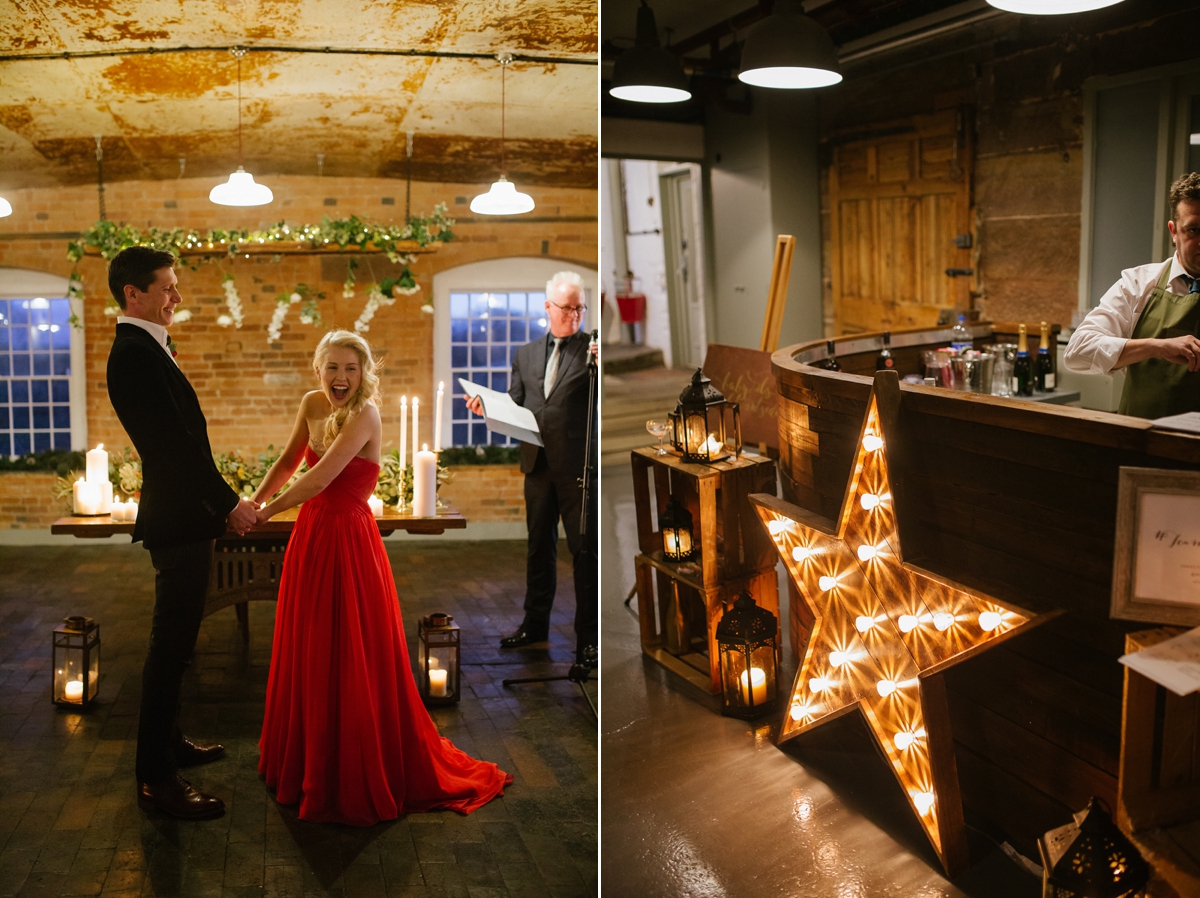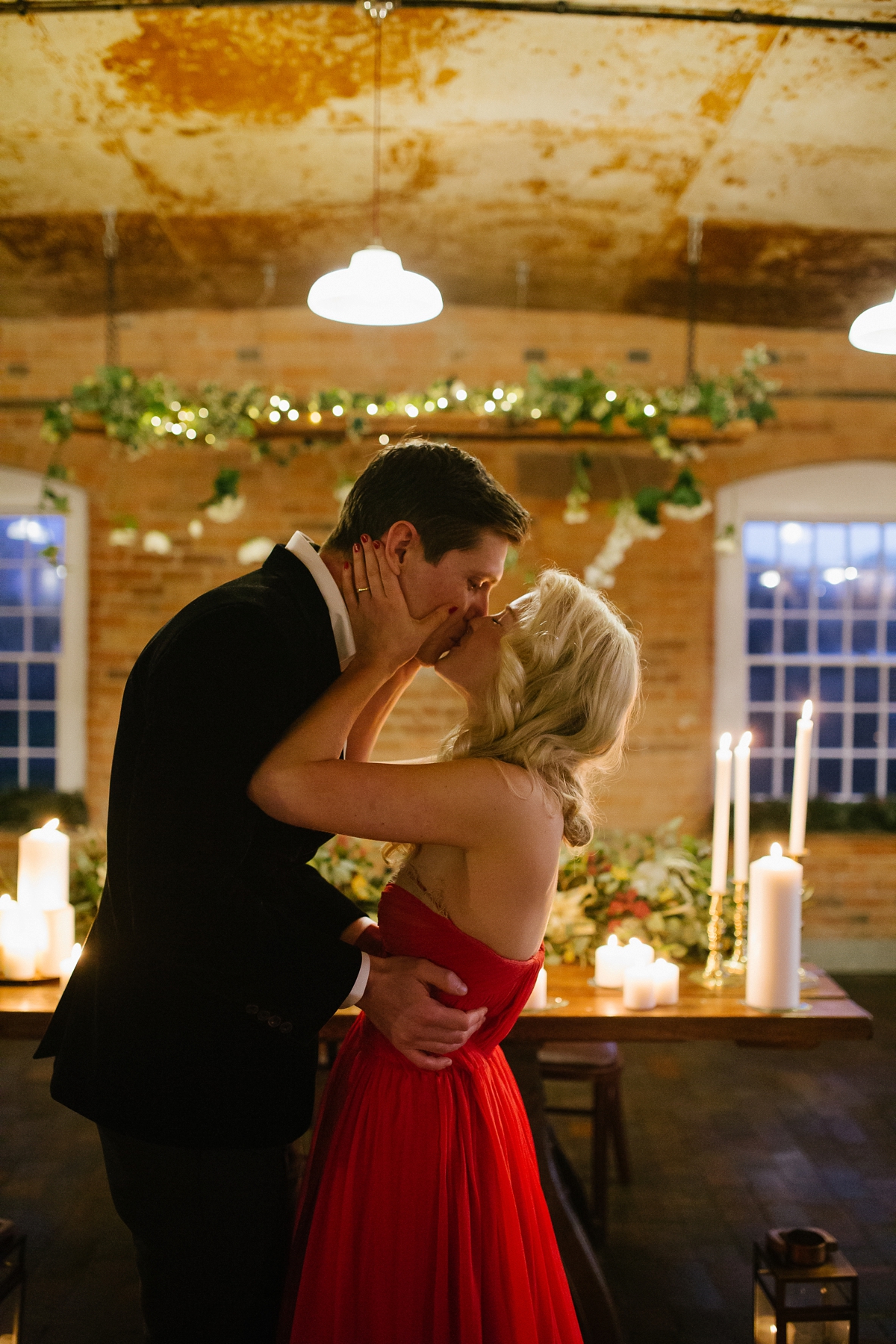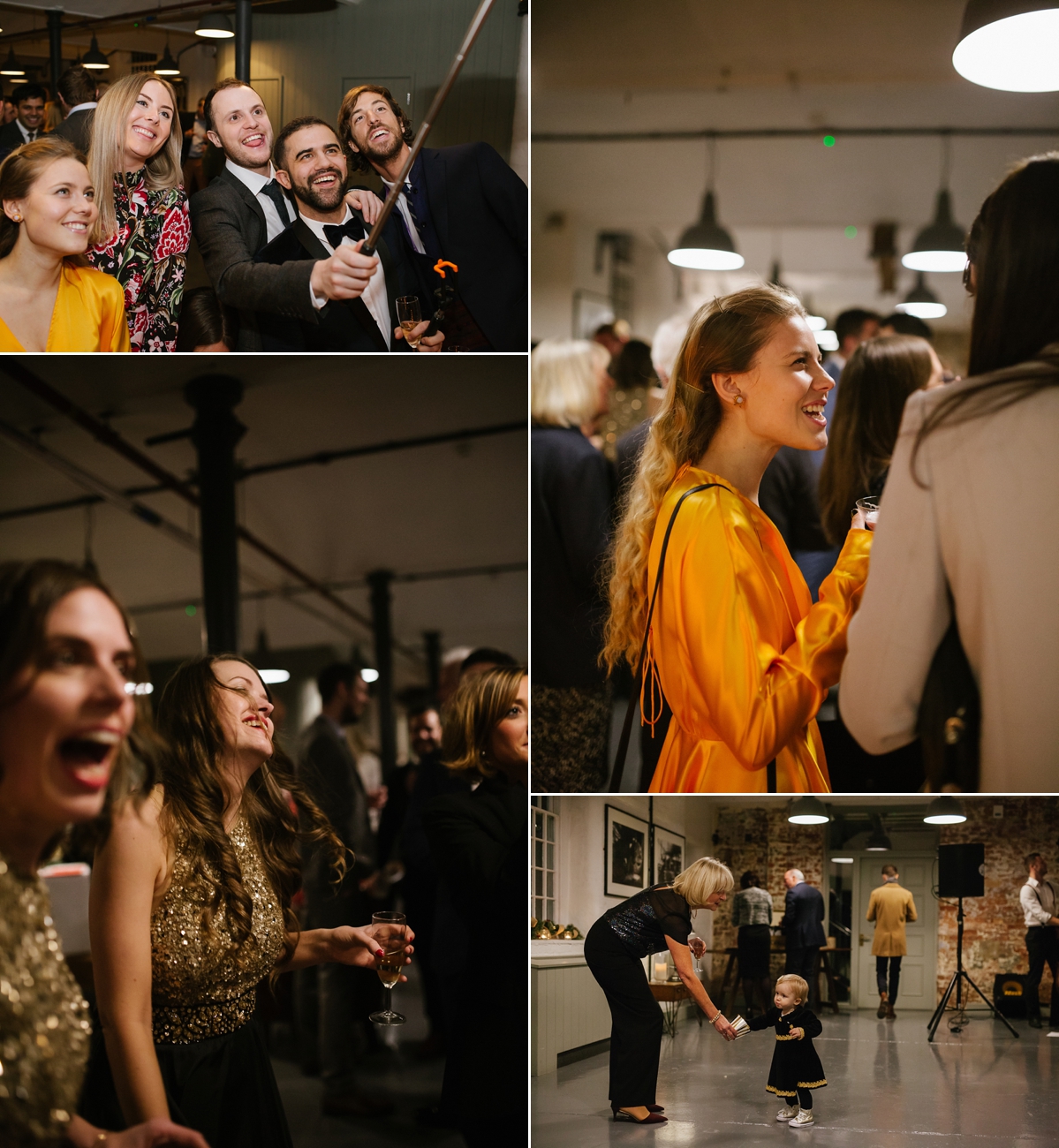 Bobby's brother, who was also best man, is a designer and artist and led the production of stationery for the day, complete with a unique 'wedding logo' made from an illustration he drew of the couple. The colours of black and gold that ran through the newlywed's invitations are echoed in their wedding décor and table scape – black plates hired from Classic Crockery alongside gold cutlery and candle holders, and beautiful antique champagne glasses.
"We had lots of lots of frames dotted around the venue filled with photos of Bobby and myself when we younger, our parents as children, and of our grandparents on their wedding days too. A few weeks before we got married I came across some old wedding certificates at my grandad's house from my family – all in pristine condition – going back as far as the 1800's. I put these on display too – what an incredible piece of my history to still have around and I will treasure them forever."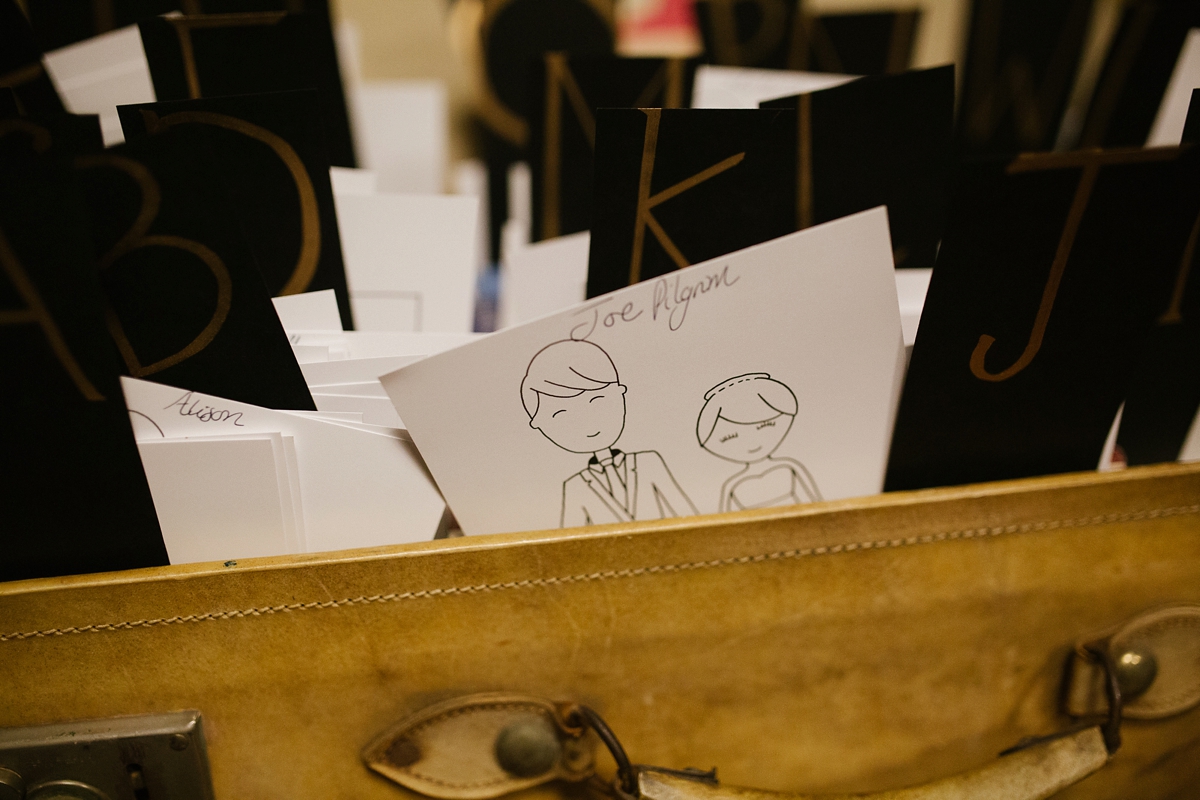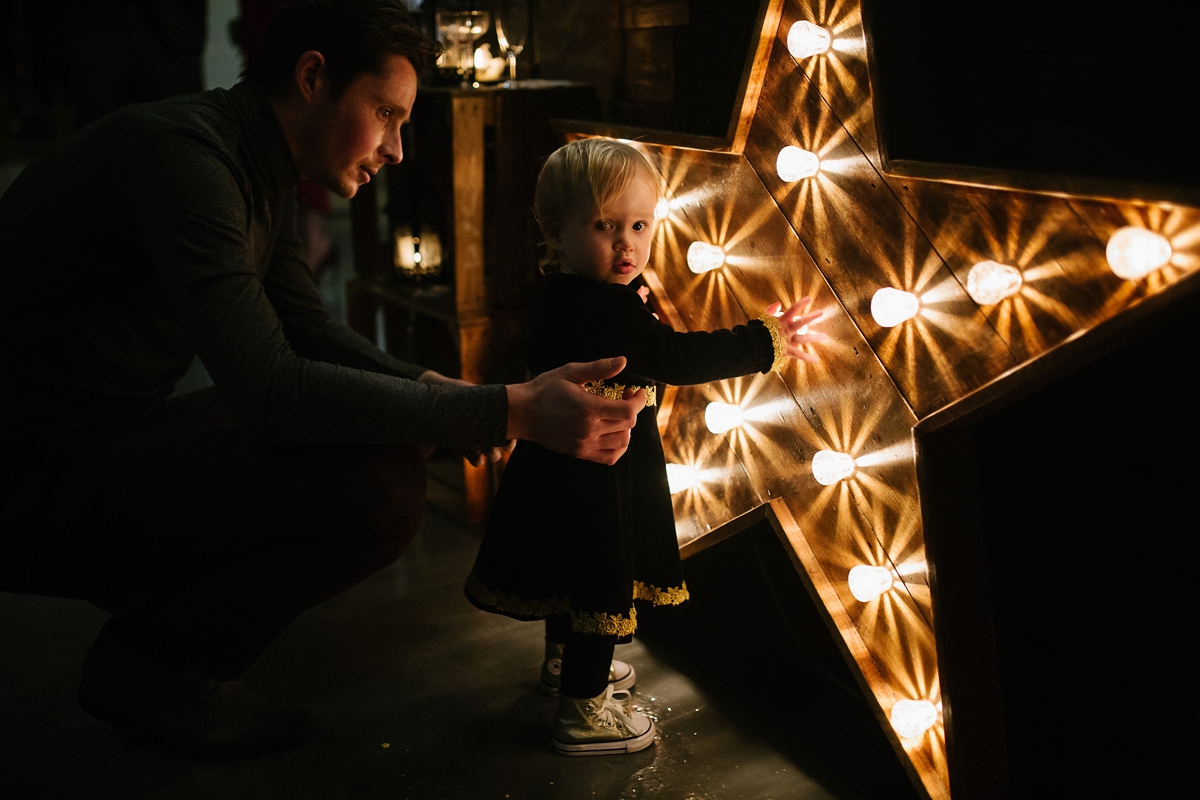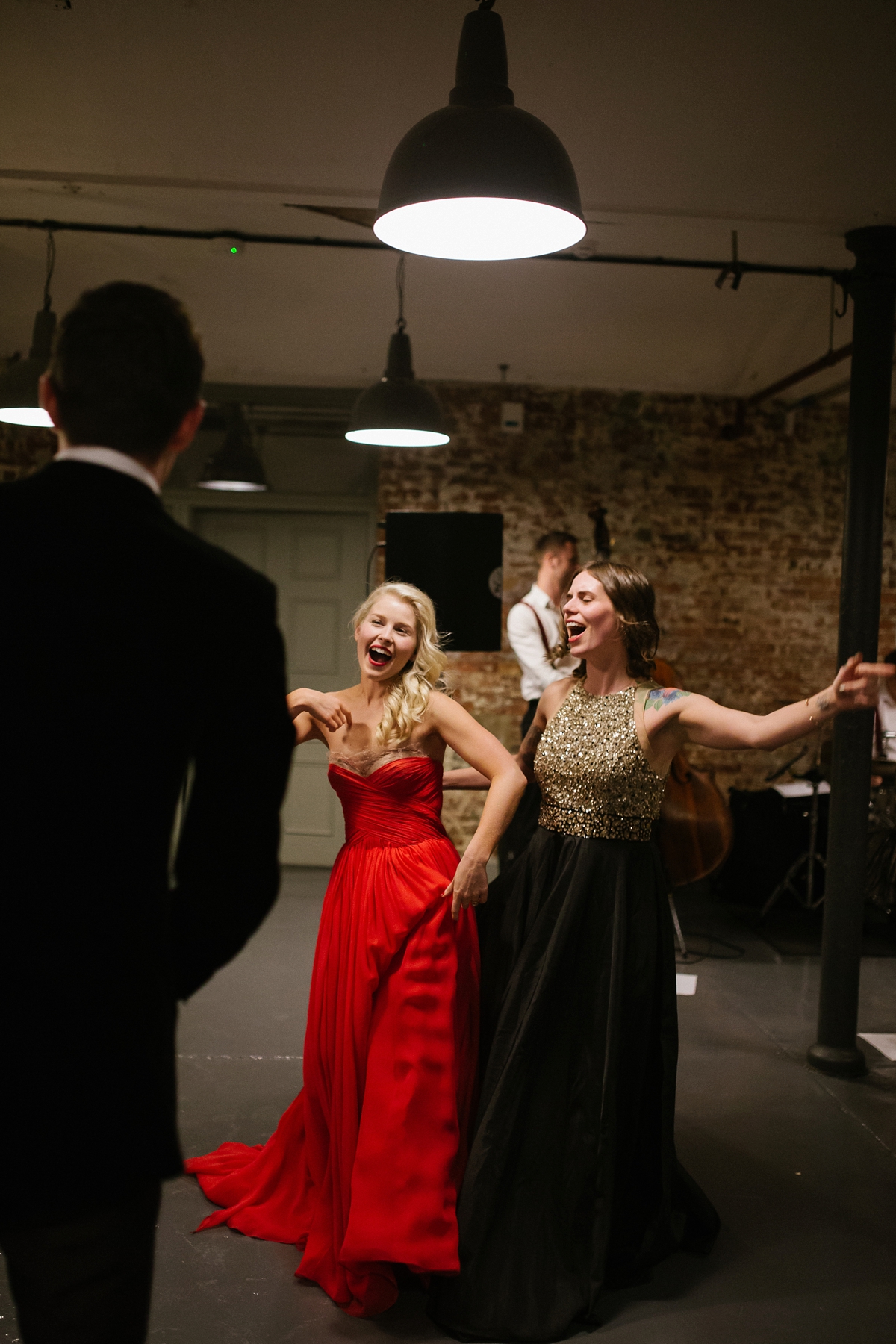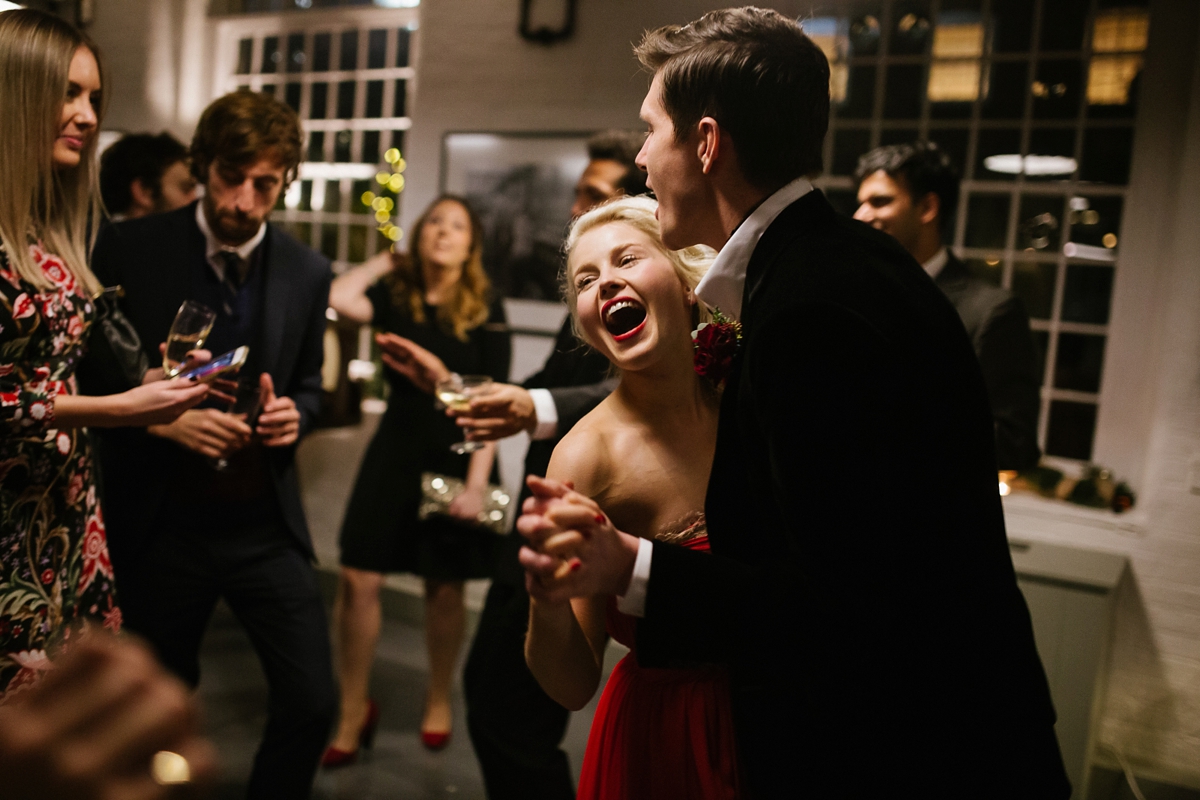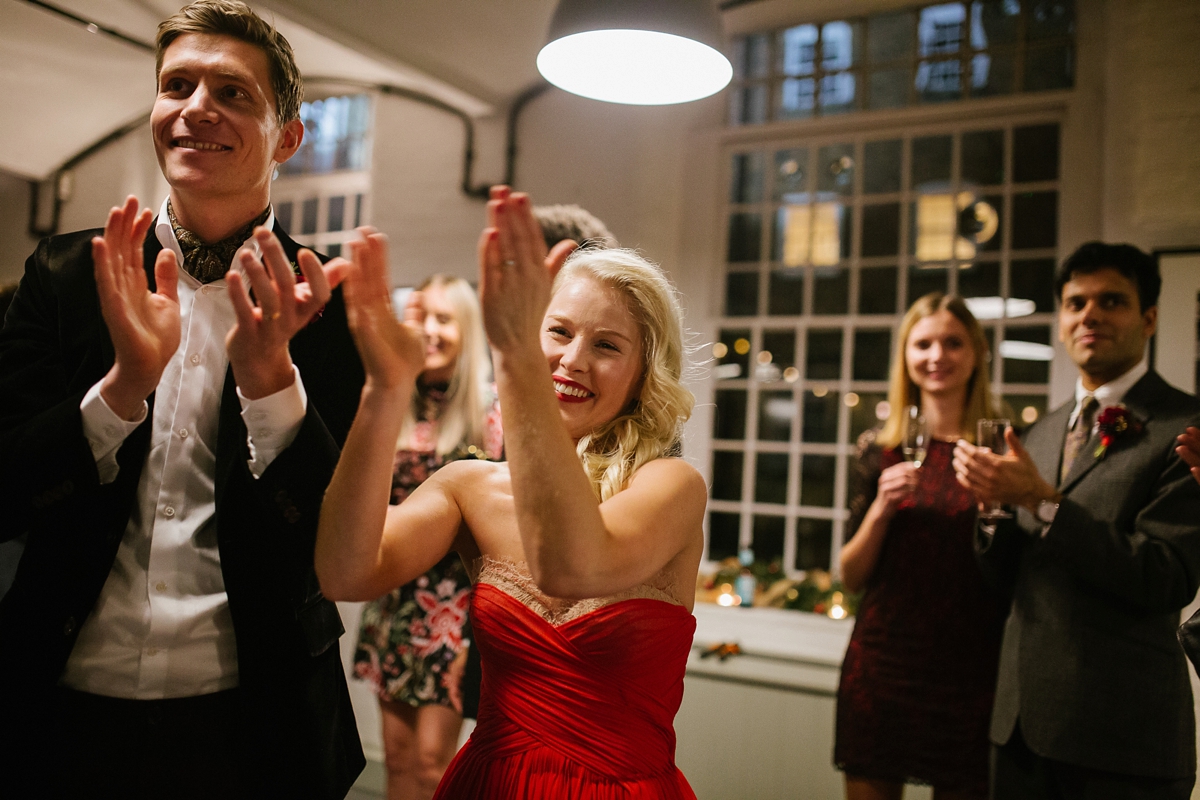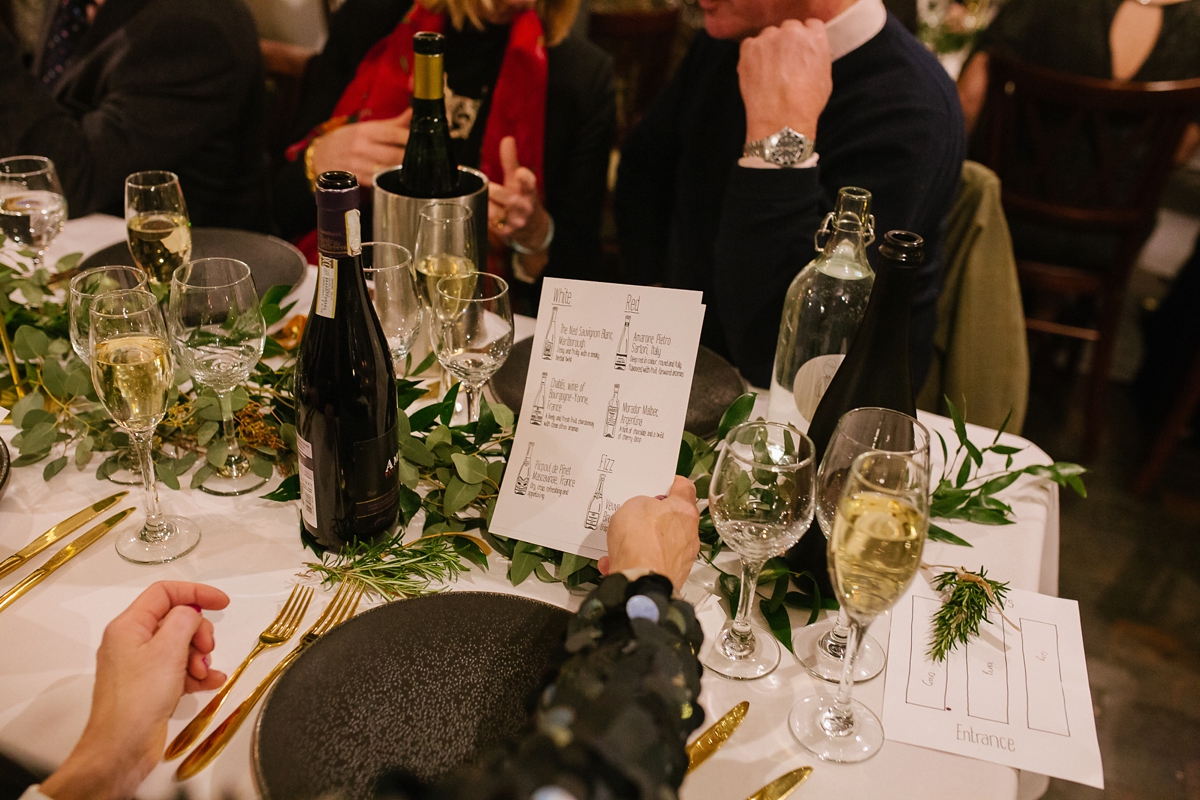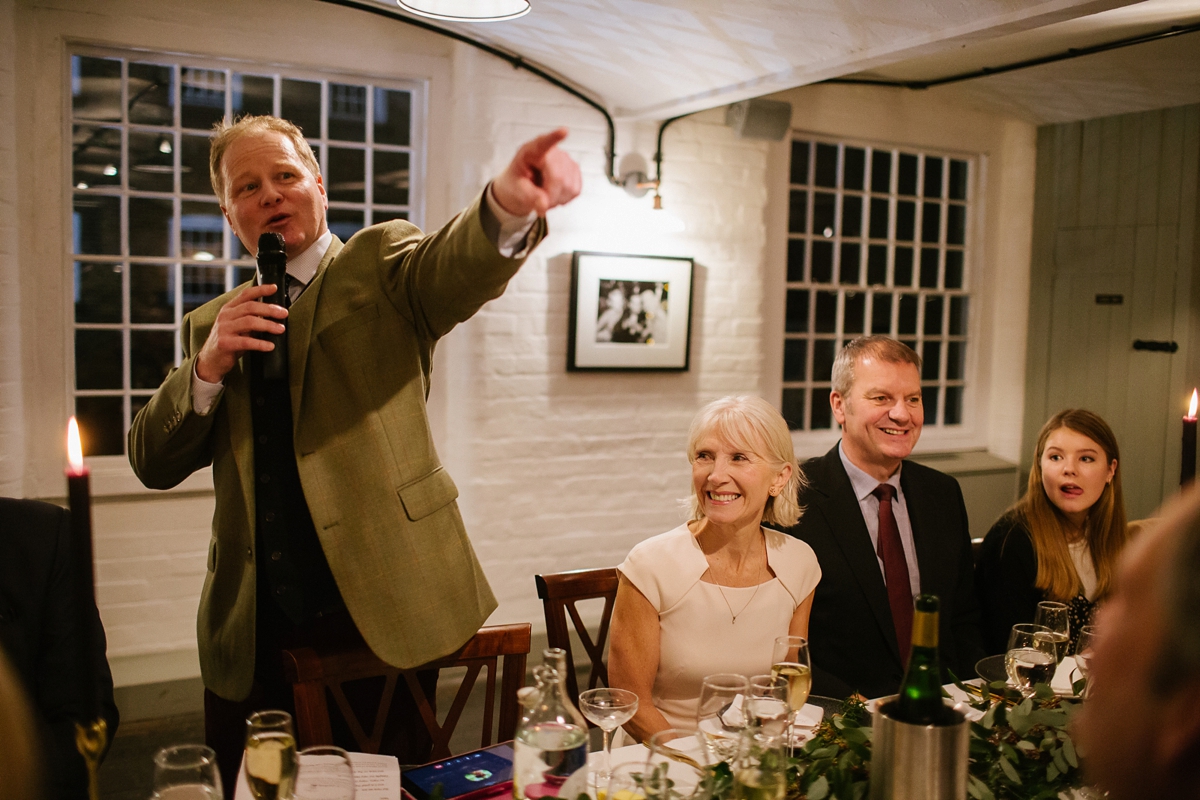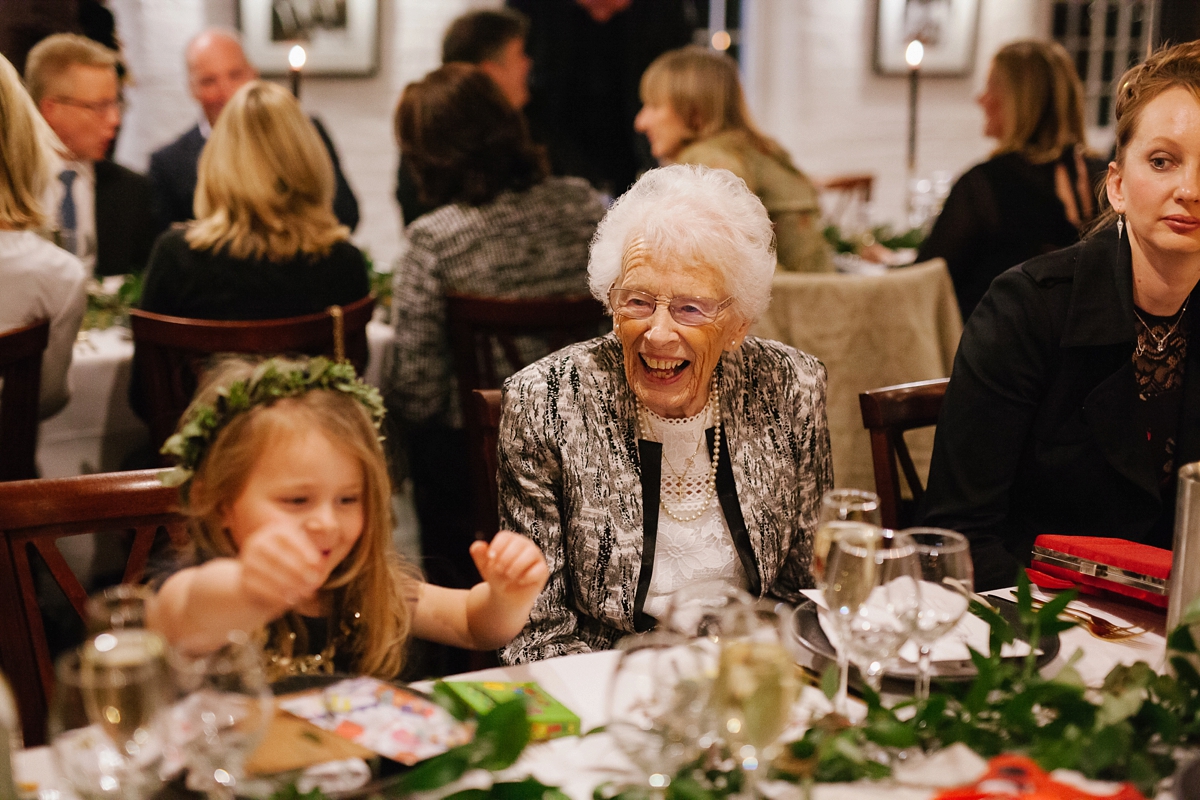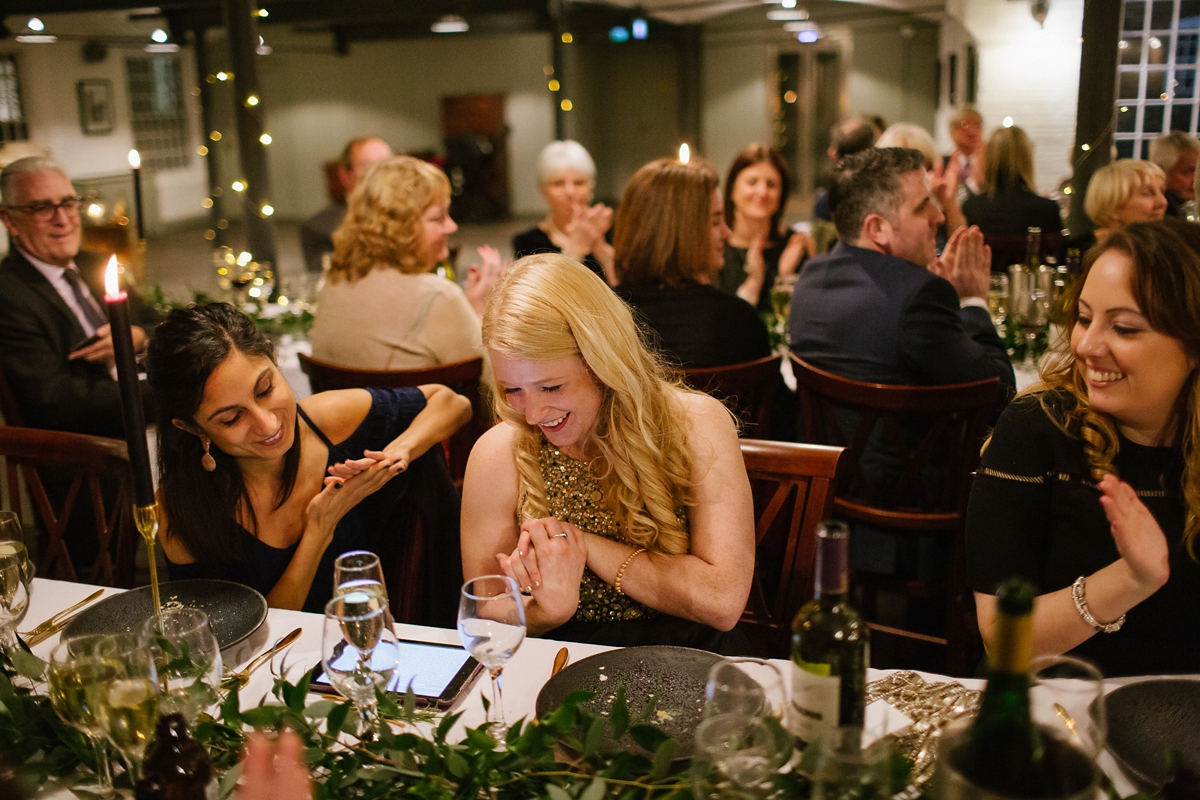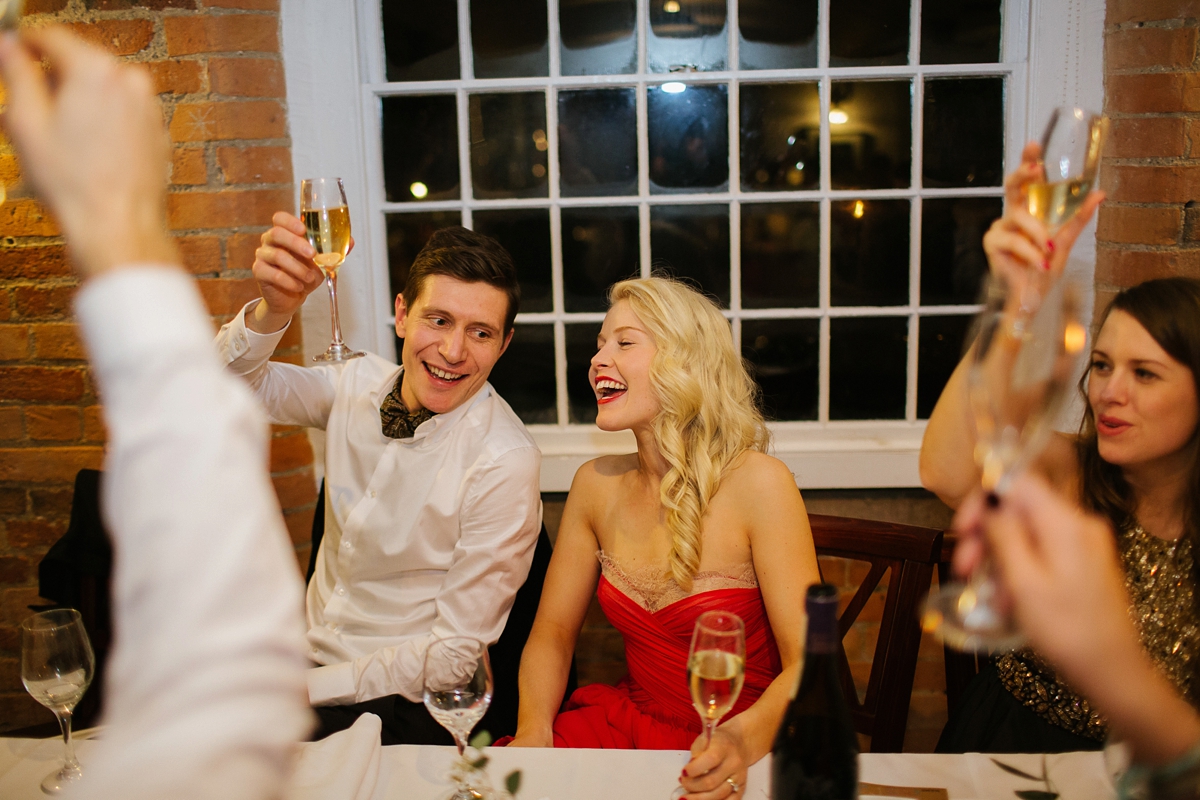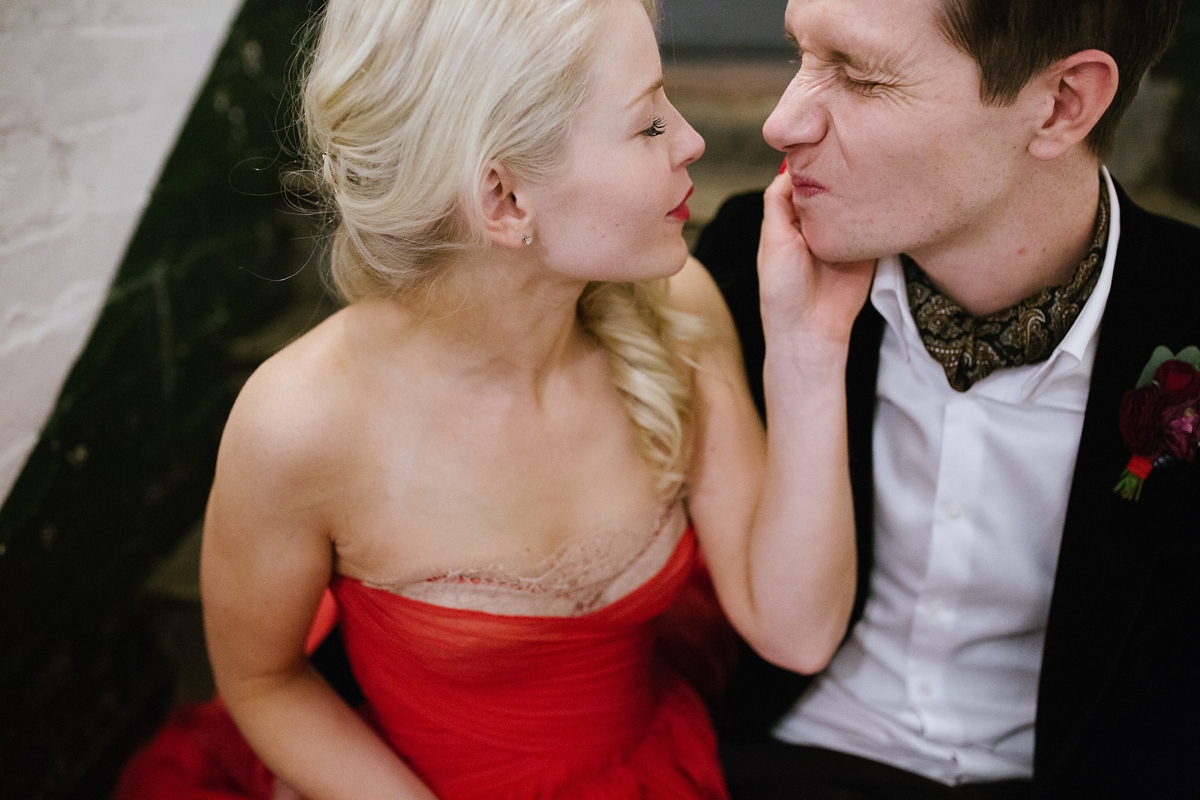 "The West Mill use a catering company called Jenkinson Caterers who were very understanding of our rather unusual request of beans on toast for the starter, and bangers and mash for the main. We loved how simple the food looked on the menu and it certainly got our guests talking, though it was a bit posher than the menu suggested. It was warming food for a cold night and after the wedding, back at the hotel, we had ordered a load of pizzas for everyone as a midnight snack, which went down very well."
Charly's incredible mum, despite having very little baking experience, crafted a beautiful crisp white wedding cake, adorned with foliage and a shimmer of gold – as stunning as it was delicious, and a perfect dessert course.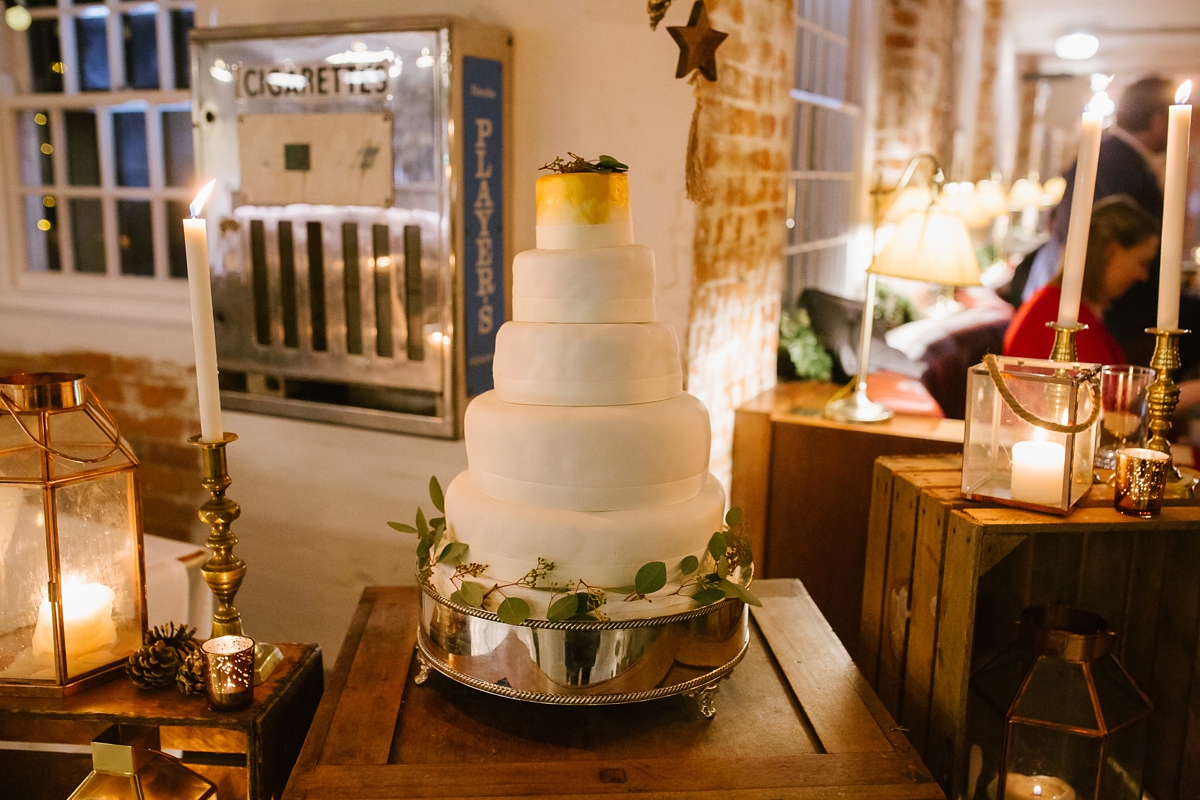 "I can't recommend We Are Bond Street highly enough. They created an incredible atmosphere for our guests arriving and for the drinks reception after the ceremony. I am unashamedly a massive fan of 90's/ 00's pop/ RnB and this band puts a vintage twist on all my favourites – i.e. making it totally acceptable to have Spice Girls and Britney hits played for our guests! They even did a vintage twist on a song that has a special meaning to me and Bobby – Backstreet Boys' 'I want it that way' (long story!). Bobby and I hadn't planned on doing a first dance but we couldn't help but having a dance and twirl to this before dinner had even been served. They just ooze talent and class, please have a listen to their stuff, it is full of so much joy."
The couple also booked DJ Paddy of Disco Wed who kept all their loves on the dance floor through the night. The images from the evening reception have me grinning from ear to ear, so full are they of joyful abandon. Dancing with her mum at the end of the night, and swaying with her new husband, surrounded by those most dear to them in all the world, is one of Charly's most precious memories.
"We didn't have a first dance but had planned the last song of the night to be Bob Marley's 'Three Little Birds' because it's a song that Bobby puts on when I get stressed or worried and makes me dance around until I laugh. The lyrics "don't worry 'bout a thing, 'cause every little thing gonna be alright' are words that we will come back to time and time again throughout our marriage I am sure."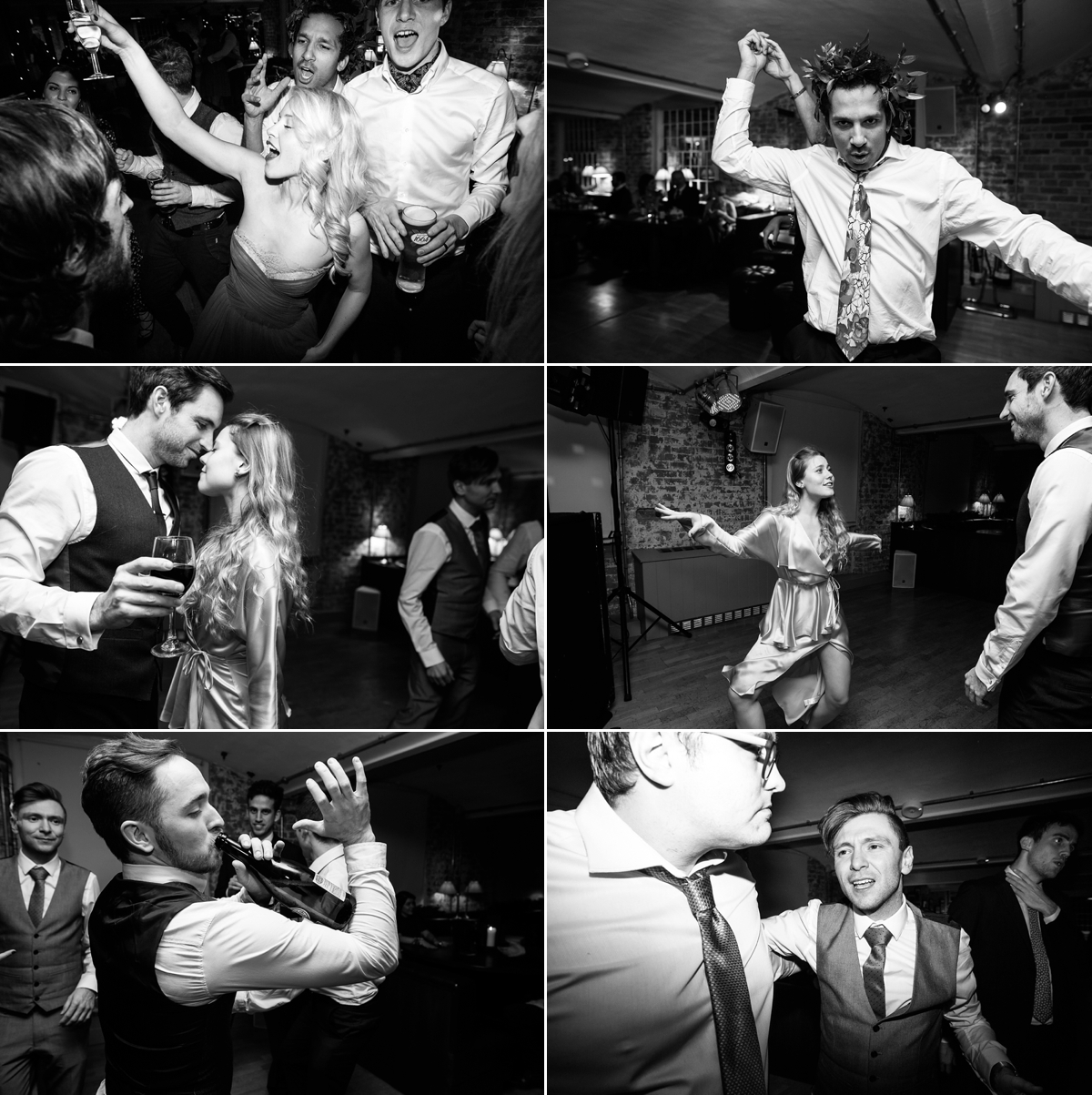 Words of Wedded Wisdom
"I really enjoyed the planning process and spending time over all the little bits of detail. Even though people say on the day they don't matter, when a guest noticed them, it filled me with joy. But I did get stressed over them. I wish I had told myself 'how lucky are you to be stressing over wedding planning, what a wonderful thing to have to stress over' – sometimes I just lacked a bit of perspective!"
"I also would highly recommend a winter wedding. I would have worried about the weather being unpredictable had we been relying on a summer wedding – whatever the weather in January I knew we would be cosy indoors. Guests also looked forward to it because it was out of busy summer season when they often have weddings back to back, and it was something to look forward to in the period after Christmas, which can be a bit of a downer."
"We kept within budget by getting things secondhand when we could and making small swaps (popcorn for the drinks reception instead of pricey canapés). We also called in all the favours we could and used the skills of friends and family to keep down costs. My dad because a right 'Del Boy' – whenever we needed anything done he always 'had a mate who could do us a deal!'"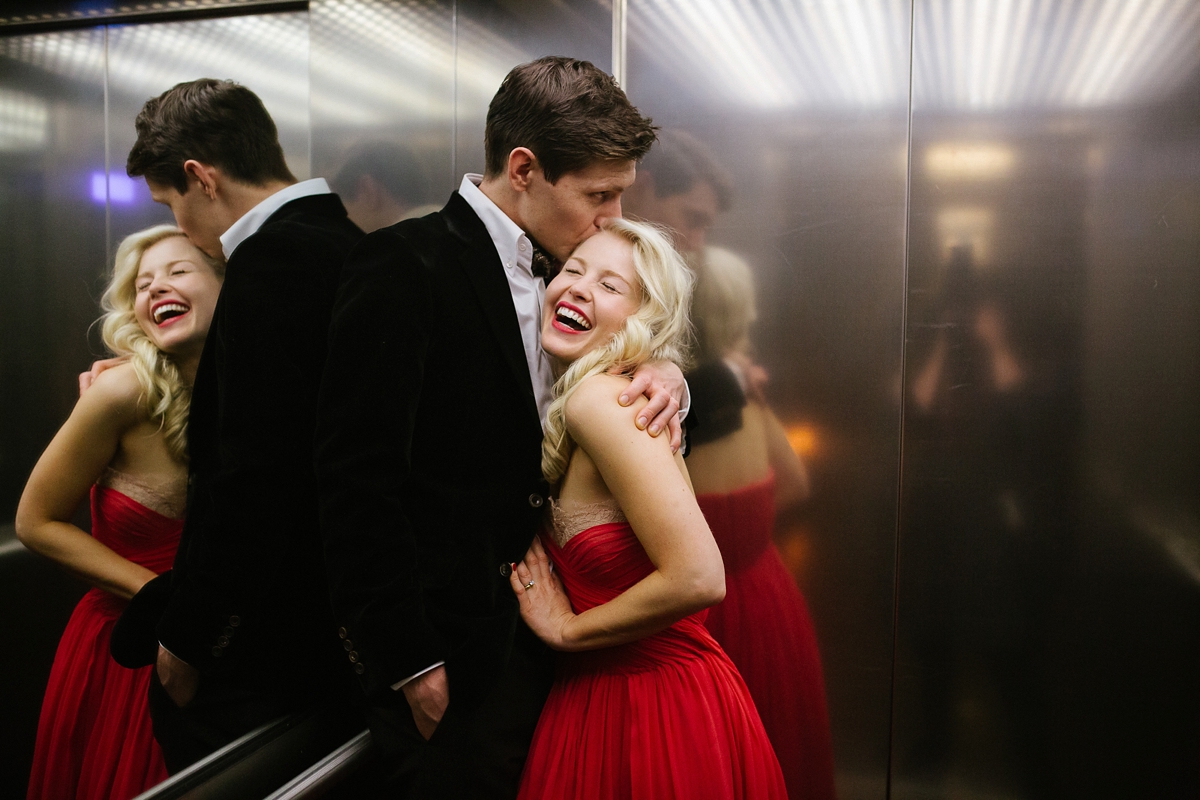 I know being a guest at this insanely gorgeous celebration would have gone a long way to combating my post-Christmas blues! I am so immensely grateful to Charly and Bobby for sharing their stunning, joy-filled celebration with us all. And as always our huge thanks go to Emma Case Photography for these truly beautiful images.
Just off to find my Christmas stocking and my favourite wooly hat – it's never too early you know!
Em x