Morning all! In case you've missed it, we've launched a new weekly Friday morning series, in which we share proposal stories from our darling community of readers. We kicked off two weeks ago with the wonderfully captured-on-camera proposal of Jack and Jade, followed by the sweet story of Abby and Matthew (which our Instagram followers loved! Ladies, this new feature was inspired by the amazing community we have established over in our private Facebook group for brides to be and newlyweds – if you're not yet a member, you can apply to be one via the page itself – we'd really love you to join us. You can also submit your own proposal story for sharing with Love My Dress by completing this form. We look forward to hearing from you!
___________
Stacey (28) and Stuart (31)
Stu and I met working at Pizza Hut aged 17 and 20 respectively. It was 'love at first slice', our family say, much to our embarrassment! We began dating a little while later and have been together ever since. Stu is my biggest inspiration and support. He has backed every decision we have made as a couple; from moving away for uni, to gap-year travels and starting a new life in London when work brought me here after uni. Honestly said, I'd be lost without him.
Connect with Stacey
Stacey is on Instagram at @staceymalvern.
How He Asked…
We've been dating just over ten years and Stu asked me to be his wife on 21st June 2015 (which was also my birthday!).  We had planned to visit London Zoo – I absolutely love penguins and we had a picnic packed and ready to go.

I was desperate to open my cards first thing but Stu insisted I get dressed and ready to leave first. Once finally ready, Stu went into our bedroom to retrieve my card and gift. He was gone for quite a while so I was starting to get a little suspicious expecting a huge and awkward-to-carry gift, however he reappeared in our living room with a card and nothing else. Turns out he was actually calming himself and planning what he was going to say.
The card was a simple but lovely and it all felt very odd until he got down on one knee and presented me with a beautiful necklace. The necklace of rose gold, silver and diamond was lovely and the perfect gesture. Stu knows me so well that we had spoken before about how I would love to share the experience of finding a ring together. I wanted to share that excitement with him.
After years of dating, I was still in such shock that I can hardly recall what Stu said but I remember feeling just so incredibly happy and loved at that very moment. I wish I could bottle that feeling – it's magic. After the very excited calls to family; my mum was completely overwhelmed and proceeded to shout 'She's engaged!' to everyone in the shopping centre where she works, we headed off to the Zoo and spent an amazing day together.
I felt a happiness I've never felt before; just so committed to each other and extremely loved.
I literally felt in a bubble all day, whilst we walked down Regents Canal, hopped on one of the narrow boats and drank cocktails in Camden. It was the perfect day and proposal from my best friend.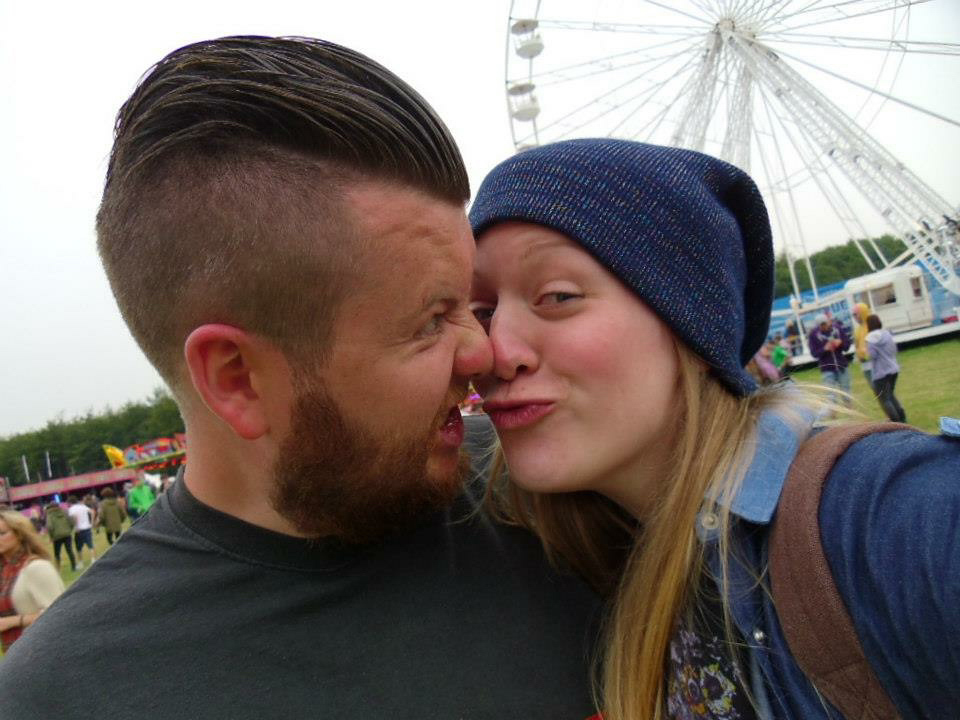 We have been dating a long time and often had friends and family asking when we would get married, but I truly feel that Stu chose the perfect moment. It was just the two of us, in our own home, when we were both ready (financially and job-wise) to commit to each other forever.
The Ring
Stu always knew that I wanted to have the experience of choosing a ring together. Brighton has a special place in our hearts and I'd spent hours dragging Stu around the Lanes of vintage jewellers. I had this dream of spending the day together with fish and chips and ring shopping.
I had never really considered an engagement ring before so had no idea what I liked. We went into Paul Goble Antiques on North Lane, as I spotted a beautiful yellow diamond in the window – wildly over budget – but after looking at a few others, the lovely sales assistant brought out my now chosen ring. The owner had purchased it just the day before and it was perfect. I loved the idea of a vintage or second hand ring and to know that our ring had been loved by another person before me, just made it more special. As soon as I saw it I knew; a pear shaped diamond cluster with a halo setting and diamond band. It was a lot more sparkly that I thought I'd go for but it was the one for me. Plus, it was under budget, so Stu was happy!
Wedding Plans
We are now in the full throws of wedding planning – Love My Dress is the most popular website/blog in my browser history! We decided to have a longer engagement, to ensure we can plan and save up for all the elements we want in the day. Our day is set for June 25th 2017, almost two years from the day of our engagement. We're getting married in Hampshire, with around 70 guests. We're both originally from the North West, but decided to get married near to where we live now. We've built a life and home in the south and wanted to have the experience of being close to our lives here.
I always wanted Stu to have input and share his stamp on the wedding, so we have gone quite neutral and natural for the look and feel. We're working with the amazing Jo from Columbia Creative, who is creating the vision of the day through her fantastic floral arrangements. Whilst we booked a band, videographer and photographer via recommendations from our venue and Love My Dress. Stu is in charge of music and food options from canapes to dessert, so that will be a total surprise for me on the day. I also can't wait to see our guests react to our cake – it's top secret but the amazing Megan at Blossom and Crumb is creating something super special.
I have read about so many wonderful weddings on Love My Dress, and really get a sense that the day goes super fast. All we want from the day is to spend it with our closest friends and family. I can't wait to walk down the aisle to Stu – it'll be the best moment of the day.
______________________
Huge congratulations to you both Stacey and Stuart!
If you would like to share your proposal on Love My Dress, bookmark this form here and fill it in when you have just a few minutes spare. We really look forward to hearing from you.
Love Annabel x