Good afternoon lovelies! How are you this pre-Friday (otherwise known as Thursday)? I have a sunny spring treat for you today, with a plethora of pretty blooms and a bride in a stunning strapless gown. Paul, a senior producer for sports television, married Lynne, a cosmetics product developer, on 16th April this year. The lovely Mrs Whipps wore a gown from Rembo Styling, a Belgian design collective with an innovative approach to bridal design, and one of our lovely Little Book for Brides designers.
"We wanted a magical woodland feeling, without having fairies hanging all over the place. We wanted it to feel like you had stumbled across a hidden delve in the middle of a bluebell wood. We wanted to marry in church as it meant a lot to Paul's family so we had to mix a traditional element with a magical feel."
Photography by Hannah McClune Photography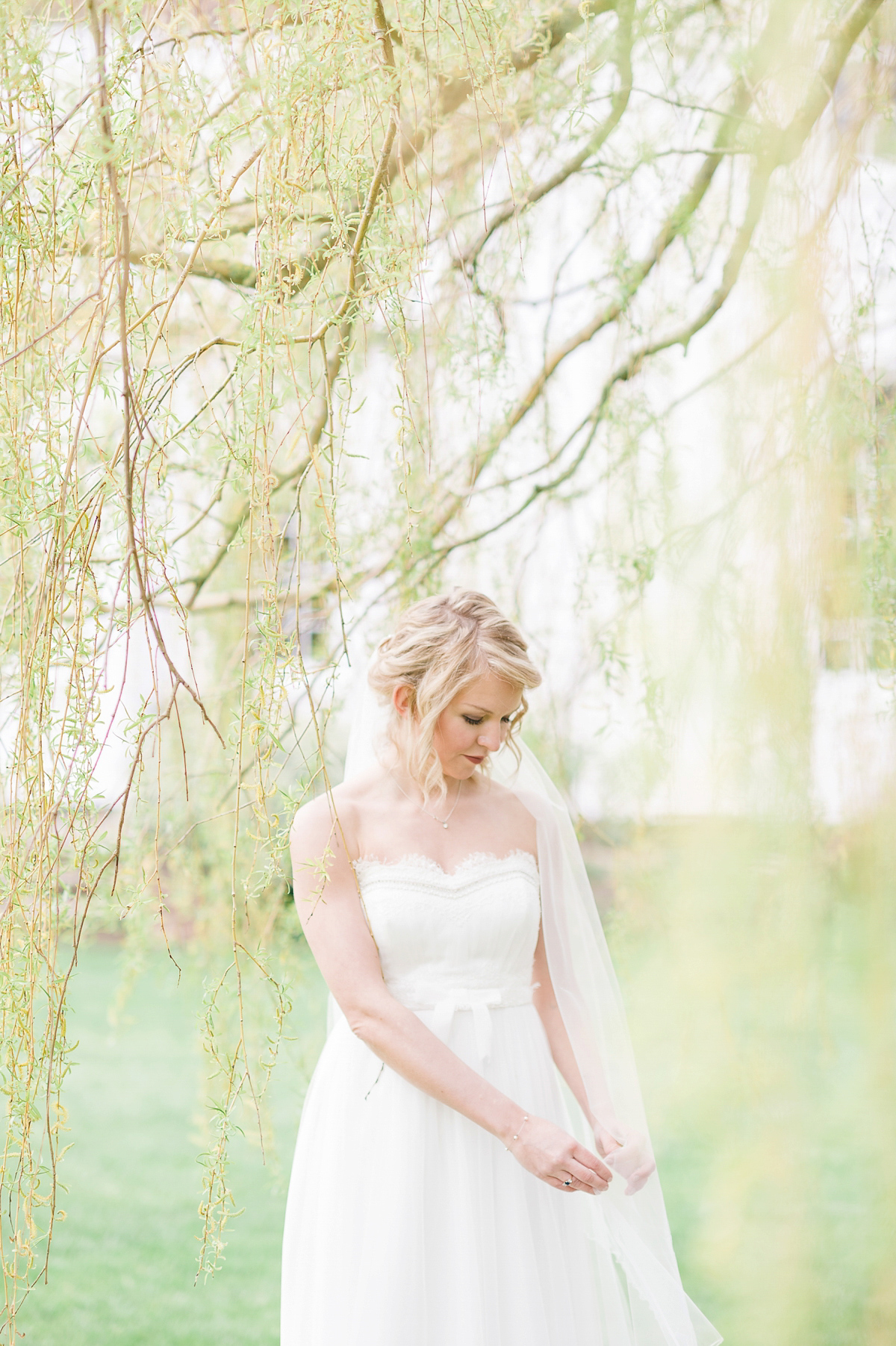 "My dress was by Rembo Styling, purchased from Bridelicious Boutique in Oxfordshire. I didn't have a full selection of dresses to choose from as I only had three months until the wedding."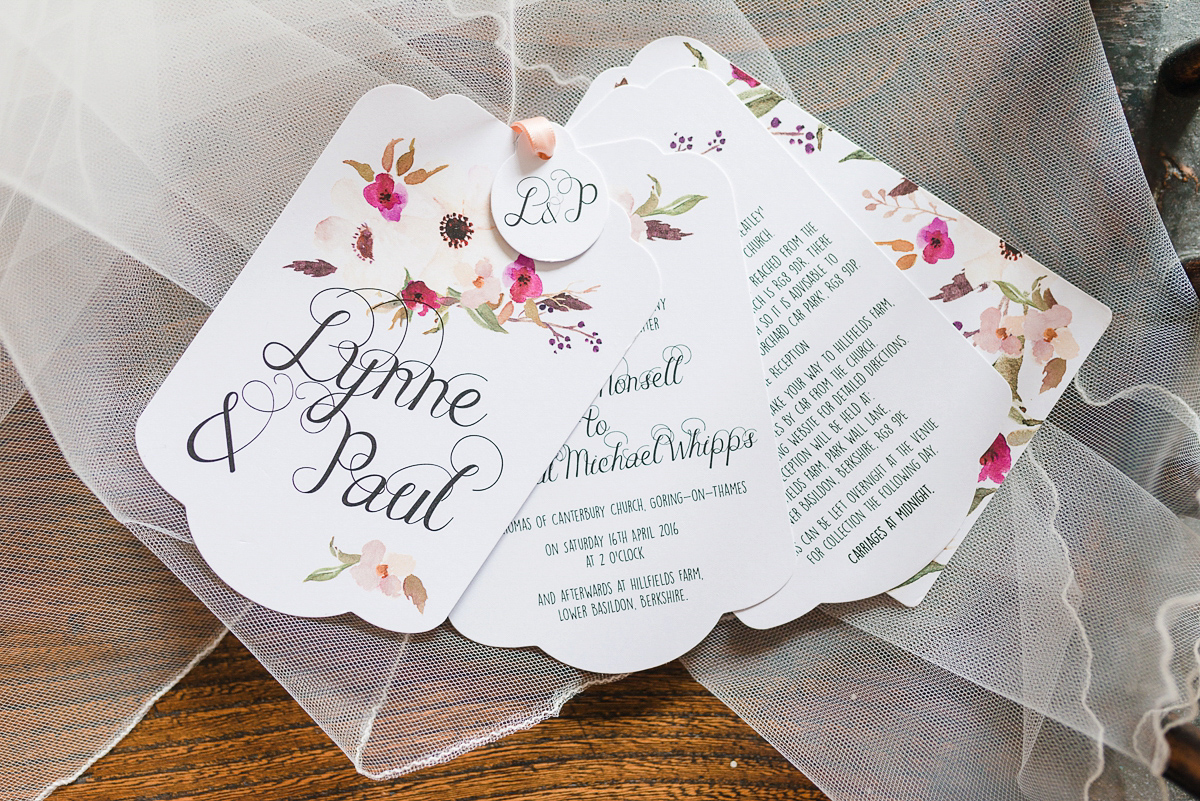 "After describing my kind of woodland theme and barn setting, the boutique selected three dresses for me. I chose my dress because when I put it on, my mum and sister's reactions were different to the others; it was floaty and dream-like and made me feel tall and elegant."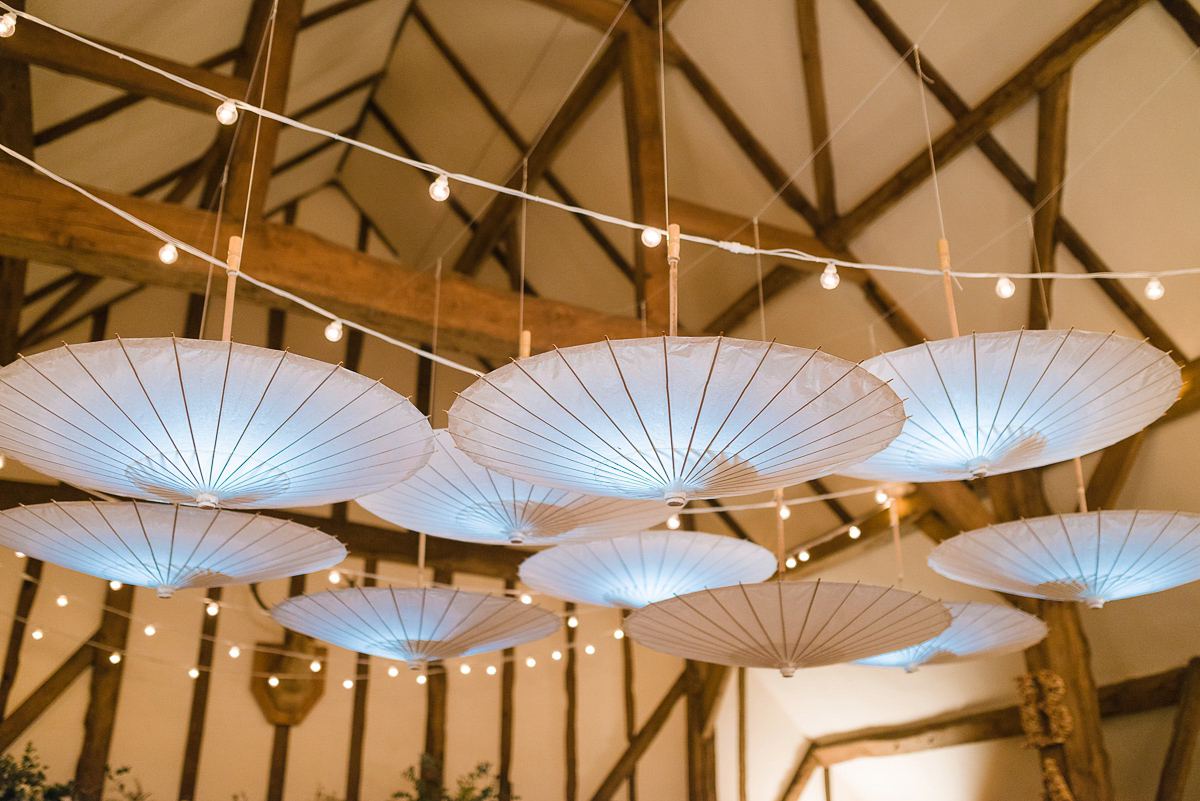 The venue for the couple's nature inspired nuptials was Hillfields Farm in Berkshire. Not only is the farm beyond beautiful, with breath-taking views of the rolling hills, it's also set near the village Lynne grew up in. How romantic is that. And speaking of romance, Lynne and Paul join the ranks of our wonderful couples who met through online dating.
"We met through match.com. Our first date was in a pub in West London in July 2013; after a bit of a late start (Lynne was 30 minutes late) it all went well. We moved in together after five months and then bought a flat together. Paul proposed in November 2015 on the Southbank after we had been to the Savoy Theatre. We decided to get married in April, so only had five months to plan. We got married on Paul's parent's 39th wedding anniversary so we share that special date with them."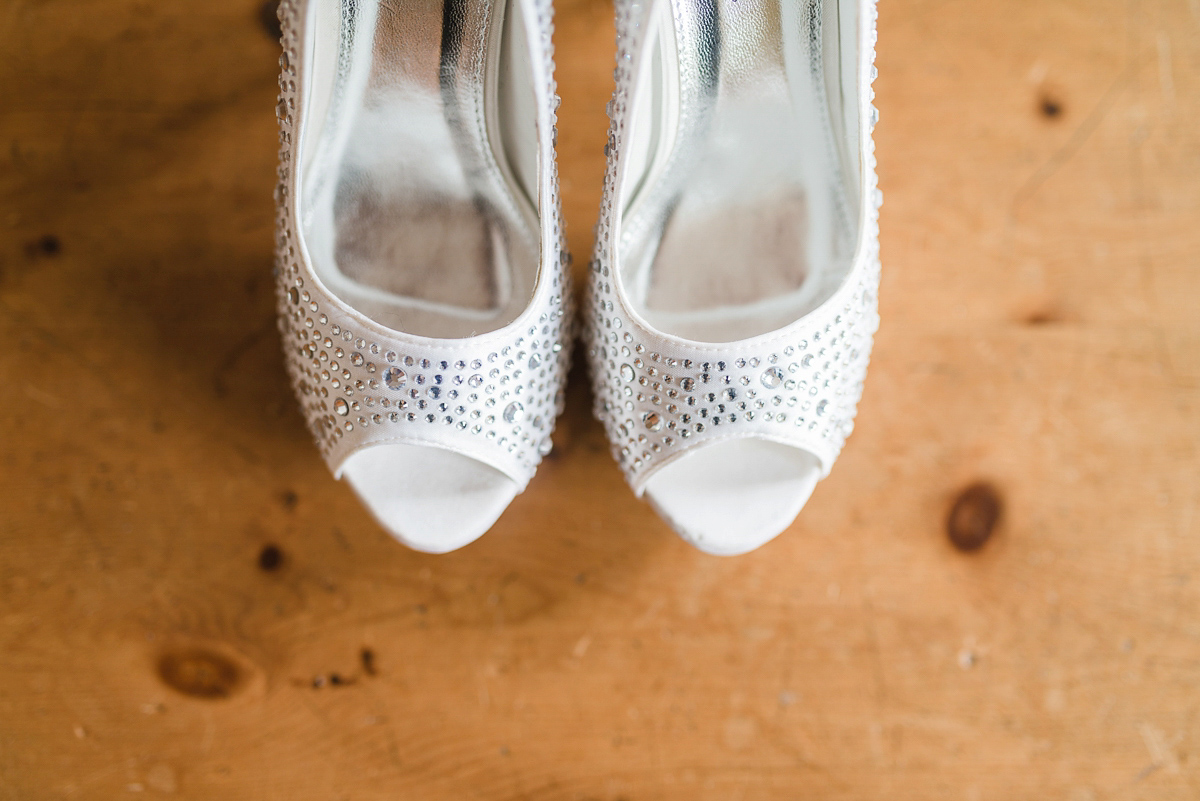 There you have it ladies, living proof that weddings this beautiful are totally possible with just a few months of planning; did you catch this stunning Scottish wedding which was planned in just five weeks? Speaking as a member of the long engagement club (nearly 16 months down, 10 and a bit months to go) there are definitely times I wish we weren't waiting quite so long to tie the knot.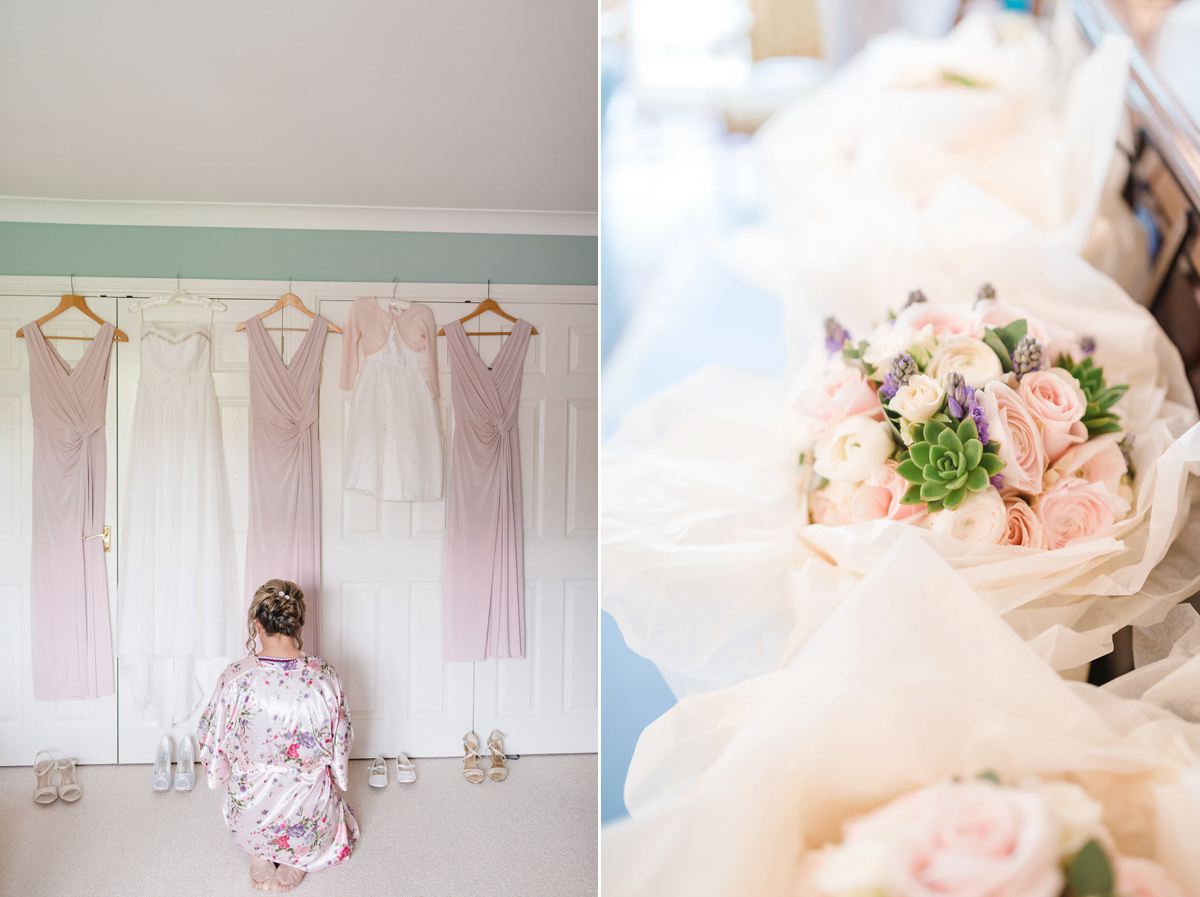 "I loved the getting ready part – it was full of excitement and hustle and bustle; the whole day stretched before me."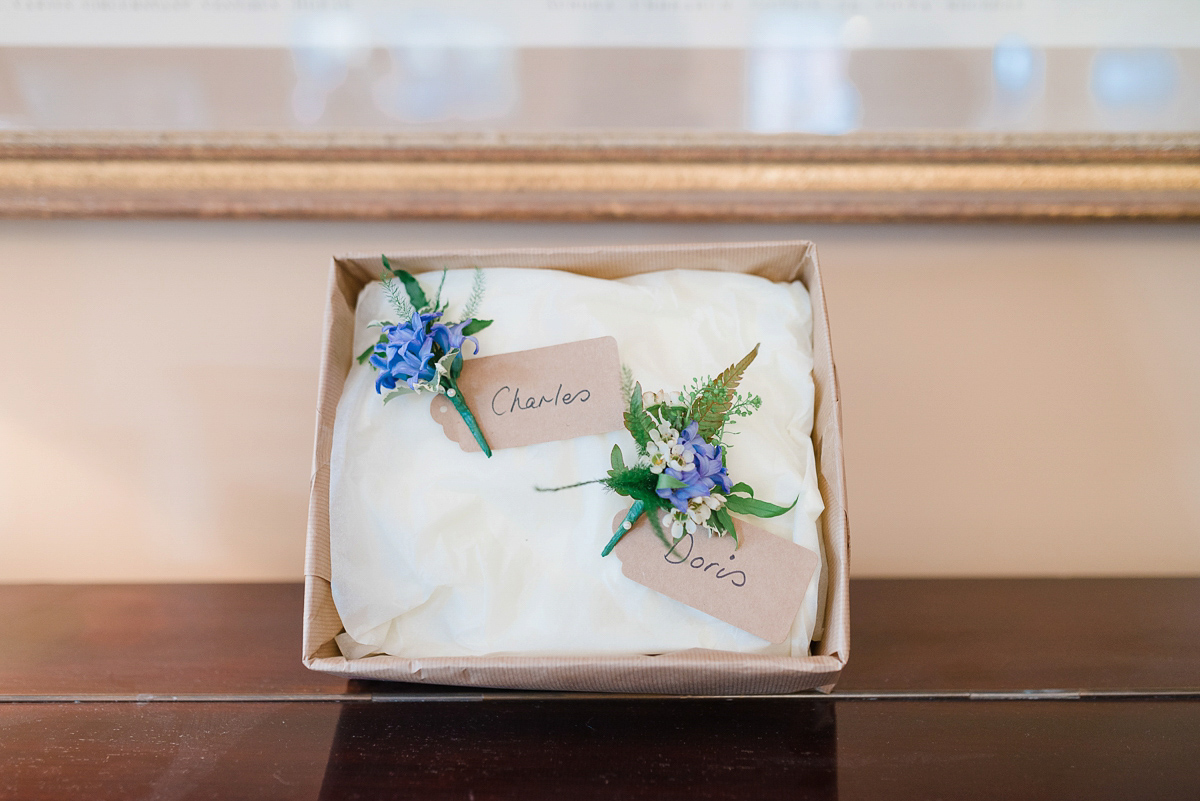 Lynne wore a bespoke veil made by Mei Lai, The Perfect Bridal Company  'Sarah' shoes and she handmade her own intricate hair accessory. I do so love a crafty bride and that is some seriously impressive DIY. Lynne spritzed on Bvlgari Omnia Indian Garnet perfume and while the talented Katie-Jane Whitlock created Lynne's tumbling up-do, the bride, as a qualified make-up artist, took care of her beautiful bridal look.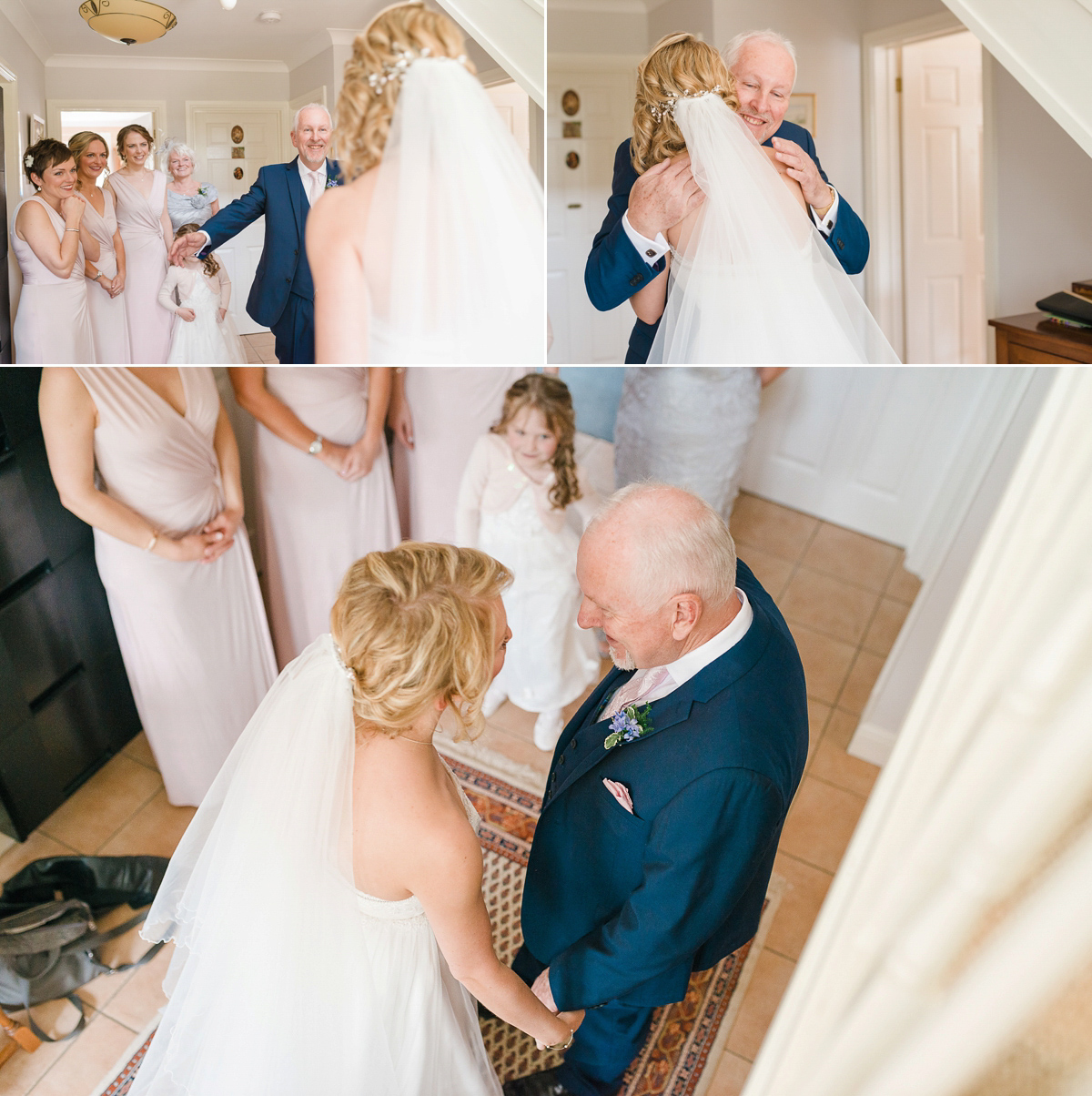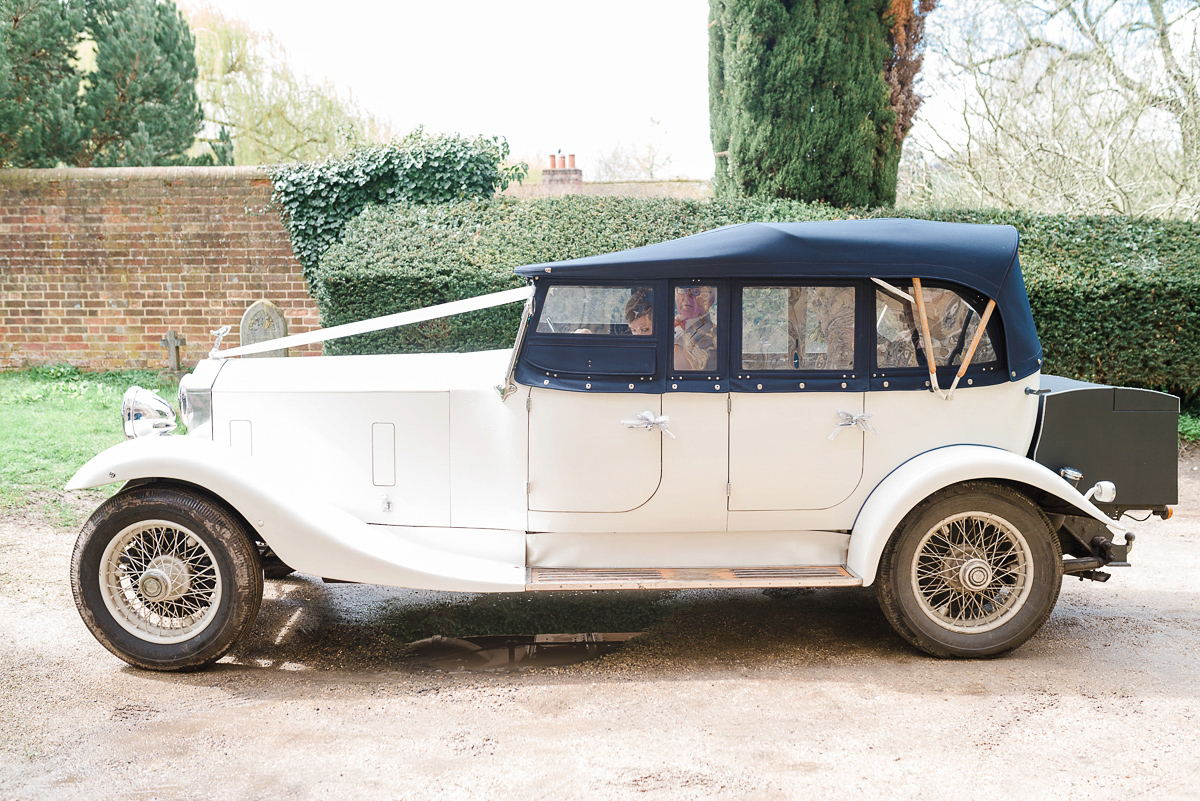 Lynne was transported to her wedding in an incredible 1934 Rolls Royce and her proud dad gave her away. Together father and daughter walked down the aisle to Pachelbel's Canon and Lynne and Paul exchanged traditional vows.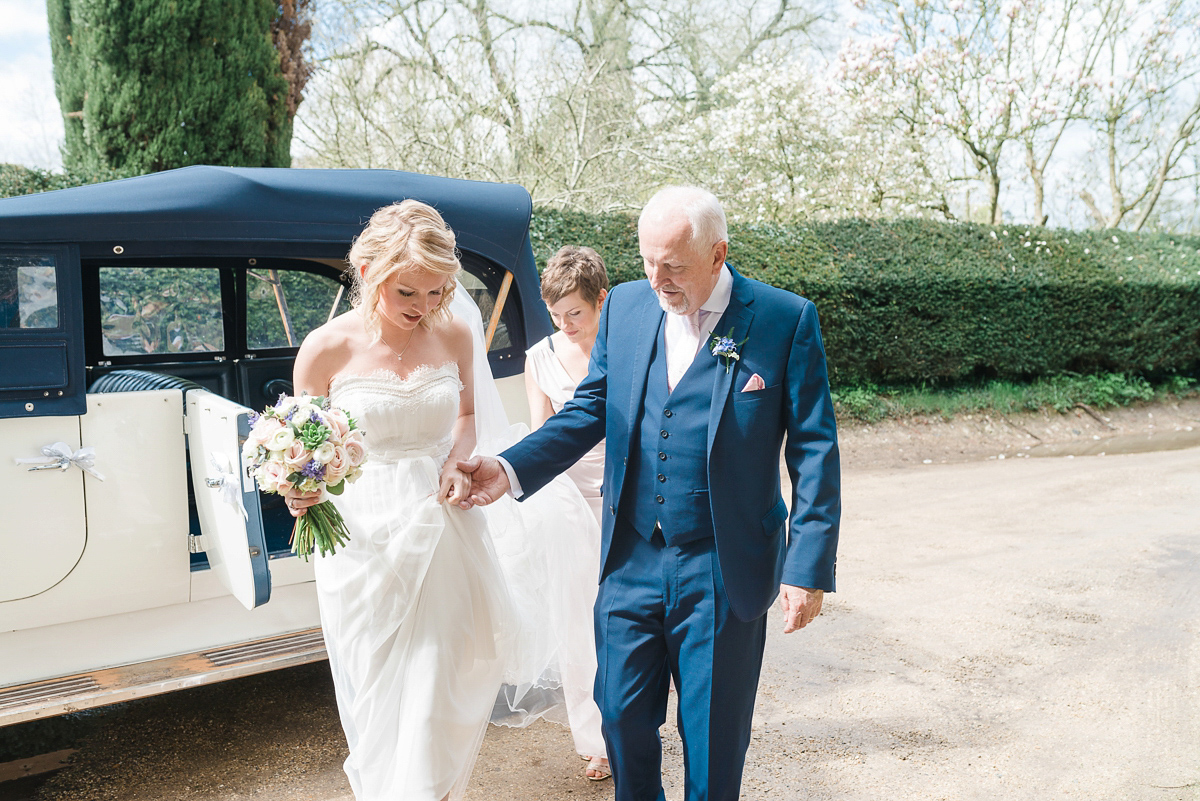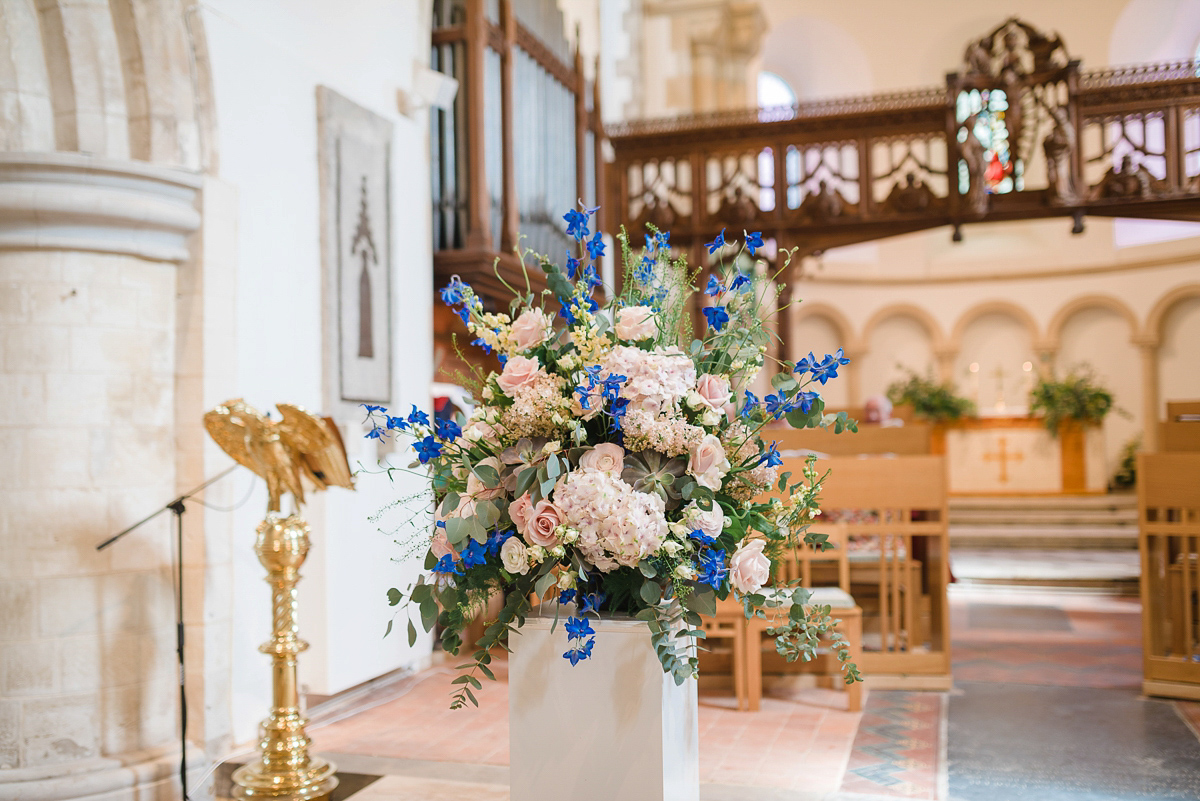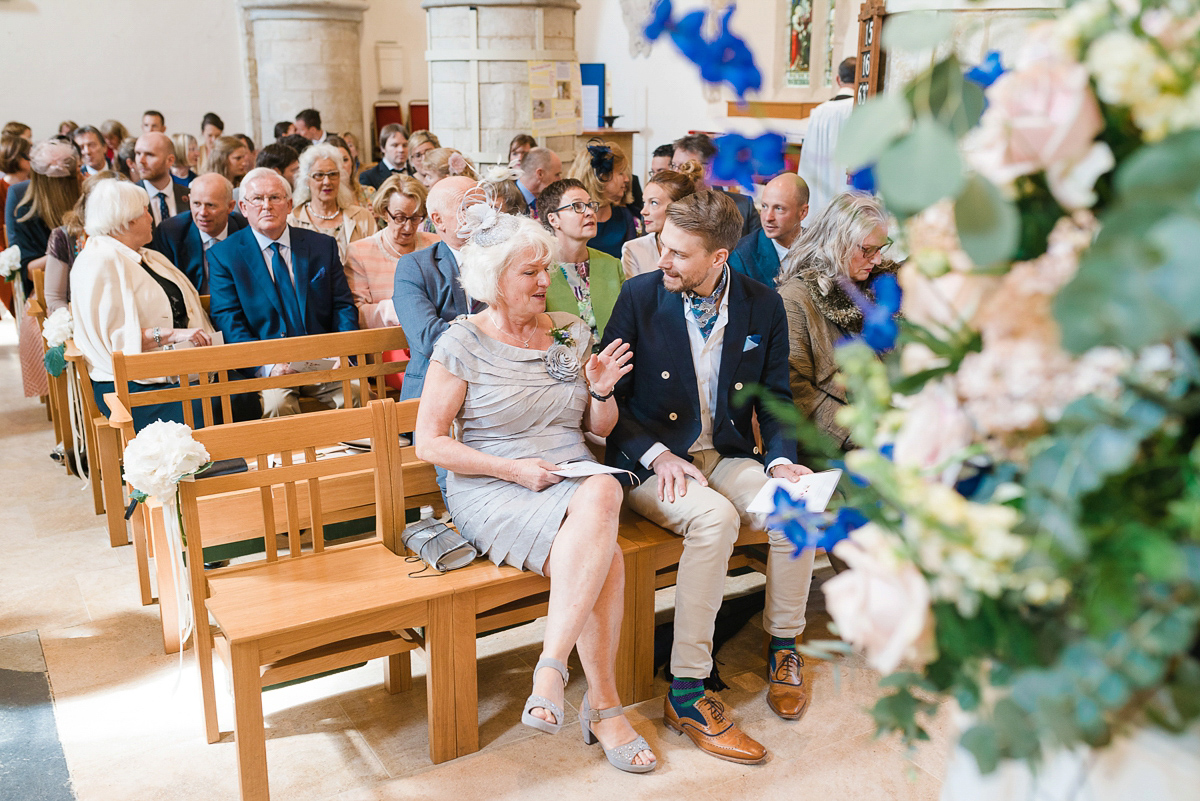 "We had a bible reading during our ceremony. We chose it because it was about not worrying, enjoying what you have and living for the moment; something we both want to keep in mind throughout our lives together."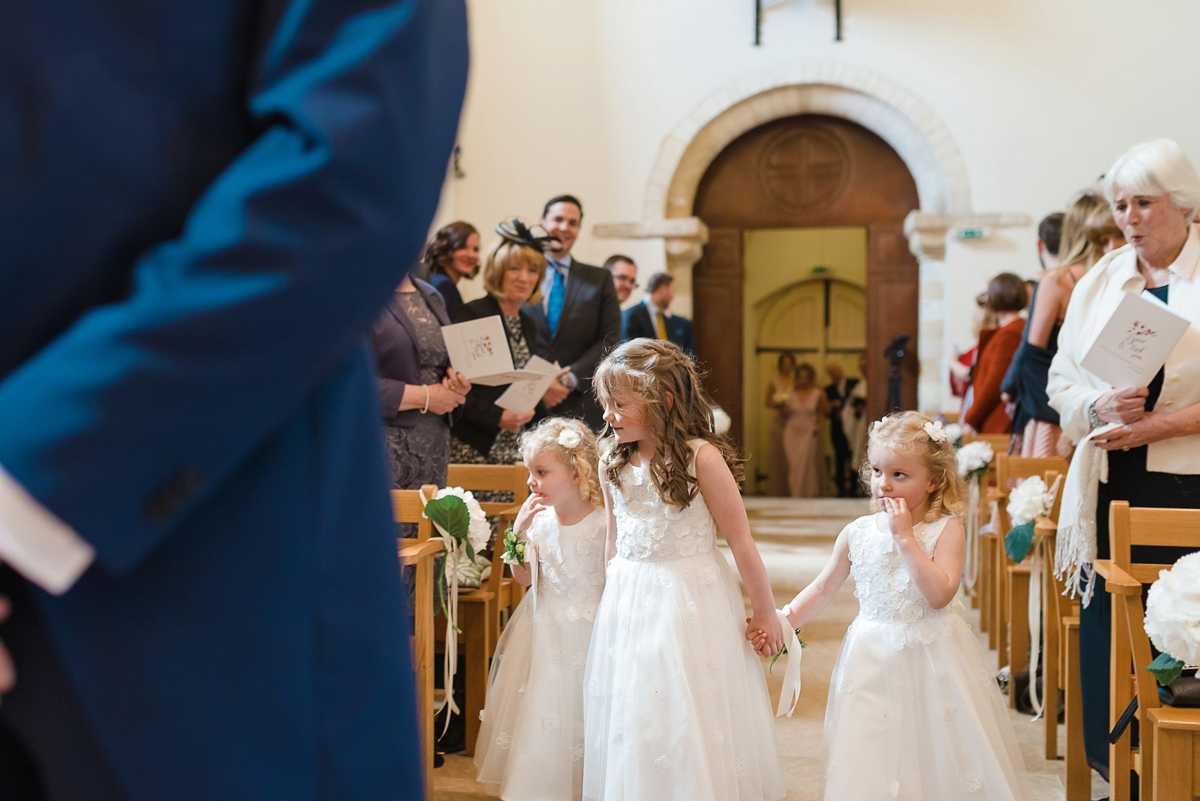 Lynne and Paul exchanged rings from Jade Jewellers in Hatton Garden, which is where Paul bought his bride's engagement ring. Eagle Eyed Bride created the lovely floral inspired stationery and the couple decorated their reception venue and made their favours themselves.
"I made the favours myself; we had match boxes (as we met on match.com) which I designed and we had printed in China.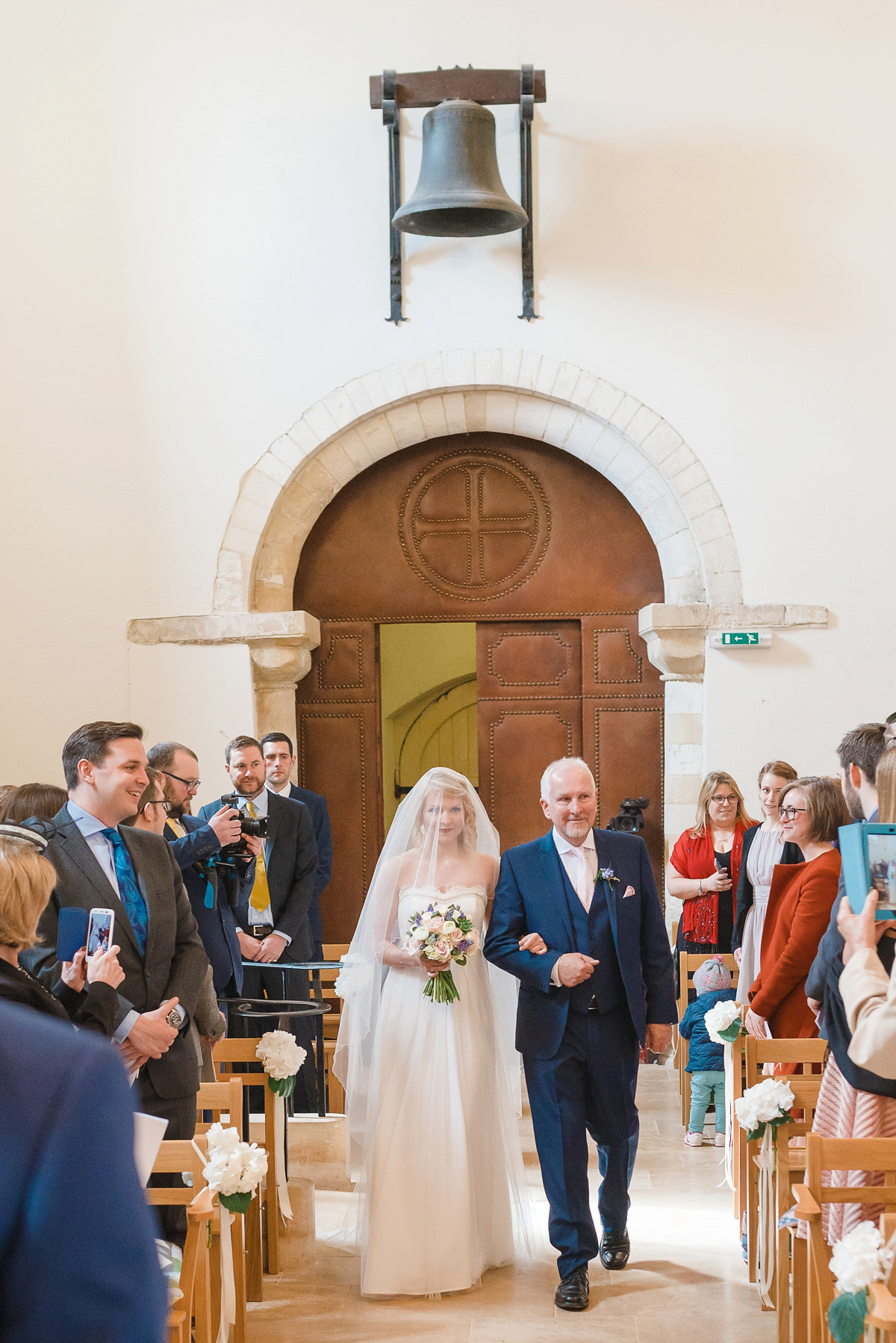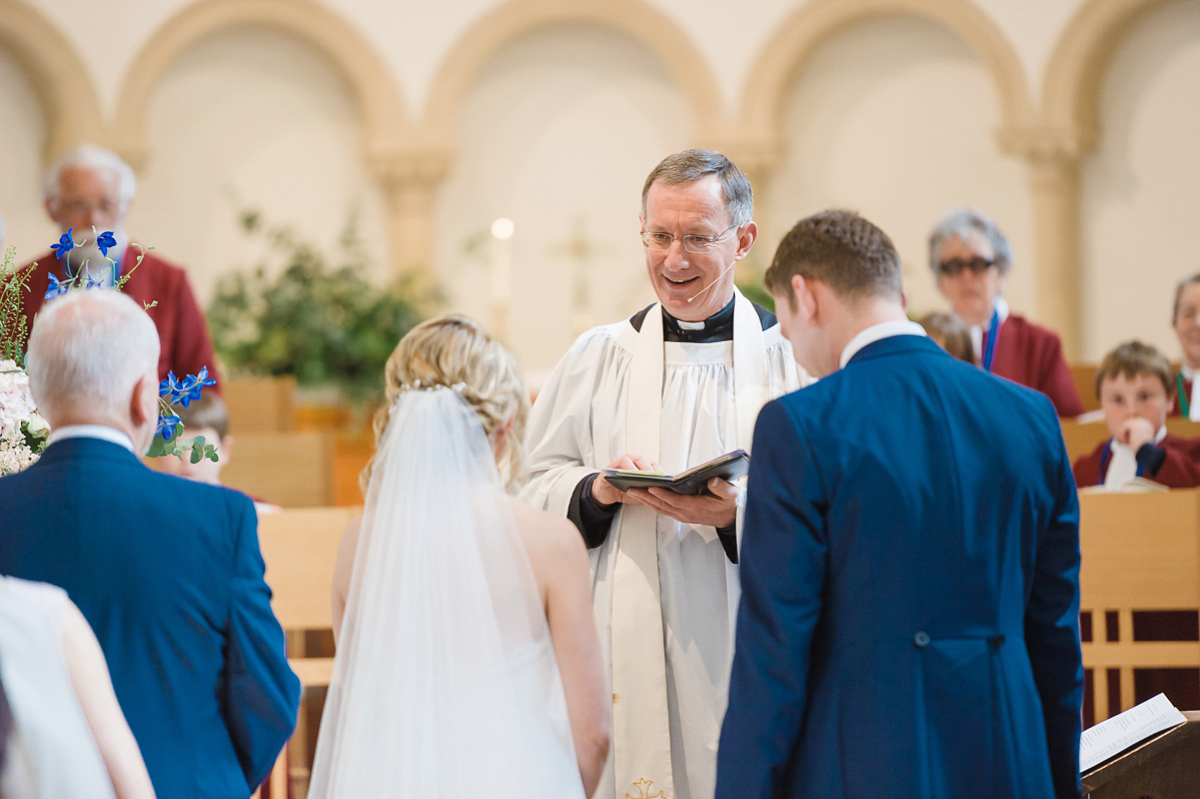 The dapper groom wore a Ted Baker suit sourced from Moss Bros with John Lewis cufflinks. Sweet Paul gifted his bride to be with diamond earrings, sparkling alongside her something borrowed; a diamond necklace belonging to her mum. Lynne's sentimental finishing touch was a pretty pearl bracelet; a 21st birthday gift from her parents.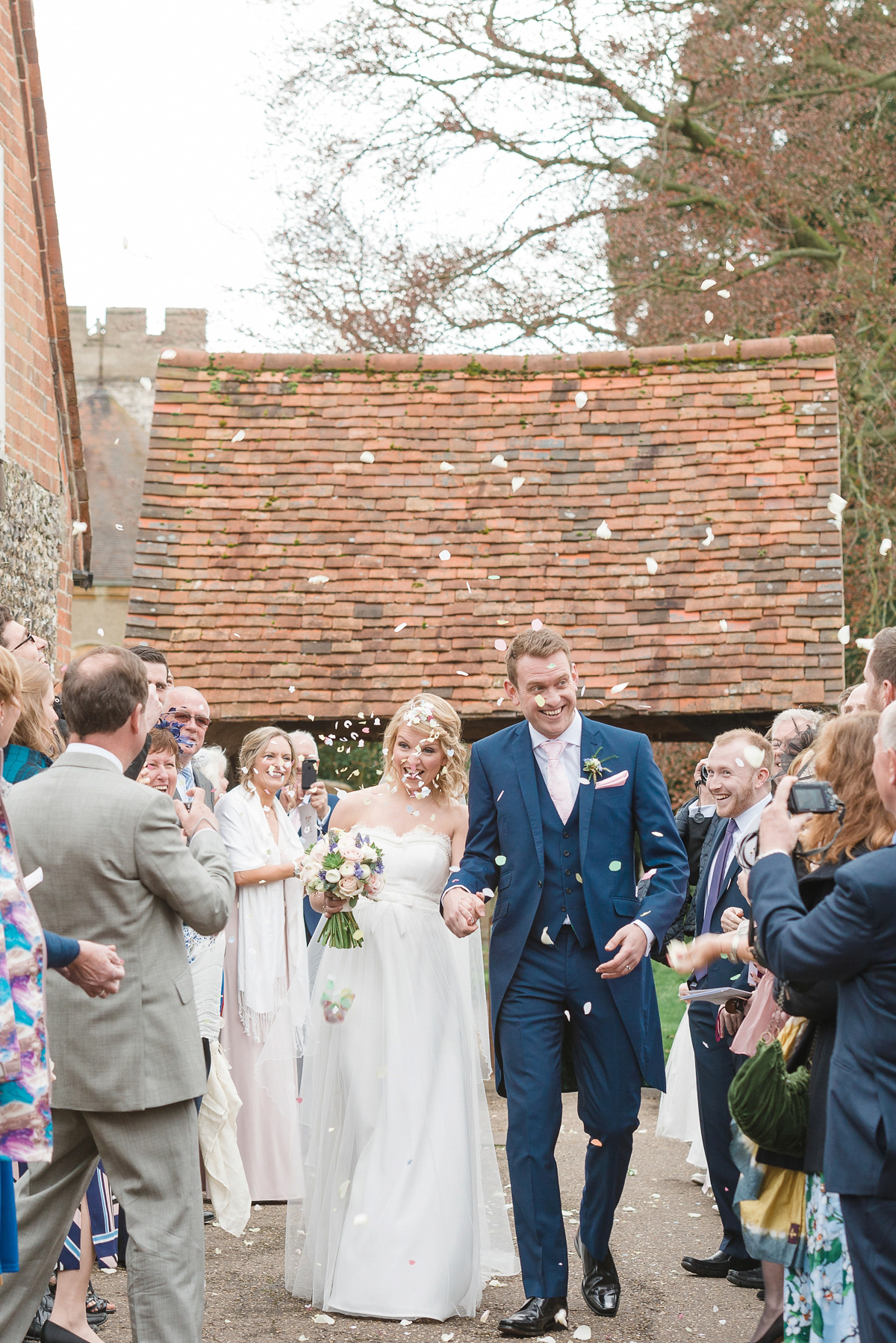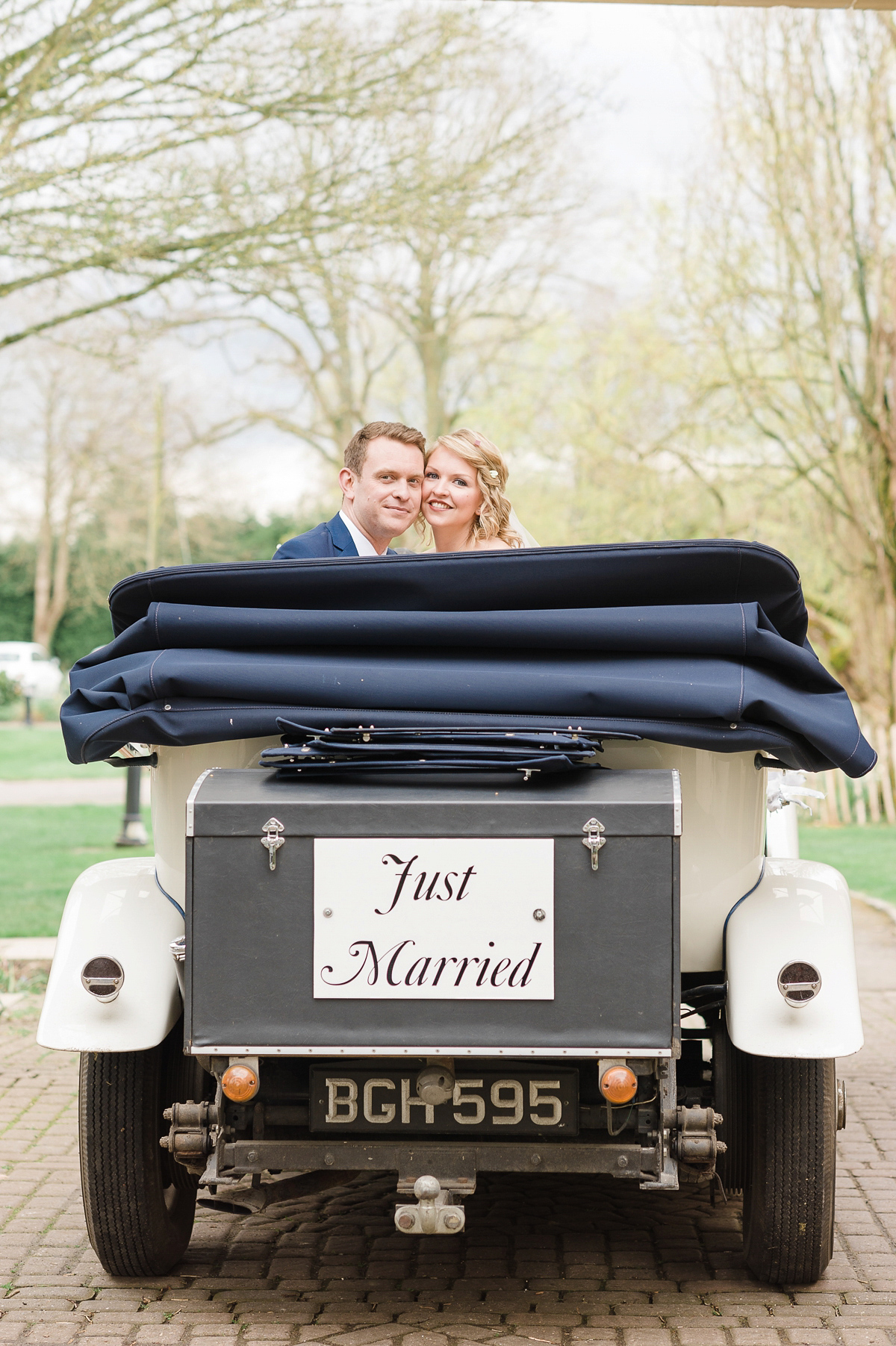 On hand to capture the spring blooms, big smiles and natural beauty of the venue was the lovely Hannah McClune. Hannah is all about capturing moments and creating memories which truly reflect her newlyweds, which I feel pretty much sums up Lynne and Paul's adorable images.
"Hannah was an absolute pleasure to have around and she got shots of moments I didn't even know had happened. She let us get on with the day whilst capturing the special moments. The photos all have the same beautiful feel of a magical day."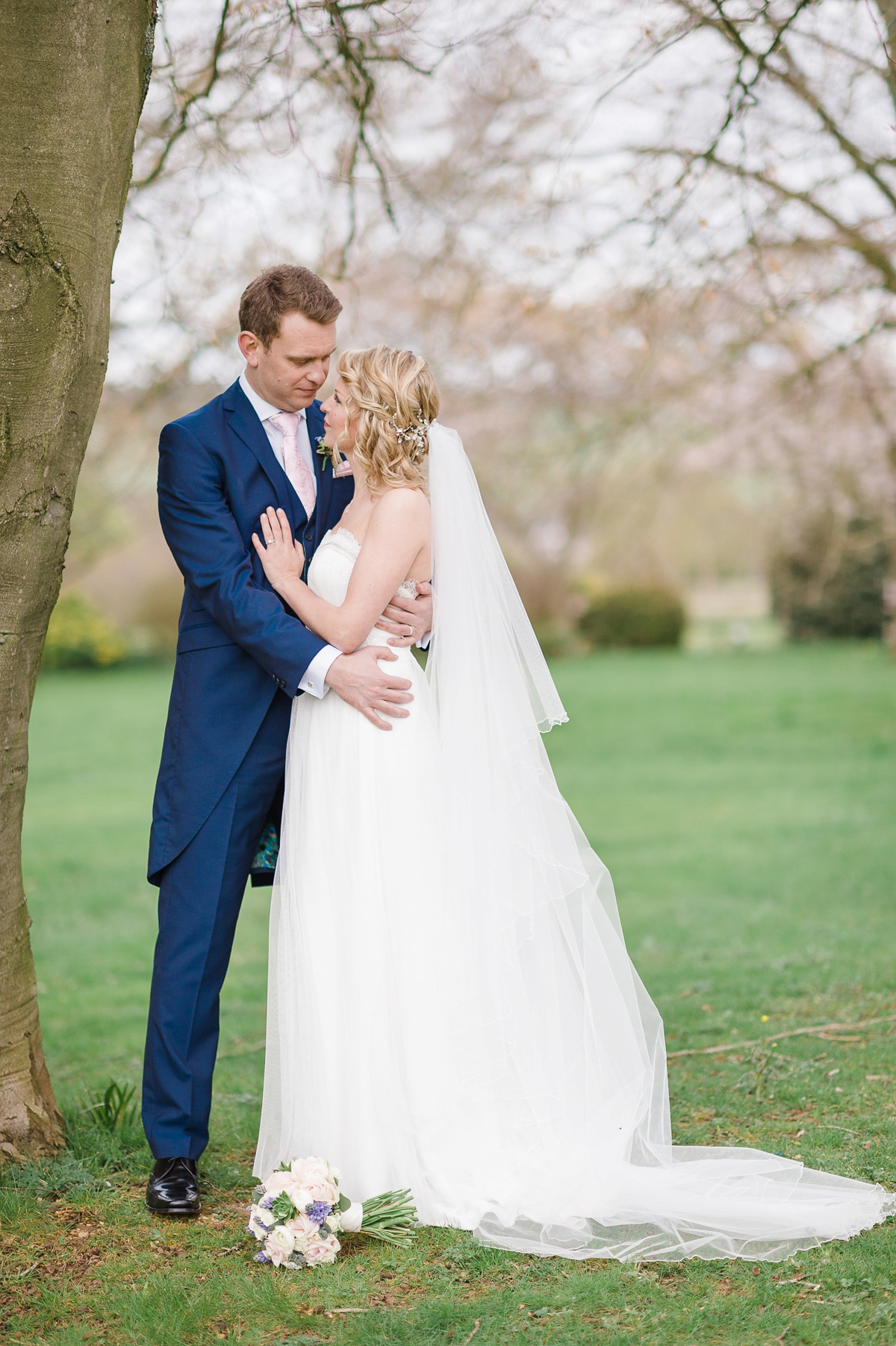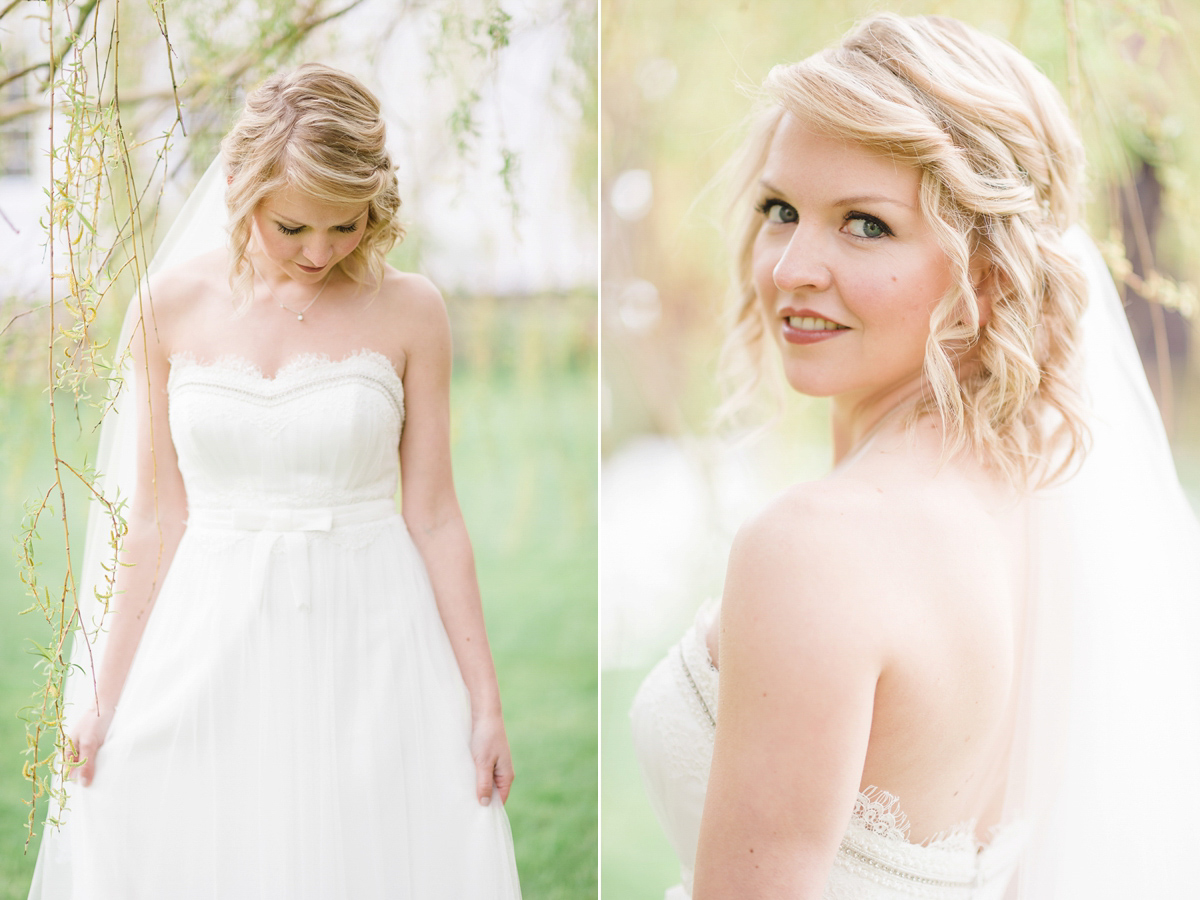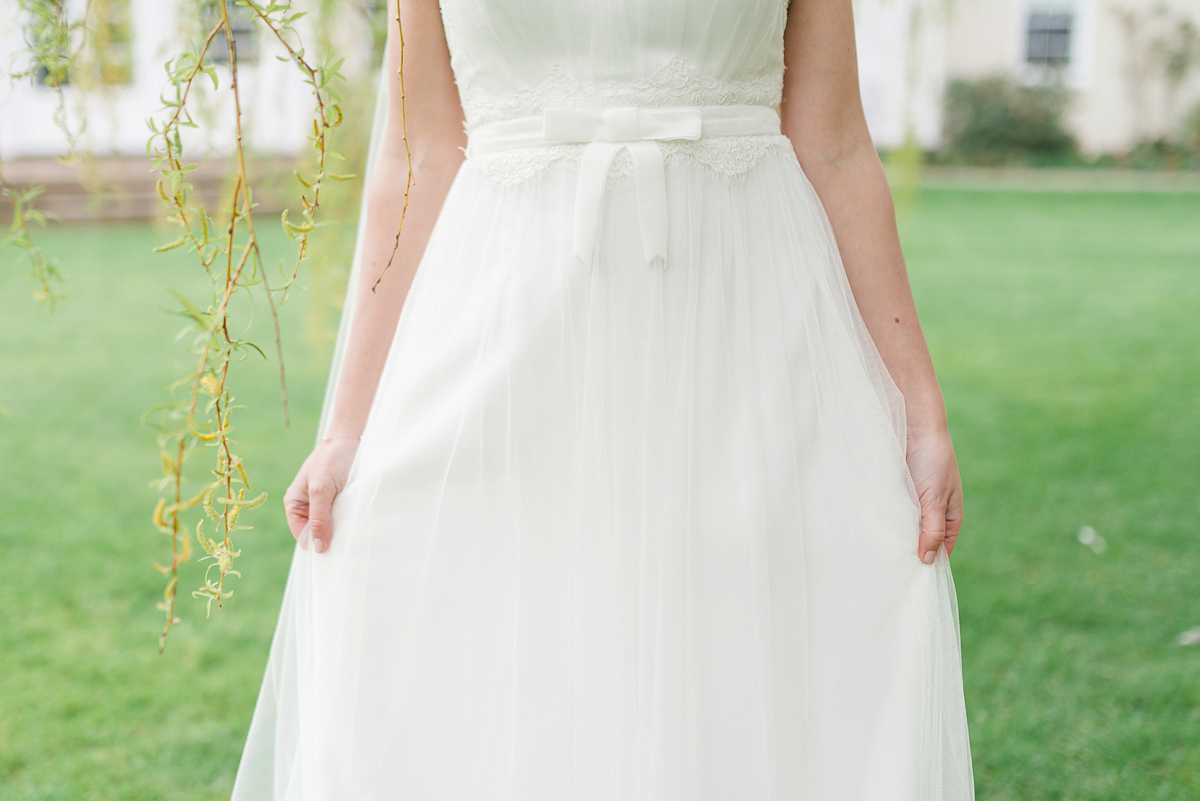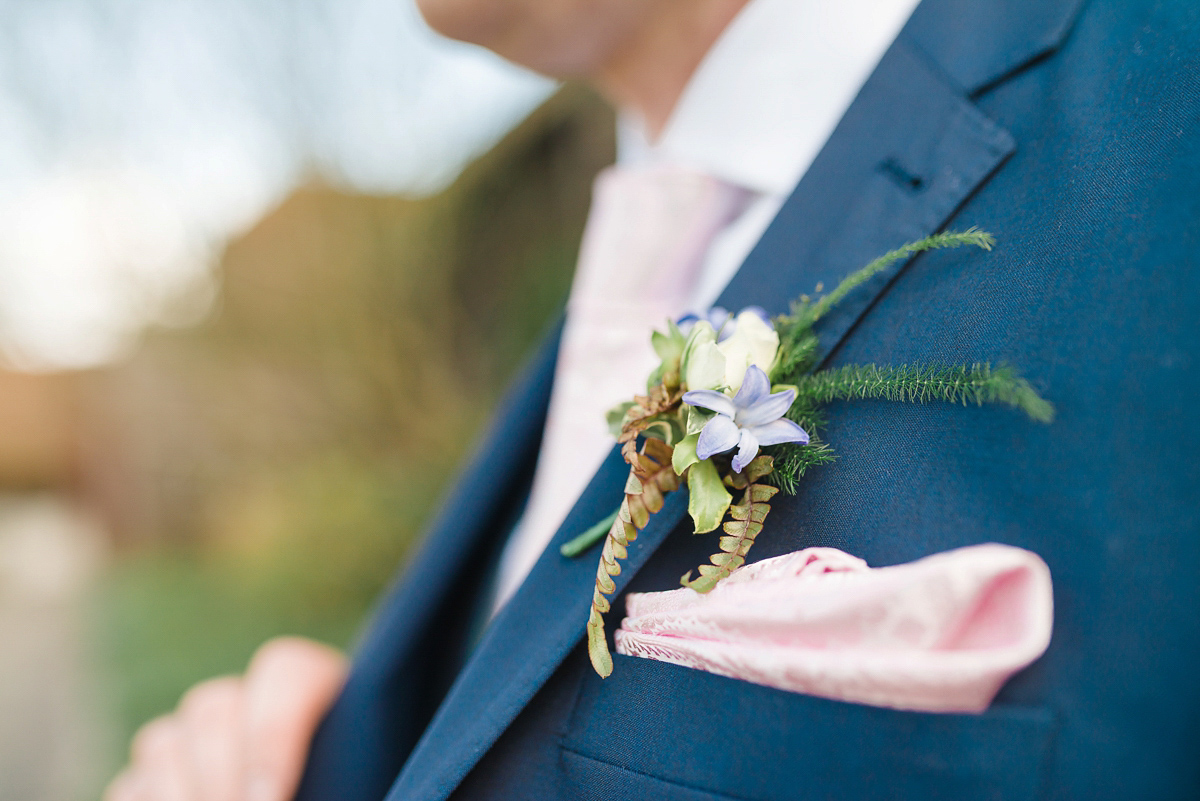 The bridesmaids wore dusky pink Phase Eight dresses and hair accessories from Accessorize. I absolutely love the flattering wrap style and the way the soft colour complements the pretty bouquets and Lynne's romantic gown. Can I also just take a second to lust over the gorgeous floral dressing gowns the ladies got ready in? This girly time was one of Lynne's favourite parts of the day.
The bride also gifted her maids with presents from Links of London and Mulberry; lucky girls! And of course I'm not forgetting the sweet flower girls in their Debenhams dresses and pink boleros; such cuties.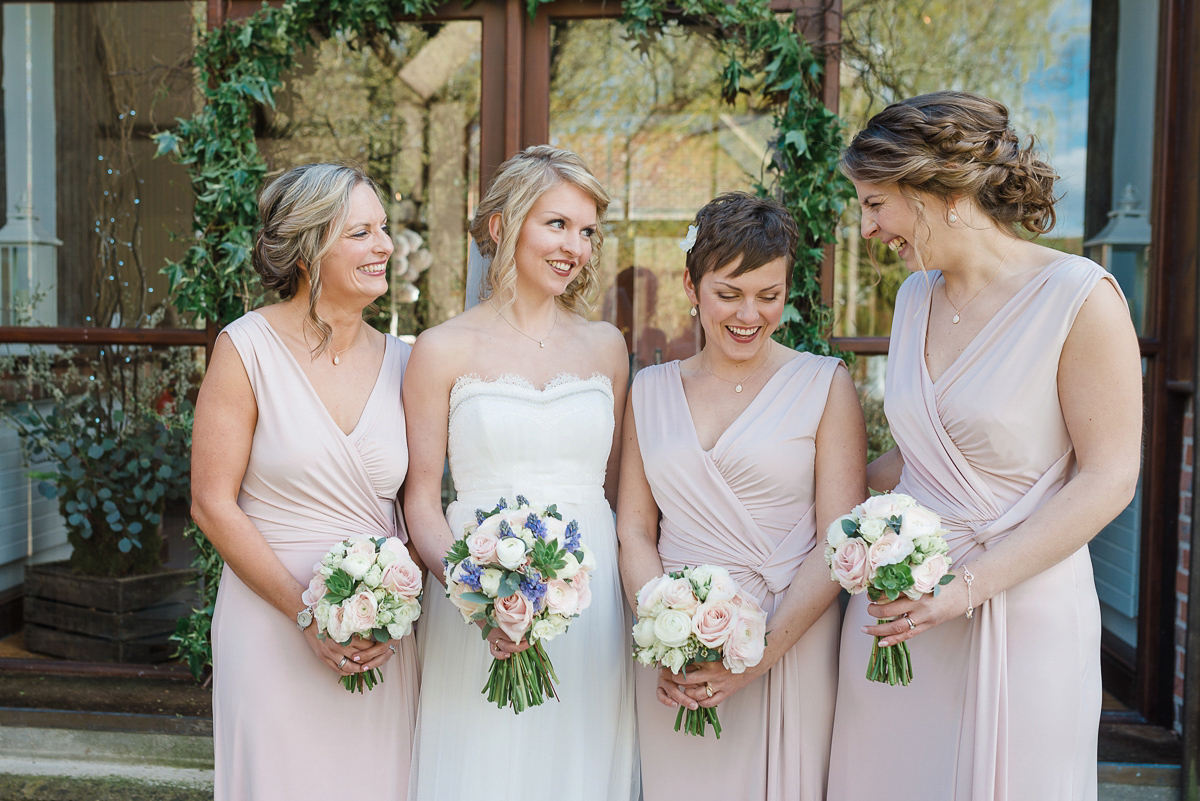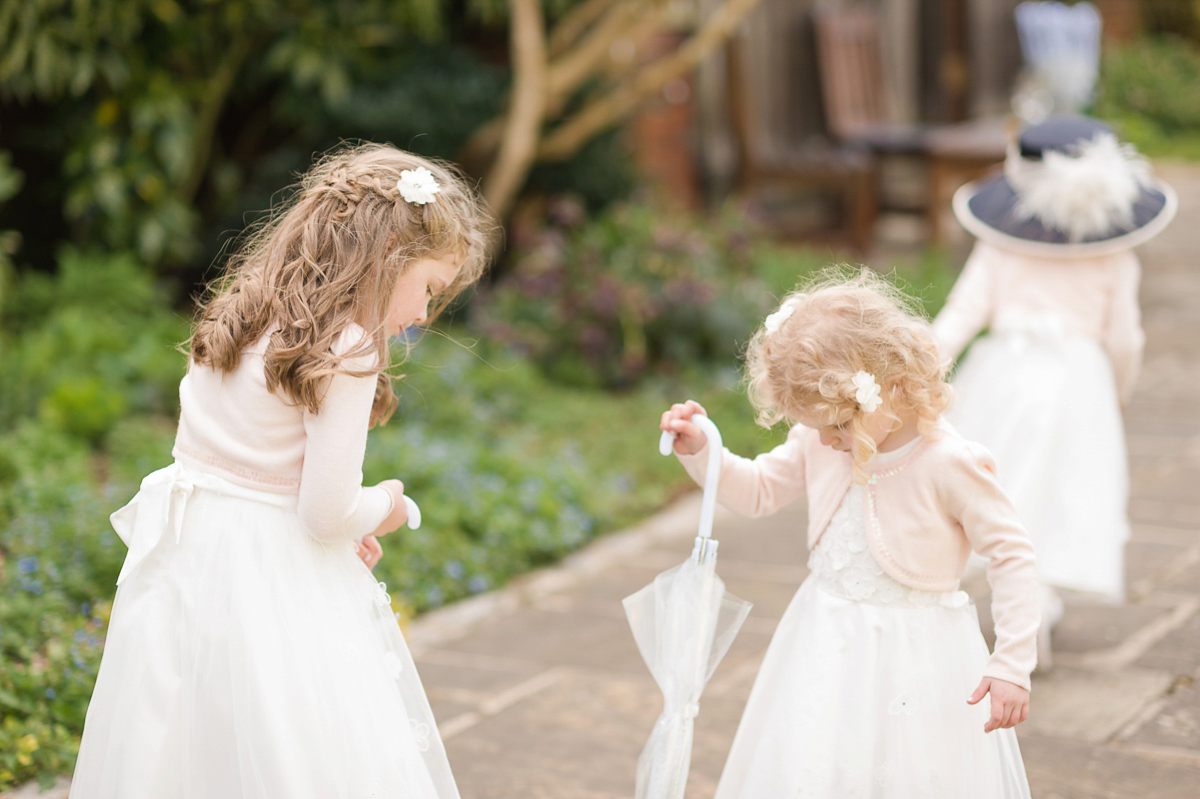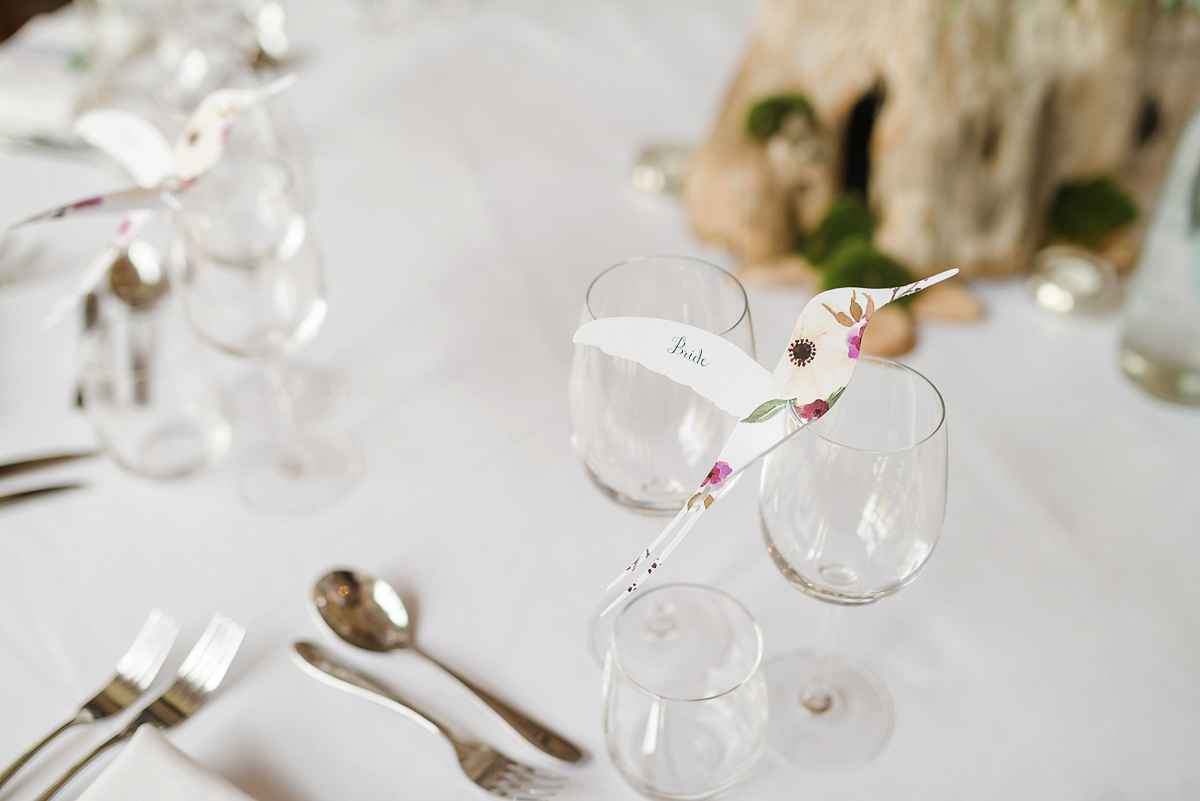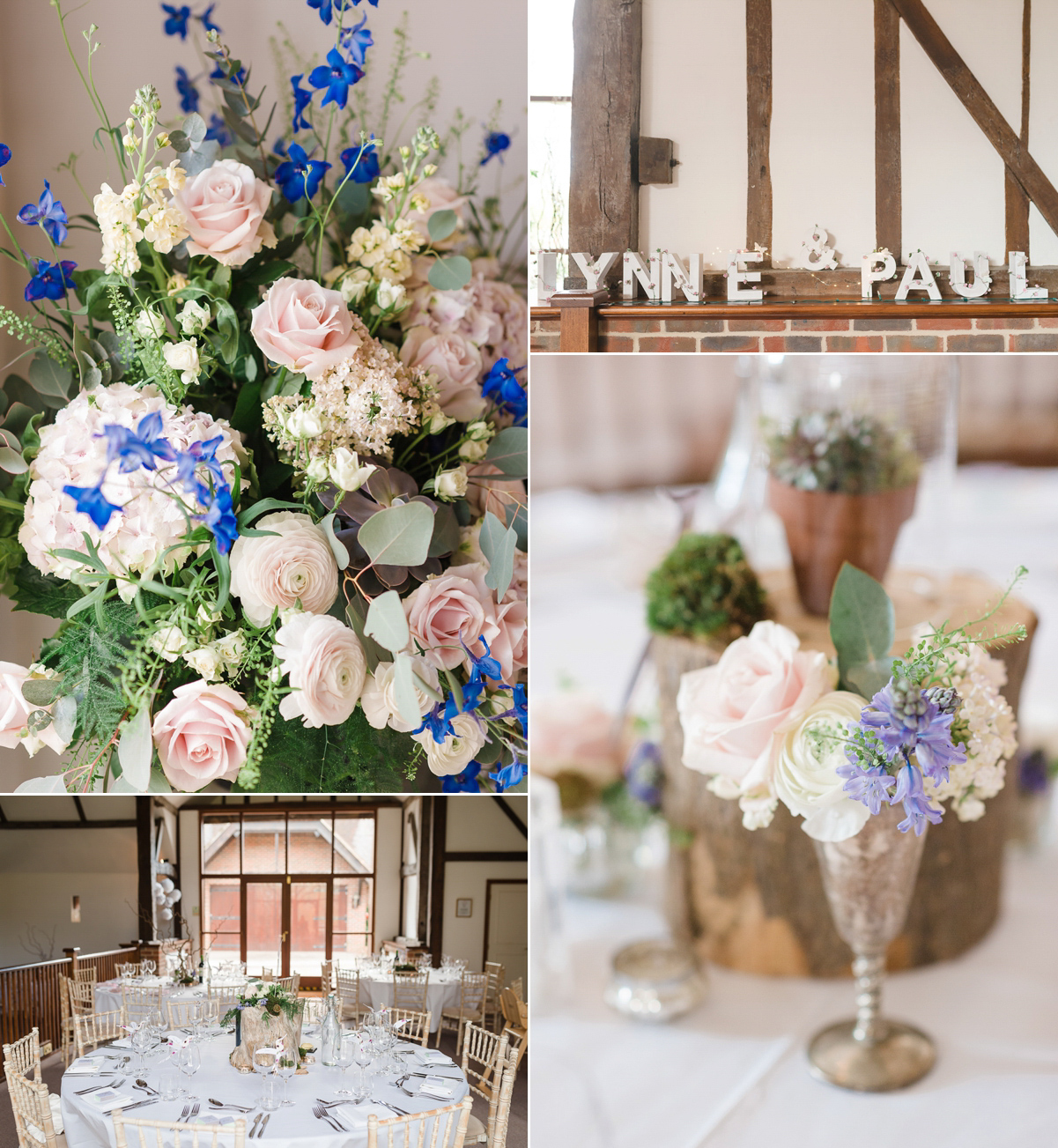 "I loved the meal as the food was impeccable. The speeches were nerve-wracking but everyone did a fantastic job and then all that was left to do was dance the night away; we loved every moment.
If I could have done anything differently I'd have remembered to put the lanterns we had out. We would also have got married an hour earlier (we got married at 2pm) so there was more time to celebrate!"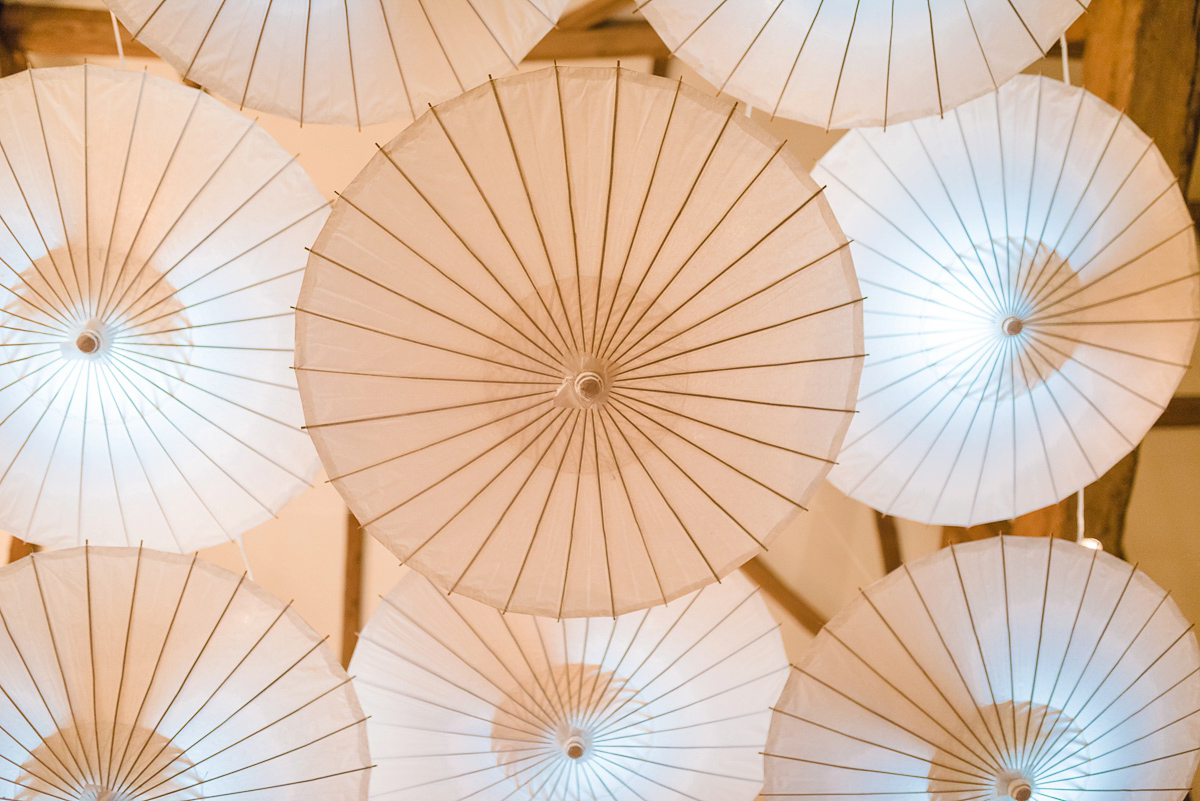 The Wild Fork took care of the yummy catering and Rowan of Ro's Custom Cakes whipped up a stunning three-tiered cake adorned with flowers and birds. I love, love, love semi-naked cakes and I spot profiteroles and mini lemon tarts; two of my favourite things to eat ever. Well I mean the mini lemon tarts don't have to be mini. Is anyone else suddenly ravenous?
"Rowan was so helpful; we had a wonderful tasting session and she knew the kind of rustic woodland theme we wanted. The cake was a three-tiered semi-naked raspberry and white chocolate creation with two lovebirds on it; very romantic."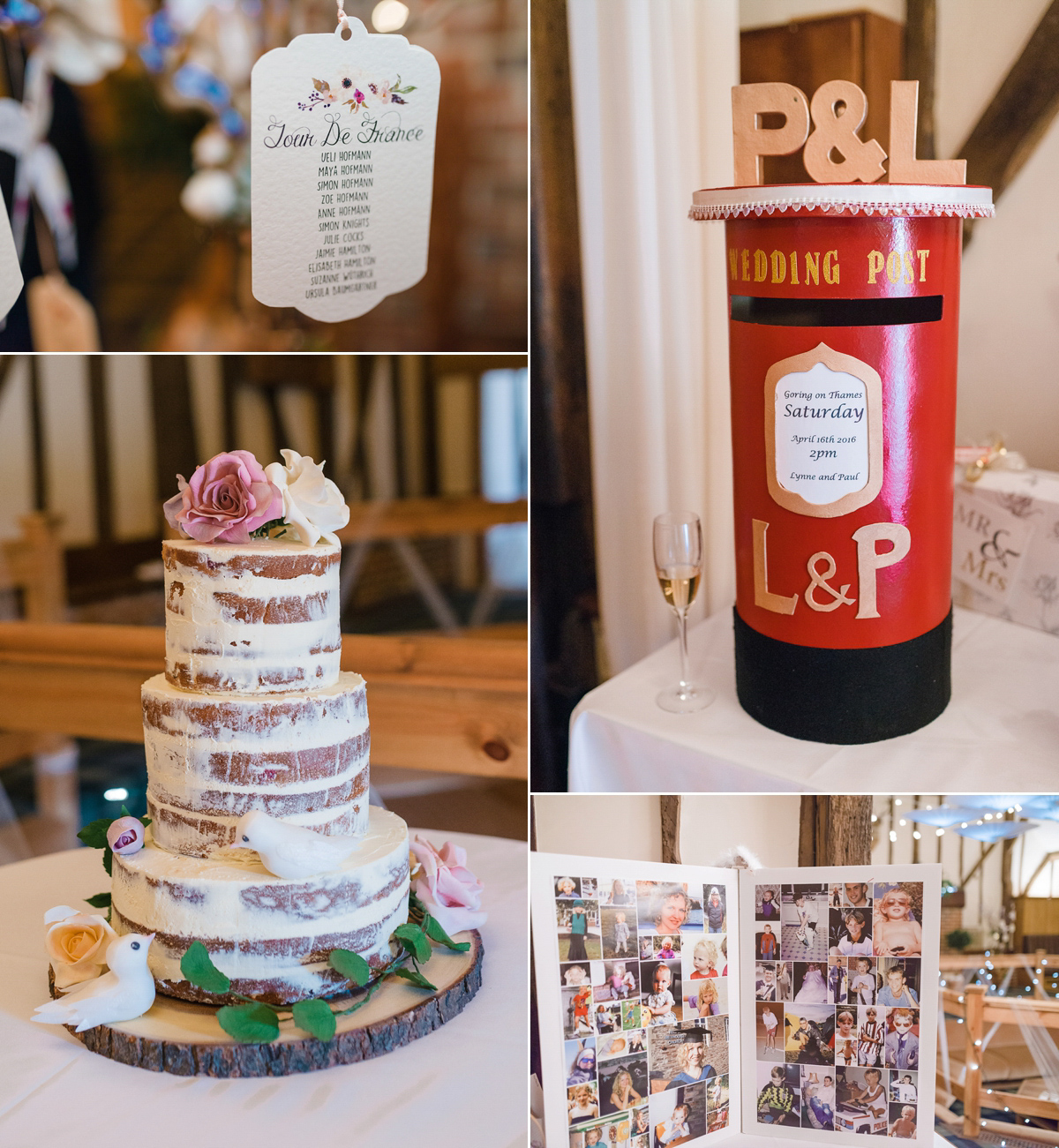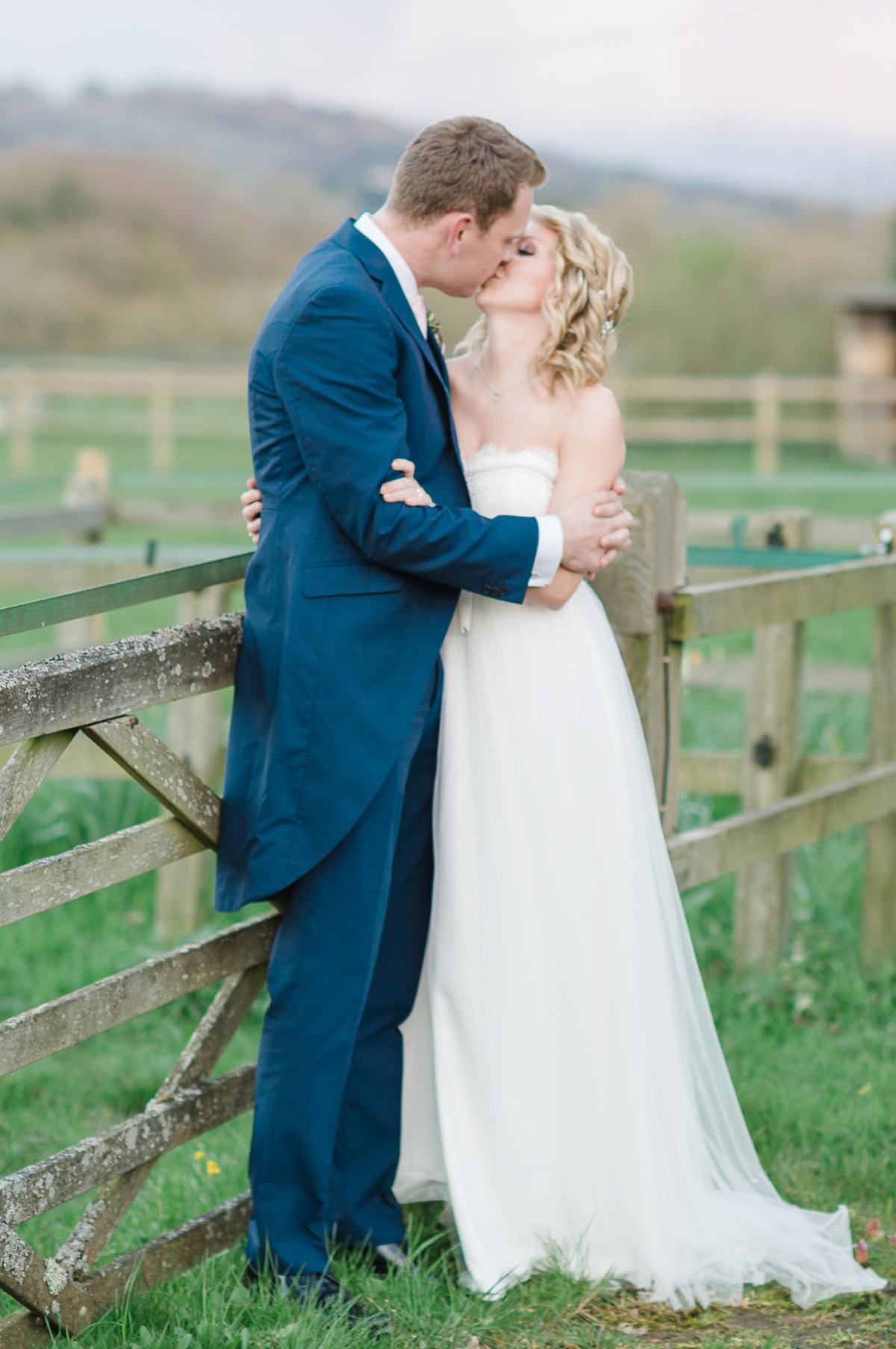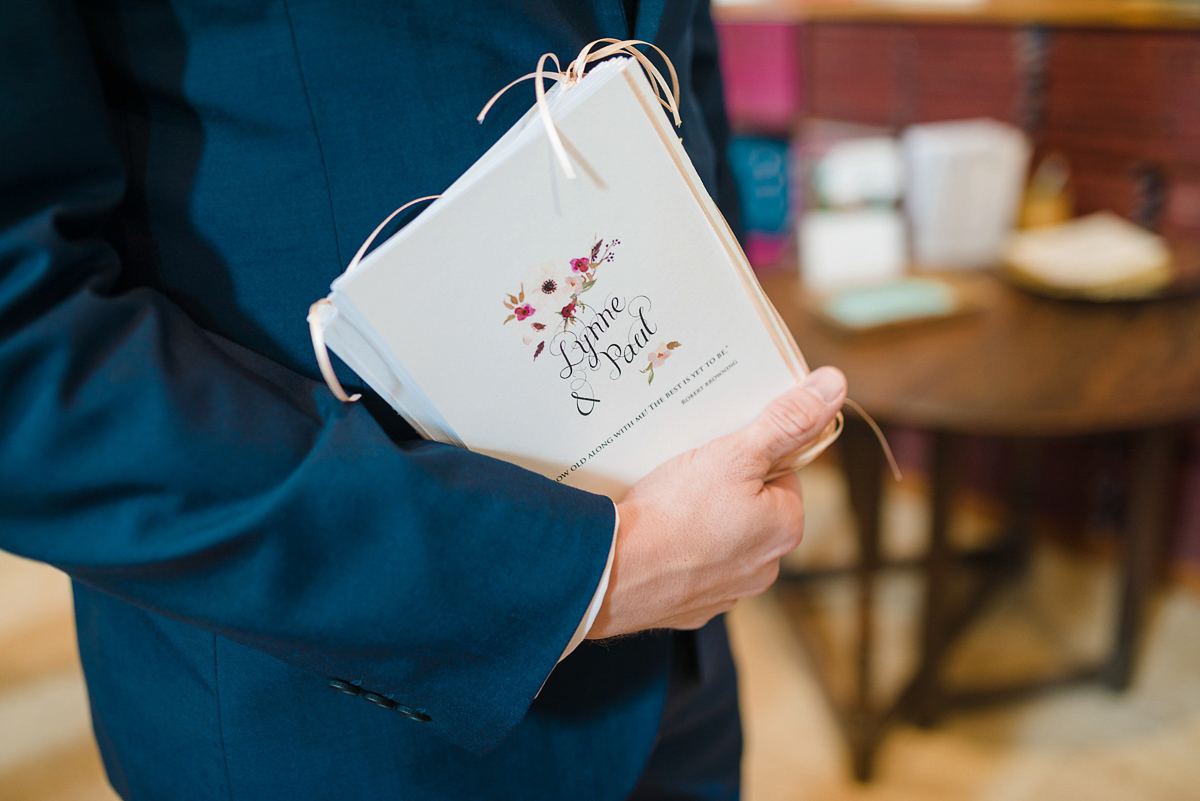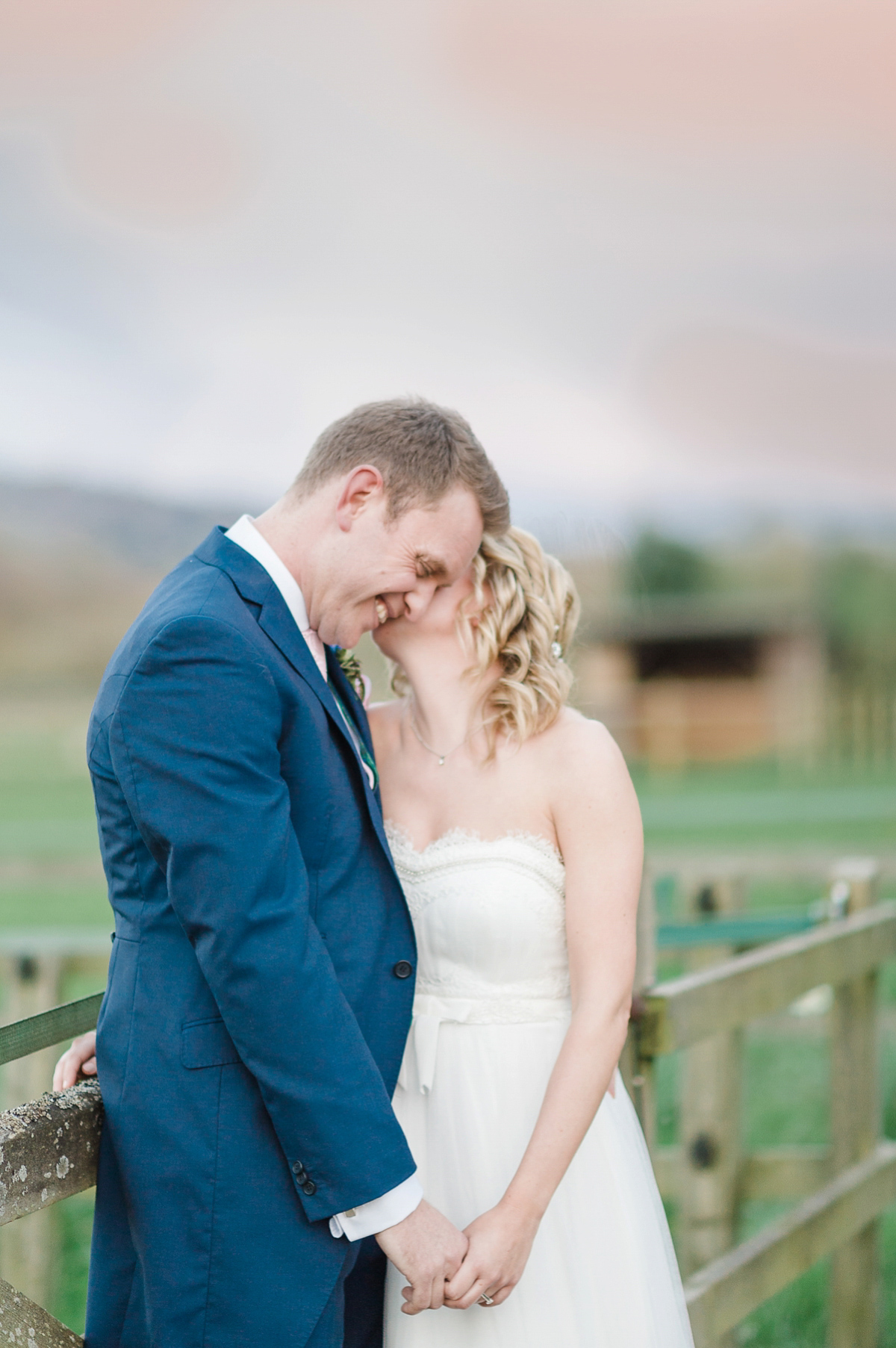 Words of Wedded Wisdom
"I found the more I considered and mulled over things, the more confused I got. I also found that the more time I had, the more I thought of things that weren't important and I didn't need. Go with your gut and remember that everyone there loves you and wants to celebrate your big day.
Don't worry too much and get wound up about the tiny things. Also, whoever says a beautiful wedding can't be put together in minimal time is wrong; we are happy we did it quickly as the whole lead up was exciting and there was never a dull moment."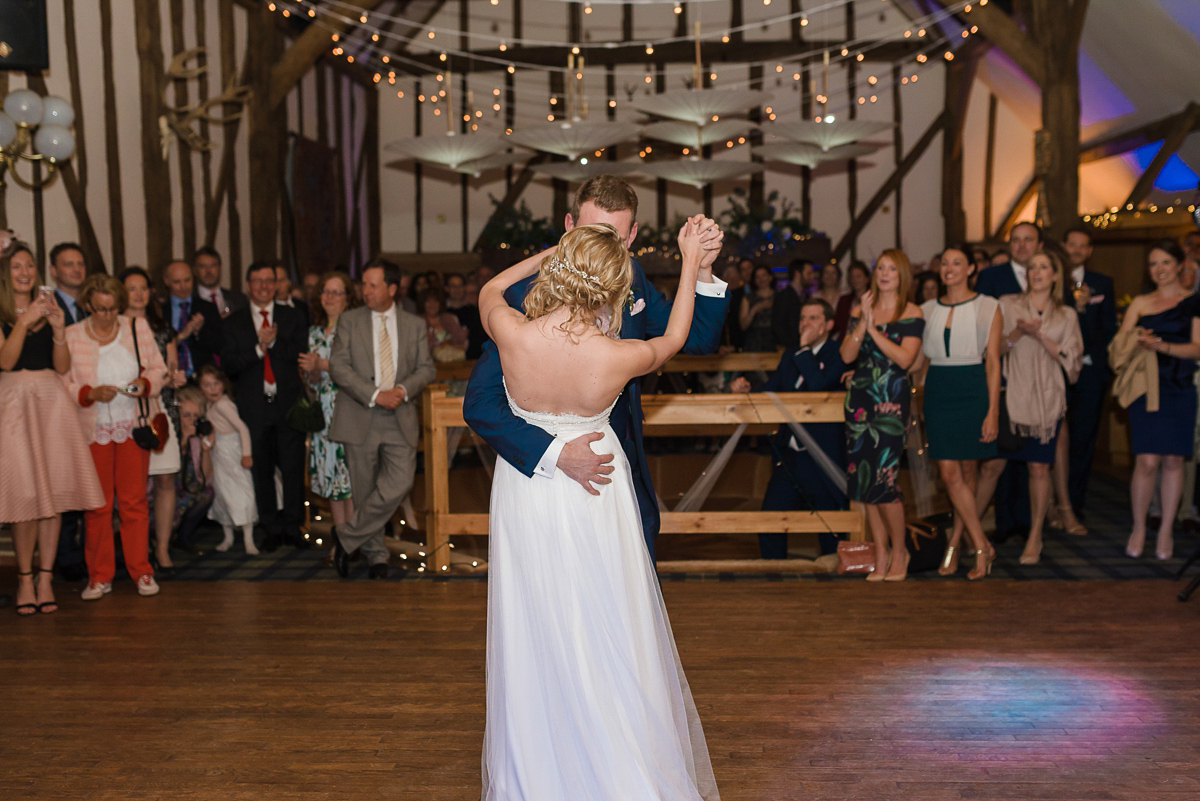 Such, such wise words from Lynne – not allowing yourself to be sucked into the 'Pinterest vortex' and trying not to obsess over every tiny detail are recurring pieces of advice from our brides.
That leaves me to thank the lovely Lynne and Paul for allowing us to share their sunny spring nuptials and to also send our very big thanks to Hannah McClune Photography for these romantic images. If you haven't quite had your fill of springtime loveliness, then simply follow this link for more wonderful weddings from our archives full to bursting with inspiration.
Love, Em x