Oh lovelies, have I got a treat in store for you this autumnal Monday morning! I've been hoping since the moment I caught a glimpse of these stunning photographs on our private Facebook group, that I would be the lucky writer to feature the softly ethereal, big-hearted, all-round gorgeous wedding of James, a medical student, to the beautiful Emily, who works for a students' union.
Their day was held in the North Yorkshire village of Appleton Wiske on 22nd July this year, and inspired by Emily's love of the 'Brambly Hedge' stories, and a desire on the part of the bride and groom to hold a celebration full of friends, family and joy.
Emily and James found Love My Dress invaluable when looking for suppliers, Emily sourcing her shoes, headpiece and dress designer from these very pages, as well as discovering their photographer and furniture hire company through Love My Dress too.
"Appleton Wiske has a particularly special meaning to Emily, because her maternal family has lived there since the 1600s. We got married in the local Anglican chapel, 200ft from her grandma's house, and walked to our village hall reception from there. When we first got engaged we sat down and each listed our priorities for suppliers; we settled on food and drink, flowers, and photography. We tried to do as much as possible with local suppliers and keep it sympathetic to the village that Emily grew up loving."
Photography by Sarah-Jane Ethan
I just love it when a bride and groom have so obviously sat down together to reminisce and pen the details of their union for us to share on our beautiful blog. I have laughed and cried tears of joy preparing this feature to share with you all, moved beyond words by the emotive recollections of this lovely pair.Our bride applied her own make up in the morning, enjoying the opportunity to use her newly purchased beauty products and a quiet contemplative period before the excitement of the day. She swapped her every day Miss Dior perfume for a fresh new scent, it's citrus notes layered with a long-latsting body crème. I can vouch for it's genuine deliciousness, having been gifted the same perfume on my wedding day.
"I wore White Rose & Lemon Leaves by Jo Loves. It was sherbet-y, citrusy and floral all rolled into one, and felt like a really elegant but fun fragrance to wear. The only other accessory I wore was my something borrowed. James' grandma sadly passed away 11 months before our wedding, and I know she was really looking forward to the day."
"I borrowed her engagement and wedding rings for the day and wore them on my right hand instead of my engagement ring. It was so lovely to be able to honour her."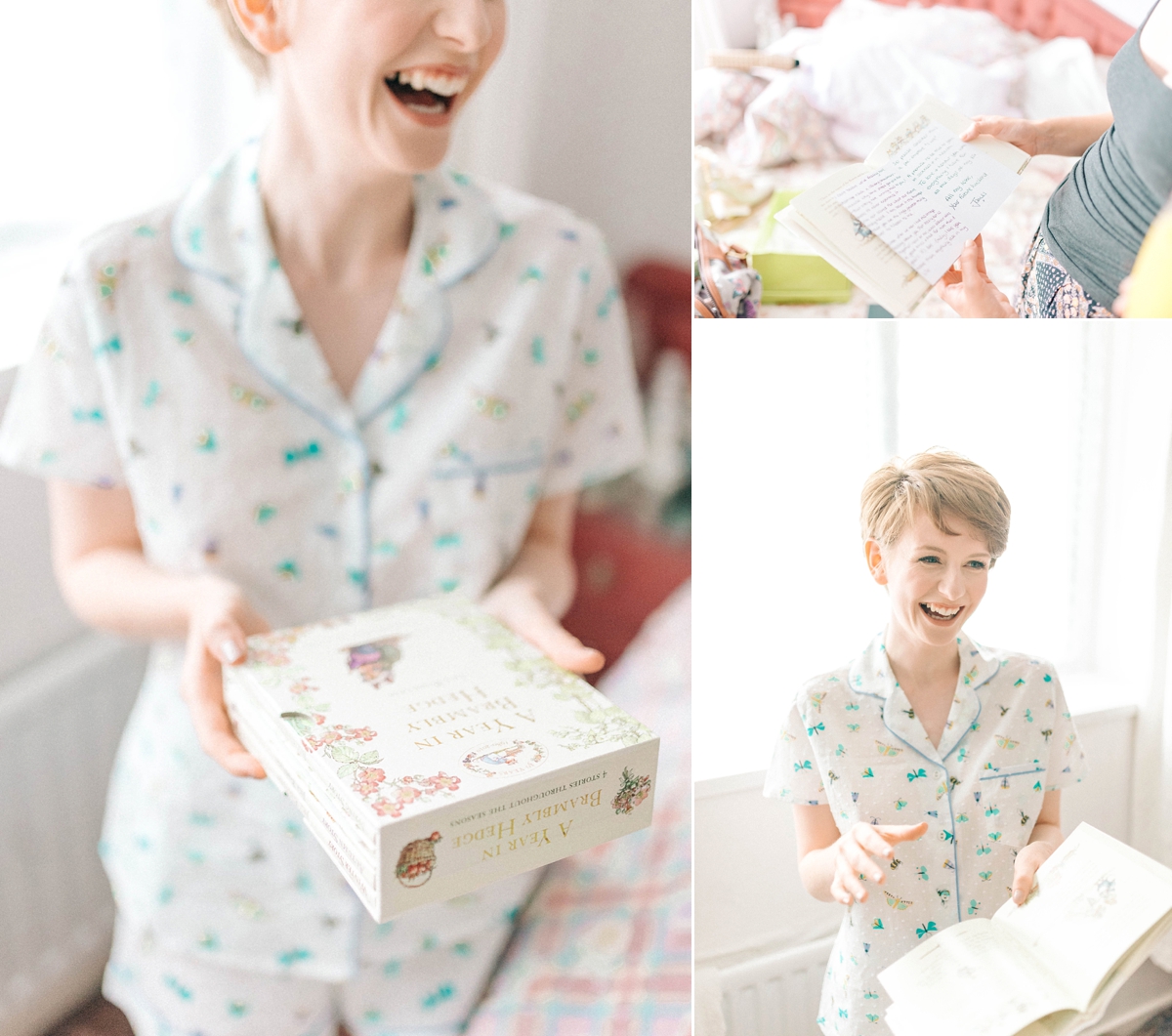 Emily chose the incredible Eden dress by Claire Pettibone, which she purchased from the welcoming team at Kathryn Trueman Bridal in Morpeth, along with her cathedral-length, two-tier veil by Richard Designs, the delicately sparkling material covering her face as she entered the church just as she'd always dreamed.
"I'd seen Eden on a blog when we first got engaged in 2014, and absolutely loved her, it was then that I started looking at all of Claire Pettibone's beautiful, intricate designs. In March 2016, Kathryn Trueman Bridal were running a trunk show of Claire's Gilded Age collection, alongside gowns from her earlier collections. I tried on about six beautiful dresses, but nothing really felt like it was me."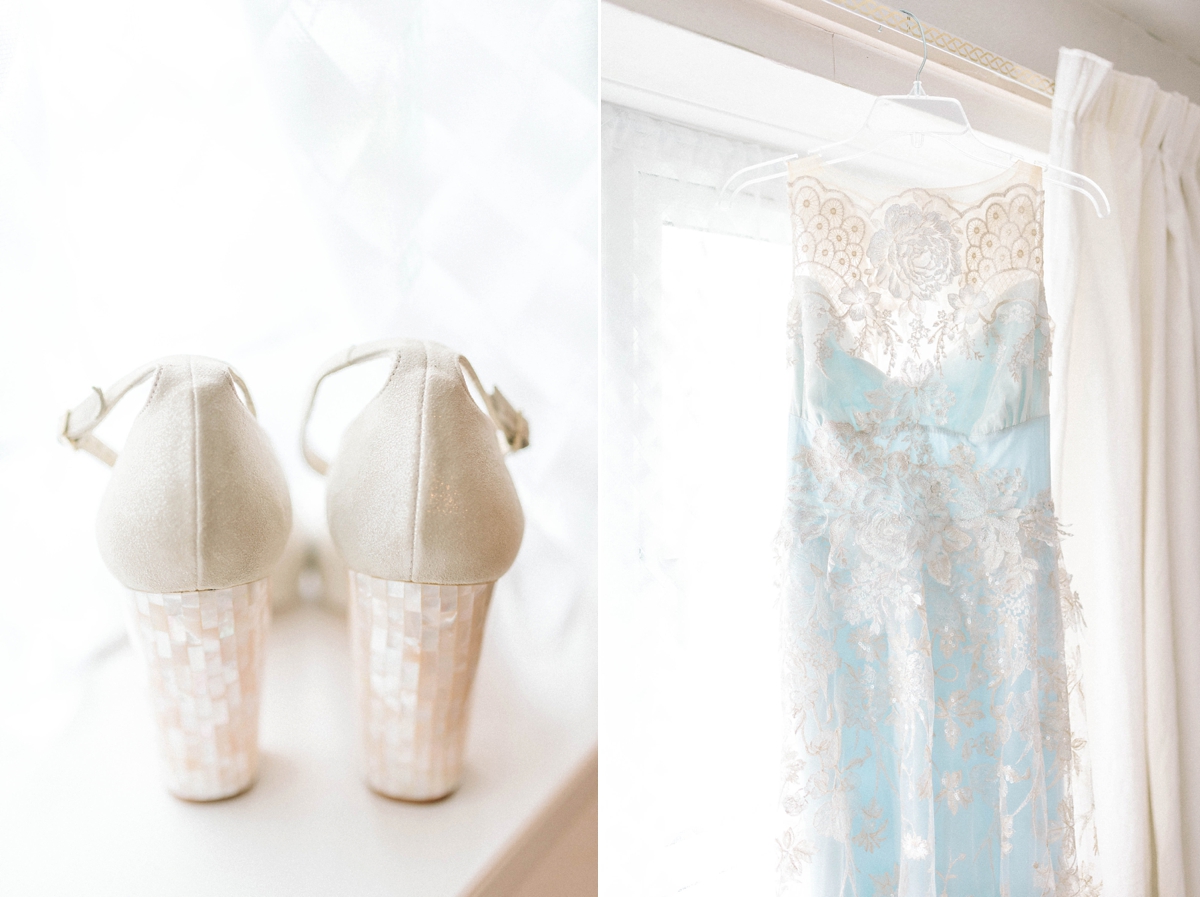 "When I saw that Eden was at the boutique, I had to try her on. As soon as I saw myself in the mirror, I'd made my decision. I loved the gorgeous blue silk slip and the champagne lace overlay that gently sparkled every time I moved with hundreds of sequins. It was so elegant, but also ethereal and almost mystical, with a huge, cathedral-length detailed train.
It took my breath away, and I knew I had to buy it there and then. I also adored that it wasn't white, I'm really pale and a lot of the white and ivory dresses washed me out or made me look even paler. Eden just made my pale skin really glow and show off the best version of me."
"My simply stunning headpiece was made by Clara Francis. I adored working with her to design a bespoke version of her Ruby headband. She is such a lovely, warm person as well as being insanely talented."
"When it arrived I actually cried because it was so much more beautiful than I could have imagined. Keeping it a secret from James was so difficult because I just wanted to prance around the house wearing it all the time!"
"It was a complete dream to wear and I had so many compliments on it. The gold, champagne and blue went so perfectly with my dress, and made me really feel like a bride, and a fairy queen!"
We adore the jewellery creations of artisan designer Clara Francis more than we can express, and are immensely proud to support this lovely lady through our curated wedding directory along with Freya Rose, who designed the champagne suede shoes worn by our beautiful bride.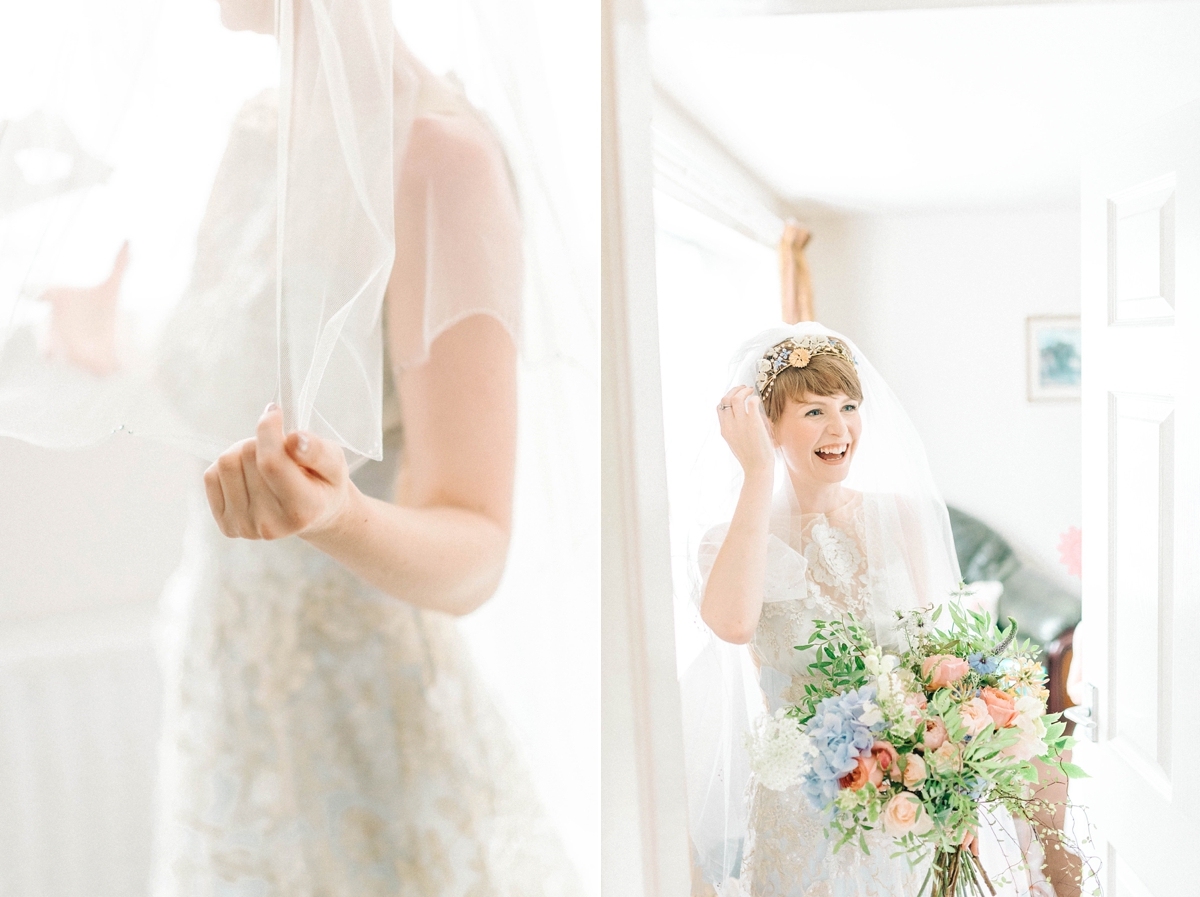 Emily swapped her mother of pearl block heels for white Hunter wellies to lay a wreath at her auntie's grave before the church service, and later, cream leather Converse for dancing the night away. The shimmering iridescence of her beautiful heels blends seamlessly with the intricately ethereal detailing of her wedding dress.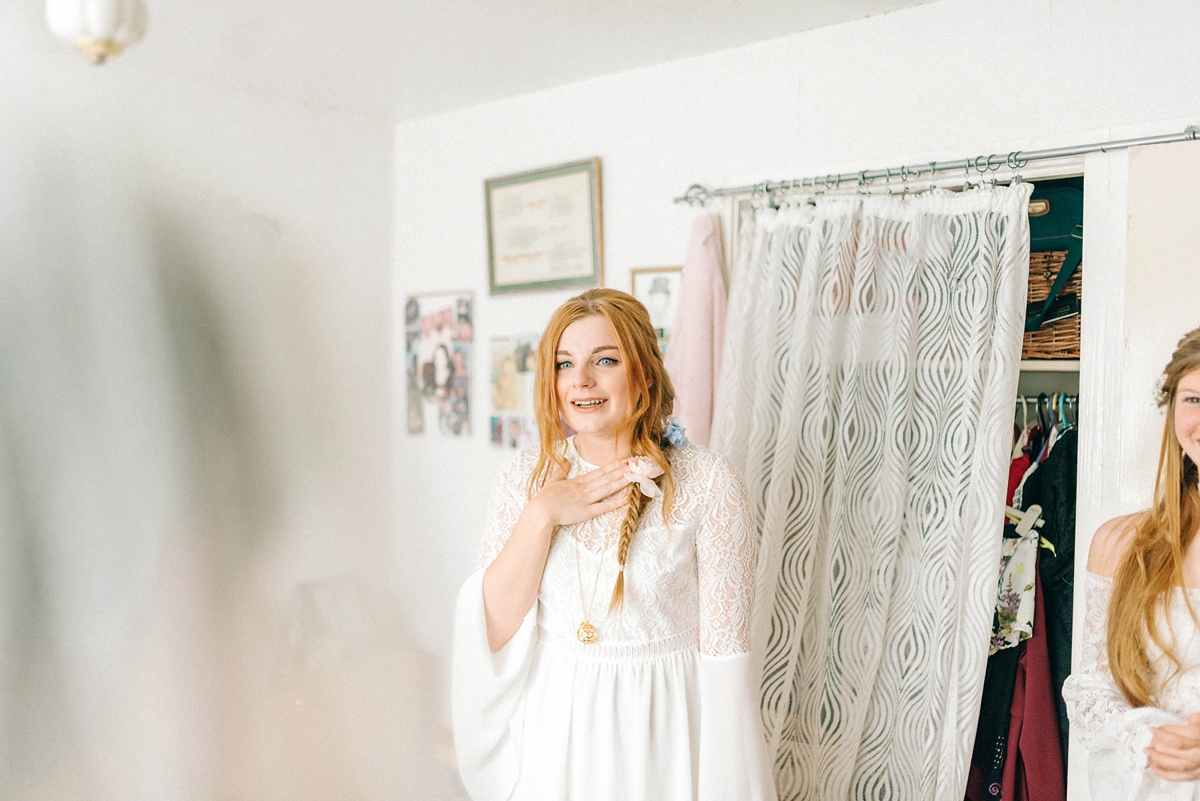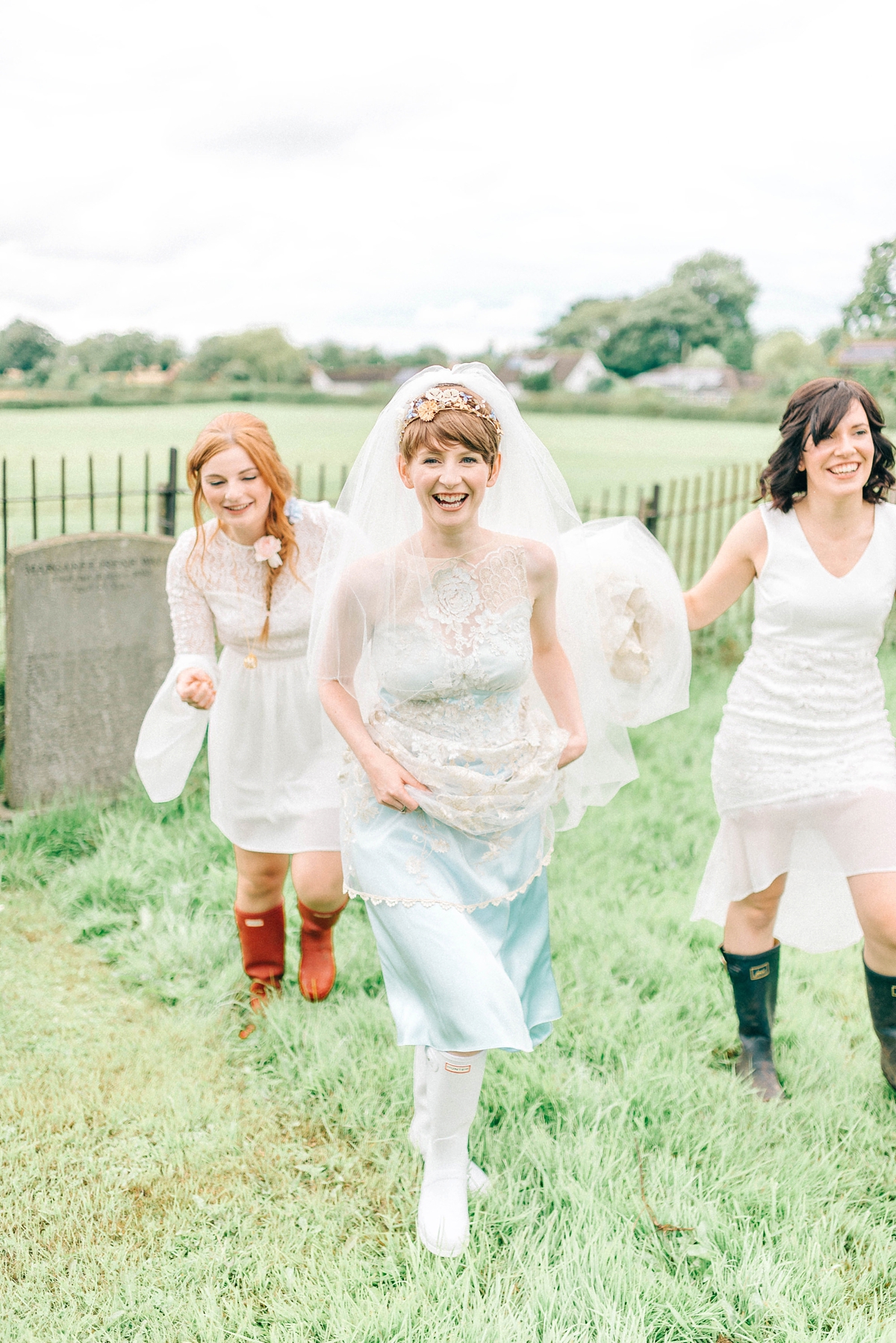 The couple were introduced by Emily's best friend, who worked with James in a pub. After the initial match-making, James headed off to university in Sheffield, and unable to say goodbye to Emily a short time after they'd met, they committed to a two-year long distance relationship culminating with Emily joining her love in Sheffield to study. James' account of their sweet engagement has me smiling from ear to ear.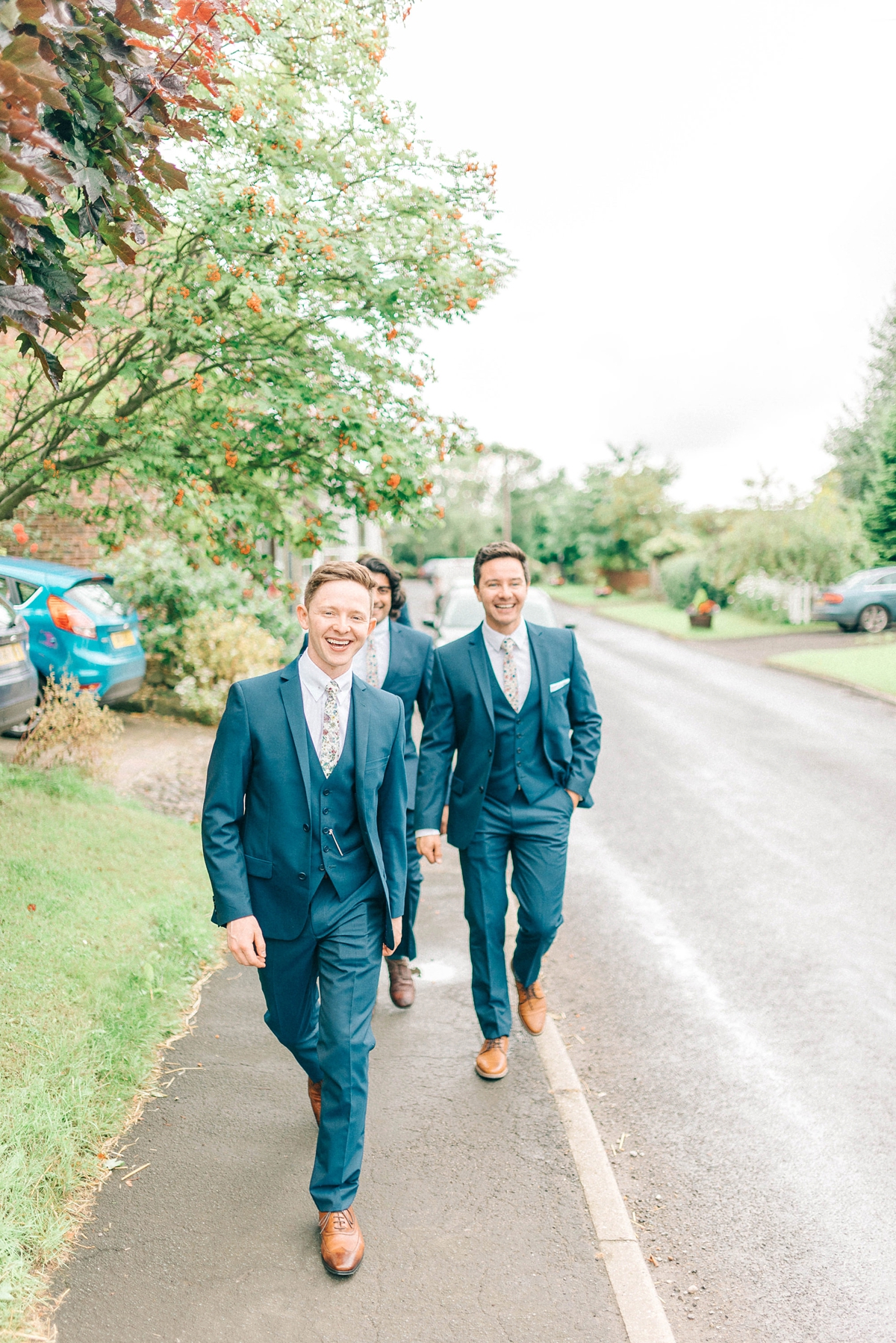 "The day after Emily graduated, I organised a trip to the Northumberland coast, the place we had first gone away together. I packed a picnic from our favourite patisserie and we had a lovely picnic on Bamburgh beach."
"Emily remarked that with all the romance, she thought for a second that I was going to propose. I said sorry for disappointing her and asked whether despite this, she still wanted to spend the rest of her life with me. She turned to find me with engagement ring in hand."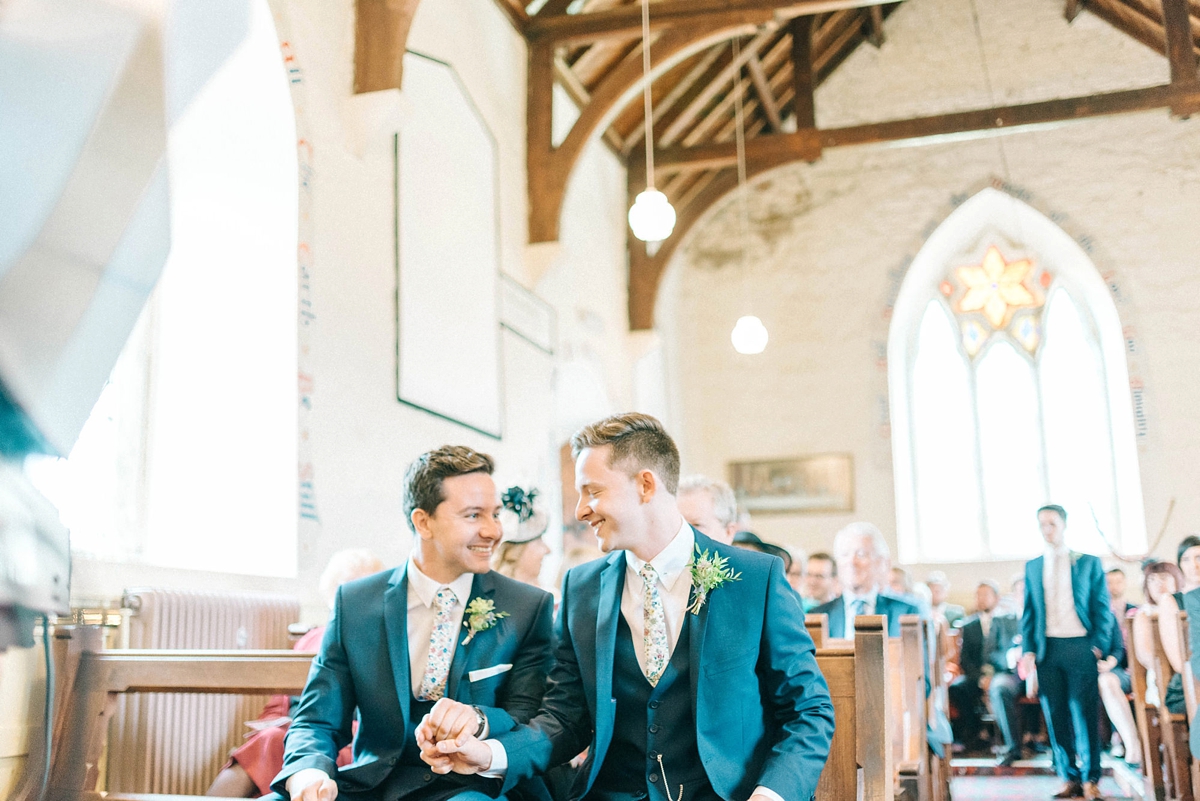 "So after five years together we were engaged, but to fit with my studies we ended up having a 3-year engagement. We were able to book all the suppliers we wanted and grew together so much over that time, but by the end we were both desperate to be married to each other!"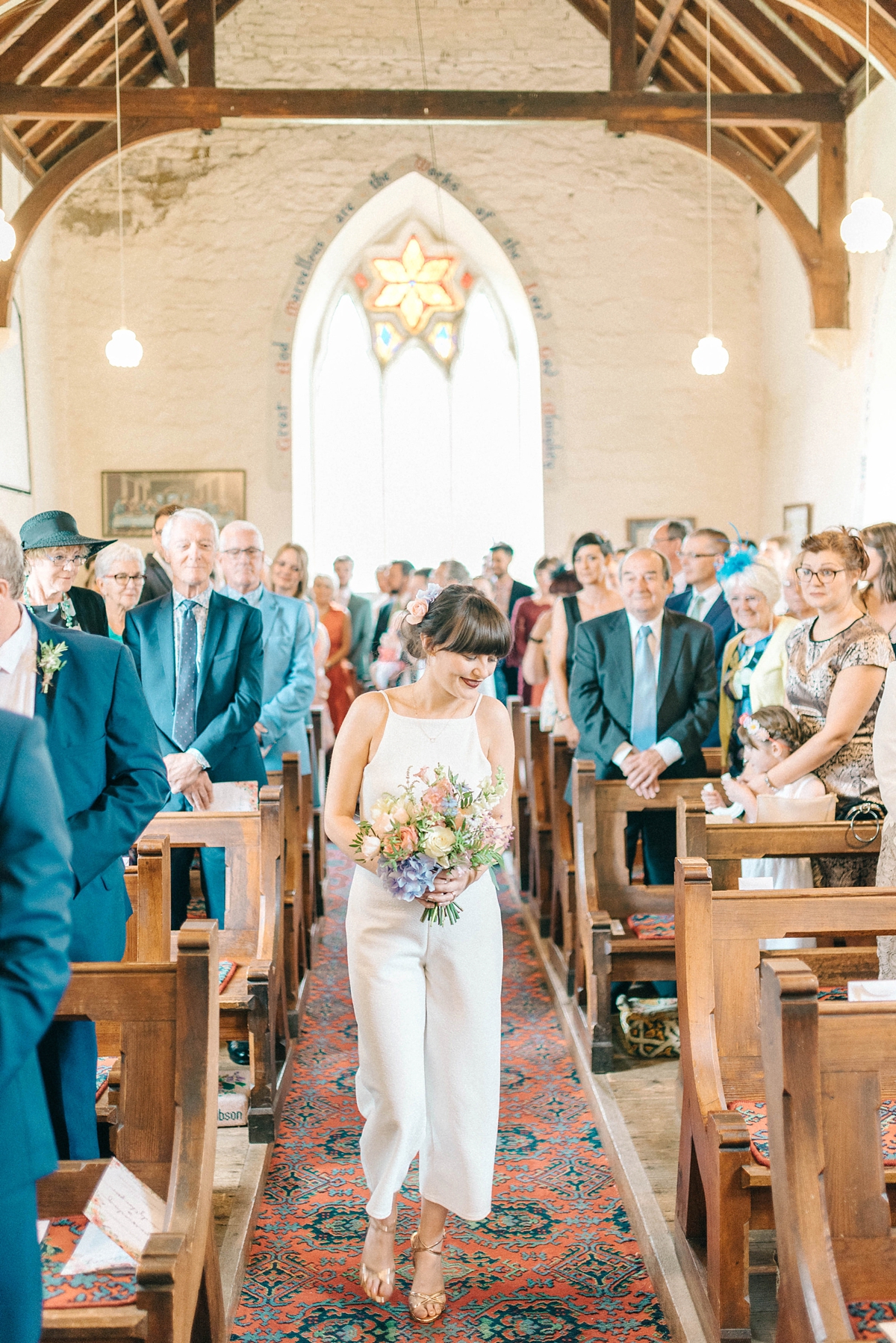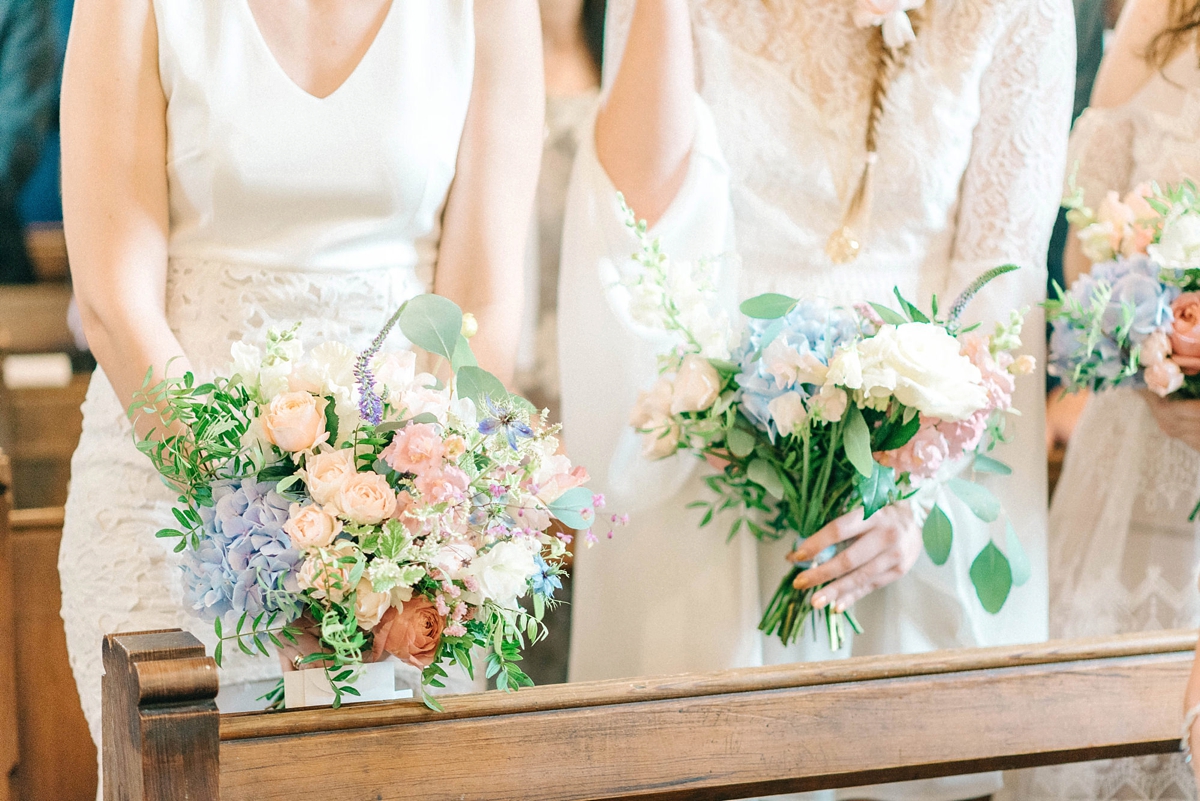 Emily walked the 200ft from her grandma's house to the church, and later continued on foot with her husband to the village hall at the end of the high street. They provided a a coach for their guests from the nearest town and designed all of their own wedding stationery using vectors and fonts purchased from the internet and printed at printed.com.
Emily's very favourite part of the day was the ceremony, all her nerves about crying dispelled as she basked in the calm resoluteness of the vows she was making to James.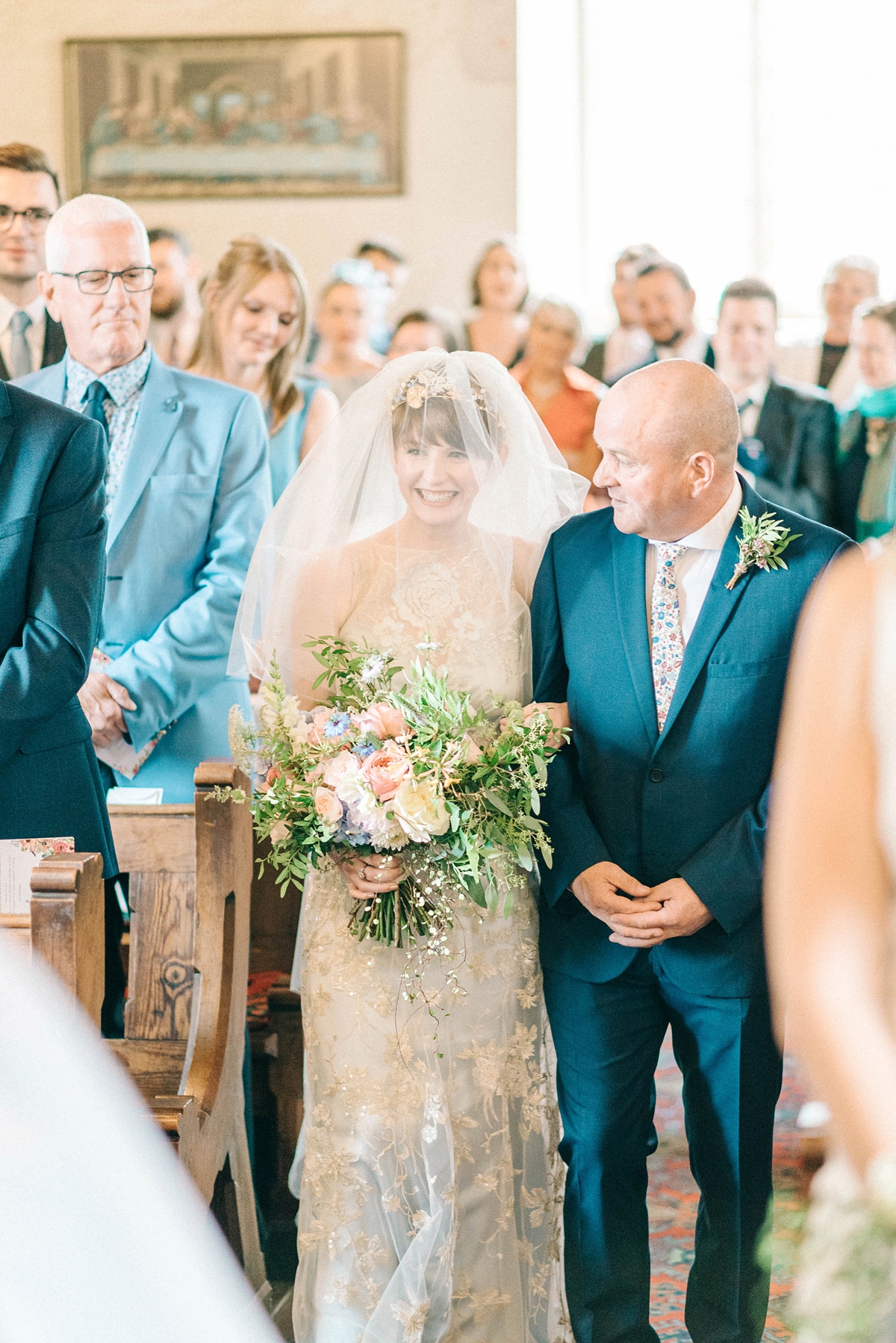 "There was no one else but my dad that I would have wanted to walk me down the aisle. It was such a lovely way to honour him and although we were really nervous, I loved every second of it. We walked down the aisle to 'Concerning Hobbits' from The Lord of the Rings. It's so joyous and bouncy, it was absolutely perfect and still brings tears to my eyes."
"Walking down the aisle was so wonderful, seeing all our friends and family cheering us on and so happy for us. My cheeks hurt from smiling so much, James looked so handsome and I just could not wait to marry him. Things went wrong (which hand I had to hold, James sitting down when we were meant to be getting married) but it didn't matter; because we'd waited so long, it just felt serene and perfect."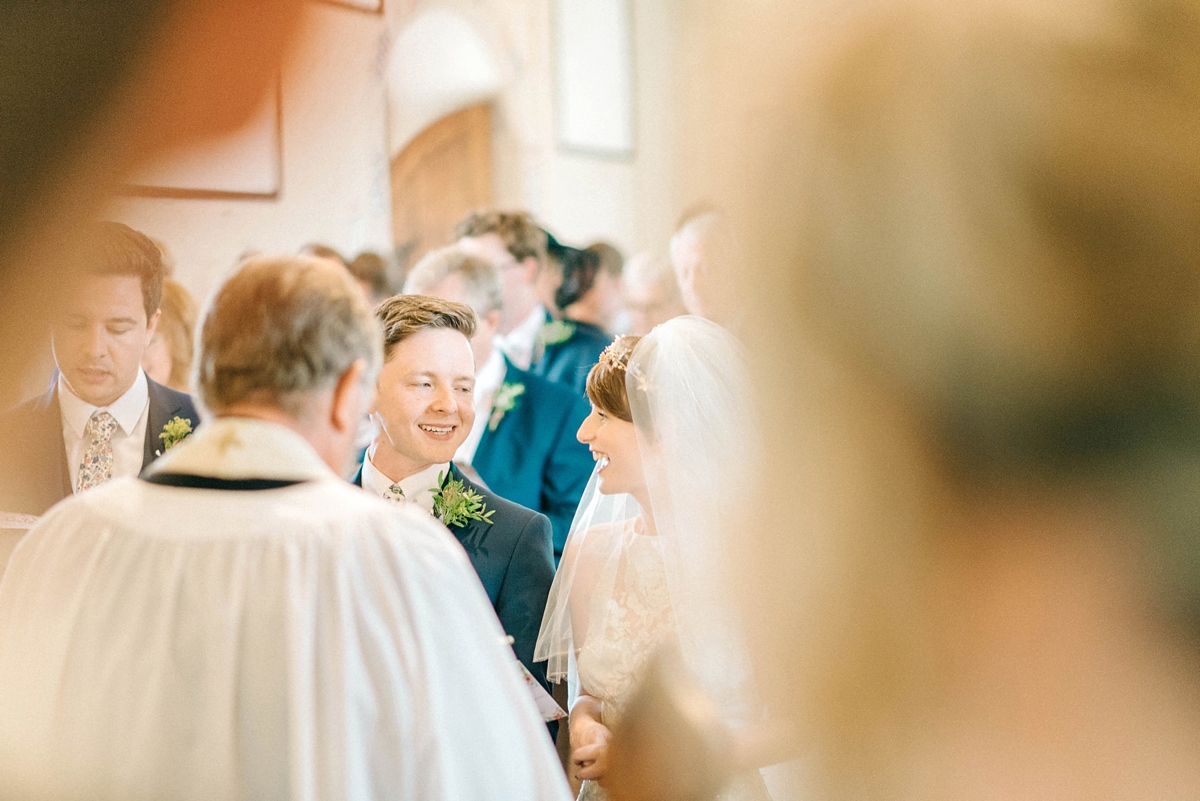 "We used the traditional Church of England vows, although omitted the 'who gives this woman?', and 'honour and obey' bits. It was really important to us to say the vows that hundreds of thousands of people have said over hundreds of years before God. Saying them felt so special and gave such gravity to what we were saying. We had two readings from the Bible, Colossians 3:12-17 and Ruth 1:16-17. This reading meant so much to us because of the commitment shown by Ruth; it's also about the importance of friendship as well as love. It absolutely reflects how we want our marriage to be."
The newlyweds exchanged rings from Goldsmiths before leaving the church to Barry Louis Polisar's 'All I Want Is You', a happy reflection of their day, with their loved ones clapping as they passed by. Many talented friends, as well as the bridesmaids and groomsmen, contributed to the ceremony and reception. Two friends from church played the hymns and register music at the church, and the local Methodist churches lent the instruments, speakers and mixer they needed.
"Emily and I are both committed Christians, having discovered our faith at university, it was important for us that our day reflected the joy that we find in it. Our service was energetic and modern, while emphasising the importance we put on the vows we made to each other and before God."
James' sported a suit by Ted Baker at Moss Bros. in a gorgeous shade of blue, which he paired with a tie from Etsy and Dune shoes. The groomsmen were gifted ties from Next and on the morning of the wedding, over a cooked breakfast and talking through the plan for the day, James presented them with monogrammed tankards filled with champagne.
"My only accessory was a silver pocket watch given to me by my grandparents when I was little. My grandad used to always wear one at work as a bricklayer, but as he passed away before Emily and I got engaged, I wanted a piece of him there on the day. People constantly commented on it I was able to tell them the story; talking about him helped me feel he was not forgotten."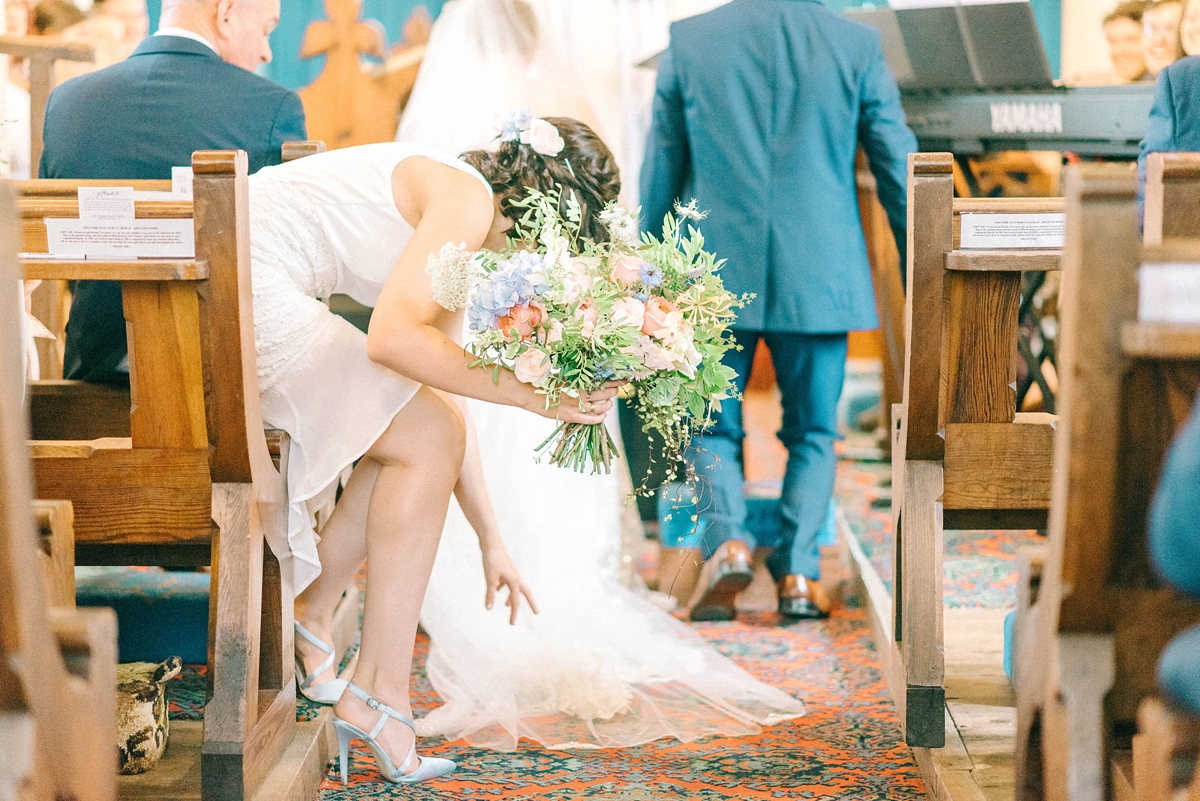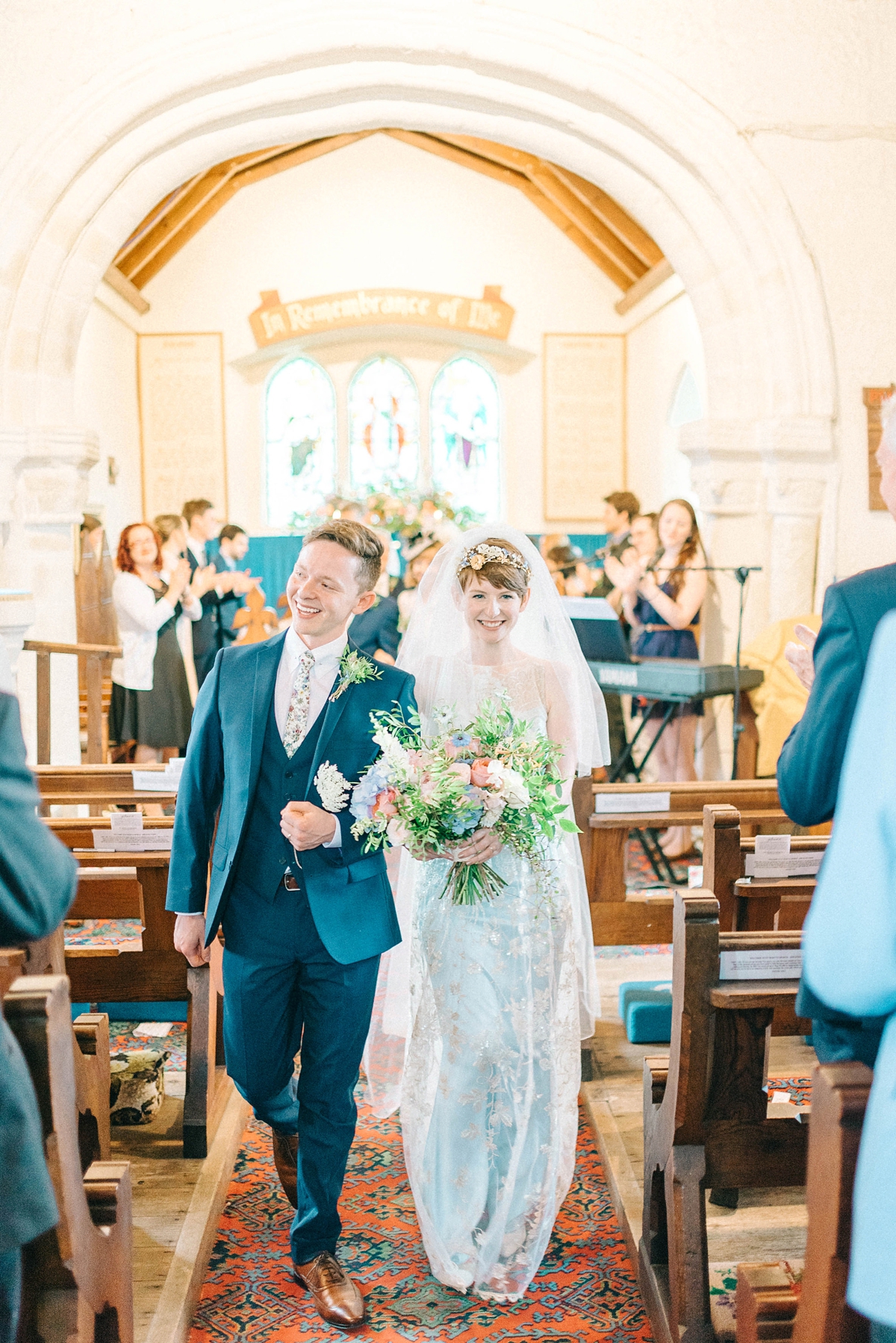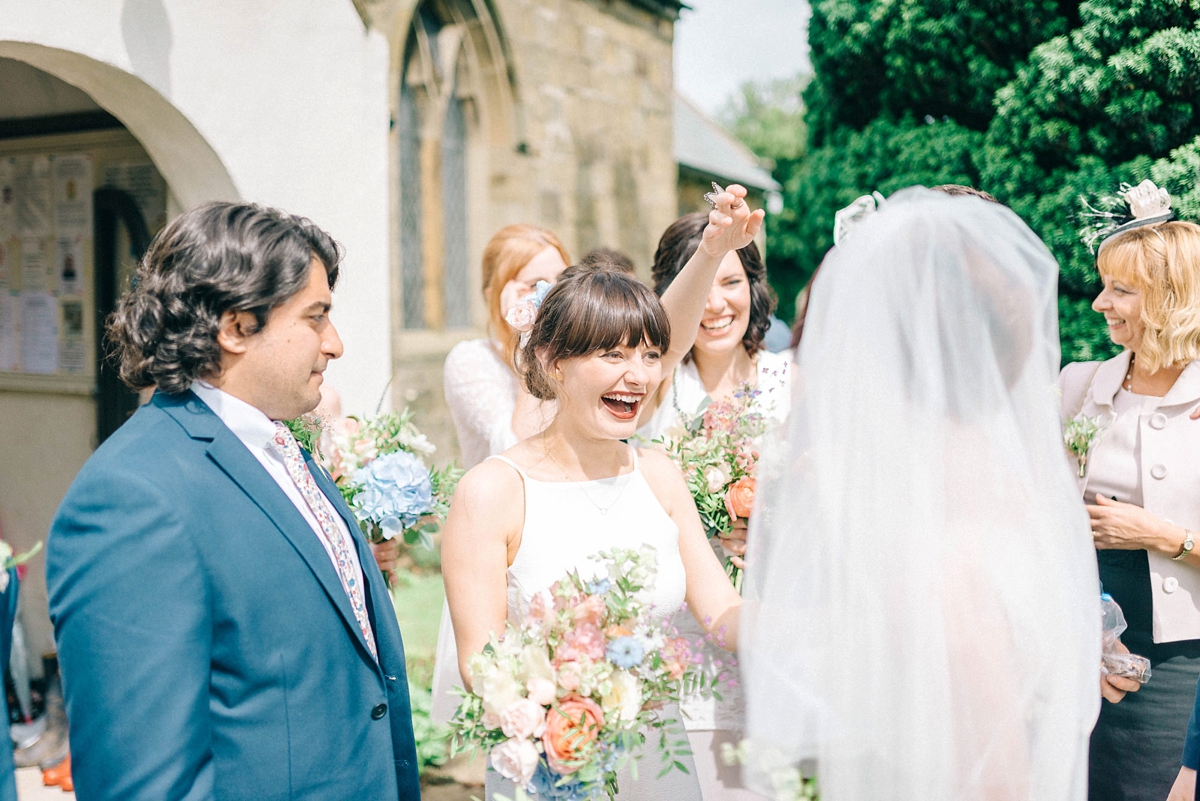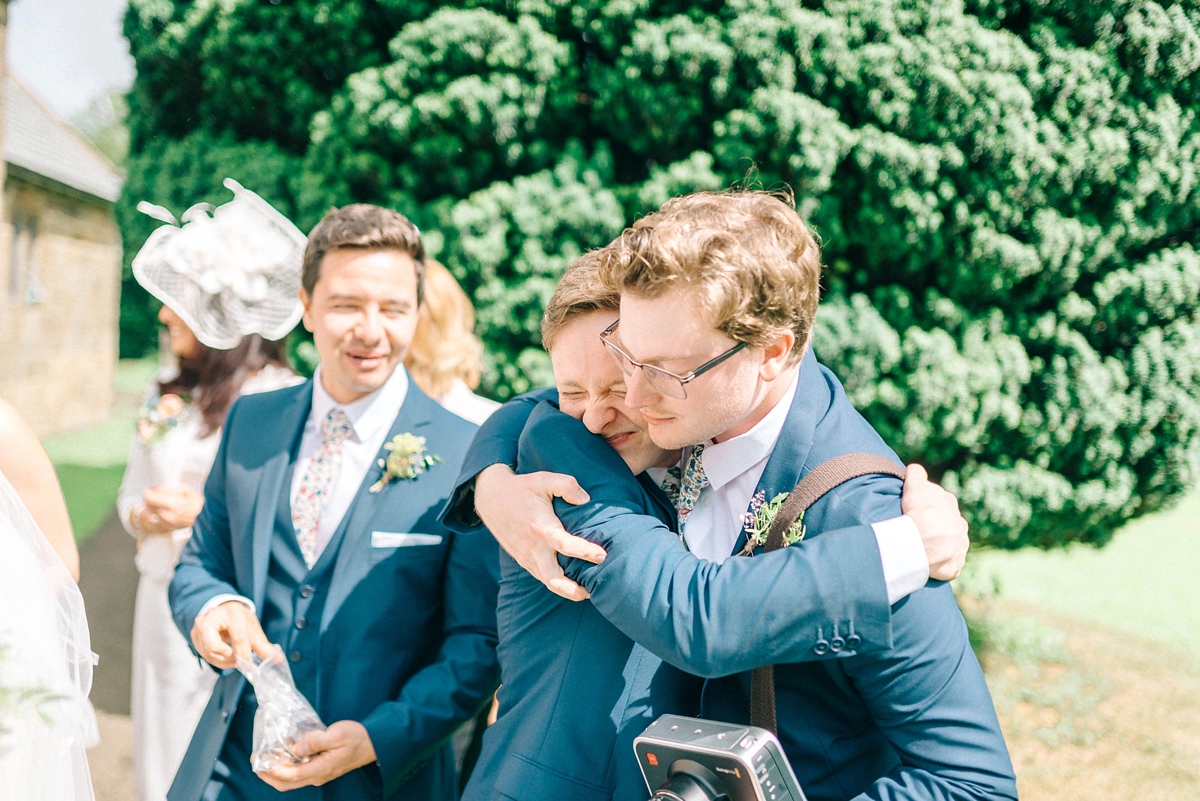 Emily's beautiful bridesmaids chose their own outfits, a range of flowing boho, midi and short styles with a jumpsuit thrown in – and all in white, which I love against the soft blue of Emily's gown. Florists Manor Garden provided fresh wired blue hydrangeas, pink roses, nigellas and gypsophila for their hair.
"I bought each of the bridesmaids a piece of jewellery that I thought they would like and be able to wear on the day, as well as a Katie Loxton Perfect Pouch full of goodies. I wanted to make sure their personalities were taken into account and thankfully, they all loved their presents and wore them on our wedding day. The jewellery included a cream butterfly ring from Clara Francis."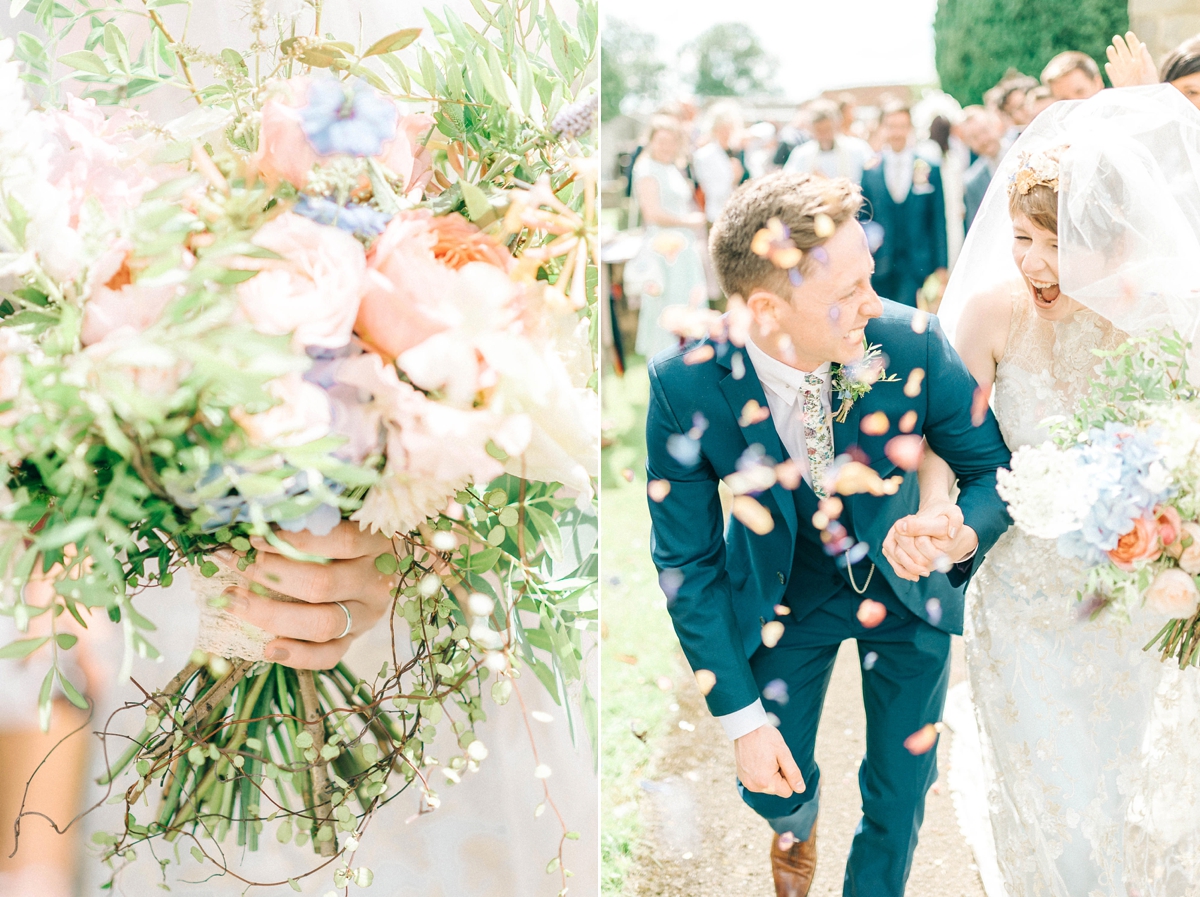 Emily was speechless when creative Clarey of Manor Garden presented her with an array divine-smelling bouquets on her wedding day, beautiful arrangements full of roses, hydrangeas, sweet peas, honeysuckle, clematis and seasonal foliage. Our bride felt as though Clarey had seen into her mind, and James loved the idea of locally grown blooms smattered throughout their celebrations.
"Emily found Manor Garden at a festival of thrift in our home town. We loved the idea of having flowers grown down the street from my house at our wedding. Clarey and Barney were amazing. We gave them a brief of wild, pastel colours with trailing foliage, as if the bouquets were gathered on the way to the church, and modest button holes with wildflowers and herbs tied with twine."
"They went above and beyond in every way, the flowers were better than we had imagined and they were a joy to work with every step of the way. We loved being able to visit their growing garden and select our favourites as they came into bloom. Barney even pitched in on the day to help us struggle to put up a gazebo! They became like friends over the 18 months we knew them and we'll miss working with them a lot."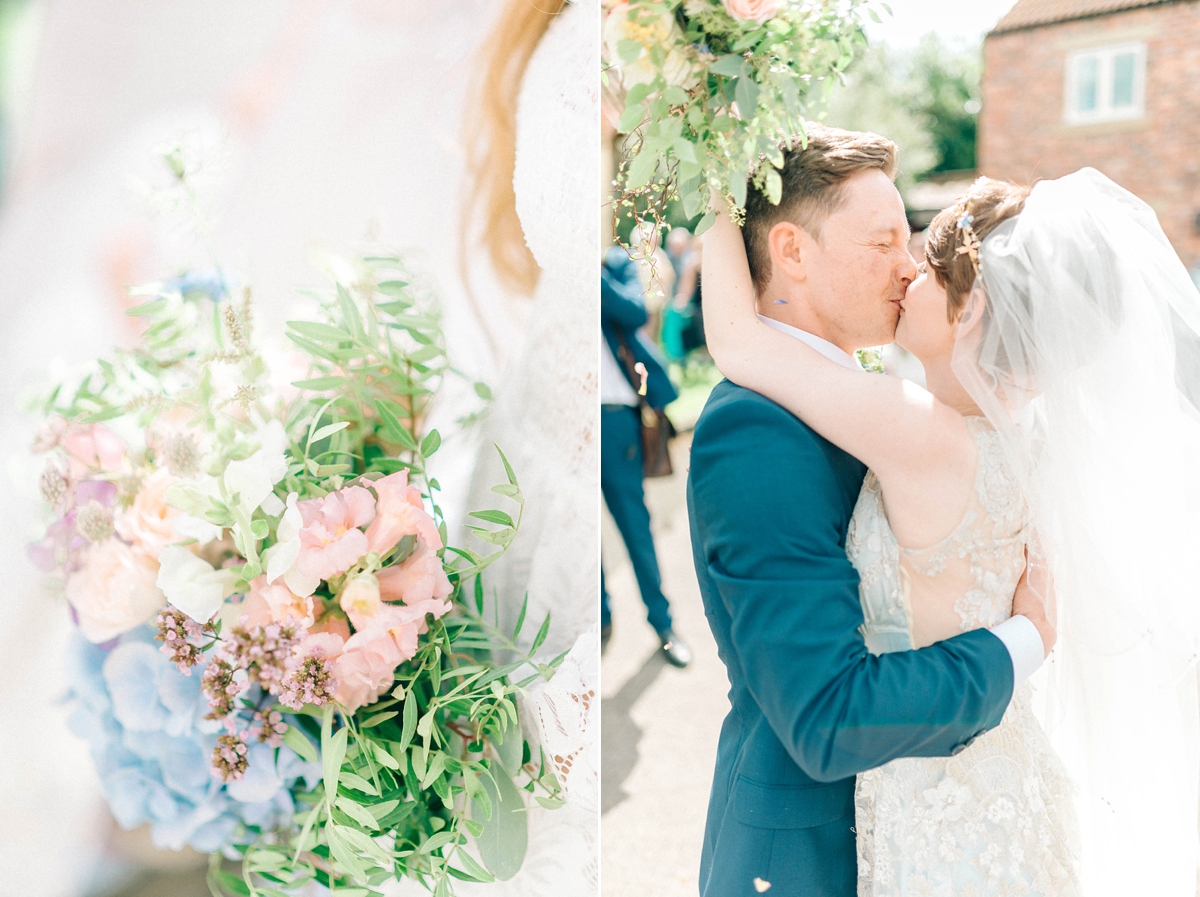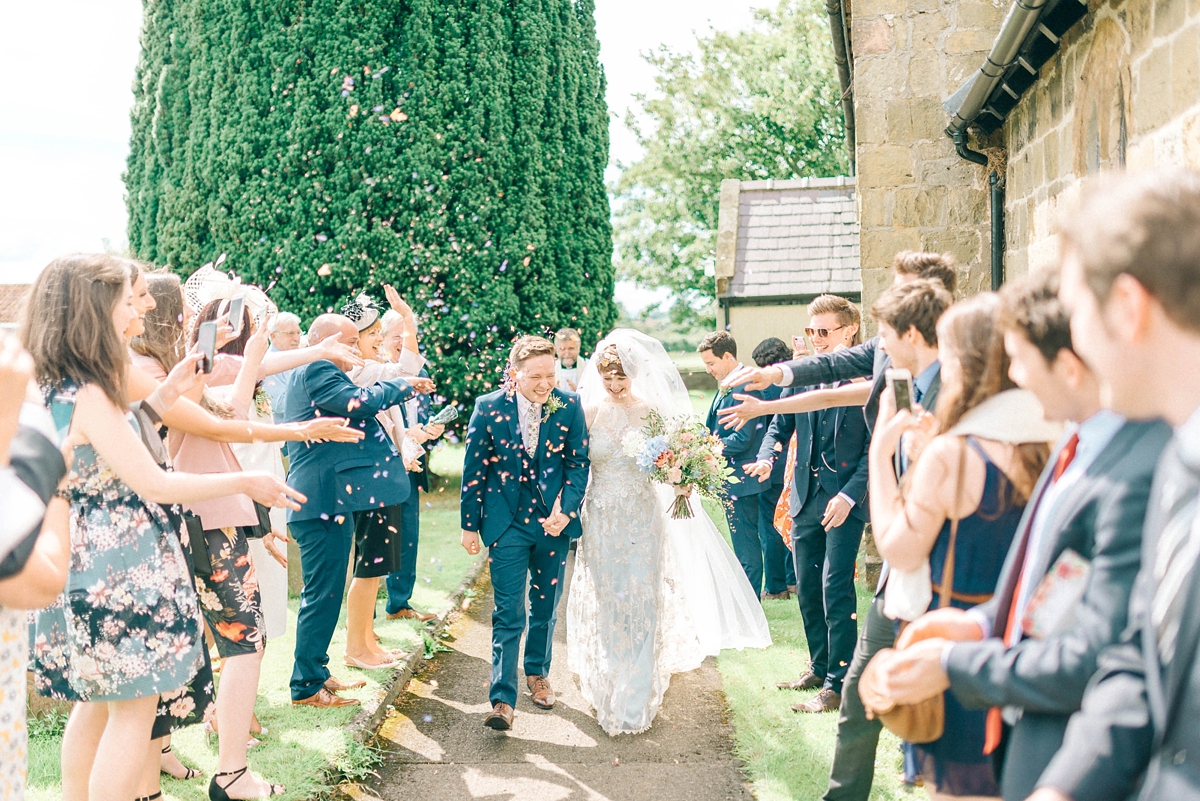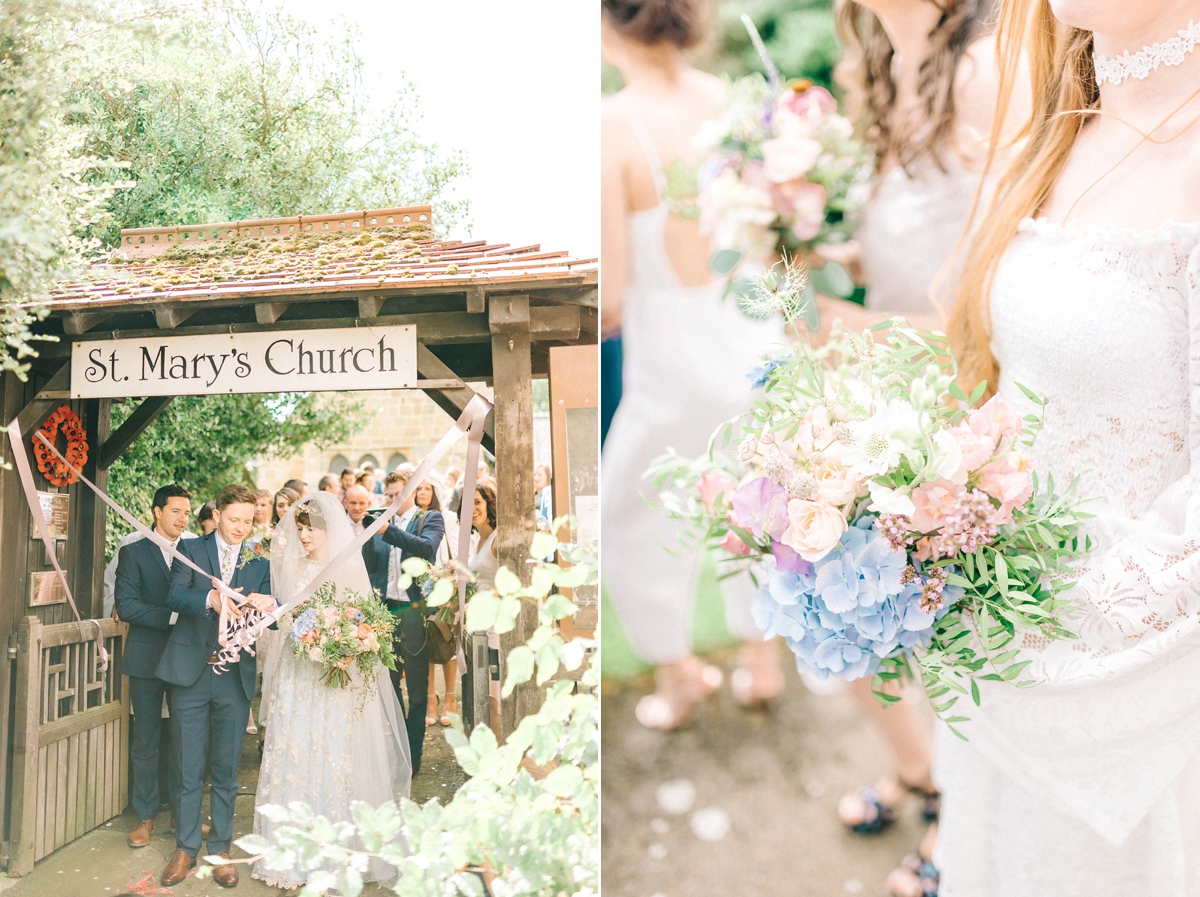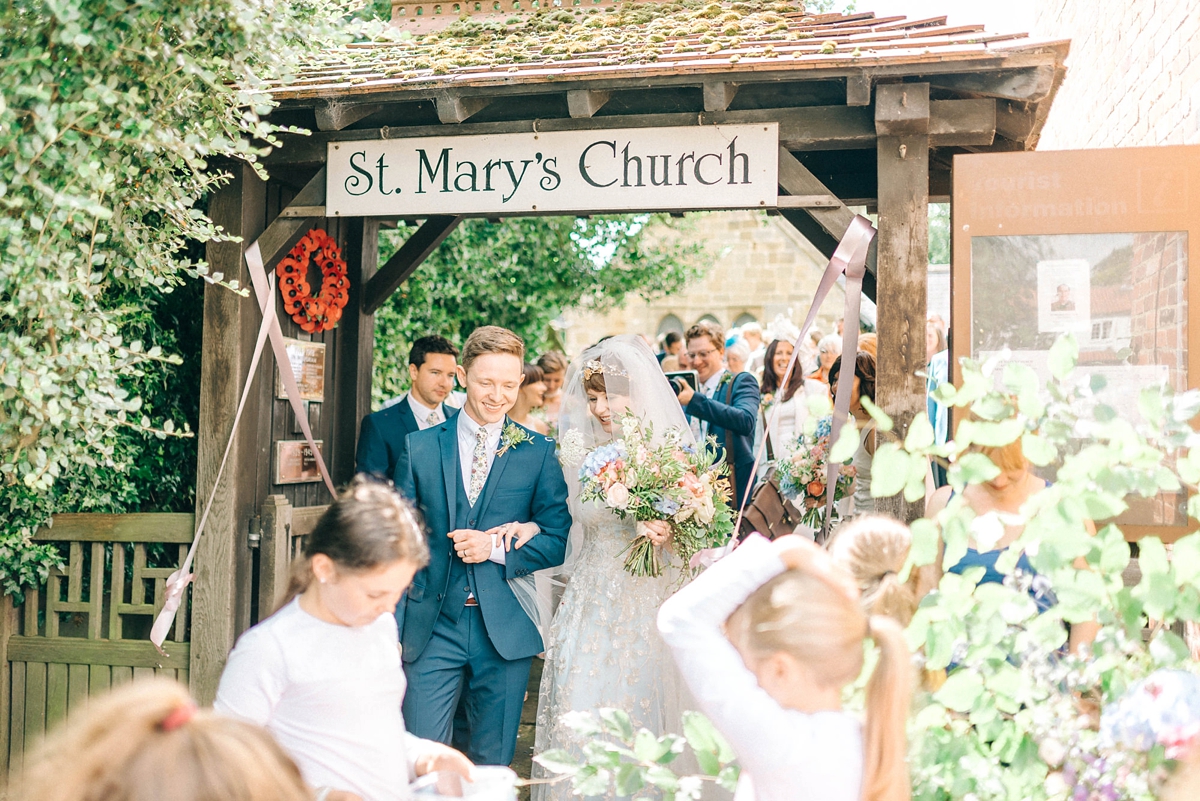 The couple didn't hire a videographer but one of James' groomsmen, who is an independent film-maker, documented the day for them, producing a reel that they truly treasure. Photographer Sarah-Jane Ethan meanwhile captured proceedings on camera, her stills full of light and joy, which is exactly what Emily and James wanted. The images of the couple during their ceremony are breath-taking, just redolent with electrifying euphoria, and their heavenly golden hour shots are simply stunning.
"All of our guests commented on how lovely and non-intrusive Sarah-Jane was. She was also up for anything, whether that be blending into the stress-filled getting ready time and helping my mam put on her buttonhole, or climbing through a fence to grab some beautiful golden hour shots with us."
"She made us feel utterly at ease and we honestly can't recommend her enough. We are absolutely in love with our photos, she's captured so many things that we'd forgotten about, and memories that we are going to treasure for a lifetime."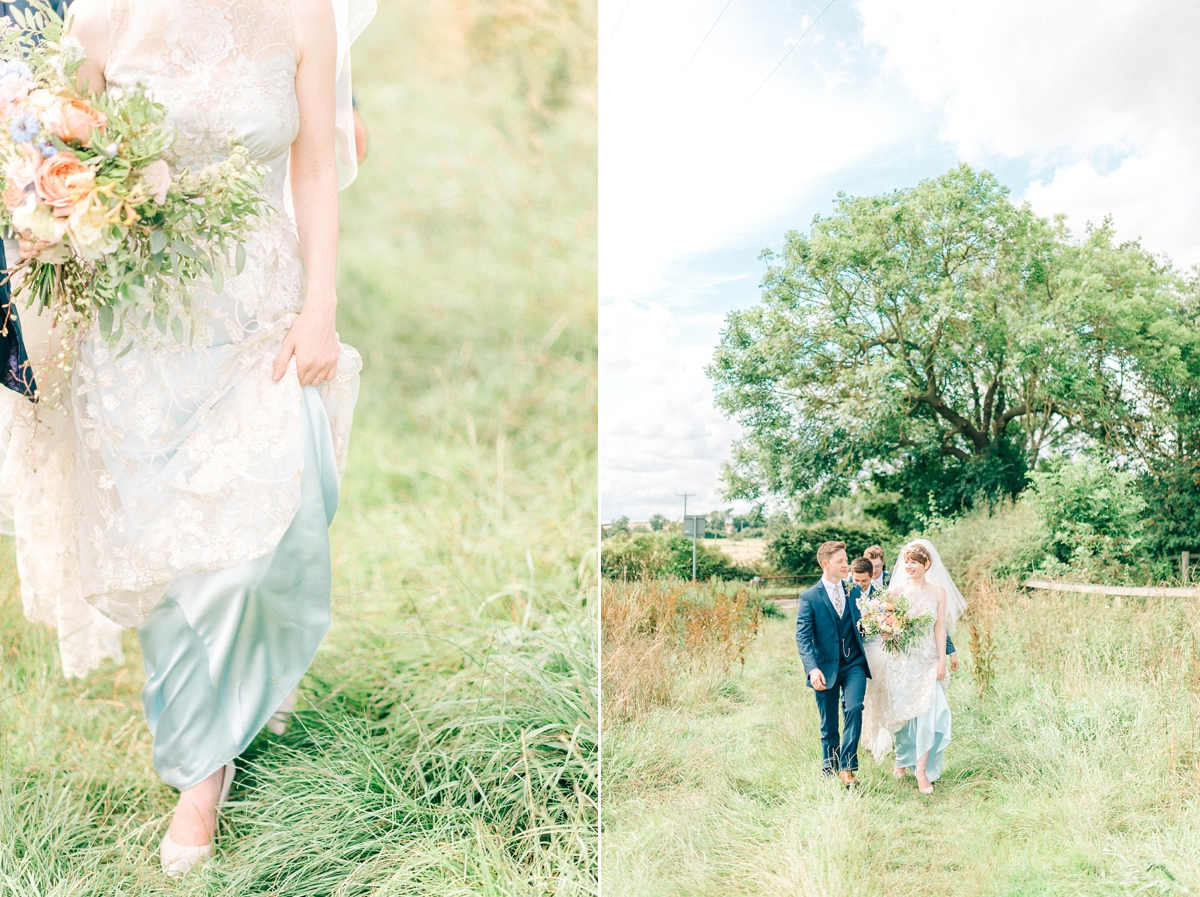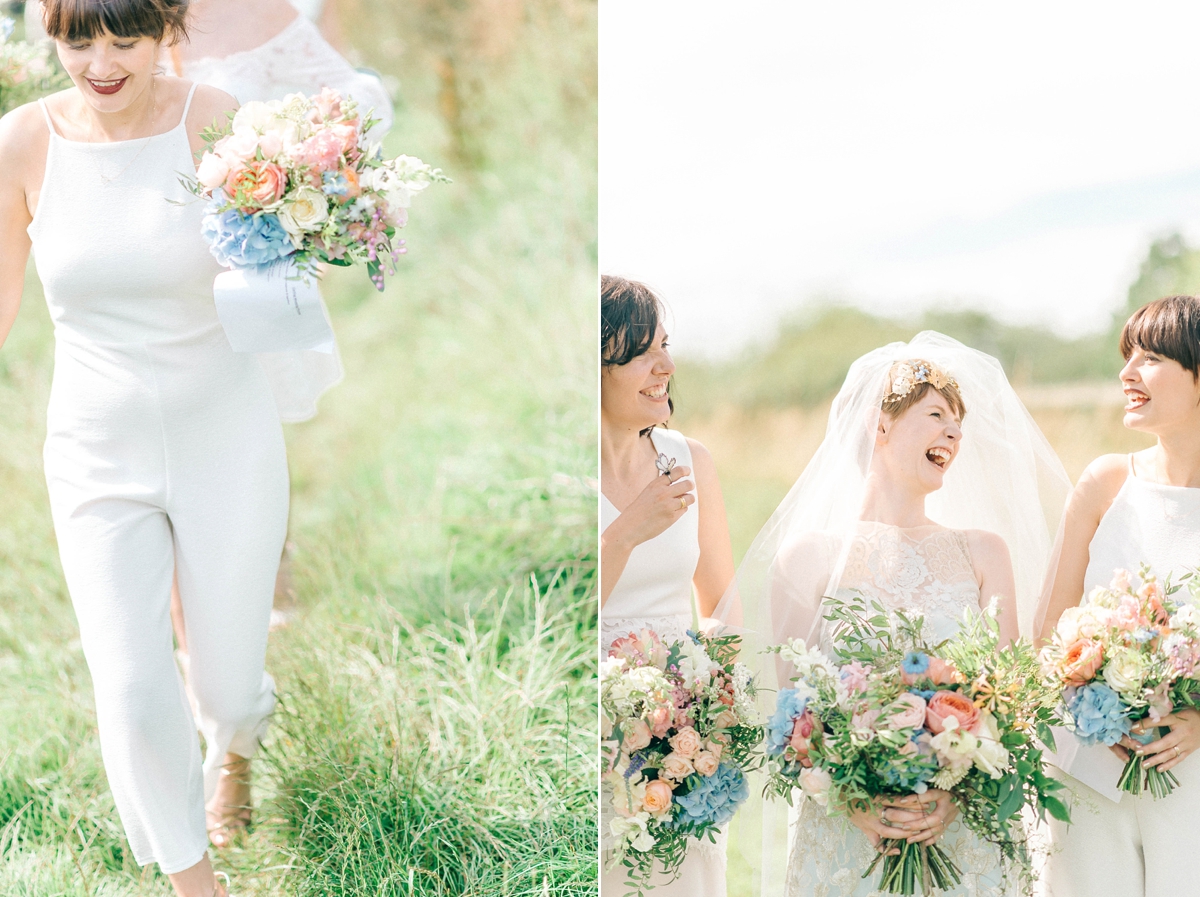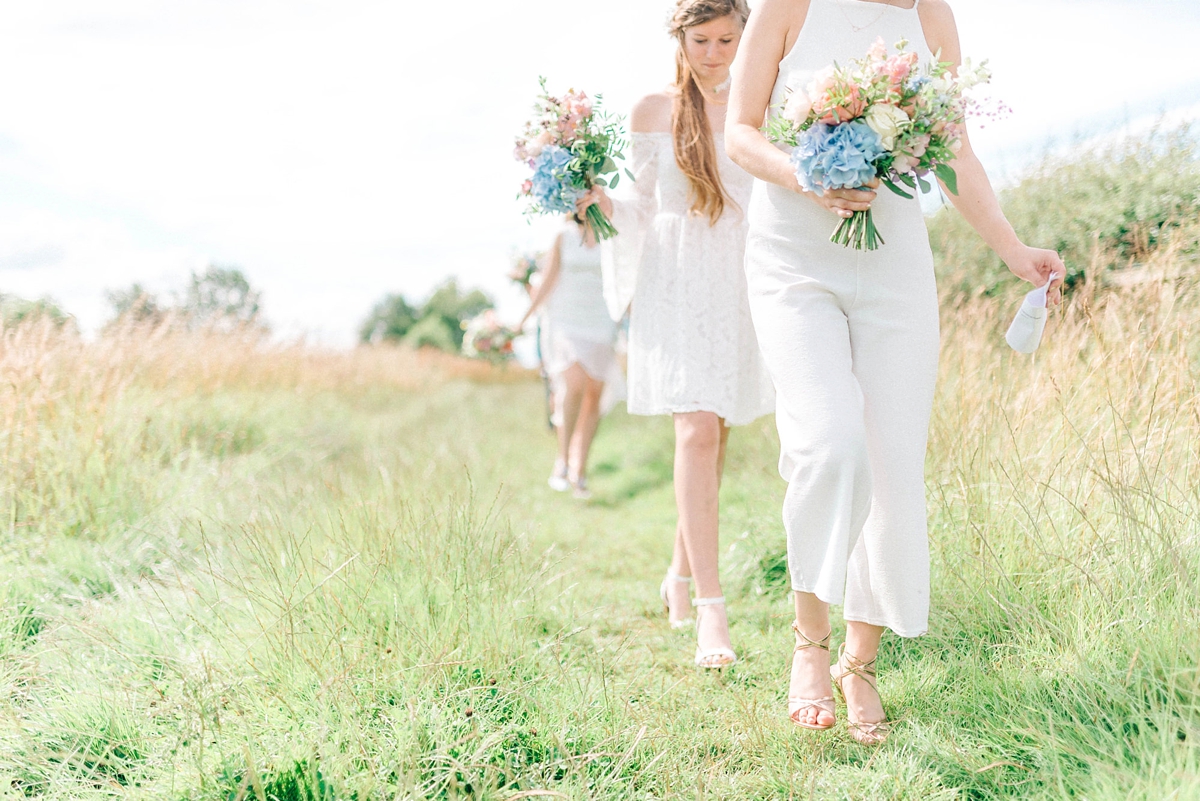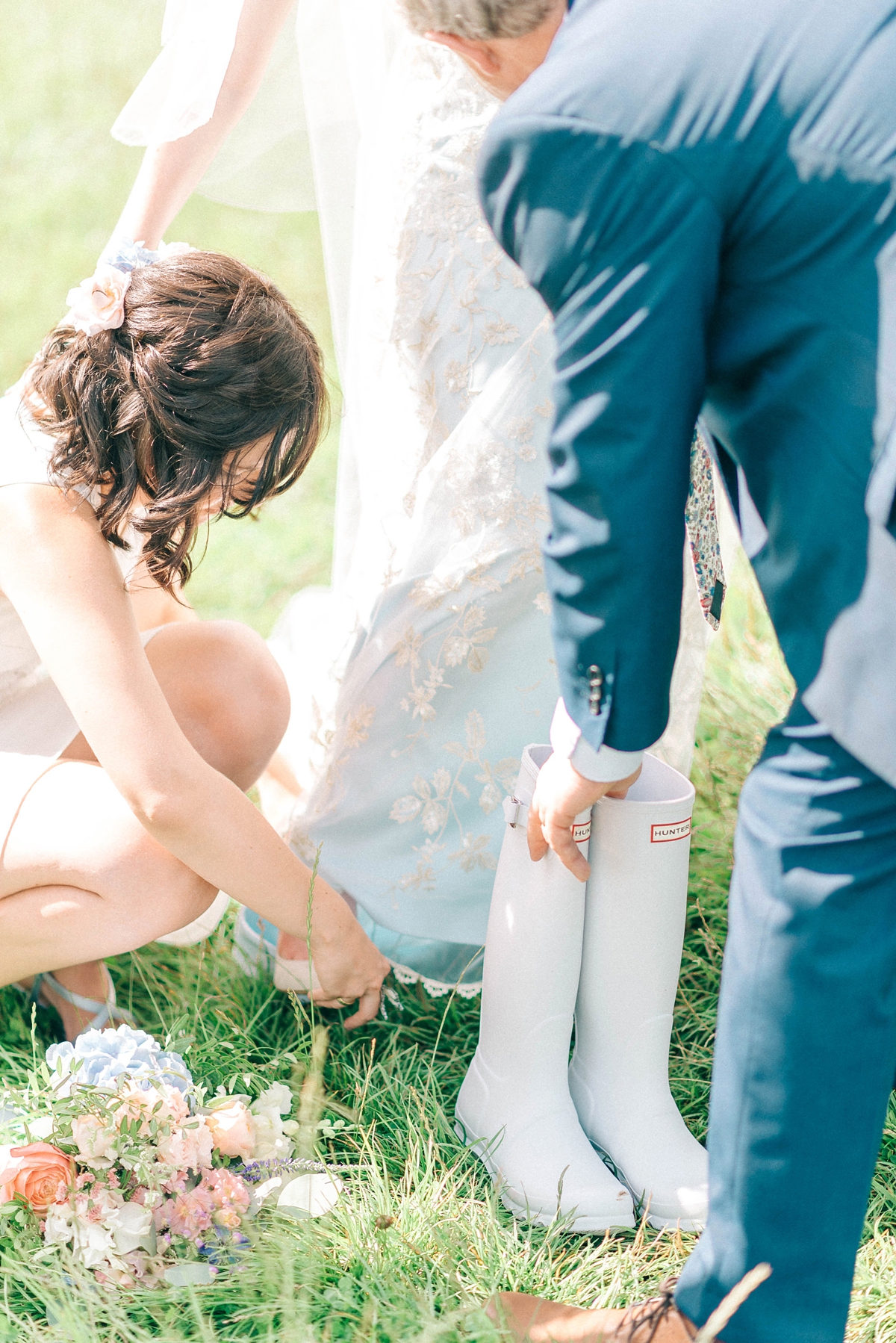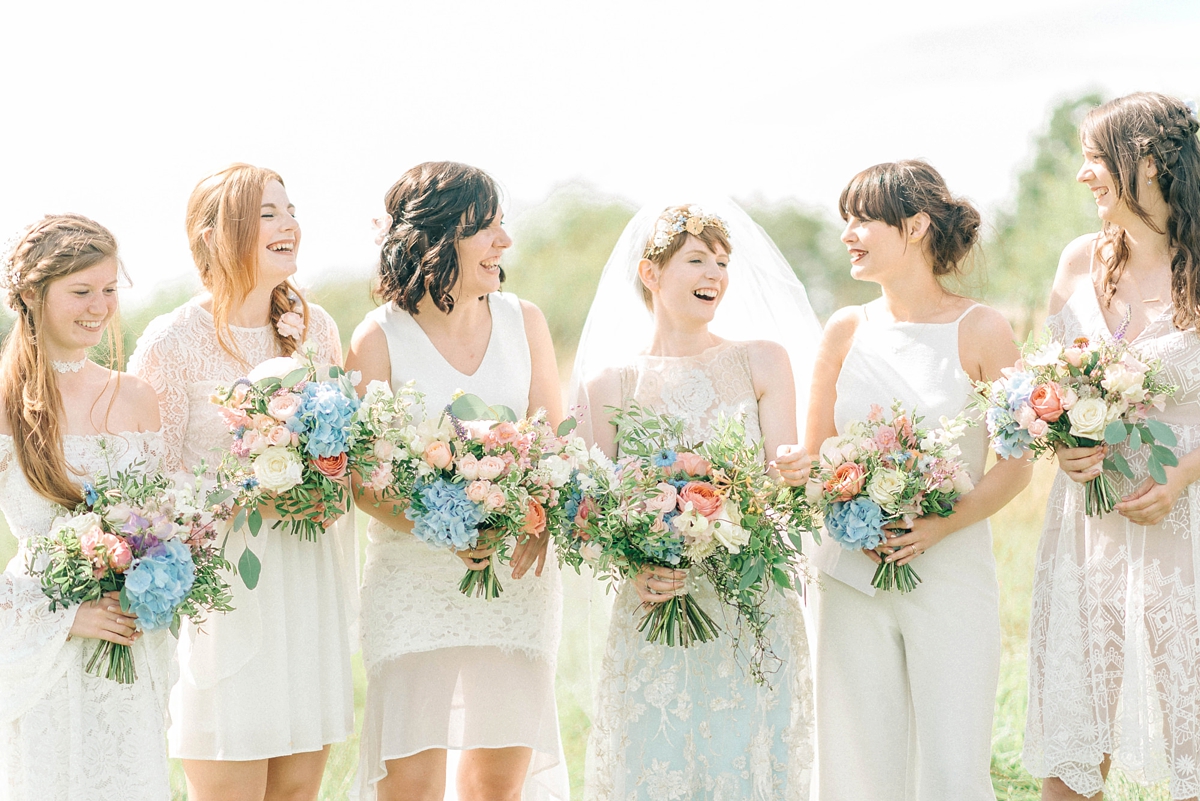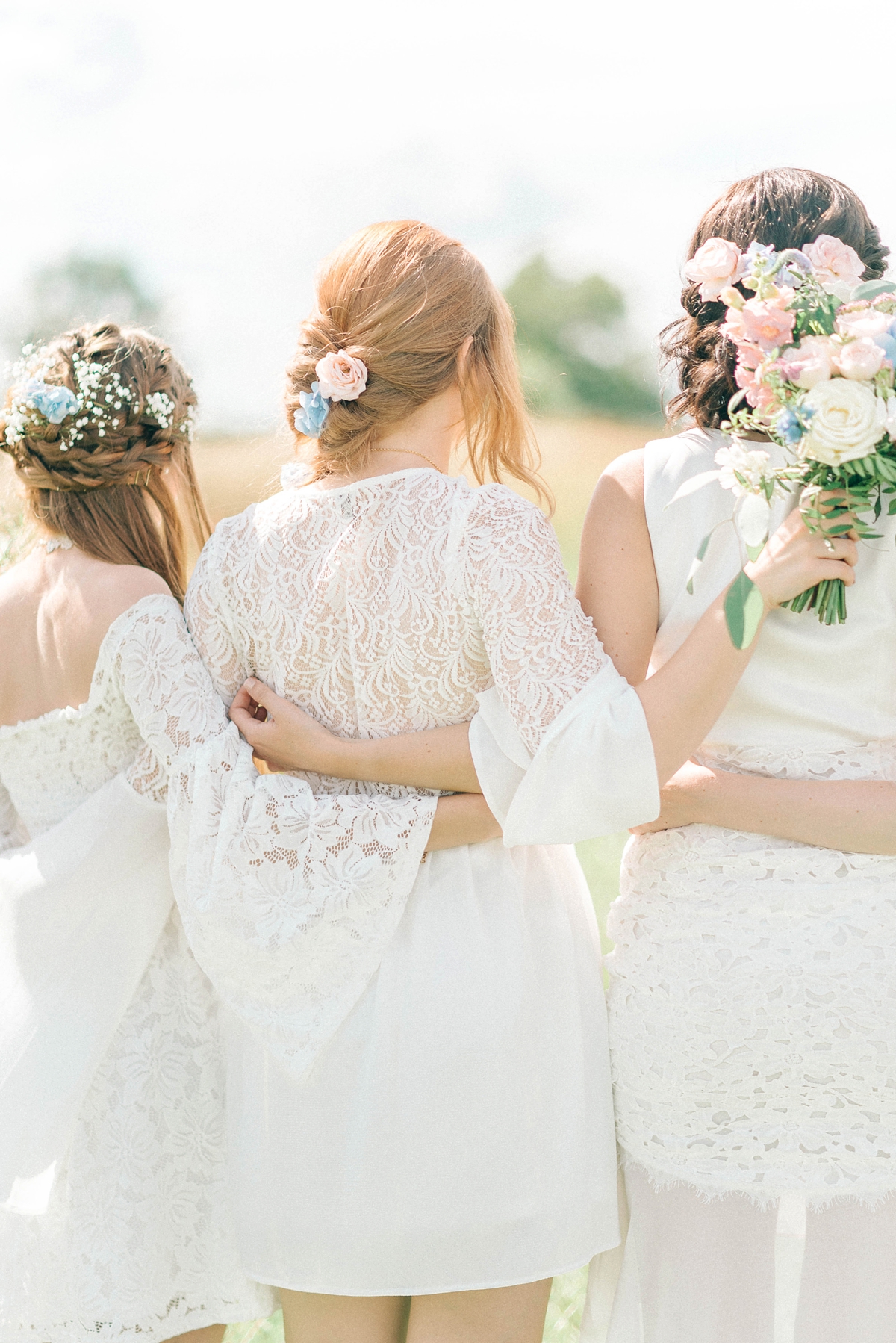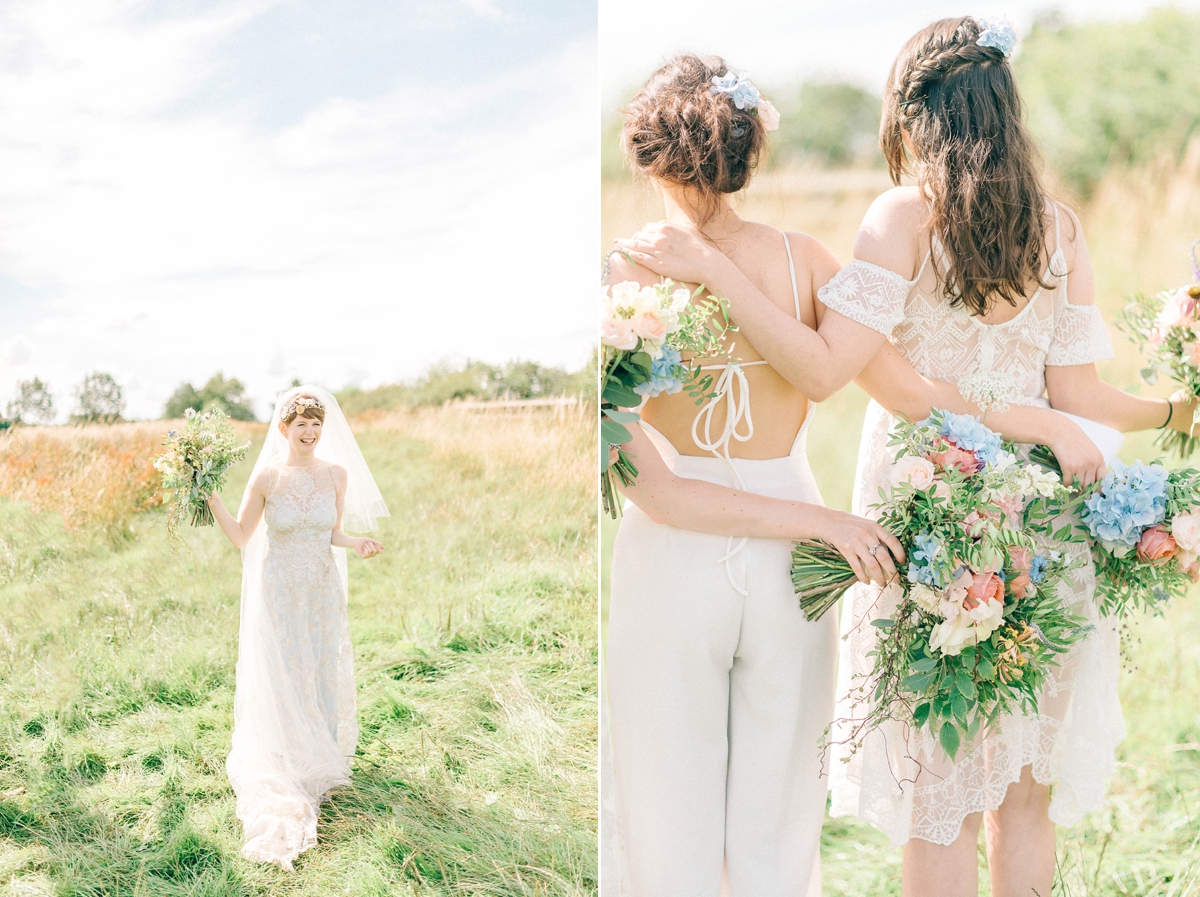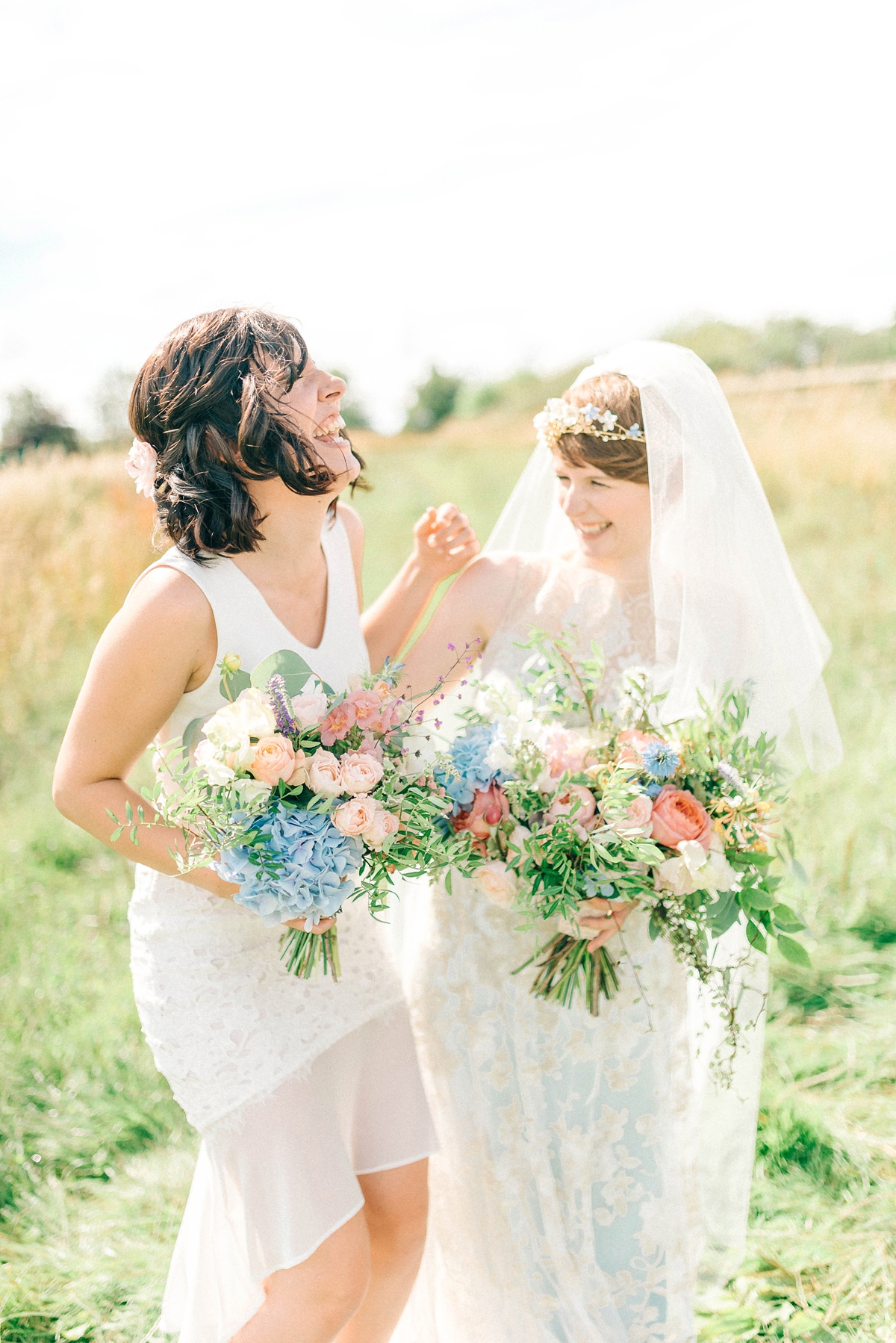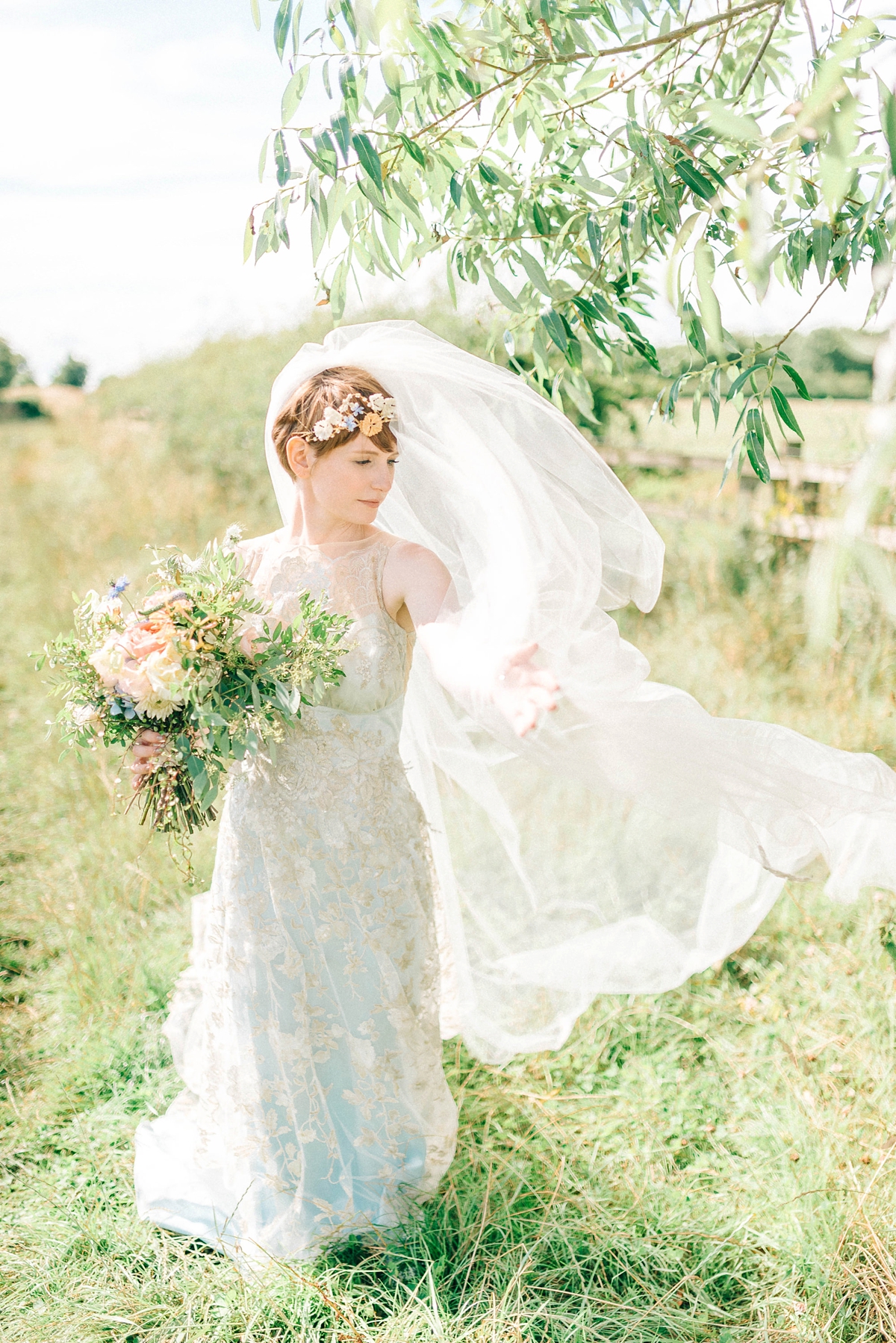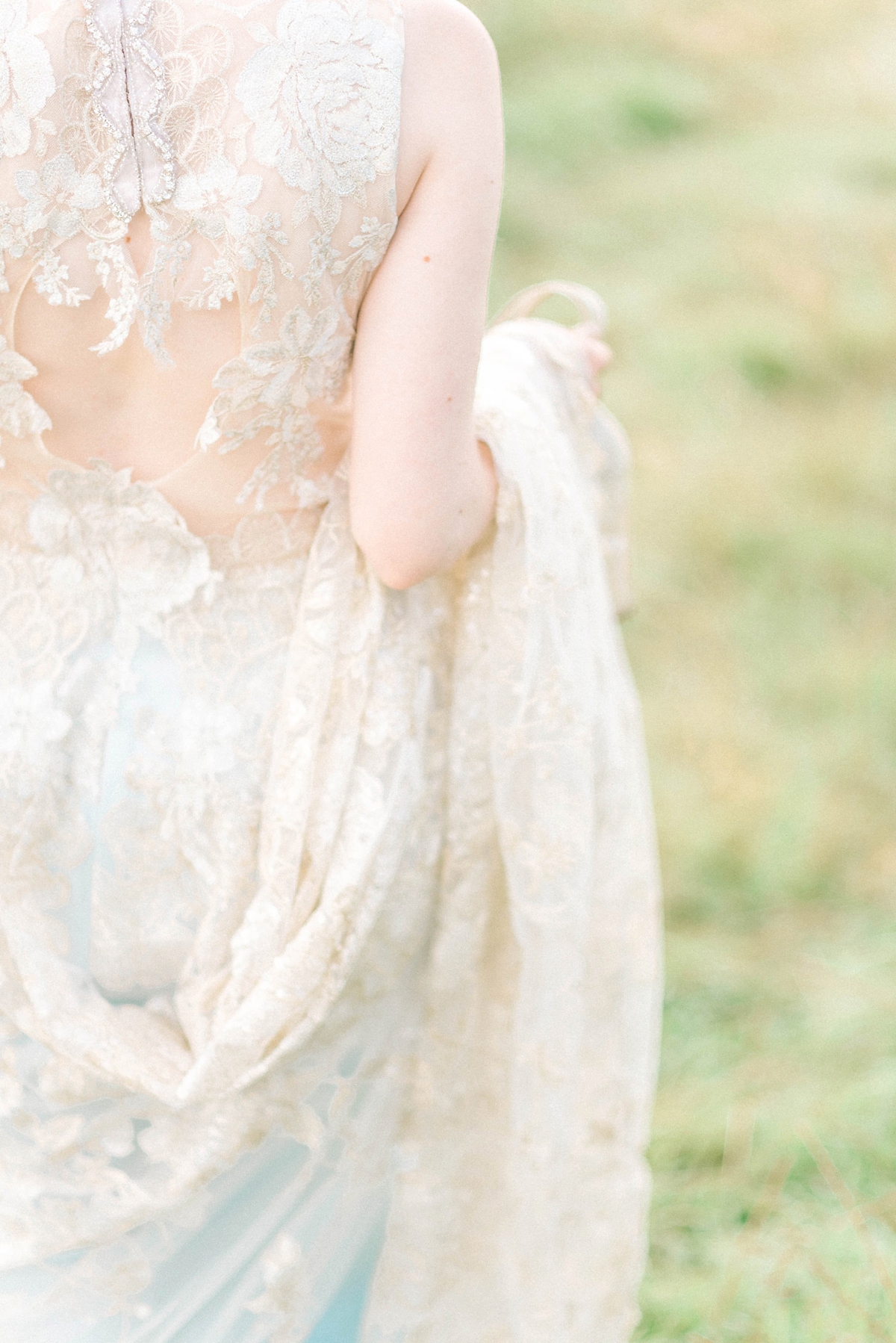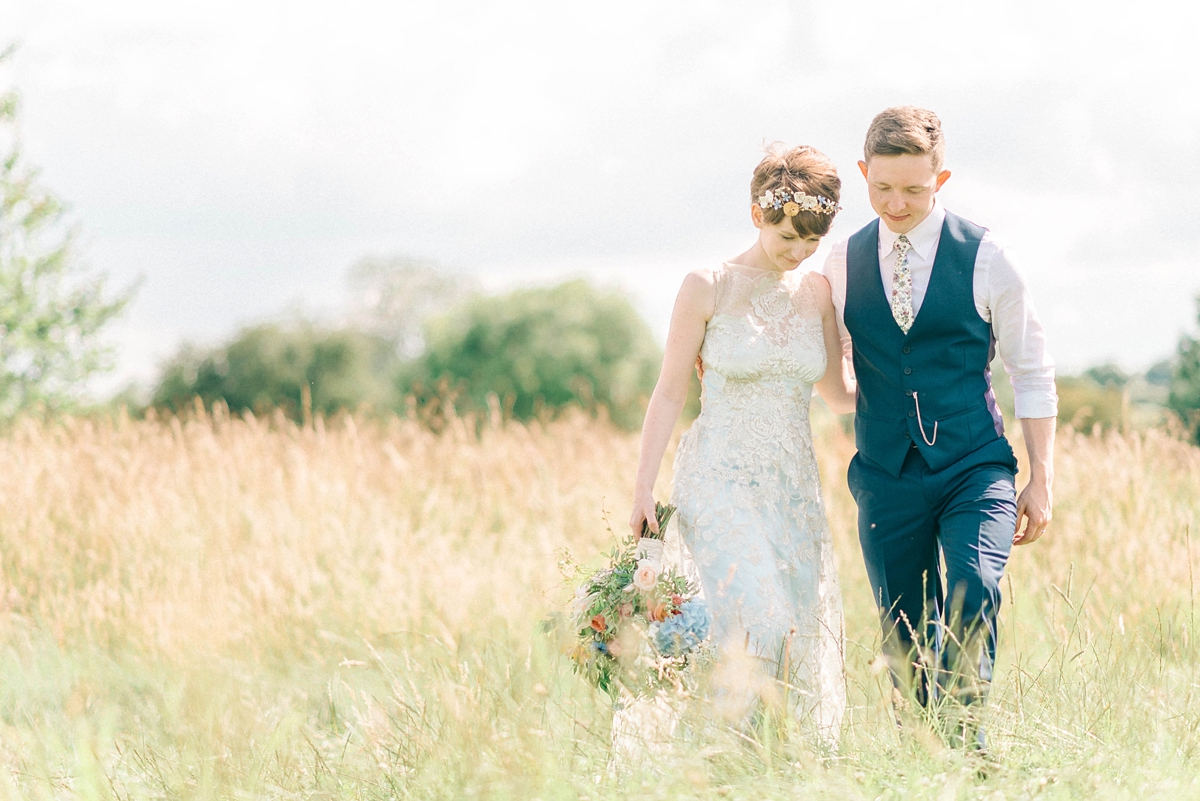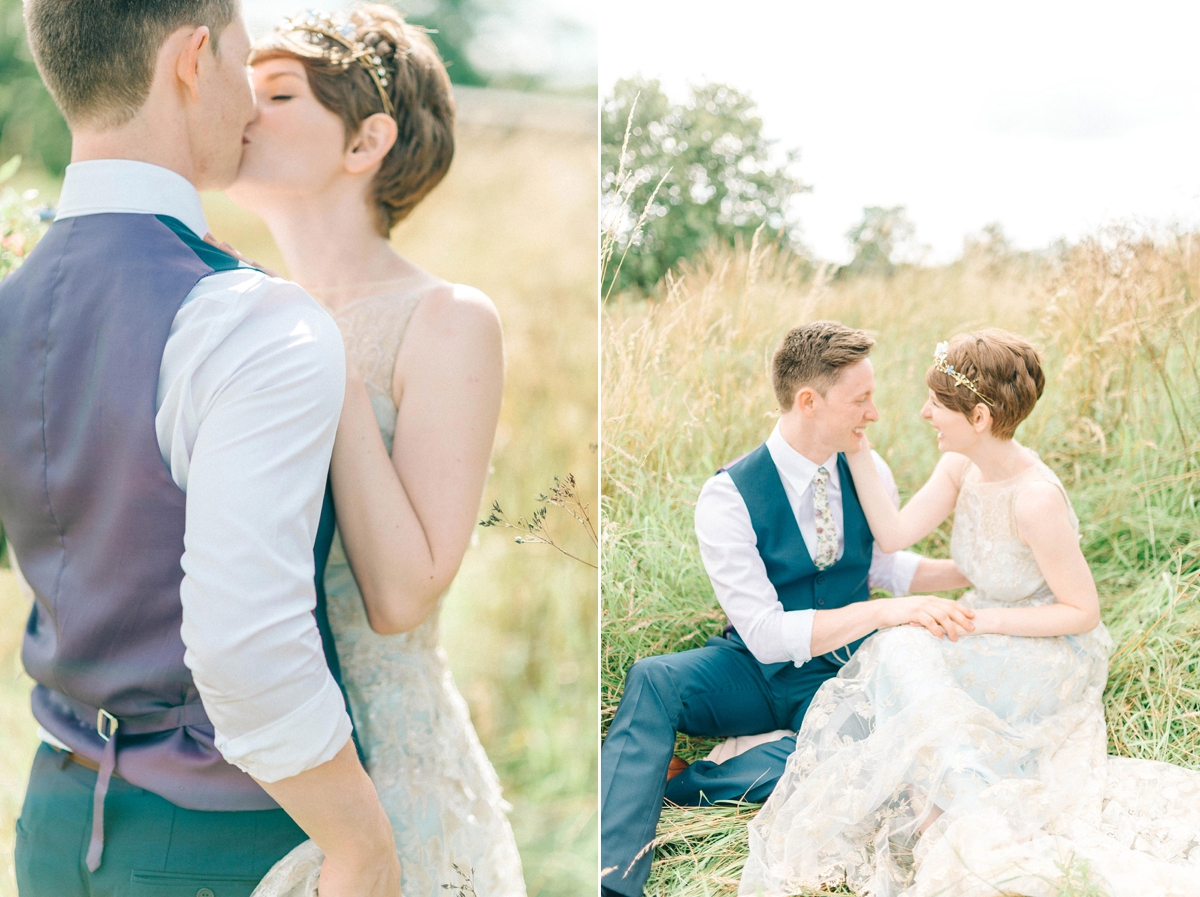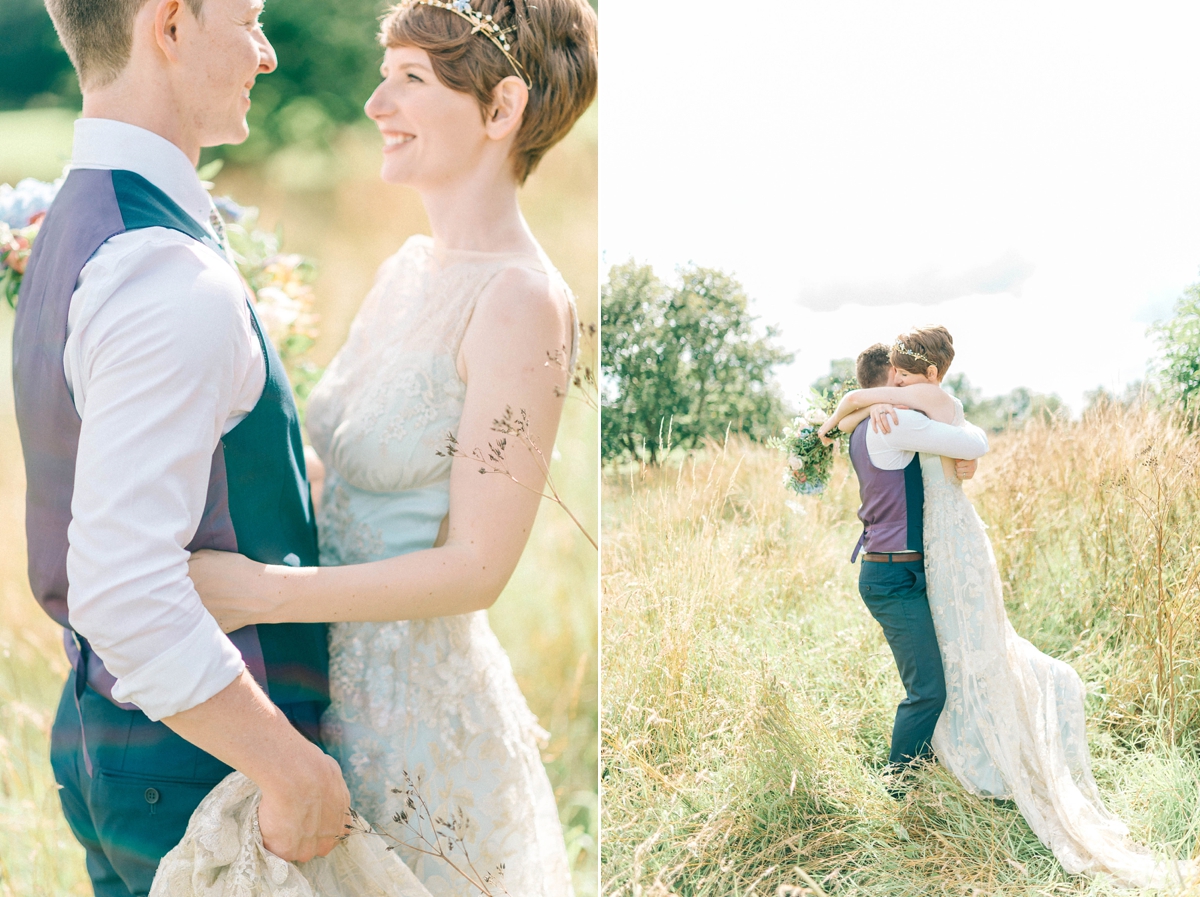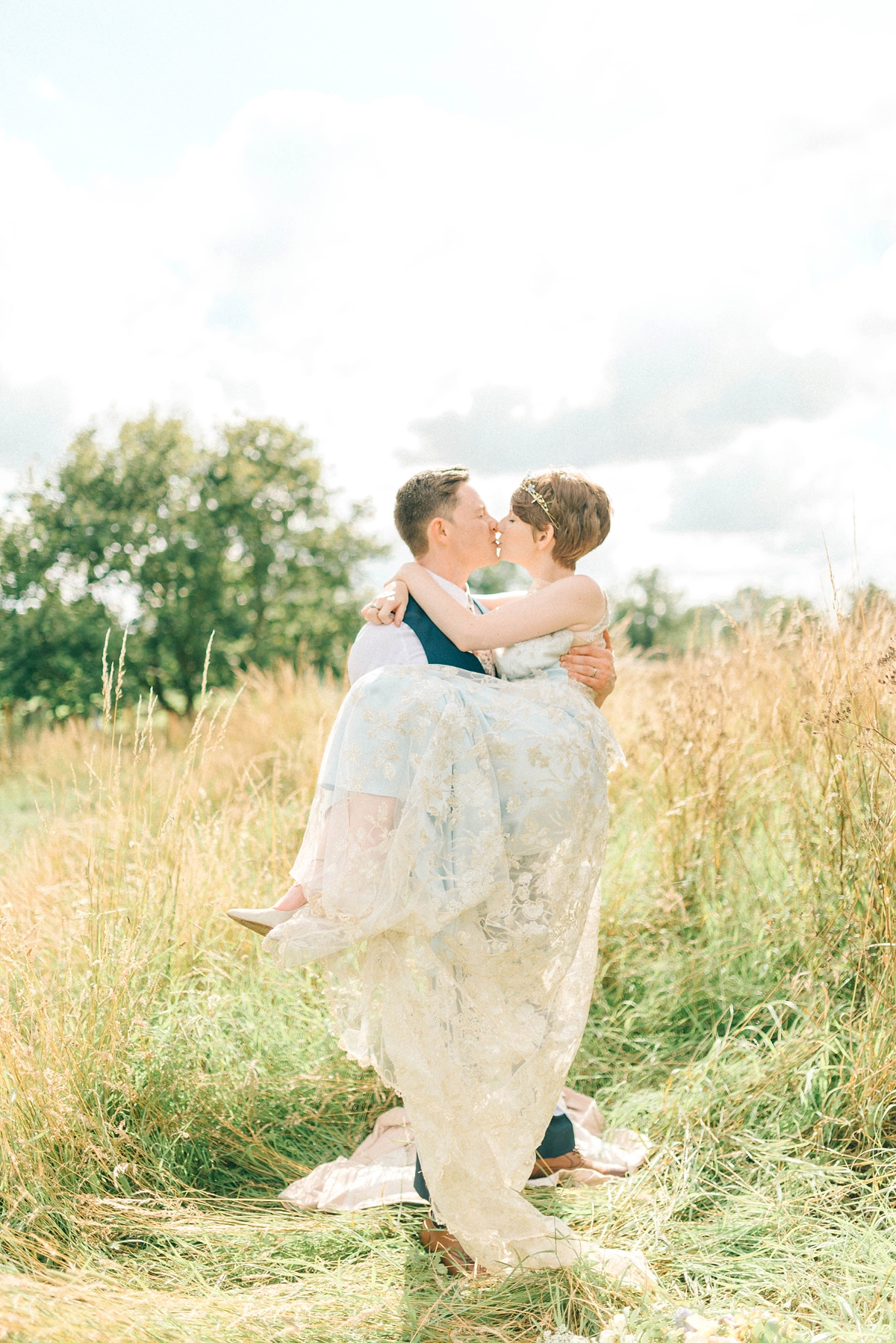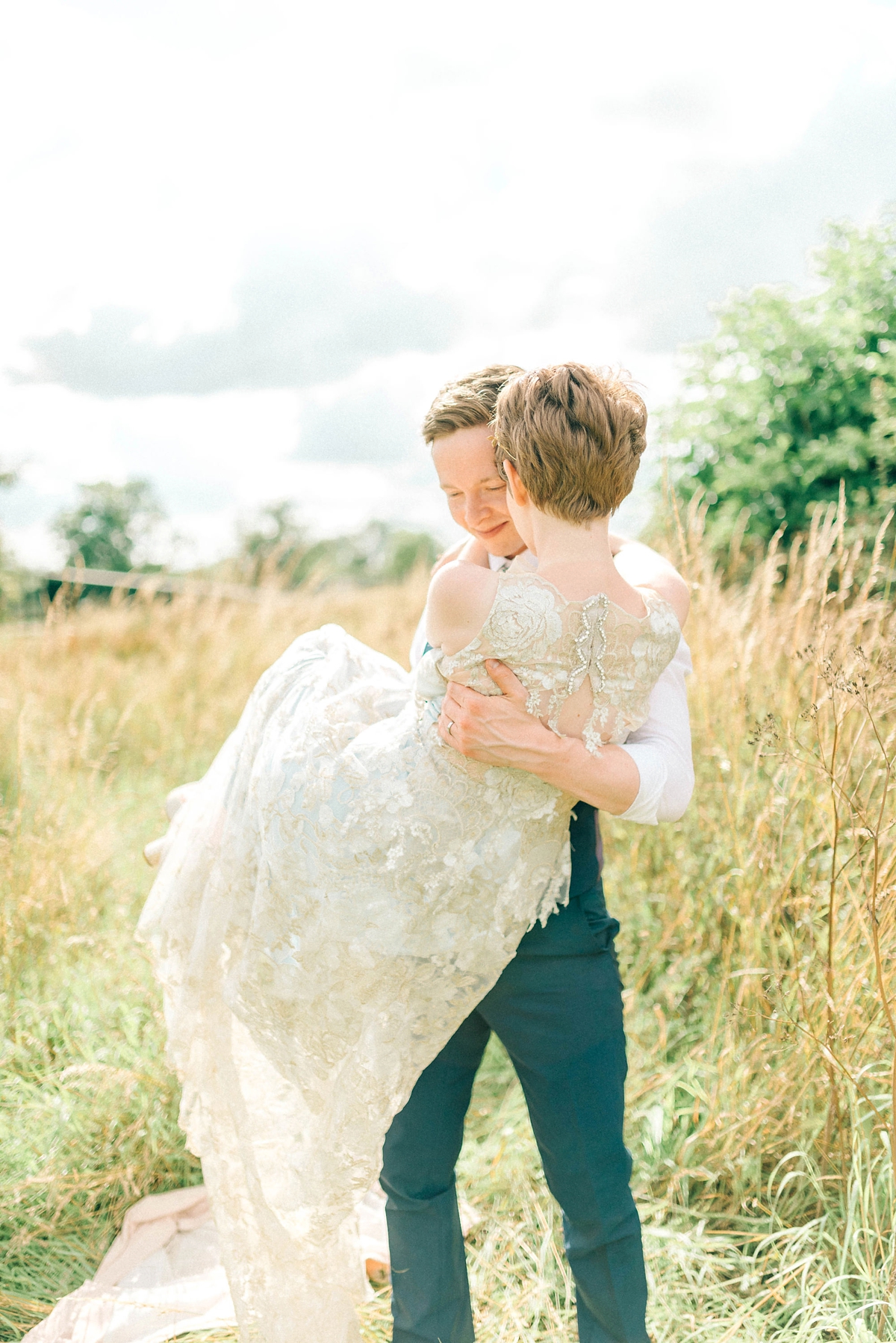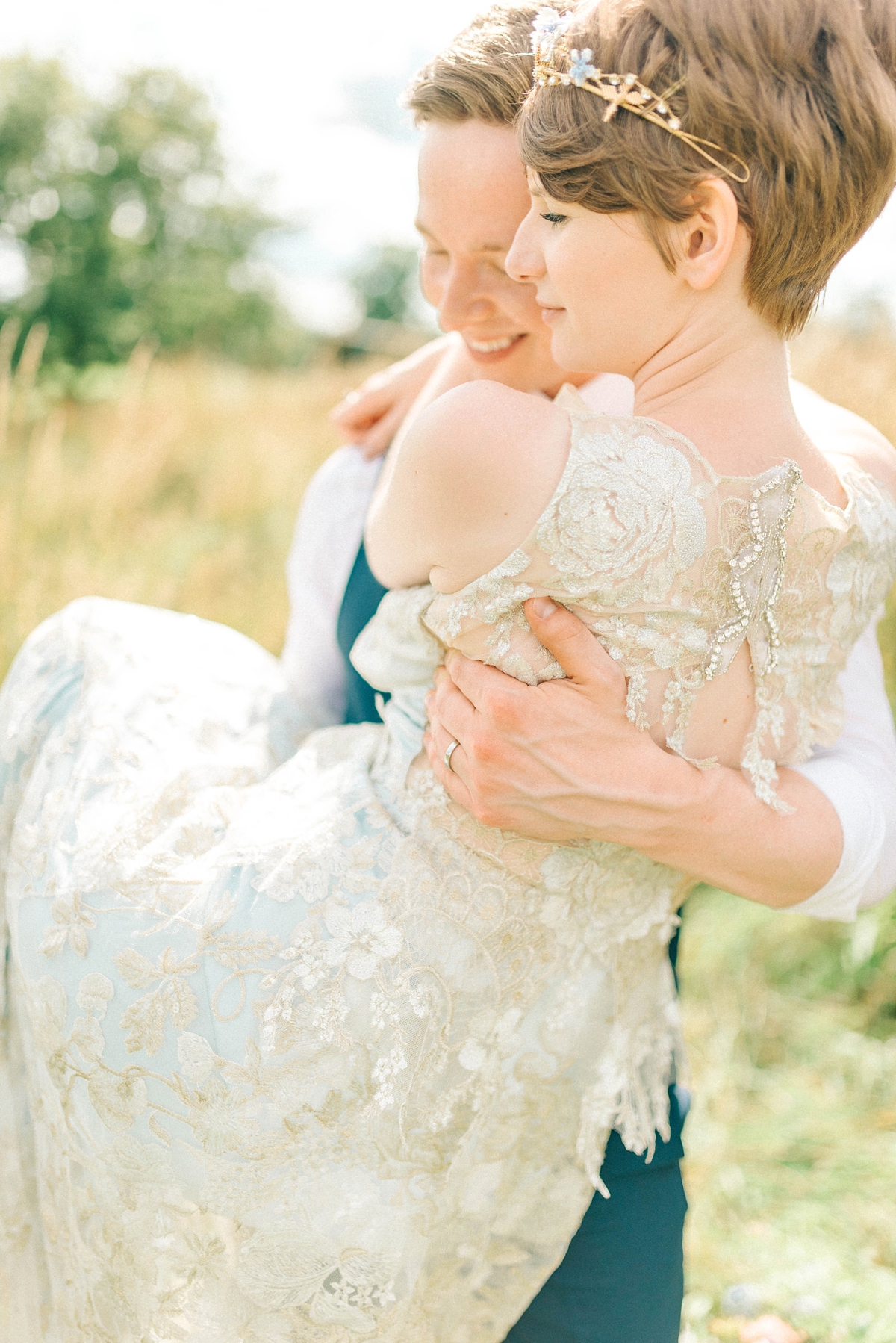 Down the road from St Mary's church, Emily and James brought their village hall reception to life with foliage, flowers and DIY touches. They displayed their menu on a charity shop find, and their table plan was penned onto a mirror, beautified with Emily's amazing calligraphy.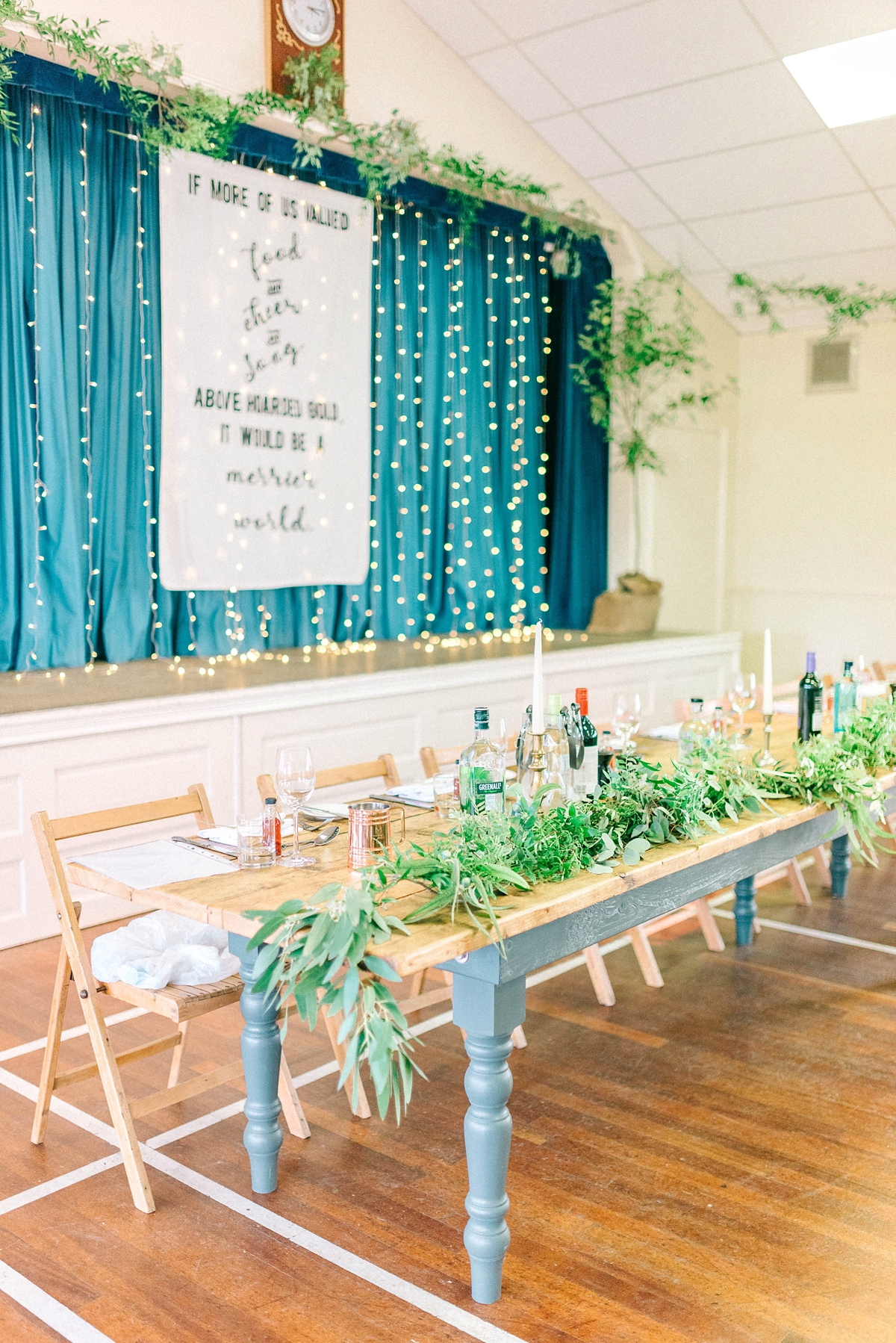 Their favourite café collected juice bottles for them to display flowers, lovingly grown, cut and arranged by James' mum, and the whole visual feast was put together, and afterwards, cleared away with help from the couple's family and friends.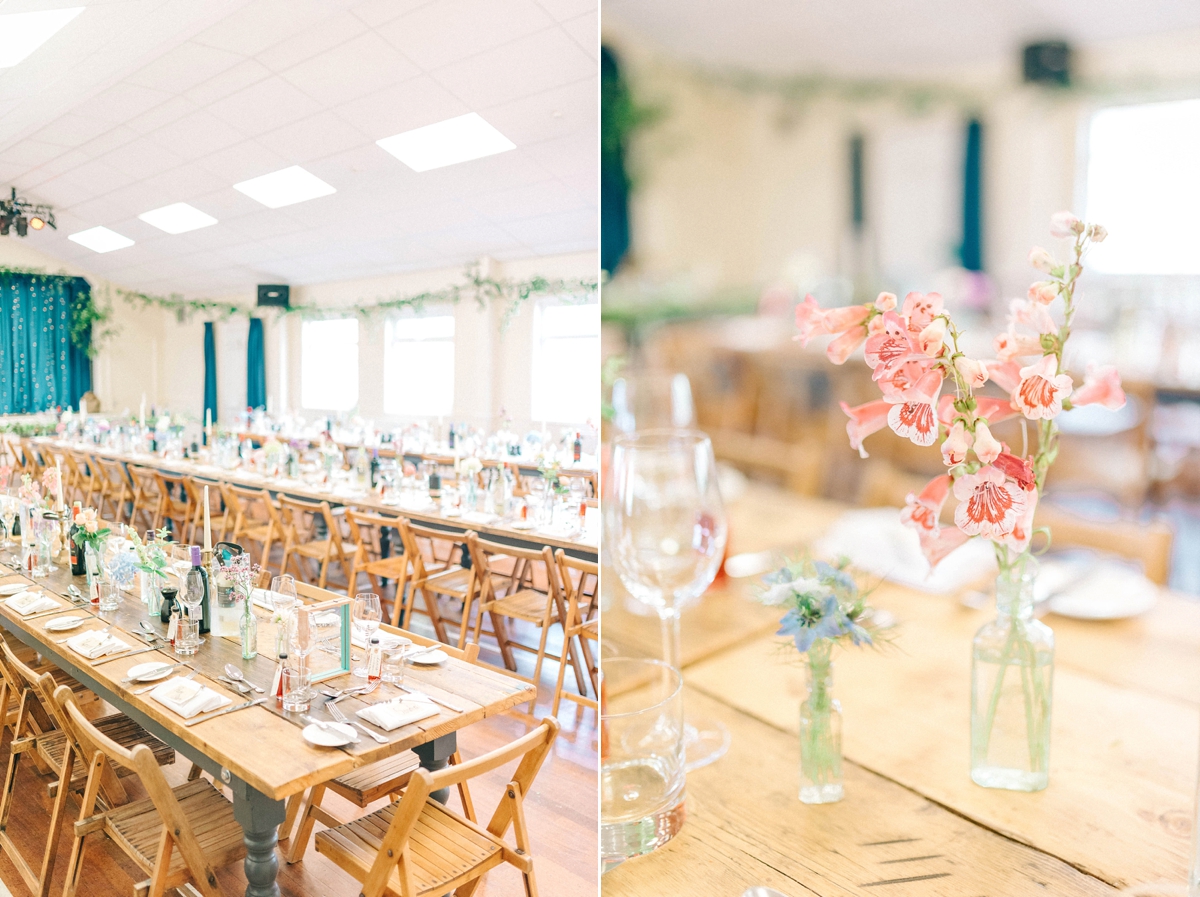 "Our décor was all linked by gorgeous furniture from All Things Borrowed. Hannah is such a sweetheart and a dream to work with. The tables, chairs and tin bath completed the rustic vibe and the long tables of 30 really gave a sense of everyone being able to talk to one another, and lots of friendships were formed."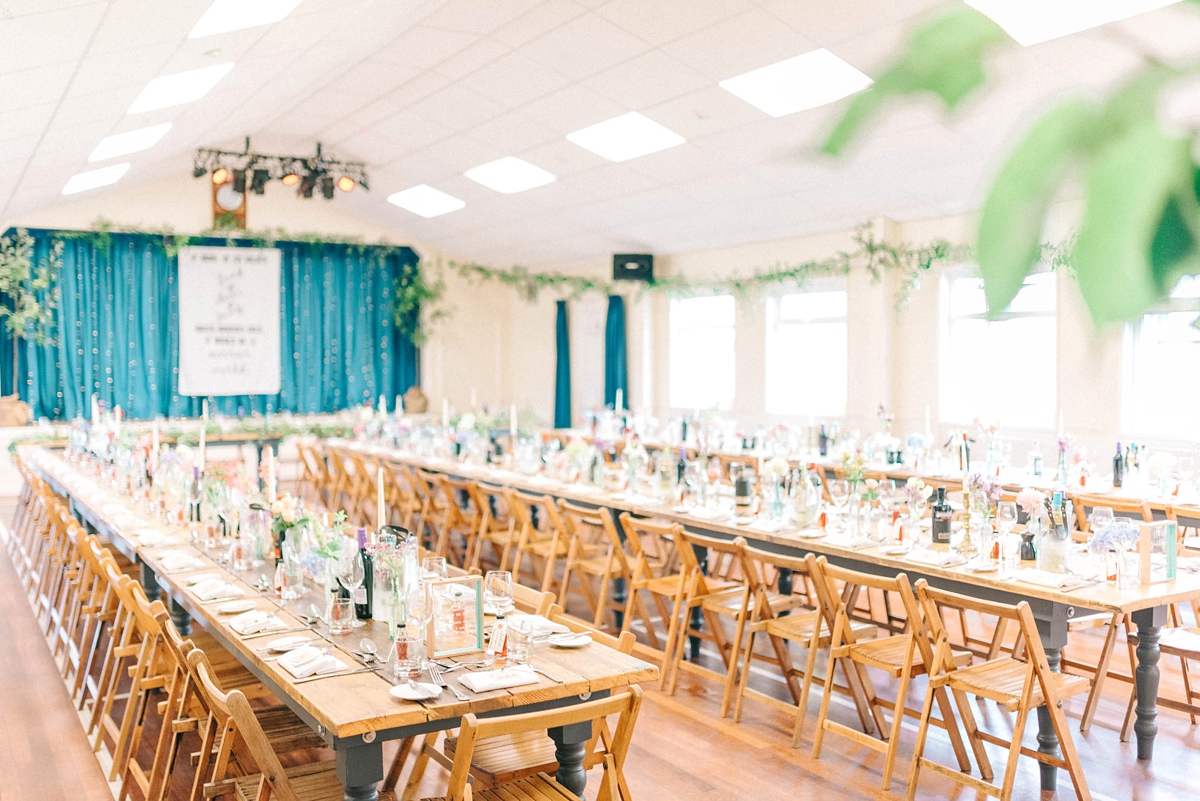 "Our bar was handcrafted from pallets by a very talented friend – James' next door neighbours were getting rid of their old wood-framed windows so we swooped in and ignored their puzzled expressions so we could paint and turn them into great signs. We stick to the expression 'Shy bairns get nout' – look it up if you're not northern!"
James and Emily provided four of their favourite craft ales, two of from local breweries, Black Sheep and Steam Machine, which went down an absolute storm. Behind their top table they hung a curtain of twinkling fairy lights and a banner painted with a quote from J.R.R Tolkein's 'The Hobbit', which made a great focal point and typified the ethos the couple wanted for the day.
James surprised himself by enjoying delivering his speech, which he took as an opportunity to convey his and Emily's gratitude and love, knowing that would never get enough time with every guest at a busy wedding.
"We knew we wanted a sit-down meal (Emily has an aversion to buffets) so we asked The Bay Horse in Hurworth, a pub and restaurant round the corner from my house, to cater for us. They are our favourite restaurant, so it was a no-brainer."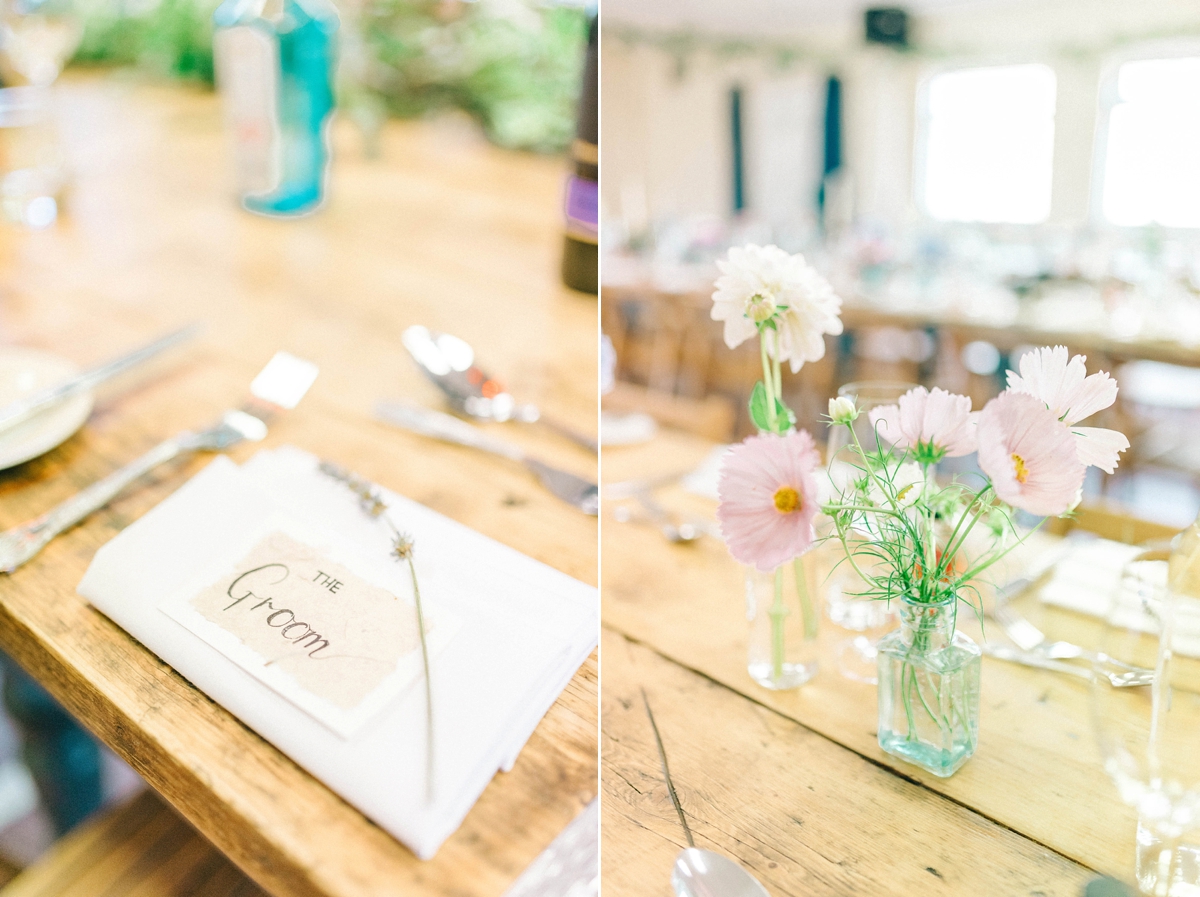 "They were simply amazing. They helped us to tailor a menu with canapés that made sure we had exactly what we wanted; we tried six different main courses at our tasting and absolutely waddled home!"
"On the day, the staff were incredible and the food was absolutely outstanding. So many people commented to us on how it was the best wedding food they'd ever had. We also hired glasses from them, and bar staff who made sure people didn't take too much advantage of the free bar!"
Emily's grandma's friend, who lives in the village, made a scrumptious Victoria sponge naked cake for the couple, a creation absolutely demolished by their guests, much like the rather competitive drinking games assembled by the newlyweds after their first dance as husband and wife. James' triumphant pride is all too obvious isn't it!?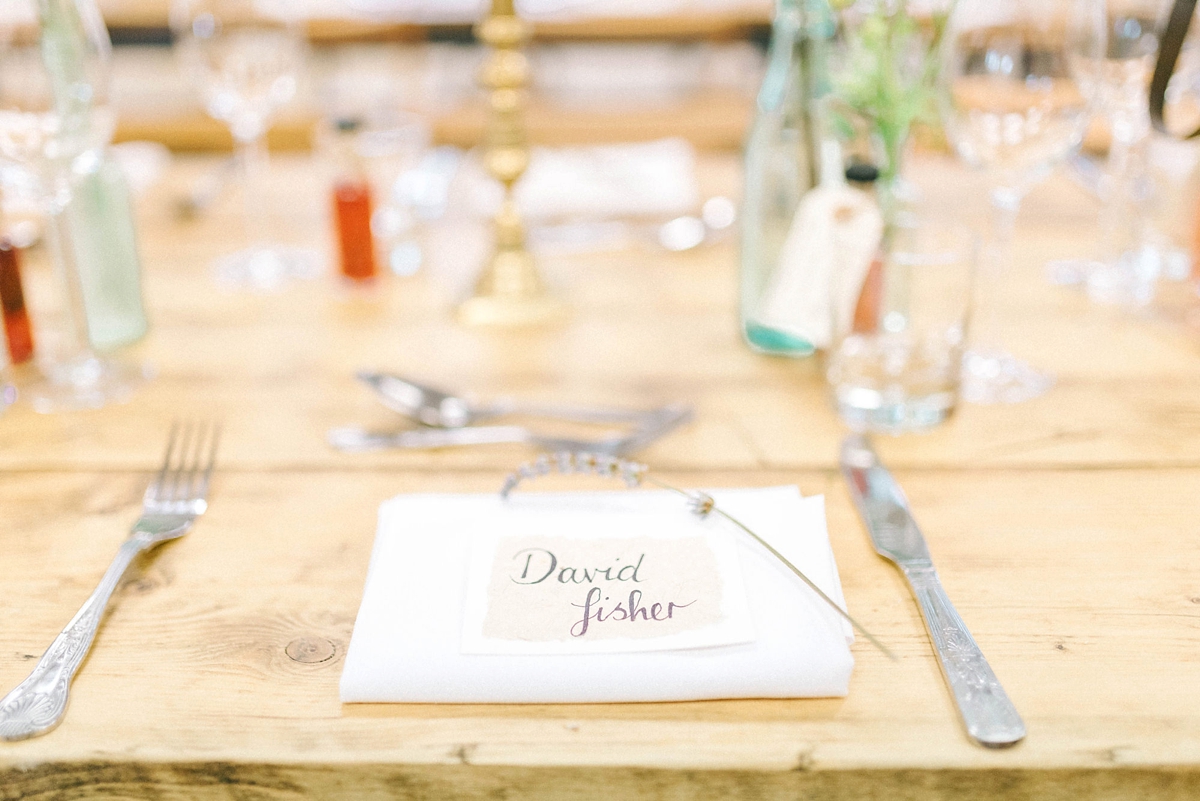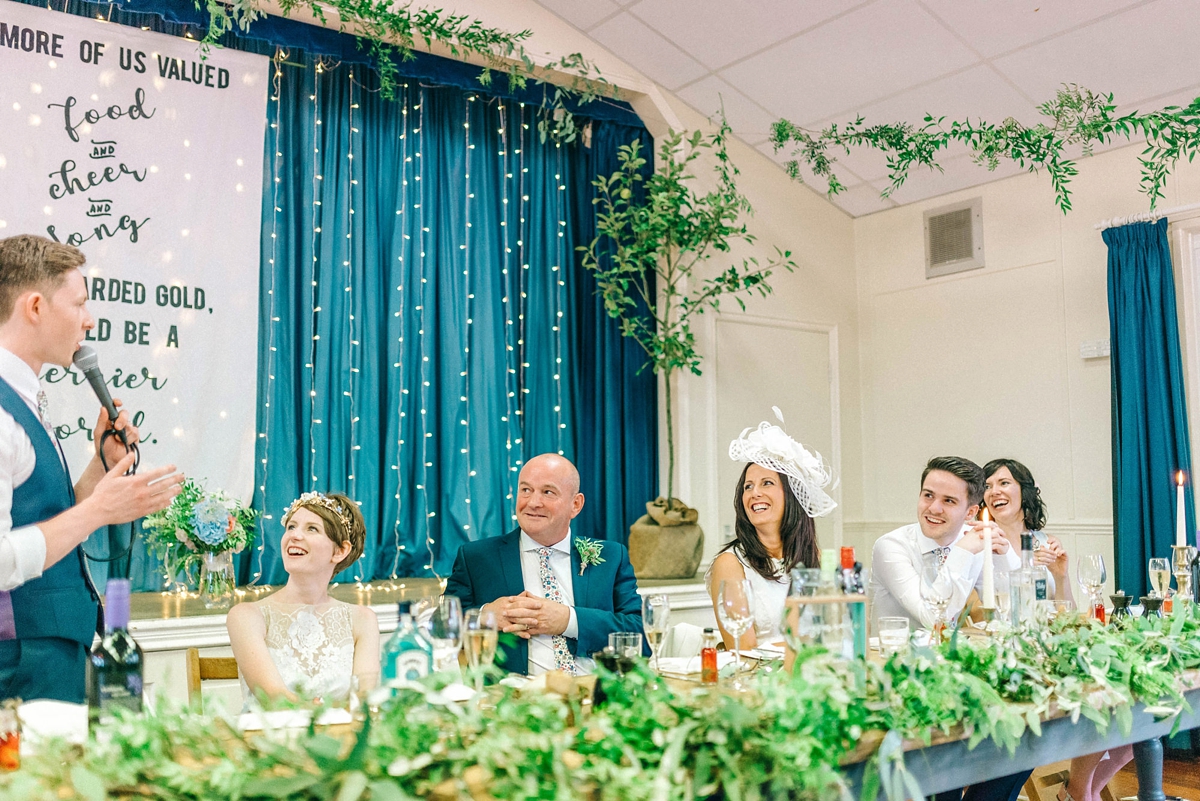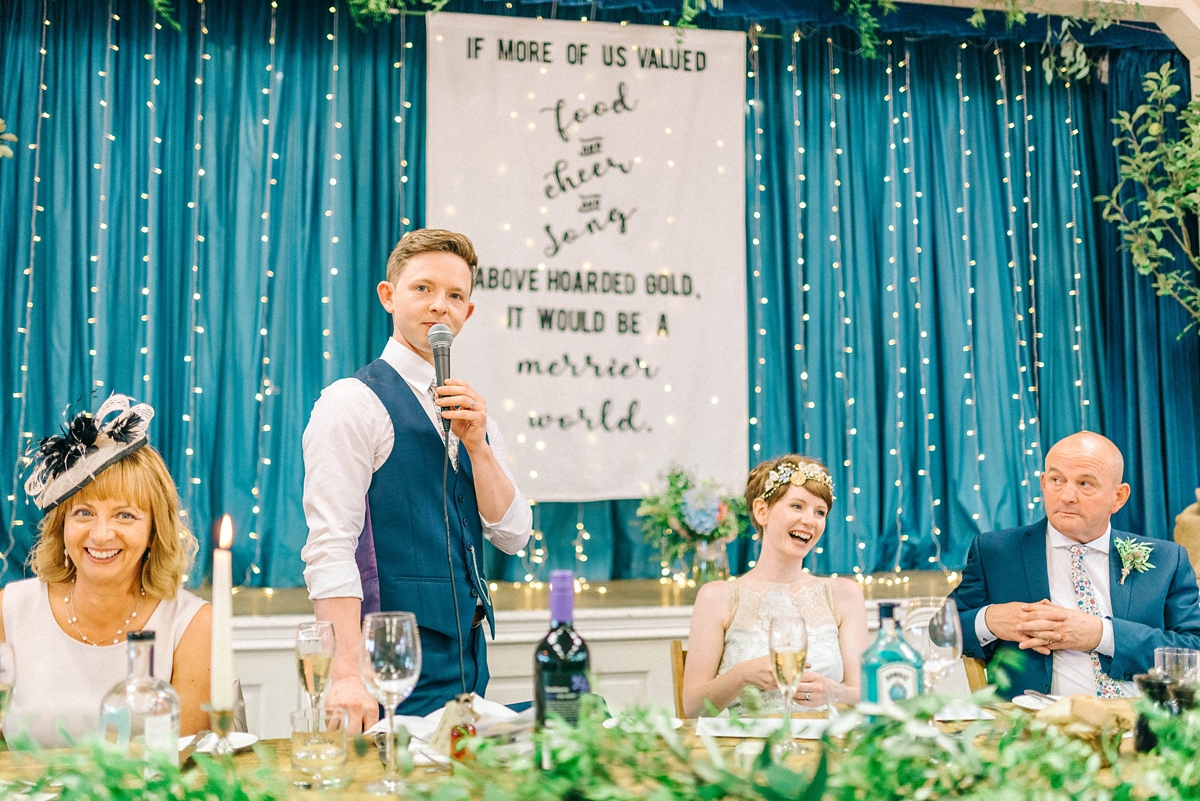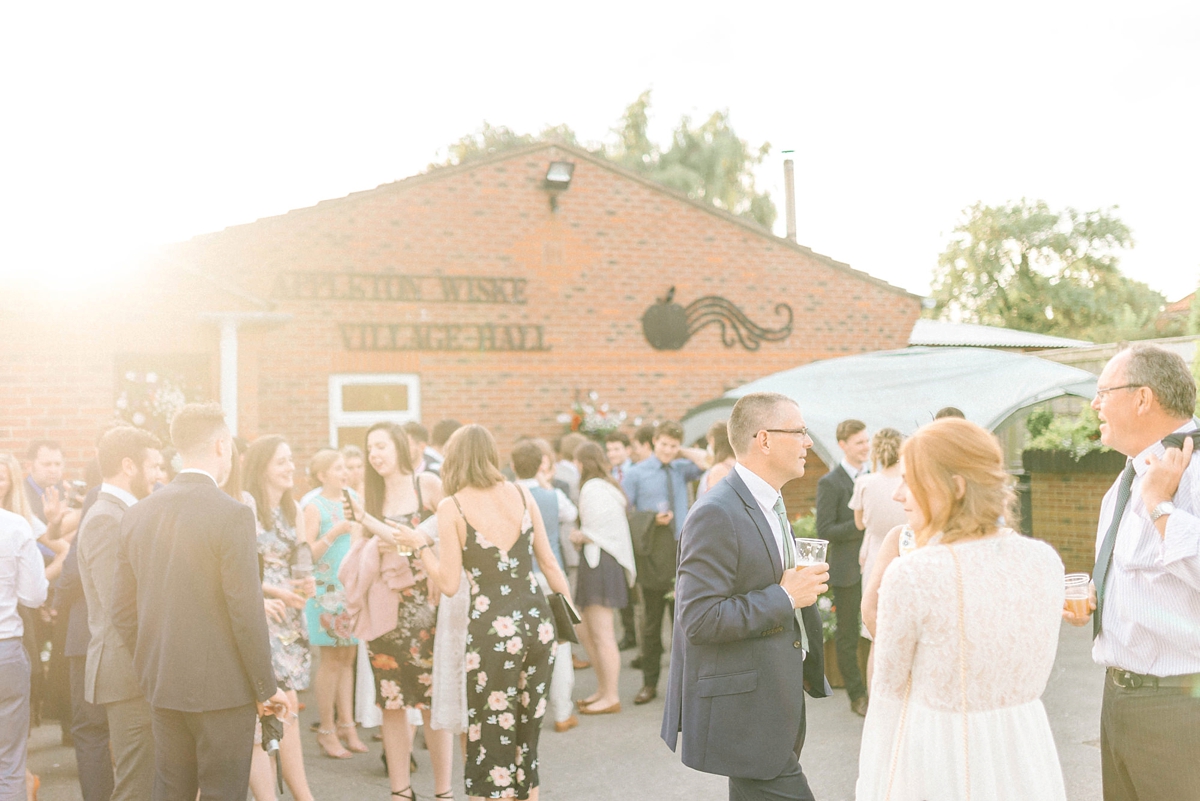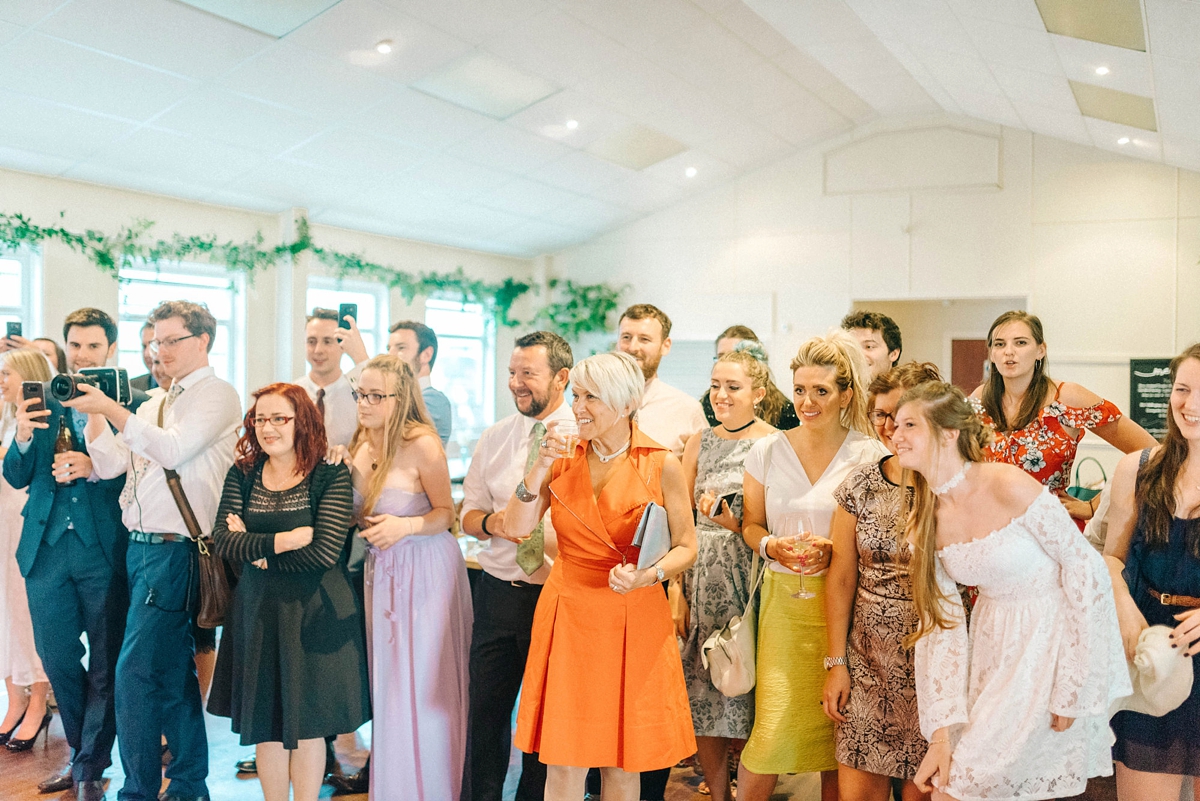 "We had a Spotify playlist at the village hall for people to groove to. Because of our competitive edge, we couldn't help but surprise everyone by setting up games of beer pong and flip cup outside once the first dance was over. Bride and groom faced off against each other as team captains – I'm pleased to announce our marriage survived the victory of Team Groom."
The couple crafted home-infused raspberry and mint gin for their wedding favours, which went down a treat with their loved ones, who surrounded them for their unique first dance as Mr and Mrs. James mixed the first 30 seconds of 'Can't Take My Eyes Off You', which then exploded into Arctic Monkeys' 'I Bet That You Look Good on the Dance Floor' to get the party started, immortalising Sheffield as a hugely important backdrop to their relationship. Emily's final recollection of the day is so poignant I can almost see it with my waking eyes – the perfect joyous finale to a love-filled day.
"At the end of the night we were dancing on people's shoulders to B*Witched and there was just so much love in the room. As we were leaving the village hall, everyone came outside in the pouring rain to wave us off and they all started singing Spice Girls 'Wannabe' at us and hugging us both. It was truly amazing and if I could have immortalised that moment forever, I definitely would have done."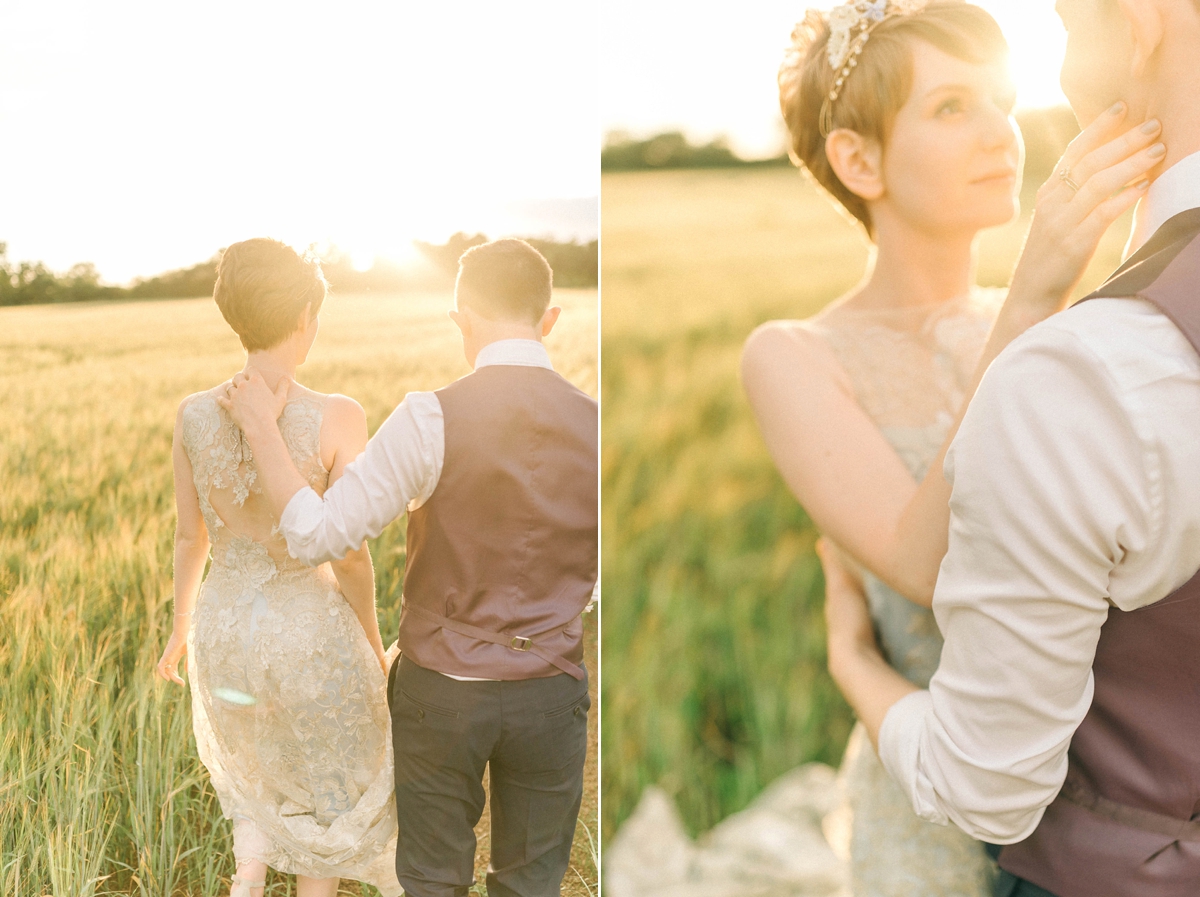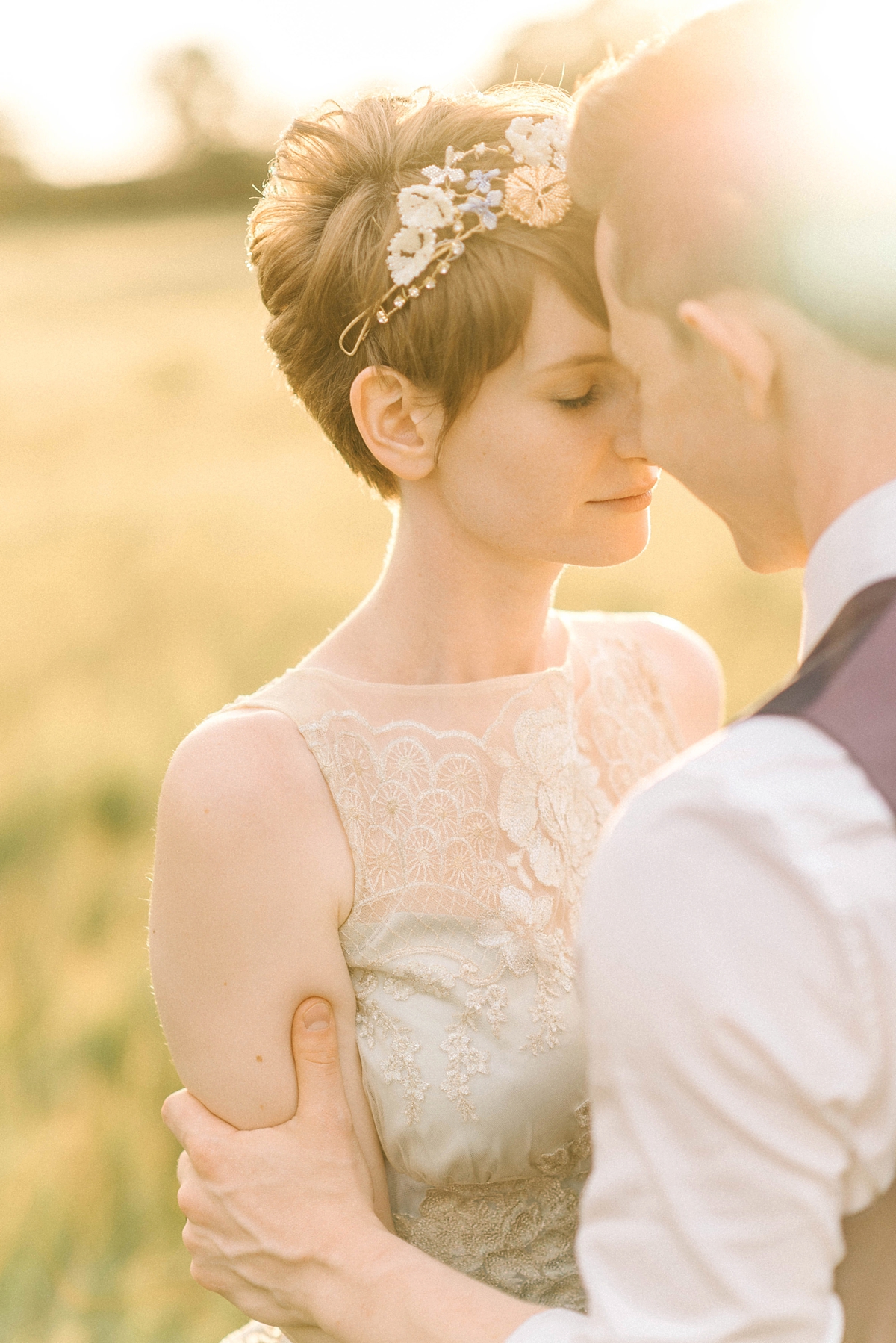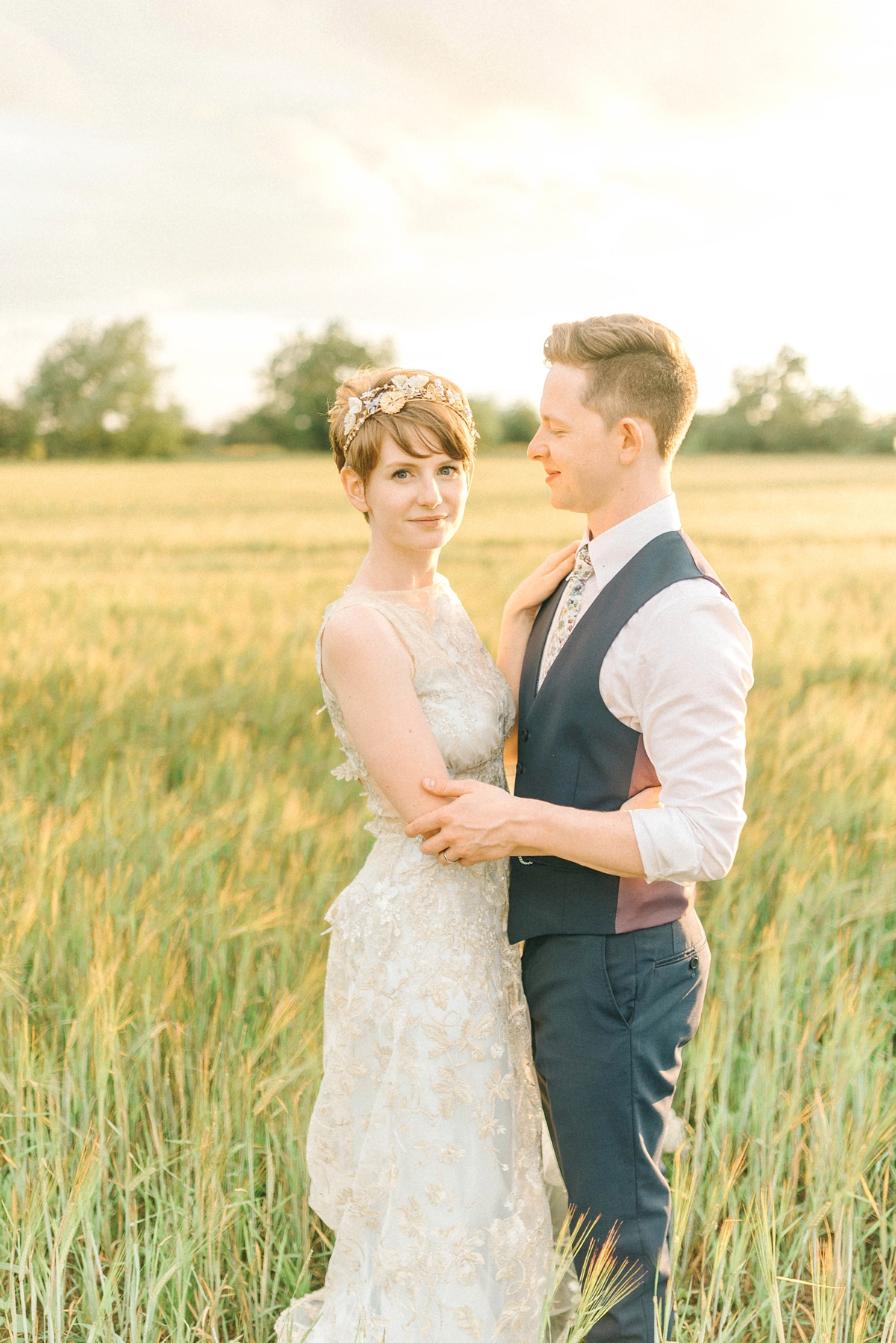 Words of Wedded Wisdom
Emily: "Your wedding day is yours and your husband's, first and foremost. We planned our day around things that we loved, but we also recognised that our guests were really important and our decisions were based around what would make sure that they had the best experience too.
Sometimes people won't understand what your vision is and doubt that it's going to work, especially if you're organising it all yourself in a dry hire venue. On the day, everyone said just how us it was, so trust your instincts and go with your favourites."
"As much as possible, look local. In a 30-mile radius we found so many incredible suppliers who were absolutely invaluable in their wisdom and talent – from local breweries to transport companies. The remainder of our suppliers were largely British and we were so happy that we made this decision."
"Do a speech! I made it hard for myself, because I did mine completely in German when my German is beginner at best, but thanks to the talents of one of the Belles in the private LMD Facebook group, I was able to give a speech that made everyone in my family cry regardless of whether they spoke in German or not."
"And finally, go on honeymoon as soon as possible! We went two days after our wedding, for ten days, and it was just what we needed after the run up to the wedding."
James: "For the grooms – if you don't want to get involved in planning a wedding, you're missing out. If you do, be prepared to be flexible and proactive to help the day reflect both of you. Planning together was such a great experience; we worked as a team, grew to understand each other better, and the satisfaction of helping to organise a day made for both of you is amazing."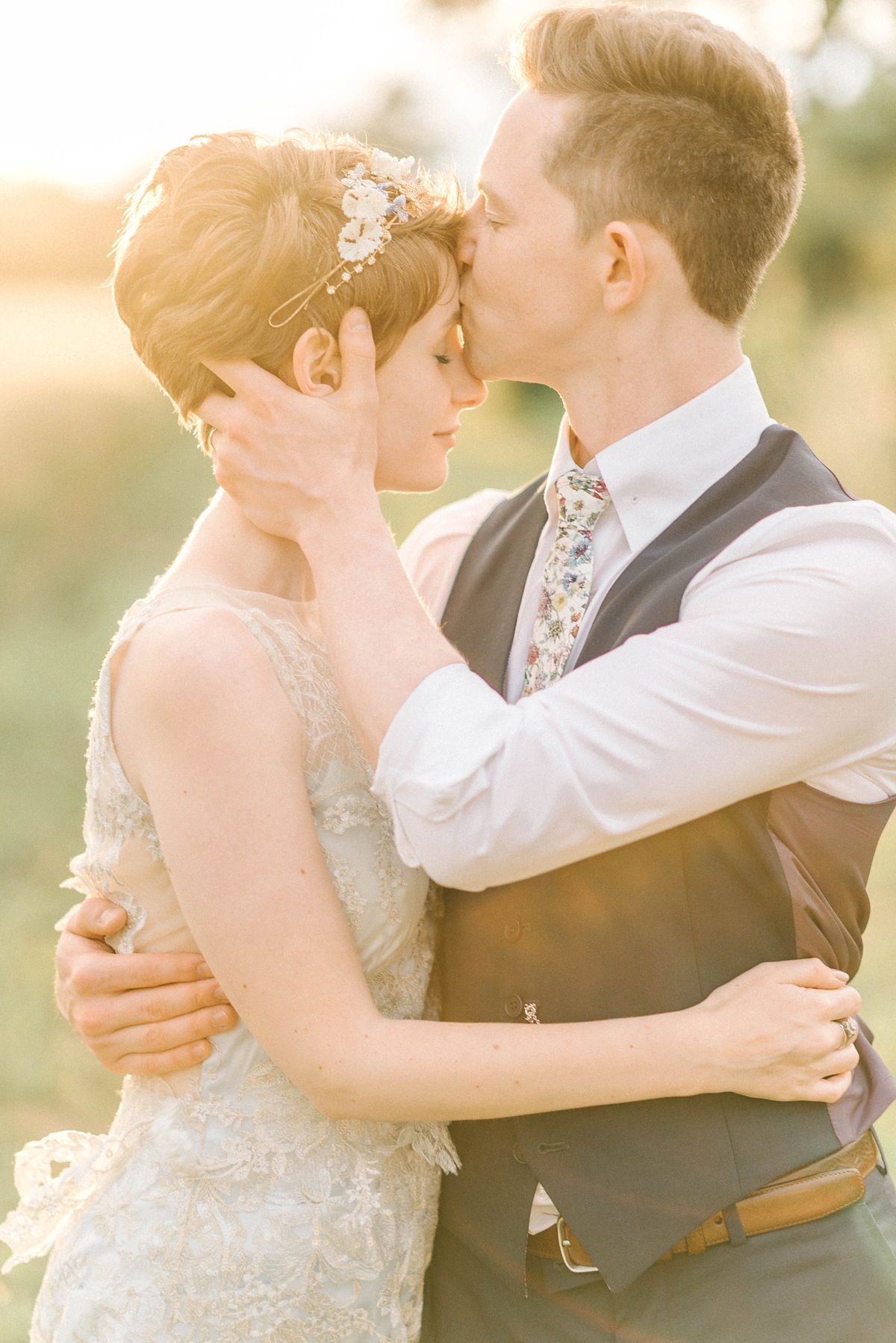 "People will have expectations for your wedding day. Even if they profess not to. Discuss with your partner which battles you want to fight or concede to- but remember that you can't (and shouldn't try to) please everyone. Weddings are wrapped in tradition and expectation and comparing yourselves to others around you. Don't bother doing anything just because you think you should, or it's tradition, or someone else did it. After you're married you'll wonder why you ever stressed about these things."
Emily also wanted to share a little love for our cherished real wedding features – she and James felt the personalities of our wonderful couples shining out from the photographs and their heartfelt words. They also rejoiced at the huge range of weddings to be found on our pages, from extravagant celebrations to low-key elopements – it truly made them feel they could do anything they wanted for their day.
"I also love the private Facebook group for brides and would recommend it so much, no matter how far along in the journey you are. I joined on the day of its conception and to see how much it has supported women and grown in the last 18 months has been amazing. It's a real, thriving community (so much so that we've even had meet ups!) and every bride should take advantage of such an amazing resource. It's a really special corner of the internet."
I cannot properly express my immense gratitude to James, Emily (who you can find on Instagram) and the talented Sarah-Jane Ethan for sharing this heavenly day with us. And as a fellow Claire Pettibone bride, I also have to cast a second (or thirtieth), longing glance at Emily's sensational gown before forcing myself back into everyday life. Sigh.
With love,
Em x