Lovelies, if you're feeling a little bit chilly today as the autumn leaves fall, I've got a simply stunning wedding that will soon warm you up as we turn the clocks back to summer for the destination wedding of Melanie and Rick. The beautiful bride, who works as a teacher, married her business manager groom on the 11th of August 2016.
The couple mixed simplicity with style and chose the most picturesque location in Portugal, a pretty little town called Mafra; firstly marrying in the beautiful Paroquia de S. Silvestre do Gradil church. They then took a short walk (whilst being serenaded by a jazz band) to the spectacular historic and family run wine estate – Quinta de Sant'Ana Mafra, Portugal.
Happy Together Films created their video with all the gorgeous moments of Rick and Melanie's day, so let's begin with this stunning snapshot to set the scene.
"I wanted a destination wedding while Rick wanted a traditional wedding. Since we both come from Portuguese backgrounds, we met in the middle. I would consider myself and Rick to be very simple people, so I wanted the event to represent who we are."
Photography by The Framers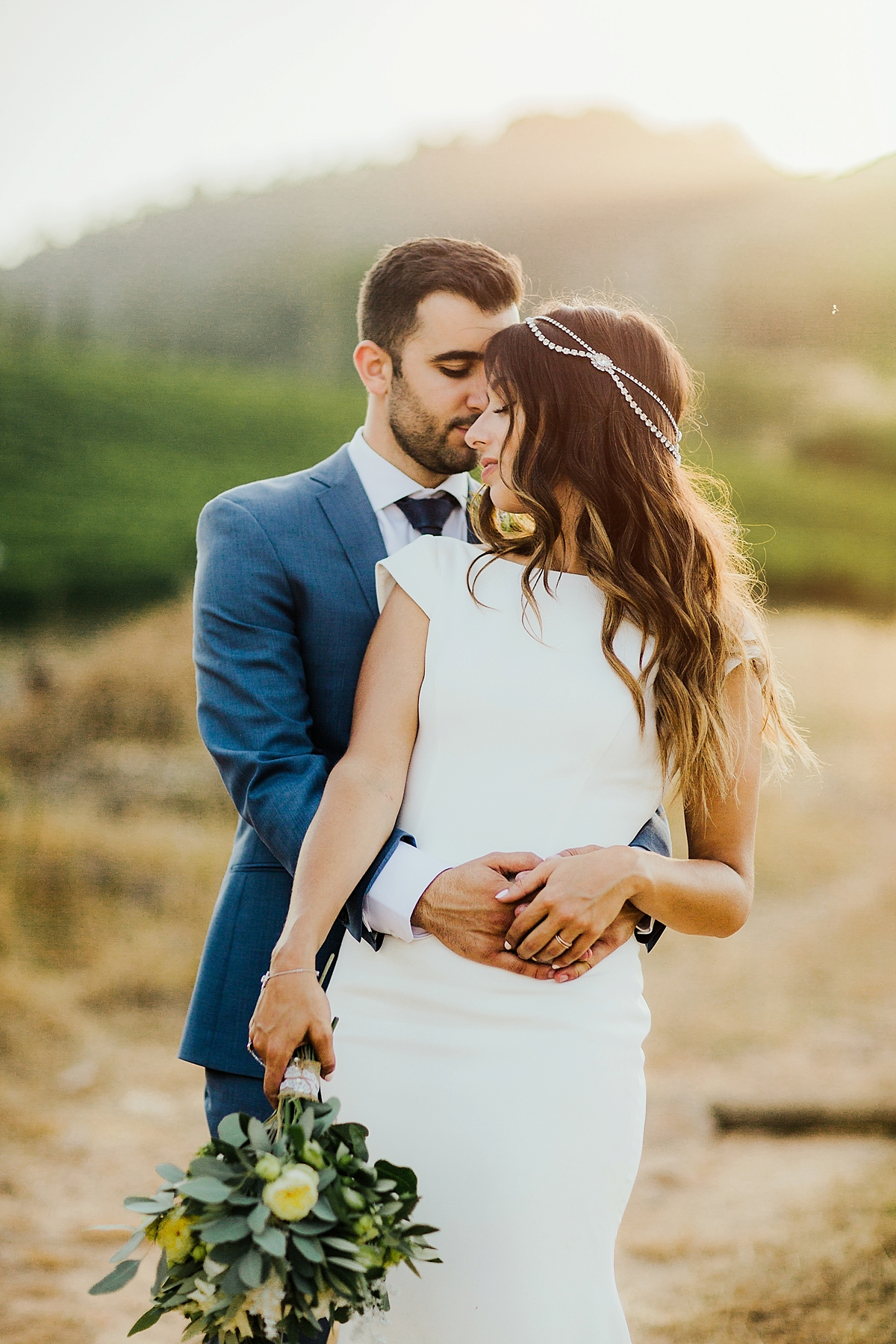 "We searched for a venue that captured the beauty that Portugal has to offer. We wanted a place that would be representative of our families' beautiful country without too many modern touches. Quinta de Sant'Ana Mafra was unique and rustic; exactly what we envisioned our wedding to be. As an added bonus, it was also a vineyard – and I love my wine.""Rick and I met in high school where we were best friends for years. In 2008, this friendship quickly turned into a relationship when I realised I felt something more and well … the rest is history."
"On August 31st, my summer was ending but little did I know a new chapter would begin. Rick decided to plan a three-day trip for us to the Thousand Islands. Just like my attempt to navigate our houseboat through the St. Lawrence River, I did not anticipate the twists and turns that would unfold that first day. Rick suggested we watch the sunset before docking our boat for the night."
So we anchored our boat out in the water and sat on the rooftop embracing the simplicity of what lied in front of us – the calmness of the water, the clear blue skies, the surrounding islands, and the warmness of the sun. It was just us, Mother Nature, and a glass of wine."
"Time passed seamlessly up on that boat and day was quickly turning to night. As the sun was setting, Rick suggested we capture that moment in a picture. I never thought he would be capturing an even more special moment. They say a picture is worth a thousand words and he really left me speechless that day. After over a decade of friendship and almost 7 years of dating, we are finally tying the knot."
Melanie opted for simplicity with her stylish dress by Mikaella, found via Mona Richie Boutique and paired with a long veil also from the boutique.
"One thing I said before even going to any store for my dress was open back, plain, simple, no lace and no sweetheart neckline! While these are beautiful details, they are not me and I wanted to be different. I tried on many dresses that others picked out for me because I wanted to have an open mind but when I put it on, I did not feel like myself."
"The dress I picked was one of the only plain dresses I could find on the market within my budget and it fit like a glove with an open back. While I did not envision it to look the way it did, I was happy with the simplicity and uniqueness of it."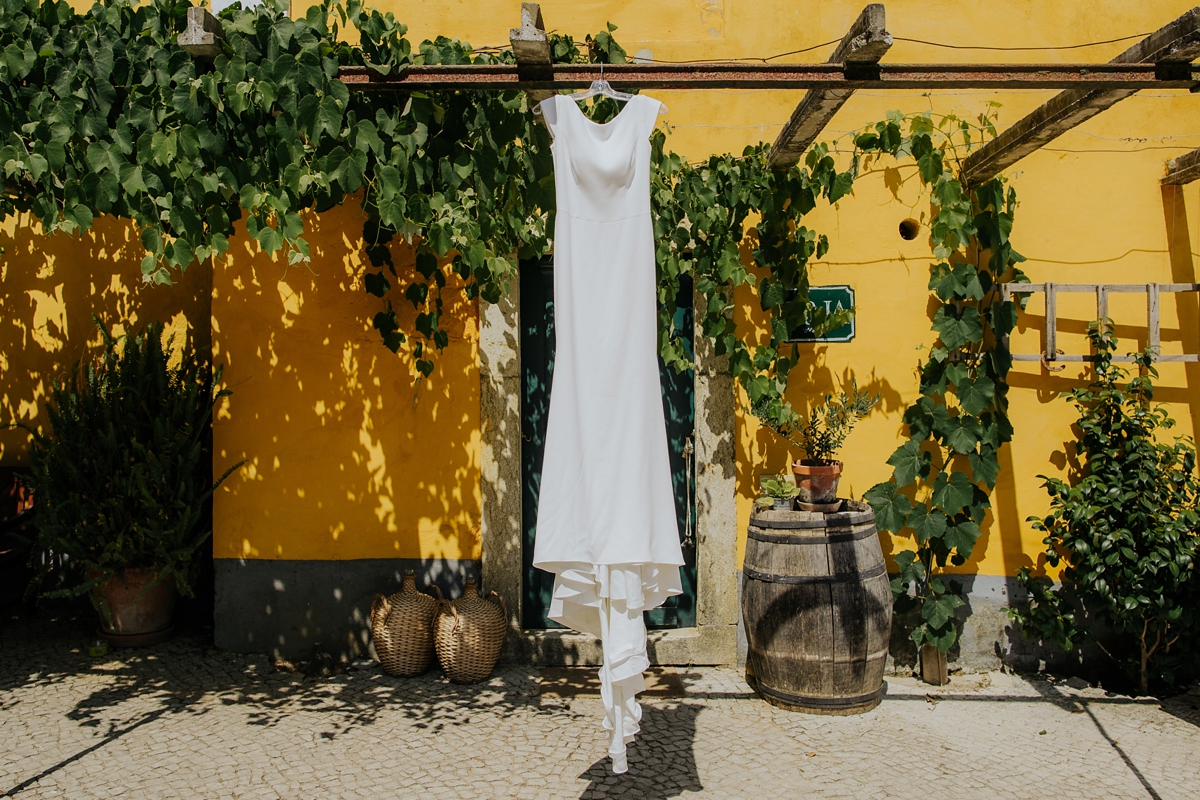 "Since the roads are gravel and I am almost the height of my husband, I purchased flat sandals with some detail that I would be comfortable in. Everyone who knows me knows I love the scent of vanilla, so I wore a spray of Hypnotic Poison by Dior."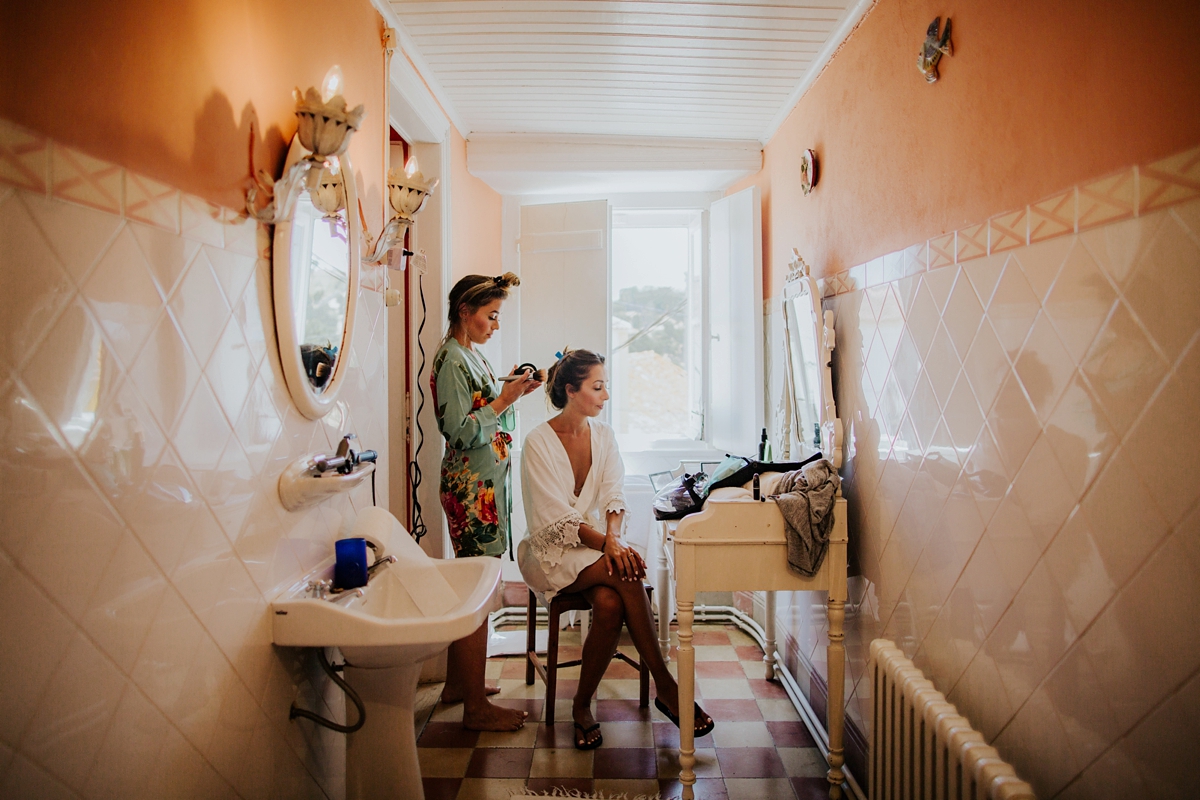 Melanie donned an exquisite bespoke headpiece, as well as a range of beautiful jewellery pieces that were all custom made.
"I purchased a headpiece that would add just a little detail to my look. After all, it was for our wedding. The headpiece and all of my jewellery – earrings, bracelet and dainty hand chain/bracelet – were custom made by Tara Fava Jewellery."
"One of my best friends (and also my bridesmaid) is a hairdresser at Soma Hair Co. and she did my hair. Make-up was by a combination of all of my bridesmaids."
The groom's suit was custom made and paired with a tie from The Tie Bar.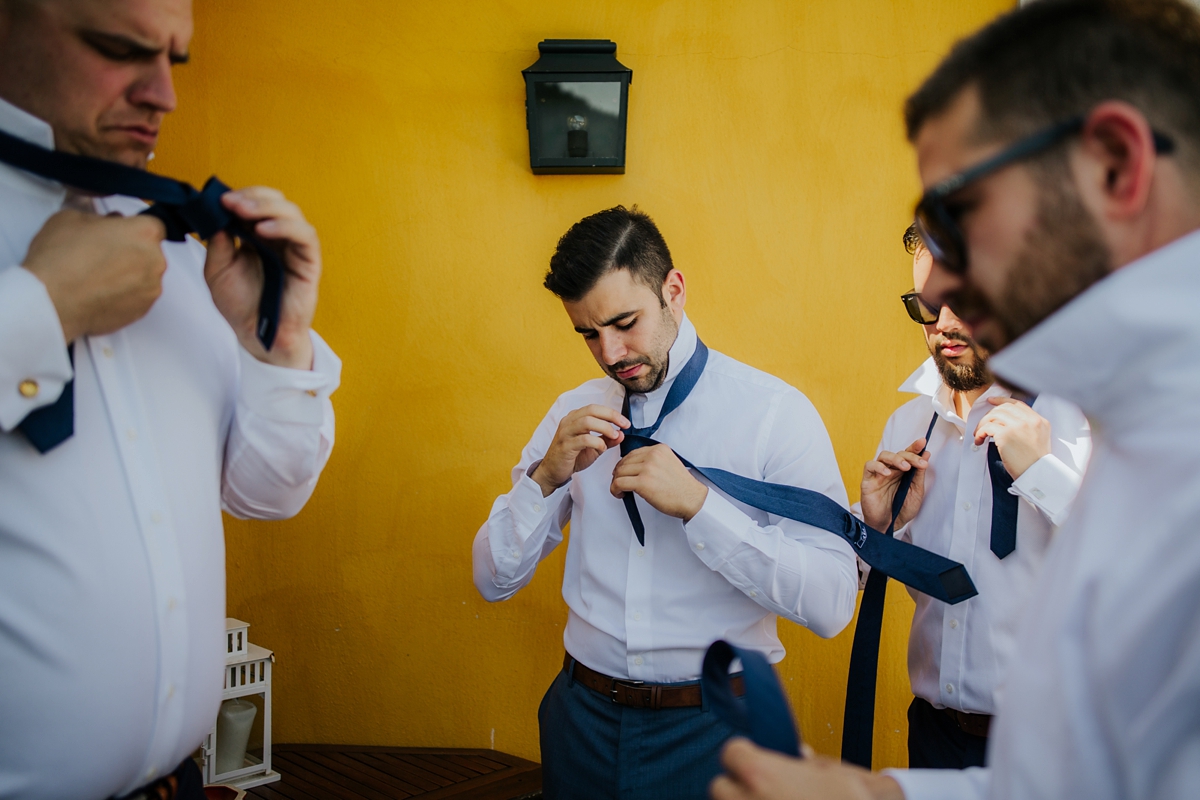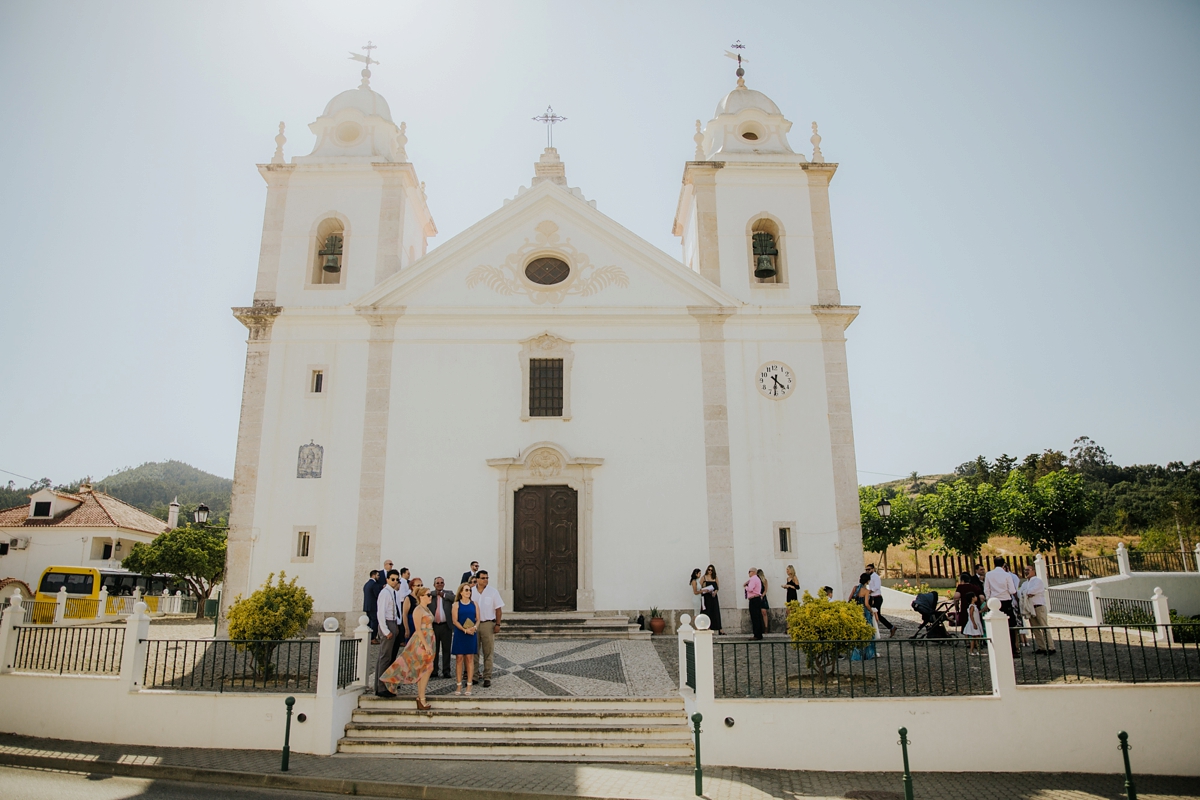 "With the flowers, I wanted a natural, rustic looking bouquet to tie to our theme. The bridesmaid's bouquets and flower girl crowns were baby's breath because it is plain and simple and tied in with other details of wedding."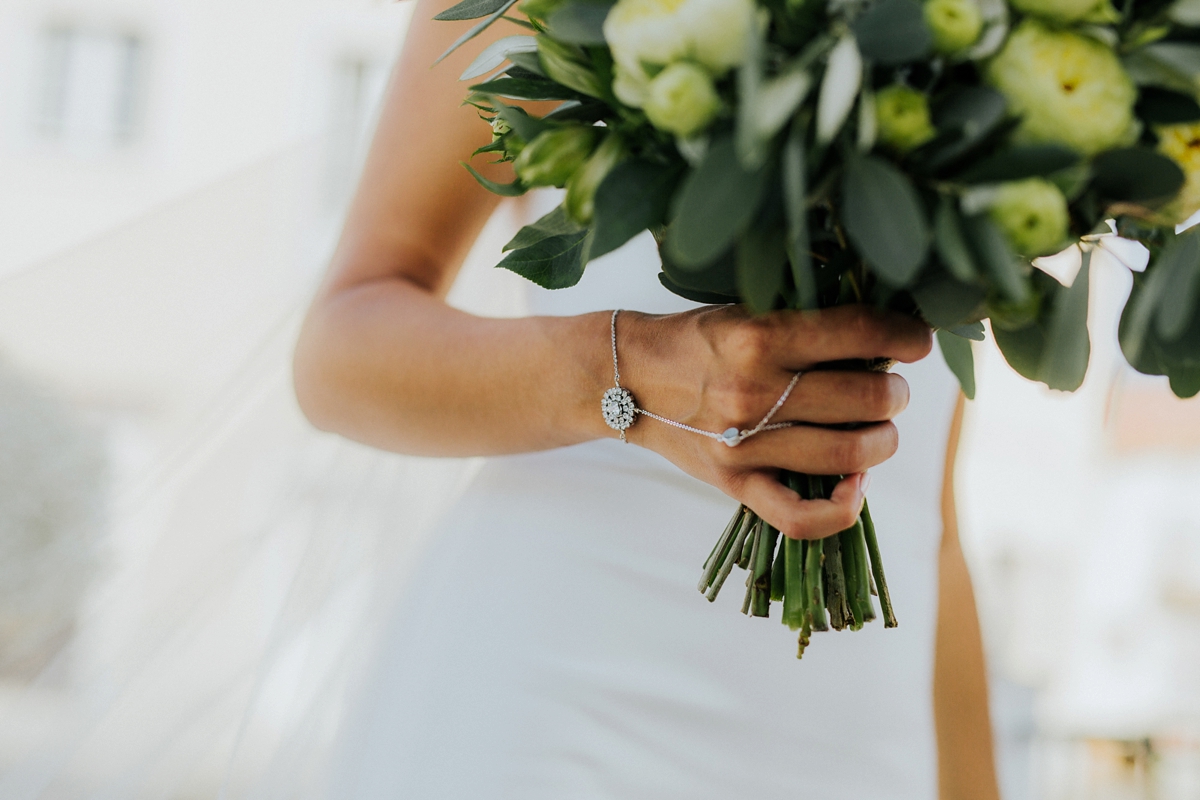 "Each bridesmaid had a different coloured dress but within the same colour palette. The dresses were classy, simple and whimsical. I wanted the girls to be comfortable while keeping in mind we would be at a vineyard."
"The dresses were designed by Hayley Paige. They wore their own comfortable flats and earrings and a gold knotted bracelet purchased from Etsy. This was a gift to the girls for helping me tie the knot."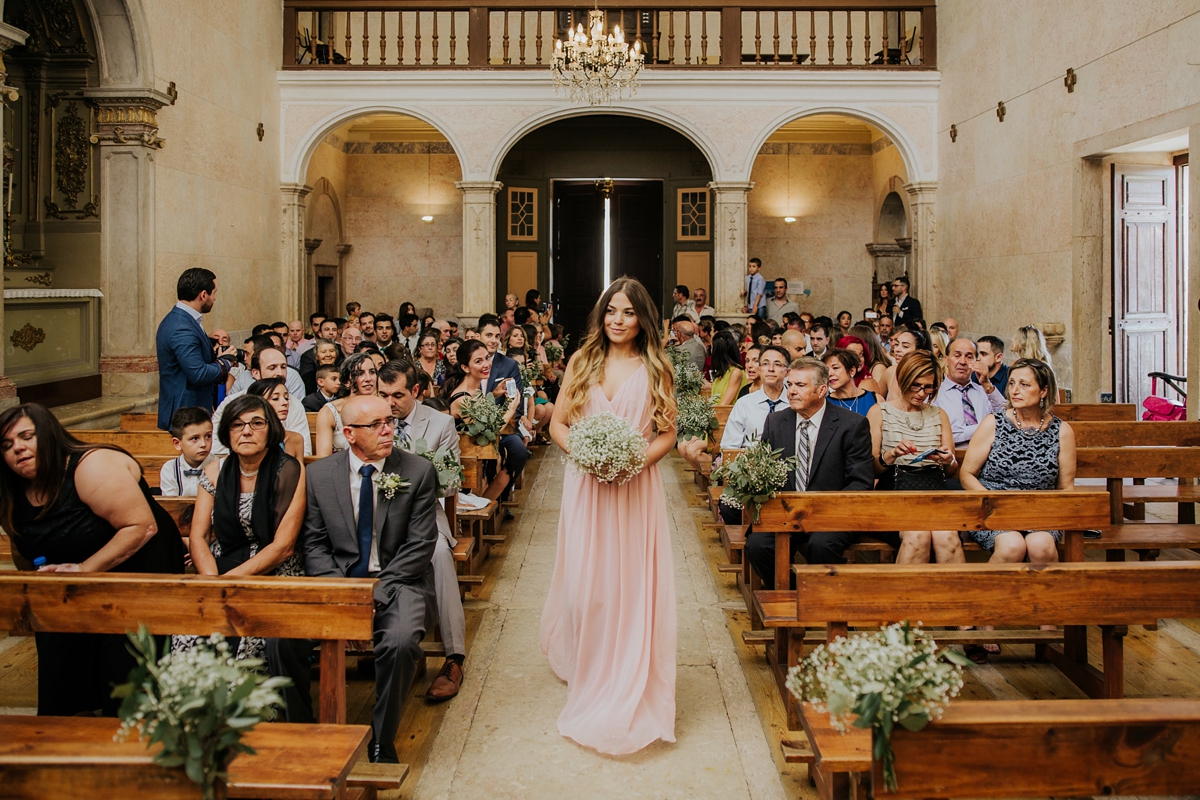 The pretty little flower girls matched the bride with their simple vintage-looking dresses from David's Bridal. And I spy another guest who dressed up for the occasion a complete with bow-tie – what a sweet pooch!
"My parents both accompanied me for the aisle walk at the church. We recited the vows in Portuguese. I was very nervous about this because I am not fluent and don't typically speak it with correct pronunciation."
"Somehow I managed to get through it. The readings were provided by the church and we exchanged rings that were custom-made."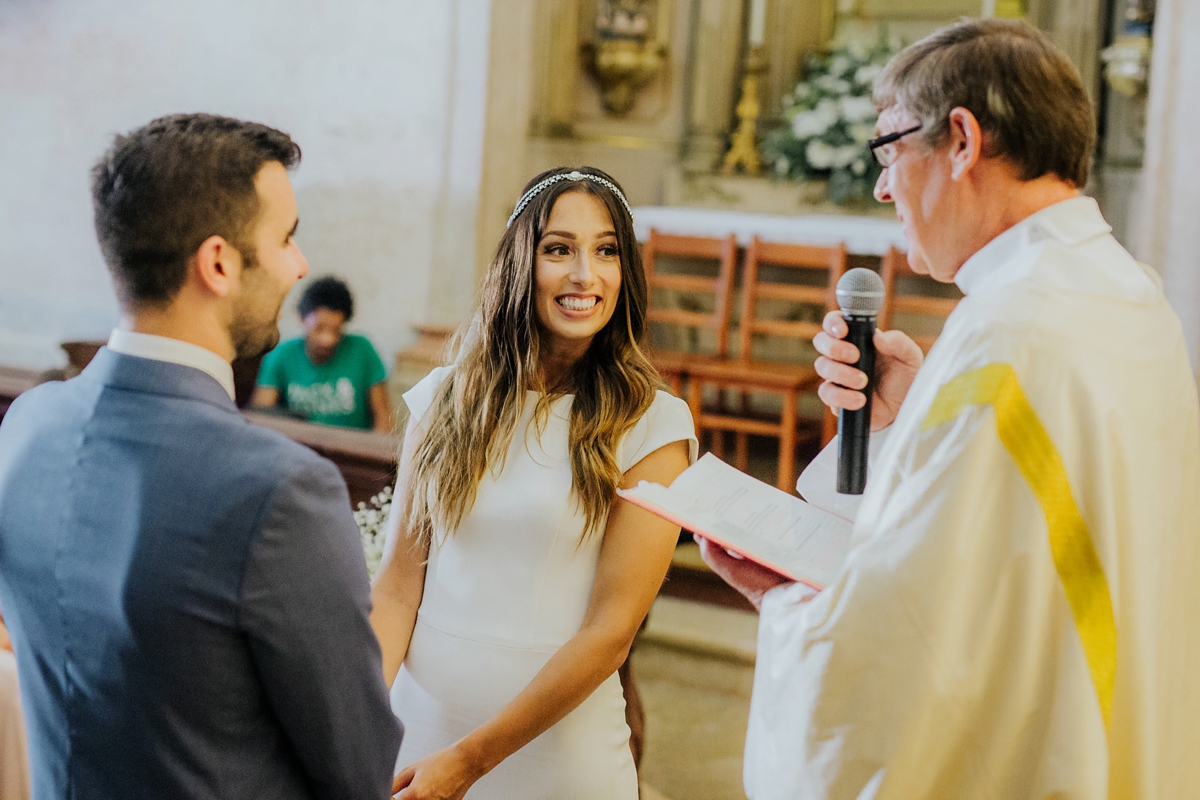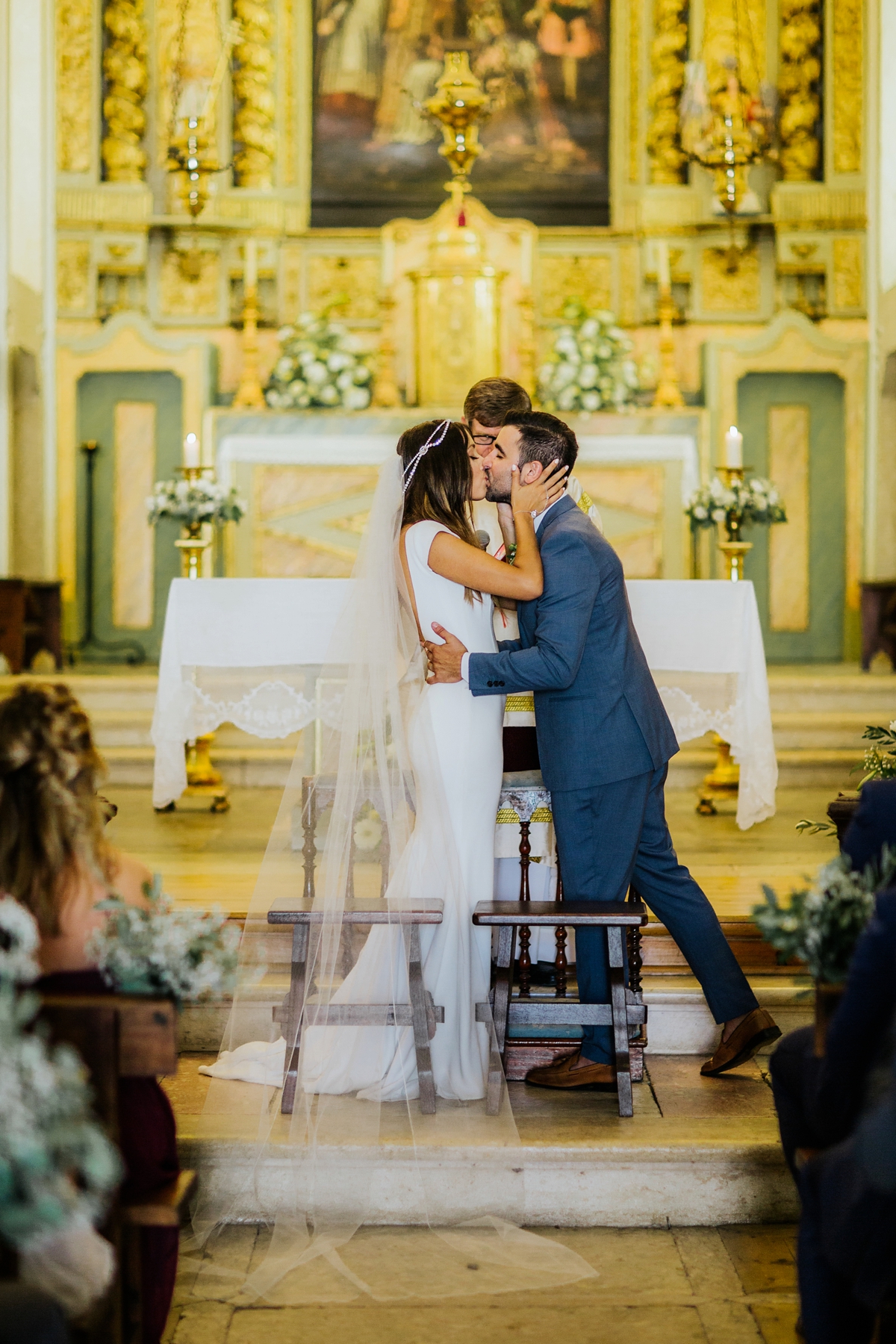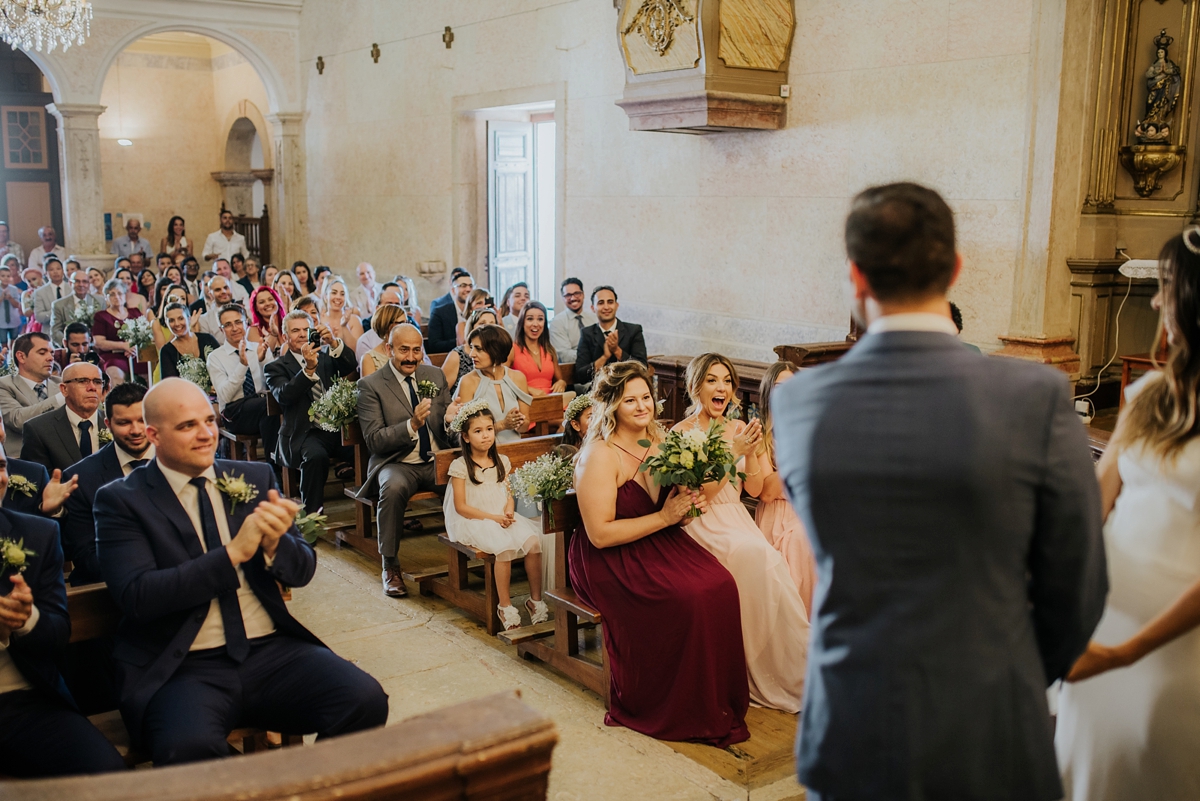 "Rick and I can appear uncomfortable in front of a camera, but The Framers Photography make you feel at ease and are able to seize beautiful moments through their pictures in an unforced way. Plus, they were familiar with the venue and knew the exact spots to get the perfect lighting and backdrop."
"Happy Together Films were also awesome and people continue to tell us that our video is the best one they have ever seen. They provide a unique touch to their videos and creatively walk you through your magical day. They allow you to re-live each moment and emotion."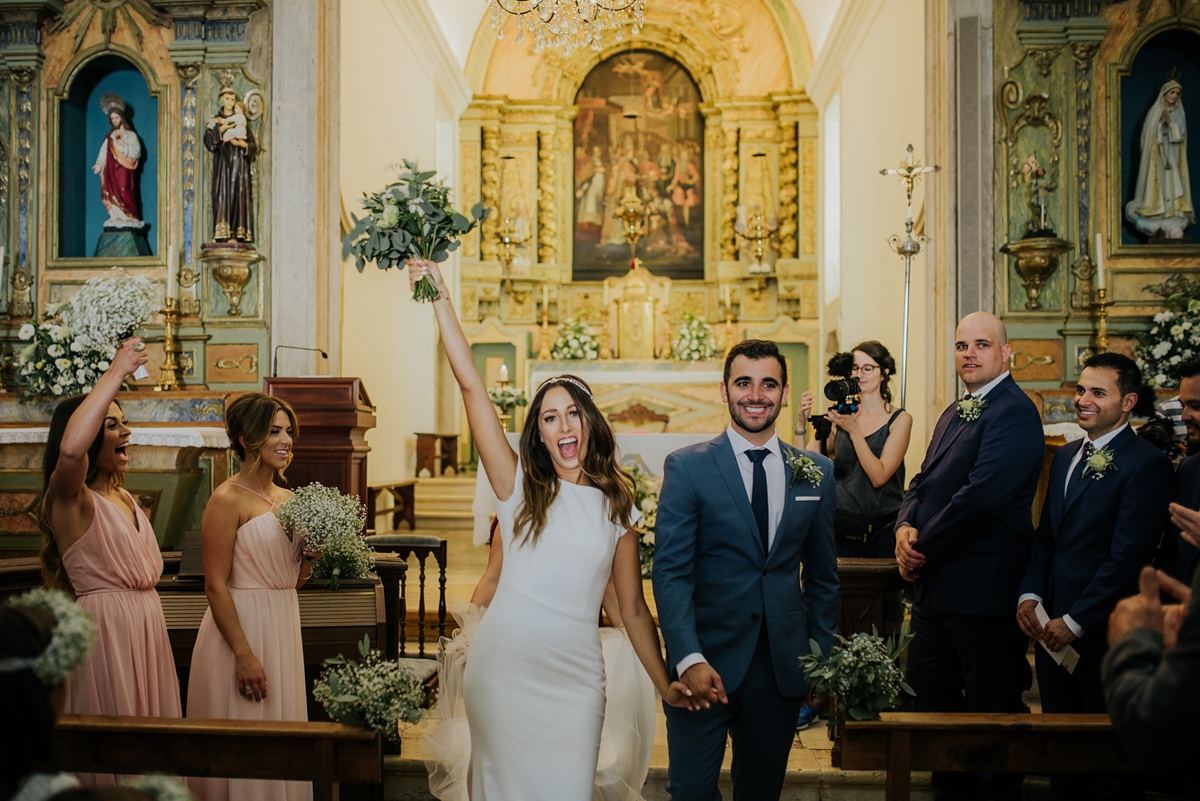 After the ceremony, guests were treated by the Cottas Club Jazz Band as they walked to the vineyard venue. Such fun!
"The band sneaked out from a café after our church and helped to orchestrate the movement of our guests while providing live entertainment. This was my husband's choice and one of the most favoured and talked about parts of our wedding from our guests. Once at the venue, the band then entertained them for a few hours during cocktail hour while my Rick and I had our pictures taken by the photographers."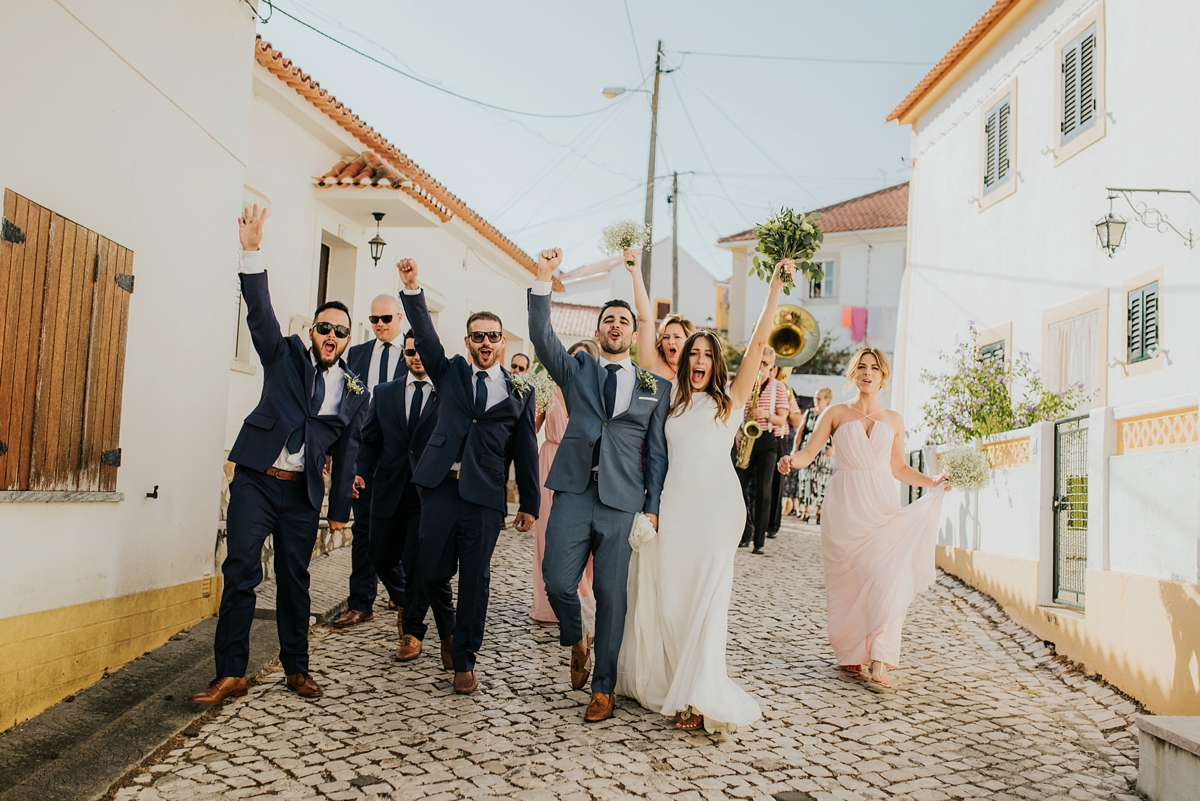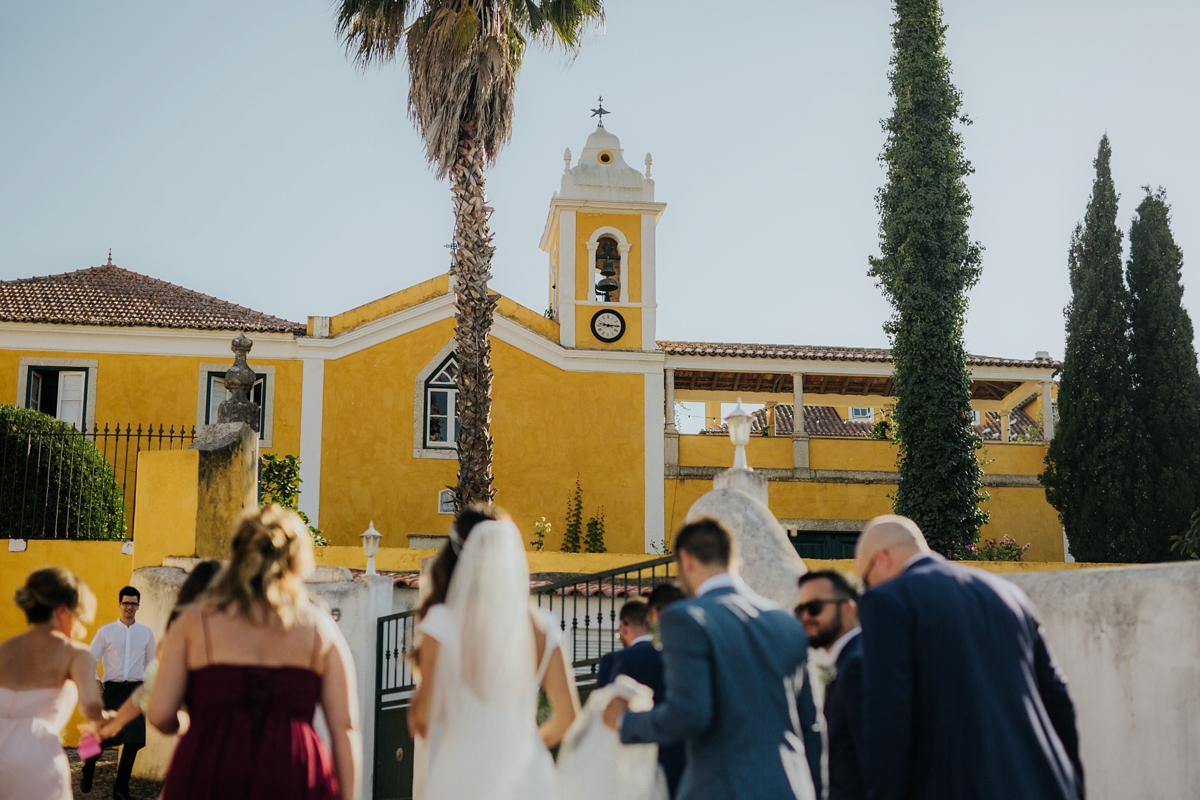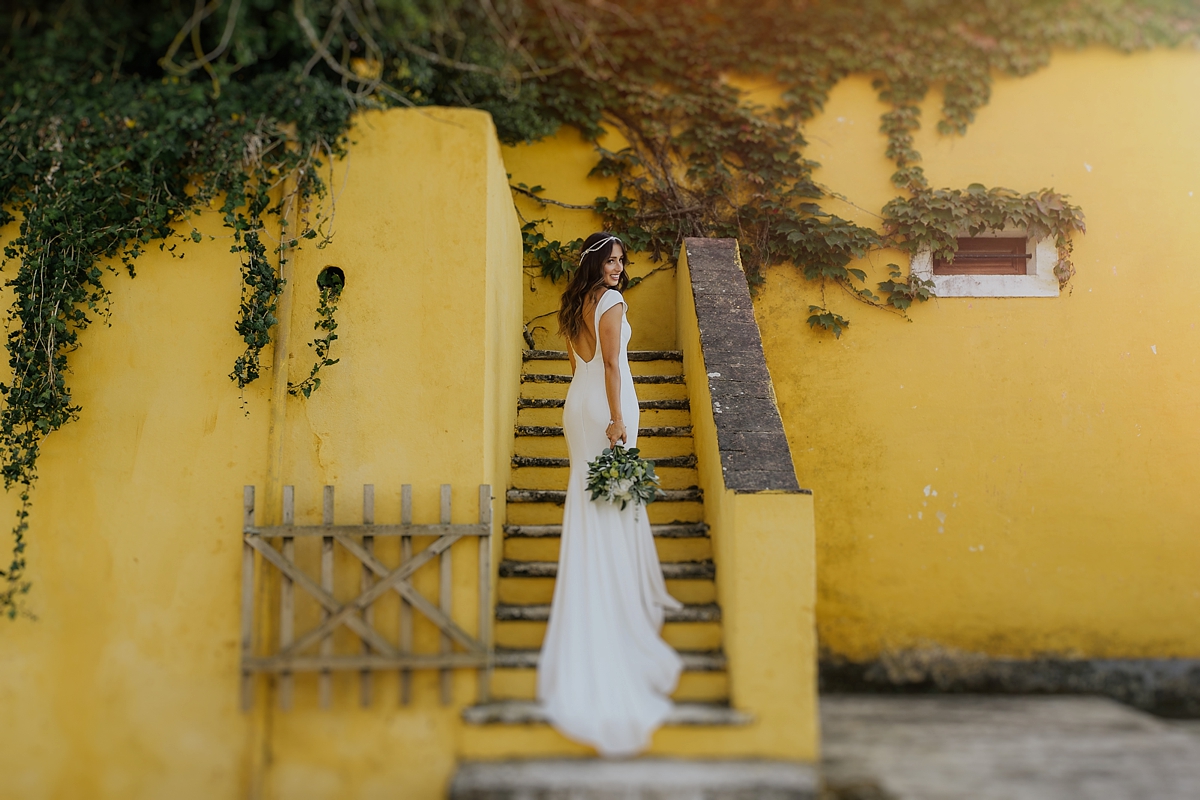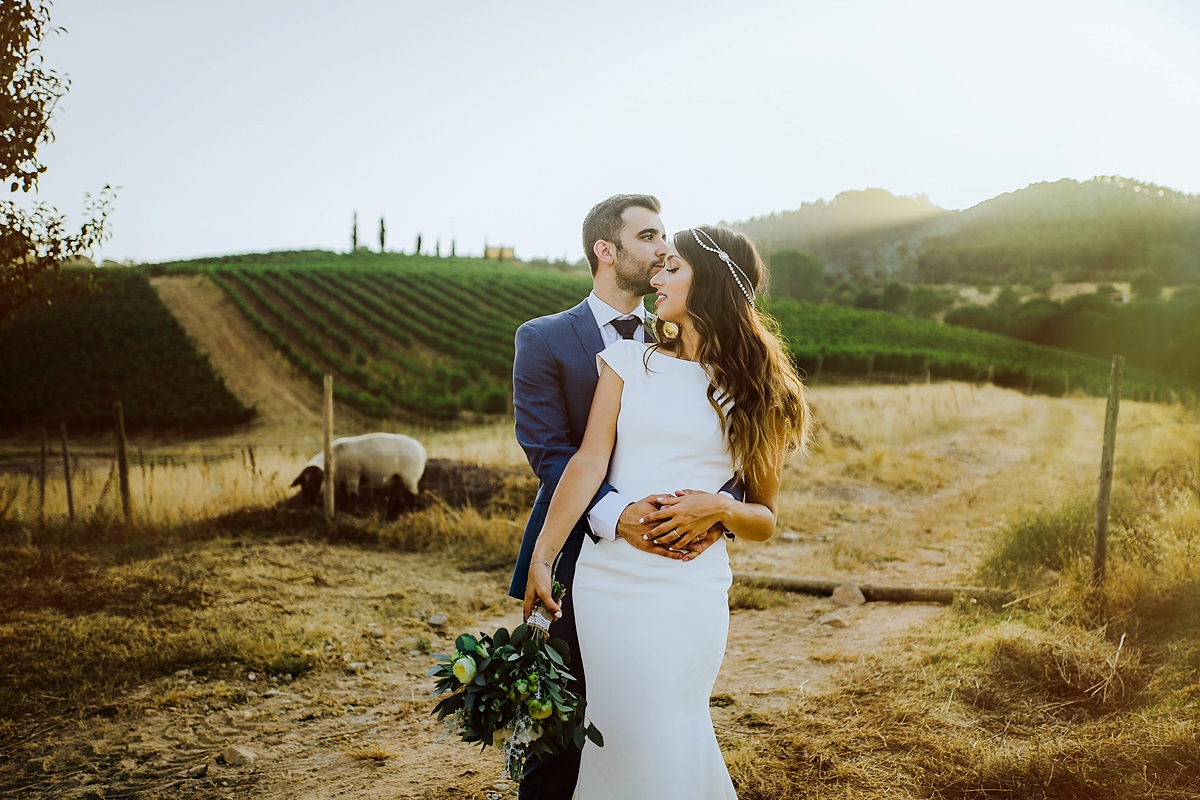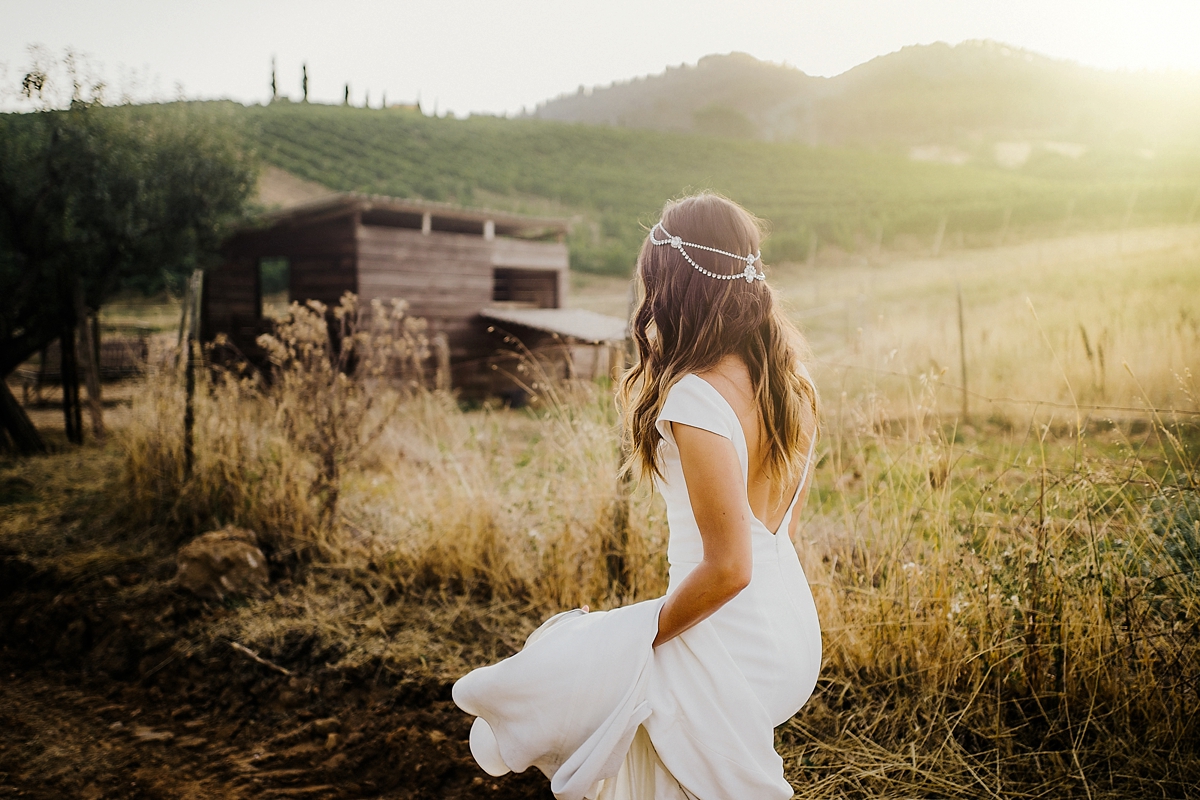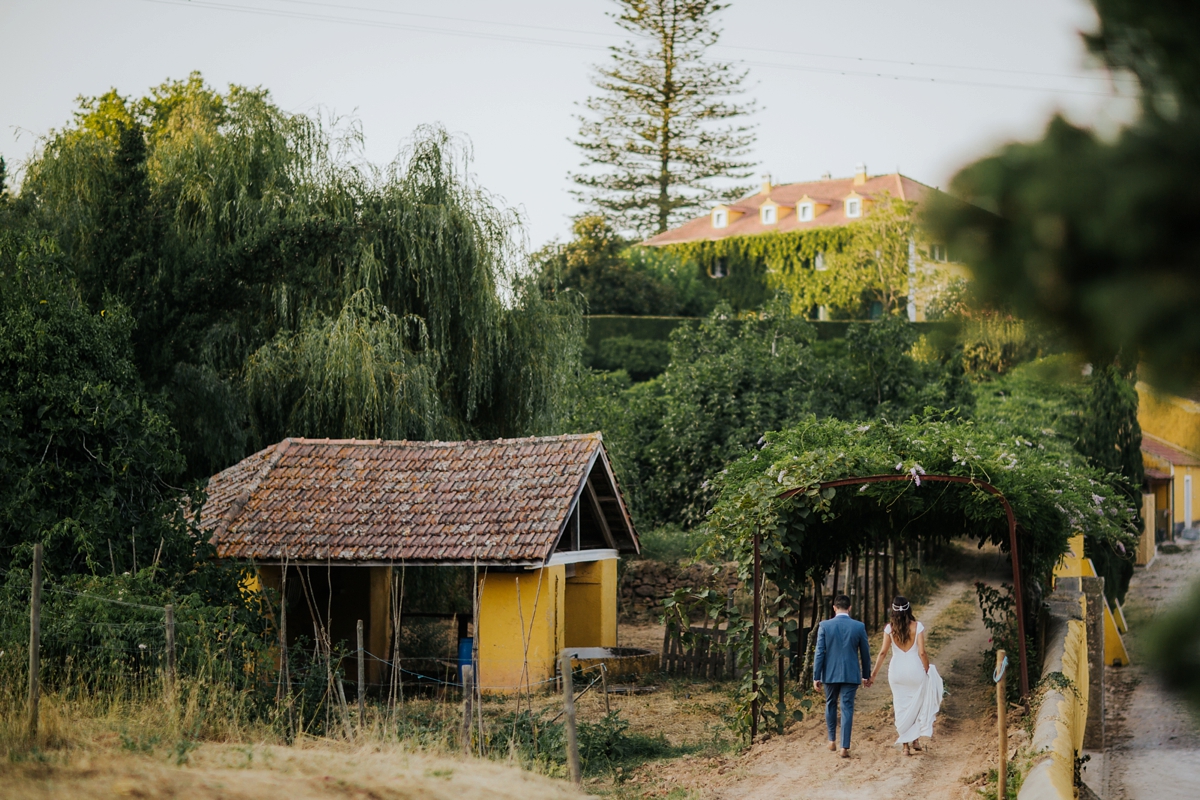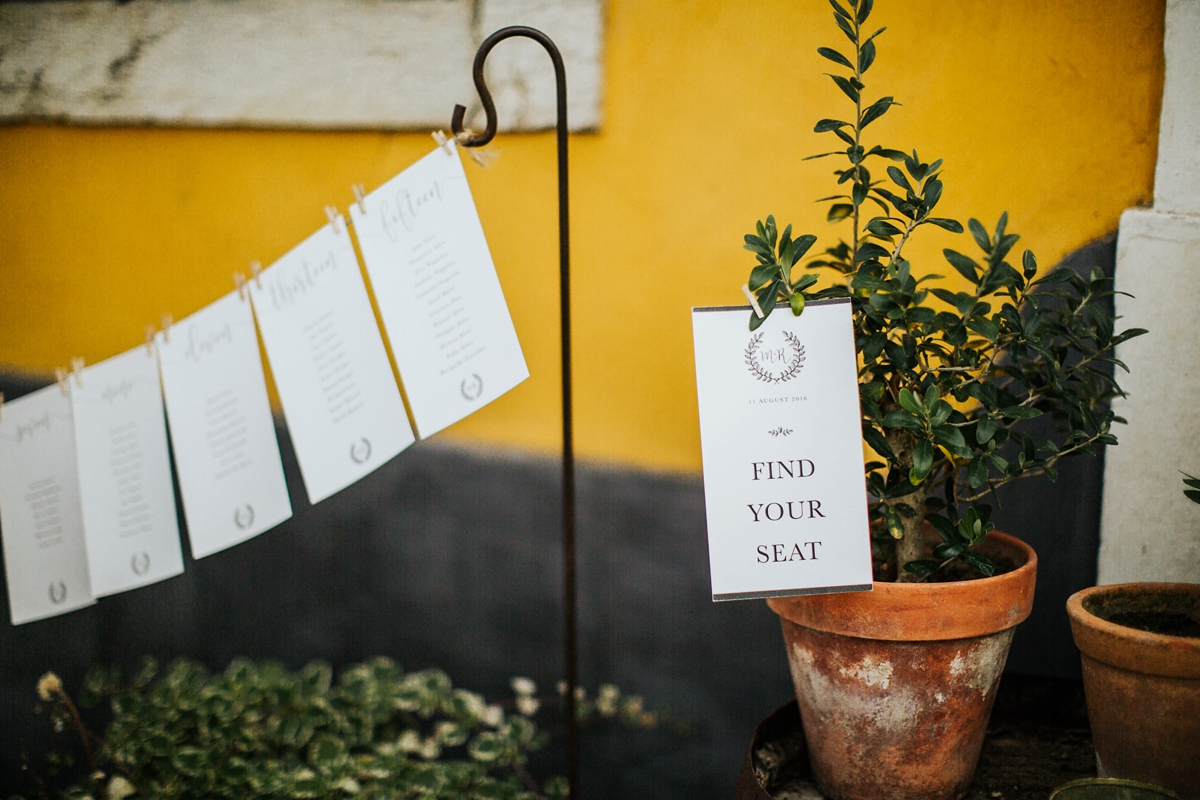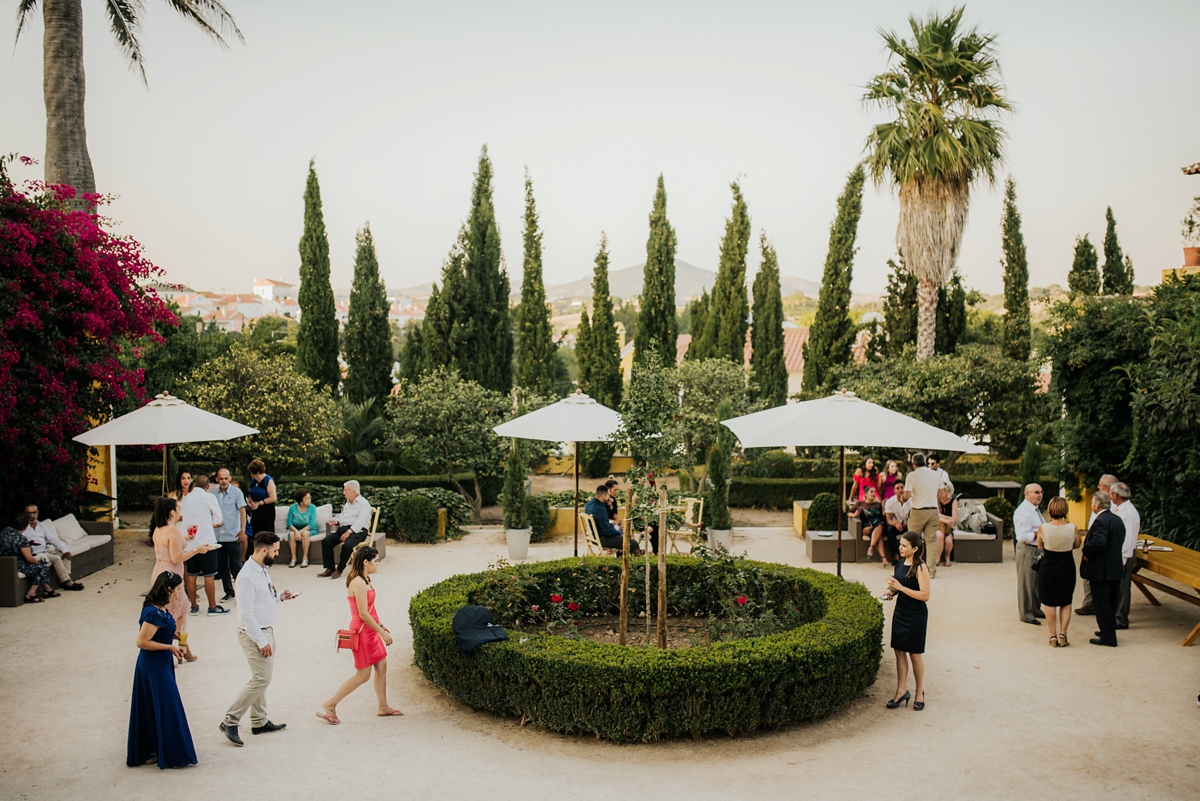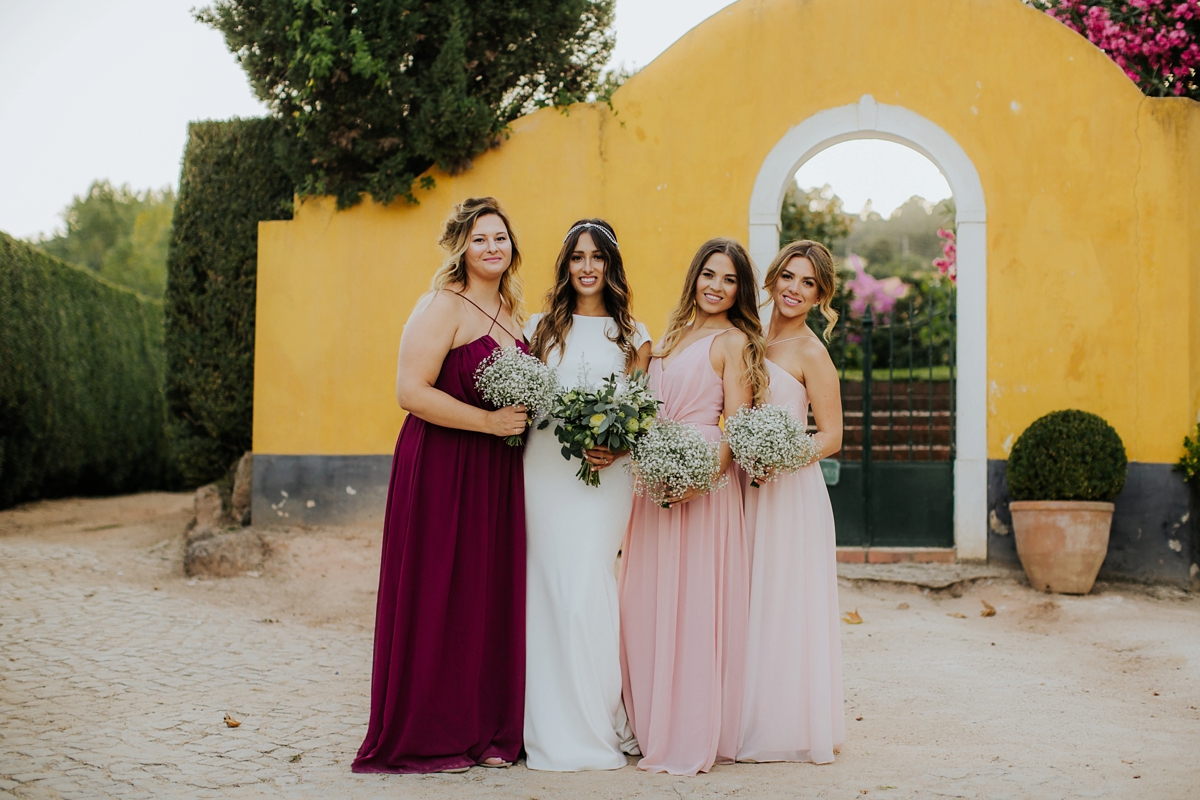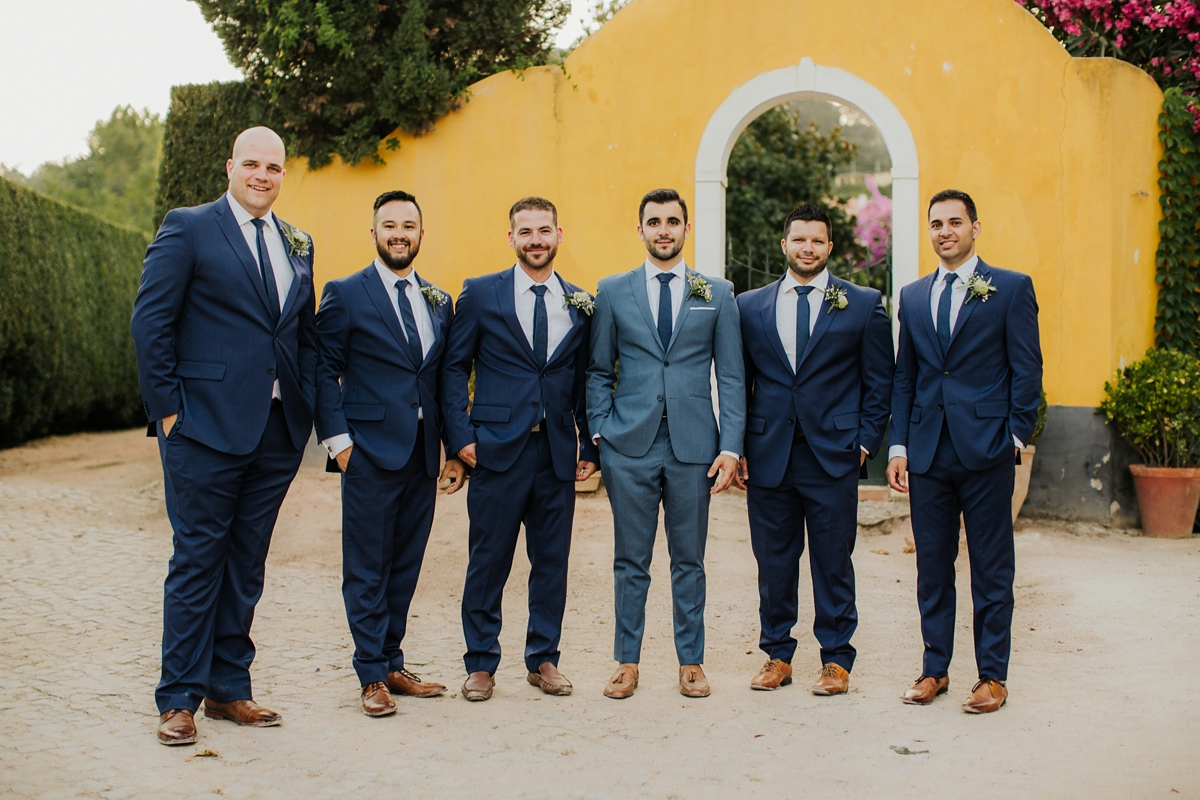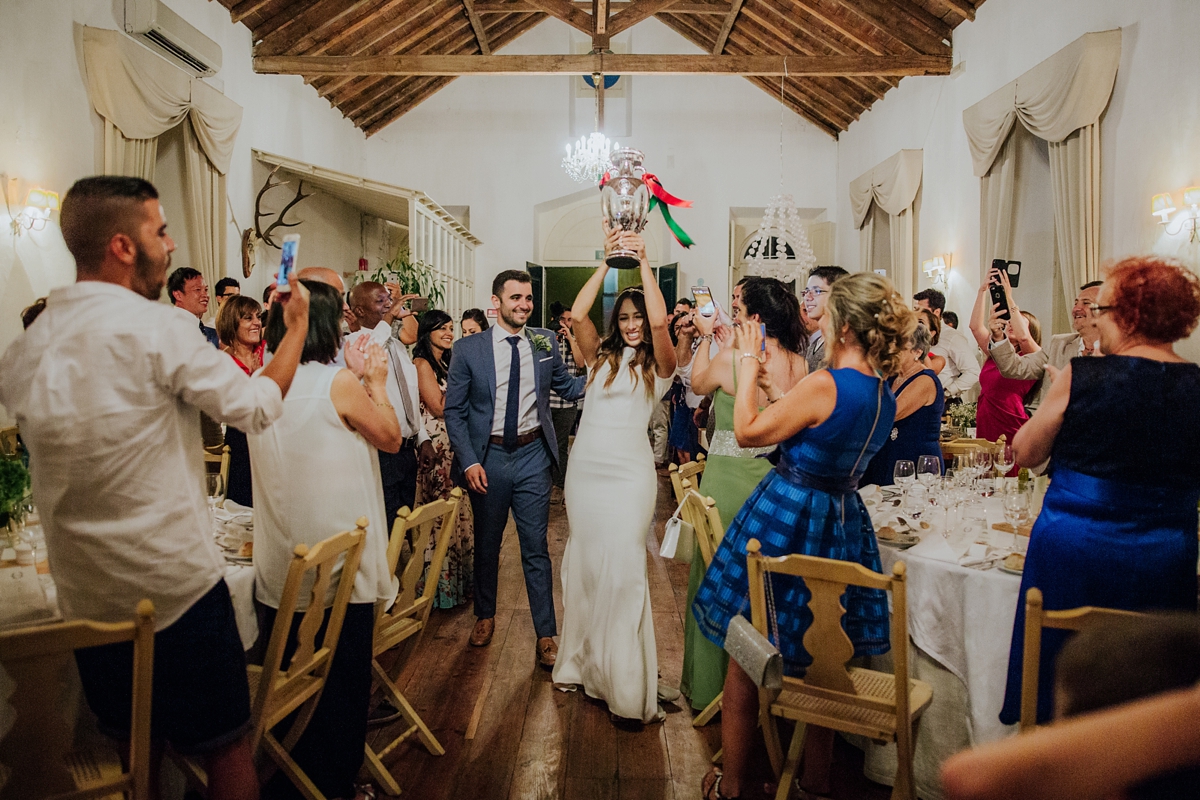 The bride and groom were so happy with the venue and the help they were given with arranging their catering and cake, flowers, stationery, and favours.
"Ann Frost, one of the owners, and her team at the venue were happy to help individually plan and bring our vision to life. They did an incredible job! Ann was EXTREMELY helpful and very timely in her responses."
"The venue was beautiful on its own so we kept décor very simple. From my plain white dress to the mason jars and baby's breath on the table, we feel it was representative of who we are. When choosing the food, we wanted to choose options that were traditional and would please our predominately Portuguese guests while still appearing classy. Everyone loved our food!"
"Our favours were miniature bottles of olive oil that our guests could travel back home with."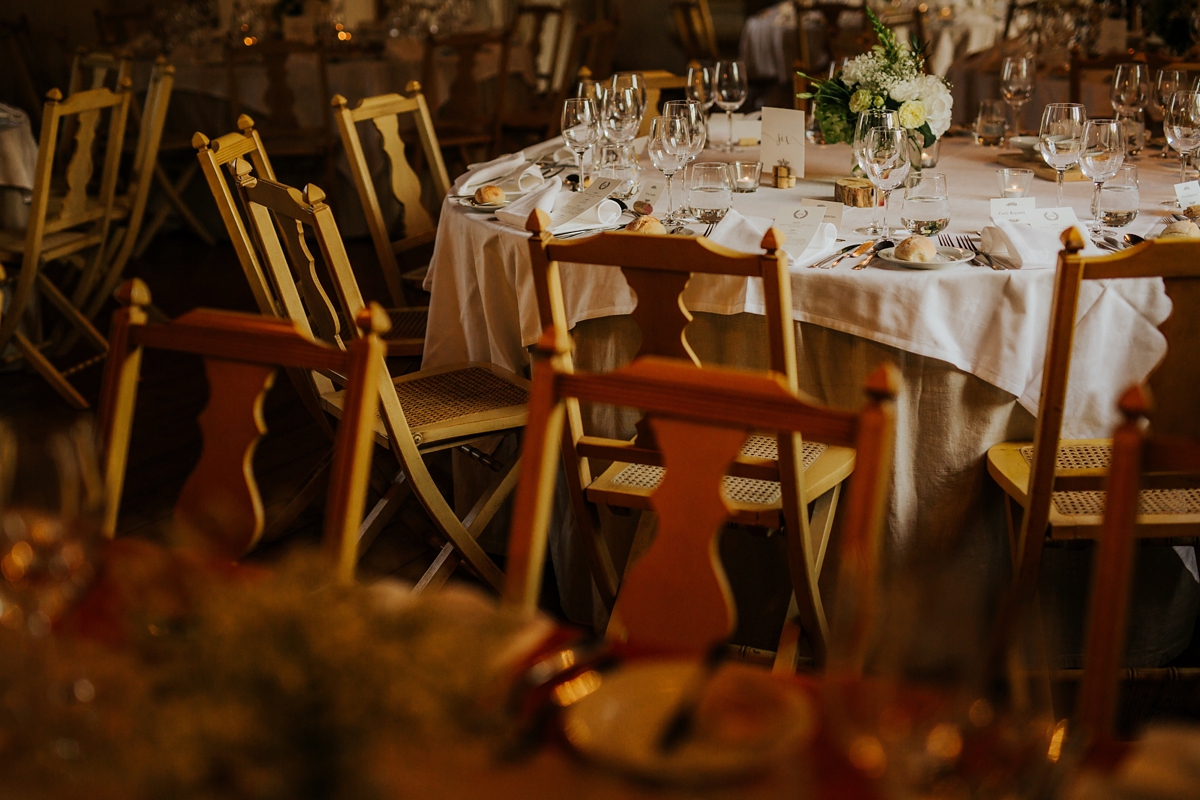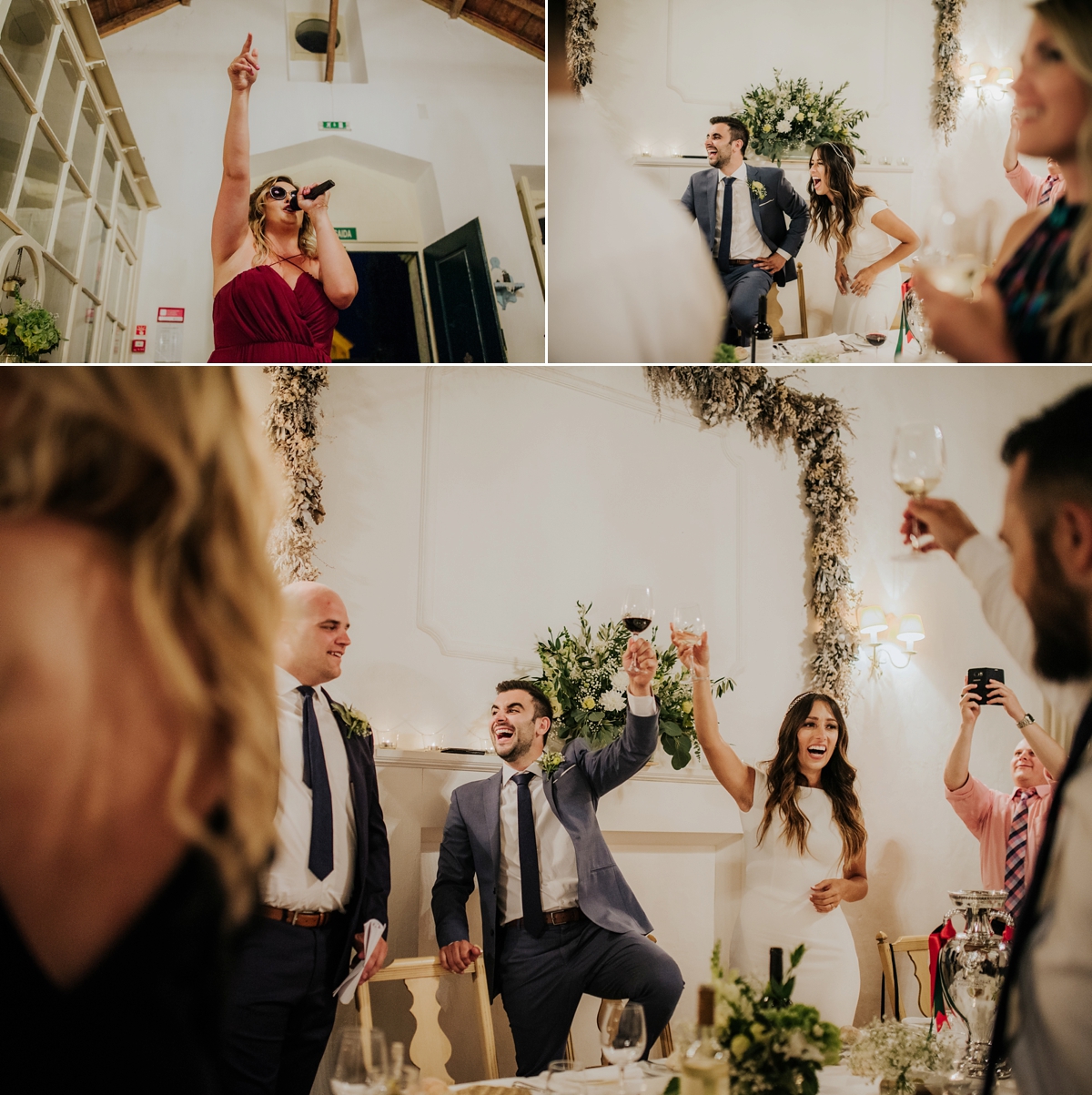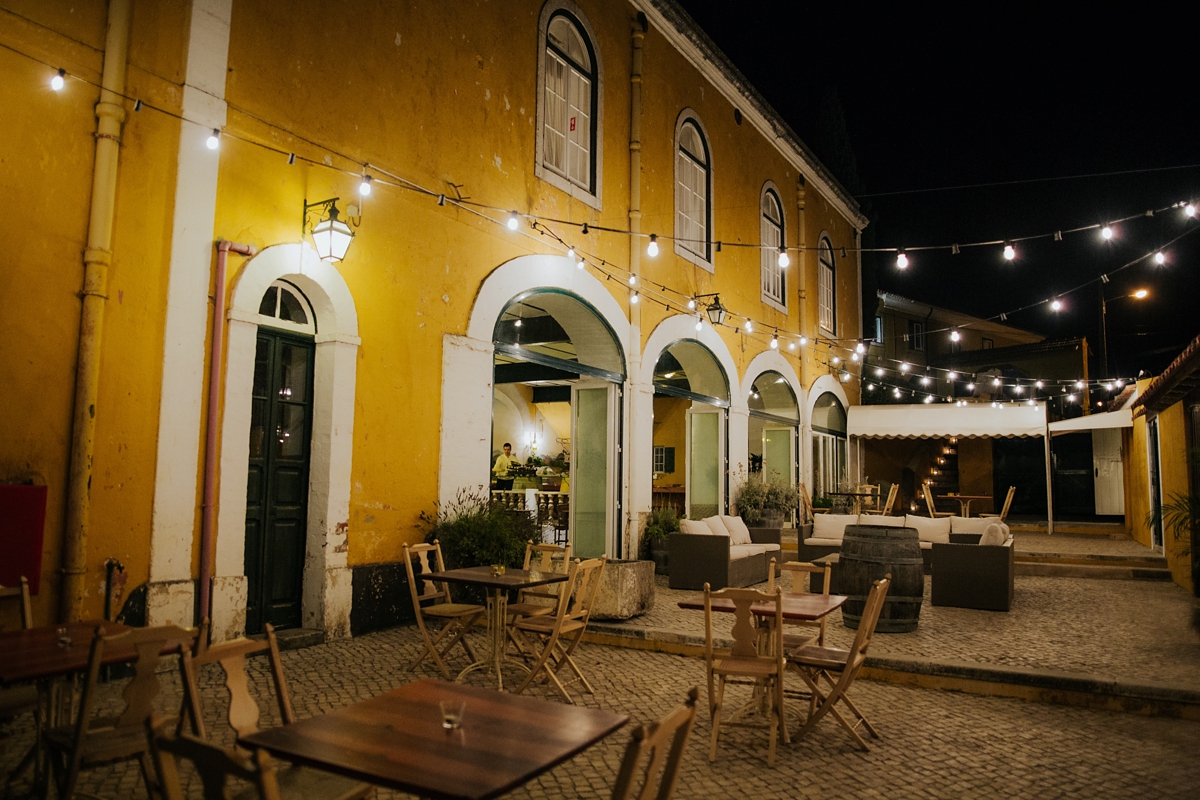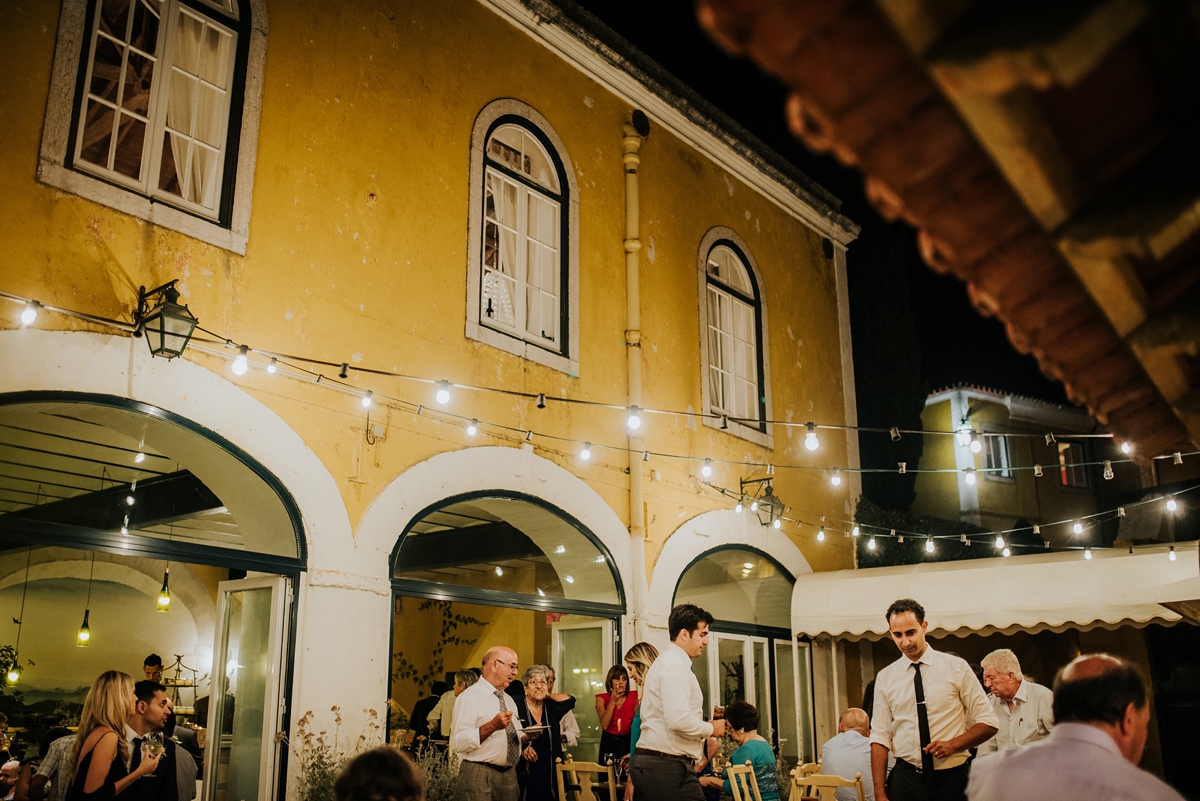 The venue prepared the couple's cake with simple white frosting and baby's breath and greenery as decoration.
In the evening, DJ Bully entertained the crowd with groovy tunes. And I love this little story about the choice of the couple's first dance song.
"I absolutely love 'All of Me' by John Legend but knew it was a popular wedding choice that year, so I had to make sure that if I wanted it, I needed to add some kind of twist. Instead, we danced to a Portuguese version of the song which was perfect and still spoke to us as a couple."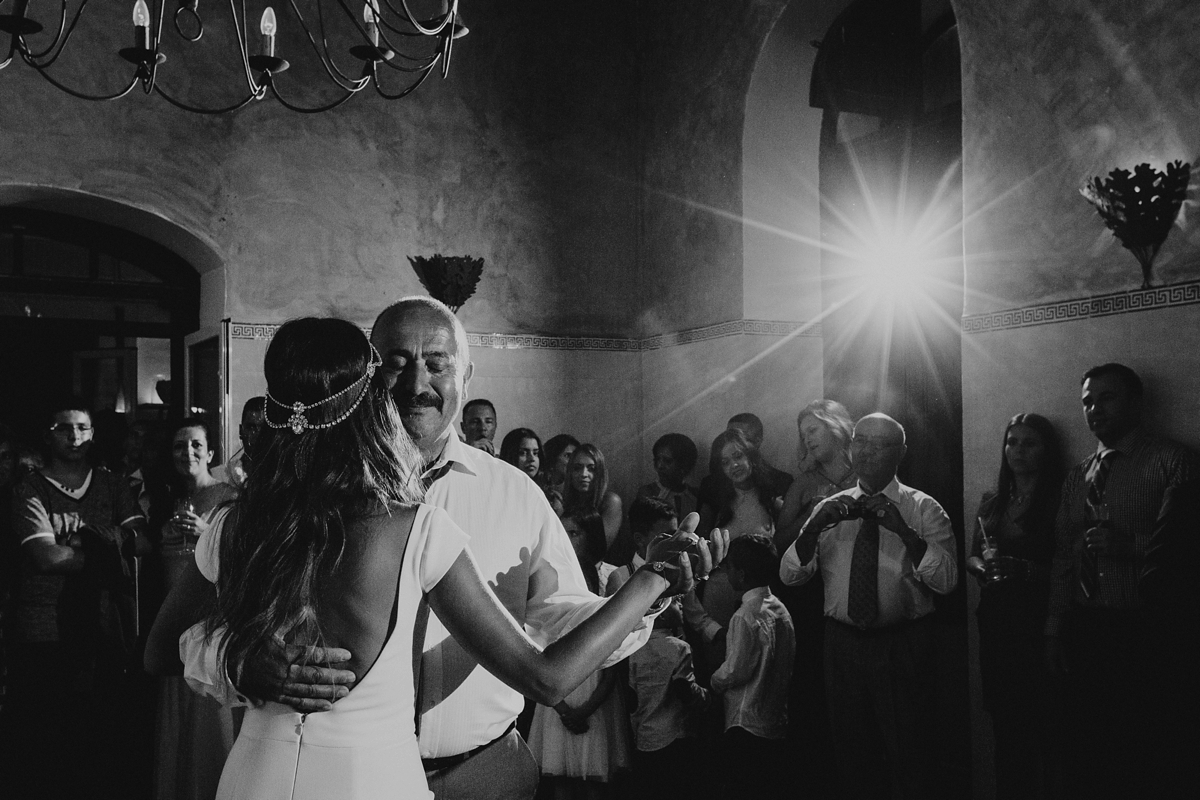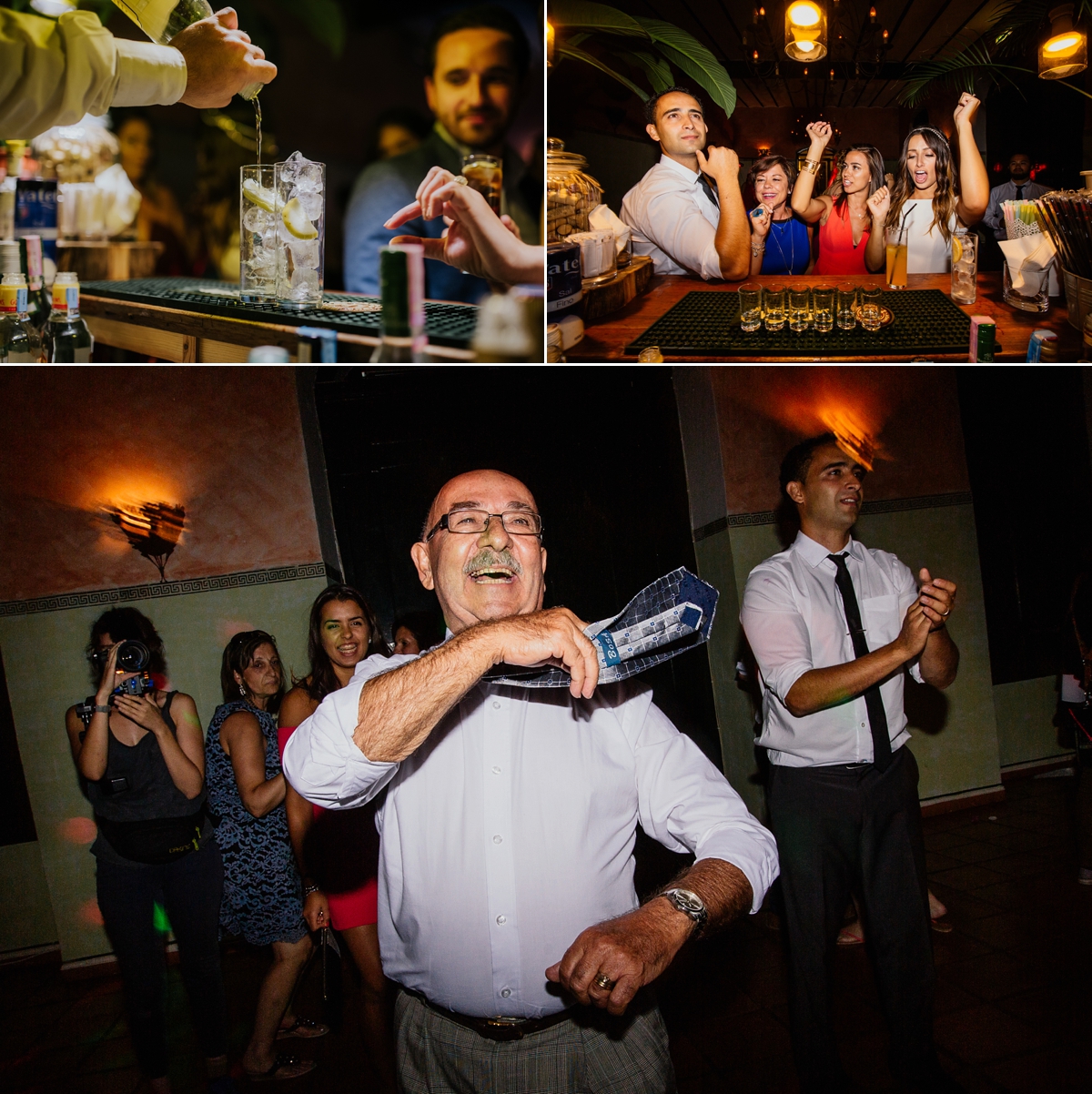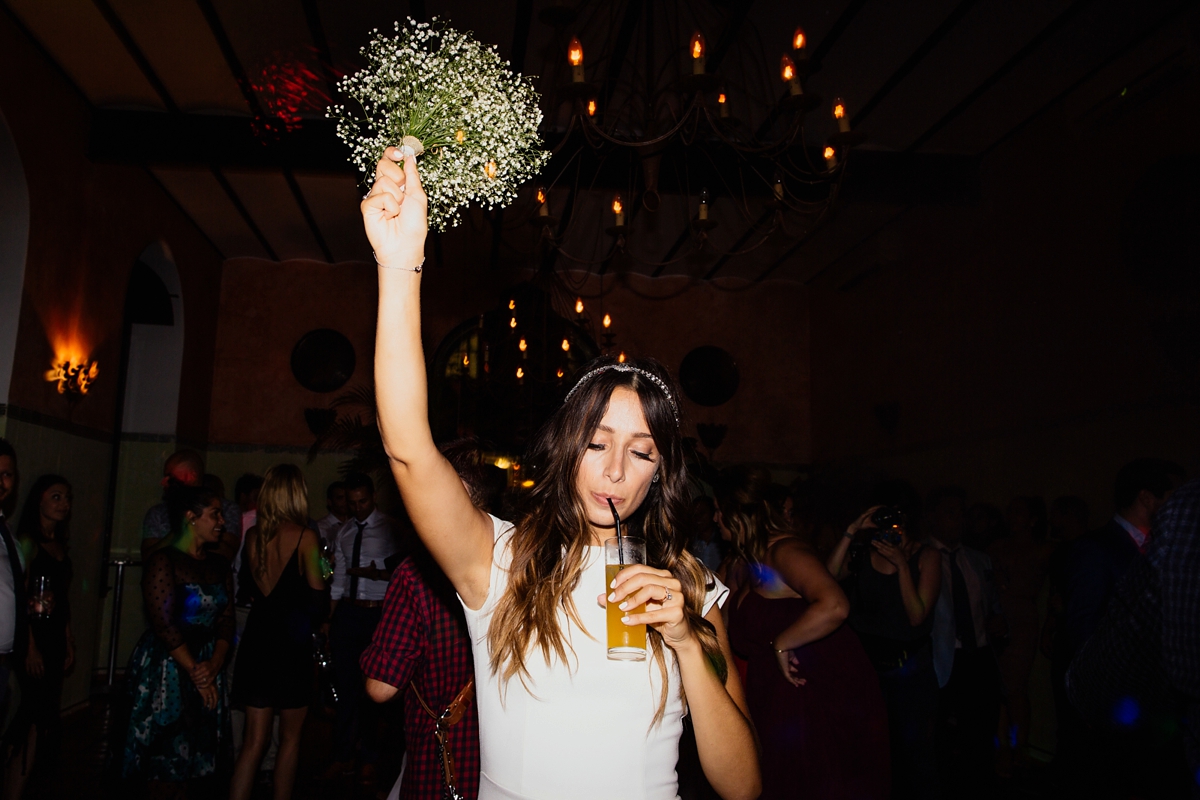 Words of Wedded Wisdom
"Write down a list of pictures and moments you want captured for your photographers and videographers. I wish I had more pictures with my parents or me on my own once I was ready.
Don't be afraid to delegate. You need to enjoy your day without worrying about hustling crowds of people. If you have a bridal party, get them to worry about these things.
Do a first look so you can enjoy all of your planned events if they are back-to-back."
"Most importantly, don't fret the small stuff. What is done is done on your day so you may as well enjoy it.
Ask yourself, what do you remember most at a wedding you have attended? This will help to make sure you focus on the important details of your wedding. Will your guests remember your table clothes and centrepieces, or will they likely remember the food and party atmosphere?"
I've not been to Portugal, but you have totally sold me on this stunning location lovely Melanie and Rick and it's now on my ever-growing list of places to pop on over to on my next trip overseas. I love how the day completely reflected both of you – and I just adore seeing the smiles and special memories captured so beautifully by The Framers Photography.
Are you thinking of heading over the seas for your nuptials? You may be inspired by these lovely weddings from our archives. Happy browsing, dreaming and planning lovely ones and enjoy the rest of your weekend.
Love Jo -xo-