Are you one of those brides (like I was in the run up to my own wedding) that felt the odd surge of guilt for not spending hours crafting one of a kind, intricate wedding decorations?
Sure I made confetti cones, and draped fairy lights on just about everything, but I just wasn't one of those fantastically talented ladies who give DIY a new meaning. And do you know what? On my wedding day I looked around and that guilt? Gone. Crafty bride, punk bride, laid-back bride – who cares? It took being a bride to make me realise that on the day I wed my love, on that day more than any other, I could just be me – and be pretty bloody happy about it too.
Today's gorgeous, laid-back bride is Frankie, and insurance broker, who wed Steve, a management consultant on 15th October 2016 at Chelsea Old Town Hall on the King's Road. Their intimate ceremony was followed by a scenic drive on an old route master bus to a chilled out reception held at Dock Kitchen on the canal at Portobello Docks.  Frankie wore a divine, lace-sleeved gown by Dana Bolton.
We adore Dana's beautifully hand-crafted designs, and encourage you to head over to Little Book for Brides to peruse her feminine, elegant creations, made with such love. Frankie paired her dress with fawn-coloured block heels from L.K. Bennett, a complementary nude clutch bag from Whistles and jewellery gifted to her by her husband for her 30th birthday.
"We wanted as fuss-free a wedding as possible, we didn't want the planning to take over our lives. And we didn't want to spend too much on one day that we knew would flash by. We wanted a fun, small, intimate wedding – a bit more like a party than a traditional wedding."
Photographer Nell Mallia has captured such lovely images of the couple's intimate ceremony, I adore the image of Frankie and Steve just before their ceremony, the excitement in their faces as they revel in the heady joy of what they're about to do. And doesn't Steve look awesome in his New & Lingwood ensemble?
"Nell was an absolute treasure! We are both pretty uncomfortable in front of the camera and we didn't want the usual hour or more of staged photos."
"Instead we wanted relaxed photos capturing us and our guests enjoying our day. We were very happy with all our images, and the beautiful album that arrived thereafter. We felt like Nell was part of our family and we couldn't recommend her enough."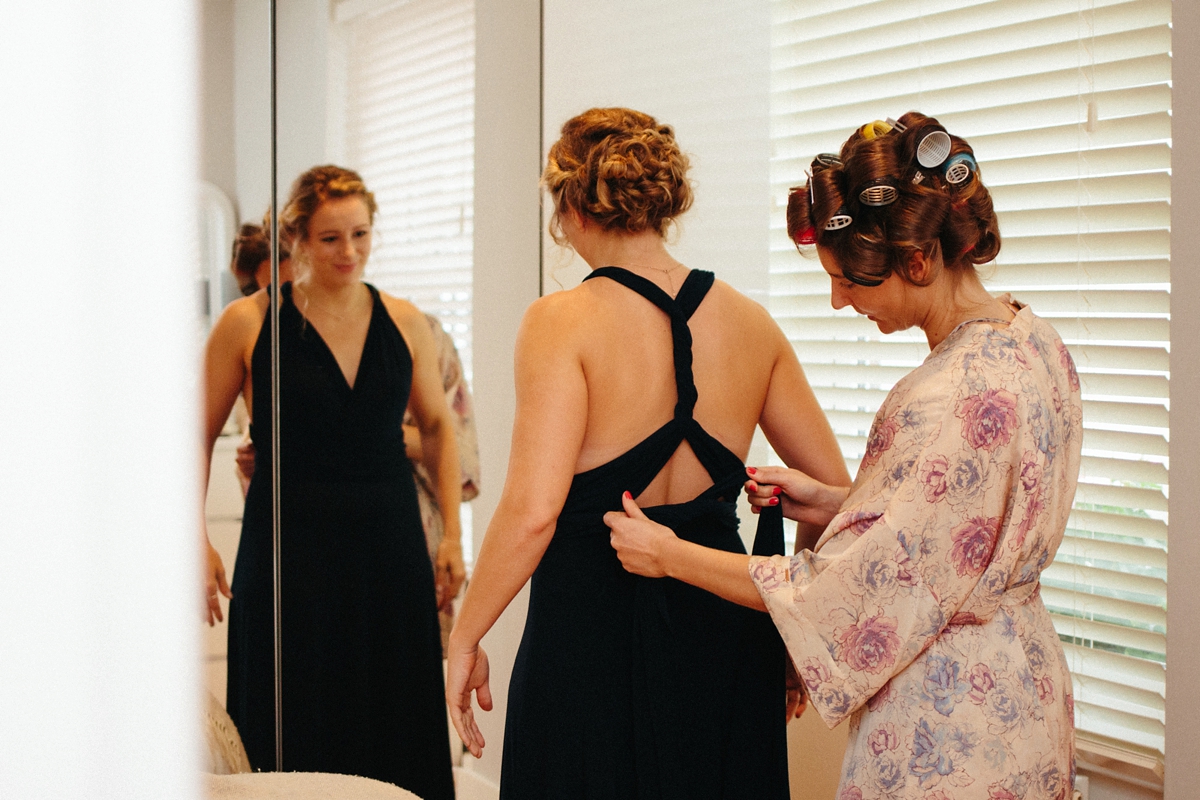 "I spent a few Saturday afternoons visiting snazzy dress shops, however I just didn't have the patience to find 'the one'. Then I found Dana Bolton on Instagram, had a quick look at her website and gave her a call. She has a little magical studio in North London and made the whole process a dream.
I wanted a dress that was relaxed, boho and feminine; we decided on a bespoke adaptation of the 'Mercy' dress with a silk skirt and French lace ¾ length sleeves."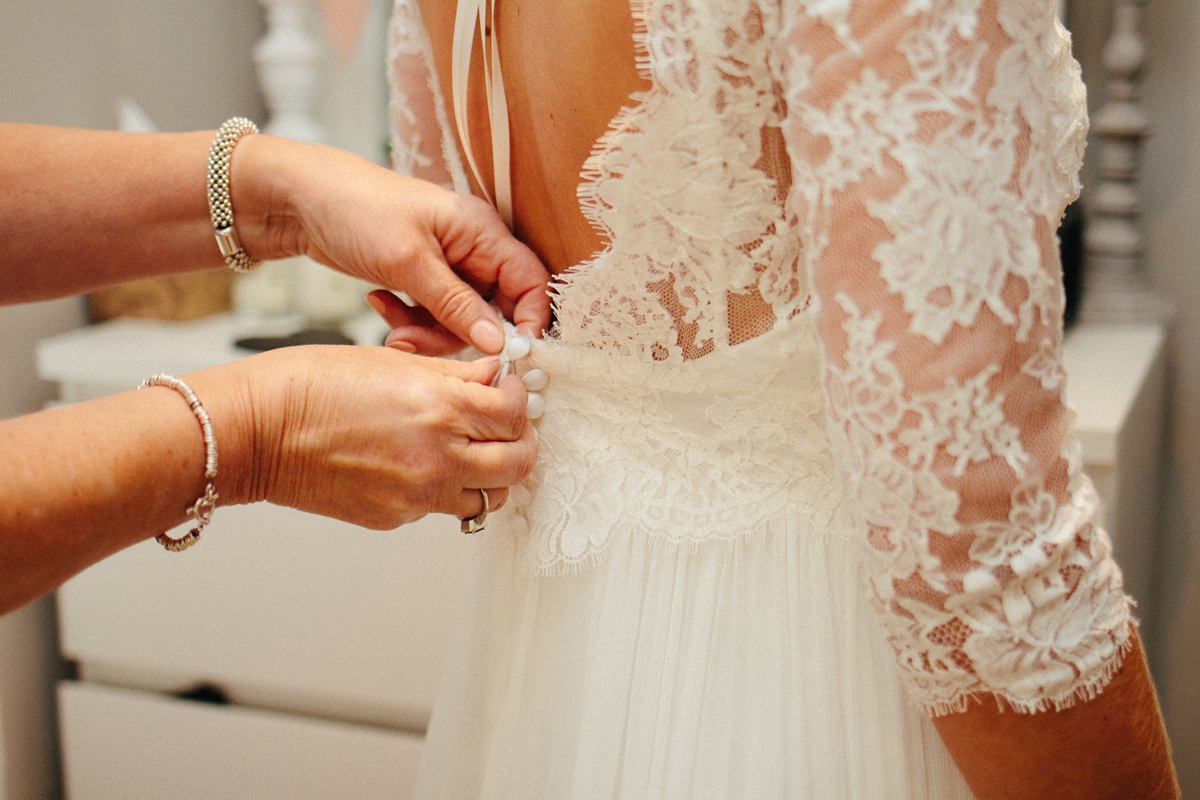 Sarah Crick-Linton is responsible for our bride's fresh natural look, I particularly love her unstructured up-do, twined with relaxed curls and brides. A vibrant flower crown made by Frankie's local florist, Scarlet & Violet, sat atop her pretty hairstyle, perfectly matching her favourite floral perfume, English Pear & Fresia by Jo Malone.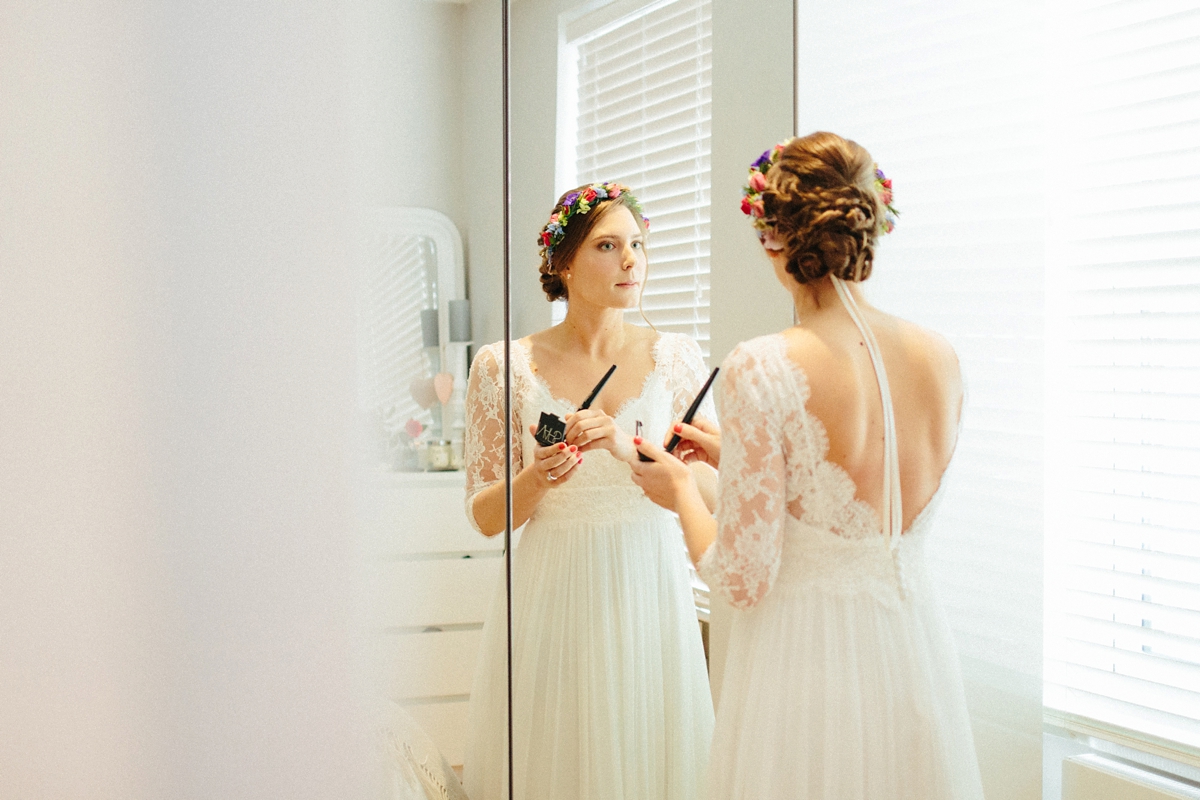 Florist Scarlet & Violet has arranged stunningly bright blooms to adorn the couple's venue, Dock Kitchen. I love the vibrant, unstructured bouquets and decorations, so impactful against the raw, cool style of the building. And those colours are just joyful! A delicious two-tiered, homemade cake was whipped up by Frankie's domestic goddess friend Emily, Jenner, to fuel the boogie-ing for the evening.
"We went for bright wild and natural flowers with lime green guelder, hot pink, dark blues and purples, cow parsley, viburnum, delphinium, hydrangea, hot pink wax flower, pink piano roses and garden roses. The bouquets were loose, unstructured, romantic posies of wild flowers."
"We couldn't have been more thrilled with the flowers, Scarlet & Violet captured our day straight away and the flowers really stood out as they were the only decoration to the Dock Kitchen required. We finished under budget. We wanted a low key, laid-back, wonderful celebration of us and our day was just that!"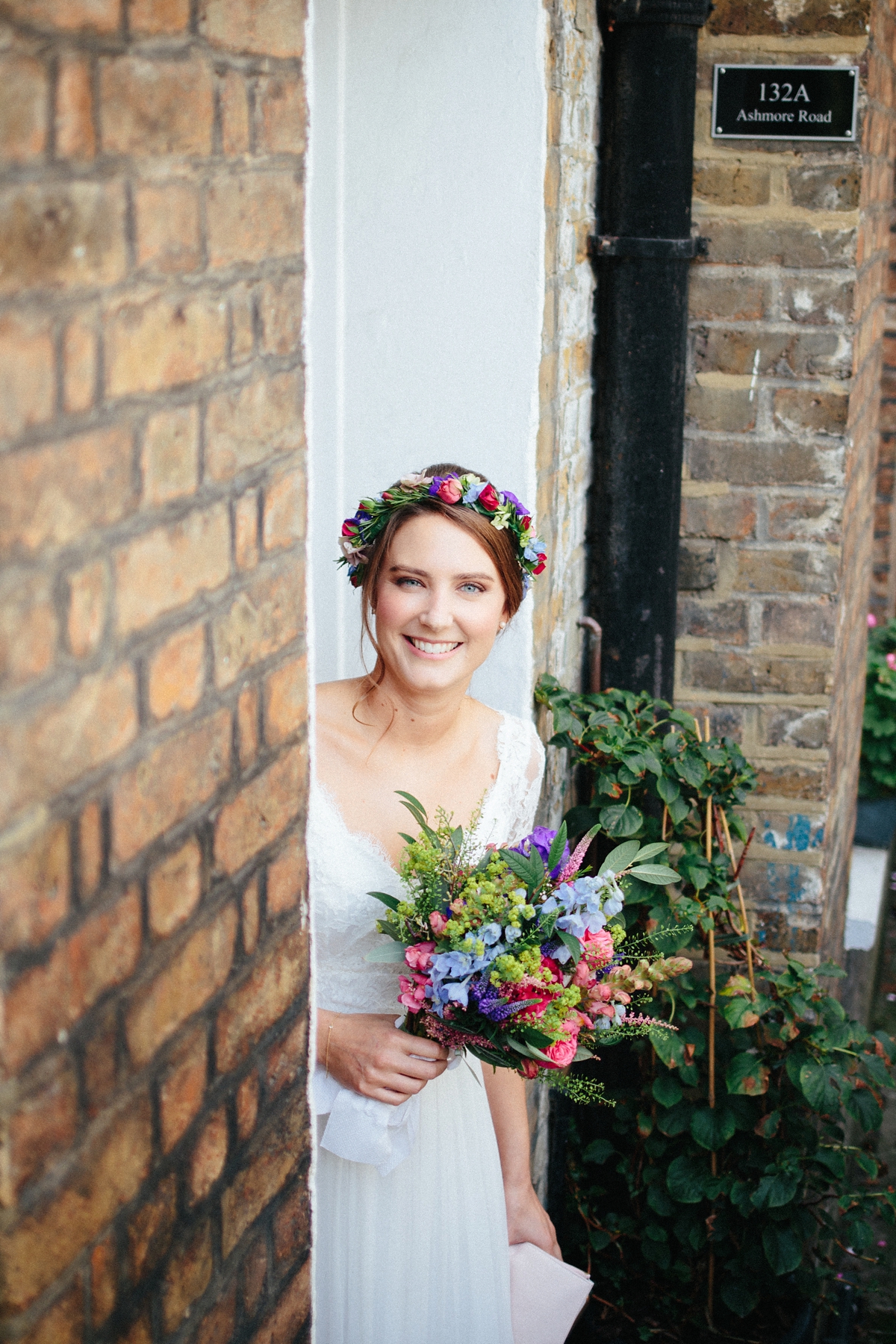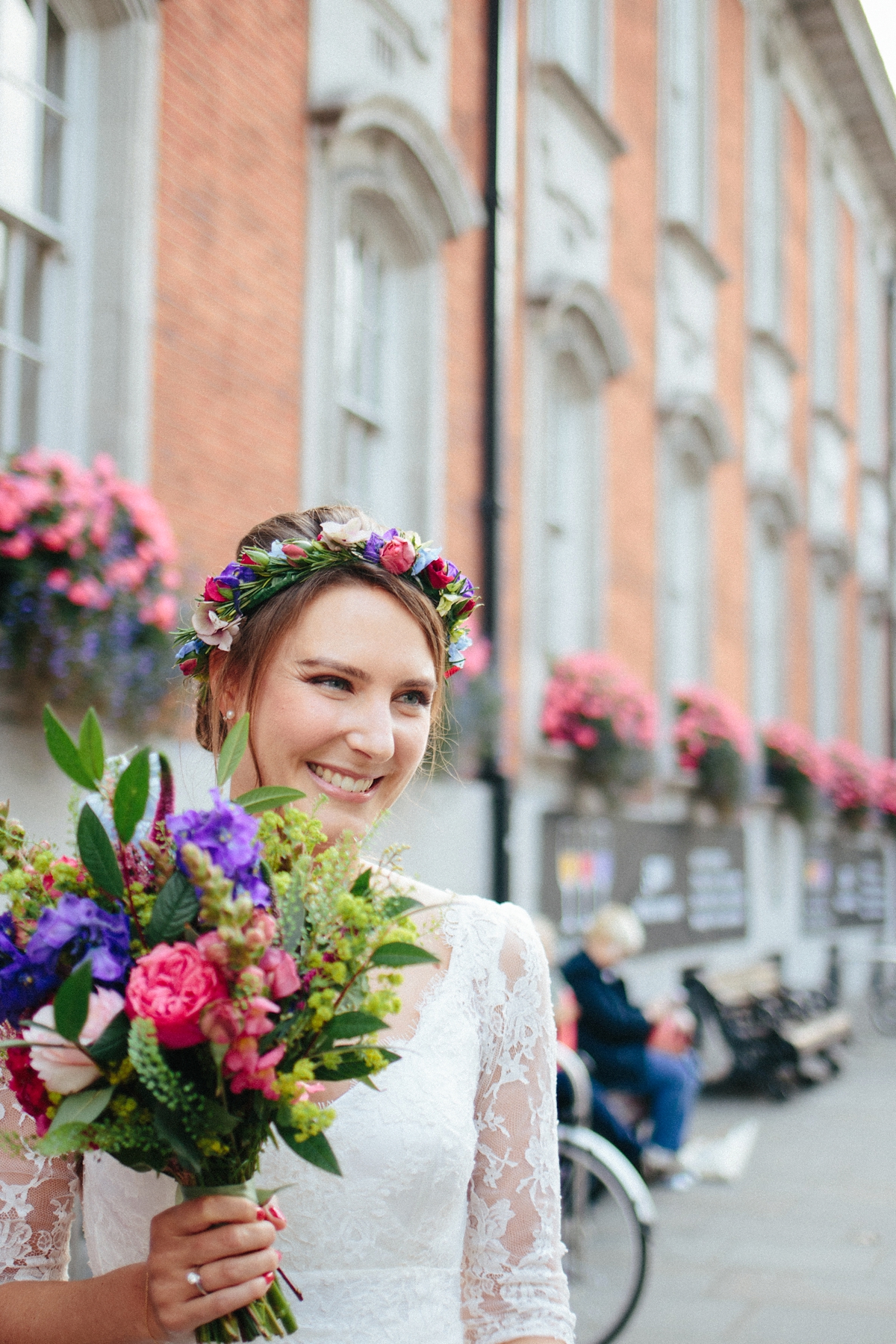 "My dad walked me down the aisle to Blythe Bells by Bach. We chose two romantic readings by our beautiful friends, the first an extract from Charlotte Brontë's 'Jane Eyre' read by Georgina Rice, and a classic from Winnie the Pooh read by Hermione Rosen."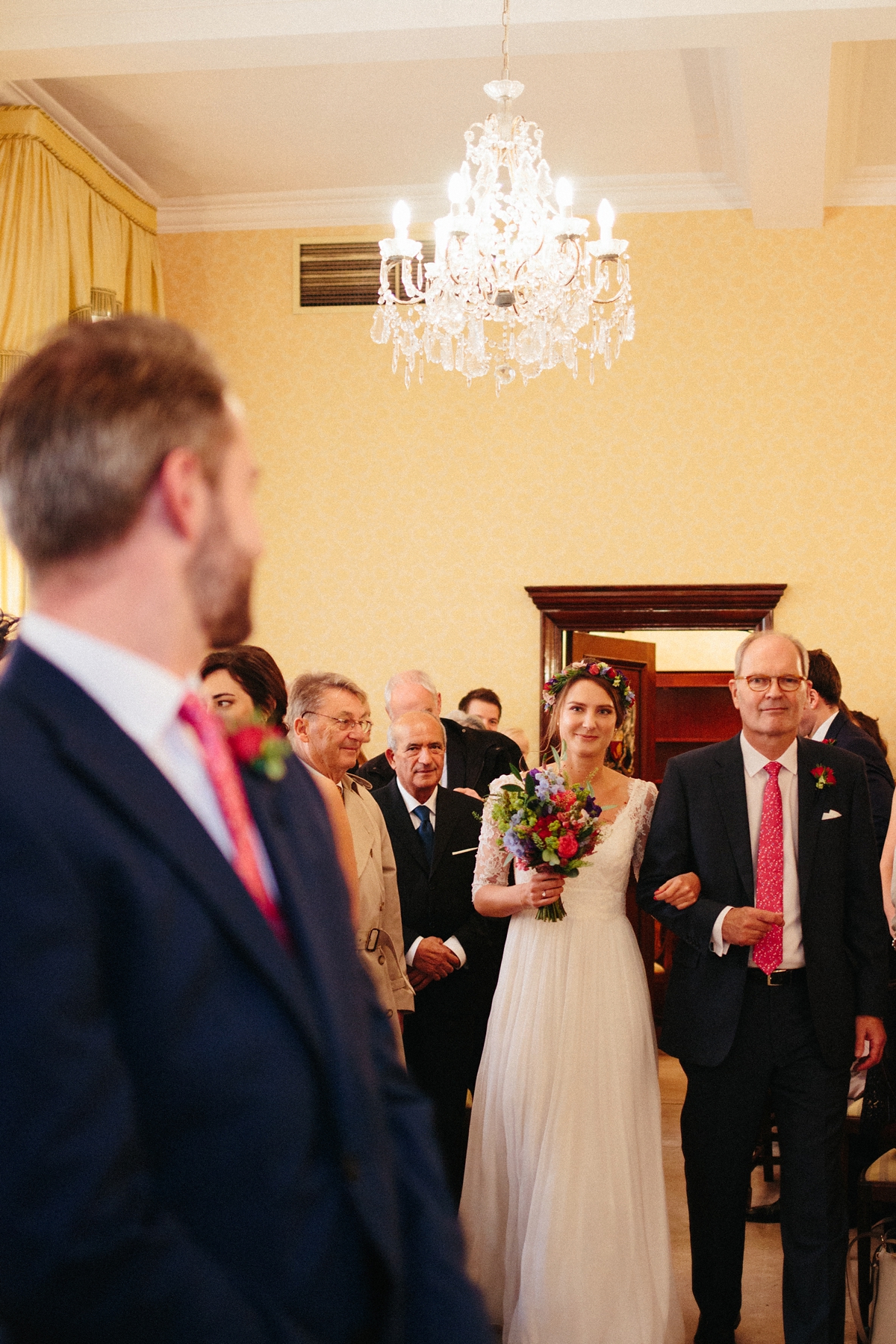 The newlyweds exchanged vows and rings bought from Hatton Garden in London, engraved inside with the date of their wedding – leaving them no excuse to forget their anniversary!
"Our best friends were dating at the time and they set us up. We were meant to meet on an evening in town with friends but Steve never arrived as his wallet and phone were stolen. However, the next day our best friends hosted brunch at theirs and we chatted a little bit whilst making scrambled eggs."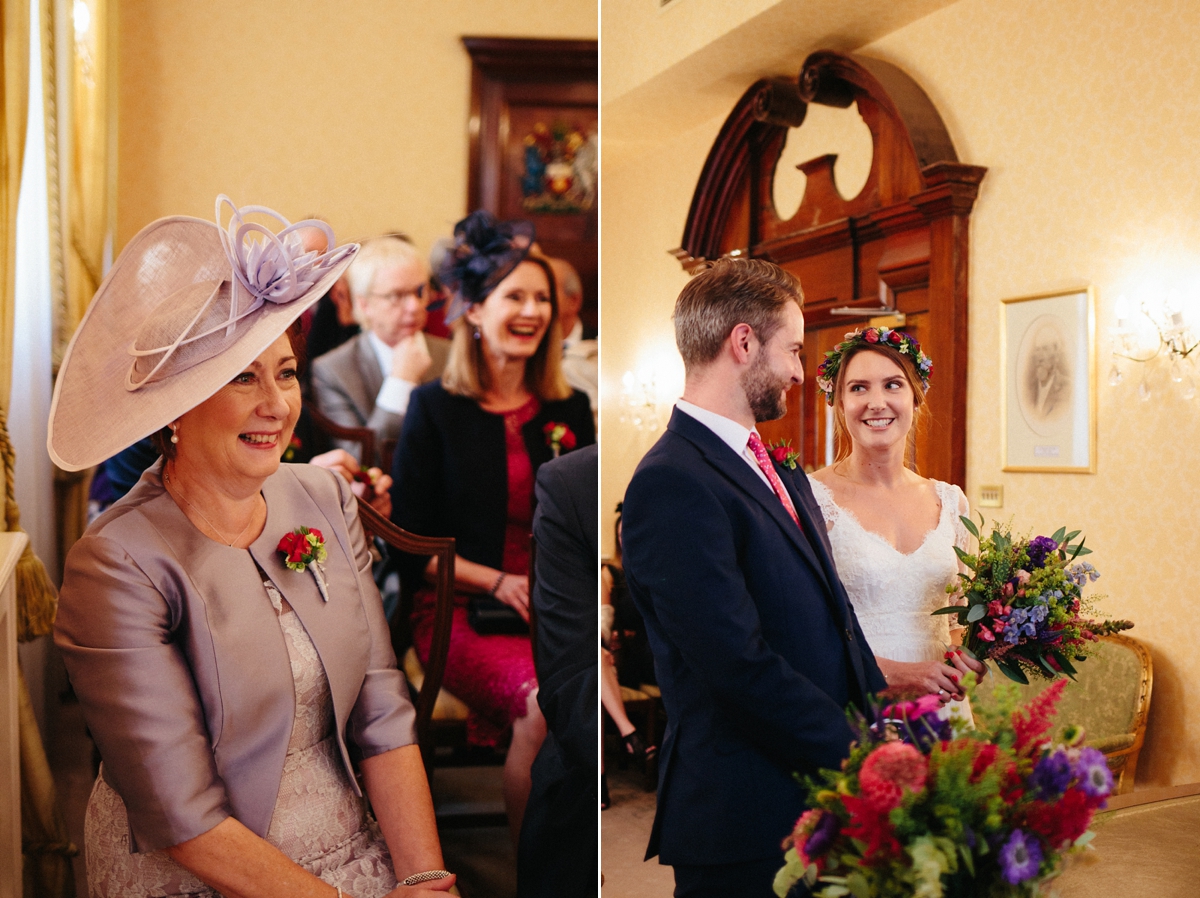 "We met in London, dated in London and our lives together have been in London so it made sense for us to have a London wedding. Dock Kitchen is a short stroll from our flat along the canal where we had enjoyed dinner a few times so we thought it would be fun to have our party there. We fell in love with the rustic building, with large arched windows, exposed brick and Tom Dixon décor, not to mention the delicious feasts we had devoured there."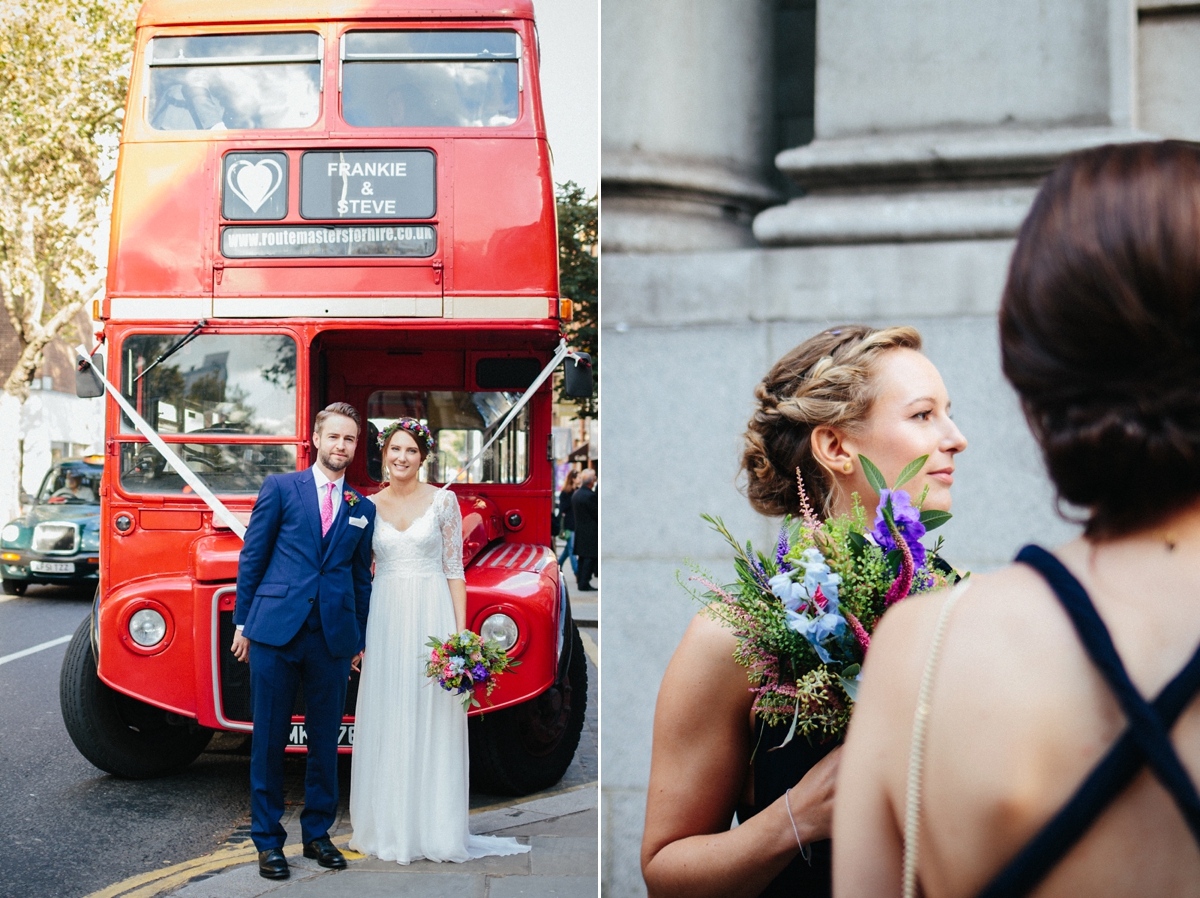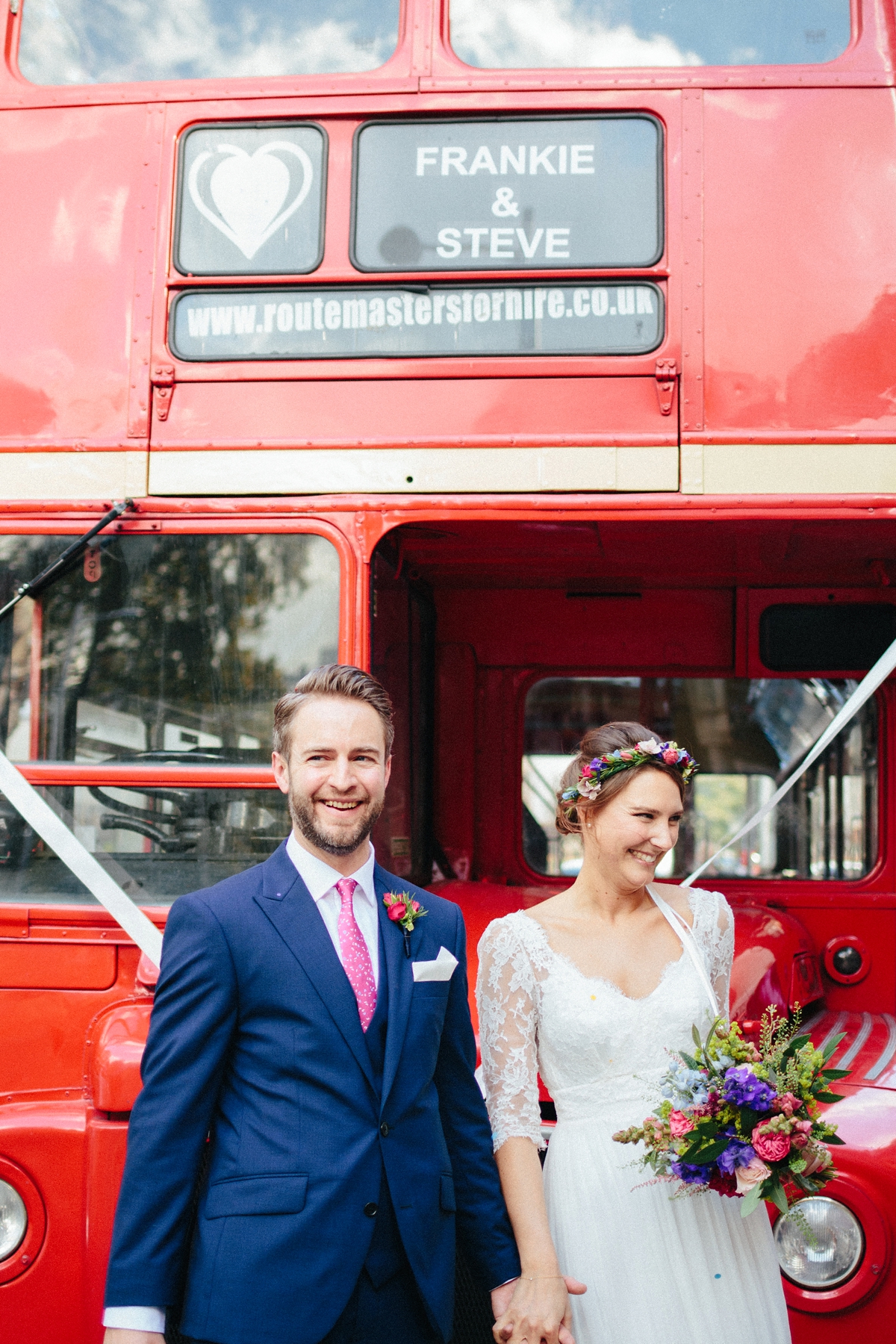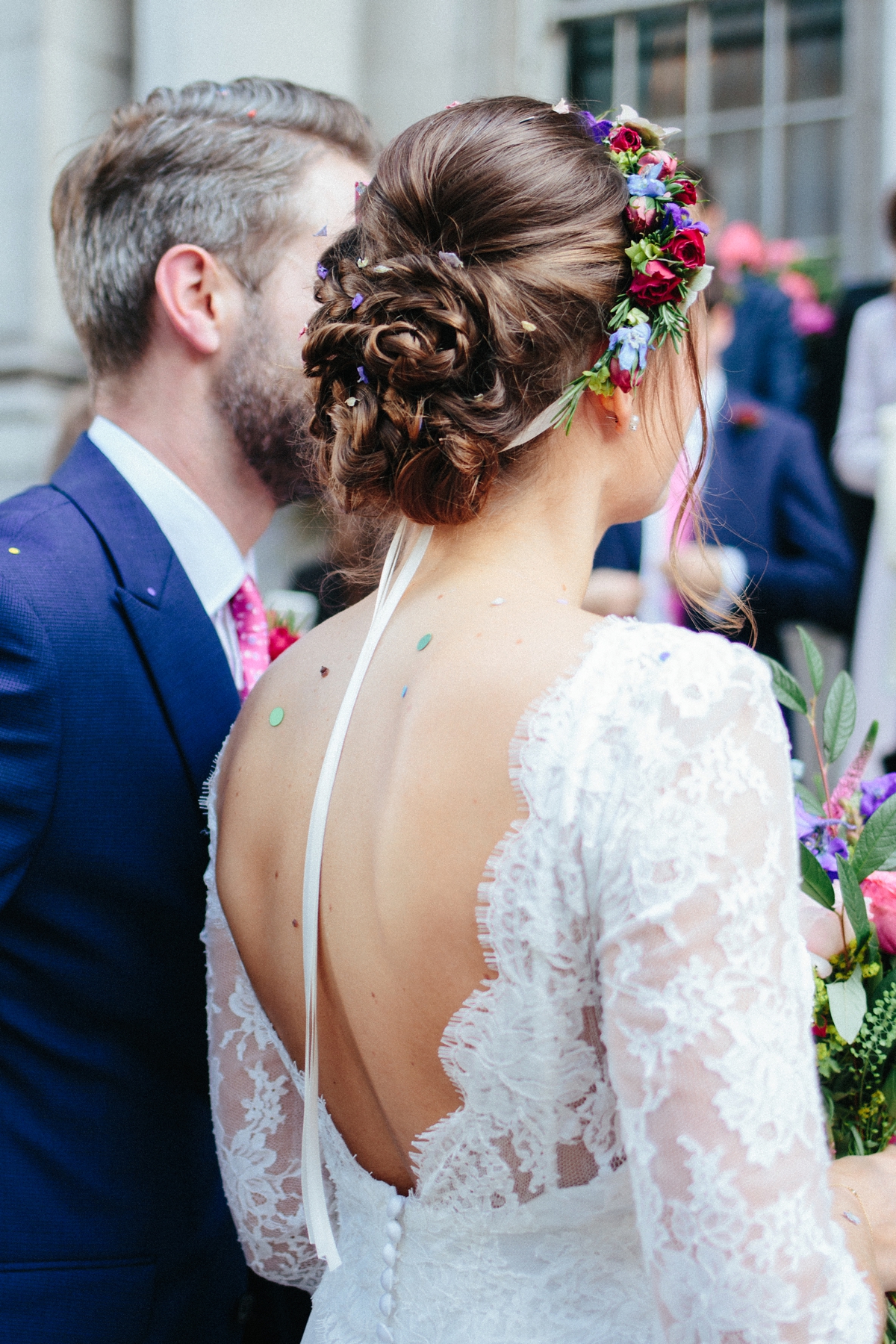 Now one piece of advice I hear time and again, and now fully support as a bridal veteran (sob, still not quite over the fact that my wedding has already happened) is to spend some time alone at some point during the day to just revel in that just married joy. Frankie and Steve did just that, slipping away to their local park, which just so happens to be Hyde Park, before joining their guests at their stylish reception.
"After our ceremony, whilst our guests were on the routemaster bus on the way to the Dock Kitchen, Steve and I escaped to our local park to take some relaxed photos with our photographer, Nell. It was then that we pinched ourselves, we had just got married! We couldn't have been happier. We then joined the rest of the party for drinks and canapés on the terrace before dinner."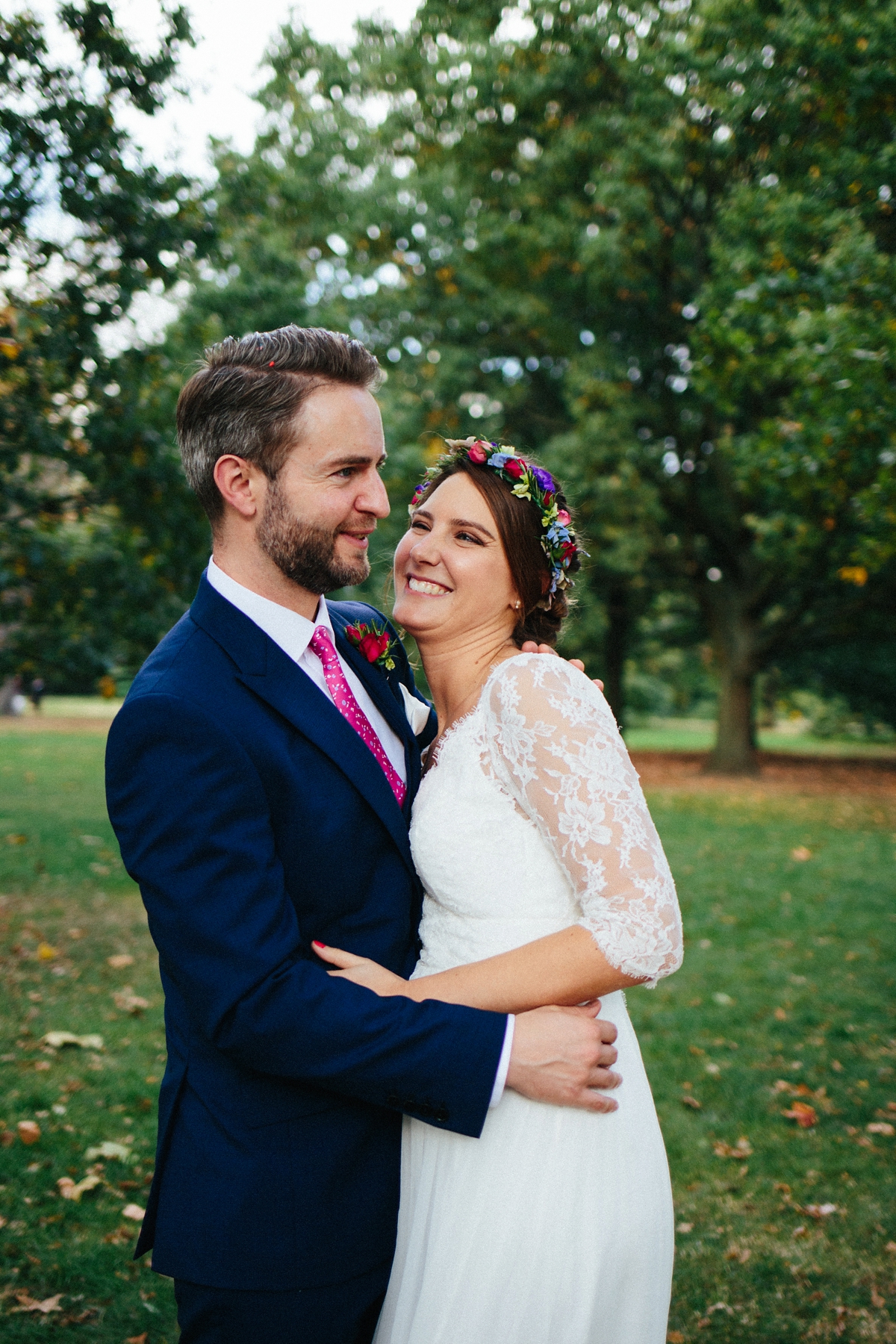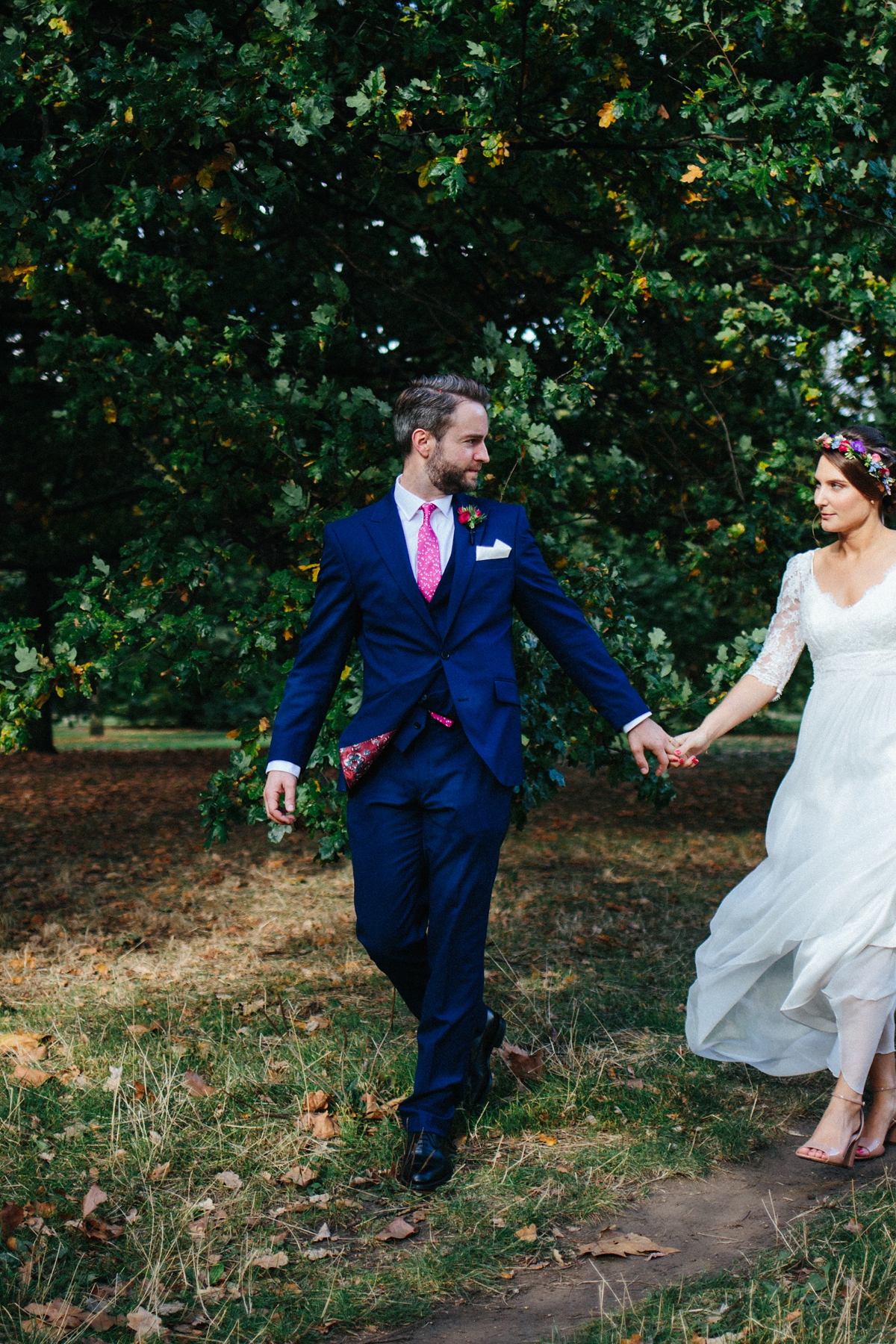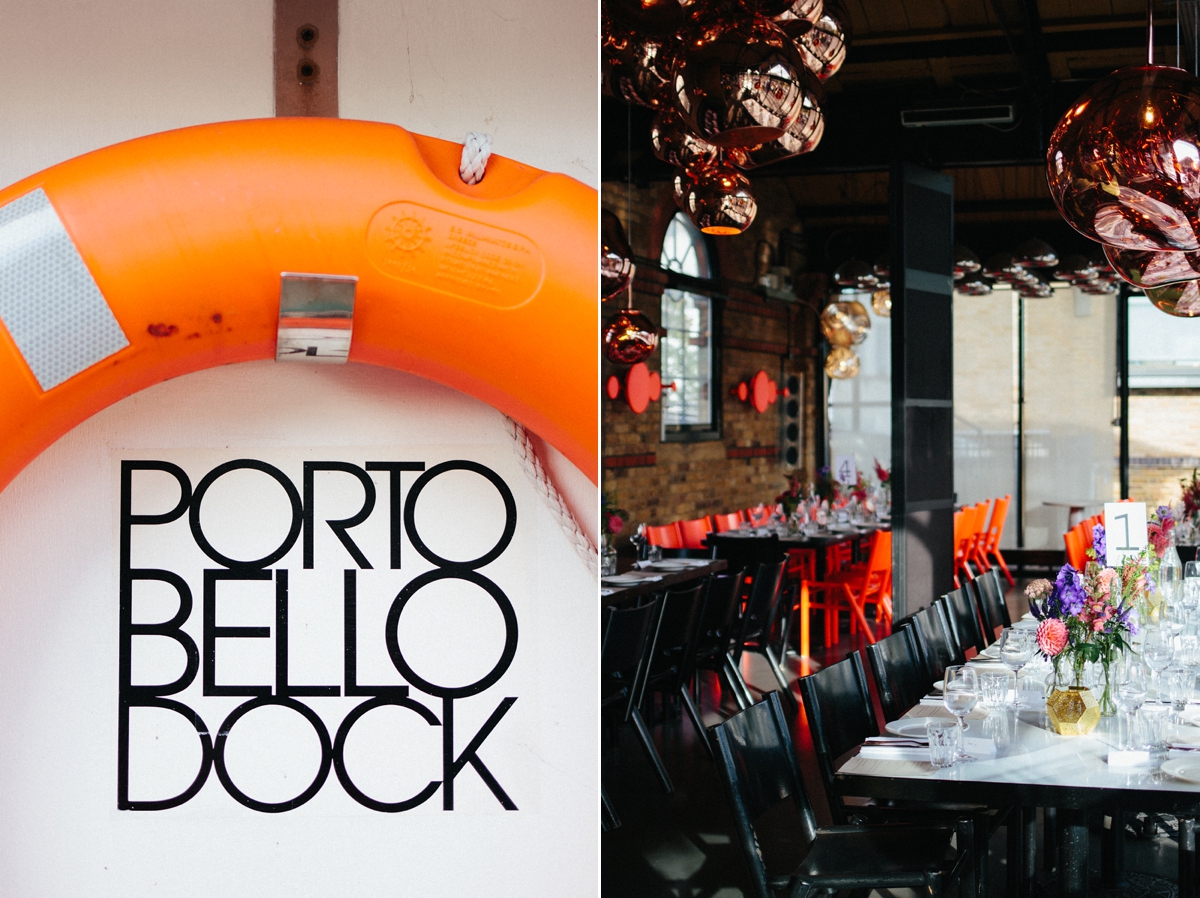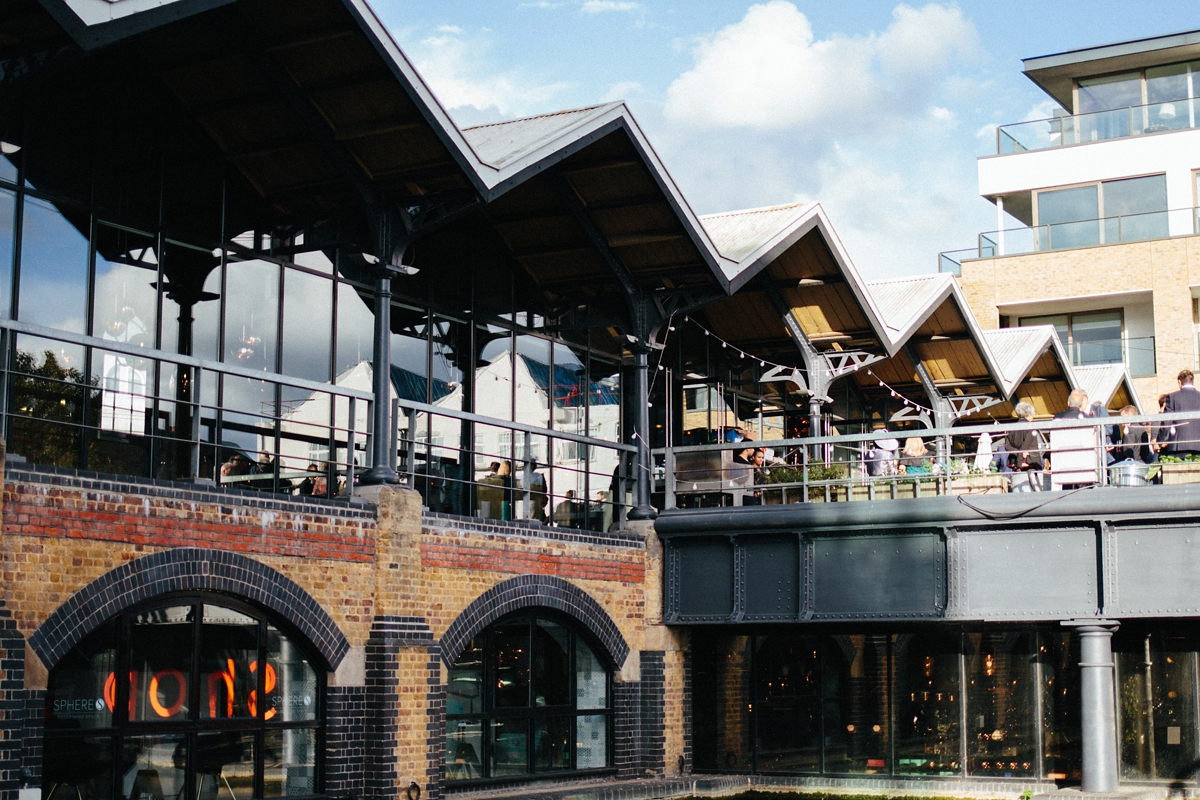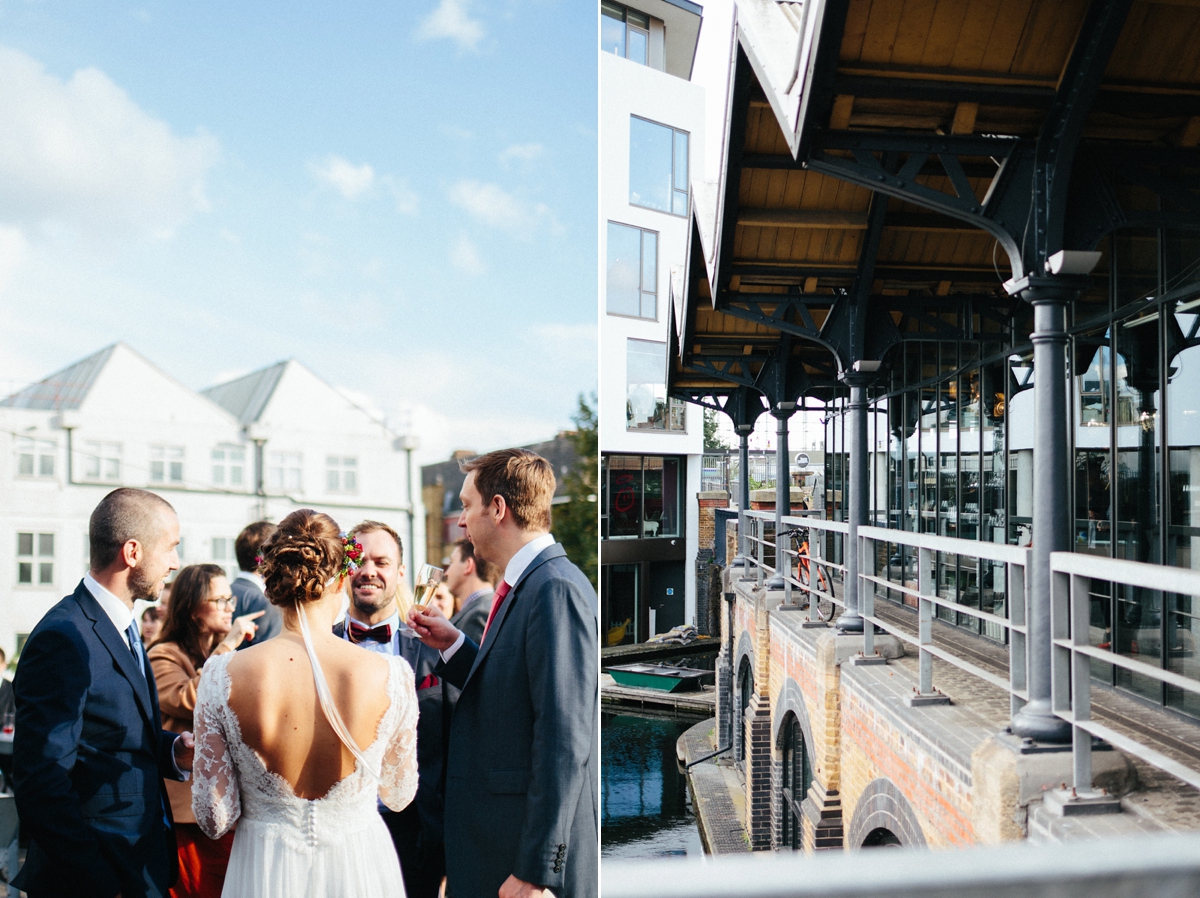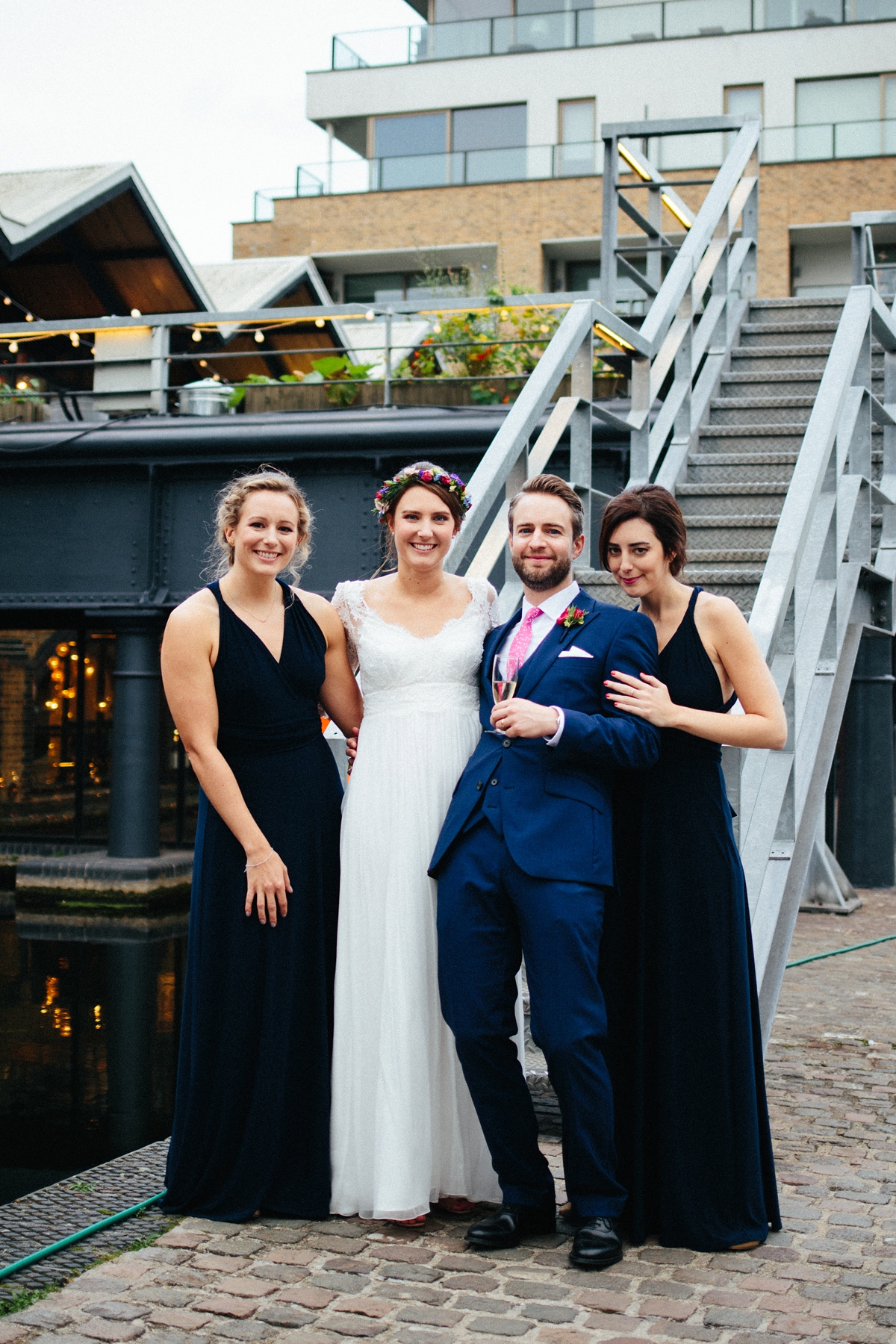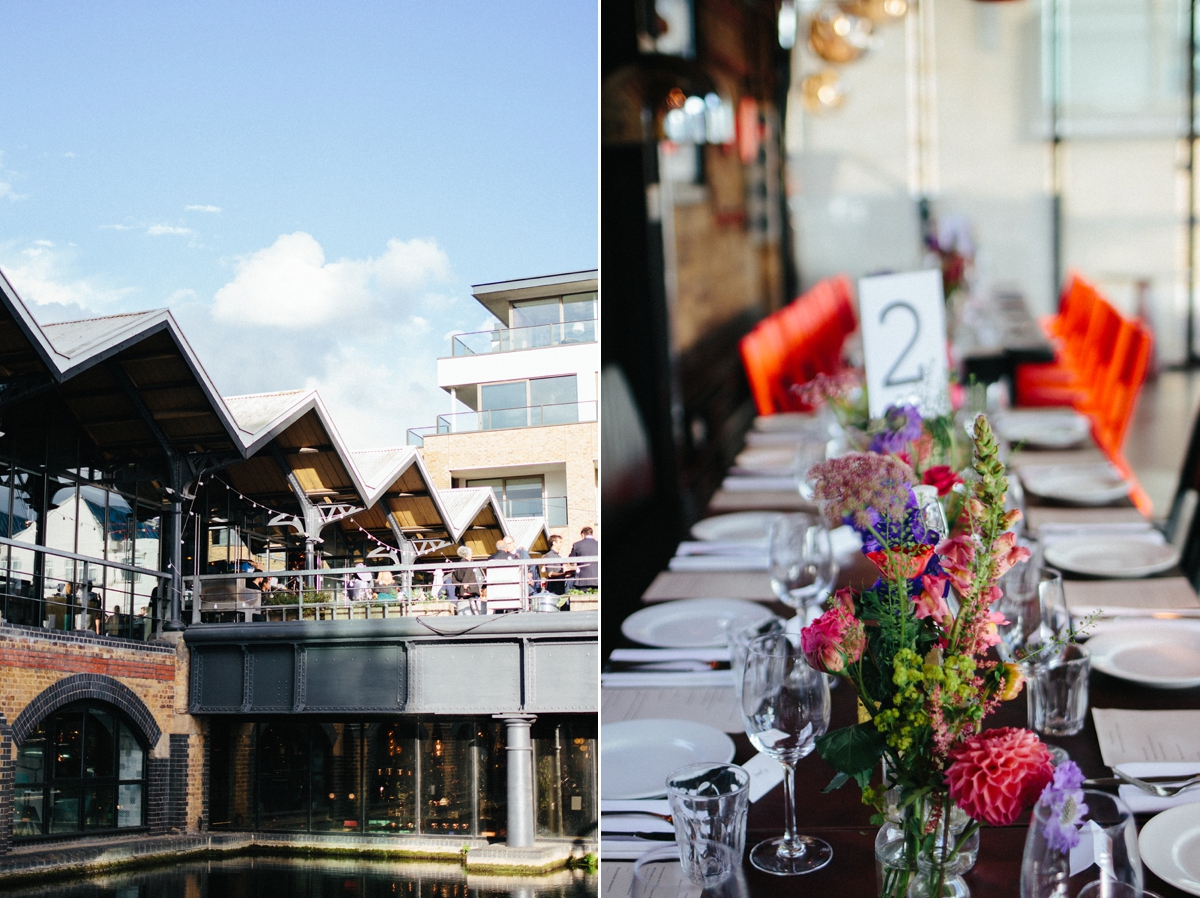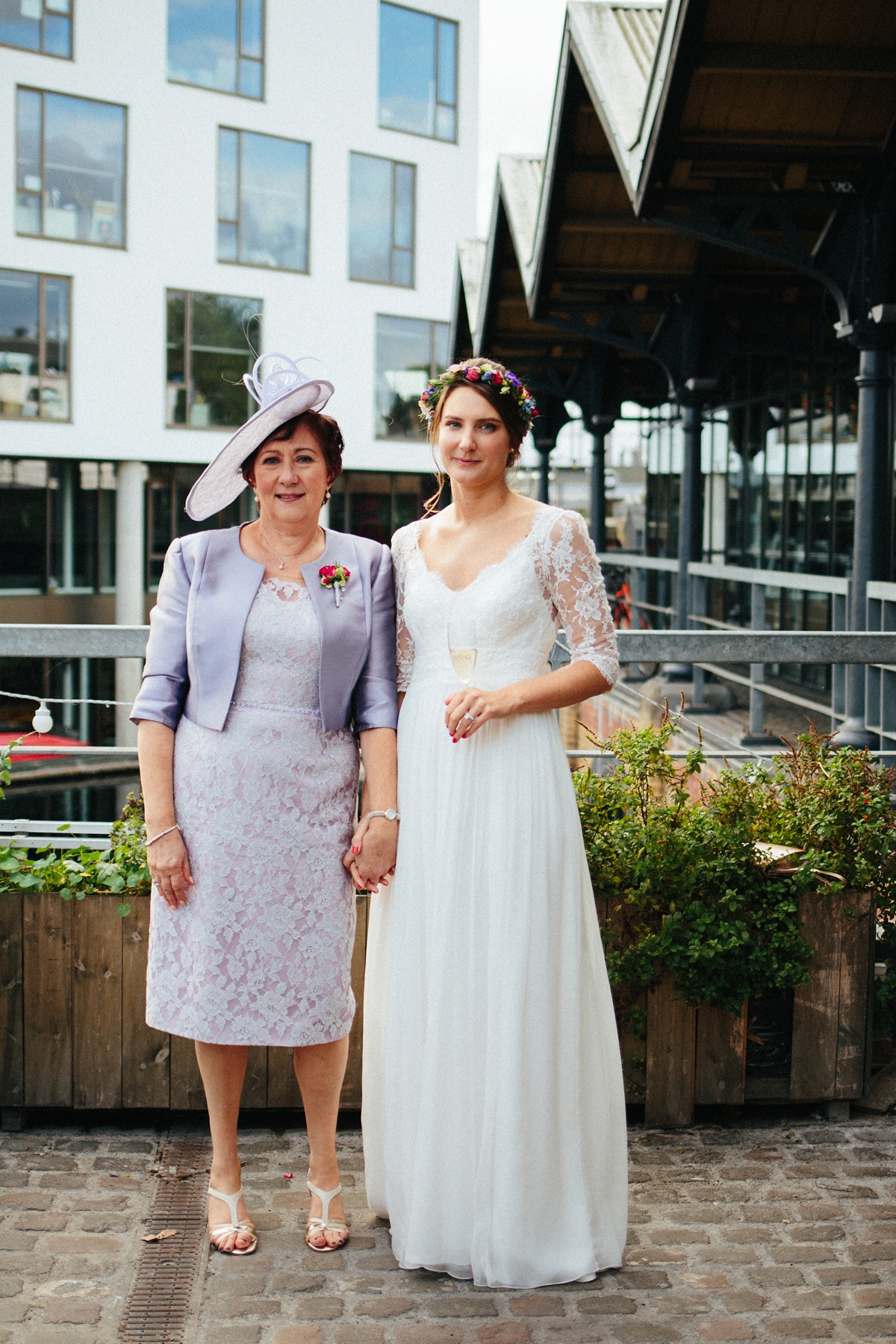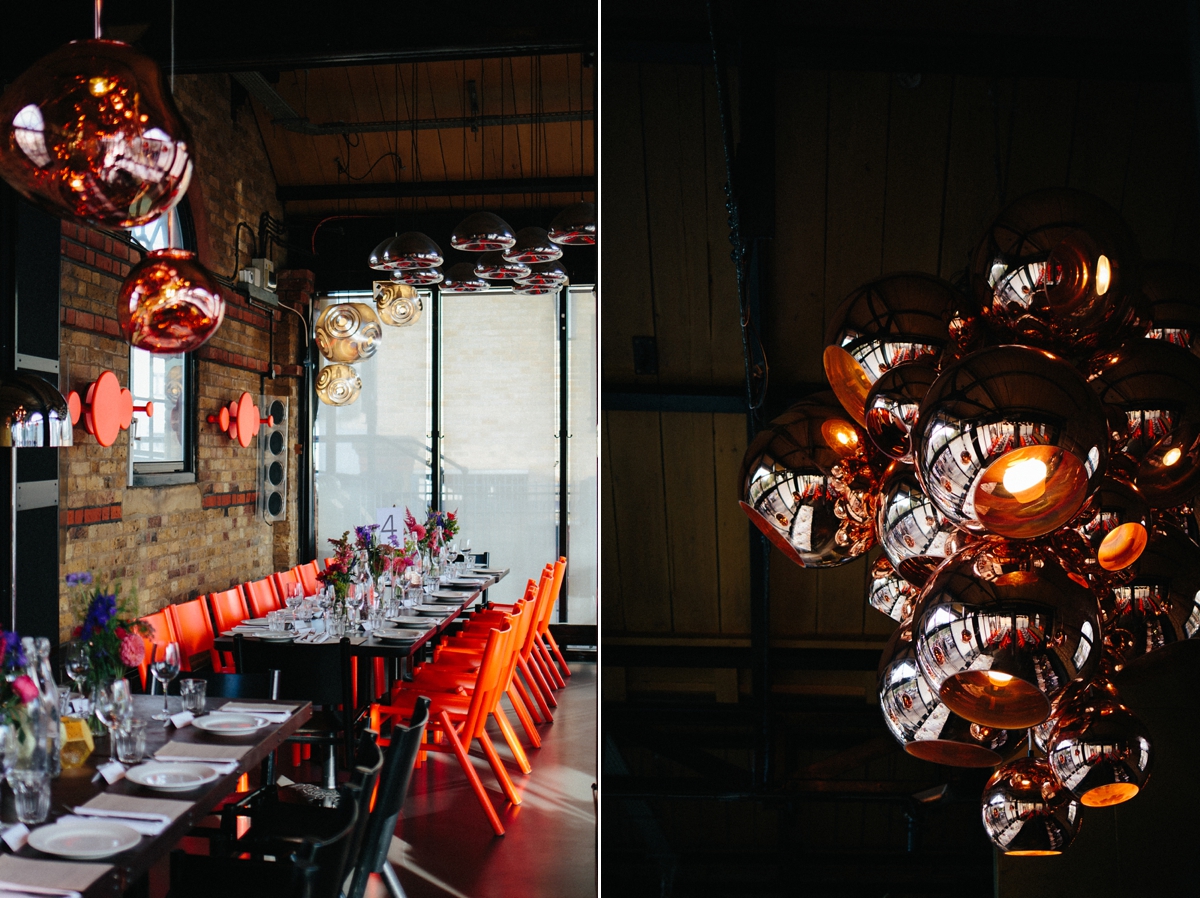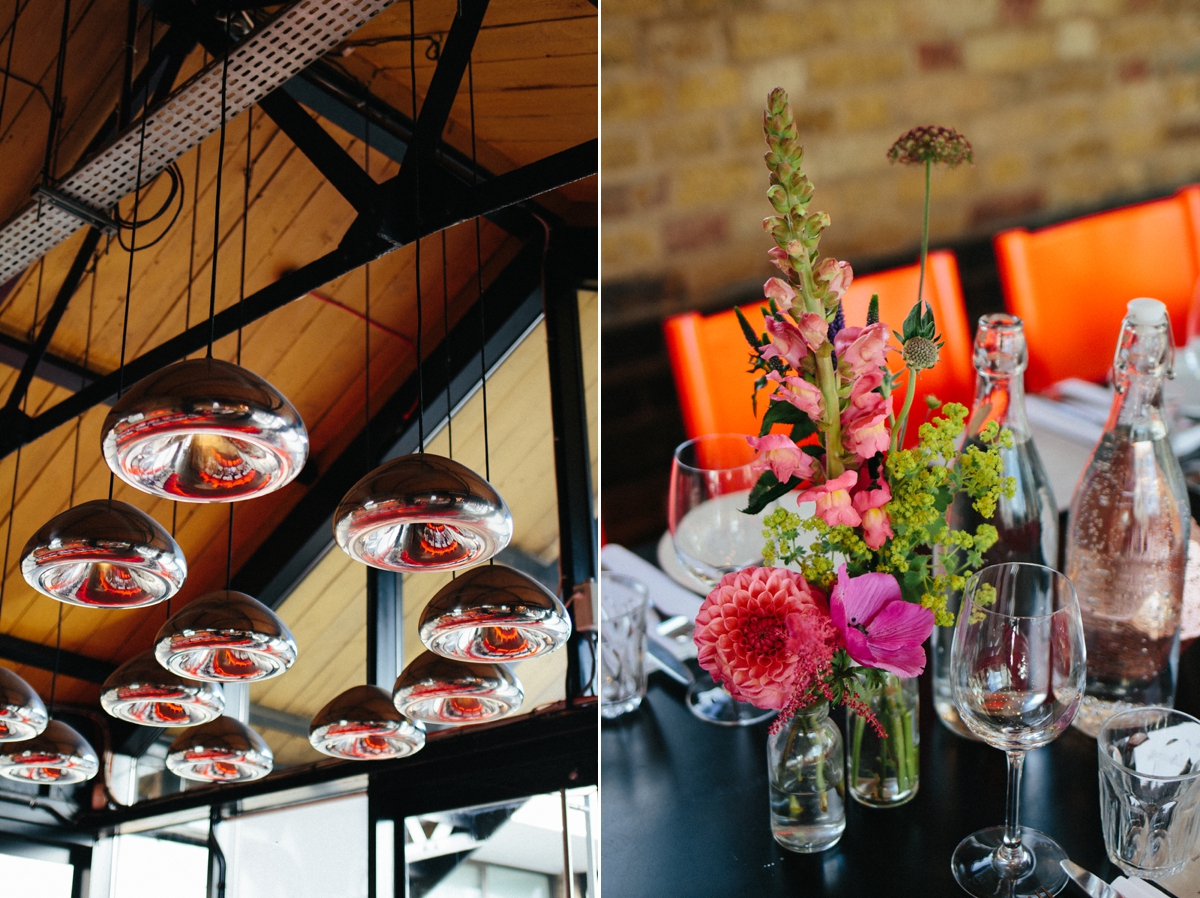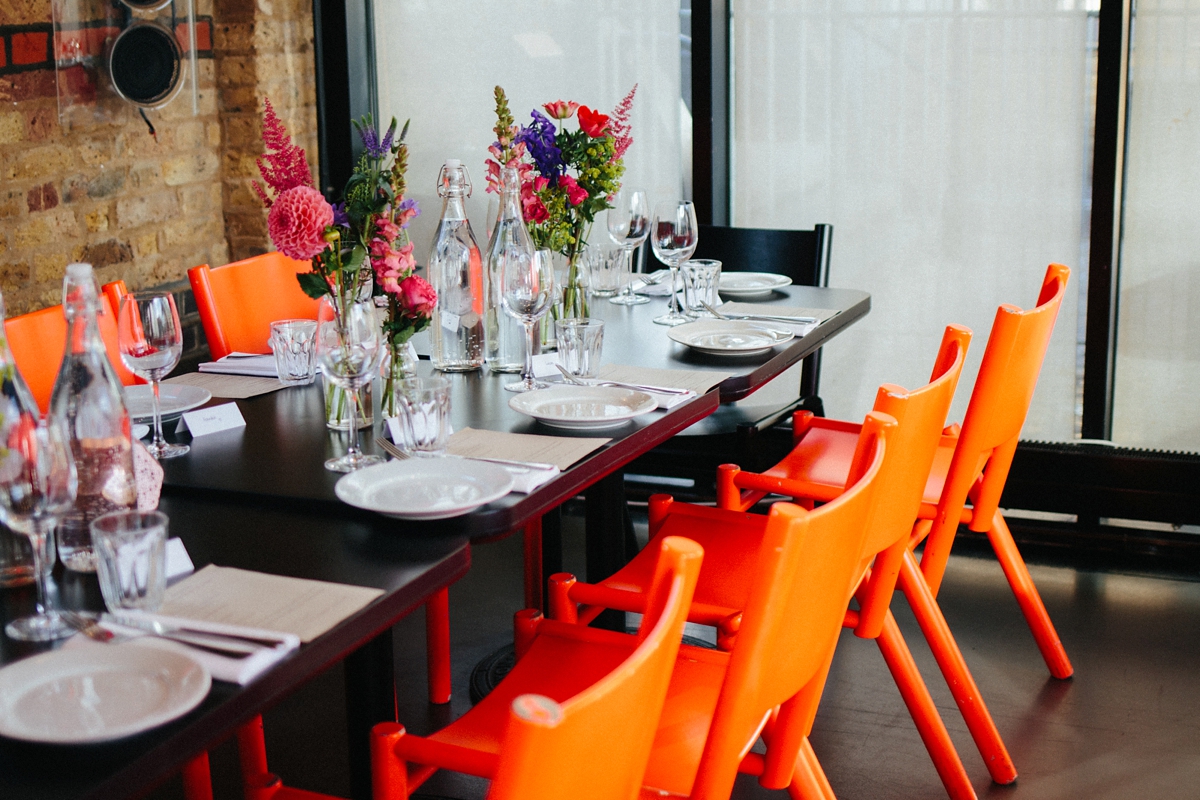 "Our first dance was played by David Brown DJ, 'Maps' by the Yeah Yeah Yeahs. It's one of our favourite songs and we wanted to jump around and boogie rather than slow dance!"
Words of Wedded Wisdom
"Don't let the planning take over and don't worry about the small details. On the day I didn't even give what I looked like a second thought. The day zooms by in a flash so steal special moments together and have fun. We would love to do it all over again!"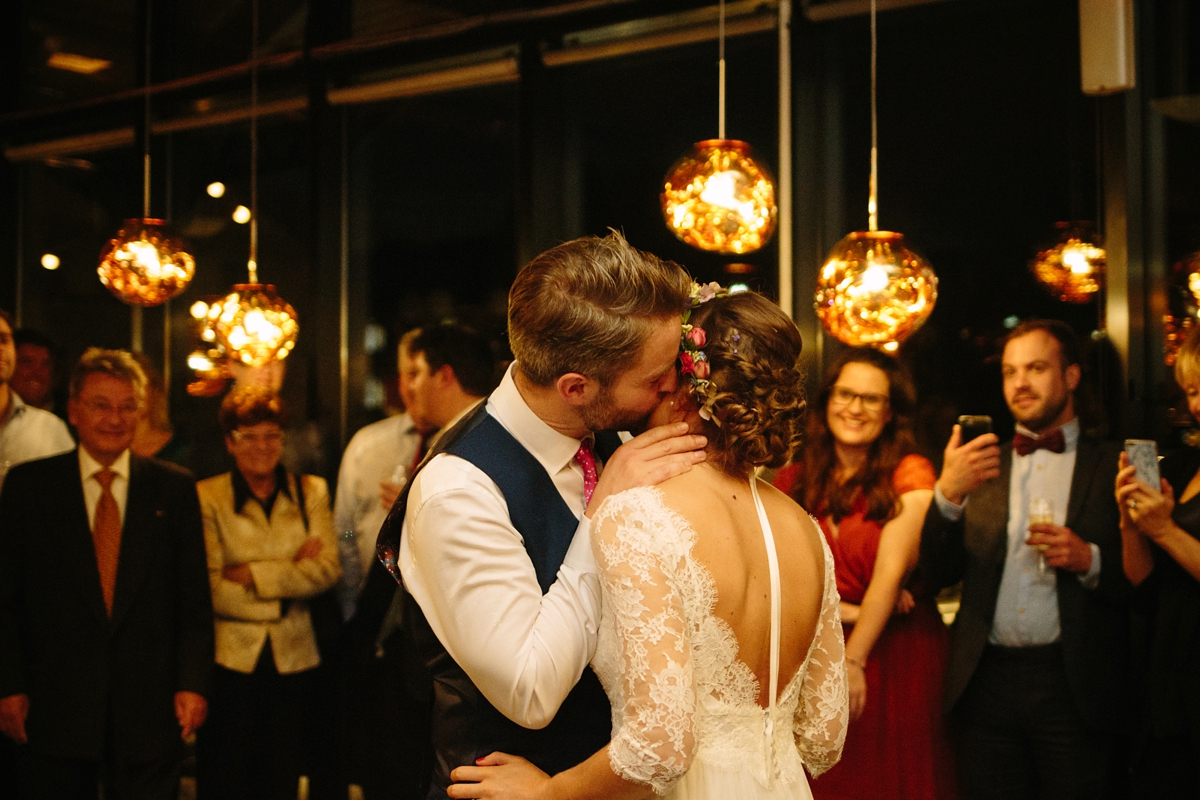 Thank you so very much to Frankie, Steve and of course to Nell Mallia Photography for these love-filled stills. And praise be to all you laid-back brides – I envy your chilled out nature!
With love,
Em x