How on earth is it October already!? Today we're harking back to summer for the wedding of Claire, a mum and director of a graphic design company, who wed husband and colleague James, director and website and software developer, on 19th August 2016. The Rectory Hotel in Wiltshire played host to their vintage-inspired celebrations.
Claire chose the heavenly, beaded 'Eden' gown by Jenny Packham, bought from The White Room in Minchinhampton. She paired its 20s-style loveliness with a Jenny Packham headdress, Jimmy Choo shoes and a spritz of Coco Mademoiselle by Chanel.
"I'd seen Eden by Jenny Packham on wedding blogs and thought it was a stunning dress. It was simple and elegant and as soon as I tried it on, I knew that it was meant to be. It suited me perfectly and had lots of gorgeous bead detailing on but didn't look too 'bling-y.' Whilst my dress was 20s in style, we didn't stick to this theme for the décor. We just wanted it to fit in with a shabby-chic hotel." 
Photography by  Jo Hastings Photography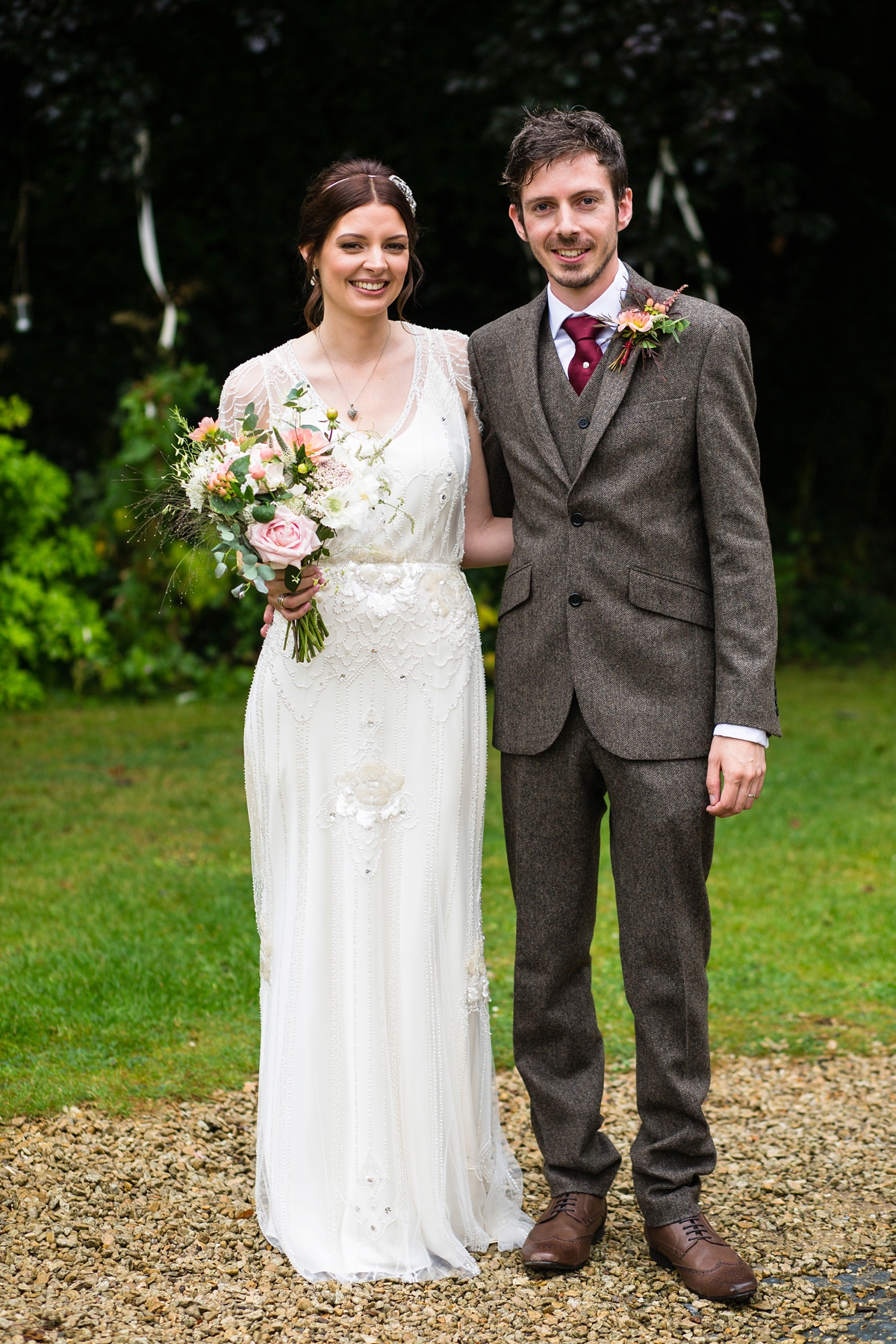 "We both like antiques and old nik naks so we wanted to incorporate them into our day in some way. We wanted a neutral colour theme and for the overall feel to be quite laid-back. James and I visited many antique and vintage shops over the course of the engagement, we wanted to make everything unique and to have a bit of character and history."
Claire also wore a Jenny Packham locket containing a photo of her and James, bought for her by her mum, along with a bracelet and earrings from a vintage shop. On her wedding day our bride hung her antique engagement ring from her bracelet and wore one of her mum's rings as her something borrowed, and a garter with a ribbon as her something blue.
"Hair for me and the bridesmaids was by Hayley Hewlett.  I always wear my hair down and I wanted a simple, stylish bun, so the dress was the main focus. Make-up for us and my mum was by Caley Soul. They both did a great job and squeezed me in at short notice after my previous lady cancelled."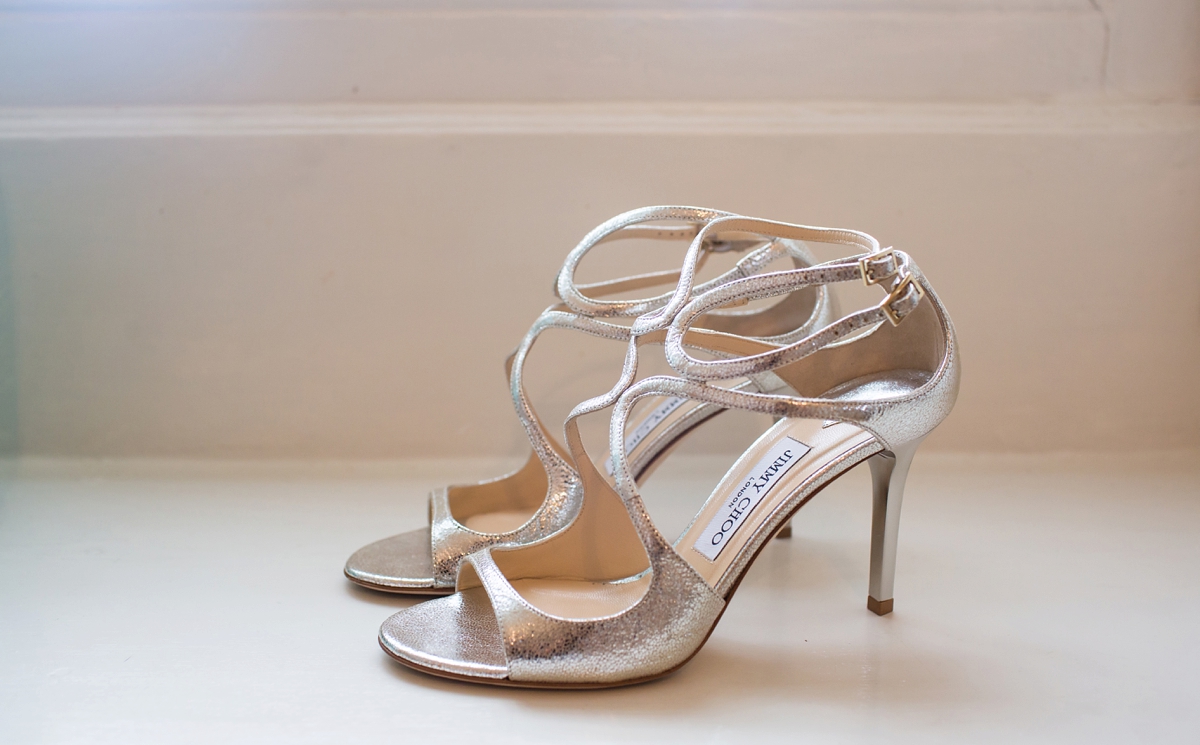 "I wanted the bridesmaids to all be different, but to be in a blush or nude and to incorporate a bit of 20s style metallic to go with my dress. Most importantly, I wanted each bridesmaid to want to wear their dress."
"We tried several on but in the end we had a Coast 'Lori Lee' dress, an Adrianna Papell, a Jenny Packham 'Olivia' and a Phase Eight dress. They all went together perfectly."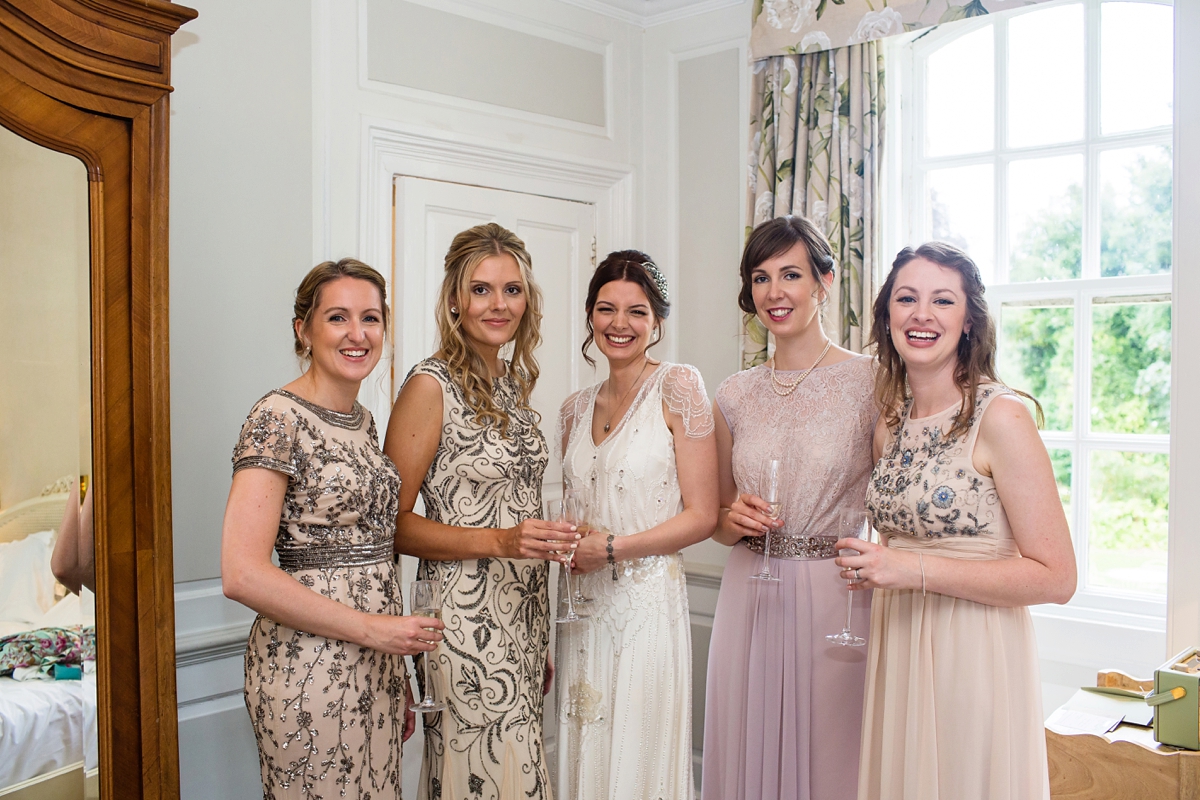 "My mum bought the majority of the flowers from Green and Gorgeous in Oxfordshire. We showed her the sort of colours and look we liked and she did an amazing job tying it all together and using the various planters and containers we'd bought. We also used Persephone Violet to do the garlands in the conservatory as I was aware that my mum was taking on too much and we wanted her to enjoy the day too."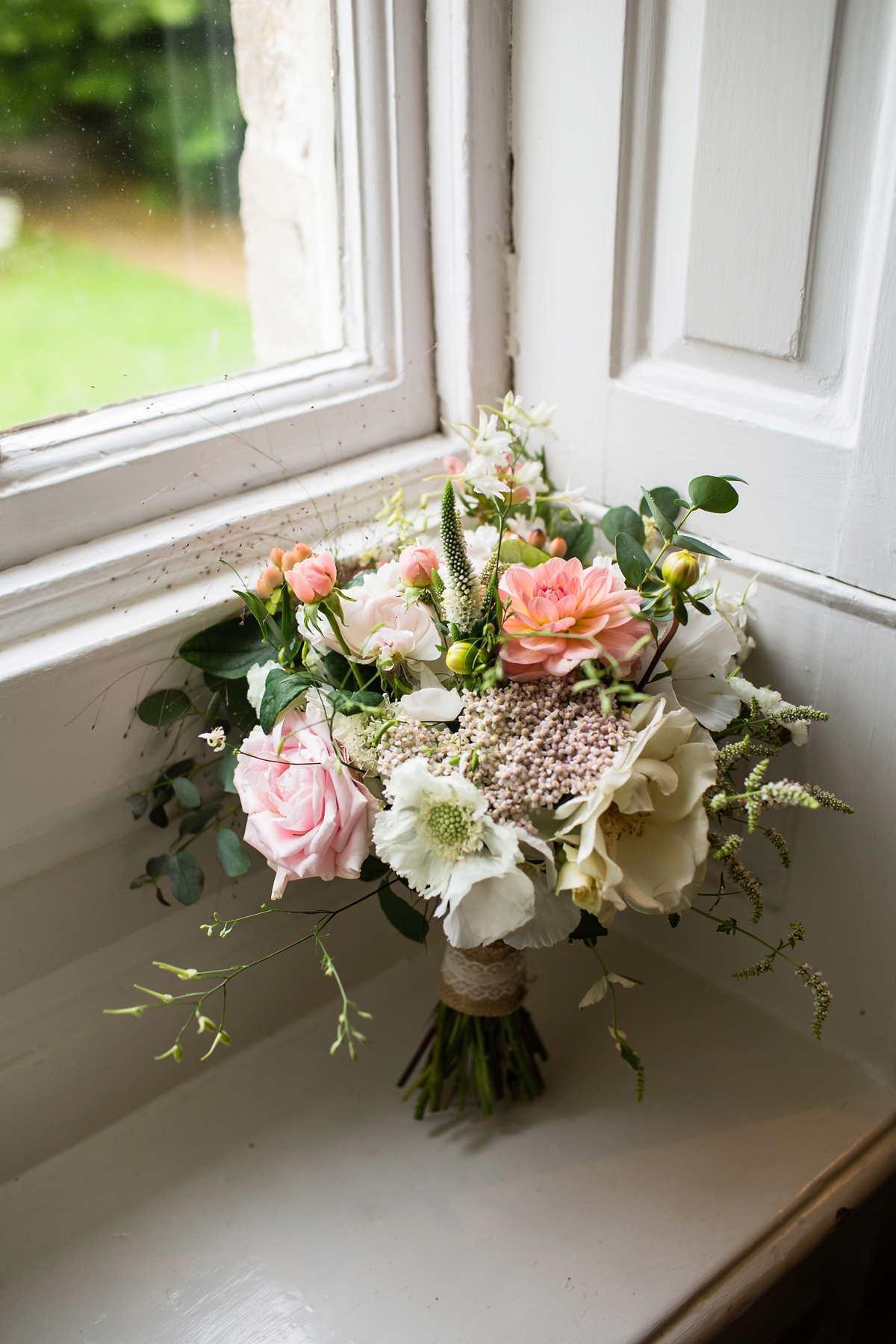 "Our venue was The Rectory Hotel in Wiltshire. We chose it because of its rustic, shabby-chic charm. It was a beautiful Cotswold house and as we'd grown up in the Cotswolds, it felt like the right choice."
"It didn't feel like a hotel, it felt homely and cosy and could sleep our family and close friends. It had enough space to be used for both the ceremony and reception. It has since been completely renovated."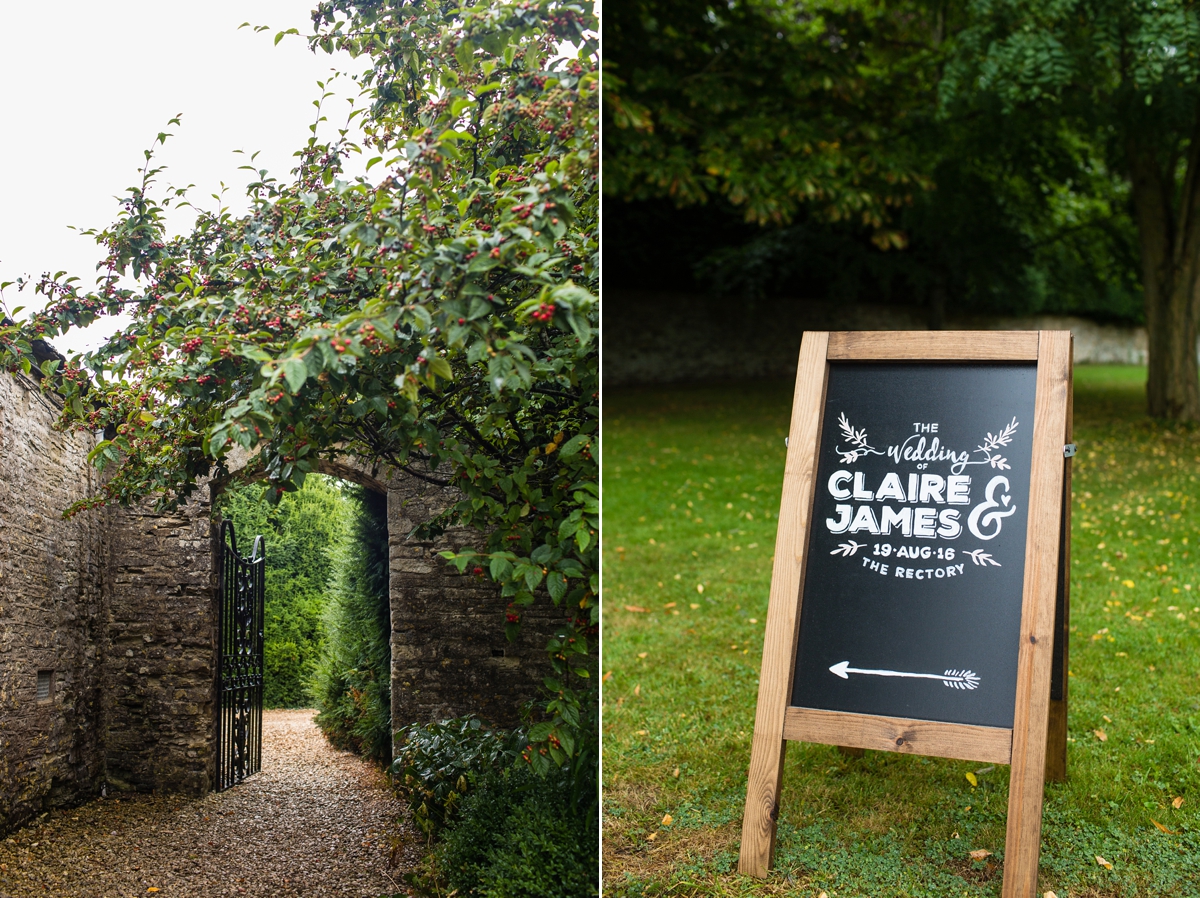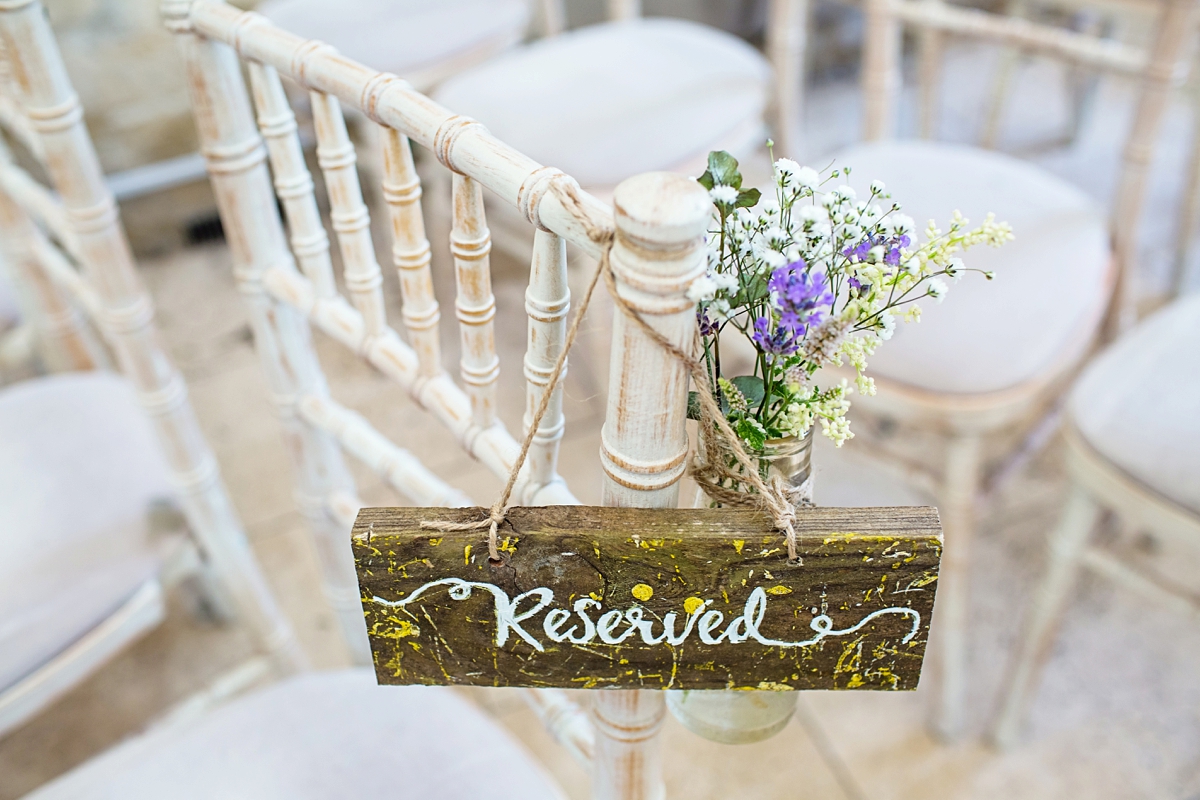 The couple's adorable usher was their eldest son Theo, and their page boy was middle son, Oscar. Both handsome young chaps wore shirts from John Lewis and three-piece suits from Occasion Wear For Kids with ties from Ties Planet. Trying to keep up with his boys, James wore a casual suit from Walker Slater and Kurt Geiger shoes.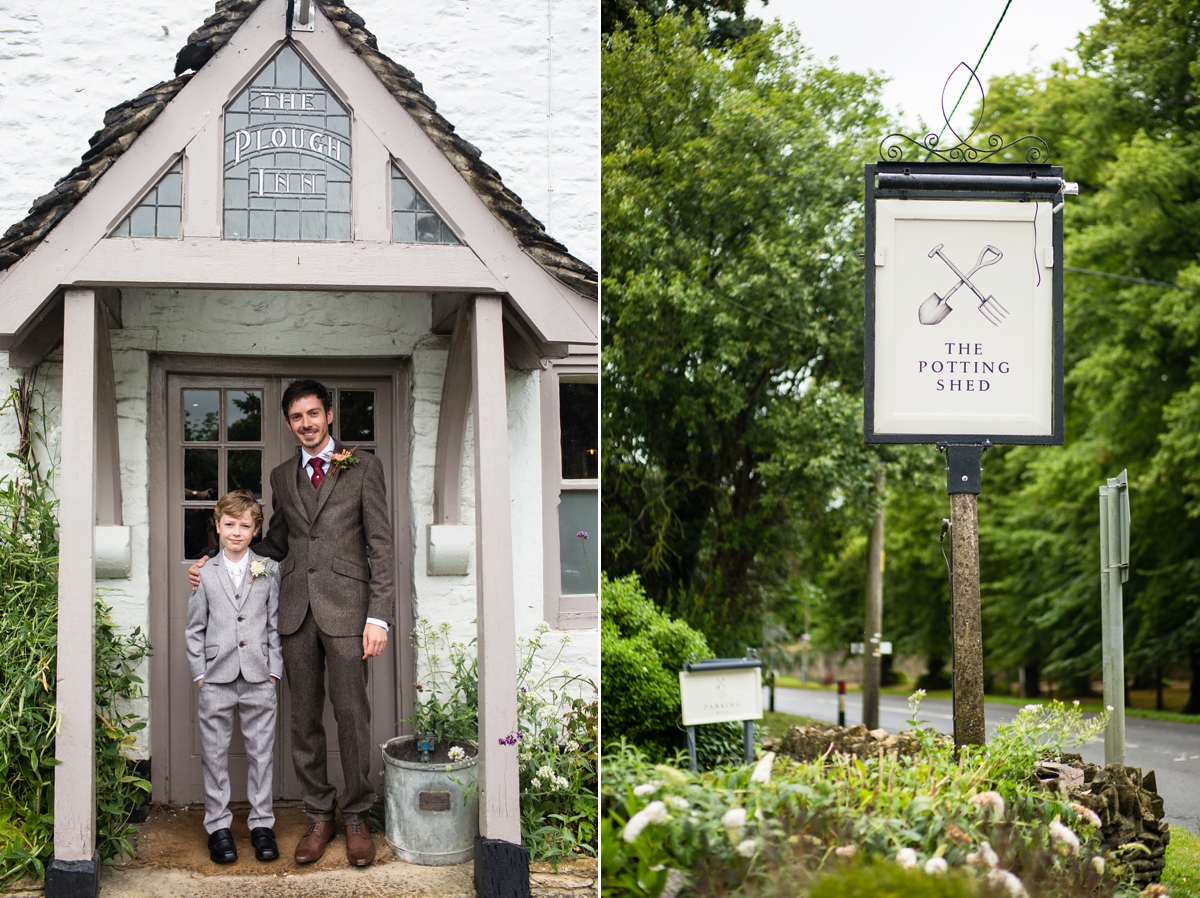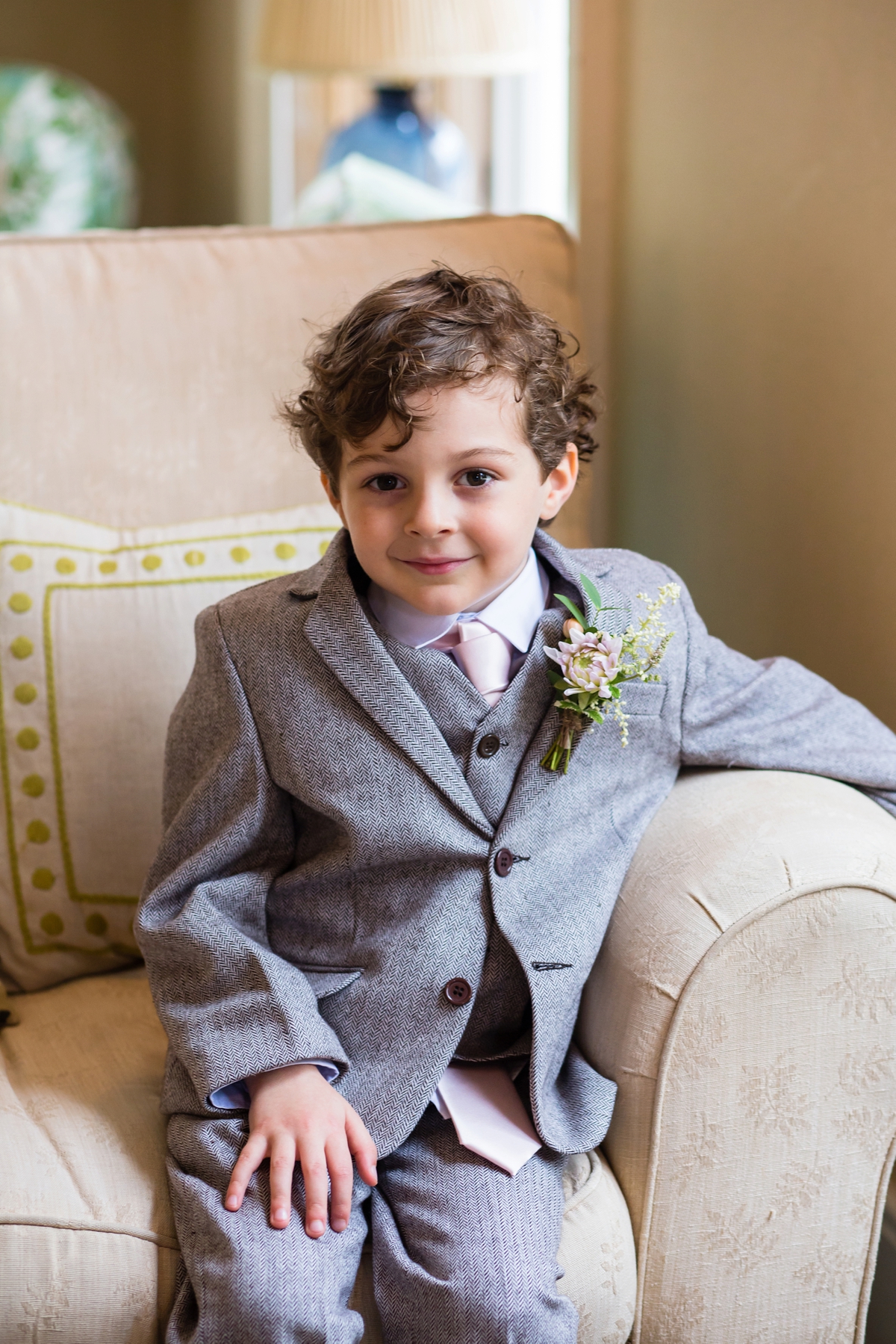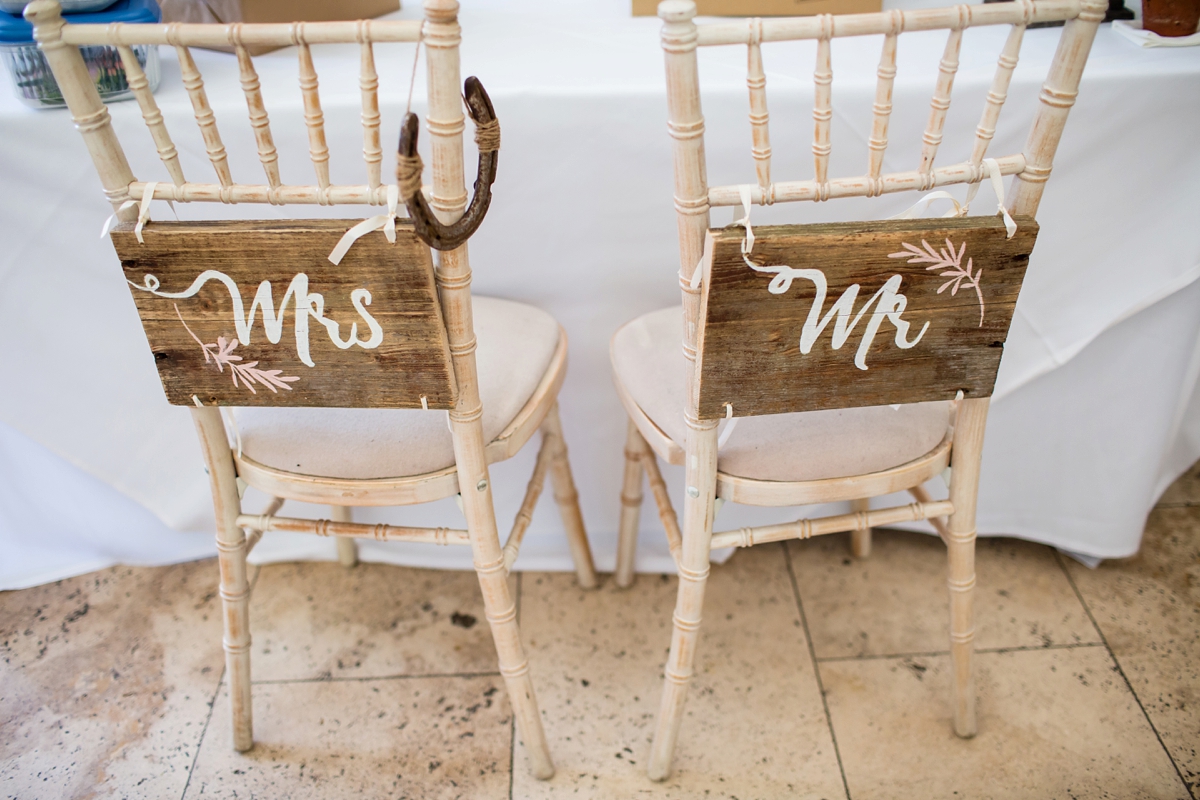 "James' cufflinks were antique and a wedding gift from me. The antique silver pocket watch belonged to my dad but had previously been his grandads. I thought it was a nice gesture for James to wear it. We bought a silver pocket watch chain on eBay to use with it."
"James and I went to primary and secondary school together but weren't really friends. We got together one evening before Christmas when back from our different universities and visiting friends in our local town. James had a great sense of humour and we instantly clicked. We were still at university when we had our first child so it was a bit of a shock! We were together for nine years and had two children before James popped the question on our anniversary. By the time we got married, we'd been engaged nearly two years and we had three children."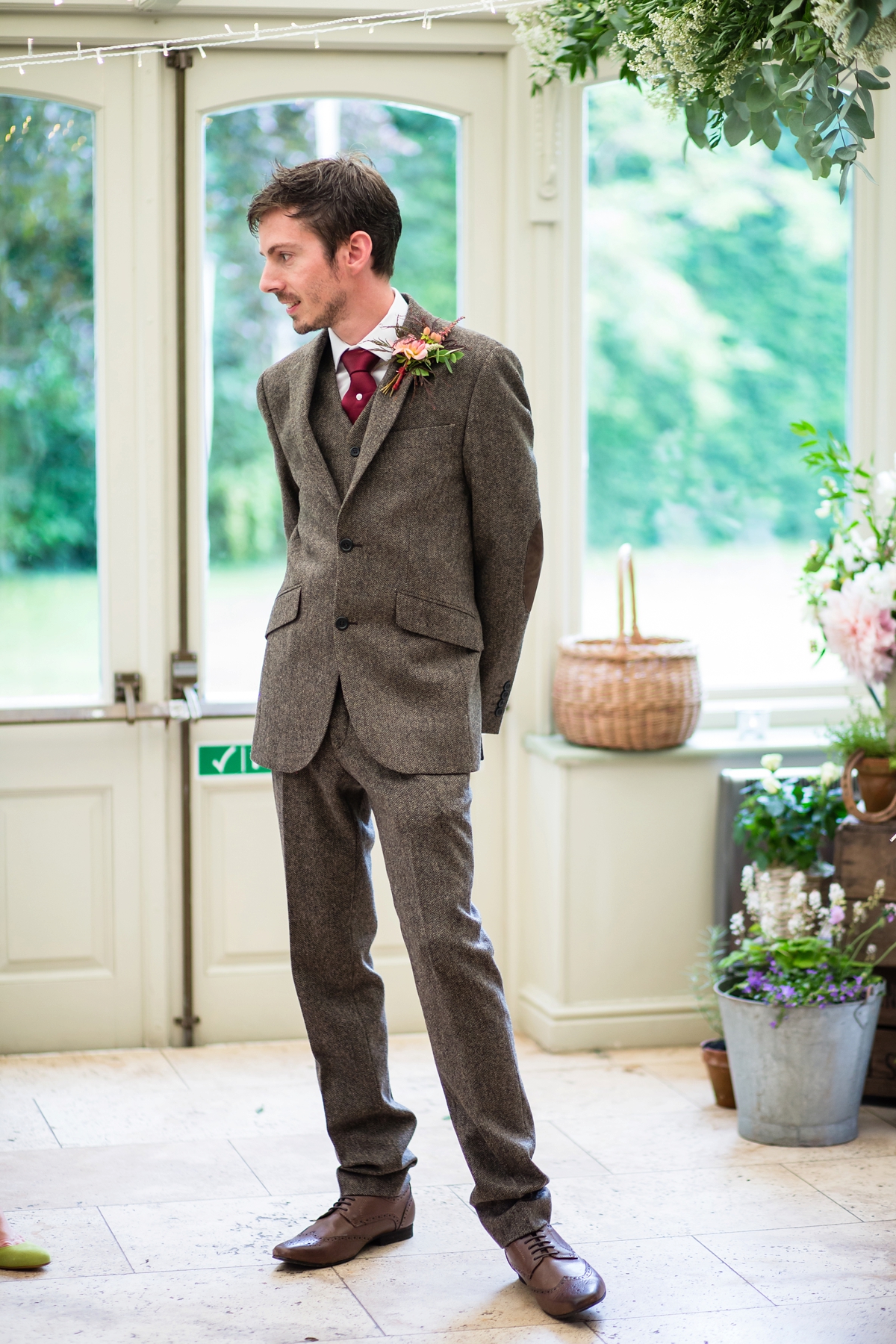 Claire walked down the aisle with her dad to Pachelbel's Canon in D to exchange vows with her very nearly husband, promises that weren't tailored but were also non-traditional. James' mum, Lynn, chose and read Bob Marley's 'Perfect,' something she felt honoured to do and Claire's mum, Maureen, who had just started running her own floristry business, Cotswold Flower Studio, took care of the couple's arrangements.
"James and I both wanted antique wedding rings so we searched high and low for platinum rings (one plain for James and one that had slight detailing on for me). We eventually found mine at Promenade Antiques in Cheltenham."
"Unfortunately, we quickly realised that an antique ring for James in the right width was not going to happen as they often got melted down. Instead we opted to have one made from a shop in Stow-on-the-wold – GH Fine Jewellers did a great job."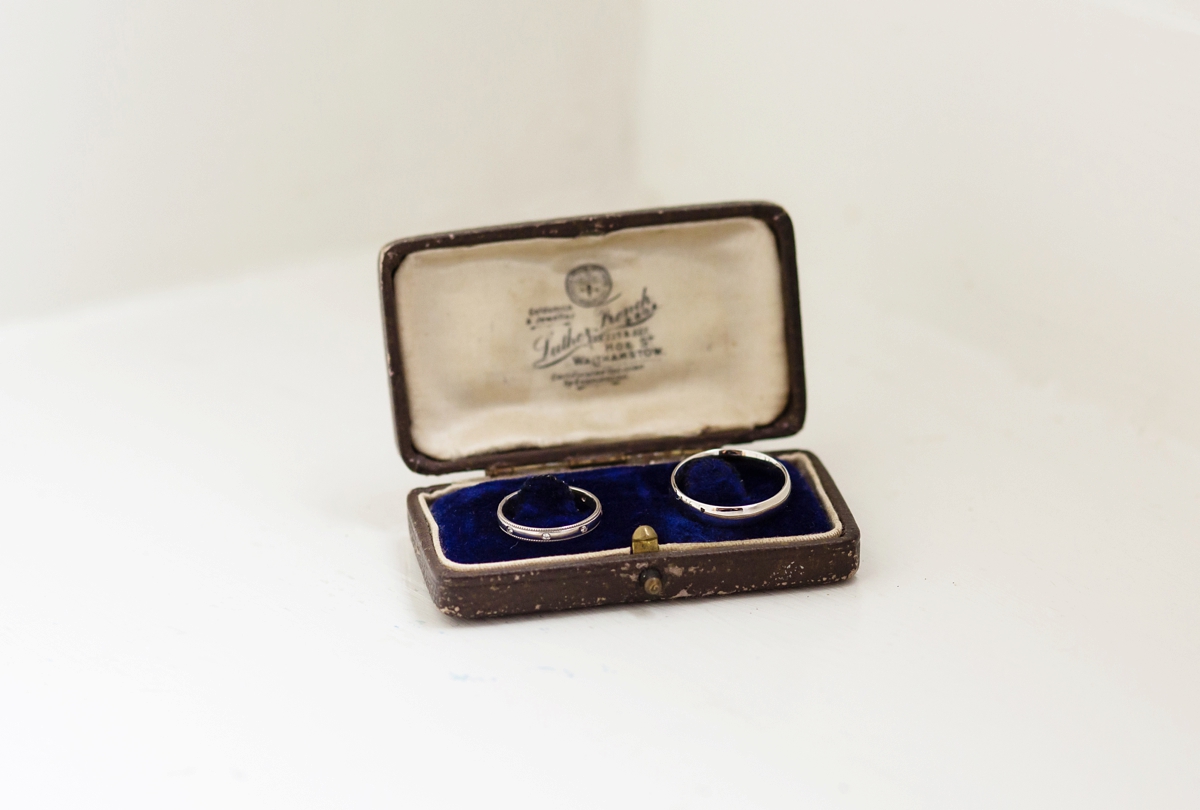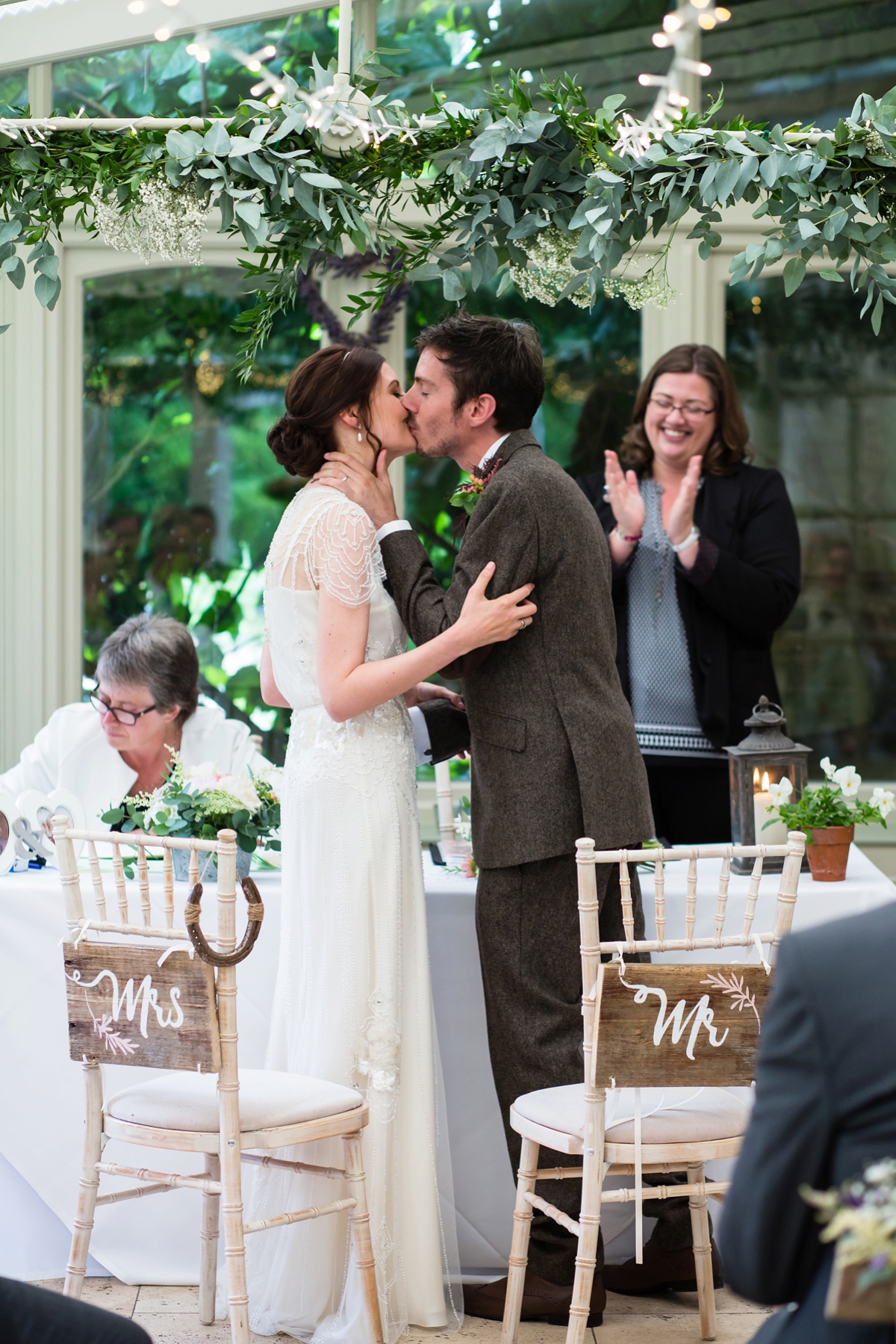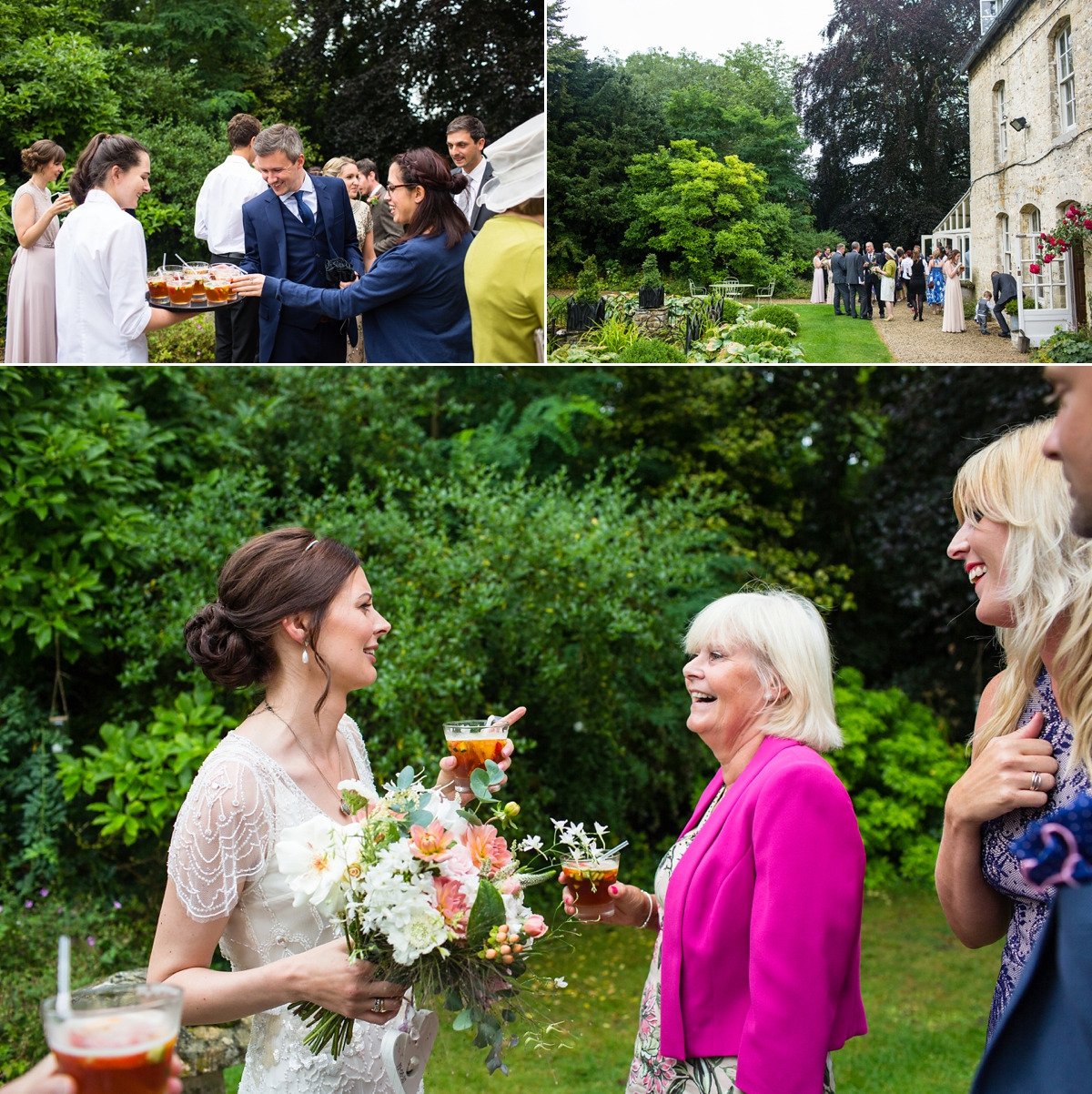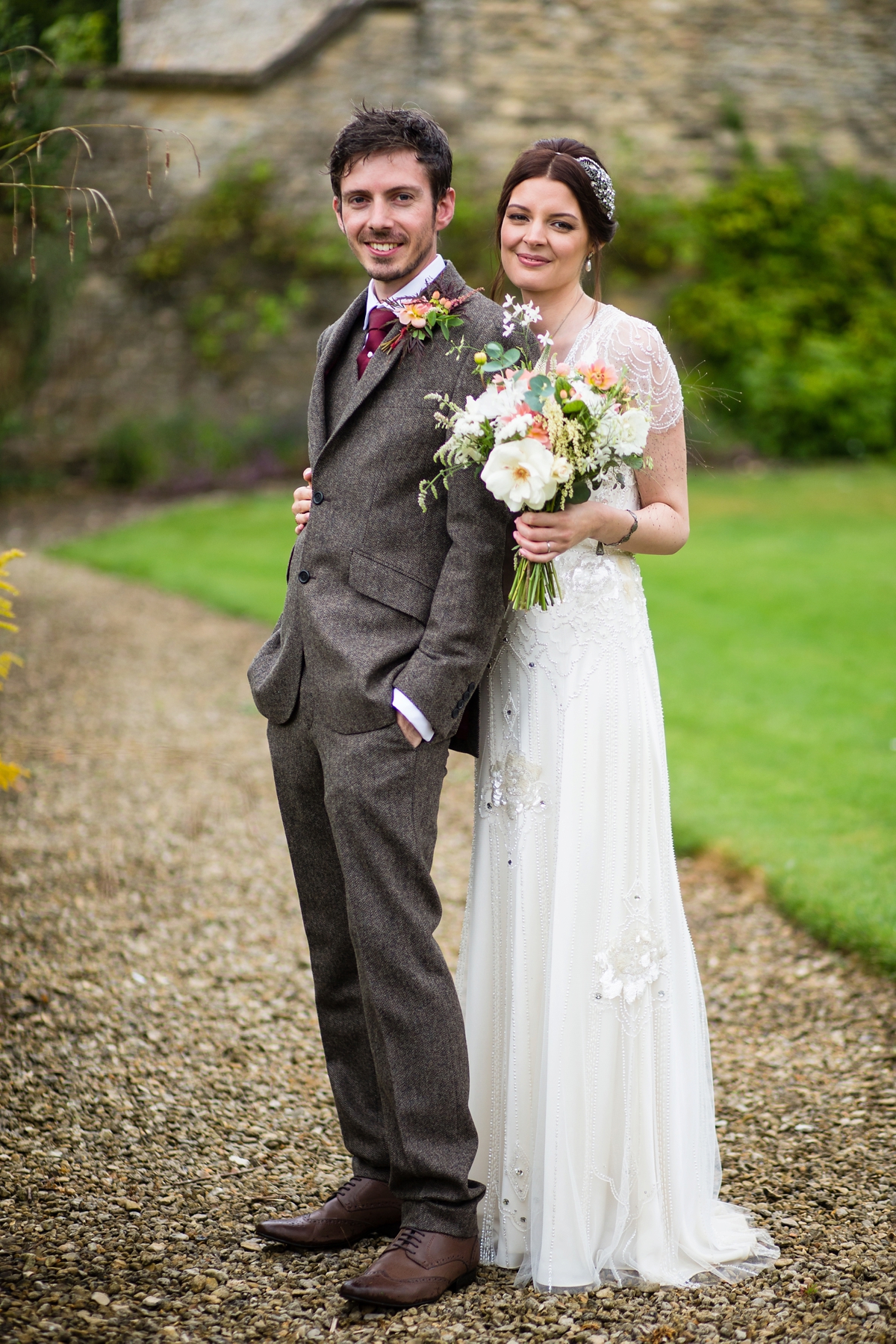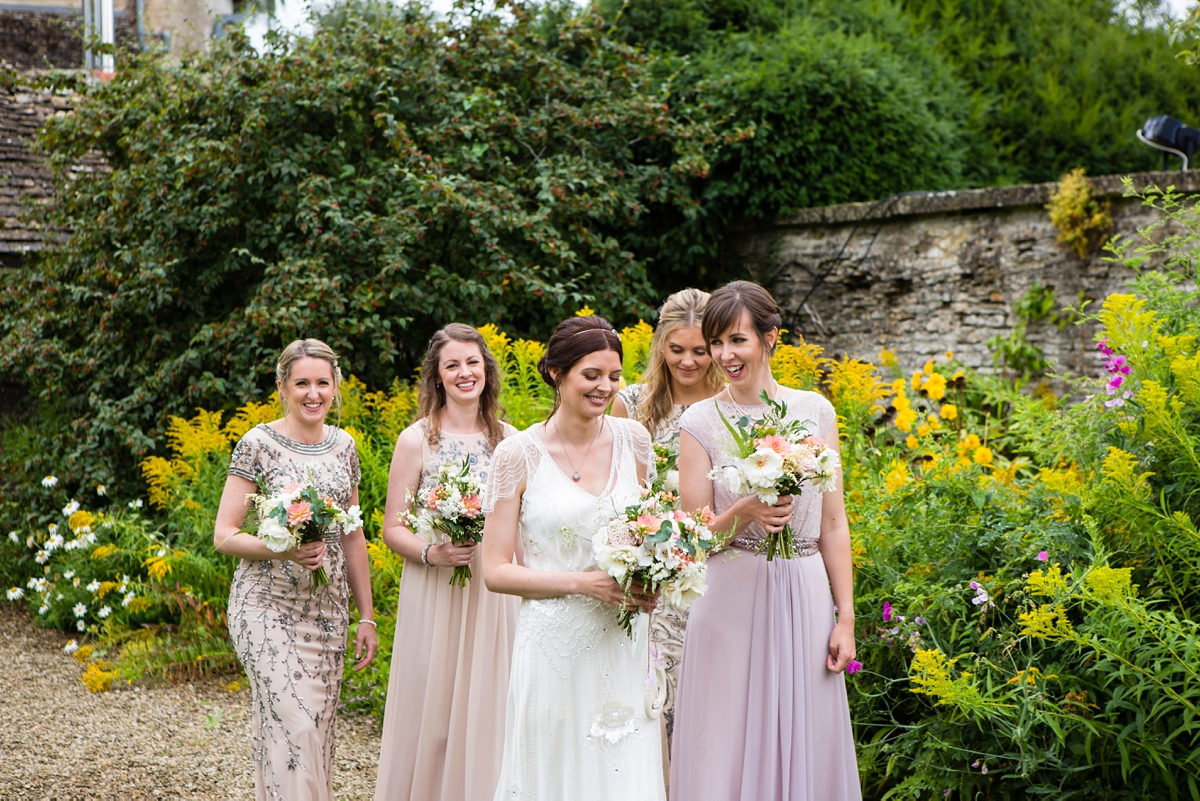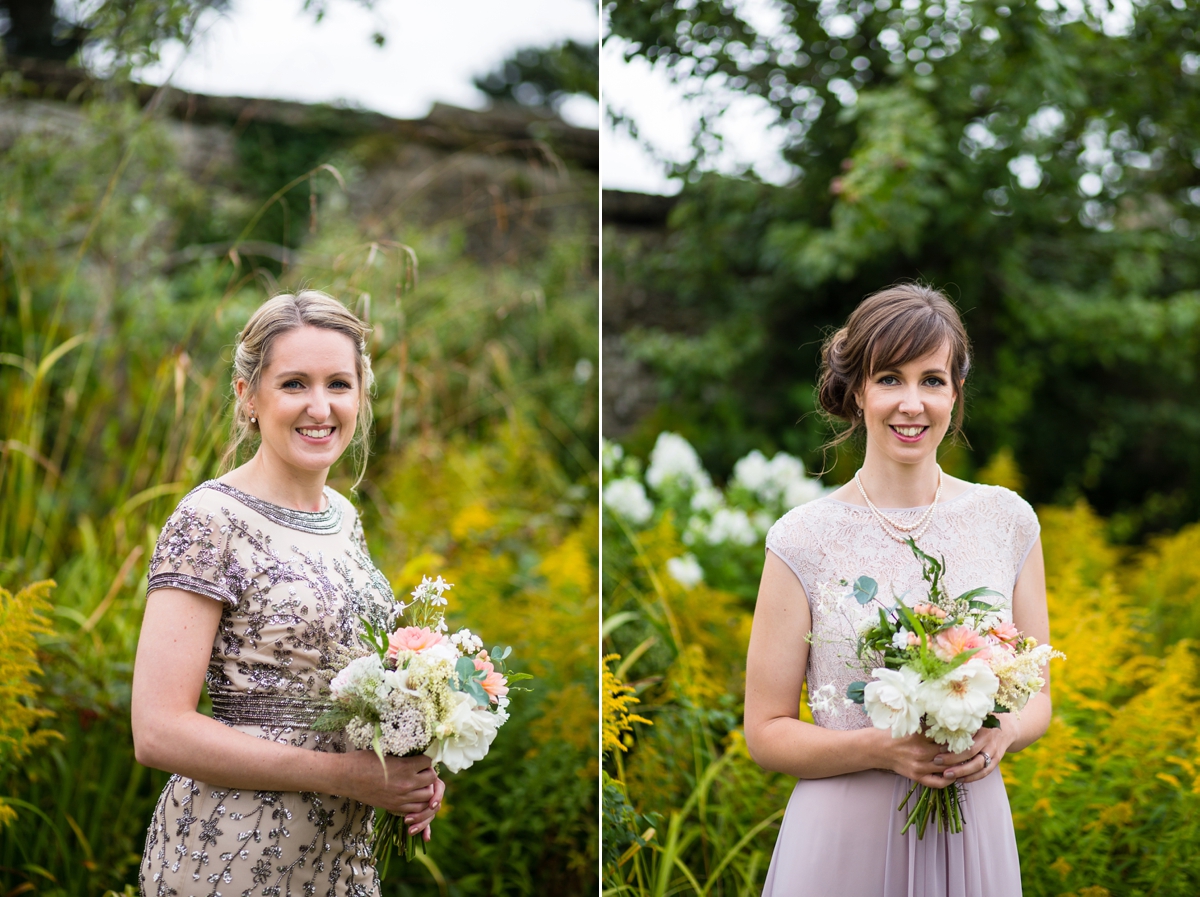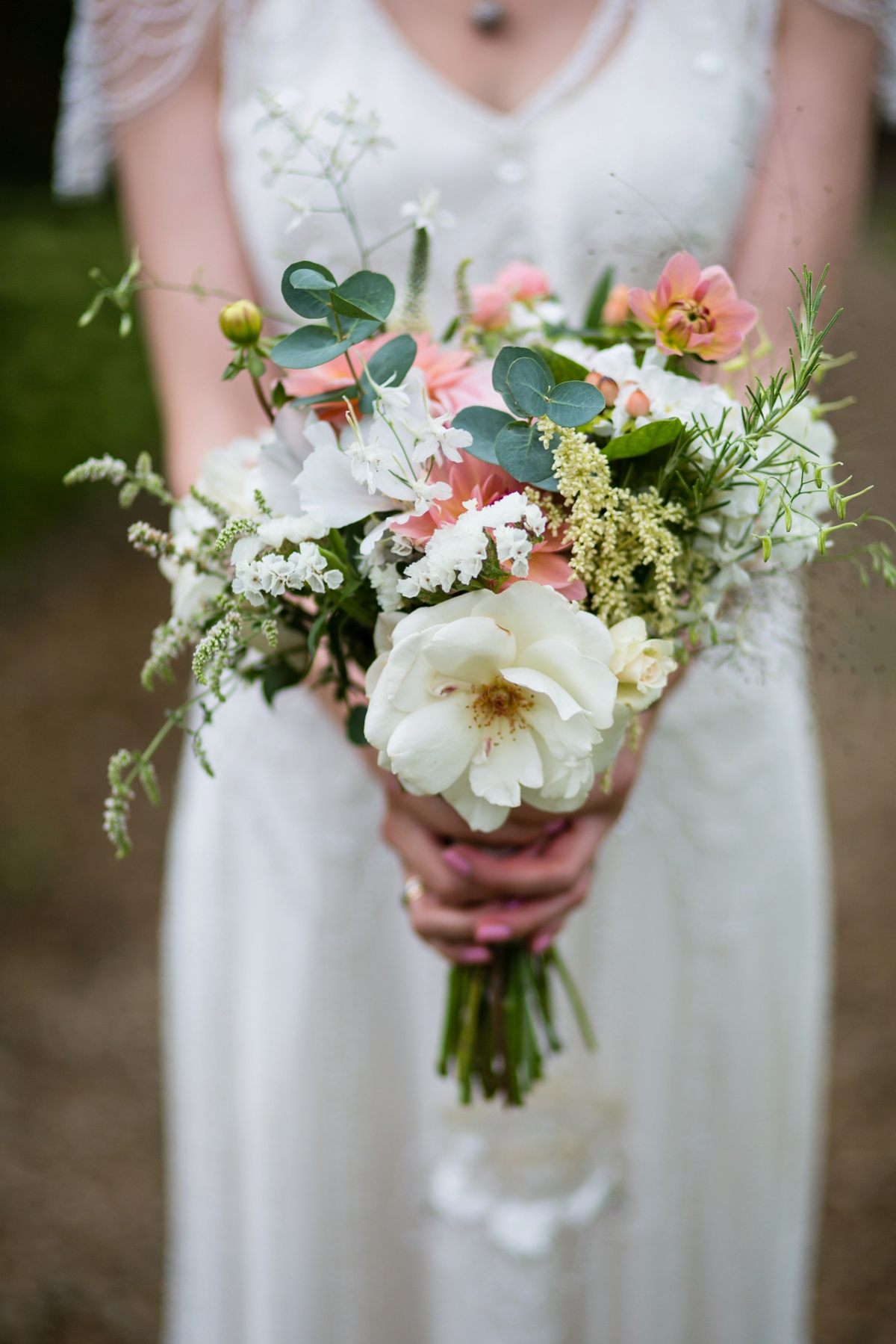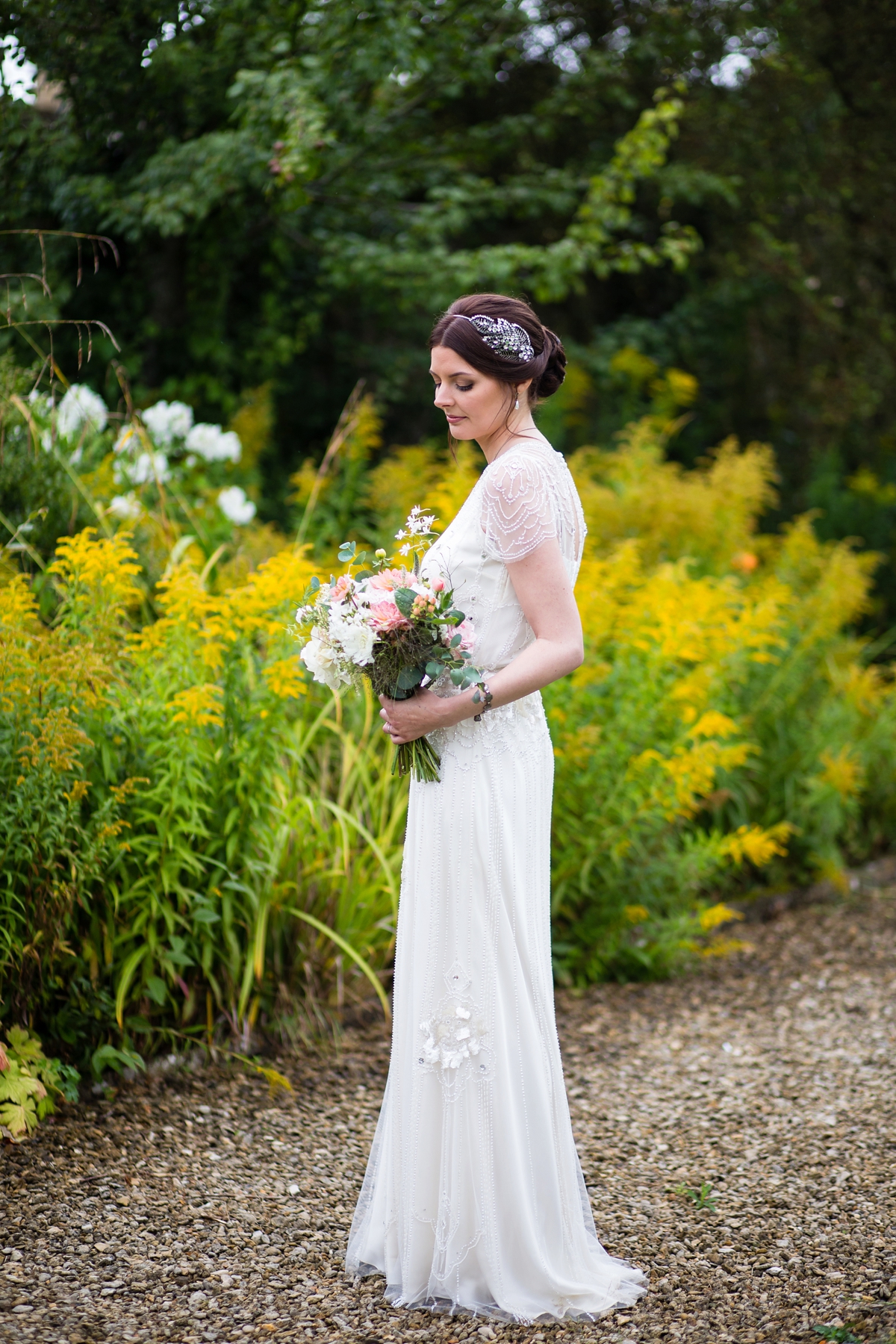 Jo Hastings has captured such heart-warming images of the couple's love, and particularly of their very sweet children. These candid, perfectly documented moments are priceless and a perfect example of why investing in wedding photography is so vitally important.
"We knew immediatley who we were going to use as some friends of ours had used her and we both remarked how gorgeous the photos were. Jo did a fabulous job on the day and put us all at ease. She captured every moment and every emotion. She managed to photograph everyone at our wedding and did so without us even noticing she was there. The photos she took of our children were gorgeous and we will treasure them."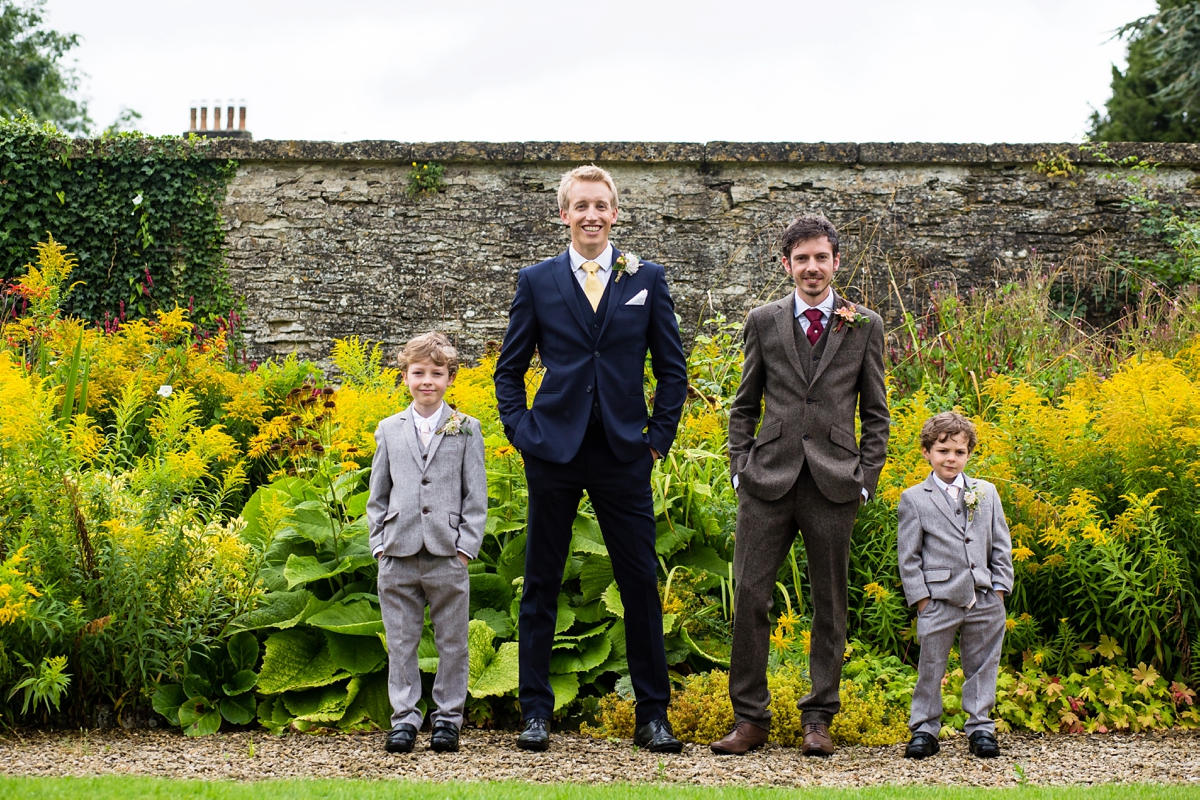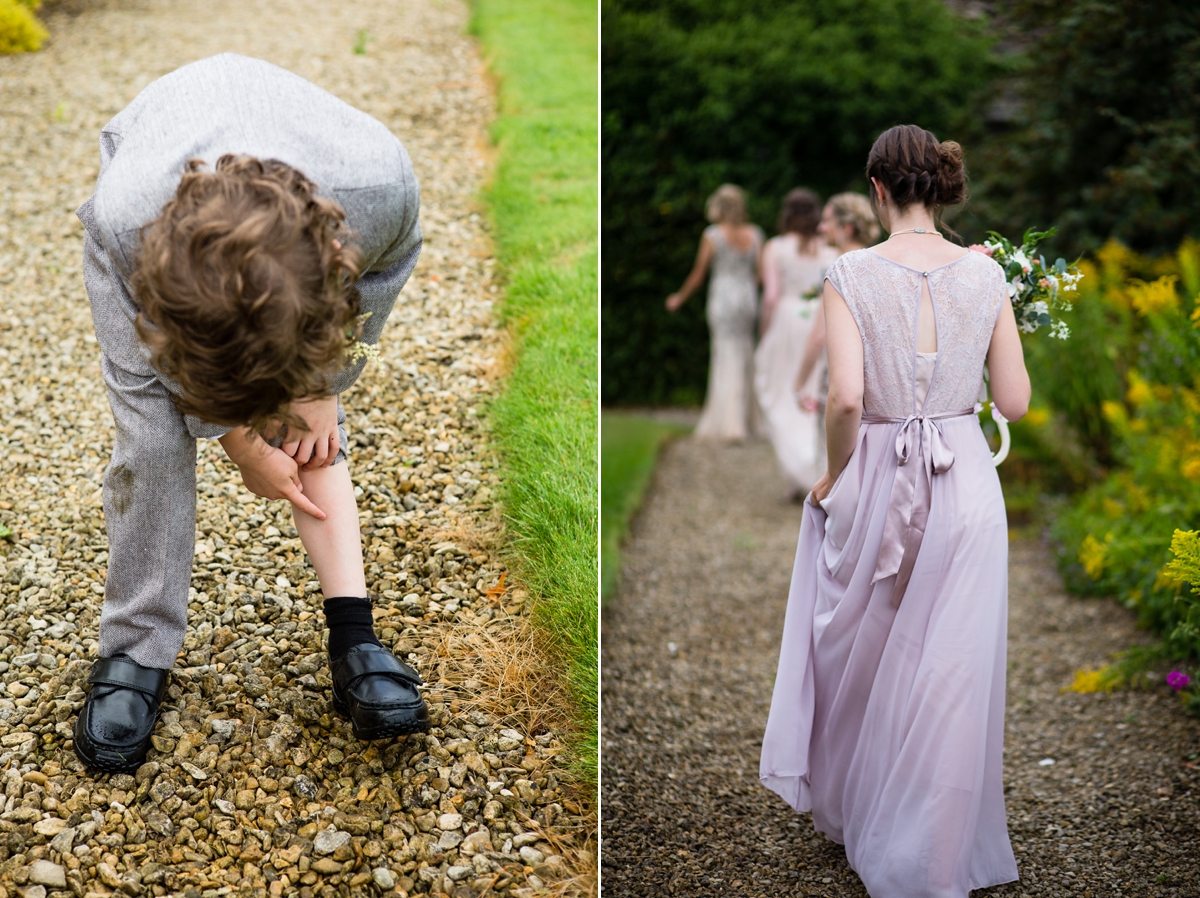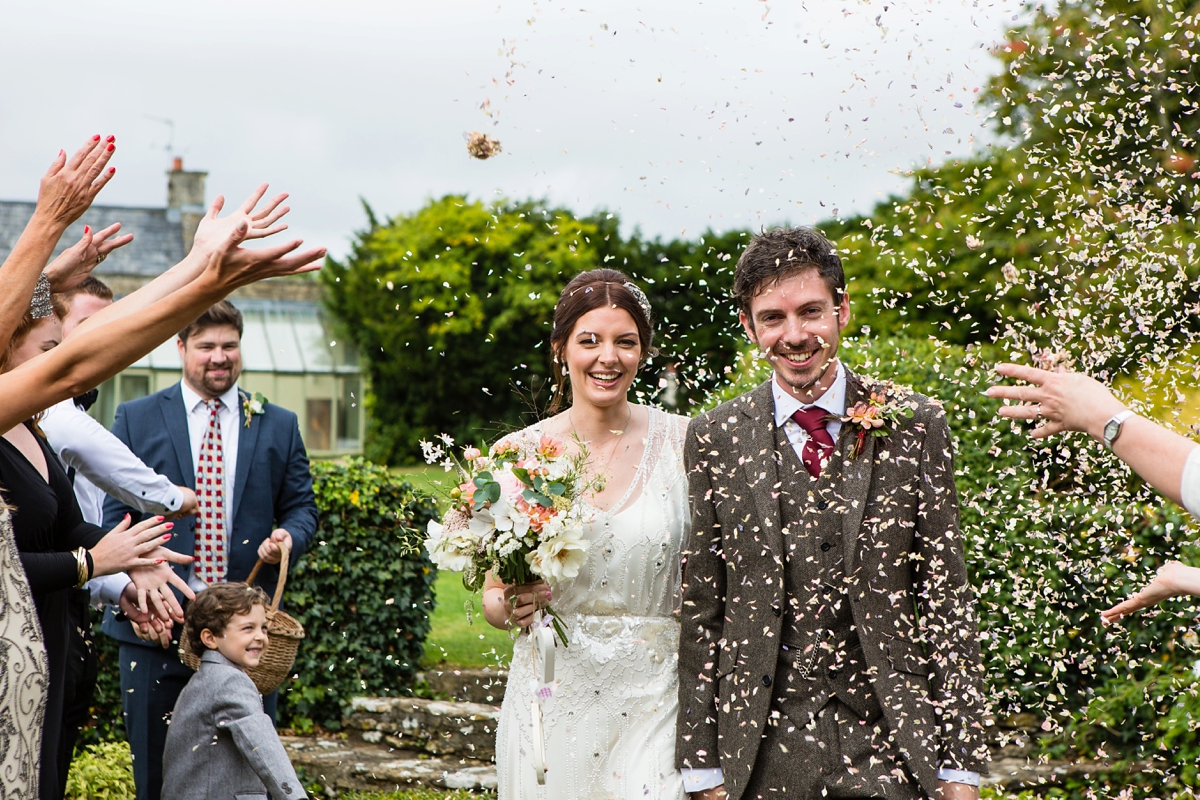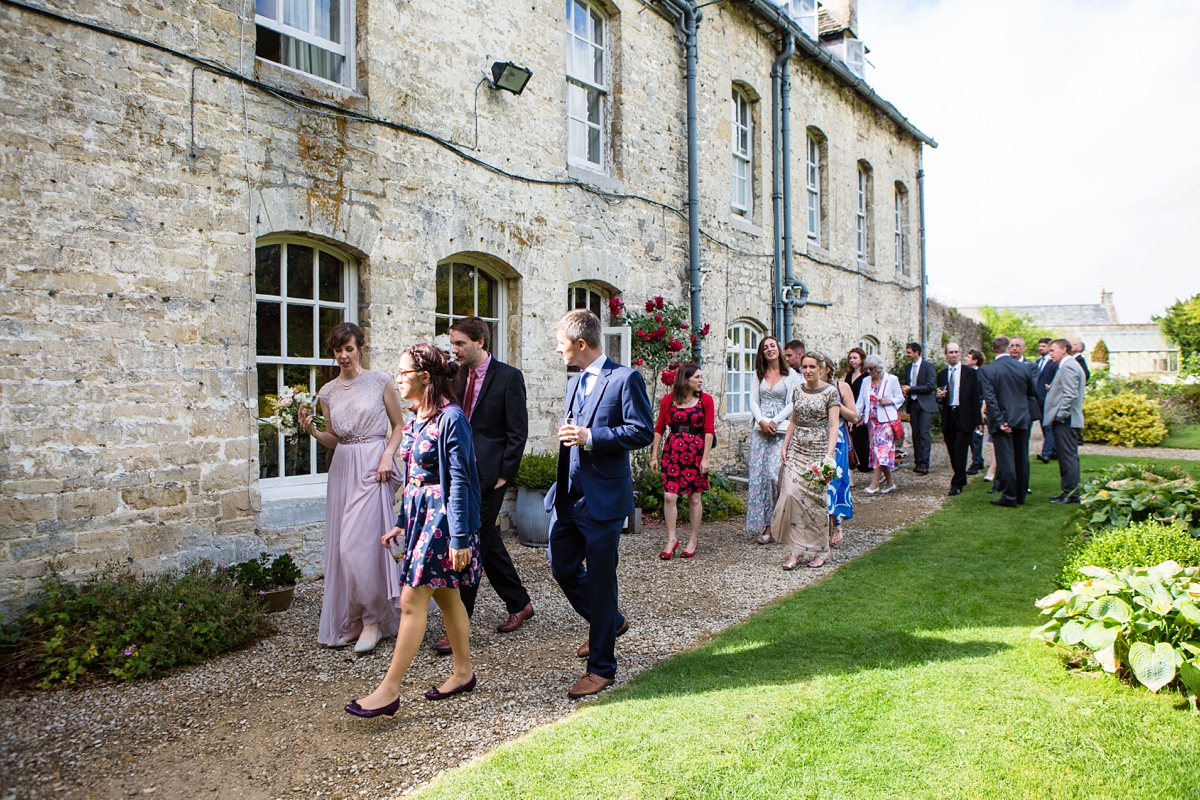 "The best man dunking my middle child, Oscar's head into the pond was pretty hilarious! By the evening, everyone was having a wonderful time in the garden playing games and James and I managed to speak to every single person. We also enjoyed it when the music had stopped and we all congregated into the bar area where we drank and chatted for quite a while."
"We used an old wooden wash board for our table plan, vintage glass bottles turned them into table name holders and crates, watering cans, buckets, terracotta pots for flowers and plants around the venue."
"We had an antique cufflink box to store the wedding rings in, lots of fairy lights, handmade napkins in different fabrics, which I started making a year in advance. There were vintage frames with photographs of our family on their wedding days and a selection of photographs of the two of us in years we'd been together."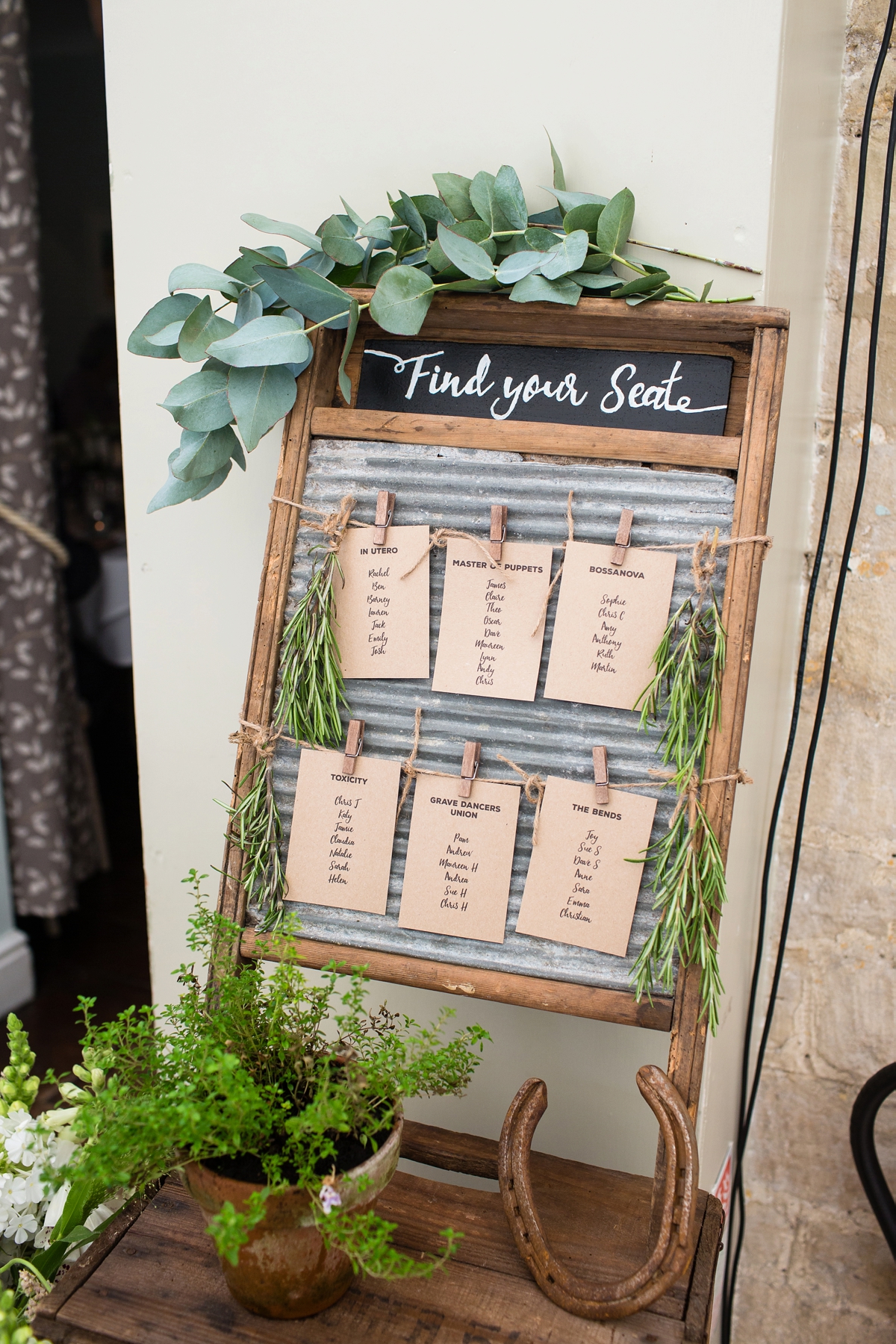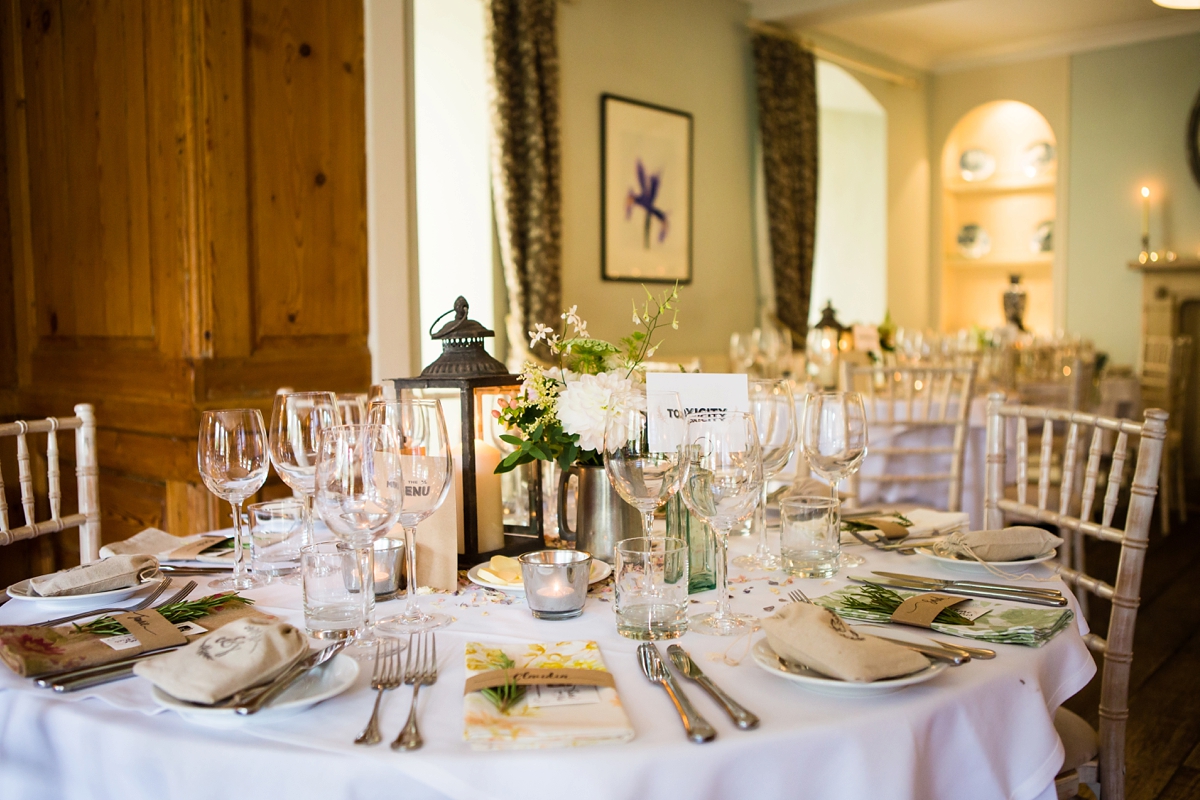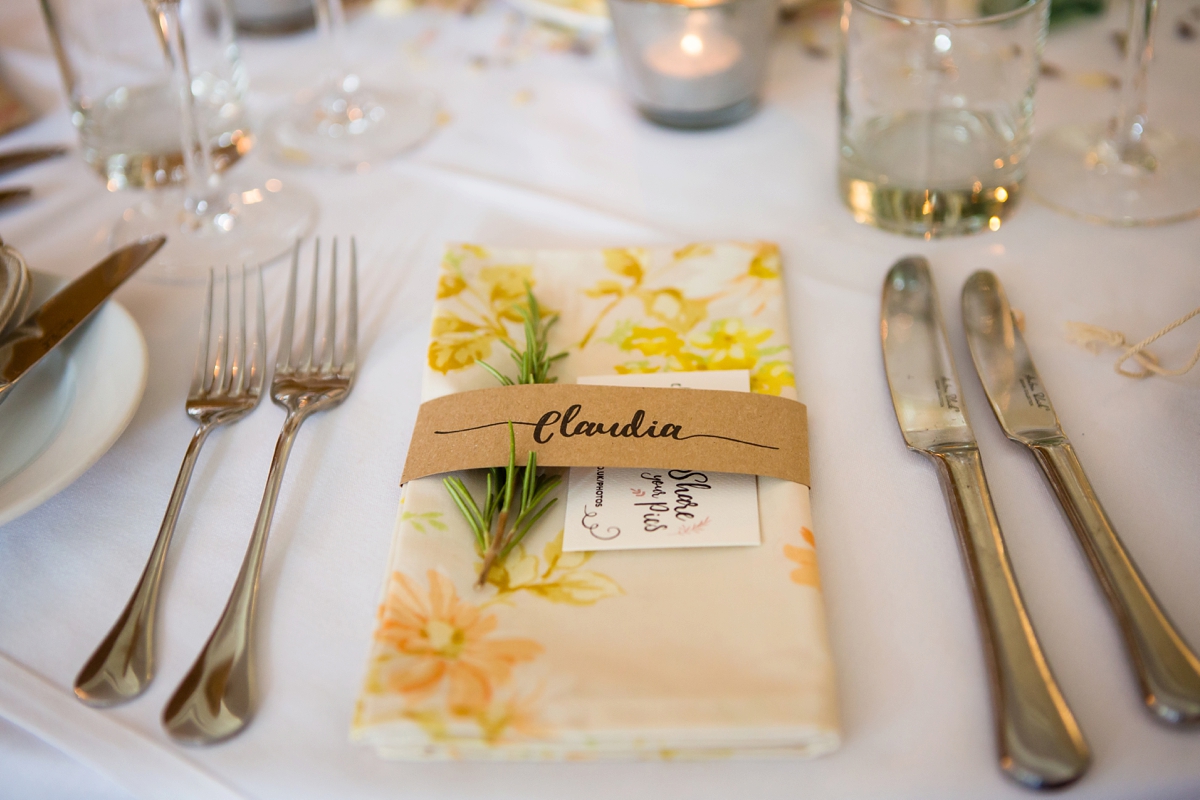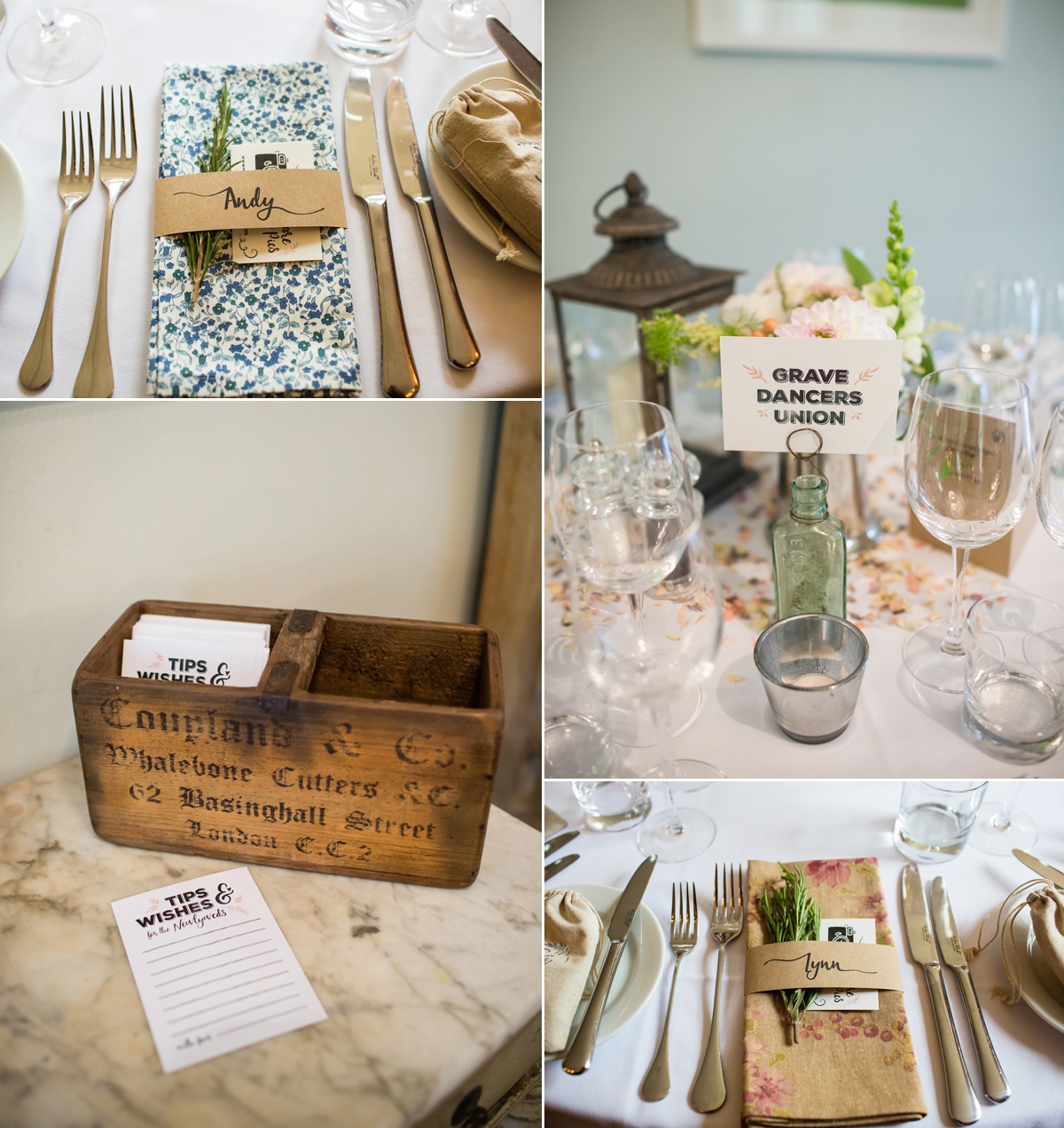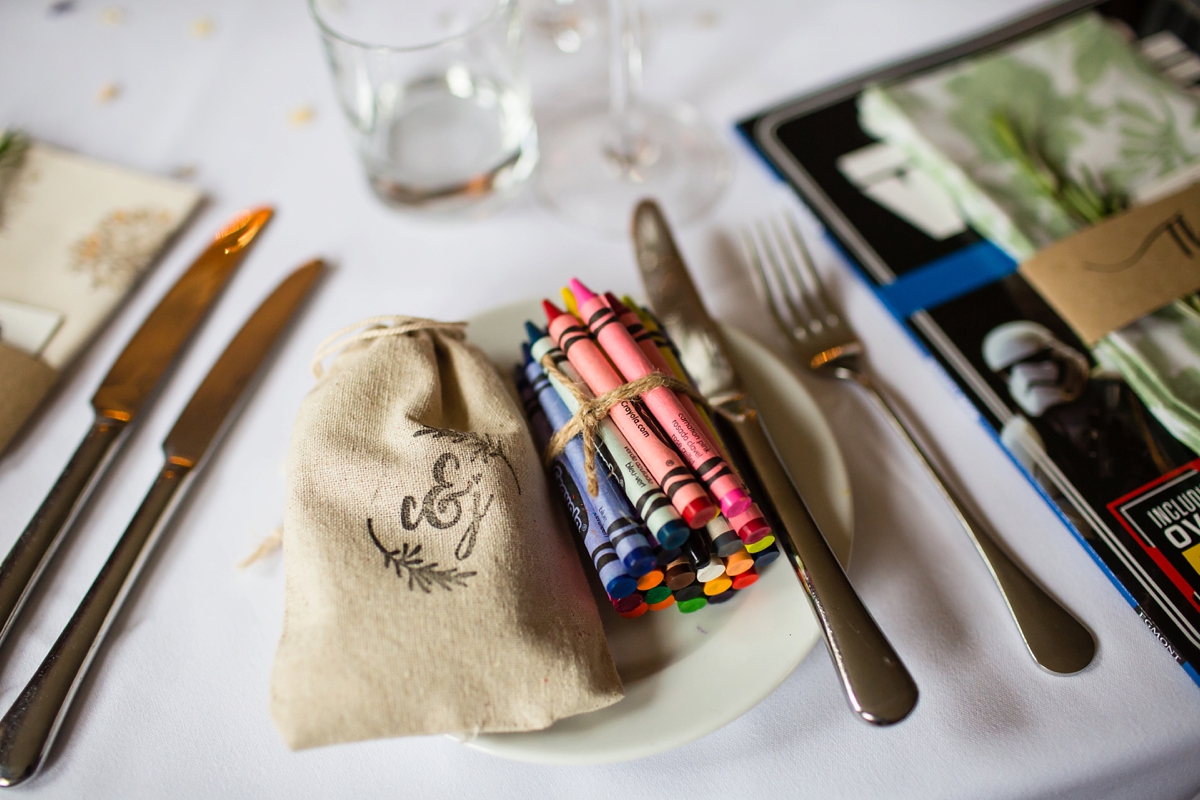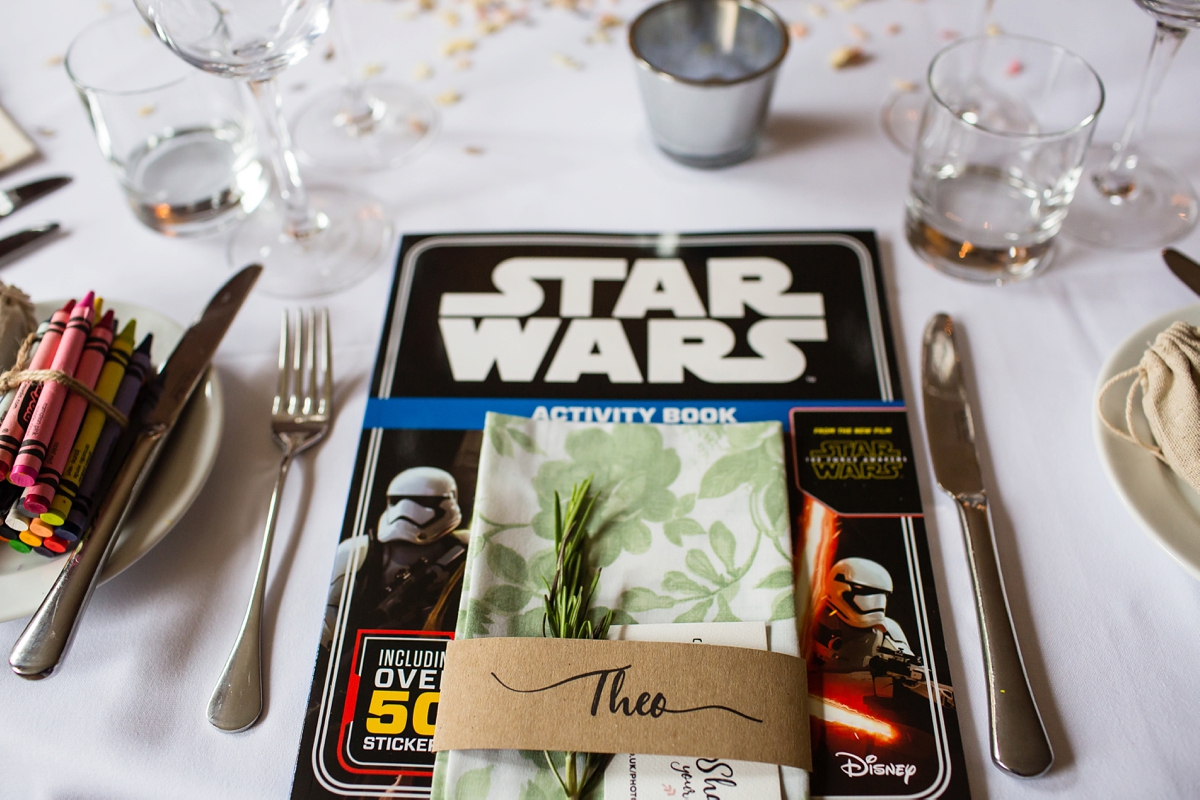 Catering for the day was provided by The Rectory Hotel, who Claire assures us did a fantastic job, with all the guests commenting on how delicious the canapes were. Our lovely bride designed all the stationery for the day, starting with the invitations, maintaining a consistent and coherent theme throughout the day.
"I designed everything – the menu, table plan, place settings – we even had our own wedding website in the same style, designed by me and built by James. We wanted to incorpoate the Cotswold colours from the Rectory Hotel. I was quite picky with the printing as I wanted it on a natural board, with silver foil embossing. The printers were Prom Print in Cheltenham."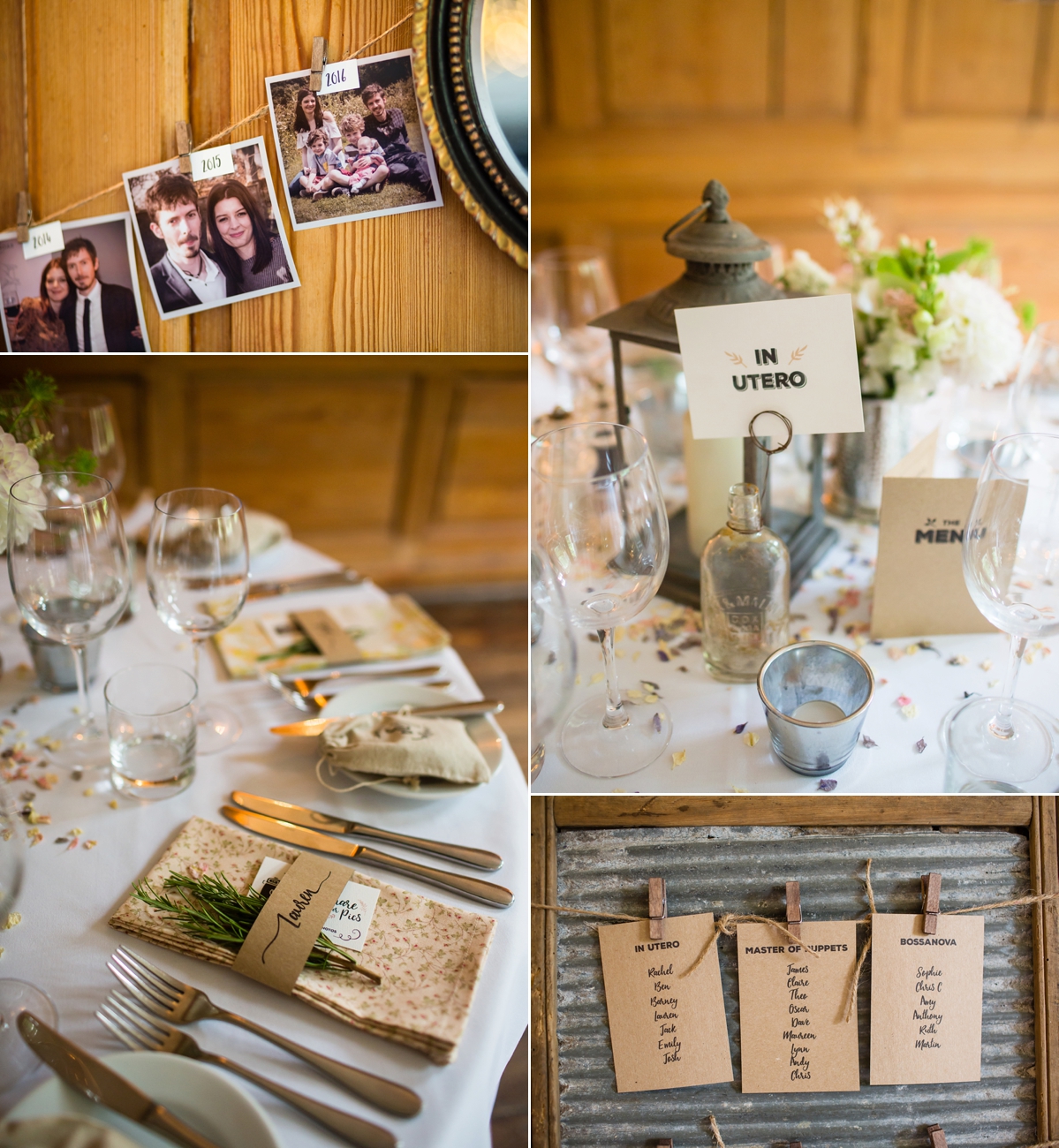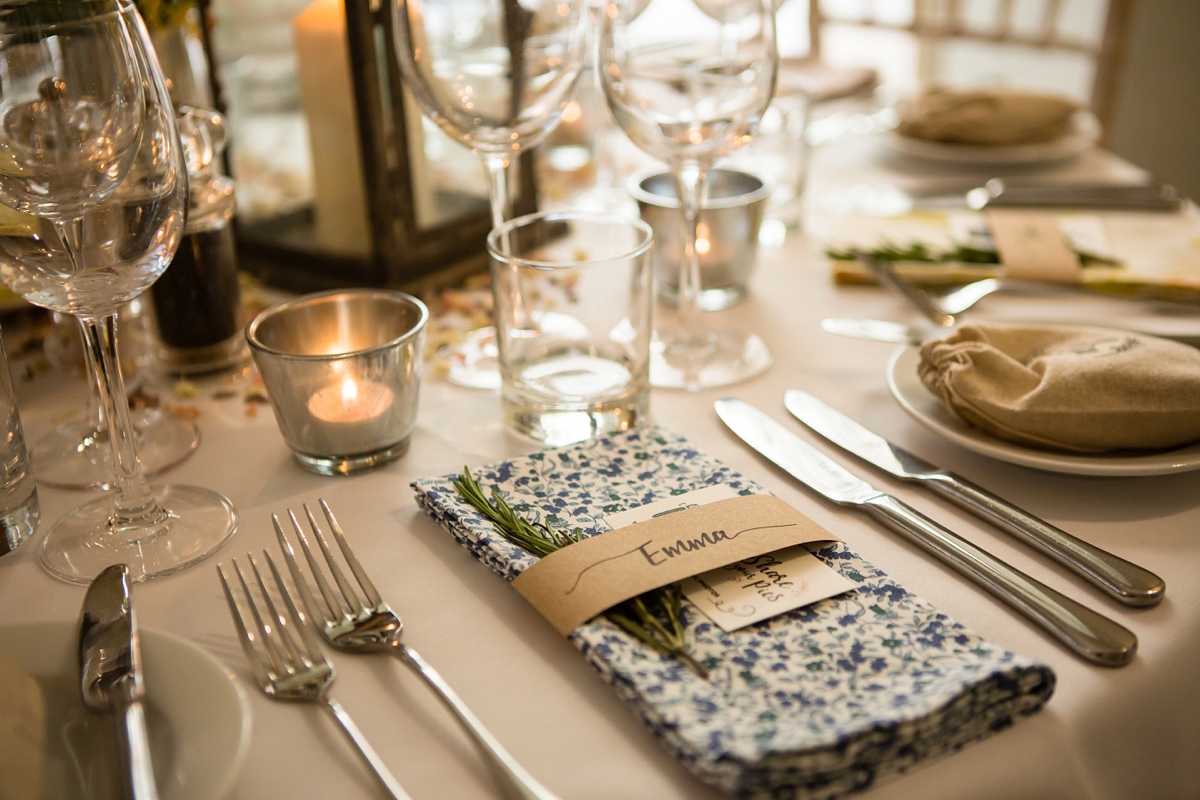 Claire was adamant she wanted to make her own wedding cake, but the time constraints of wedding planning and taking care of three children slightly derailed the plan. She did, however somehow find the time to whip up flapjacks in the days before the wedding, which placed in linen favour bags and drizzled with chocolate, were the favours for the couple's guests. Crayons and sticker books also helped keep the kids in attendance happy.
"I really wanted to make my own cake and had purchased all of the tins needed to do so. Unfortunately it was the one item I had ran out of time for. Having a small baby and two other children whilst planning a wedding proved too much, so reluctantly I had to out-source. We used a lovely, local lady called Jan Blackmore who created a cake that I'd had in my mind, a simple three-flavoured stack of red velvet, vanilla and lemon with butter icing and real flowers. She did a great job and it was a huge relief and meant that I could enjoy the days and morning leading up to the wedding."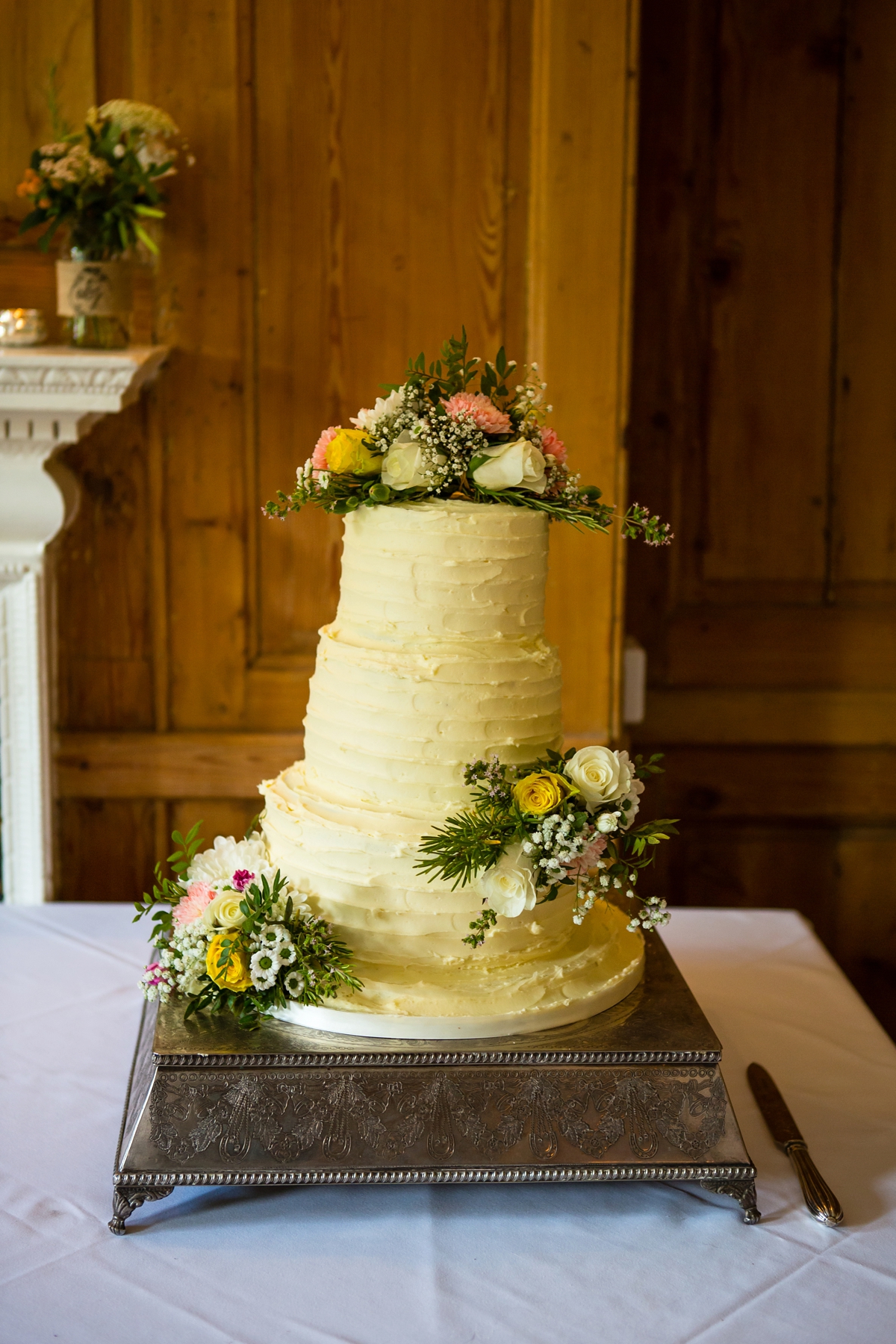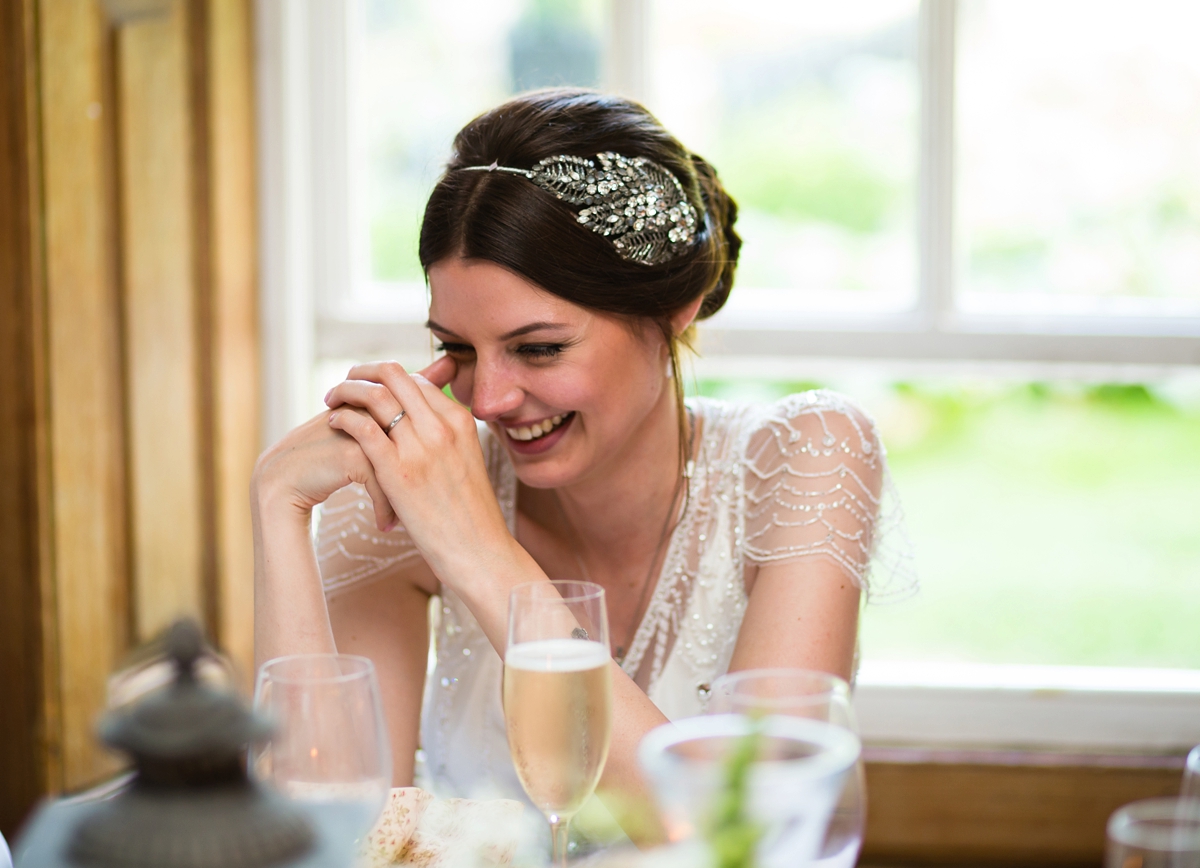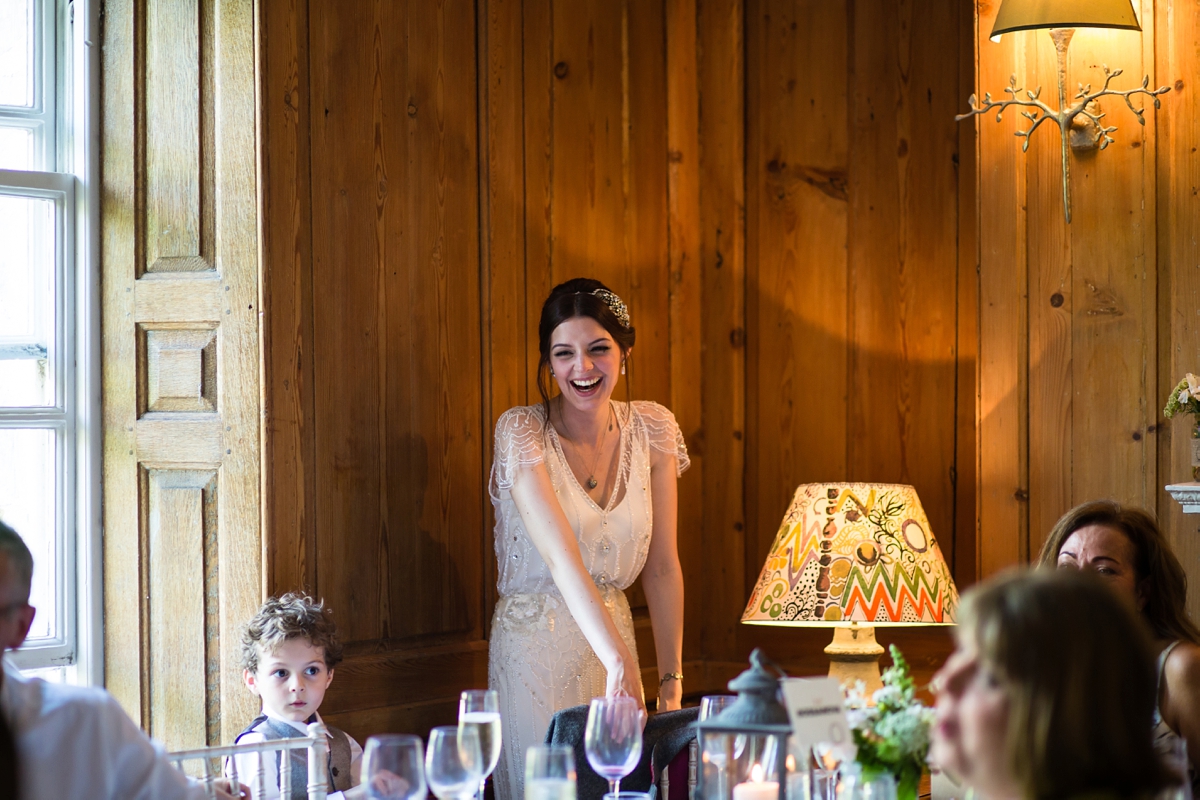 For their first dance, Claire and James chose The Rolling Stones' Beast of Burden – a song which took them a long time to choose, narrowed down from many options in the hunt for something non-cheesy. I love hearing the songs our newlyweds choose to dance to, and the huge variety of tracks that have been chosen.
"James was in charge of the entertainment as it was his area of expertise. We had decided that we didn't want just a cheesy wedding band and eventually found a good, local band who we'd seen playing at a pub. They proved the right choice and played our first dance for us. They were called Sound and The Sirens. We also spent many evenings in the build up, creating a wedding playlist of lots of our favourite tunes, including some of our first dance rejections."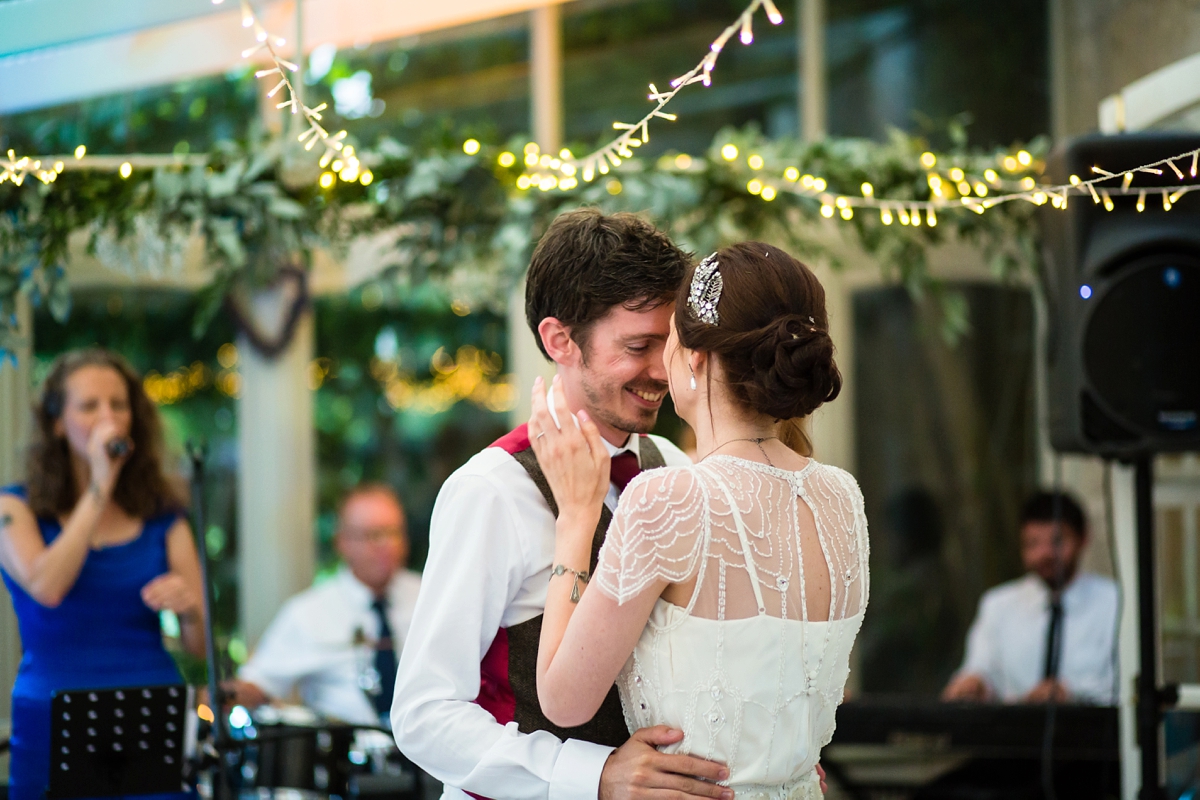 Words of Wedded Wisdom
"It's a cliché but enjoy the day and try not to dwell on anything that wasn't quite as you had wanted or expected it to be. Nobody but you will know."
"Shop around, there are definitely some services which because we veered away from the word 'wedding,' we got for a much more reasonable price. Recycle and buy stuff that you can re-use, for example the planters and pots are now in my garden, metal tankards that had table flowers in that are now used for make-up brushes and crates are now used as toy storage."
"Be organised too, I had many spreadsheets, photos and lists of things that inspired me and we spread the cost of lots of stuff by buying items as we saw them. If it all gets too much and it's no longer fun – get someone else to make the cake!"
"We both went into the planning with our heads in the clouds a bit and didn't really have a set budget. We'd been together a long time and decided it was time to celebrate and we probably spent way too much, but then we had a wonderful day so would have spent more."
"I think once the intial nerves had disappeared after the ceremony, I enjoyed every single part of the day (other than maybe the first dance). The sun came out and we had such a laugh. The speeches were great (though I know all the men were quite nervous) – they were all very heart-felt and witty, without being corny."
Thank you so very much to Claire, James, and of course to Jo Hastings Photography for sharing this beautiful day with us all.
With love,
Em x