Thanks to this lovely little job, I'm lucky enough to be able to peer into hundreds of gorgeous days and so many fabulous venues but I must admit that it's particularly exciting to write up a wedding when I've actually been to the venue myself- I love seeing how the couple has made the space their own.
Meet Jaimee and Phil, who married at Losehill House in the Peak District on the 3rd of June 2017.  I'm pleased to report that Losehill is just as gorgeous in real life as photographer Luis Calow makes it look and I love the grey tones Jaimee and Phil chose for the decor. Jaimee looked beautiful in a soft and romantic gown by Kate Beaumont.  Take a peek here for a lovely introduction to Kate's work by our own Tamryn Lawrence and here for her listing on our Little Book for Brides.
"I had seen Kate's dresses on Instagram and loved the relaxed style.  When I went to visit her I just knew she was the one to make a dress for me.  I originally picked out a dress but had a question of confidence when I heard she was making a new collection.  She was happy for me to wait and see the new dresses and I'm so pleased I did.  I ended up with the skirt of my original choice and the top of a new dress.  It was so perfect for me."
Photography by Luis Calow via One Wedding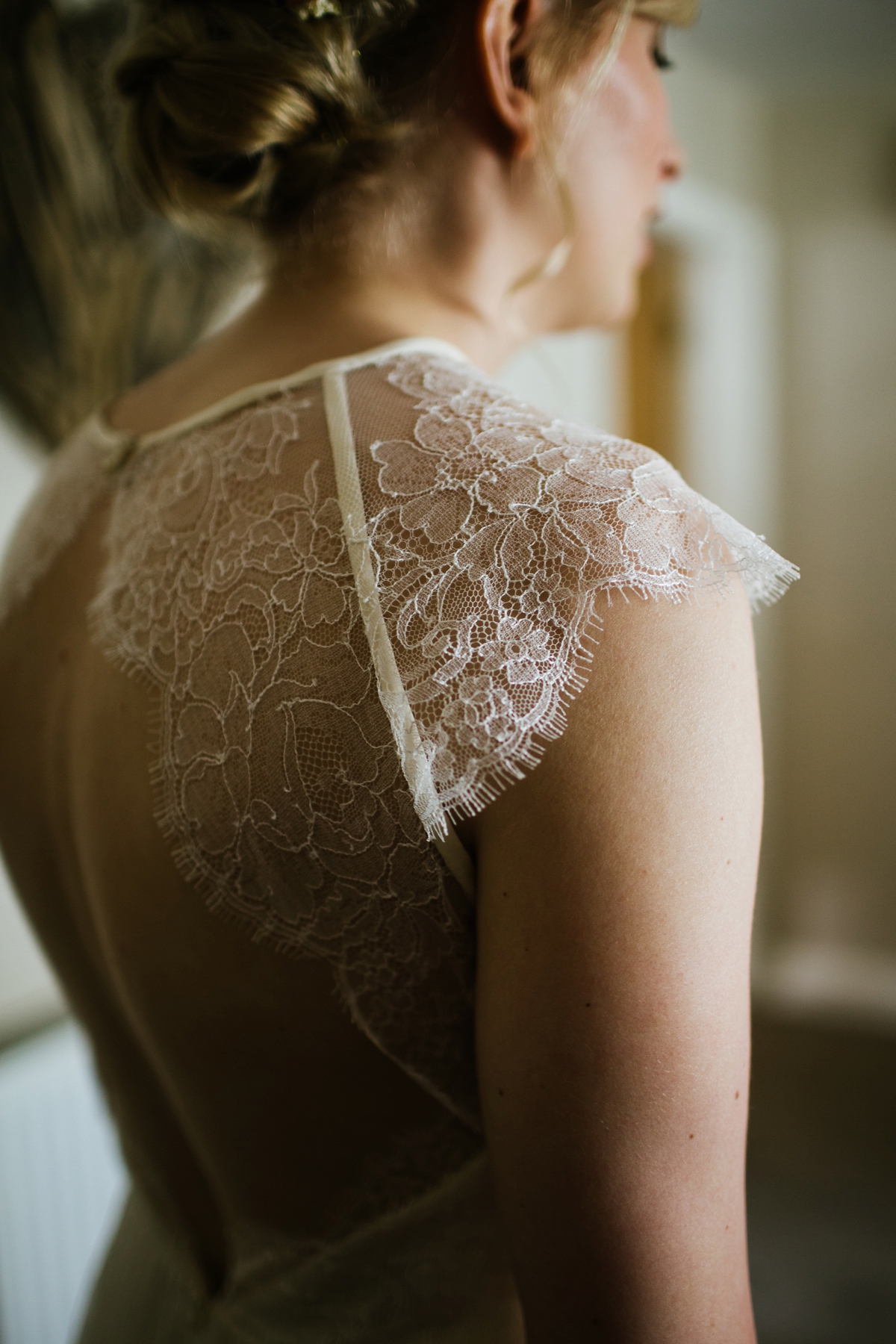 "Our venue was in a beautiful location with amazing views so we wanted our styling to complement that.  We didn't want to have to commit to a colour theme early on so we went with grey invitations and it blossomed from there."Hair was by Kelly of Taylor Taylor, while make up was by Emmalene Beck.
"Kelly is my usual hairdresser and I was so relaxed having her do my hair on the day."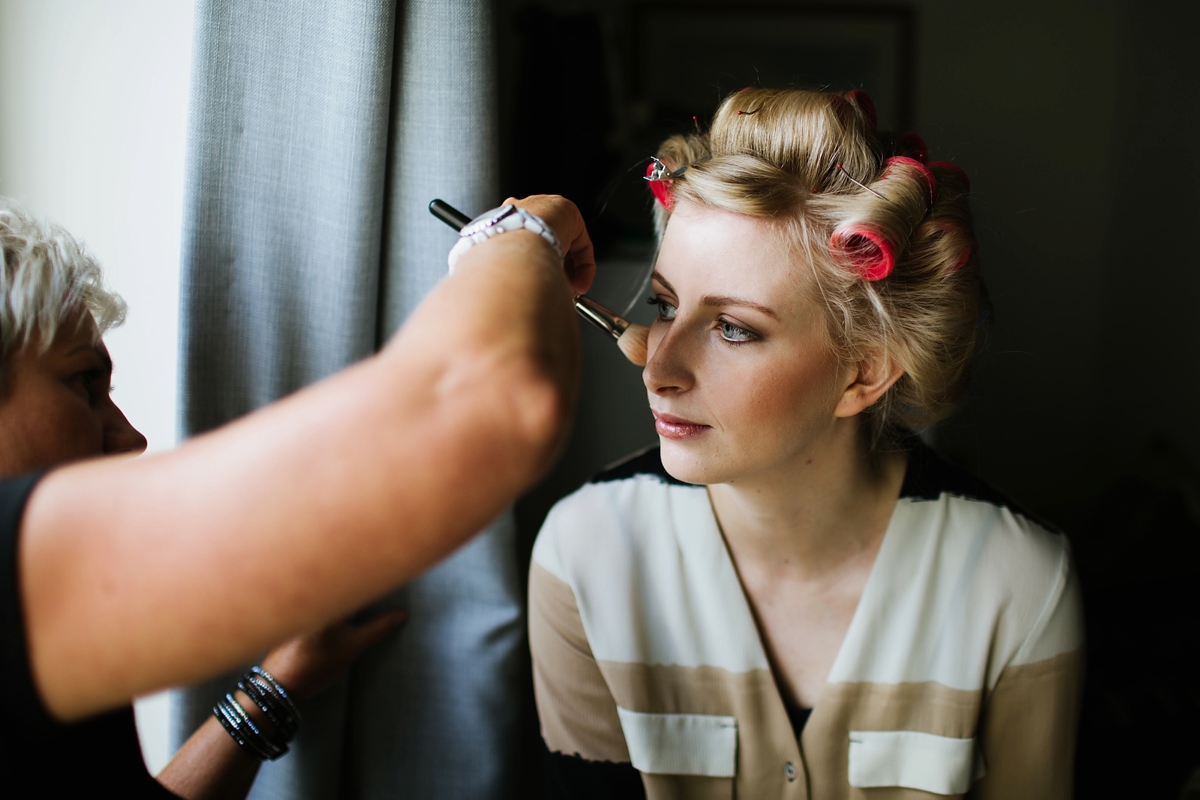 Jaimee wore shoes by Aldo, while in her hair she wore the most gorgeous mix of dried flowers from Artisan Dried Flowers.  I love the plaited hairstyle and the flowers are just the perfect finishing touch.
"For jewellery I wore a bracelet my Mam got me as a gift a few years ago.  It has sentimental value and made me feel happy putting it on that day."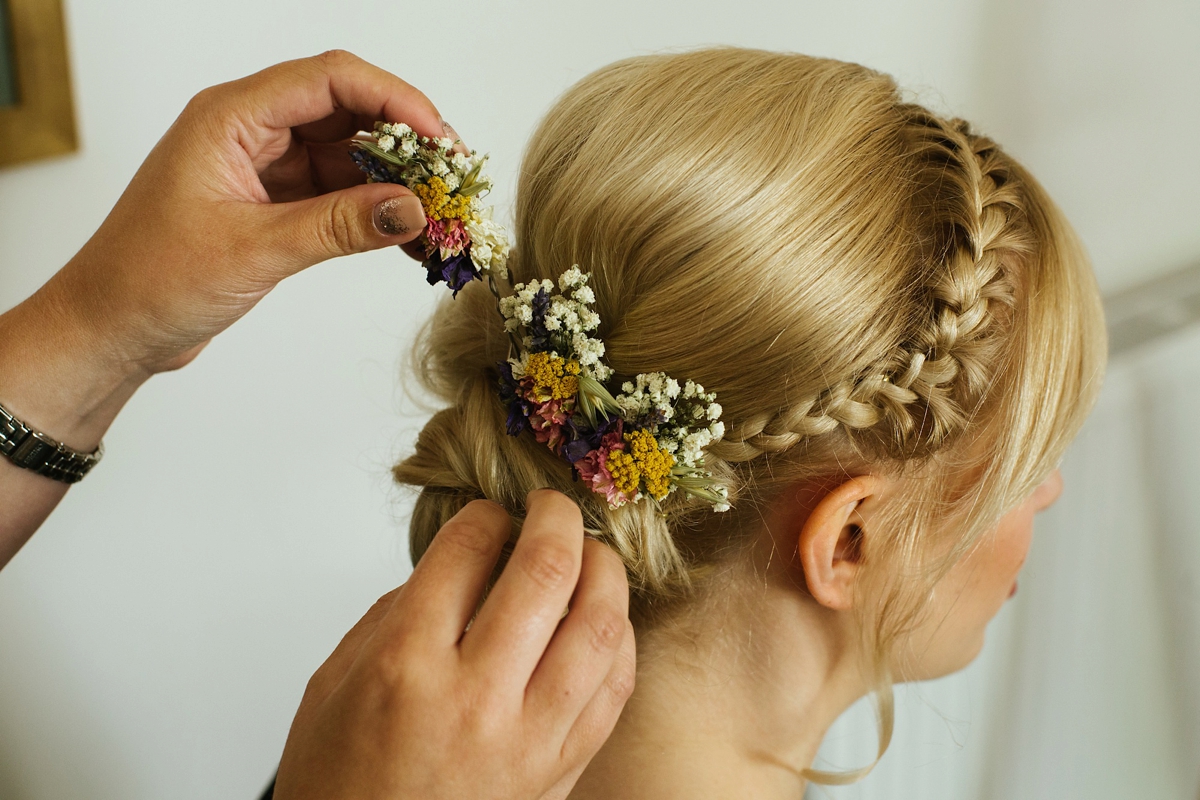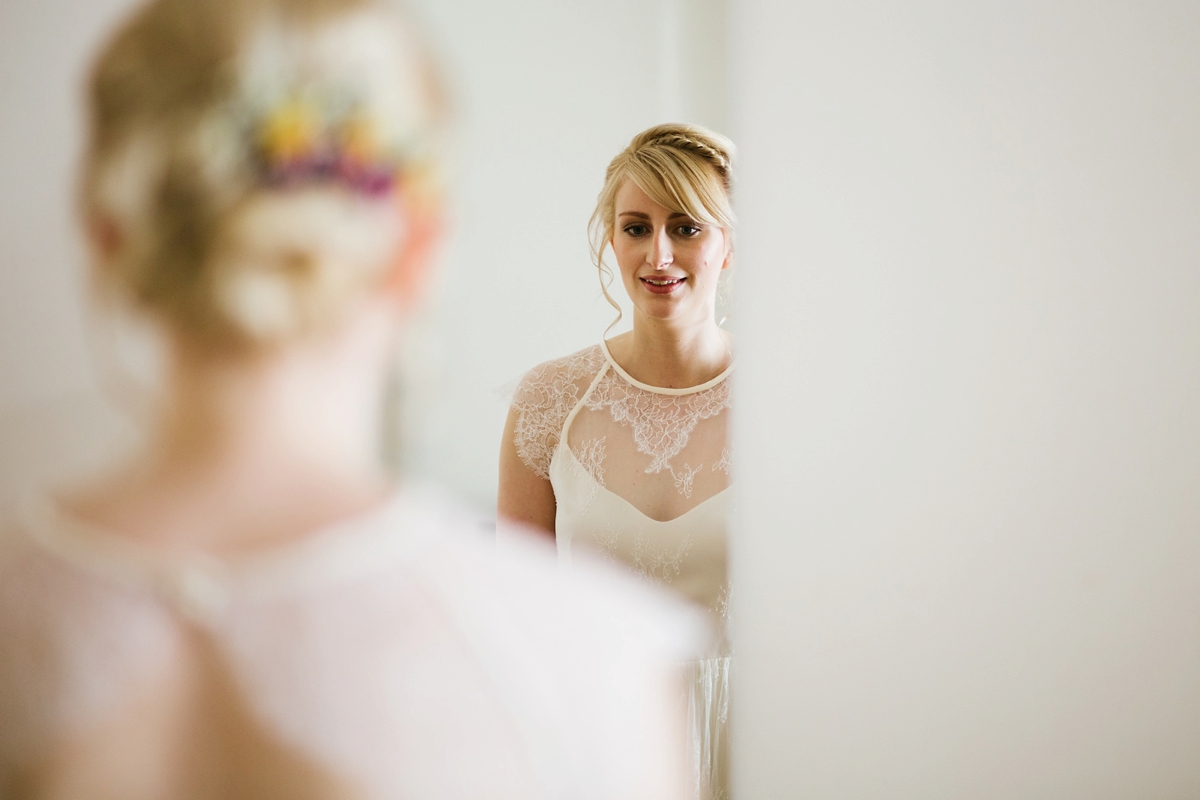 "We chose Losehill House due to its location and fabulous views and as it was close to our home. Before getting engaged we had a Sunday lunch here and I gave Phil the subtle go ahead for engagement by pointing out it would be a cute wedding venue. We didn't look anywhere else!"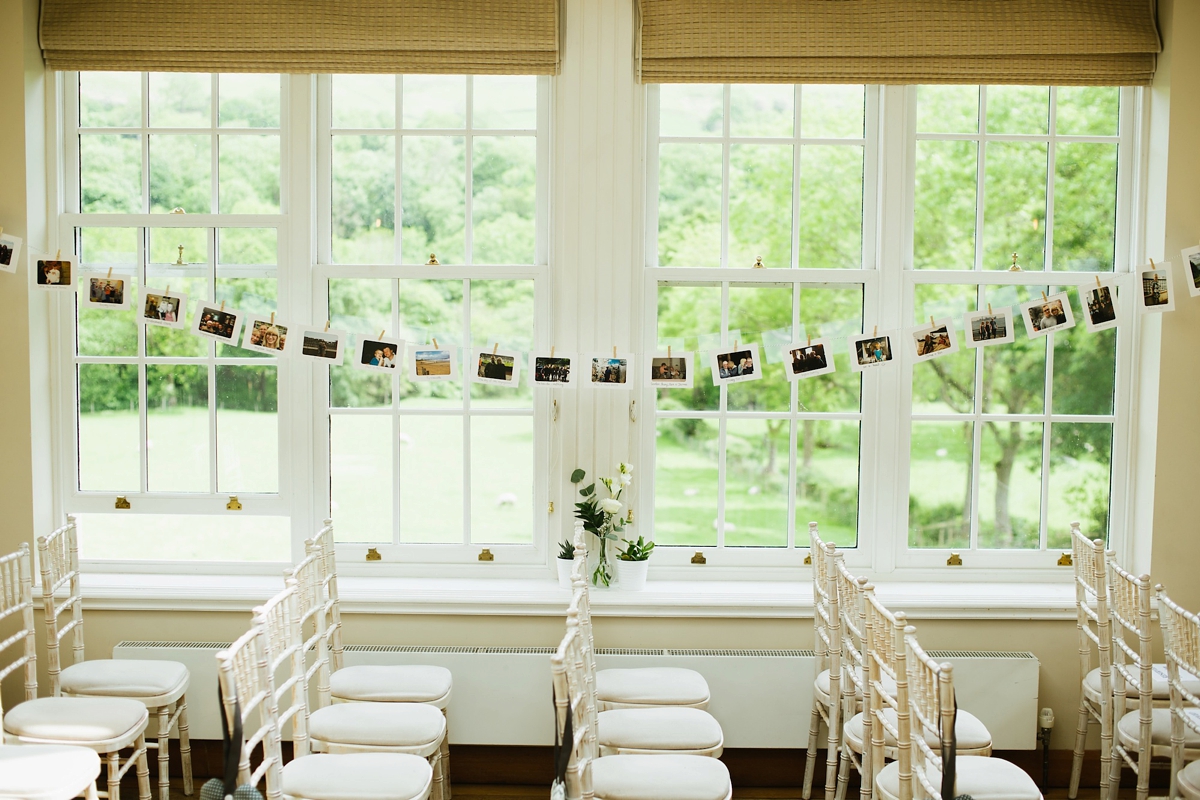 "We met via a mutual friend while both studying at university in different cities.  Fast forward a few years and we had our first date; the rest is history.  Phil had joked about proposing with Haribo. On a wet December day on the way to the metro station Phil nervously produced an unopened bag of Haribo and asked 'do you want one of these?'."
"I asked if it was what I thought it was and he nodded.  I said yes and ate some sweets.  A few hours later, having been and chosen a ring together, I pointed out he still hadn't asked me to marry him and he popped the question over a pizza lunch. We then went to a football match (unfortunately Newcastle drew 1-1 and couldn't help with the celebrations)."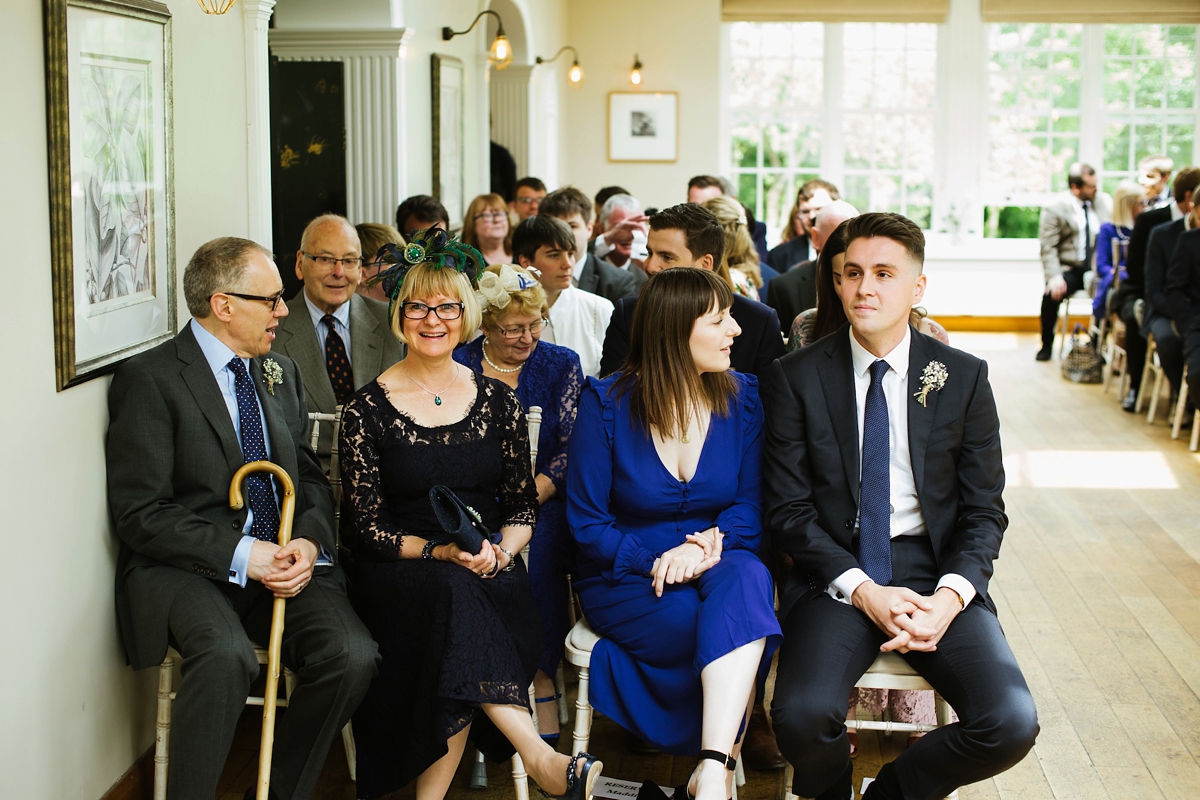 Jaimee had just the one bridesmaid, childhood friend Clare, which made choosing a dress very easy.  Just a couple of weeks before the wedding the ladies picked this fabulous floral number from Coast, which Claire wore with shoes from Office and a bracelet from Not on the High Street.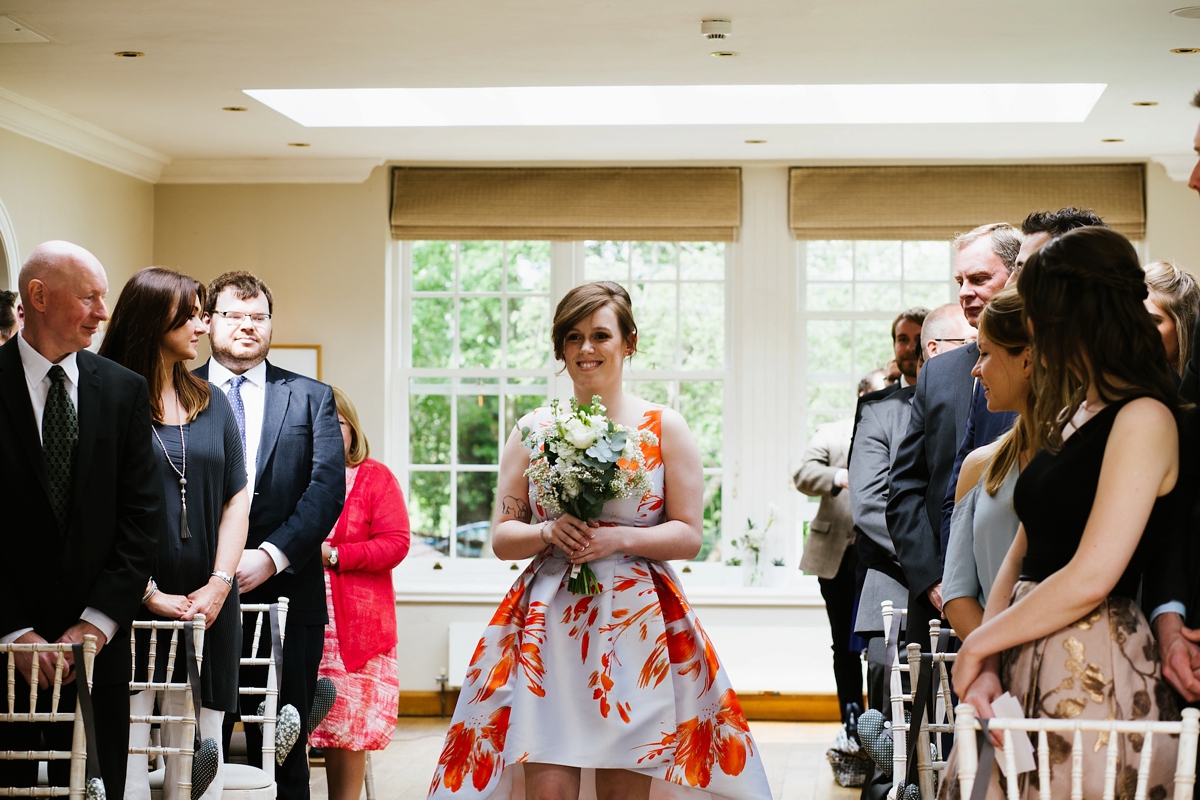 "My Mam walked me down the aisle.  She is a mama and a papa and I was so pleased to have her beside me.  She claimed she didn't cry but the pictures tell a different story!"
Jaimee and her mum walked to 'Toothpaste Kisses' by The Maccabees.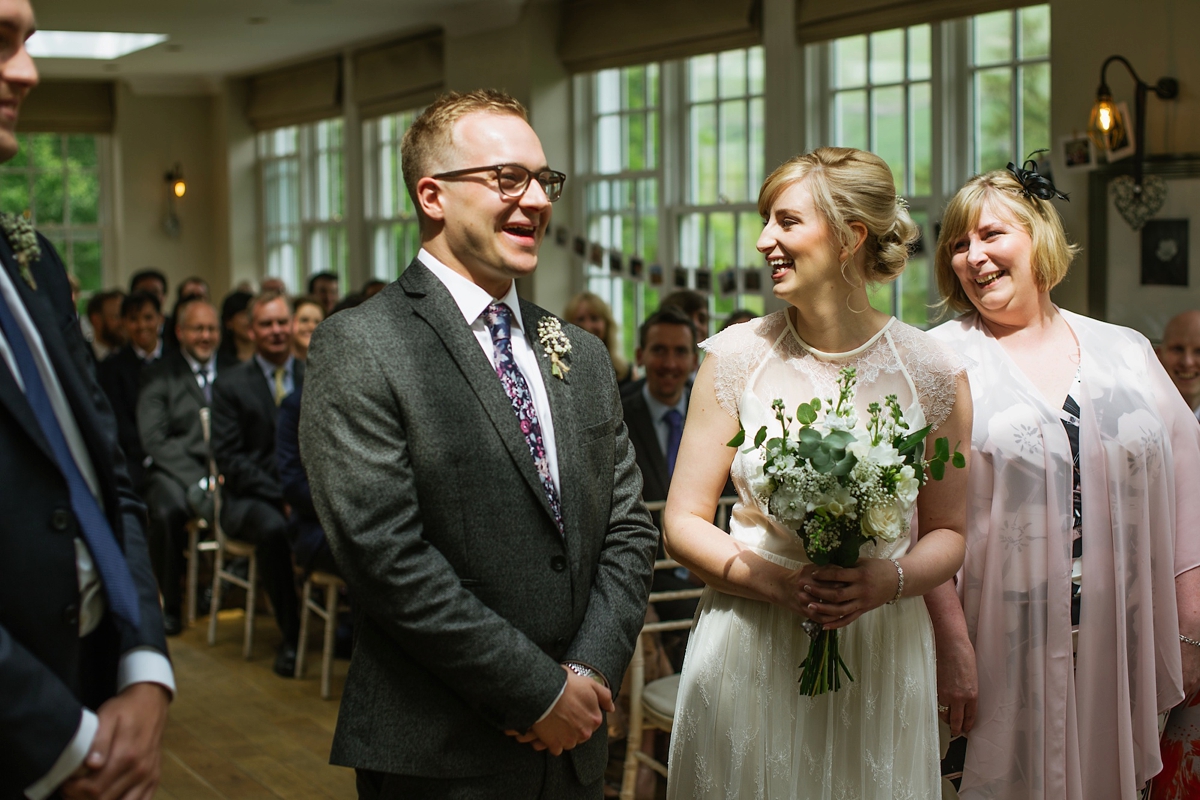 "We had a civil ceremony and selected the shortest vows available.  Even the registrar commented it would be over quickly when we met him before the ceremony but this was perfect for us.  We wanted to share our love for one another via marriage but never felt the need for a grand display."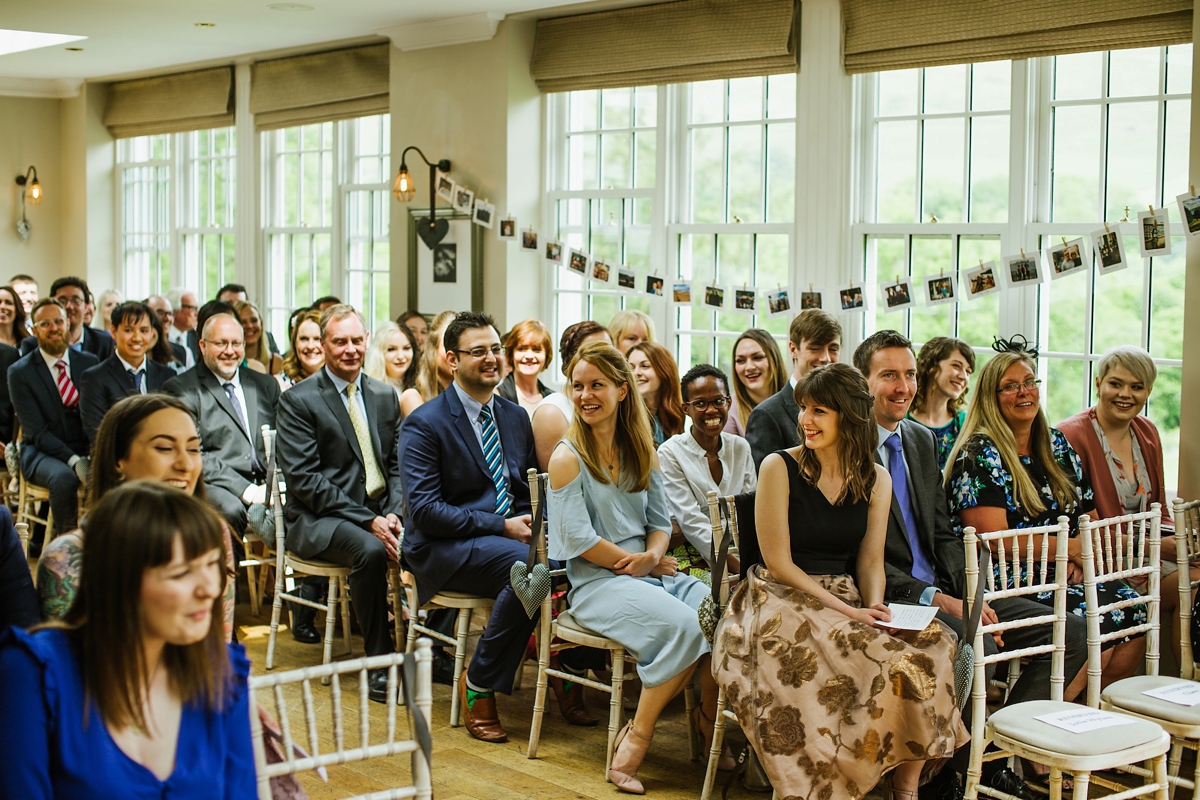 "We had two readings by close friends.  We chose them together and felt they represented us and our relationship.  The first was 'An Oath of Friendship' and the second, 'Weirdness' by Dr. Seuss."
We are all a little weird and life's a little weird, and when we find someone
whose weirdness is compatible with ours, we join up with them and fall in
mutual weirdness and call it love."
"We selected rings from Reid and Sons in Newcastle- a jewellers established in 1778 with original features and bags of charm. We purchased my engagement ring here and it felt right to come back for wedding bands."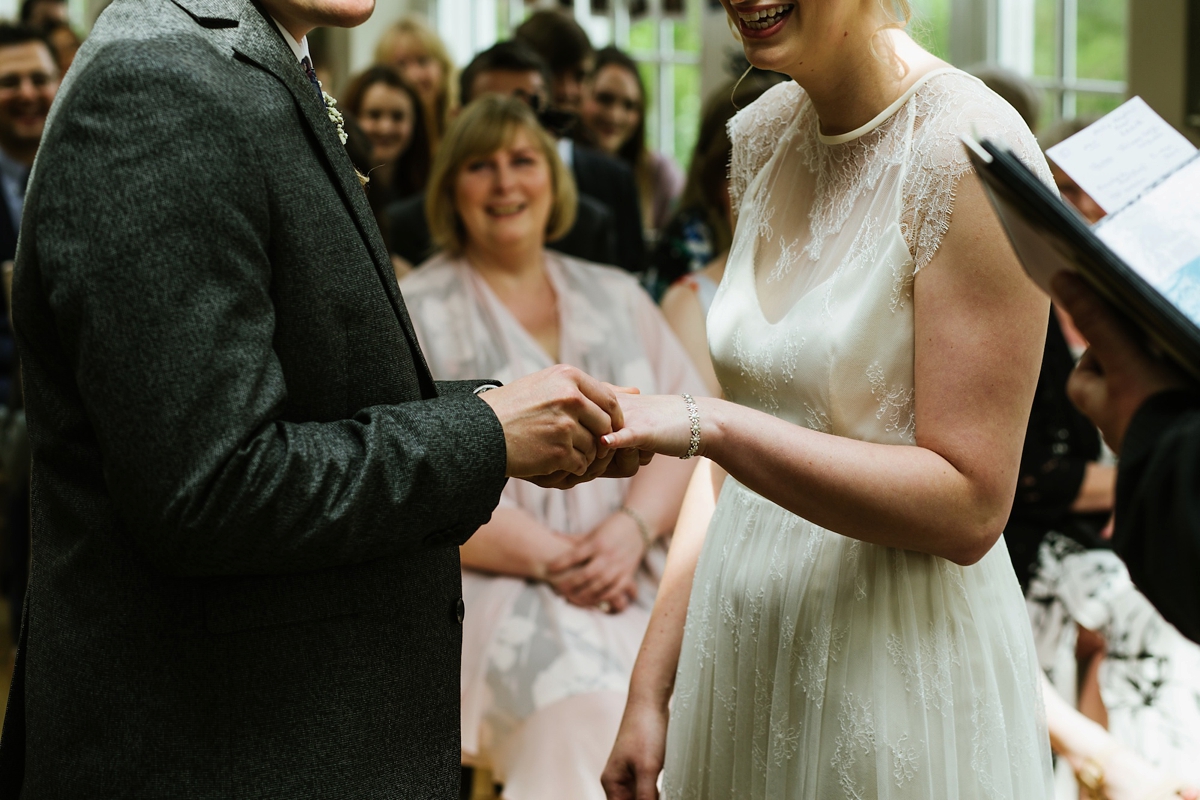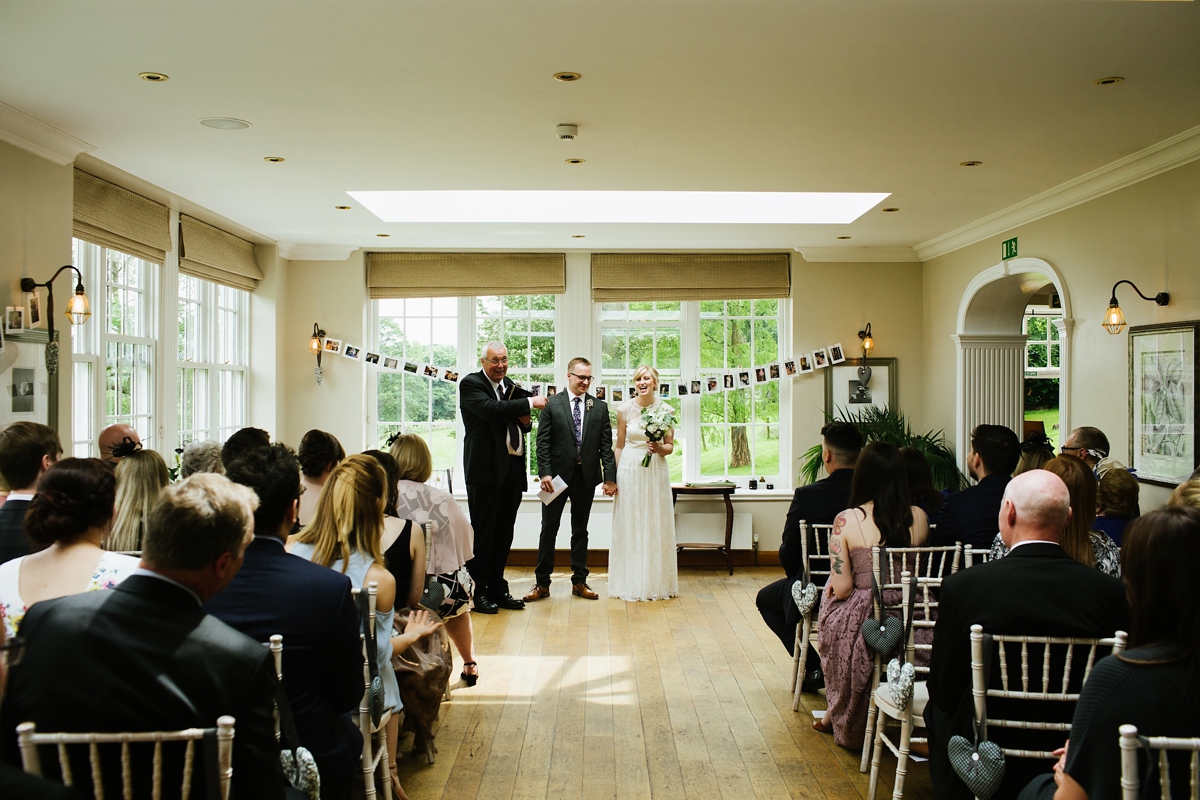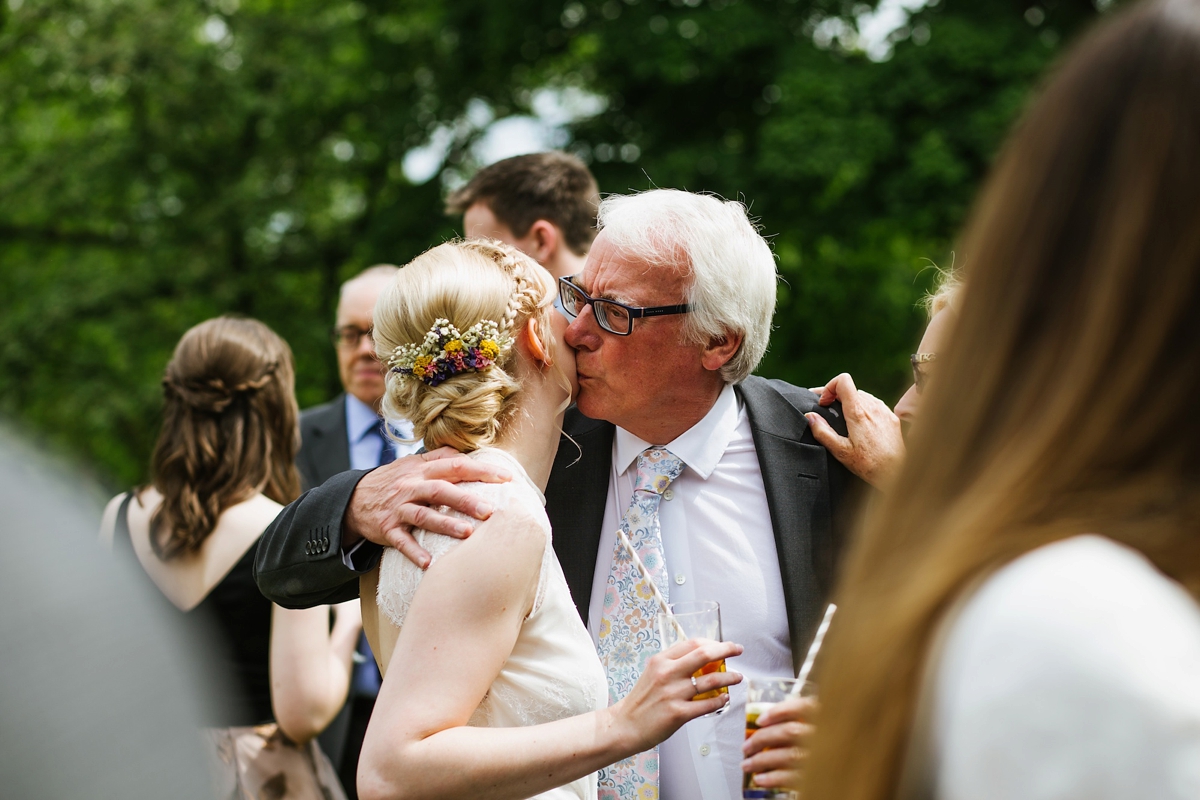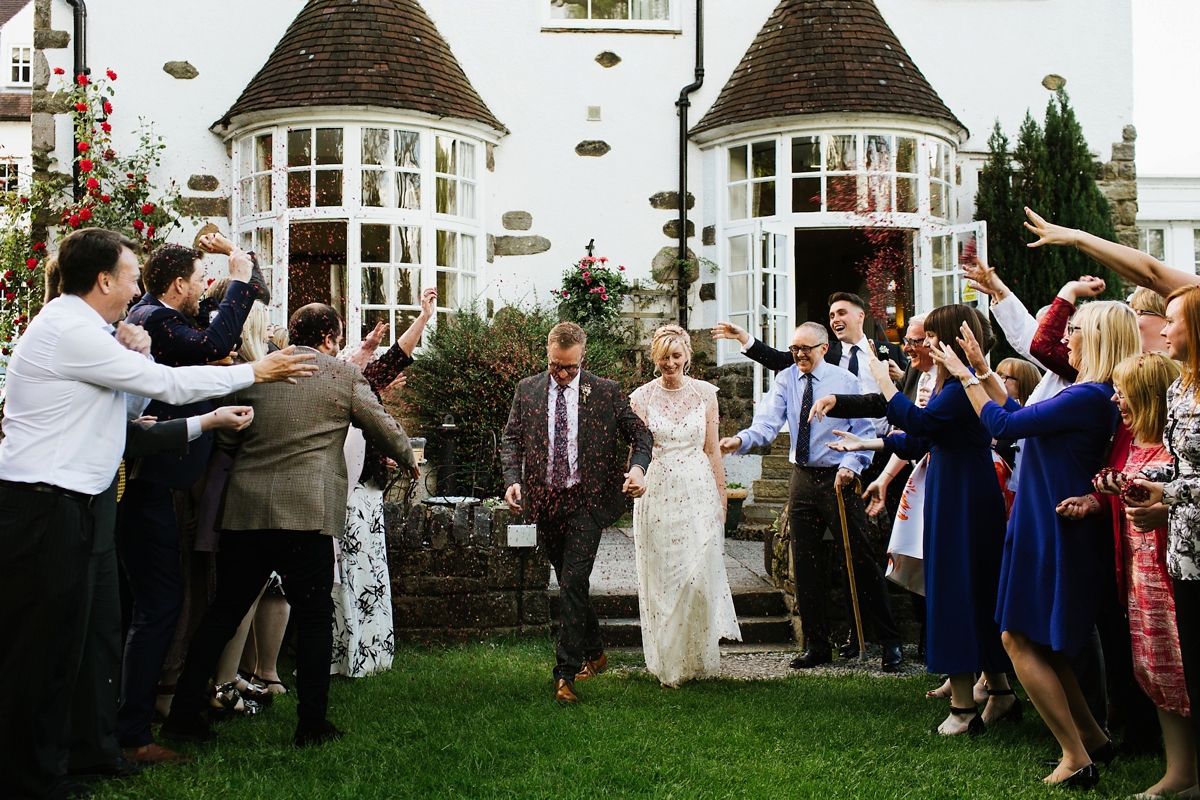 Photography was by the talented Luis Calow, who captured the day beautifully.
"We booked Lu via One Wedding, as we loved his relaxed style.  Neither of us like having our picture taken and we didn't want to spend a lot of time on our wedding day posing for photographs.  Lu was perfect.  He was beavering away in the background catching moments perfectly all day. We had some group shots and some couple shots but these were not heavily posed and our fun wasn't interrupted for them which was just what we wanted."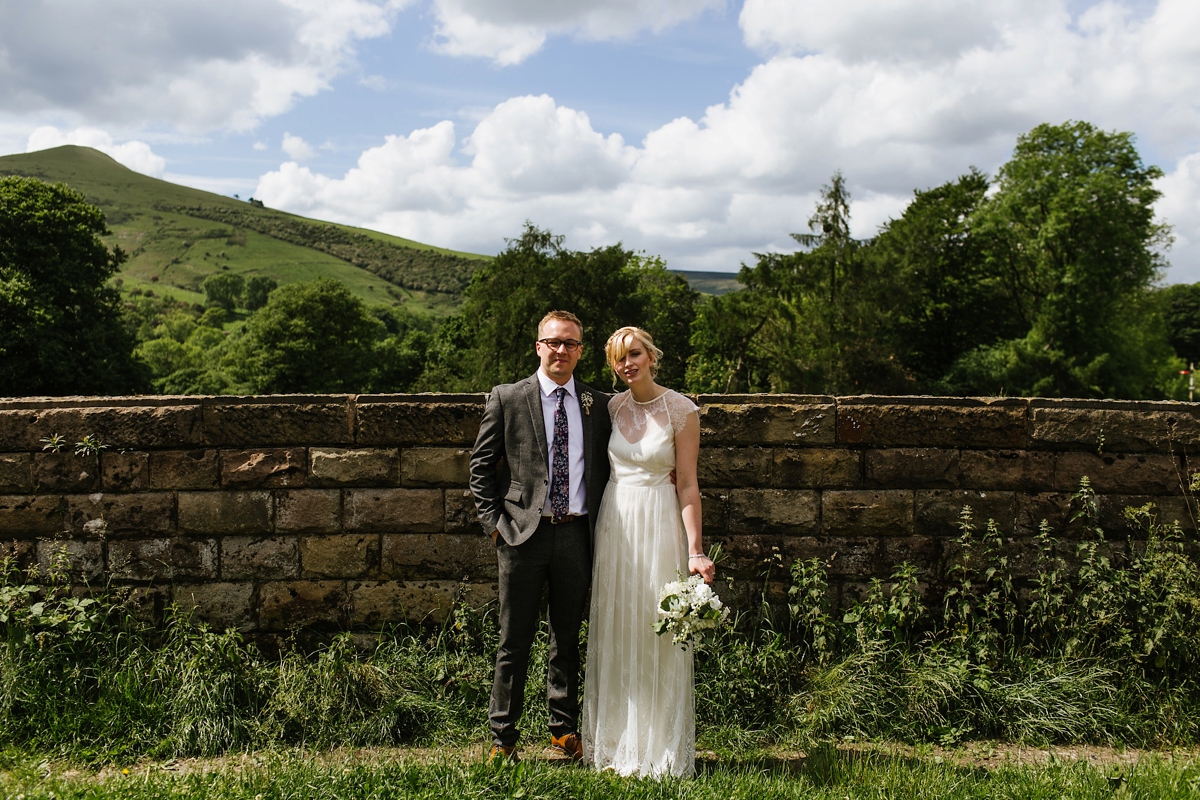 "We ordered wholesale flowers from Triangle Nursery and I put them together with my mam.  We had already decided we'd like succulents on the tables; we have a house full of succulents and cacti so it made sense."
"I'd ordered buttonholes from Artisan Dried Flowers when I picked out my hair clips so all that was left to do was a bridal bouquet, a bridesmaid bouquet and some decorative vases. It was slightly stressful but I'm glad we did it ourselves."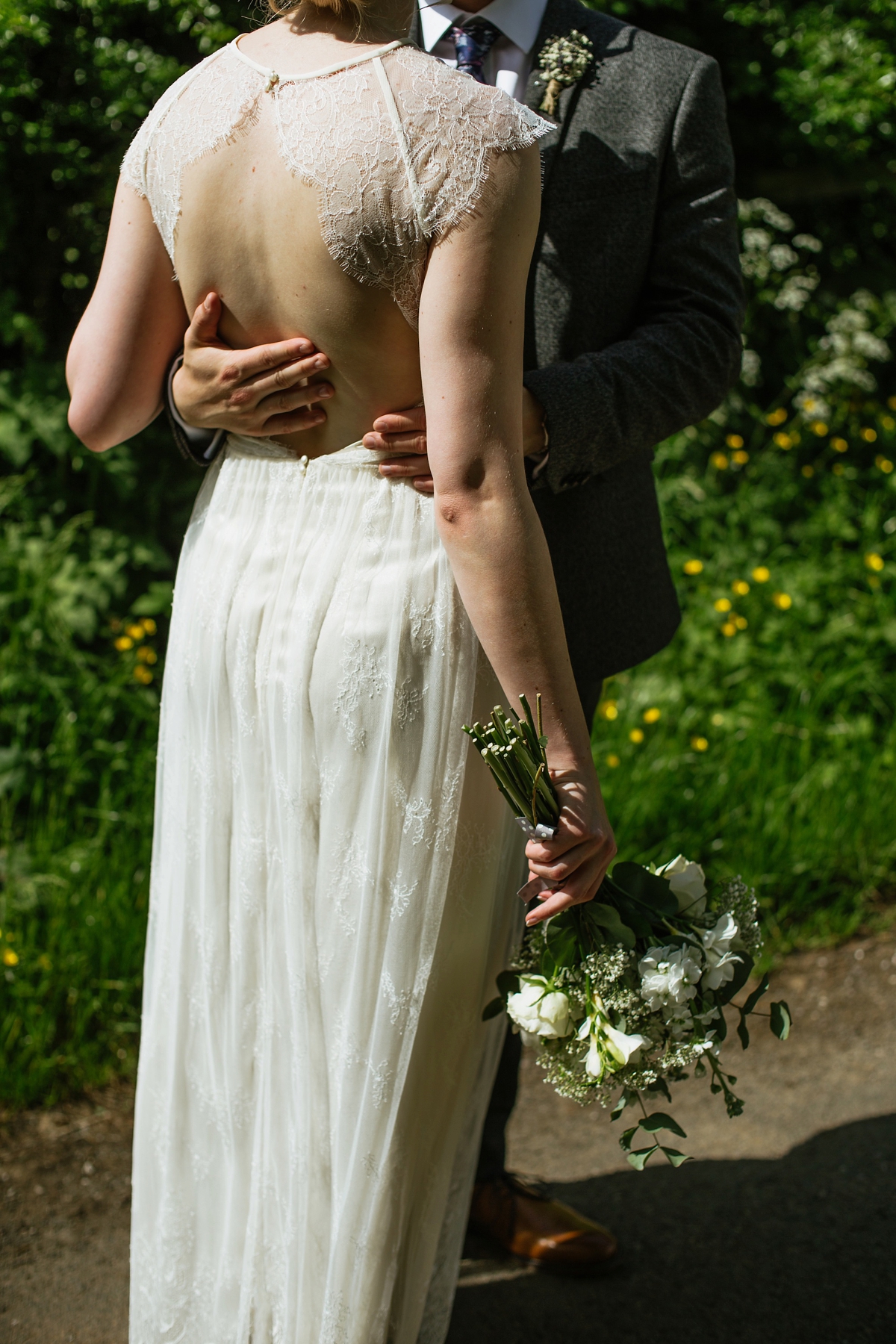 Phil certainly didn't let the side down in his smart two piece suit from Marks and Spencer, which he wore with Charles Brooks Shoes, a shirt from Hawkes and Curtis and a really gorgeous tie from House of Fraser.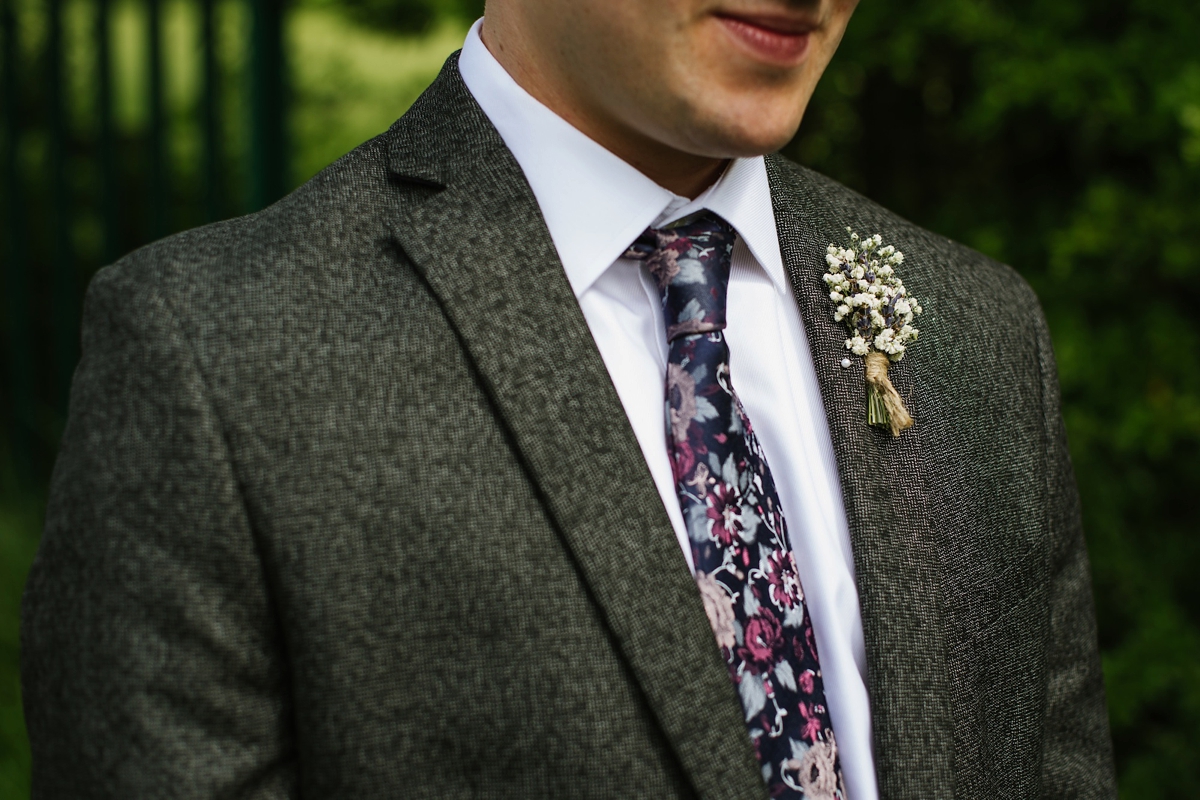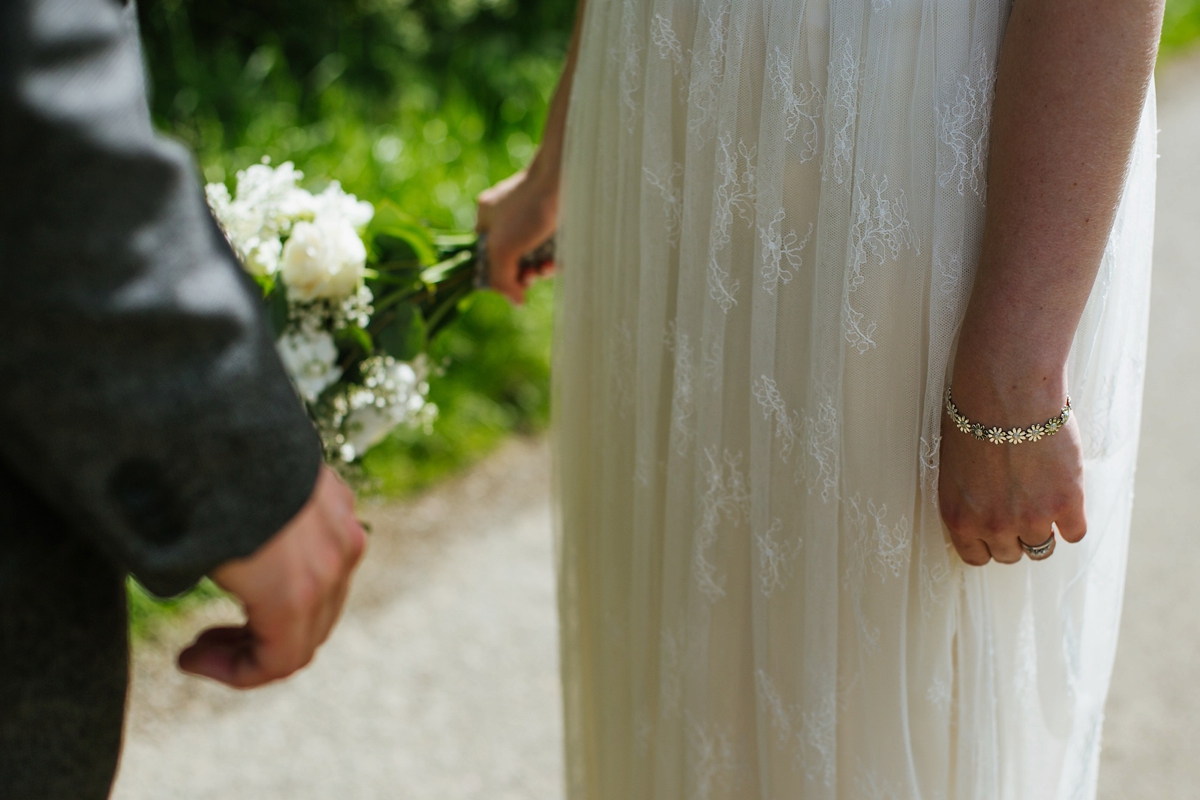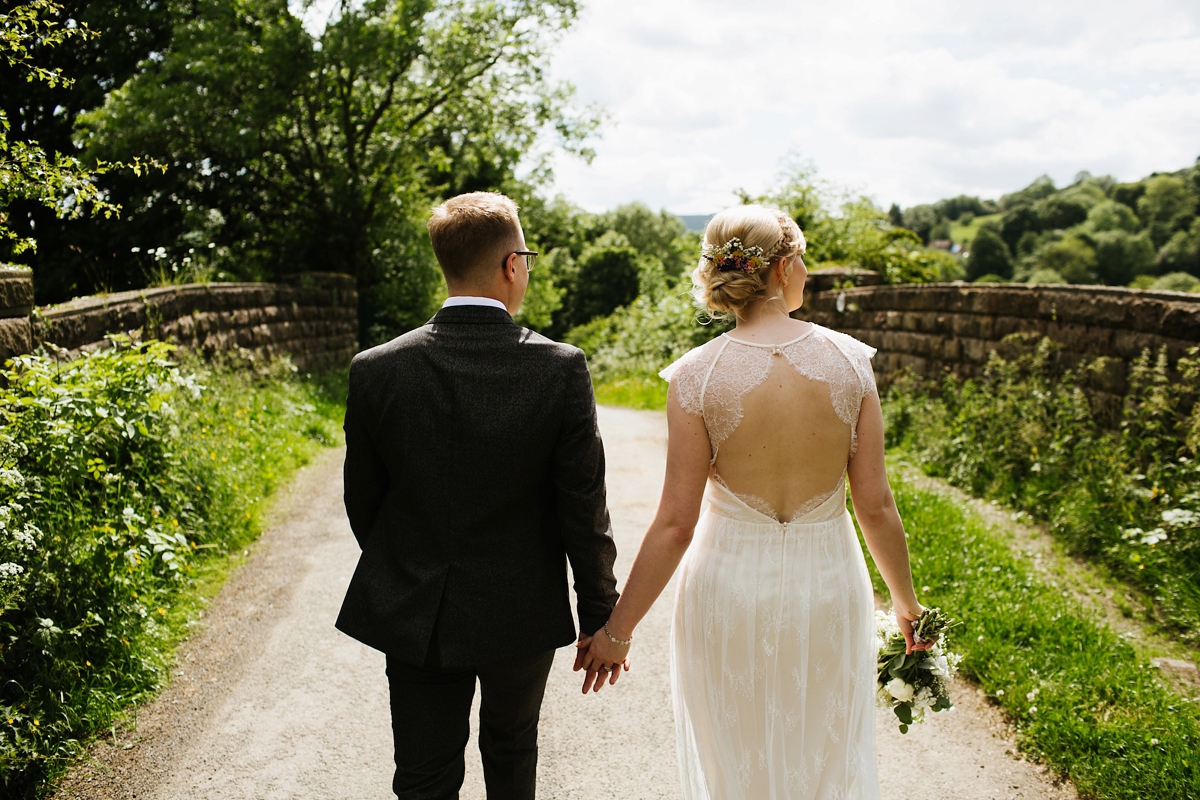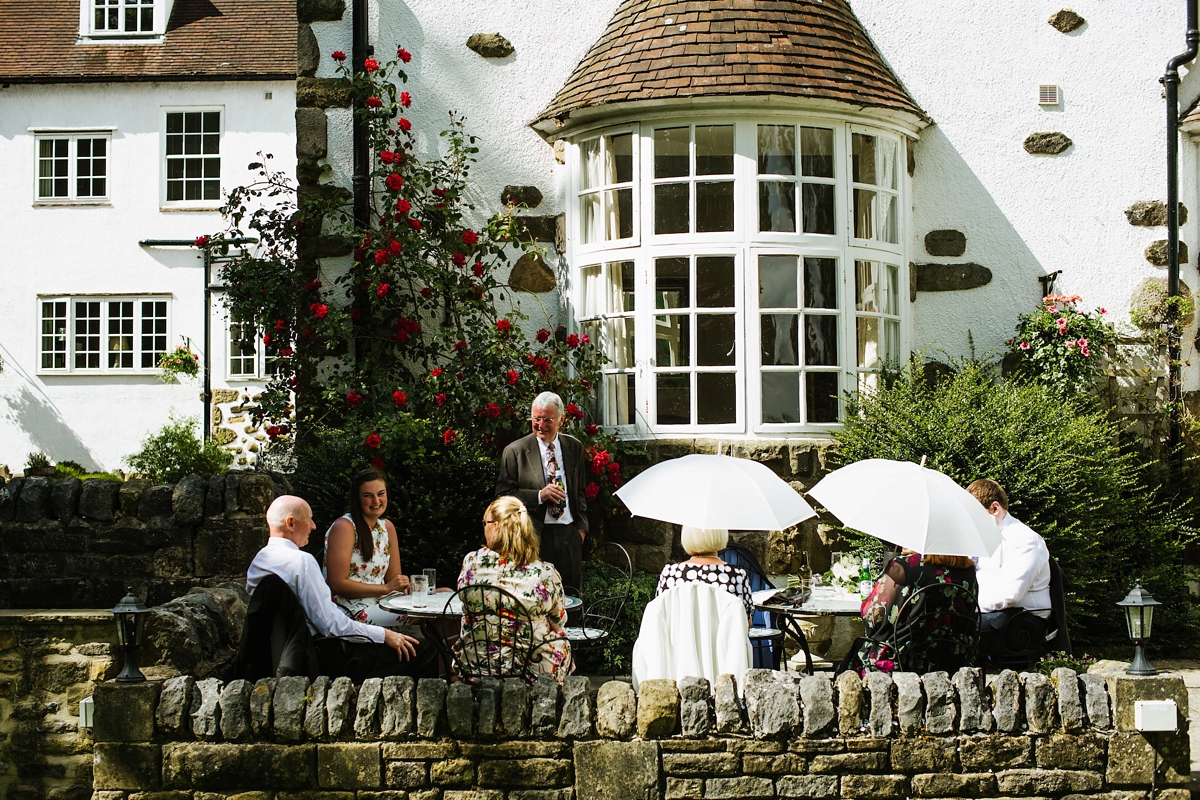 Catering was the work of Losehill House, with the exception of the absolutely delicious looking cake table, which was put together by Poppies Bakehouse.
"Poppies is a café which I'd been to a few times before I went to ask about wedding cakes. When Natalie suggested a cake table I loved the idea.  Everyone commented on how tasty the cakes were and as an added bonus we ate leftover chocolate cake in bed the next day."
"For favours we provided guests with a sweet bag of Haribo to represent our engagement. We included a small card to explain the choice."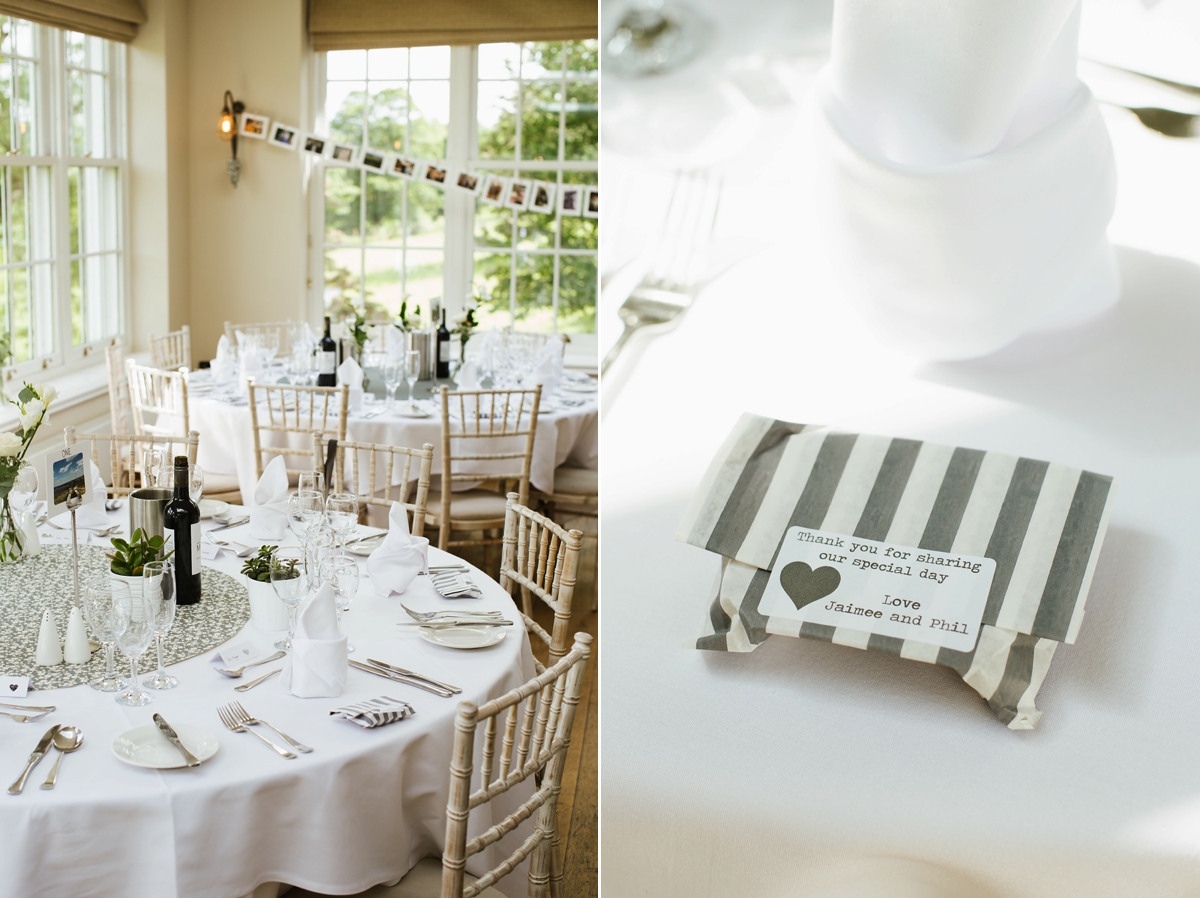 "Phil's mum is an amazing seamstress so we enlisted her to make circle cloths for the table centres and matching hearts to line the aisle and she used the same fabric to line crates for cards and confetti. It looked amazing on the day and the fabric hearts acted as great keepsakes for some of our family and friends."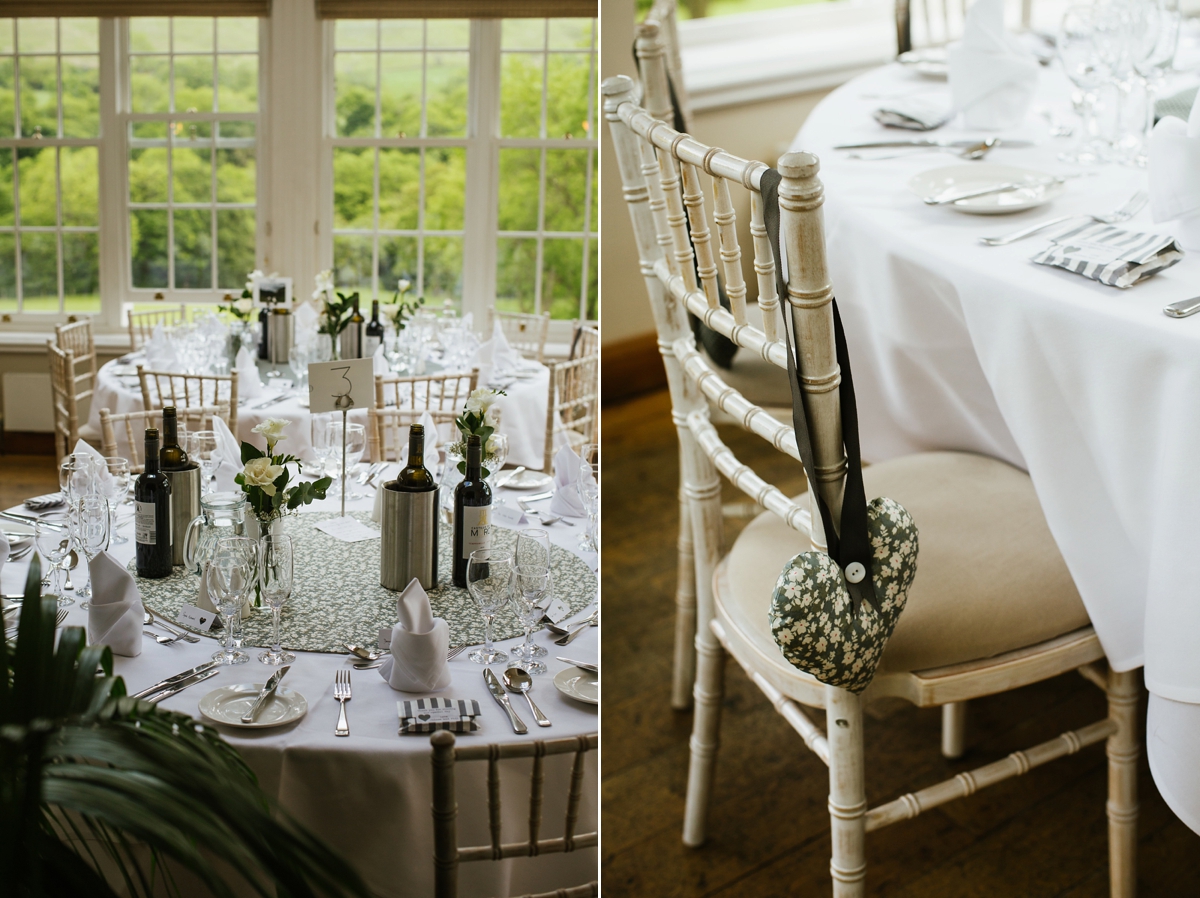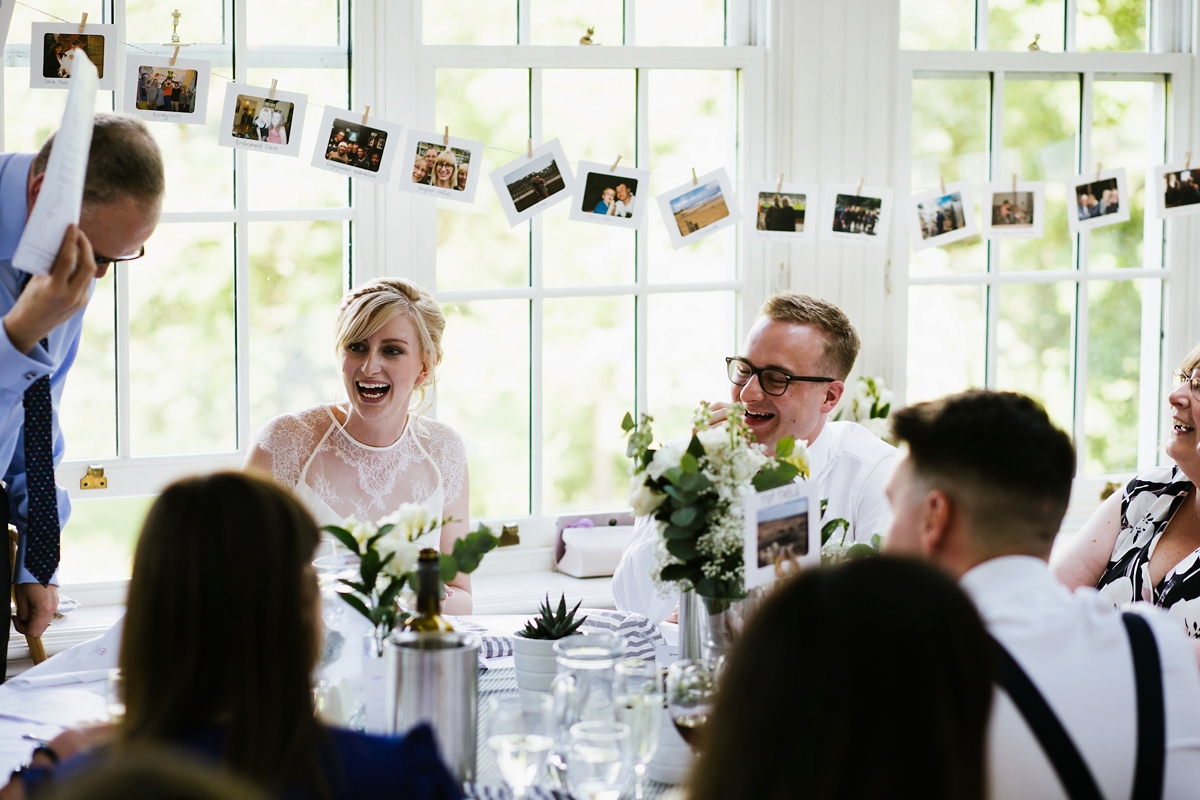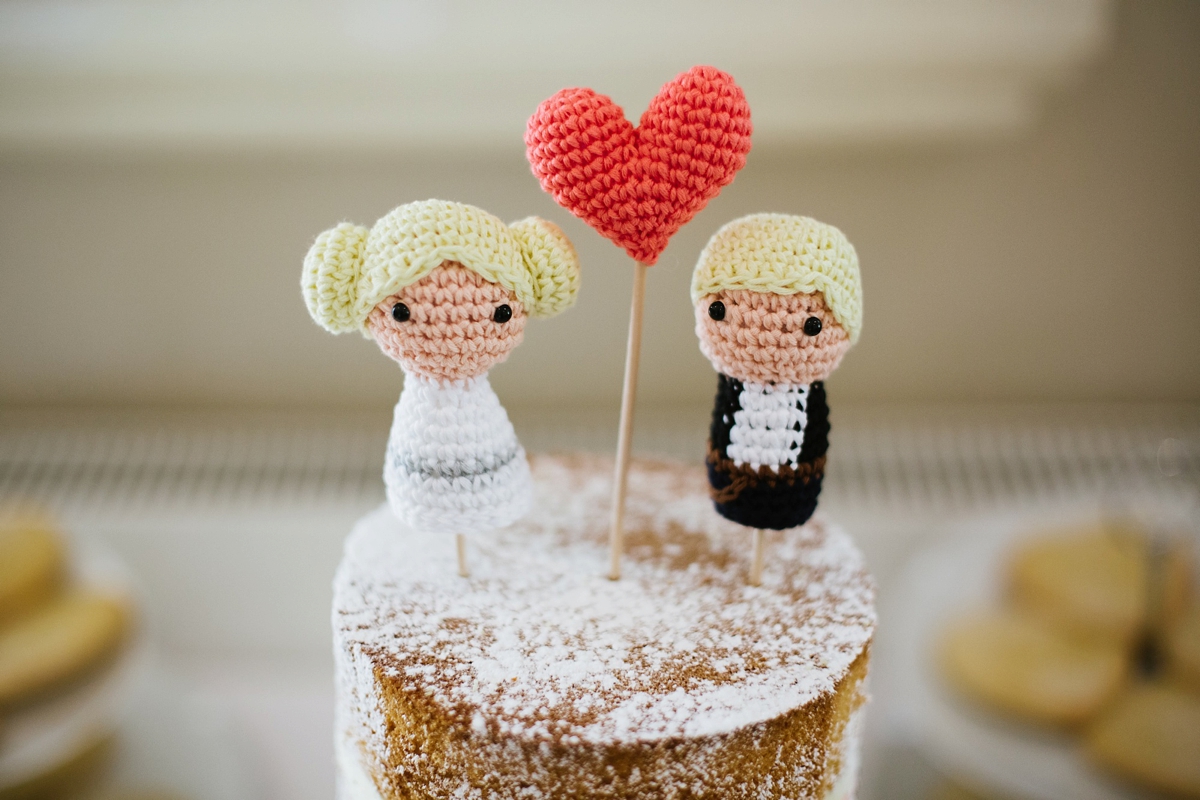 Entertainment came in the form of XTC Discos, who kept the dance floor full all night and provided the first dance song too- 'Dancing Shoes' by the Arctic Monkeys.
"I find it really hard to pin down a favourite part of the day because the whole thing was so good.  Some highlights include Phil having to think about his name during the ceremony, walking out of the ceremony when I was more relaxed and could appreciate all of our friends and family being there, sitting just the two of us for five minutes before dinner, the speeches and dancing to Steps with my mam and mates."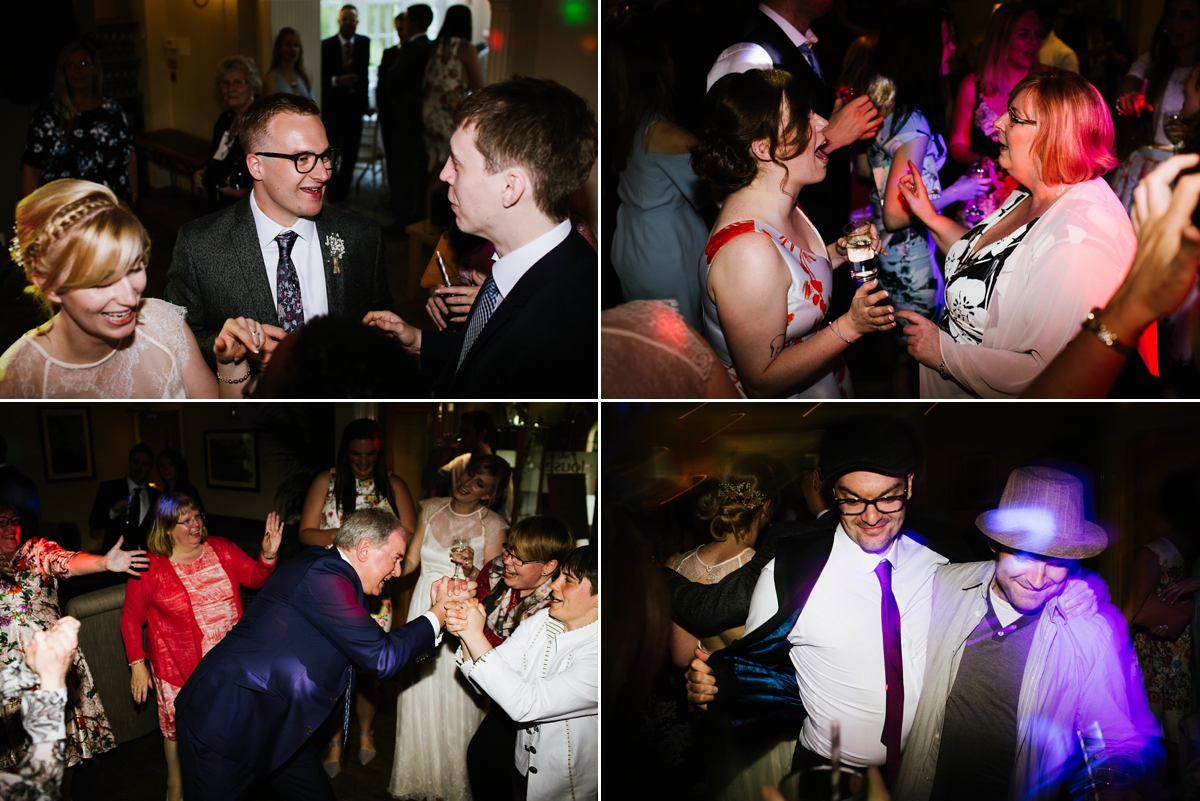 Words of Wedded Wisdom
"I never imagined I'd get married.  I always told Phil he'd have to wait ten years before he could even propose – it was about half that, but when you know, you know, and it turns out a wedding is great fun!  I always viewed it as a giant party where you tell all your family and friends (who already know it) that you love each other."
"Forget the preconceptions of what it should be or what other people want it to be and plan a day that is right for you as a couple."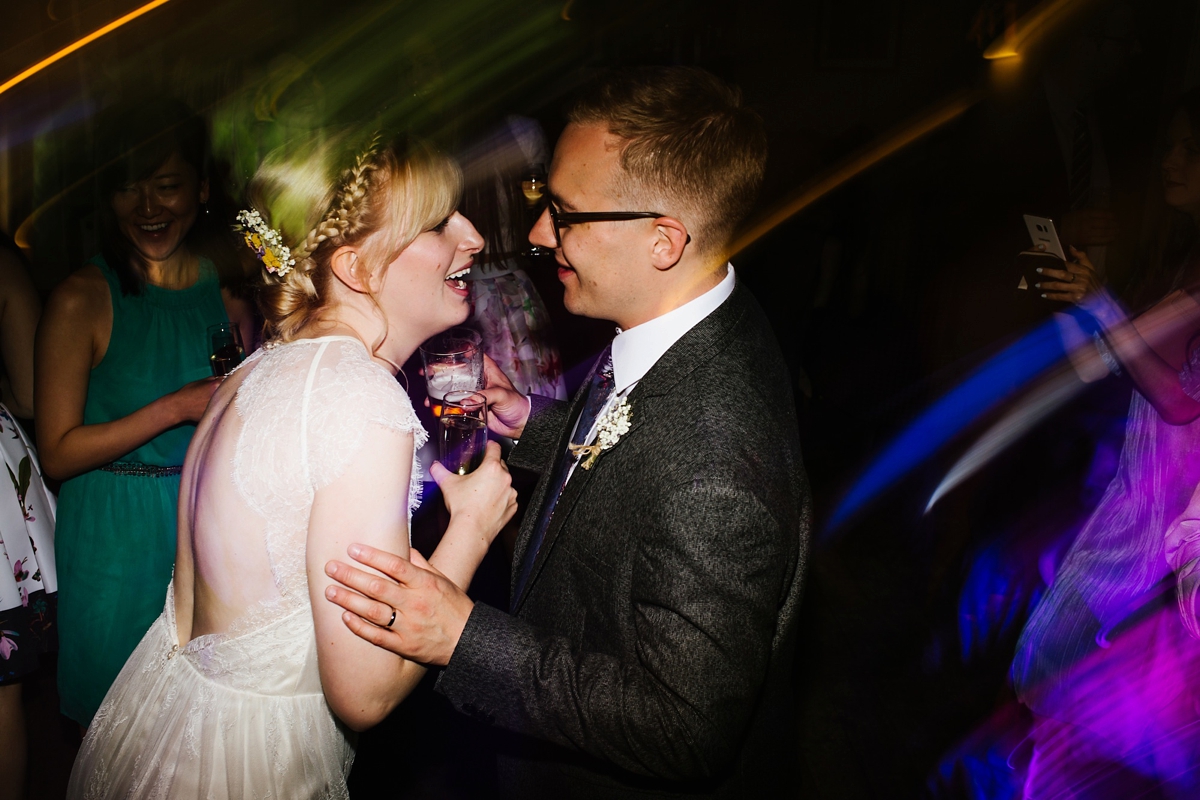 Huge thanks to Jaimee and Phil for sharing the details of their day with us all- its been a pleasure to revisit Losehill House again with them.  If you have time (and if you don't, then come back and look later!), take a look here at some more beautiful Kate Beaumont gowns.
Much love,
Shona x