It's such a pleasure to be able to share these stunning images with you. The result of a team whose brief was to create something outdoorsy and ethereal and that juxtaposed a natural woodland environment with cool and edgy bridal styling and organic touches including feathers, logs, candles and calligraphy.
The result is divine and I challenge you not to want to Pinterest at least one image from this set. My fave is possibly the close up of the glittery eye-shadow. Our enormous thanks to the entire creative team who chose to share these images with Love My Dress.
Film by Molly Jane Lewis
The following words are from Louise Daniels, co-ordinator at And So To Wed, a site that gathers together like-minded, independent creative suppliers.
"Our aim for this shoot was to showcase amazing independent suppliers, a unique venue location and shine a light on having an ethical celebration. We have recently launched And so to Shop , an online marketplace for independent suppliers and when bringing this venture together, it really made us assess our values, our ethos and think about what is important to our brides and grooms."
Photography by  Fox & Owl
"We decided to celebrate the affirmation of our beliefs and values with a breathtaking photo shoot that pushed boundaries and encompassed everything we stand for, celebrating the wonderful suppliers we work with.""Hardcastle Crags was the perfect location. Set in the heart of Yorkshire this stunning location provides the most breath-taking backdrop to any wedding or celebration. Natural and raw, it had the autumnal colour palette and presence of water, in it's many waterfalls and river, that we were looking for. More than this though, Hardcastle Crags is an ethical venue, ran by the National Trust."
"It is totally off the grid, using eco-friendly and sustainable ways of running. It is a truly unique place, nestled in a valley with historic buildings, surrounded by beautiful forest and flowing water – it really is one of a kind. It very much fits with our ethos as a business, celebrating being unique and doing all things with love, giving us a great place to start planning our inspirational shoot."
"When choosing our suppliers, our first port of call was to bring on board a new and exciting wedding planner and stylist, Emily K Weddings . Emily is based in London but originally from Yorkshire and, having followed her career for a while, we knew that she had the vision, creativity and skill to bring our ideas to life."
"Armed with just a few key words and ideas (natural, ethical, romantic, lunar and ethereal), Emily put together an inspiration board and began sourcing suppliers."
"We were truly spoilt with the suppliers involved in this shoot. Each and every one encompasses the core values that we really wanted to come across – individuality, beauty and working in an ethical way."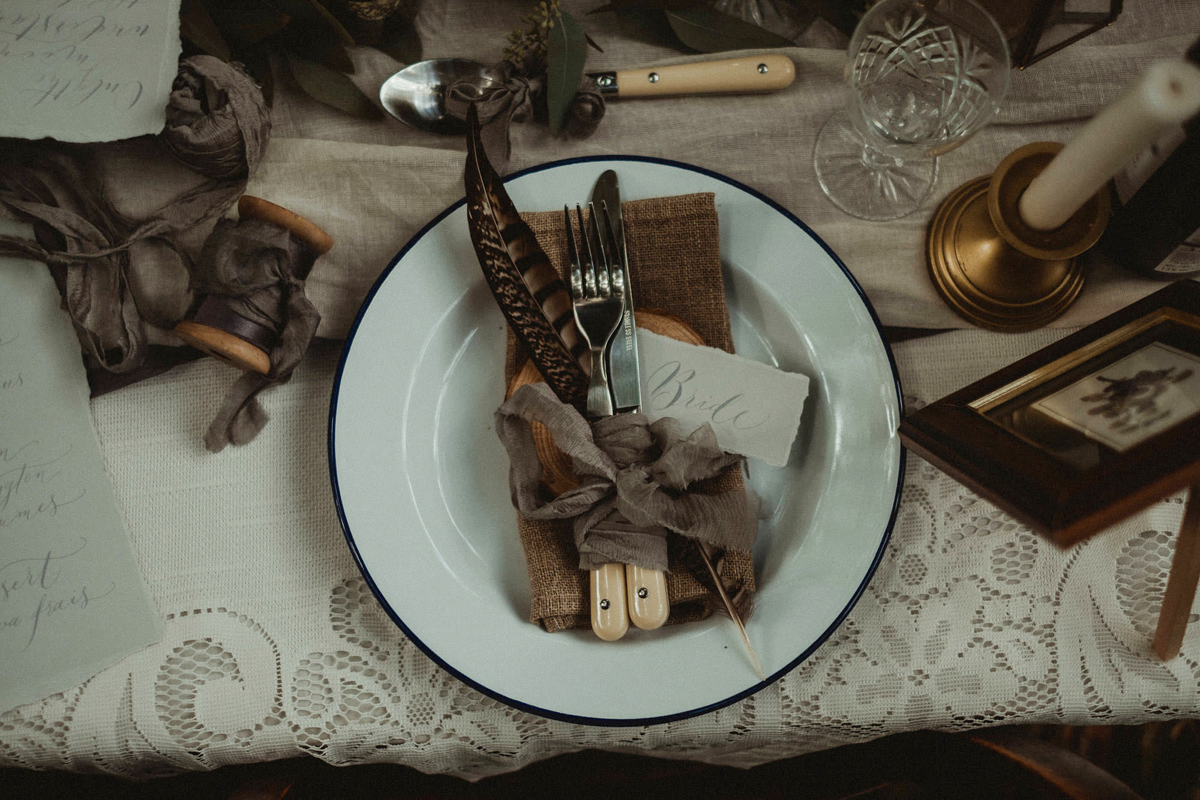 "Luna Bride is a rising star in the world of bridal dress design. Founder, Keely, uses organic material and has a romantic and contemporary approach to her designs. Our models Emily and Jenna looked stunning against the natural background of the forest wearing these designs. Amy George , our super talented make up artist, gave both models a modern, ethereal look using striking whites, greys and glitter."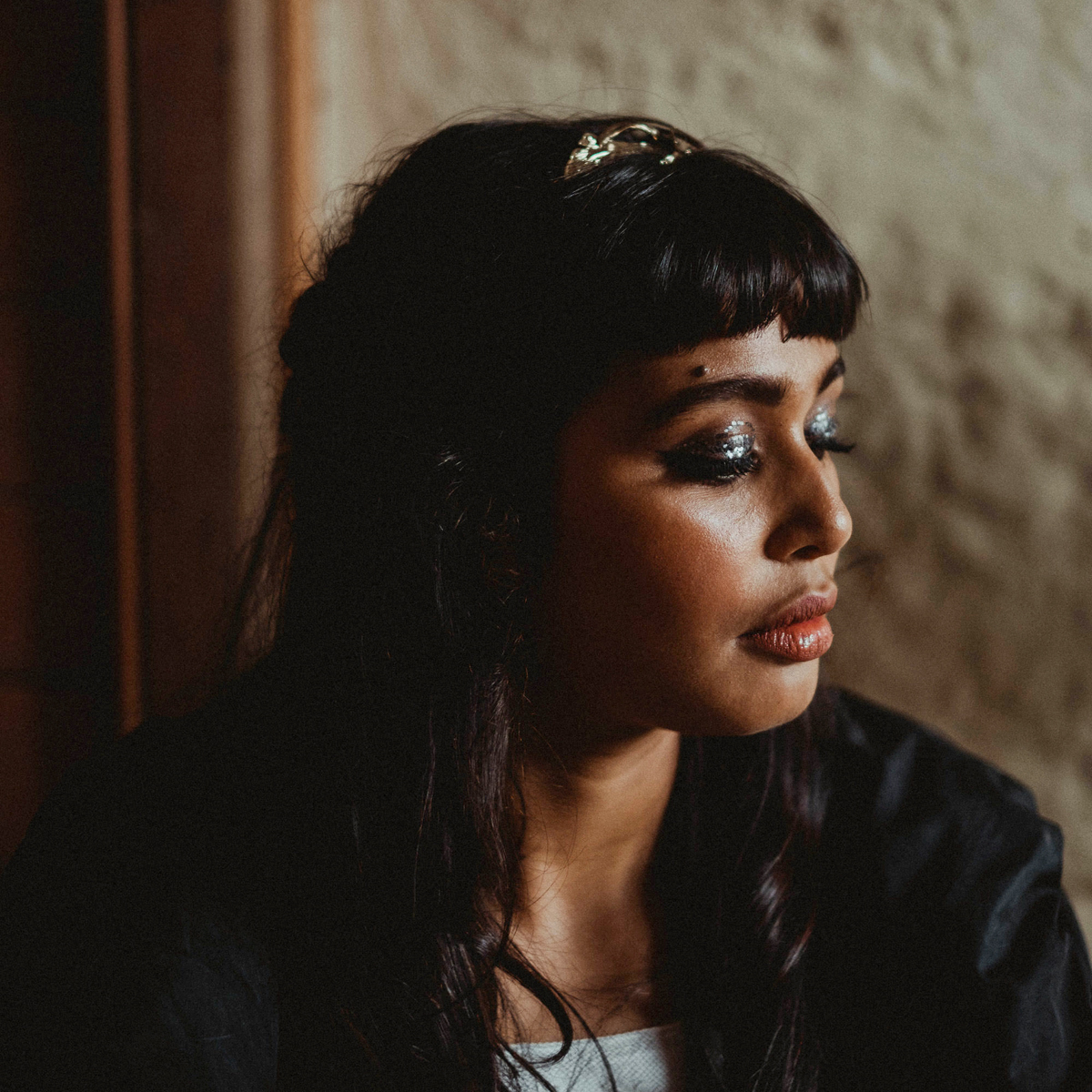 "Belle & Bride styled Jenna's hair in a lose plait and Emily wore her hair down, giving both models a relaxed, natural look. The look was completed by accessories from Bloody Mary Metal and Tilly Thomas Lux ."
"Both of these suppliers create contemporary designs with an edgy feel and a hint of magic about them. The Celestia headband from Tilly Thomas Lux was a nod towards our lunar inspiration, and tied in with the dresses being from Luna Bride ."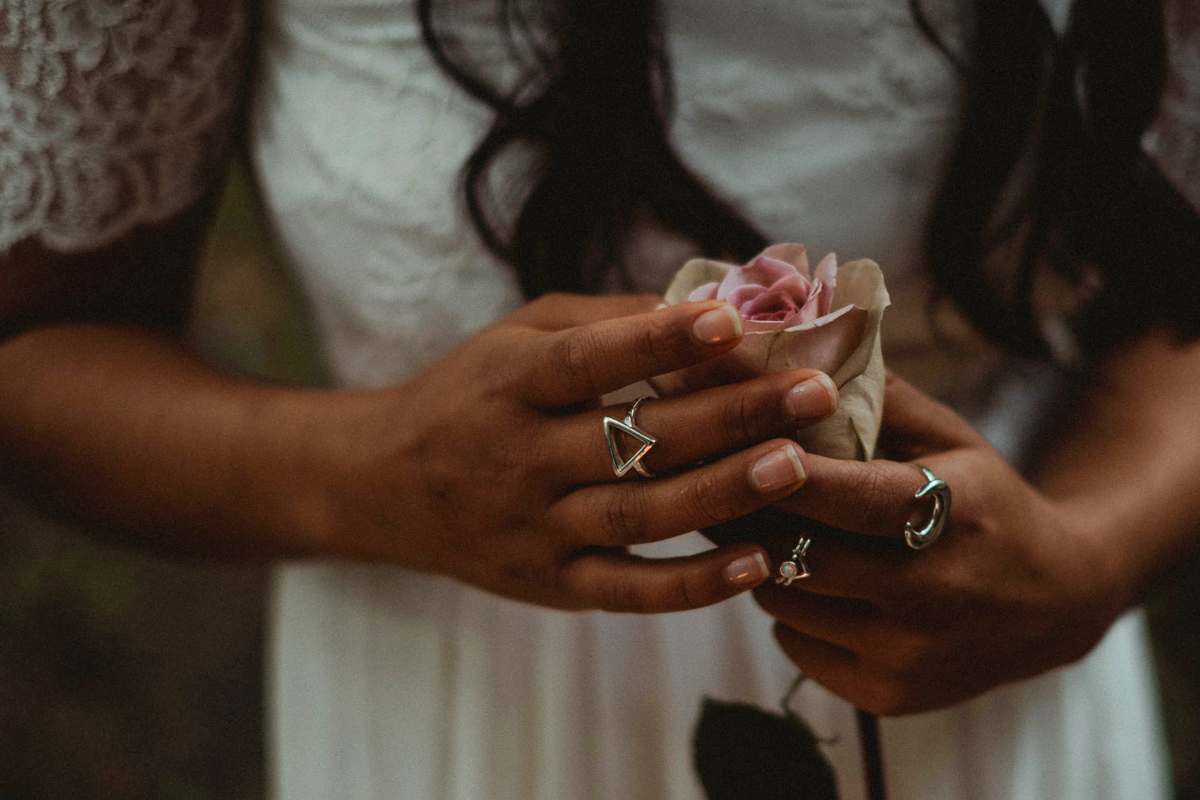 "We wanted the styling to reflect the location and tell a story. Using silks and organic textures, Emily K Weddings , brought her signature look to the table nestled in the forest. River and Rose reflected the beautiful natural tones in the flowers used in and around the table."
"Finished with candles, logs and feathers to tie in the nod to romance and nature, ribbons from Silk & Purl and stationery from By Moon & Tide Calligraphy completed the styling. Set in amongst the beautiful neutral tones of the table, the bright blue cake from The Whimsical Cake Company stood out in all it's glory, representing the hues and magic of a nights sky."
"Chloe from Fox & Owl and Molly Jane Lewis Films beautifully captured the day. Every detail, every look and the enormity of the setting was brought to life on film by these two incredibly talented women."
"The whole day was a wonderful experience for all those involved. We made the most of the location with Jenna and Emily being happy to wade out into rivers, climb through foliage and precariously balance on rocks, nothing was too much for them."
"Chloe and Molly were just as intrepid, climbing and scaling the landscape to get the shot. Jenna is a dancer and we managed to capture her doing the most beautiful dance poses on the stepping stones – this is perhaps one of my favourite images from the day."
"Most of the suppliers made it on the day and braved the cold, damp weather to ensure that we got the best images possible. We had so much fun and it was lovely getting to share all the different talents and stories of each of the suppliers involved.
Hopefully, we have managed to show how you can achieve an ethical celebration, using amazing independent suppliers and in the process get a look and style that is unique to you."