Lovelies, I really think I need to change career and work as a wedding planner. I keep falling for each and every gorgeous wedding we feature on Love My Dress and just love how they are so utterly personal to the couple.
The West Mill in Derby is the setting for this groovy two you're about to see and chosen for its industrial, cool and beautiful, yet edgy, feel. Bride Helen works for a wedding dress wholesaler and groom Jonny is in finance and they tied the knot on the 28th of April 2017, adding loads of quirky, personal touches.
"A lot of wedding things these days are just not our style. So we worked hard to have a beautiful wedding that still had elements that reflected things we love. We had graffiti as live entertainment and my goth side had to be shown, with skulls on the tables, a deer skull backdrop, anatomical hearts on the confetti bags and so forth. I also took a fair bit of inspiration from vintage styling for the dress, shoes, hair, make up, and the band."
Photography by Natalie J Weddings
The bride has known the photographer, Natalie J Watts of Natalie J Weddings Photography, for a long time and she captured lovely images of Helen and Jonny's daughter's naming day, so there was no need to consider anyone else to photograph their wedding.
"Natalie totally blows me away with her talent. Leading up to and on the day of our wedding she was just amazing, so calm, reassuring, helpful, confident and helped the day run so smoothly. Her work is so detailed and she captures precious moments so beautifully. I couldn't have asked for anything more from her, I love you Natalie!"The stylist who created the incredible vintage hair-do's for the bride and her maids was discovered through this very wedding blog.
"We found the amazingly talented and lovely Bethany Jane Davies who owns The Vintage Beauty Parlour through Love My Dress. I was searching for someone who would 100% understand my hair vision, found a blog post that featured styling by Bethany and never looked any further!"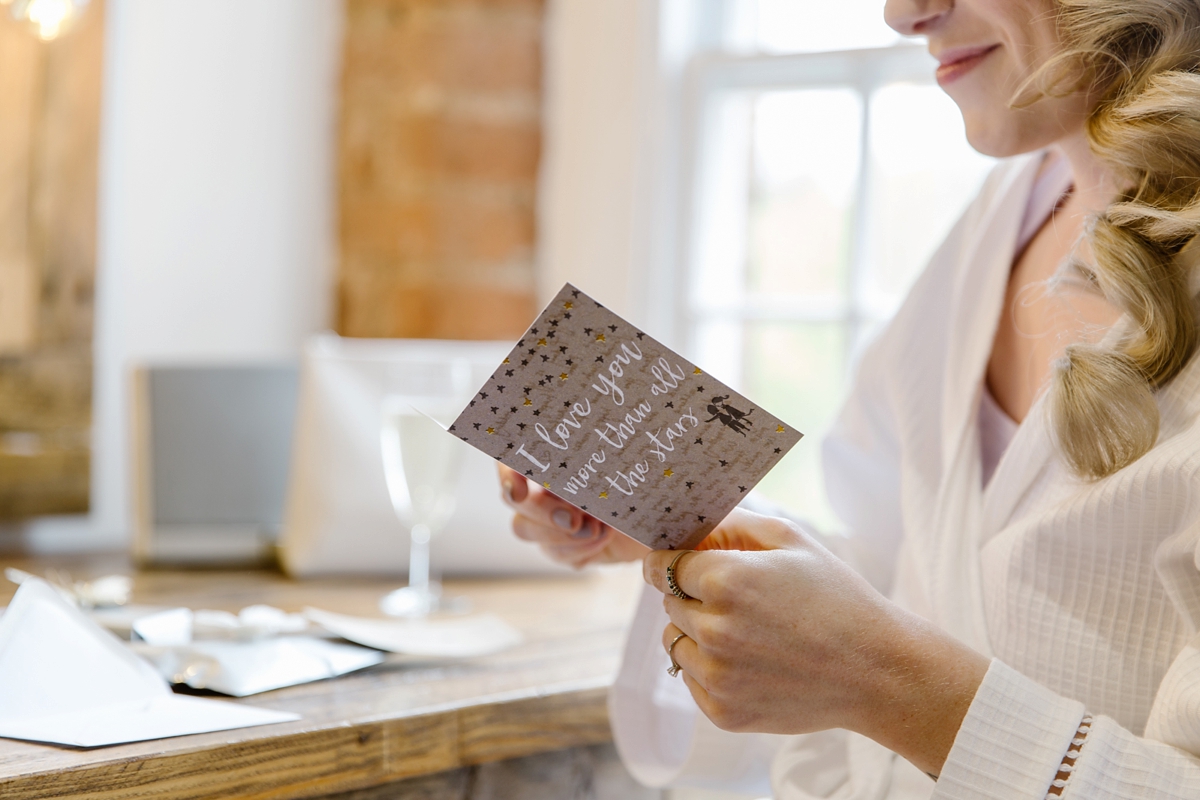 'Be Our Guest' designs on Etsy prepared the invitations and save the dates, whilst Helen got crafty; making the mirror table plan, table numbers, printed confetti bags and printed polaroids of all of the guests for the place cards/favours.
She also included handmade elements for the decor at The West Mill and had help from a professional stylist for some of the touches.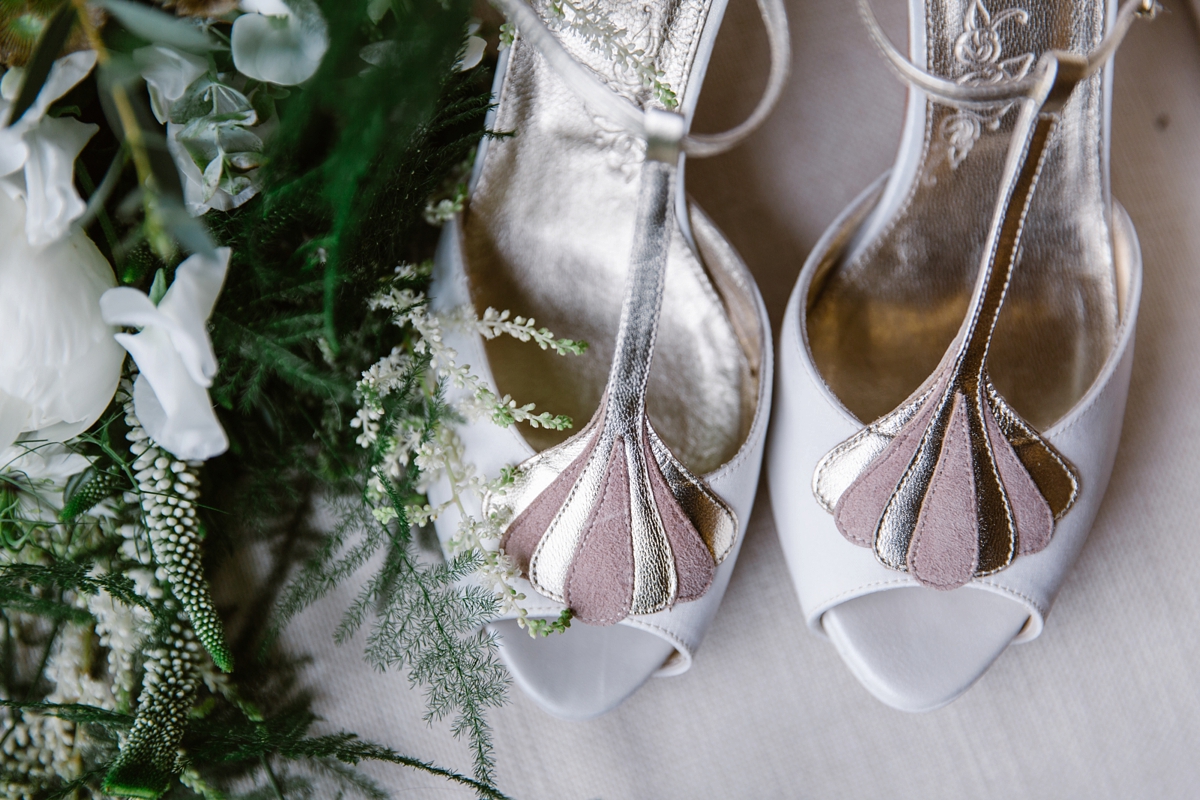 "My shoes were Rachel Simpson (who is a member of our handy Little Book for Brides directory) and pretty beaded hair accessory by Donna Crain. I added a spray of 'Love Story' by Chloe – I wear it all the time – and didn't wear any jewellery, except a necklace that was my late Mum's wrapped around my bouquet."
"I loved the vintage look of my Ronald Joyce dress and although it had a lot of beading it was quite simple and elegant."
I simply adore the outfit worn by the flower girl – it fitted in so perfectly with the bride's vision for her day.
"The flower girl wore a leather jacket from River Island, with a silver tutu from 'Flowers and Confetti' on Etsy and some black Doc Martens."
The bridesmaid's donned stylish sequinned gowns by Mori Lee, shoes from Missguided and freshwater pearl bracelets Helen bought them as a gift.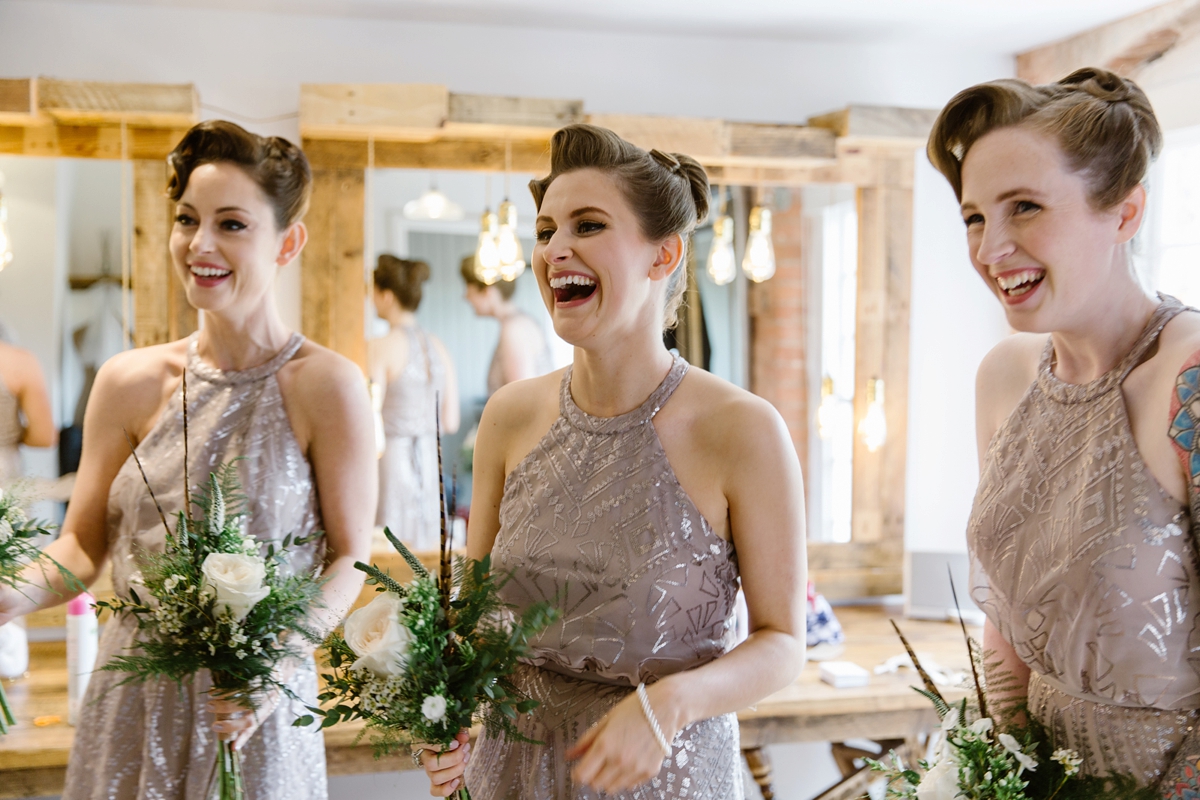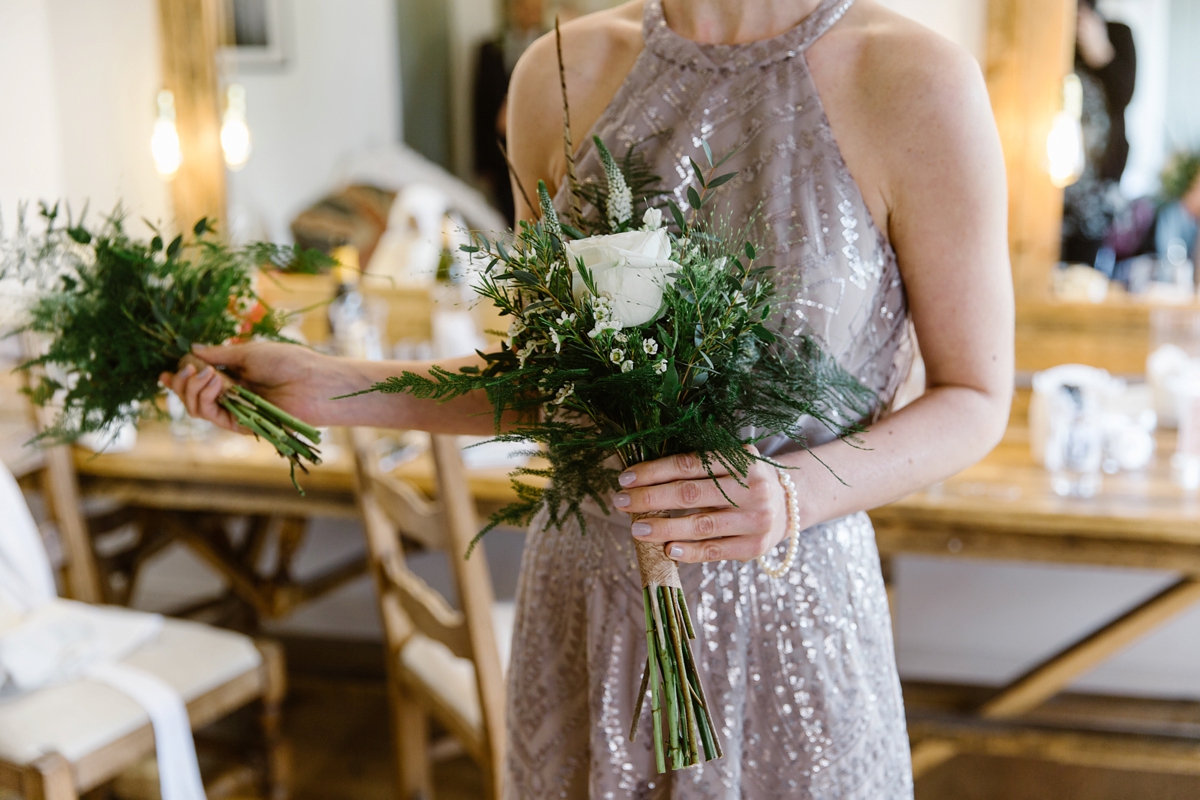 To his stylish blue three-piece Next suit, Jonny added a stag lapel pin by Simon Carter.
"Jonny and I met on a night out in the smoking area of a club – even though neither of us smoke! We were together for four years then had our daughter, Eva. We got engaged in Santorini when I was pregnant, then waited a couple of years before we got married, so that it was a (relatively) stress-free planning period!"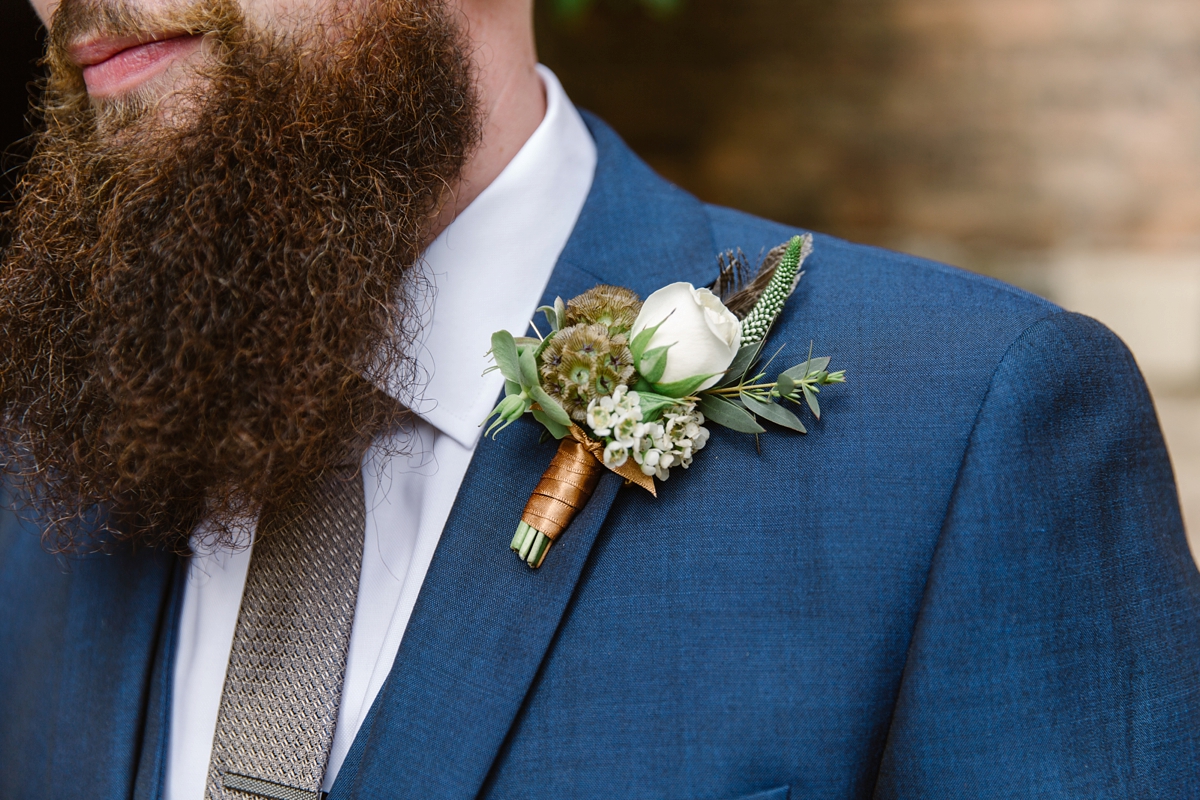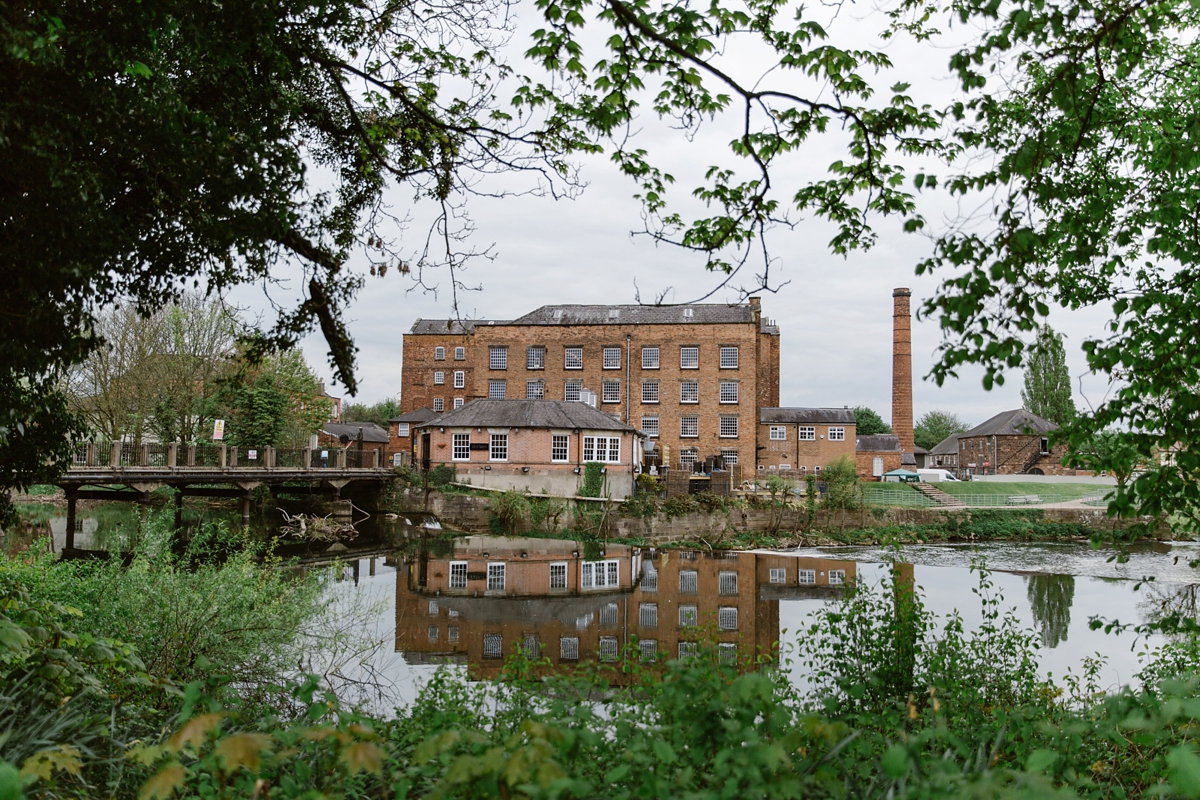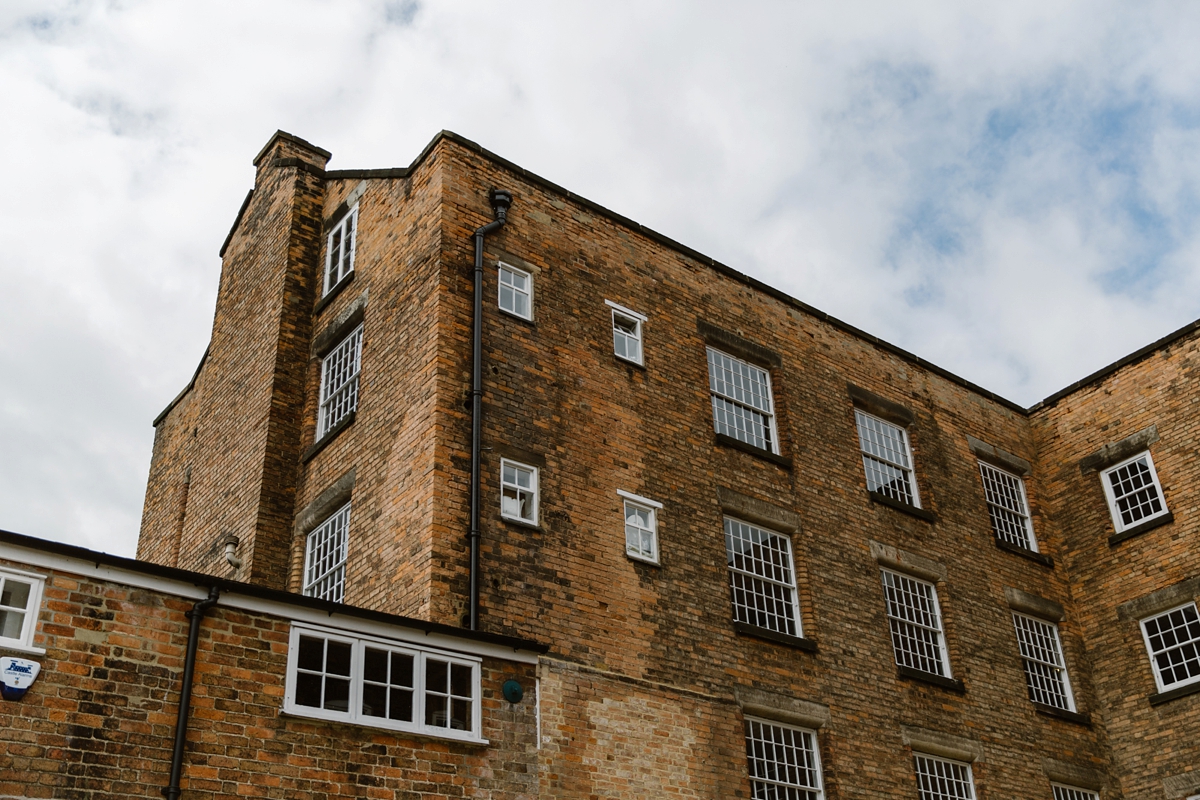 Nadia Di Tullio's modern bouquets, comprising white flowers and pheasant feathers, worked beautifully with the rest of the styling.
"Nadia's style was so fresh and modern whilst still being so beautiful so that's why we chose her – and also because she was so lovely! I am not a big fan of colour, so it was always going to be just white flowers. I wanted a longer bouquet that was a bit different and as we were already having pheasant feathers tucked in to the chair ties so we decided to include those in my bouquet too."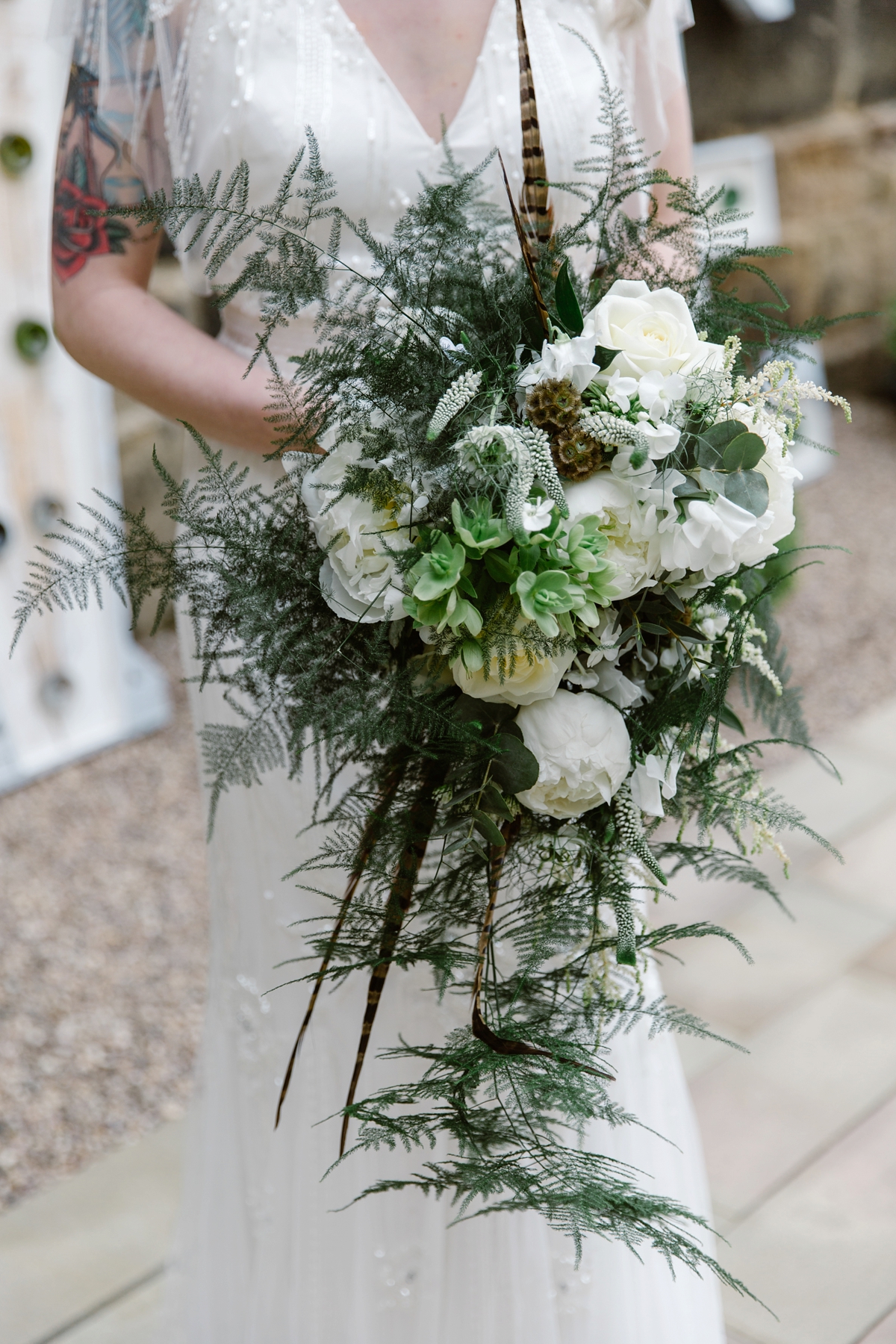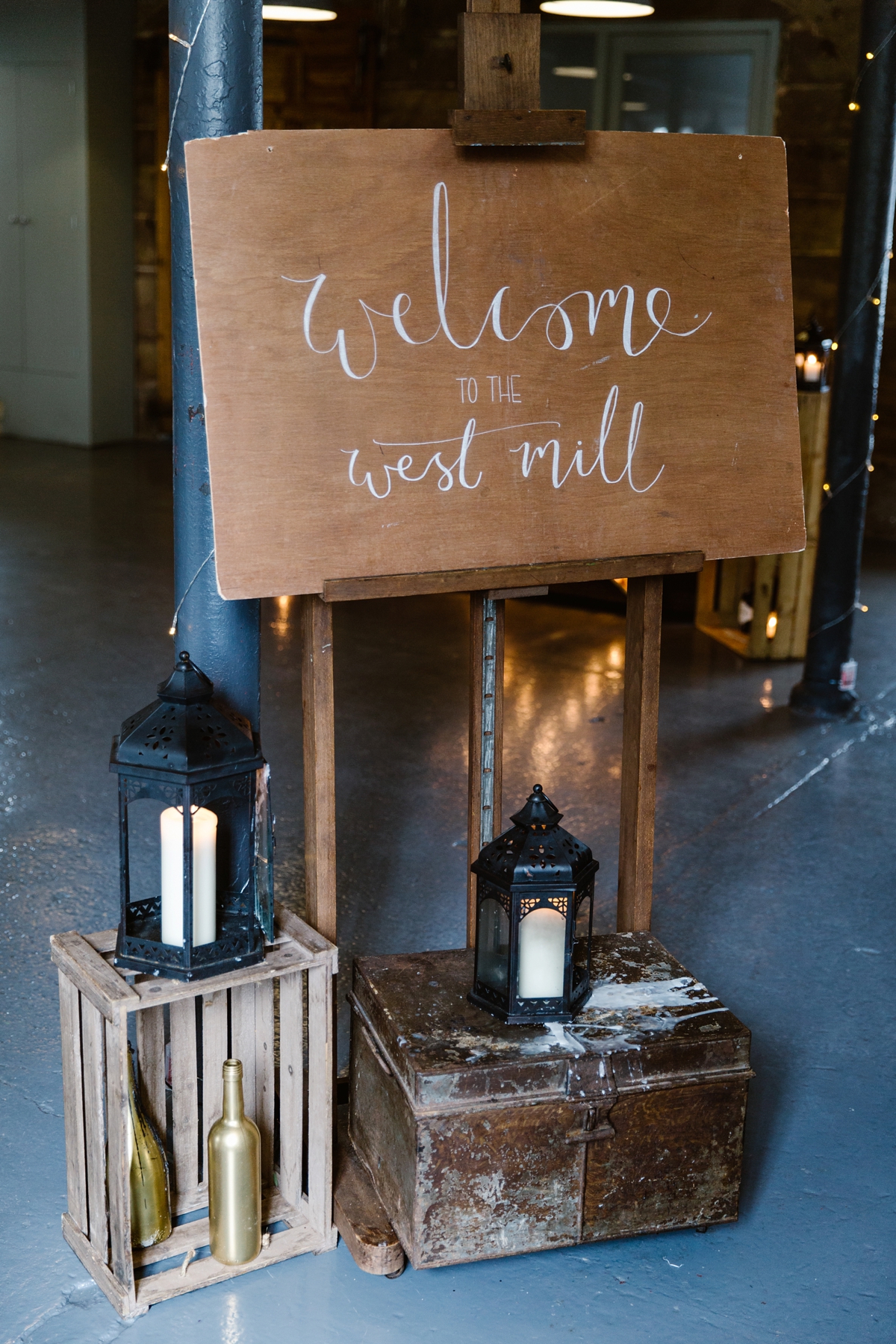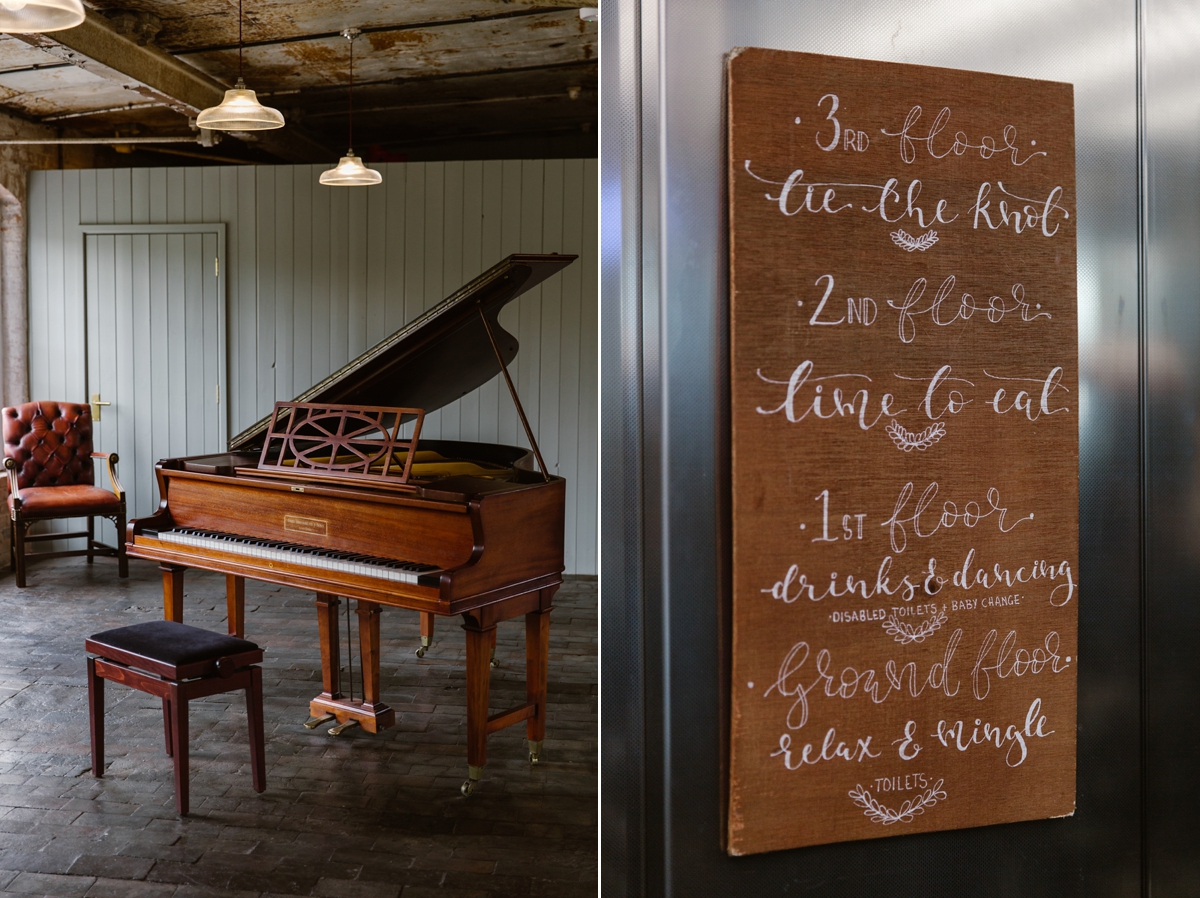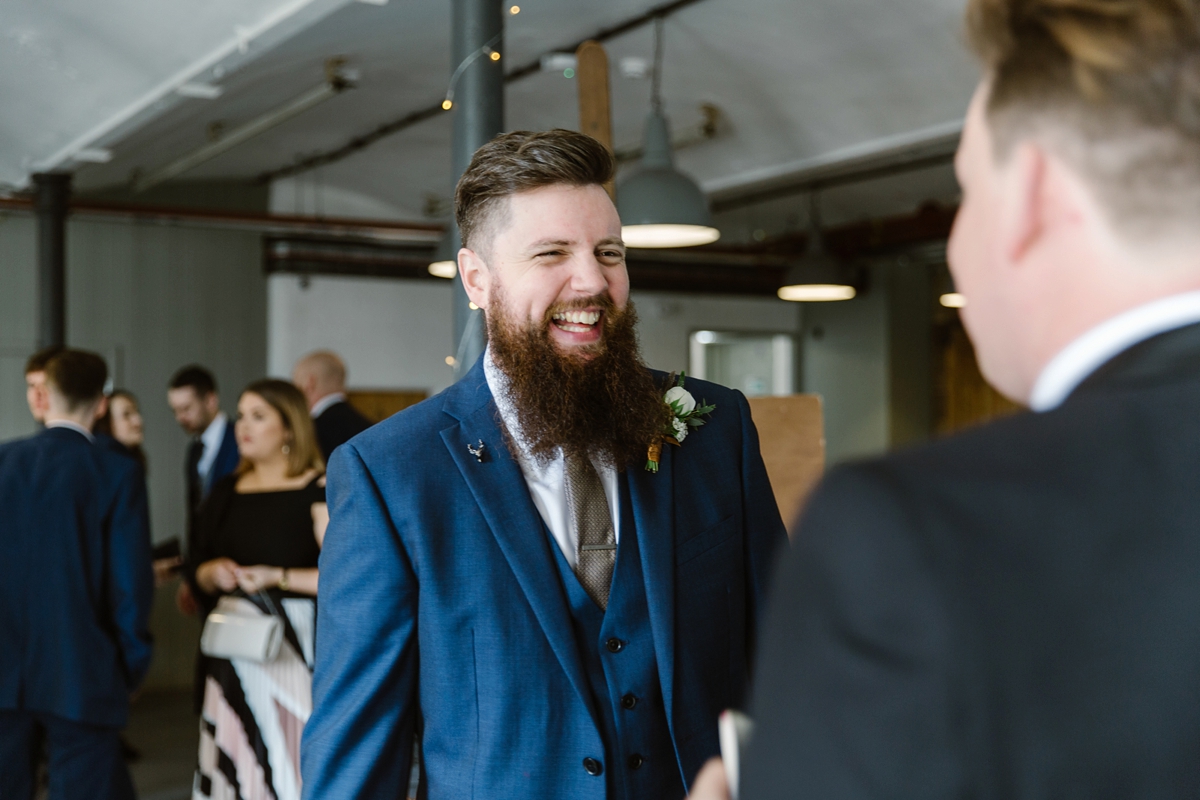 An instrumental version of 'Youth' by Daughter played as Helen's proud dad accompanied his beautiful daughter for the aisle walk.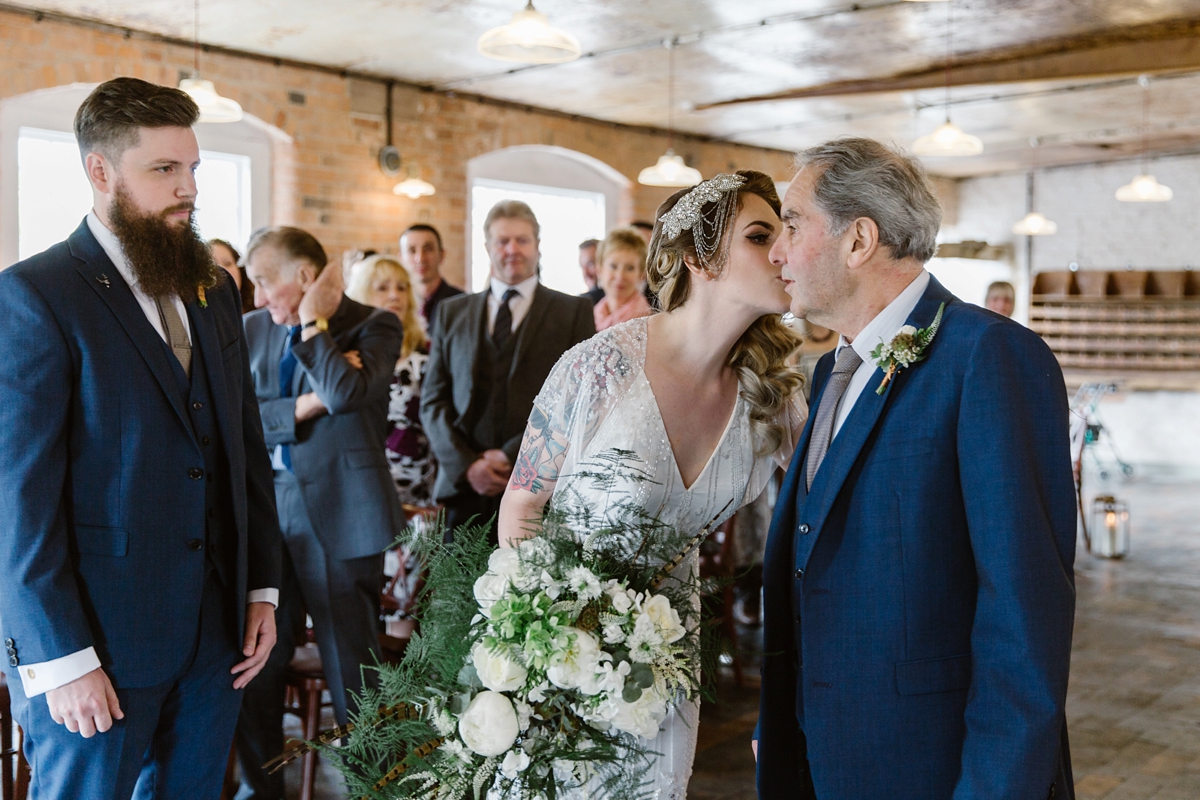 During the ceremony, one of Helen's best friends James read an edited version of 'Sunscreen' by Baz Luhrmann; a song she has always loved since a teenager. Here's an extract…
Ladies and Gentlemen of the class of '99.
If I could offer you only one tip for the future, sunscreen would be it.The long term benefits of sunscreen have been proved by scientists, whereas the rest of my advice has no basis more reliable than my own meandering experience. 
I will dispense this advice now.
Enjoy the power and beauty of your youth; oh nevermind; you will not understand the power and beauty of your youth until they have faded. But trust me, in 20 years you'll look back at photos of yourself and recall in a way you can't grasp now how much possibility lay before you and how fabulous you really looked….You're not as fat as you imagine.
Do one thing everyday that scares you.
Sing.
Don't be reckless with other people's hearts, don't put up with people who are reckless with yours.
Floss.
Don't feel guilty if you don't know what you want to do with your life…the most interesting people I know didn't know at 22 what they wanted to do with their lives, some of the most interesting 40 year olds I know still don't.
Be kind to your knees, you'll miss them when they're gone.
Maybe you'll marry, maybe you won't, maybe you'll have children, maybe you won't, maybe you'll divorce at 40, maybe you'll dance the funky chicken on your 75th wedding anniversary whatever you do, don't congratulate yourself too much or berate yourself either – your choices are half chance, so are everybody else's.
Do NOT read beauty magazines, they will only make you feel ugly.
Get to know your parents, you never know when they'll be gone for good.
Understand that friends come and go, but for the precious few you should hold on.
Advice is a form of nostalgia, dispensing it is a way of fishing the past from the bin, wiping it off, painting over the ugly parts and recycling it for more than it's worth.
But trust me on the sunscreen.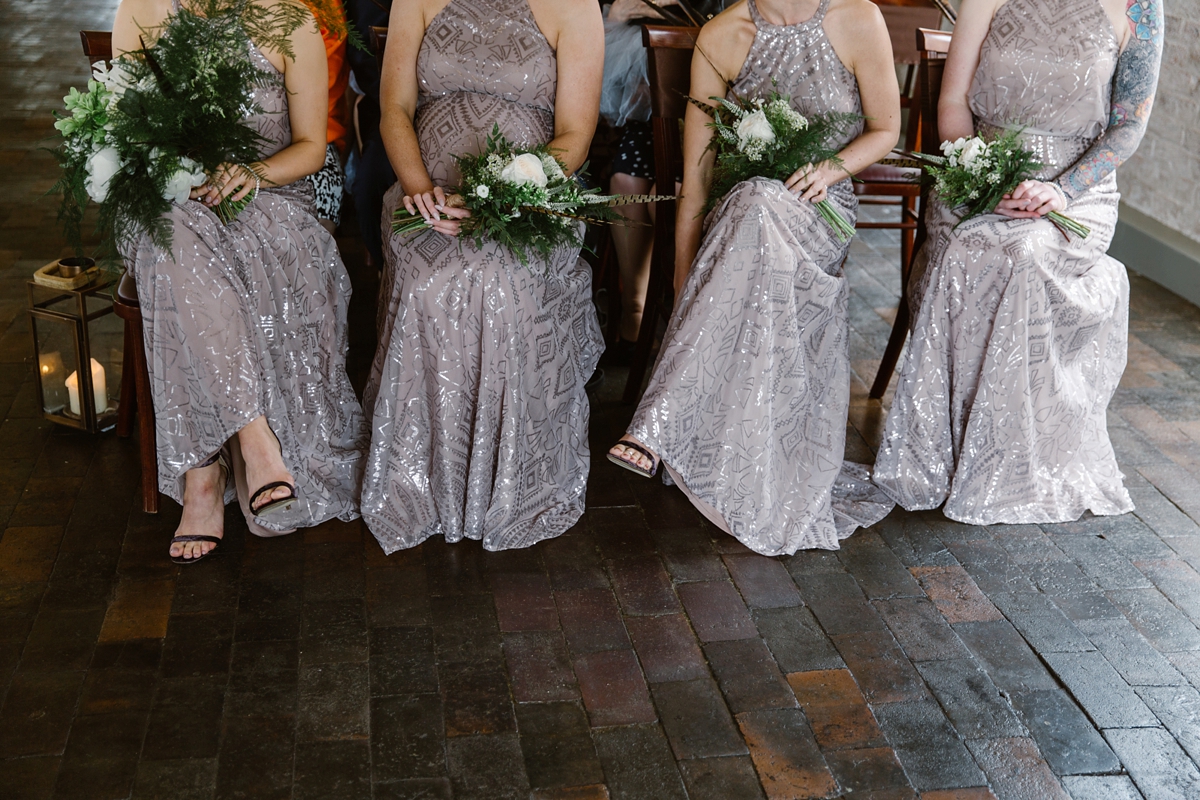 "Our rings were from Goldsmiths. I chose my ring in white gold to match my engagement ring, and just wanted something simple and elegant. Jonny just liked the classic design of his."
"The favourite part of the day was immediately after the vows when we had the reception. Just seeing all our loved ones and feeling so happy and beautiful was such a lovely feeling!"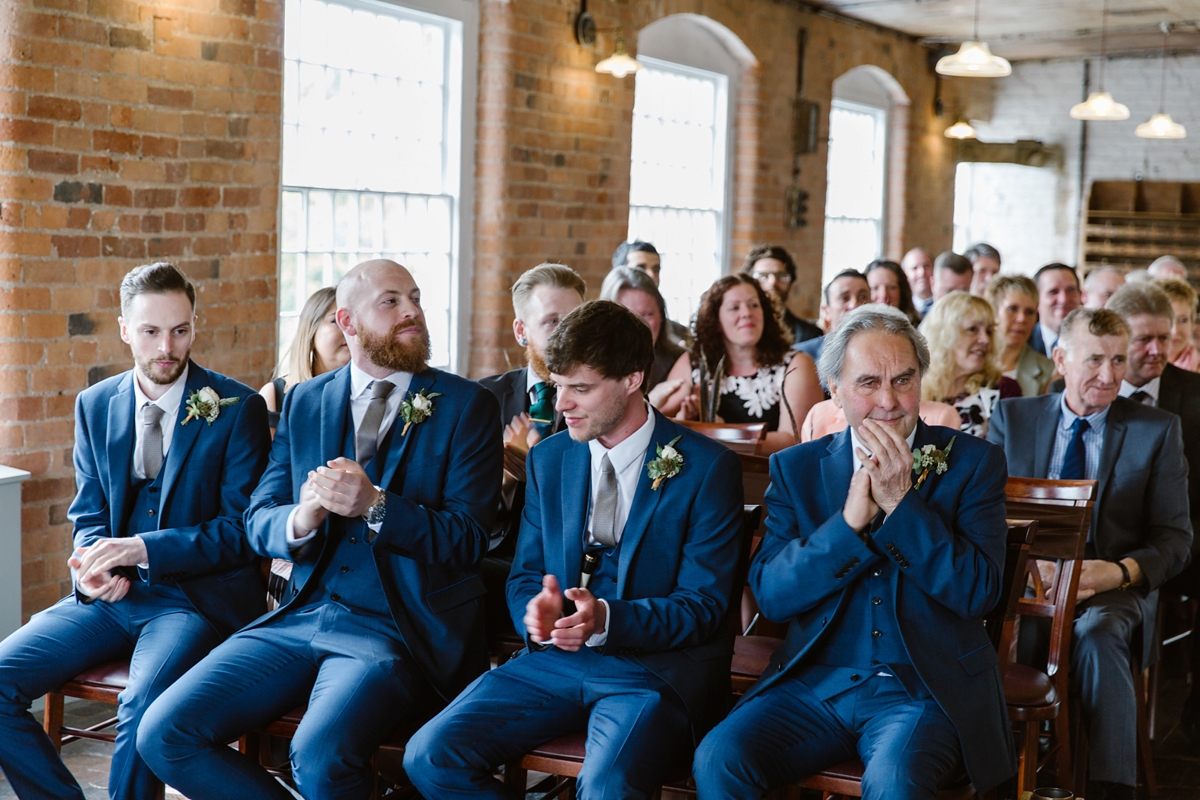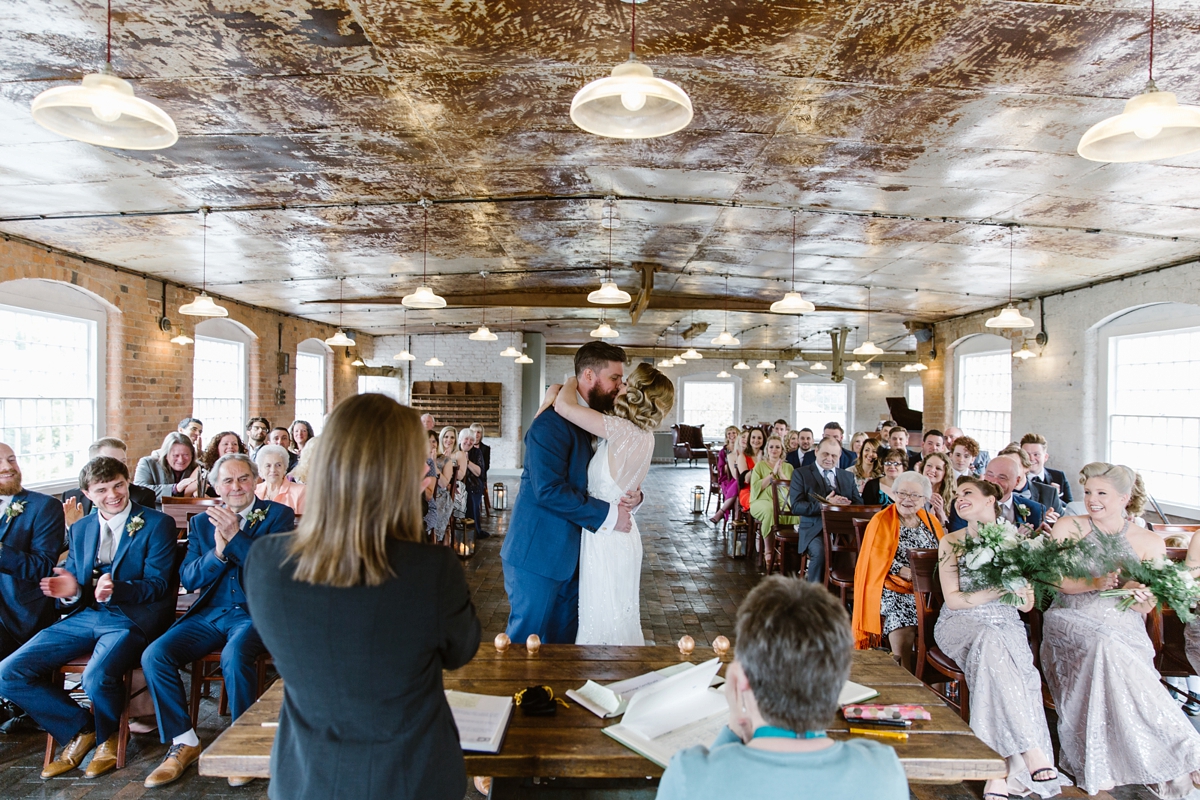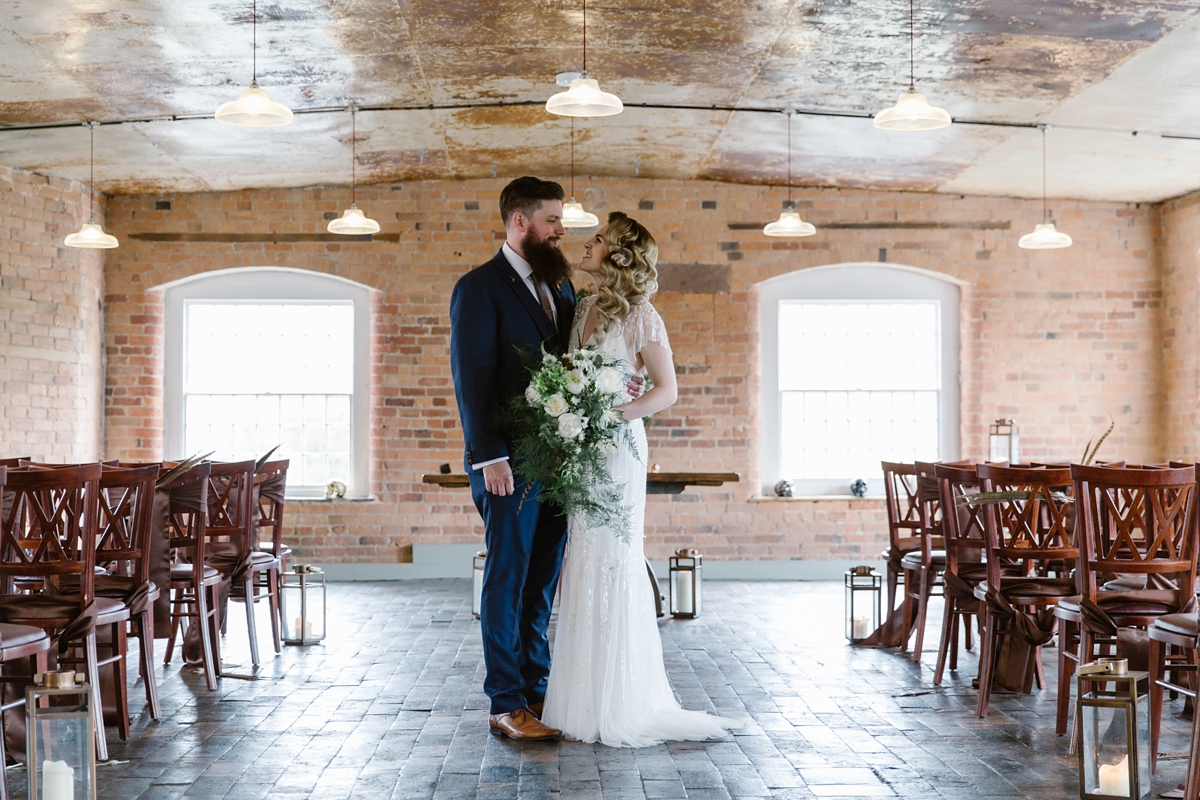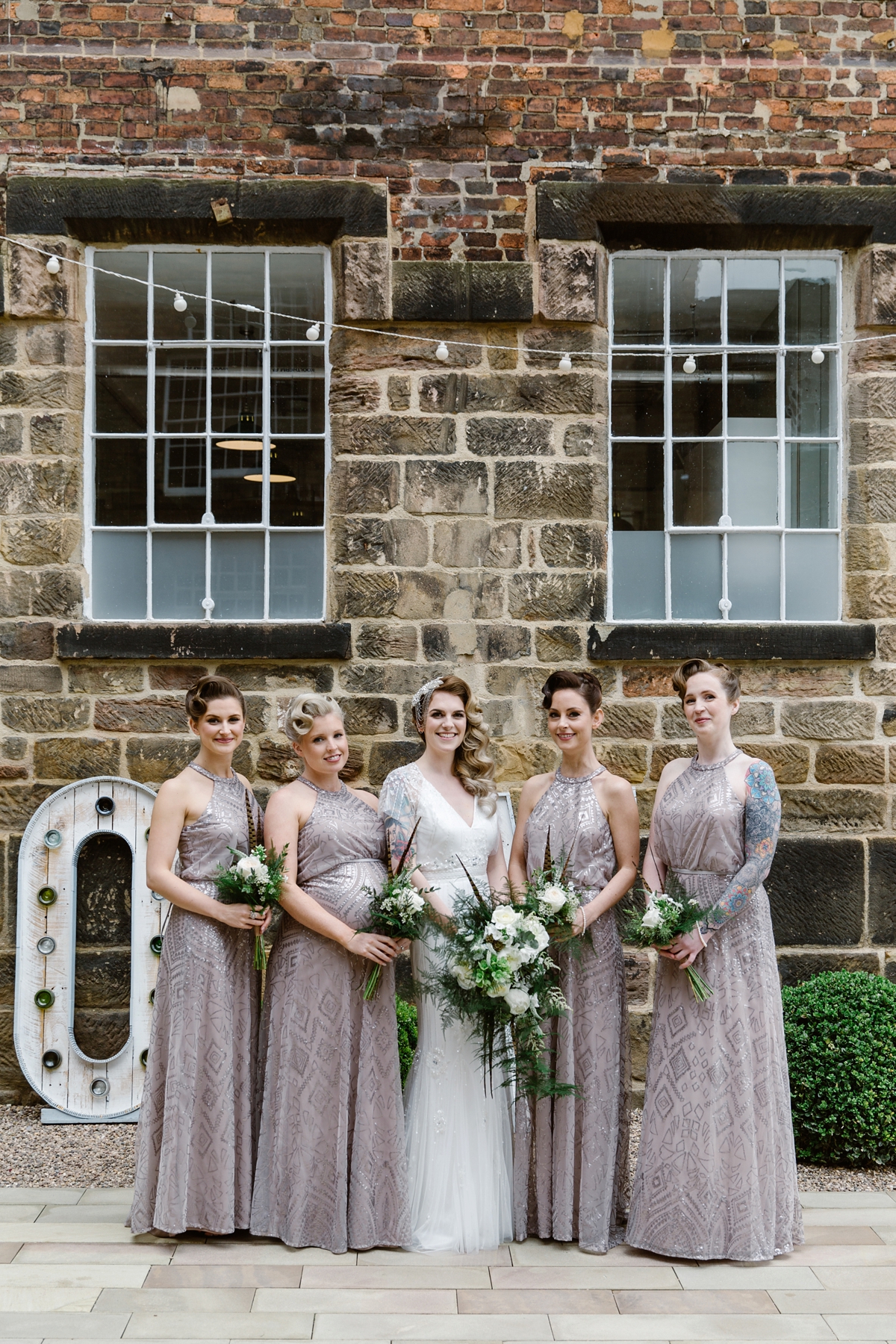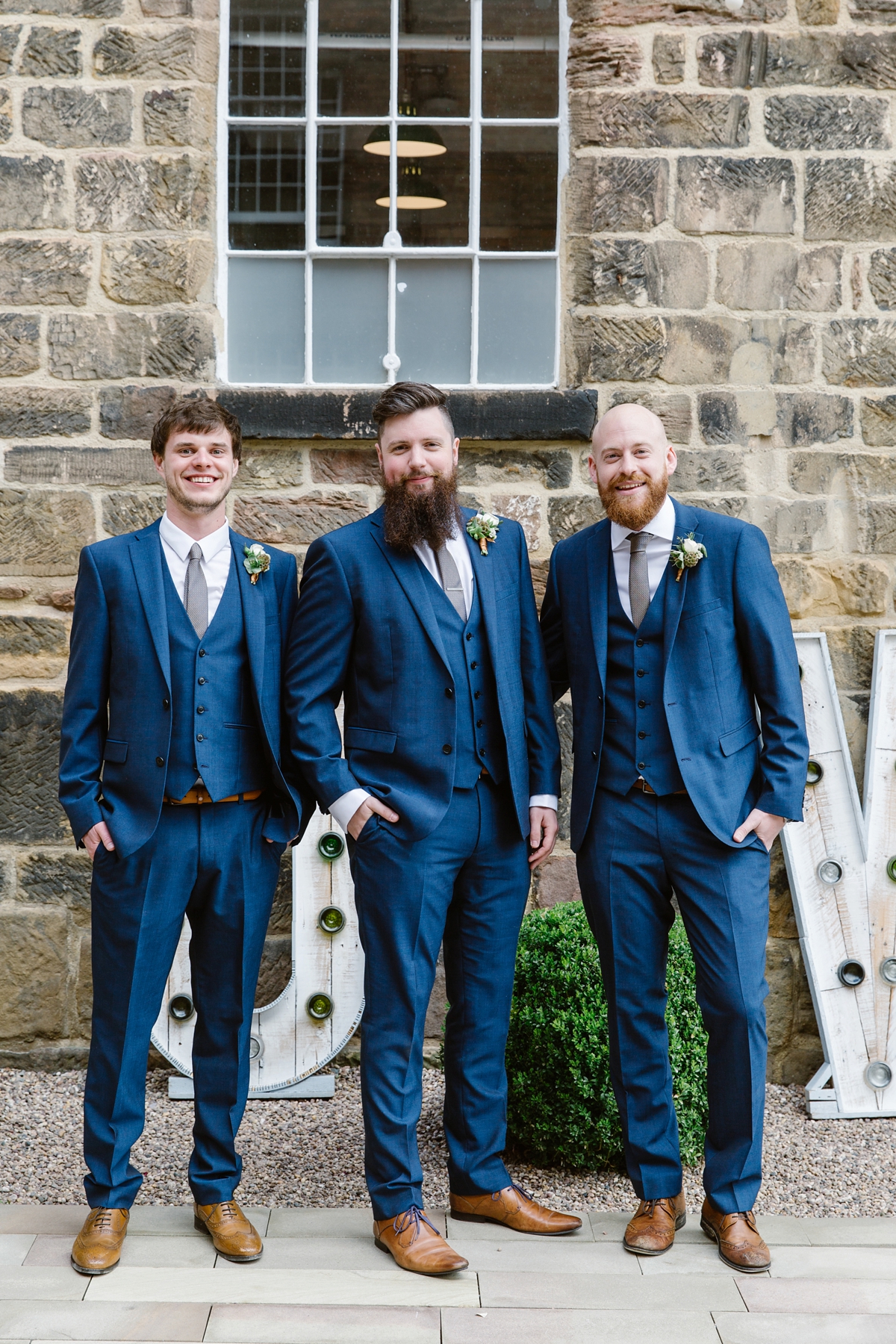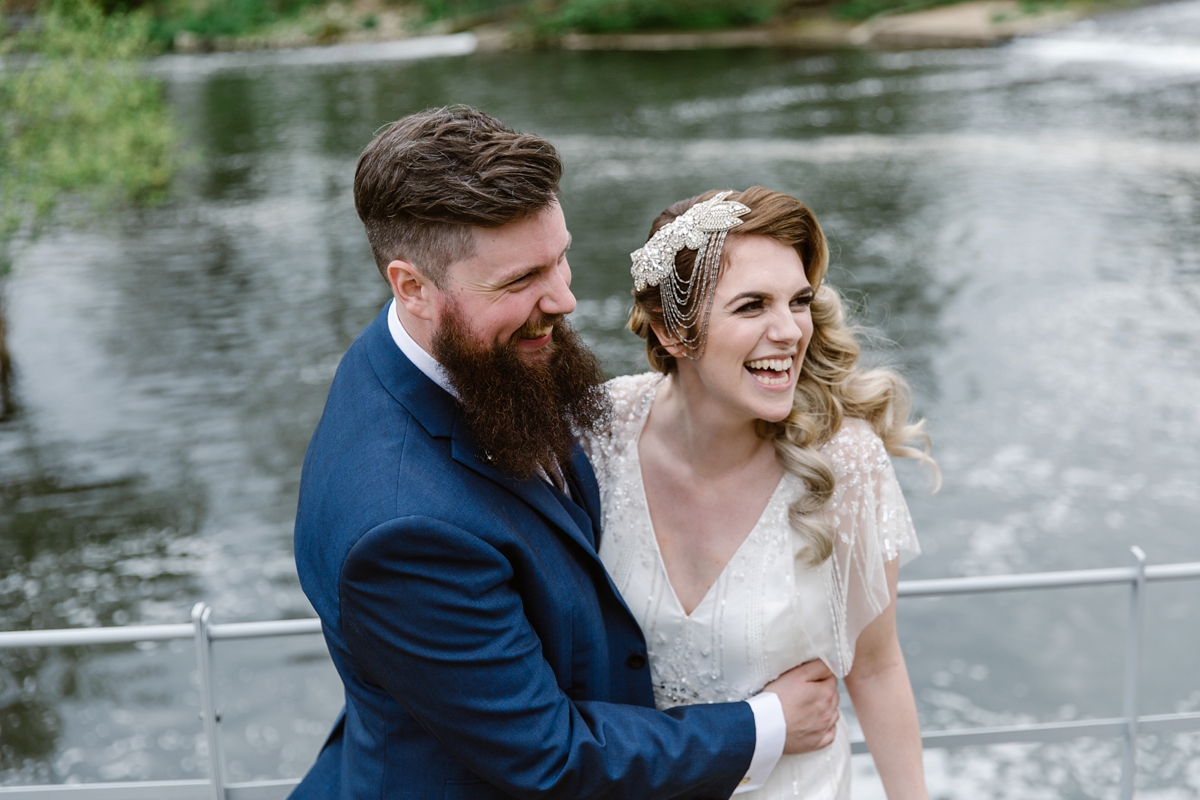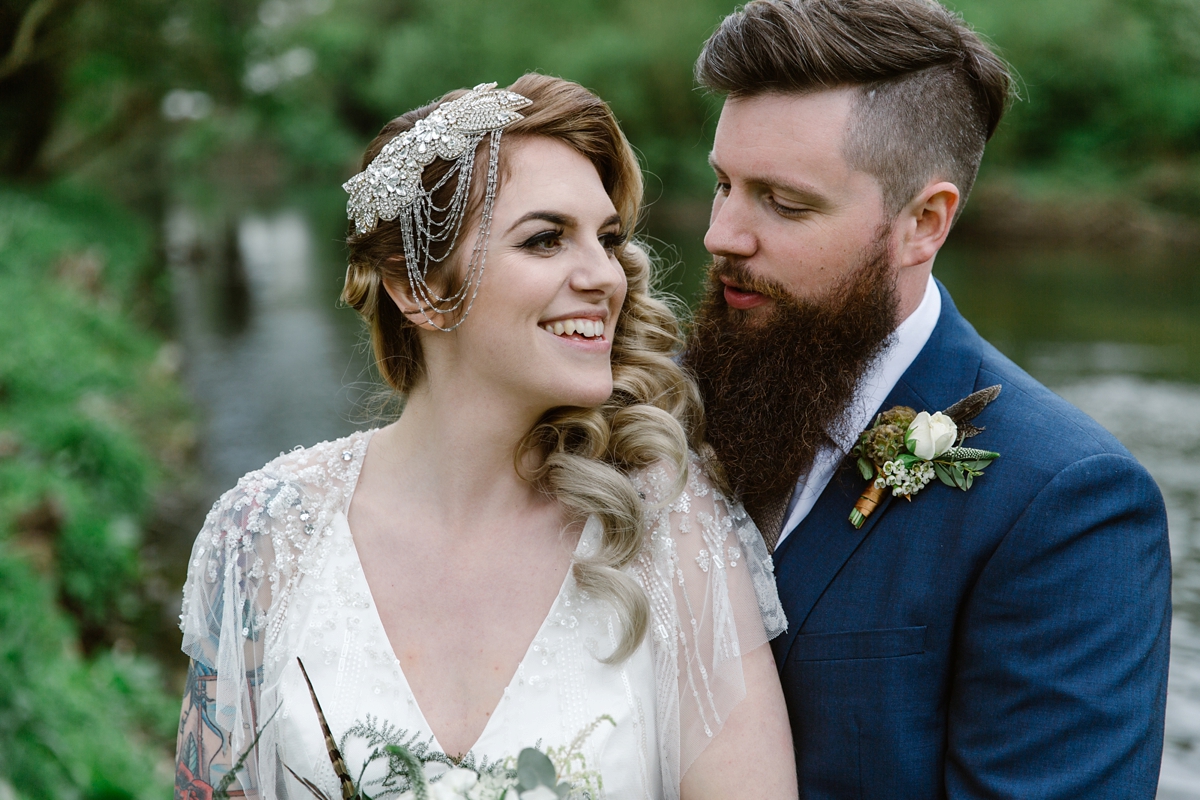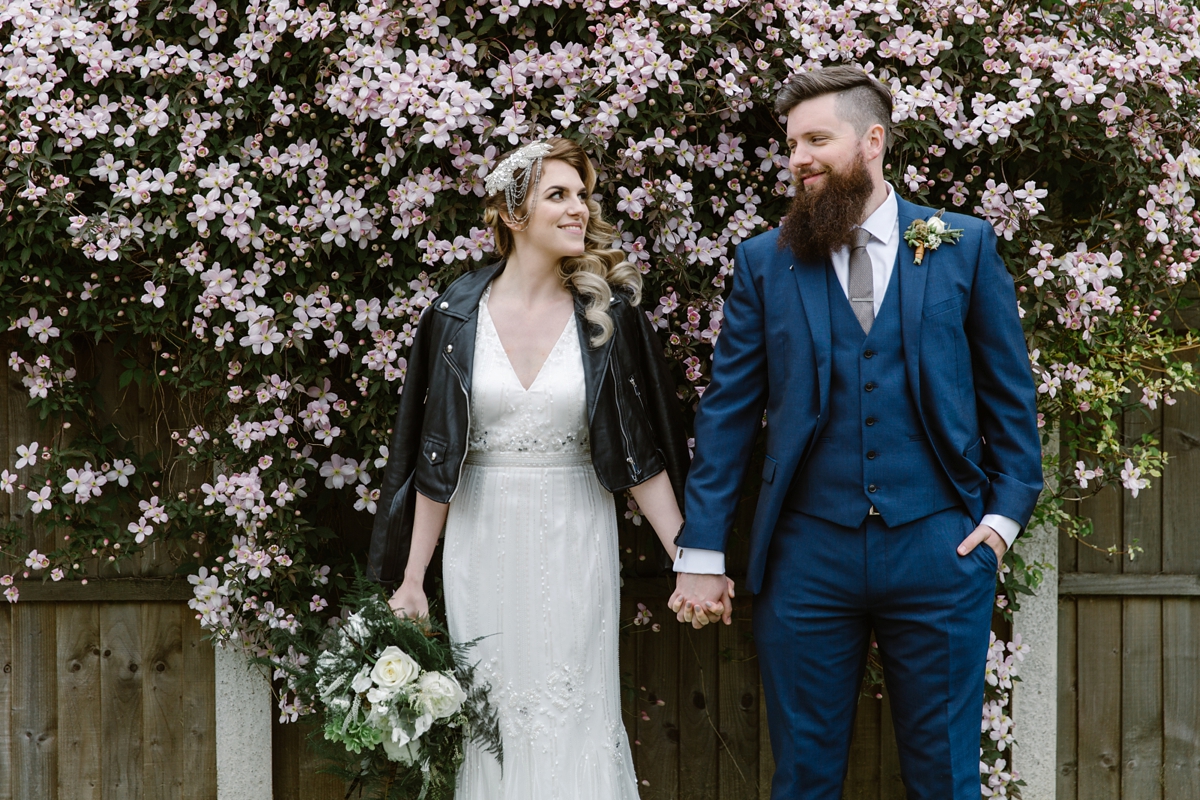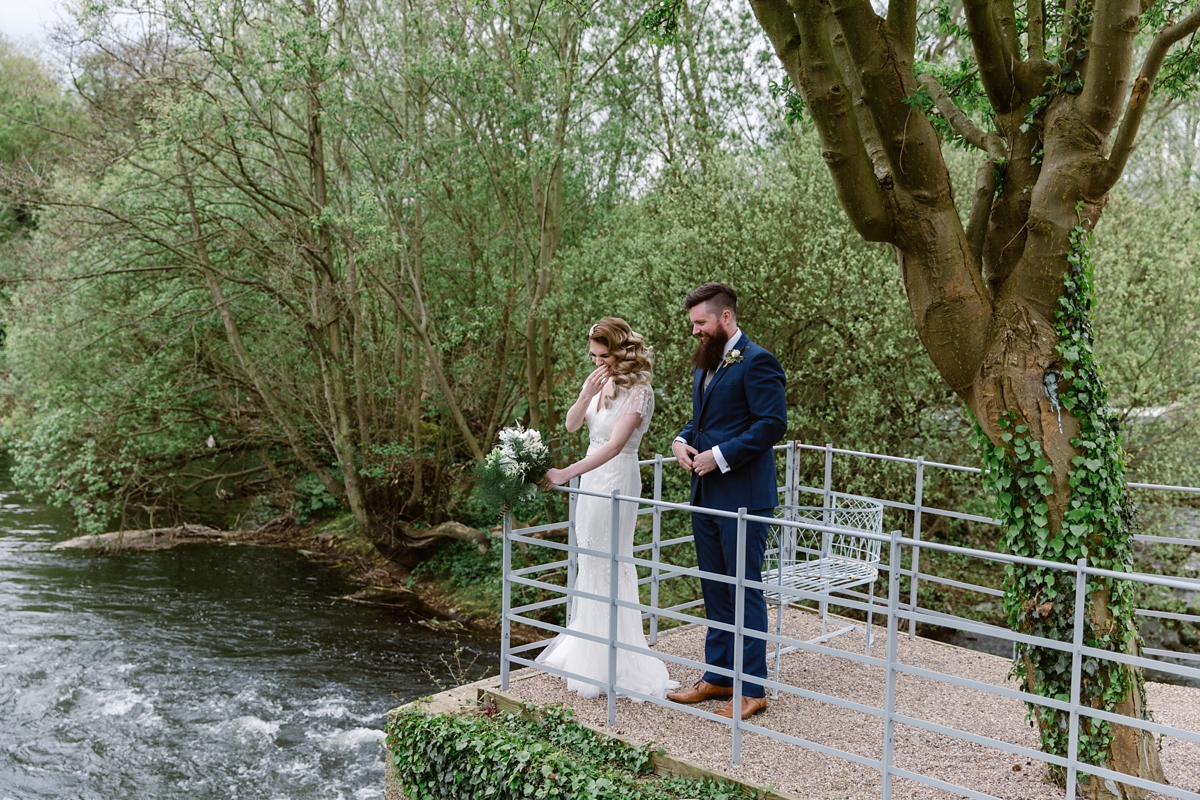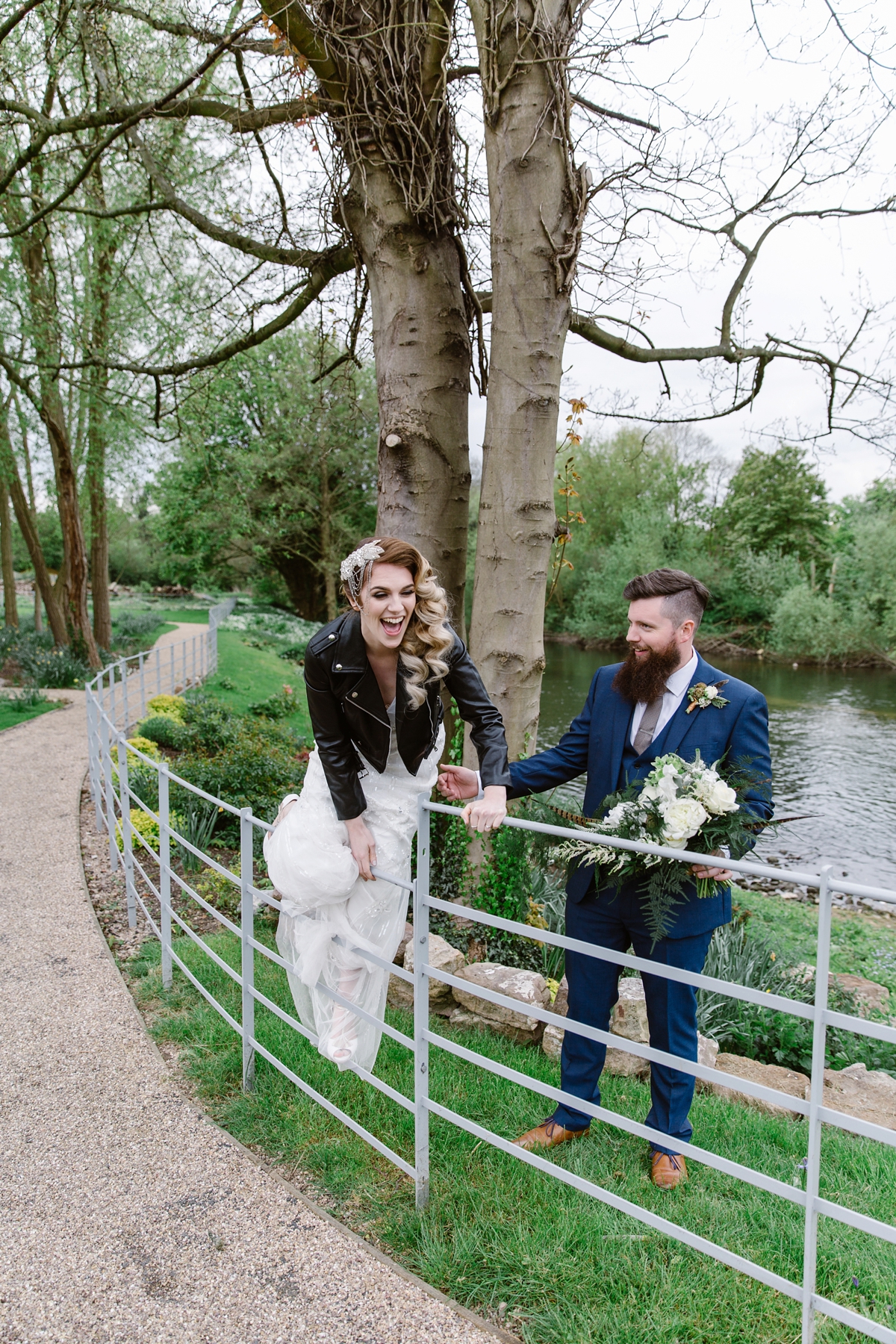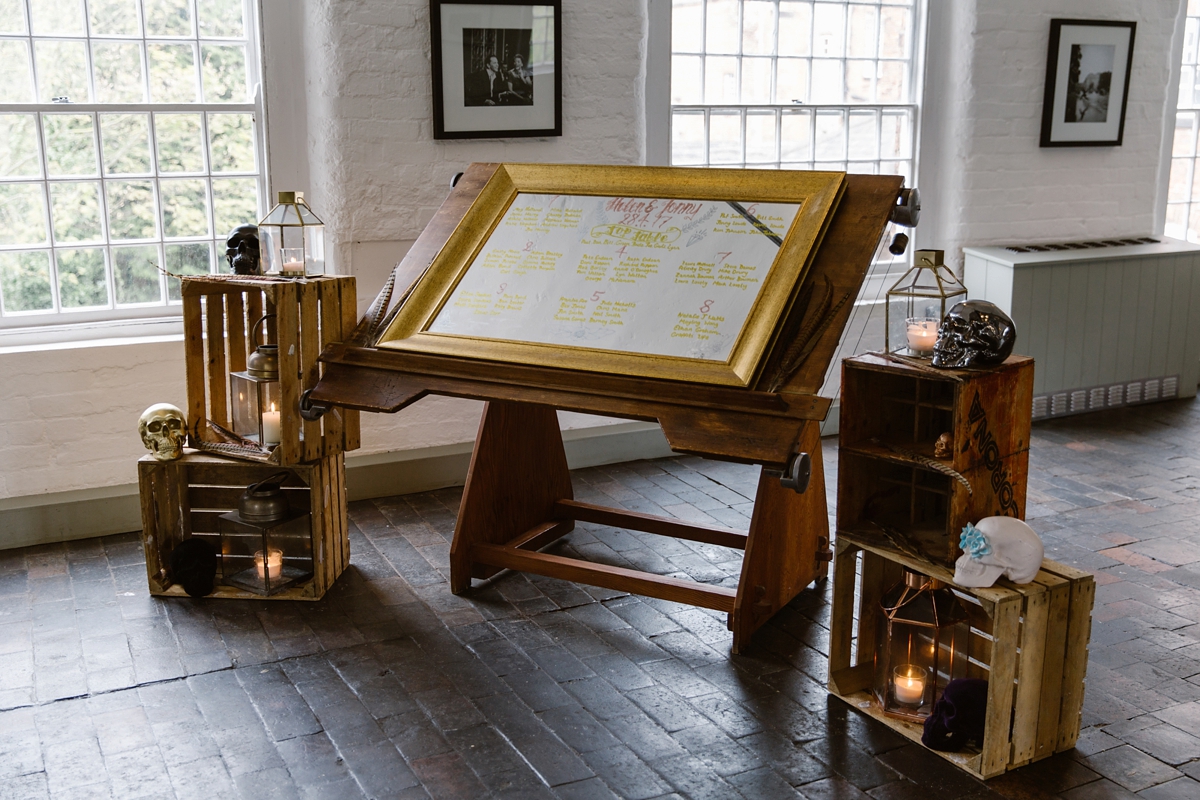 "I spray-painted skulls in copper with rose gold glitter, added skull ornaments I had from home, and included a light box with our wedding hashtag on, and a 'guest globe' I hand-painted for people to sign. The West Mill doesn't need a lot of decoration as it's so beautiful, but they had lots of lanterns, the post box for cards, and the big LOVE letters."
"We also had some venue styling by Fran at Modern Heritage Styling, including the tree centrepieces, gorgeous table runners, pheasant feathers and brown silk chair ties. She was fab and really helped us develop our ideas."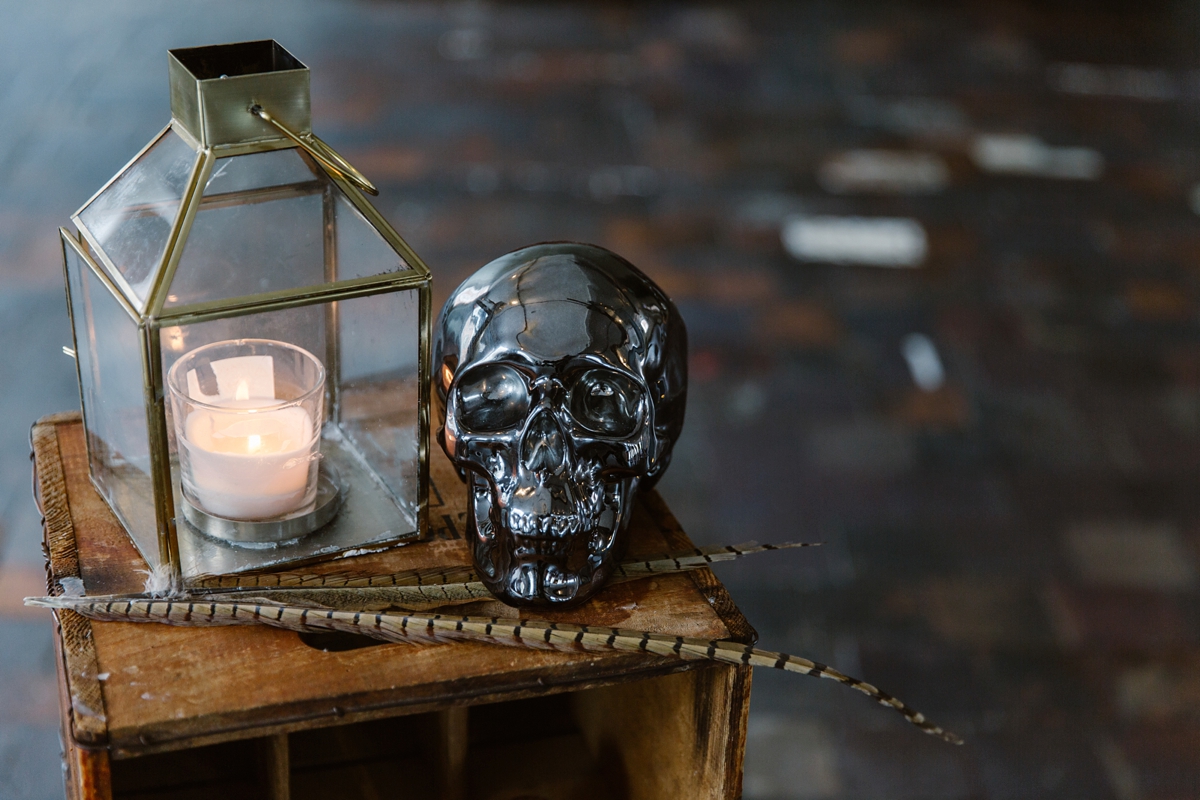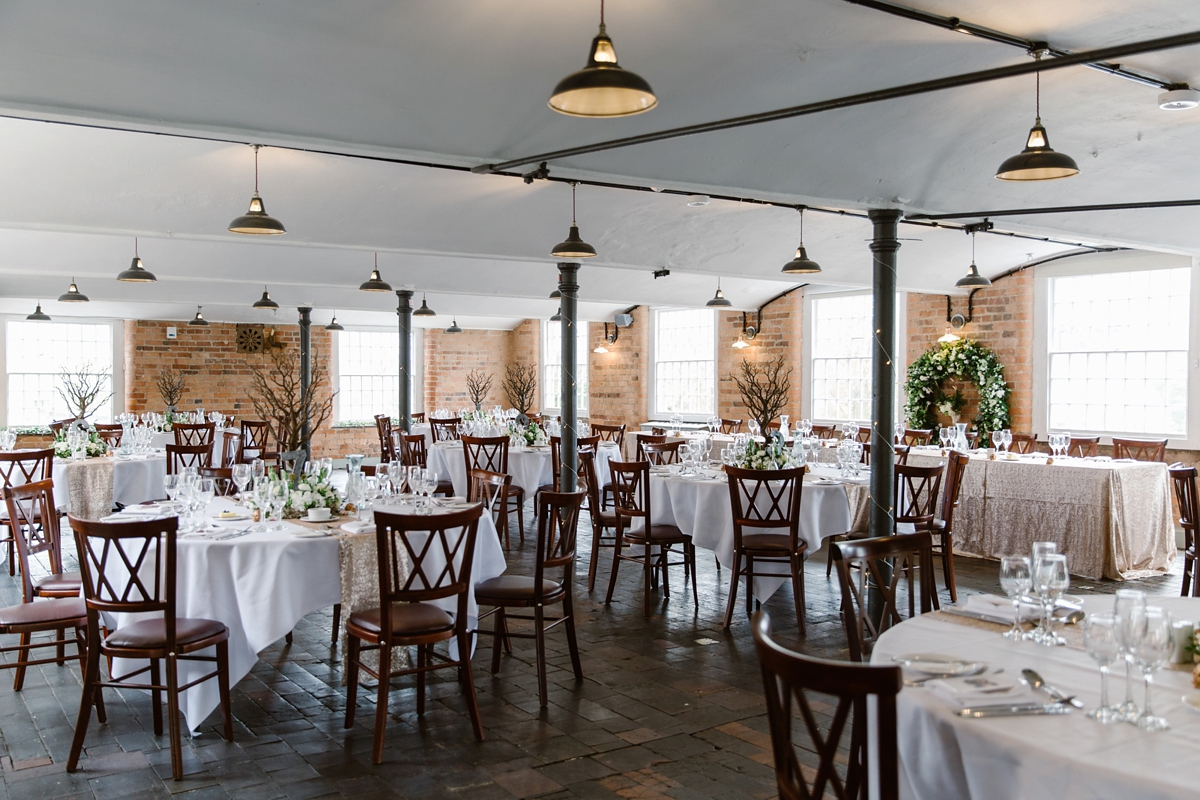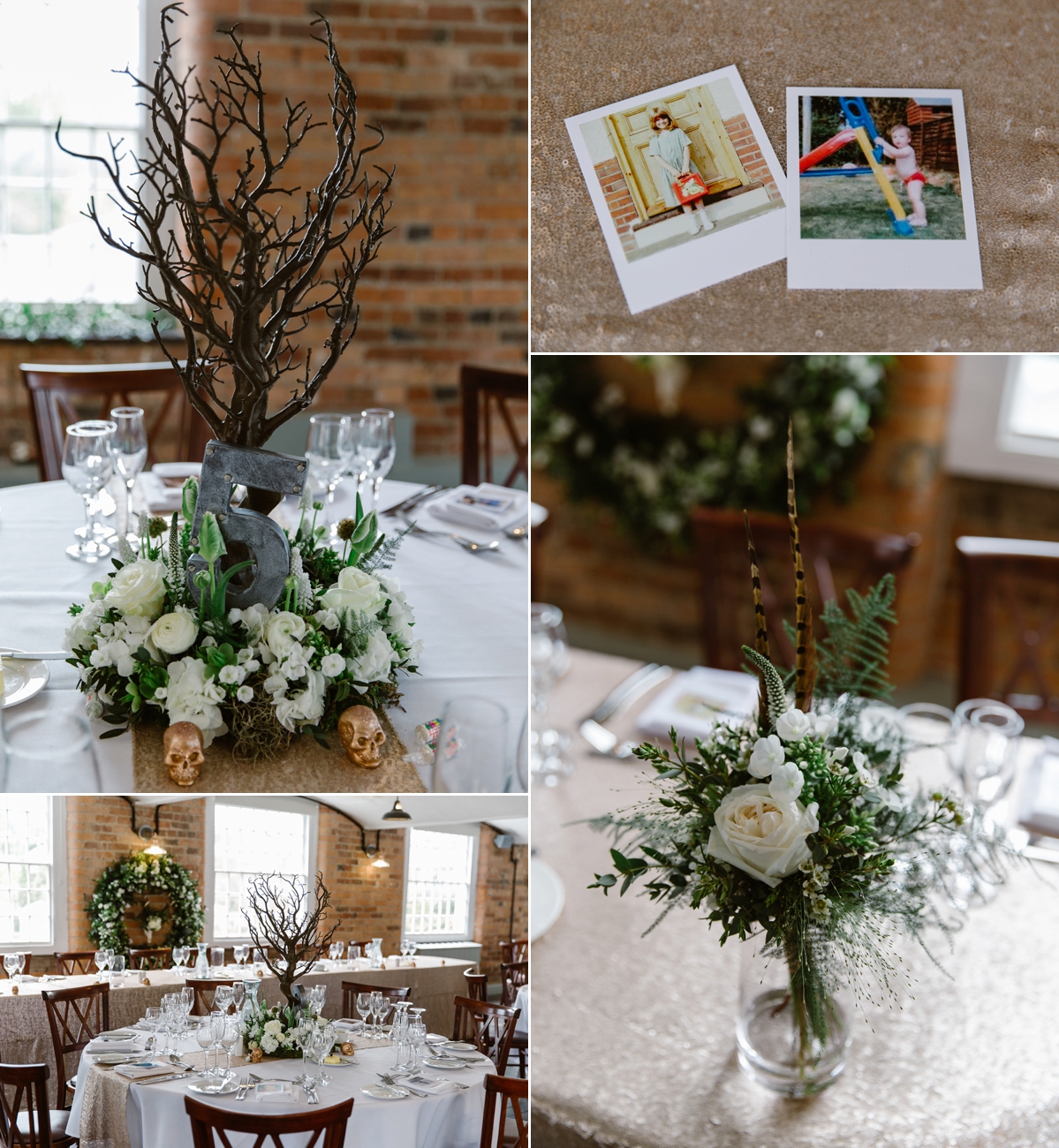 Jenkinsons Caterers prepared tasty cuisine for all – and Moore Cake Anyone? owner Elizabeth Moore was the creative force behind the couple's scrumptious cake.
"I saw a naked cake years ago and knew instantly that was the one. Elizabeth did exactly what I wanted and there with no fussy marzipan in sight!"
Jonny and Helen chose a cover of Smells Like Teen Spirit for their first dance and totally rocked it out.
"I didn't really want to do a first dance as I found the idea so cringe-worthy but Natalie helped me to realise I might regret not doing it! So I was on a mission to find a song that I had to absolutely love. Nirvana are my favourite band their music means so much to me, plus, it wasn't cringe! So it was perfect. We mixed it into the original and all our friends jumped in and smashed it out, and I am so so glad I did it, as it was one of my absolute highlights!"
"For entertainment, we had live graffiti by Graffiti Life, and music by the band Relentless. Both of these sets of guys were just incredible and exactly what we wanted!"


Words of Wedded Wisdom
"Leave yourself plenty of time – don't make it more stressful for yourself than it needs to be. If you can afford it, don't stress on the money, it's kind of inevitable that you will spend more than you thought, but this time next year you won't be wishing you hadn't spend an extra X amount, but you might miss having had things you really wanted. A really good photographer and videographer are the most important things, you need to spend here, because that is all you will be able to keep!"
"As for on the day, try to stop a few times and breathe and just soak it all up!"
"We went about £10k over what we had expected to spend … eeek! I had some freakouts but we had everything we wanted and regret nothing!"
Wow. Just wow. I'm in utter awe of your styling Helen and Jonny – and what a fantastic idea to get graffiti artists to do your portraits! Thank you to Natalie for sharing their delightful day and all the very special moments. We are big fans of Natalie here at headquarters and you can see more of her stunning work here.
And lovelies, be sure to browse our extensive LMD archives to view these brilliant industrial style weddings for even more inspiration.
Love Jo -xo-