Flowers are wonderful things aren't they? They can instantly change your mood, brighten a gloomy day and reconnect you with the simple beauty of nature, they're very often one of my favourite things about weddings.
Today's bloom-filled union is that of retail manager Paul, and teacher, Jayne, who wed on 5th August 2017 at St Peter's Church in Bottesford, followed by a DIY, festival-inspired reception at Folly Field in Garthorpe. The church where they made their vows is just around the corner from their house and the place the couple were certain they wanted to promise their forevers to one another.
"Everything was a bit mismatched and festival inspired, and it was stuff we liked! We both love gin and wanted to incorporate this in some way so our unusual table plan was made from gin bottles filled with English flowers provided by The Spotted Dog Flower Co. Their flowers are mostly grown locally, in Blyton (eight miles from our home.)"
Images by Kazooieloki Photography
"I didn't want a structured, perfectly manicured bouquet so I opted for a loose style that contained agapanthus, ammi, cineraria, eucalyptus, dahlias, grasses, jasmine, scabious, snapdragons, rose and veronica. We decided that we wanted to dress the venue with flowers ourselves so we ordered a bucket of flowers and a bucket of foliage from Spotted Dog too. My very talented friend, Katie, kindly volunteered to fill various gin bottles and lanterns and made some amazing flower displays."Jayne wore the classic, elegant 'Amanda' dress by Ronald Joyce, which she purchased from Tickled Pink in Hatfield along with her Richard Designs veil and 'Jennifer' shoes by Rainbow Club. Her pretty locks were styled by Megan Rose Tyma hair and Kerrie Dalton at Olivers of Messingham and make-up was taken care of by Tammy Faye, all ladies our bride would recommend in a heartbeat.
"I visited three bridal boutiques and tried on at least eighty dresses. I never got the 'wow' moment that many brides describe but liked my dress the best. It fitted me perfectly and needed only shortening. When I put it on on the wedding morning I knew that I had made the right choice."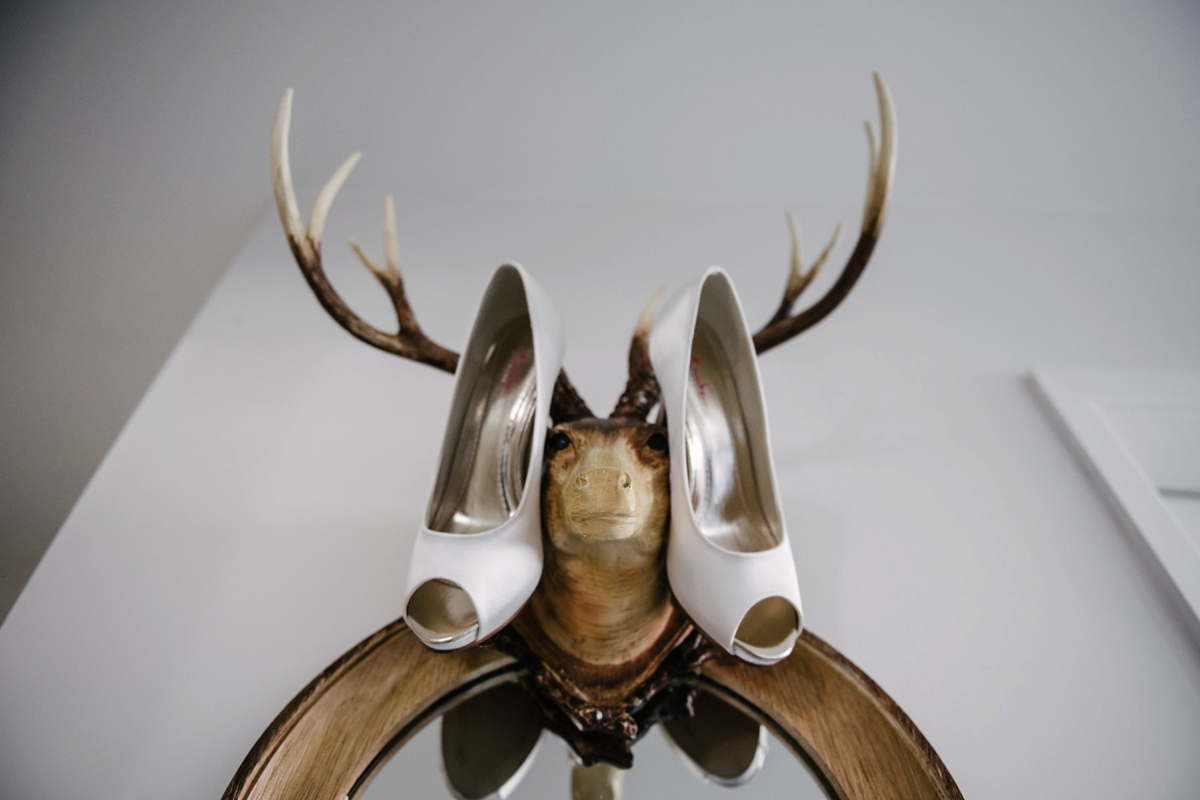 The newlyweds exchanged rings as well as vows, Jayne's part of a bridal set from Ernest Jones, which complemented her engagement ring, Paul's a simple Tugston band from H.Samuel. In a haze of just married joy they then made their way to their festival-inspired reception to party the rest of the day and night away with their loved ones.
By the way, have you seen the beautiful collection of rings by Emmy London for H Samuel?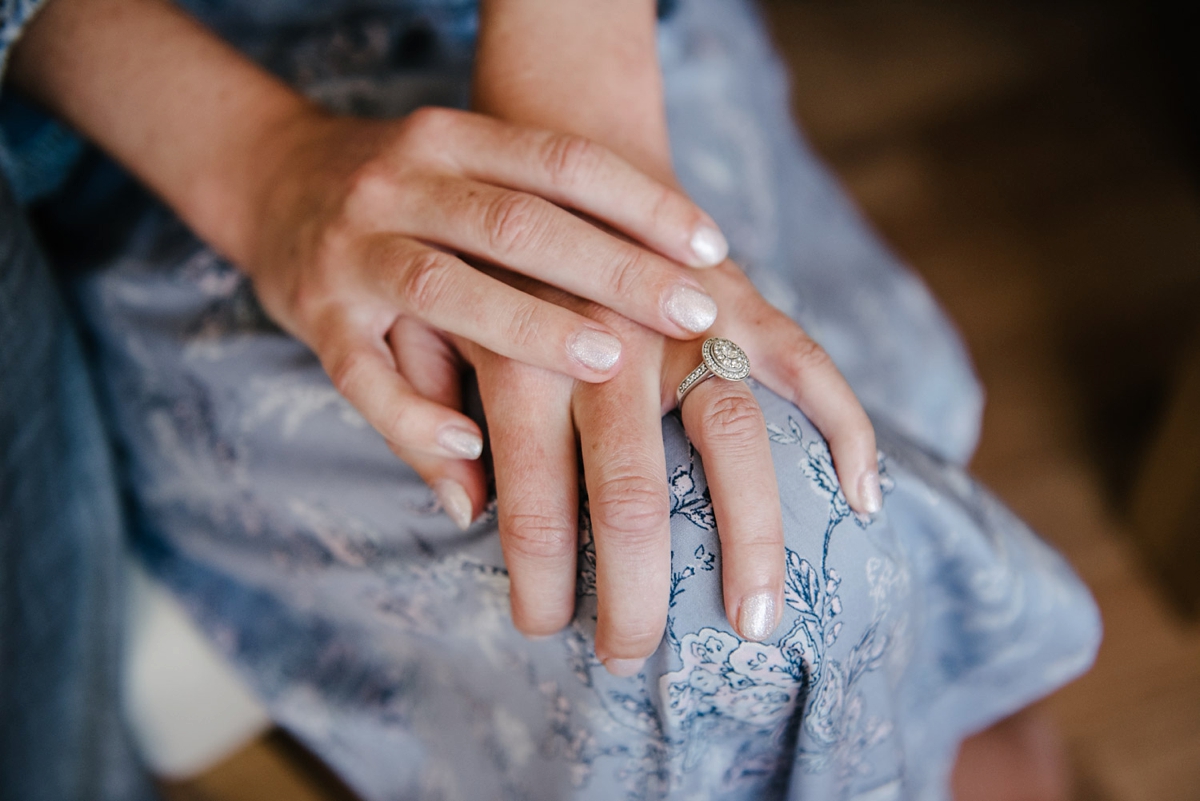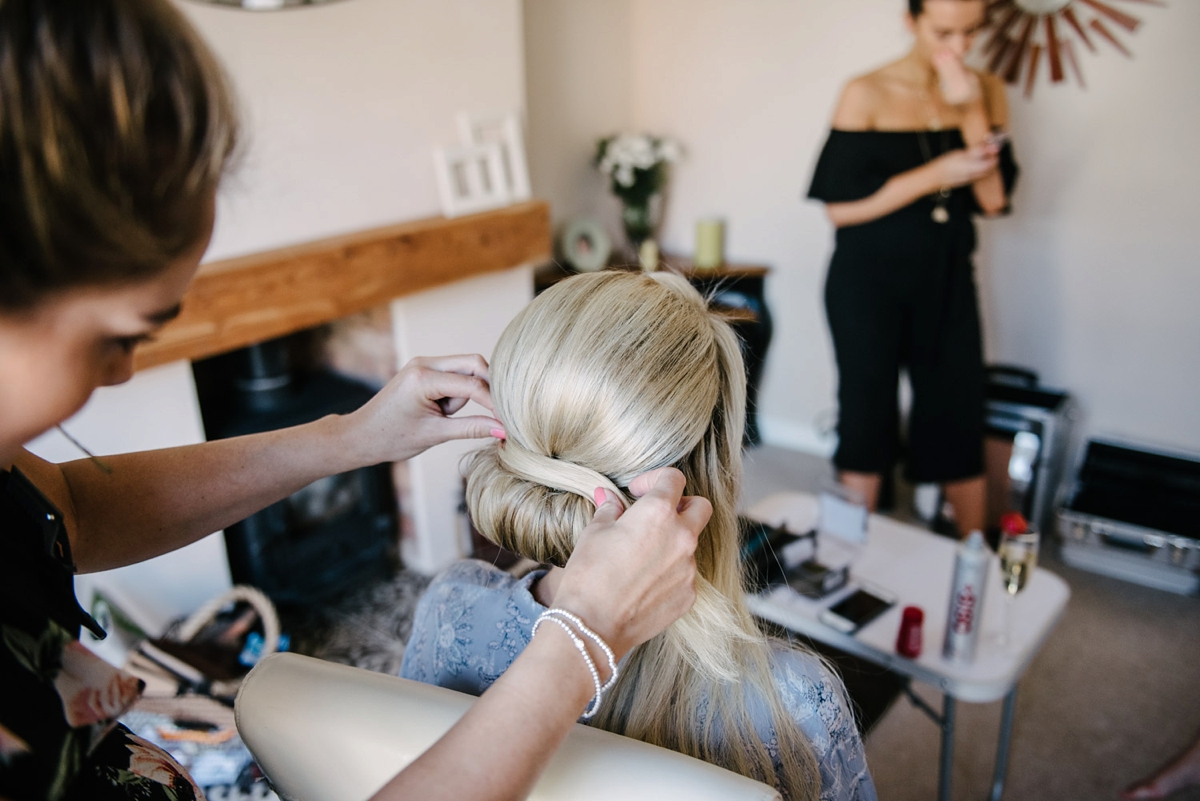 "I normally wear La Vie Est Belle, but Paul left me La Nuit Trésor by Lancôme as a present on our wedding morning. Paul's parents bought me a pearl bracelet by Thomas Sabo (from Coe and Coe in Scunthorpe) and I used one of Paul's mum's charms as my 'something borrowed.'"
"My earrings were silver pearl drops from eBay and I tied an antique pearl necklace that my auntie Molly gave me for my 21st birthday around my bouquet. This was my 'something old.' My 'Mrs' clutch bag was from Debenhams."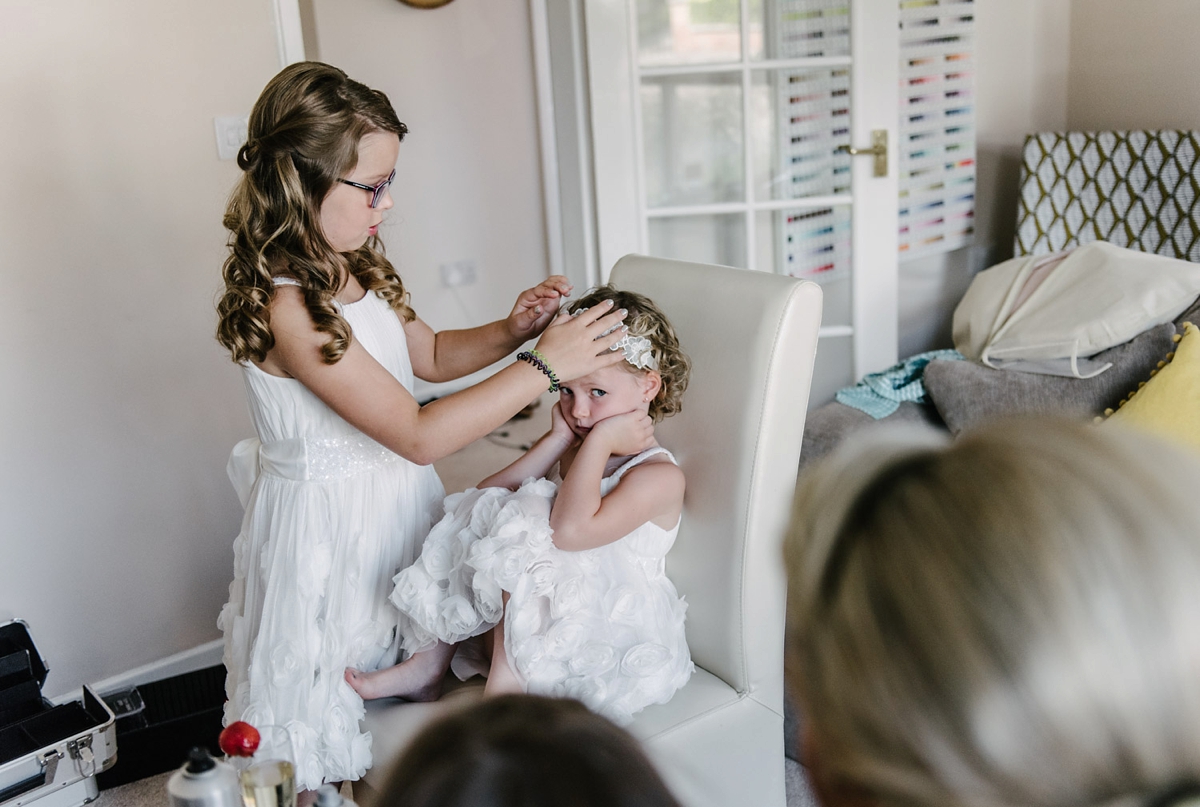 Paul and Jayne met in 2000 when they attended the same college, and after dating for a year, they separated when Jayne moved away to attend university in Leeds. Fast-forward ten years and back in their hometown on a night out, the couple reconnected and Paul whisked Jayne off on an amazing second 'first' date.
"Paul and I met in 2000 when we attended the same college, we dated for a year and then we split up when I moved to university in Leeds. I moved back from Leeds in 2011 when I started a teacher training programme and Paul and I saw each other when we were both out in town for the night. We got talking and discovered that we were both single. Paul pursued me until I agreed to go on a date with him and it was the most amazing first date."
"Paul took me to Alnwick for the weekend to celebrate our first year anniversary and on 31st October 2016, he took me to Alnwick castle (I'm a huge Harry Potter fan).  He became increasingly agitated as the day progressed, lingering and distracted, and I assumed it was because he was bored (he is not a Harry Potter fan). As we walked around the heavens opened and when it became obvious that it wasn't going to cease, he suggested that we just go to the hotel. On the way back to the car he proposed in a secluded, smelly area by the bins with a beautiful, antique style diamond ring."
"He didn't get down on one knee as he didn't want to dirty his jeans and he mumbled the words 'well, will you?' The ring was five sizes too big and I couldn't wear it for fear of losing it – the whole experience was a disaster but I wouldn't change it for the world. We set the date for 5th August 2017 so had ten months to prepare."
Paul wore a suit by Cavani, purchased from Fallen Hero in Scunthorope, while Jayne's bridesmaids wore midi dresses by ASOS Collection with silver glitter shoes from New Look, earrings from Monsoon and pearl necklaces from Secret Sales, which Jayne gifted them on the day. Monsoon was also where Jayne sourced her pretty flower girls' frocks and headbands, and the page boy rocked a cute high street ensemble complete with a bow tie from Debenhams and a pair of Converse.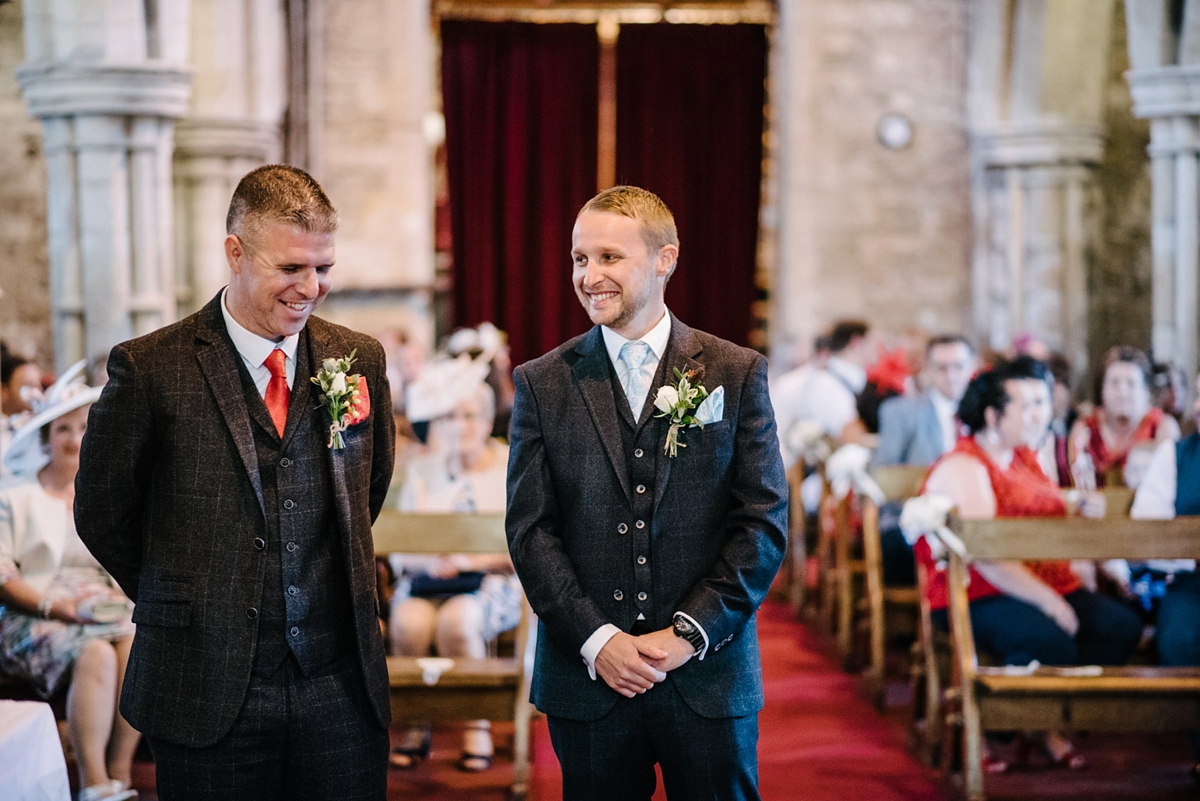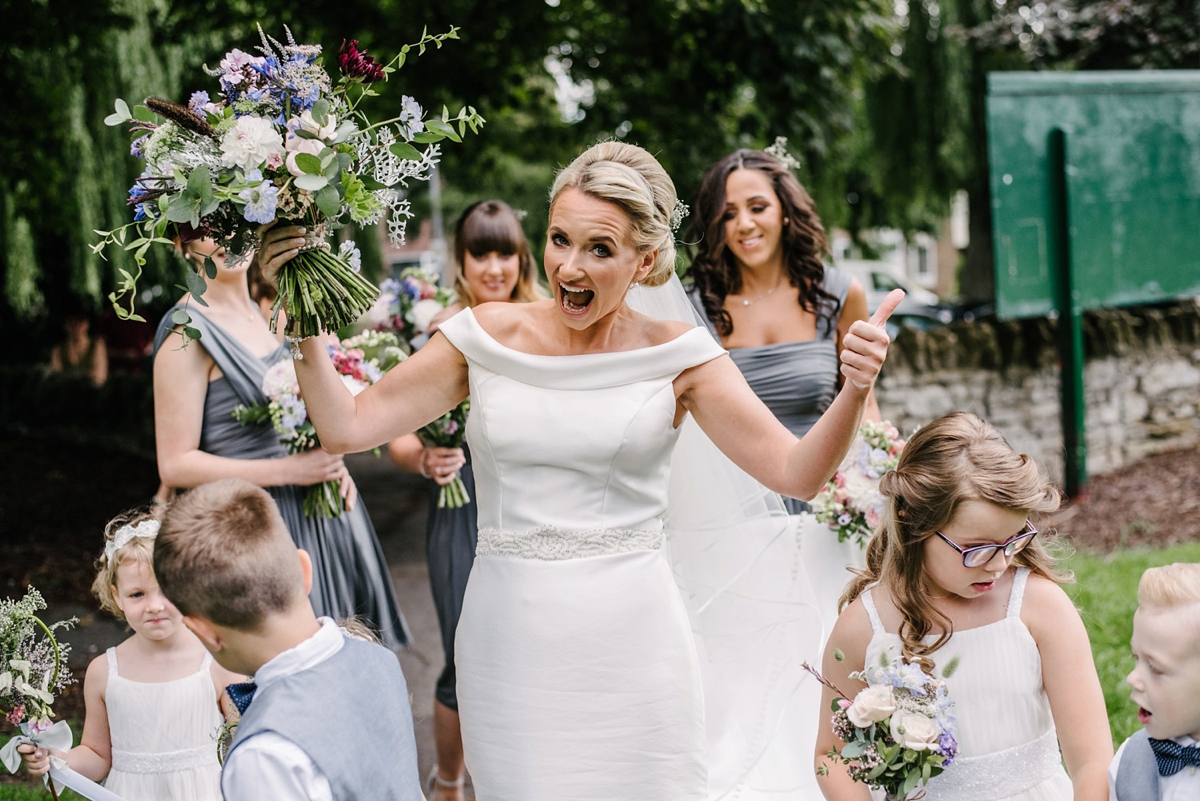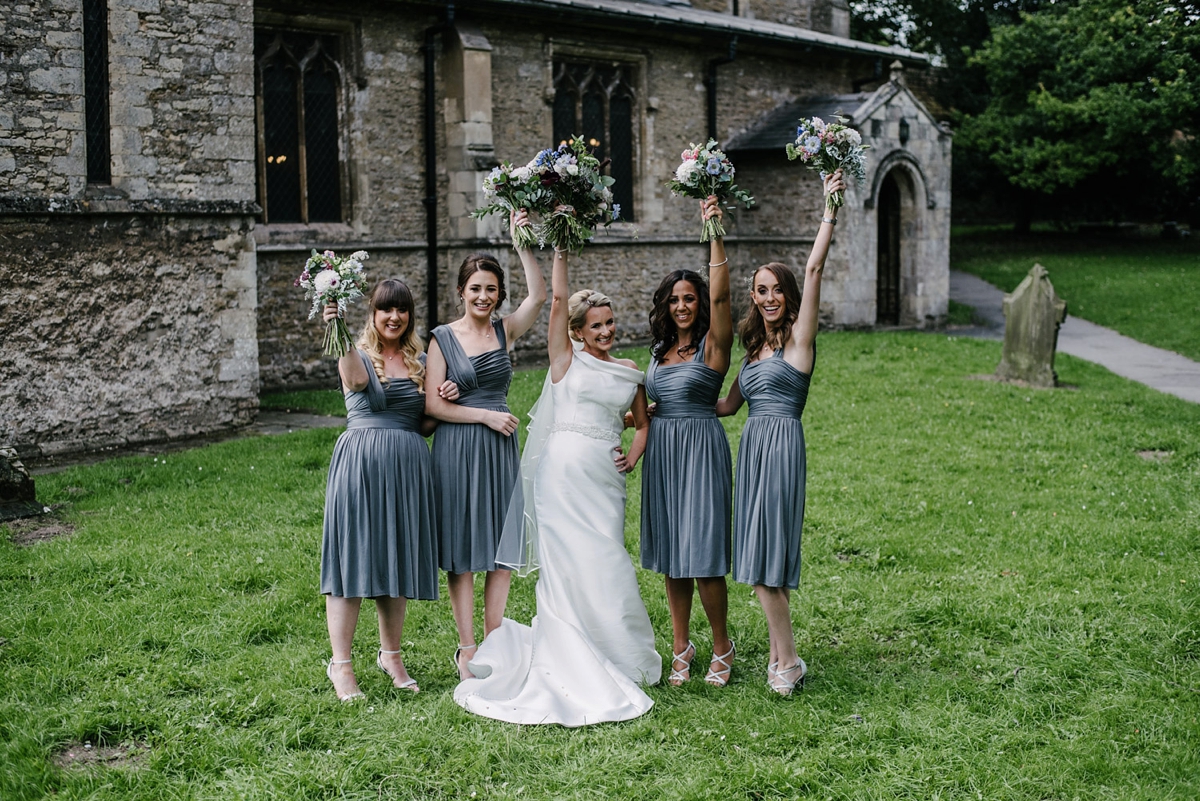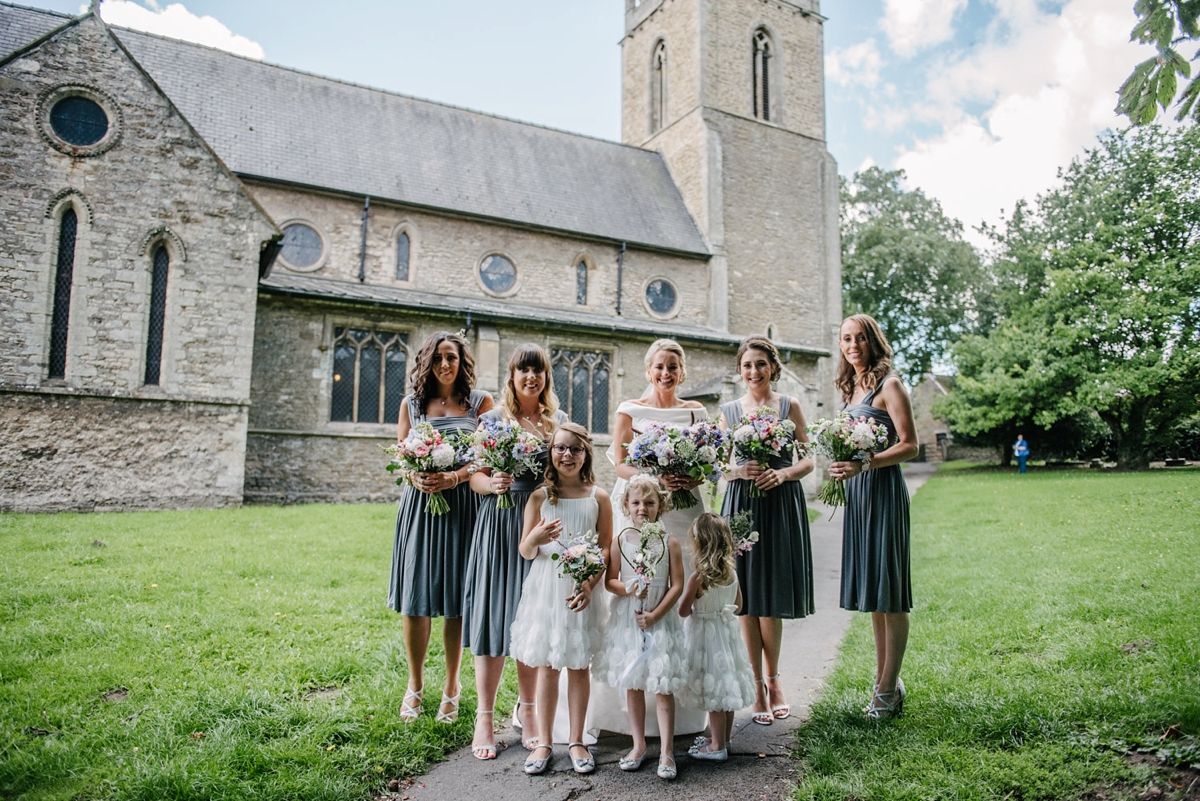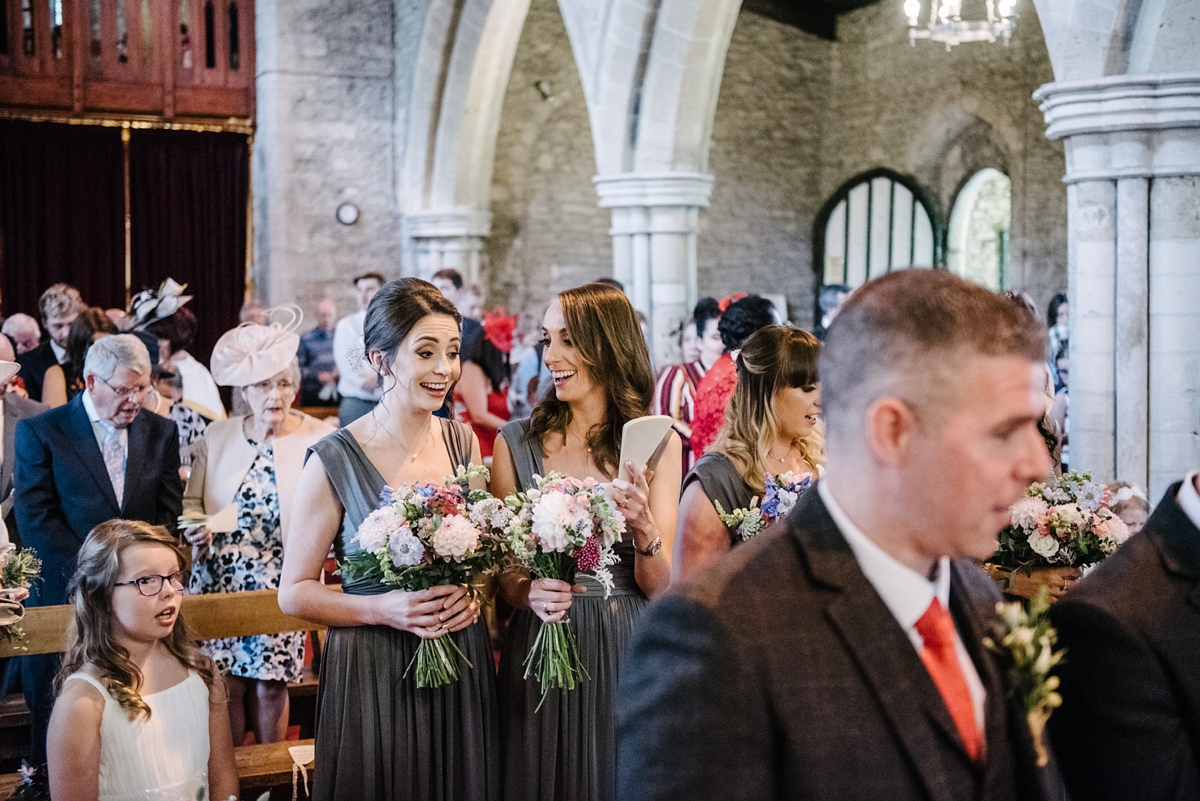 Jayne's uncle, Trev, transported her and her dad to church, where she walked down the aisle on her father's arm to Pachelbel's Canon in D, and then later ferried the newlyweds to their reception at Folly Field. Trev even bought a chauffeur hat especially for the occasion and provided his passengers with a bottle of Lanson for the journey.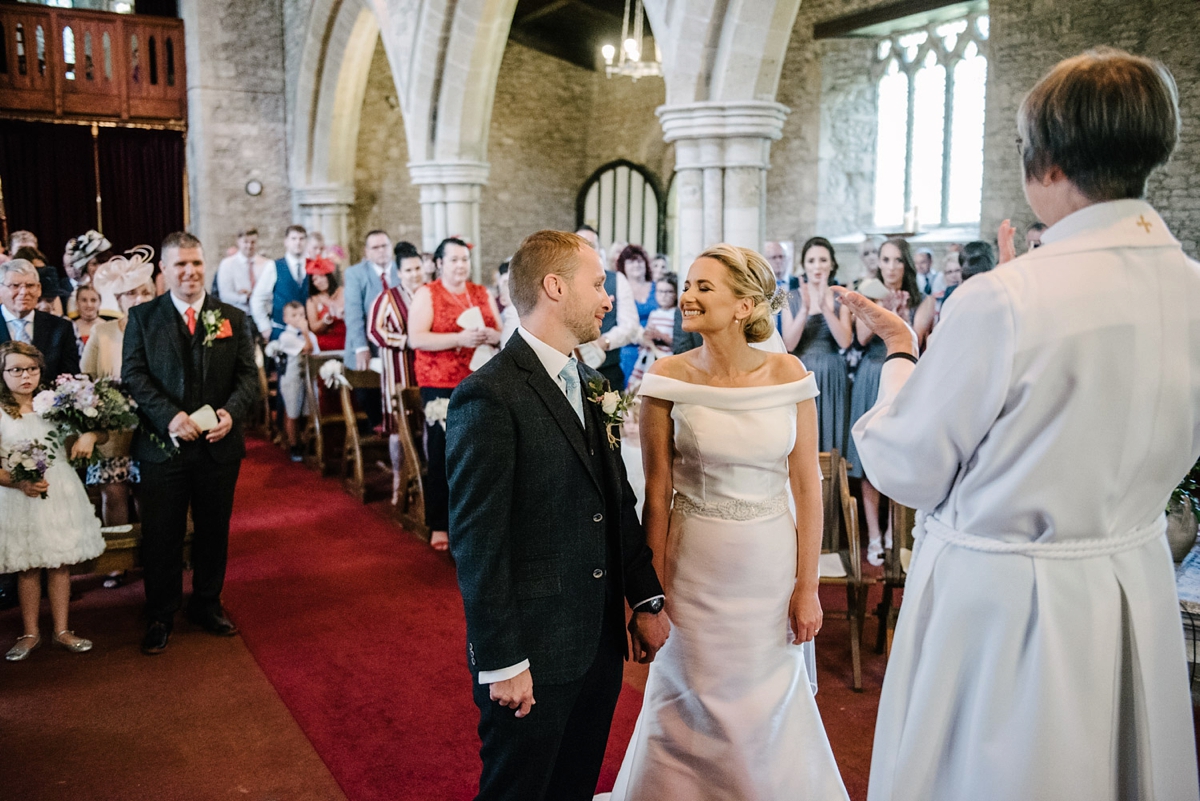 "We had three readings. We chose Marriage by Anon, which was read by my good friend Paula Tutty. We liked it as soon as we read it, it made us smile. It's the most honest wedding poem out there and we knew the congregation would enjoy it too. Our second reading was more personal, we went to London for the weekend to see 'Les Misérables' in the West End and my sister, Sally Allen, read an extract from it in our ceremony."
"Our third reading was a traditional one, chosen and read by Paul's mum, Elaine, 1 Corinthians, Chapter 13. It's really hard to choose our favourite part, but the church service was perfect as is was the calmest part of the day and we chose hymns and readings that reflected us."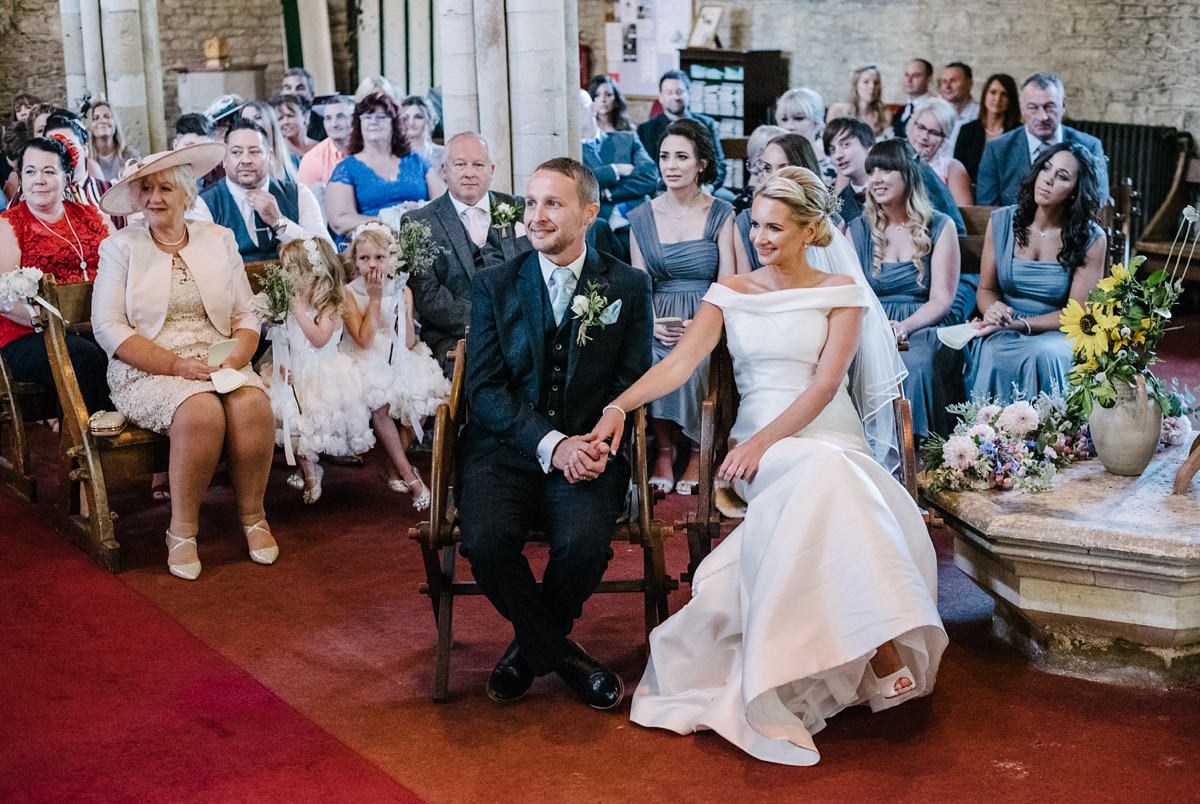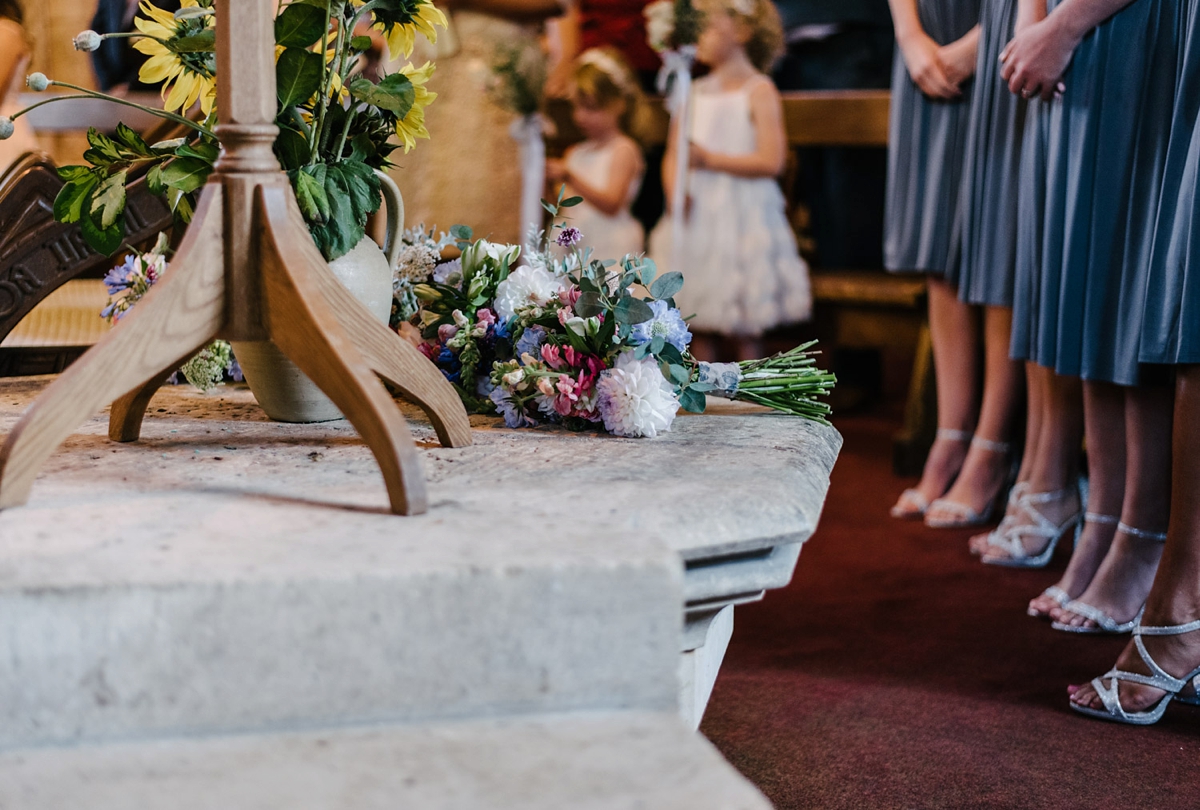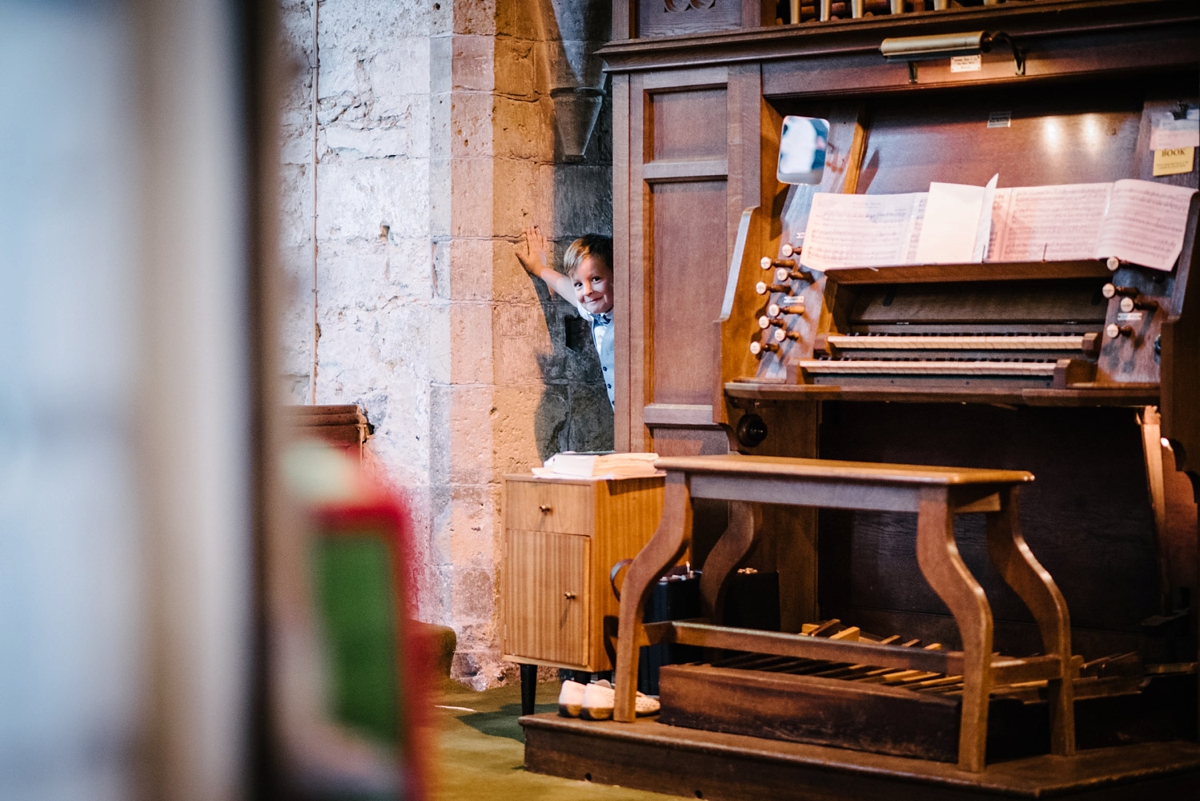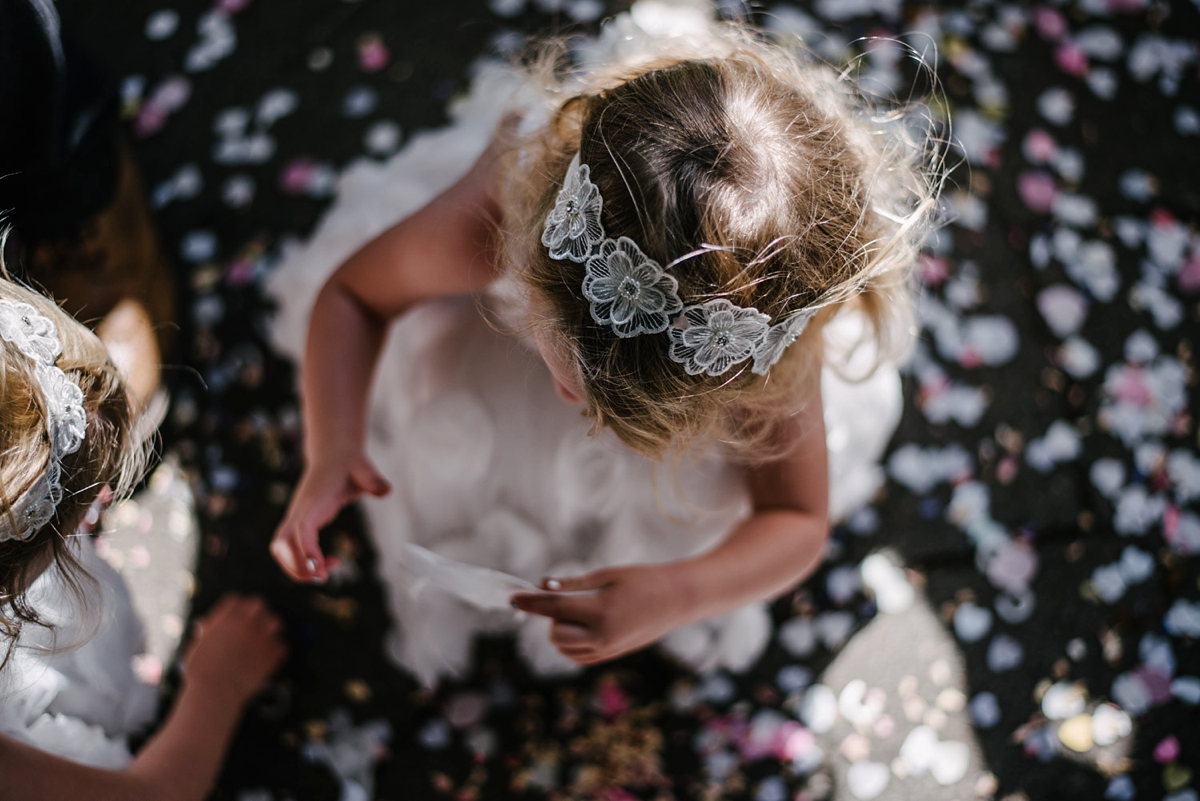 Guests were served tasty canapés on arrival, old-school chips and dipping gravy, mini Yorkshire puddings and roast beef, sticky sausage skewers and mozzarella and cherry tomato sticks. This classic scrumptious-ness was followed by an antipasti starter and tapas main course, created by Monika from Cater Me Tasty, who even visited the couple's favourite tapas restaurant in Leeds for inspiration before the day. An ice-cream for dessert was provided by On Yer Bike, transported on a vintage ice cream trike.
"We would rarely go out to enjoy a three course sit down meal, however we would happily go for tapas and then have ice-cream for dessert, so our wedding breakfast consisted of antipasti, tapas then ice-cream. For supper we will often have cheese and biscuits and Paul loves pizza."
"Therefore we had pizza and cheese and biscuits for the evening reception. We all toasted our marriage with limoncello as we are both partial to this and we decorated the venue with various gin bottles and had gin table names as we love a good gin! Our evening reception was catered for by Pizza Da Angelo."
"Guests chose their own pizza flavour and they were made to order in a wood-fired oven. Dan from Electric Six bars provided a great bar service throughout the day and night."
Kazooielokie Photography have captured such joy-filled images of the bridal party preparing for the day. This style of candid, reportage photography is my favourite and I feel truly conveys the spirit and the feeling of a day – pomp and circumstance stripped away and just the raw, real emotions left to shine.
"The photography was probably the wedding element that we both feared the most. This fear ended when we had our engagement shoot with Christine and Richard from Kazooieloki Photography."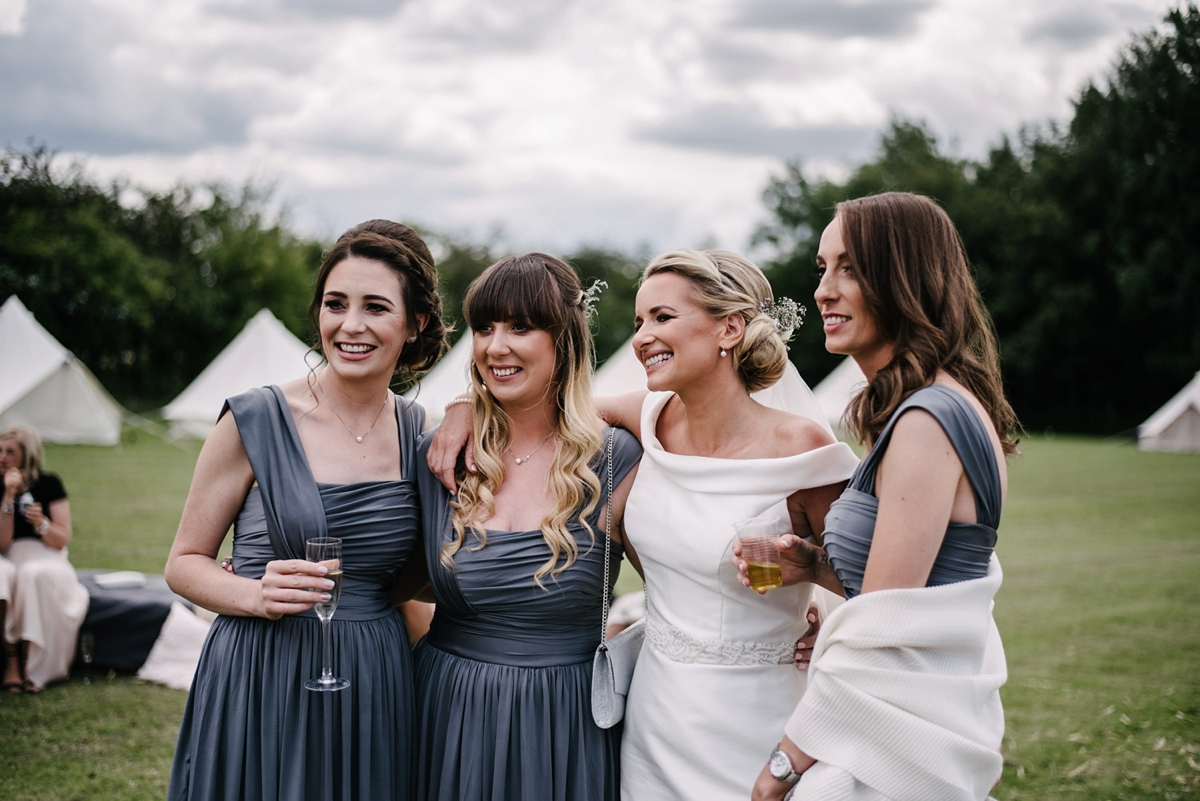 "They were so open and friendly that we couldn't help but relax and enjoy the experience. On the wedding morning they both came to take photos of the bridal party preparations and just slotted right in. We had an early start as the ceremony was at 11am and they stayed well into the night. Their unobtrusive professionalism is exactly what we wanted from our wedding photographers and we cannot recommend them highly enough. They have captured the day impeccably."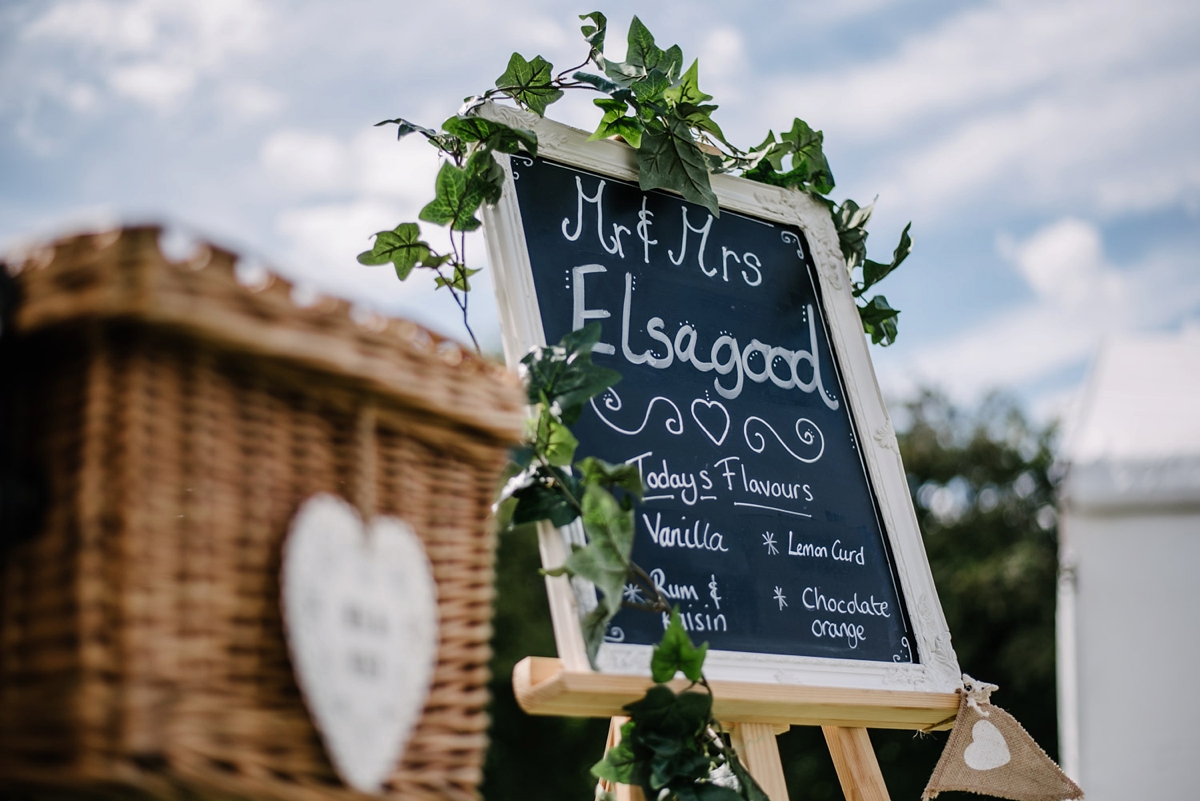 "A friend leant us a sweet cart and we had a post box made by Paul's dad and photos of family members who couldn't be there to celebrate. We decorated the ceiling of the marquee with multi-coloured paper lanterns and hired some light up letters from LS Event Hire & Styling, who also decorated outside. We also hired some gorgeous bell tents from Charlie at ParTpees and these formed the backdrop to our wedding."
"Some of the guests, us included, stayed overnight, which made the party last a little bit longer. All of the guests helped to tidy up and pack away in the morning too. Paul's parents brought a BBQ and made egg, sausage and bacon butties for breakfast and our bouncy castle slide was hired overnight, and loved by everyone."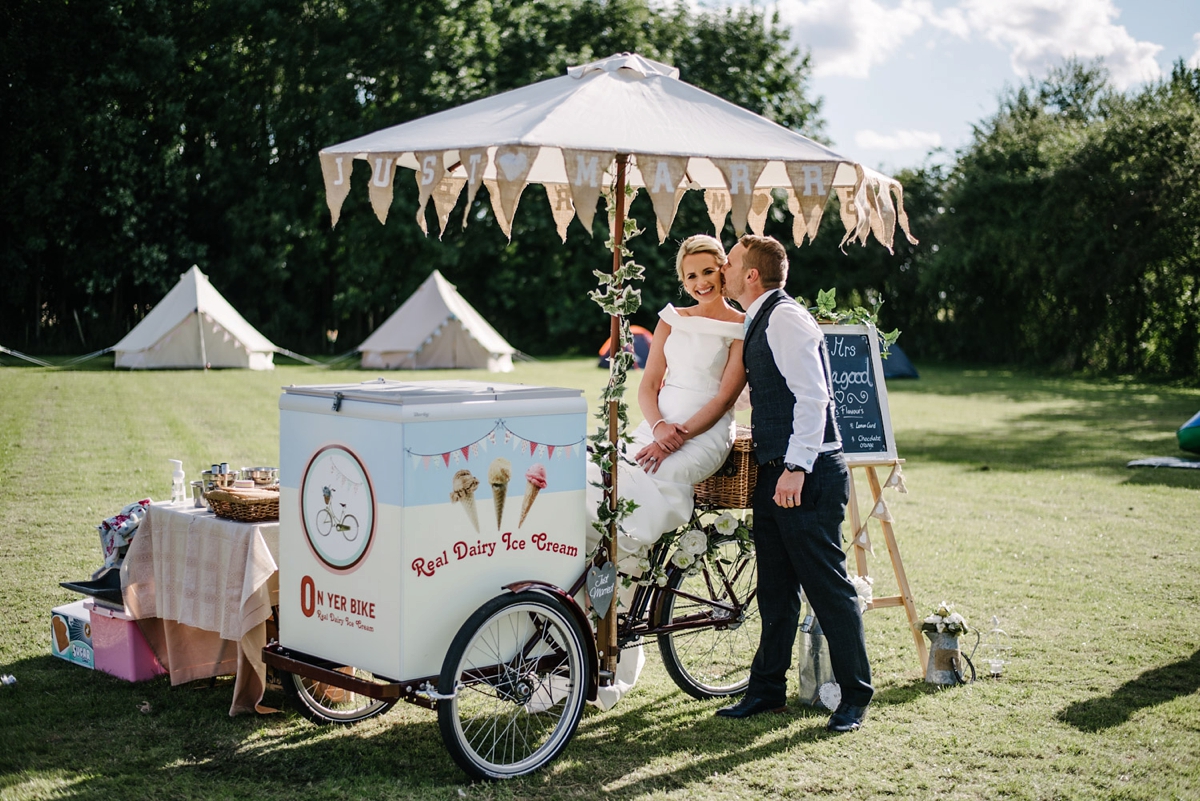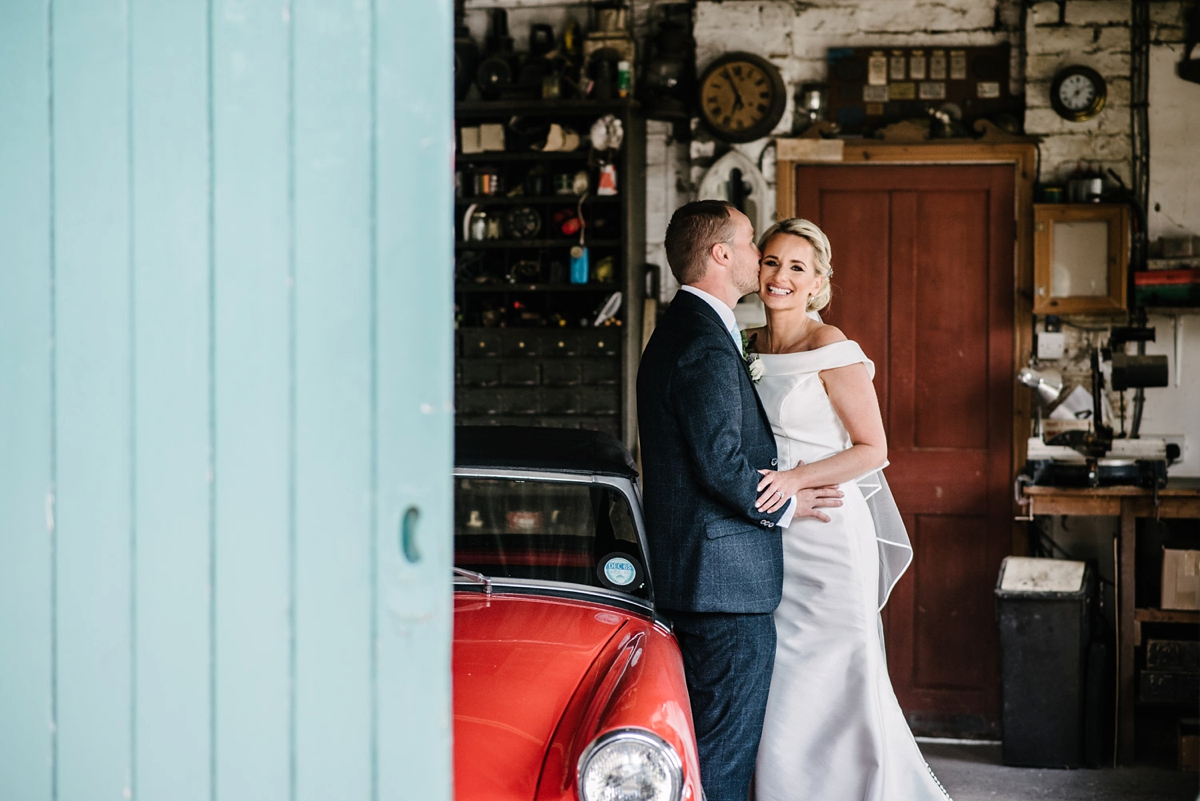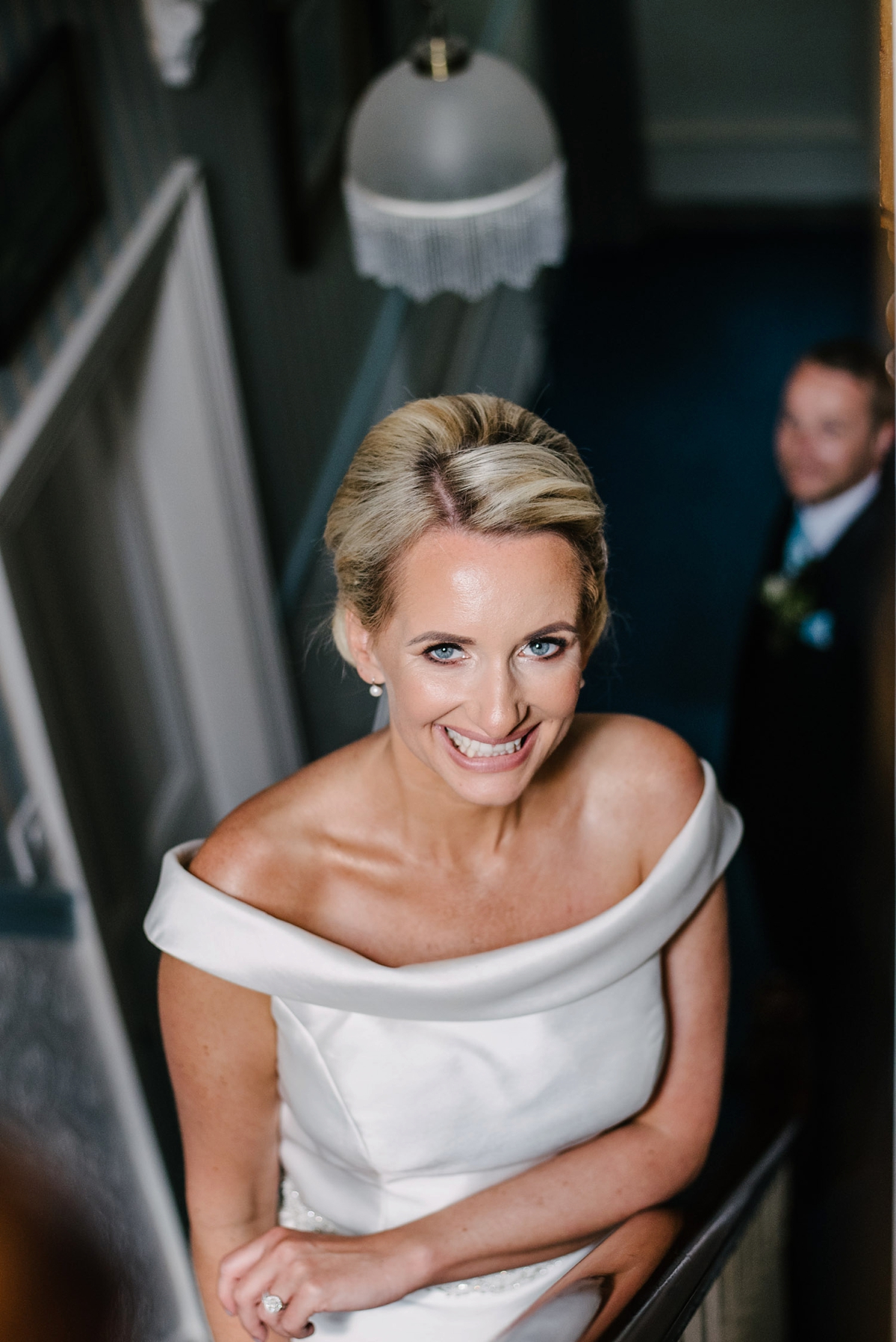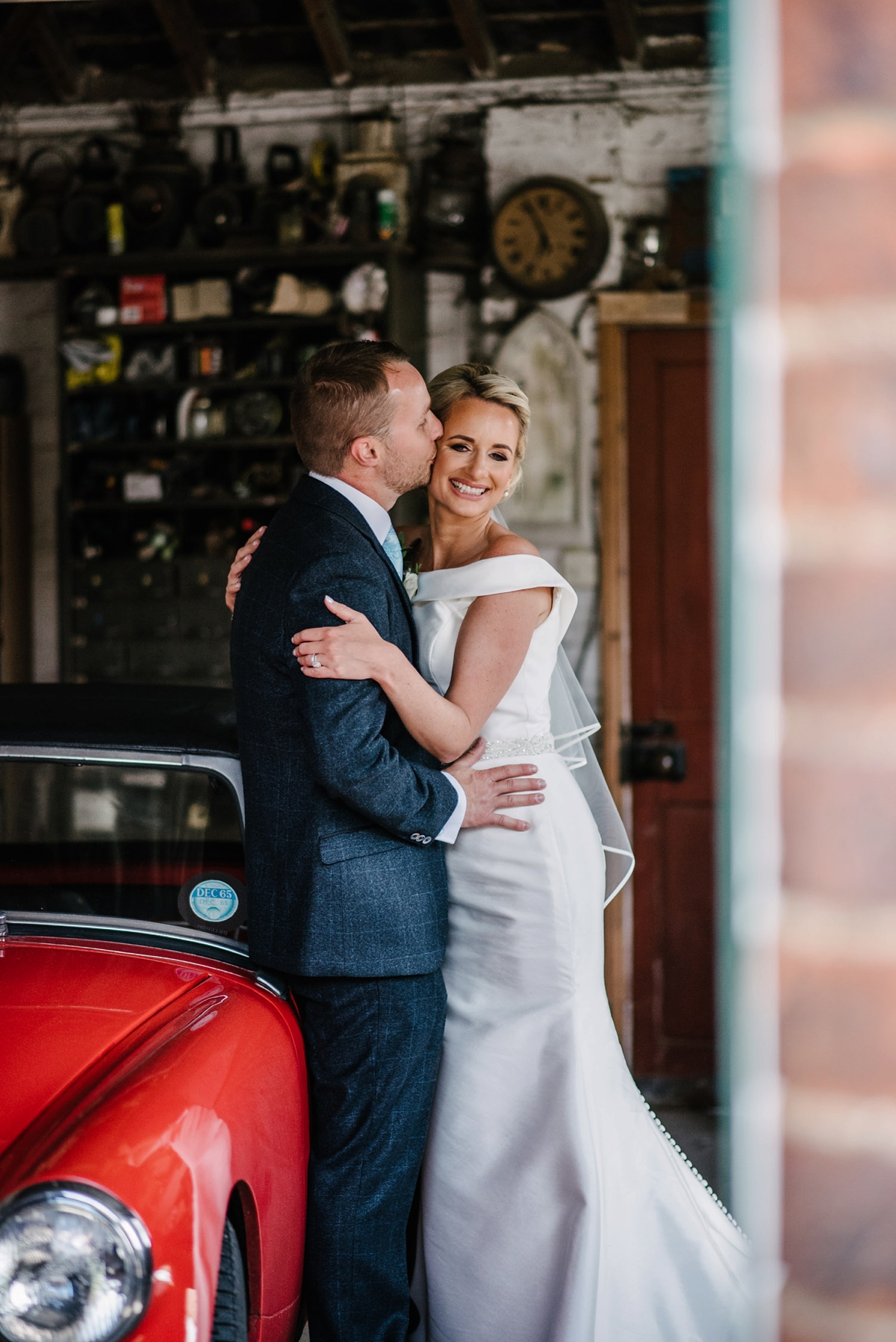 "Our reception was held at Folly Field in Garthorpe. Paul was in charge of finding a venue that was available on the 5th as we had made the booking with the church. We were very conscious that the date was only nine months away and that we might not get the perfect venue."
"We had agreed that we didn't want anything too formal and had ruled out many of the local hotels. After visiting a couple of local venues, Paul made an appointment with Folly Field and he was blown away, so much so that he insisted that I visit the venue on my lunch hour the very same day. It was perfect. A little campsite in the grounds of an Edwardian house and the owner, Robert, was so welcoming. We booked it there and then."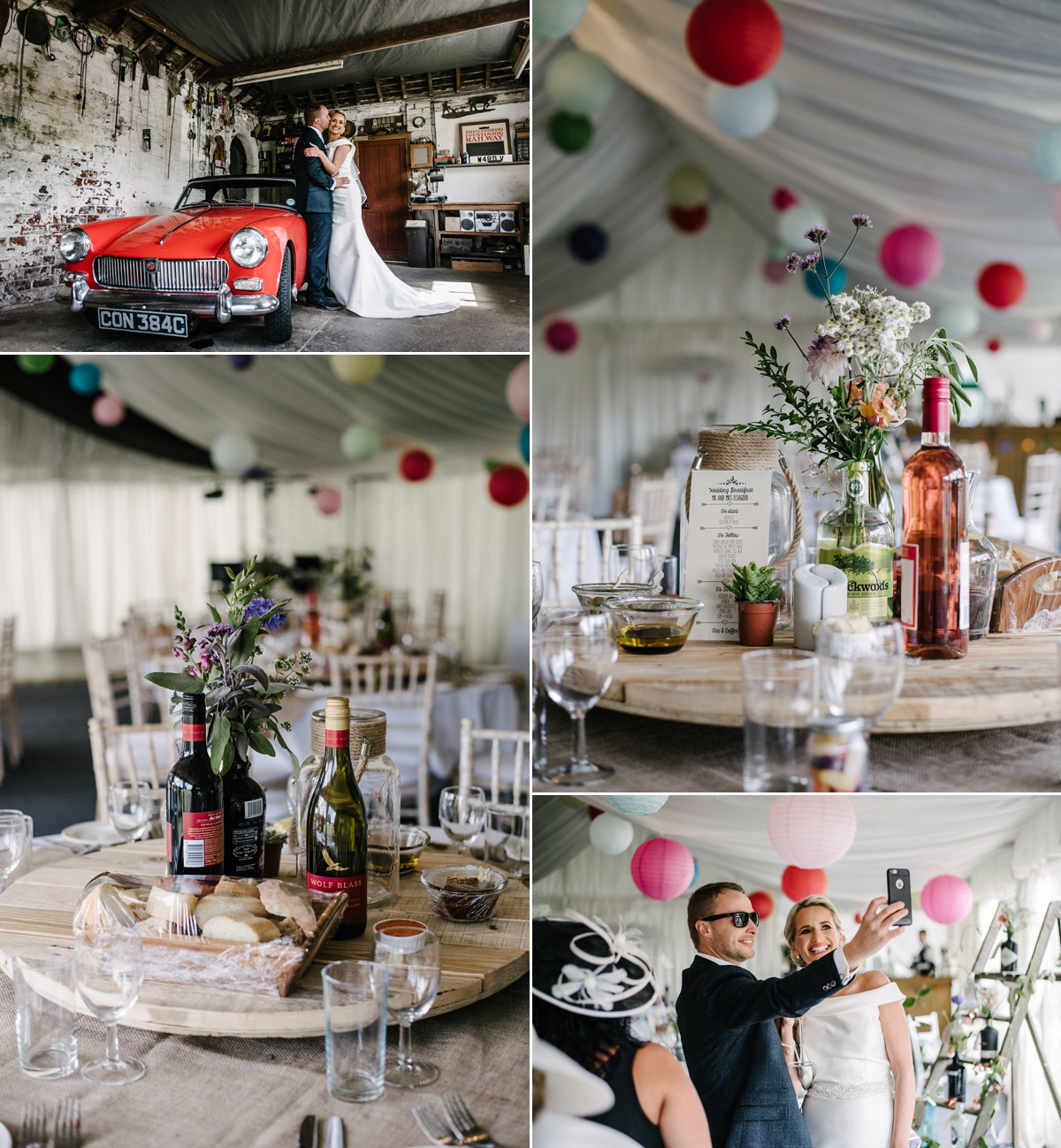 Jayne made all of the stationery for the day herself, and in an inspired move, made the menu cards to double up as a Mr & Mrs game for each guest, which were later marked by Paul's daughter, Evelyn, with prizes given for full marks. The couple decided they wanted to decorate their reception venue themselves, both to save money and also because they thought it would be fun. It was in fact something Jayne really enjoyed doing before the wedding – a three-day effort with friends and family, which felt like an early start to the celebrations.
"We didn't want anything too fussy to decorate the tables. We hired some hessian table cloths from LS Event Hire & Styling and some rustic wooden Lazy Susans for the centres, as we were having tapas we needed a way of sharing the different platters and food bowls. We placed a lantern with copper wire lights, a little cactus and a gin bottle filled with flowers on each table. I also bought a 1920s Underwood type writer and guests types us a message instead of using a guest book."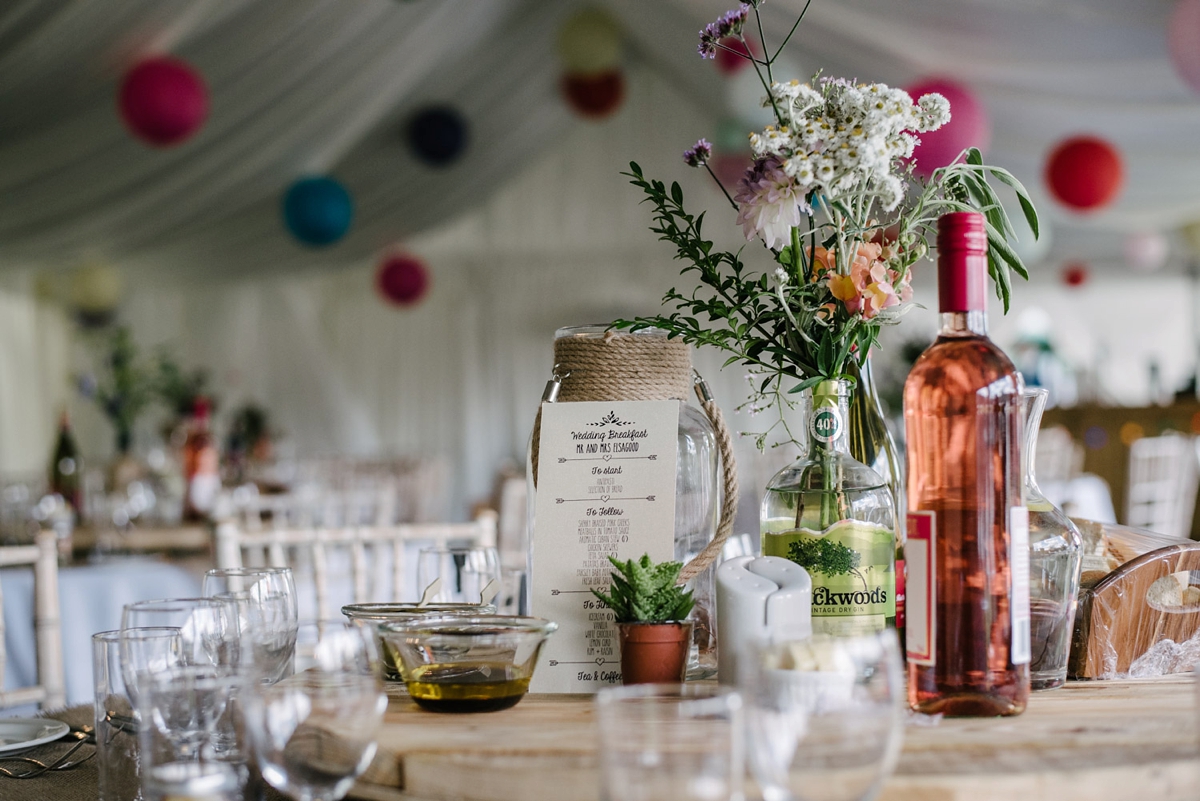 "Initially we didn't hire an event planner however, as the day approached we became concerned that we wouldn't enjoy the day as there was so many different elements that needed to be brought together. We therefore employed Lauren from LS Event Hire & Styling to coordinate the day.  She met with us several times before the wedding and she did an absolutely fantastic job, she even managed to source a new generator on the morning of the wedding as the one supplied had blown up!"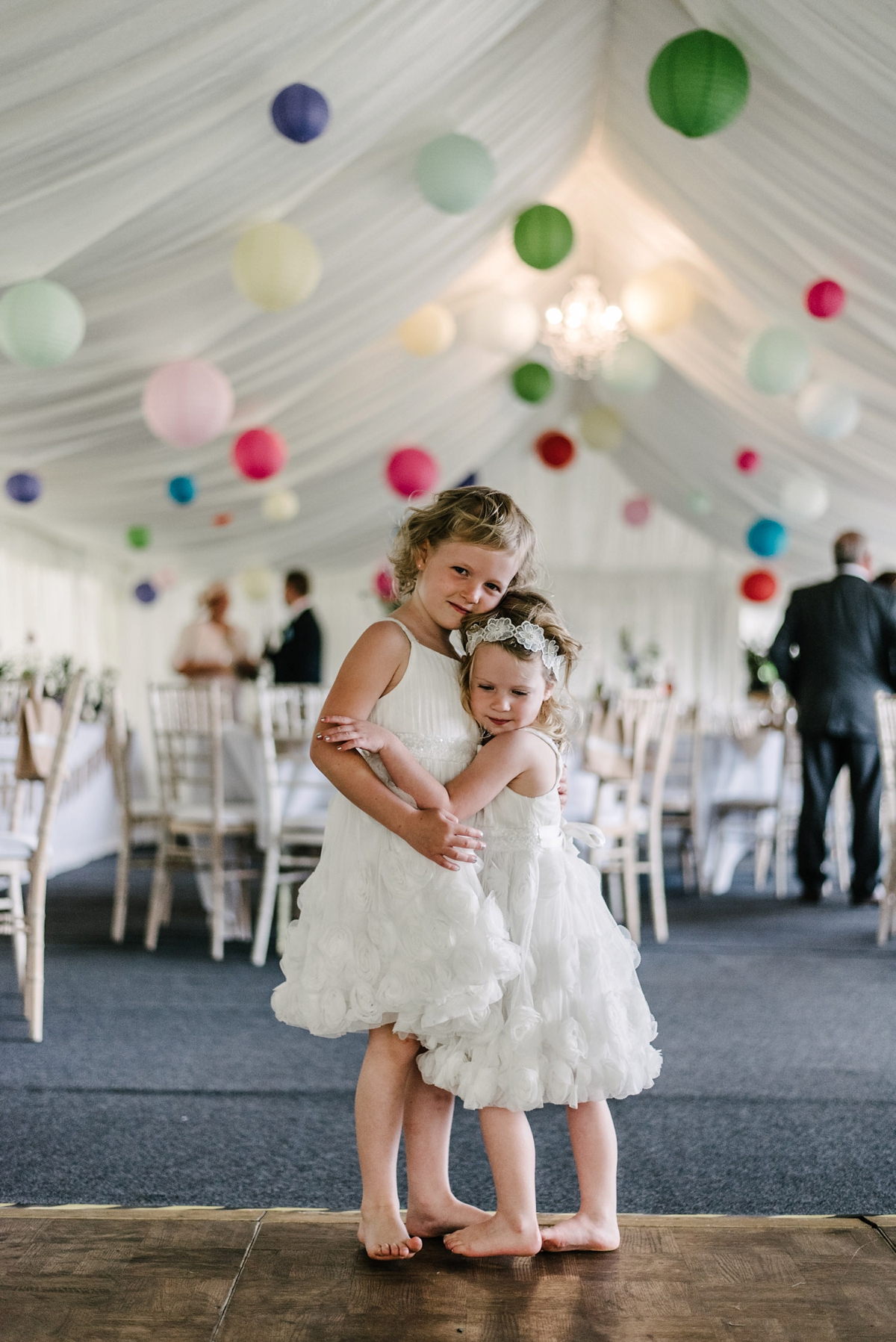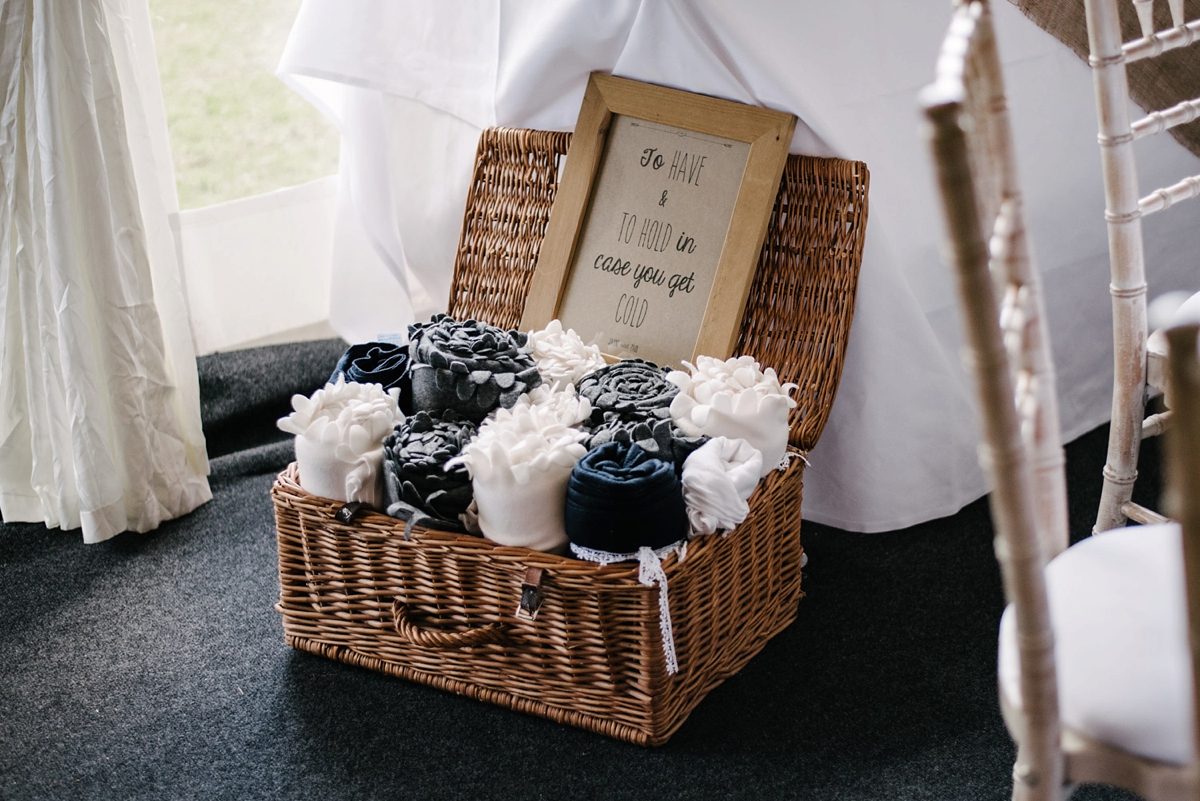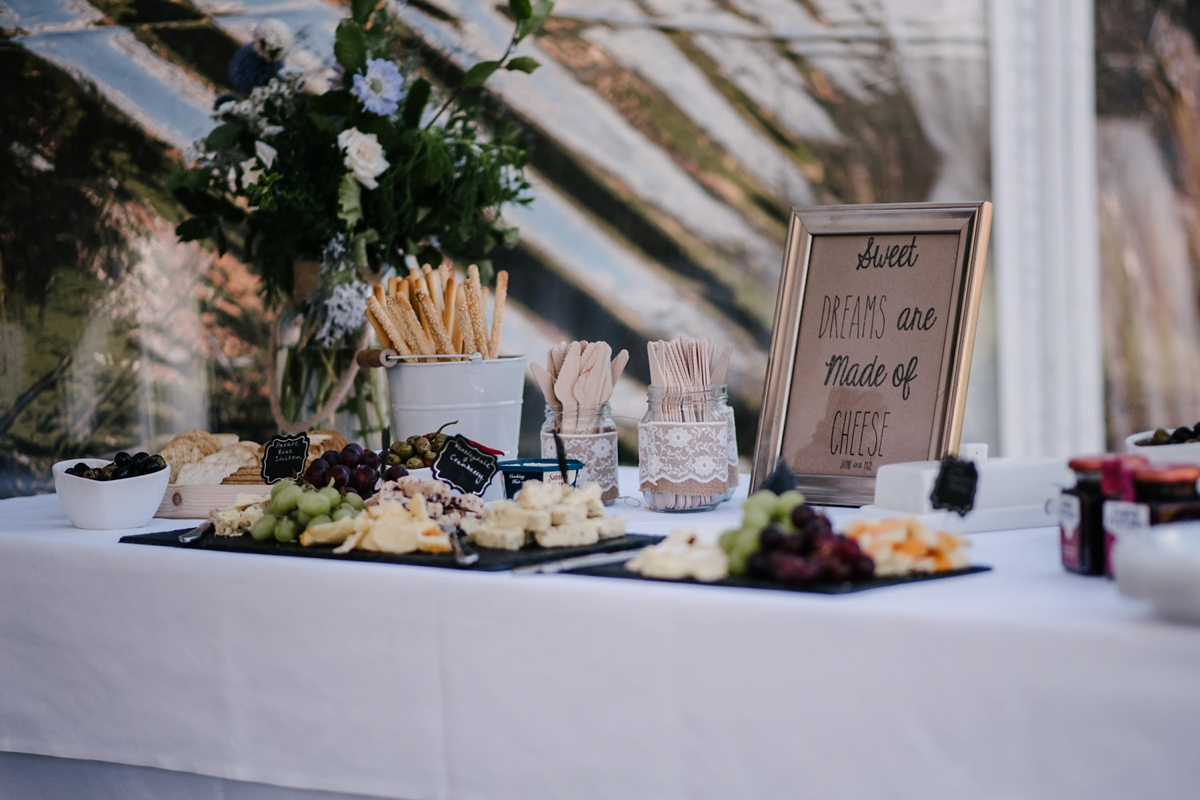 "My brother and my sister-in-law got married last year and Paul and I bought them their wedding cake as their gift. My school friends Catherine Trevethick and Helen Glew made them a gorgeous three-tiered semi-naked sponge cake, each layer was different, one lemon, one chocolate and one Victoria sponge. It was so delicious that I asked them to make ours too. My sister is getting married next March and they have agreed to make their cake, the same one also! It's becoming an Allen family tradition."
Paul and Jayne ordered a 'Mr & Mrs Elsagood' cake topper, which complemented their cake perfectly, and for favours they ordered magnetic, wooden names for each guest from VM Bespoke, which also doubled up as place settings. Most of the couple's loved ones took theirs home and some have sent Jayne photos of them in situ on their fridges. A henna and glitter station at the reception proved hugely popular with the wedding party, almost every guest leaving at the end of the night with either a henna tattoo or glitter on their face.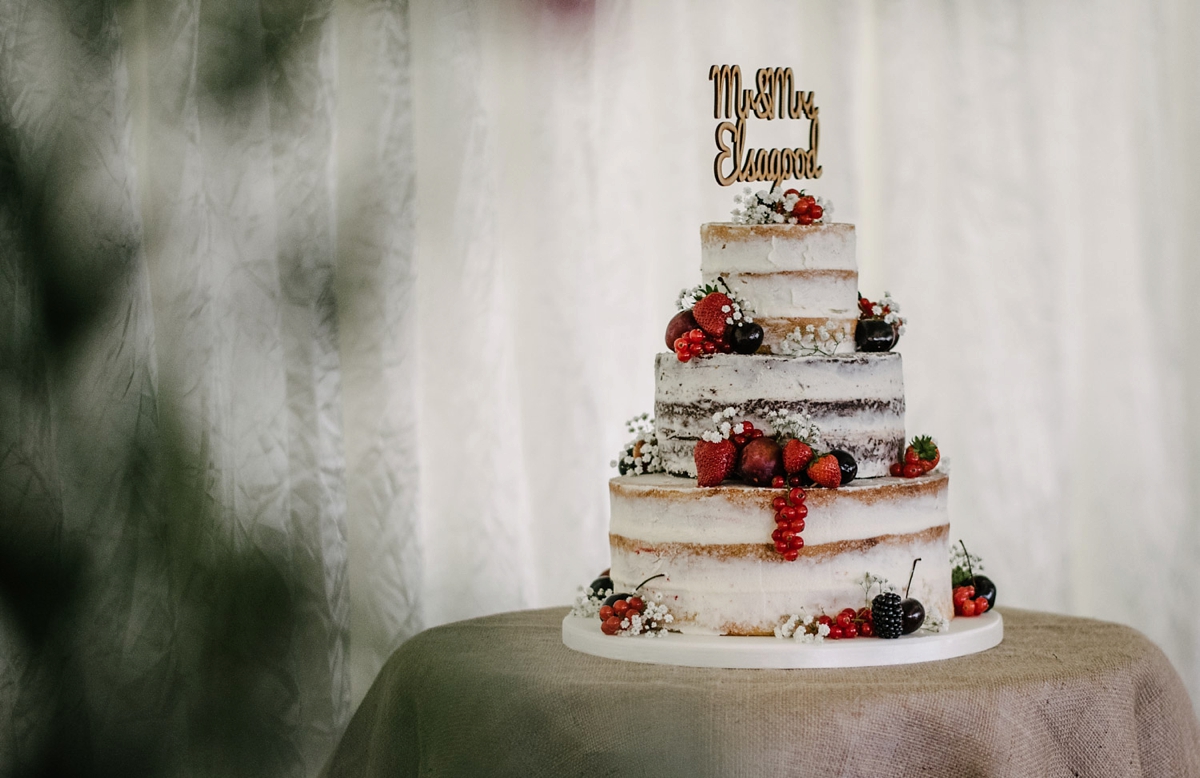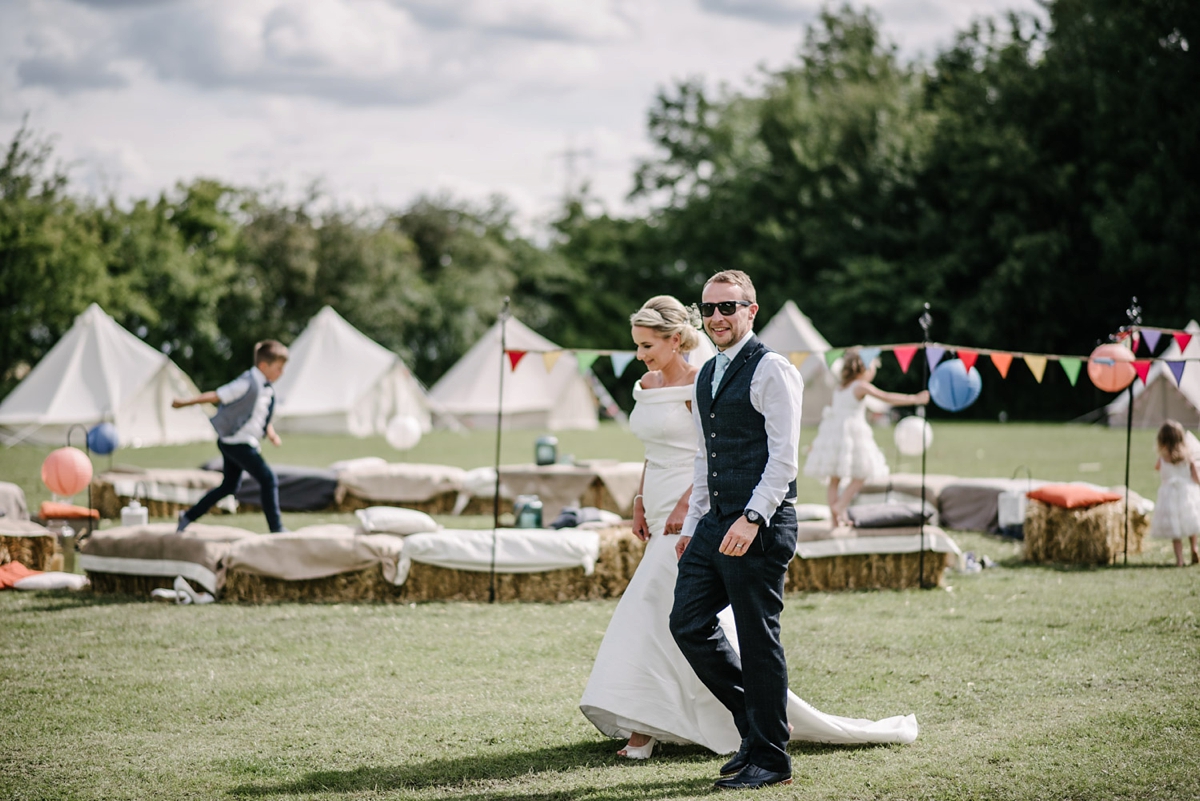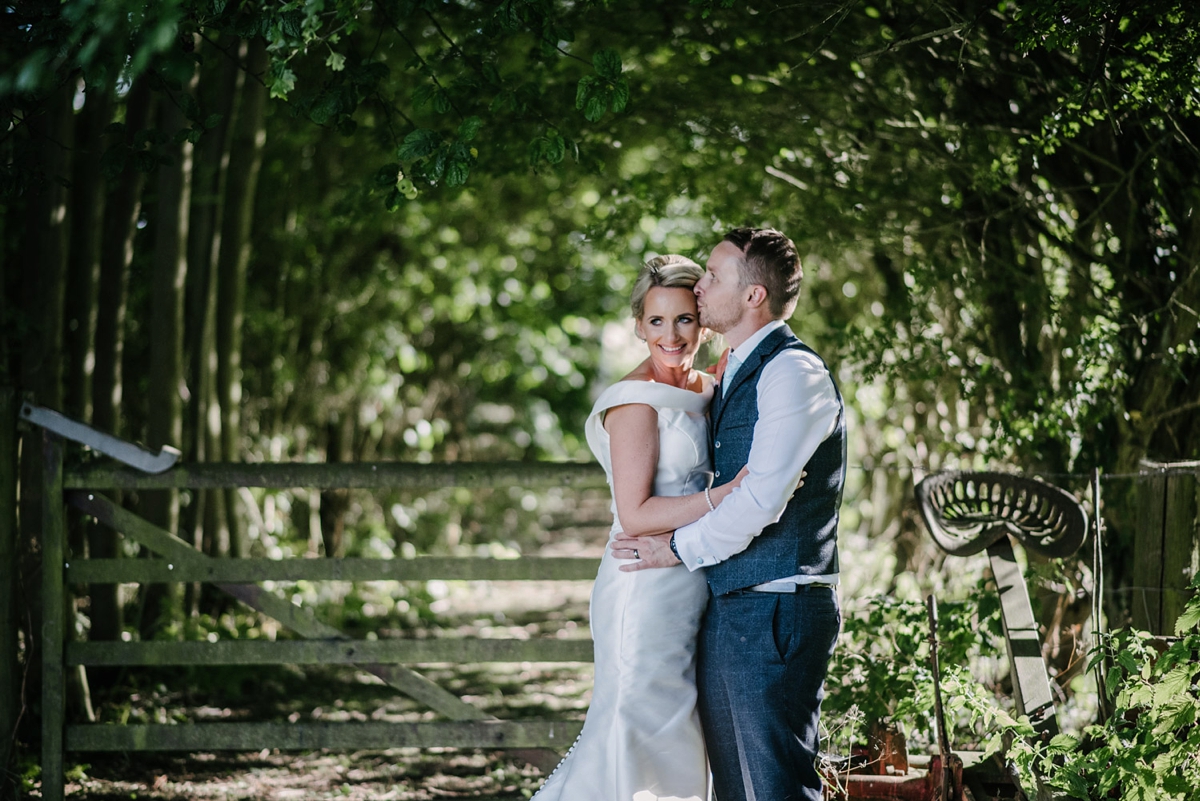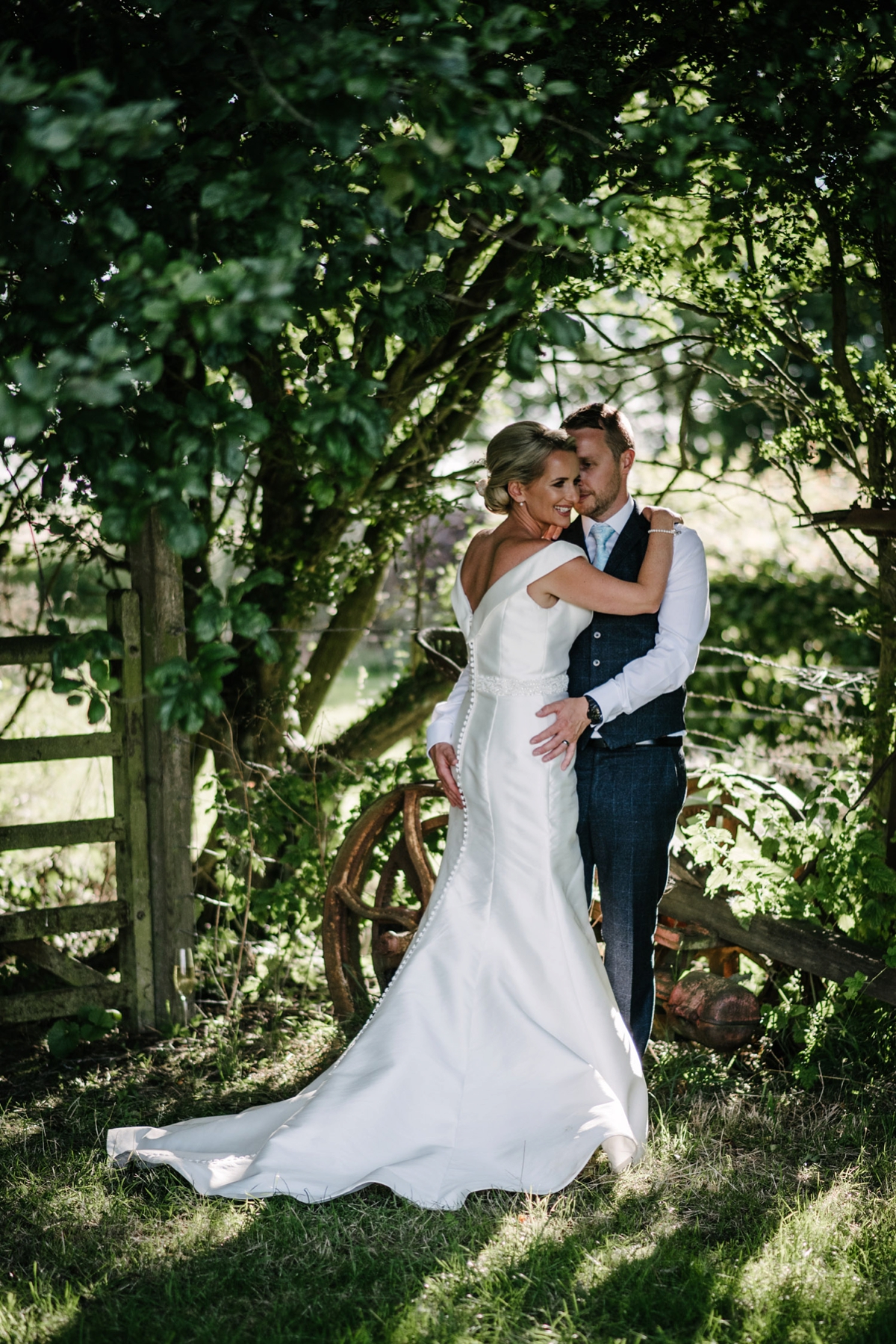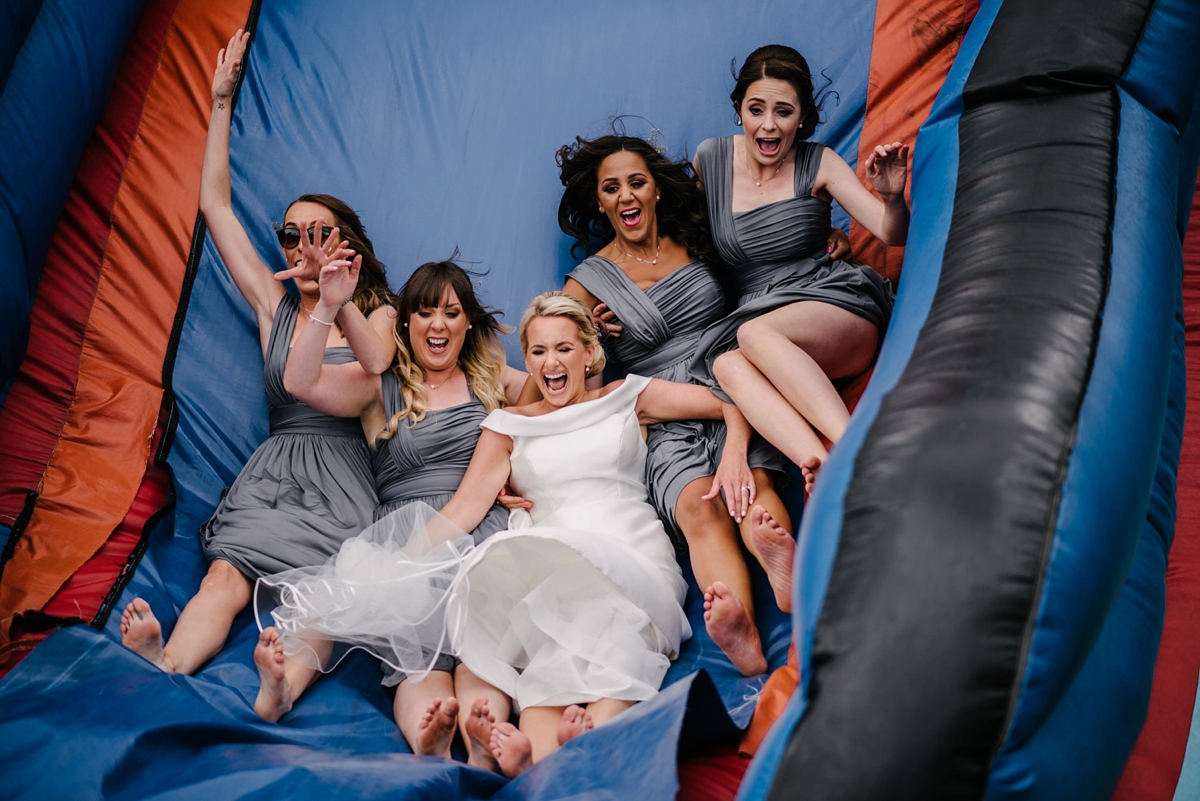 "The disco was provided by Amazing Music Machine. Glyn was kind enough to set up the equipment in the morning and let us play music from our iPod throughout the day. We had our favourite local band, Scrapyard Dogs performing also and our friend Becky hired us a photo booth as our wedding gift. Paul charmed me on a first date with tickets for Mumford & Sons in Manchester. We had an amazing time and knew that our first dance had to be a Mumford song, we chose 'Tompkins Square Park'."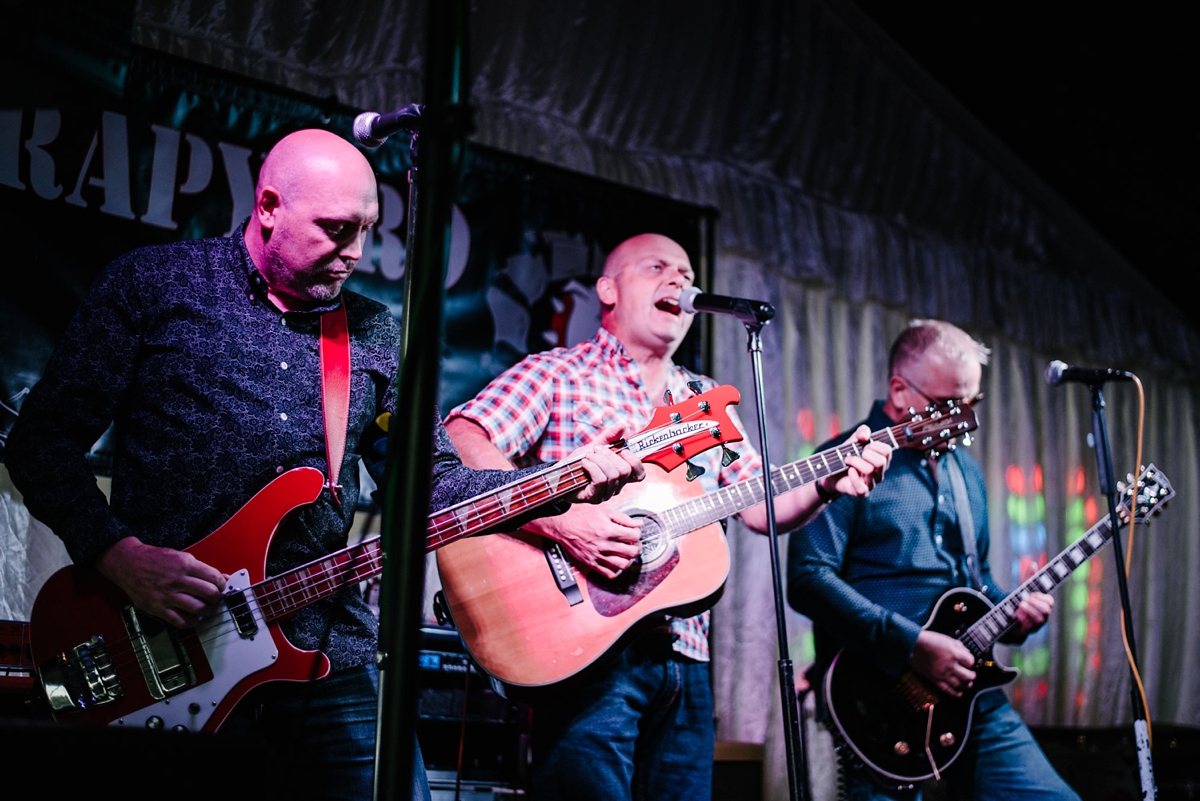 Words of Wedded Wisdom
"Ask friends and family for help. Our family and friends loved helping out and I think that this gave them a sense of inclusion, and also helped us to remain calm and grounded. Be true to yourselves and have things that you enjoy. It's your day and you don't need to please other people."
"Things will go wrong but don't panic, there's always a solution or a plan B. If you are inviting children, ensure that they will be entertained, (weddings can be very boring) we had a bouncy slide and a cricket set both of which went down well with adults and kids alike.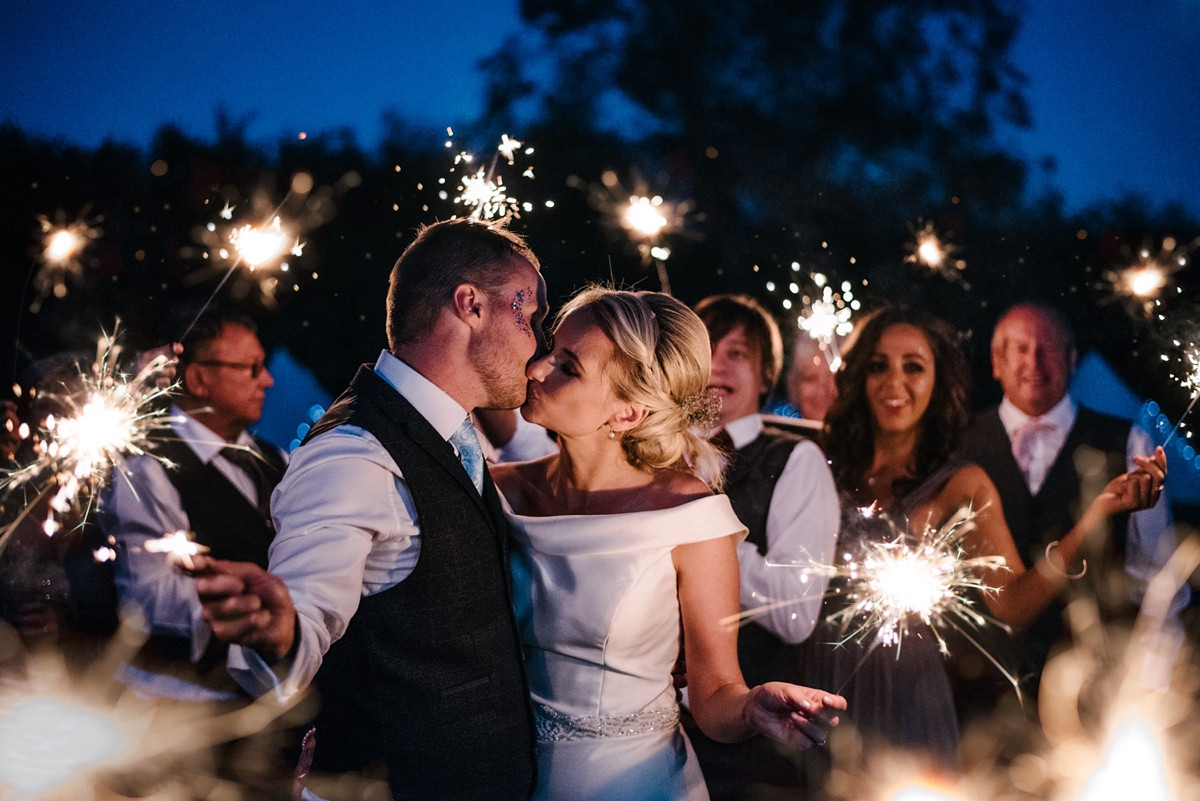 If you are having a DIY wedding like us, definitely hire an event coordinator, it will be the best money you spend. Finally and most importantly of all, take time to enjoy every minute!"
Our heartfelt thanks to Paul and Jayne for allowing us an insight into their beautiful day, and of course a big thank you too to Kazooieloki Photography for the love-filled images.
With love,
Em x