Welcome to the sixth day of November. Just writing those words feels bizarre, this year is just whizzing by! I'm loving the colder weather, the vibrant autumn leaves and of course, the return of Stranger Things on Netflix. Anyone else addicted!?
Today I'm delighted to be sharing the wedding of Laurie, who works in finance, and Carl, who works in sport development at the University of Central Lancashire. The couple wed at Natural Retreats in North Yorkshire on 1st August 2017 and their day was a relaxed celebration of their sixteen years together, tying the knot on their anniversary in front of family and friends.
"I spotted Natural Retreats Yorkshire Dales on Pinterest before we were even engaged and thought it would be a great venue for a New Year's Eve gathering with our friends. It sprung to mind when we first started talking about the type of wedding we would want – informal, different to any we've been to before (we have been to a lot of weddings – 17 in one year alone!), far enough from home to get the 'destination wedding' feel, while close enough that our loved ones would be able to celebrate with us."
Photography by Mark Tattersall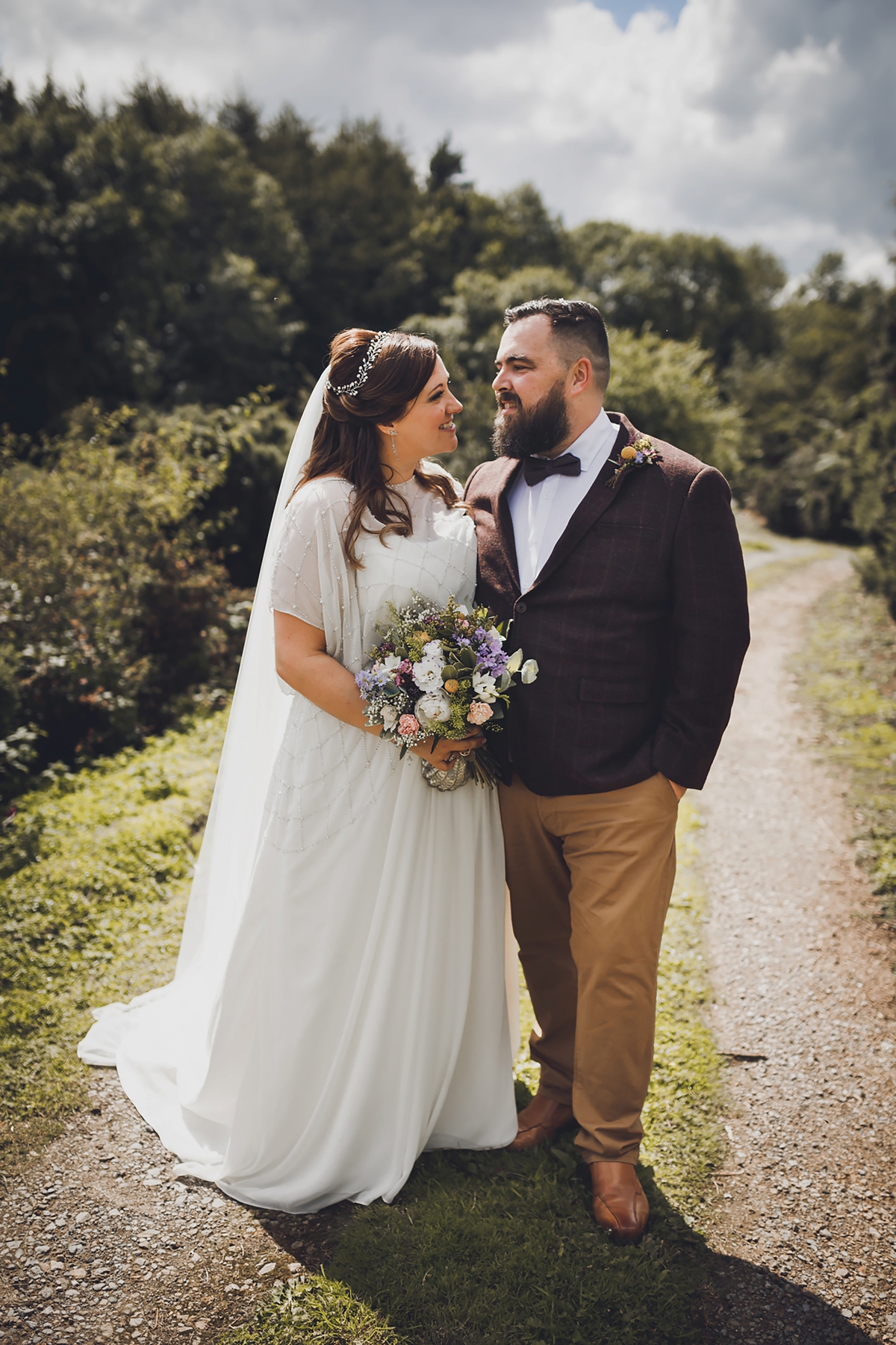 Laurie chose the beautifully beaded 'Cologne' dress by Callista, which she purchased from Edith & Winston Bridalwear in Knutsford.
"My dress was the fifth and last wedding dress I tried on in the first and only shop I went in. I really couldn't imagine myself in a traditional wedding dress at all. My bridesmaids had planned a trip to Knutsford for me and I remember that I was so nervous that I couldn't sleep at all the night before. When I walked into Edith & Winston though, I could not have been more reassured, they had so many beautiful dresses that were a million miles away from the images I had created in my head – and I could try them all on! I knew this dress was the one for me as soon as I saw the looks on my mum and sister's faces, and one of my friends even said it could have been a dress from any decade from the last century – it really is timeless."
A cathedral length veil flowed whimsically over her curves and was also her something borrowed, kindly lent for the day by bridesmaid, Rachel. Laurie also wore the gorgeous nude Mimosa heels by our Little Book for Brides darling, Rachel Simpson.
"My shoes were nude coloured 'Mimosa' by Rachel Simpson. I have always done Latin American Ballroom dancing and they really reminded me of the Latin dance shoes I had coveted as a little girl. The colour matched my bridesmaids gowns perfectly and they were really comfortable to trot around in too."
All the stationery for the day was created by Sienna Mai, and the vibrant, fresh blooms were arranged by The Great British Florist who have a 'grown not flown' philosophy that Laurie and Carl just loved. The couple selected their florist's 'Cottage Garden' range and opted for a 'gathered on the way to the wedding' theme, which gave them a lovely range of British-grown fresh flowers.
Our girl's tumbling curls were styled by Hannah Saxon of Vanity House in Preston, and her make-up was applied by Rose Woodhams of York Make Up Artist. Laurie wore a pretty circlet on head to complement her dress, purchased from Rocks for Frocks who she found at the National Wedding Show in Manchester.
Her mum gave her a bottle of La Vie Est Belle by Lancôme, a long-lasting fragrance that now instantly transports our bride back to her wedding day.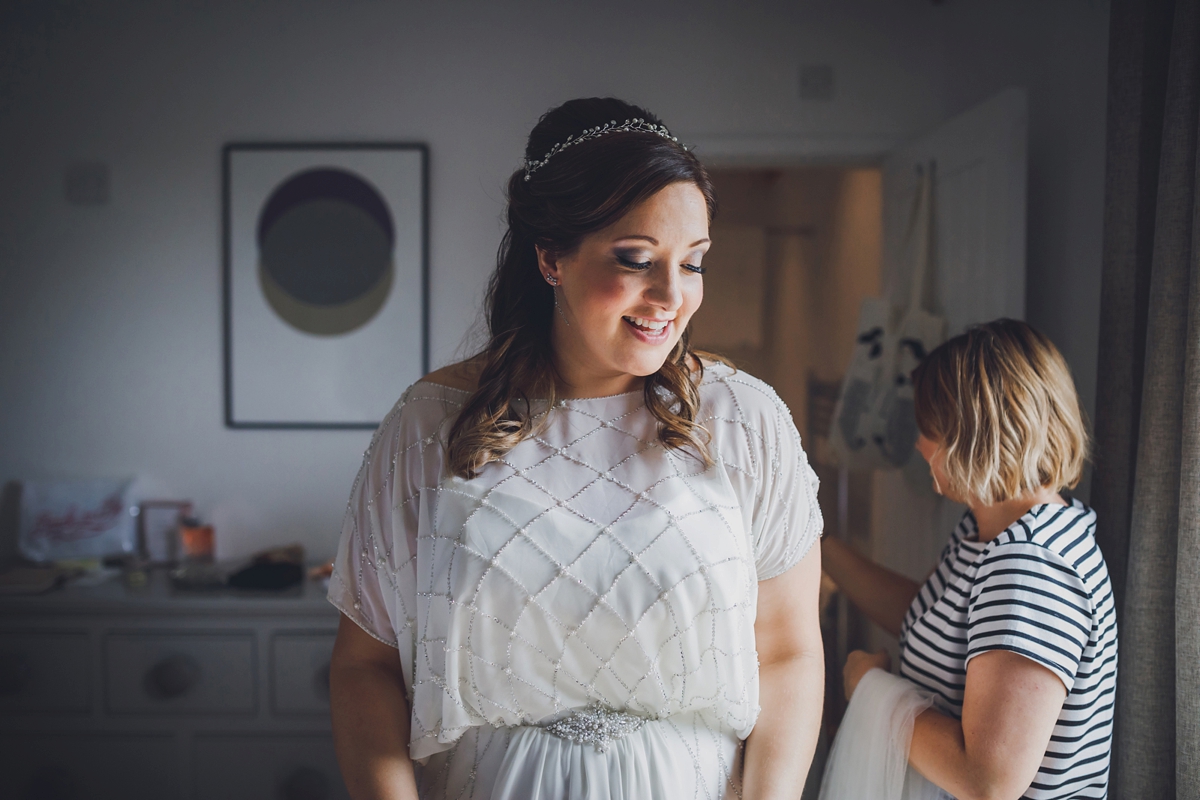 "My bracelet was my grandma's and was also my 'something blue'. I lost my grandma a few years ago and it was important to me to have something of hers with me on the day. My earrings were from Etsy and I just loved them. Our 'youth team' (as Carl referred to them) were kitted out in brogues and miniature versions of the groomsmen's chinos from Next, white short-sleeved linen shirts from River Island and braces and customised bow ties from Etsy."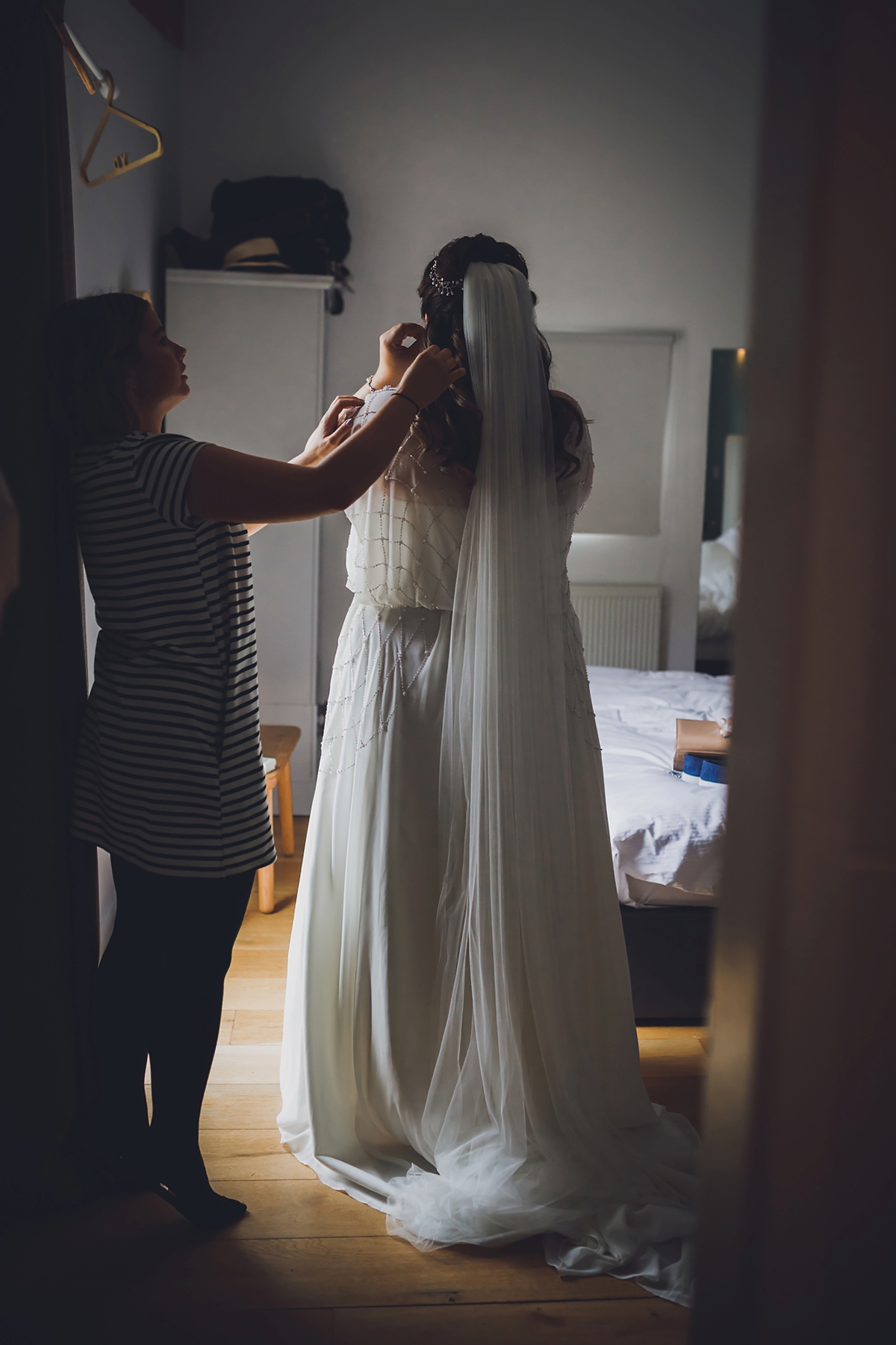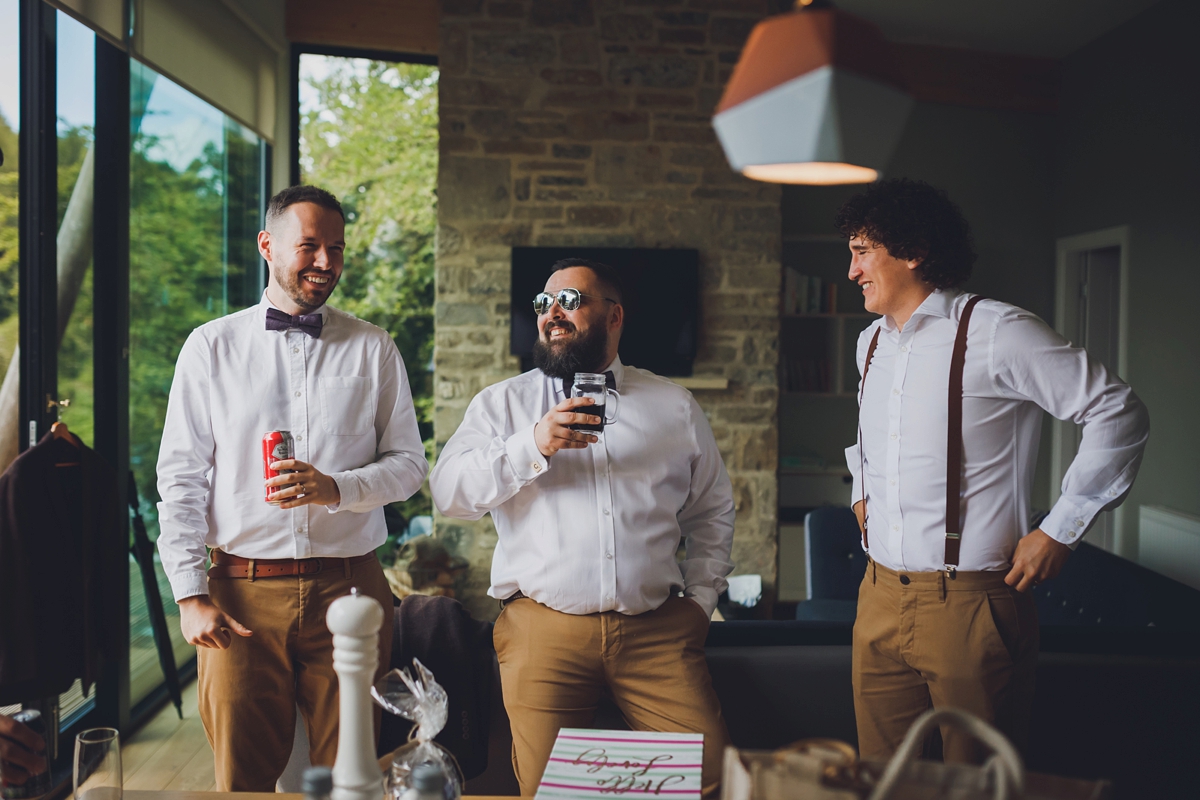 Carl paired Next chinos with a jacket from Slaters and shoes from Debenhams, finished off with a bow tie from Etsy and personalised scrabble tile cufflinks from Not On The High Street. Laurie wisely chose chunky heels from New Look for her best girls, which both complemented their nude dresses and ensured their feet wouldn't sink into the ground.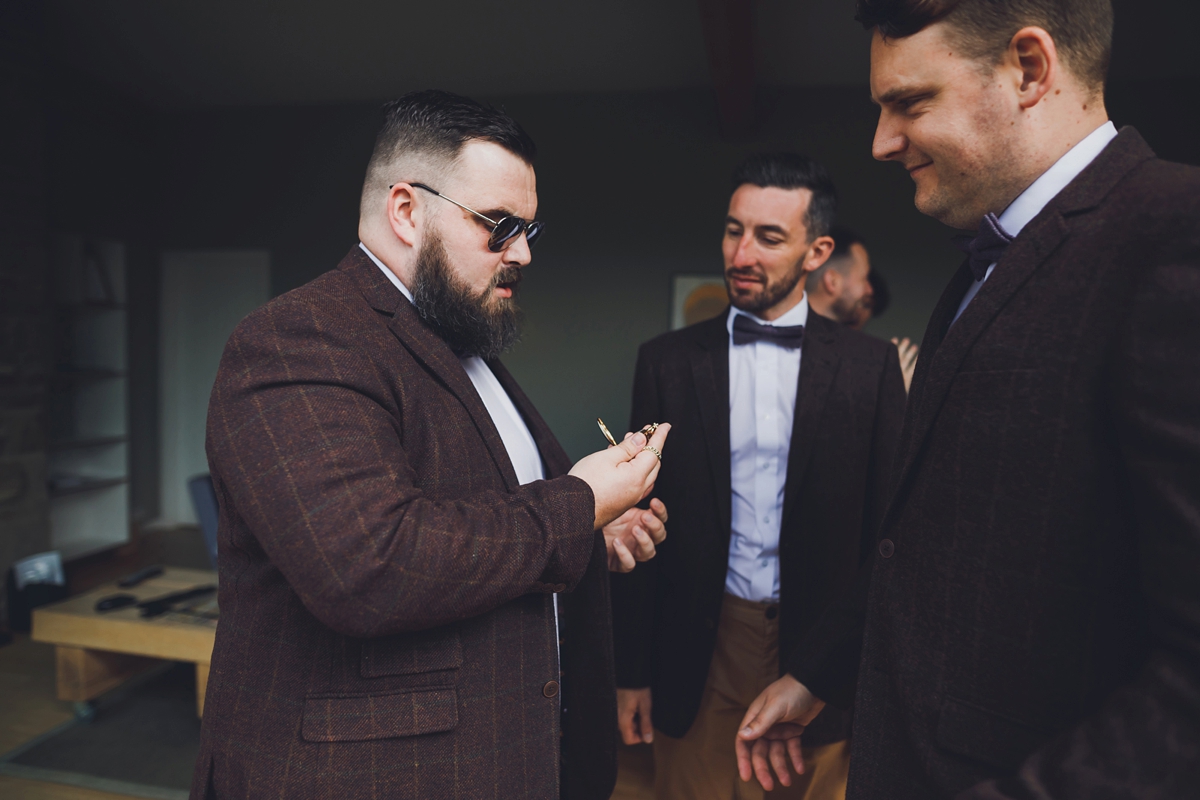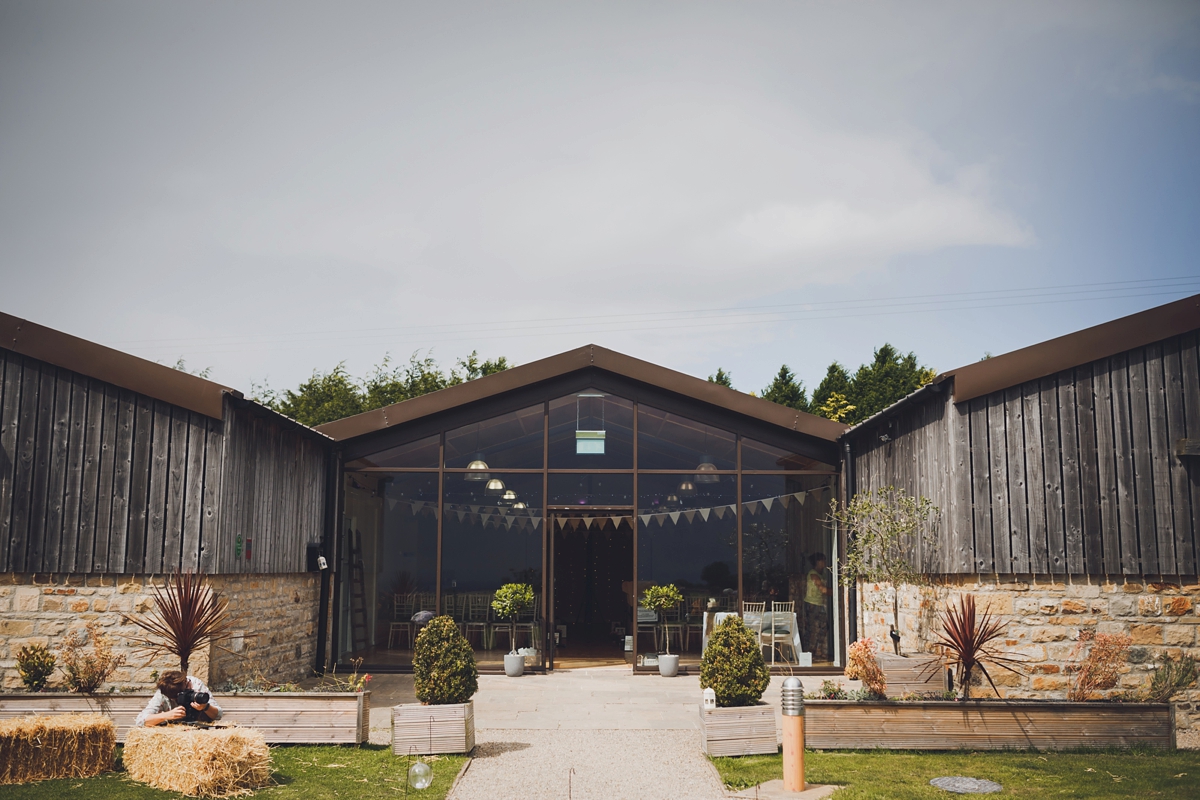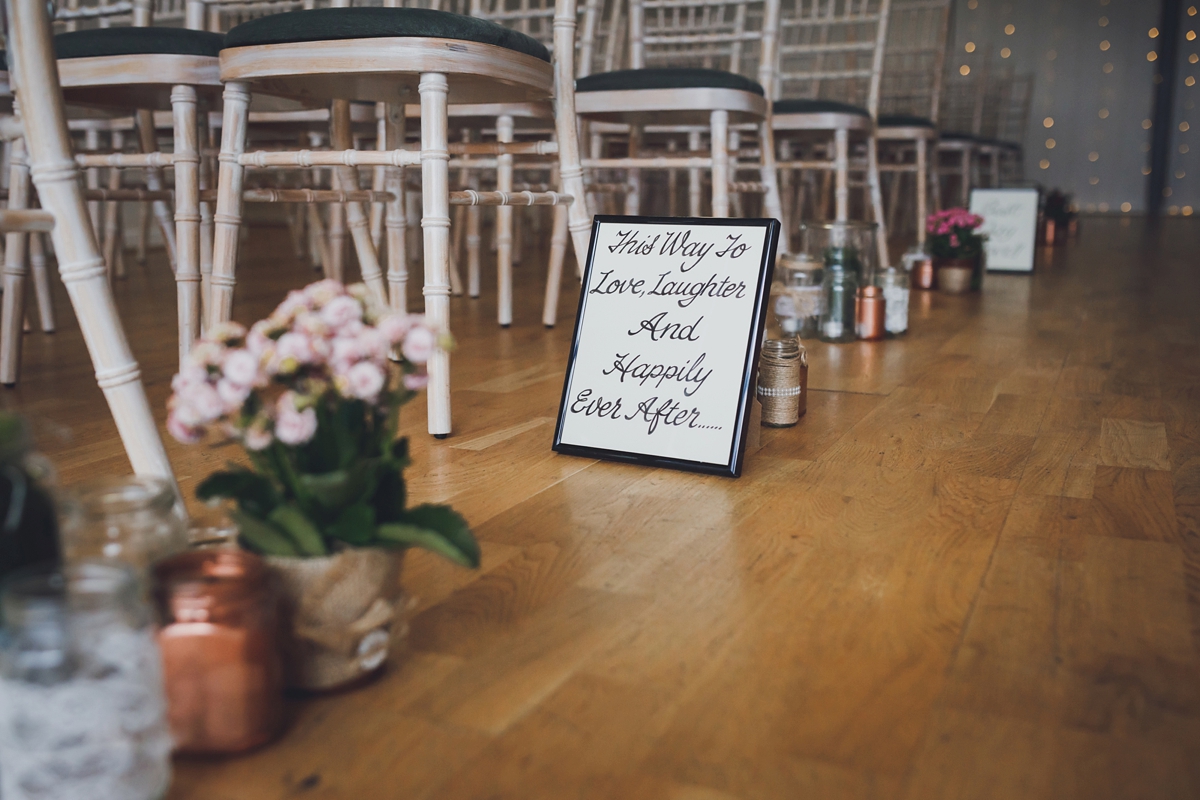 "My bridesmaids all wore nude pleated maxi dresses called 'Valentina' by TFNC from ASOS, which were just gorgeous. My bridesmaids covered all sizes from petite to tall, and ASOS sorted us right out. We had a fab evening in April where each bridesmaid ordered a different style of dress in all required sizes and we had a big trying on session."
"This was so much more fun than trawling the high street. They all wore matching necklaces containing dandelion seeds symbolising wishes, and matching hair vines customised to look like gypsophila from Not On The High Street."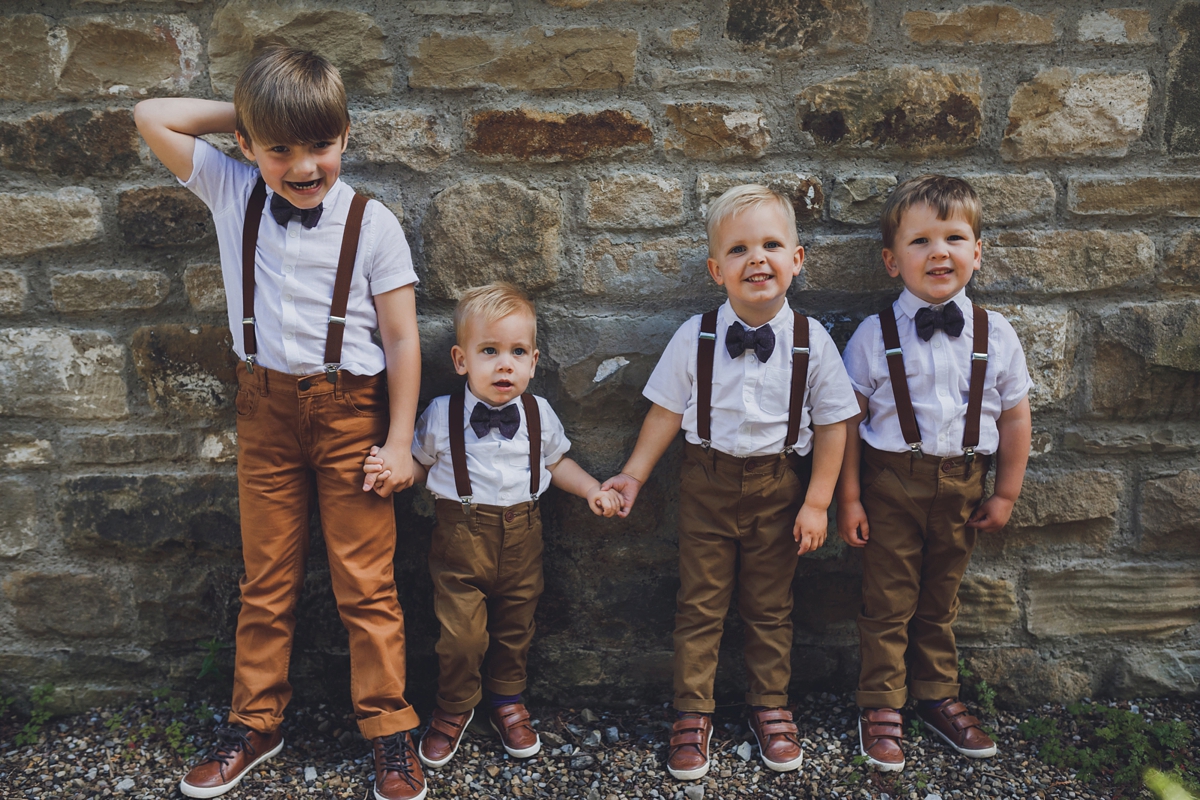 Laurie's uncle Ian kindly chauffeured the bridesmaids to the wedding venue in his customised Mercedes, while she and Carl arrived together in the Natural Retreats Landrover, driven by their wedding coordinator, Amanda. After sixteen years of shared history, the couple wanted to walk into their ceremony together.
"It didn't feel right for me to be 'given away' so walking in together was perfect for us, and being able to spend a few minutes, just us, before it all started was really special. Our junior groomsmen and bridesmaids walked in to 'Seven Nation Army' by the White Stripes before Carl and I walked down the aisle together to Embrace's 'Come back to what you know'."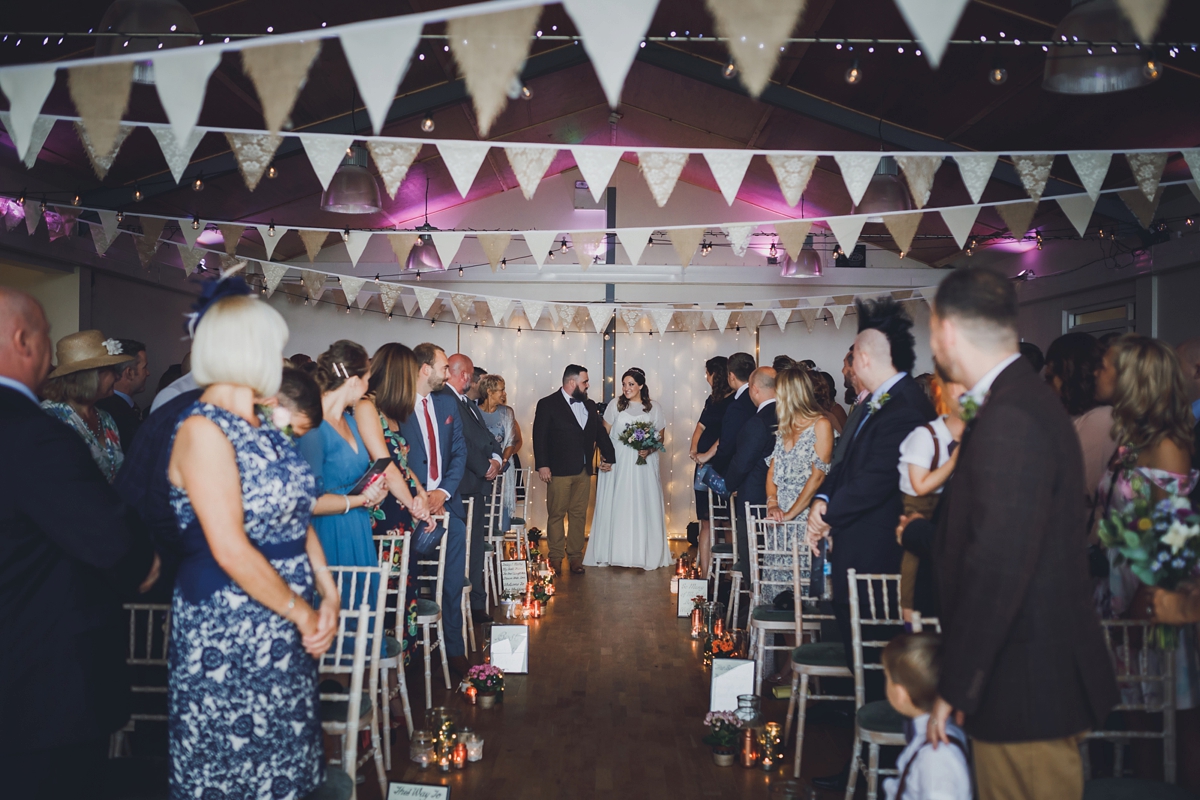 "We wanted our ceremony and reception all in the same place to cut out travel time and decided not to have evening only guests, so everyone who celebrated with us was with us all day. Natural Retreats is such a stunningly gorgeous venue that we wanted that to speak for itself, so our decorations were all rustic and natural to complement our surroundings. We are both really lucky to have an extremely creative and willing family, and Carl's mum, Angela started crafting immediately after we announced our engagement, decorating hundreds of mason jars and hand making thousands of yards of bunting, which transformed Natural Retreats into our gorgeous wedding venue."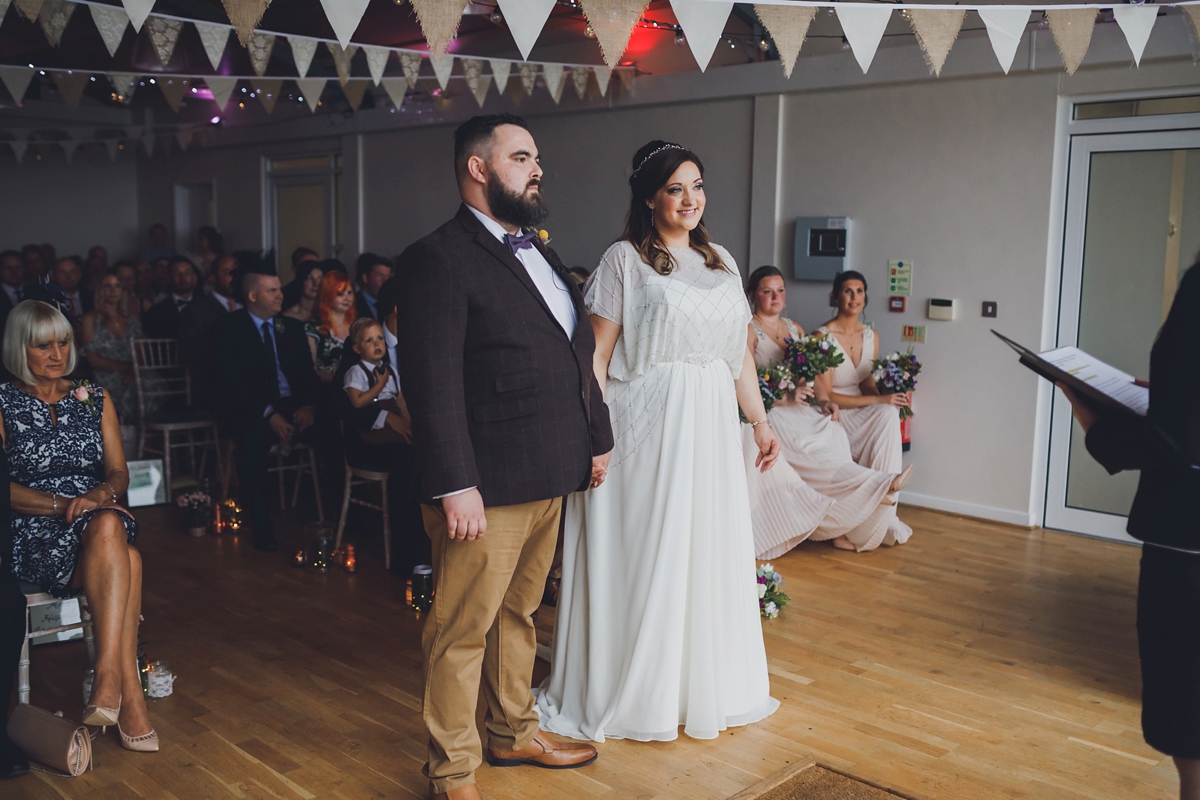 "Our wedding rings were from H. Samuel as they were one of the few suppliers able to accommodate Carl's huge Z+3 ring size. Carl and I elected to write our own vows and when giving each other our rings said: 'I give you this ring, because I love you and I think you're awesome!'"
"During the ceremony Carl had arranged for The Axions to play songs whilst we were signing the register – it was a surprise for me and was just brilliant. After the wedding breakfast and speeches, we had a Live Lounge where our talented family and friends could get up to play acoustic guitar and sing some songs, which was a great success."
"My very favourite part of the day was the ceremony. Having all our loved ones under one roof and hearing the love of my life promising to love and care for me always was just incredible. We asked my brother Dave and Carl's sister Kelly to write their own readings for our ceremony, as we didn't want to hear the same pieces we have heard at so many other weddings. Kelly's was heartfelt and emotional and Dave's was hilarious, with references to the early days of our relationship, Hogwarts and even wrestling!"
Heady with just married joy and showered with love and confetti, the newlyweds ventured out into the rolling fields and beautiful woodland of their venue to have some portraits taken by their photographer, Mark Tattersall. I adore the tenderness of these images, and the warm summer light filtering the trees.
"Our photographer was the amazing Mark Tattersall and his photos are just incredible. Mark was recommended by my bridesmaid Rachel, who has seen his work before. From our first contact with him, we knew we were in good hands. Mark was an absolute pleasure to have around on the day, an amazing creative and the quality of his work speaks for itself."
"Mark didn't just give us photos of our day to look back on, but also captured the feelings and the exact emotions that you can't put a price on. Mark even super speedily edited a few amazing shots and sent them to us the day after the wedding so we could share them with those that couldn't be there to celebrate with us. Our videographer was the amazing Janine Bebbington from Gorgeous Media."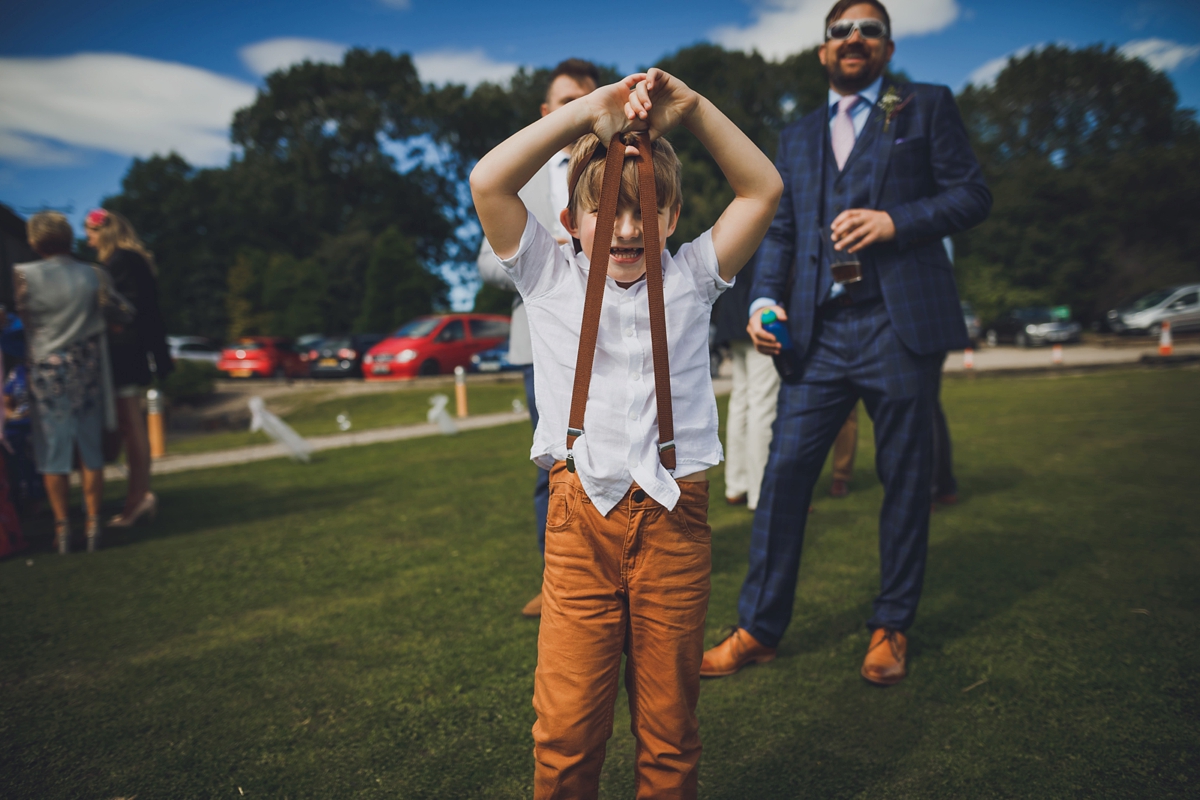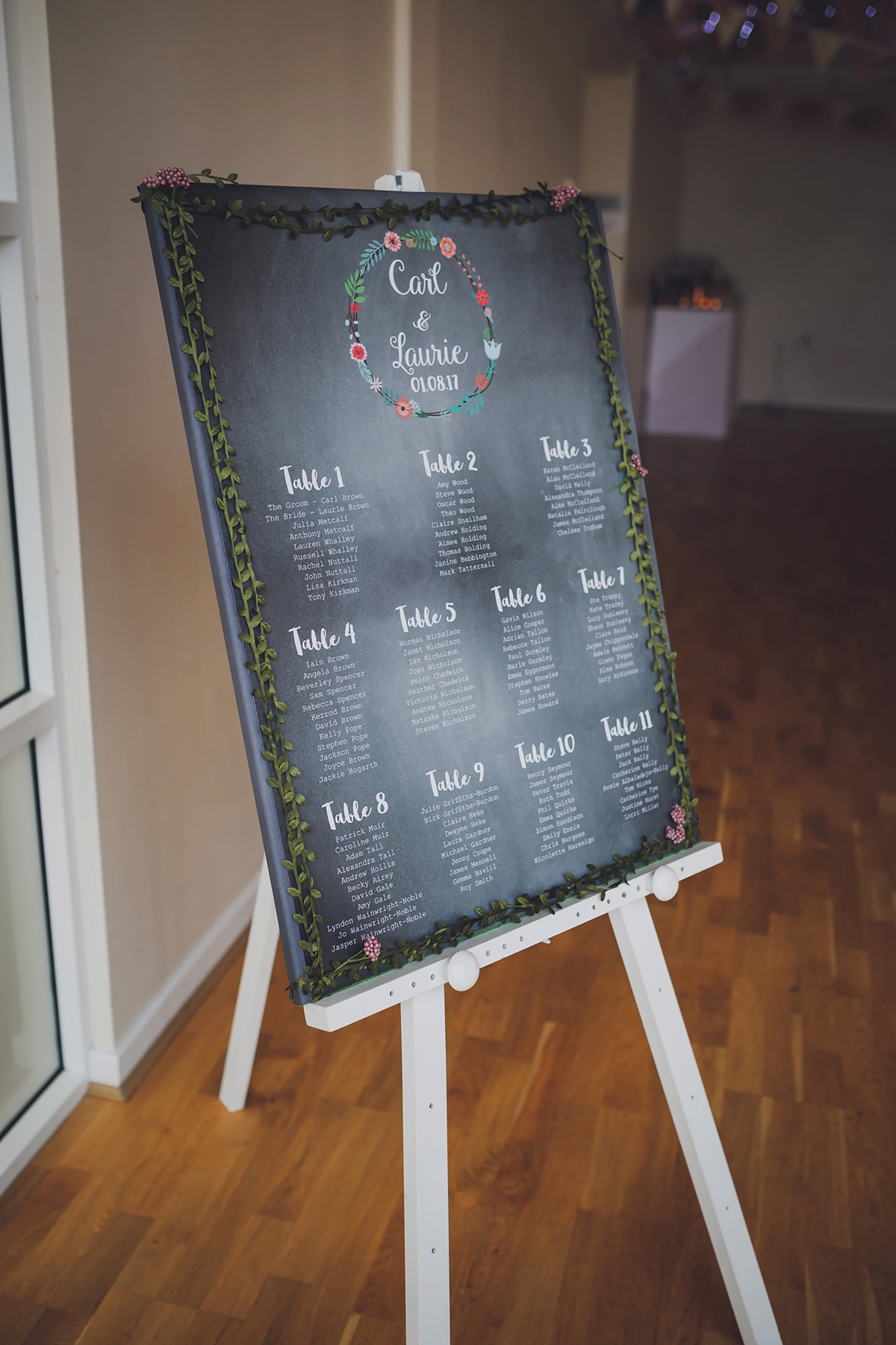 Carl and Laurie settled down to a wedding breakfast with their guests under arching strings of bunting, lovingly created by Carl's mum, Angela. Vintage teapot centre pieces bursting with blooms were set on log slices, forged by the bride's stepdad, Alan, from a tree her uncle had planted when she was little.
"We used several catering suppliers. Our wedding breakfast was an afternoon tea created by Friends 4 Dinner, which featured miniature picnic benches filled with delicious savoury snacks followed by vintage cake stands laden with scones and cakes. Our evening food came from two food vans offering wood fired pizzas, served from Betsy the vintage Citroen HY van, and incredible Yorkshire pudding wraps served from a stunning converted horse box from Market Wraps."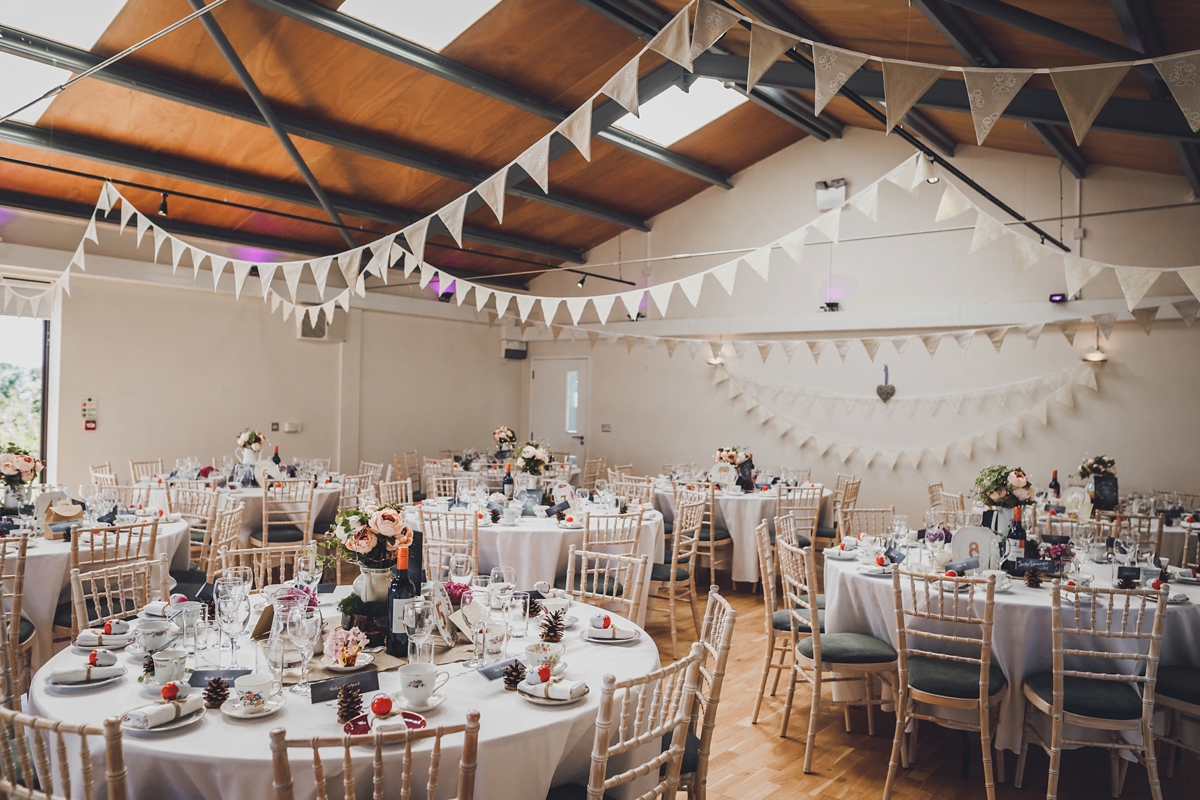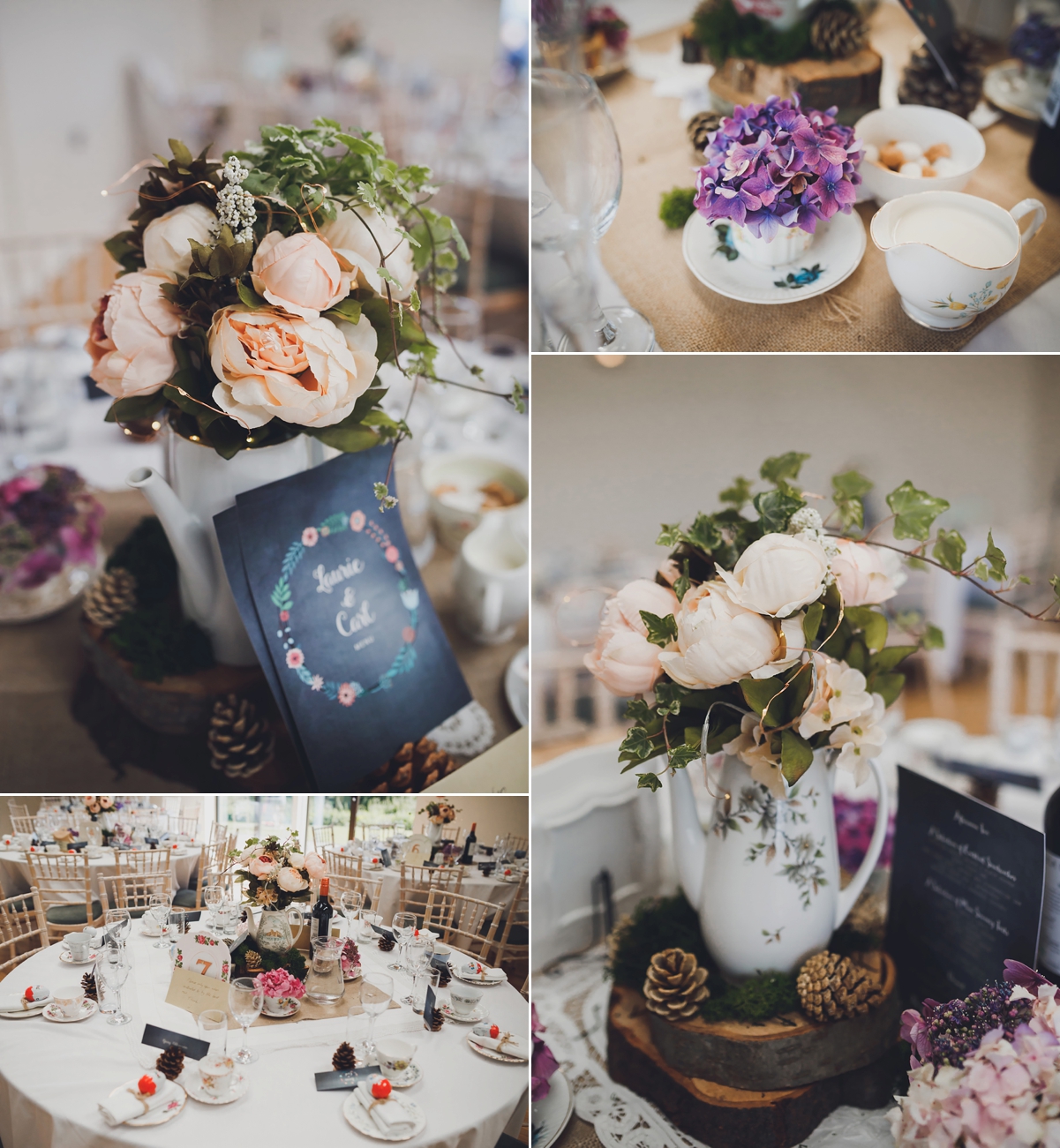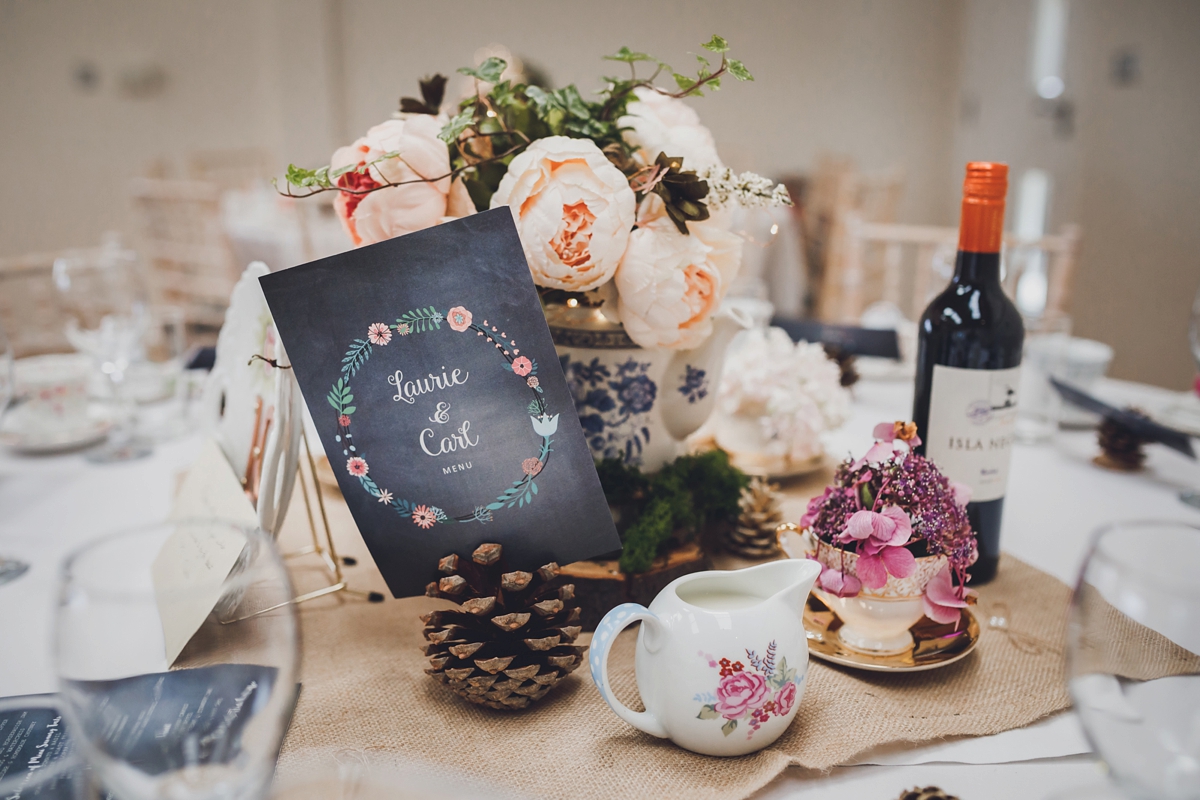 "Having already decided to opt for a Godminster wedding and celebration cheese tower, we had decided not to have a traditional wedding cake at all – until we tasted a sample of the most amazing carrot cake known to man made by the amazing Jeanette Kuryliw."
"Jeanette kindly offered to make a giant version for us for our wedding cake – and despite never having made a wedding cake before, she created a delicious three-tiered naked sponge cake, decorated beautifully to perfectly complement the rustic and floral theme of our wedding."
After seeing so many favours over-looked or left behind at the many weddings they'd been to, Laurie and Carl wanted to provide something their guests couldn't resist, so bought everyone a Kinder egg! Cleverly spotting them on sale at Sainsbury's, it's fair to say the couple received a slightly strange look from their delivery driver when he passed over 120 Kinder eggs along with their weekly shop.
"Our evening entertainment was live music from The Wrecks, a brilliant wedding band who also provided a DJ for later. Our first dance was to 'Drops of Jupiter' by Train."
"We chose this as the song was released when Carl and I first got together, and whenever we  hear it, it always reminds of those first days and the excitement of falling in love."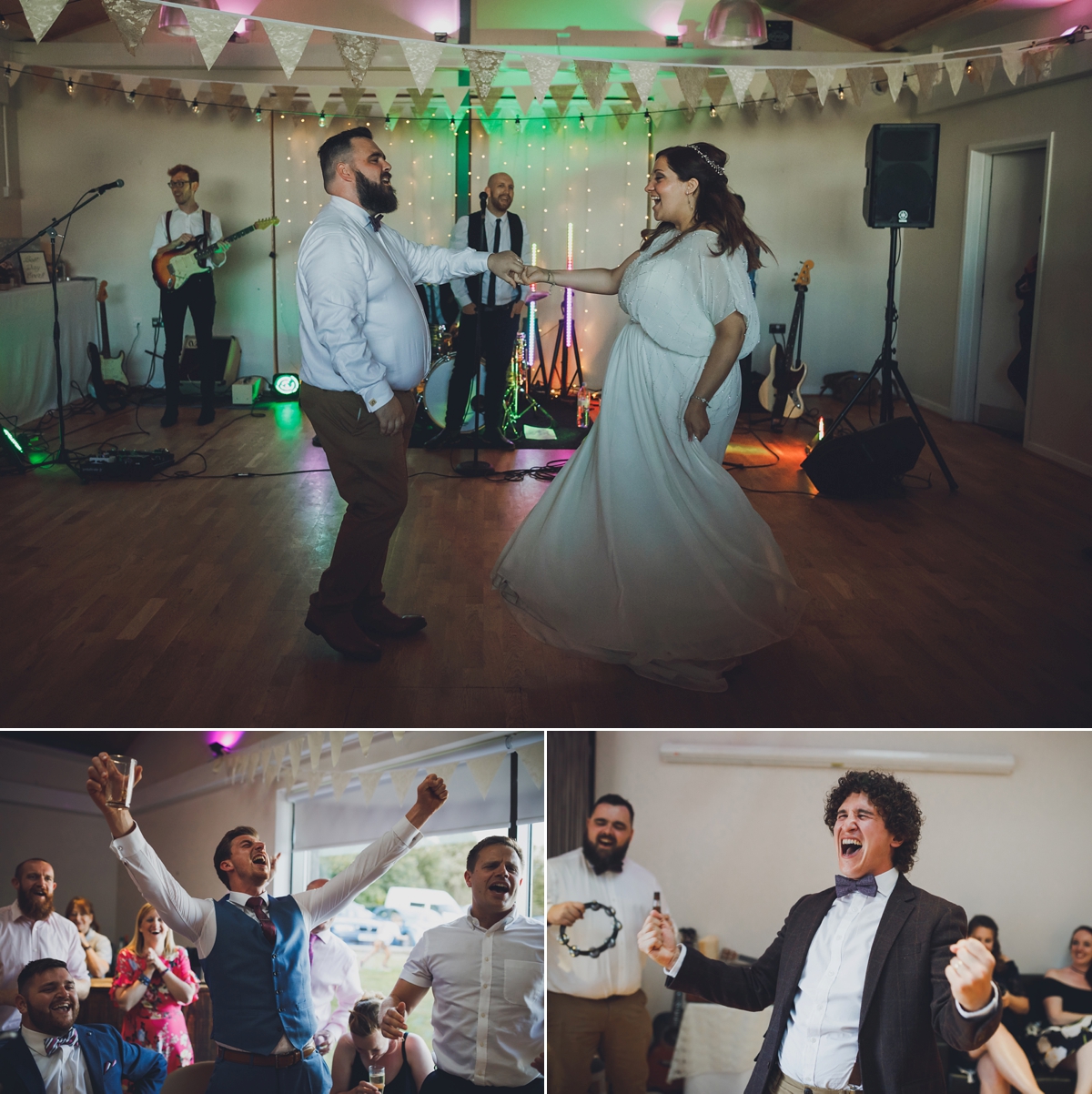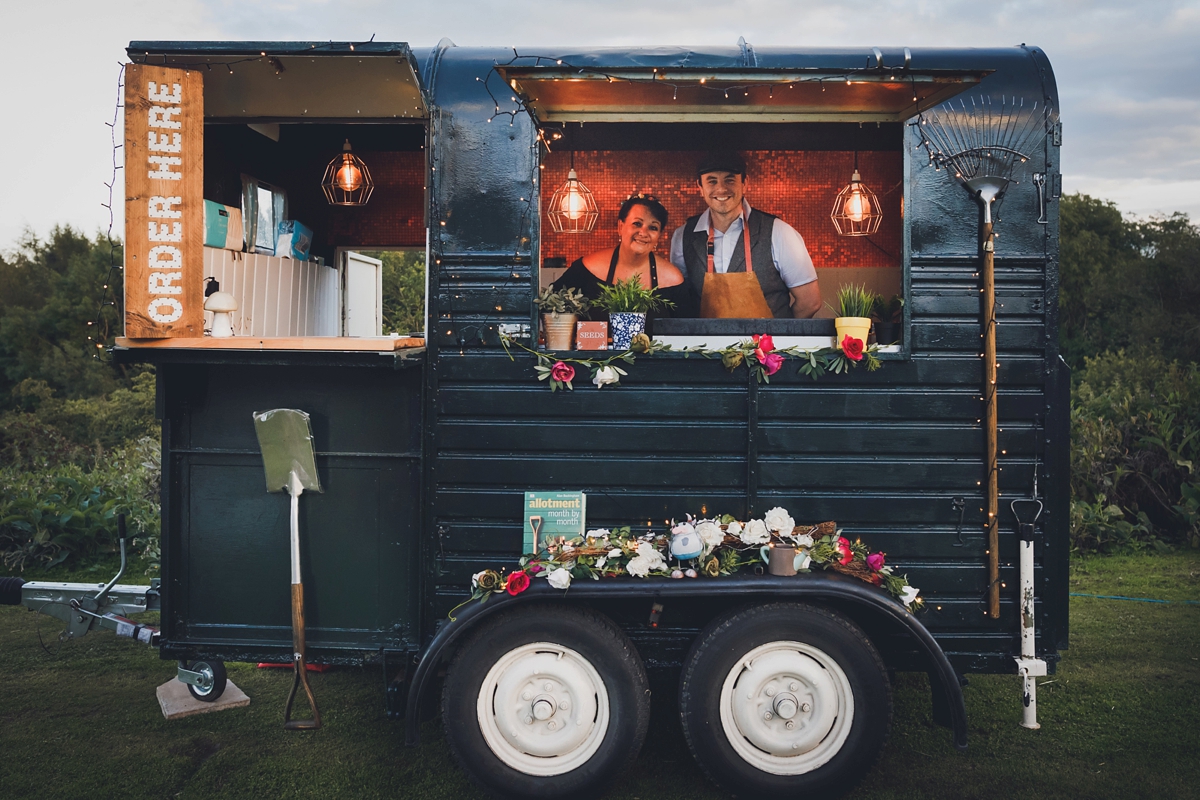 Words of Wedded Wisdom
"My advice would be to make the day yours. Think about what your ideal day would be and what is important to you and your partner and focus on those bits. Also, accept every offer of help you get! This makes the whole thing so much easier and people love to get involved and help out at a wedding."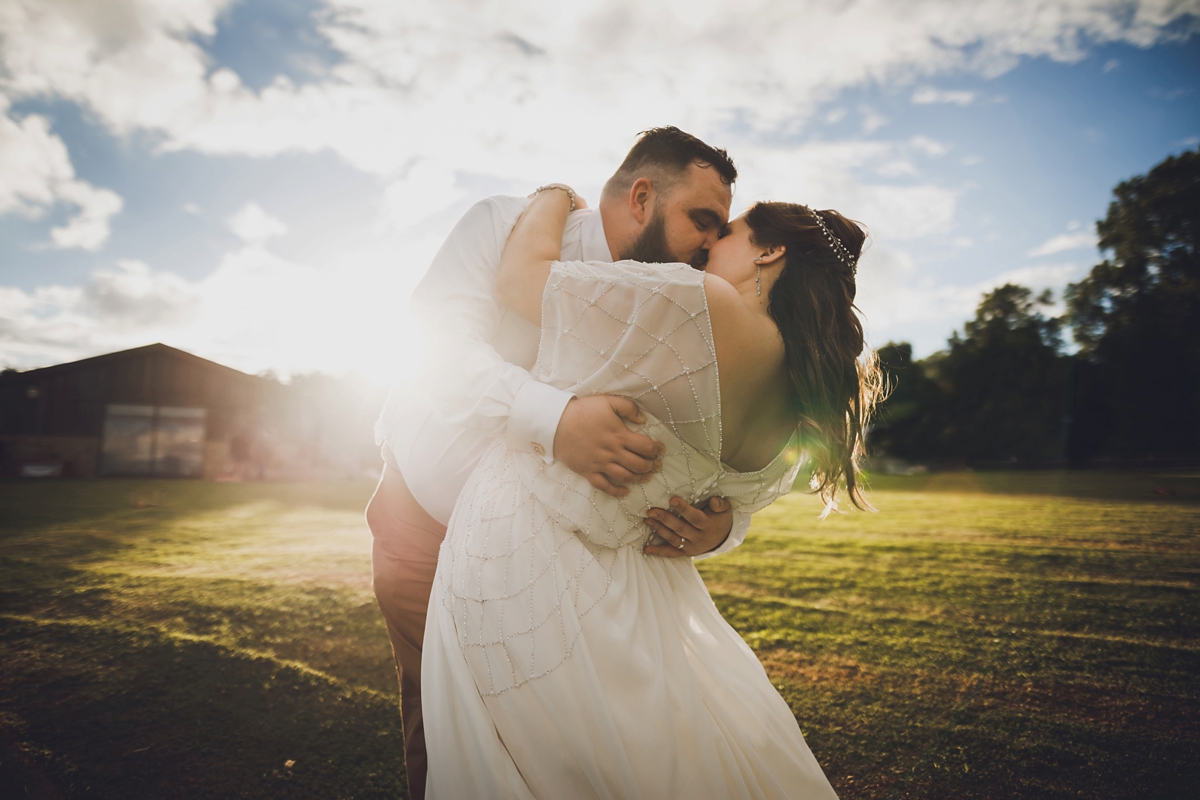 That just leaves me to say a huge thank you to Laurie, Carl and of course Mark Tattersall Photography for allowing us a privileged insight into this heart-warmingly lovely day.
Em x