Soooo I'm going to have to preface this entire feature by saying (loudly) that I am very very biased. And then I'm going to proclaim (loudly) that Tuscan weddings are some of the most beautiful weddings ever. Hey, I was an Italian bride!
Today I have the honour of sharing the beautiful union of Gemma, a health visitor, and Nick, a software developer, who wed on 3rd June 2017 at Comune di Pistoia in Tuscan. The couple followed their ceremony with a stunning reception at a private villa, the beautiful home of a family friend.
Gemma chose a stunning Pronovias strapless gown, which she purchased at Anne Priscilla Bridal in Glasgow. The romantic sweetheart neckline and dramatic, flowing train ooze Italian glamour, all scented with the heady fragrance of Jo Malone's Velvet Rose & Oud.
"I love to dress up and so was very excited to go dress shopping. I had spent many an hour daydreaming about beautiful gowns. However, when it came down to it, I found the whole experience rather stressful. I lost count of the number of dresses I tried on in the search for 'the one'. I just didn't know what I wanted and was sidetracked by that much talked about 'knowing moment'."
Photography by Frances Sales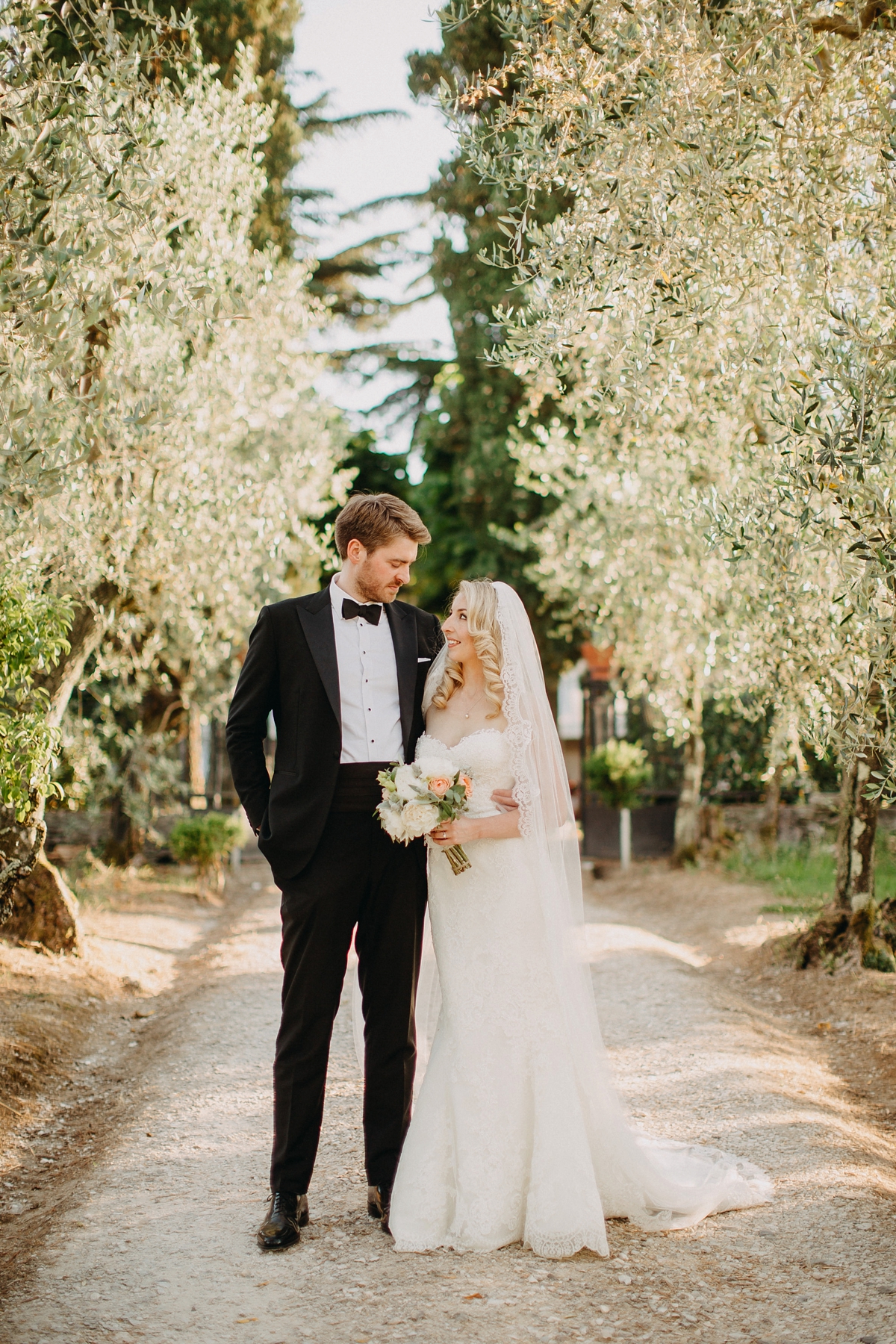 "We both love Italy and were lucky enough to have our wedding at the home of our family friend in Tuscany. We had no real theme as we knew the beautiful location would do all the hard work for us. Our vision was dolce vita glam meets garden party. We are not religious so chose to have the ceremony in the beautiful Comune di Pistoia. Pistoia is such a great city, full of character and Italian charm and we were so excited to share this fantastic place with our guests."
Our lovebirds met in their first year at university, while sharing a flat in their student halls. After a few years as friends, Gemma coupled up with her future husband, who popped the question against the backdrop of the awe-inspiring Dolomites eight years later.
"Nick proposed during a skiing holiday at the highest point of the Dolomites. I was completely taken by surprise and couldn't believe Nick, who is Mr Sensible, had carried the ring to the top of the mountain."
"Skiing down proved somewhat tricky, I was so full of emotion and excitement I kept falling over! We were engaged for 17 months before the wedding. We always hoped for a summer wedding in Italy, so decided to give people plenty of notice and time to plan."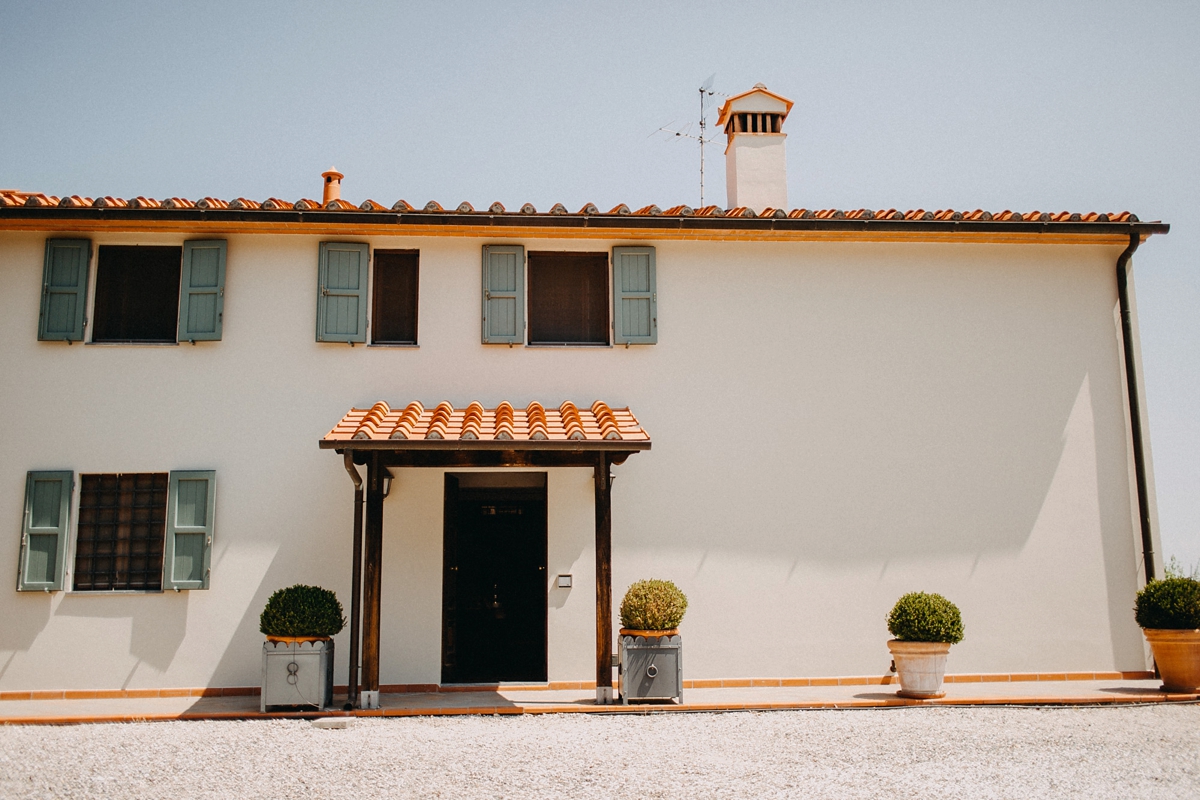 Adding to the sultry Italian glamour of her gown, Gemma wore a single-tier cathedral length veil, scallop-edged with feminine lace. Trying on veils was one of our bride's favourite wedding activities, and her sweeping, dramatic beauty was her most beloved part of her outfit.
"With costs spiralling out of control there was barely any room in the budget for shoes. I knew also that the day would be filled with cobbles, gravel and grass, so decided against splashing out on a designer pair. On the day I wore a pair of strappy, ivory sandals, purchased from Debenhams for less than £30. They looked pretty, were extremely comfy and came out the other side pretty well."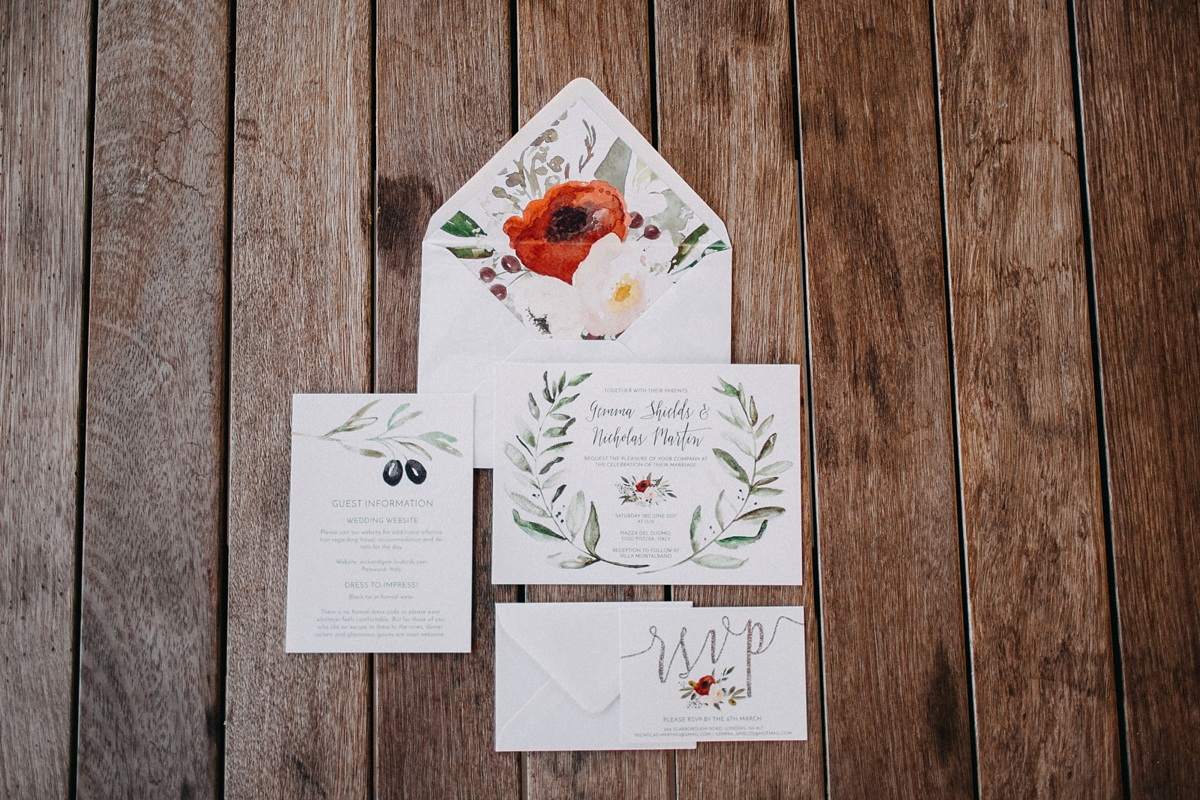 "For make up and hair we had the fabulous Lara Navarrini. I was extremely nervous about us doing our own hair and make-up, and knew this was a stress I did not want to have on the morning of the wedding, particularly as warm weather can play havoc on hair and skin. I found Lara online and we met for a trial in Italy a few months before the wedding."
"She was truly fantastic and knew exactly what I wanted. She is extremely professional and so warm, friendly and reassuring. On the morning of the wedding she brought two assistants and they were all so nice to be around."
Gemma wore diamond and drop pearl earrings for the ceremony, her something borrowed from her aunt, who wore them on her wedding day 20 years before. It meant the world to our bride to wear them on her wedding day, paired with a simple drop pearl necklace. She transformed her look in the evening, her blonde curls cascading around her shoulders against a red lip and sparkling jewellery.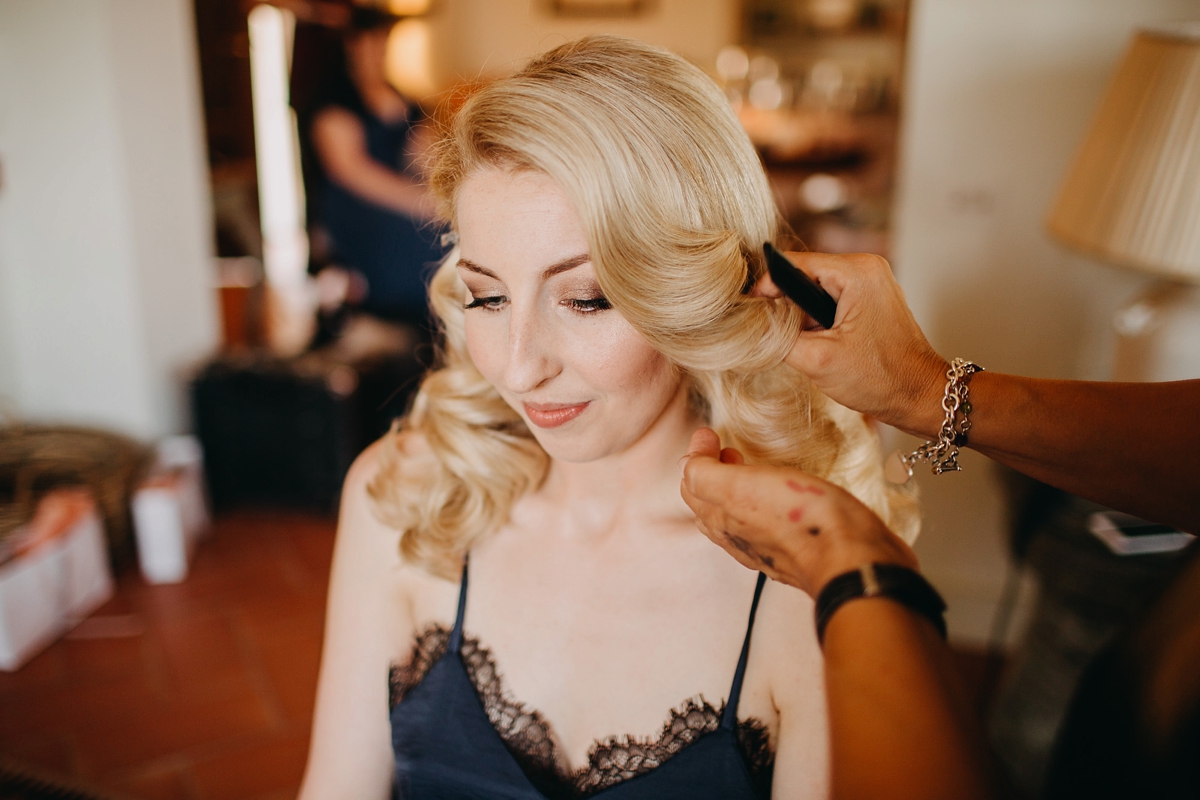 "After a little break, I went dress shopping with my mum, aunt and grandmother in Glasgow, hoping for some new inspiration. The assistant in the shop chose the Pronovias dress for me to try. What I hadn't realised was I had tried this dress before in a different colour, with a much longer train. It had been my favourite but no one else had seen it.
"I loved it but wanted it in ivory and I was nervous about the amazing, but very long train. But here was the dress I wanted with a beautiful and much more practical train. We took it as a sign and said yes to the dress. I could imagine myself wearing it in the Tuscan square and was so happy with my choice."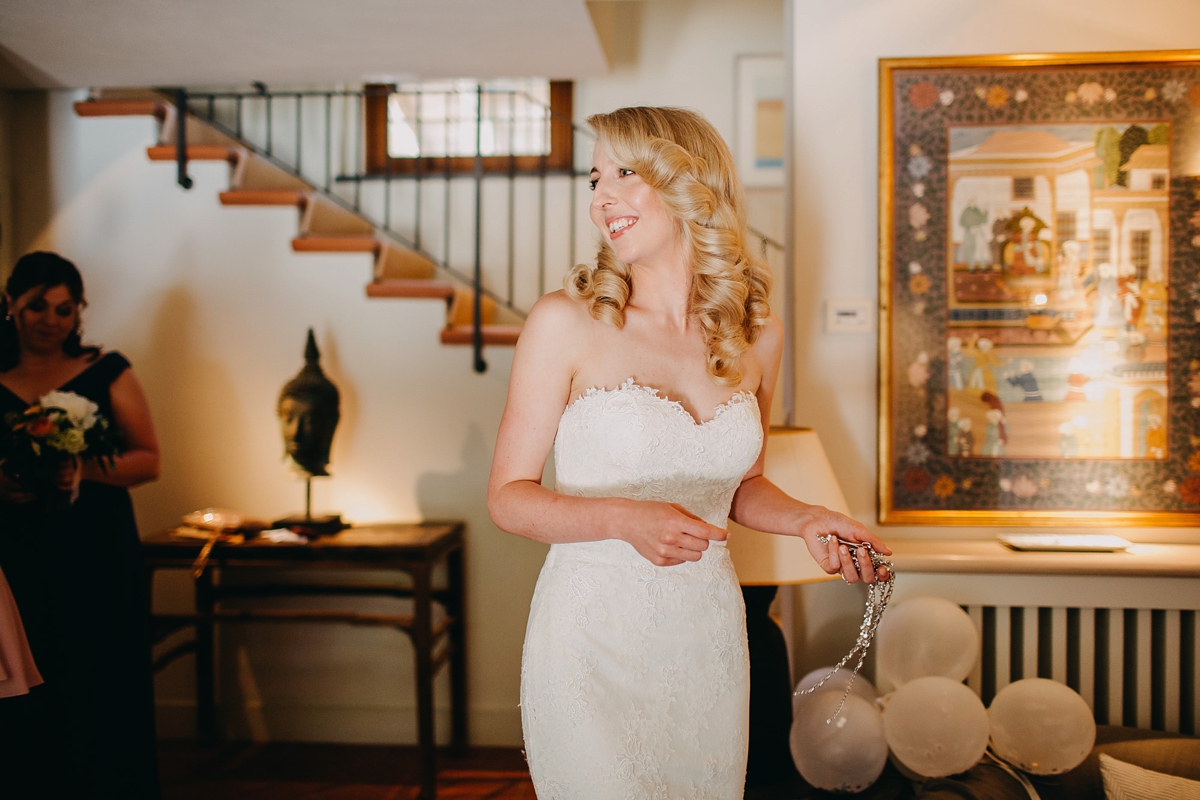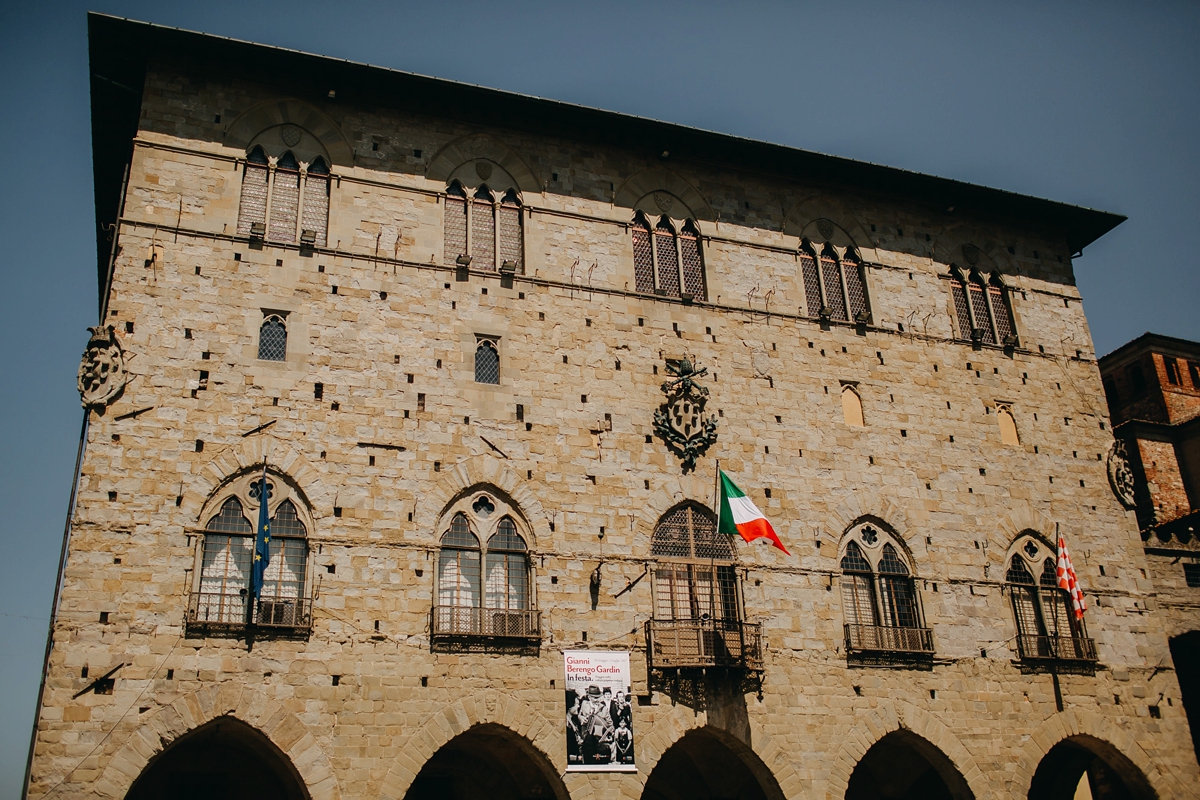 Nick opted for elegant black tie, he and his best man seriously dapper in custom made, black tuxedos from Tailor Made London. He and Gemma ordered their stationery from Jenna at Wonderland Invites using a collection of images from the couple's Pinterest board for inspiration.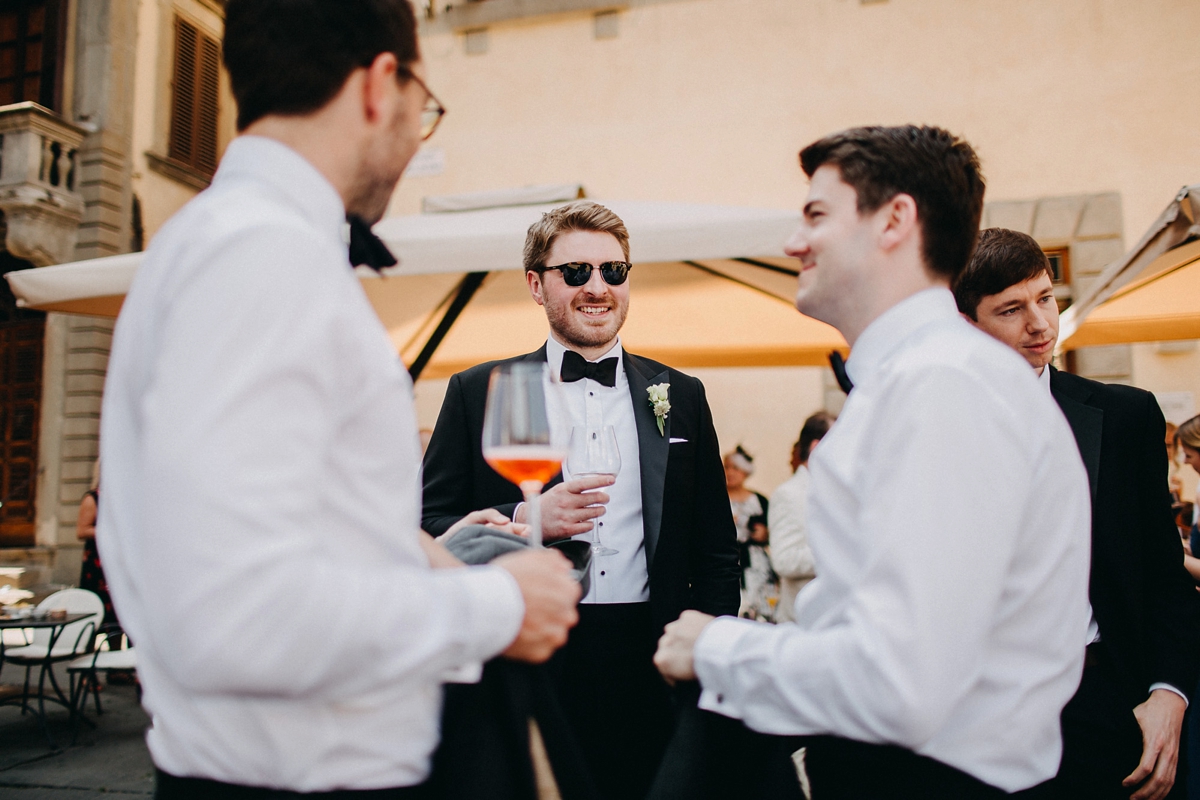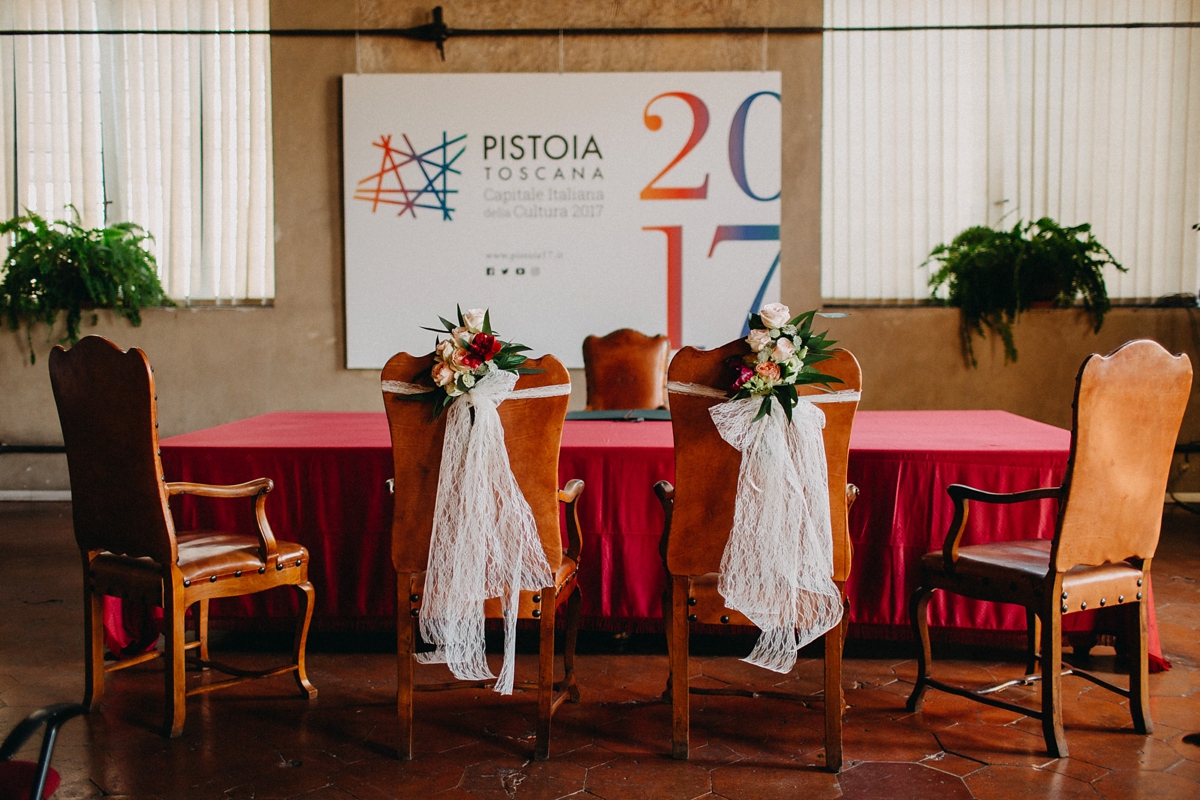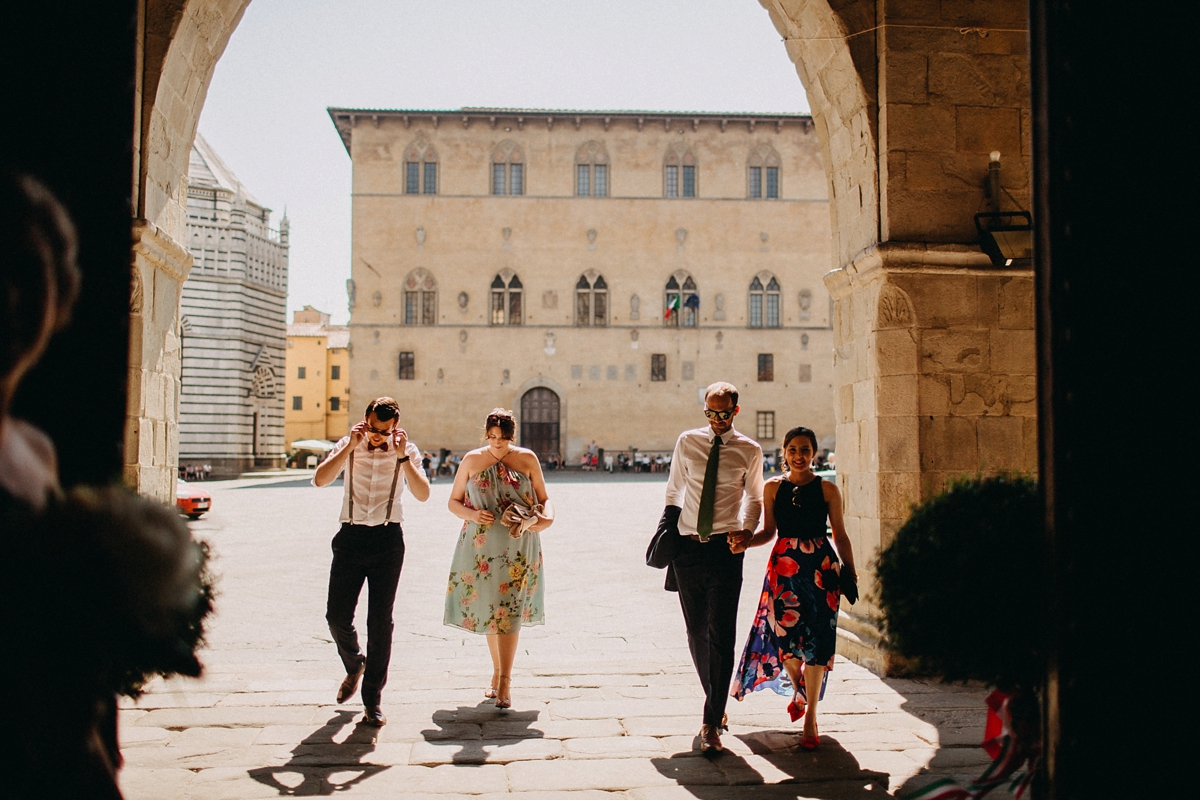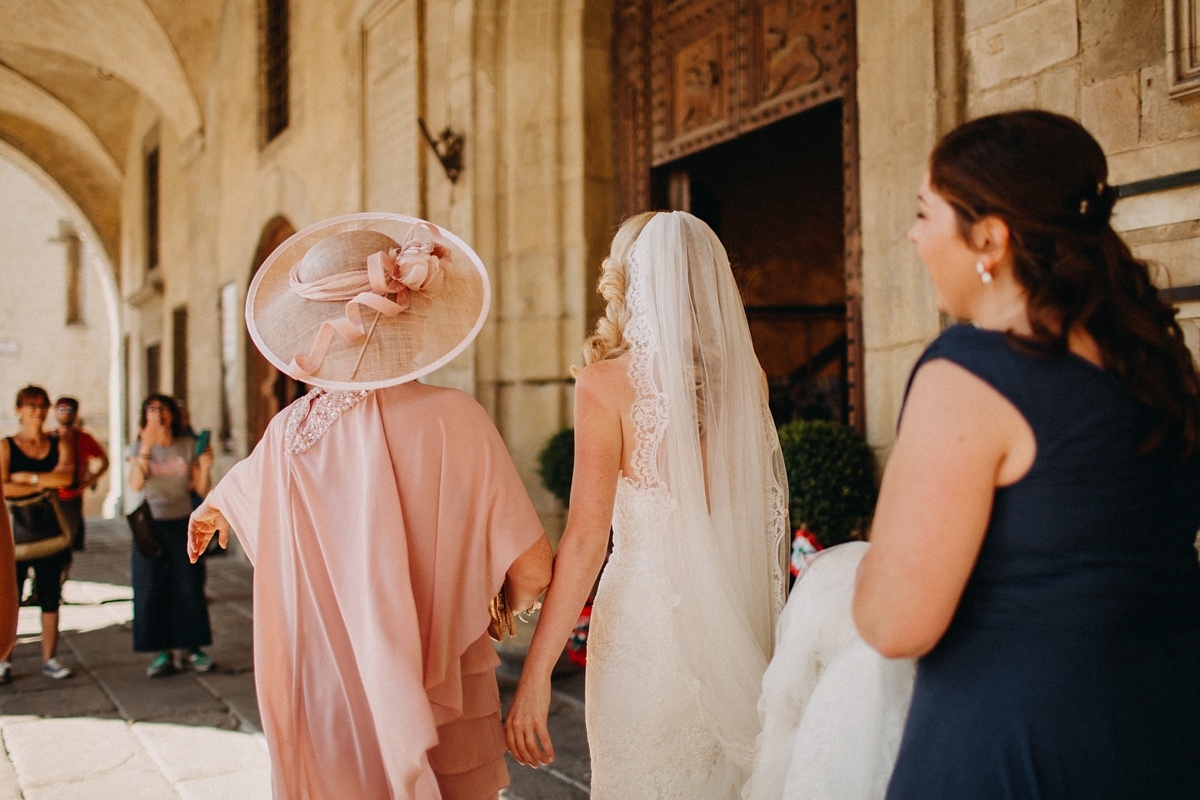 "Our flowers were done by a local florist and friend, Olga. We wanted them to be relaxed with foliage, cream and blush flowers with a splash of colour. Olga used the most beautiful cream and burgundy peonies in the arrangements and used olive branches from the estate for the tables and arch."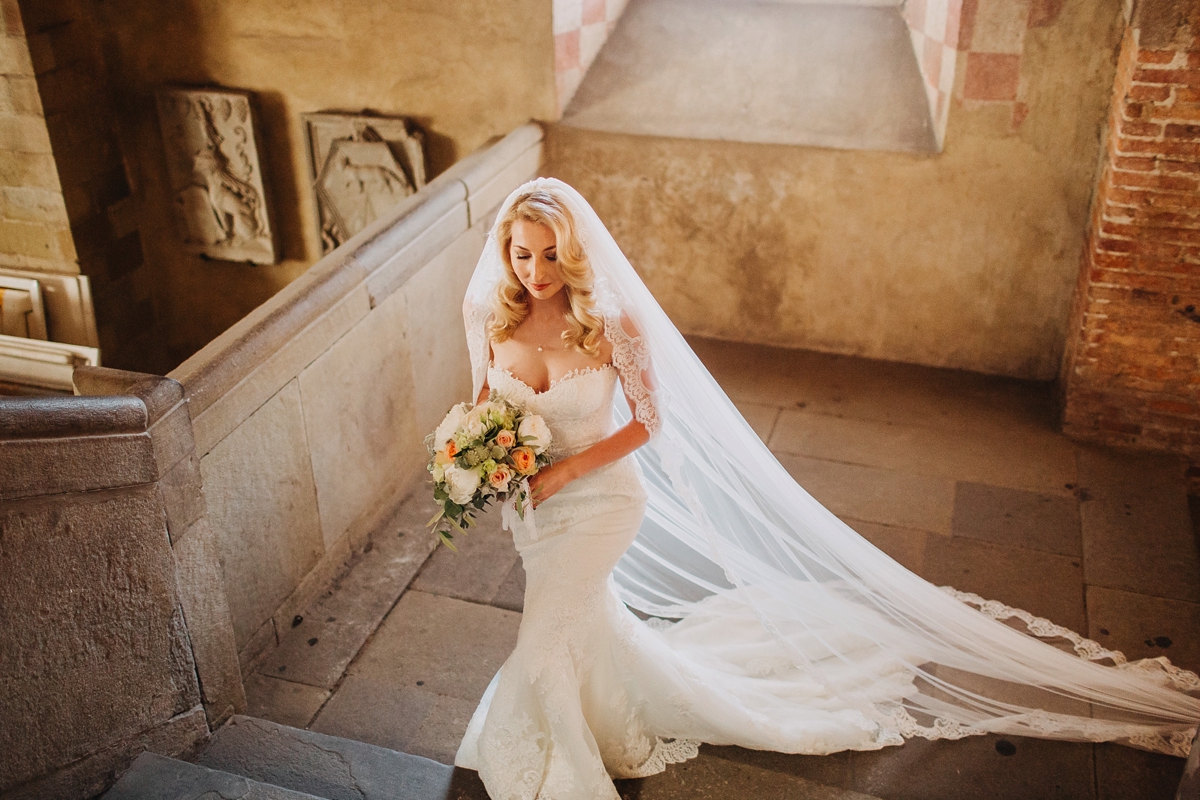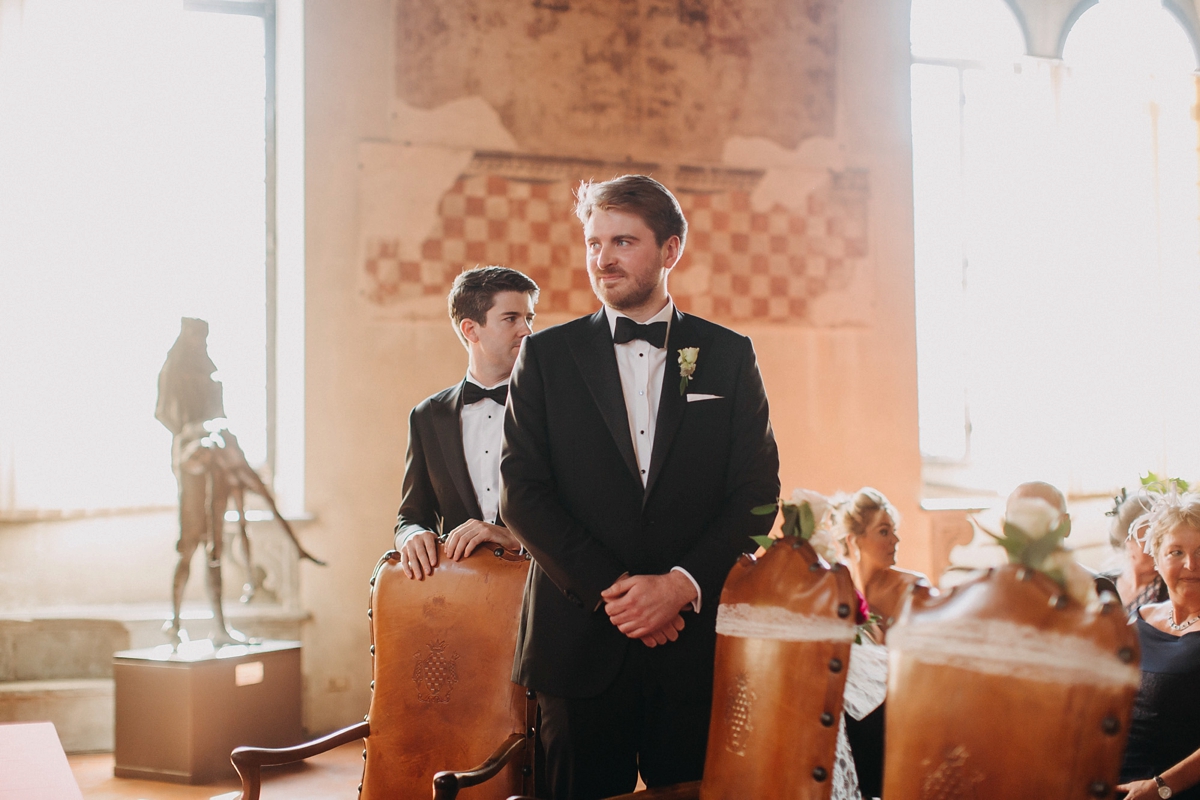 "I was accompanied down the aisle by my father, Robin to Cinema Paradiso by Ennio Morricone. It is such a beautiful piece of music from one of our favourite films and this was one of the first and easiest wedding decisions we made."
"I am Scottish and it was very important to my dad to wear a kilt to walk me down the aisle. Both he and my brother, looked extremely handsome in their kilts and brought a little slice of Scotland to Italy, as did many of our Scottish guests."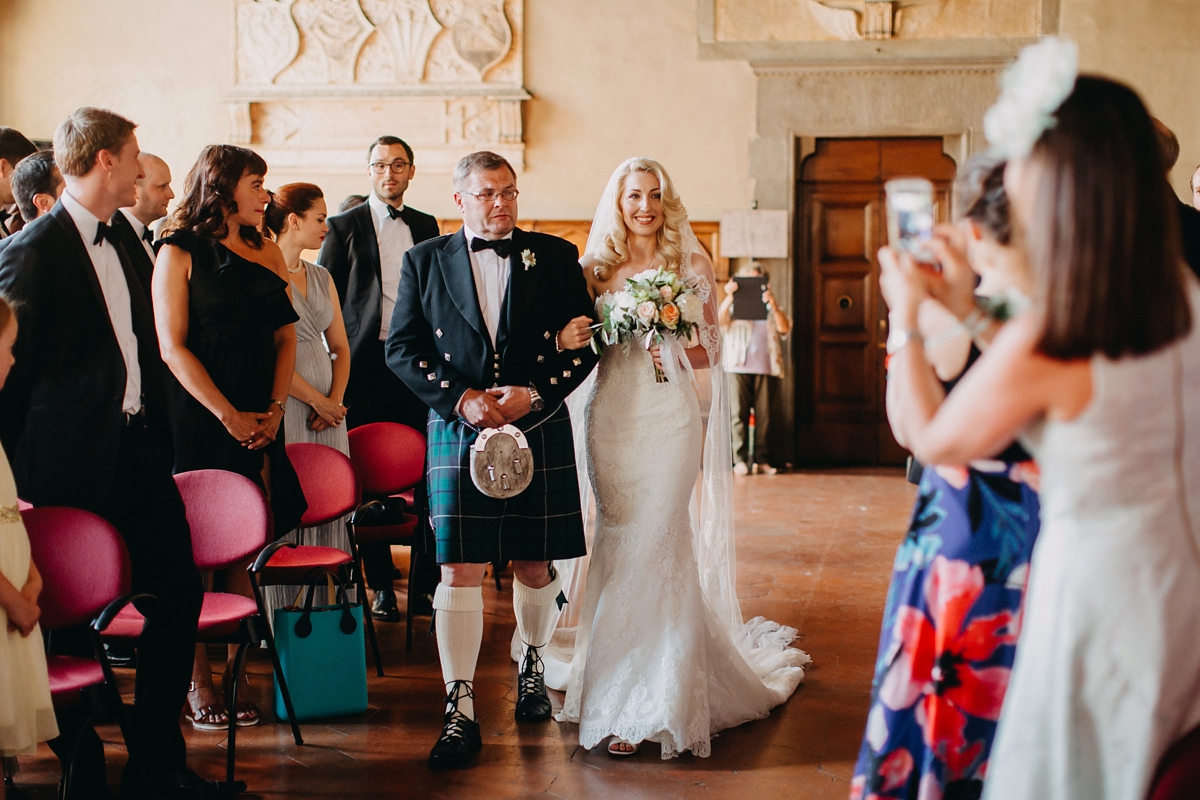 "We had a traditional civil ceremony conducted in Italian. We had been given a rough idea beforehand of what this would entail however, it was mostly a surprise on the day. It wasn't until after the ceremony that we realised that didn't actually say any vows at all!"
"As we weren't sure how much freedom we would have in the ceremony, we chose to have just one reading. It took a long time to agree on something we both liked. Gushy poems are not really our style however, we knew we wanted something to make the ceremony more personal to us. Our dear friend Chloe read The Blessing of the Hands. We both loved the sentiment and sincerity of this reading, and it was a really special moment in the ceremony."
One of Gemma's best girls sat by her side during the ceremony, resplendent along with the rest of the bridesmaids in her deep blue Dessy gown. Each of the ladies chose a different design, complemented with gold jewellery purchased from the high street.
The newlyweds sealed their marriage by exchanging wedding rings purchased from a jeweller on Hatton Garden, Nick's a rose gold band and Gemma's a channel-set, diamond band, before heading to their stunning reception venue. The breathtaking villa, kindly lent to them by a family friend, was decorated with an abundance of beautiful blooms and captured in all its splendour by photographer, Frances Sales.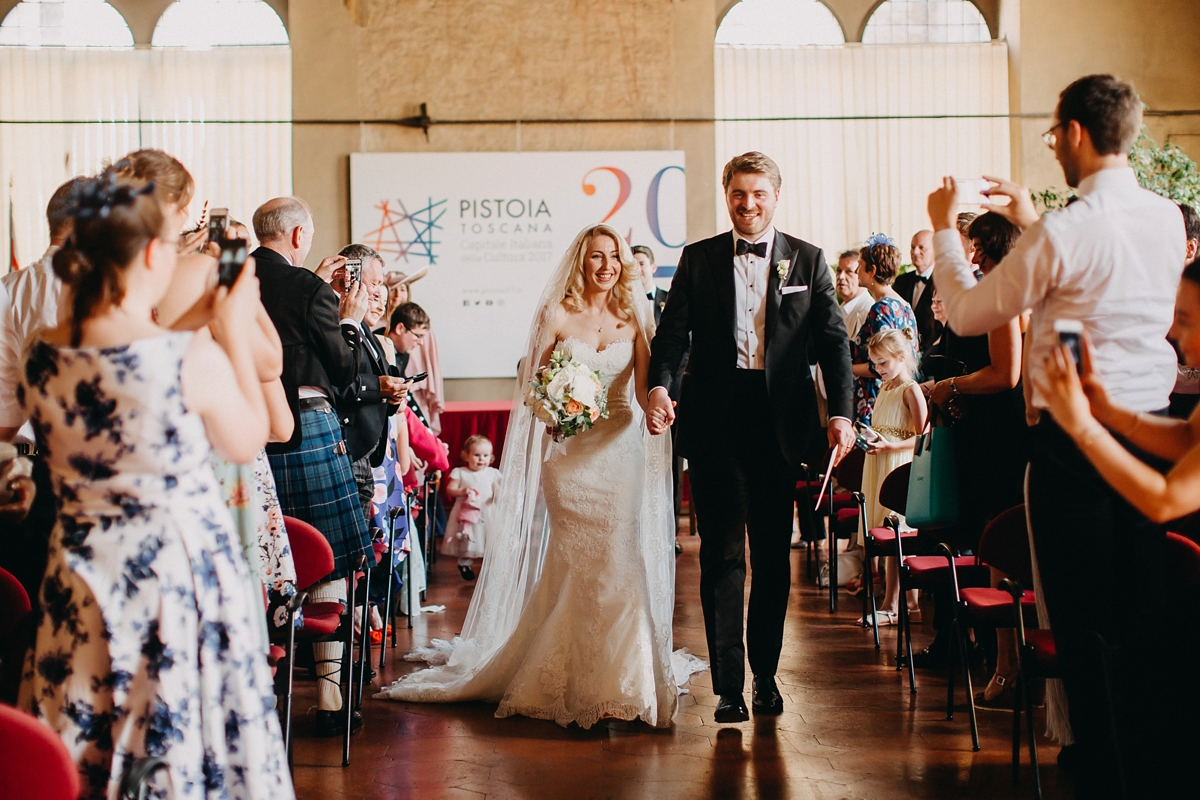 "Our photographer was Frances Sales, who we found through Love My Dress. We loved the emotion she captured in her images and her relaxed style. Frances was such a great find. She is a true professional and kept our clueless selves on track without being intrusive."
"She blended in so well that some of the guests didn't know she was the photographer. We both felt totally at ease and in such safe hands. We couldn't recommend her highly enough."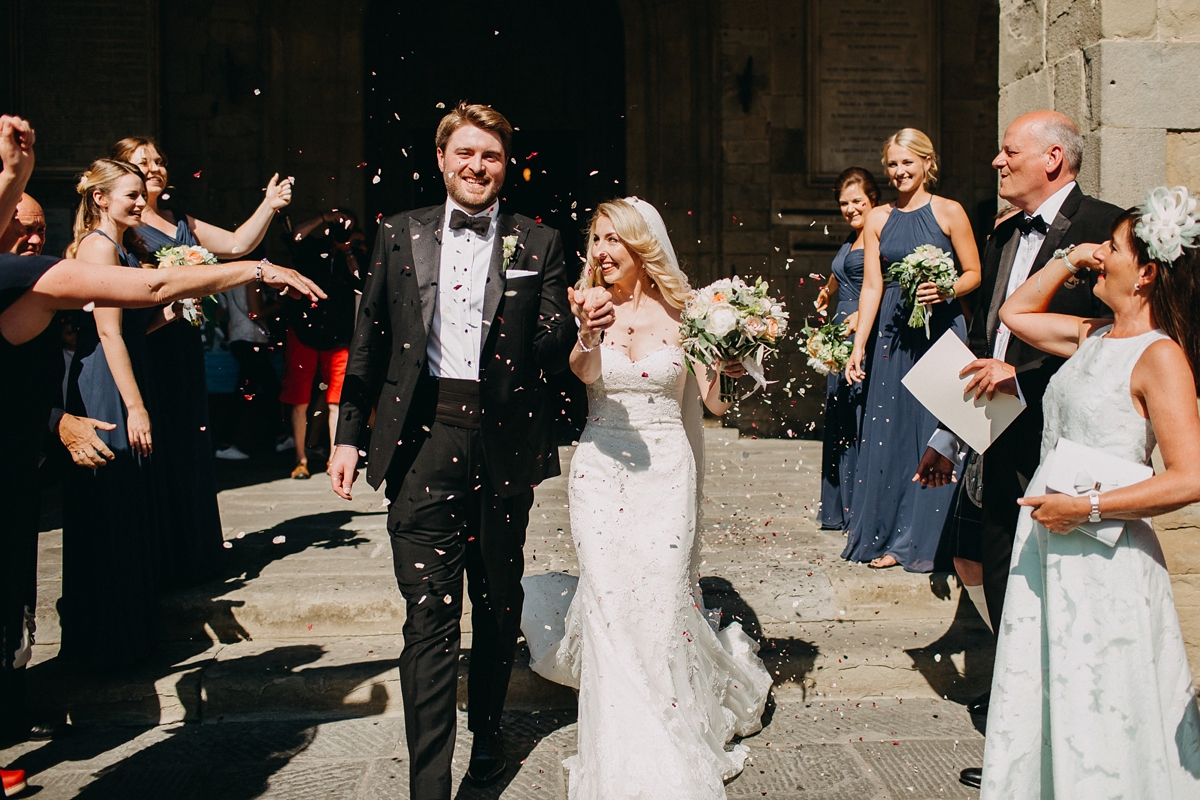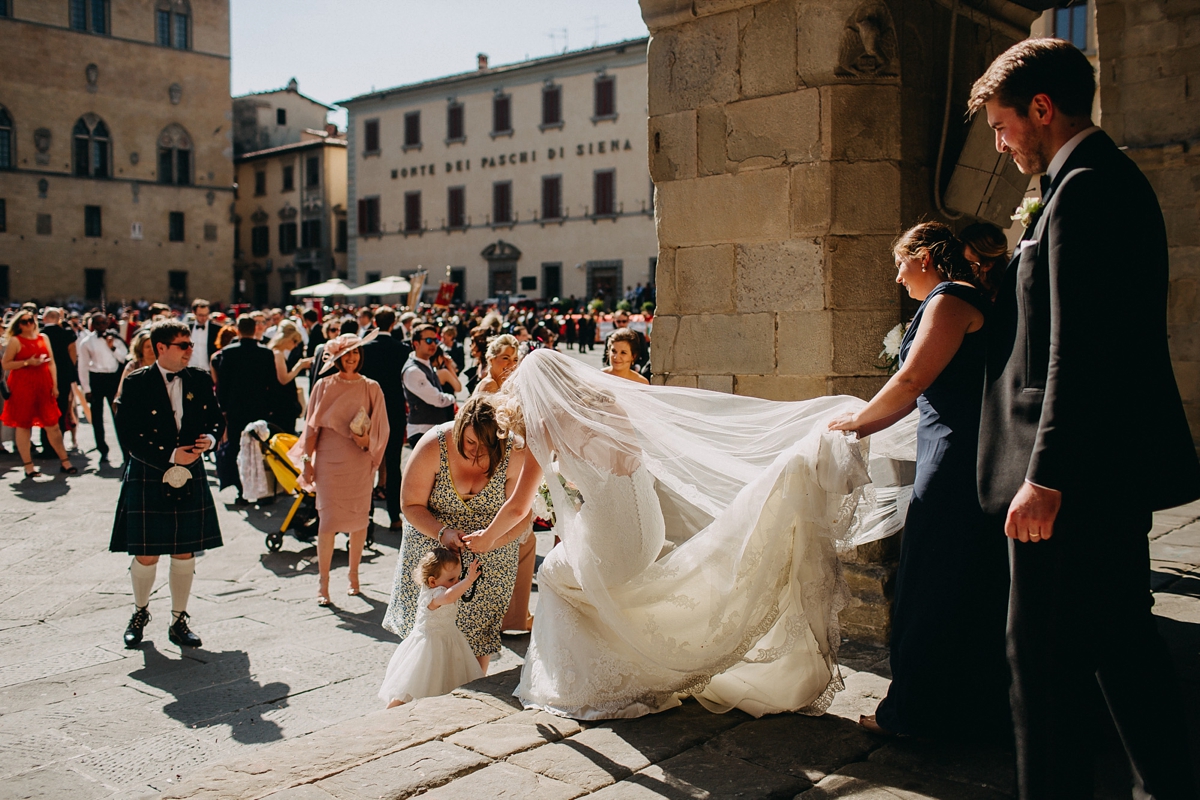 Gemma and Nick decorated their rustic wooden tables wth jars of fresh flowers and gold candlesticks collected from charity shops. With help from their wedding party, DIY flower hoops, chalk boards and a table plan were assembled but decoration was kept simple and minimal, allowing their gorgeous venue to truly speak for itself.
"Our love of food and wine is the main reason we keep coming back to Tuscany. The caterer therefore, was one of the biggest wedding decisions. We chose the local, family run catering company L'Oste Gentiluomo."
"The food was a traditional Tuscan affair and after each course the waiters brought round trays offering seconds, which we thought was such a nice touch. We started with an apertivo in the garden, which consisted of meat, cheese, bread and salads and many other delicious treats. Following this we had a four-course, sit-down dinner."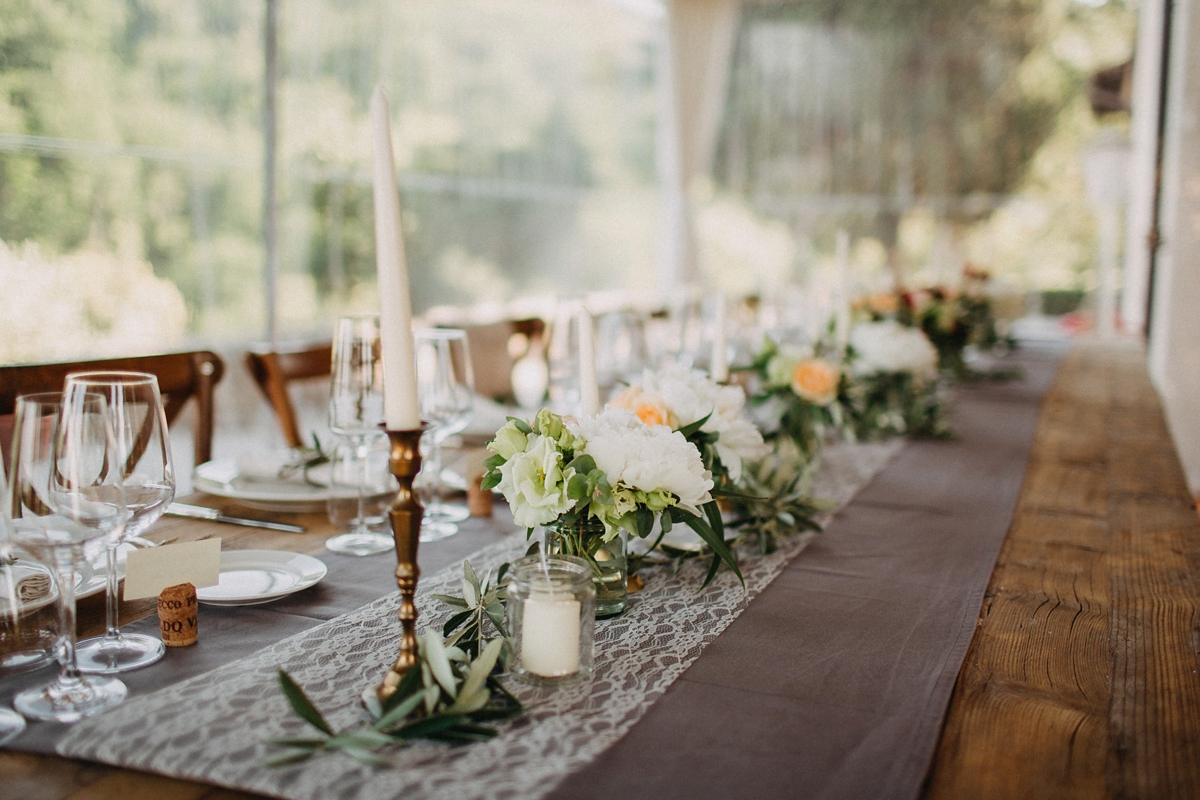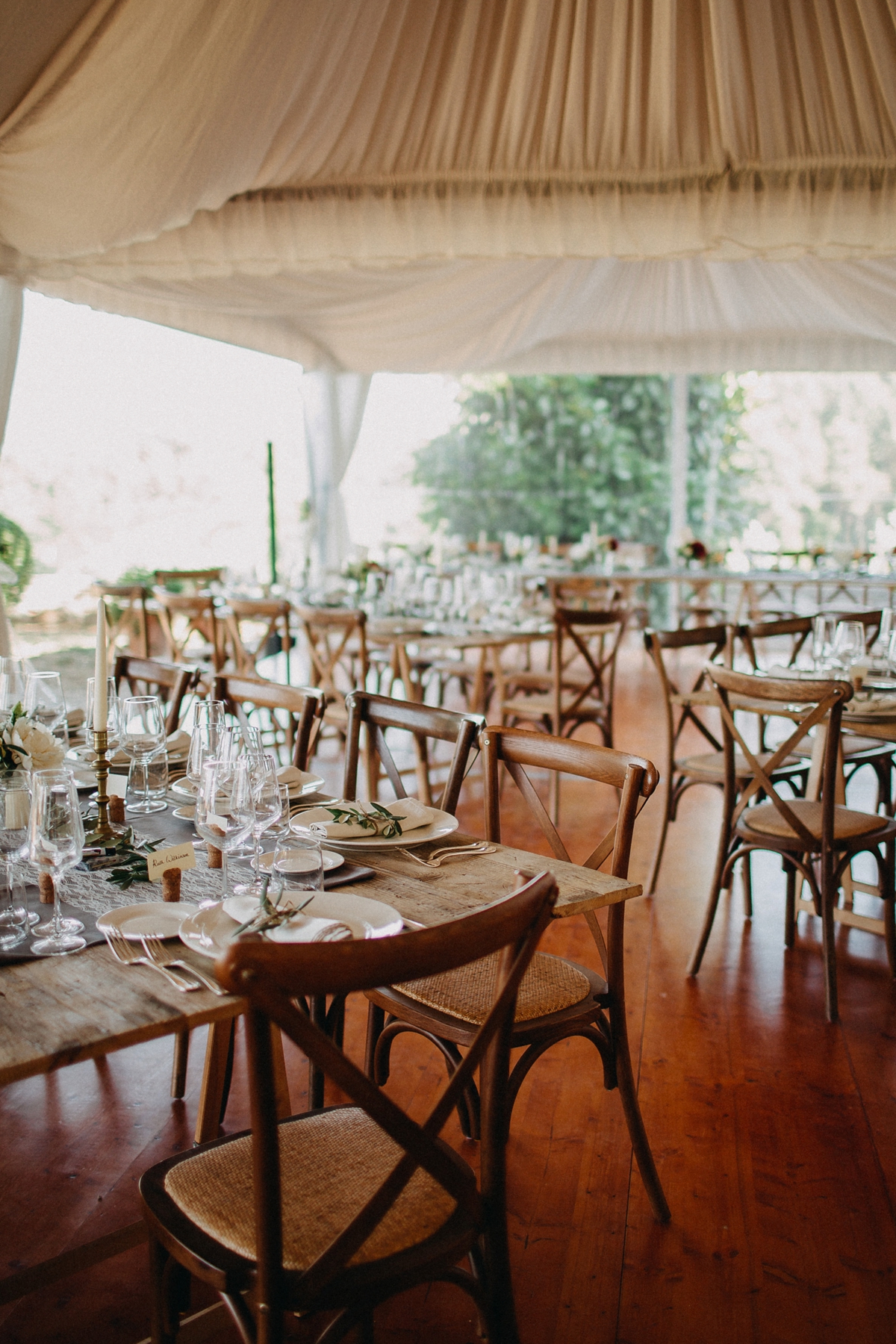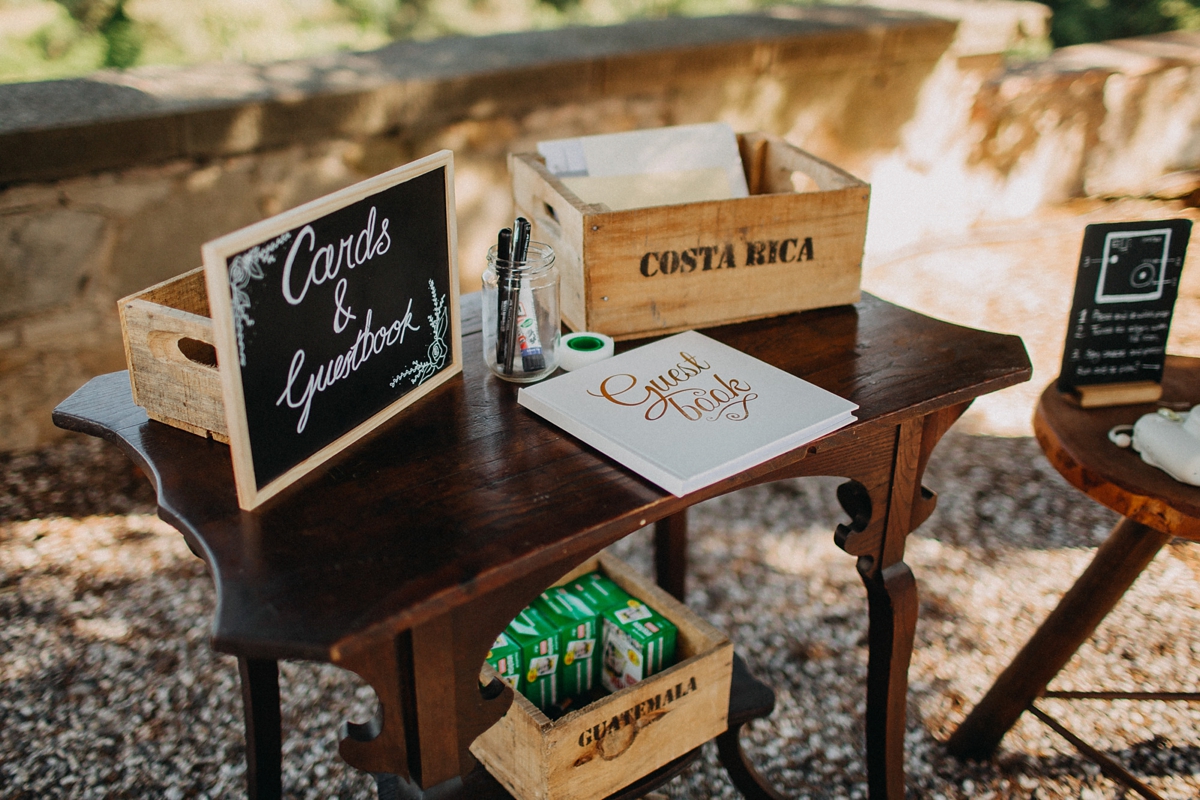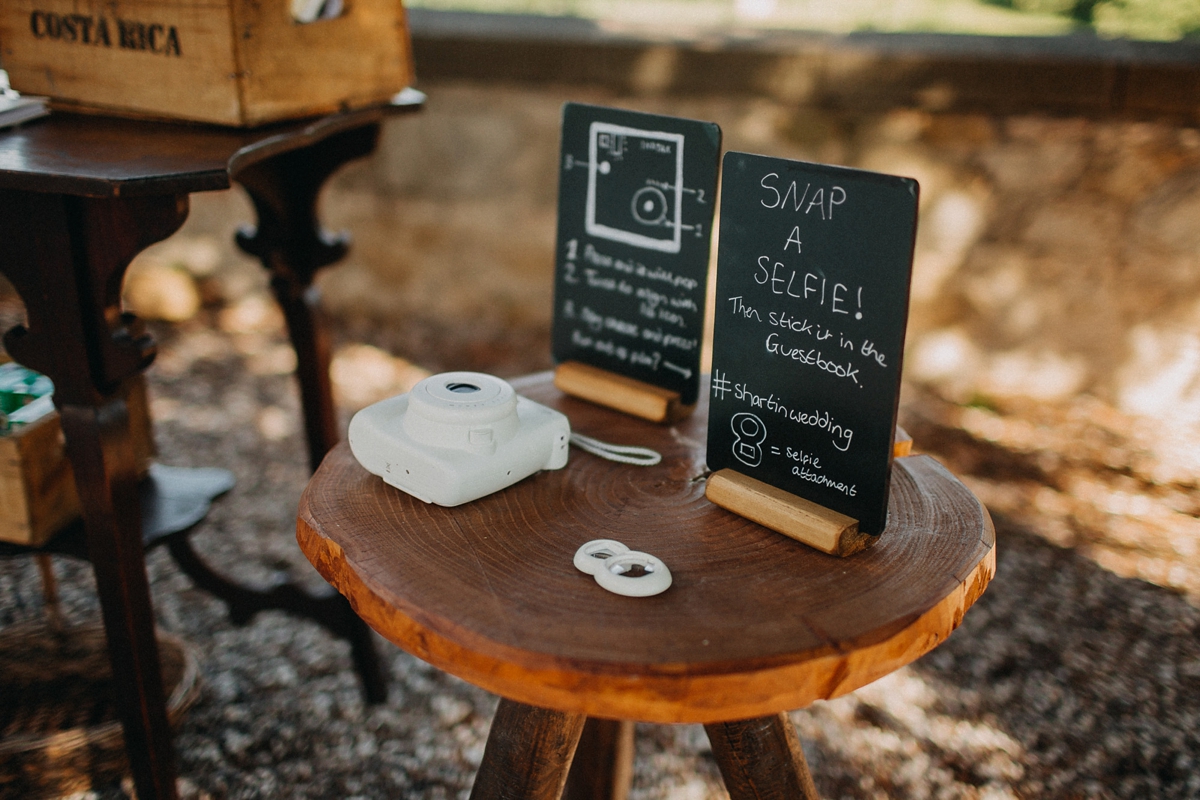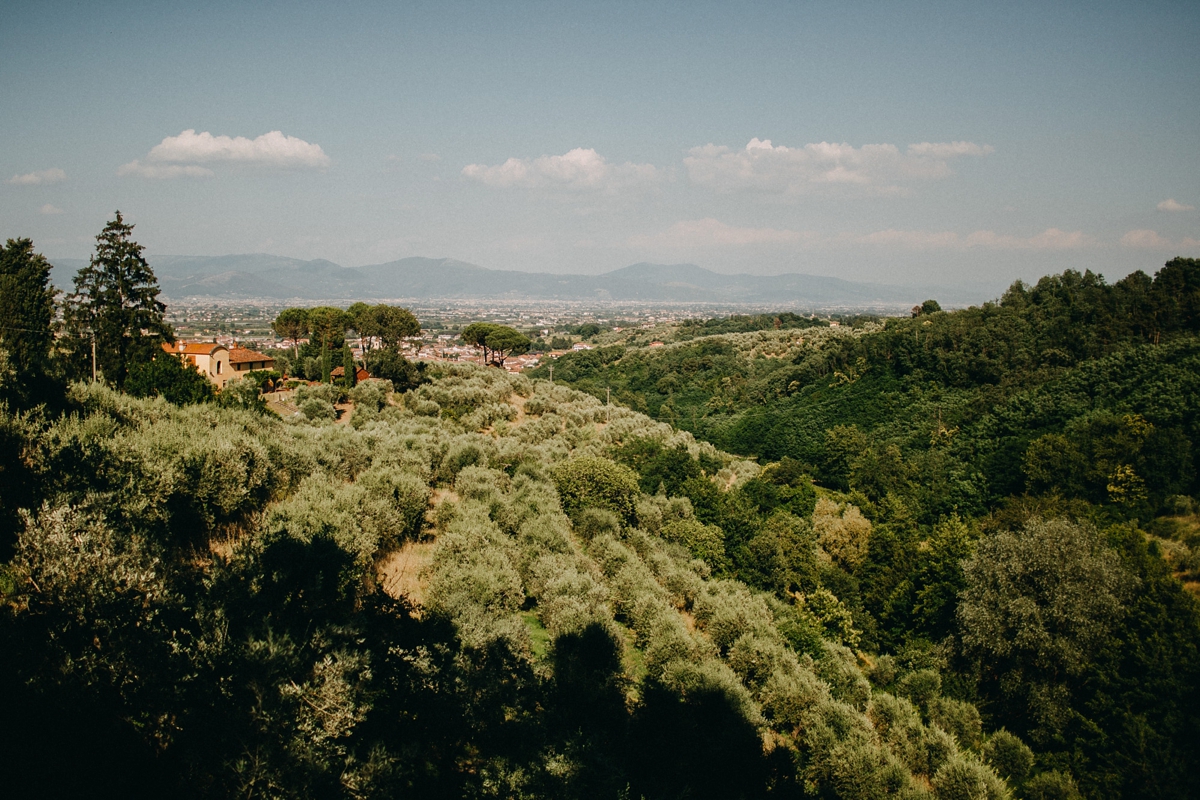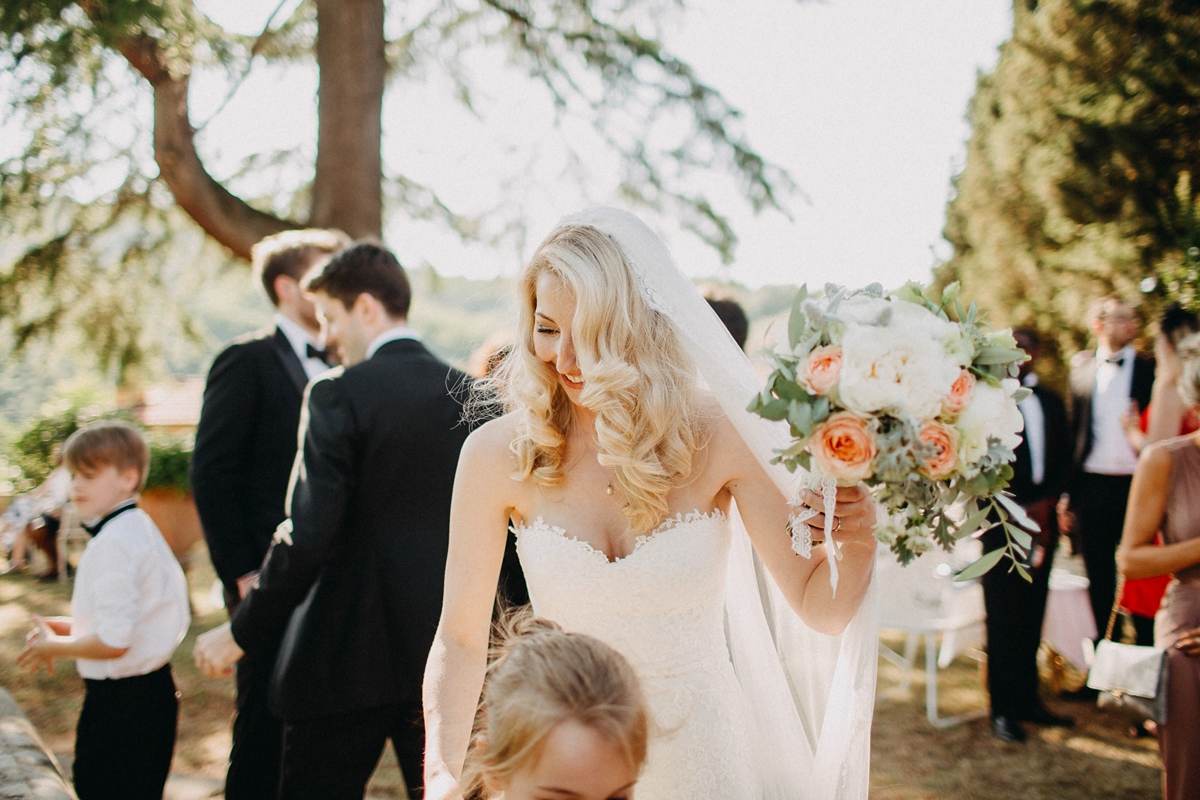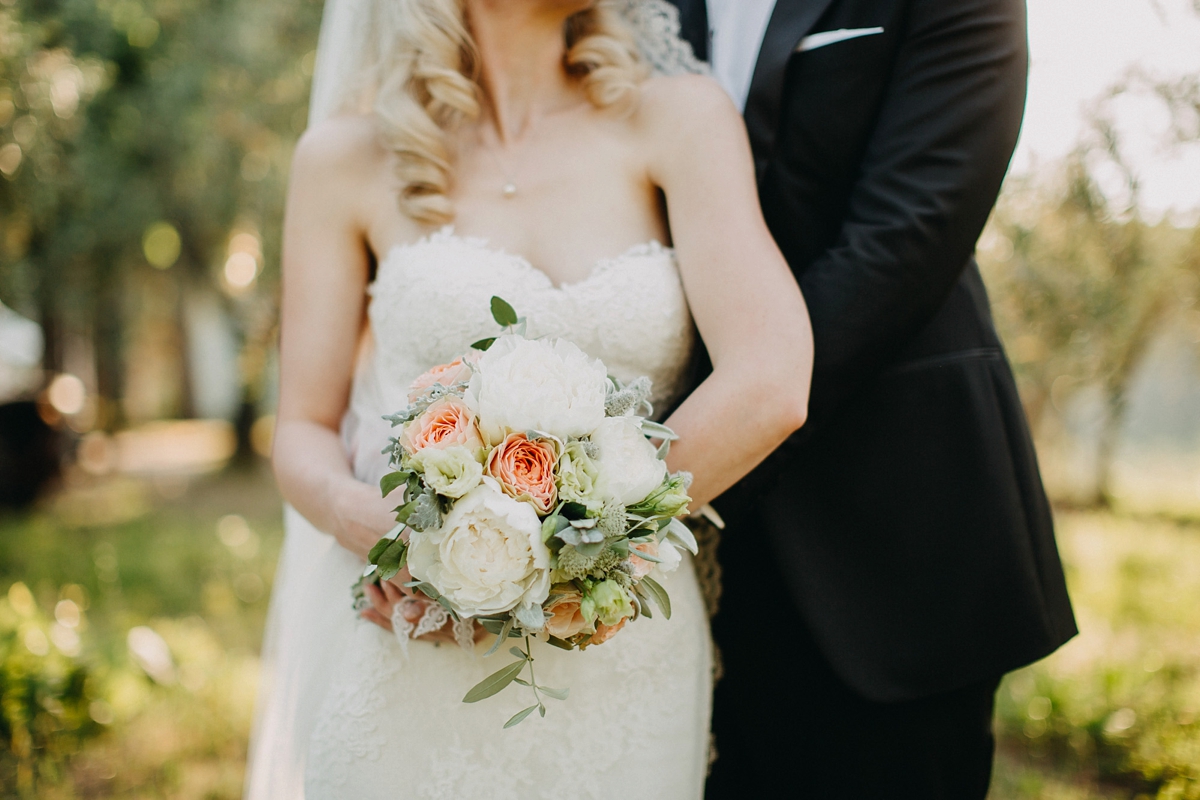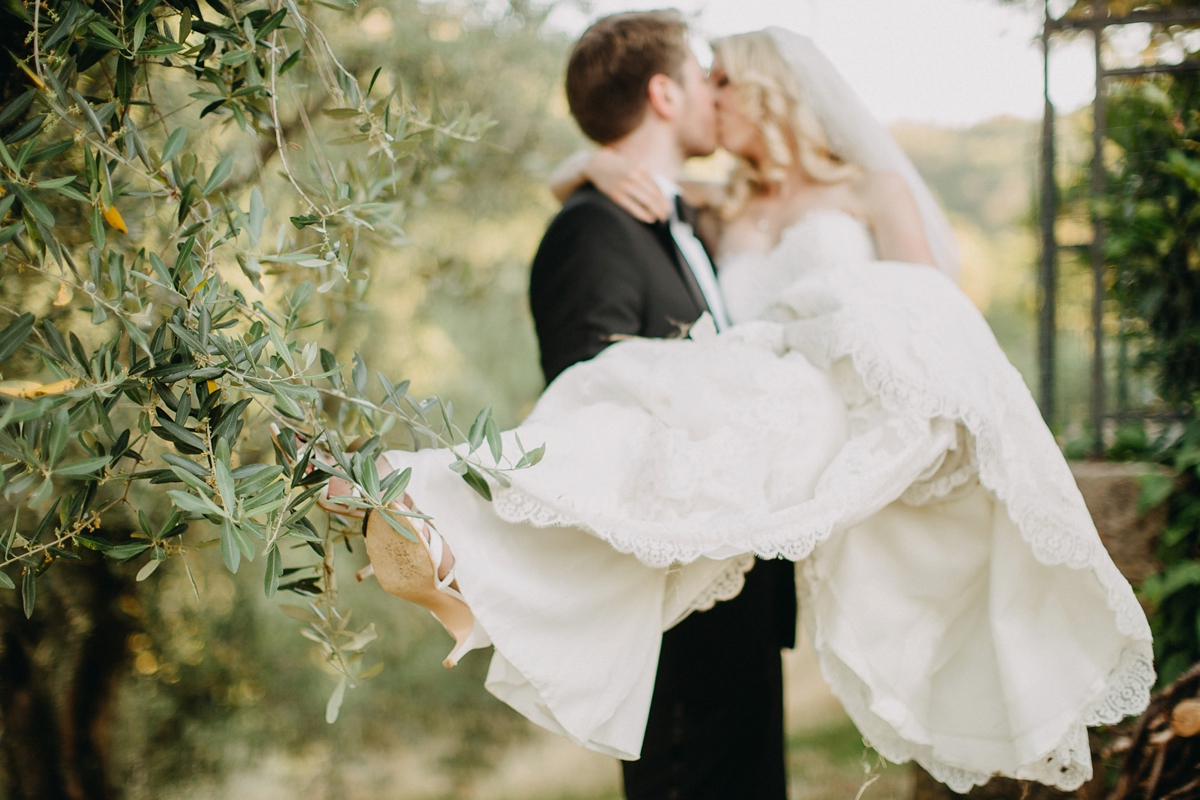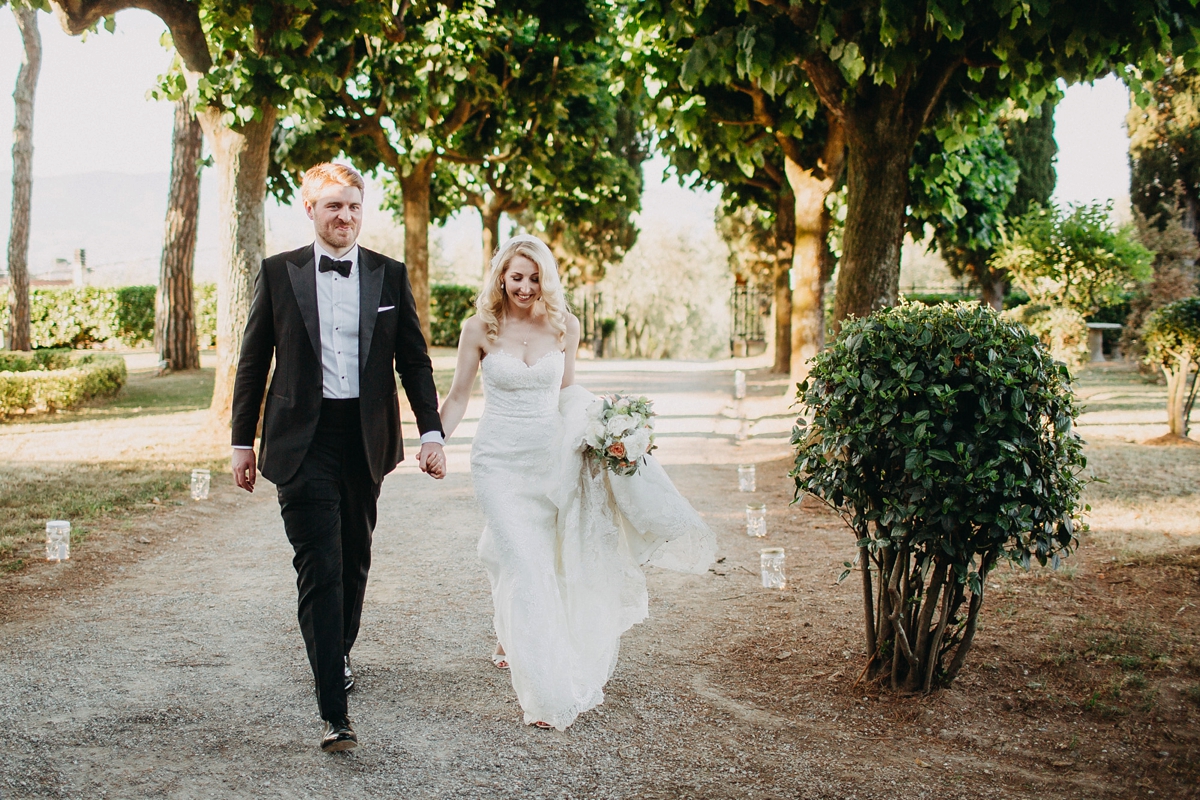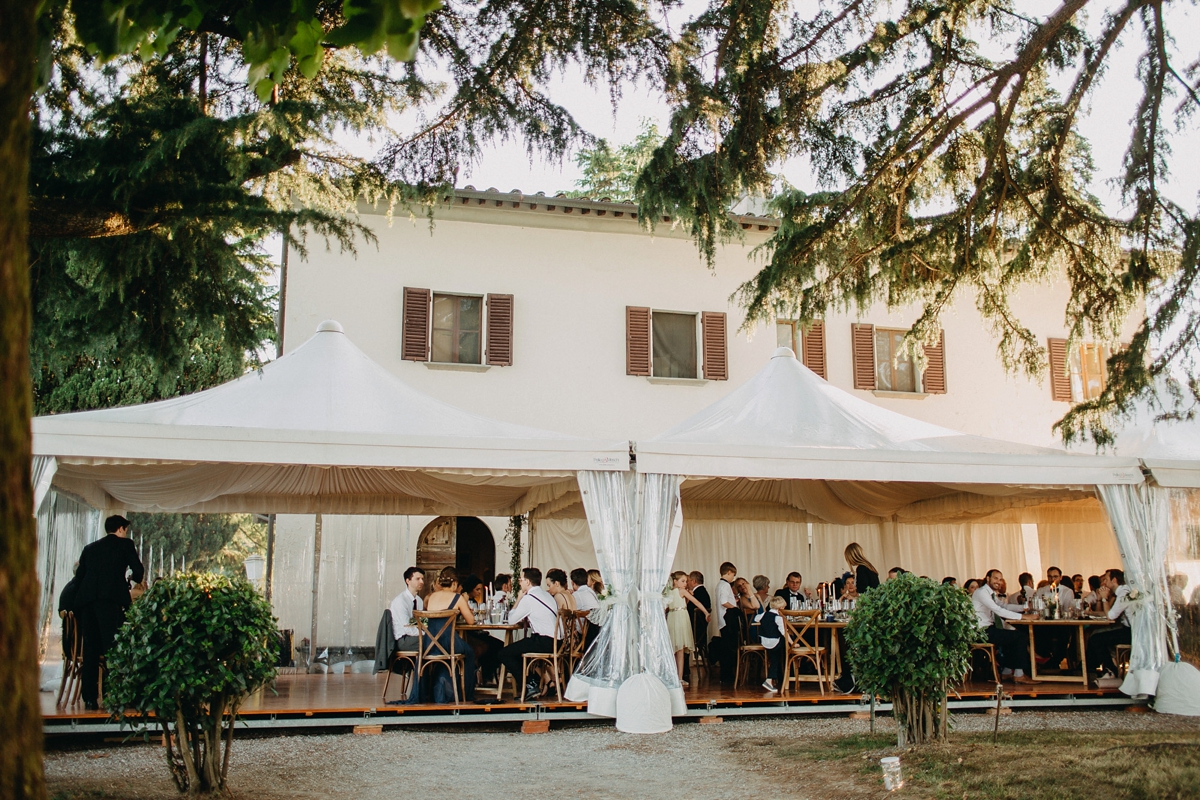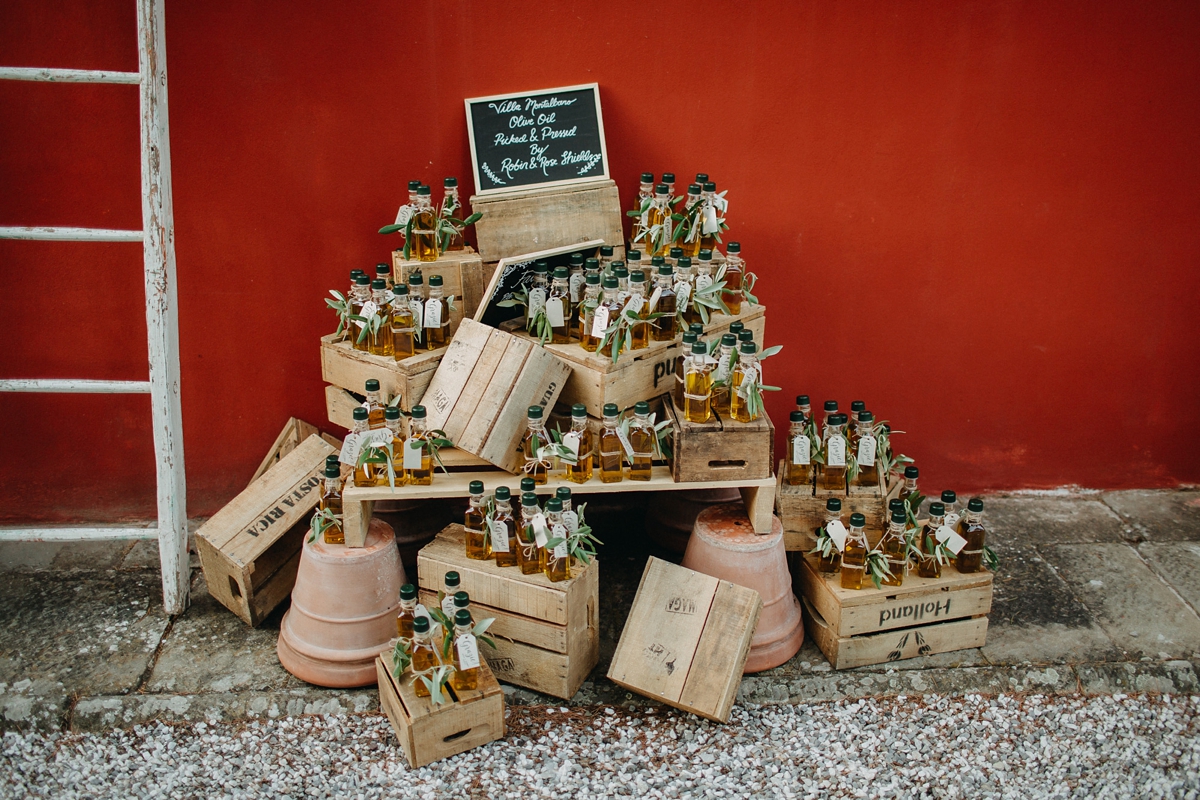 Our bride absolutely adored the speeches during their Italian wedding breakfast, the loving words of those who stood up to speak both heartfelt and fun. Gemma was particularly proud of her new husband, who gave a wonderful speech in spite of his nerves. The newlyweds gifted their loved ones bottles of delicious olive oil produced on the estate, the olives hand-picked by Gemma's parents and pressed at the local olive mill.
"We chose a traditional Italian millefoglie for dessert and wedding cake, layers of pastry, cream and fruit. It was assembled in front of the guests outside in the garden, overlooking the valley. They played 'That's Amore' through the sound system during the construction. We had not planned this, but it went down a storm, with us all breaking into song. We lit sparklers for the cutting and popped open a bottle of Spumante to toast the moment. It was one of the many highlights of the day."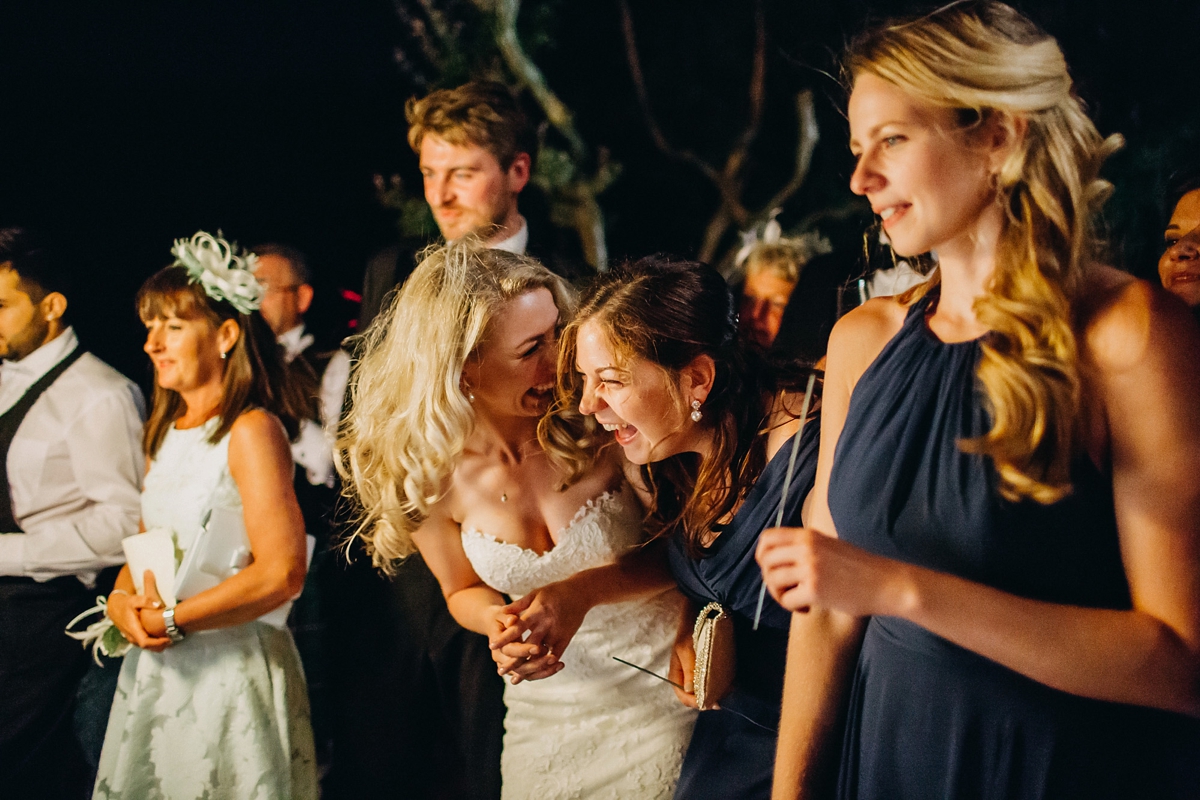 Gemma and Nick booked a DJ through the Alma Project, an events company based in Florence, who also provided a technician to ensure everything went smoothly on the evening. The couple debated their first dance for some time, unsure whether to opt for a slow track or something with an up-beat tempo. In the end they allowed themselves a small indulgence and went for both.
"For the first track we had Nel Sole Nel Vento by Luccio Batiste. This song is sentimental for us both and felt fitting for our wedding in Italy. For our second track we had A Night to Remember by Shalamar. We lasted approximately five seconds on our own before the dance floor chaos ensued. We couldn't of planned it any better! For Nick, his highlight was they party and the chance to celebrate with our guests."
Words of Wedded Wisdom
"Everybody says it and it is absolutely true, don't get stressed about tiny details! The guests won't notice if little things go wrong or are not how you had planned. The day goes so fast so just enjoy every minute."
"We had a BBQ the day after the wedding with family and some friends. We really enjoyed this as it gave us the time to spend a bit longer catching up with people and a chance to relive the day."
I can't express my gratitude enough to the beautiful Gemma and Nick for sharing their day with us all. And of course our thanks also go to Frances Sales Photography for these gorgeous stills.
With love,
Em x