Recently a blog article by Lauren Grove on Every Last Detail provoked a little sensation, a modicum of chatter and a couple of discussions in some bridal retail Facebook groups.
The article proposes that the wedding industry is changing, that amateurs are pushing down prices making pros unable to earn a living by charging a living wage. Hypothesising that couples don't value service as much as they should and that wedding suppliers have to do more, communicate better and charge less. It also then concludes that wedding vendors are spending less on marketing and working with publications.
My first reaction to this article was: "I have been involved in wedding dress retail for 30 years – when am I going to get my Equity Card/Union Membership/Professional accreditation?" People, there is no 'industry.' There is no shadowy executive organising us. There is no Ministry of Vows, no clandestine club to which we all belong.
I am a retailer selling luxury goods. Other people I collaborate with are caterers, graphic designers or hairdressers among other trades that, by fair means or foul, find themselves cast as an Employee of The Industrialised Wedding Complex; a faceless entity that sends us memos on how to jack up prices, body shame and exploit couples who want to celebrate their love and commitment in a reasonably priced way.
That is of course as much nonsense as it seems but dropping in and out of wedding world, particularly in today's' over stimulated post-Instagram world, it might seem that suppliers collude to create Pin-Porn designed to max your cards and misery in equal measure.
Film by Capital Content
https://vimeo.com/241678932
I can only speak with any certainty about independent bridal retail but very far from the have-a-go amateur that might affect a photographer or cake maker, the threat to our retail businesses are corporate, political and often savage blows are inflicted by our own supply chain and media. Far from being small artisanal creatives, my new competition springs from the very deep pockets of venture capitalists with everyone from David's Bridal and Wed 2 Be being similarly funded.
Very indifferent independent labels have been saturating the supply chain forcing volumes of wedding dresses into the UK that there are simply not the brides to support. And that's a problem.Let us also not forget the moment a High Street retailer produces a collection – the press are all over it wondering how 'rip-off' bridal shops have the absolute cheek to charge what they do whilst over-looking that the products are vastly different and parking any difficult questions, like for example, 'why are they so cheap?', 'who makes them?' and 'what happened to the BHS pension fund again?'
My position is rather different from the author of the piece. My opinion is that choice is being increased and with that, bridal retail is becoming increasingly industrialised and corporate. For the consumer this is good, right? 24/7 shopping if you want it – even if some of the giant new stores have all the charm of an out of town Halfords.
Conversely for me, the way to reignite passion and creativity is precisely the opposite. It is to work with newbies, youngsters and excitable types!
Photography by Sophie Duckworth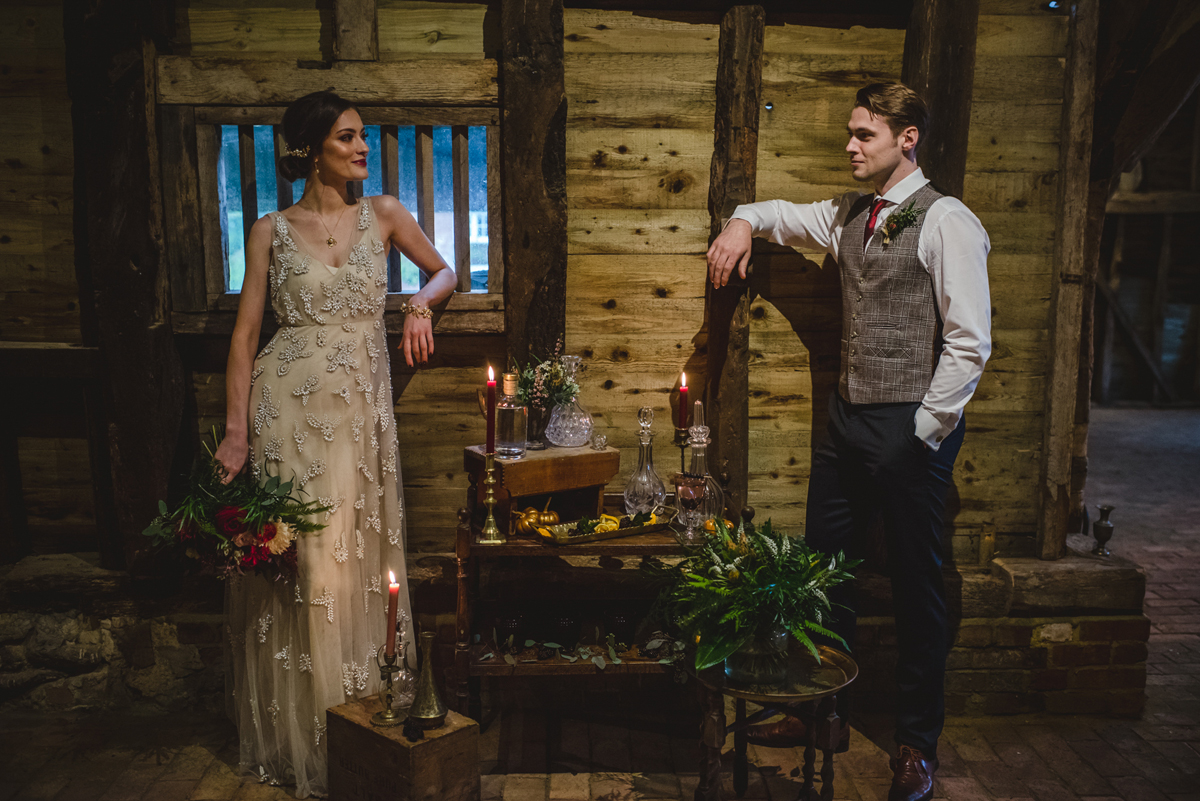 Lauren, from Bluebird Creative, contacted me way back last March about working with her on a styled shoot. I think I might have shuddered…  There are times when chirpy, positive emails have me retreating into Curmudgeon Cul-de-Sac. Goodness knows how I agreed to a meeting. Lauren's innate charm and a good nagging from my team to get to the bottom of my emails meant an eventual meeting in The Chapel discussing a late Autumn/wintery themed shoot.
I was very keen to work with Sophie Duckworth, a photographer very much in favour with my clients and a florist, Alison, whose business goes under the name Mad Lillies  – also a Miss Bush bride favourite.
All this positive bonhomie was evaporating on the first cold Monday of the year as I was traversing the lanes of the Surrey Hills looking for a beautiful but Sat-Nav confounding barn. A happy, cheery, pretty, bring-your-dog and-kid-to-work, eat the cakes and "wow aren't those dresses pretty" atmosphere greeted and charmed me in equal measures.
The wedding 'industry' is women juggling what they have to do with what they love to do. It is enthusiasm, a lack of cynicism, a readiness to invest and a willingness to work without pay for portfolio work.
The shoot cost me a pair of I Am Florence shoes, an extremely muddy dress hem and half a day. What it bought me was a huge boost and an introduction to the best marshmallow teacakes I have ever eaten.
Where I would agree with Lauren Grove in her 'is the wedding industry dying' piece, is that as a 'wedding vendor' I am spending less with wedding publications. I used to be all over all magazines, migrating to all the big UK blogs. I now work with Love My Dress alone, identifying more with Annabel's readers and her own personal vision.
As Grace Bonney discussed succinctly in her recent, fascinating post, State of The Blog Union: How The Online World has Changed; 'Every part of a blogger's life and work has been commodified. From personal stories and children to wardrobes and homes, everything is up for sponsorship and editorial discussion.
This means that I now make choices on a marketing level based on which blogger's house renovations I find more engaging and on micro influencer level I am turning up the persona level of access via Insta-stories.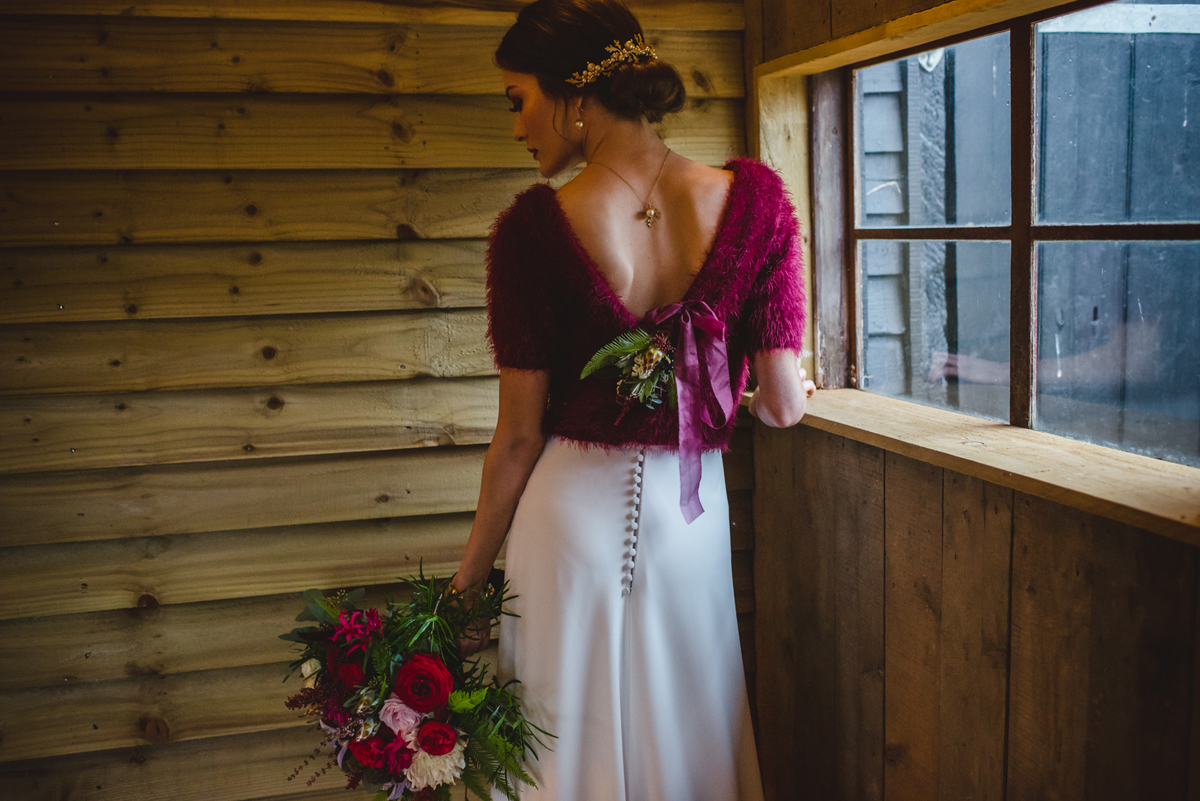 It also means that far from being able to spend a King's ransom on advertising and 'expecting' the money to roll in – you need to get in a field, get cold and keep it real and engaging!
The inspiration behind the shoot that accompanies this piece was to create a celebration of the quintessential British autumn/winter. Rich colours, romantic flickering candlelight, a palette of jewel tones and the scent of marshmallows toasting over a crackling open fire. The result was cosy, festive and atmospheric; perfect inspiration for the coming season.
The dresses featured were two very different gowns, provided by my own boutique,Miss Bush in Ripley, Surrey.  For the indoor shots we used the stunning 'Maggie' by Eliza Jane Howell; a highly decorative tulle wedding dress with deep v neckline, ethereal flowing skirt and intricate pearl and crystal embellishments. The second gown was a Jesus Peiro number, style 7071, a long-sleeved lace panelled wedding dress in Chantilly lace and tulle, with a simple round neck and elegant square back. This look is so easy to pigeonhole into a beachy bohemian look so it was brilliant to see it applied to festive winter chic.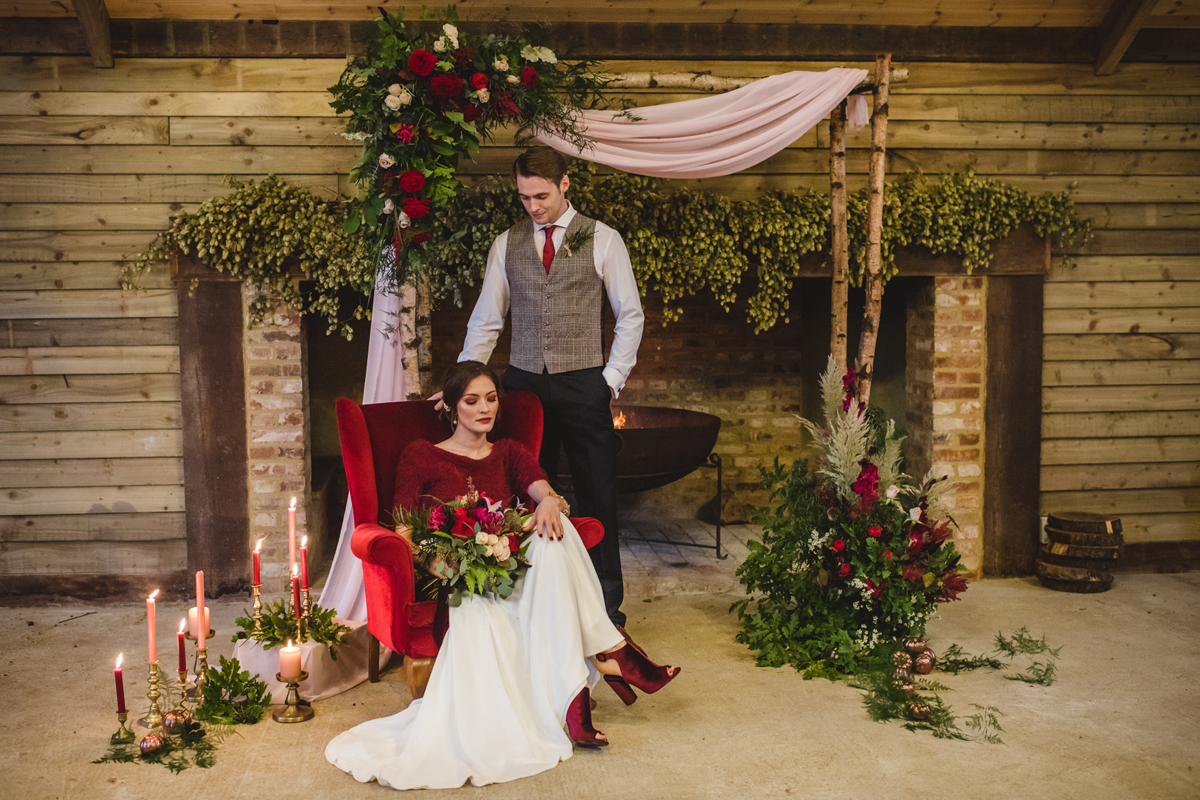 Shoes by I am Florence, also at Miss Bush, added to the opulent colour palette, with deep burgundy peep toe heels adding rich warmth to each look.
Both headpiece and jewellery are from the Petworth Pearl Acorn range from the Gardens of Earthly Delight collection by Agnes Walker. The headpiece featured is a brand new design, launching next week.
Florals were vibrant and suitably seasonal, with tones of blackcurrant and rich vibrant pink, along with deep green ferns, inky blue thistles and creamy cappuccino roses.
A delightful s'mores bar featured an array of delicious and delectable treats including heart-shaped dark chocolate dipped vanilla marshmallows, gold leaf and dark chocolate embellished toasted marshallows, caramel marshmallow pops, a selection of marshmallow petit four, cinnamon pretzel balls, and luxurious S'mores made with brown sugar Graham crackers, toasted vanilla marshmallows, topped with a dark chocolate shard.
There was also a fun and creative Gin Bar – perfect for warming up on a chilly November evening!
Emma x