Are you currently in the throes of sorting your big day for next summer? Then I urge you to stop everything, find a quiet spot, and feast your eyes on the wedding of Hannah and Oliver.
The couple, who both work in architecture, tied the knot on the 12th of August 2017 near Henley-on-Thames at St Botolph's Church Swyncombe – a very special location for both the bride and groom. They then celebrated in style under PapaKåta tents for their garden wedding at Oliver's parent's home a short distance away. The lucky bride had expert help from the designer herself when it came to choosing her gown – the gorgeous Kate Halfpenny of Halfpenny London. A cherished friend of the team here at headquarters and a part of our helpful resource Little Book for Brides, you *must* check out Kate's recently launched The Black Edit collection.
"I bought my Halfpenny London dress and veil through the Ellie Sanderson boutique in Oxford on a designer day. It was great to have Kate, in addition to the lovely people at the boutique, helping me to choose!  The dress, 'Iris Rose', was the first one I tried on."
Photography by Ruth Atkinson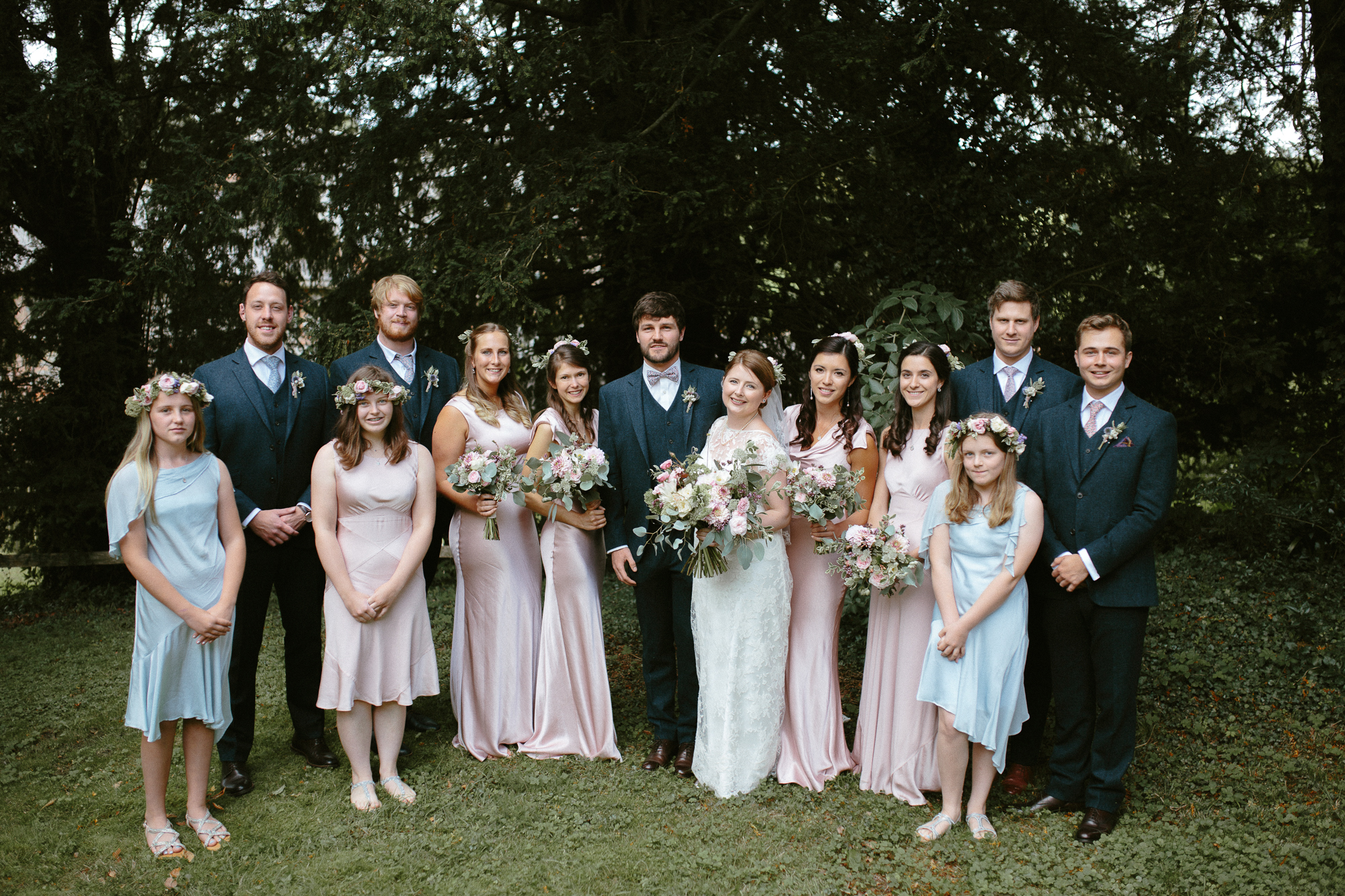 "After explaining what I was looking for, and what our wedding was going to be like (including the fact I was planning on going on a mile-long walk through the woods on the day), Kate picked it out for me to try. As soon as I put it on, I knew it was perfect. It is beautiful, elegant and timeless, but what I loved most was how I felt in it. It just felt so comfortable, and I knew I would be able to eat and dance as much as I wanted.""Oliver and I were introduced at Henley Royal Regatta in 2011, by one of my lovely bridesmaids, and have been together ever since. Despite not meeting until then our lives have crossed paths at various points, beginning in the John Radcliffe Hospital in February 1990, where we were born 2 days apart."
"We were engaged for 11 months before the wedding. Oliver popped the question atop Schiehallion, a mountain in Perthshire that we climb together every year. The ring was designed and made by Malcolm Appleby, an engraver and family friend based in Perthshire, and the mountain inspired the engraving on the band."
The bride and groom very handily had quite a few of their wonderful suppliers close by, including their uber-talented florist, Juliet at Babylon Flowers
"Based just down the road, Juliet grows most of the flowers herself and we were able to walk around with her and see them growing! She did all of the flowers inside the church, and the bouquets, flowers for hair and buttonholes. Our brief to her was pretty loose – flowers that were in season, with a bit of a pink and blue theme and a natural, just-picked look. She did an amazing job."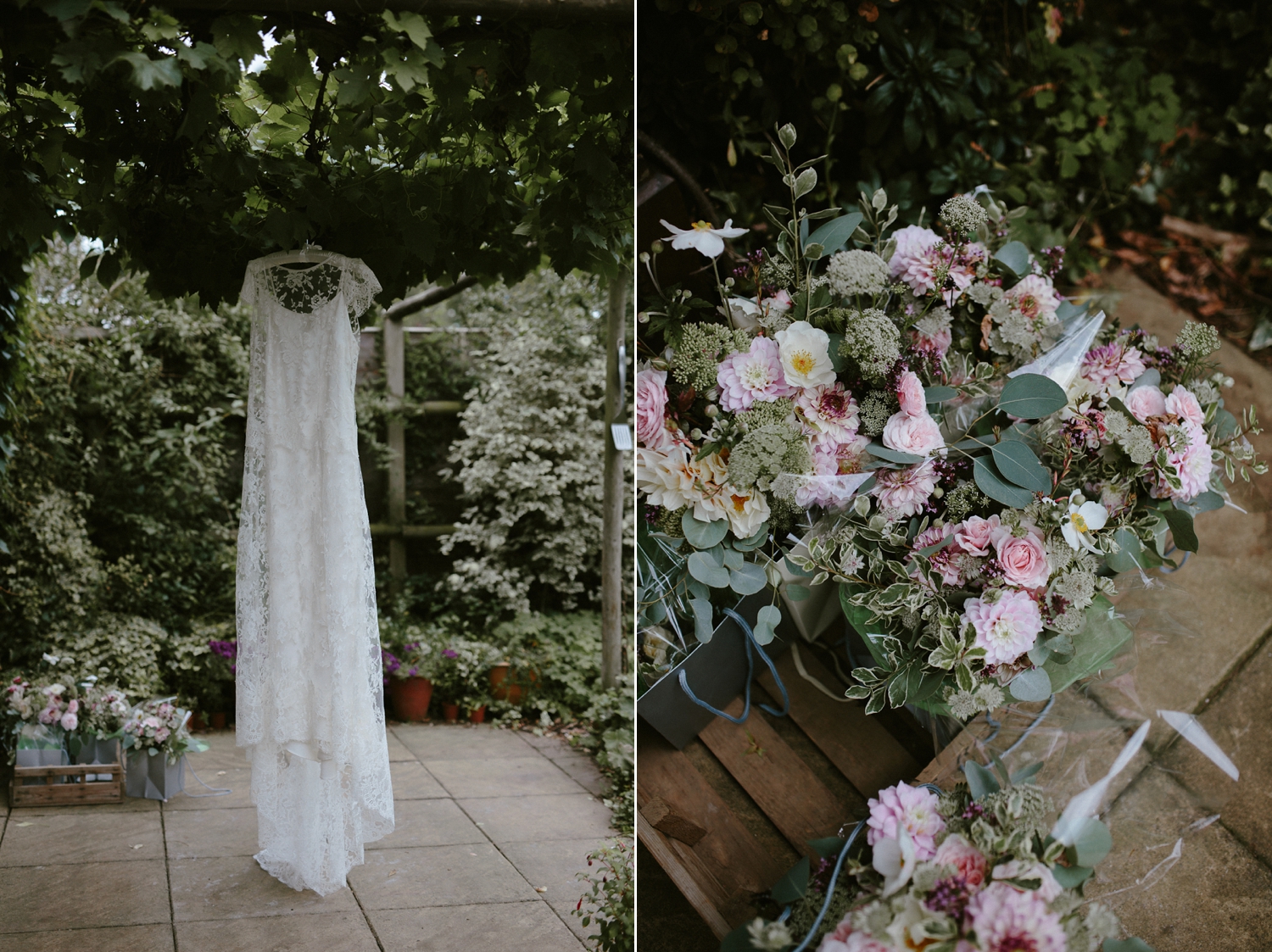 "I had 7 bridesmaids, all of whom wore dresses by Ghost. The 4 older ones chose their own dresses (in boudoir pink) and the younger girls, all of whom are my cousins, wore dresses in pink and blue that we chose together in the outlet store."
"They all wore a selection of sparkly sandals, and bought their own, as I wanted them to be comfortable on the day. The older bridesmaids wore flower combs to match mine, and the younger ones wore their hair loose with flower crowns, also from Babylon Flowers."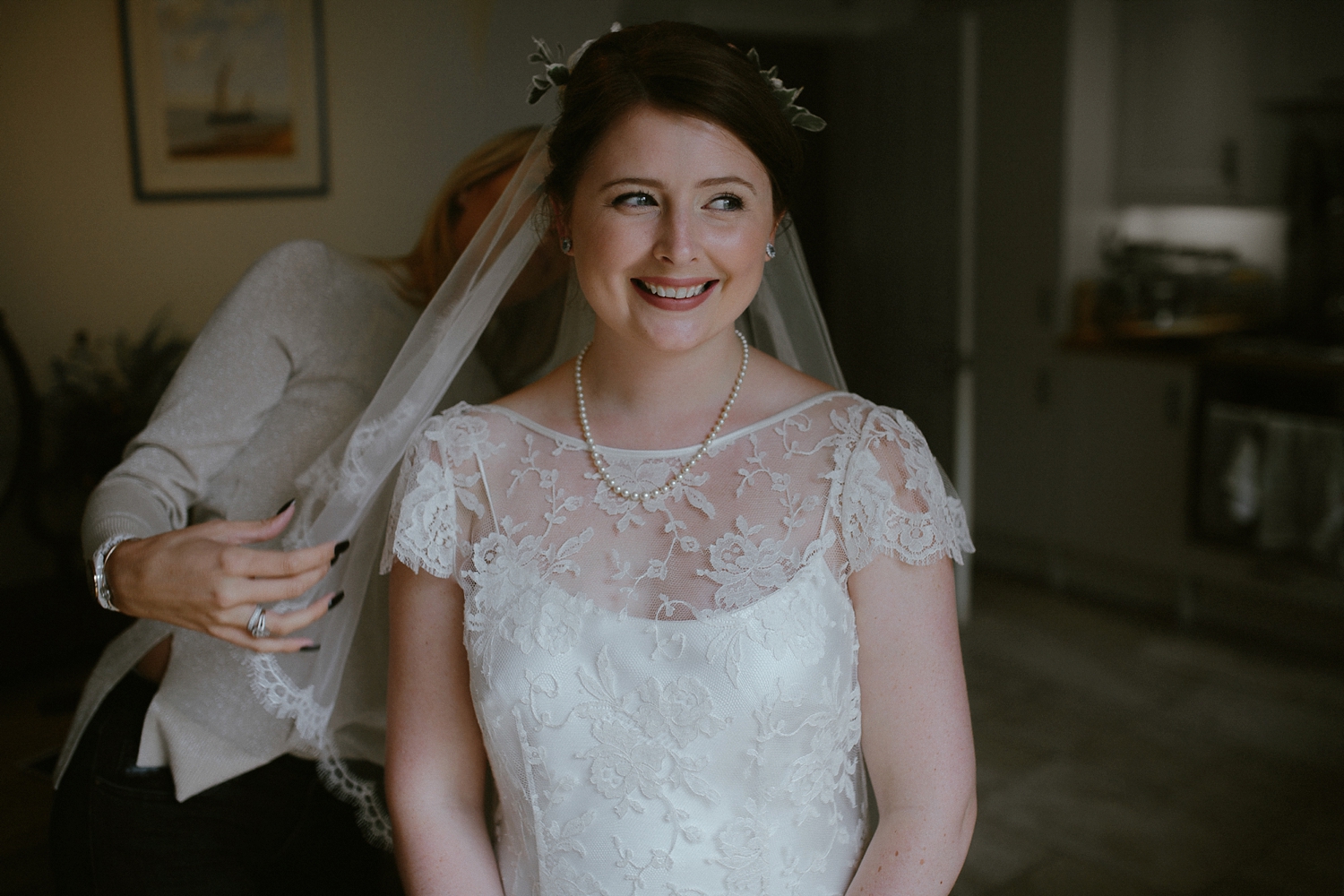 "As a gift the morning of the wedding I gave each bridesmaid a silver pendant from Malcolm Appleby. Each one was different, and they all wore them on the day."
Hannah's lovely mum treated her to a glittery pair of Jimmy Choos and she added her everyday scent, Issey Miyake. The elegant bride then accessorized with a stunning pair of aquamarine and diamond stud earrings as her 'something blue' bought via Joseph Bonnar Jewellers whilst on a trip to Edinburgh, as well as a beautiful heirloom necklace.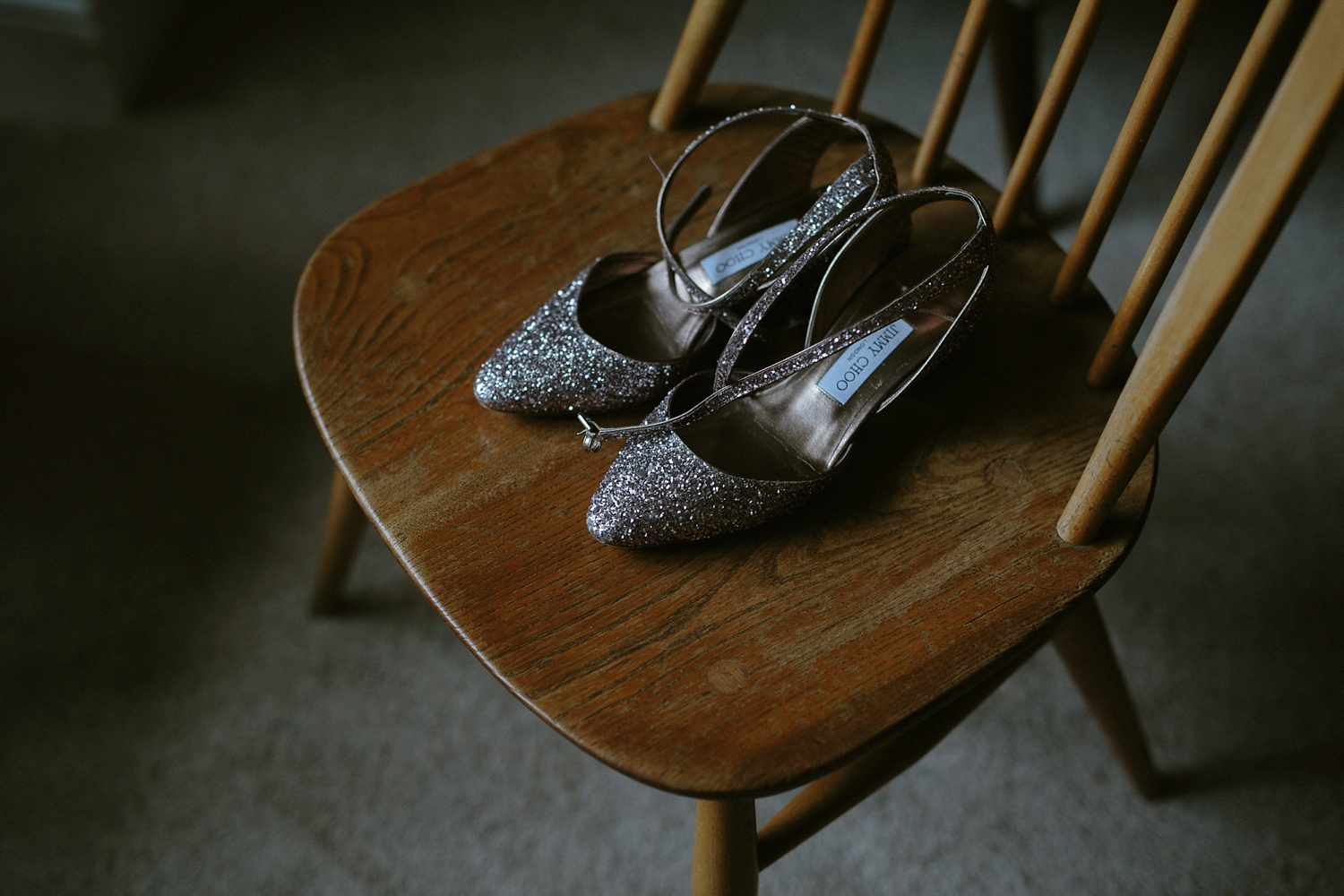 "I wasn't planning on wearing a necklace, but the weekend before the wedding Oliver's mum gave me a beautiful pearl one that has been passed down the Hester family for a number of generations, for new Mrs Hesters to wear! It went beautifully with the dress, and was a beautiful and very special thing to wear."
"I wore a flower comb in my hair, made by Juliet and her helpers at Babylon Flowers. I had my hair and makeup done by Chelsey from Claire Nicole. She did a great job, and was very relaxed when I changed my mind about how I wanted my hair."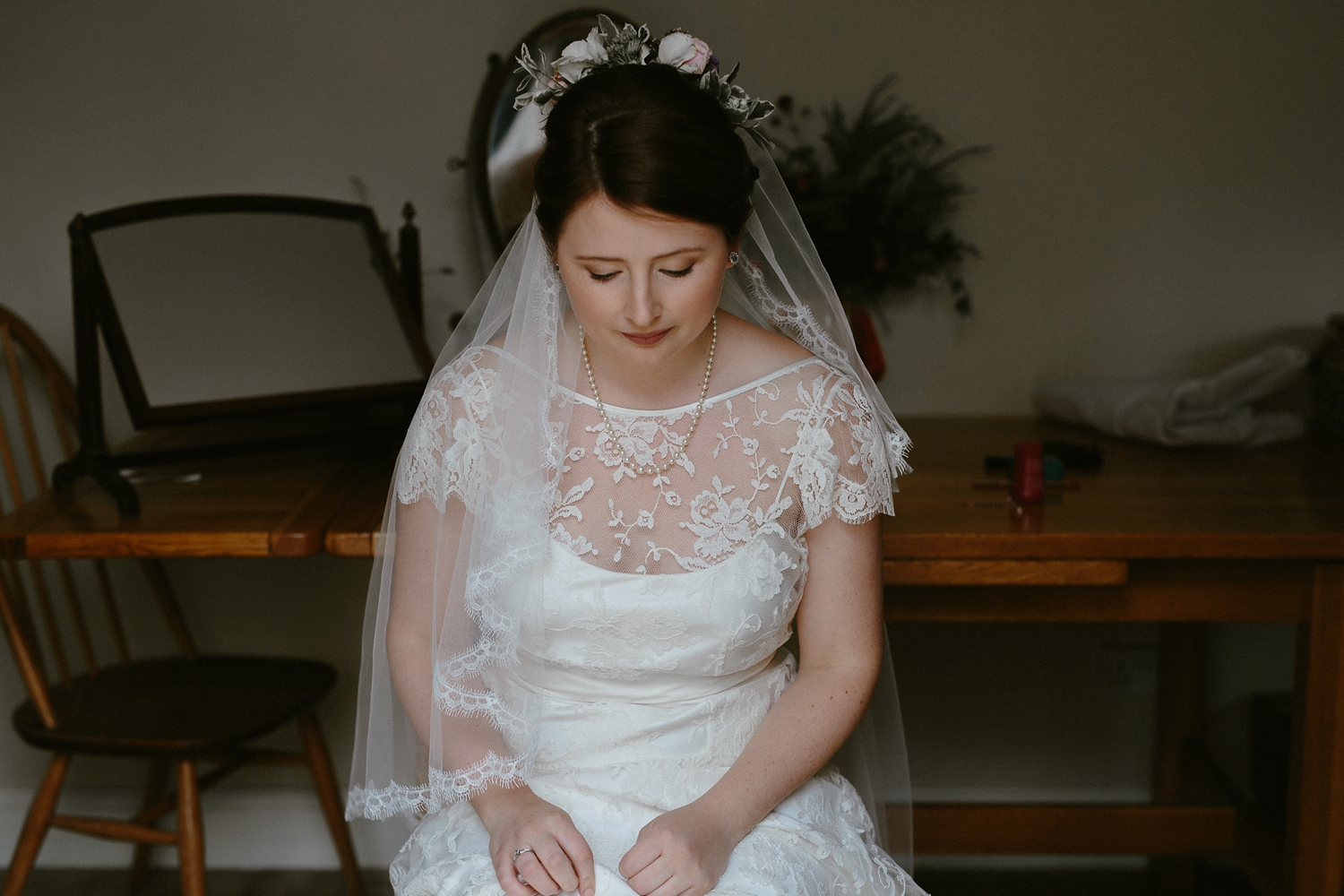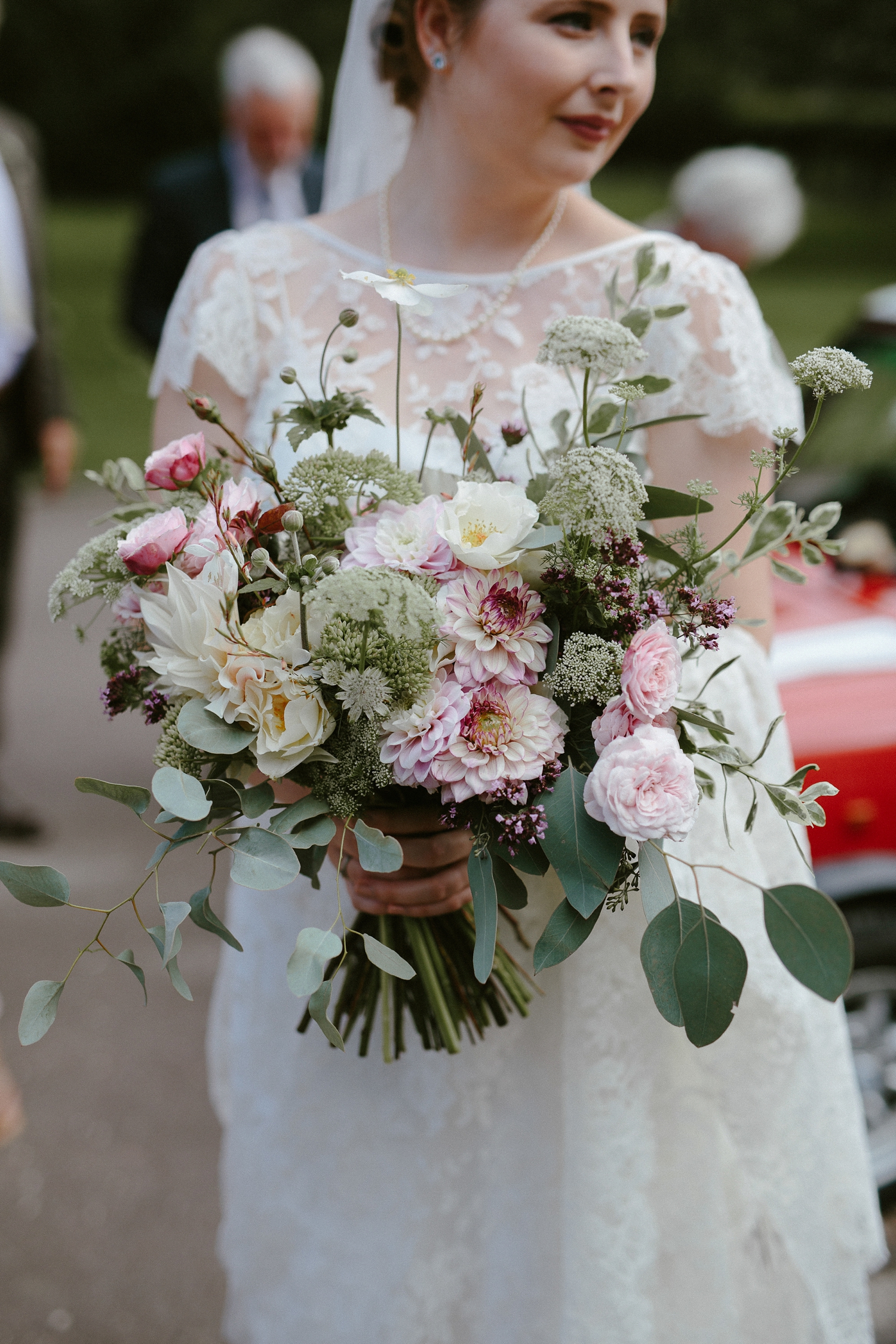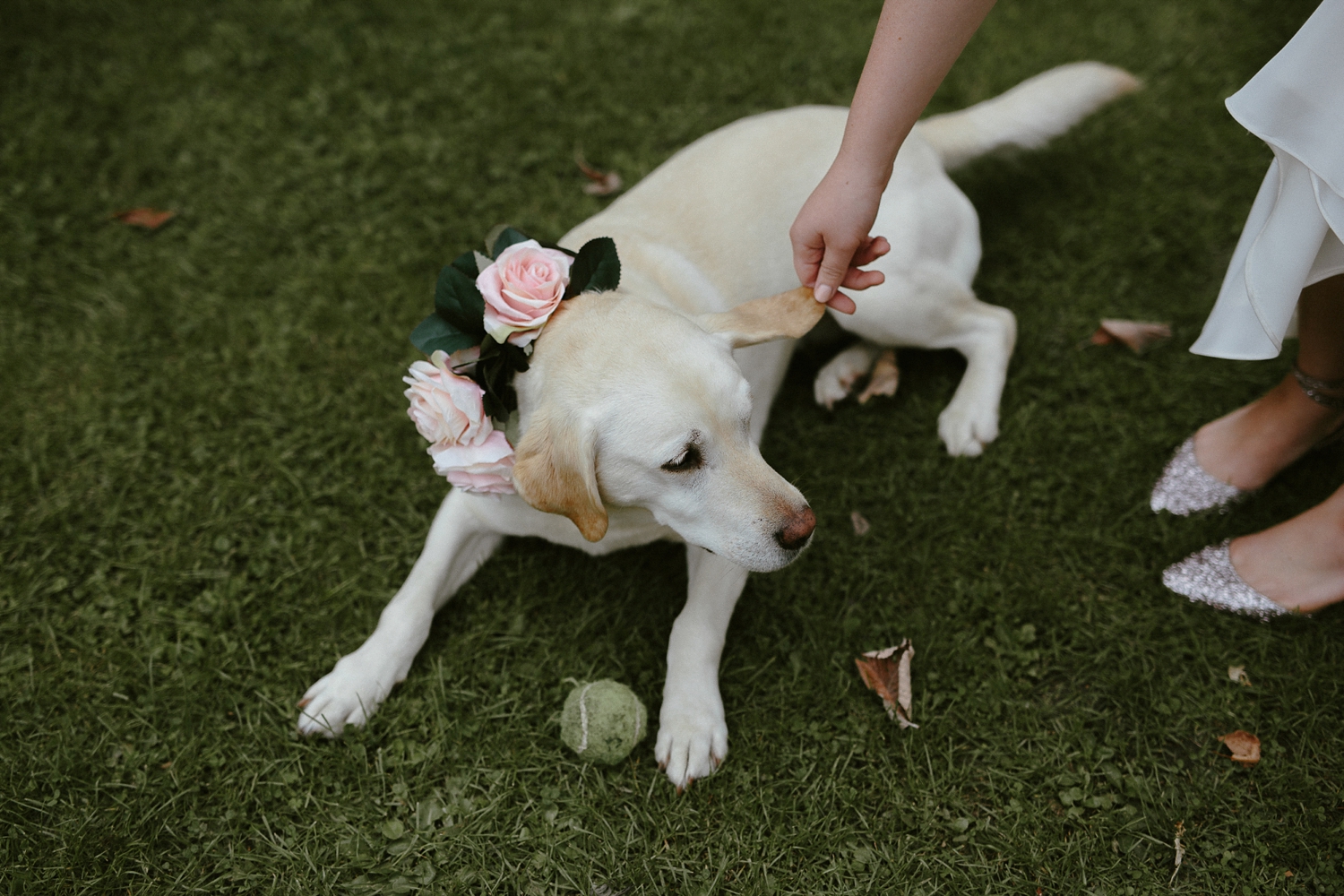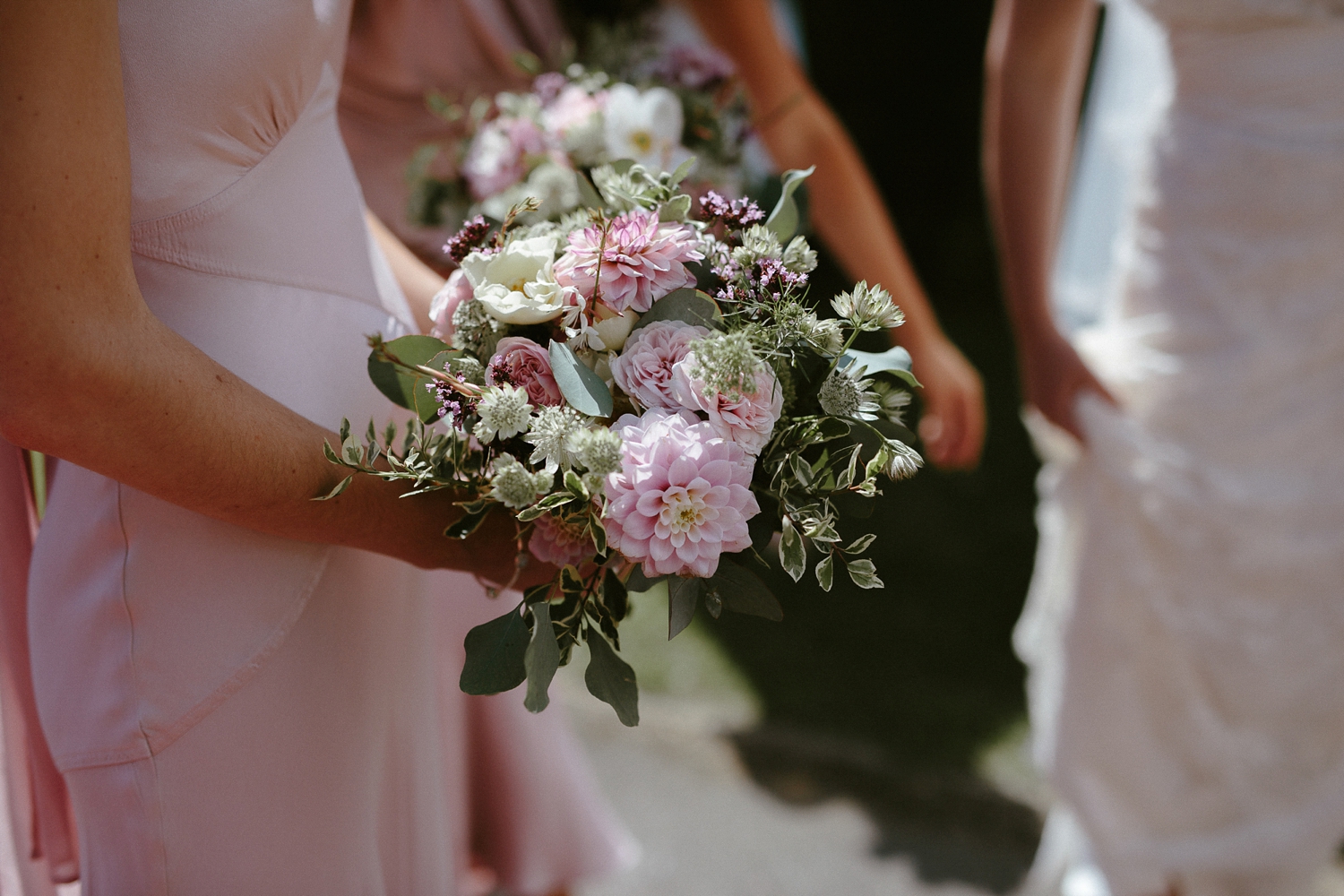 To get to the church on time, the bride was driven from her nearby family home in a classic vintage Saab 900 turbo (a neighbour's car), the bridesmaid's travelled in a VW camper van and the younger bridesmaids were driven in a vintage Mini (both of which belong to family friends).
Guests were then transported to and from the church in a beautiful vintage Bristol MW Coach, which was hired from friends The Vintage Bunting Company. I just love these images from their beautiful ceremony, where the couple incorporated three special readings.
 "The church is where Oliver's parents were married, and where he was christened and I've been attending this church at Christmas for many years, so it is very special to my family too. We were fortunate enough that his parents were more than happy for us to use their beautiful garden for our reception. For us, this was perfect as it meant we could be relaxed about numbers, and be completely flexible with who we chose as suppliers. It was also pretty handy not having a curfew, as the dancing went on until gone 4am!"
"My father accompanied me down the aisle, and we were followed by my 7 bridesmaids and the family dog, Lucia, to the slow, calming and graceful tune of 'Canon in D Major' by Pachelbel."
"We had the traditional Church of England vows and three readings by various friends and family. Hannah's aunt and godmother Jan read a poem by Anne Mcleod, a contemporary Scottish poet born in Aberfeldy (the nearest town to where we got engaged):
'There will be no end'
There will be no end to the joy,
We will stand together as the stars
sweep the Cuillin, rounding the morning,
the bright new morning of the tender heart.
And where we sing, the song will be a fine one
and where we dance, our steps will never fail
to the taps and springs of life, of love and laughter
timeless as stars, the wheeling, circling stars
that dance and sing, and sing and dance again;
and there will be no end
to the joy.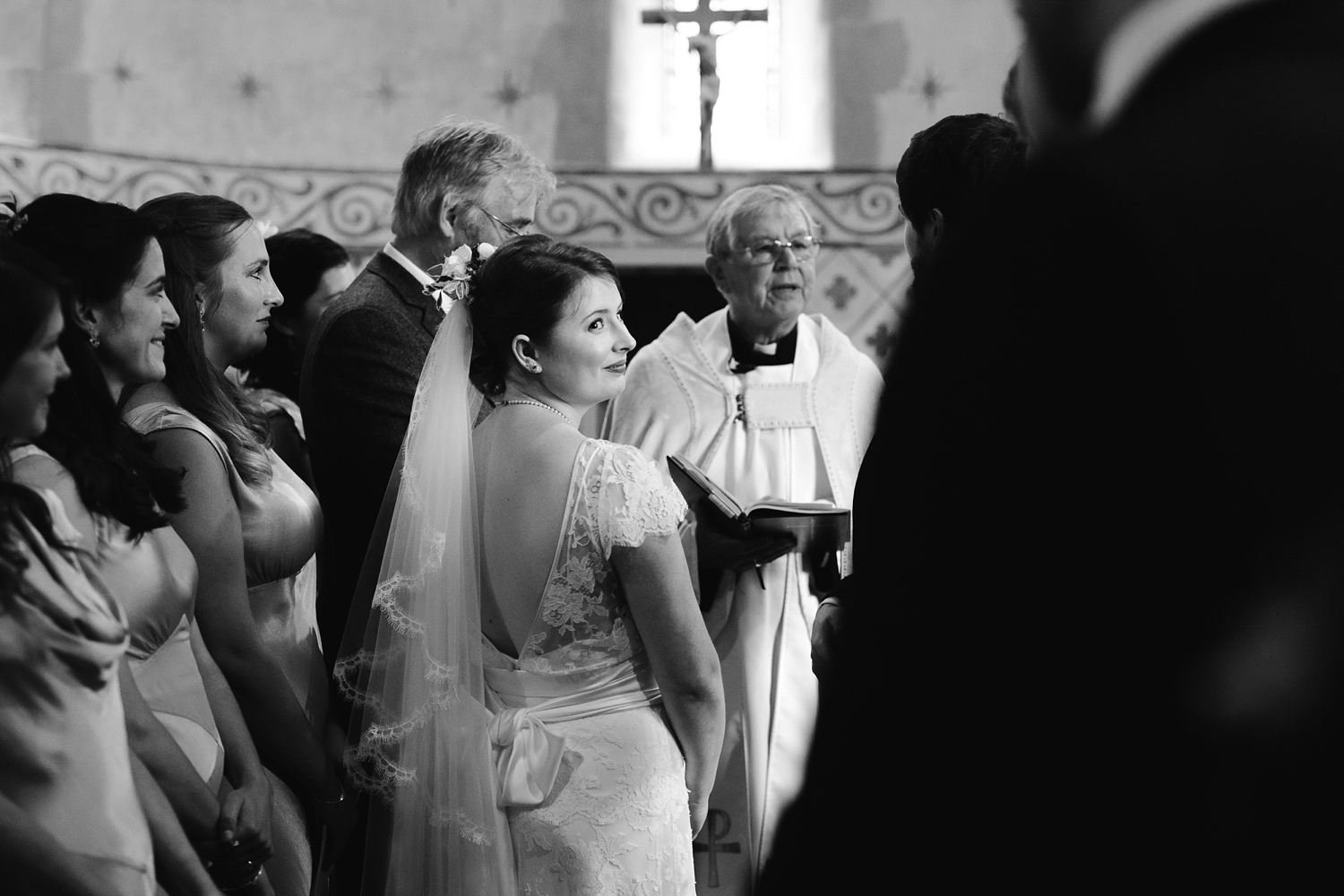 "The bible reading was 'Romans 12 verses 9 – 21' and read by Lucy (one of my friends) and it was important to us to have one religious reading for the ceremony. The last reading was by one of Oliver's godfathers and an extract from an Architectural book named 'A Pattern Language'."
"Our matching platinum rings were made and engraved by Malcolm Appleby and are inspired by the Scottish Southern Highlands, where we got engaged."
The couple's photographer, Ruth of Ruth Atkinson Photography, is an old school friend of Hannah – and another treasured Little Book for Brides member. The woodland photos, where the couple cleverly donned wellies to stay mud-free and took Lucia the adorable labrador for a walk, are just exquisite.
"We were so lucky to have Ruth and her husband Thom, who is her second shooter, with us on the day. Her work is amazing, and she is such a great person to have around on your wedding day – so calm and collected. I can't express how lovely it was to have her with us, and we love the photos."
"We made our own GoPro video as we set up, and it was passed around whilst all the guests were seated. This is not a professional video but is something that is really valuable to us."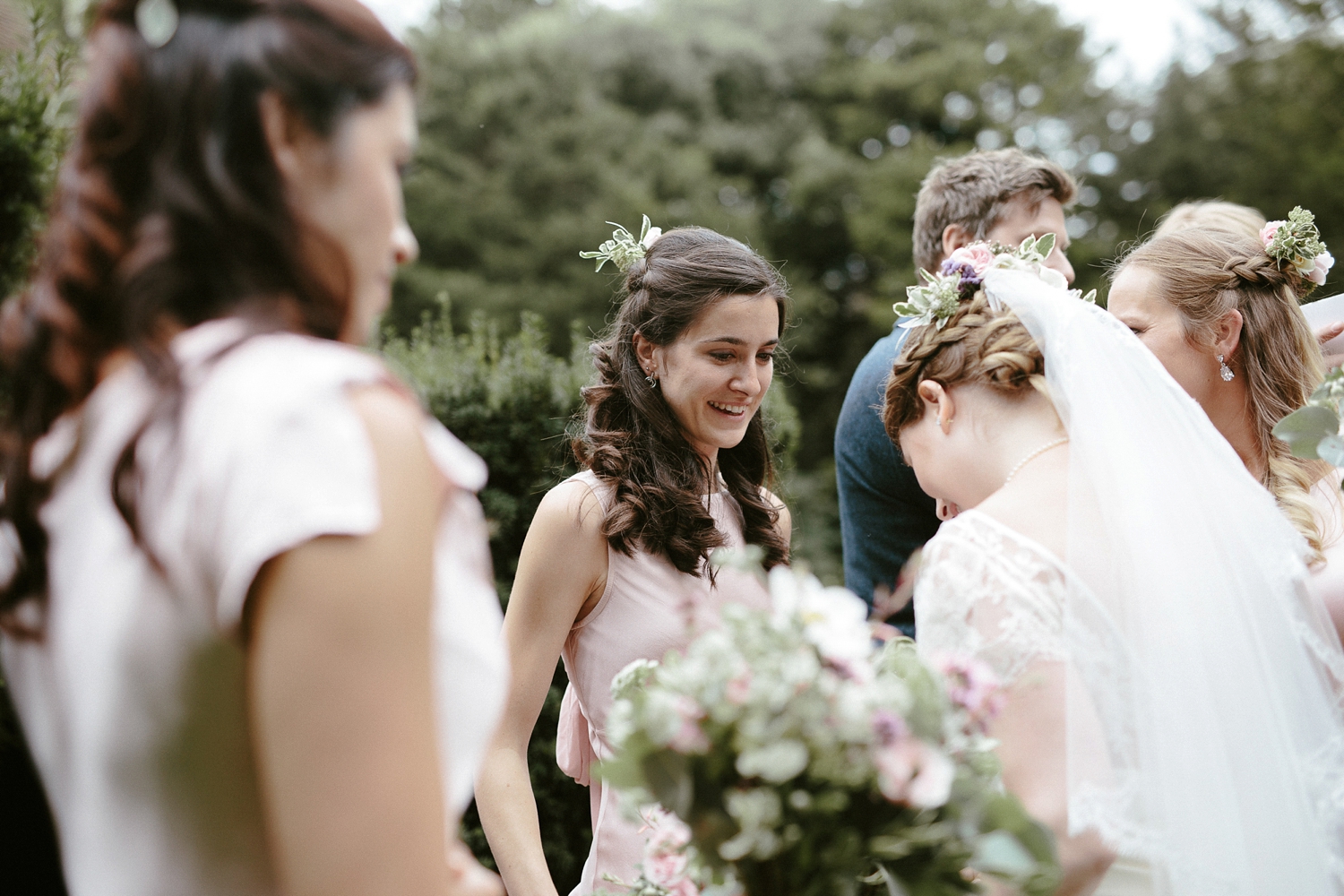 The bride gifted her groom a lovely pair of Malcolm Appleby cufflinks to wear with his outfit. I'll hand over to Oliver for all the info on the stylish attire worn by the fellas.
"The suits were from Walker Slater in Covent Garden. They were great and we knew they would be used many other times after the wedding. We decided to go for the full suit, including the waistcoat, with the younger men in a navy blue and the dads in a brown/grey version of the same design. The tweed was slightly warm on the day, but jackets and waistcoats came off."
Adding a timeless pair of Alfred Oxfords in mocha from Joseph Cheaney, Oliver then donned a Liberty print bow tie and bright orange socks that suitably clashed with the colour of the suit.
"The best men and groomsmen were in matching suits, with different print ties from Mrs Bow Tie and Catkin Jane on Etsy and the father of the bride and father of the groom were in the same cut and style of suit as me, but in a brown/grey colour."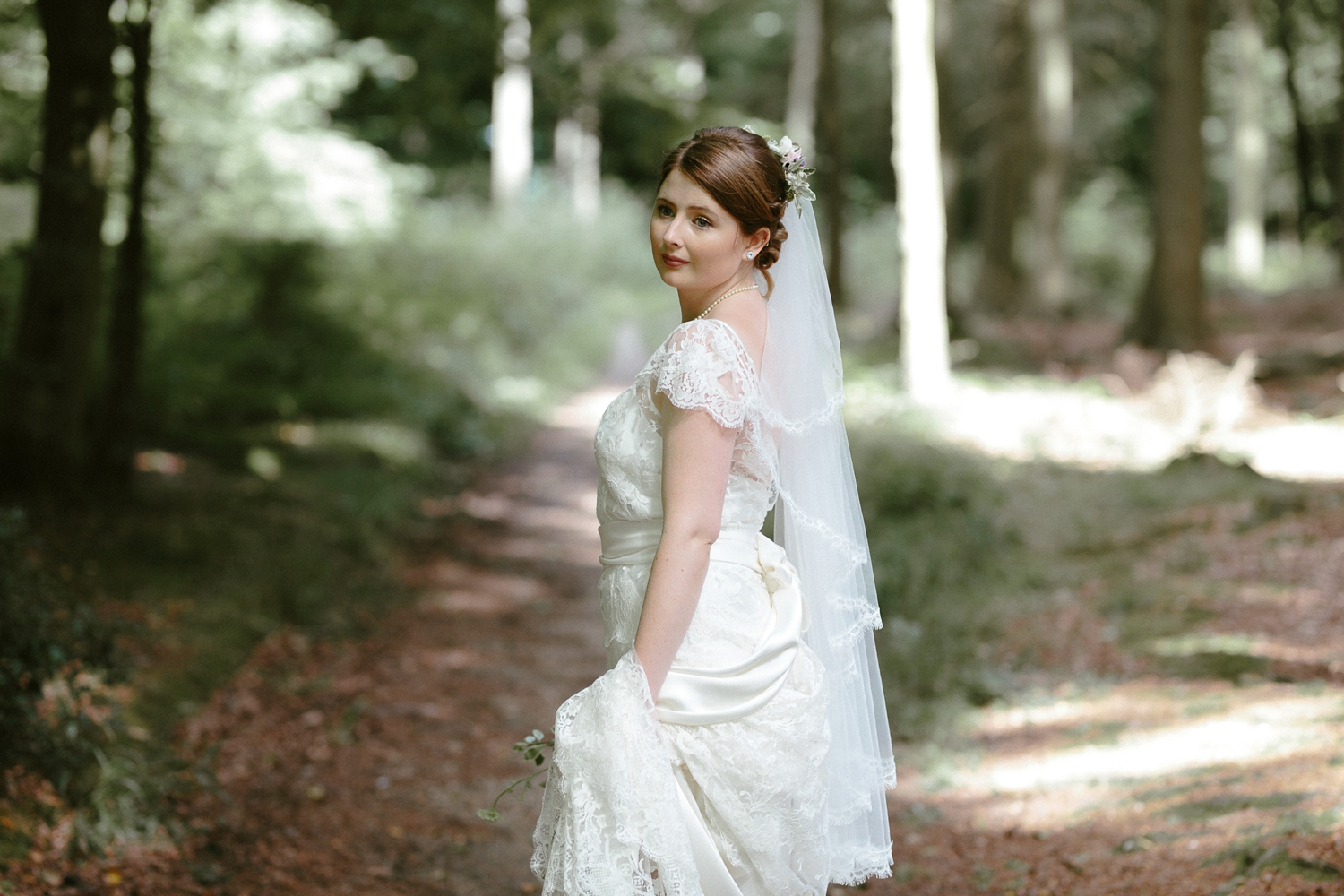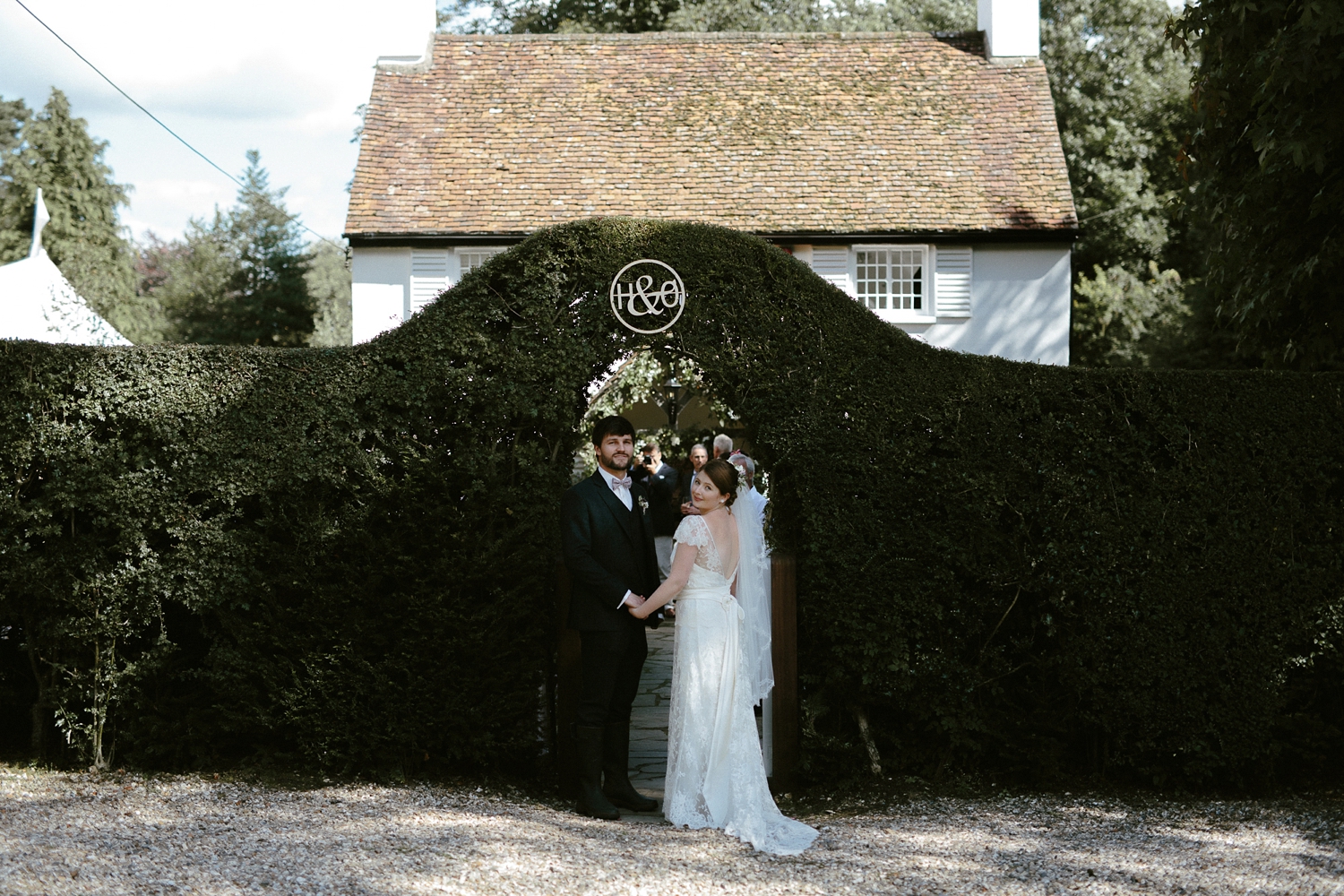 "PapaKåta, another special member of our helpful Little Book for Brides, set up a sperry tent and kata in the garden."
"We ended up going for the two marquees, as they were the best way of accommodating all of our guests, and we loved both so much that we just couldn't chose. The kata was perfect for the bar area, and the sperry for the meal and dancing. PapaKåta are based just a 5 or 10 minute drive from the house, and they were great to deal with, as well as providing the most beautiful spaces for the day."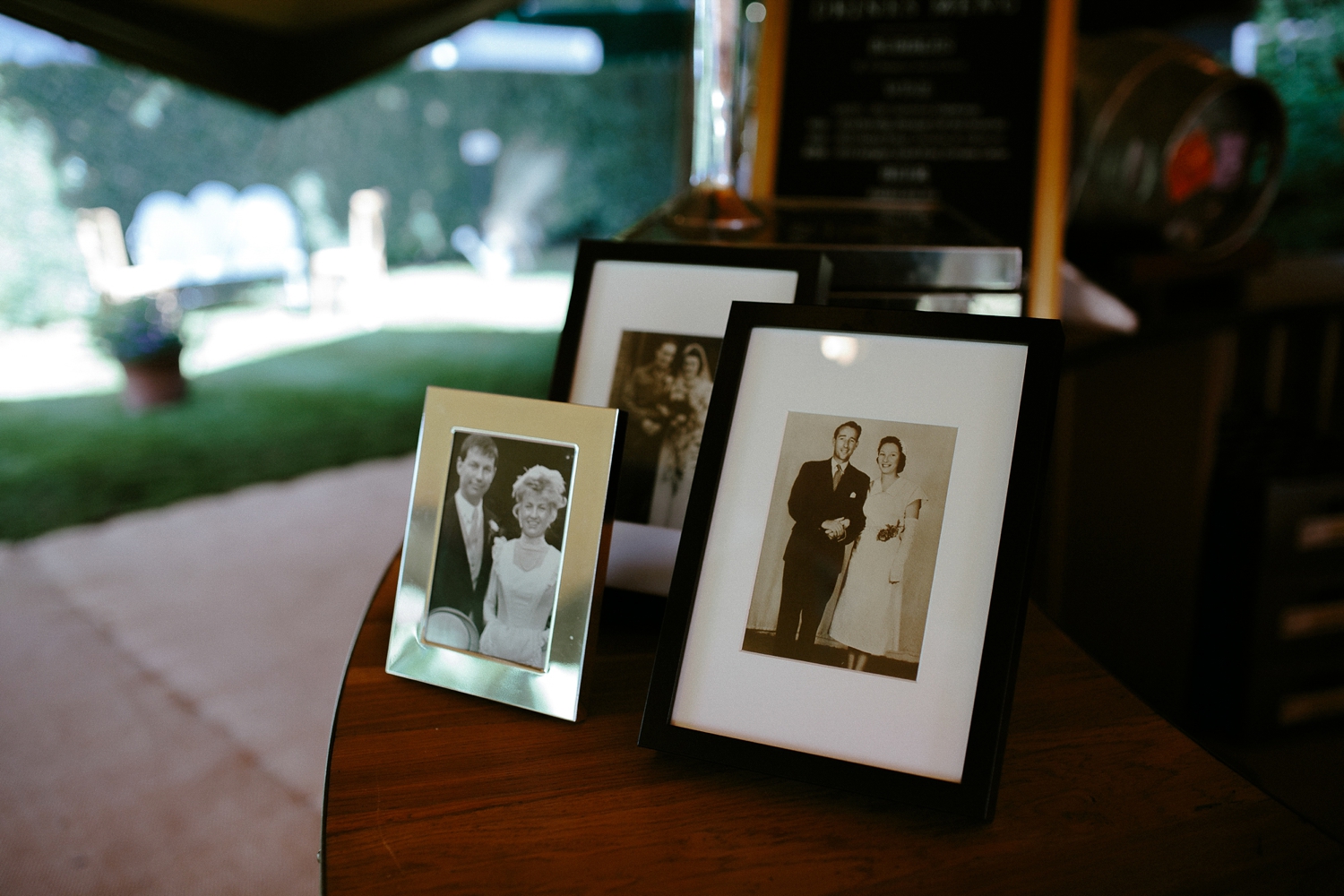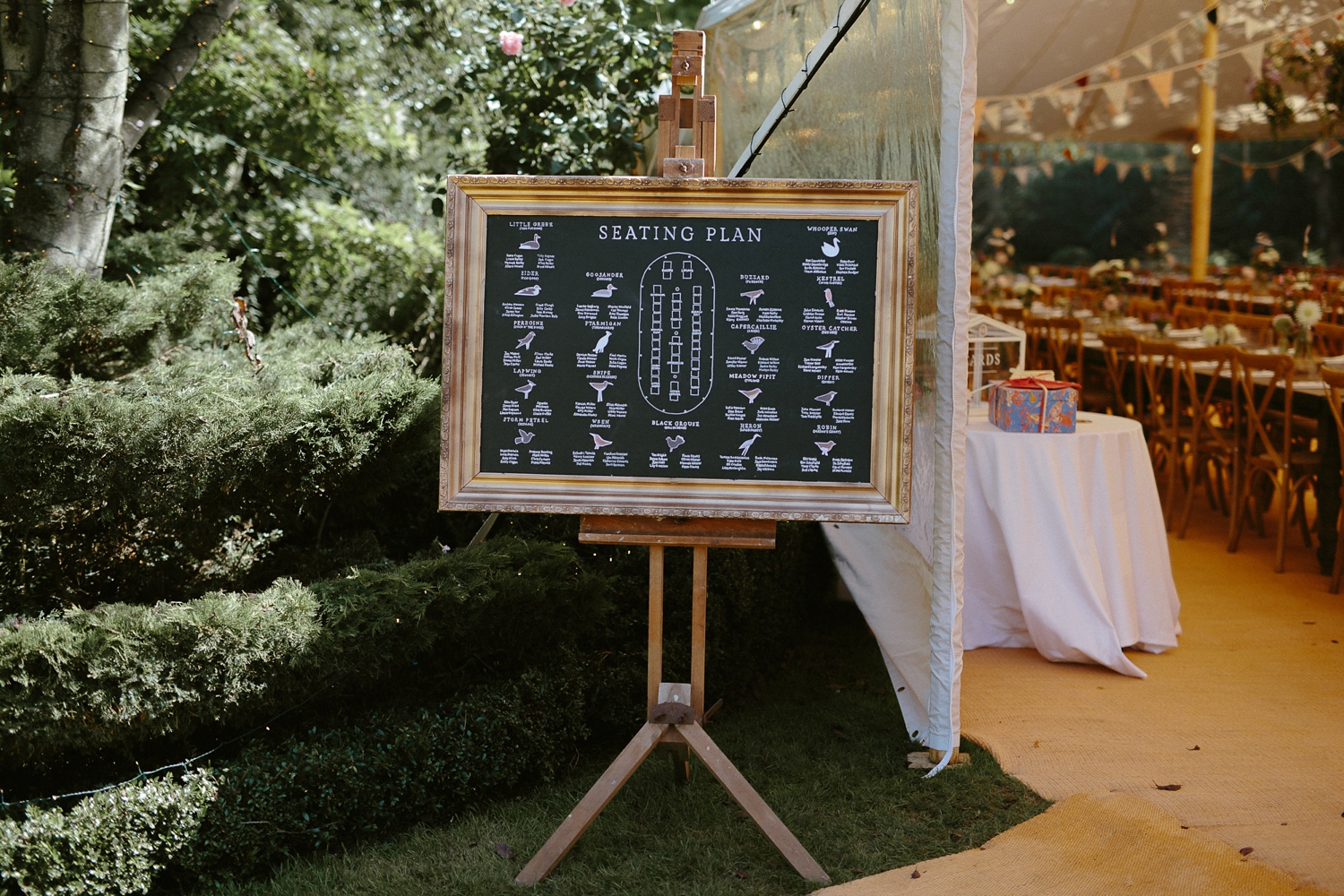 Hannah and Oliver took on the huge challenge of decorating the marquees themselves – a brave move, but such a great idea, as they could totally personalise as they wanted.
"In preparation, four of us went on a flower arranging course at Babylon Flowers, which was so much fun! Juliet gave us some great ideas, and it made us feel a lot more relaxed. Greenery was gathered (responsibly) from local hedgerows and fields, and more blooms and foliage from the gardens of various friends. We had a huge amount of help from friends and arranging the flowers in the marquees – it's amazing what you can achieve in a few days!"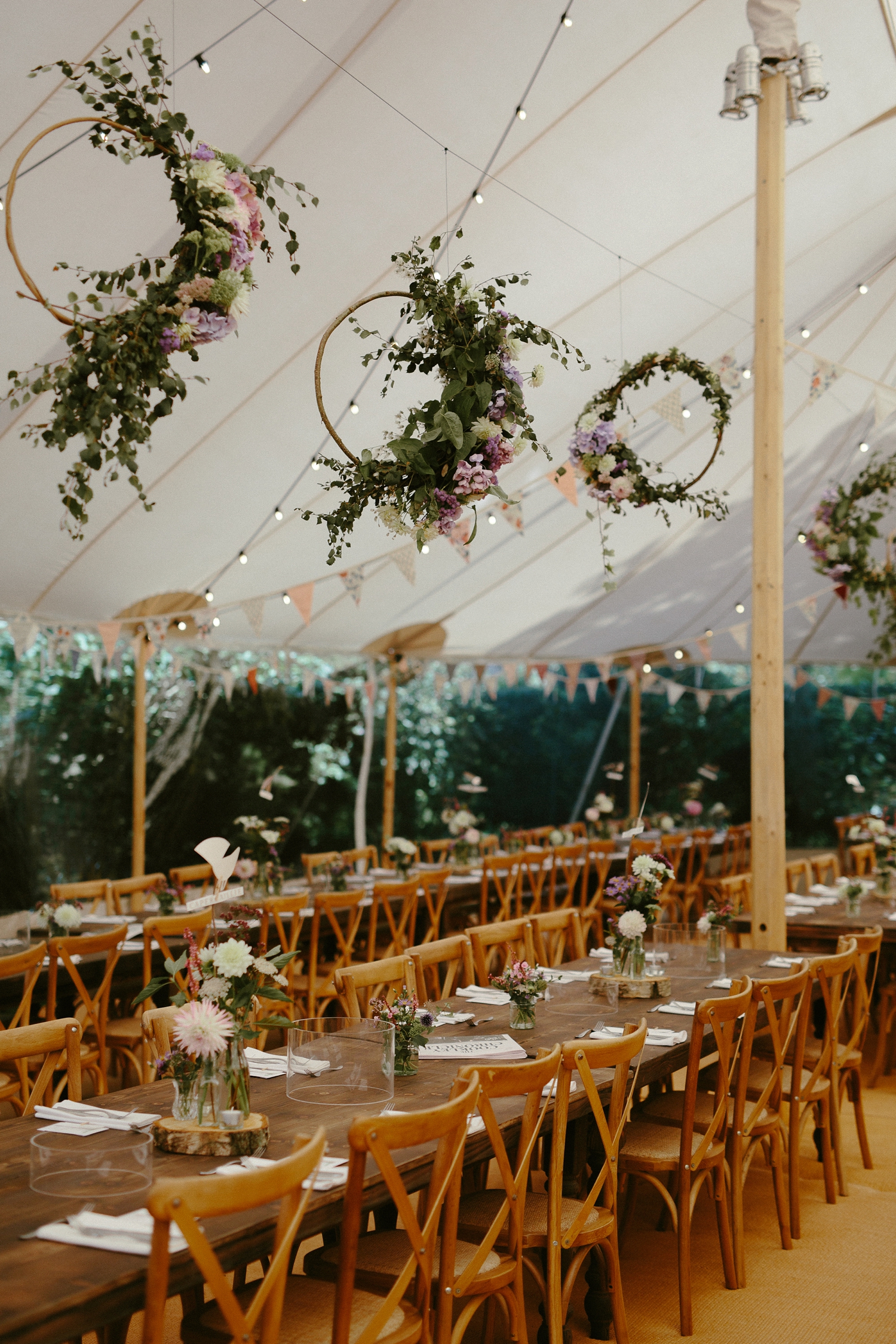 "My dad made the hazel base for the floral arch at the church, and he erected it with help from my brother, Oliver and one of the best men in the pouring rain on the Wednesday! My family and I then added the flowers on the Friday. It wasn't perfect but we were pretty happy with it, and it was extra special because we made it ourselves."
Oliver and Hannah, with their architectural background, designed and printed their stationery with help from one of the bridesmaids (Lily Rossiter), who drew illustrations of the Scottish birds the tables were named after.
"As favours, we chose to have seeds of various types of herb, which were from a local company called Chiltern Seeds, and were in personalised packets. We also created a wedding newspaper printed by the Newspaper Club, which included a poem and message from my grandfather, some puzzles, and lots of old photos of family and friends."
"We made all the décor ourselves, or with the help of friends. The bunting (all 250 metres of it) was all made by Hannah's mum, a friend made us a swing, and herbs were all grown in each of the families' gardens from seed with the glassware acquired from various charity shops. We put up fairy lights and hung vases with flowers and candles in trees all around the garden, and borrowed lots of pots from a neighbour's garden, which looked great! One of our favourite bits of décor were the large birch trees that a friend locally sourced for us, which we placed around the garden."
"We had a bit of a grouse / Scottish bird theme, as the 12th of August is known as 'The Glorious Twelfth' due to it being the start of the grouse shooting season, and in honour of my grandfather – a great ornithologist who sadly couldn't make it down from Scotland for the day itself."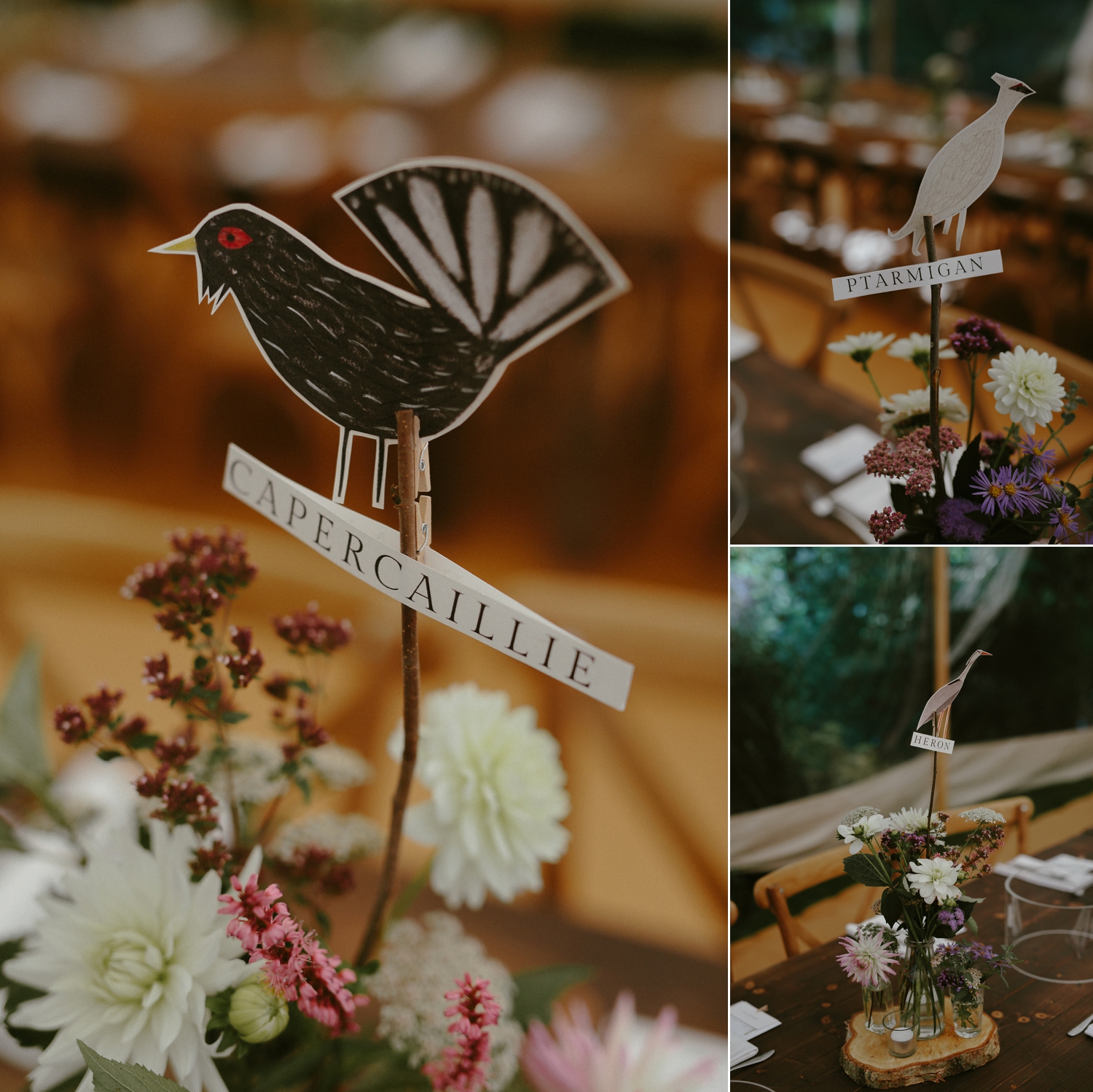 Valley Events, a local catering company who came highly recommended by a number of friends, provided canapés on arrival at the house, and then salads, hams and quiches to share for the main meal, plus a delicious selection of desserts.
"My mum made the wedding cake, which was a fatless sponge with raspberry coulis, buttercream and fresh fruit and flowers for decoration. It was beautiful and SO tasty!"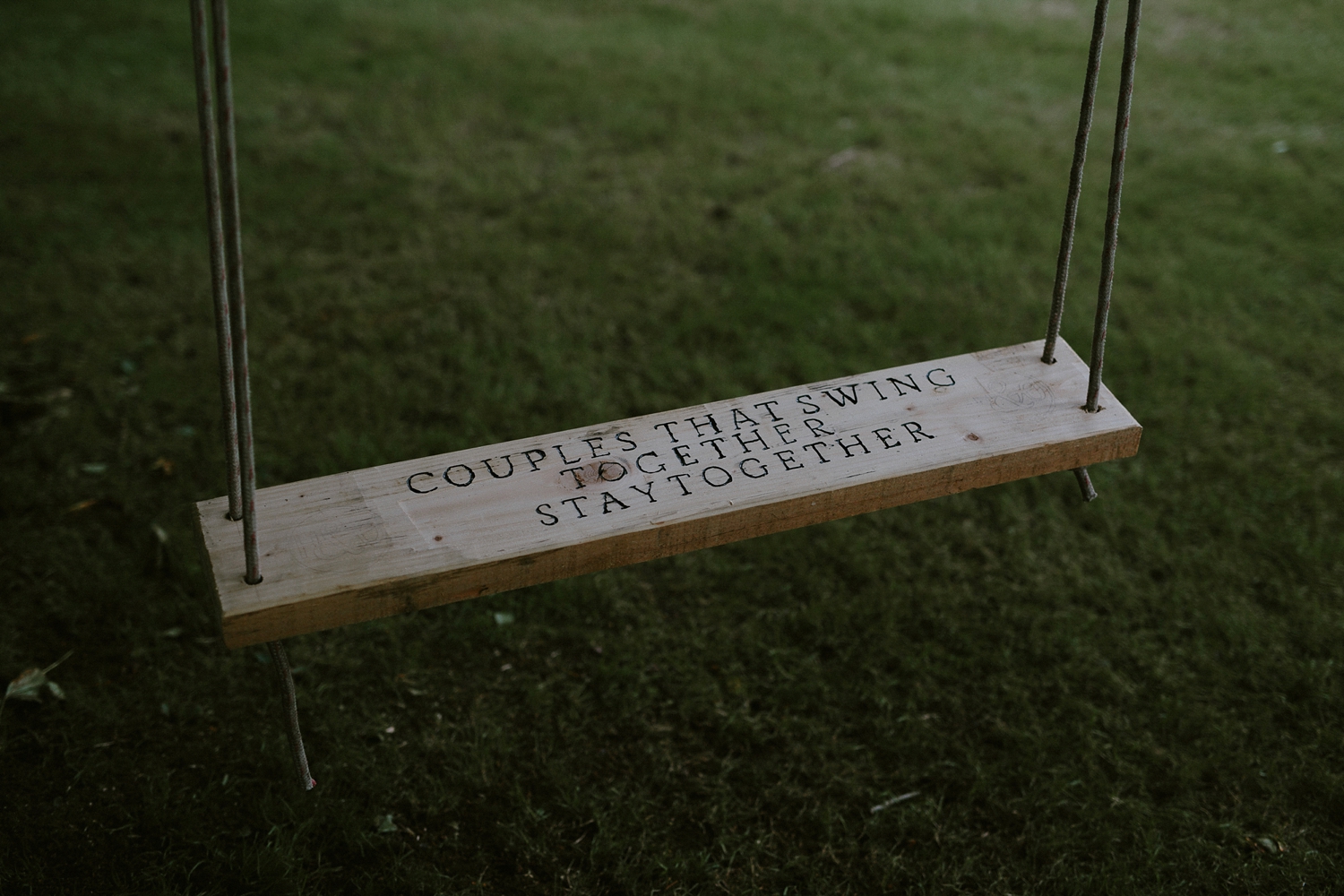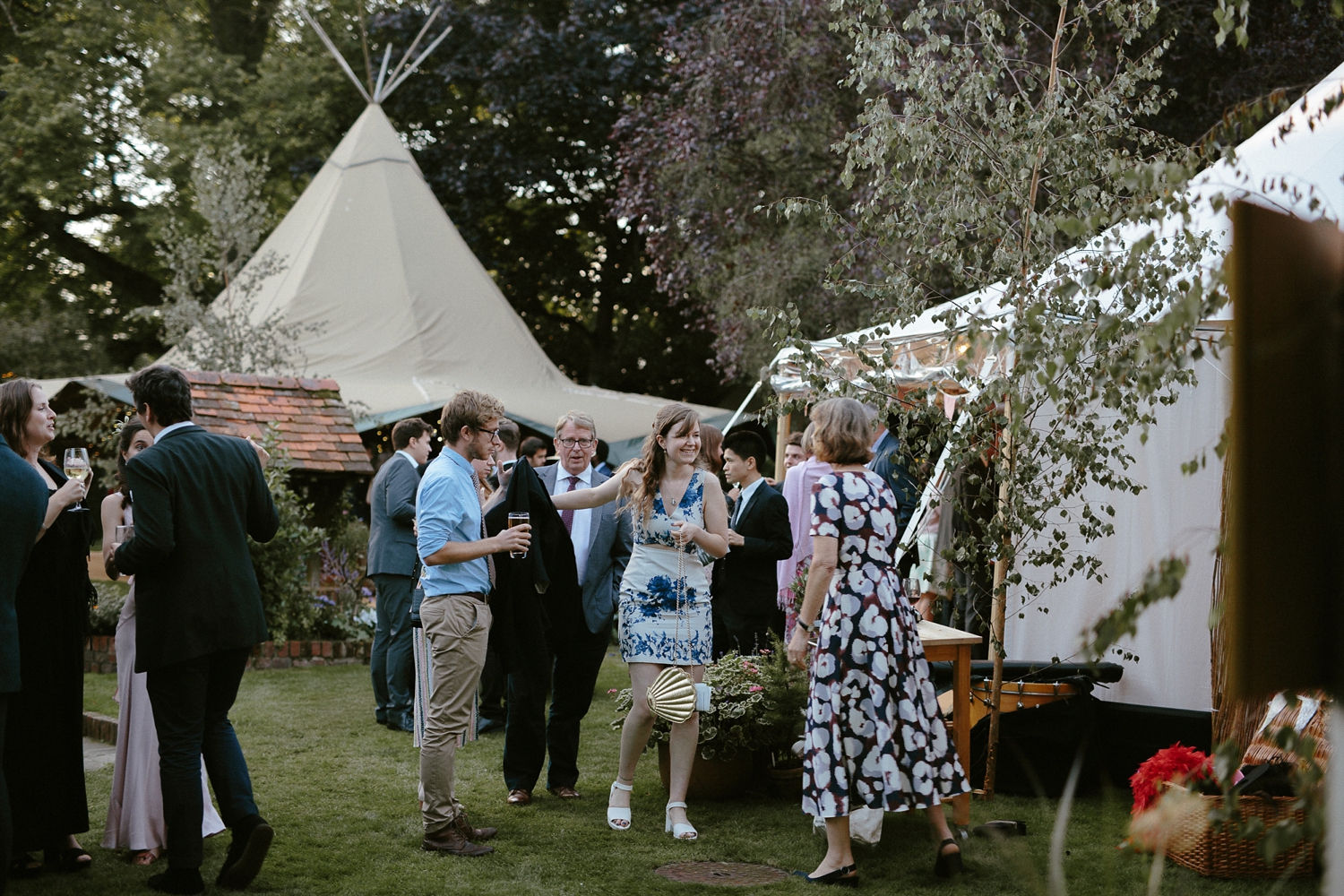 "The band – The Caramel Club – were great and hugely enjoyed by everyone. They are an 8-piece band with a very expansive repertoire (mainly Jazz/Motown), and a few of the members are friends of ours. After their set finished, we had a wedding playlist on Spotify to keep things simple."
"Neither of us was certain on which song to choose for the first dance in the lead up to the big day. We ended up just letting the band choose one from their set list on the night, which was Bruno Mars – 'Just The Way You Are'. Having all of our friends and family in one location was amazing."
Words of Wedded Wisdom
"The cost of our wedding was split between the families. Throughout the process of planning the wedding we were quite relaxed with costs, but tried to economise where we could."
"Enjoy every moment! Try to have some quiet time with one another on the day – for us, the walk back from the church was incredibly special because it meant we had a bit of a breather. In the best way possible, it felt like a normal day taking the dog for a walk.
If, like us, you are lucky enough to have family and friends who are willing to help out, make the most of it! Not just for the help itself, but so that you can all enjoy the process of setting up together."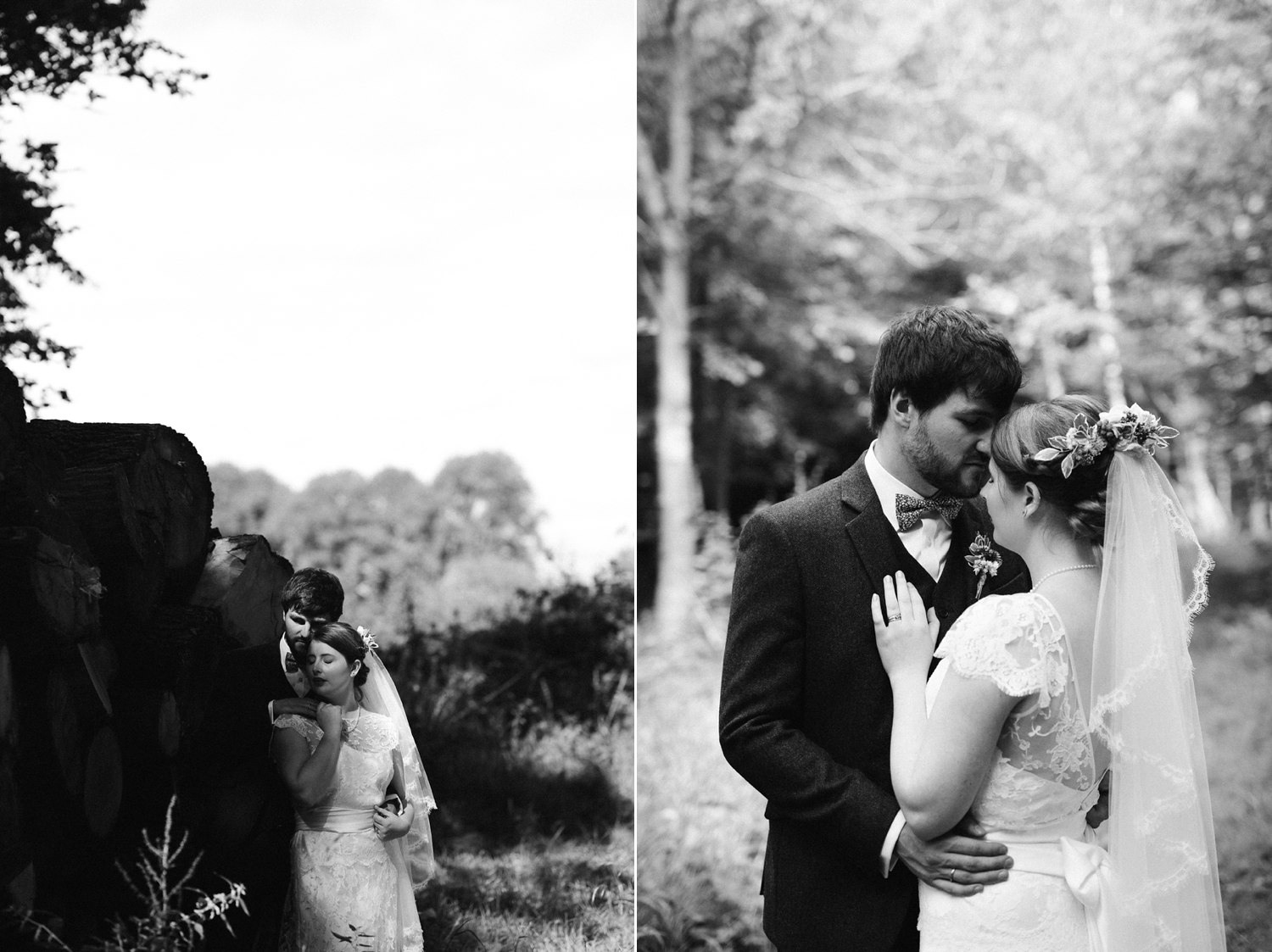 Such wise advice, thank you Oliver and Hannah – it's been an absolute joy to share your utterly amazing day. A huge thank you also to Ruth and Thom for capturing all of the feels in each and every shot.
Here's to a productive rest of week lovely ones!
Love Jo -xo-