Happy hump day beauties, I hope the week has been kind to you so far. I have a beautifully colourful wedding to share with you to brighten up your morning – the bloom-laden celebrations of Nicola, a wedding stationery designer and owner of Rose Press, and Gareth, an automotive design engineer, who also does all the letterpress printing for his wife's company.
The couple wed on 24th September 2016 at St Mary's Church in Radcliffe-on-Trent, Nottingham, their local village church close to where they bought their first home together, and followed their union with a joy-filled reception at The Chequers Inn in Grantham. Let's start by taking a peek at their wedding film.
"Our wedding day was inspired by our favourite colours, mine pink and Gareth's orange. We introduced rose gold, (because who doesn't love rose gold?) handmade wooden elements and an abundance of paper and fresh flowers to create a style truly unique to us."
Film by Lara Elliot
Nicola and Gareth chose Kim from The Gribbons to document their day in a natural, reportage style, while Lara Elliot was on hand to capture everything on video. The couple particularly loved the the time spent with their photographer after dinner, laughing and joking with their wedding party as the sun started to set and Kim directed them into some fun positions. It was also a time for reflection and joy, surrounded by their closest friends.
"We loved Kim's documentary style photography, and after Skype-ing with him for the first time, knew he would fit in perfectly with our day. We didn't want formal staged photographs or too much time away from the party and Kim got it. He blended in like one of our close friends on the day and captured the story as it unfolded beautifully."
Photography by The Gribbons
"We only decided at the last minute that we wanted a video and it happened to be the one weekend of the year that Lara was free. I absolutely love Lara's natural approach to videography and didn't look anywhere else. Lara and Kim became the perfect team with Lara's style echoing Kim's. Our guests didn't even know they were being filmed, which made for some great unspoilt moments.""The Chequers Inn is our favourite country pub and we got engaged just up the hill from the pub overlooking the beautiful vale of Belvoir, so it held a special place in our hearts. The pub offered exactly what we wanted, a secluded pretty country garden area for drinks, stunning views, a menu chosen by us including mini Yorkshire puddings, and a dessert that contained gin and tonic fizz. We wanted to design the whole day and the Chequers allowed us to do just that with no restrictions."
"Gareth and I met at secondary school but didn't get together until we left university, despite many attempts from Gareth to persuade me! We got engaged while on a walk with Teddy, our lovely little cocker spaniel. Gareth spent the whole walk waiting for the perfect spot and it wasn't until right at the end (with the pub in sight) the perfect opportunity presented itself overlooking Belvoir Castle.
Teddy did his best to set the scene moments before by clearing the entire field of sheep. We were engaged for 11 months before our wedding day."
Nicola's fresh, pretty make-up was applied by Vanessa Calderone and she spritzed on Chance by Chanel, a perfume that Gareth often buys her. Our groom gifted his bride a bottle of this scent on the morning of the big day, along with a rose quartz bracelet from Monica Vinader. A sapphire and diamond ring, which belonged to Nicola's nana, was her meaningful something old and blue.
Rebecca Shipley from Ruby Room Hairdressing styled Nicola's blonde locks into soft waves, partly swept back and secured with fresh flowers supplied by florist, Michele Gledhill. Nicola's best girls also had fresh blooms pinned into their hair, perfectly complementing their French Connection frocks and rose gold heels from Dune.
"Working in the wedding industry meant we knew who we wanted to work with straight away in terms of suppliers. Michele creates beautiful natural displays that look effortless. We discussed the colour scheme of pink and orange with lots of coral, and left Michele with complete control to select seasonal favourites with lots of greenery to tie in with the country setting and wooden accessories."
Nicola chose a pretty veil and commissioned an intricate gown from Kula Tsurdiu's Nottingham boutique, always knowing that she would wear lace from the historic Lace Market in Nottingham. She paired her bespoke creation with the gorgeous rose gold Monique shoes by Rachel Simpson. You can discover more of Rachel's lovely designs over on our sister site, Little Book for Brides.
"I used to pass the Kula Tsurdiu boutique regularly when we lived in Lace Market in Nottingham. The window displays, stunning dresses and beautiful Nottingham lace always drew me in and I knew it would be the place I would one day buy my dream dress. The moment I stepped in the door for the first time I just knew, I would not be leaving without a bespoke Kula dress."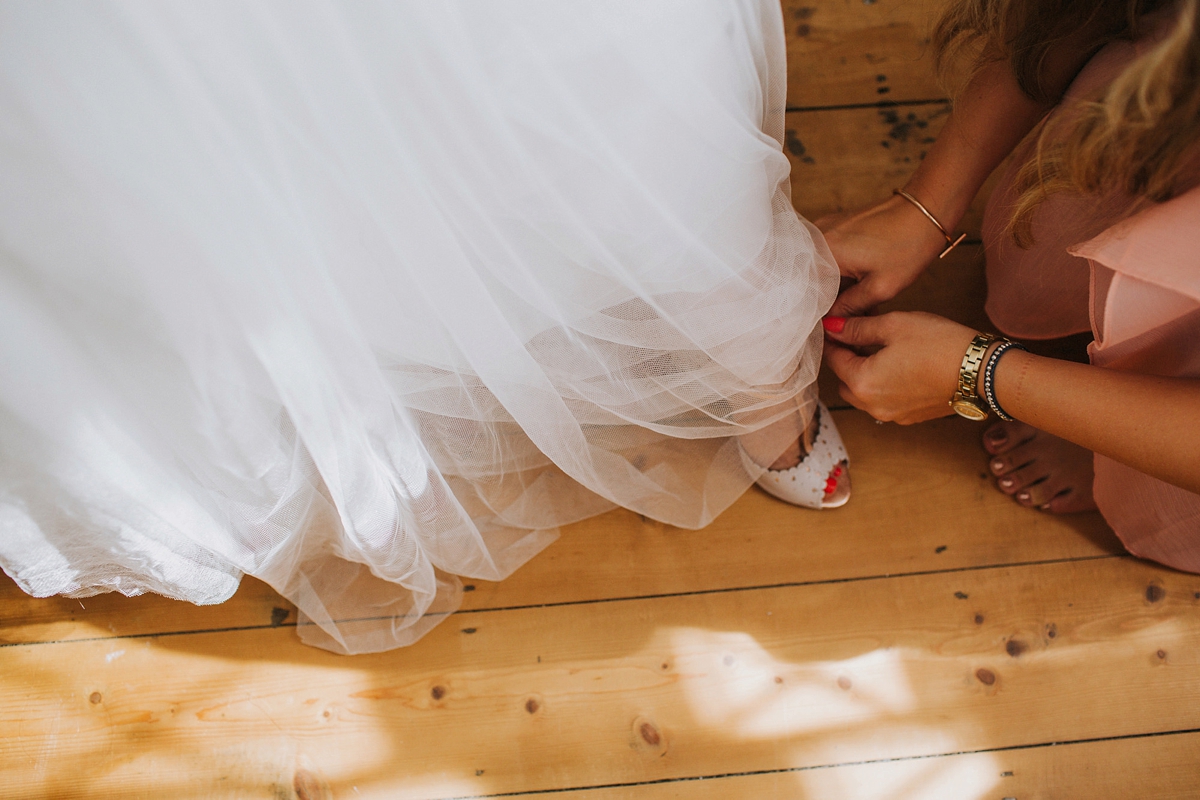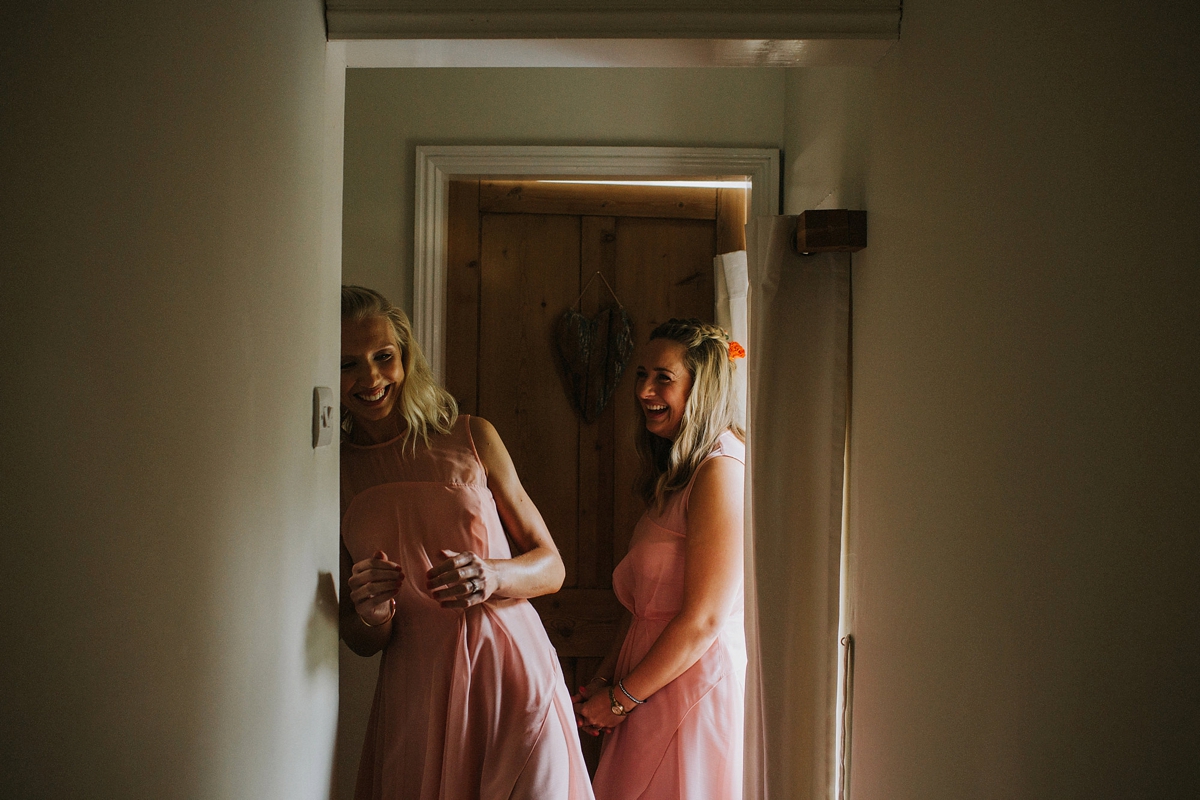 Gareth opted for a bespoke, made to measure suit from Flannels in Nottingham, including a burnt orange waistcoat liner and brushed rose gold buttons – autumnal heaven! He crafted his own laser engraved wooden cufflinks and donned a bow tie made from Liberty fabric by LV Made In England, finishing his ensemble with shoes and a belt from Barker.
He drove a silver Morgan, hired from Morgan Motor Company, to St Mary's Church, while Nicola arrived in a white MK2 Jaguar from Dennison Cars. Our bride walked down the aisle to Pachelbel's Canon in D with her dad, towards the love of her life, where they exchanged rings and traditional church vows. The couple chose a single reading from Song of Solomon, recited by Gareth's dad.
"Our bespoke rings were from Temprell. Gareth chose them for my engagement ring and worked with them to design the perfect rose gold ring."
"There was no doubt in our minds due to the service and quality they provided, that we would get our wedding rings to match. Mine was designed to match my engagement ring, while Gareth also went with a rose gold ring."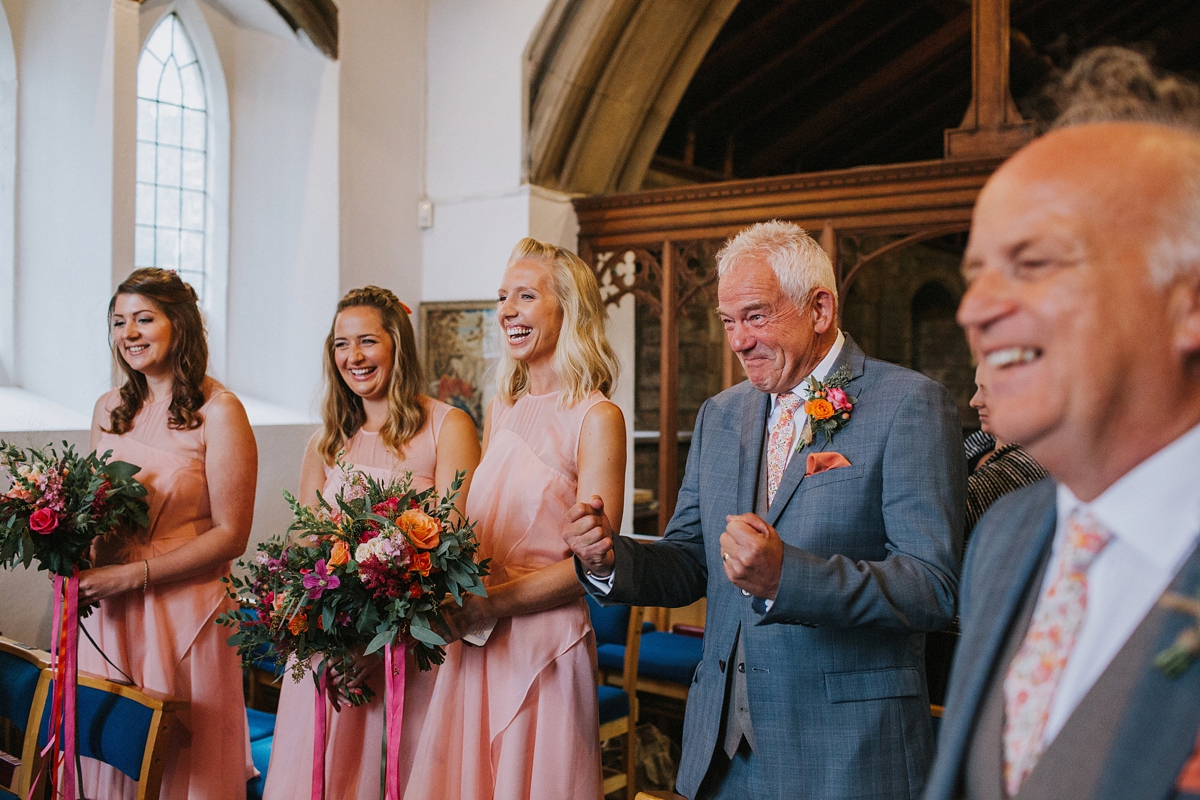 "We cut our own confetti in our colours to include with our order of service. I designed and Gareth letterpress-printed all the stationery for the day, from save the dates through to invitations, fold out order of service with confetti attached, place names, menus, table plan, guest book, signage – you name it we did it all."
"The stationery combined our key colours pink and orange letterpressed into thick cotton paper with rose gold hot foil details to tie it altogether."
Showered with confetti, the newlyweds made their way to The Chequers Inn for their reception, a particularly poignant location just a stone's throw from where Gareth asked Nicola to be his wife. As a creative couple, the styling and details of the day were of paramount importance to the couple, and they spent many hours in the run-up to the wedding crafting and preparing decor for their venue.
"After our bridal party shots, the two of us went over a stile and up the hill (our engagement spot) with Lara and Kim for some pictures alone. This was only interrupted when Kim said 'you do know there's a drone overhead?' Without us knowing, one of our friends had brought his drone and kept everybody entertained for the next half hour even hovering into to the venue to all our guests' surprise."
"When we went back inside we did the speeches and then went straight into the party. It all flowed so perfectly."
Handmade paper flowers, a photo booth, wooden cake stands hand-turned by Gareth, an assortment of copper tins, cut glass and vintage bottles for centrepiece flower displays, paper pompoms and lanterns – the list of DIY beauties crafted by this talented pair goes on, all tying in with the feel of their venue.
"The styling complemented the wedding room at The Chequers Inn, which already had an industrial feel to it, with grey leather chairs, copper light fittings and industrial grey radiators. It all works so perfectly together. We also made laser cut place names and a handmade paper flower for each guest to wear on the day."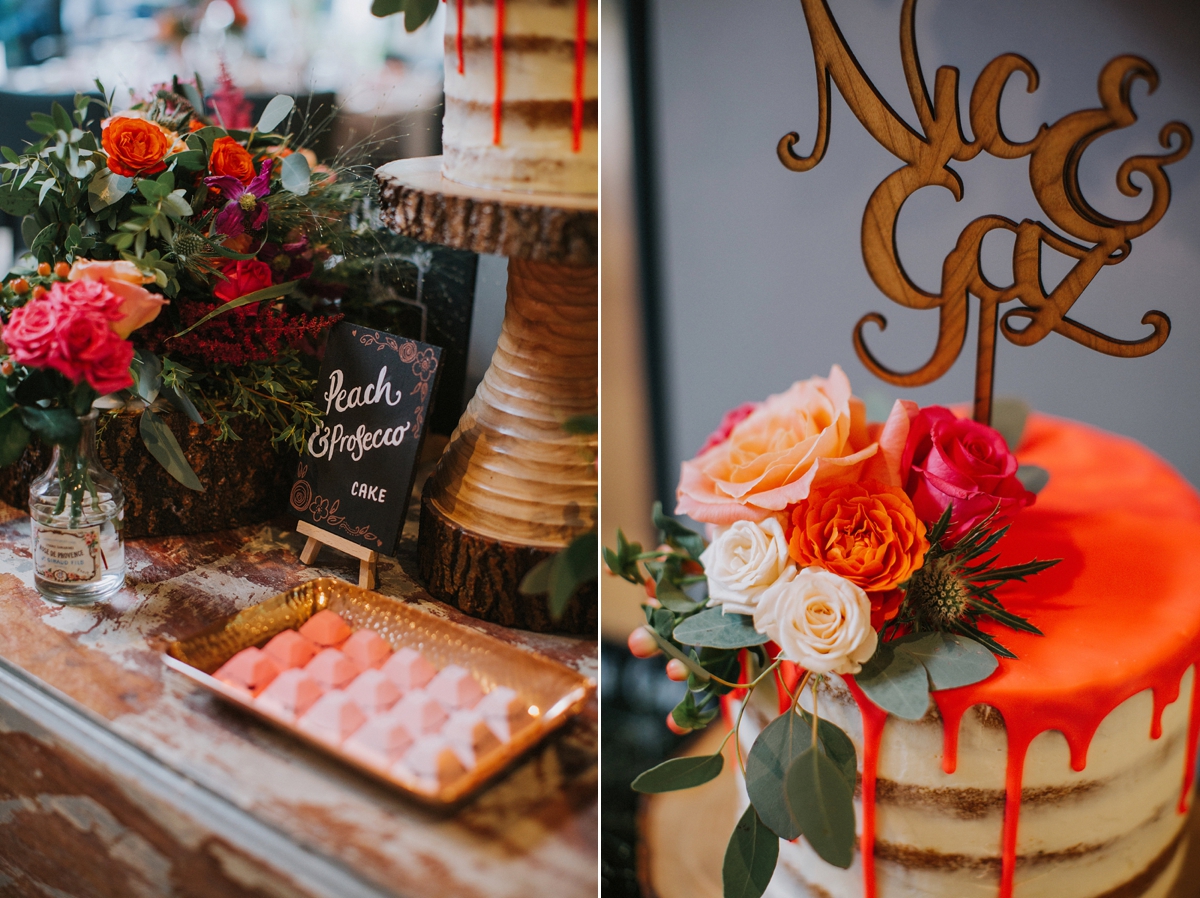 The newlyweds chose not one but two delicious creations from Yummy Little Cakes, a red velvet iced cake in blush and brushed rose gold, and a semi-naked drip cake in fluorescent coral. These beauties are making my eyes happy and my mouth water!
"Although we spent all this time on the details and everything looked great, the day was never meant to be just about 'styling for show'. The things we made mattered to us and our guests were blown away with the attention to detail."
"On the day, everything worked together and the most important thing remained for everybody to have a great time."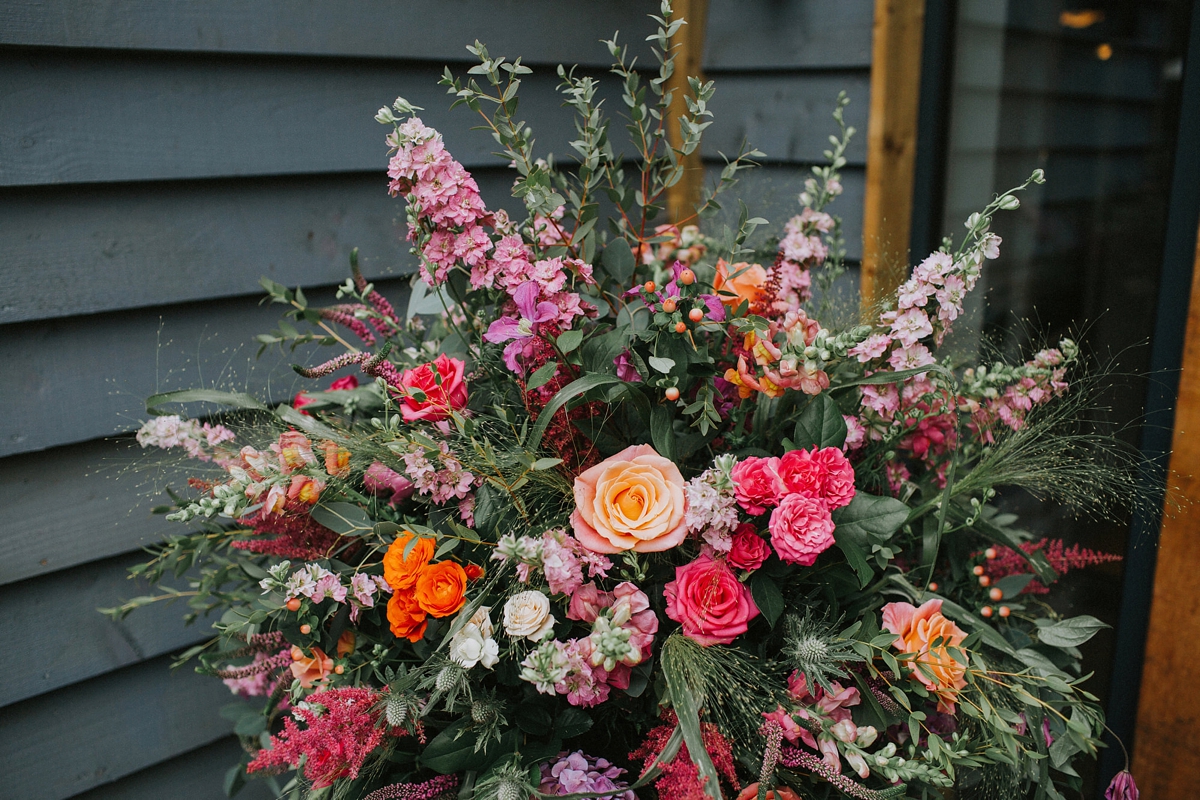 Band The MP3s provided the entertainment for the evening, also playing the couple's first dance track before dropping tunes to get everyone on the dance floor.
"For our first dance we had 'Running' by James Bay. We love James Bay and wanted a song that was special to us' but wouldn't instantly be recognised as a 'first dance song.' However, we did choose Ed Sheeran's 'Thinking Out Loud' to follow, as it meant the slow dance could continue with everyone on the dance floor, and then the music ramped up to get the party started!"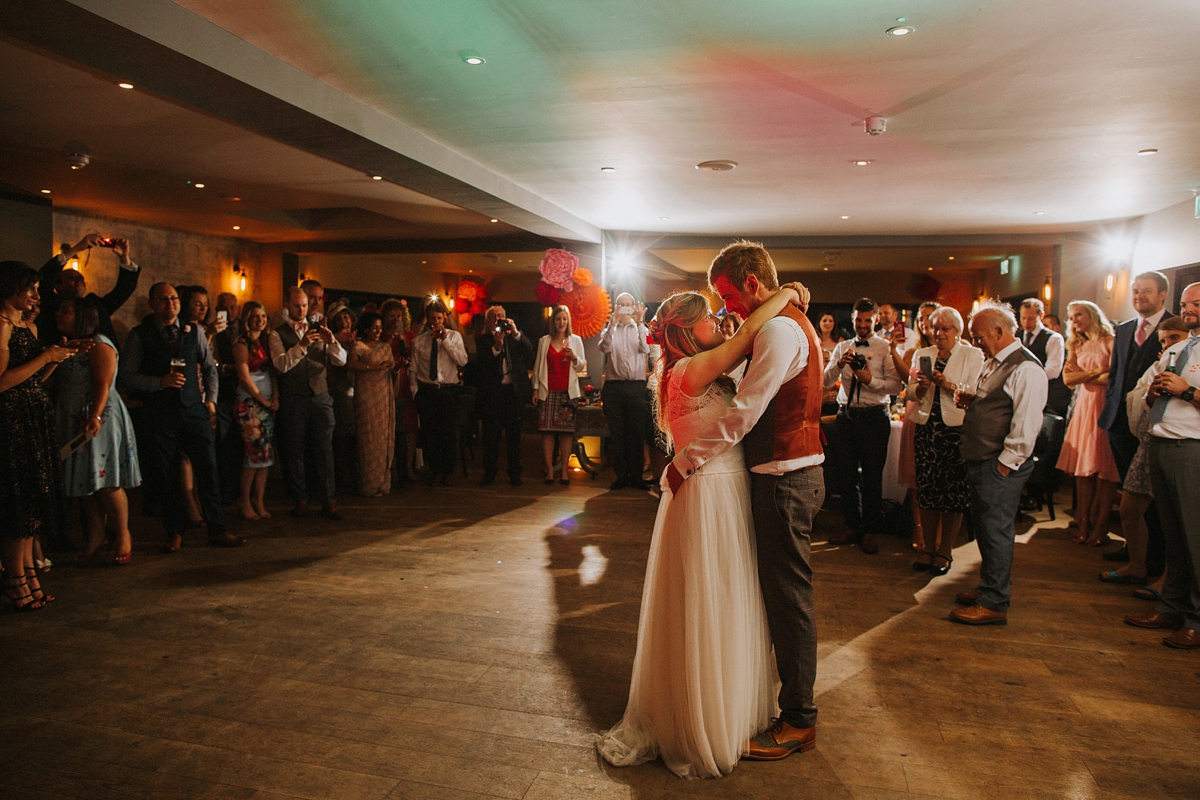 Words of Wedded Wisdom
"Our biggest piece of advice would be not to get hung up on what you think you should do to appease family and wedding traditions. It's your day so make sure you enjoy it. We decided to list the top three things that were most important to us and we'd enjoyed at other weddings. For us this was good food and plenty of it, drink and plenty of it – (we even had our favourite gin and cask ale on tap) and entertainment. By sticking to these things our wedding felt like a party with our friends and everybody had a great time."
"Everyone likes to tell you that the wedding will be over in a flash and you won't remember it, but we never felt like that. We didn't spend hours away from our guests or get hung up on wedding traditions, we fully immersed ourselves in the day and remember every moment."
All that remains is for me to say a huge thank you to the lovely Nicola and Gareth, and of course to The Gribbons, for giving us a special insight into this truly beautiful day. You can find more of Nicola's stationery wizardry on her Instagram account by the way, as well as some more of these gorgeous wedding day images.
With love,
Em x