What fills your weekends at the moment lovely ones? Are you knee-deep in wedmin? Do you work? Is it your time to relax with your other half, fit in a spot of exercise and see family and friends
The weekend is all about the beach for me. I travel 3 hours a day for work, so I love nothing more than breathing in that fresh sea air upon arrival on a Saturday morning and letting go of the week that was. It's definitely my happy place. The couple featured here chose a seaside venue for their summer celebrations and just wait until you see their joy in these beautiful images by Katie De Silva Photography.
Bride Andrea is a primary teacher and groom Pete is an environmental consultant. Their nuptials were held on the 27th of July 2017 at Andrea's local parish, Christ the King Church in King's Park, Glasgow. The couple then held their reception by the beach at Seamill Hydro Hotel in West Kilbride.
"I have a lot of great memories of visiting Seamill with my family growing up, and I took Pete there for his 30th birthday. We never expected to go for a traditional hotel-type venue but the beach, incredible views, brilliant food and super-organised wedding staff all persuaded us."
Images by Katie De Silva
Flossy & Dossy in Glasgow was the creative force behind Andrea's simply stunning bespoke gown.
"I went to Flossy & Dossy to try on a particular dress in Wendy's collection. It wasn't for me, but I absolutely loved Wendy and her studio was amazing. I couldn't imagine her not making my dress. She sent me off to Pinterest everything I liked and, despite me thinking I had no clear vision, I ended up with a really specific idea of what I was looking for. I wanted casual and easy to wear, without it looking boho. And I really didn't want lace! I loved the process of having it made and visiting Wendy at her studio every four weeks."Andrea and Pete experienced an initial dilemma when they got engaged. Life really does go on whilst you're busy making other plans!
"I was working as a waitress in a cocktail bar when I met Pete! We were together 6 years before we got engaged very unromantically while watching football on the telly. I was flying to Australia by myself the next morning for a month, so the initial stages of wedding planning were done with ten and a half thousand miles and an 11 hour time difference between us. We got married exactly 13 months after our engagement date."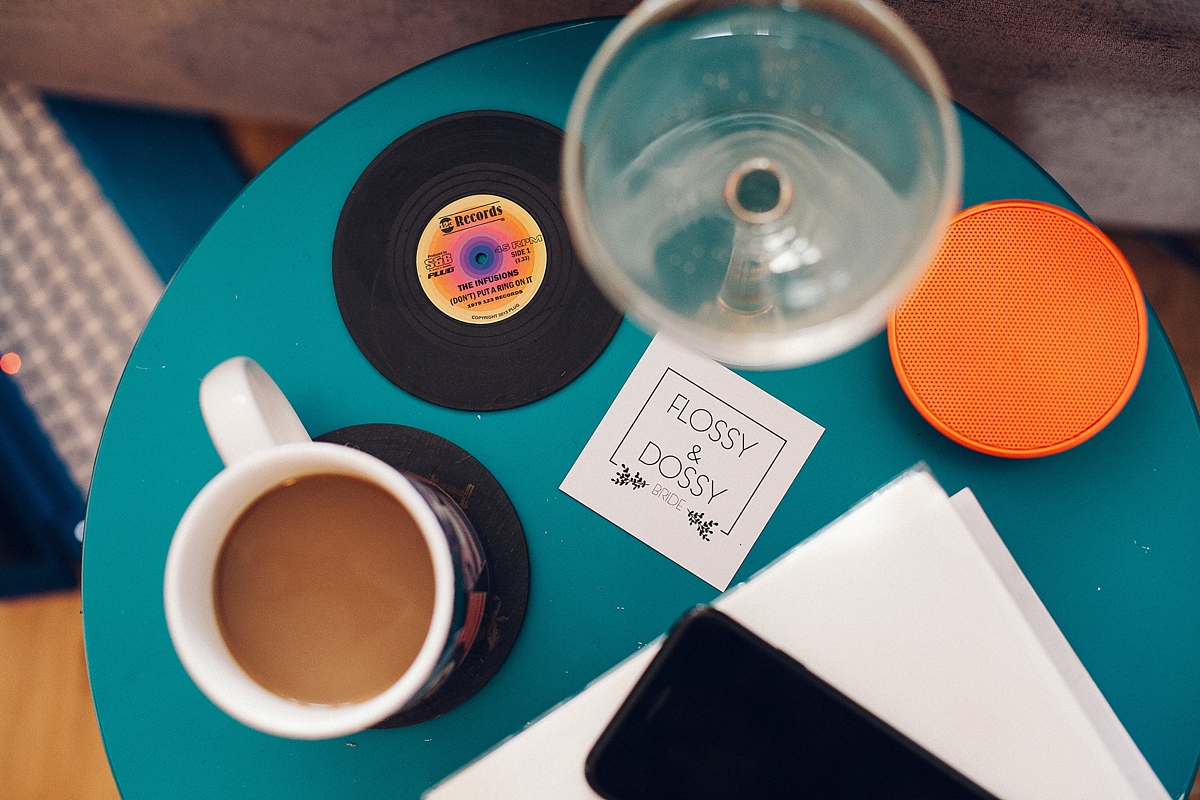 "I was looking for leopard print for my wedding shoes, but couldn't find exactly what I wanted. I spotted these when I was in Schuh looking at trainers and snapped them up."
Andrea accessorised her elegant look with earrings from Wild Hearts London, a charm from her Grandma's charm bracelet on a necklace and her Gran's wedding ring. She then added a spray of Jo Malone's 'Velvet Rose and Oud' layered over 'Wood Sage and Sea Salt' Body Crème.
Laura Miller of Muse in Dumfries was behind the make-up for Andrea and her maids, with their stylish hair-do's by Jennifer Thomson.
"Laura is absolutely amazing with make-up and so calm and chilled out, so she was great to have around on the morning of the wedding. I had a fairly non-traditional wedding hairstyle and Jennifer really got what I wanted and made it look even better than I'd hoped. I wore a rose gold comb I found on Etsy by 'Tamar and Talya'. All my bridesmaids looked fantastic and really loved their hair and make-up."
The couple had a range of lovely helpers to prepare their stunning bouquets, buttonholes, and ceremony and reception flowers.
"My bridesmaid Oonagh did our bouquets and buttonholes. She has only done bouquets a couple of times before but she's very good at it and the flowers got loads of compliments. Our ceremony flowers were done by a lovely lady called Marianne who does all the church floristry. The reception flowers were by Suzie of Bijou Flowers in Troon."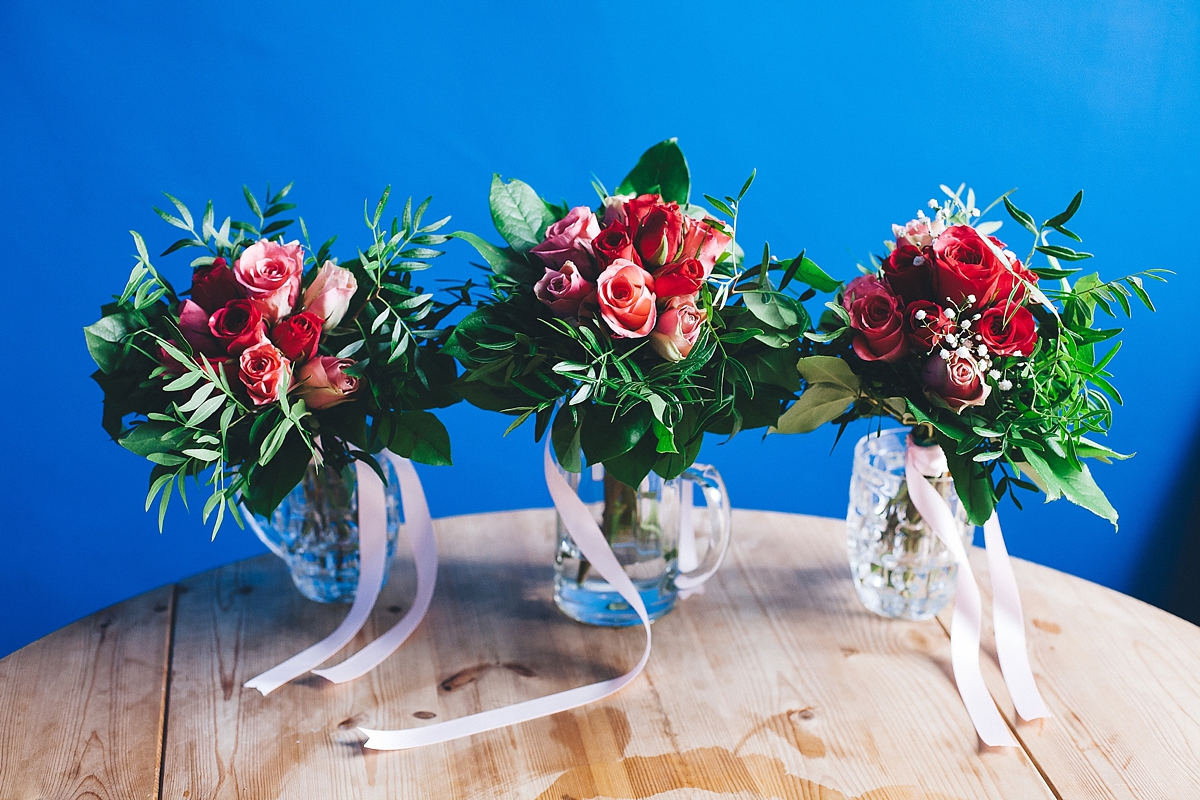 "Initially I was keen to have loads of greenery and just a few white flowers. Suzie encouraged me to have some pinks to warm things up a bit, and she was right. We used Seamill's candle centrepieces and Suzie dotted lots of tiny vases of individual flowers around them. They looked absolutely beautiful."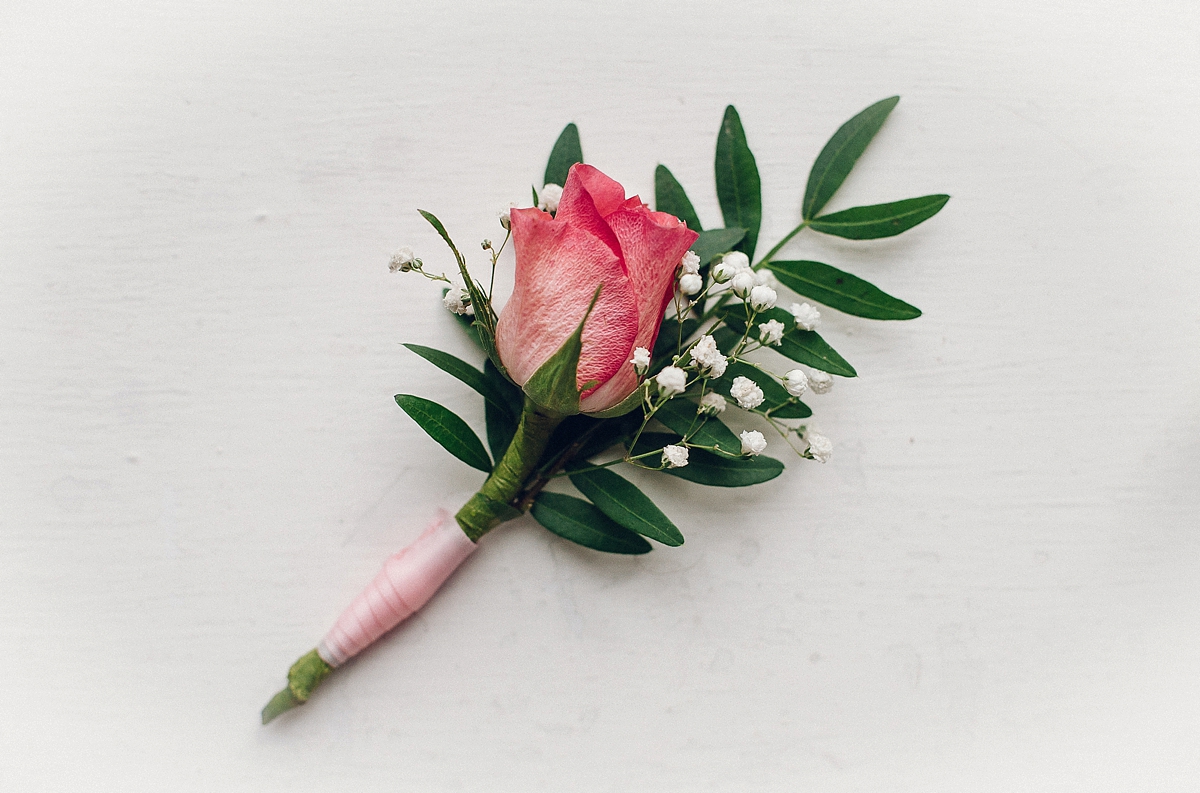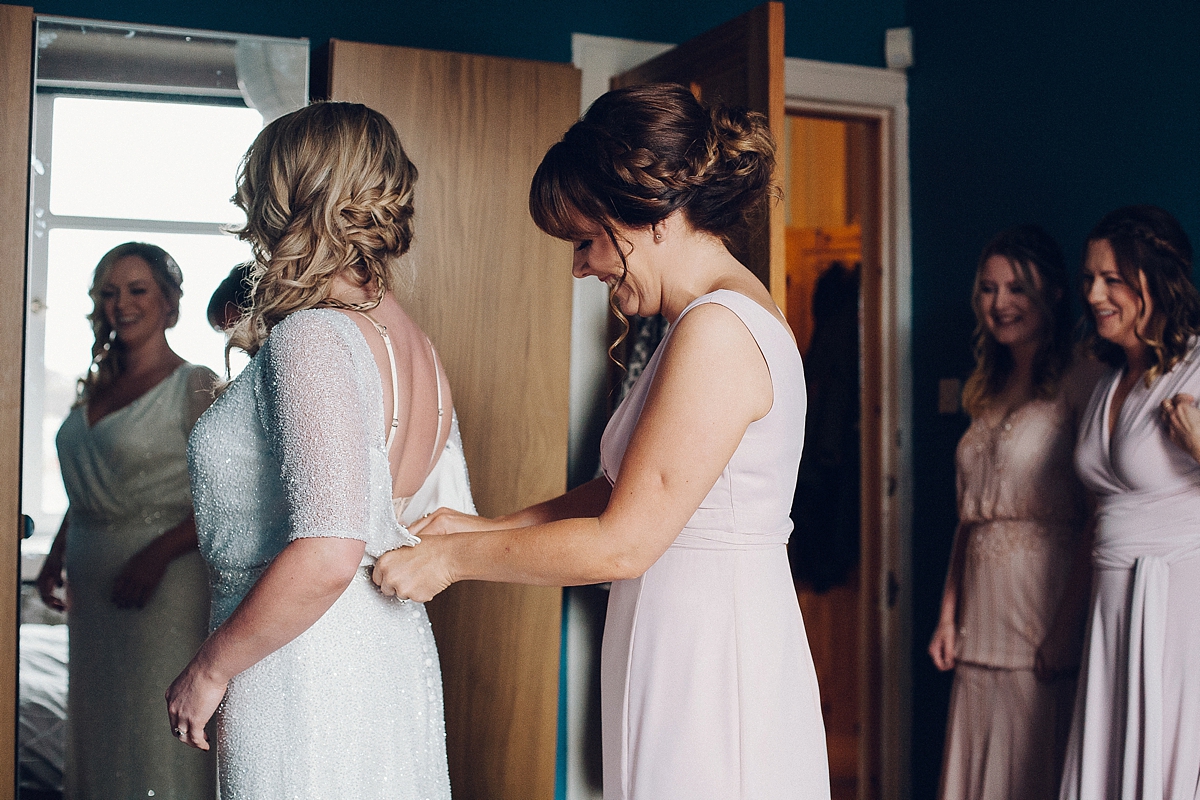 "I was leaning towards getting a veil for ages but just couldn't get past the fact that it was a lot of money for something I'd wear for an hour. In the end I wore my sister's as my something borrowed. And wore it for a lot longer than I expected!"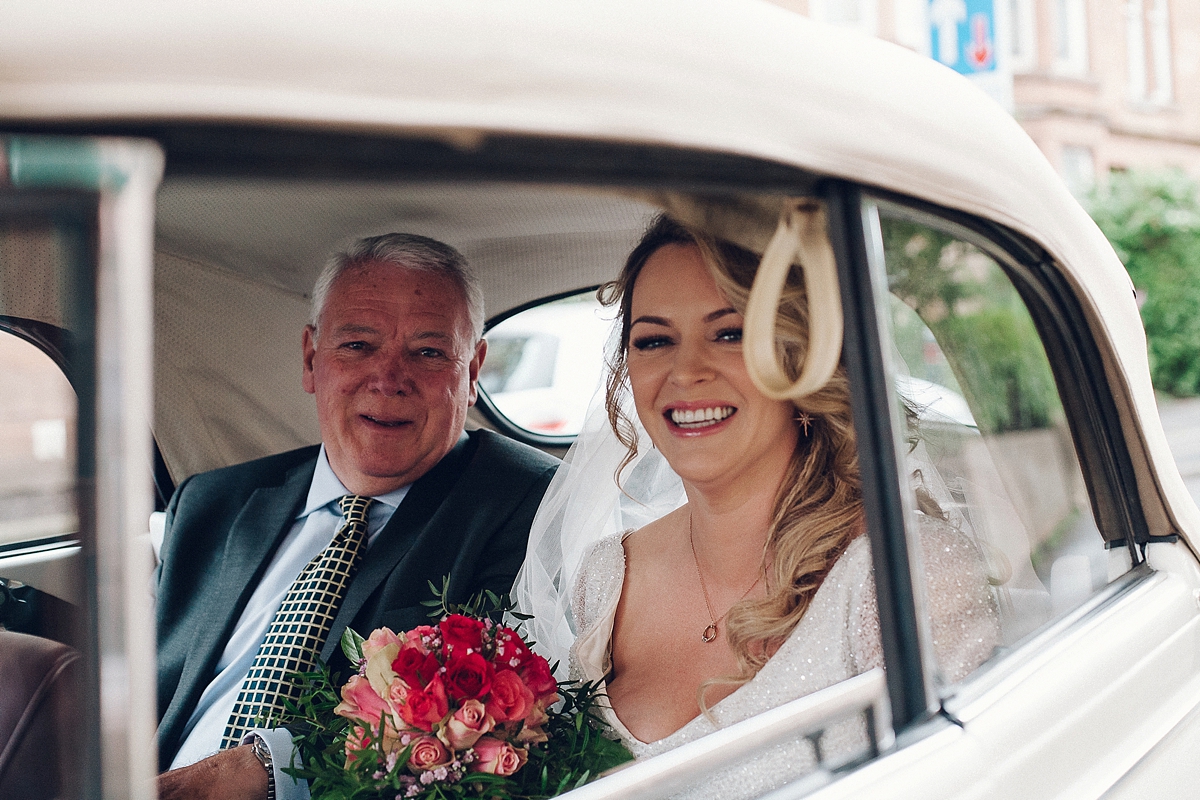 Ayrshire VW Weddings provided transport for the bridal party – the couple trekked about in a vintage Beetle, whilst the bridesmaids travelled in style in a groovy camper van.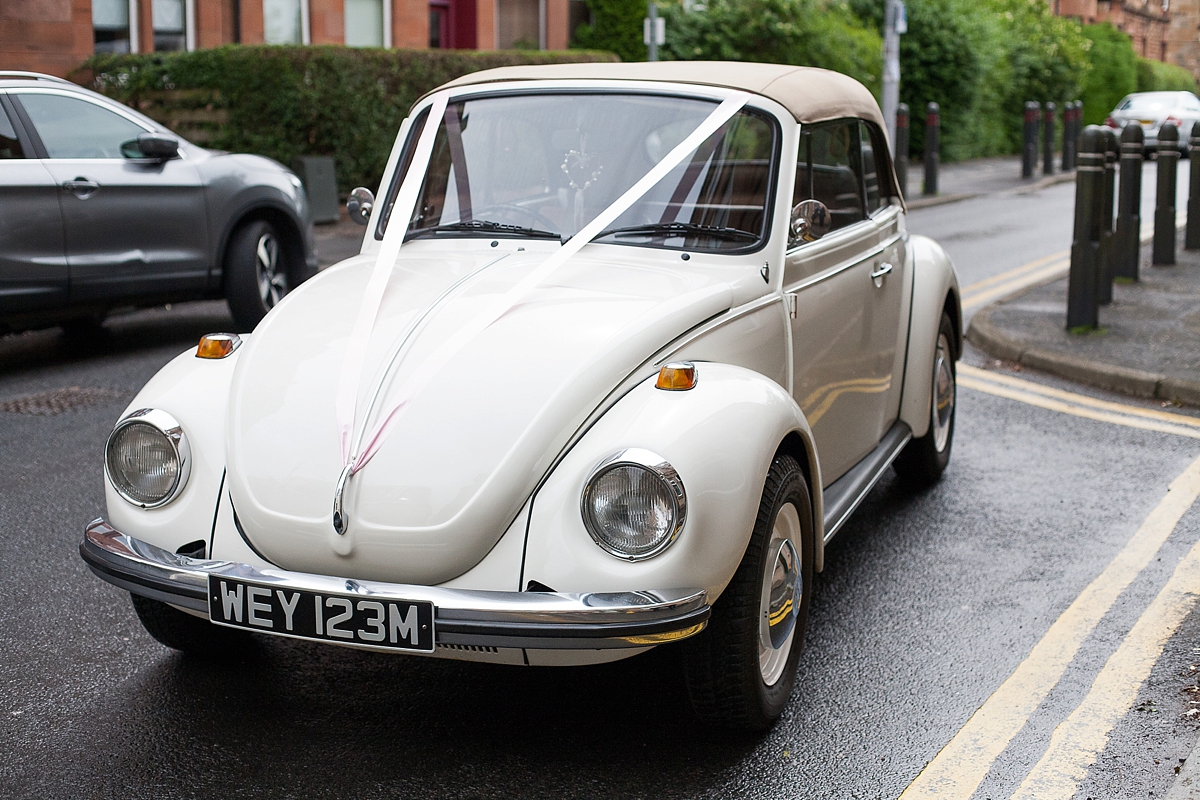 Pete and his groomsmen donned traditional Scottish attire from MacGregor and MacDuff in Glasgow and are quite the handsome bunch, don't you agree?
"My dad Tommy accompanied me for the aisle walk to 'Highland Cathedral'. I absolutely love this piece of music. I am Catholic and Pete's not, so we had a Catholic service with standard Catholic wedding vows and not a mass for that reason."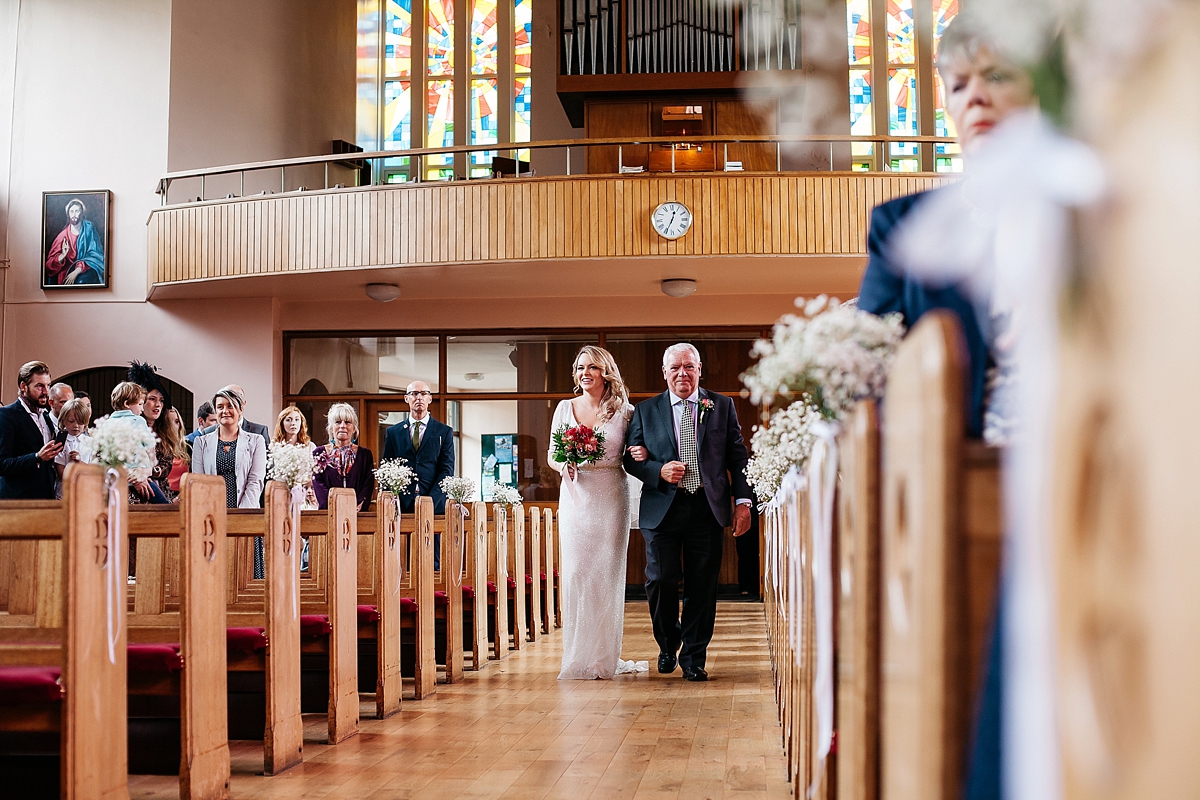 "My godmother read the classic 'Love is…' from Corinthians and my cousin read 'My love is like a gazelle' from the Song of Songs. We picked them simply because we liked them!"
Lovelies, have you thought about having bespoke wedding rings? It's such a special thing to do and I so wish I had thought to do this for my own big day.
"Our rings were bespoke and made by Timothy J Sharp from Dunoon. I met Tim at a wedding fair before I had even given rings a thought. He was such a nice guy and his designs were lovely. My mum died when I was ten and my Dad gave me her wedding band and his own, which Tim melted down and rolled to make my ring. He made Pete's brushed gold ring exactly as he wanted it out of another piece of old jewellery we had."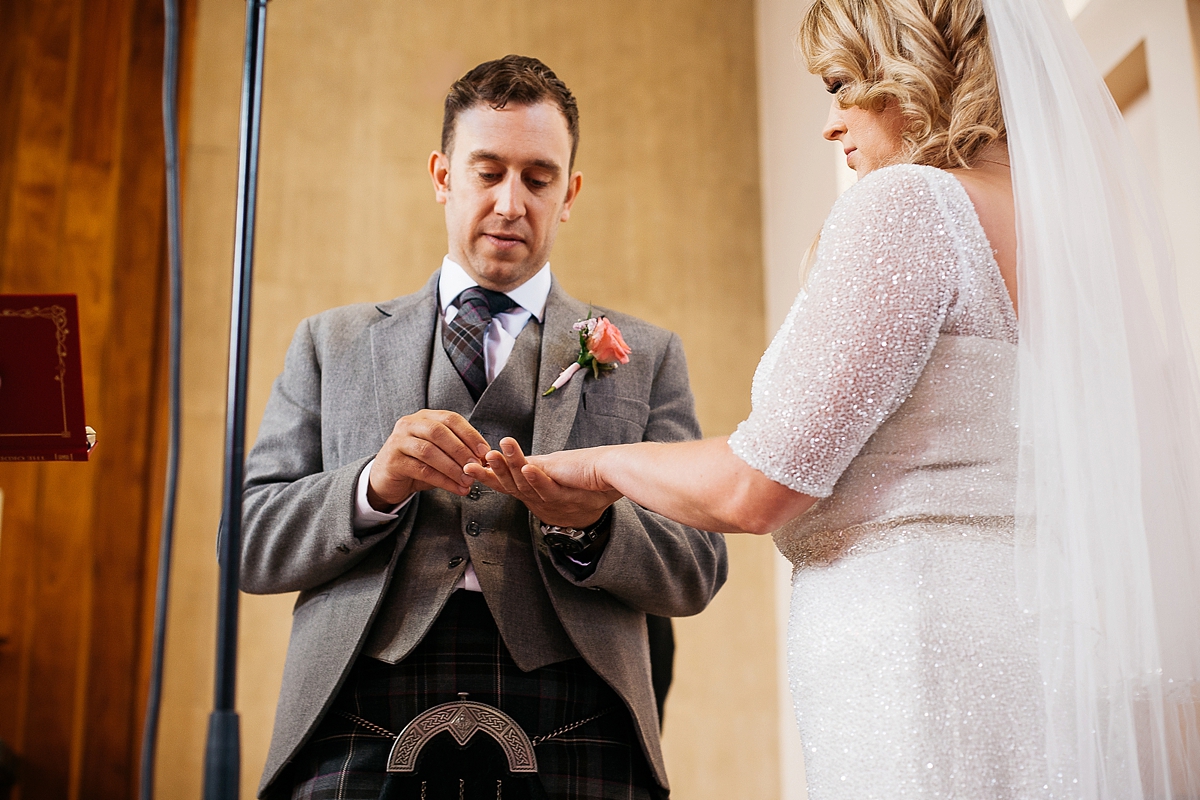 "The girls picked their own dresses – one was Maids to Measure, one was Ghost and one was Amelia Rose – and they wore their own shoes and accessories."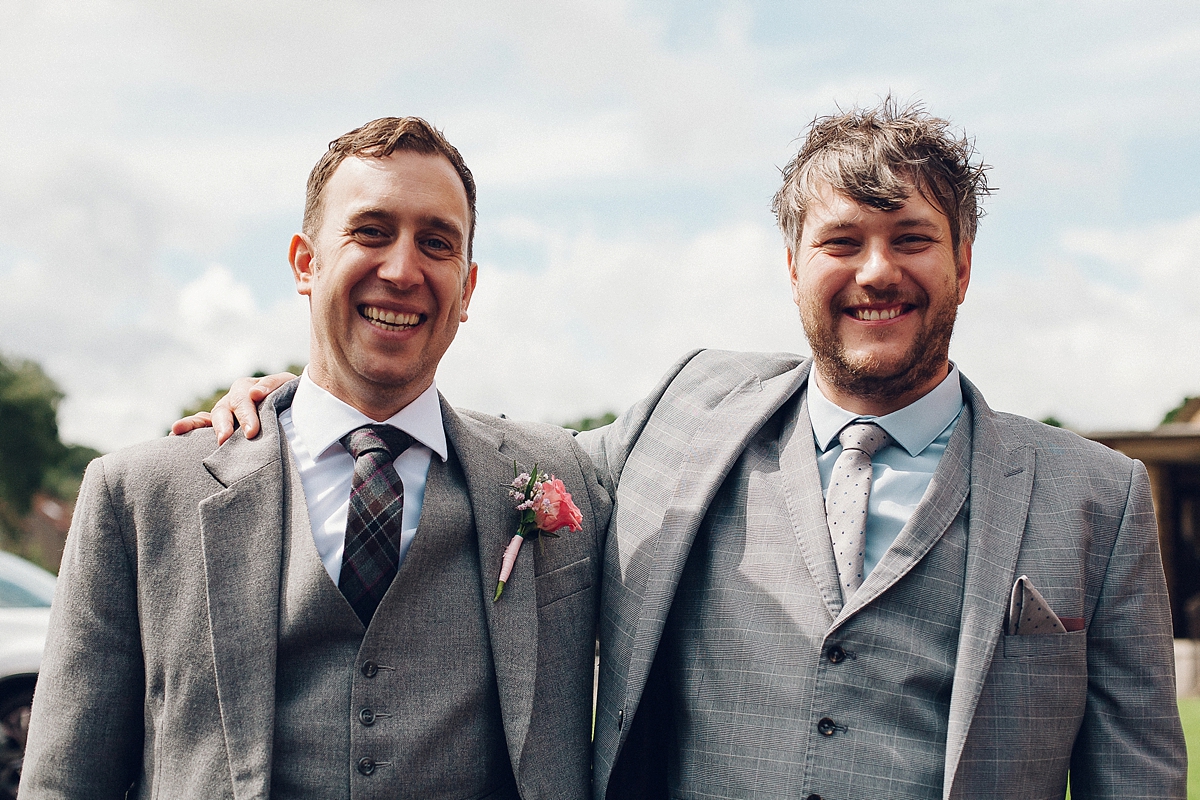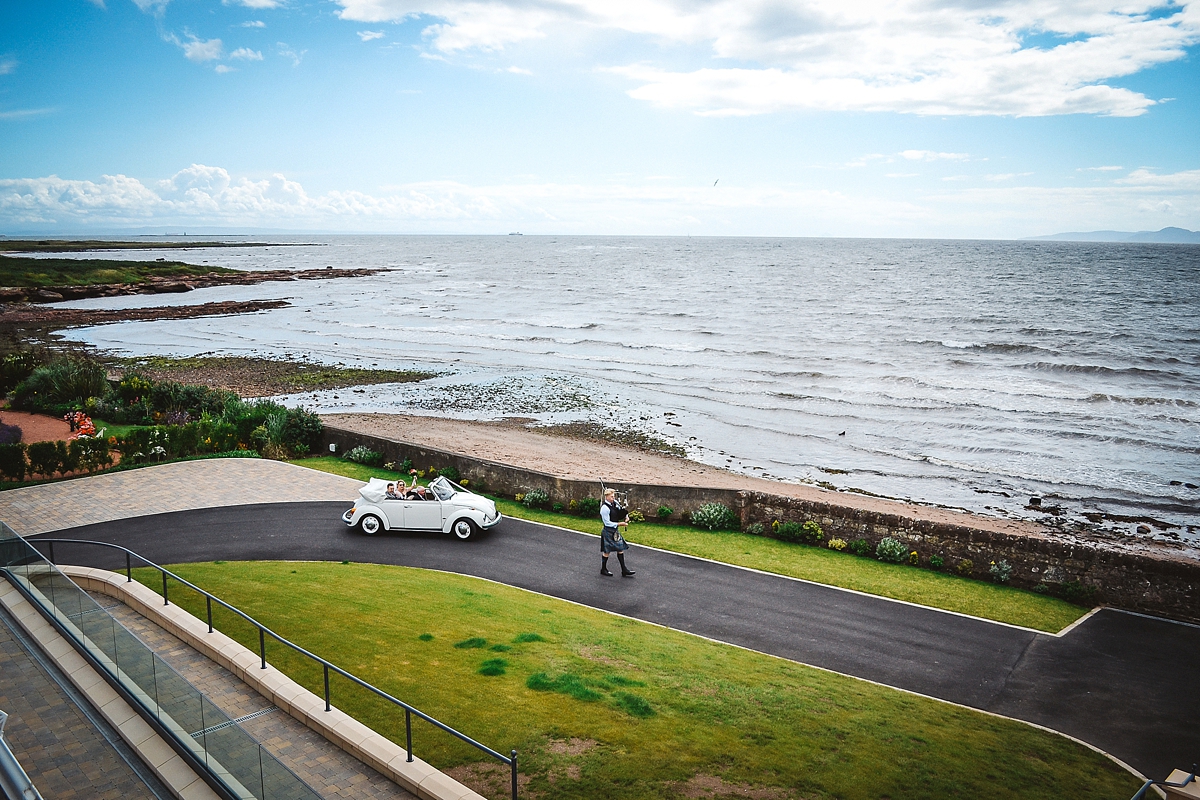 "Katie of Katie De Silva Photography is an old friend of Pete's and when he suggested her to be our photographer, I took a look at her website and decided we were booking her!"
"We were delighted she agreed to travel to Glasgow from the North-West of England just for us and we loved having her there on the day. She captured so many brilliant moments and we absolutely love the pictures."
Pete and Andrea arranged a piper from Piping Services Scotland for the church and then for their arrival at the venue. He piped their car round to the beach side of the venue where guests were waiting – what a special moment!
"By Blossom Wedding Stationery were really, really brilliant. They were so quick at getting back to me and to send stuff, and they made every little tweak I requested. They were also really reasonably priced. I would recommend them to anyone. In place of favours we had fortune cookies with wedding-related ice-breakers inside via Yumbles."
"I made place name holders from champagne corks which I've collected over several years, and hand wrote the name cards for them. We were given a friend's chalkboard sign which we used for our guestbook table and we had some gold A&P letters on the top table. Other than that, it was just Seamill's candle jars, our flowers and the table plan and table names from By Blossom Wedding Stationery. We named our tables after munros and hills we've climbed, as we love getting out walking all over Scotland."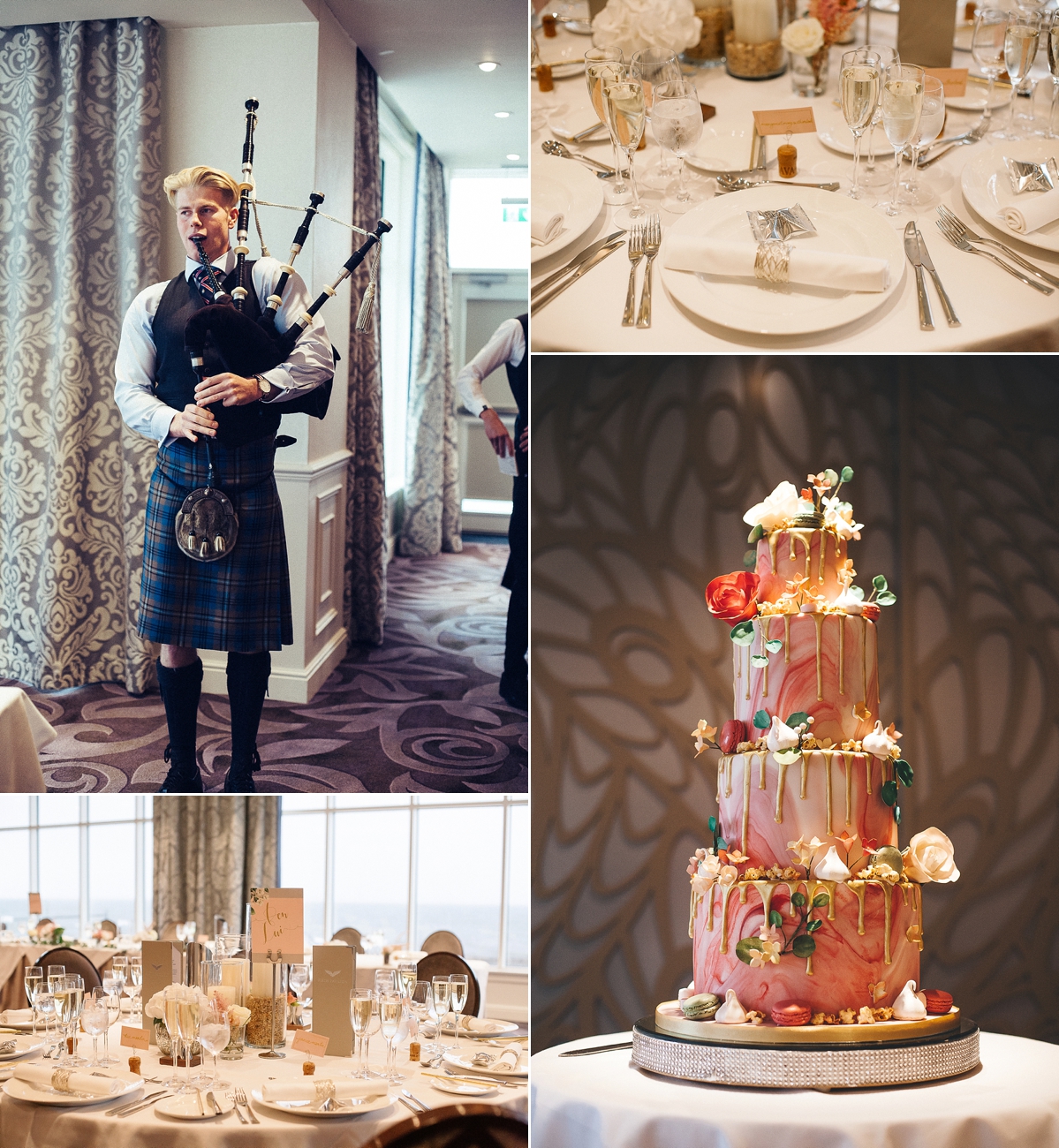 How amazing is the couple's wedding cake? So in love! It was crafted by Emily of Happyhills Cakes in West Kilbride.
"I'm SO proud of our cake! I really don't like fruit cake or marzipan and wanted our cake to be fun and very non-traditional. We visited Emily's home to taste loads of cake and show her all my ideas and she came up with an absolute showstopper."
"Our band were the brilliant Papa Shandy and the Drams. Once I'd heard them online I couldn't have anyone else. We also arranged for a Mirror Mirror Selfie Booth to keep the guests entertained."
"We danced our first dance to 'Waitin on a Sunny Day' by Bruce Springsteen. We have some really questionable favourite songs and nearly went for Low by Flo Rida, but decided late on that we should go for something a bit more wedding-appropriate. We are massive fans of The Boss and have some great memories of seeing him on sunny nights at Hampden Park, so this seemed a good fit."
The couple recall their favourite memories of their beautiful big day – and I can so see why these gorgeous moments stand out.
"When we were driving down to Seamill the sun came out after a morning of rain, it was lovely, especially as the coast came into view. When we arrived we put the top down on the car and we were piped round to the beach side of the venue. We loved every second of that. Also, Seamill has a special way for the bride and groom to enter the room via a secret panel. It's fairly ridiculous; very Stars in Their Eyes, but it was so much fun seeing everyone laughing as we appeared out of nowhere.
One of the best things about the wedding was everyone being able to stay at the venue. And even better, loads of guests stayed a second night, so we really got to relax with them all and speak to people properly."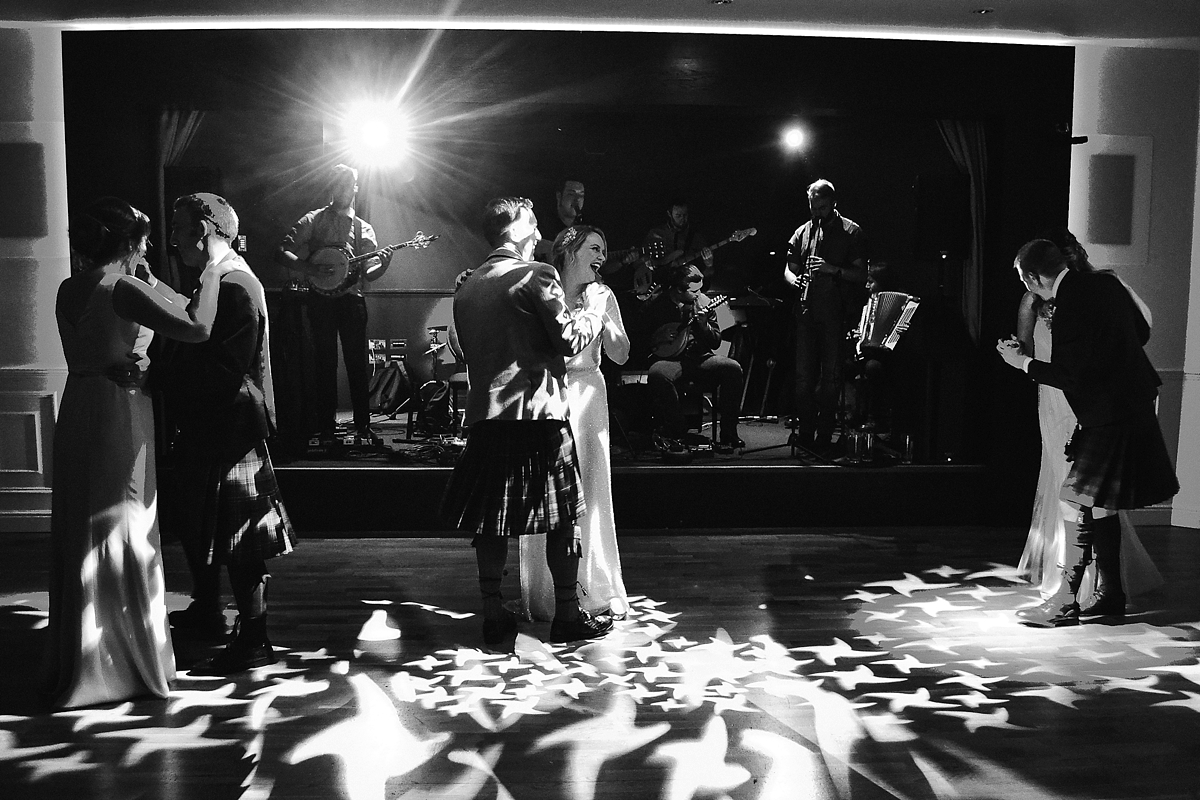 Words of Wedded Wisdom
"Wedding planning could be a full-time job if you let it, with all the pressure and drama that it entails. It's up to you to keep a work-wedding-life balance! Don't feel pressure to DIY everything just because other people seem to be. With certain things I realised that I could save myself a lot of stress and time by sourcing professional products – and sometimes without spending any more money. Conversely, don't feel like you need to spend a fortune to get what you want. I spent ages looking for invites because I was determined not to pay silly money, and I ended up finding ones which were perfect."
"Delegate! I realised with about four days to go I still had to organise favours for the 20-odd children and babies we had coming. I sent my sister (and maid of honour) a list of the ages and she went slightly nuts ordering bubbles, crayons, toys and sweets. She made up different bags for four different age categories, it was brilliant. Even a newborn guest got a little present. She also came round a couple of nights before the wedding and helped me organise and pack everything that had to be taken down to Seamill the next morning.
Probably don't decide to redecorate the week before the wedding. I think I might have spent more money on making our flat look great for our photos than on proper wedding stuff in the final couple of weeks.
We did a joint speech which I was dreading, but as soon as we stood up I felt very relaxed. It was only a few thank you's over a couple of minutes but I'm very pleased I spoke and would recommend it to all brides."
Thank you to Katie for capturing such delightful shots of the couple's incredible wedding and thank you to Andrea and Pete for sharing such wise words and allowing us a sneak peek into your day. If you're inspired to head to the water for your upcoming wedding, take a look at these other seaside weddings from our archives for even more ideas.
Have a brill rest of weekend everyone, whatever you get up to.
Love Jo -xo-