Hello hello and how are you today? I'm feeling rather excited because the end of the week is in sight and this weekend looks like it's going to be a good one. I hope you've got wonderful plans too.
I'm here today to share a little pre-weekend treat with you all in the form of an exclusive interview with one of my favourite British bridal designers, Naomi Neoh. Naomi Neoh designs the most romantic and beautiful modern wedding dresses and I am a HUGE fan. Her current collection is full of gorgeously soft silhouettes, exquisite laces and elegant finishing touches. And her Instagram account is a must-follow if your adore elegant, romantic bridal style.
The construction of the gowns is amazing and Naomi's eye for detail means that everything is absolute perfection. Just take a look at the images in this feature and you'll see what I mean!
I spoke to Naomi to find out more about her designs, her life and her inspiration.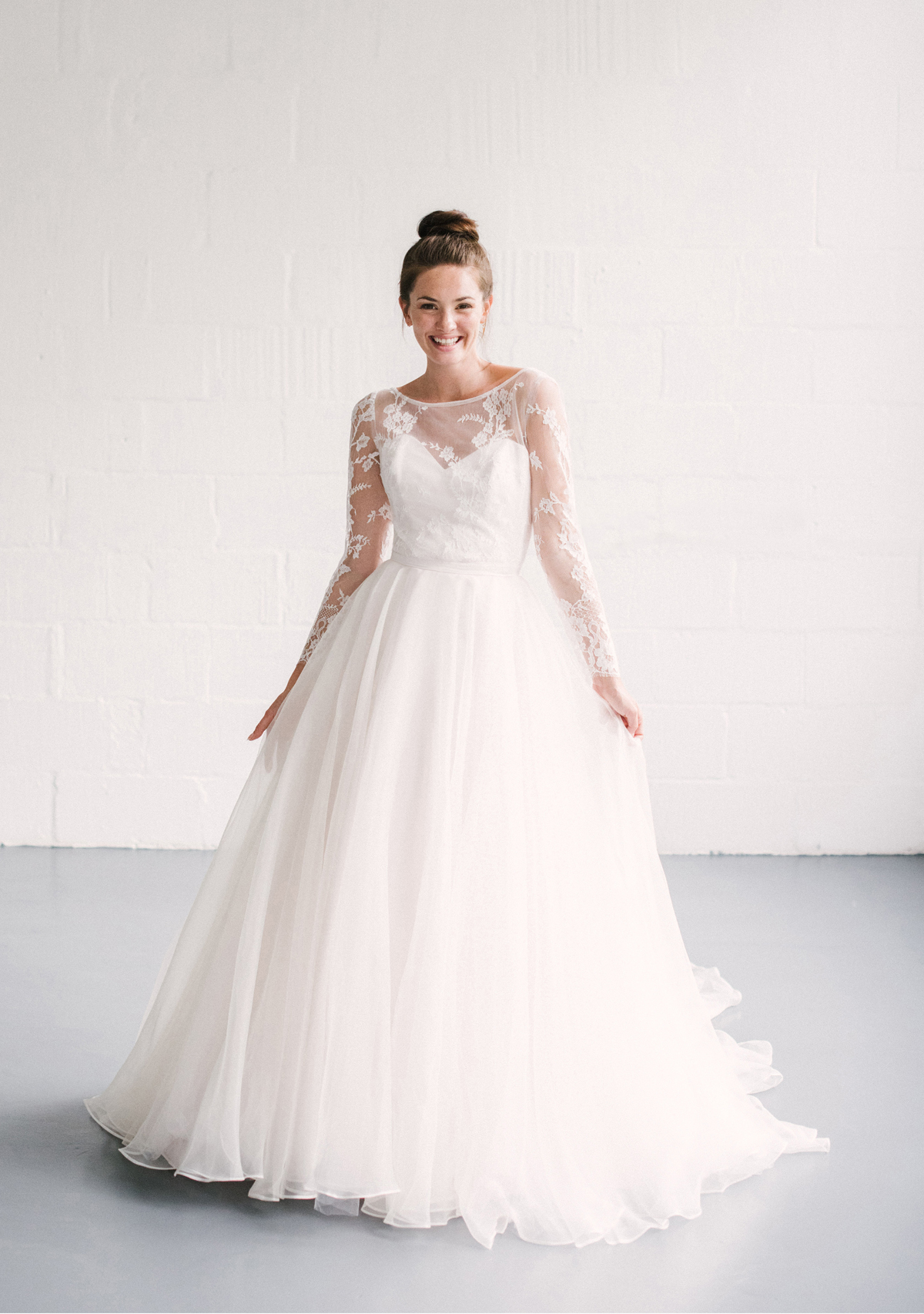 Can you give a little overview of how you came to be a bridal designer?
"Goodness it is all quite bizarre really – I never pictured myself as a wedding dress designer. As a child I always loved sewing and I am obsessed with fabric, but at school I took the sensible route, studied science and aimed for what I call a 'proper job!'"
"I achieved my aim, but life throws you curve balls sometimes. I was a merchandiser for Arcadia group when I found that I had a long-term illness, which turned out to be a genetic illness, Ehlers Danlos syndrome. I could no longer work full time, so I started sewing and a few years later I made my first wedding dress."
When you start to design a new collection, what is the process? Do you start with an overview of what you want to collection to be or a mood board with the elements you want to include?
"I'm afraid I'm far more scatty than that! I sketch constantly, ideas come to me randomly often in the middle of the night. Our in-house brides are also a huge source of inspiration as they often ask to move a sleeve, a skirt or change a neckline, which turns out to be the start of a new design."
"Mostly the initial inspiration comes from a fabric, the way it moves, the pattern and I fit a design around it. The most annoying thing is when I dream up a fabric, which turns out not to exist and I spend ages trying to find it or develop it. This often happens with colours too – I end up having to get things dyed because I can't find exactly what I want!"
What part of the design process do you enjoy most?
"A picture comes into my mind, not just of the outside but the inside of the dress. I want brides to feel beautiful and luxurious in a dress. It's got to feel good – I'm obsessed with real French lace – it's soft, and silk chiffon, super light organza, parachute silk."
"I think a lot about structure, how to make the dress wearable, comfortable and above all flattering. For example, we just started to use a new lining – it's great because there's a bit of stretch in it and it feels wonderful. And we've cut our new collection with elastic corsetry – totally supportive, no need for a bra, but also incredibly comfortable. It's wonderful on the waistline but without the stiffness of the traditional corsetry. But the best bit without a doubt is when a real bride puts it on and actually chooses it to wear on her wedding day."
How many drafts of a design might you go through before reaching a finished design?
"It totally varies – sometimes it comes out right the first time, sometimes it takes 10 goes and a few years before I really like it!"
Do you design on your own or is it a more collaborative process?
"I love to cut patterns myself. Usually I sketch, and then drape something on a stand. At that point I'll usually show my whole team and get them to tell me what they think. I work a lot at home so often I'll do an initial pattern myself on my attic floor and then take it to work to be cut in a practice fabric before it's corrected and made in the final fabric. I like to get my teams opinion on everything! They have more contact with brides so their feedback is really helpful."
What are your design influences right now?
"I love Maria Grazia Chiuri's work, the absolute softness and the romance. And then I think probably architecture – I often see pictures of a venue and think about what dress would go with that! I'm also often influenced by nature – the patterns and balance of nature, I was watching waves on a beach in Hastings after Storm Brian the other day and thinking about a wedding dress skirt, I hope I find time to make it, otherwise it's a bit difficult to explain in words!"
"I'm also thinking a lot about the pattern and balance of branches and veins in leaves. Very obscure I know but I think we find incredible beauty in these natural patterns, which are so pleasing to the human eye and I want to express them in dresses."
Where do you look to spot 'trends' and keep abreast with what brides are looking for?
"In my shop! Our brides are the one of the best sources of inspiration, they come in with new ideas and often we see changing trends of what brides are searching for."
Do you tend to design with a certain type of bride in mind?
"I always think about real brides with real bodies. I don't design for the catwalk, or hanger appeal. I want to make a dress that anyone can put on and feel incredible in. I had a dress dummy especially made with hips, a bust and an average height. And I make my team try dresses on so I can see what they look like on real people and how they feel."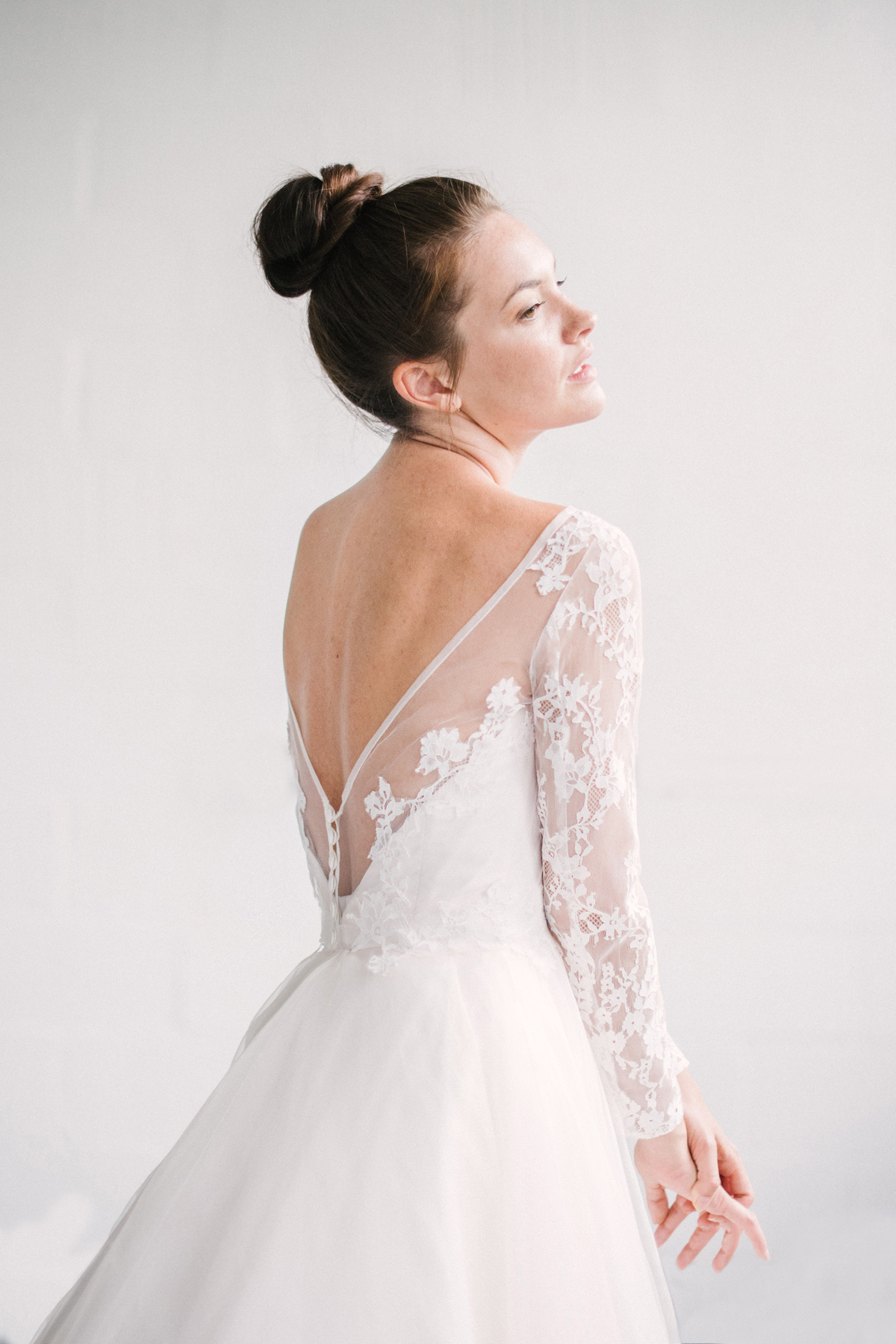 What are your favourite materials/embellishments to work with?
"It always comes back to silk chiffon for me, and French lace. The softness and the movement is like no other. I've just broken the habit of a lifetime though and started working with some beading. I do love structural fabrics like mikado and zibeline though – hopefully I'll get to that next year."
What, in your opinion, sets your brand apart? What are your core values?
"I think – designing inside and out – it's a complete design with structure integral to the design. The dresses have to feel good, soft and luxurious, but they must be wearable! I always aim to make frocks you can eat, drink, dance, and enjoy yourself in because you need to be able to enjoy your wedding day!"

What are your proudest moments workwise?
"I actually love fitting brides. So when someone comes in who doesn't feel all that confident about themselves and we fit and structure a dress that makes them feel incredible. That for me is the best feeling."
What do you do to relax? How do you escape from the wedding world?
"Oh I'm actually not weddingy at all! My favourite thing now is just family time, mucking around with my little girl and having fun. I particularly love painting with her…. she loves to paint herself, arms, face, legs, then she chases me round the kitchen!"
"I love gardening especially in the winter, because everything is asleep, you can coax it and nurture it and watch it all come to life in the spring. I love comedy – if I'm ever upset I just watch Joe Lycett's parking ticket sketch. Classic."
What are the biggest challenges you face?
"Without question it is managing my illness Ehlers Danlos syndrome. It is very unpredictable so one day I can be fine and the next I cannot walk. I have 7 consultants and sometimes it seems like constant doctor's appointments – when I'm bad I keep it to a max of two or three a week otherwise it gets ridiculous. I am always in pain, which varies from manageable to 'I need Morphine'."
What are the most important things brides should keep in mind whilst choosing their gown?
"Go with your gut – buy the dress that makes you feel amazing."
If you weren't designing wedding dresses, what do you think you would be doing?
"Wow! Well if I had a few more lifetimes, I'd love to be an architect, I'm really mathsy and I love thinking in 3D (I think that's why I like pattern cutting, it's making a 2d shape into a 3d shape). Engineering, kitchen design, in fact anything where I'm designing things that people use – which have a purpose. Garden design too, I recently discovered Bannerman designs which is just blowing my mind with its balance, structure and beauty. But then I love a spreadsheet! Which has all kinds of applications!"
What should we expect next from your label?
"I'm aiming for a balance of beauty, classic, but modern…. Let me know if you think I achieve it!"
What a fantastic interview and Naomi, it's been a pleasure to get to know you a little better.
If you'd like to find out more about wedding dresses from Naomi Neoh, view the latest collection, book an appointment at the London showroom or find your nearest stockist, do take a look at the website.
Love,
Tamryn x