Can you believe it's almost November?! Before I start freaking out about 2018 being just around the corner, I've such a delightful wedding to share today. It's filled with loads of sweet, heartfelt touches and the ceremony was held in the most stunning cathedral.
Faye and David run a day service for adults with additional needs, with a focus on achieving through sport and independent life skills. Opting for a summertime wedding, they tied the knot on the 29th of July 2017 at the Cathedral of St Nicholas in Newcastle, then held their celebrations over the whole weekend at Woodhill Hall in Otterburn, Northumberland.
"We chose the cathedral after I attended a wedding fair there and fell in love, as it is the type of religious setting I had always envisioned myself getting married in since I was a young girl. The inspiration behind the theme of our day was to be elegant, classic and simple. Although we are both colourful people, we wanted to keep in theme with a religious ceremony and did not want to distract from the beauty of the cathedral, so kept colours simple – whites and foliage were key."
Photography by Kimberley Waterson Photography
"My dress was Tara Keely from Epernay Bridal in Gosforth, Newcastle. In choosing my dress, I wanted something elegant, suitable for a cathedral wedding and timeless. When I tried this dress on, I didn't want to take it off so I stopped looking there and then and committed to the dress.""David and I met at the college he was working at at the time, when I was employed to coach their college netball team. We started out as friends and we believe that is why our relationship is so strong – because we were good friends first. David proposed to me on New Year's Eve 31st July 2014 at Pier One in Sydney next to the Harbour Bridge, leaving us thirty one months to plan our big day."
"I bought my bridesmaid dresses from a local boutique called Betty-Leigh Boutique; the brand was Vesper. As a gift I bought them earrings to wear on the day and also a MAC lipstick to see them through to the night."
"Our hair was by Gaby Hunt at GSH Hair, with make-up by Heather-Francesca Searle at HFS Makeup Studio."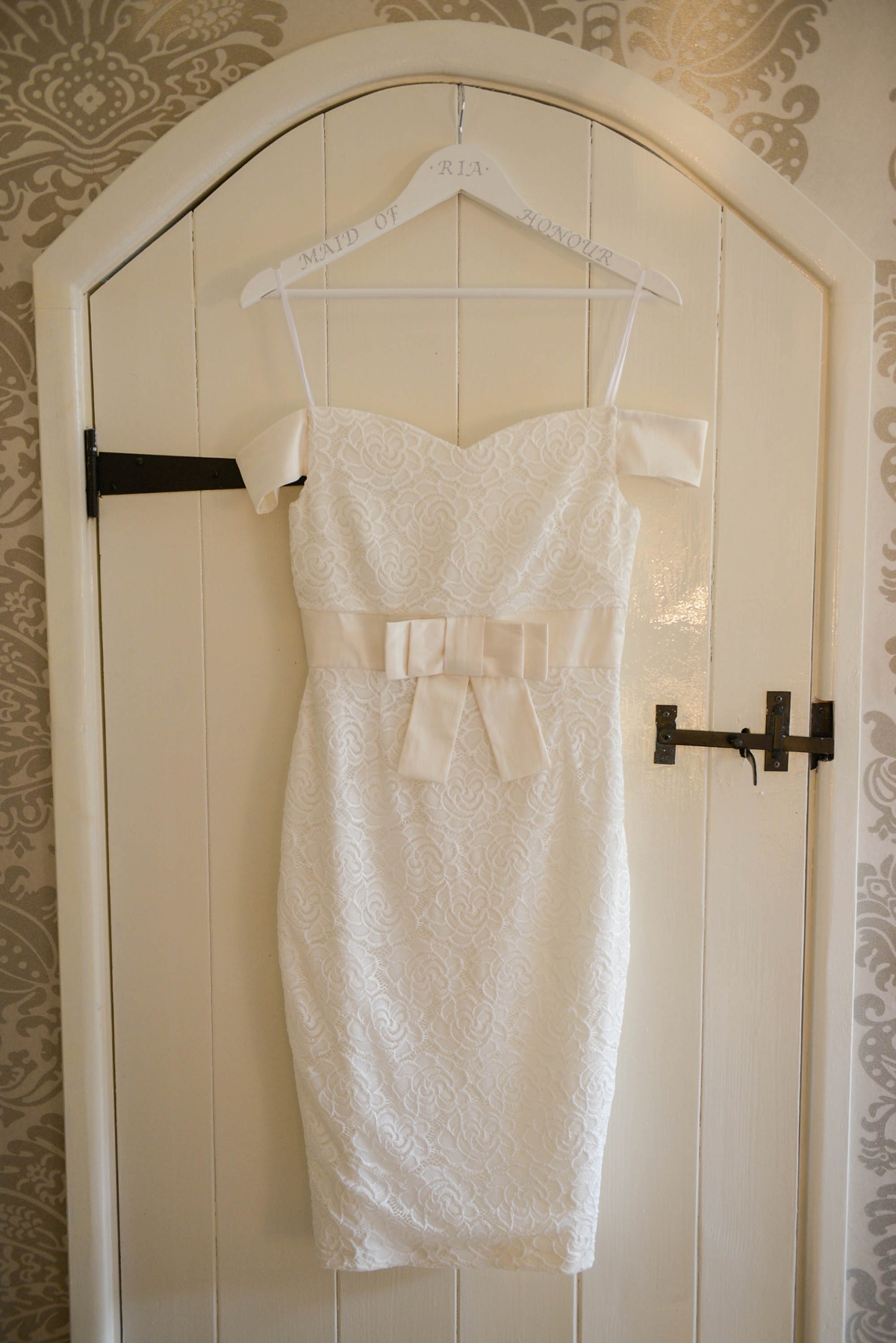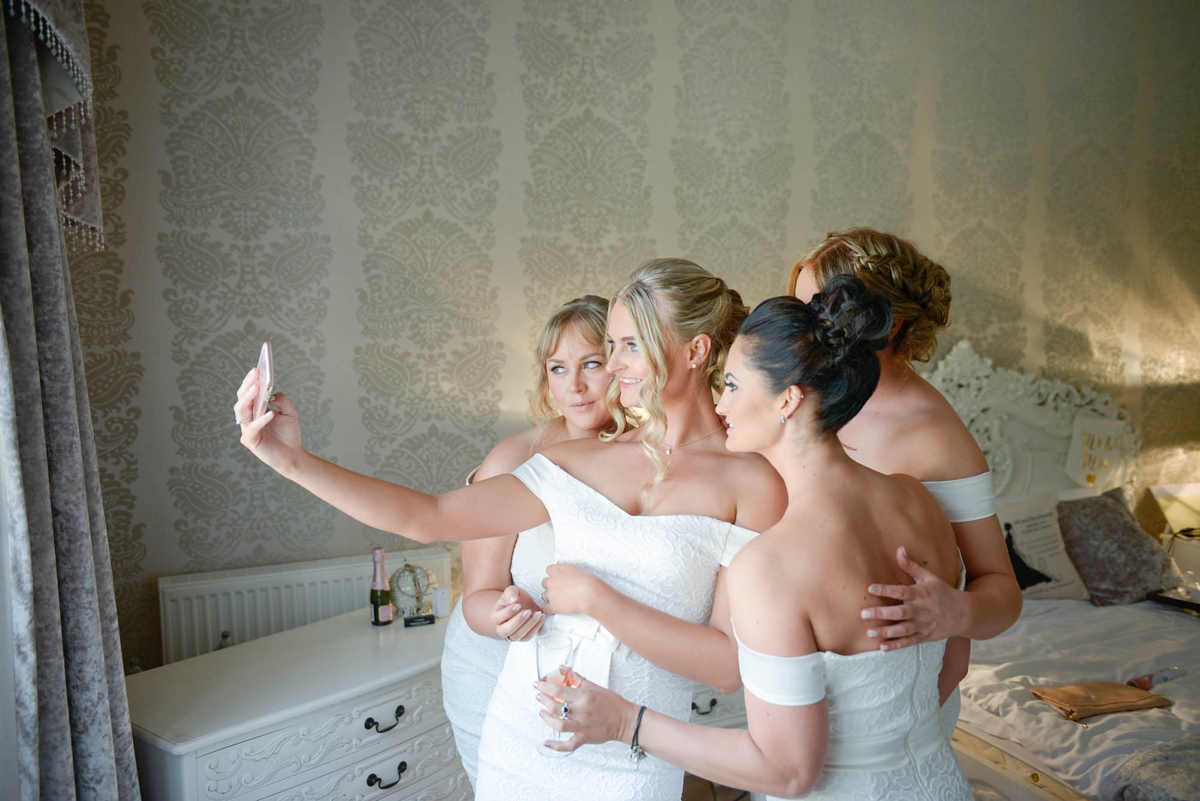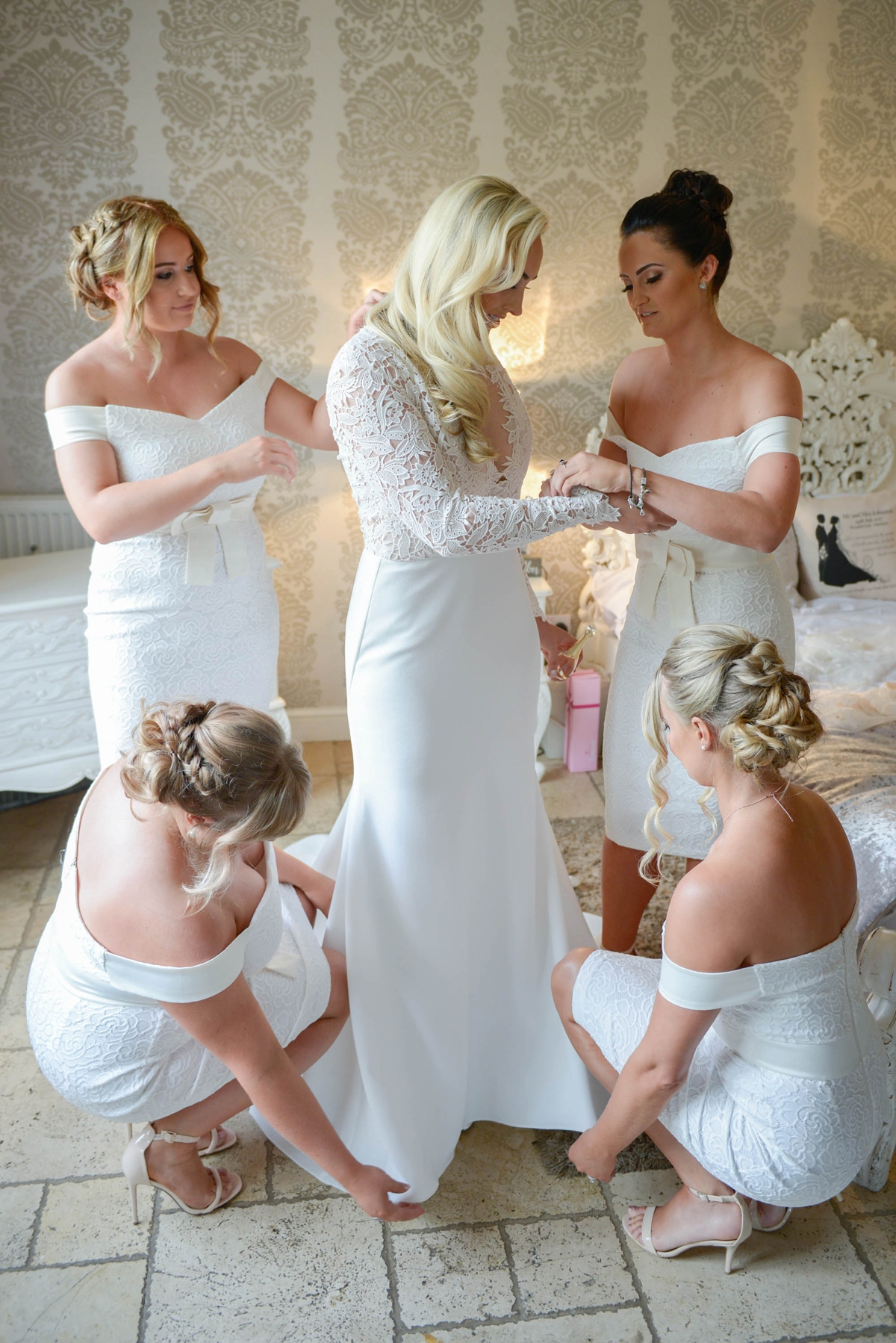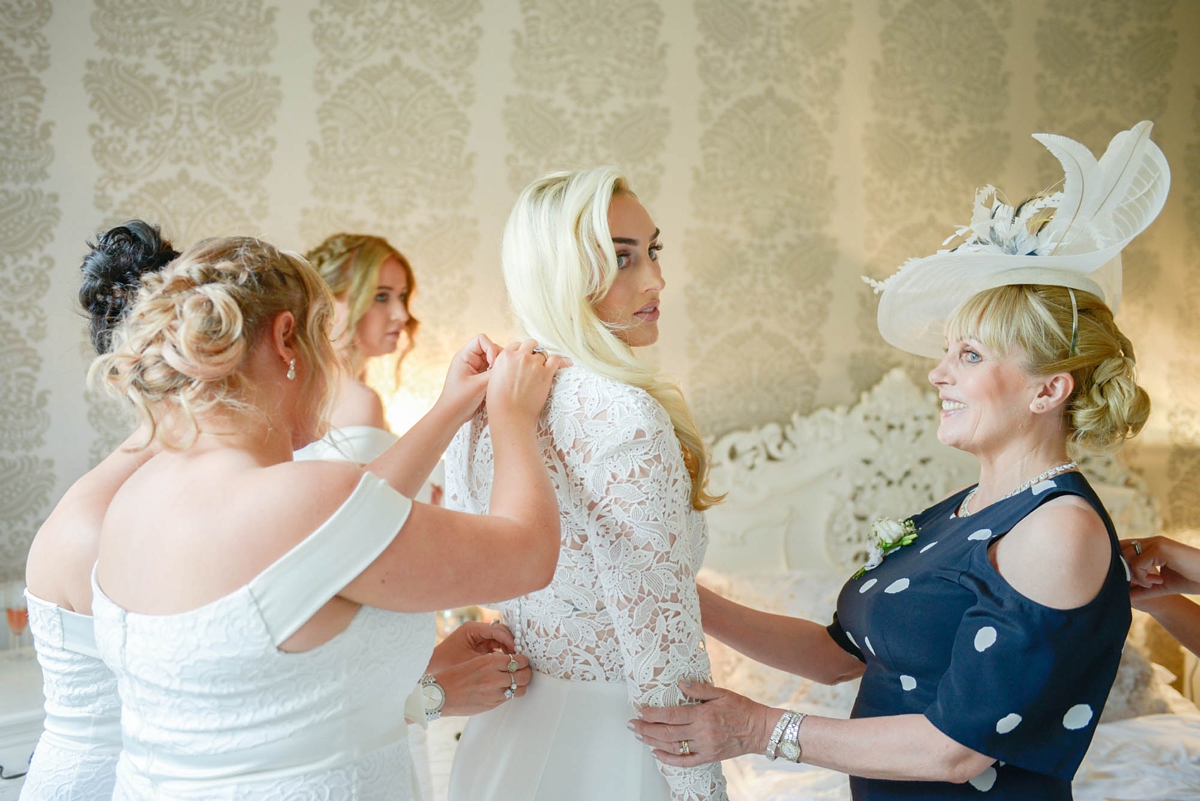 Faye donned, and very aptly, a cathedral veil with intricate detail (designer unknown), a pair of ballet style pumps for comfort (and also as she is taller than David!) from River Island, an exquisite hair accessory and the classically romantic J'Adore by Dior scent – both gifts from her mother – then finished off her stylish look with a simple accessory.
"As I wore a hair accessory, I aimed for simplicity in my accessorising so as to not take away from the delicate detailing of the dress. I wore some tear drop earrings with a pearl drop which was a gift from David."
The groom was stylishly suited up by Bakers Tailoring and he added Tom Ford Noir aftershave, and a pocket watch and Emporio Armani watch (a gift from his bride-to-be). And as a thankyou gift, the couple bought all the men in the groom's party a pocket watch to wear and keep as a sign of their appreciation.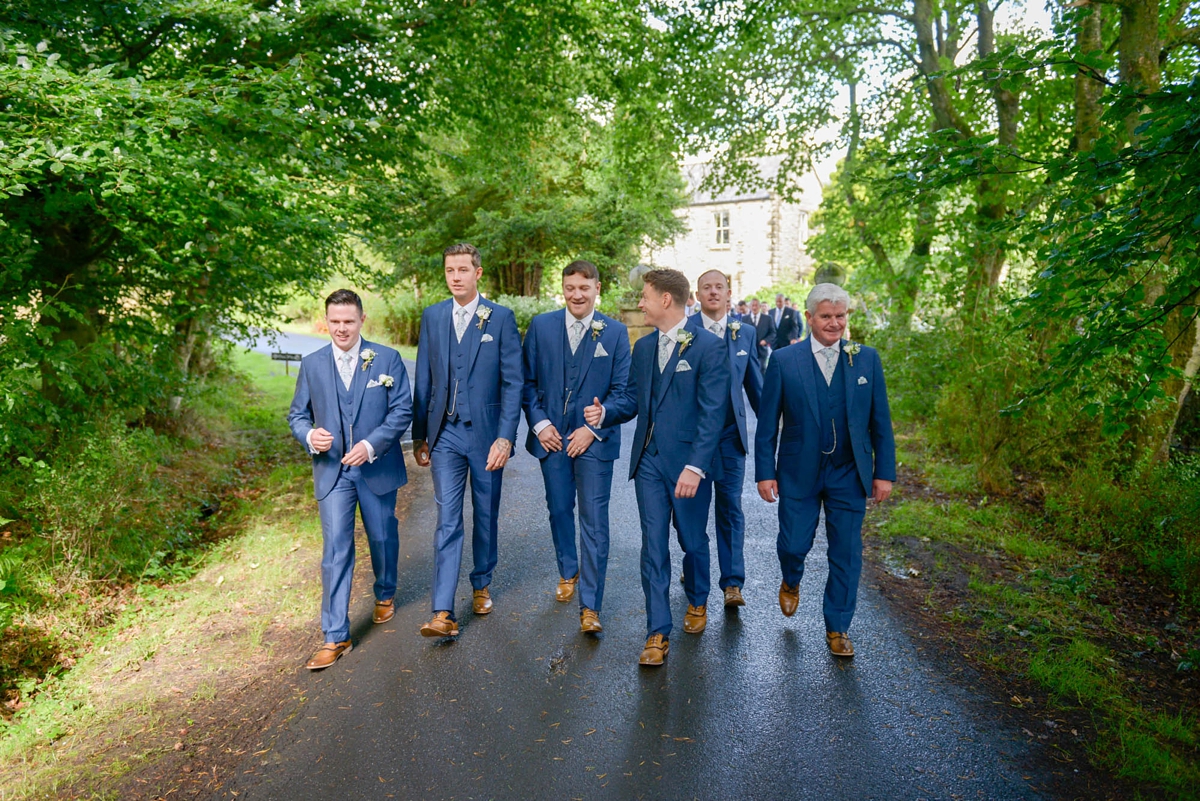 The bride was accompanied by both her Mam and Dad to 'Here Comes the Bride' by Richard Wagner, played by the cathedral's organist. The couple opted for traditional religious vows, removing the 'honour and obey' line, as they felt it was a bit dated. They exchanged rings from Beaverbrooks Jewellers and their two readings during the ceremony were read by women very close to them.
The religious reading, 'Colossians 3:12-15' was read by Faye's Aunty, Debra and the non-religious one, 'It feels right' by Betty. L. Killedrew was read by David's cousin, Joanne.
These particular readings were chosen by Faye and David as there were specific lines in both that they felt truly were appropriate to them and what they are like as a couple.
'Colossians 3:12-15'
"As God chosen ones, holy and beloved, clothe yourselves with compassion, kindness, humility, meekness and patience. Bear with one another and, if anyone has a complaint against another, forgive each other; just as the Lord has forgiven you, so you must also forgive. Above all, clothe yourselves with love, which binds everything together in perfect harmony. And let the peace of Christ rule in your hearts, to which indeed you were called in the one body. And be thankful. Let the word of Christ dwell in you richly; teach and admonish one another in all wisdom; and with gratitude in your hearts sing psalms, hymns and spiritual songs to God. And whatever you do, in word or deed, do everything in the name of the Lord Jesus, giving thanks to God the Father through him. 
'It feels right' by Betty. L. Killedrew
I love you with intensity;
I love you with delight;
I love you with my whole heart
And it feels so very right.
No one else can understand it –
They don't see us as a pair;
But the truth is very simple –
You're the one for whom I care.
And even though we're opposites,
We also are the same;
We love each other fully;
And today, we'll share a name!
"Hollie at Fleur Couture Floral Design was a recommended supplier of our venue and after following her on social media it was evident her style was perfect for the look we were aiming to achieve."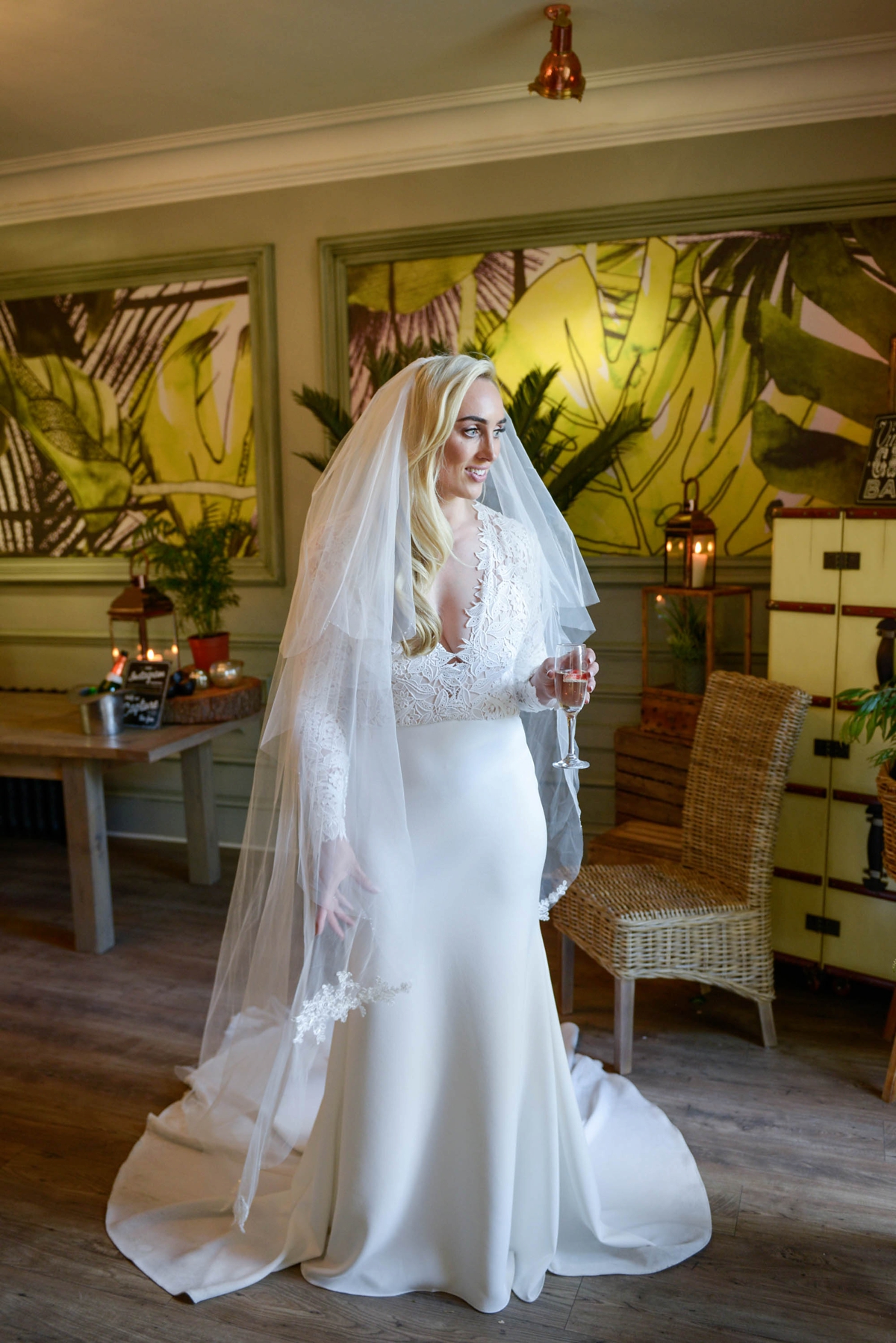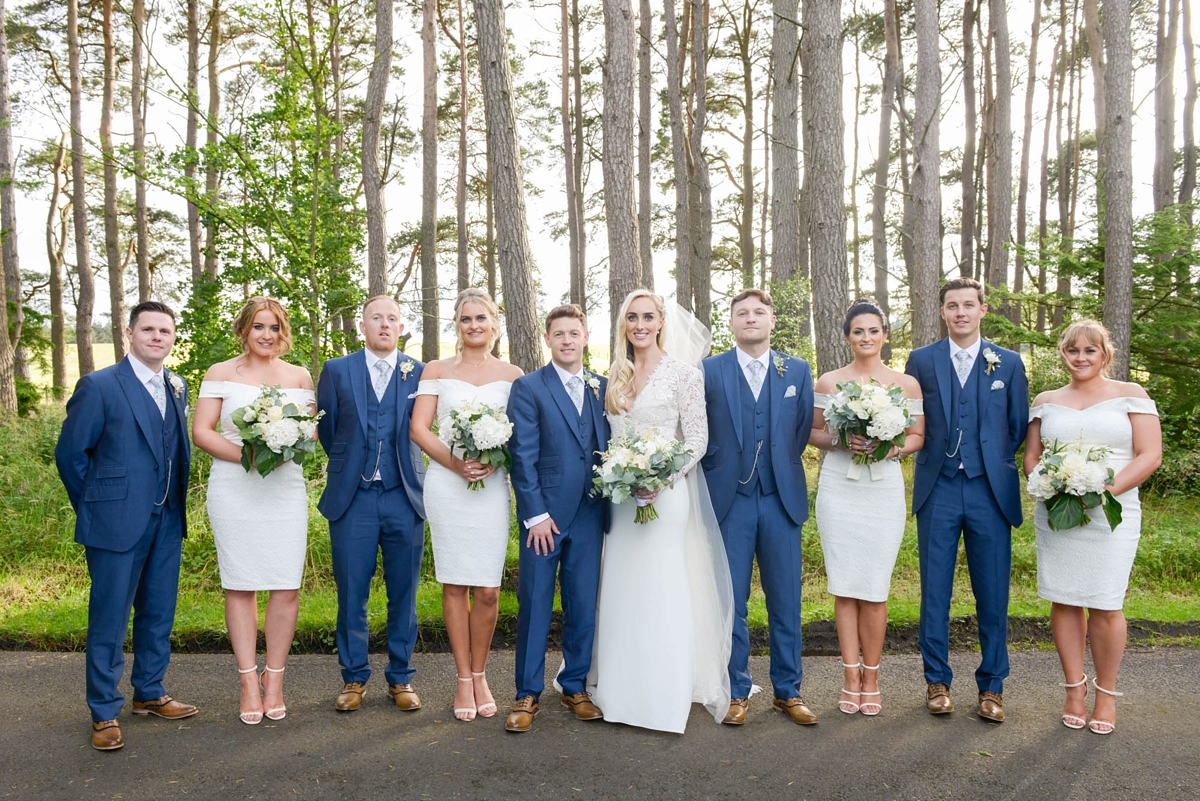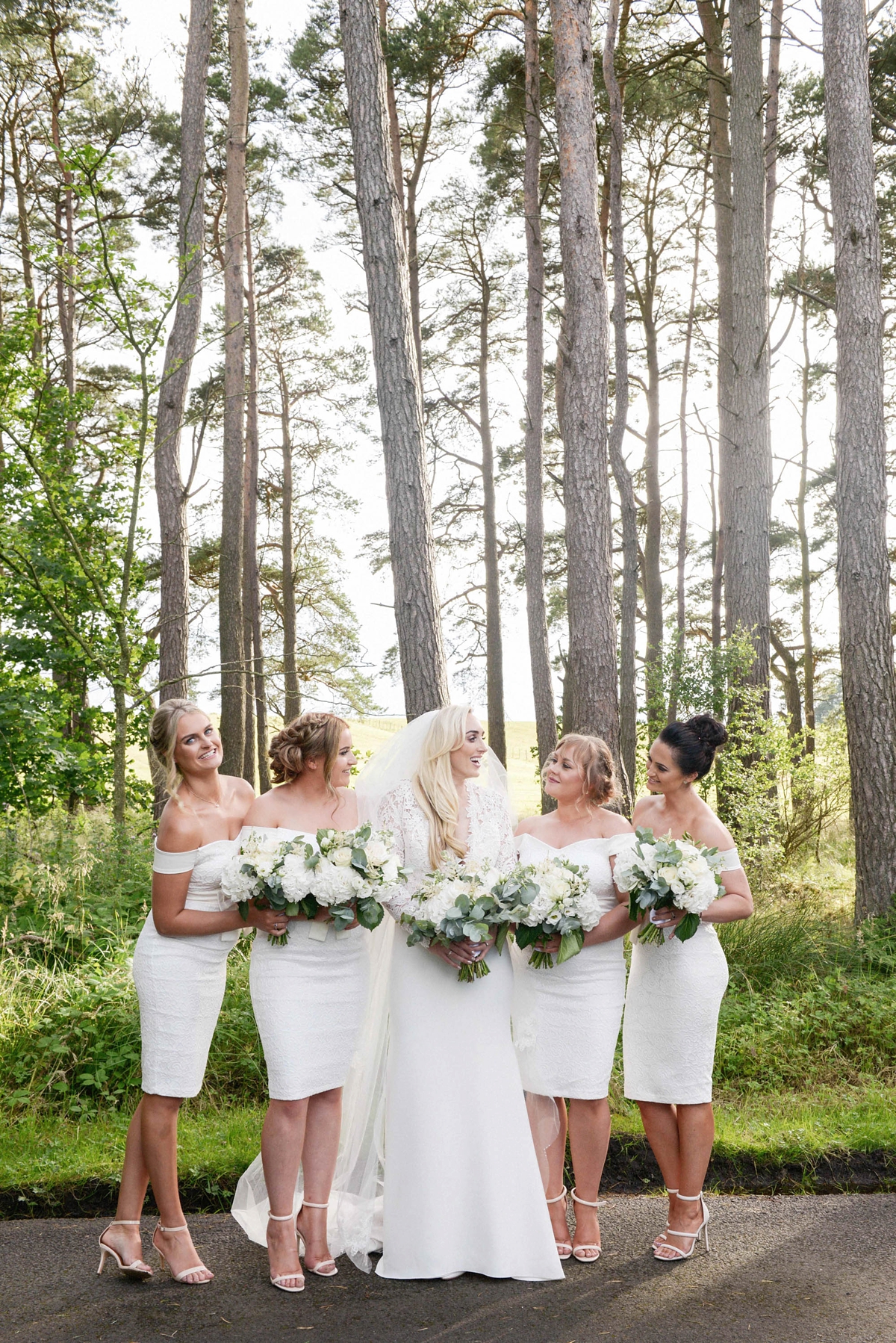 I'm in utter love with the couple's beautiful photos, captured with an expert eye by Kimberley of Kimberley Waterson Fine Art Photography. As a wedding gift for her husband-to-be, Faye arranged a photoshoot with Kimberley prior to the big day, which took all of the nerves away, so much so that the bride couldn't wait to get behind the lens again for the wedding day.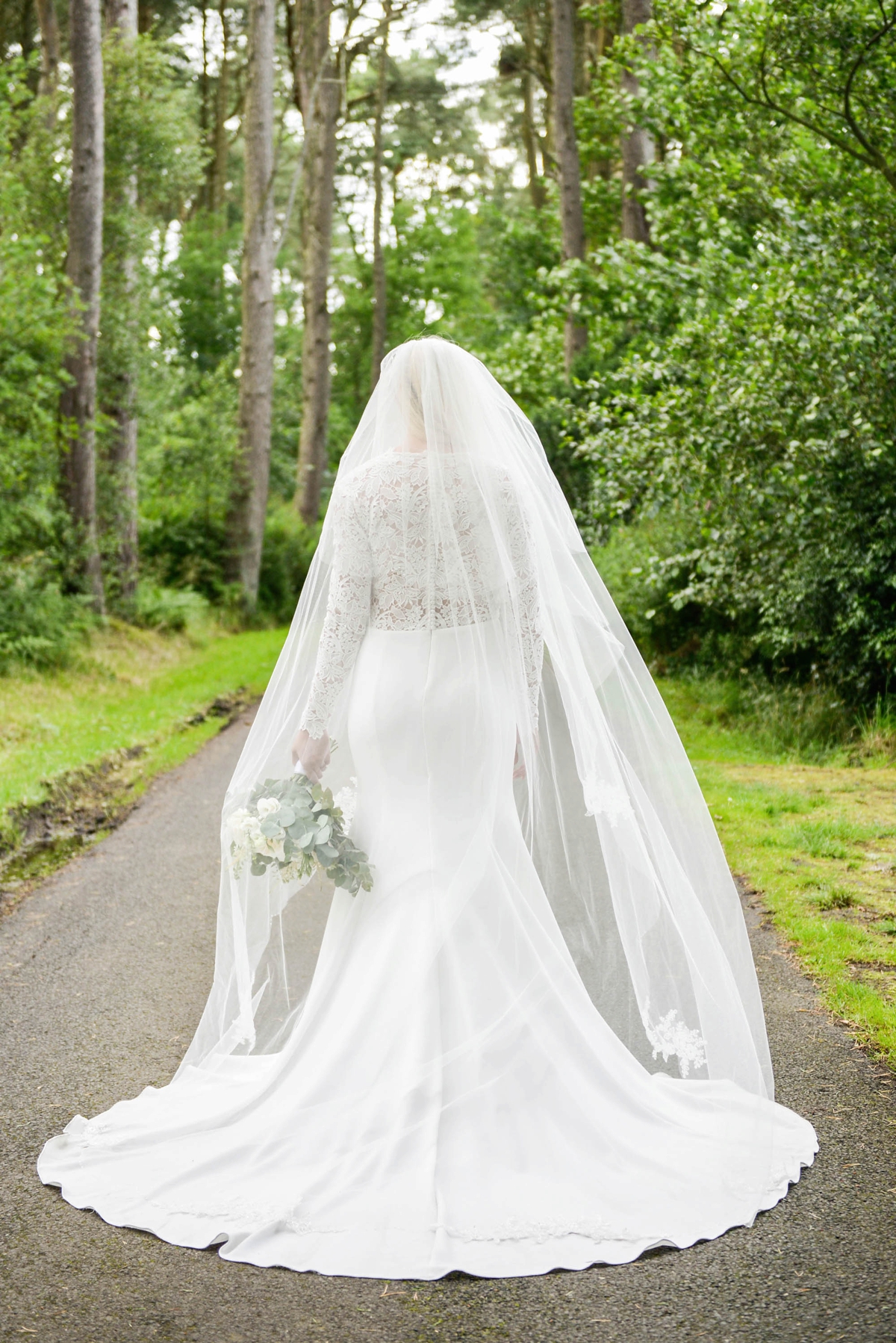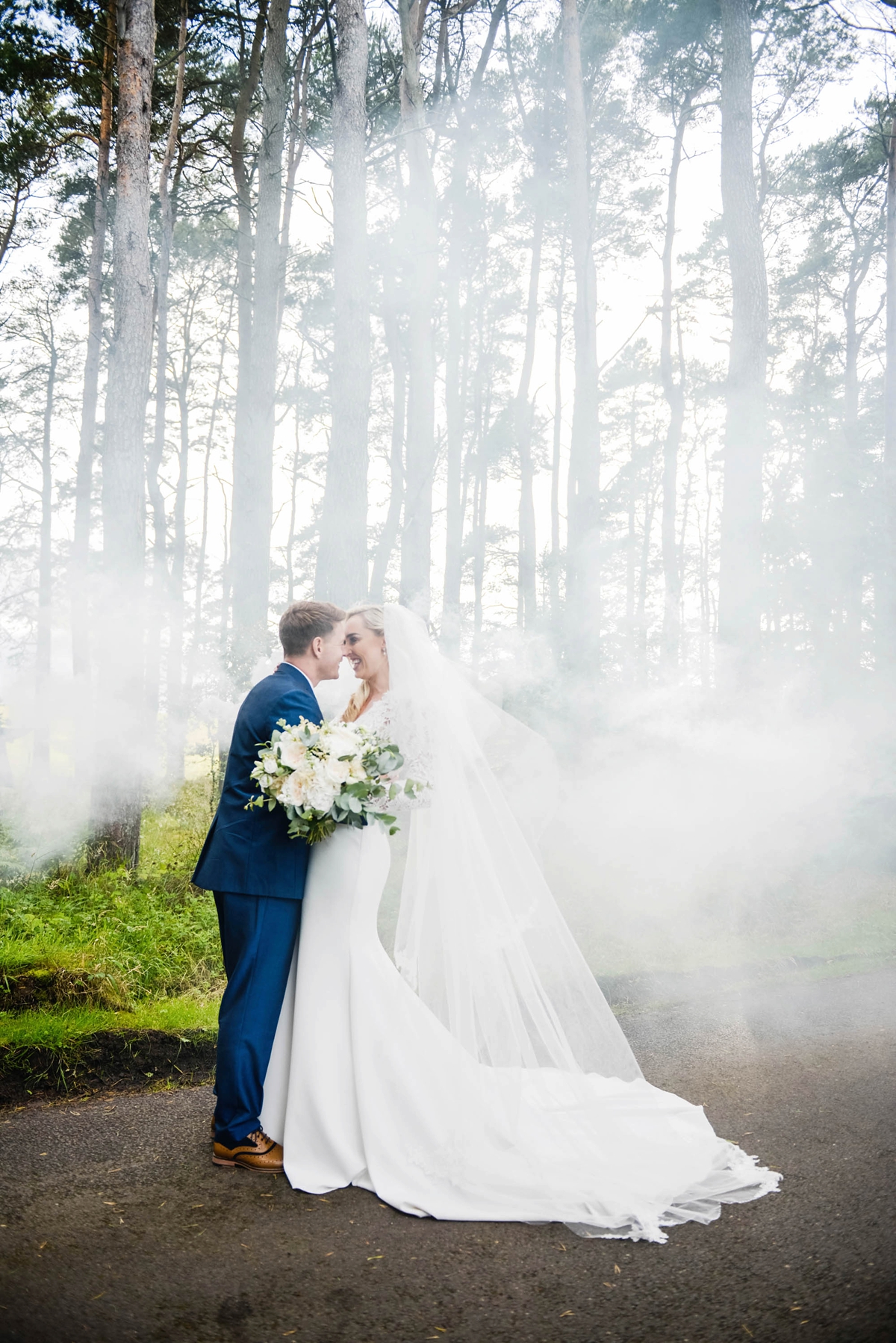 "In choosing a photographer, it was important to us that we connected with the person and from the first day I met Kim, I knew she would be perfect for us. From the day we booked until the present day, Kim is easily contactable, approachable and ever the professional."
"On the day of the wedding, Kim was amazing, handling all guests accordingly and ensuring we got all the shots we wanted without being too intrusive. We could not recommend her highly enough. Even guests, friends and family members were so impressed, so hopefully we will get to work together again soon."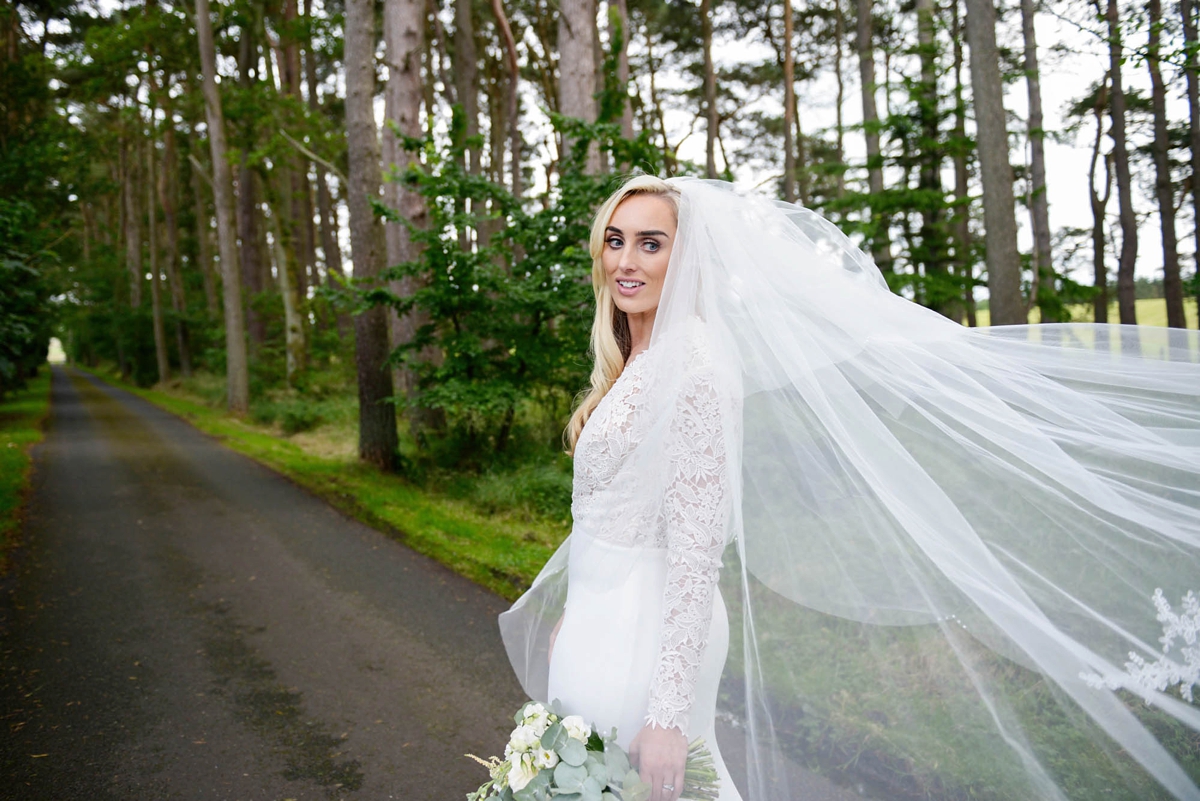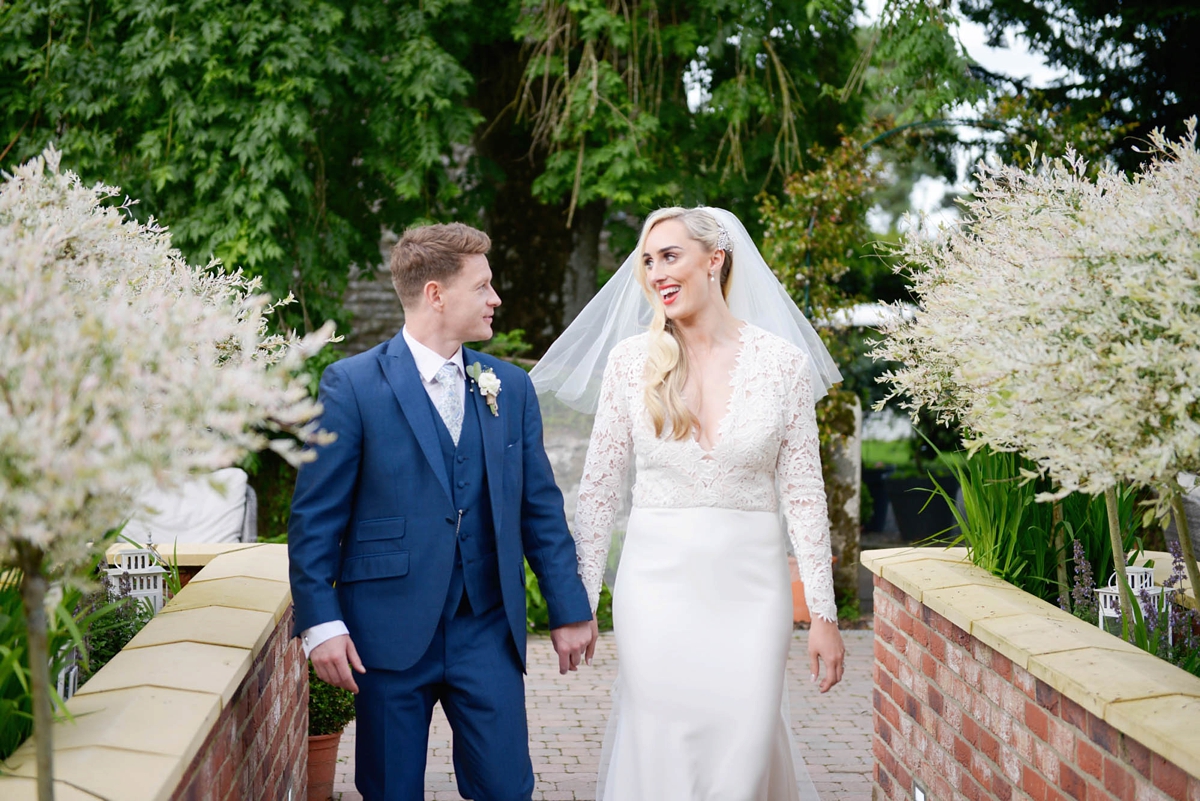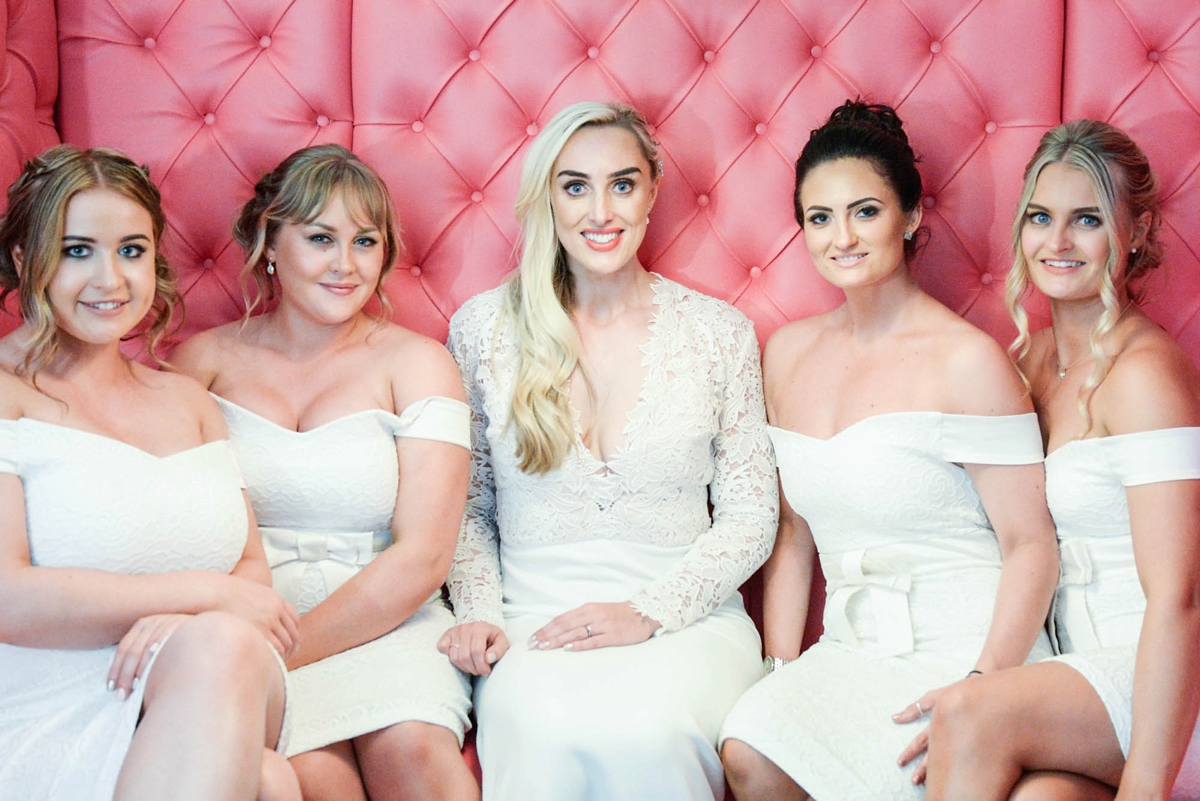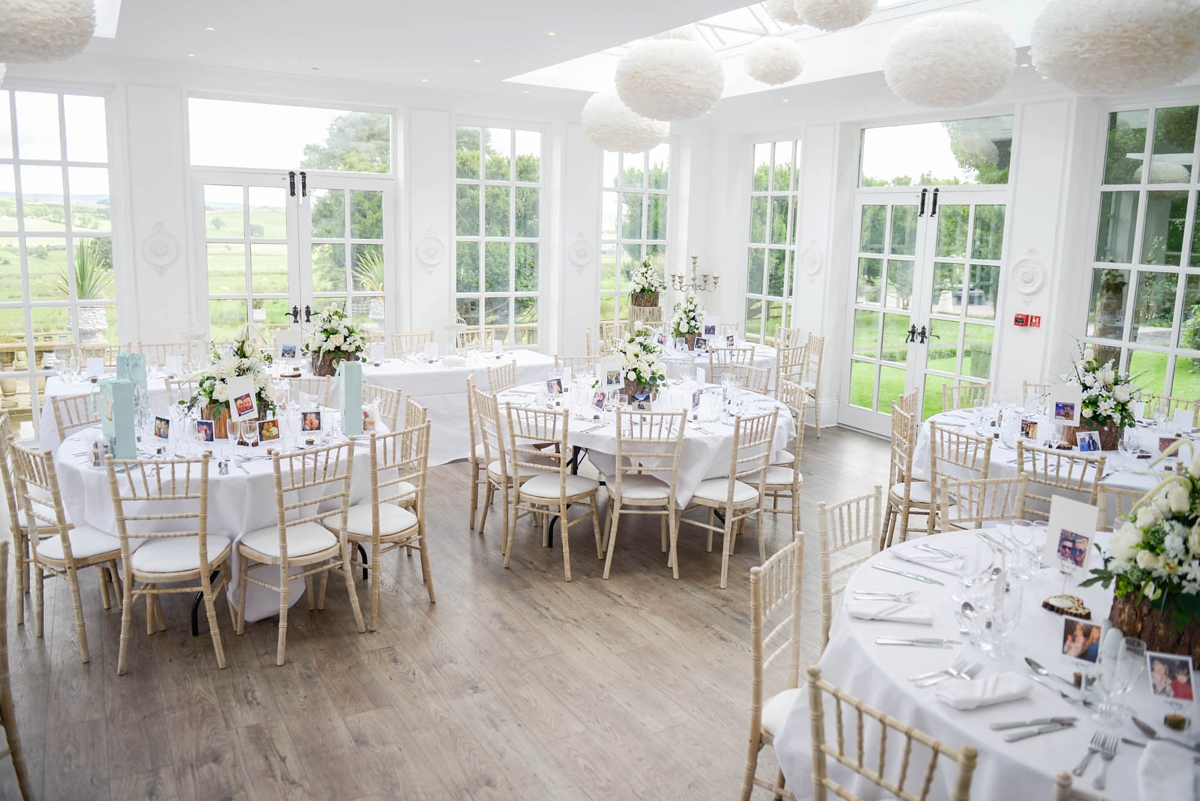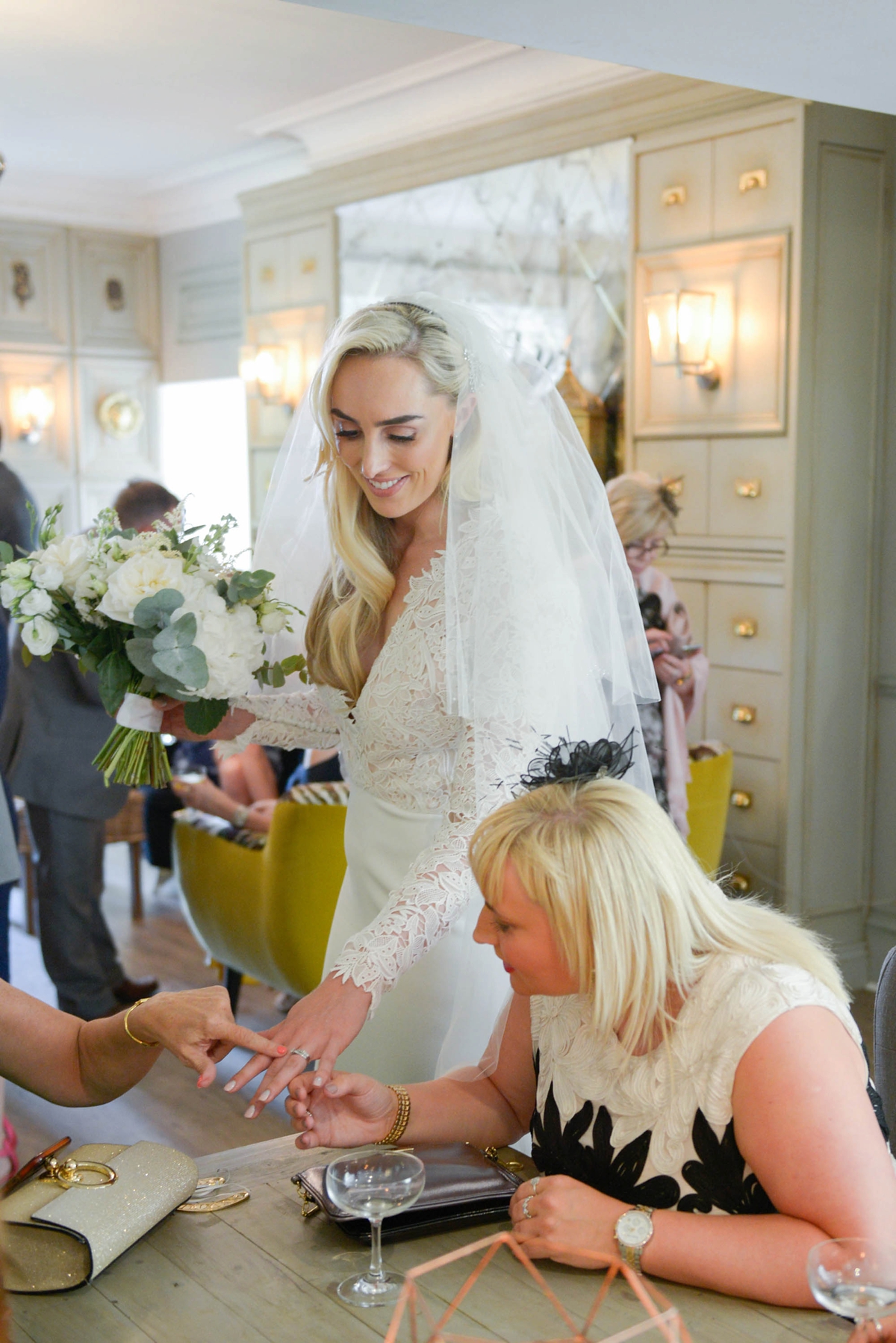 Homemade by Gingers were the creative geniuses behind the couple's delectable cake naked cake.
"We decided on a naked wedding cake in keeping in theme with the simplicity we were aiming to achieve – decorated in flowers from the bridal bouquet. David and I have been customers/fans of Homemade by Gingers for several years and were thrilled when they were the ones to make our wedding cake."
The newlyweds kicked off their party with sun-down cocktails and the smooth sounds of Joe Reeve Saxophonist, followed by The Funk Collective who played well into the night and thoroughly entertained the guests … and the bride!
"Although I loved all aspects of the day for different reasons, I really enjoyed the evening when our dance floor was full of our family and friends all there to celebrate our marriage and enjoying it as much as we were. The band were amazing and really interacted with the guests well with a great variety of songs."
"Our first dance song was an amalgamation of an original and an acoustic version of a song called 'Sonnentanz' by Klangkarusell; a song we fell in love with when I surprised David with a trip to Ibiza for his 30th Birthday in 2015."
Words of Wedded Wisdom
"Don't sweat the small stuff. Things will go wrong or not as you planned on the day, I think it's important to not let these things affect your day, your guests will be none the wiser if a certain song isn't played on cue or if one of your page boys gets stage fright; just roll with it and enjoy!"
"I love the diversity and variety of real weddings that you include in your blog. I would find myself religiously checking your blog in the lead up to the wedding especially for inspiration and ideas. Hopefully, other brides can take some inspiration from what was a perfect day for us."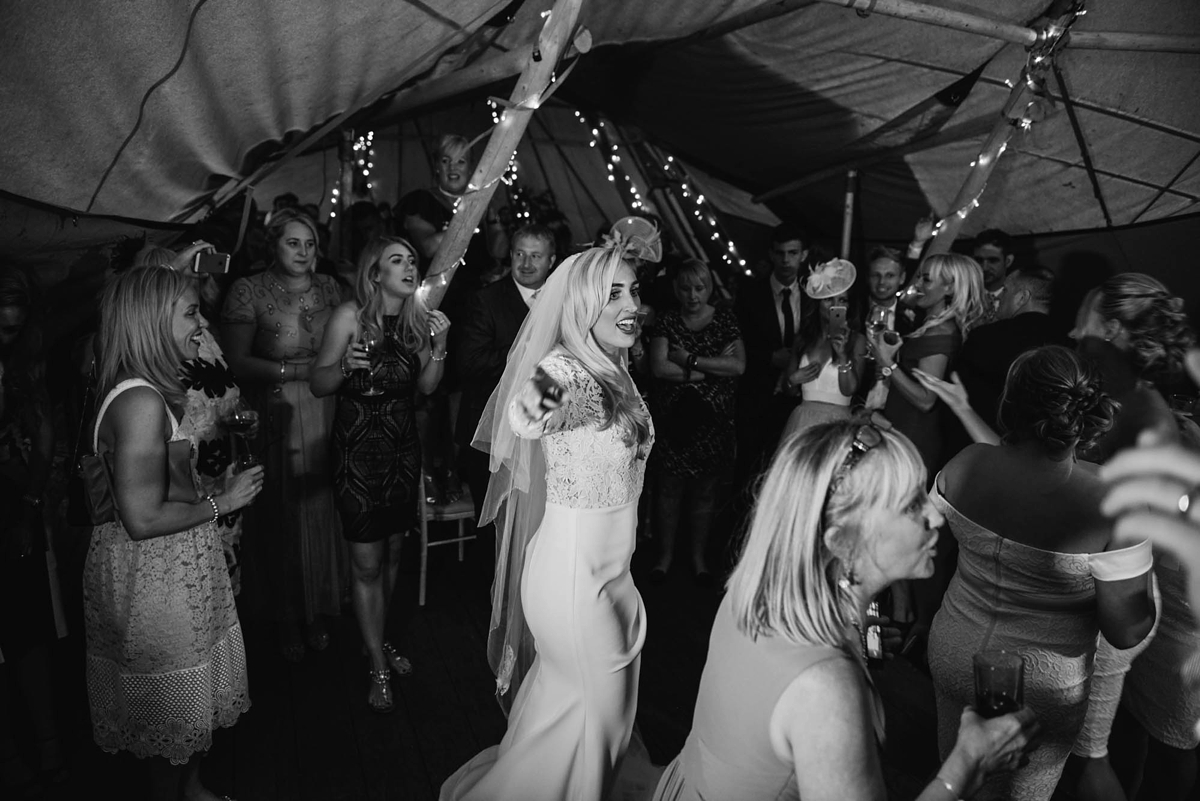 "Luckily, we were given some great advice prior to the wedding by married couples to make sure we set aside time by ourselves to savour the moment. Fortunately, the drive from the cathedral to Woodhill Hall was 45 minutes long so we had that time to sit, just the two of us, and enjoy the moment."
"On reflection, the only thing I would have changed would be to not drink champagne on the journey to the church. I had to stop at a pub en route to the cathedral to use the toilet where I accidentally gatecrashed another wedding party!"
"Foolishly or not, we never had an official budget but we definitely spent more than our original estimations; maybe a budget would have been a good idea. Whilst planning, we did start to cut back on minor details that were costly and time consuming and wouldn't massively impact the day."
Oh lovely Faye, you can count on your beautiful wedding inspiring our gorgeous readers! Thank you so much for allowing us to see all of the very special moments – and a huge thank you to Kimberley for capturing these light-filled pictures and creating magic memories for David and Faye to treasure forever.
Wishing you all a productive rest of week lovely ones.
Love Jo -xo-