Well this is a bit of a shock – it's time for my last feature of the year! When and how on earth did that happen? I can't begin to thank Annabel enough for inviting me to be a part of Love My Dress this year and I'm excited to say that I'll be back and gracing these very pages again in 2018.
Anyhoo, before we get carried away with the seasonal festivities, let's just talk about your wedding one last time, shall we?
Is it all-consuming and taking up too much headspace? Do you spend your waking hours (and even sleeping hours!) agonizing over even the smallest decision? Are you suffering from Wedding FOMO?
If you've answered yes to any or all of the above, then there's every chance you're totally overthinking your wedding BUT please don't worry, I'm got you covered and I'm here to get you back on track…
Firstly, let me start by saying what overthinking your wedding isn't. It isn't surprising. Not in the slightest. You see, whether you're going all out or eloping and having an intimate celebration, you're getting married and that's a BIG deal. It's therefore absolutely normal to want such an important day to be brilliant and I'm definitely not here to tell you to care less.
Image by David Jenkins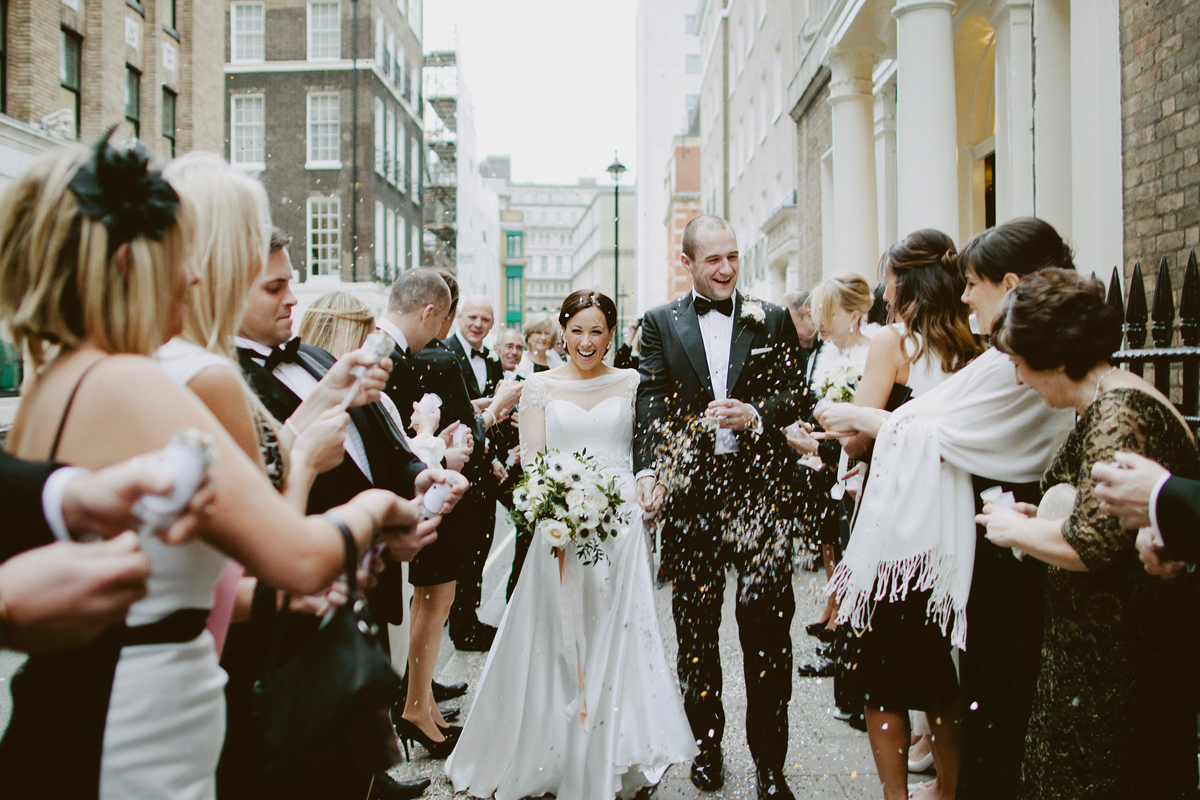 Overthinking your wedding also isn't surprising given how much we can surround ourselves by all things matrimonial. It wasn't that long ago when you had to wait for your bi-monthly fix of wedding magazines whereas now, you can indulge online any time you like.
We all know how great social media can be for showing us things we didn't know about or giving us confidence to try something new and that's why blogs such as Love My Dress are so brilliant. On the flip side, it's getting harder and harder to get distance from weddings when you're literally carrying the entire industry around in your pocket. And don't even get me started on Pinterest!
So, overthinking your wedding isn't surprising at all. If you're doing it, you're not the only one and I completely understand why. A little time off is important though and with the festive break rapidly approaching I wanted to tell / show you that it doesn't have to be this way all the time.
If you're sitting there reading this feature and nodding your head in agreement, then now's the time to stop and re-evaluate what's been going on. It's likely that you've gradually gotten to the point that you're at now without really noticing and that's what makes overthinking so tough. If it happened suddenly, you or your partner would notice. When it slowly creeps up on you, it's far harder to recognise. But, let's be honest, you know you're doing it…
Image by Hannah Duffy
Now we've faced up to what's going on (without any blame, guilt or recriminations!) let's move forward shall we? Here's my guide to avoiding (or at least minimizing) overthinking:
Be decisive
Nothing kills overthinking quite like decisiveness. If you're choosing suppliers, do your research and make a decision. If you're looking at dresses, try them on and make a decision. If you're selecting menus, taste the options and make a decision. Are you noticing a pattern here by any chance?! If you want to stop overthinking, then make your choice and move on. Don't keep browsing online, wondering if what you've just found is better and don't let anything knock your confidence. You made the decision with all the information to hand.
Just keep looking forward, move on to the next thing on the list and get to work on that. You'll find you'll have so much more time if you tick something off and move right on.
Don't ask for too many opinions
It's always tempting to ask for opinions when you're planning your wedding and I totally get that. You want the reassurance that your ideas and decisions are good ones and it's highly likely that you've never organised anything like this before so just checking in with your friends and family can give you the reassurance you want. Well, it can be useful, or it can just mess with your head even more. Ask 10 people what they think and you're likely to get 10 different answers. So now you've got 10 ideas plus your original thoughts to manage AND 10 people who are now invested in your decision.
Will you take their suggestion and if you don't, why won't you? You can see the potential can of worms right there and you're still none the wiser about what to do! If you need an opinion on anything from your dress to your venue to the details or seating plan, ask one or two trusted friends at most. Don't ask them for their ideas, give them your ideas as choices and see what they pick. And remember, you don't have to take advice just because it's been given.
The Peril of Pinterest
So, you got me started on this subject! Pinterest is a blessing and a curse in huge and equal measures. Yes, we love it for the inspiration, the tutorials and the practical aspect of saving all your ideas in one place. We also need to be very careful that it doesn't make us unhappy, go over-budget or continually feel dissatisfied with our own plans. I adore Pinterest but really, it should come with a health warning when you're planning your wedding because until you're strict with yourself, it will have you overthinking in no time at all. You have been warned!
Details, details, details!
As a wedding planner, I'm all about the details because that's just how my head works and it's also my job! However, I also know that for some people, the detail is nothing but another source of stress and that's usually because you're overthinking it. Again, we know that there's so much choice out there and so many options and everyone always wants to do 'something different'. But, before you start another DIY at 1am or turn down a night out with your partner because you need to repot the succulents you're using as favours, stop.
Will what you're doing be noticed? Will it make a significant difference to the day or to your married life? If the answer is no, you can absolutely let this go. I understand that you might not want to but know this – a happy bride who's enjoying her wedding day is more attractive, more wonderful and more memorable to guests than the ribbons around the napkins.
* Another option here is to ask or hire someone (a Wedding Stylist) who does have the time to revel in your details! You can find a fabulous selection of planners and stylists on the Little Book for Brides directory.
Take time out from wedding planning
This is absolutely essential! Your wedding cannot and should not consume all your time from engagement to ceremony. Yes, it takes time to plan a wedding, but it should not rule your life. Make sure that you take time out to do things for yourself and / or as a couple. When I was planning my own wedding, I used to go for a run every evening to clear my head and to stop thinking about my wedding – that sweaty time to myself was invaluable and something that I continue to this day. Time away from wedding planning creates perspective, it'll give you some essential head space and allow you to focus on what's really important.
Ask for advice
Now this one might sound a little strange, especially given my previous advice about not asking for opinions so please stick with me on this one… If you want advice on something that's really bothering you, ask for advice from a supplier. Don't feel like you have to Google endlessly to find out how many flowers you need to order to decorate your cake, ask your florist or ask your cake maker. Forget trying to work out how long it's going to take to serve a three-course meal to 125 guests, ask your venue or your caterer. Go directly to the experts who can help you and at the same you'll know that the information you get is right.
Be confident
It can be tough to feel confident when you're in an entirely new space. Walking into the wedding planning world can feel like you're arriving late to a party when everyone else knows just what's going on and are, in fact, speaking an entirely new language. But, you know you better than anyone else. You know what style of wedding you want, how much you've got to spend and all the ins and outs of your families, relationships, personal likes and dislikes and all the other things that you need to think about when you're arranging your wedding.
So, be confident in your choices and be sure that you've made the best decision based on all this information that you have that no one else does. Accept that whilst some people might not love your plans and ideas as much as you do, as long as you think they're great, that's really all that matters. You're planning your wedding for you and for your partner, not for endless approval from everyone else. Be confident because you've got this.
The really important part
There's really only one important part of a wedding and that's that you say 'I do' to the person that you love, surrounded by your nearest and dearest. The rest, dare I say it, is window dressing. Beautiful, fabulous and enjoyable window dressing but window dressing nonetheless. Nothing else aside from that ceremony is essential, nothing else is mandatory and nothing else really matters. Focus on the one part of the day that will change your life and everything else is a bonus.
So, there we have it, a guide to getting back to your wedding and the joy of wedding planning. Nothing will kill your enjoyment of the day and the journey to that moment quite like overthinking every single thing. It stops it being special and it stops it being magical. Don't self-sabotage your own wedding day and if you make just one wedding planning resolution for the New Year, it should be this – I will not overthink my wedding!
Have the most amazing festive period, whatever your plans, and I'll be back with you in 2018!
Love,
Kat x