This weekend I had the pleasure of travelling down to Worcester to spend the weekend with my god-daughter and her family for our annual Christmas tree-putting up and decorating session. We also got thoroughly festive with a wander around the local Christmas Market.
I hope you all had lovely weekends, too. There is such a treat in store for you lovelies today; an early Christmas present from Love My Dress HQ. So, make yourself a cup of tea (or hot chocolate!) and soak up all of the exquisite details of this glamorous wedding. Let's meet Rebecca, an executive assistant and Craig, a senior rail engineer, who married in the height of summer on 24 August 2017. The eagle-eyed amongst you may already have identified their magnificent venue as Aynhoe Park, Banbury, Oxfordshire. With such a quirky, individual venue, the couple chose to let its beauty and character set the tone for the day, adding minimal, elegant details in soft pastels and warm copper tones for a sophisticated and glamorous style.
The couple's stationery, designed by one of our absolute favourite designers E.Y.I. Love (check them out on Little Book for Brides here) set the tone for the day, with its sophisticated copper foiling and minimal style that combines modern with classic elegance.
"Aynhoe Park is such an eccentric and incredible place that pretty much speaks for itself. We wanted to keep things quite minimal and not do anything overly fussy as we were conscious of taking away the beauty of all the weird and wonderful treasures inside."
Photography Craig & Eva Sanders Photography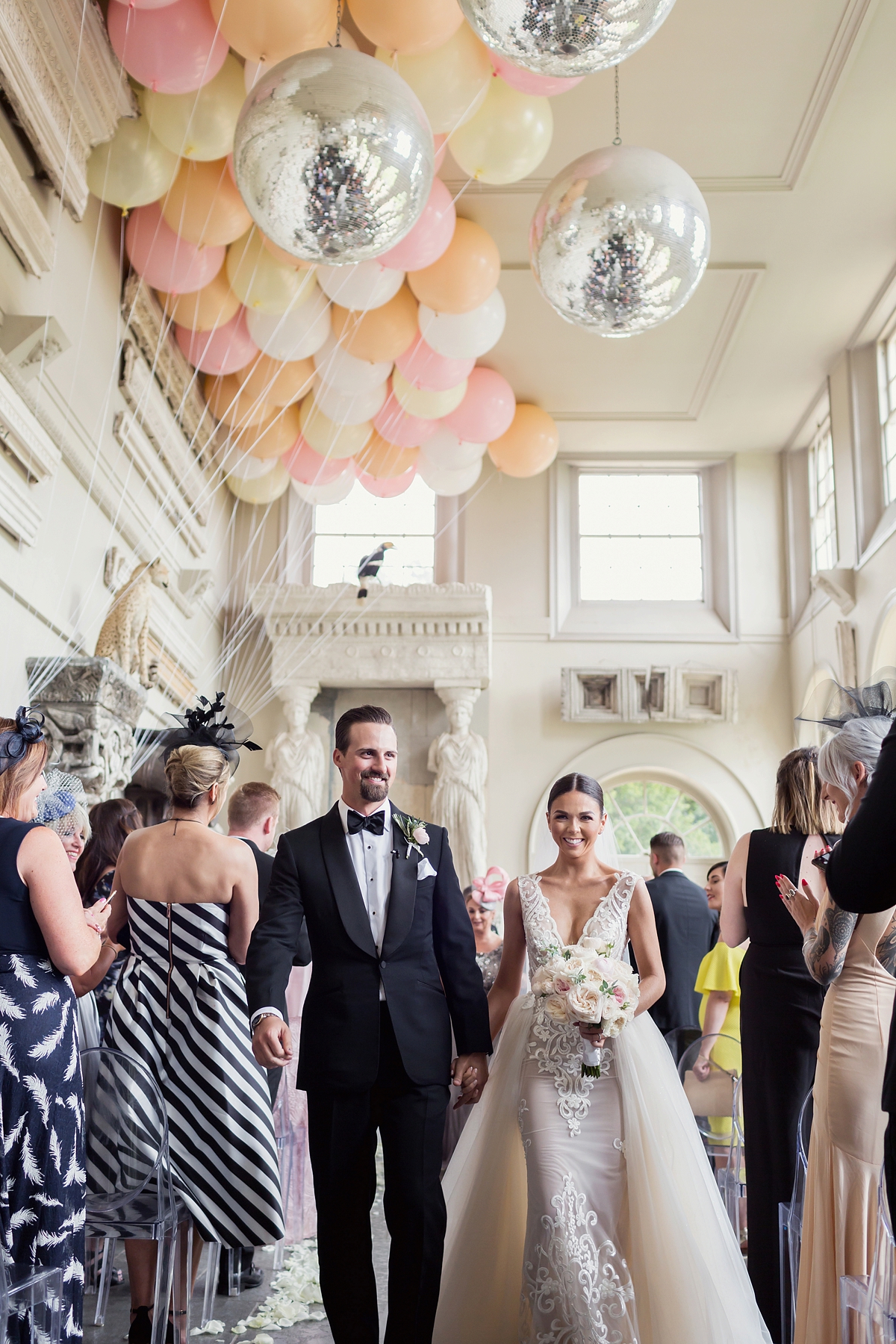 I am smitten with these photographs of Rebecca and her bridesmaids getting ready, and I love that they found time to enjoy their surroundings during the morning too, as captured by photographers Craig and Eva Sanders. For more information about Craig & Eva Sanders you can visit their Little Book for Brides listing and view more Love My Dress weddings captured by them here.
"There are honestly no words that can describe how incredible Craig and Eva are. Aside from being literally the nicest couple ever who also share our love for Game of Thrones, they are absolutely amazing at what they do. My sister got married eight years ago and actually used to work with Craig so I knew their work was amazing and they would be the perfect addition to our day. As soon, (literally) as we got back from our holiday after getting engaged I was straight onto the emails to them to secure our day. The whole process was a dream with them from start to finish. On the day, their impeccable attention to detail was second to none, we couldn't have wished for more."
We absolutely adore stationery designers E.Y.I. Love and their exquisite attention to detail. We have lots of beautiful samples at the Love My Dress offices and can tell you first hand how luxurious they are. For anyone with a penchant for stationery, these designs are the absolute dream.
The couple originally met at school where they were in classes four years apart, eventually getting together after a night out.
"Craig had worked down in London since he was eighteen but it so happened that he was back in Leeds one weekend. I went to university there, was out with some friends and we ended up bumping into each other in a bar! We exchanged numbers and three years later after having endured a long-distance relationship I moved to London. Craig finally got down on one knee and we got engaged on holiday in the Caribbean, Christmas 2014."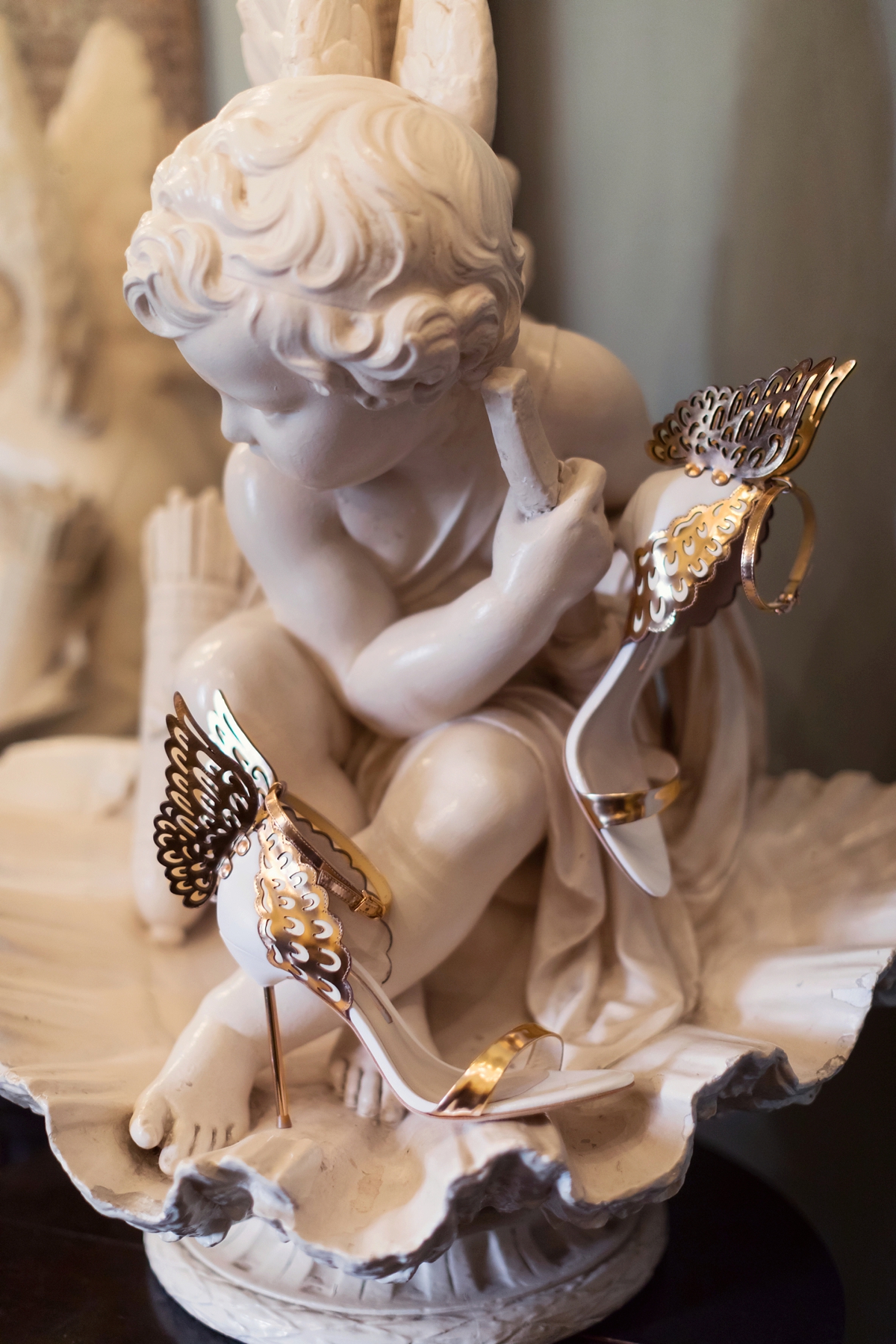 For all those brides looking to make a real statement with the gown, please take inspiration from Rebecca. She chose an exquisitely embellished gown embellished by Berta, showing off her fabulous figure with a daring V-front and an open V-back.
From soft and romantic to sexy and sophisticated, the bride switched up her look for the evening by removing the sparkling tulle skirt and revealing the gown's sleek, fishtail silhouette.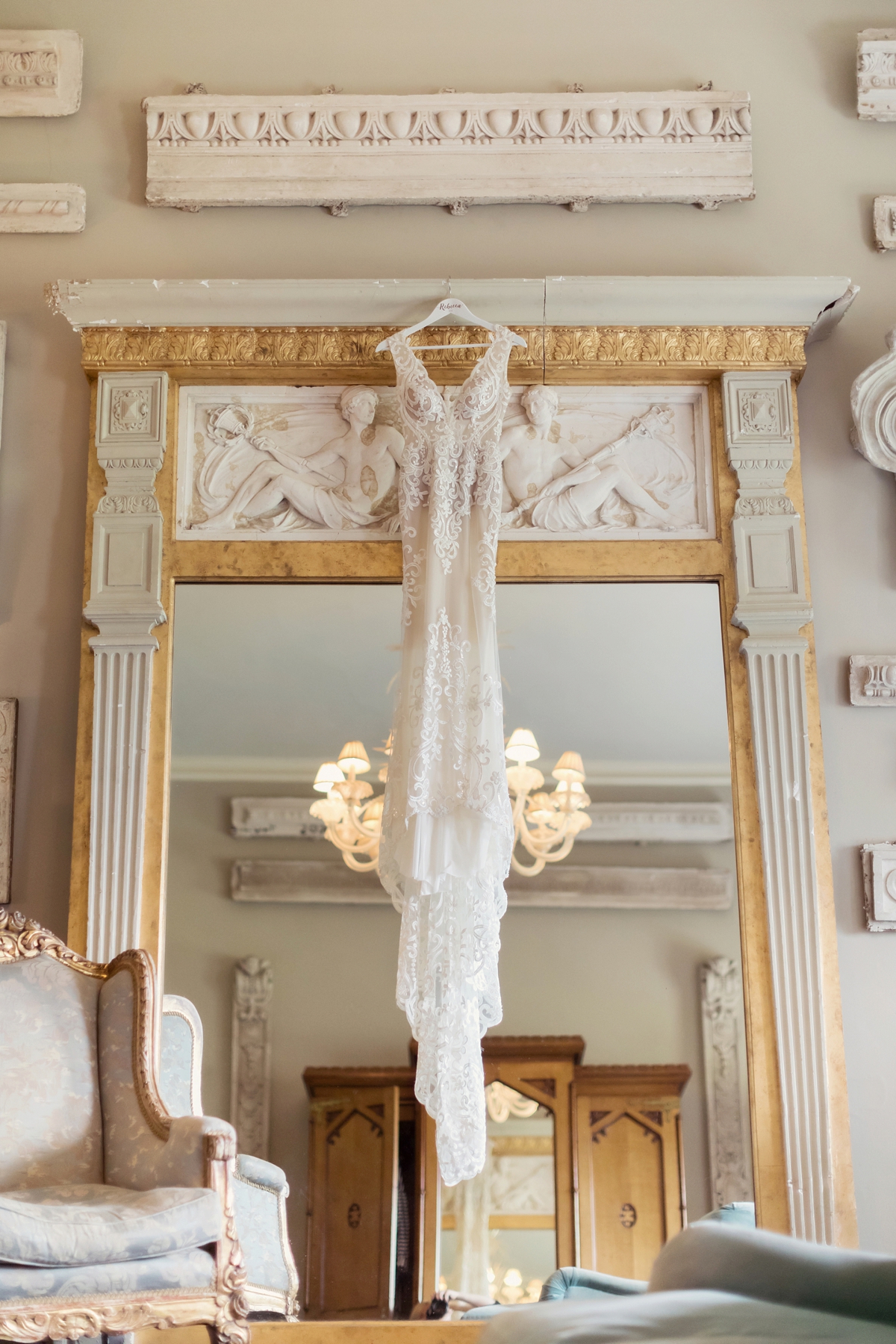 "I fell in love with Berta the moment my mum showed me her dresses. I spent around a year and a half finding my dream dress. I had heard about The Wedding Club prior to knowing they stocked Berta so once I did, I immediately had to book an appointment. Two trunk shows and a European launch event later, I had found my dress!"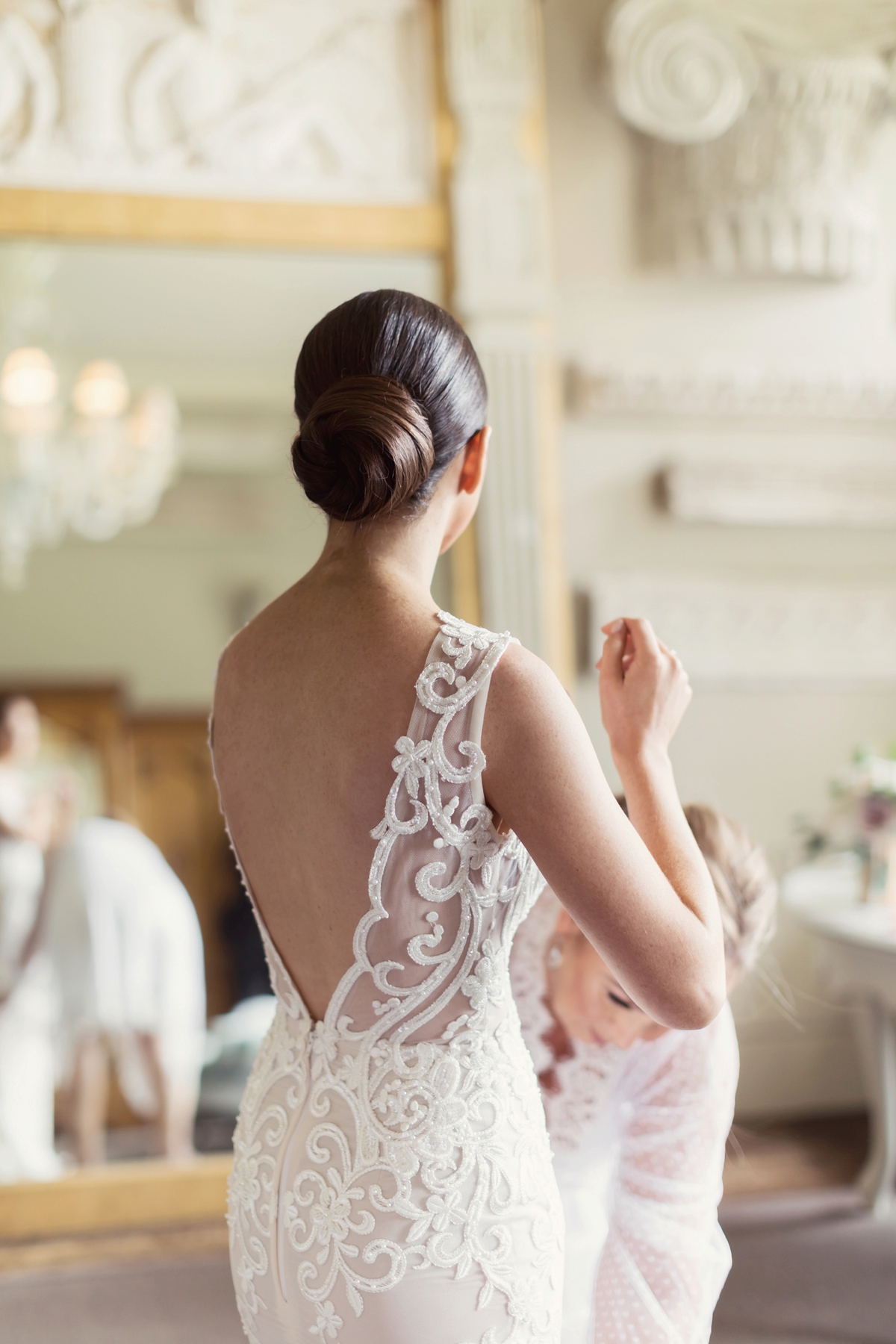 "I did try on a few other dresses which just weren't right however my biggest piece of advice is to go in with an open mind. I had a pretty good idea of what suited me  going into this process, and you can be surprised what you end up loving. My dress I had seen initially on the model at the Knightsbridge store and I had it in my screenshot selection but seeing it in the flesh, I loved it even more. I adore the fact it can be two dresses in one. The luxurious sparkle tulle adds that drama and the intricate lace and beading keeps it classic and elegant. Once I took my skirt off for the party, people couldn't believe it!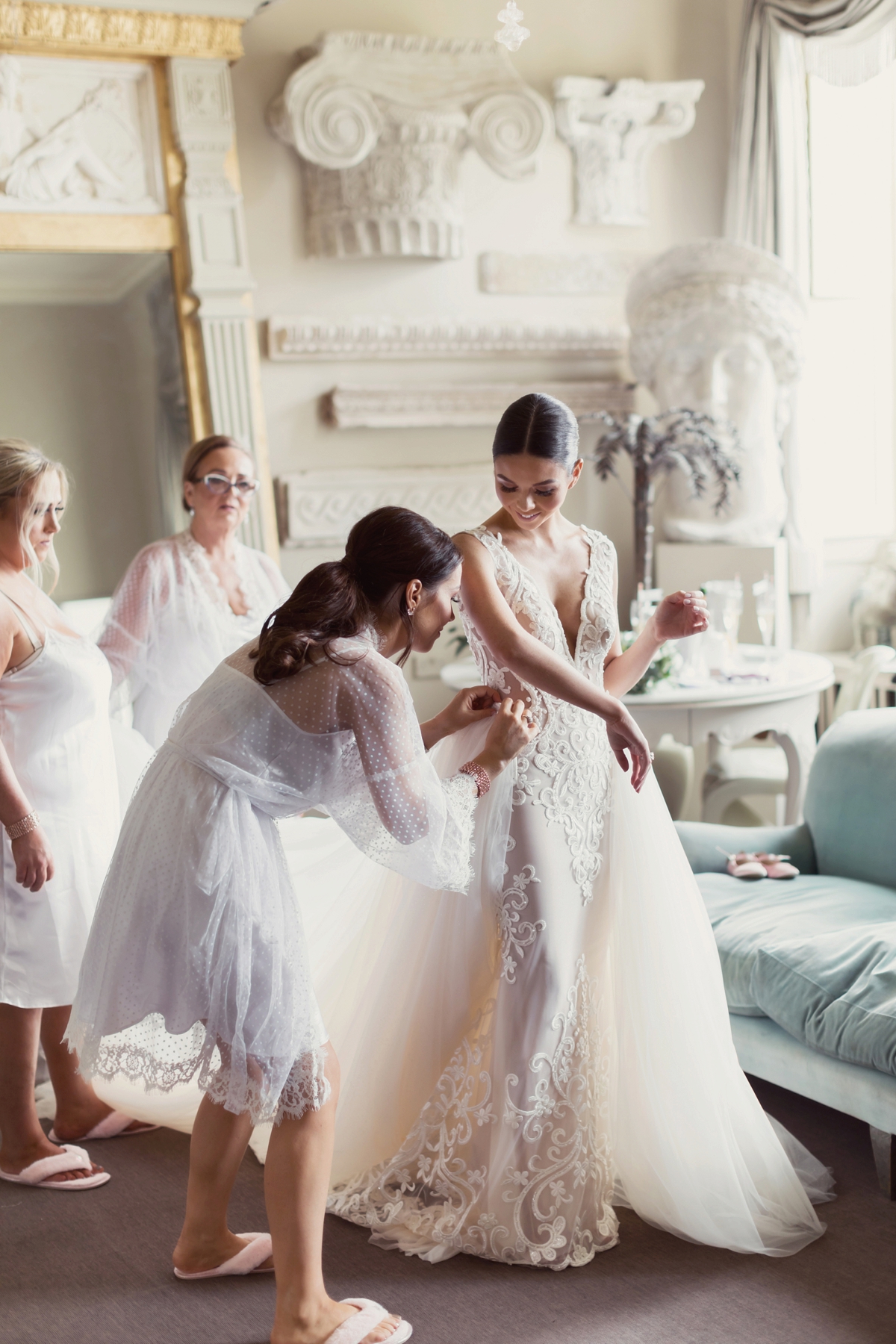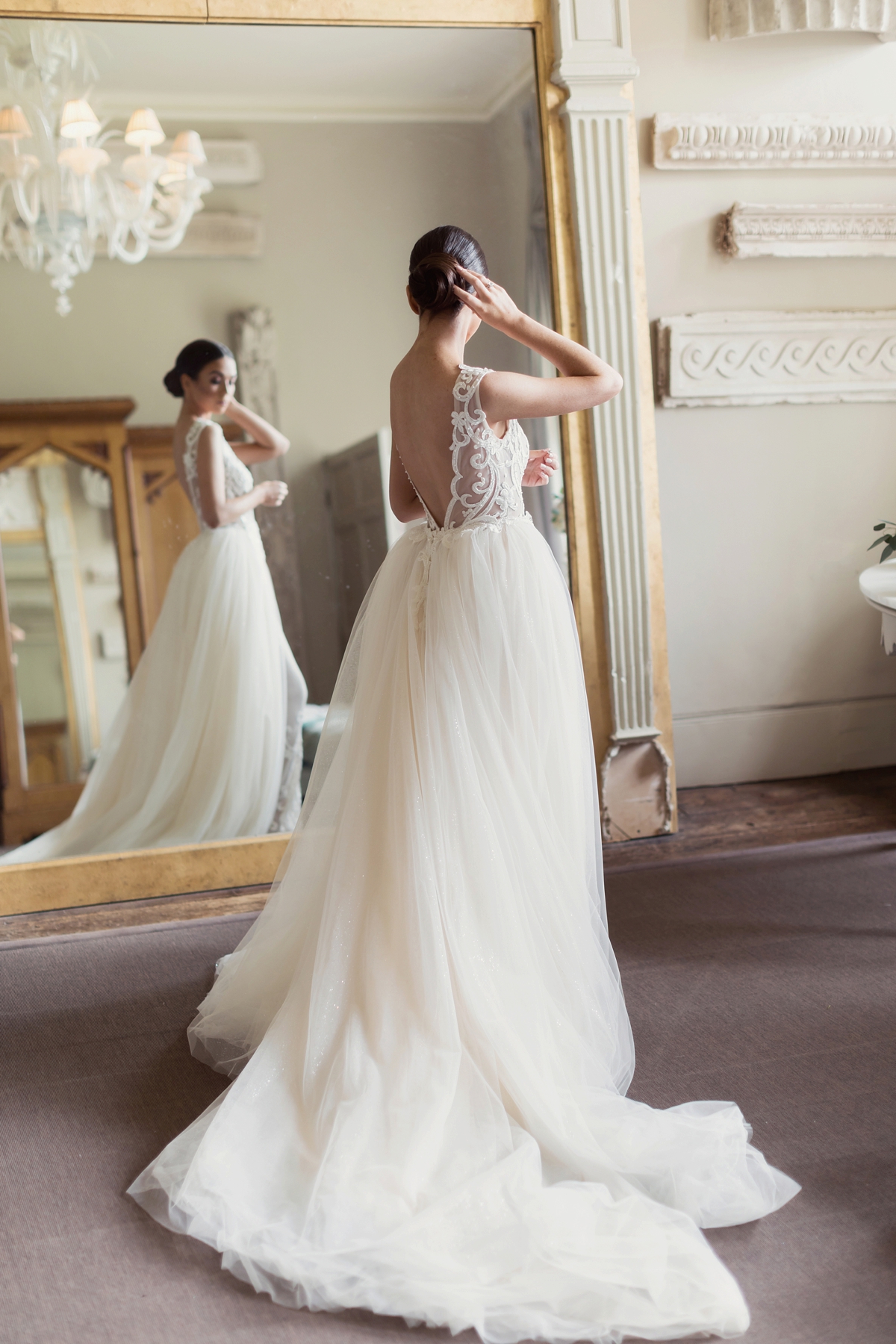 With such a detailed gown, Rebecca wisely kept her hair and make-up sleek and pared back yet dramatic. I love how her dark hair has been twisted into an elegant chignon, and a simple dark eye and nude lip looks so glamorous.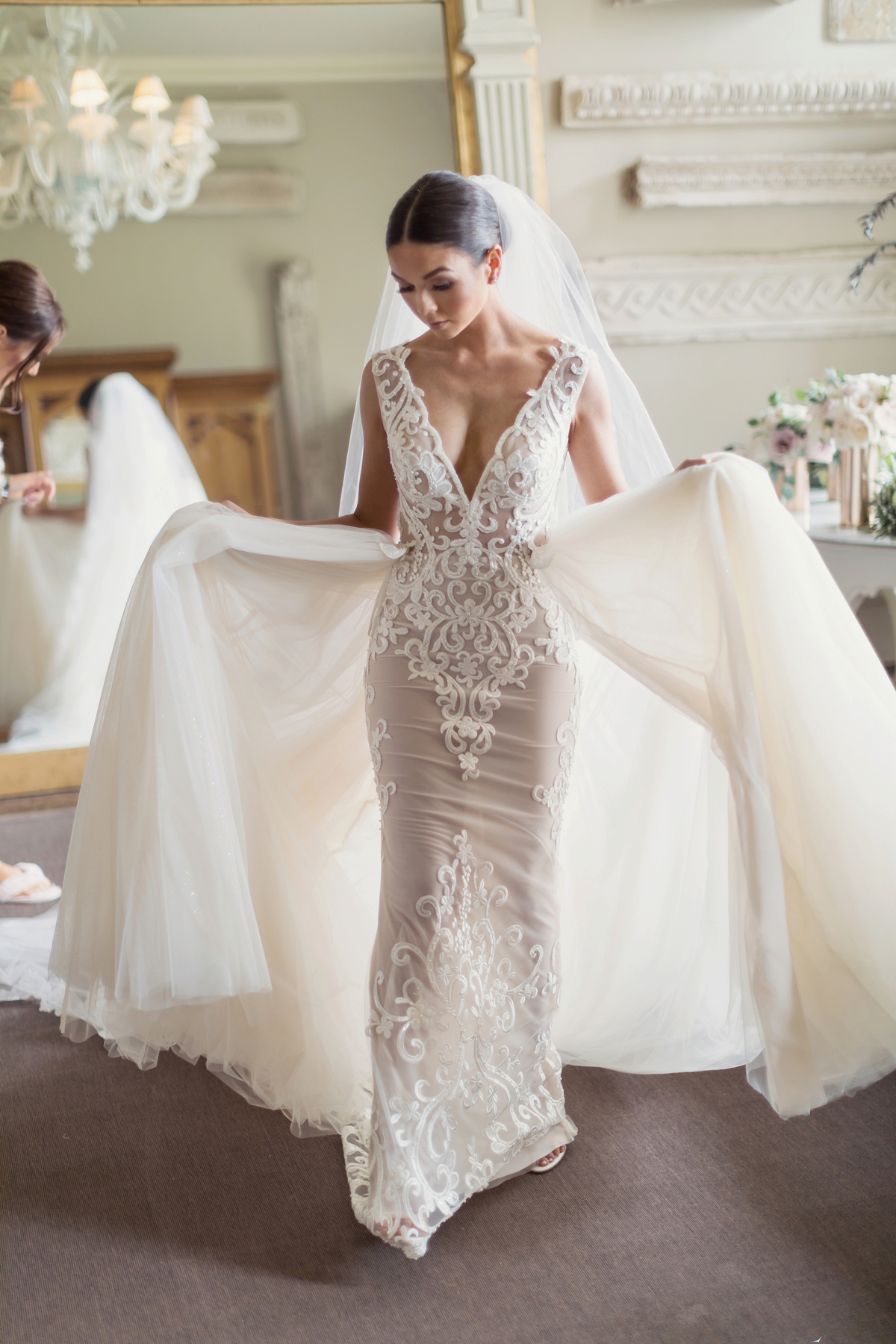 The bride's veil really added to her dramatic, show-stopping look – a frothy, flowing creation by Your Heirloom Veil whose heavy-laced edging looks wonderful, especially in the elegant rooms of Aynhoe Park. She took off her veil later in the day and added this unusual Valentina crown by Studio Aniss. Seriously, how stylish can this bride get?!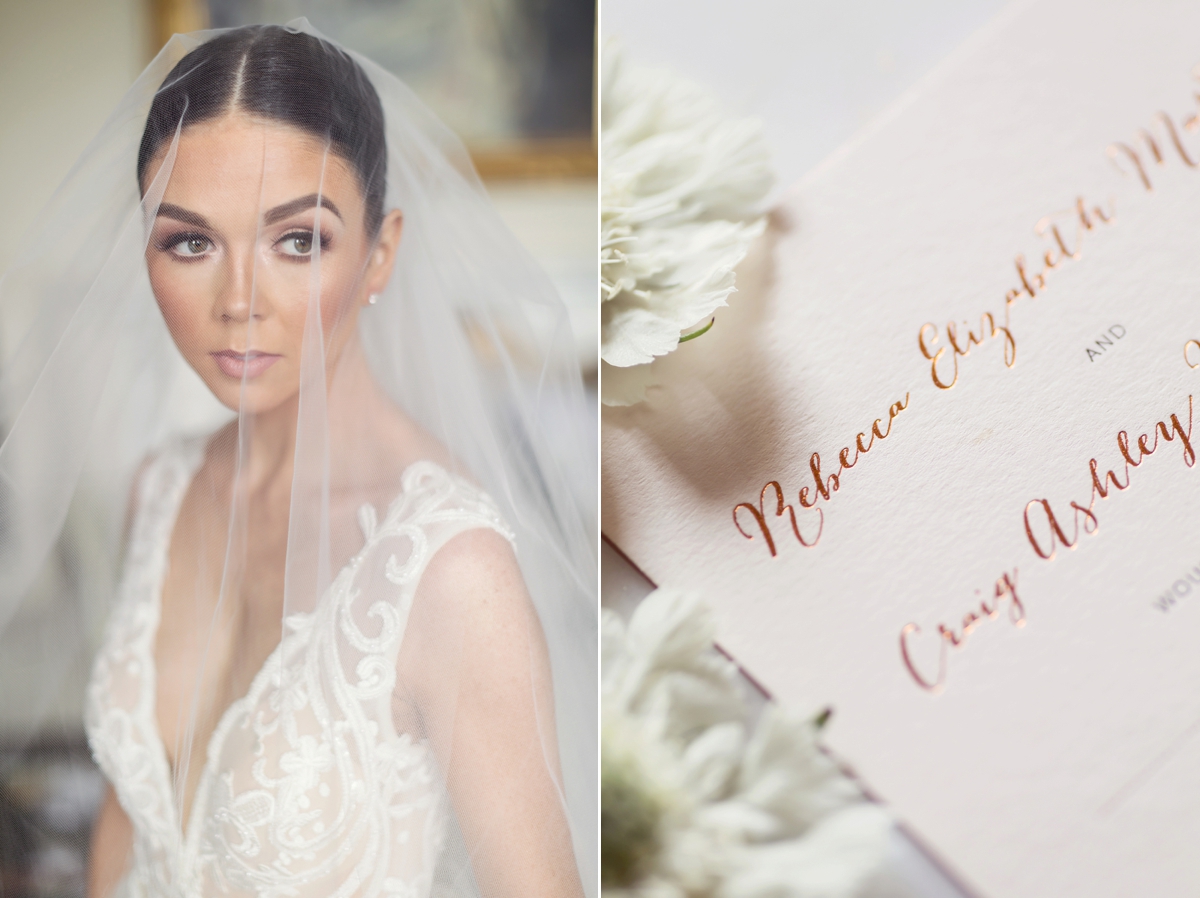 Her metallic winged Sophia Webster shoes have given my instant shoe envy. Are any of you lovelies planning to buy an extra-special pair of heels for your day?
The bridesmaids' wore elegant column dresses in a dusky pink tone, perfect with the metallics and creams of the venue styling, found at Fame and Partners. An elegant touch was added with Thea crowns, another Studio Aniss design.
Floral atelier Grandirosa are behind these romantic flowers in soft pastel tones with touches of metallic here and there.
"I found Grandirosa via Instagram through a previous Aynhoe Park wedding. I absolutely loved what they had created and just knew they would be perfect for our day! My ideas changed quite a lot throughout the process, not in terms of the flowers or colours, but more the types of arrangements we opted for."
"Initially I wanted low larger central arrangements, however I really ended up liking the cluster of small detailed vases at different heights with candles and leaves amongst. I didn't want too much of a traditional vibe, but still lots of flowers to add an elegant but modern vibe. We went for copper geometric candle holders and pale eucalyptus foliage which were the perfect tones for our style."
With this majestic back-drop, Craig opted to really dress the part, donning a bespoke tuxedo and shirt from Yardsmen with a crisp black bow tie by Richard James on Saville Row, he looks every inch the film star with his Rolex watch and red-soled Christian Louboutin shoes. The groomsmen and the groom's father and father-in-law wore rented tuxes, also from Yardsmen, with personalised cufflinks gifted to them by Craig.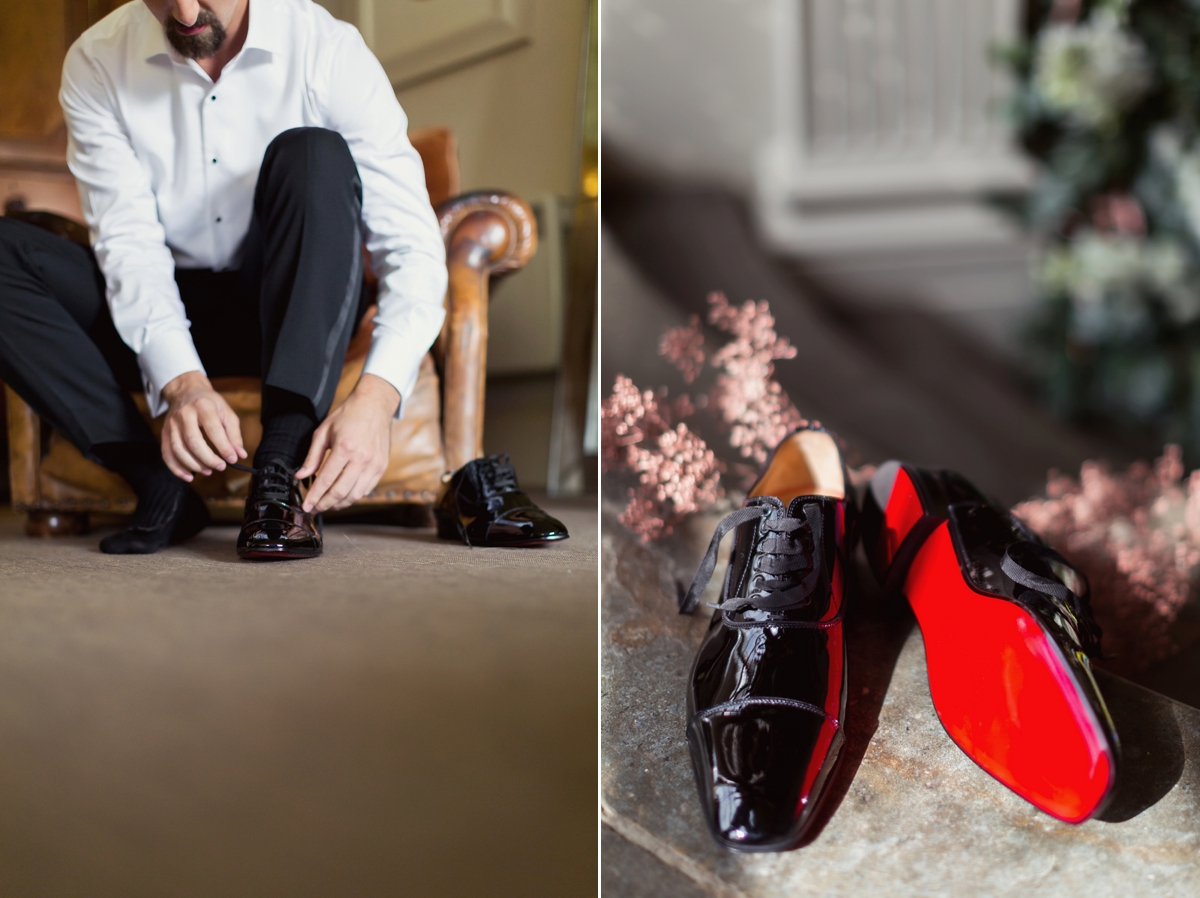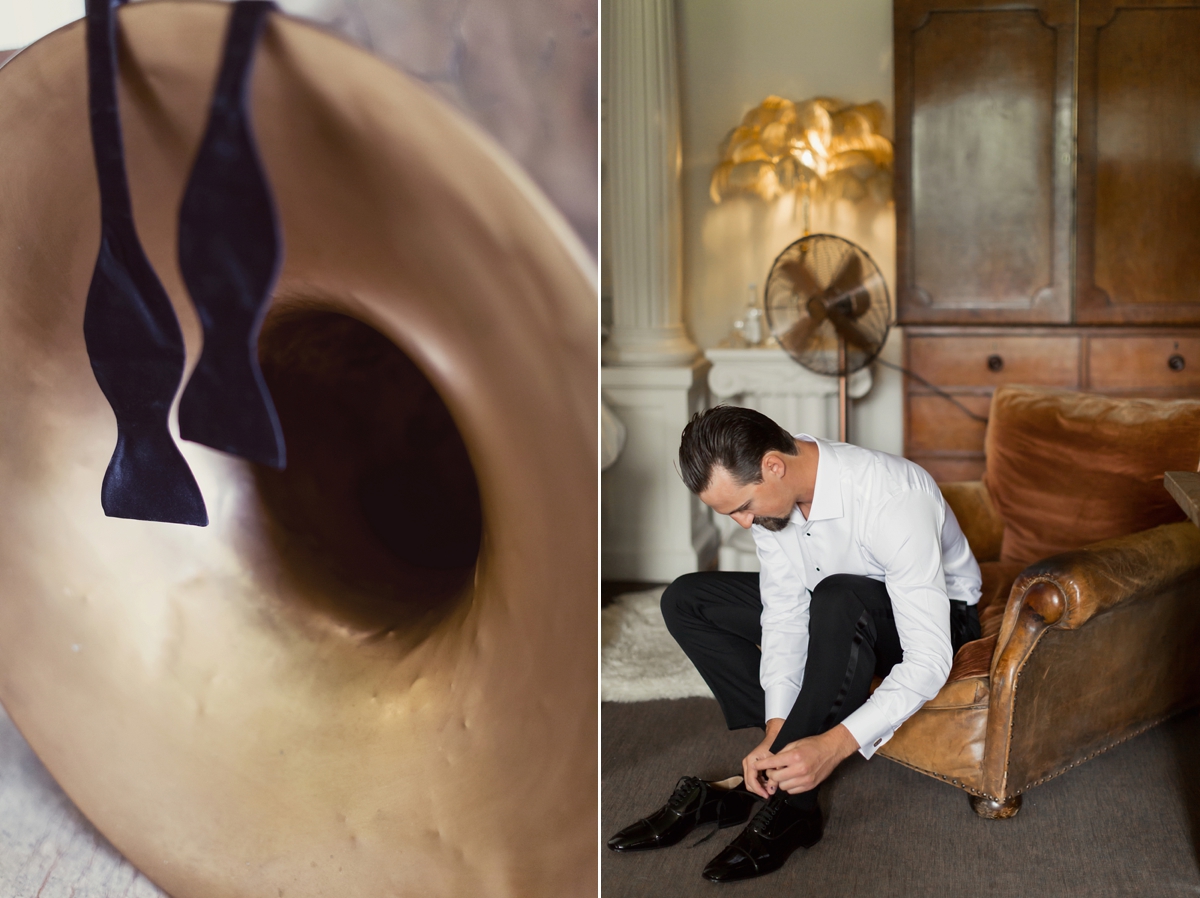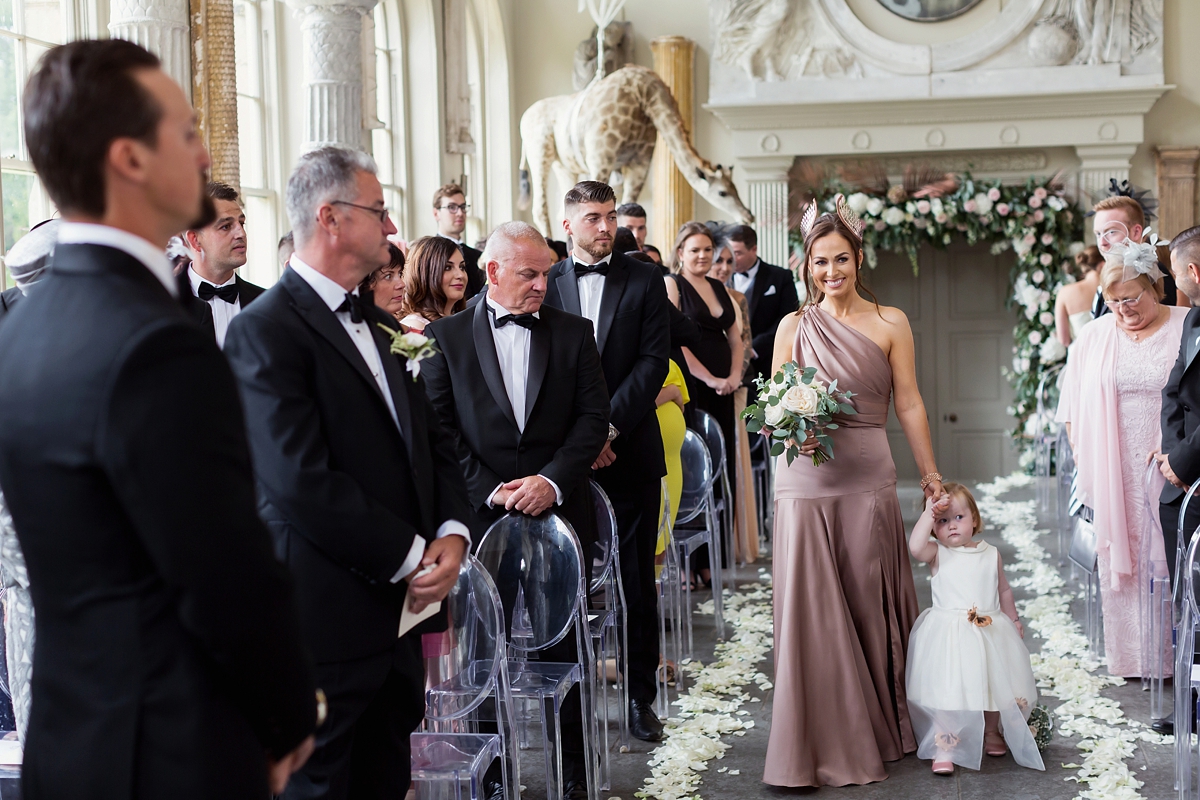 Rebecca entered Aynhoe Park's Orangery on the arm of her father to Pachelbel's 'Canon in D', played by Vyne String Quartet.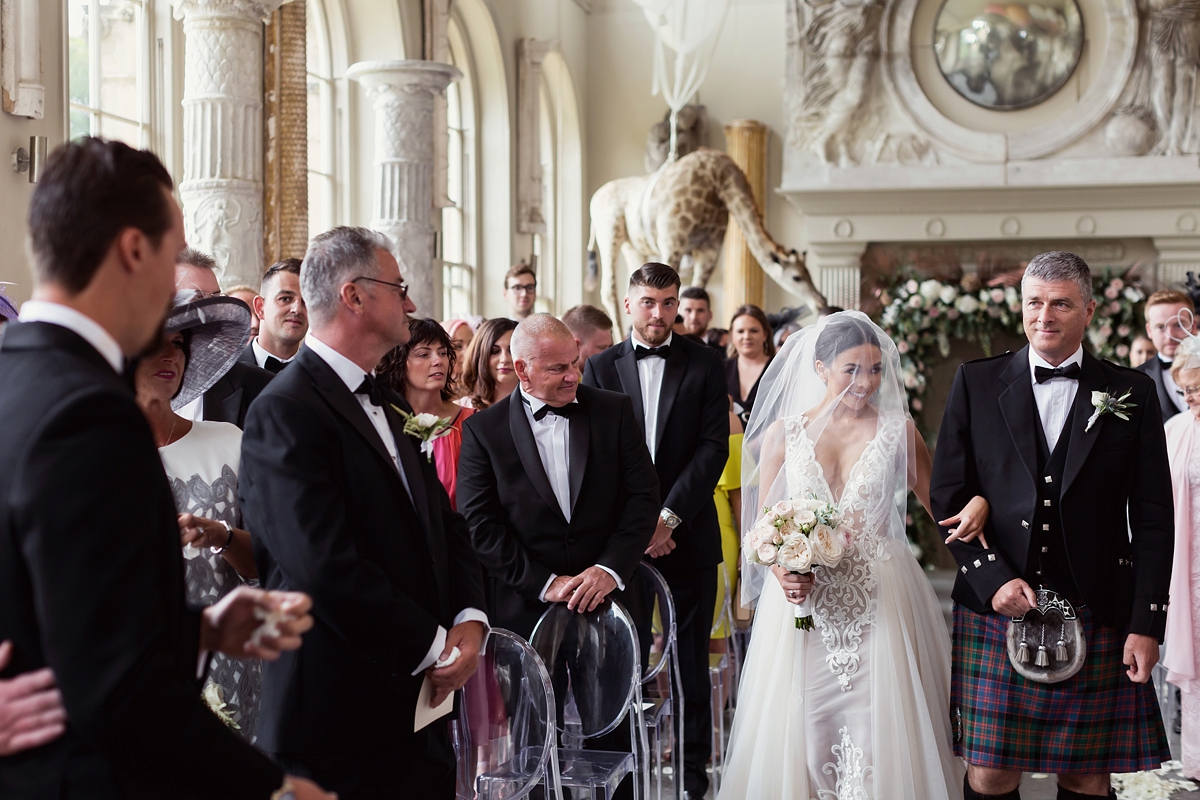 "It's a bit of a tradition, all the girls in my family have walked down the aisle to this, both of my sisters and my cousin. It is honestly one of the most beautiful pieces of music; I had butterflies walking in to this."
An extra surprise was waiting for the bride when she got to the top of the aisle;
"Craig surprised me with a pastel coloured cloud of balloons above me which I didn't even notice until he whispered 'look up'. This will be a moment that I will always remember."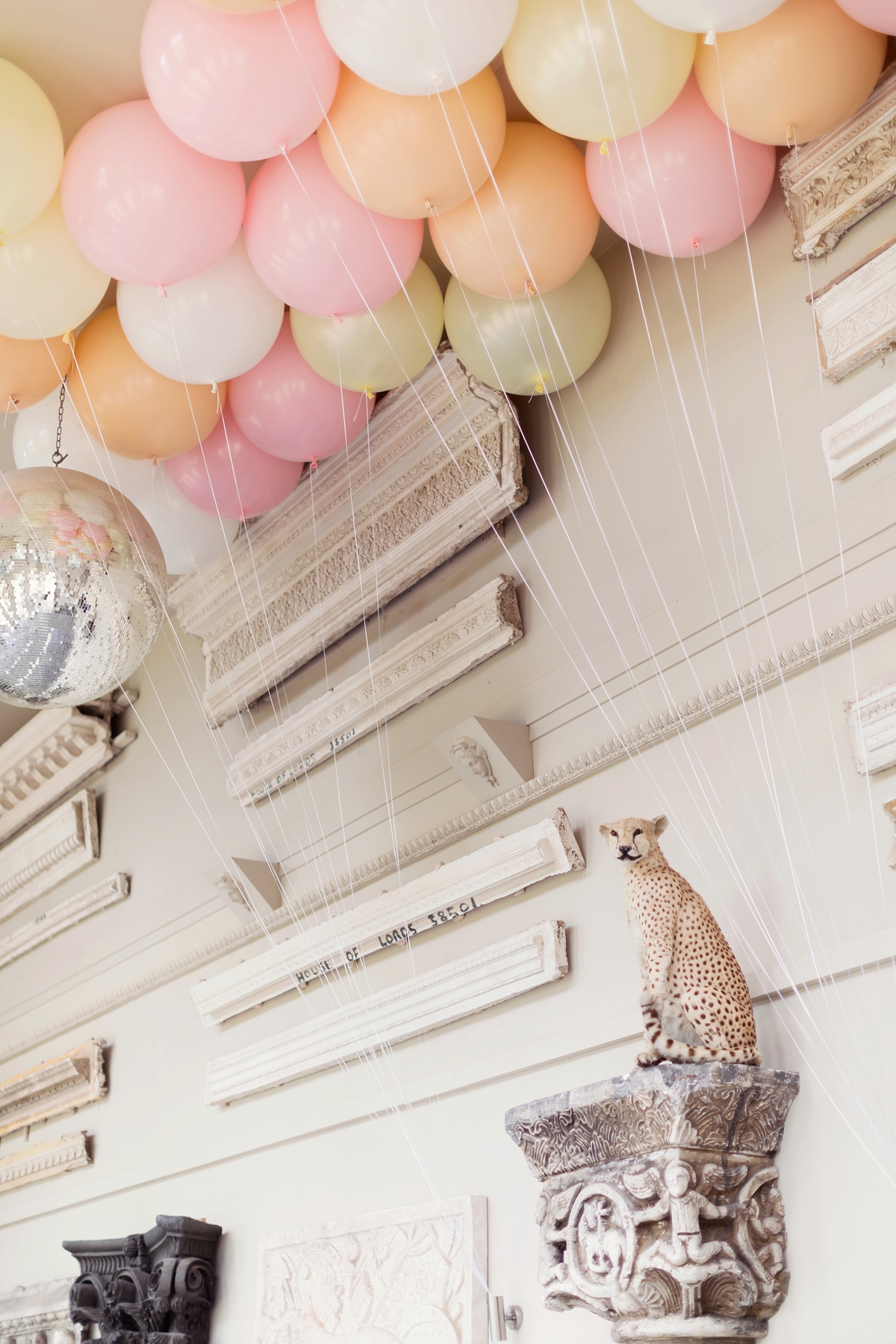 "My sister who was also my bridesmaid did the most beautiful reading – 'Unending Love' by Rabindranath Tagore. My mum had initially found this and when she read it to me, I absolutely loved it. We discovered that it's Audrey Hepburn's favourite poem. She is one of the most classically beautiful women of all time, so it definitely had to be part of our day."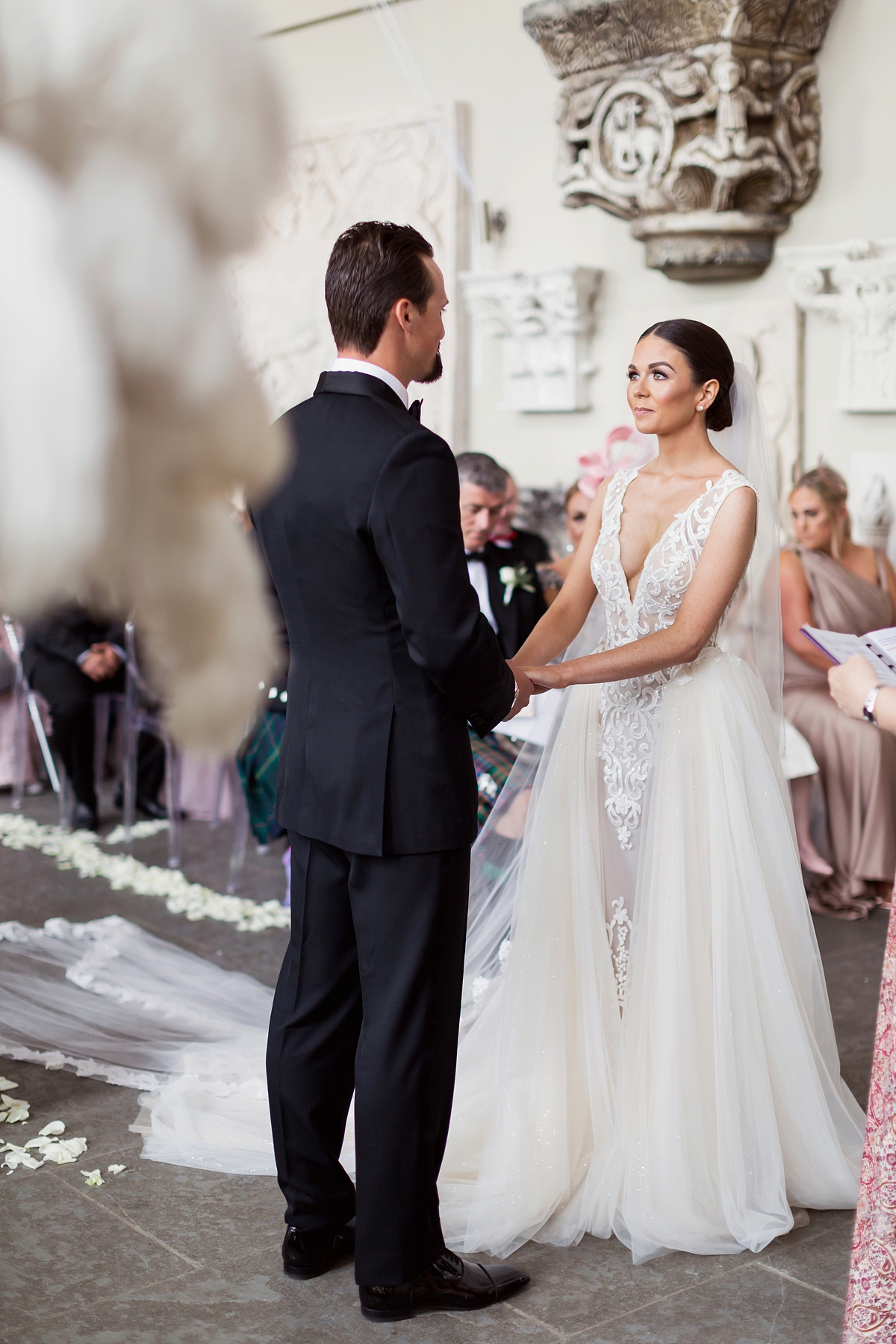 The couple exchanged their perfect rings from 31 Hatton Garden which they hunted for high and low.
"I wanted a diamond eternity band slightly wider than my engagement ring. Craig had his eye on a yellow gold plain band. All sounds so simple, but with shop after shop in Hatton Garden, it's easy to become overwhelmed. We came across 31 Hatton Garden, a family-run business, merely by chance where I spotted a band in the window. They were friendly, helpful and could offer us exactly what we were looking for. I have super tiny fingers so six weeks later when I received my band that actually fitted I was thrilled!"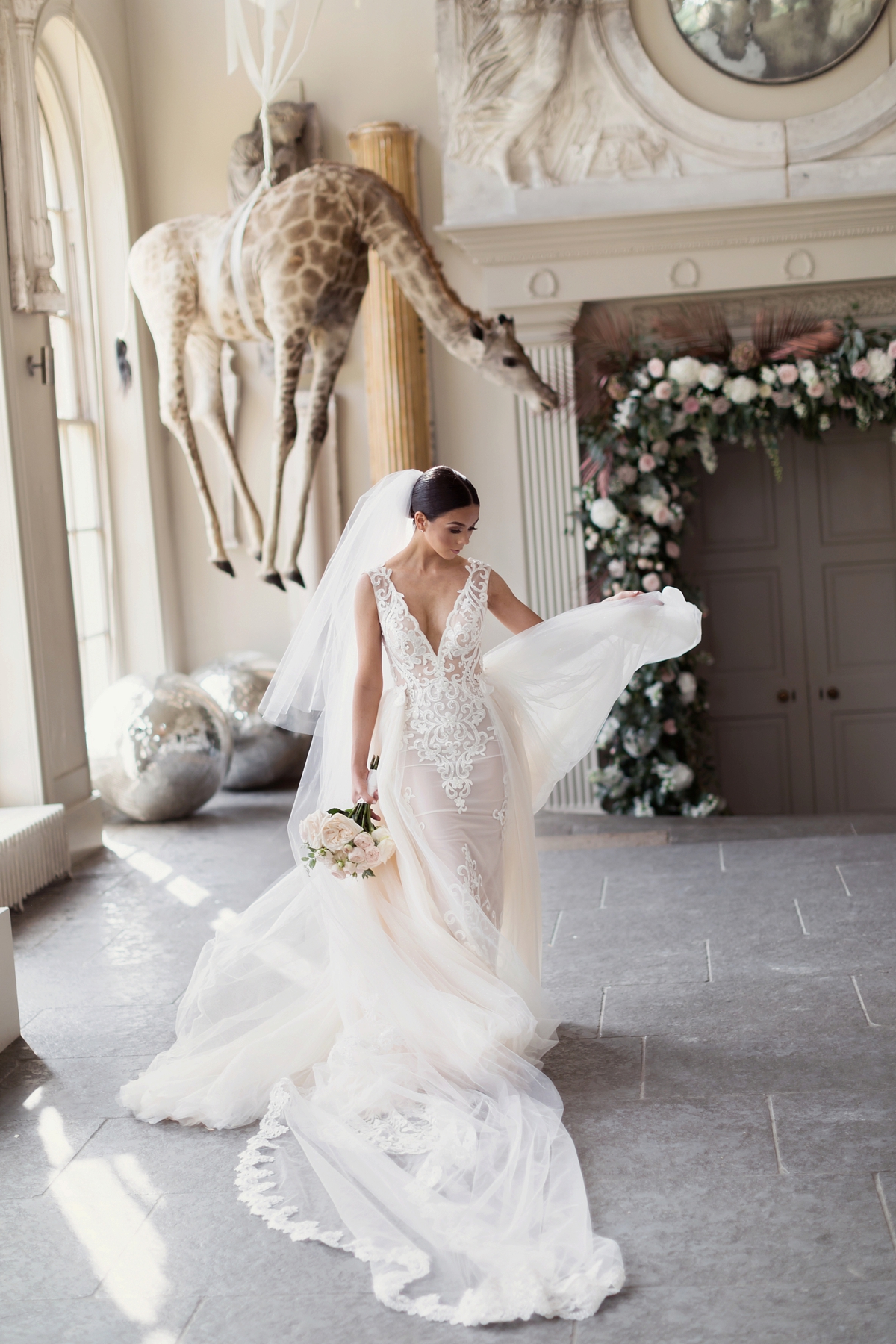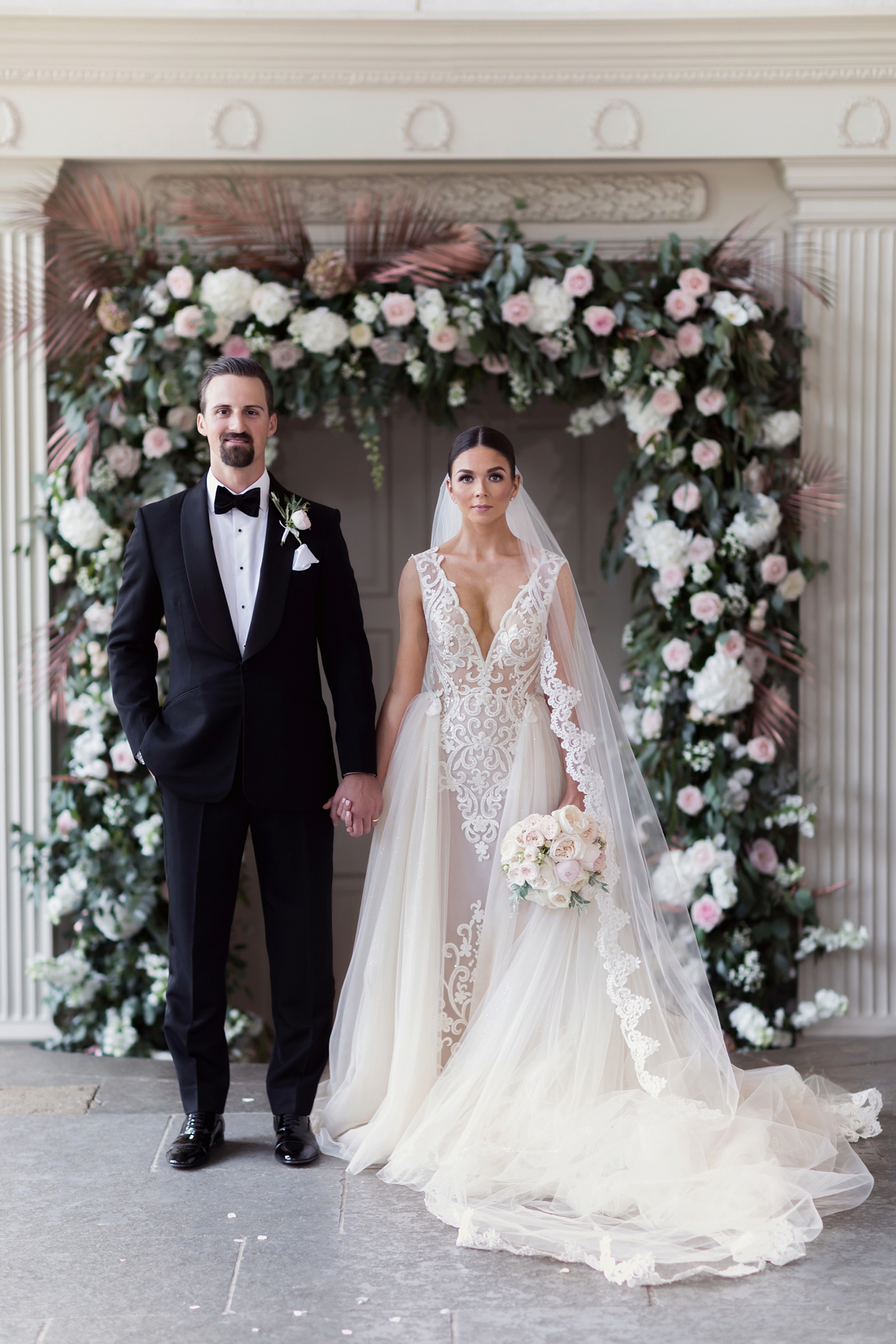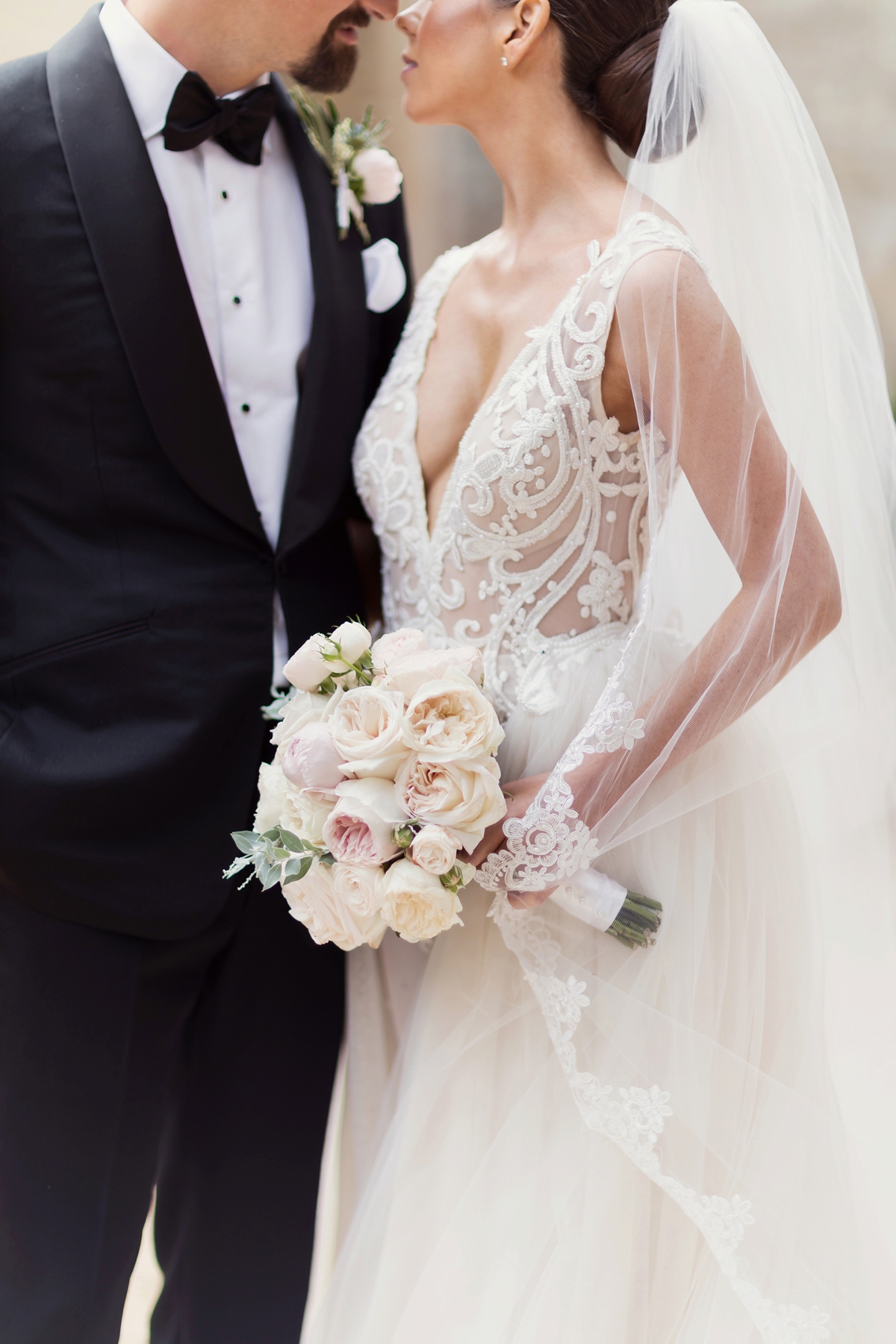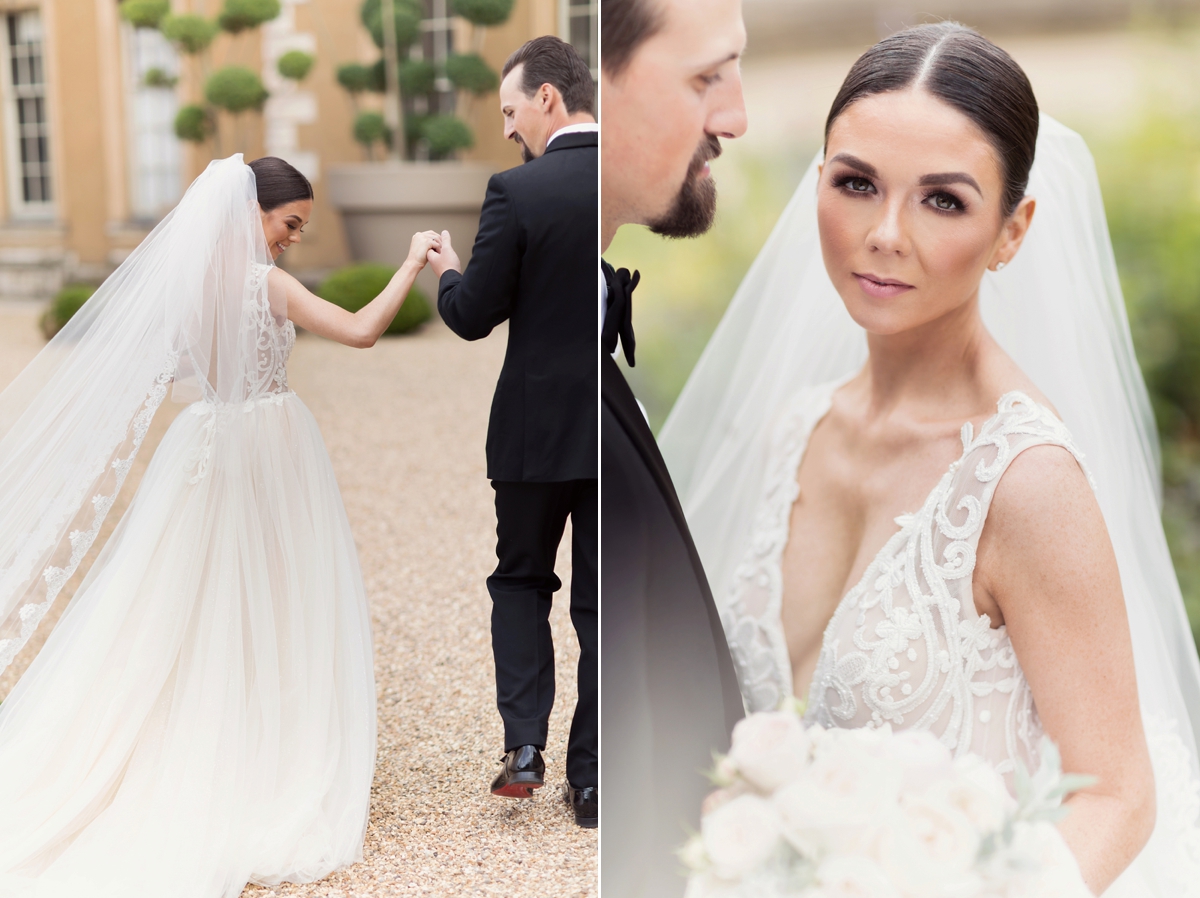 After a canapé reception, with more string music from Vine String Quartet, the party moved in to the spectacular reception rooms for dinner and speeches. On-site caterers The Kitchen provided the wedding breakfast, and I love the styling of the wedding tables – all gold tones and romantic flowers. Macaron favours from Ladurée awaited the guests.
"I love macarons and had decided pretty early on that they would be the perfect little thank you! We decided to give them out only to our female guests. I have always found before at other weddings I have attended, favours just don't tend to be a guy thing. I looked at various different suppliers and samples various different flavours, but nothing compares to a Ladurée macaron. Anyone who has seen Ladurée's packaging knows the adorable Marie Antoinette-style green boxes, but for our wedding look it just wasn't what we were after so I packaged them in a clear plastic box with copper washi tape  and a copper foil R&C label."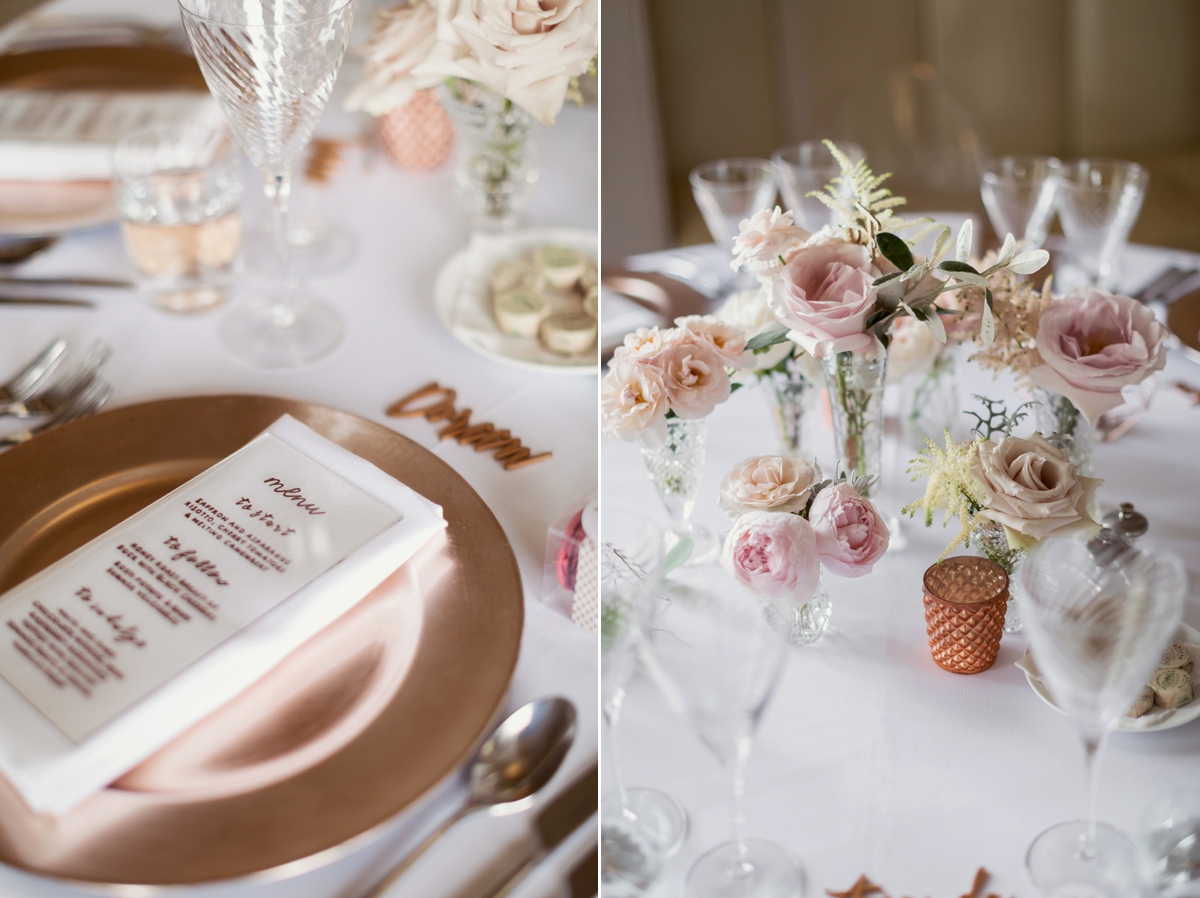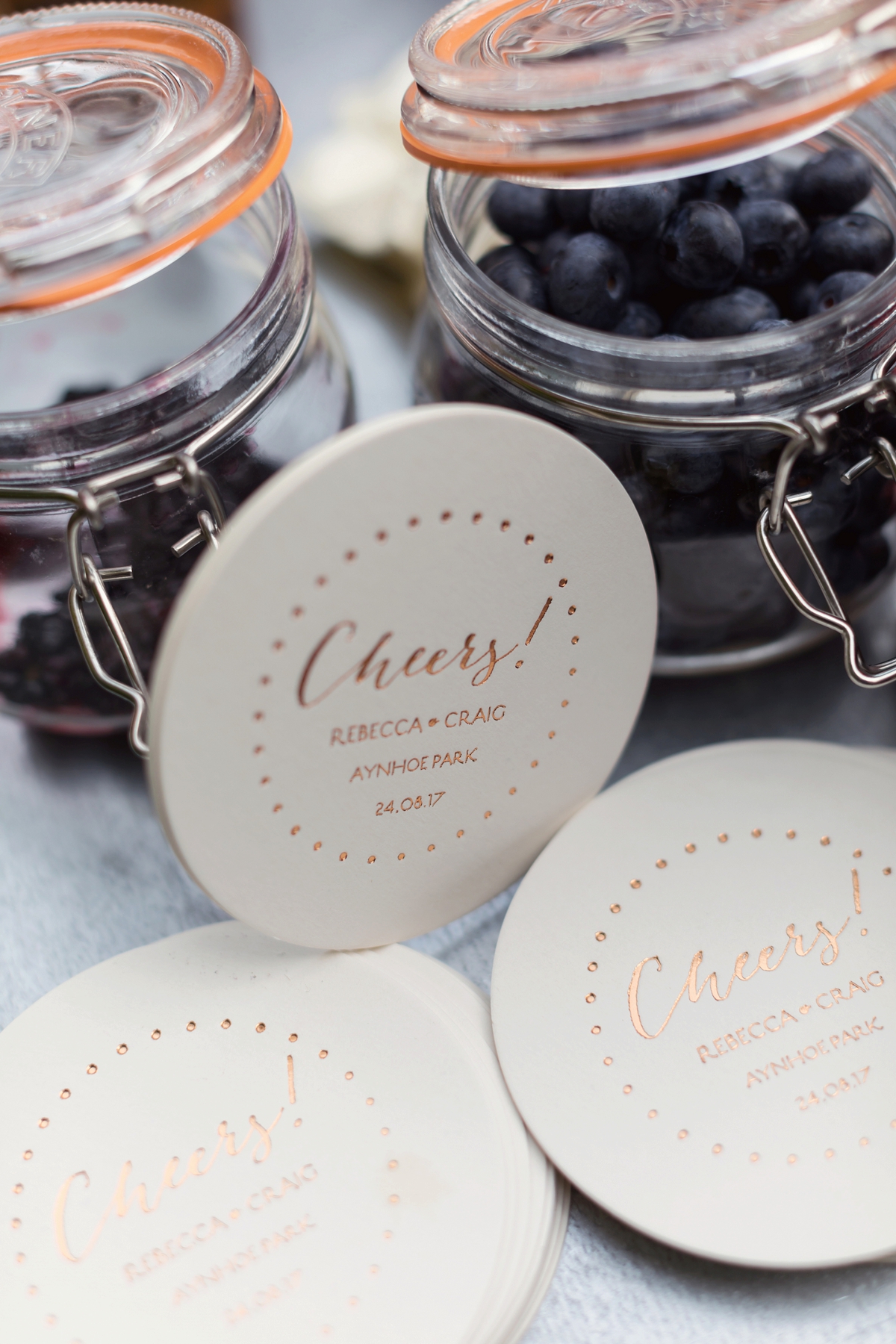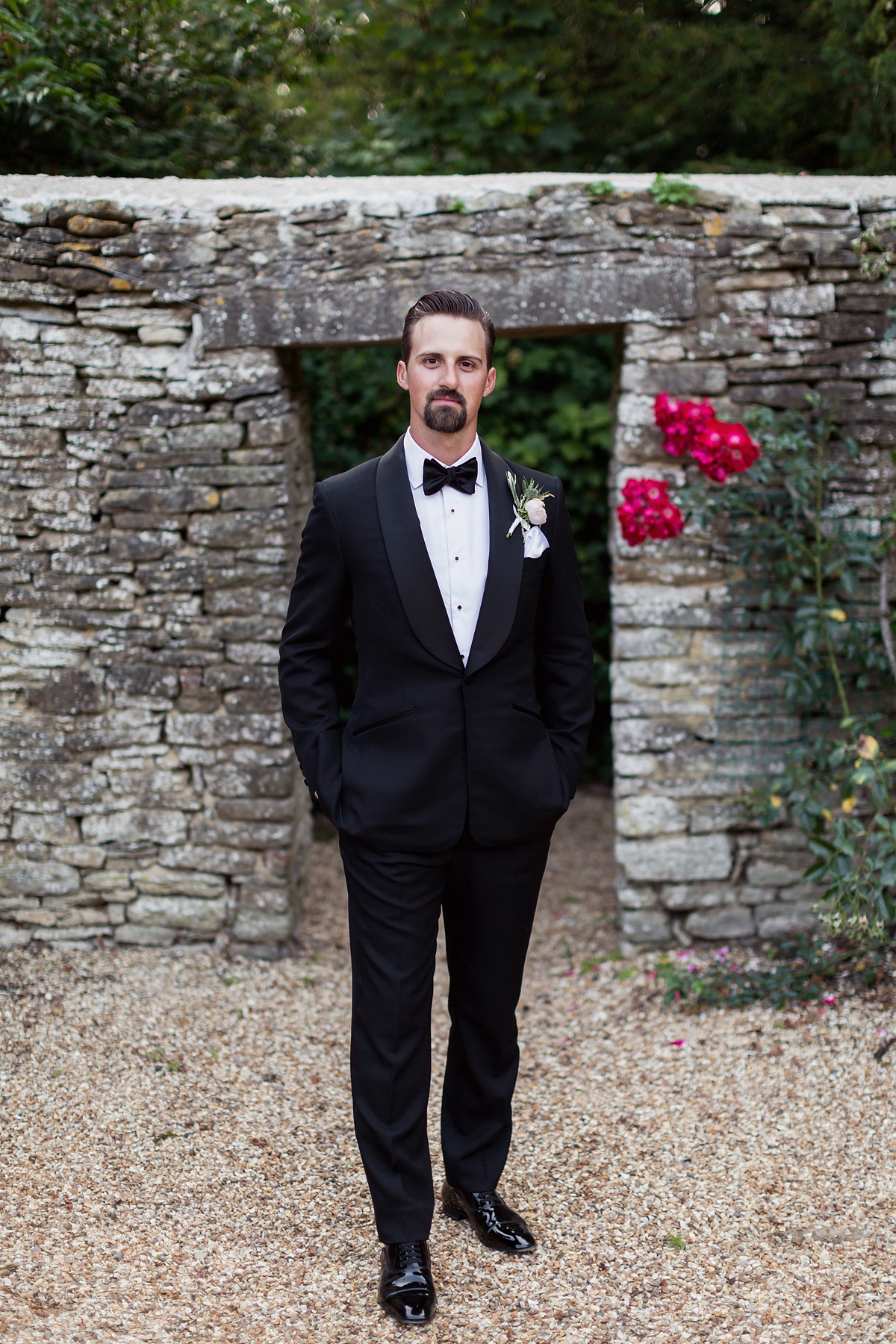 The newly-weds were lucky enough to find time for two sets of portrait shots, making the most of the Park's manicured grounds during the day and the wonderfully-lit, dramatic interior in the evening. Losing the gown's skirt and adding that gold crown made for such a dramatic evening look, an idea you might like to borrow.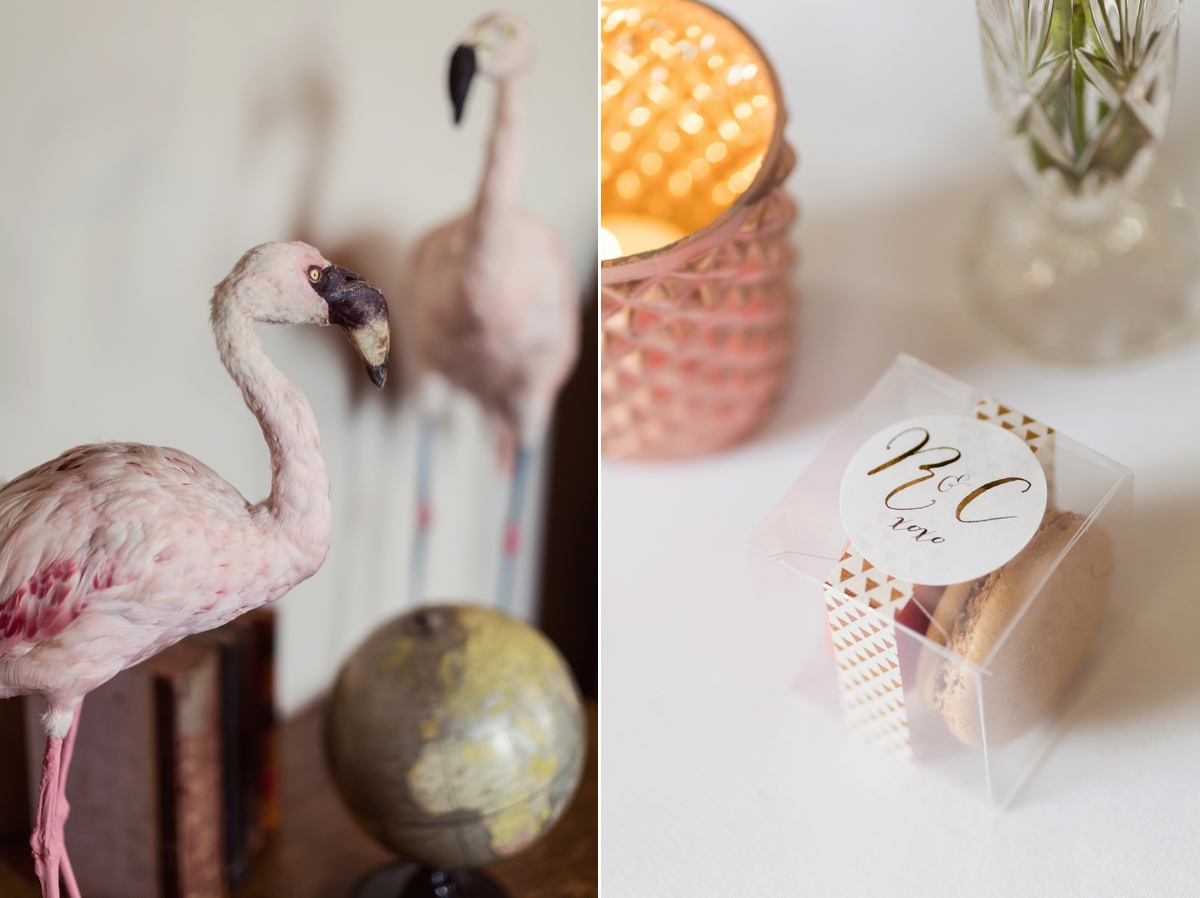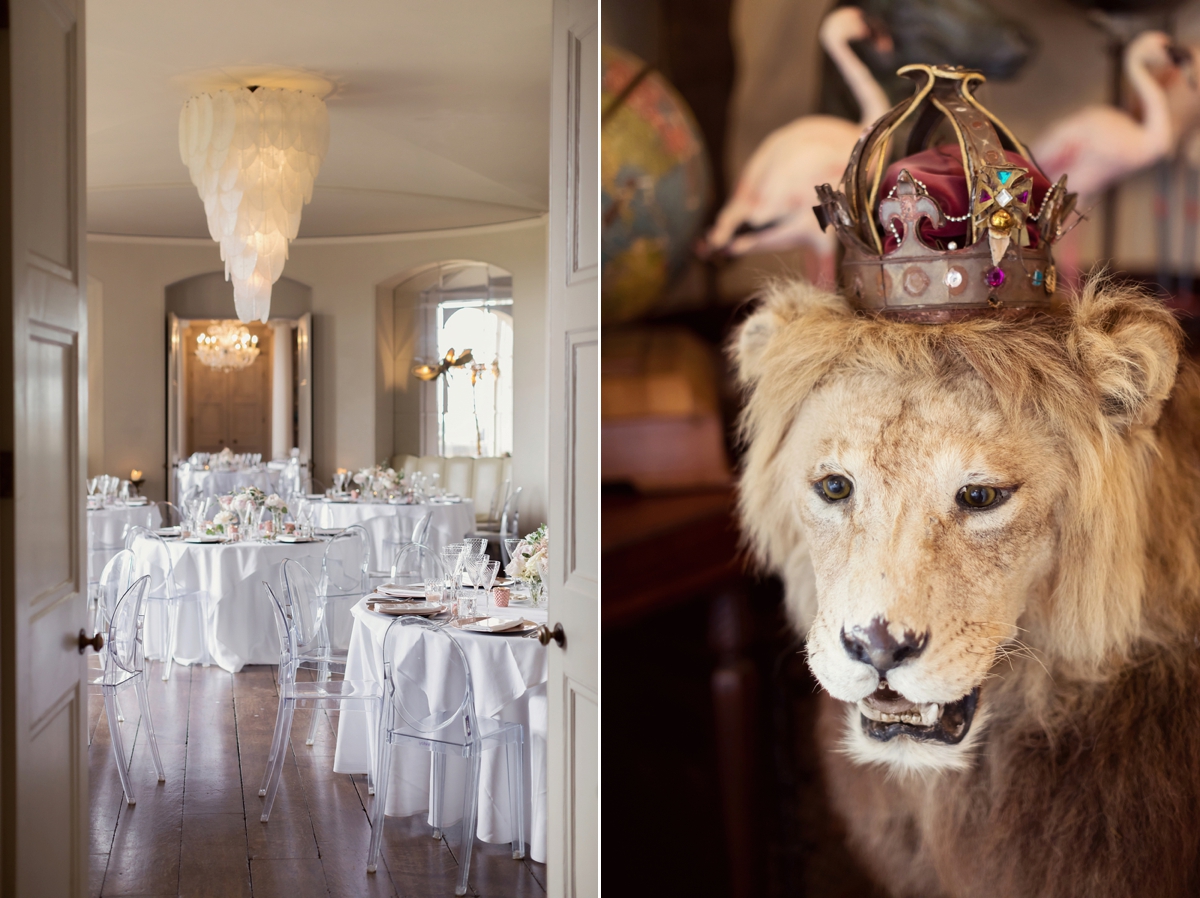 In keeping with the luxe metallic styling, this The Confetti Cakery creation is just wonderful.
More refreshments came from a Pimp Your Prosecco bar and evening nibbles from Pizza Dreams.
"I had been let down by a company three weeks before my wedding so had to find an alternative, fast. I had my heart set on a drippy cake and was struggling to find someone at such short notice. Then I came across the incredibly lovely Sophie at The Confetti Cakery.  She worked around the clock so efficiently to not only send cake samples (to my parents' house when it was my dad's birthday) but create me an adorable sketch of our cake."
"We opted for double height three-tier cake with the flavours of carrot, red velvet and chocolate mud. Sometimes things happen for a reason during wedding planning, and coming across Sophie couldn't have happened for the better."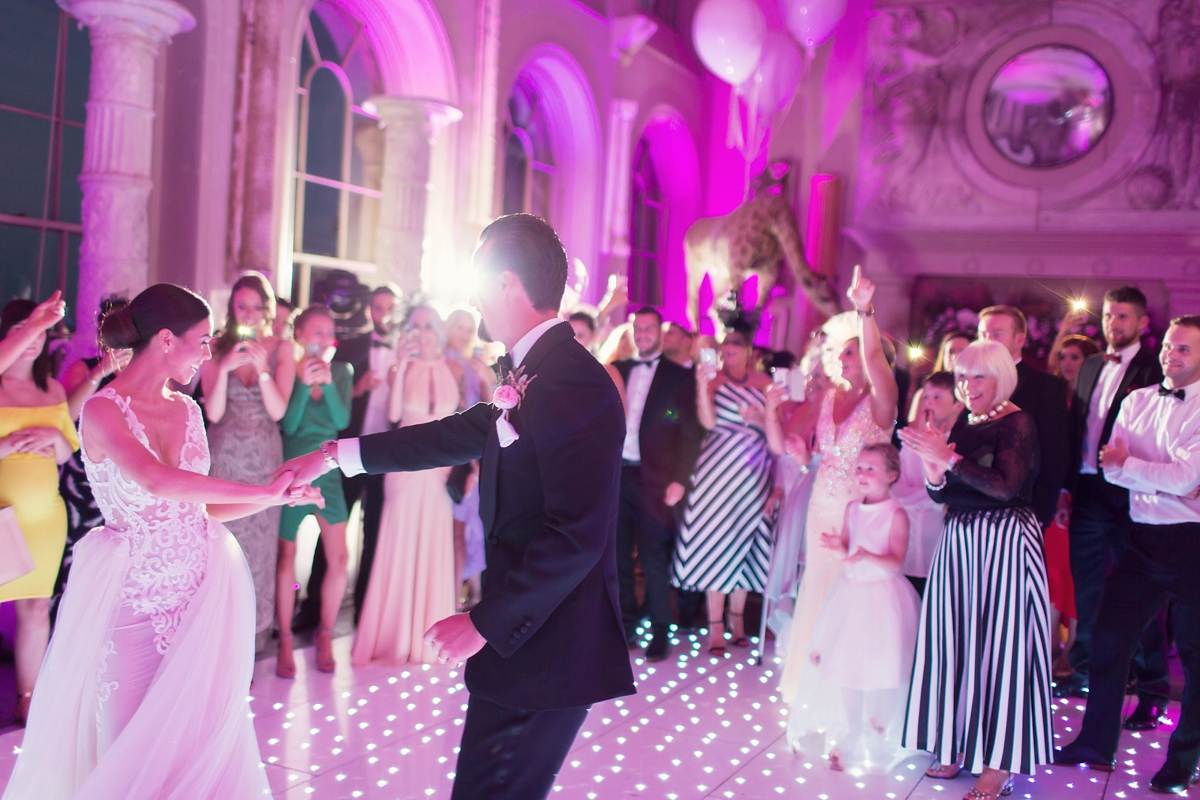 The newly-wed's first dance was to 'Kiss Me' by Sixpence None The Richer.
"This is one of my favourite songs and we decided that we wanted something more upbeat than a slow dance song. I think I sang every word to Craig whilst we were dancing, I just love the lyrics."
Words of Wedded Wisdom
"Firstly, there's no such thing as being too excited. Planning your big day is the most amazing and satisfying feeling, so enjoy every moment! The biggest decision you make (after your dress) is the venue. Our venue was the be all and end all; if it wasn't at Aynhoe Park, then life wasn't worth living!
When you fall in love with somewhere though, I think that's how you are supposed to feel, so make sure invest lots of time and effort into finding that place you LOVE. After deciding this, the ideas and inspiration really start to flow. You have your canvas, the rooms and spaces within the venue allow you to build ideas and consider colours, styling and so on."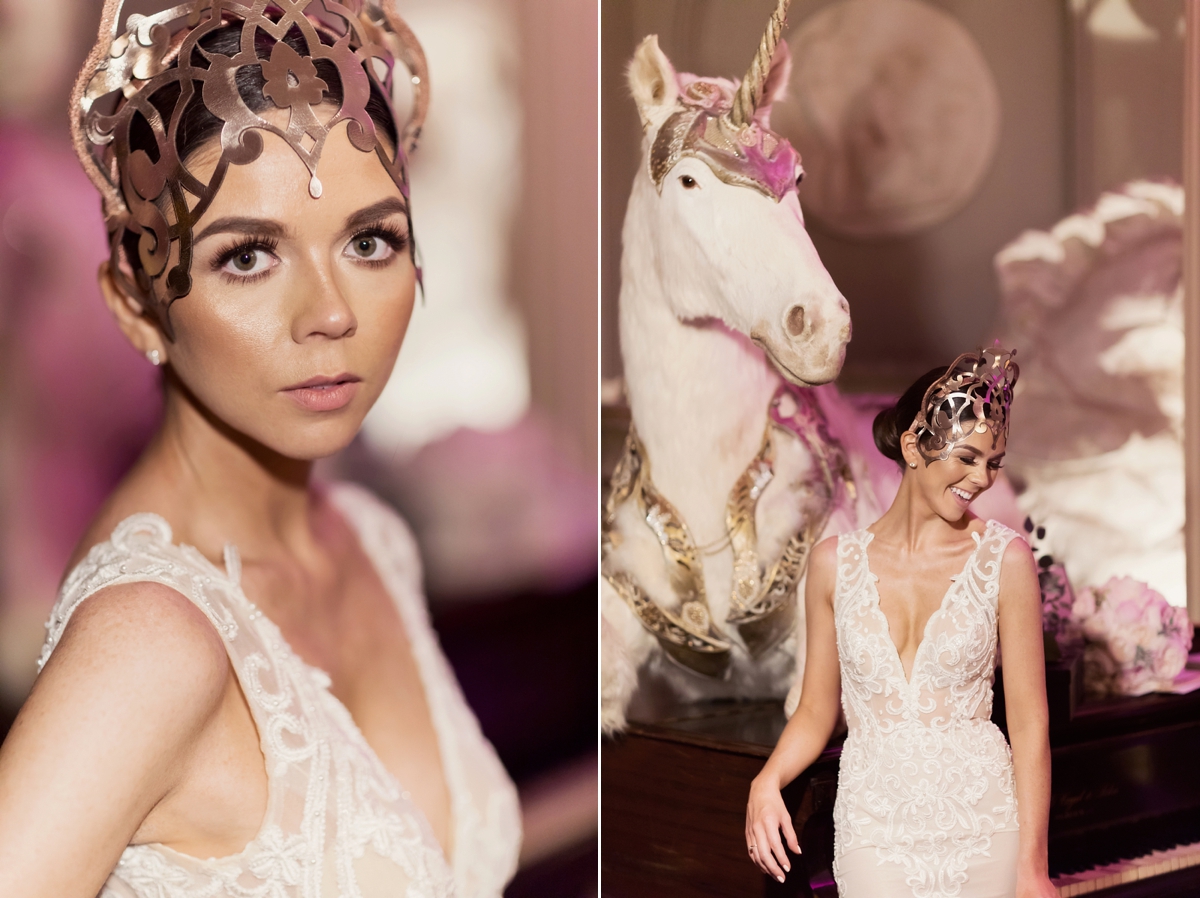 "Do thorough research into your suppliers. There are SO many options for absolutely everything wedding-related, it's really important that you pick the right options not only for you as a couple but your wedding style. Use reputable people who aren't going to let you down and although budget is important, go with the company that has the 5-star rating rather than the cheaper option that has ropy reviews."
"Allow yourself enough time for dress shopping. Dress shopping was my absolute favourite part of wedding planning, but any bride to be can underestimate how many options there are. I fortunately had lots of time to shop and consider all the dresses I had seen and tried. However, lots of designers have lengthy turnaround times, wera for instance can be nine months and rush orders can be costly!"
"Finally, a massive thing I can recommend to all brides is, ask for help. Wedding planning at times is far from easy and enjoyable, yes, not all of it is fun! It's so easy to become stressed and overwhelmed by things, especially as it's common that most brides plan a lot of it themselves. Whether it be your groom, bridesmaids, mum or friends, get them to lend a hand.
I'm a bit of a control freak, so lots of it I did and wanted to do myself hence why me and a wedding planner just wouldn't have worked. However, there was definitely things that Craig could help me with. He took control of spreadsheets, budget planning, food, beverage arrangements. Find things that your groom could potentially have an interest in. You and he will feel a sense of achievement and ultimately, it's more fun to do it together."
Rebecca and Craig, thank you so much for sharing your day with us and your valuable words of wisdom. If you've been inspired by this incredible venue you can see more Anyhoe Park nuptials on Love My Dress here. And thank you also to Craig and Eva Sanders for your emotive, romantic photography.
Ele xx