I'm about to completely sweep you off your feet with the nuptials of Kat and Pierre, so buckle up lovelies! Bride Kat is head of sales for a coconut yoghurt company and groom Pierre is a chartered surveyor.
The stylish couple chose the auspicious date of 07.07.17 purely by chance for their breaktakingly beautiful summer destination wedding at Château de la Bourlie in Urval, France. Their videographer, Ben of Ben Walton Films, shot this sweet little vignette which has me heading straight to click on "confirm booking now" on a flight to this luscious part of the world.
"Ben is one of the most talented people I've ever met and has given us memories to last a lifetime!"
Film by Ben Walton Films
Kat chose the exquisite 'Aspen' style by Jenny Packham, found via Pantiles Bride in Tunbridge Wells. Have you seen our Look Book page on this most talented designer? I urge you to check out the 2018 Bridal Collection.
"My dress was actually the second one I tried on and I instantly knew it was the one! The sample was a little worse for wear and 4 sizes too big, but I had my heart set on it. Wanting to make sure I wasn't rushing in to anything I made an appointment at Pantiles a few weeks later and mentioned the Aspen to the owner. She helped me hunt down a brand new sample in a smaller size and I will be eternally grateful! Getting married in France I knew that I couldn't have something too big or heavy and I also didn't want something that would age (my mum will always regret getting married in puffed sleeves!) and hopefully I will look back in 20 years' time and still love it."
Images by Richard Skins Photography
"About 3 months before we officially met (on Tinder!) my sister tried to set me up on a blind date with Pierre who she met on her property course. I declined as I thought it would be awkward but then by chance recognised his profile picture on Tinder to the one she had shown me. I sent her a quick screenshot to verify it was 'THE Pierre', swiped right and the rest is history! Pierre proposed on a boat as we passed under the Faraglioni Rocks in Capri. It was the perfect proposal and the Amalfi Coast will forever be our special place. We married 13 months later.""Richard of Richard Skins Photography honestly felt like family by the end of the weekend. I tend to look quite stiff in posed photos, so I knew I wanted lots of natural shots and we couldn't have been happier with Rich's photos. It was 36 degrees on the day and he was a superstar in the heat and didn't stop! I had always dreamed of an outdoor wedding and the chateau was the perfect setting with beautiful grounds. Although I wasn't really aware of a theme whilst planning the wedding, looking back at the photos it was very fairytale-like."
"I did my own make up and my mum's and a family friend did mine and the bridesmaids' hair."
"My maids wore their own shoes with Fame and Partners dresses from ASOS. The dresses originally came with thigh high slits (!) so we had them tailored. They were the first dresses I ordered and one of the best decisions I made – they all looked absolutely stunning and loved wearing them, which made me so happy! The girls added gypsophila for their hair and I gave them rose gold bracelets from Accessorize's Z range."
A chapel length veil from treasured Little Book for Brides member Sassi Holford via Pantiles Bride – with an intricate eyelash lace trim to match the detailing on her gown – added a dramatic effect to Kat's utterly glamorous look. She donned 'Lucy' heels by Jimmy Choo, no jewellery apart from her rings to keep it simple, and a new fragrance – Jo Malone 'Orange Blossom'.
"I have worn Chanel 'Chance' for years and wanted something different to wear to always bring back memories of the day."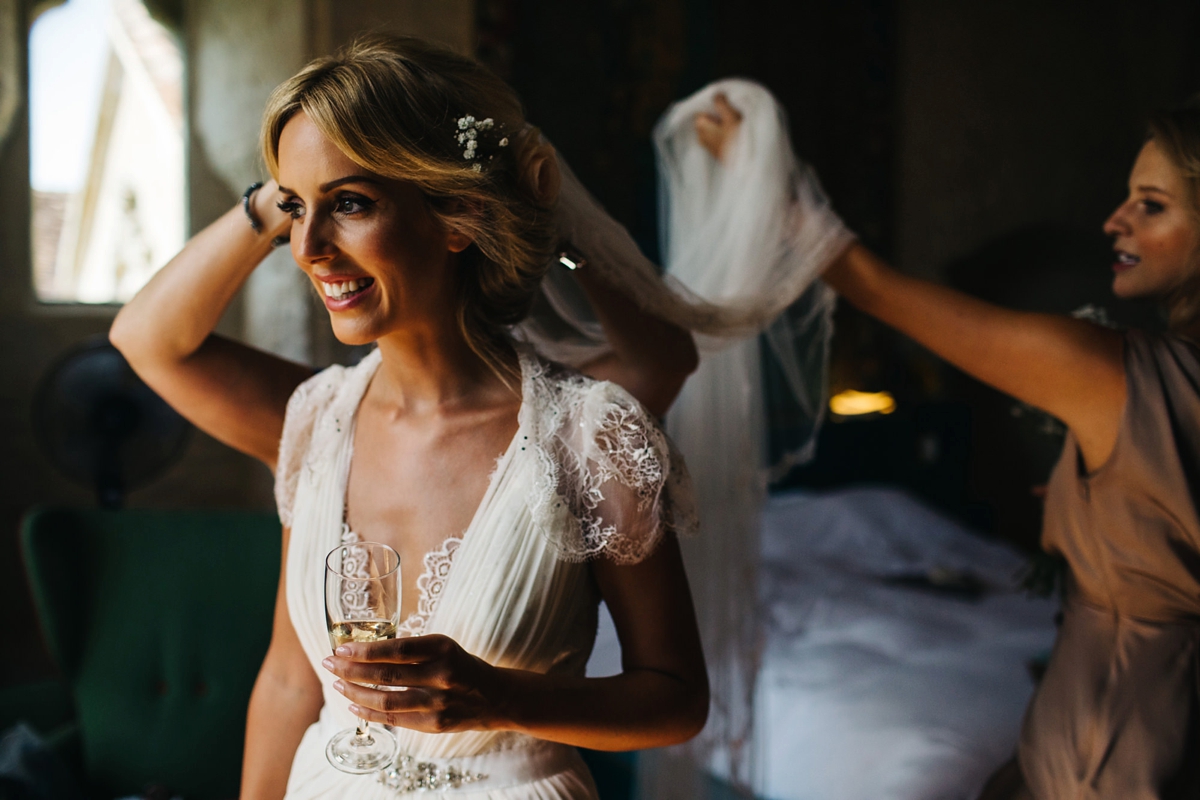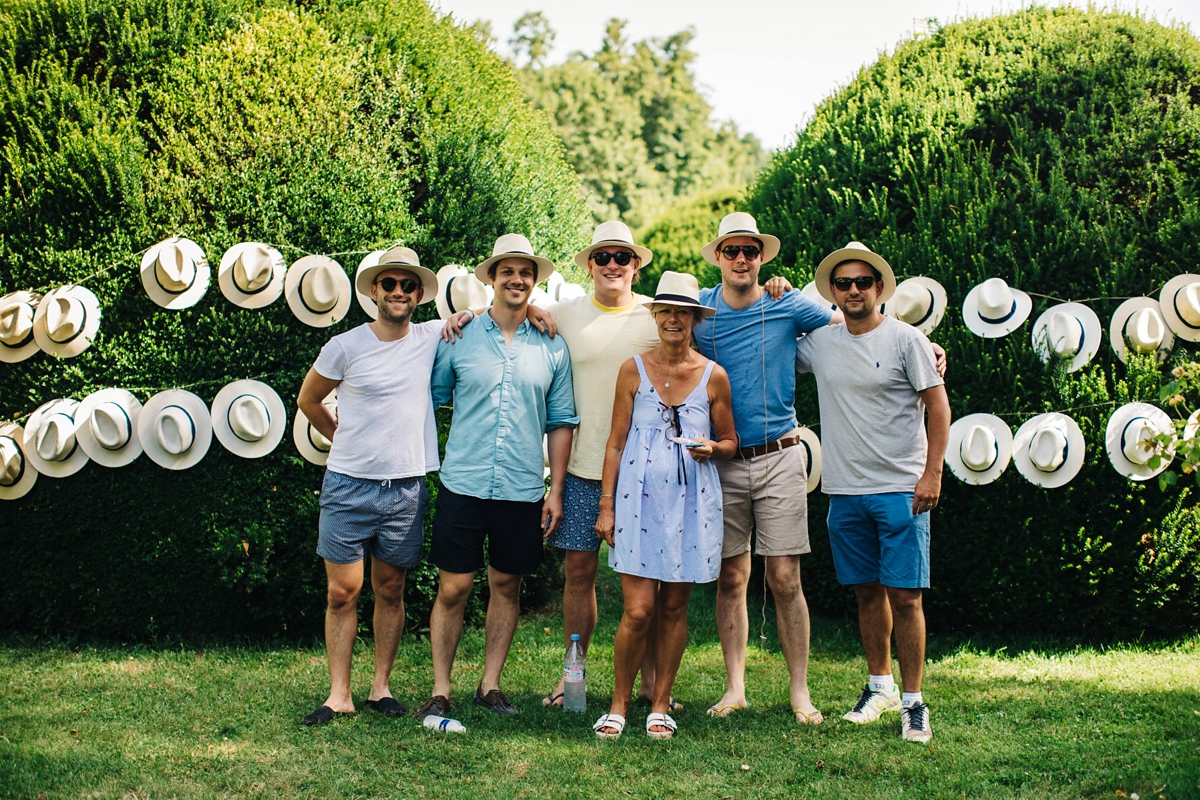 The groom and his party made for a stylish bunch in their attire of suits via Suit Supply paired with ties (spotty ones for the groomsmen).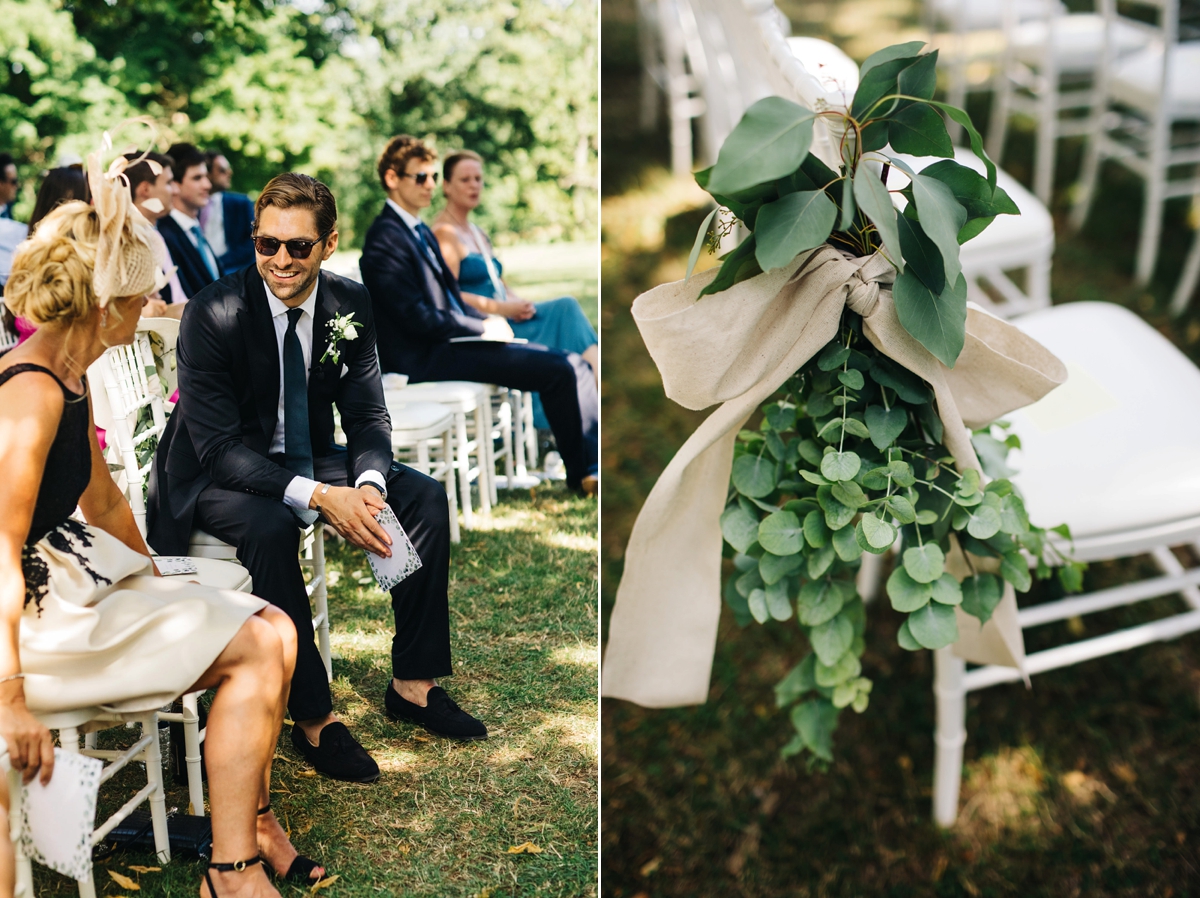 Sadly, the bride's dad passed away three years ago, so her mum accompanied her for the aisle walk – an incredibly special moment. Kat and her mum walked for the entrance down the tree aisle to the rousing tune of Pachelbel's Canon, played by a three-piece French gypsy jazz band, who also entertained guests during the drinks reception. To keep off the scorching heat, guests were provided with groovy hats and fans to keep cool during the outdoor ceremony.
"We flew over Pierre's old school chaplain for the blessing which was very special. He was able to recount some lovely stories from Pierre's childhood and totally put us at ease. He had the guests howling with laughter!"
"Our readings were 'The Velveteen Rabbit' and 'The Amber Spyglass' by Phillip Pullman which were favourite books of mine from my childhood."
"My mum hand-painted the table numbers and place cards to match our pale green watercolour invites and Ajna our stylist put together a beautiful table plan on a vintage wooden shutter from a local flea market."
Local florist Agnes Laye was the creative force behind the couple's stunning floral displays.
"The floral arch with willow and hanging tea lights was my favourite feature from the wedding and was a work of art."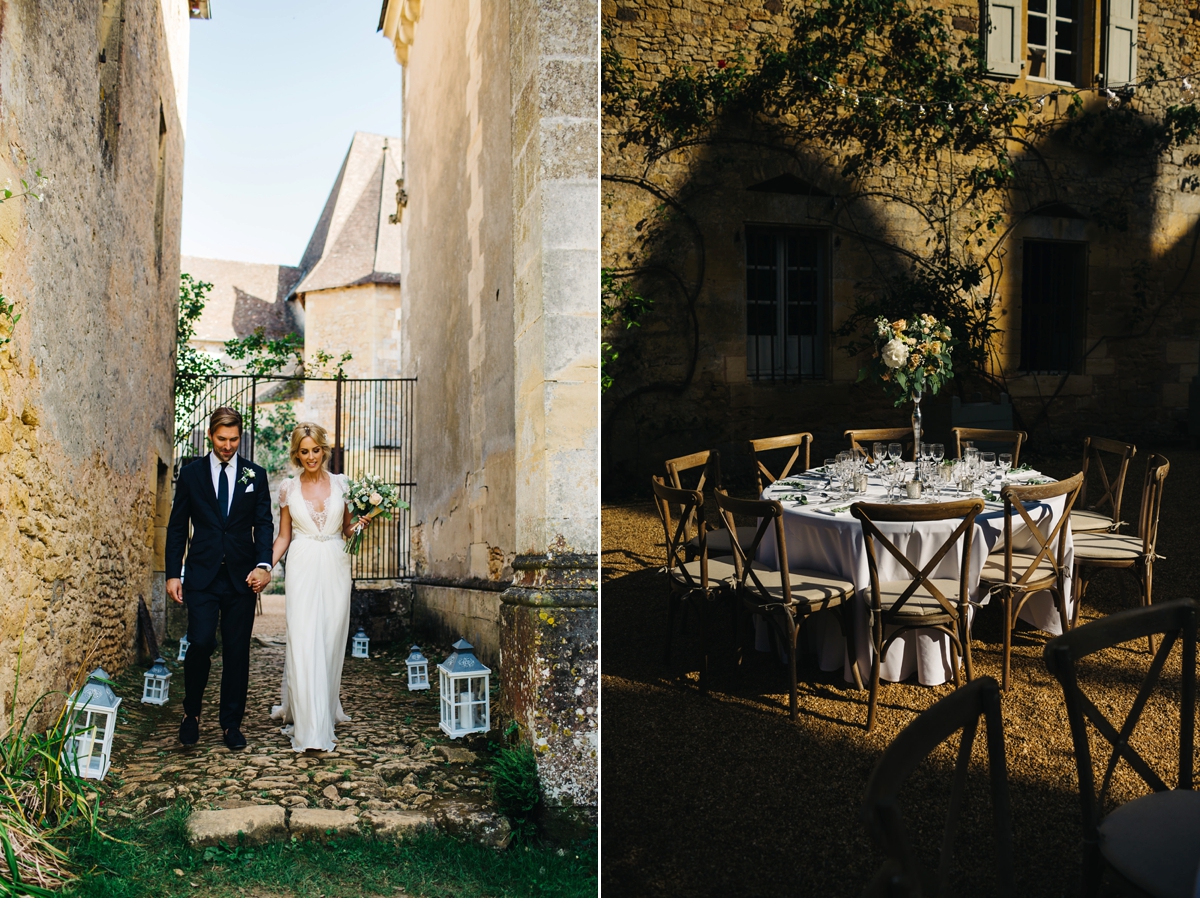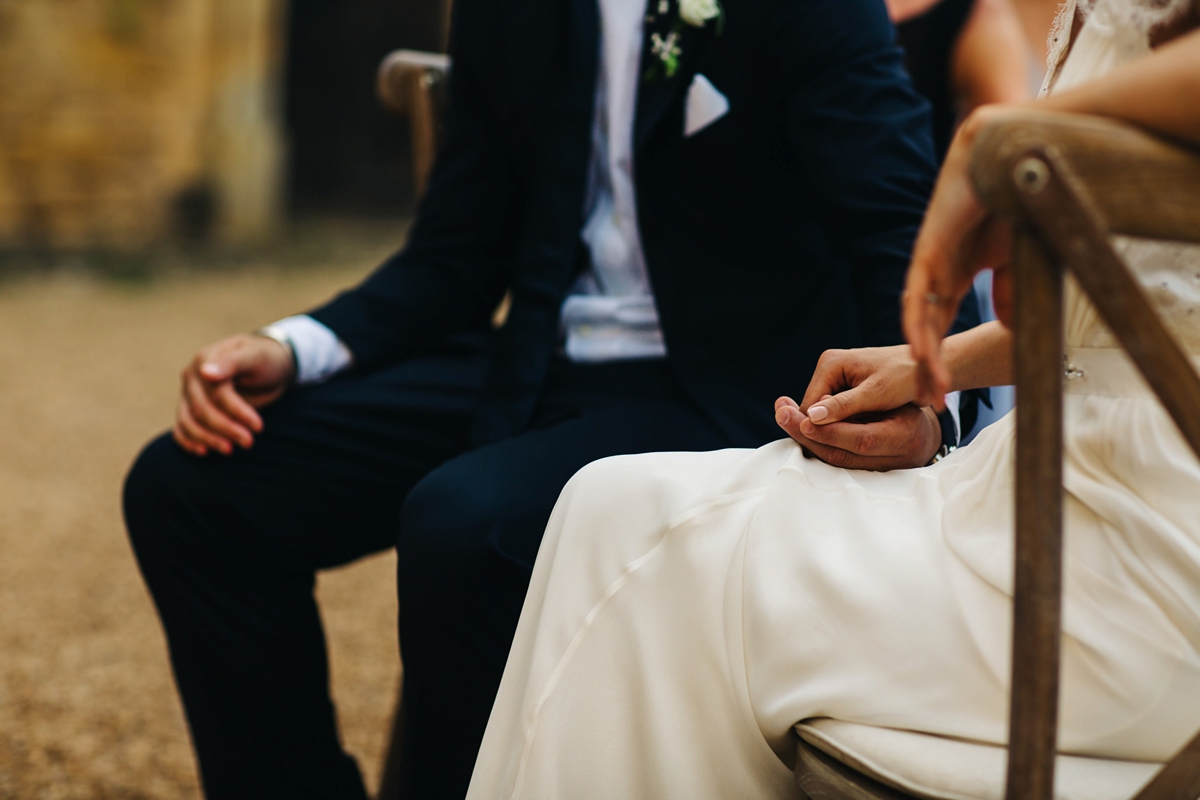 Fabrice, a local chef, prepared a delicious spread for everyone to enjoy. And during the meal, Pierre's parents arranged a huge surprise for the couple and then ultimately their guests. This lovely gesture serves as Kat's favourite memory of her wedding day.
"We got engaged in Capri and one evening we stumbled across fashion editor Giovana Battaglia's wedding in the square where they had Italian tenors bursting through the shutters and singing to the guests below. The atmosphere was electric and was such an incredible memory from a very special trip. We looked into doing the same thing in the chateau courtyard but budget ruled it out pretty quickly until Pierre's parents surprised us a few weeks before as our wedding present. We kept it secret from all of our guests and when the waiters broke into song, their reactions were priceless. Everyone was singing at the top of their voices waving their napkins around. I still get goosebumps thinking about it!"
Is your mouth watering at the sight of the couple's tantalisingly tempting wedding cake dessert?
"We had a traditional pièce montée from a local patisserie which we served with ice cream and red berries for dessert. The flavours were vanilla, chocolate and praline."
Brightlights played funky tunes for the evening celebrations and the couple danced their first dance to the very romantic and fitting 'The Way You Look Tonight' by Tony Bennett.
"One of my favourite films is 'My Best Friend's Wedding' and I grew up dreaming of having my first dance to the song from the film. It also reminded me of my grandparents who I was incredibly close to. I like to think that my grandad would have approved!"
Words of Wedded Wisdom
"Don't leave each other's sides on the day and prioritise the booze, food and the entertainment as those are the elements guests remember and what makes a great party!"
I've just adored bringing you the stunning French wedding of Pierre and Kat and hope it's inspired you as much as it has me for a trip to this utterly romantic and picturesque part of the world. For even more divine French château weddings, browse our Love my Dress archives here.
Thank you to the uber talents of Richard (who is also part of our super helpful little book) and Ben for catching such beautiful images of the gorgeous couple and totally making their day.
Have a lovely rest of week everyone.
Love Jo -xo-