Hi there lovelies, how are you on this fine festive day? I'm delighted to be sharing a celestially inspired, gold-hued union with you that's making me feel oh-so Christmassy, the gorgeous celebrations of Alexandra and Mark.
Both lovebirds work at the University of York, Alexandra as an exams co-ordinator, and Mark in marketing, and they wed on 2nd September 2017 at York Registry Office, with a reception afterwards at Yorkshire Heart Vineyard.
"We had a tight budget so originally were looking to have the reception in a village hall. We looked round a few but none of them jumped out as being 'the one'. My friend suggested Yorkshire Heart Vineyard and as soon as we looked round we fell in love with it. It was a blank canvas so I was immediately excited about the decoration possibilities."
Images by  Joel Smith Photography
Alexandra sourced a gorgeously glam gown from Frock & Frill, which she paired with some seriously envy-inducing shoes. She donned a second, beaded beauty later in the evening and swapped her star-strewn headband for some celestial earrings. Our bride did her own make-up using a collection of Charlotte Tilbury, Dior and Anastasia Beverley Hills products."The first thing I bought was my wedding shoes from Terry de Havilland, they are gold platforms with gold lightning bolts down the side. They are very Studio 54 so from there I decided I wanted the wedding to be gold, glitzy and glam and Mark was happy to go along with this."
"I knew I wanted something unusual but I also gave myself a tight budget as I didn't want all the wedding money to be blown on my dress. As soon as I saw the Frock and Frill dress I knew it was the one. I absolutely loved the pops of colour and I knew it would go with my shoes."
"I also wanted something comfortable and not restrictive. As it's floor length with long sleeves I decided on having an evening dress too, so I could dance with abandon and not get too hot. I bought a pink chiffon, embellished, evening dress from ASOS and had it taken up by local dress makers, Thimbelinas, as it was a bit too long for dancing. They did an amazing job."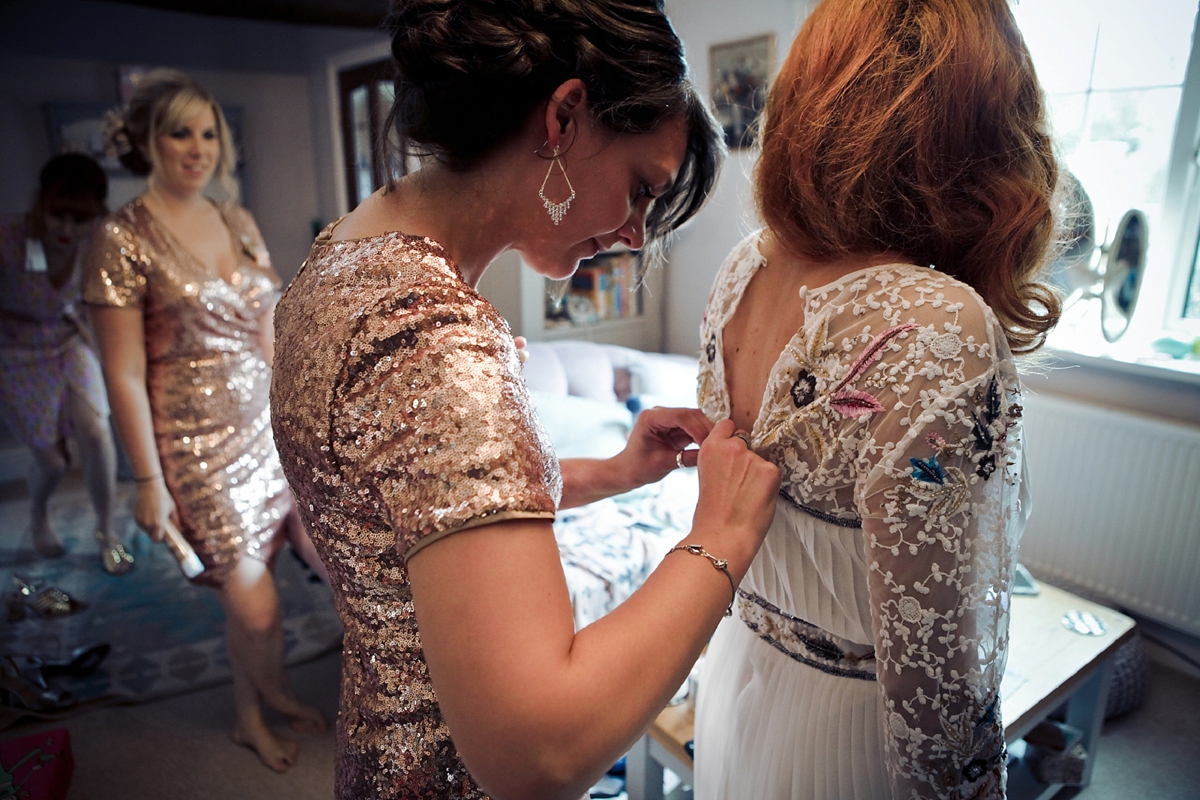 Alexandra spritzed on My Burberry perfume, one of her staple fragrances, and her incredible tumbling auburn waves were styled by Emma Rose-Bland who specialises in vintage hair. The bridesmaids hair was kept simple with sprigs of gypsophila, allowing their sequinned Yumi dresses to really sing.
"I bought a star crown from The Pink Collar Life, they'd had an Instagram page I had followed for years. I actually bought it before I found my dress as I loved it so much. I also wore star drop earrings from Butler & Wilson. Again, I bought these long before I had bought my dress as I fell in love with them. I knew it would be overkill wearing them with the star crown, so I wore them on the evening with my second dress. They made me feel like a disco diva."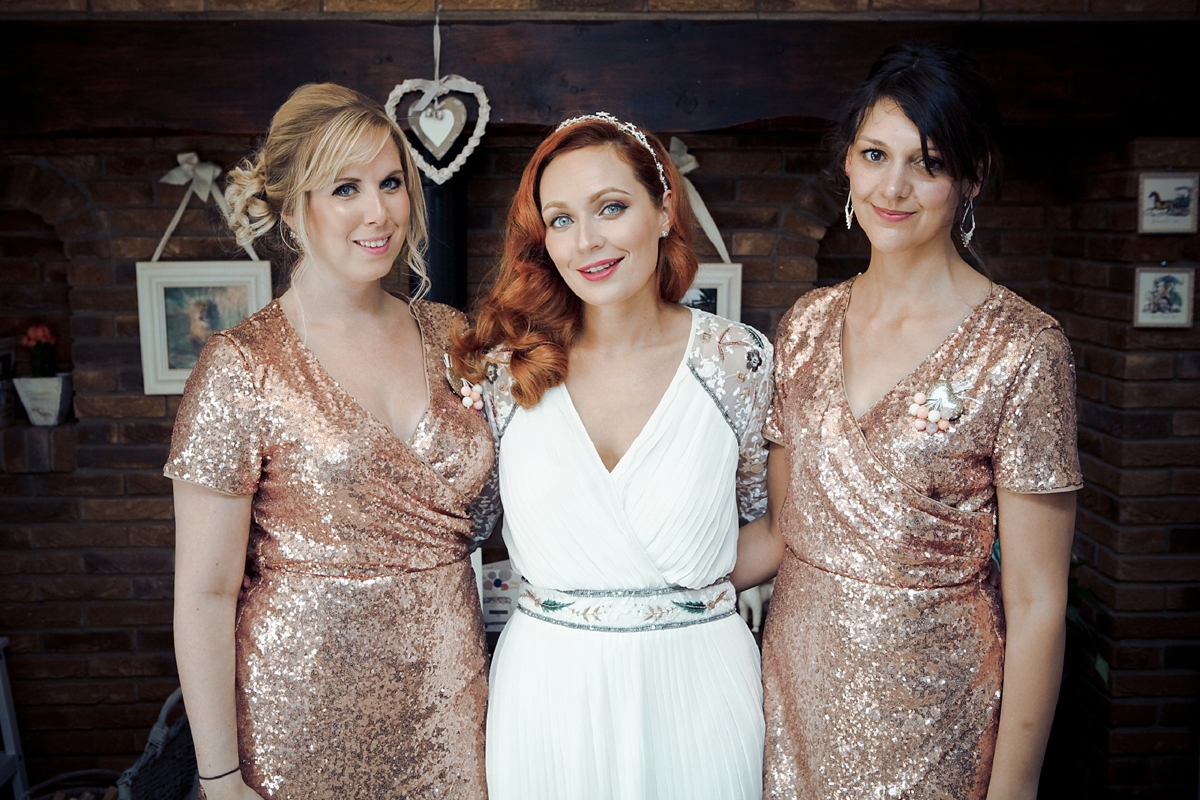 Mark meanwhile sported a beautiful Paul Smith suit and a tie from Berg & Berg. And I'm kind of obsessed with the cute The Smiths inspired pin badges that both he and Alexandra later donned for some newlywed portraits among the vines, hers on the lapel of a leather jacket oh-so-cooly slung over her pleated frock.
"Mark and I met on Tinder just over three years ago. We had about 30 mutual friends in common but had never met. At the time he was living in London and I was in York, and it just so happened that he was at his friend's wedding in York, which is how our Tinder paths crossed. We hit it off straight away and had our first date that week. Mark had another family wedding the day after our first date and he asked if I wanted to come along to the night do, so I ended up meeting his entire family on our second date! They were absolutely lovely I might add."
"We started dating and we would travel to and from York and London to see each other. After about a year Mark decided to move up to York and the rest is history. We actually had a transcript of our old watsapp chats from when we first started dating so we devised a 'who said it' quiz to have on the tables as an ice breaker. One of our best men read out the answers after the speeches and the people who got the most right won a pizza pen (Mark is renowned for his love of pizza, hence lots of pizza references)."
"We got engaged in December 2016. We were celebrating the fact that Mark had just got a new job and he decided to pop the question. We were going to wait and have our wedding in 2018, but as we knew what we wanted and we had found the venue, we couldn't wait for the day to come around."
The couple booked Vintage Wishes Campervans to transport Alexandra and her dad to York Registry Office, a last minute alternative after the original company they booked rang the week before the wedding to say that their van was out of order. Our bride couldn't have been happier with the company.
"My dad, Brian, walked me down the aisle to Ryan Adams' Wonderwall. Not only is it a beautiful cover, it also was very fitting given that was the name of our wedding. Mark's surname is Wall so the hashtag of our wedding was #wonderwallwed17. I bought some gold air fillable foil balloons from eBay to spell this out, threaded them on some string and had them hanging over the entrance to the marquee at the reception."
"Just getting to the registry office and seeing Mark, all my nerves instantly dissipated – it was a good feeling. I have suffered quite badly with anxiety in the past and was stressing myself out about potential panic attacks on the day. I was nervous on the morning and didn't sleep a wink the night before, but as soon as I got to the altar I was fine as I was marrying my best friend."
Mark bought his ring from H.Samuel, a simple, silver band, while Alexandra sourced her wedding band from Etsy to accommodate her rose gold engagement ring, and for just thirty quid to boot. She needed something with a deep V to sit around the diamonds arranged in a flower shape on her ring.
"We had an extract from Captain Corelli's Mandolin by Louis de Bernieres. We didn't want a reading that was too cheesy and we thought this was perfect. I love the book and I absolutely love the sentiment of this passage as marriage isn't all hearts and roses, well, not all of the time. Anyone who has been married for a long time will tell you, it takes hard work, patience and commitment."
The couple invited just close family, bridesmaids and best men to the registry office, creating a truly intimate and stress-free ceremony. The newlyweds then met up with their guests at their marquee reception at Yorkshire Heart Vineyard, smattered with gold touches and fresh blooms from Floral Art Florists.
"Kath got the flowers completely spot on. I knew I wanted more of a country vibe so she added roses, peach berries, gypsophila, eucalyptus and other seasonal sprigs to the vases. I bought some cheap Kilner glass jars and sprayed painted them all gold using some metallic gold spray from Wilkinsons and we used those as the vases. We also wrapped some white and gold string around milk bottles and had a smaller floral arrangements on each table."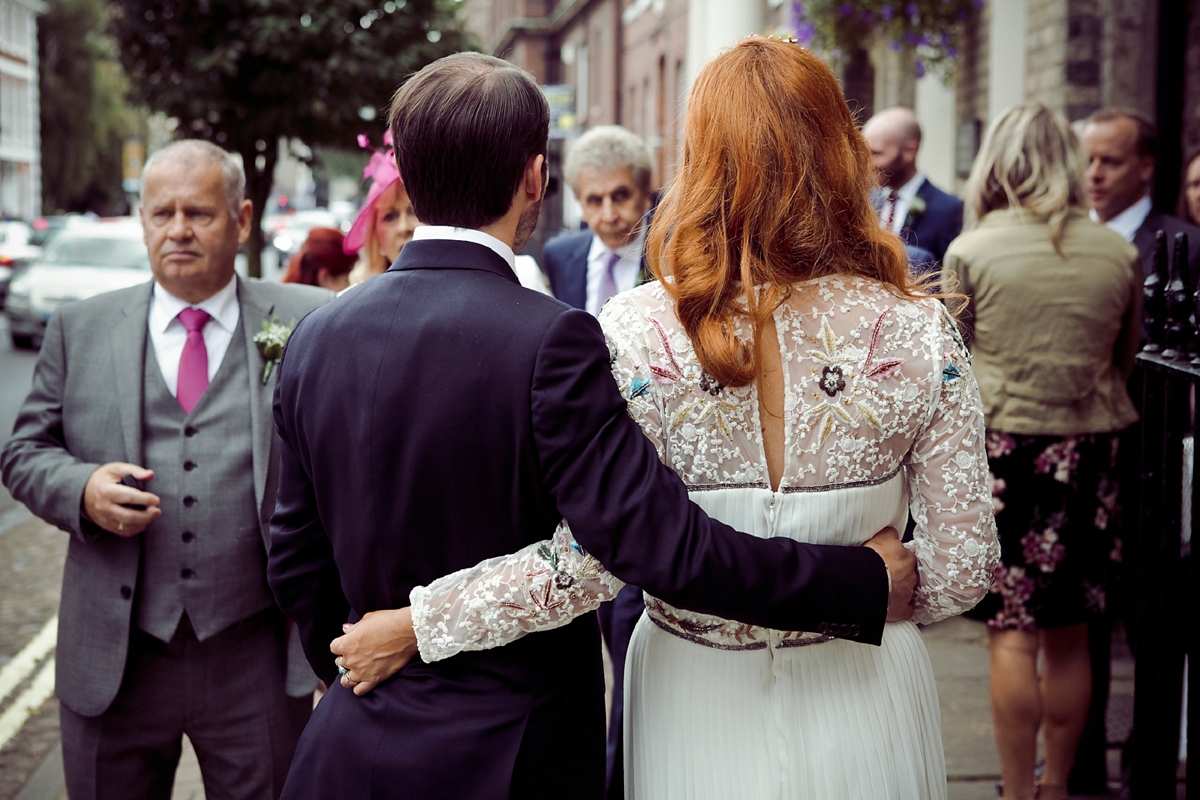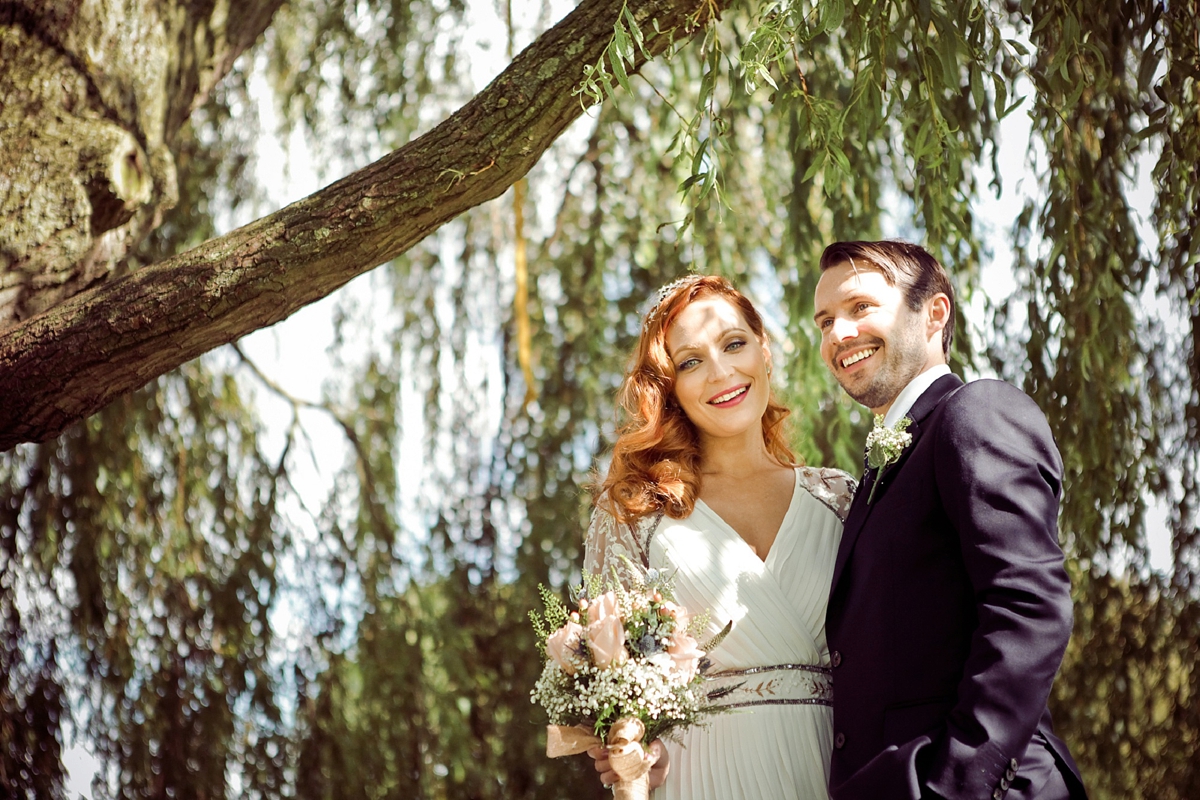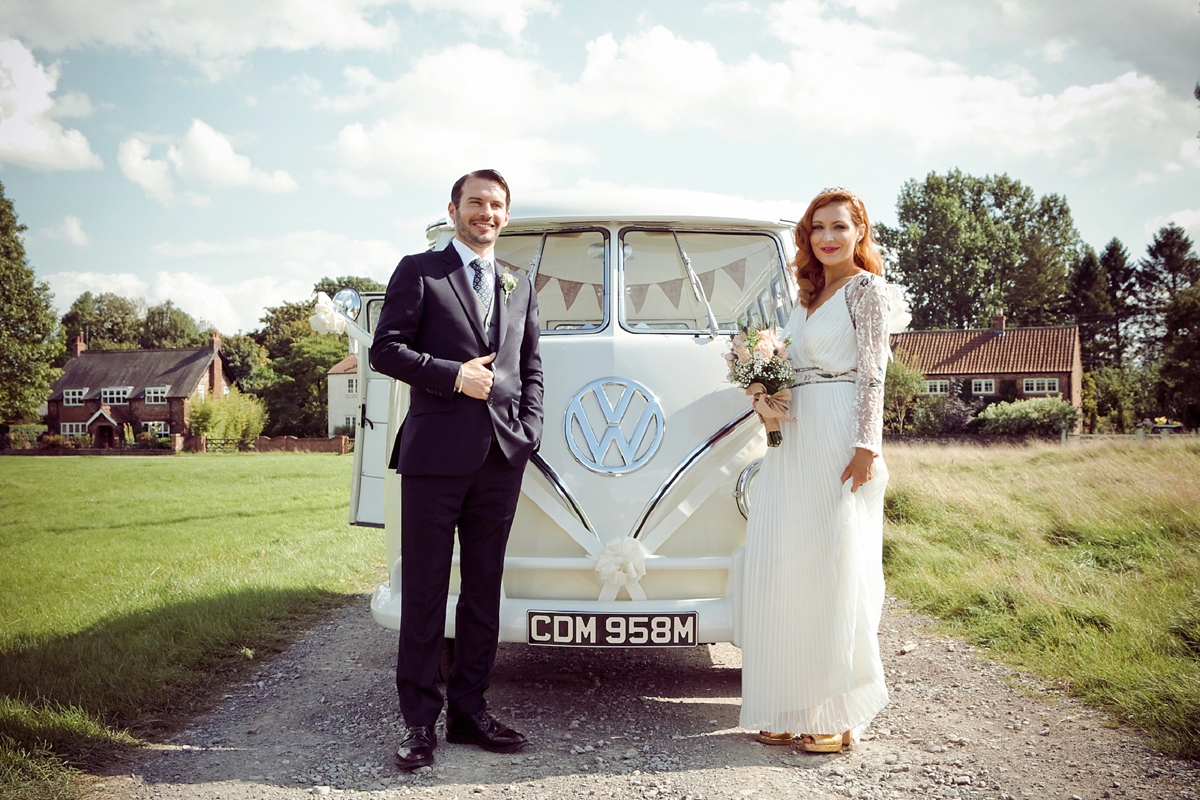 "Our good friend, Nick Scott, designed our invites and seating plan for us. We wanted a 70's folksy vibe and he absolutely nailed it. I bought a couple of other digital prints off Etsy for the photobooth table and our sweet table and put them in frames. Our best man, Dan Wilson, designed us some beer pump clips for our own named beers."
"We incorporated our dogs into the designs, which ripped off Beatles and Kiss album covers."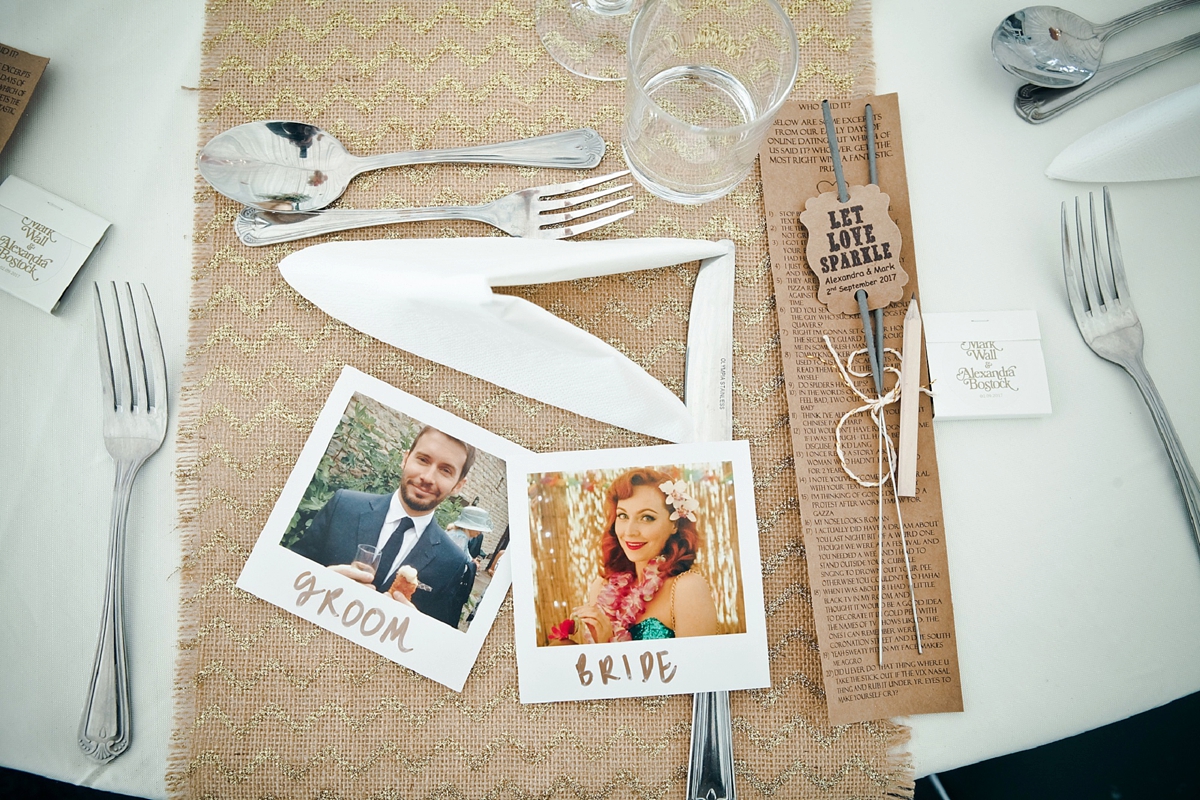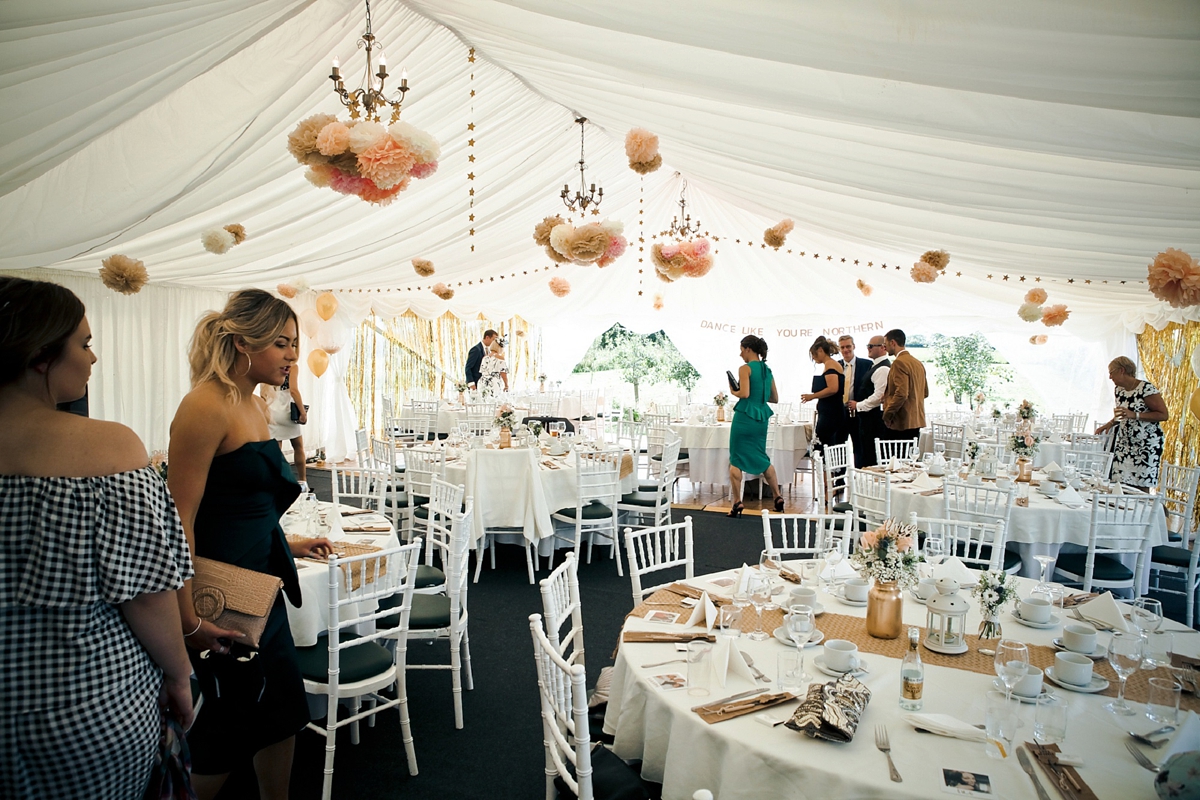 "We really wanted our dog, Dolly, to be part of our day so my brother came up with the idea of a video showing Dolly bringing Mark's speech to the vineyard. It showed Dolly searching through the house to find the speech and then making her way through and over York to deliver it. Everyone thought it was fantastic. My dad played every character in the film and we roped our friend's kids in to being in one scene too."
"Joel was so great. I told him from the outset I wasn't really into cheesy staged shots and he totally saw my vision and captured some really amazing natural shots. He made us feel so at ease. He even stayed and partied with us when he clocked off. Always a good sign when you're doing shots with your photographer at midnight!"
Alexandra turned to eBay for much of the material of the marquee decorations – she crafted her own heart and star shaped confetti and dozens of tissue paper flowers in gold and pastel shades with help from her colleagues and Mark's mum, and gold tinsel curtains and gold stars shimmered alongside pinwheel decorations from TK Maxx.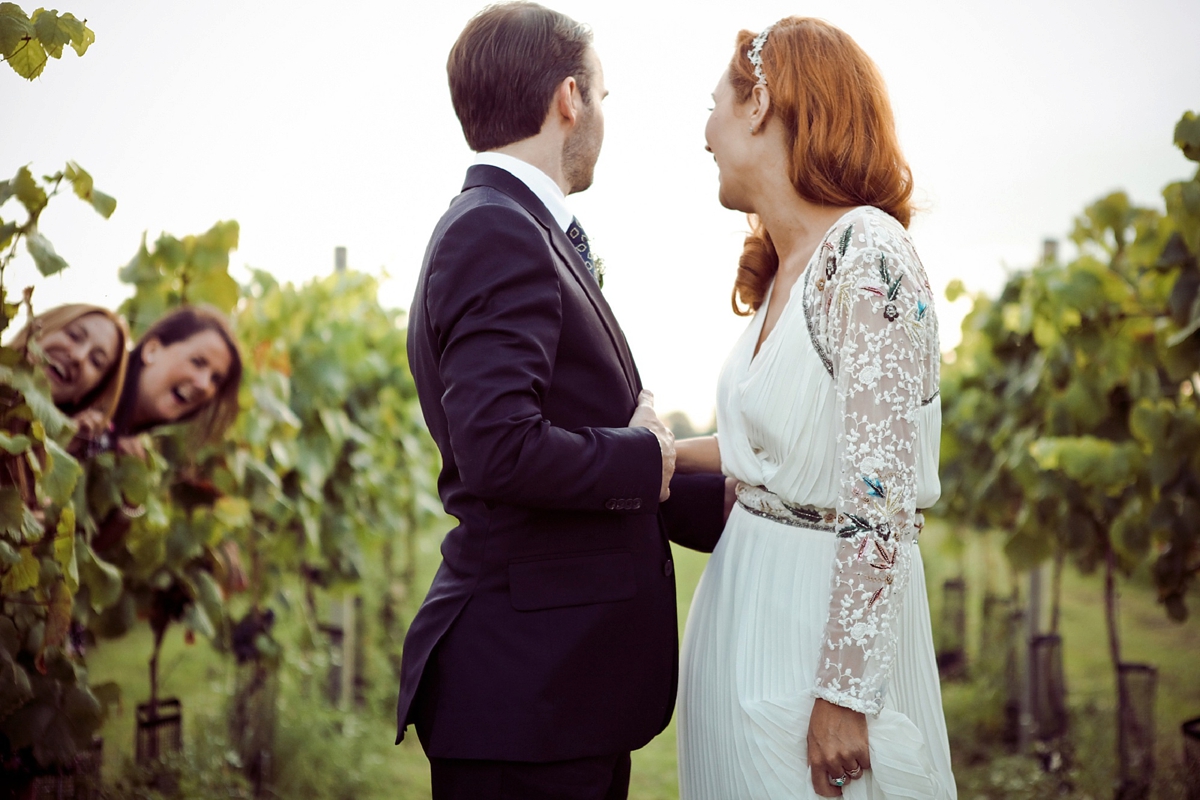 The couple's friend Nick designed posters with the slogan 'Dance Like You're Northern' on them several years ago and it's a mantra Alexandra and Mark aim to live by. I cracked the hugest smile when I saw the rose gold bunting strung up in their marquee displaying this very motto.
"I had looked at using a decorating company but after realising how much of our budget that would take up, I decided to do the decorating myself. Yorkshire Heart let us use the marquee for three days so we were able to put the decorations up the day before and take them down the day after, which was amazing as some venues we looked at said that the decorations had to come down the night of the wedding."
Yorkshire Heart Vineyard provided a BBQ during the day and in the evening Alexandra and Mark treated their guests to pizza courtesy of Wood Fire Dine. Our bride's only regret of the day is that she only managed to enjoy a single slice as she was too busy boogying to the musical stylings of the their DJ. A mix of rock, disco, soul and Britpop kept everyone entertained and the dance floor packed.
"Our first dance was 'This is the Day' by The The. It came on the radio when we were first dating and it turned out we both had it on our mental list of favourite songs, it's a really upbeat and fun. Half way through the DJ mixed into Kiss' 'I was Made for Loving You'. I am a massive Kiss fan and the sentiment was obviously fitting. At that point all our guests joined us on the dance floor."
I adore the images of Alexandra and Mark on the dance floor, covered with a cascade of homemade confetti. All the joy of the day was captured by photographer, Joel Smith, while the bride's videographer brother offered to document the wedding as a gift using an 8mm camera and digital film. The couple have yet to receive their film, but they do have a little flick in which their darling dog Dolly plays a starring role.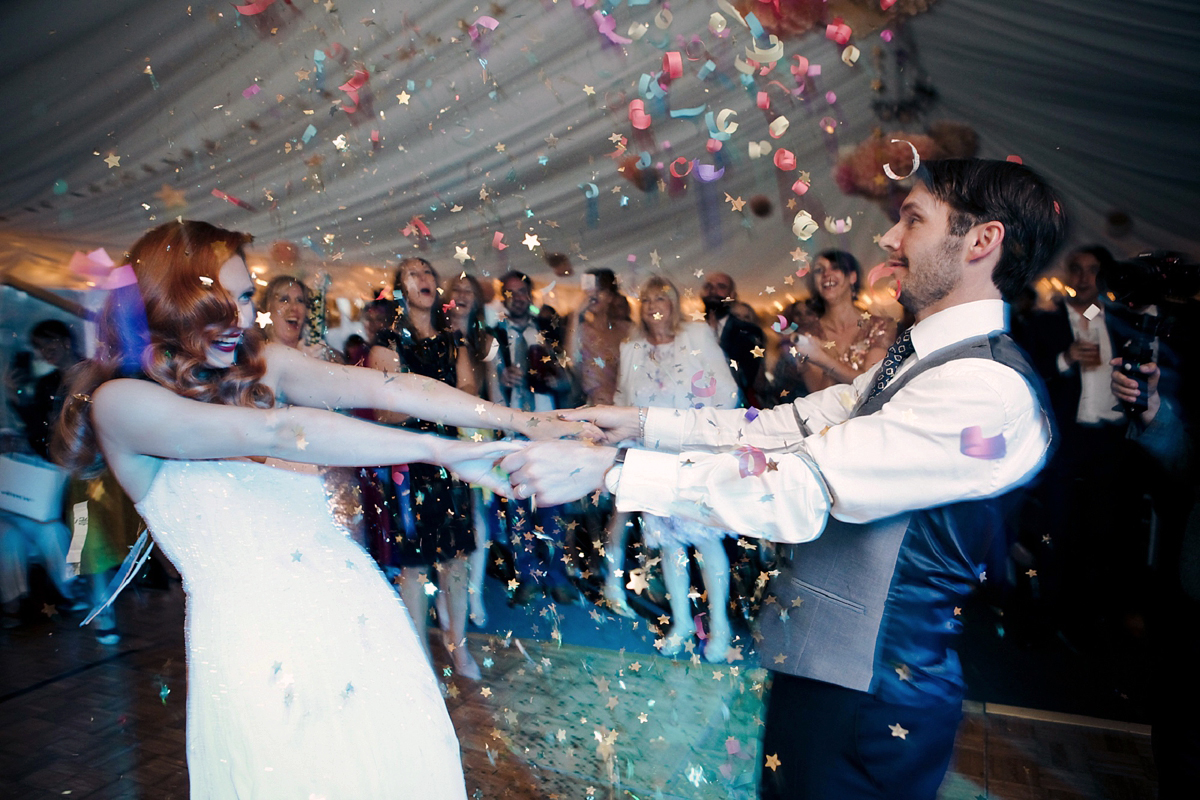 Words of Wedded Wisdom
"My biggest bit of advice would be that you don't have to spend a fortune to have the best day of your life. Don't forget the reasons you are doing it. I think for anything you plan, you have to think whether you would miss it if you didn't have it. Think about things you can do yourself and where you can call in favours from friends and family."
"We DIY'd a photobooth with props I had bought from eBay and discount stores, and borrowed by friend's Instax camera. My best friend, Leanne, got married in May so I borrowed loads of stuff from her. My gold tinsel curtains were about £2 each from eBay and even the venue staff said how they had completely transformed the marquee. It looked great so it just goes to show how much you can do yourself, on the cheap."
"If you are going to invest in anything make sure you get a great photographer. I absolutely love my photos and it's the memories that last. Start your planning with a Pinterest board, there are so many great, unusual ideas out there and it's those quirky things that people will remember forever."
"Originally Mark and I had planned to pay for everything ourselves but then our parents stepped in and gave us some towards it, but we tried not to spend over £10,000 and I think we just about managed it."
A huge thank you to Alexandra and Mark for sharing their gorgeous day with us all, I'm a little bit besotted with our girl's gorgeous bridal get up! And of course our thanks also go to Joel Smith Photography for these lovely images.
With love,
Em x