Hello again and we're definitely rattling through December aren't we? With the holidays getting closer, could there be a better time to escape to a beautiful countryside retr/|[]-===eat and enjoy the charms of an estate that you might just have seen on your TV screens? I don't think that there is so join me for a tour of De Vere Horsley Estate, part of The Principal Hotel Company and we'll chat with Kate, the Senior Wedding Manager, on our travels too…
De Vere Horsley Estate has an incredible charm, famous history and list of hidden treasures so today, we're going to uncover some of its glorious secrets and take a look at the just a few of the reasons why it's the perfect location for a wedding.
Originally designed and built in 1820 by Sir Charles Barry; the architect of the Houses of Parliament and Highclere (of Downton Abbey fame), the estate was later owned and extended by Lord Lovelace and his wife Ada Byron, daughter of the famous romantic poet Lord Byron. When you step inside, you absolutely can't help but notice all the fab architectural details and outside, you'lve got acres and acres of parkland and lawns to explore not to mention a terrace and a lake.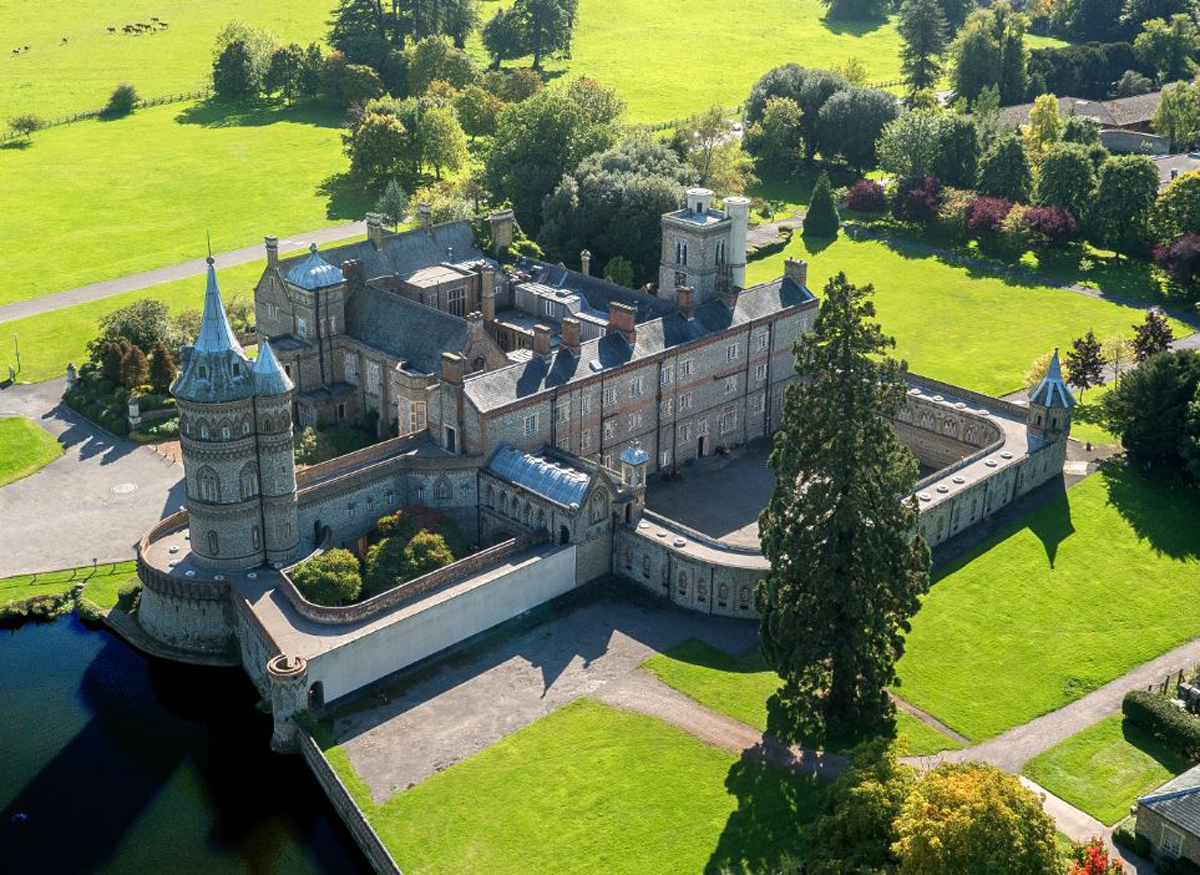 You're truly spoilt for photographic backdrops, that's for sure!You might well feel you already know De Vere Horsley Estate and I wouldn't be at all surprised if you're sat there looking at these images and thinking to yourself 'that looks really familiar.' The Estate is super popular for use in TV & film and it's been used as a backdrop for various productions such as Alice Through the Looking Glass (Disney, 2016), Call the Midwife (BBC, 2017) and my personal fave, The Crown (Netflix 2018).
So, as with all properties in The Principal Hotel Company's portfolio, weddings at De Vere Horsley Estate are personal, professional and perfect. The team onsite go out of their way to make you feel welcome and to create a wedding day you'll absolutely love. For me, the choice of spaces that you have at De Vere Horsley Estate make it really special so let's take a tour of a few locations you really shouldn't miss when you visit.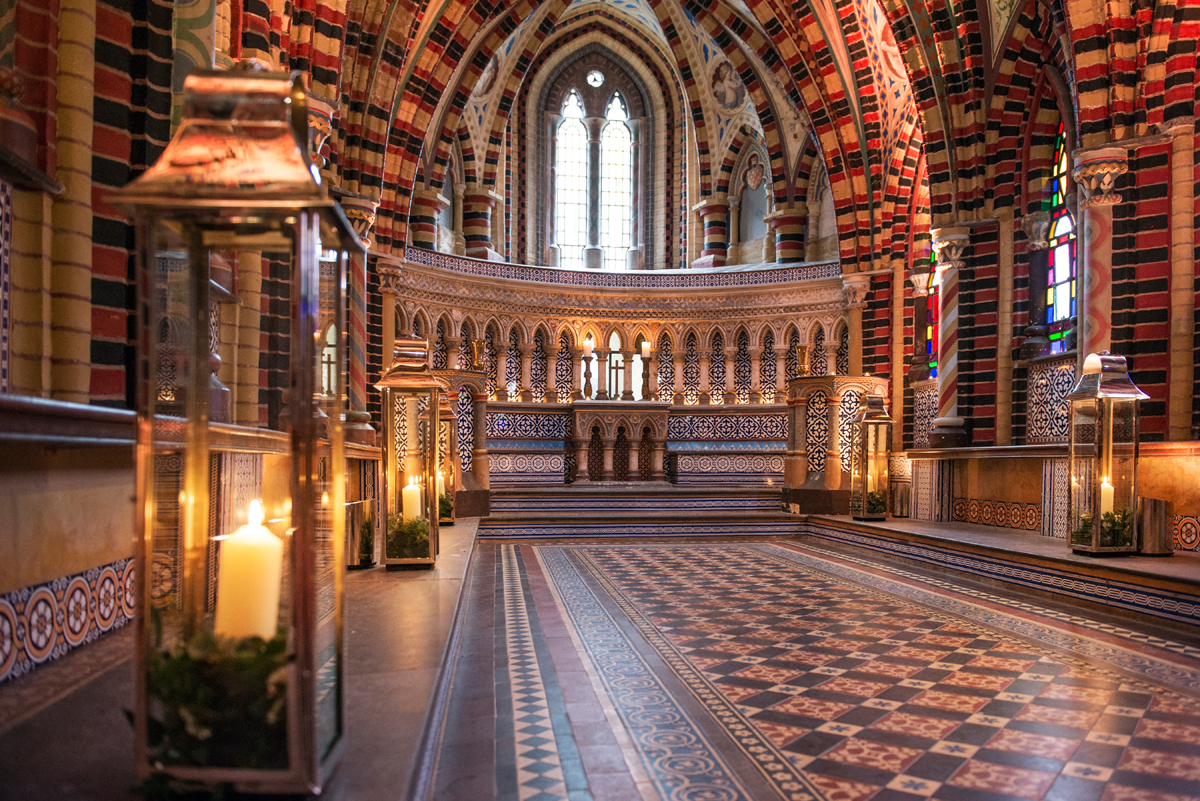 Firstly, The Secret Chapel is all about love and it's a fantastic backdrop for incredibly photographs, private dinners and crazily romantic surprise proposals. Lord Lovelace originally built it as a memorial to his late wife and it's as amazing today as it was then.
The Cloisters are another hot spot for photos. Walk through a succession of intricate carved passageways surrounding the Courtyard that long ago was used just like a modern day conservatory and for the ladies to show off their dresses! Look into the flint & brick courtyard you can glimpse the mysterious tunnels that run under the Estate into the surrounding village.
Stepping inside, The Great Hall is THE space for ceremonies and wedding receptions. It's a magnificent banqueting hall built in 1847 with oak paneling, a minstrel's gallery and over 150 coats of arms on display. Check out the cantilevered roof that's inscribed with all the family mottos.
Lastly, don't miss The Groom's Room. This is a new addition to the Towers and you'll find it in the Pump House. Complete with a full-sized snooker table, table tennis, fussball, darts and a variety of board games not to mention all the multimedia kit you could ever want, it's the ideal place to gather on the night before the big day.
As you can imagine, De Vere Horsley Estate is a wonderful wedding venue and Kate is the Senior Wedding Manager who gets to work in these sublime surroundings. Let's hear a little from her now…
What's your favourite part of your job?
"Meeting new couples and seeing their faces light up whilst walking them around our beautiful venue. I also love hosting our open days and get a buzz from seeing lots of people enjoying the event."
What's your favourite part of a wedding?
"Checking the setup the morning of the wedding after months of planning and seeing the couple's vision a reality. Teamed up with checking on the bride and groom after the nuptials when they are more relaxed, can take it all in and enjoy the day."
What is your top tip(s) for couples when choosing a wedding venue?
"I often ask if the couple can picture themselves here on their big day. It's similar to buying a house, you need to have that 'wow' and a feeling in your stomach that's it's the right place for you as a couple."
What is your top tip(s) for couples when planning their wedding?
"I can see how overwhelming planning a wedding can be. There are so many more ideas now with the likes of Instagram, Pinterest and celebrity weddings that couples can feel a lot of pressure and feel overwhelmed. My tip is to create a list at the start of what's important to them and that way they can look back on it when they need to. Also to break the planning down into stages, I remind couples that choosing the venue is a huge part of the planning and once it's chosen they then have the date and location and everything else can then follow on from there."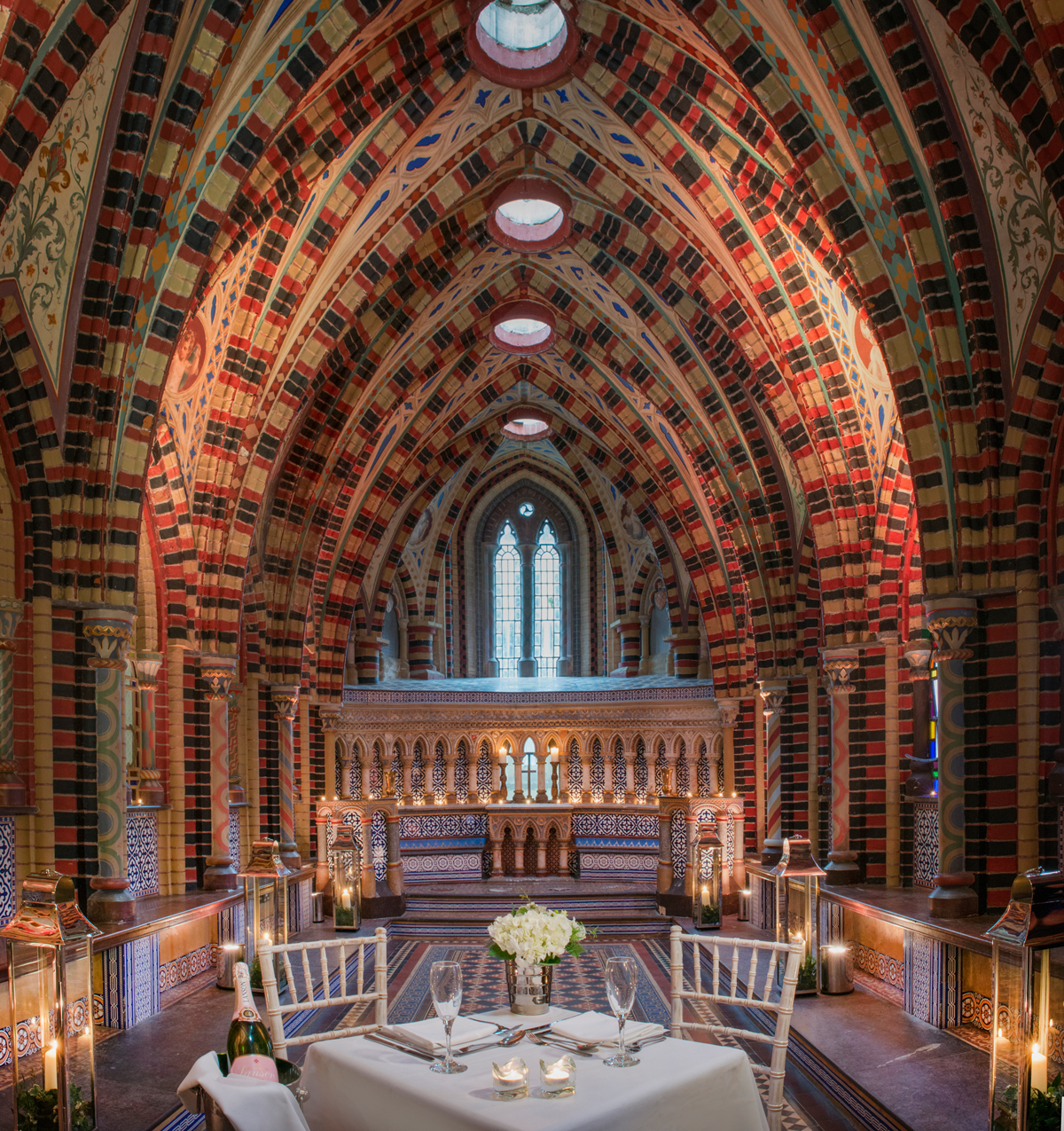 Why do couples choose De Vere Horsley Estate?
"A huge factor for choosing Horsley is the exclusive use element. There aren't many places where you get a whole castle to yourself and have the flexibility of three function rooms. It also helps that the building and grounds are stunning and have lots of history attached too!"
What's the craziest wedding request you've had from a couple?
"I have heard many questions whilst doing this role and when a couple say 'can I ask you s weird question' I don't think much to it. But this one couple asked me if Trevor could attend their wedding. I was thinking who and what is Trevor! They then went to get him from the car and they put him in my hands! Trevor was a tortoise!"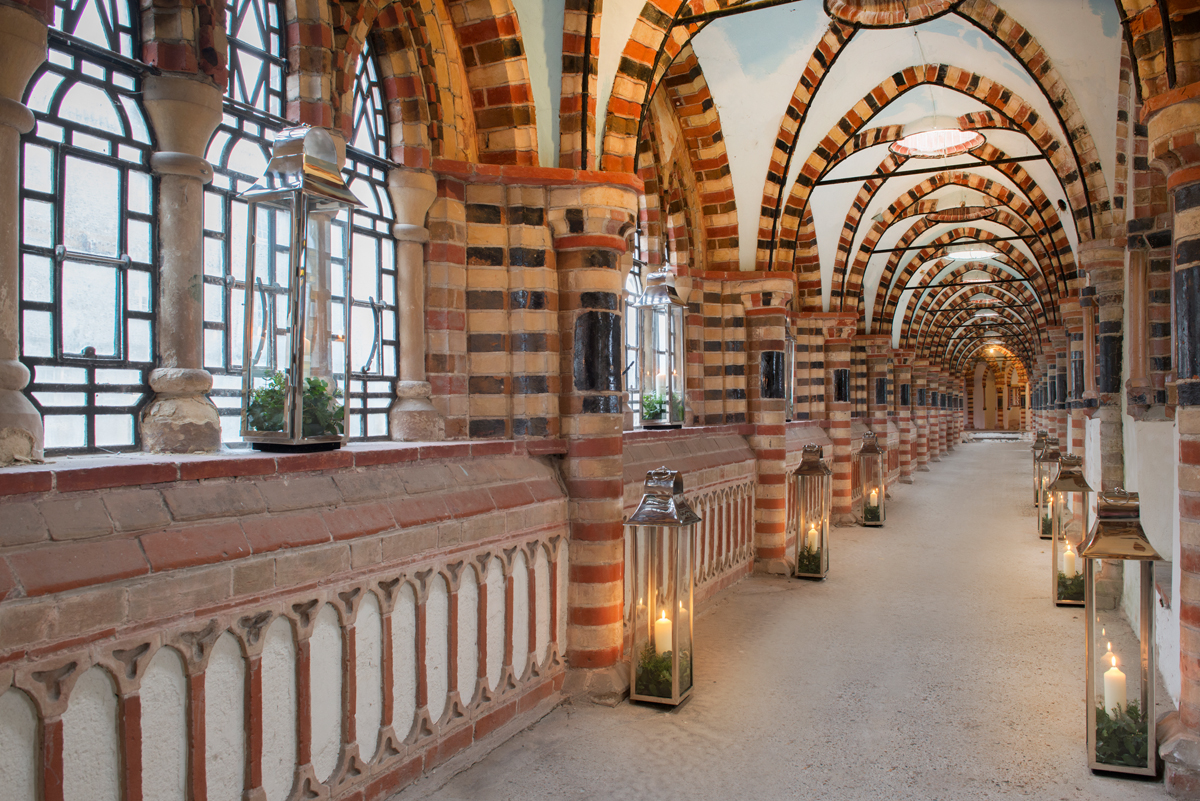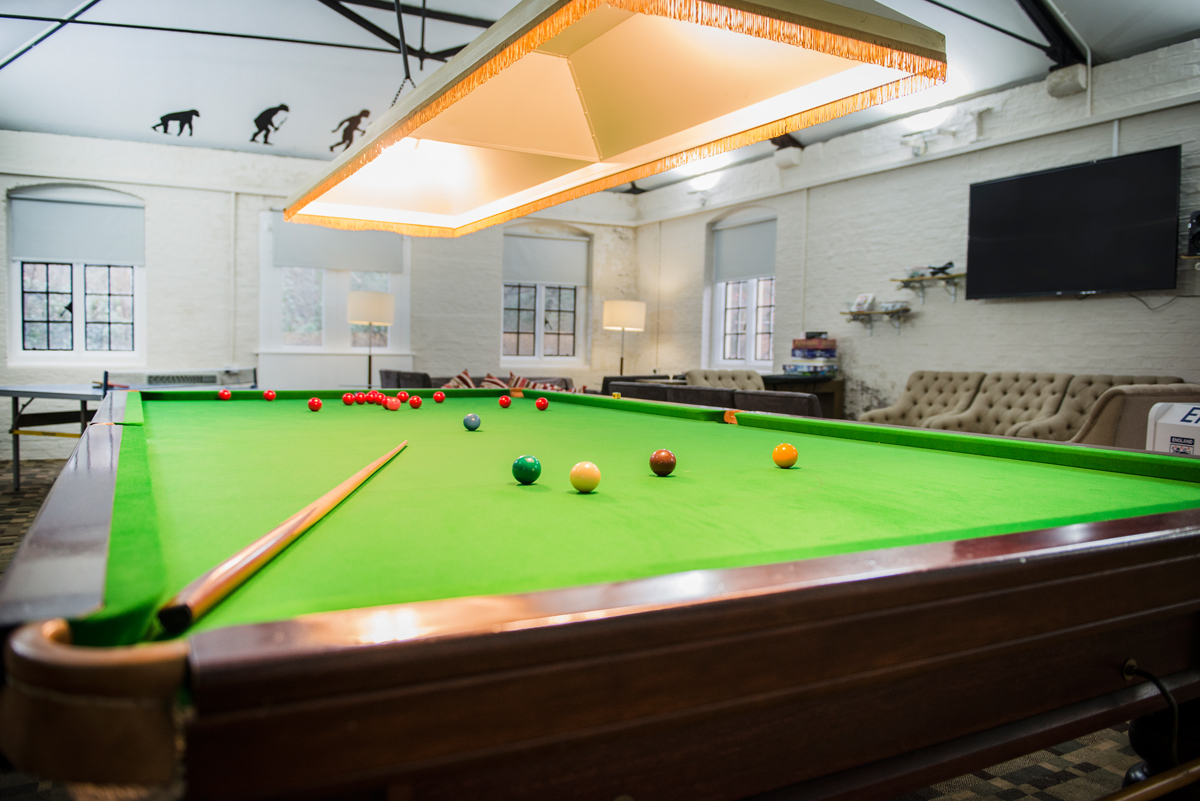 Well, I hope you've enjoyed this tour of De Vere Horsley Towers as much as I have today – I'm not the only one daydreaming about wandering through those cloisters now am I?!
If you'd like to book your own visit to De Very Horsley Estate to talk about your wedding plans, do get in touch with Kate on 01483 286599 or email [email protected]
To find out more about The Principal Hotel Company's wedding venues, including De Vere Horsley Estate, do take a look at their website.
Love,
Tamryn x
Image by mariaassia.com.