Lovelies, I'm kicking off your weekend with a woodland setting, the most delightful gown, and Scandi inspo galore as we head over the seas for this relaxing summer wedding. The newlyweds, Agnes and Sindre  are both students, studying to be a teachers.
They married on the 1st of July 2017 in Norway in a small town called Bryne (the bride's hometown) near Stavanger in a beautiful old church, then held their celebrations at Frøyland Orstad Church. Let's begin with a spot of romance with their delightful 'getting together'  and proposal tales.
"One of the key elements I wanted the wedding to express was (of course) love, but also summer, relaxation, and the simple beautiful clean slates. I wanted all the guests to enter the venue feeling the light breeze of summer. I spent a lot of time on Pinterest searching for ideas, inspiration and colors. I must admit, though, I had quite a few ideas on how this wedding would look like long before we even got engaged."
Images by  Green Antlers Photography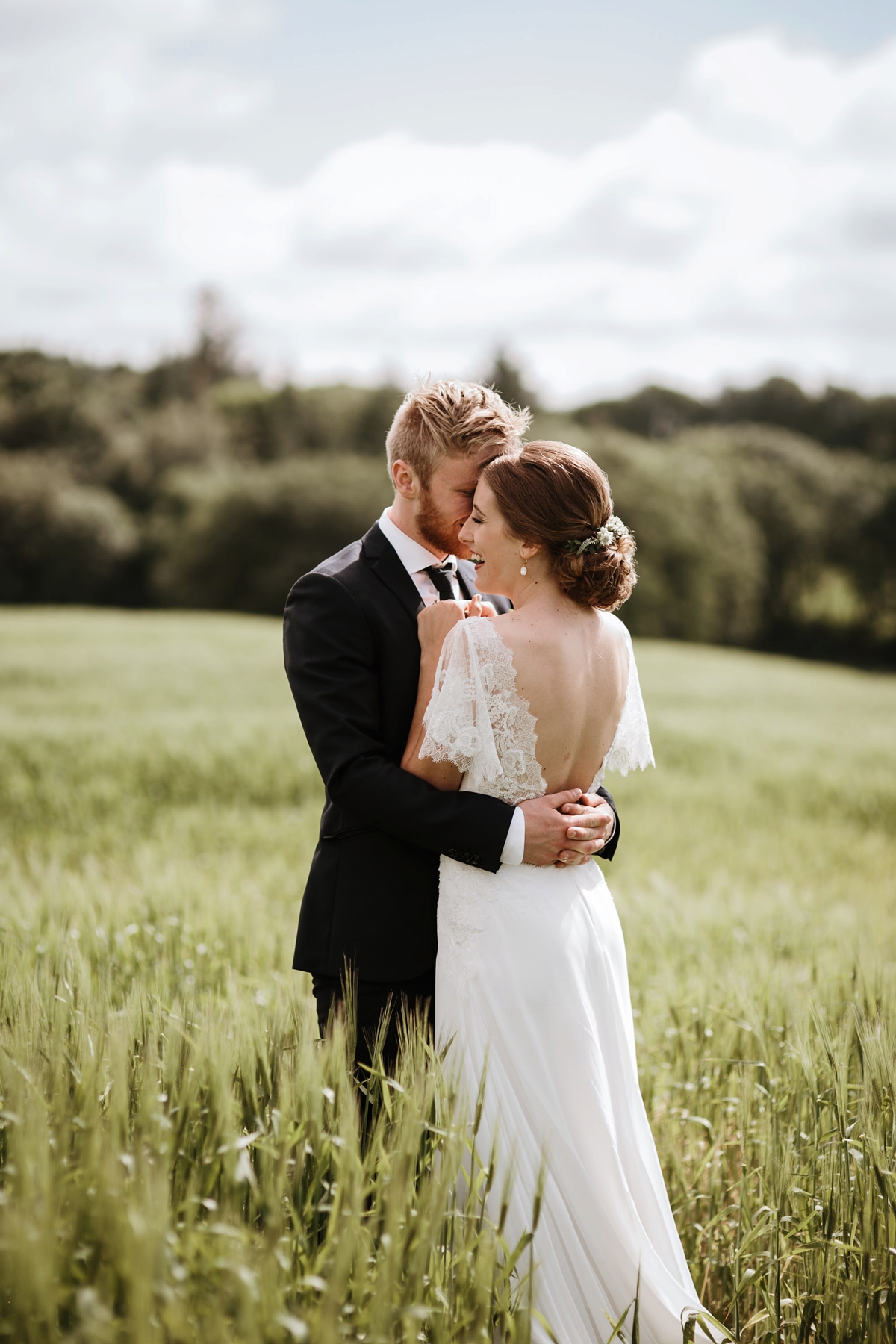 "We were both so happy with our wedding photographer, Sam from Green Antlers Photography. He was calm, down to earth, funny and very kind. When we Skyped and during the wedding day he came with helpful advice and reassurances. It was like bringing a family member along. We had so much fun together and simply could not have asked for a better one. He was very professional, I felt safe in his surroundings, and during the shoot he guided us and gave us tons of compliments.
Furthermore, he took the time to talk to us, and he gave us some space right after the church ceremony to just be together.""I added beautiful, gold shoes from ASOS and my everyday scent L'Imperatrice by Dolce & Gabbana because I just love it so much. My earrings were from Secrets by B, a jewellery brand producing simple, elegant, vintage glam jewellery and my bracelet was an old birthday present from my parents that I saved for this special occasion."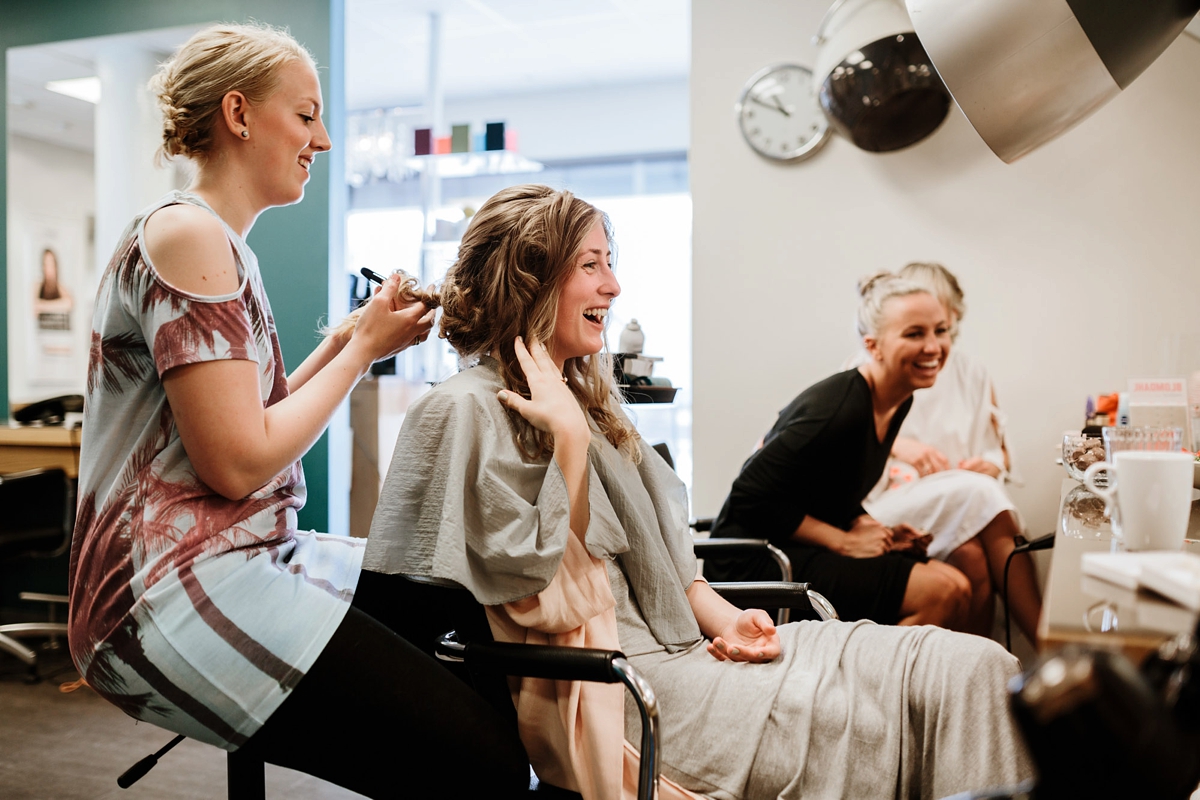 "My make-up artist/hairdresser, Tina from Toves Frisør, styled my hair especially the way I wanted it to be and added small pieces of flowers made by my very talented dad."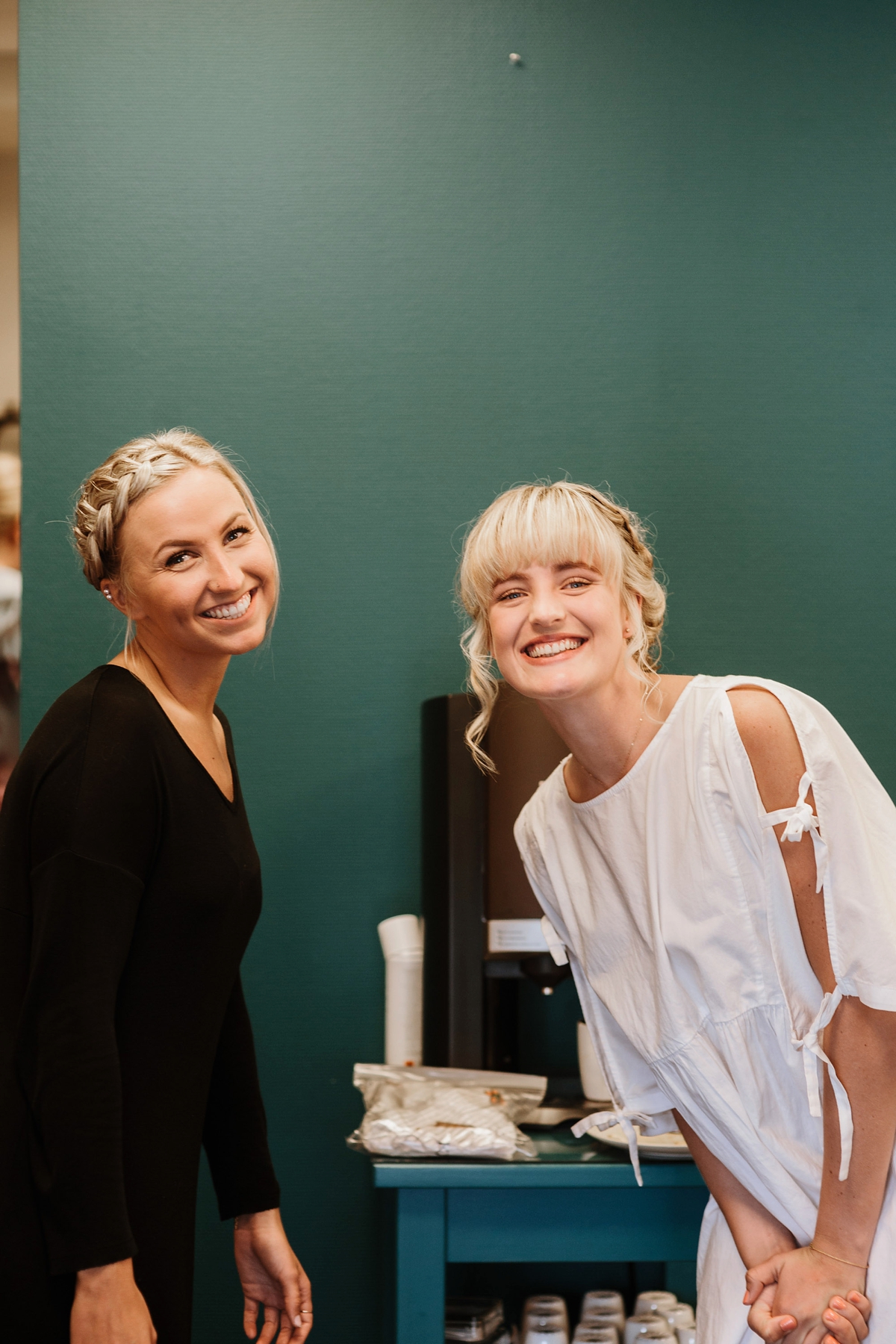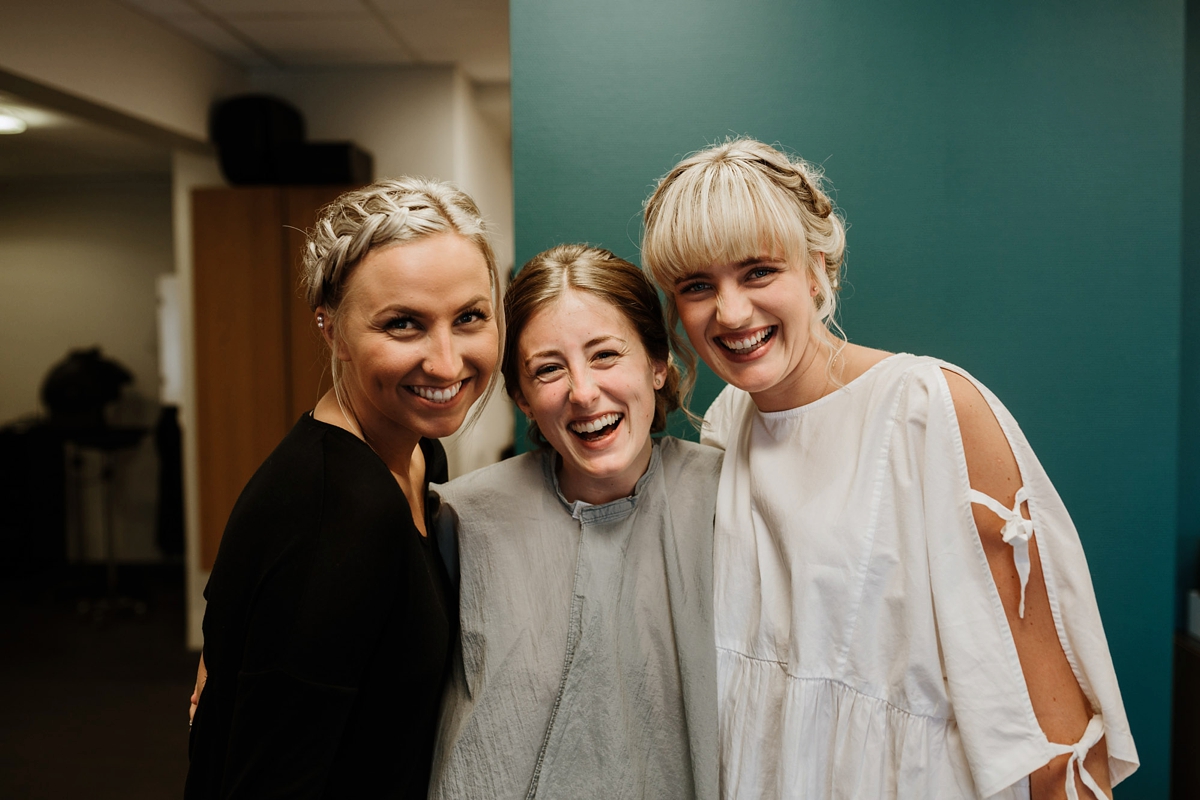 The bridesmaid's stunning dresses were from Mango and the two wee flower girls wore matching dresses from Accessorize.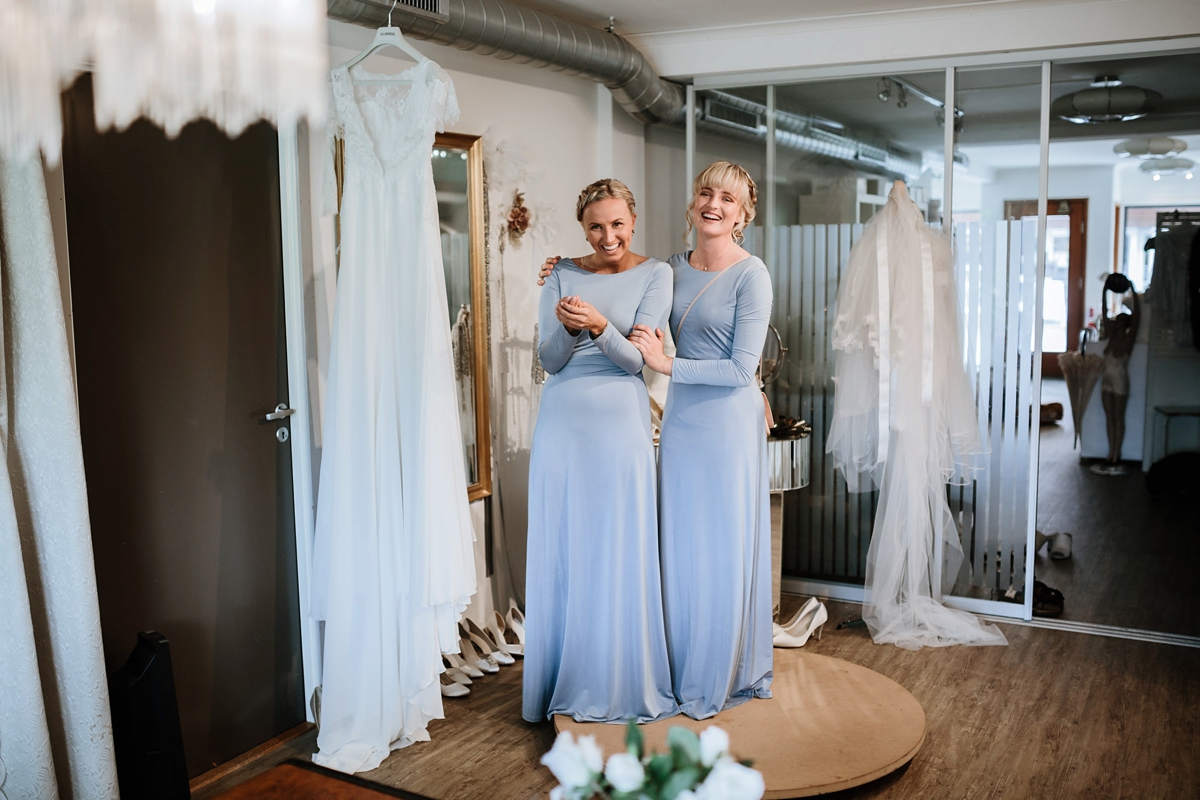 Agnes chose a dress by La Sposa, bought via local wedding boutique Maria Schei. The dress suited her to a tee and I just adore the lace, long train and open-back style.
"I chose this dress because it was so special and unique, like none I've ever seen before. It was simple and elegant, yet somehow described me. It was just perfect with the laces, and the open back, the fluttering lace arms, and the long train at the end of the dress. The owner of the salon fixed the dress to fit me perfectly."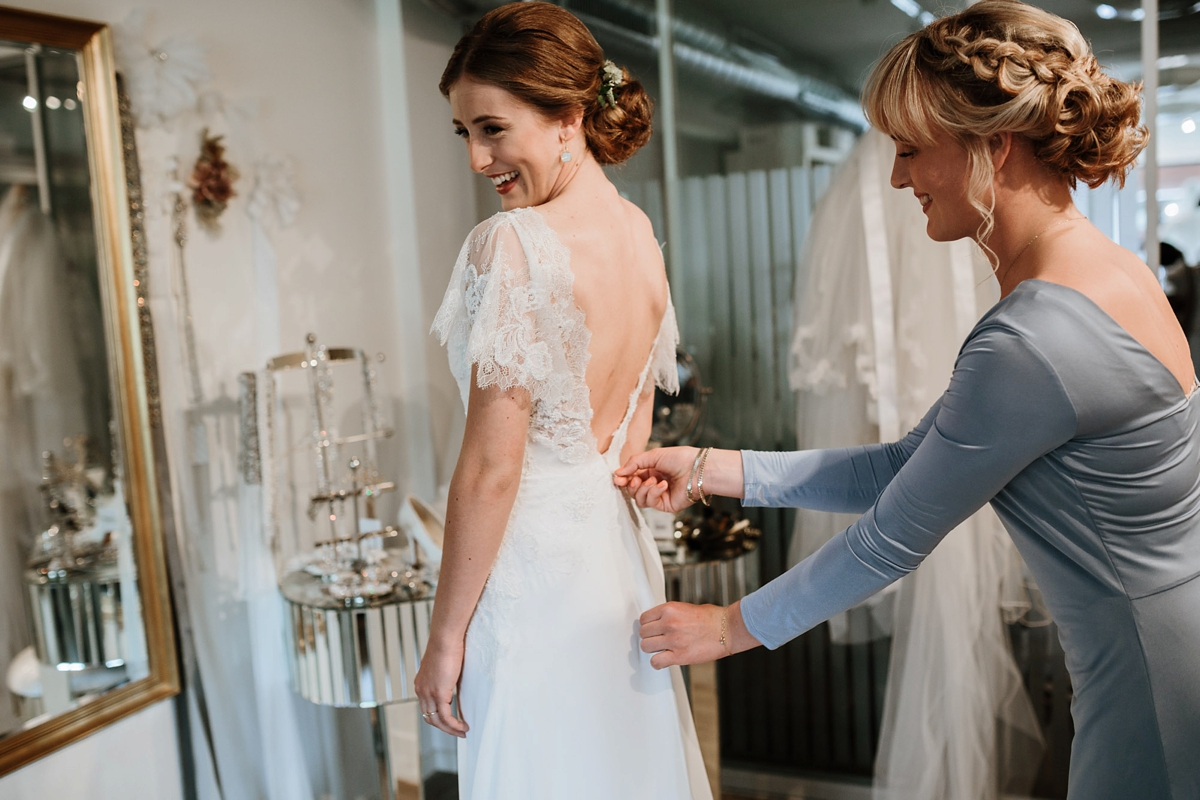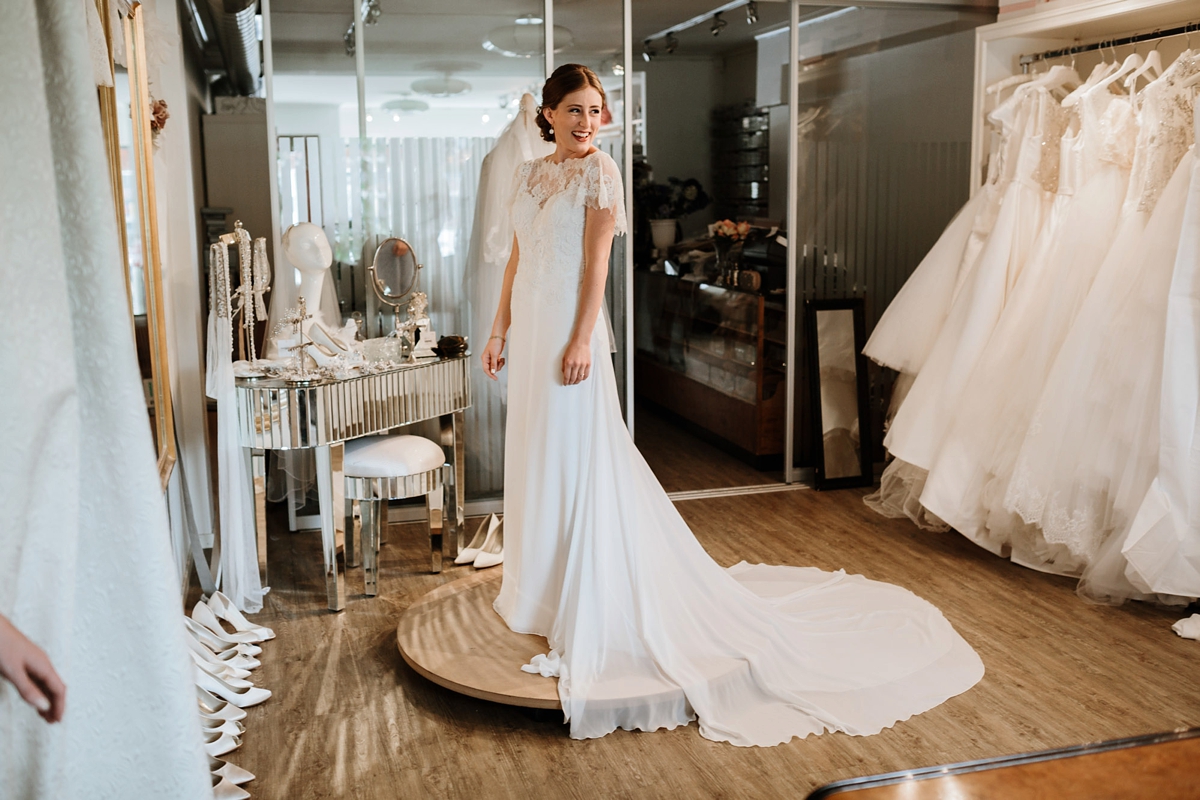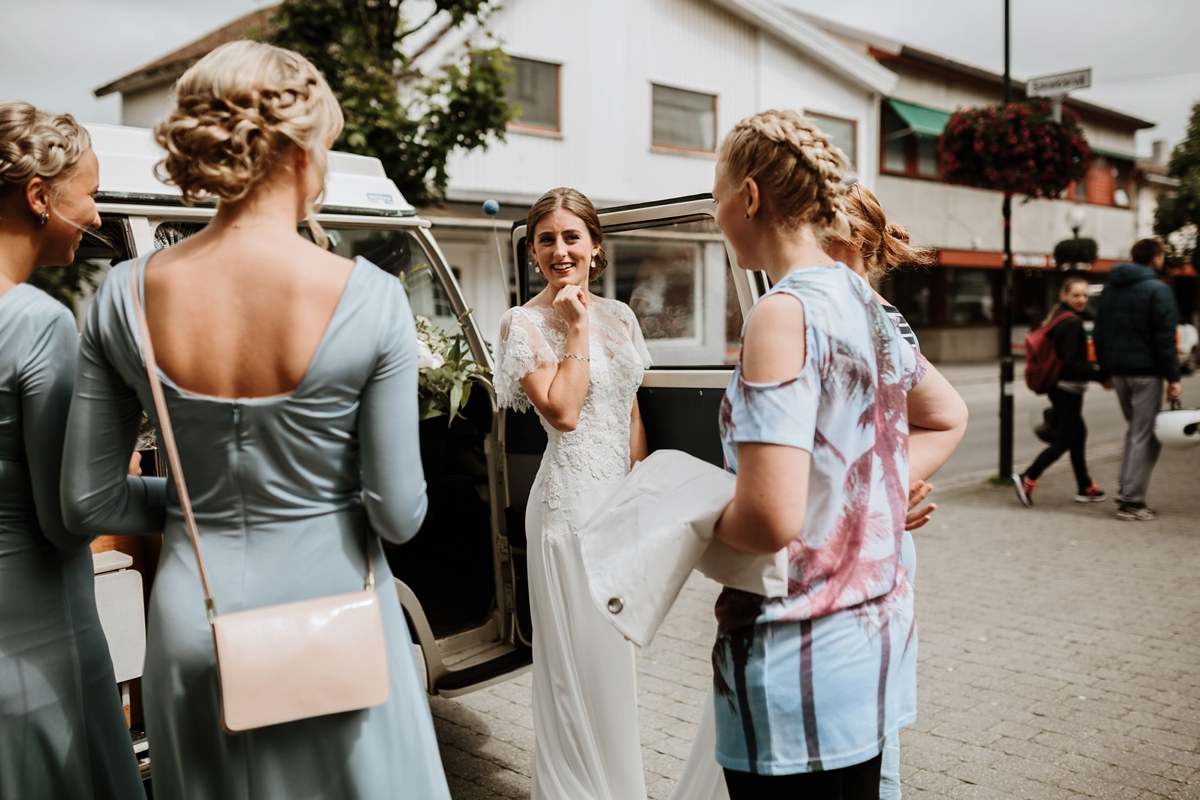 "Personally, as a bride, I just loved walking down the aisle with my dad next two me, the man of my dreams in front of me, and all the friends and family that I love so much around me. It was an emotional and a really beautiful moment."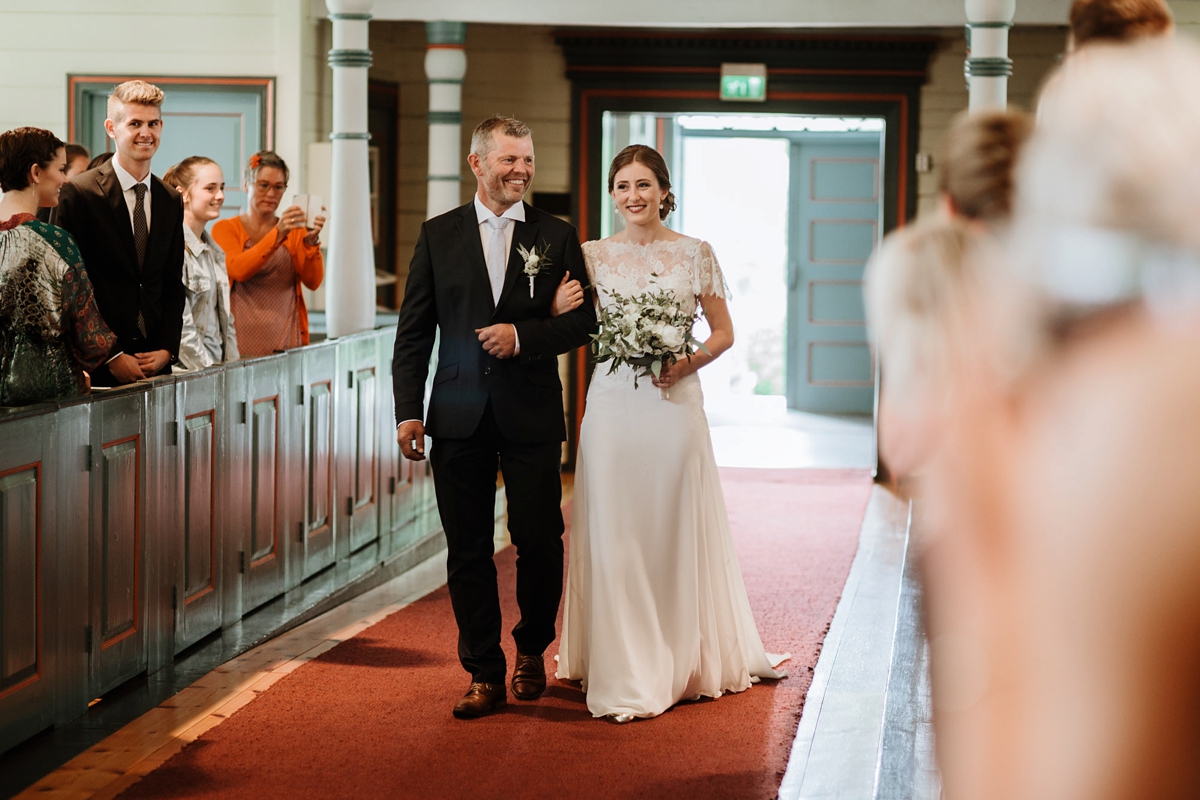 The couple's Christian church ceremony included worship songs from Hillsong (the church they attend). Agnes' dad accompanied her down the aisle to a beautiful song called 'At Last' by Martin Landh, played on the piano by one of the worship leaders and musicians, Espen Gulbrandsen.
Their simple and traditional rings were via an old, local jeweler shop called Bryne Gull og Sølv smie. The bride and groom did not have any vows, as it is not very traditional in Norwegian culture – and Agnes' sister and cousin each read a piece from the Bible in the church ceremony.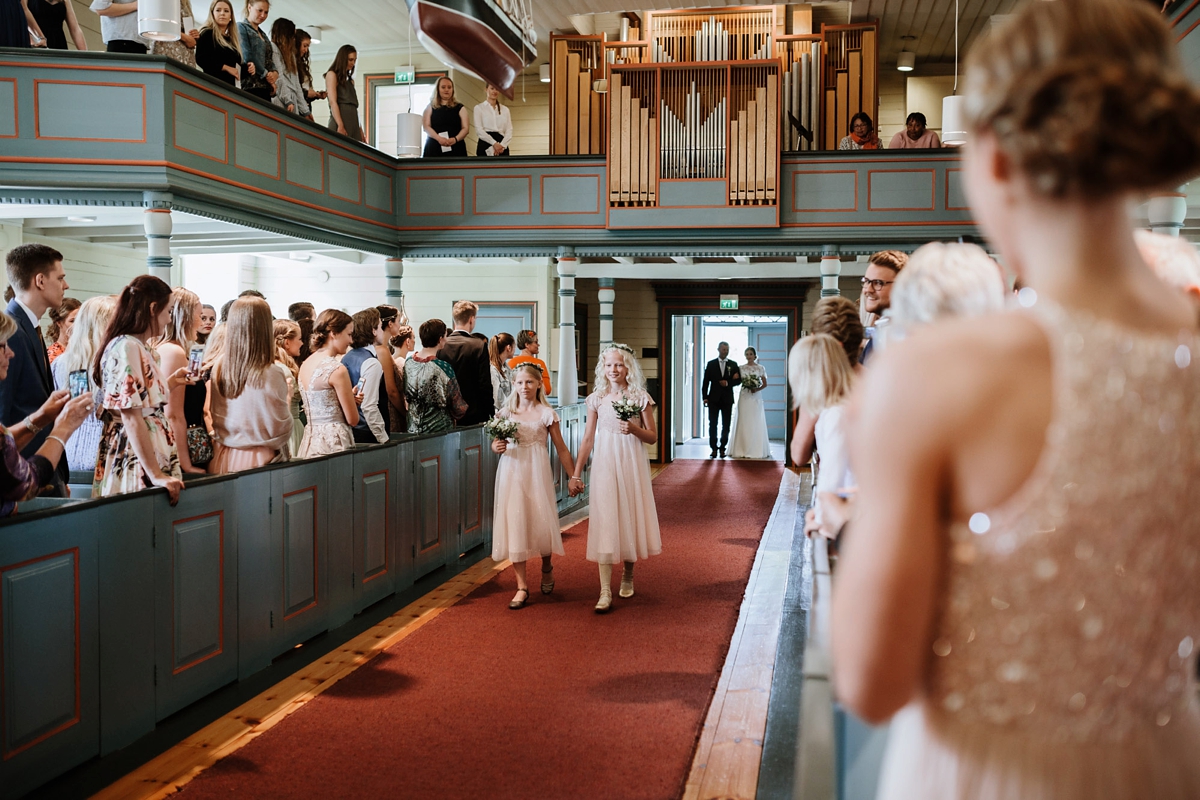 Philippians 4:4-8
Rejoice in the Lord always. I will say it again: Rejoice! Let your gentleness be evident to all. The Lord is near. Do not be anxious about anything, but in every situation, by prayer and petition, with thanksgiving, present your requests to God. And the peace of God, which transcends all understanding, will guard your hearts and your minds in Christ Jesus.Finally, brothers and sisters, whatever is true, whatever is noble, whatever is right, whatever is pure, whatever is lovely, whatever is admirable—if anything is excellent or praiseworthy—think about such things."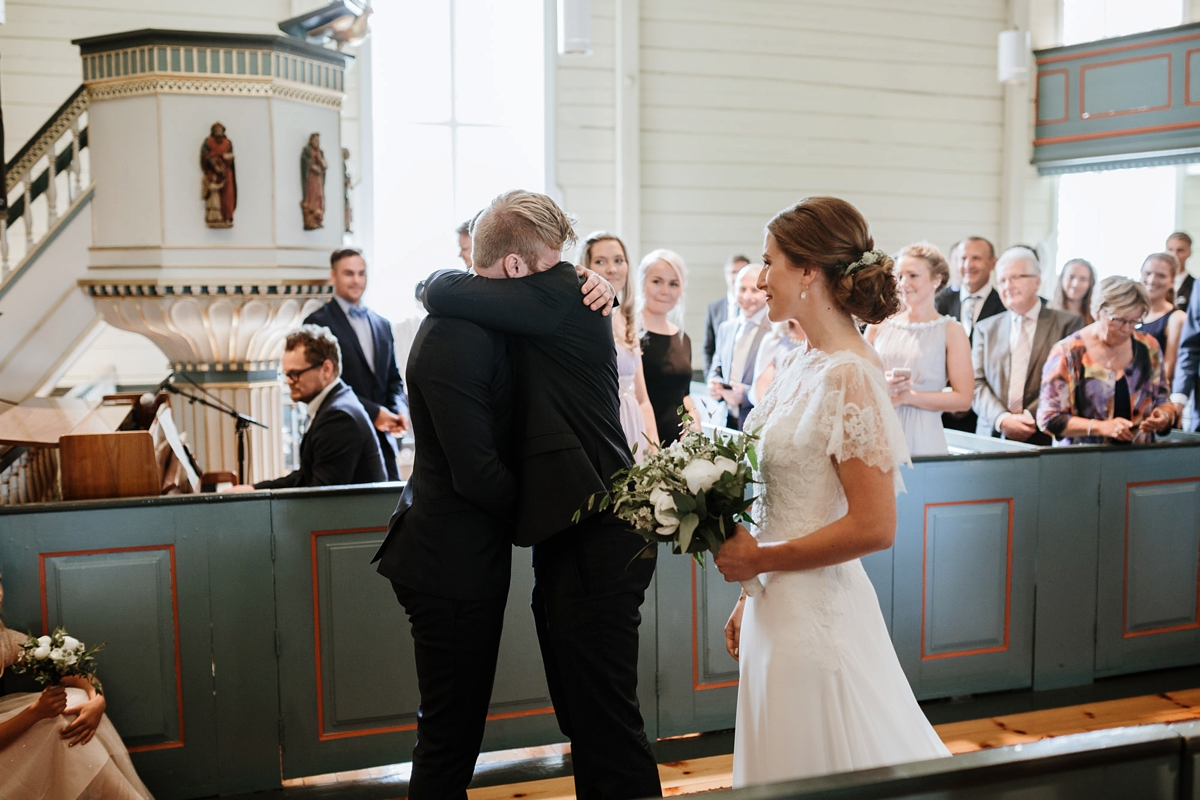 Colossians 3:12-14
Therefore, as God's chosen people, holy and dearly loved, clothe yourselveswith compassion, kindness, humility, gentleness and patience. Bear with each other and forgive one another if any of you has a grievance against someone. Forgive as the Lord forgave you. And over all these virtues put on love, which binds them all together in perfect unity."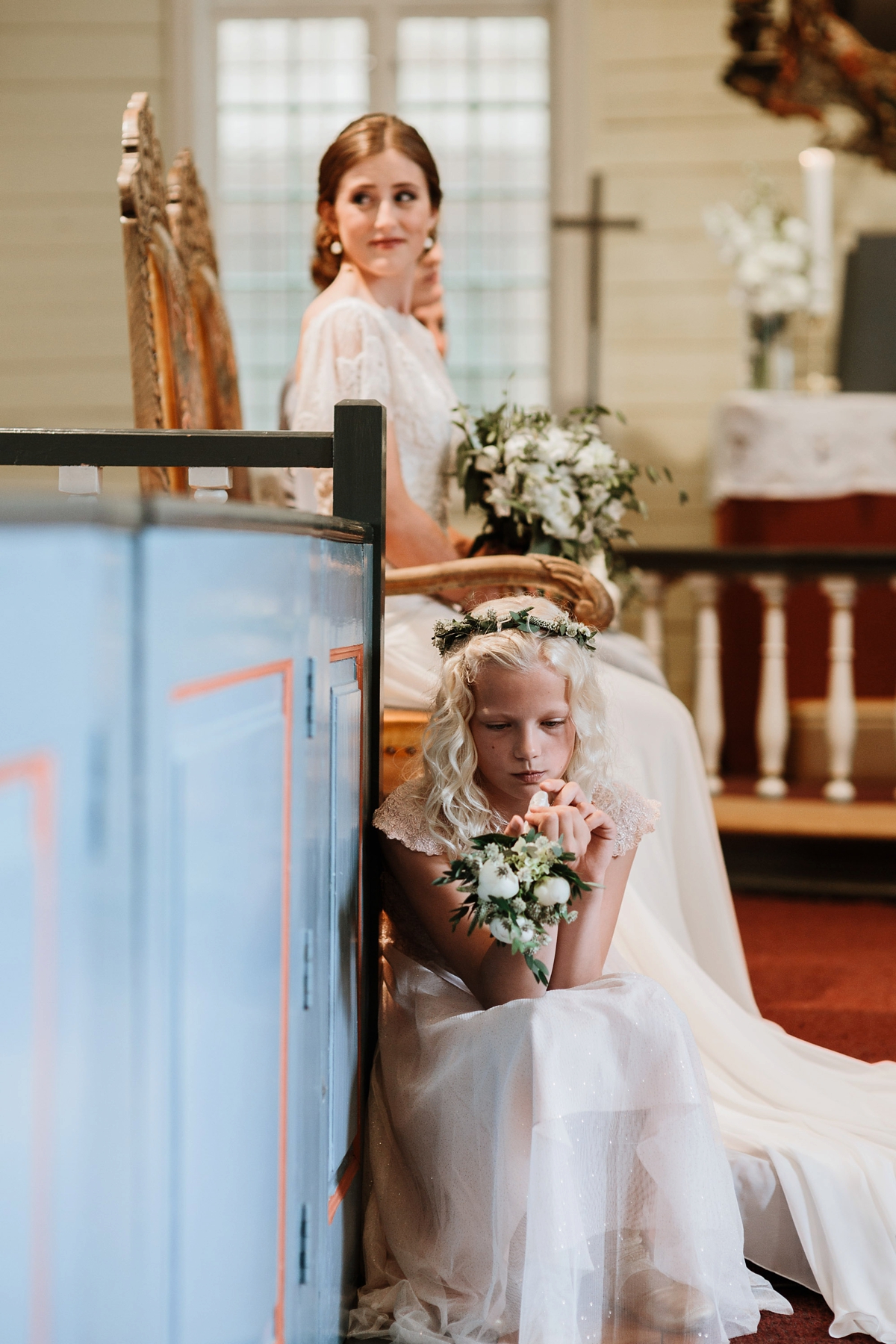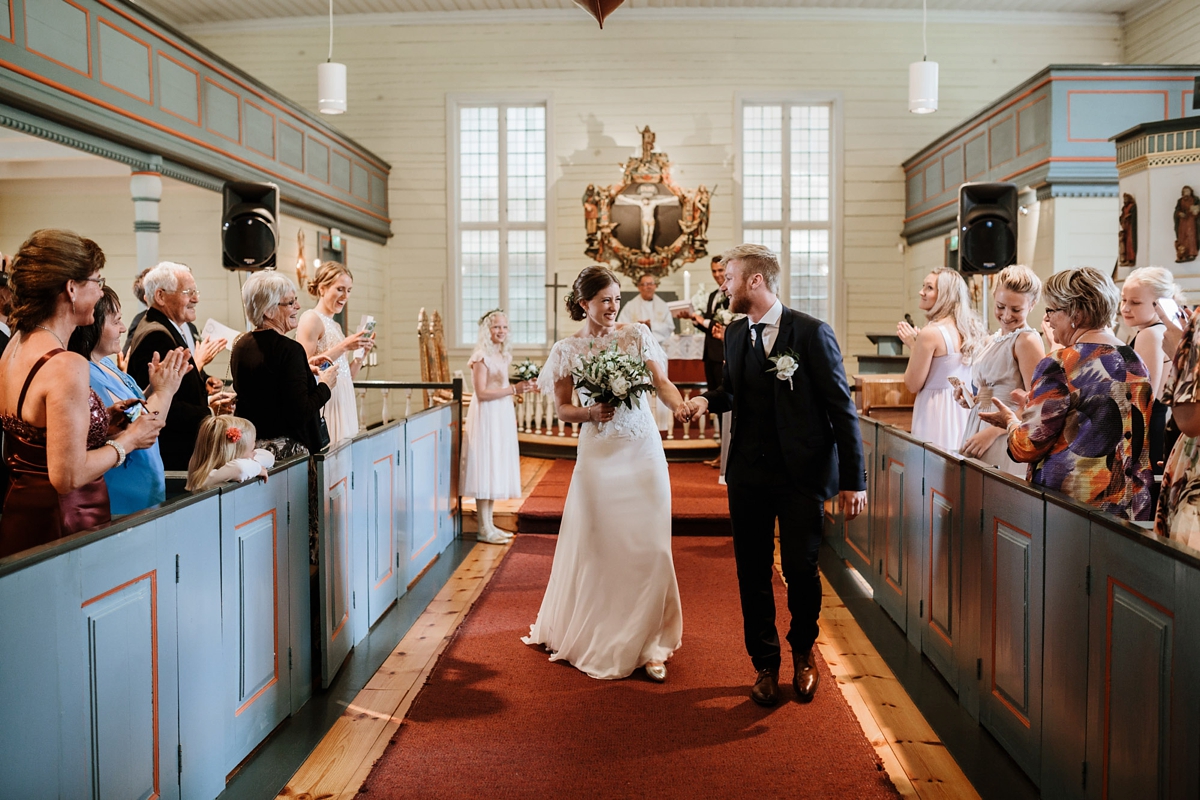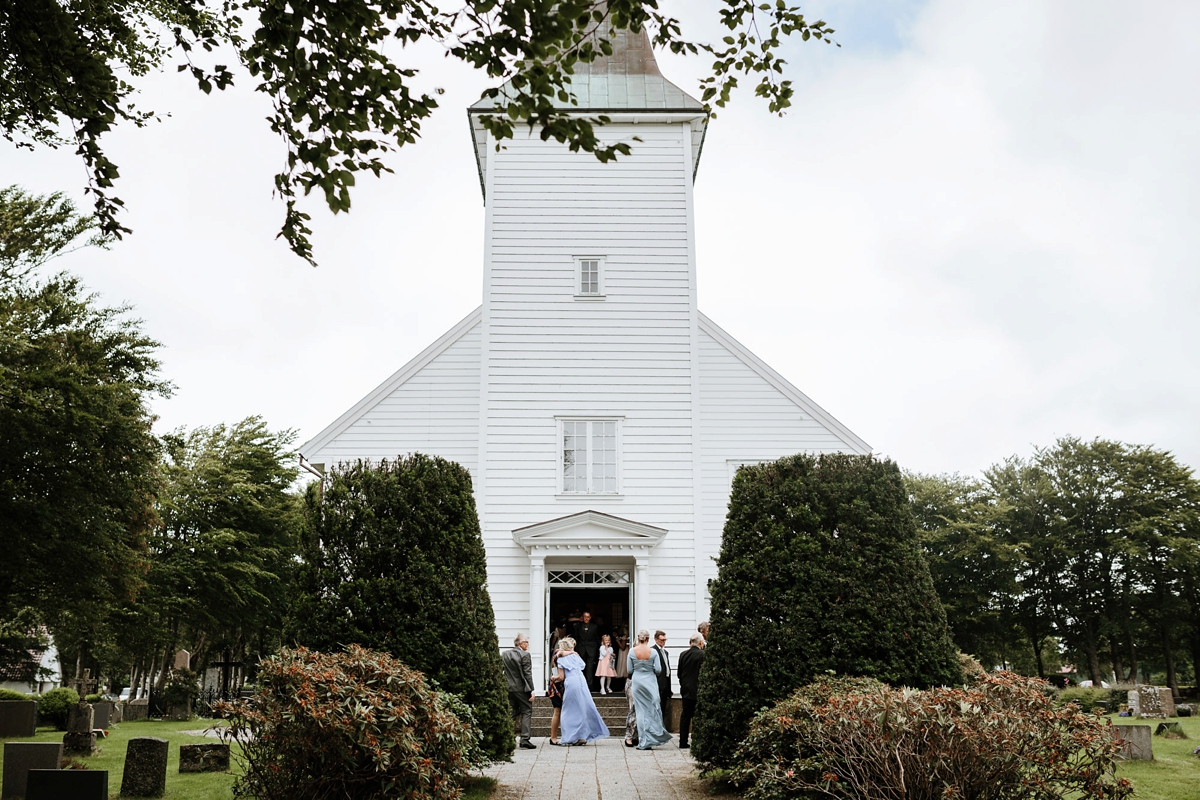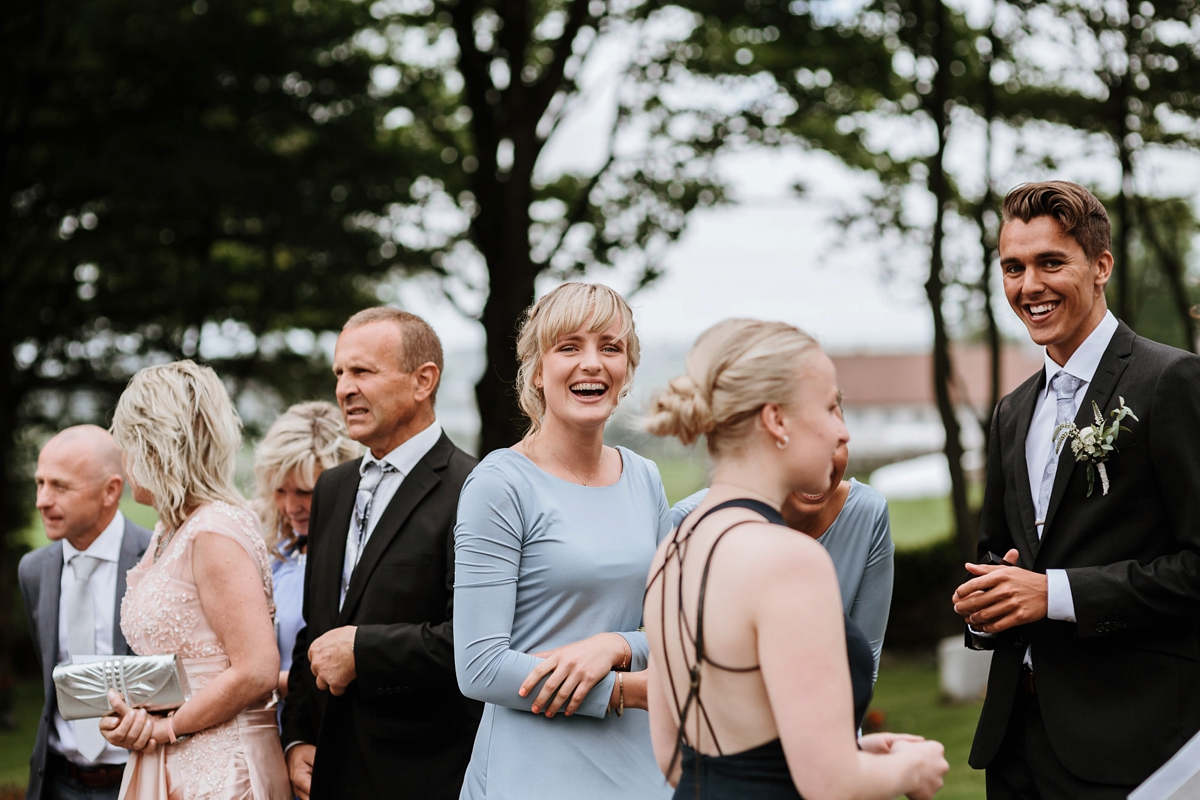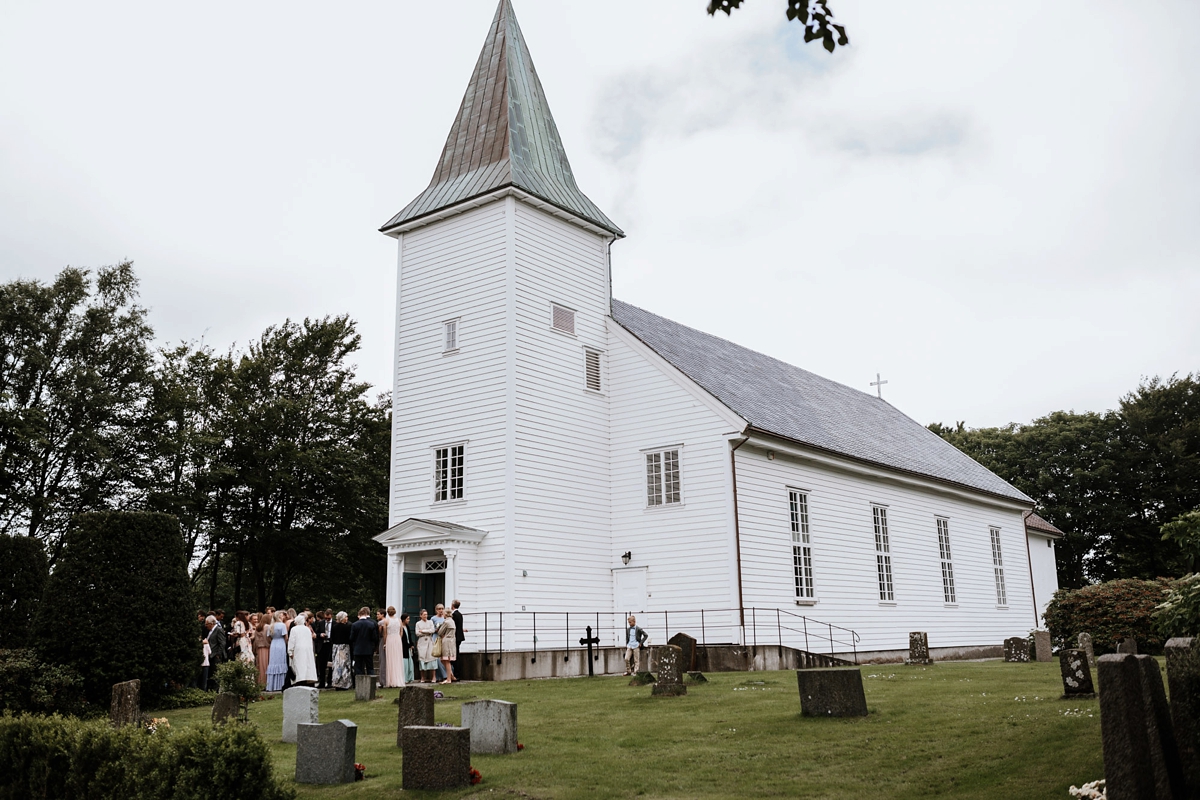 Sindre's shirt and bespoke suit was by Tiger of Sweden, with shoes by Riccovero and a Mamzini tie – all via local store Eikhi.
The bride's dad was the creative force behind the incredible blooms.
"It was such an honour having my own dad make my bridal bouquet. The colours of the wedding were white, light green and gold. So all the flowers were simply white and green. Simple and elegant, just like I wanted it to be. At the same time, all the decorations, including the bouquet, were made to look a bit randomly put into place."
"I did not want anything really portentously or perfectly put together. I wanted more of a relaxed but beautiful style to express the relaxed and fun summer vibes through the colours and the style."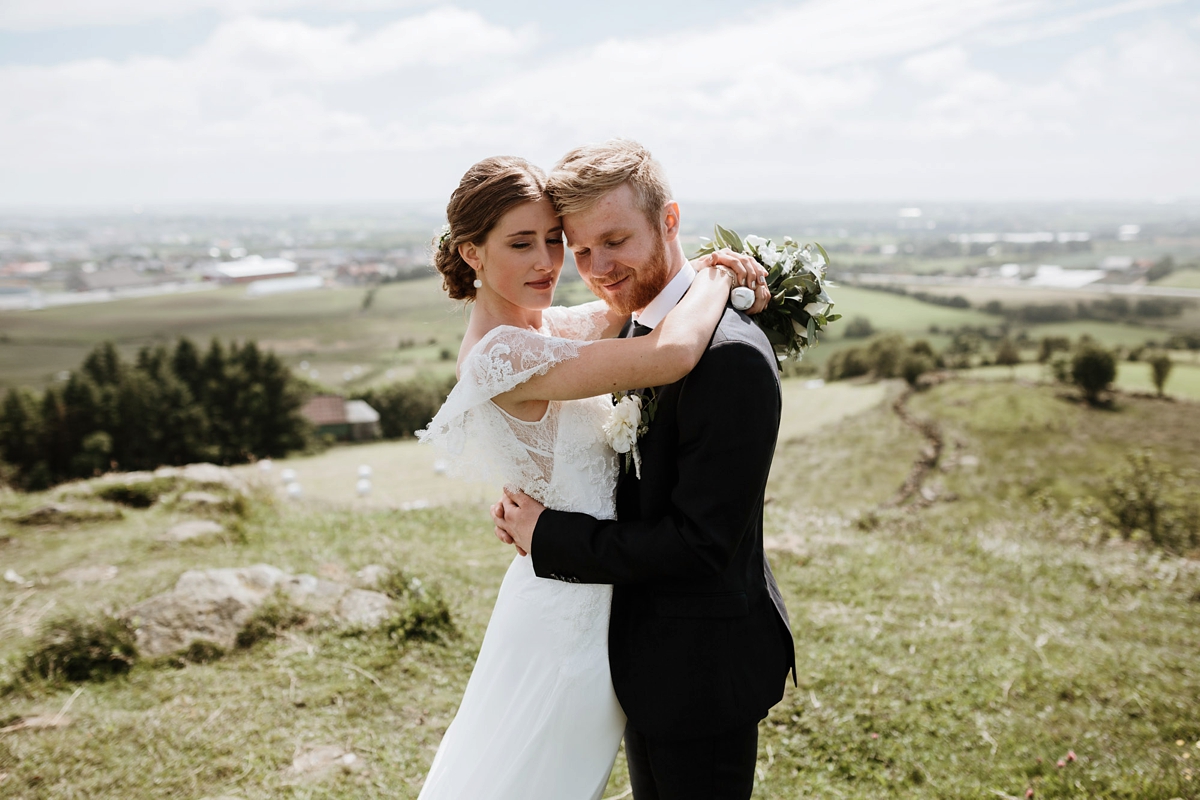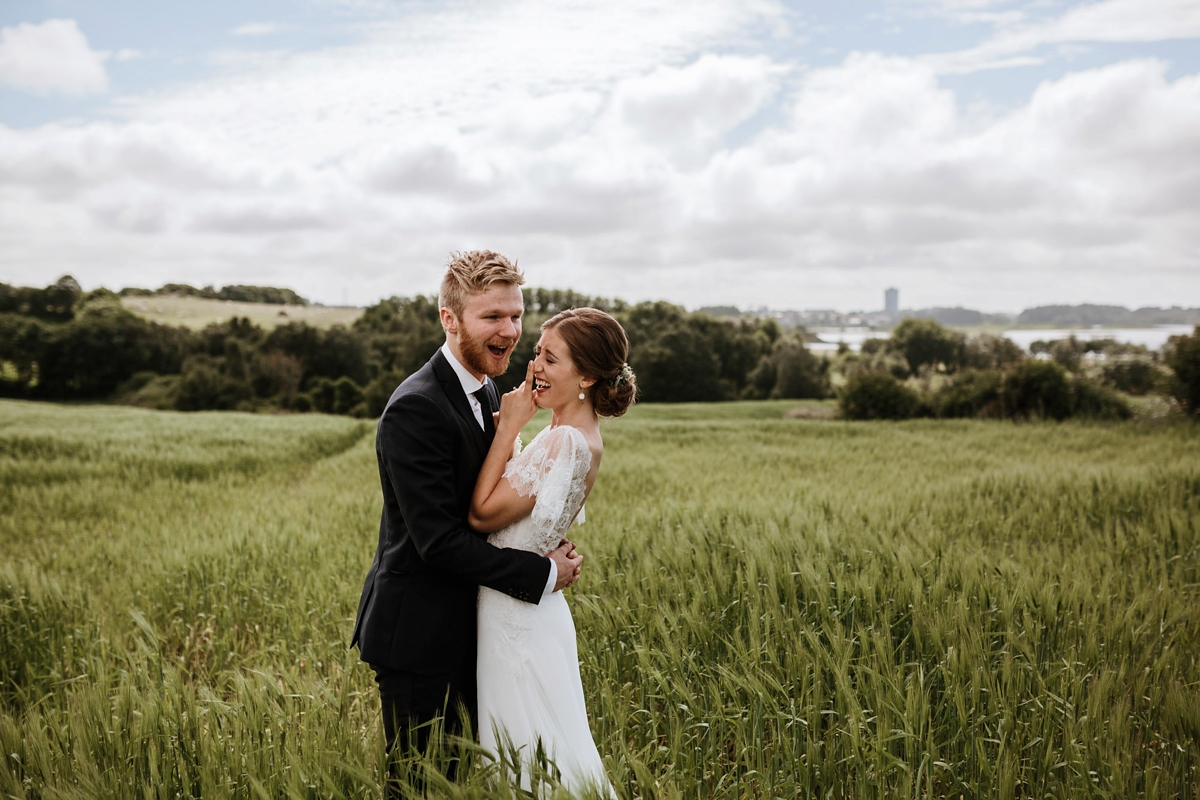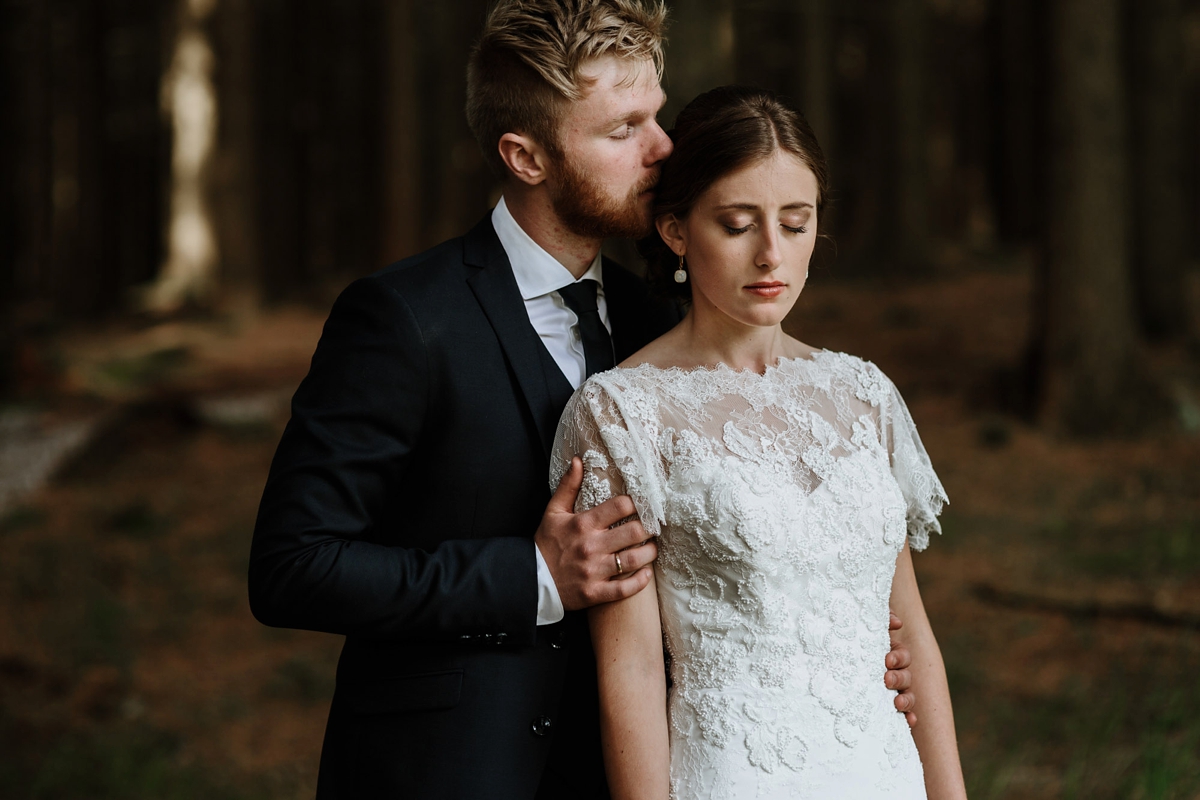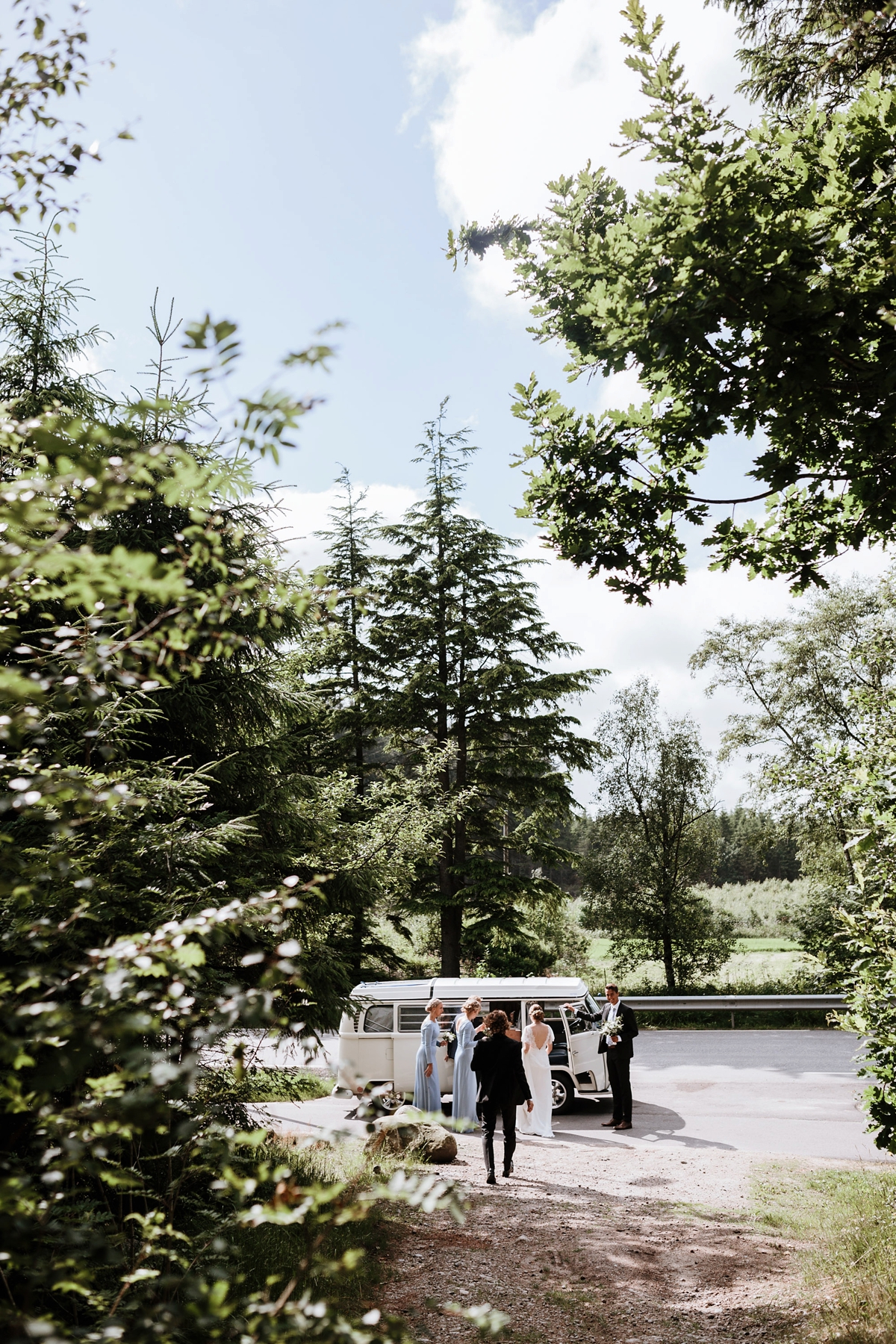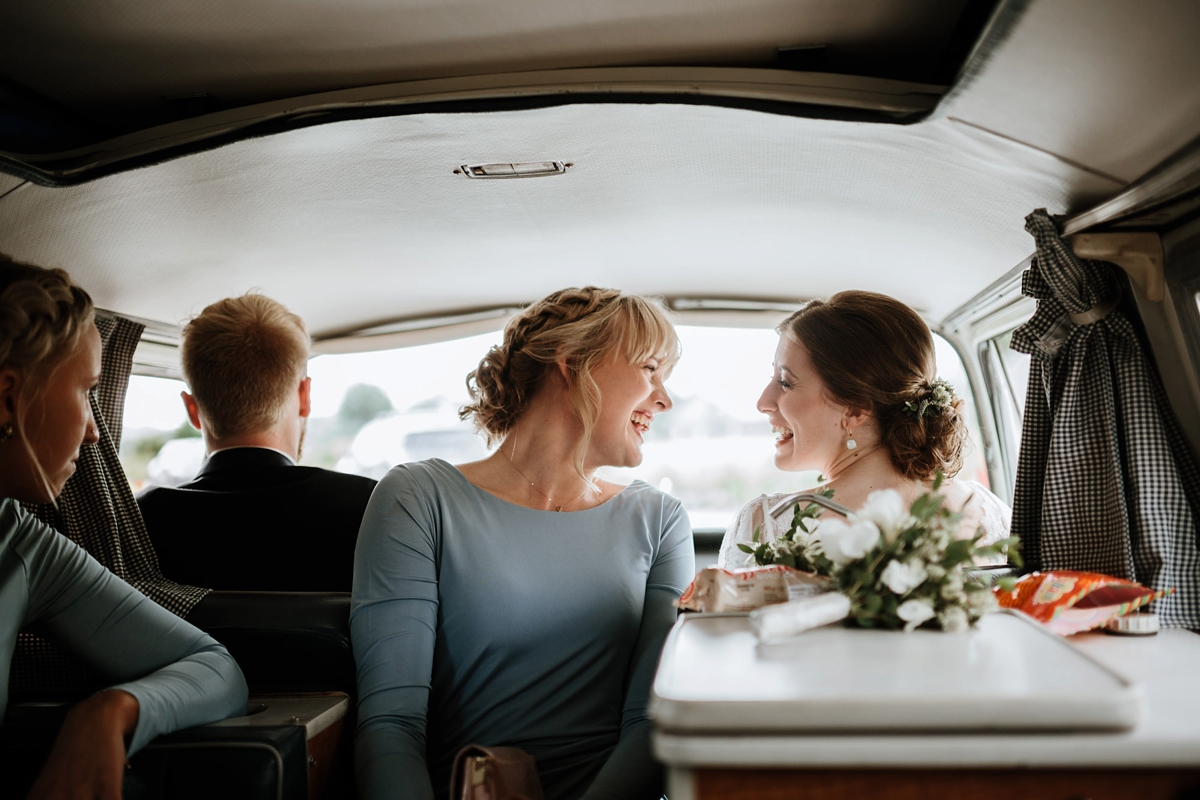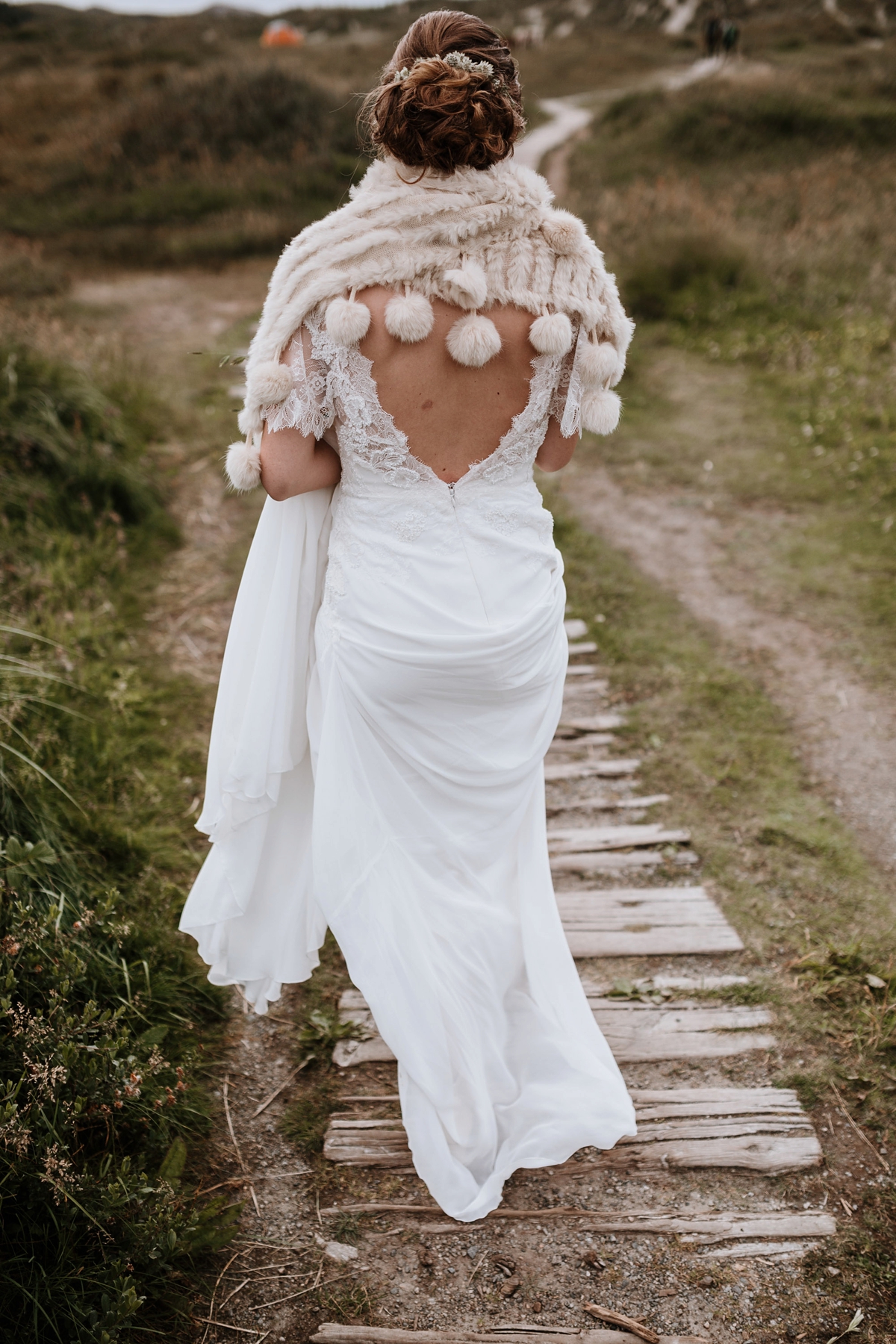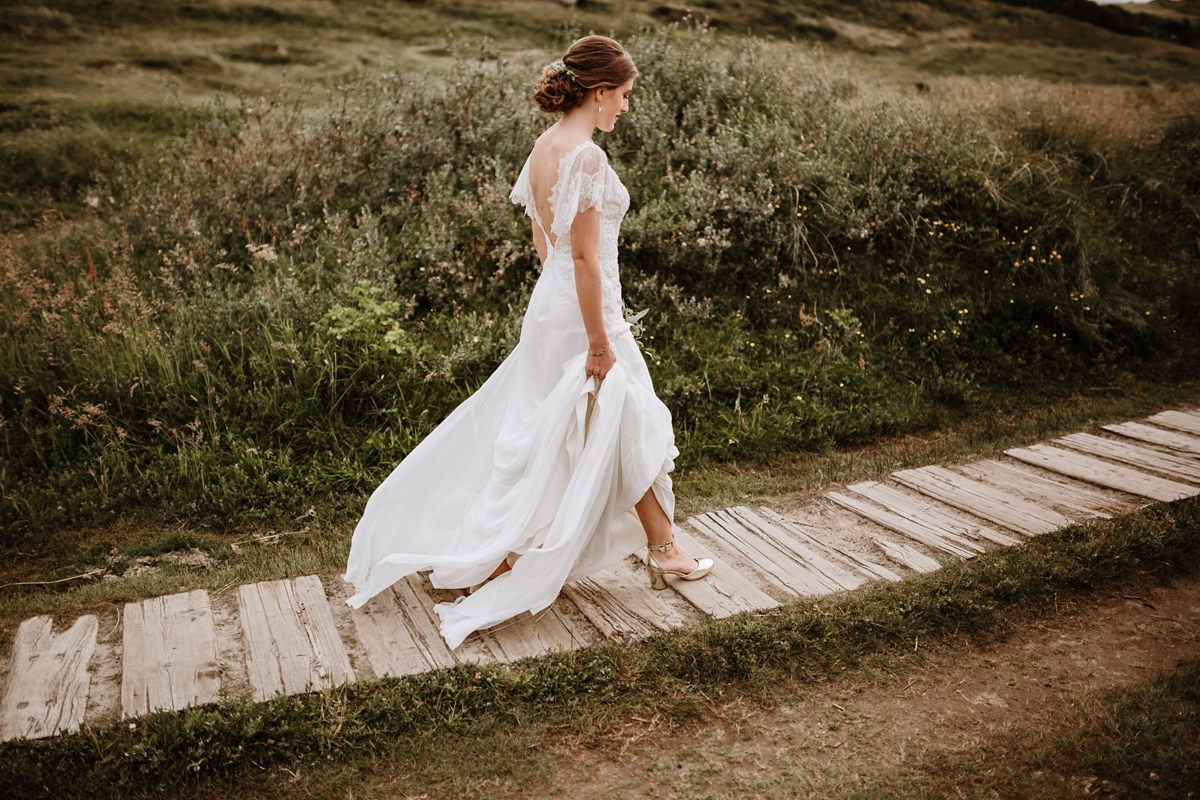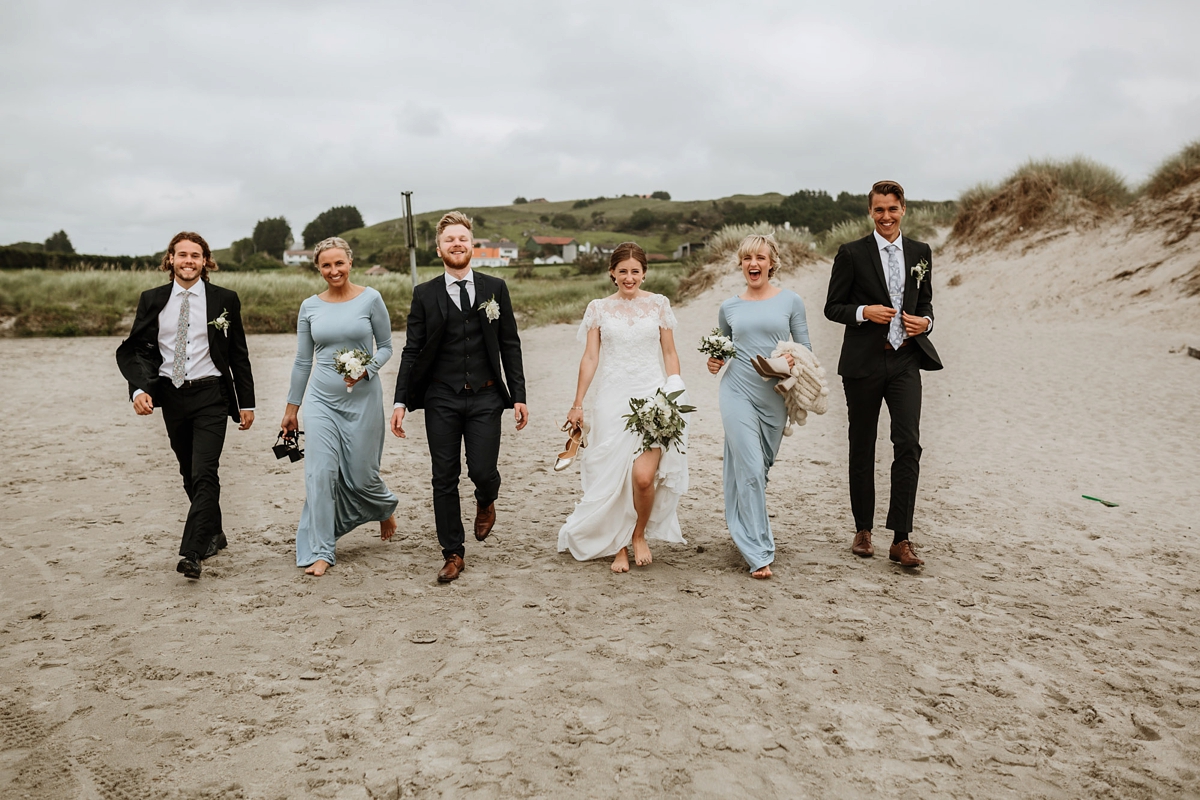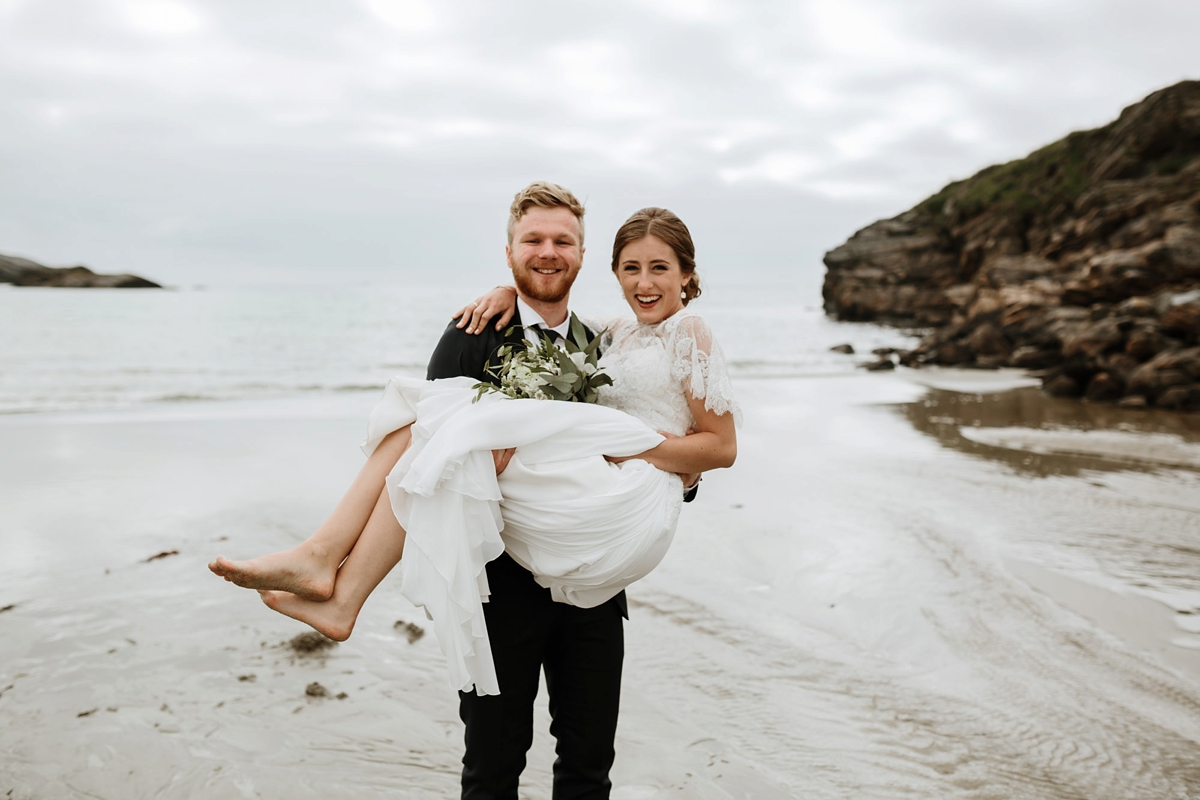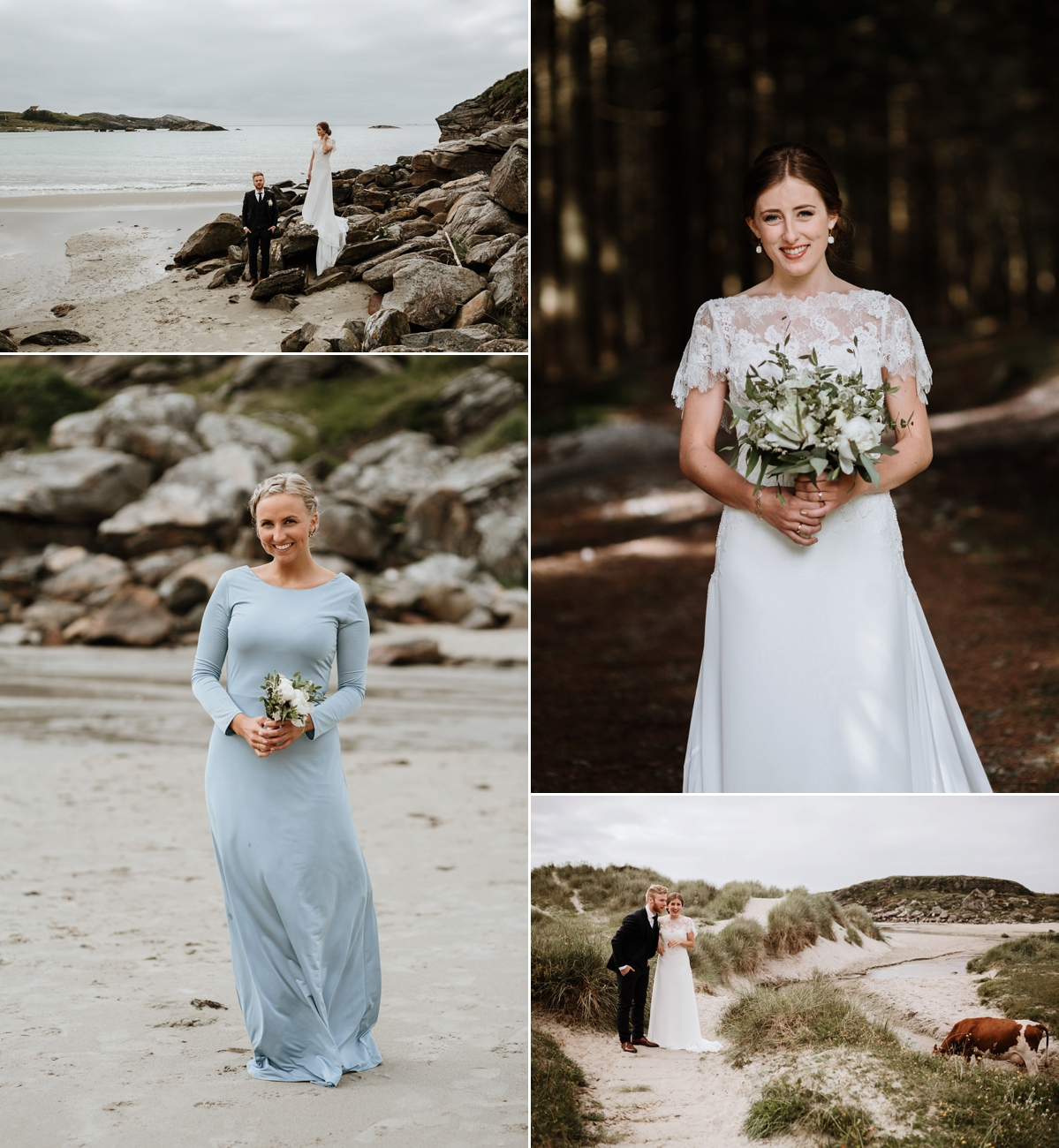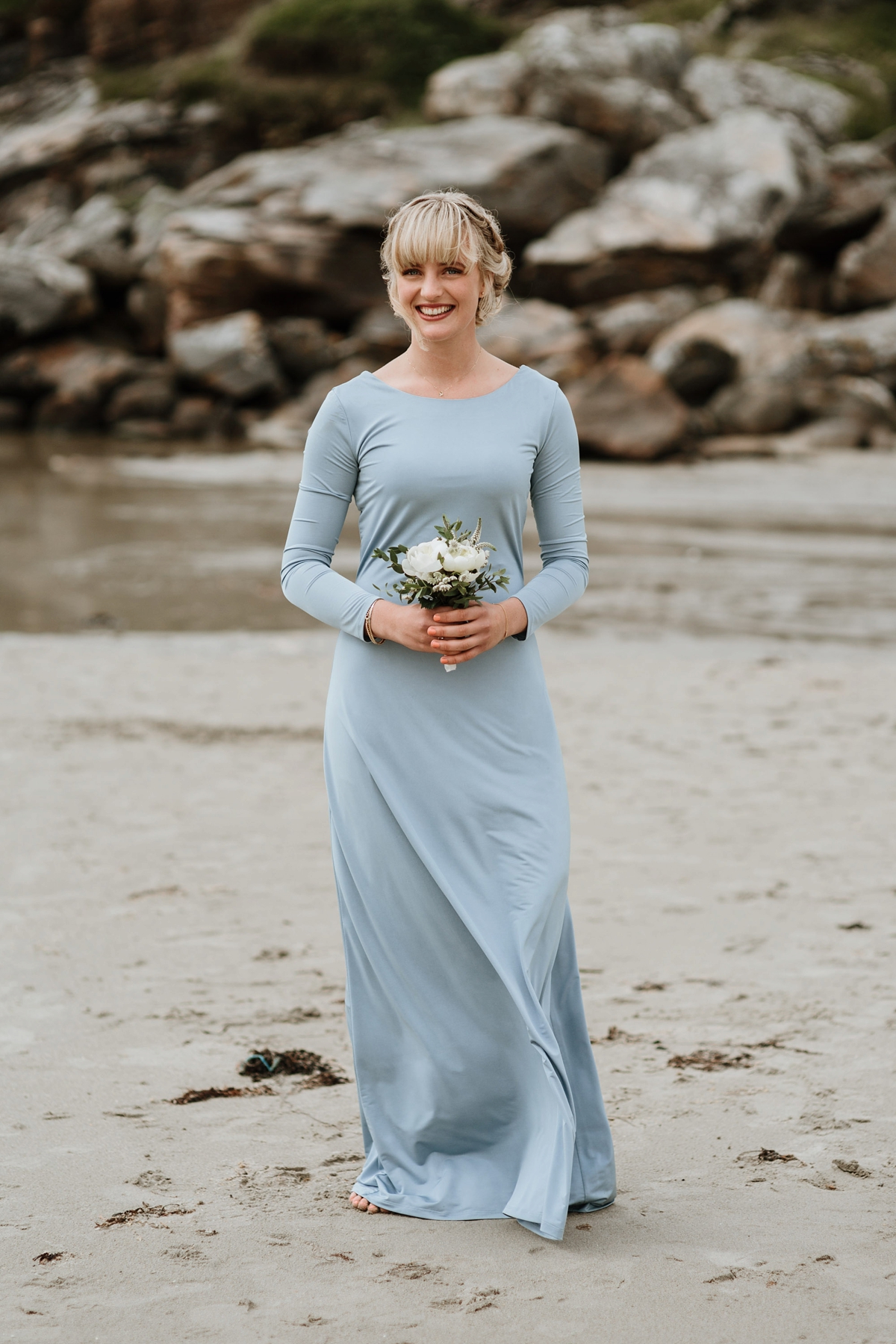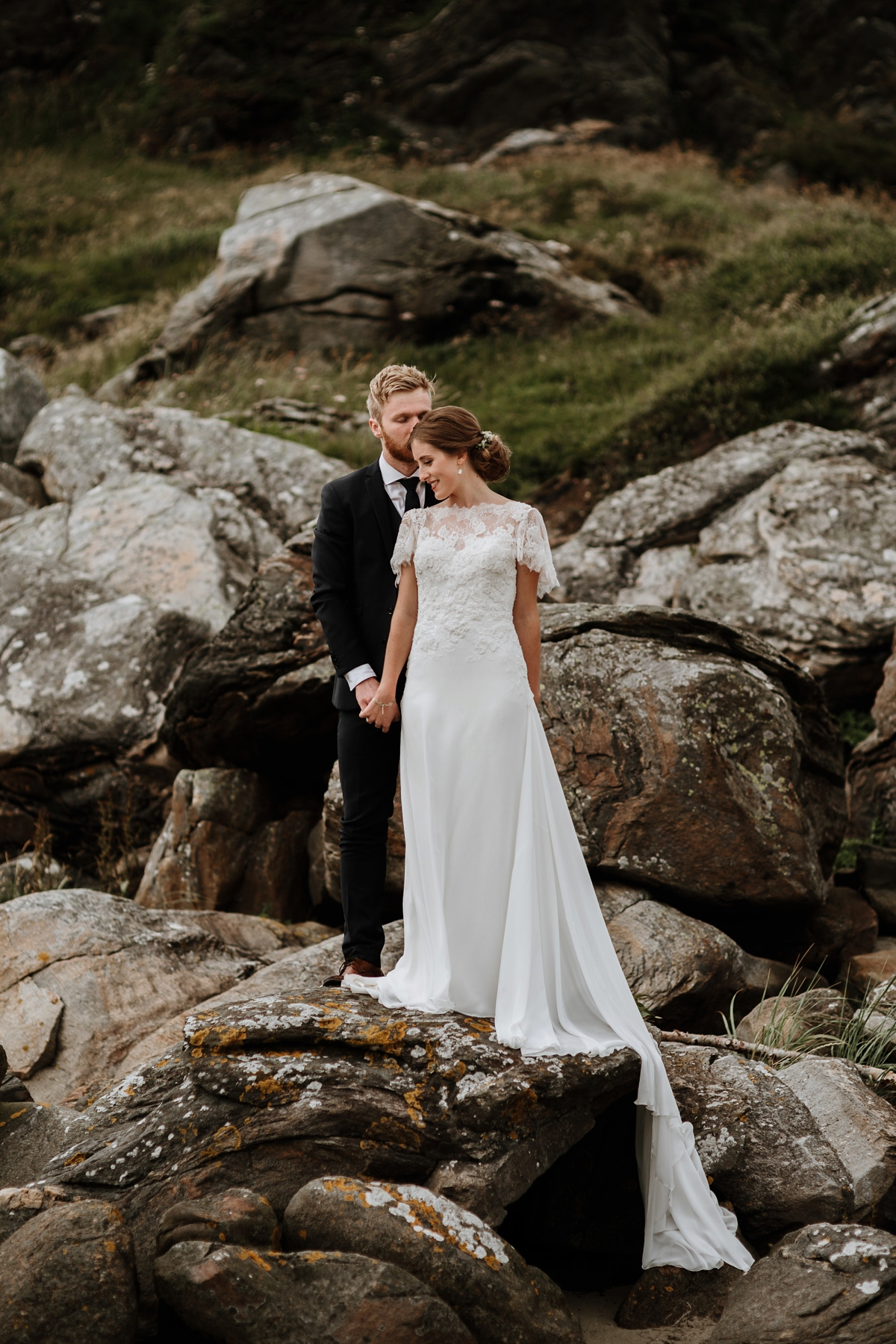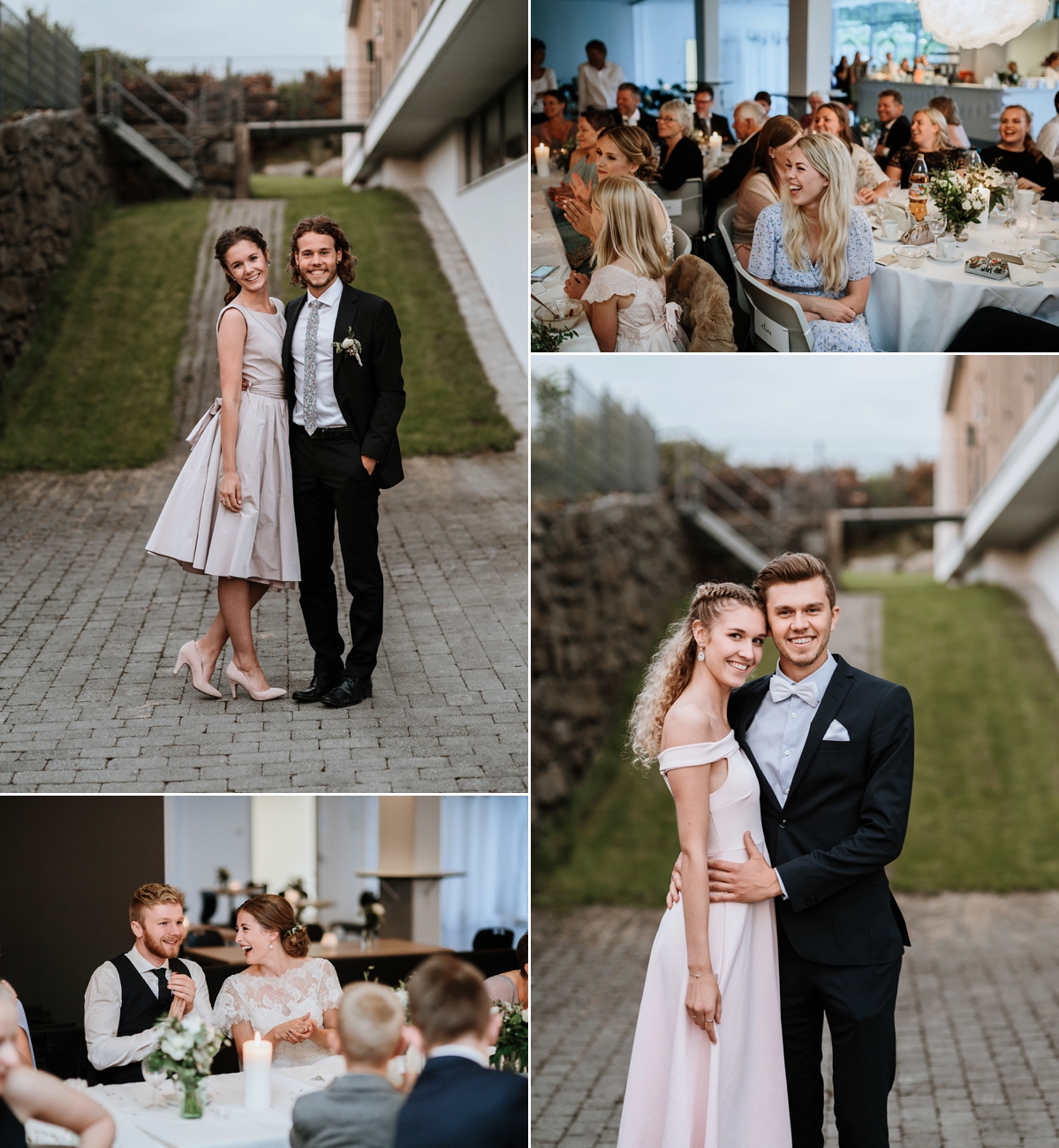 Sindre and Agnes got crafty and made all the invitations, menus, and place cards themselves. They also sorted a range of decor items … and even a photobooth and ice-cream bar!
"We bought antique frames from a secondhand store, using only the glass to make table numbers. Sindre made a gold stand for each of them, while I painted the numbers from 1-13 in gold paint. We bought paper lights from IKEA, glued wet onto it and put lightbulbs into each hanging them over all the 10 round tables to make the room more intimate, and light. Sindre built a photobooth, where we bought white curtains from IKEA. He also built an ice cream bar where we served the dessert."
"My lovely grandmother sewed all of our (130) white linen napkins to put on each plate."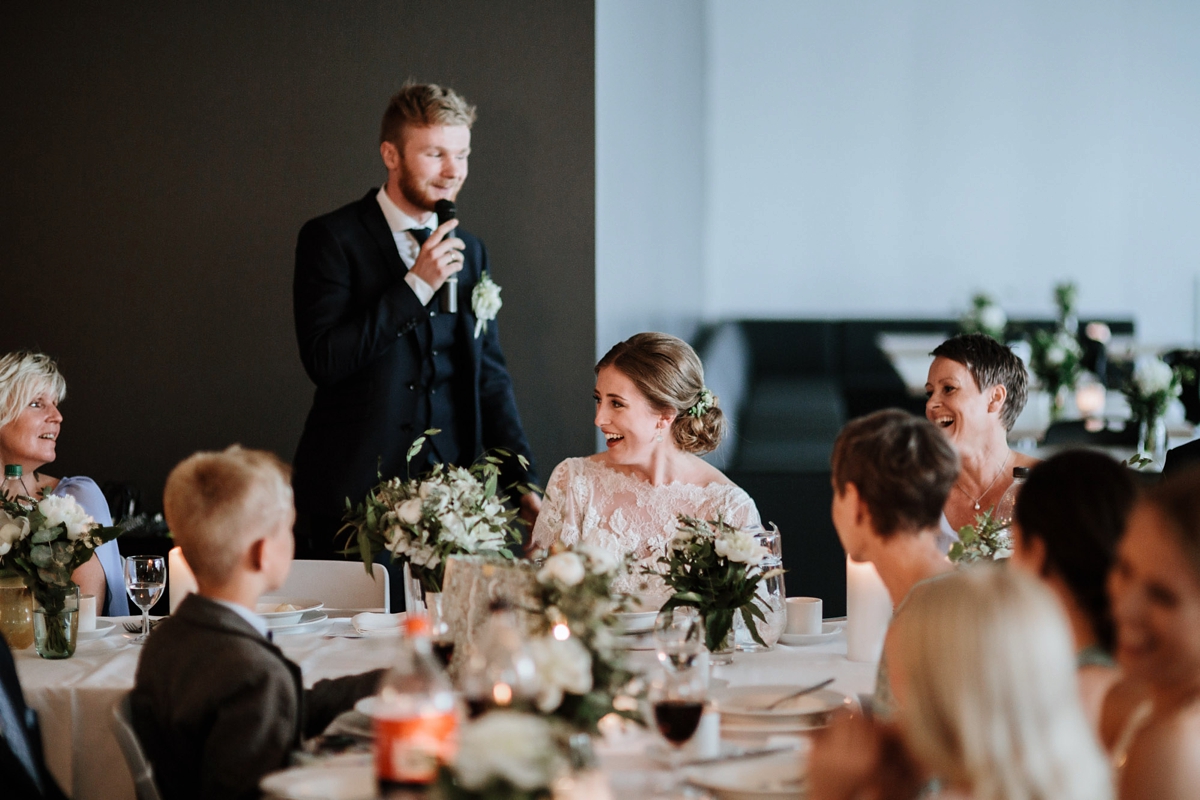 "Some of our friends played the song 'Perfect' by Ed Sheeran. I just love the lyrics of the song and think it fits us as a couple well. "I never knew you were the someone waiting for me…" – it's really sweet."
"We loved every part of the day, it was just perfect. A day we will remember and cherish forever. We had plenty of pauses during the evening, something we really appreciated. We had 105 guests, which is quite a lot, so during each break we got the time to talk to people and just be together. We feel so much gratitude towards each and every one of our guests taking the time to celebrate our marriage."
Words of Wedded Wisdom
"When we planned our wedding I was like a rollercoaster, really dramatic at times and other times really relaxed. I think we all picture wedding planning as something beautiful, sitting in a café looking at bridal magazines while eating macrons and drinking a cappuccino, but if we´re stressing through all the planning there will be no fun in the process at all. So my best tip would be to find a golden mid-way between stress and too relaxed."
"Be effective, but have fun. Watch wedding movies with your girls, dress up and do lots of fun things. Remember, this is a time you´ll never get again. Planning your wedding may be stressful, but it´s also very special."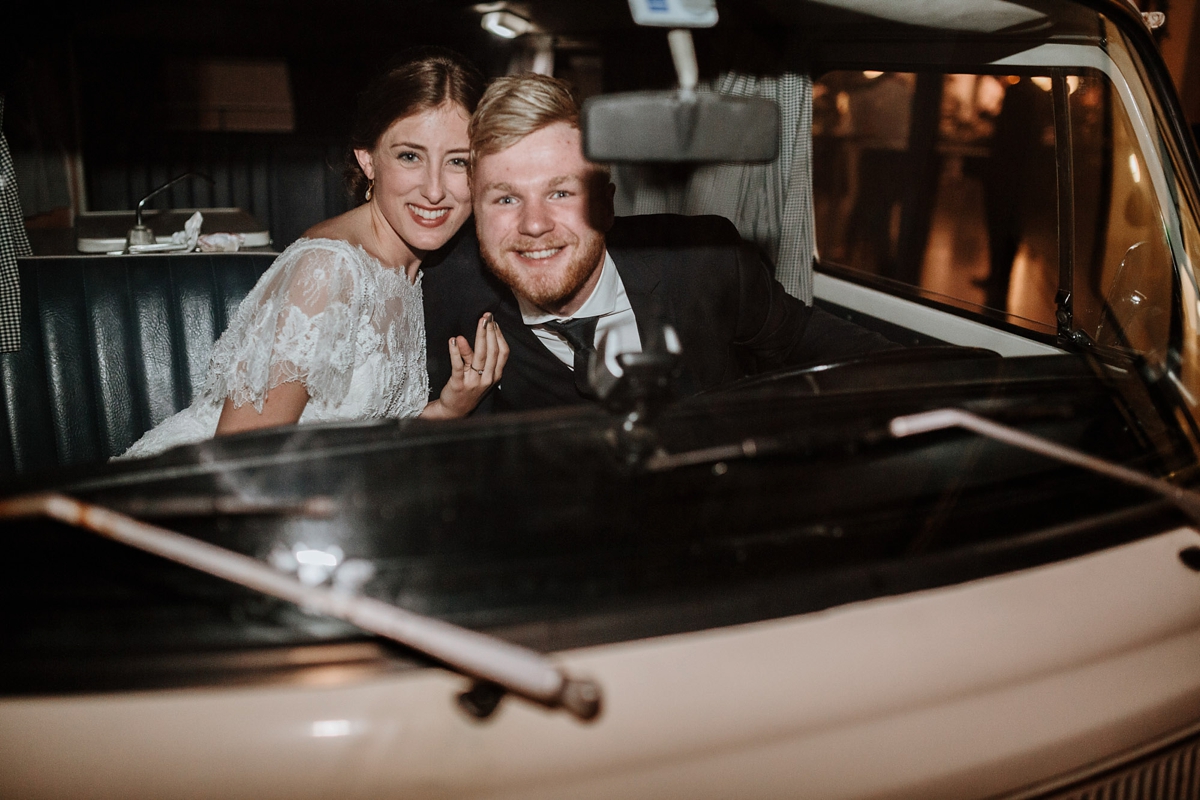 "Second, do not be afraid to ask others for help. Friends and family will be honoured to contribute to your special day. And, at the same time, this may take some of the stress off your shoulders.
Third, a budget tip is to make things yourself, if you have the time. There are plenty of beautiful wedding décor you can make on your own. At the same time, this may be something fun you can do together with your girls, or with your fiancé."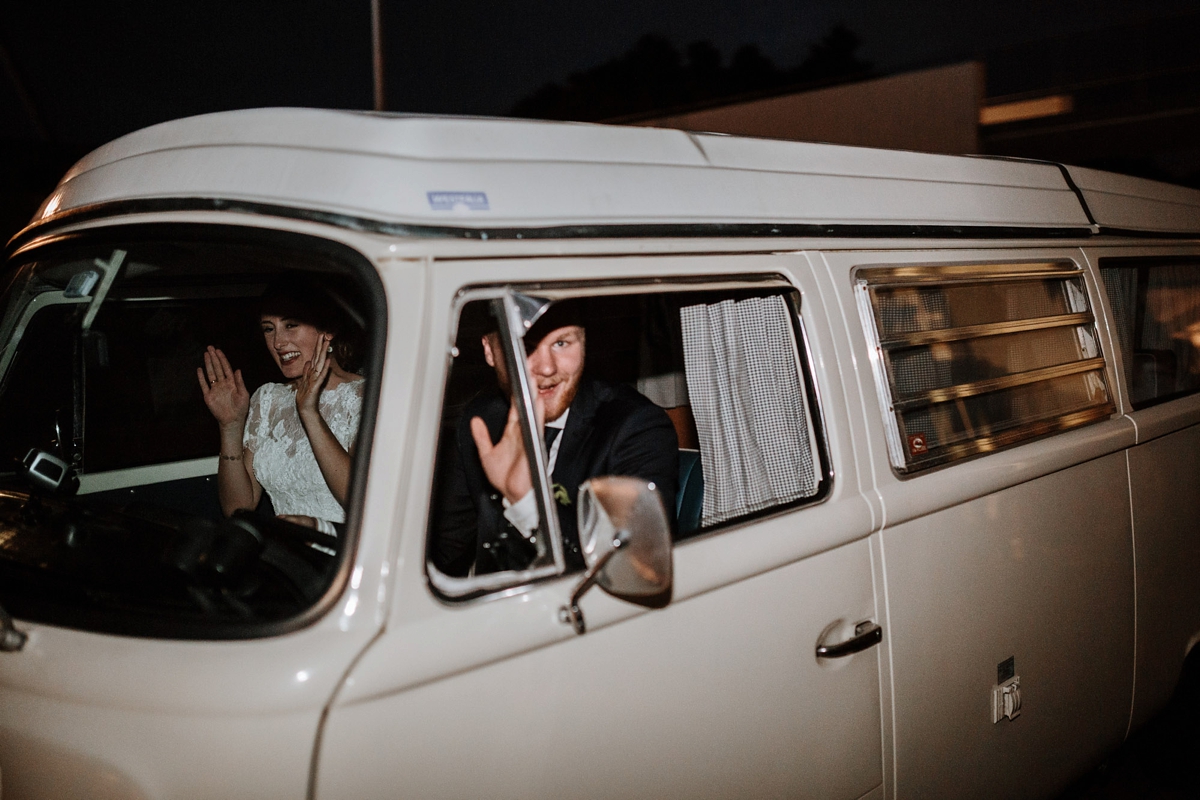 Norway is now firmly on the list as part of my Scandinavian plans! I've just adored sharing your delightful day Sindre and Agnes and wish you both a lifetime of happiness. Also, a very big thank you to Sam from Green Antlers Photography for capturing these stunning images of the couple amongst the majestic woodland and beach backdrop so so beautifully.
See even more of Sam's incredible work from the LMD archives here.
Love Jo -xo-