Hands up if you're excited about a few days off over Christmas? It was my birthday yesterday, so I took a much-needed day off. It's amazing how one day away from work can really refresh and reset but I couldn't wait to get back to share this today. I have such a dreamy wedding for you lovelies; one that will brighten your day with its shimmering gold tones and beautiful light summer flowers.
Doctor Cathy married her fiancé Seb, who works in corporate finance, on 8 July 2017 in a church ceremony at the magnificent Church of the Holy Rude, Stirling, Scotland, followed by a marquee reception at her parents' house. You'd be forgiven if you thought their venue was a country house hotel; isn't it beautiful? Their sun-filled day was full of colourful wild-style flowers with accents of shimmering gold for a touch of glamour, and the couple's priority was to throw a great party for their guests, full of fun and good food.
Cathy and Seb have a long history together; their parents went to university together and the pair got to know each other better whilst studying at Newcastle University.
"We only started dating after a Christmas skiing holiday with both our families after we left university. We got engaged when we were skiing with our families two years later."
Photography + Film by Sally T Photography
I'm sure that your eyes will have been immediately caught by Cathy's fitted gown, a Katie May number purchased at The Wedding Club in London. Cathy opted to show off her figure in the daring, backless gown with spaghetti straps and sweetheart neckline, getting the balance between sexy and bridal just right. At Love My Dress we love hearing how brides chose their gown, and Cathy was lucky enough to find hers first time.
"'Lanai' was the first gown I tried on – picked out for me by the shop assistant. I had told her when I booked that I love dresses with low or detailed backs. I also knew I didn't want a 'puffy' dress and wanted one that was more fitted. I loved the pattern of the lace which was quite different from others I had seen."
The bride and her grown-up bridesmaids prepared for the day in Cathy's parents' home. The bride surrounded herself with relaxed, friendly wedding suppliers so that she could fully enjoy the morning with her friends, and the natural, intimate photographs by Sally T Photography look like they are having such a fun time.
"I have known Sally and her family since primary school and wouldn't have wanted anyone else to do my wedding photos. I also (coincidently) was at a friend's wedding and unbeknown to me Sally was doing their photos too! I loved her way of taking the photos without at all intruding on the day and I really like the natural style of the photos she takes."These glamorous gold sandals with their iconic red soles are Christian Louboutins, bought for just £100.
"My friend works at Louboutin and she very kindly invited me to a sample sale to find my wedding shoes! I absolutely loved them."
To celebrate the summer day, the bride's hair was dressed with a natural cluster of fresh flowers in pale peach and white, and she did her own make-up.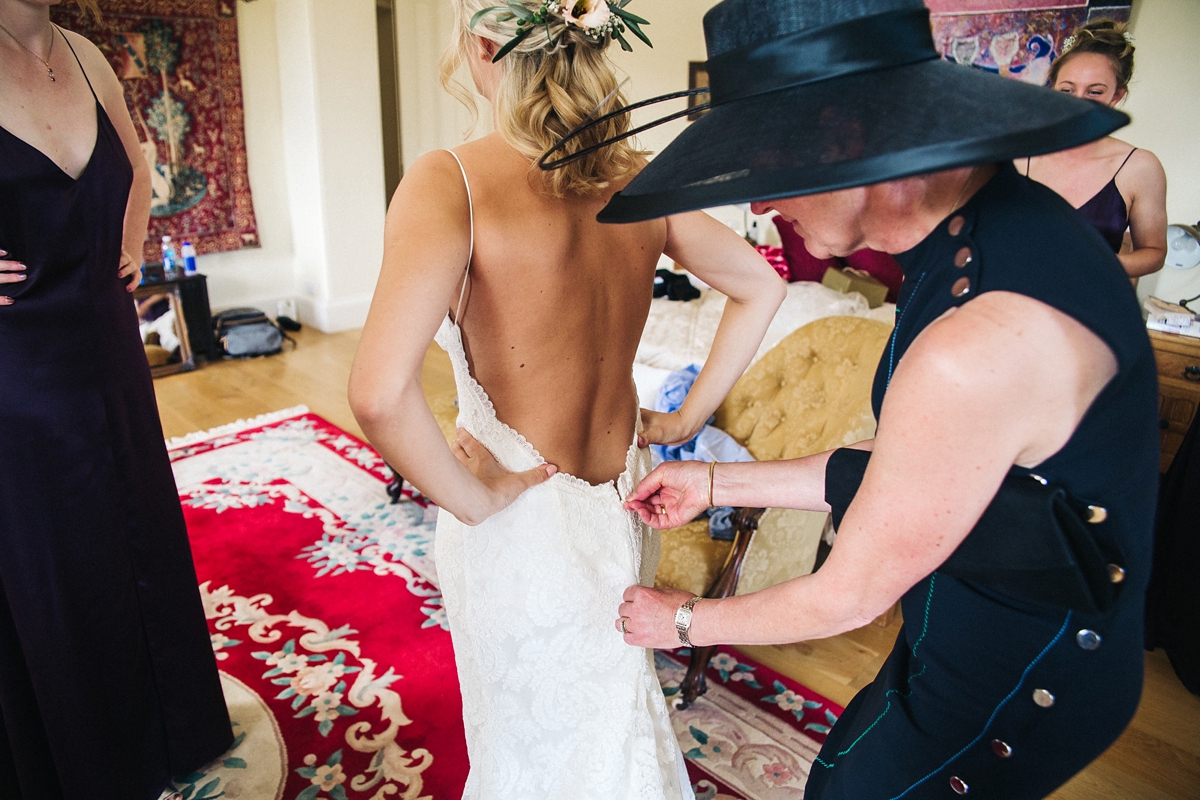 Cathy wore simple gold accessories with a lot of sentiment behind them. Seb gave Cathy her delicate Alex Monroe necklace of tiny elephants which she wears every day, and her mum lent her a gold ring given to her by her husband when Cathy was born.
The delicate, romantic veil which trails behind her was found at The Wedding Club.
The bridal party travelled to the beautiful Church of the Holy Rude in cars hired from Ultimate Private Hire, and Cathy entered with her father to wedding favourite 'The Queen of Sheba' by Handel. The church is so magnificent and looks so welcoming filled with the couple's guests.
The bridesmaids' deep purple, fitted evening gowns were chosen at Reformation. I am such a fan of the contrast between the fresh summer day and the super-glam vibe of the bridal party.
"I really don't like most bridesmaid dresses and wanted to get something simple. I absolutely love this brand and they do amazing sales."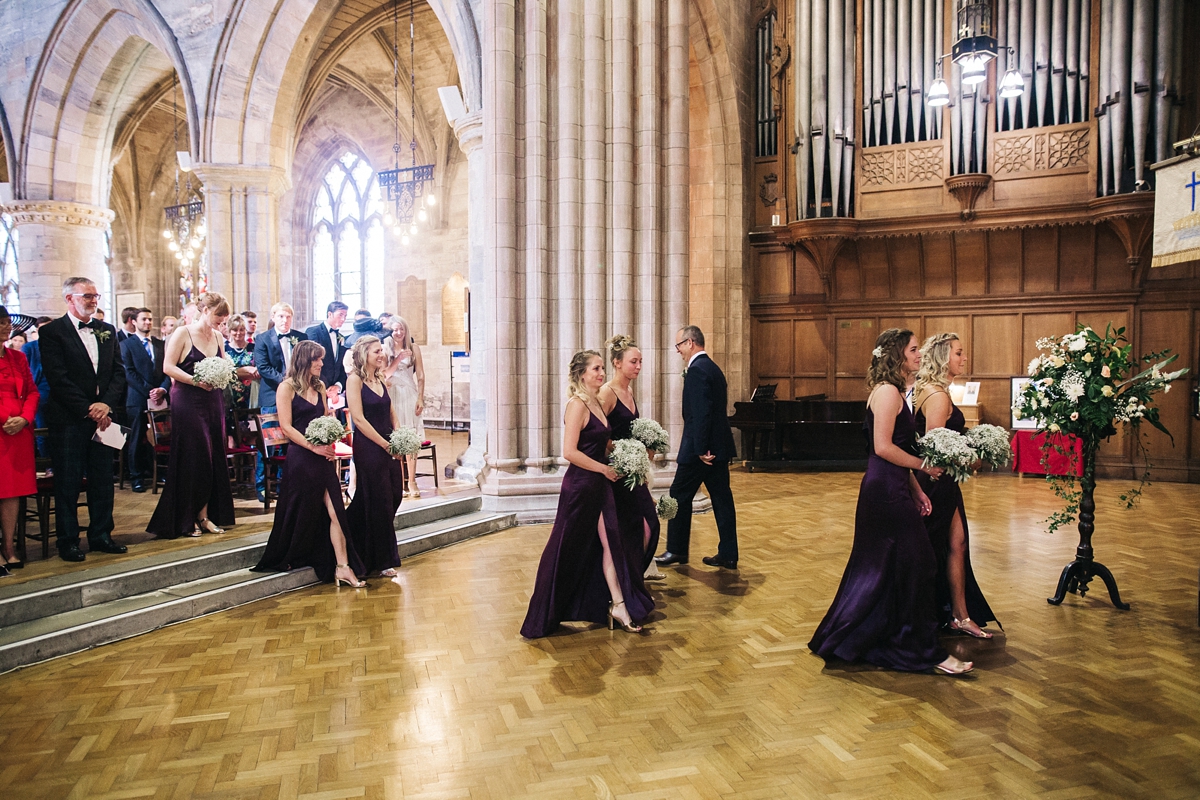 The more formal gowns were offset by the pretty, natural hair styling, created by Rhona McCallum.
"I couldn't recommend this team more; they were super flexible with arrival times on the day as I wanted to have a nice breakfast with my bridesmaids first and not start the getting ready process too early so three of them came so we could start things later."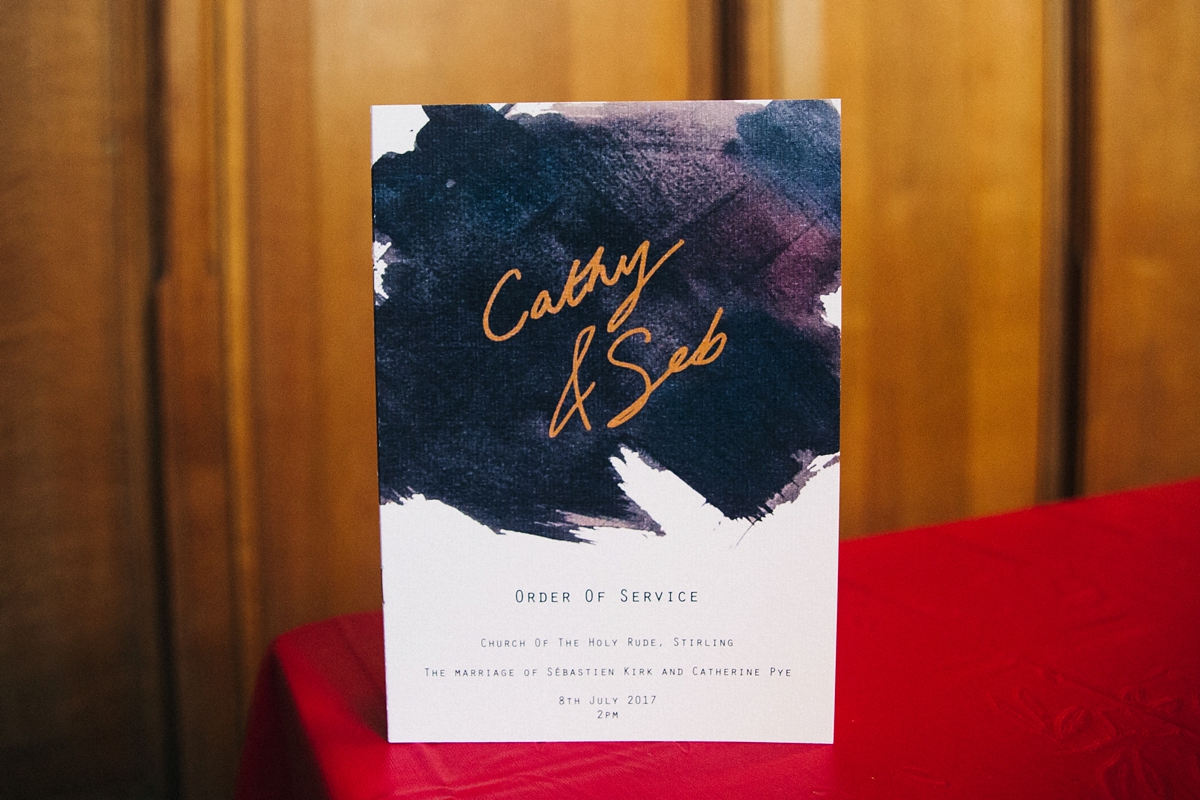 The groom and his companions also dressed up in formal suits – a dinner jacket and accessories from Hugo Boss worn with tartan trousers in 'Black Watch', from The House of Tartan.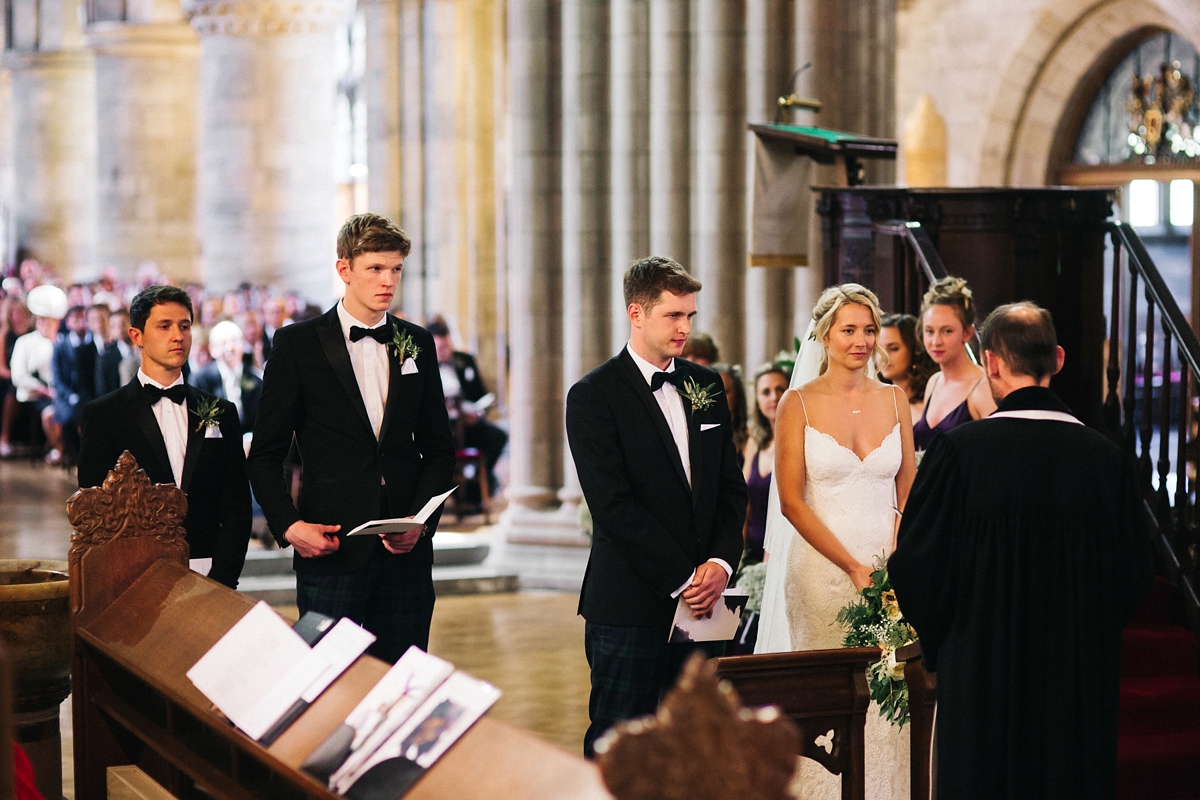 Seamus Heaney's 'Scaffolding' was one of their readings; a really emotive and meaningful piece.
'Masons, when they start upon a building,
Are careful to test out the scaffolding;
Make sure that planks won't slip at busy points,
Secure all ladders, tighten bolted joints.
And yet all this comes down when the job's done
Showing off walls of sure and solid stone.
So if, my dear, there sometimes seem to be
Old bridges breaking between you and me
Never fear. We may let the scaffolds fall
Confident that we have built our wall.'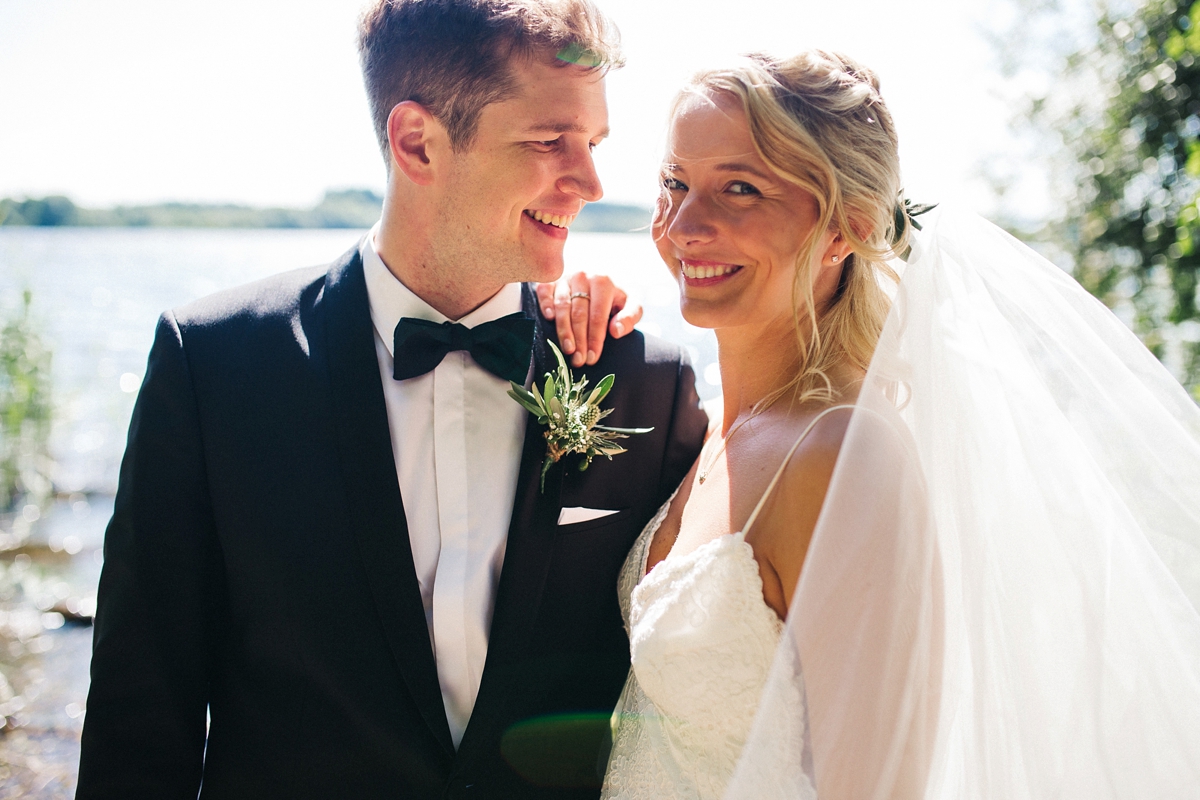 Leaving the church in style, the newly-weds hopped in to a borrowed Ferrari to drive back to the reception, where everyone milled about on the lawn in the July sunshine.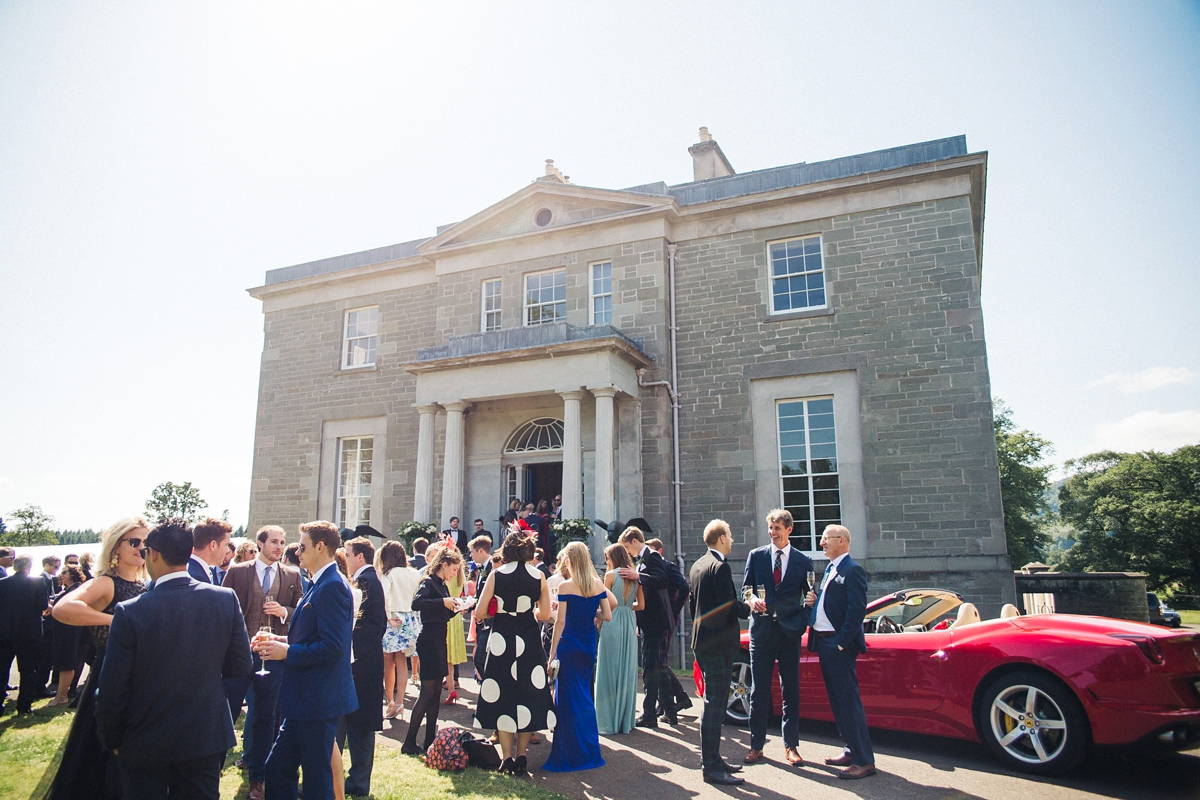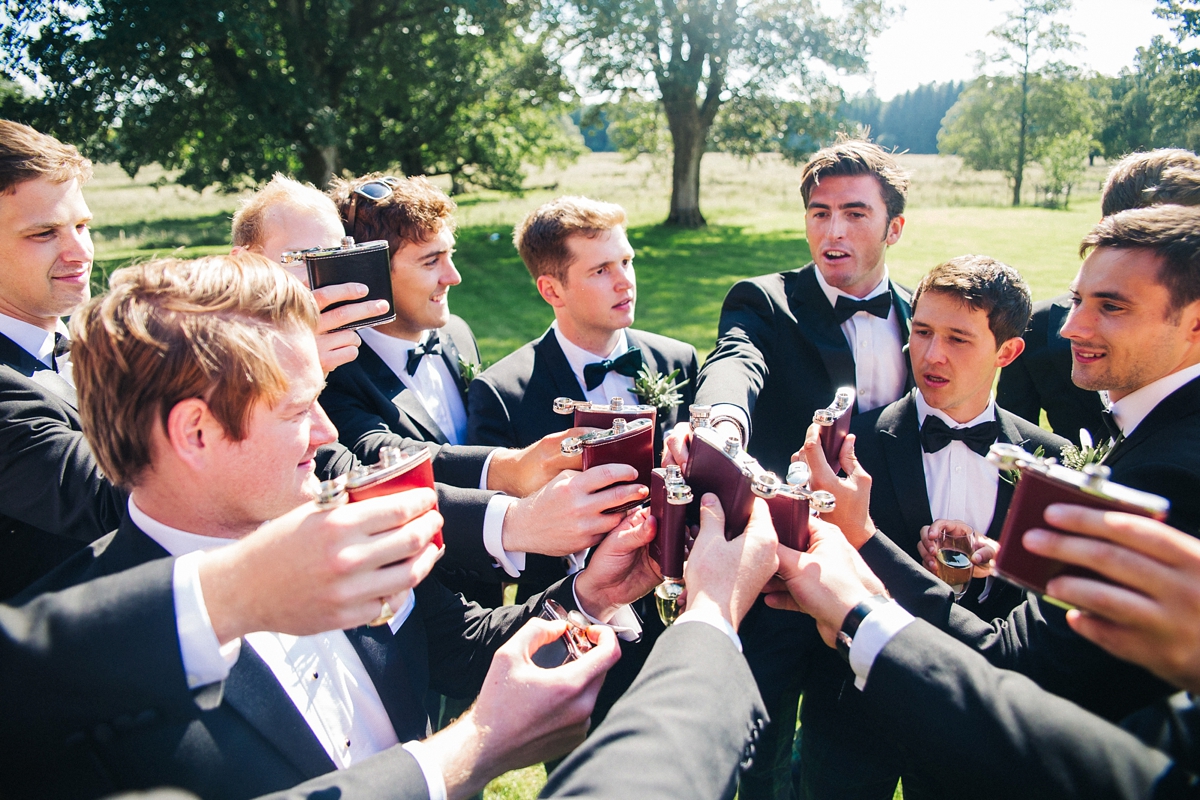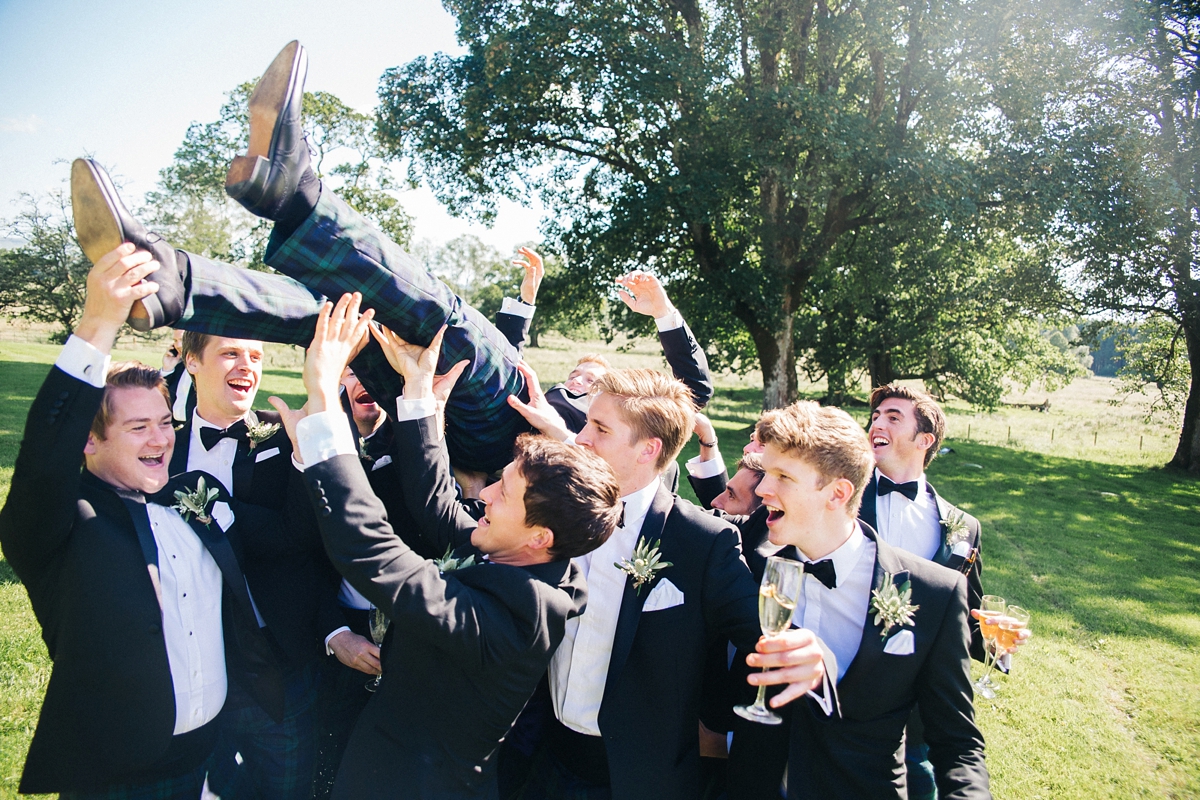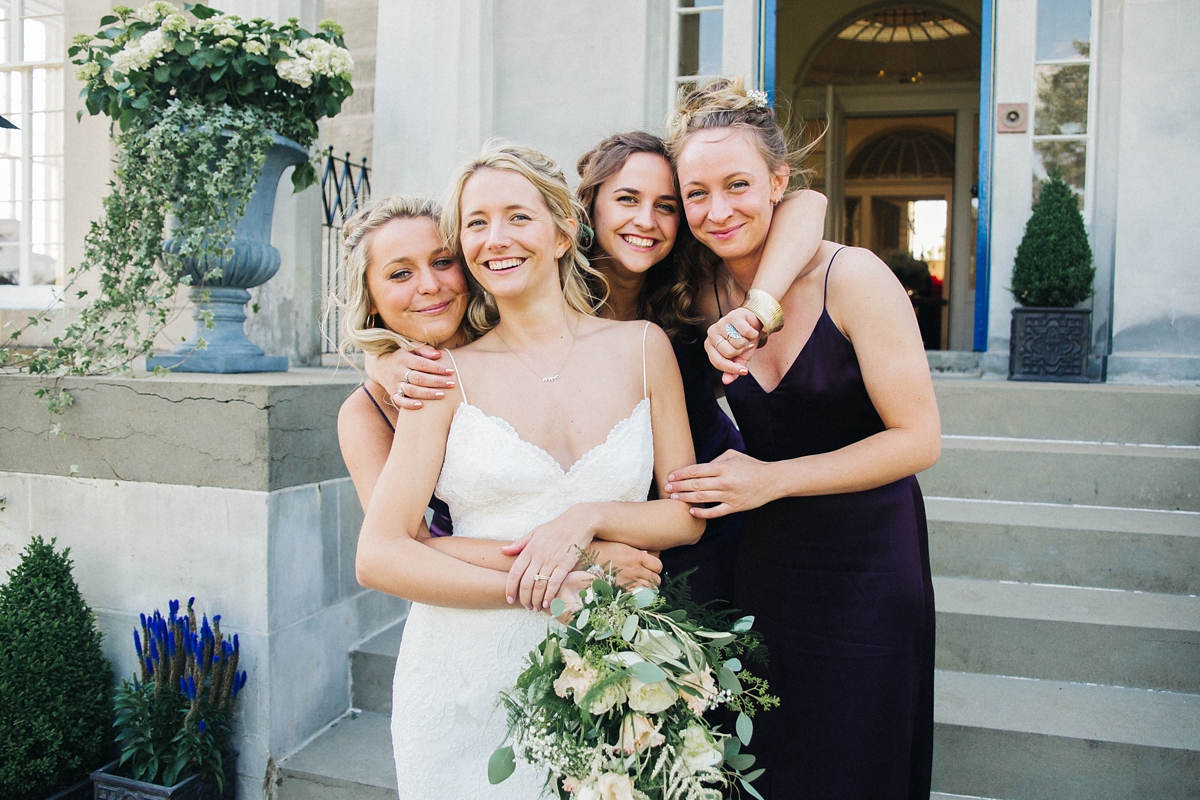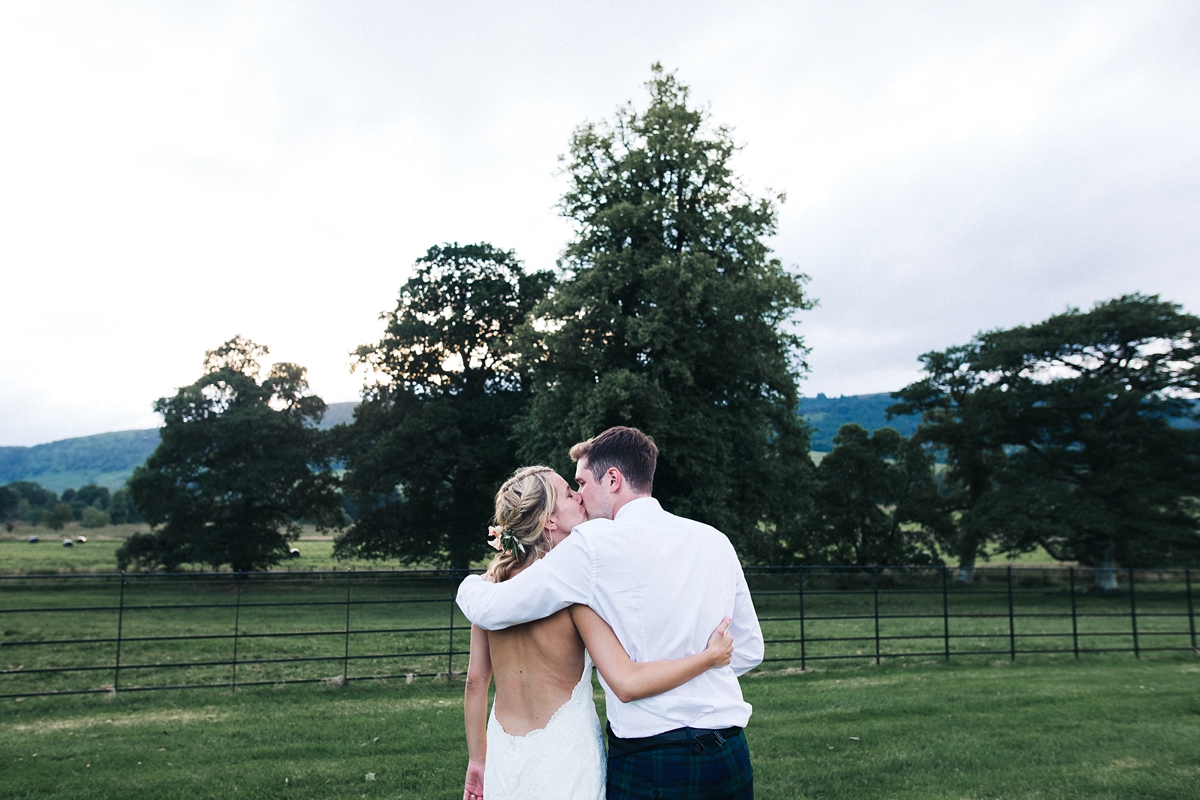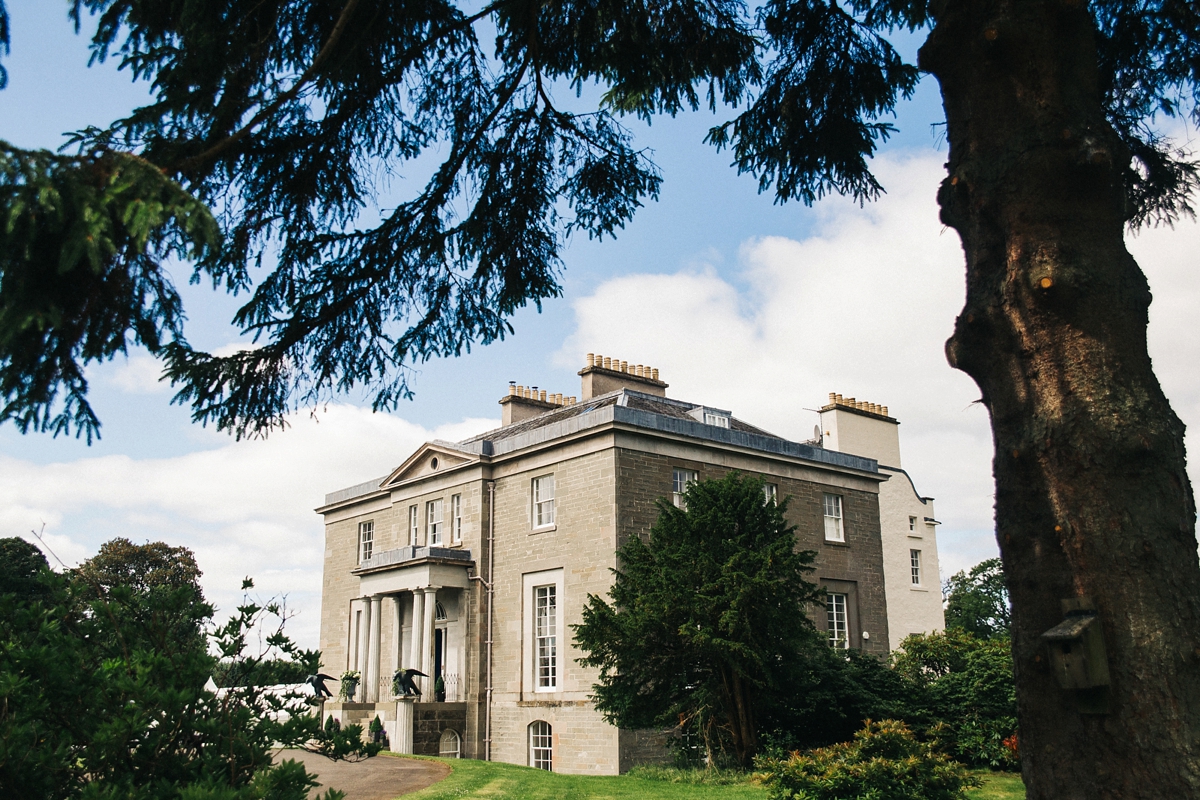 Cathy and Seb's foodie desires were catered for by Wild Thyme.
"We were so impressed with the food and service from Wild Thyme. We had 220 people at our wedding and the food was absolutely amazing."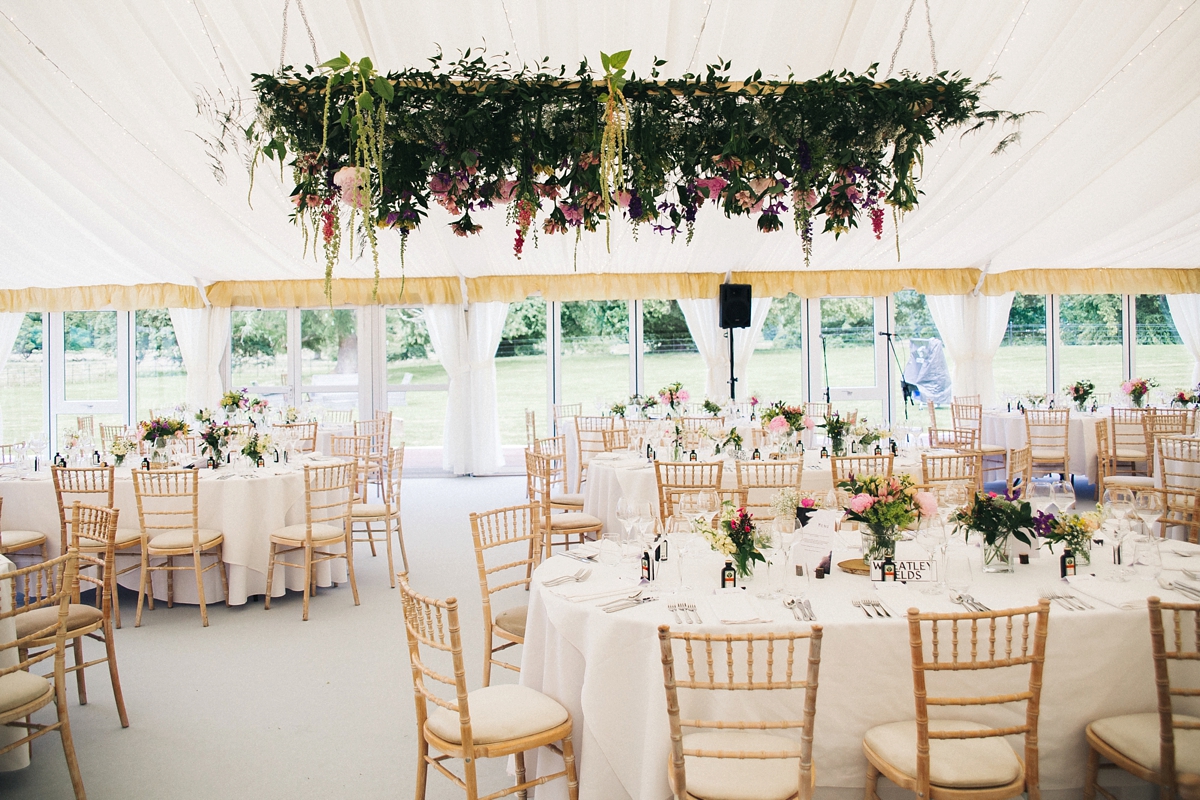 A beautiful marquee was set up in the grounds of Cathy's parents' house and simply decorated with a statement floral chandelier. The talented florists were April and Heather of Endrick Blooms, another family connection.
"I met April and Heather through my sister who plays netball with them! I didn't really know what I wanted with flowers apart from wild flowers on the tables and they were amazing at suggesting ideas. I wanted the bouquets to be quite simple and really loved the gypsophila and olive leaves they created for the bridesmaids. My flower girl was delighted to have a smaller version of the bridesmaids' with added glitter! The hanging flowers were amazing in the marquee as I didn't want huge vases on the tables blocking people's view."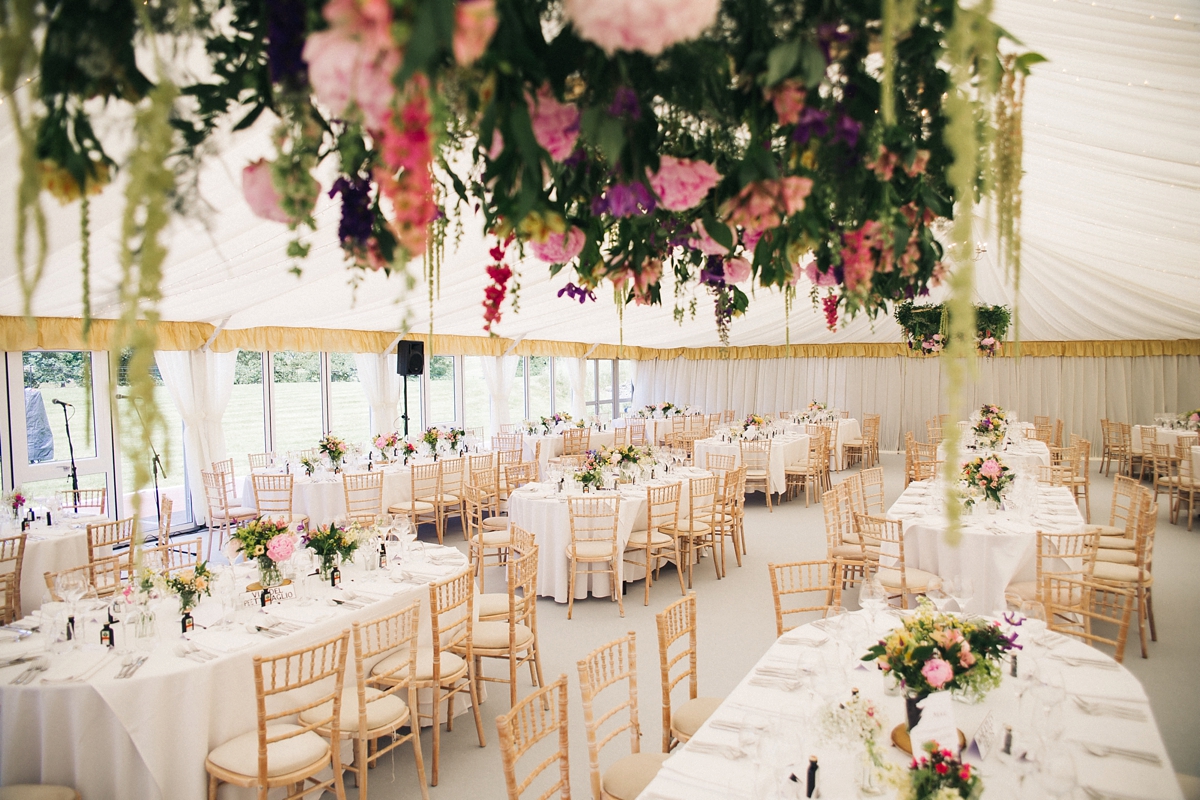 The golden cake is a work of art; three tiers of chocolate, red velvet and lemon drizzle by Liggy's Cake Company.
"I saw a gold cake on Instagram and took the photo with me to Liggy's Cakes and they did an amazing job of it. The cake tasting was also a highlight for me with lots of yummy tea and cake."
The couple got the party started by providing mini bottles of Jägermeister, one of Seb's favourites, as favours and kicking off with a ceilidh.
"Reel Time were fantastic as a lot of our guests did not know the dances."
Later on, more live music came from The Soundcasters, who Seb had seen play at Apres-Ski, with a first dance to 'To Love Somebody' by The Bee Gees.
"We had seen Barry Gibb play this at Glastonbury a few years ago and loved it since."
Words of Wedded Wisdom
"A friend told me to make a 'running order' for the jobs to be done on the few days leading up to the wedding and the wedding day. I wanted everything done by our rehearsal at 4pm on the day before the wedding so I could relax and have a nice evening with my family and bridesmaids. This worked really well."
"I also recruited friends who were camping at my parents the night before to do a few little jobs on the morning of the wedding so we didn't have to worry."
Well Cathy and Seb, thank you so much for sharing your summer wedding with us; what a tonic for a cold December day. Wishing you very many congratulations, and sending thanks to Sally T Photography for these lovely images.
Wishing you all a very lovely day.
Ele xx