What flower do you associate with love and romance? It has to be the red rose, doesn't it. Today's wedding between Wedding Planner Mennat and Omar, an Asset Project Manager, is full of luxurious red roses – the perfect symbol of love.
The couple celebrated their marriage on 14 February in a chic and effortlessly glamorous wedding at Fetcham Park in Leatherhead, Surrey – a venue we are incredibly proud to have listed in our curated wedding supplier directory, Little Book for Brides. As their day fell on Valentine's Day in chilly February, the couple opted to include warm tones of gold and red to compliment the venue's sublime décor. So, sit back, get cosy and enjoy this chic, elegant non-traditional Arabic wedding celebration.
"I stumbled upon Fetcham Park's Instagram account and simply fell in love with images of the salon. It was like seeing something from out of a fairytale and fitted the theme I had in mind perfectly. We also knew we wanted to host our guests outside of London."
Photography We Heart Pictures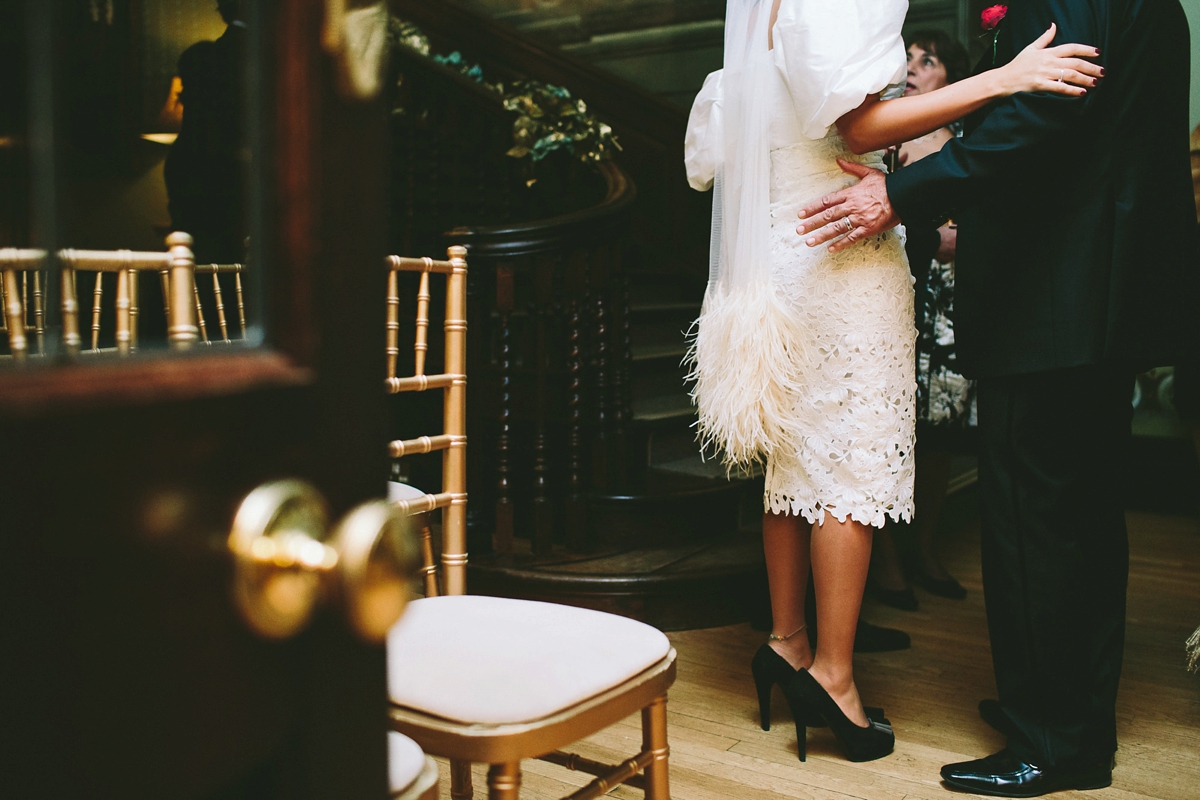 For all those brides thinking about a shorter knee-length gown, Mennat is the perfect example of how to carry this off in a beautifully elegant way. Her bridal separates of corset top and crochet-detail skirt were chosen at Dubai's Bambah Boutique, and I love the unusual sleeve detail and bold style.
She added a short ethereal Jannie Baltzer veil fastened with a bold and beautiful leaf hair accessory in gold, also by Jannie Baltzer.
"I knew I wanted a fitted ensemble, which was not necessarily 'bridal'. I wanted to look elegant and timeless yet not like a full on bride. This event was more of a celebration after having our traditional wedding back home. When I saw this top and skirt at the boutique, the fit of the corset with the exaggerated balloon sleeve and the crochet skirt was exactly what I wanted and suited the marriage celebration perfectly.""Omar and I met in April 2012 at a mutual friend's birthday party. Omar noticed me first, and made the first move. He was quite persistent to get my number and invite me to a very shabby hole-in-the-wall dinner as a first date."
"His game plan was if I was okay with the shabby venue, I was worthy of being asked out on a second date! Luckily, that led to many more dates. We got to know one another over the next few months. Having both being born and raised in the UAE yet never meeting before Omar left to go to the UK for boarding school, we realised we had so many friends in common and shared a similar love for film, music and travel."
"Our families met soon after and in August of 2013, Omar proposed in Paris. It's a place that means a lot to me and I was completely taken by surprise as he bent down on one knee at a restaurant in front of so many people!"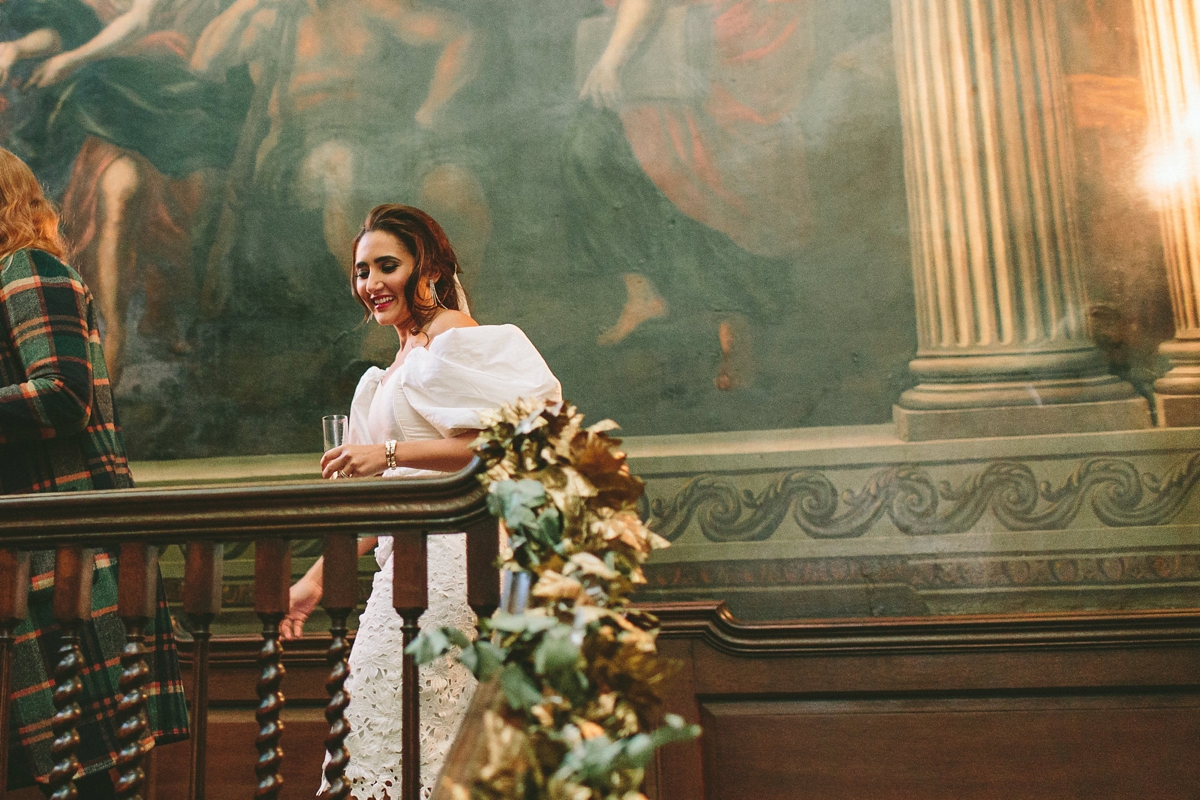 Mennat worked closely with Fetcham's Laura Caudery to find her brilliant wedding suppliers. Gayle Evans of Bloomingayles put together the exquisite bouquets of roses, as well as dressing the room with her sumptuous blooms. I just fell in love with the chic table settings with their single red rose.
After getting ready upstairs, the bride entered the ceremony room on her father's arm as Omar's best friend from college played 'Can You Feel The Love Tonight?' on sax.
"We had a close friend conduct the ceremony, which was a non-religious one and very laid back. Omar and I came up with our vows on our own. Having been married for four months prior to the celebration, we based our vows on the experience."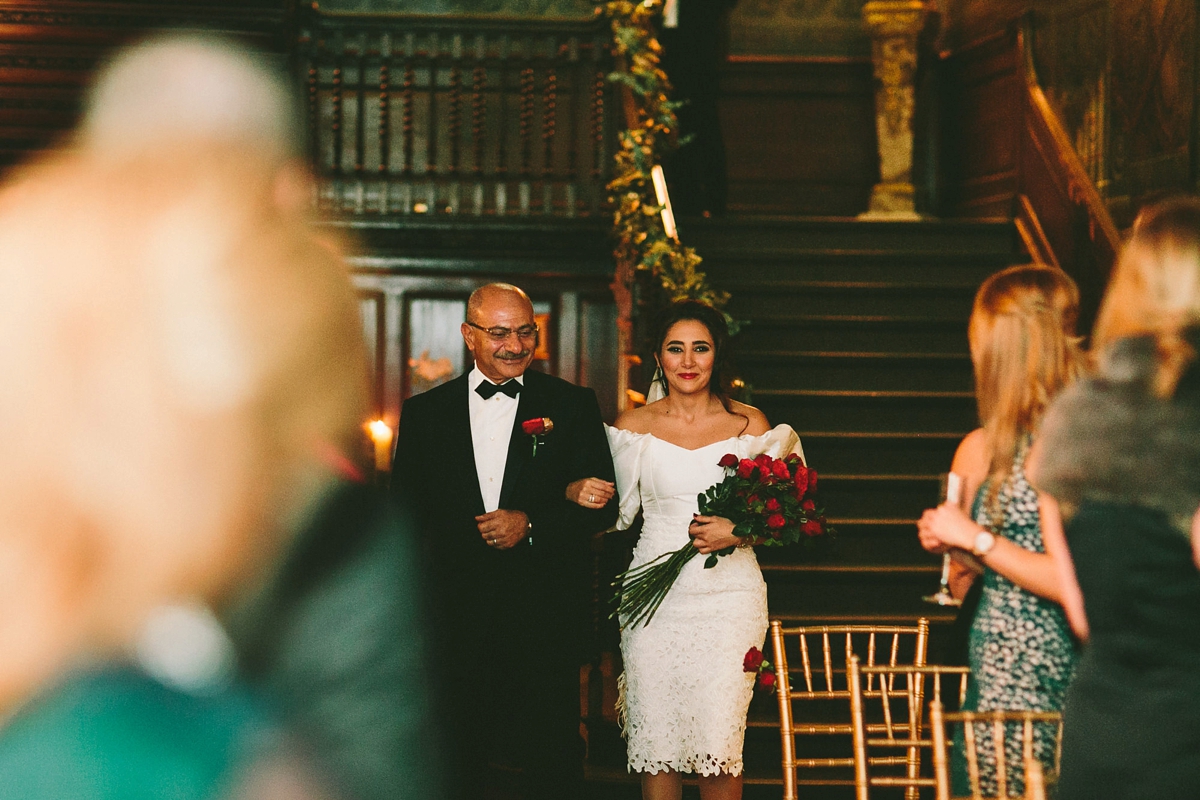 "Since this was somewhat of a destination wedding for family, we decided to accommodate our close family members in Broadway Barn, a B&B in the lovely town of Ripley. We had two celebratory dinners prior to the wedding day. The 'rehearsal dinner' which included the groomsmen and groom and another for the bride's family and groom's mother."
For Omar, these personal connections really made the day special.
"I loved the very personal feel of the event. Namely, having a very close friend conduct the vows ceremony, another close friend play the saxophone and the best man flying in from NYC to give the funniest and most touching speech ever."
The groom chose both wedding rings. His gold band came from his family jeweller in the UAE and the diamond in Mennat's was chosen on a trip to Colorado and mounted on to the band by his family jeweller in Abu Dhabi.
Omar looked debonair in his Tom Ford black tie, worn with his late father's gold wedding cufflinks and added a rich splash of colour with his red rose boutonnière.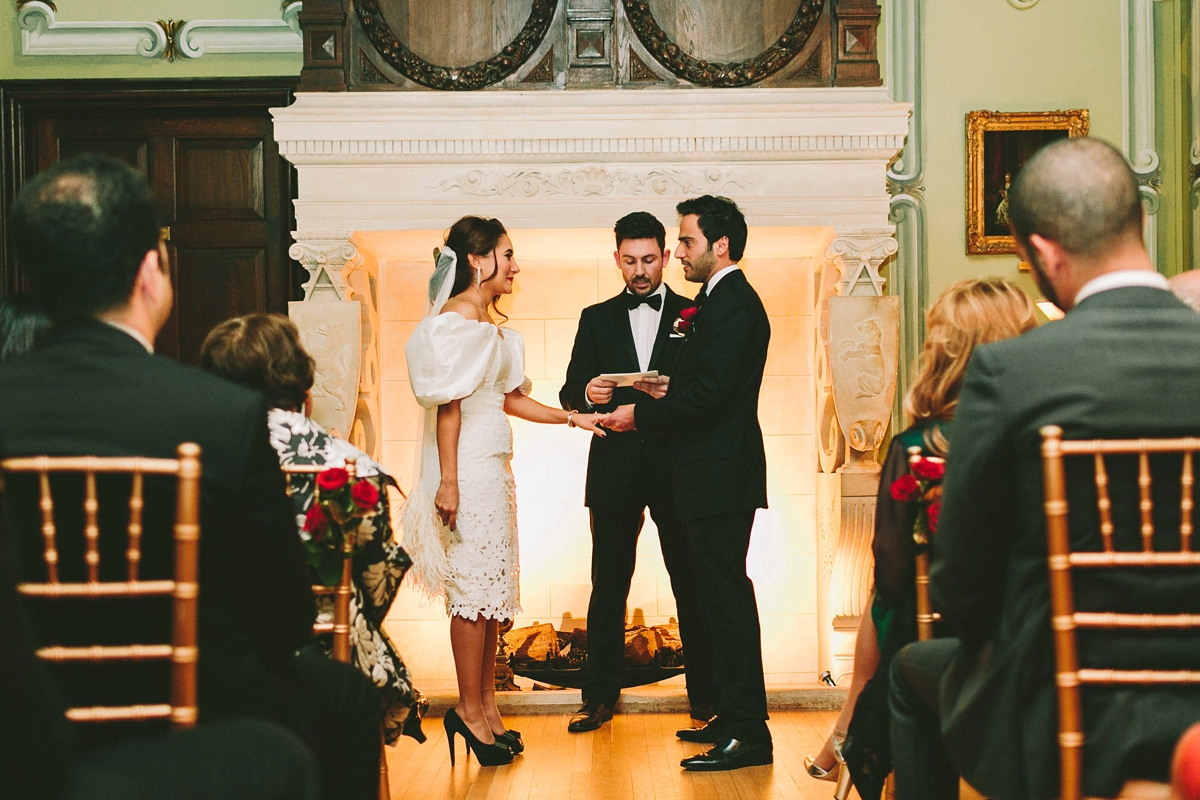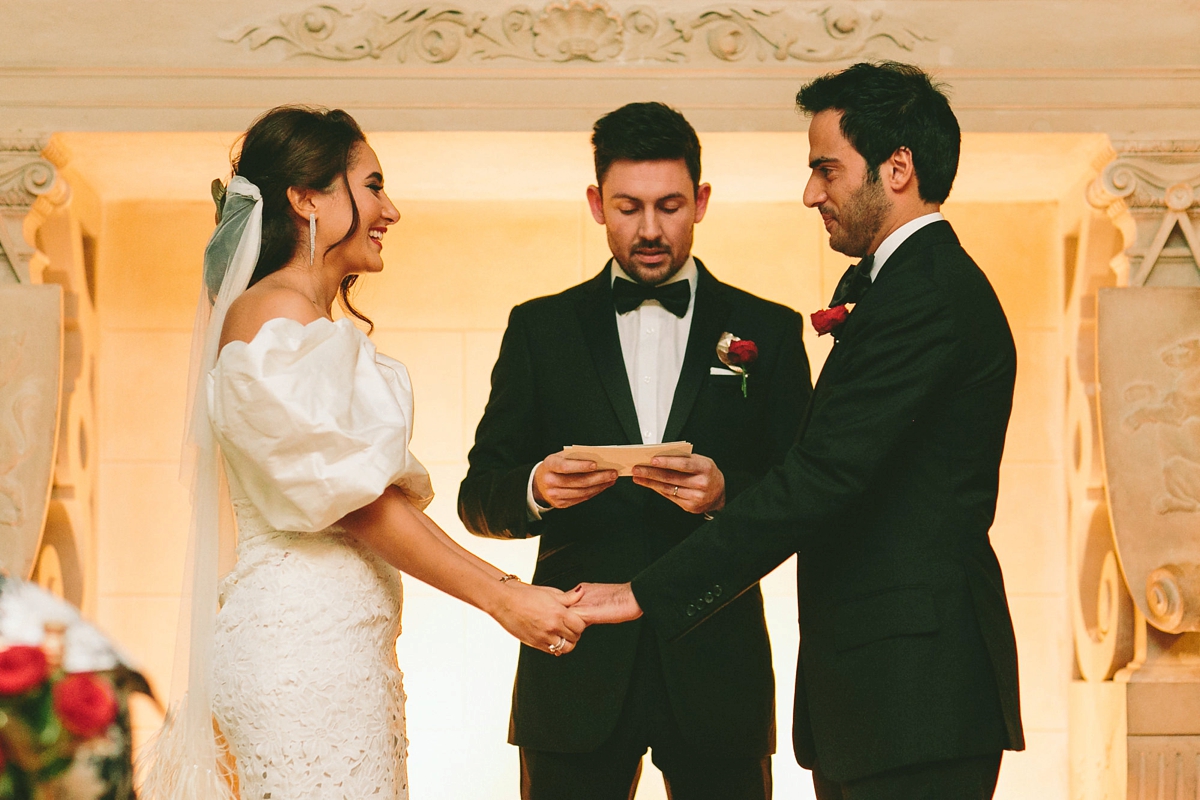 Photographer Hector of We Heart Pictures captured the day in all its warmth and intimacy. The deep colours and the joy and love that Mennat and Omar share are just lovely.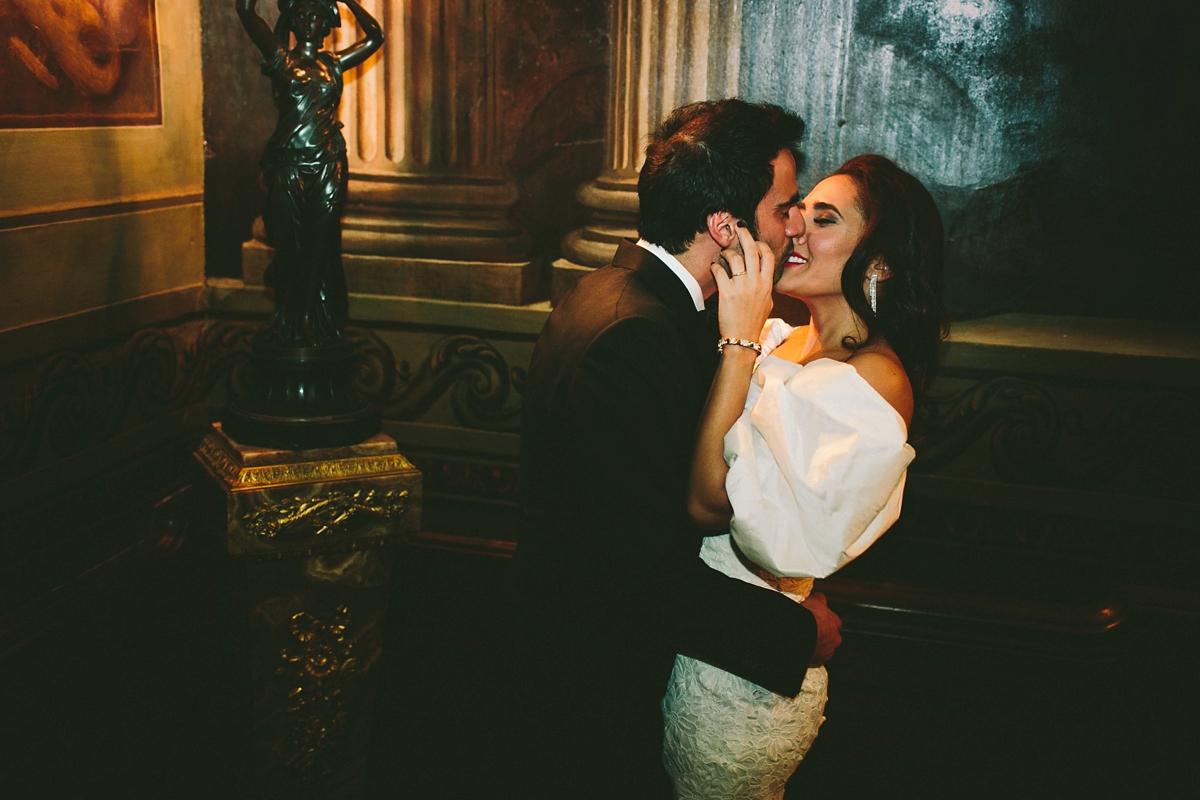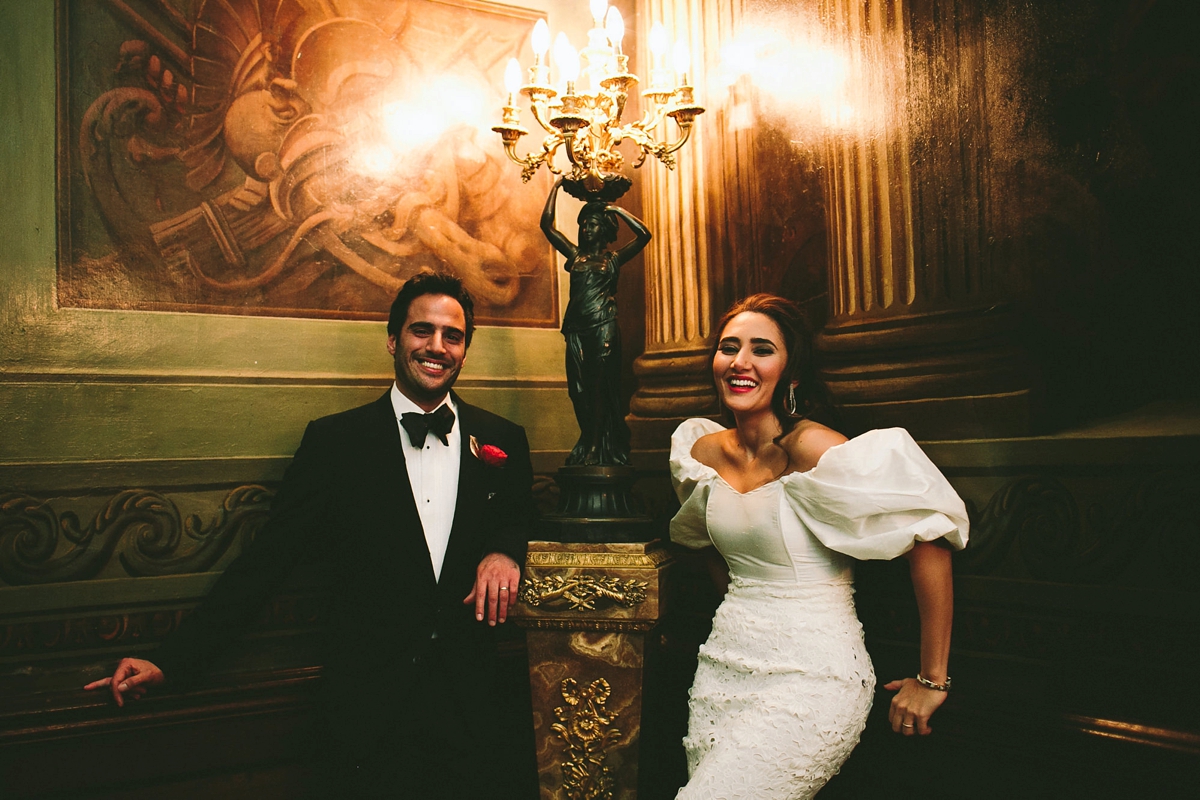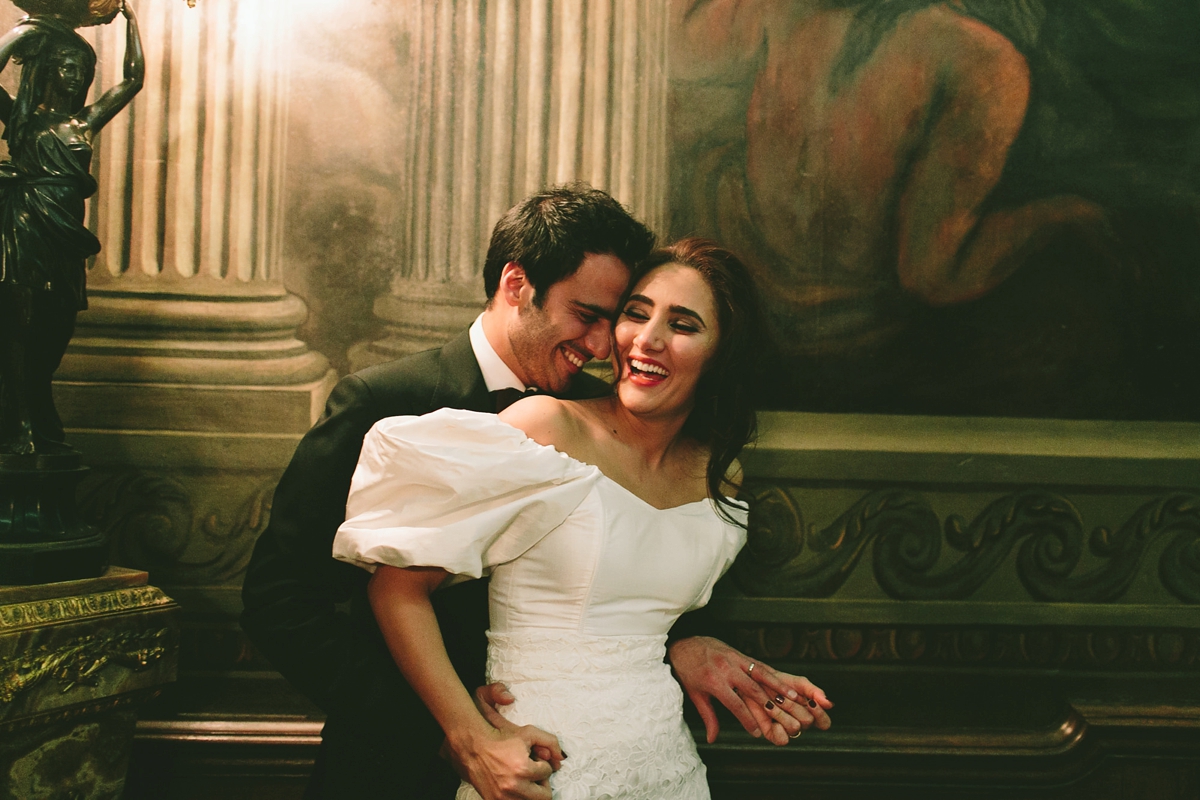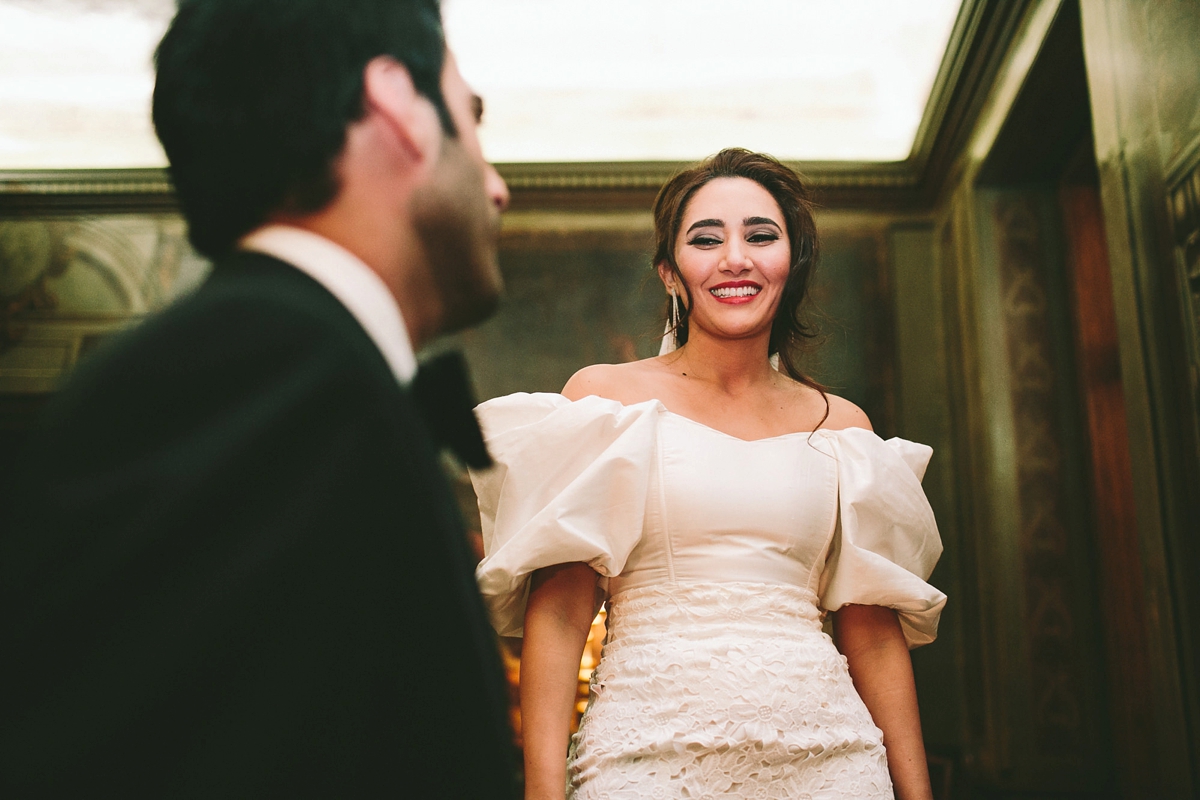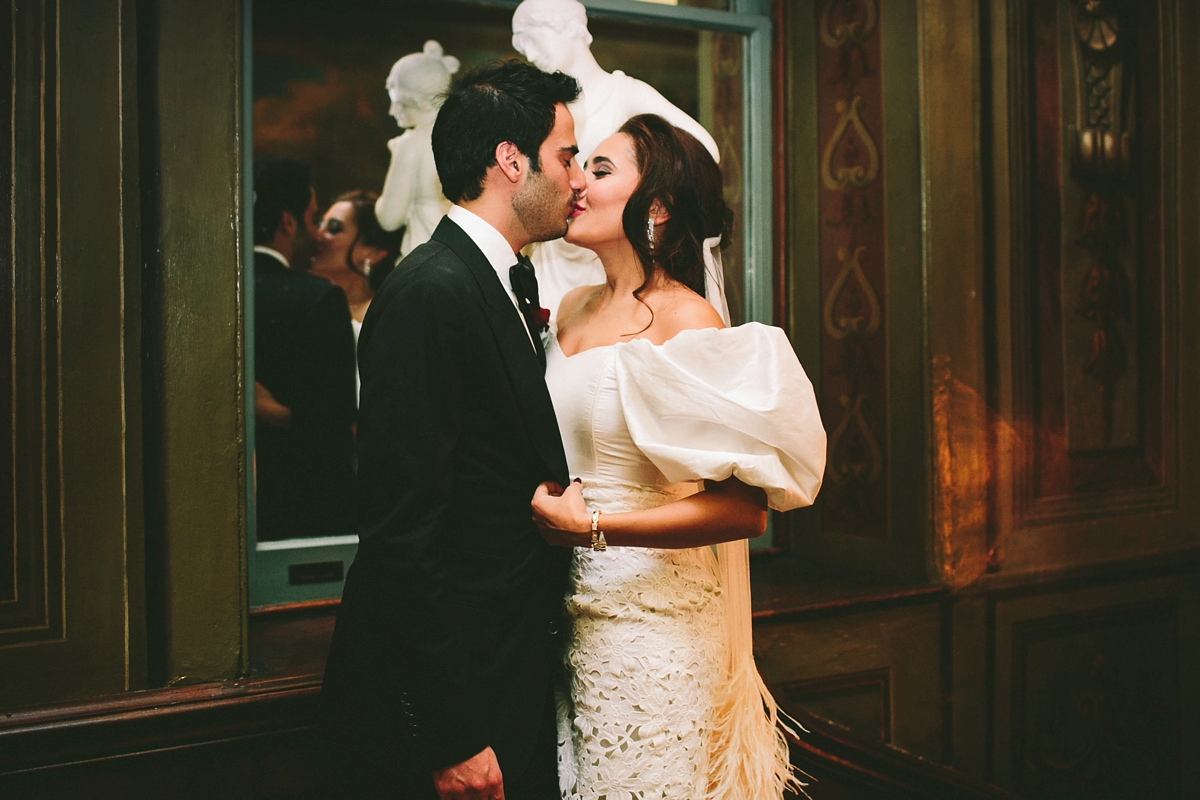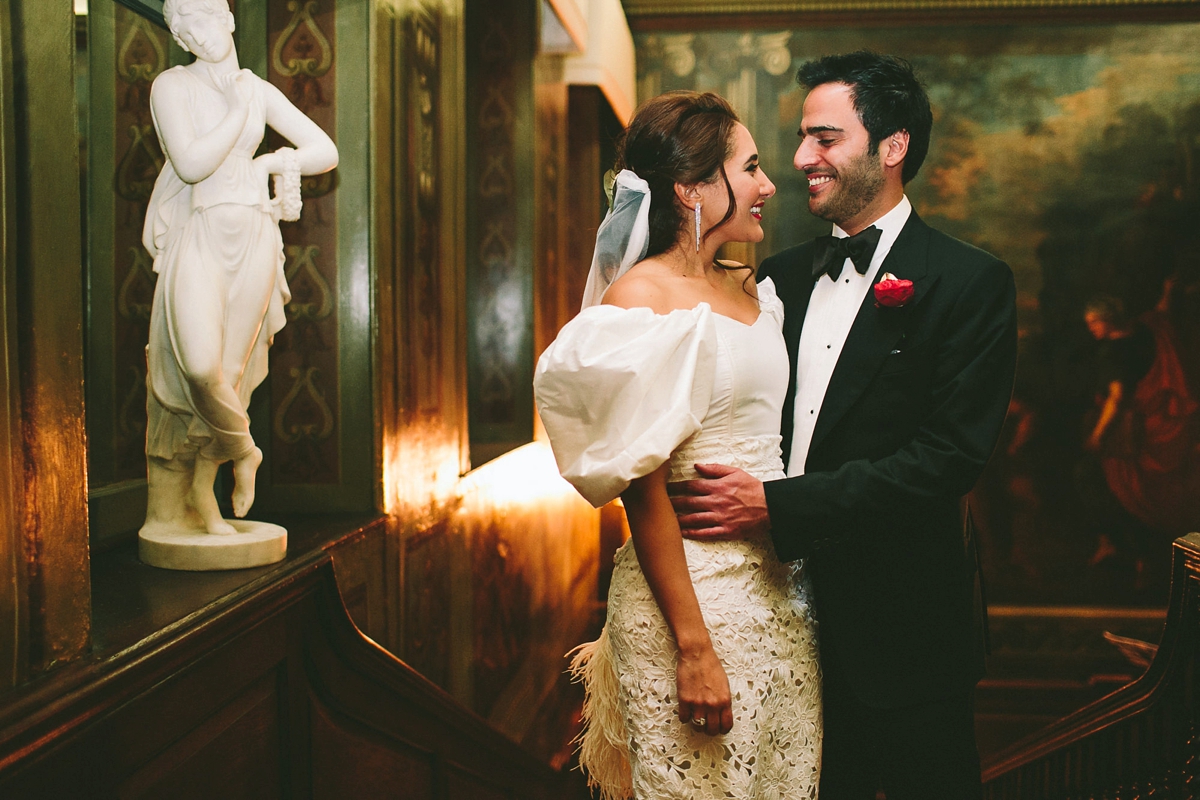 After the ceremony, the newly-weds and their family moved in to the magnificent reception rooms at Fetcham Park.
As the room has so many lovely, classical adornments their own styling was minimal; just a few touches of red and gold to fit their overall theme.
"Being Valentine's Day and one of the colder times of the year, I opted for warm tones of reds and hints of gold to compliment the salon's interior décor. Also, gold and metallic were making a comeback into the wedding scene and I really wanted to include it."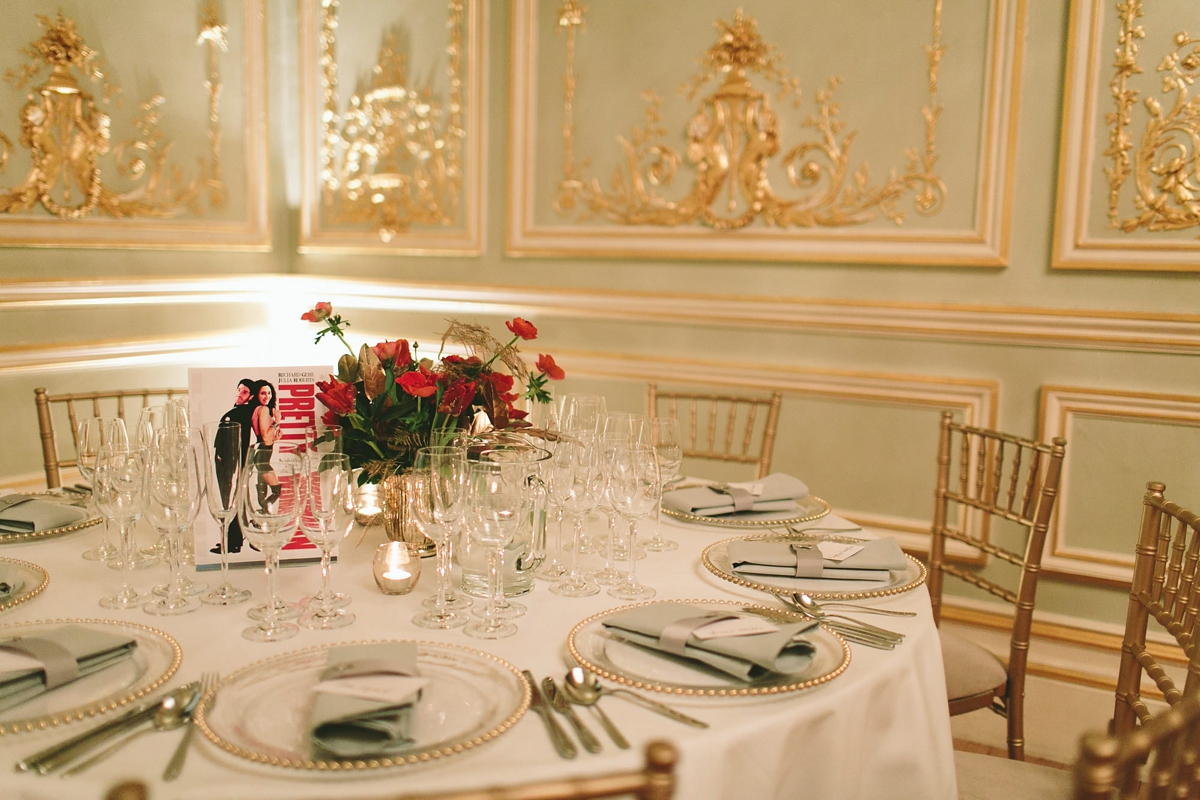 Their tables were styled with gold beaded show plates, votive candle holders and gold vessels for the sumptuous flower arrangements. Mennat also dotted pillar candles in glass vases all around the house and salon and wove a gold spray painted green garland through the handrail of the staircase leading down to the ceremony room for a luxurious finish.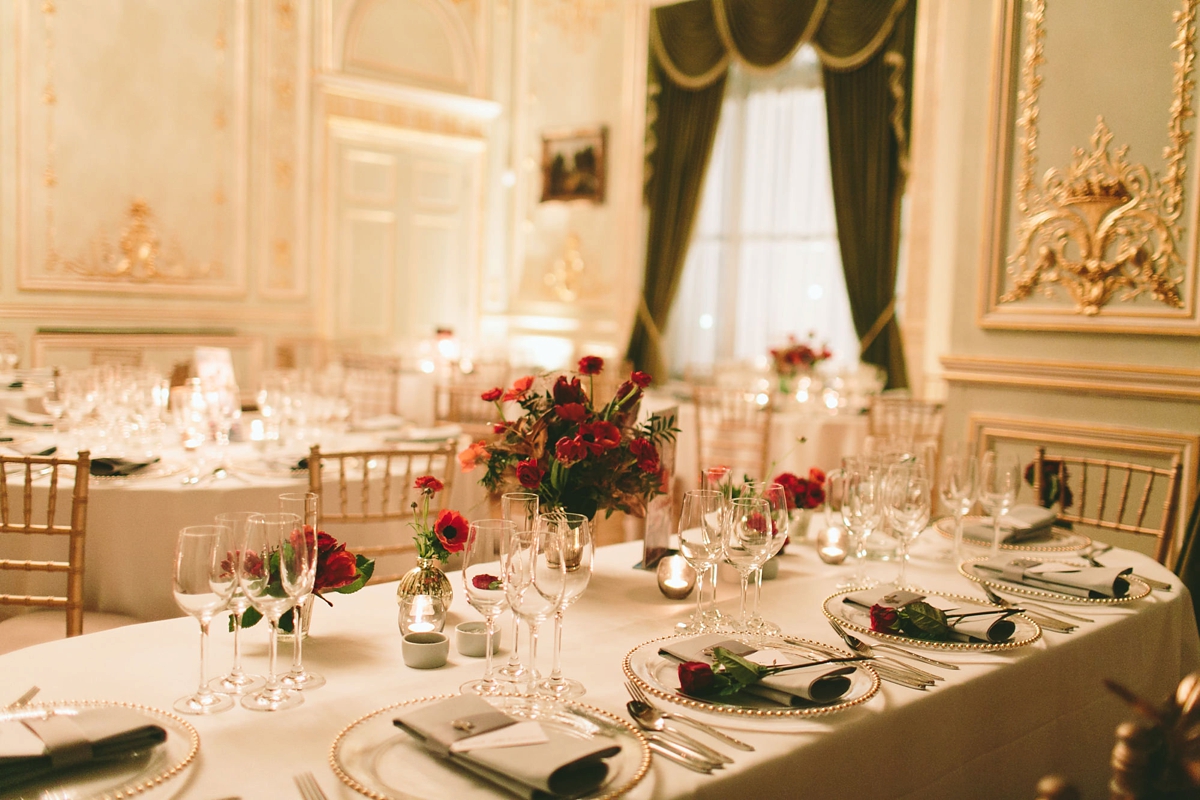 The couple's love of classic film influenced their table names. I love their inclusion of 'Roman Holiday' – highly recommended for Christmas viewing! In addition to the single red rose favours, the couple made a donation on behalf of every guest to Cancer Research UK and attached crystal Cancer Research pins to signify this to the napkins.
At Love My Dress we love this generous idea; have you thought about gifting to charity instead of providing traditional favours?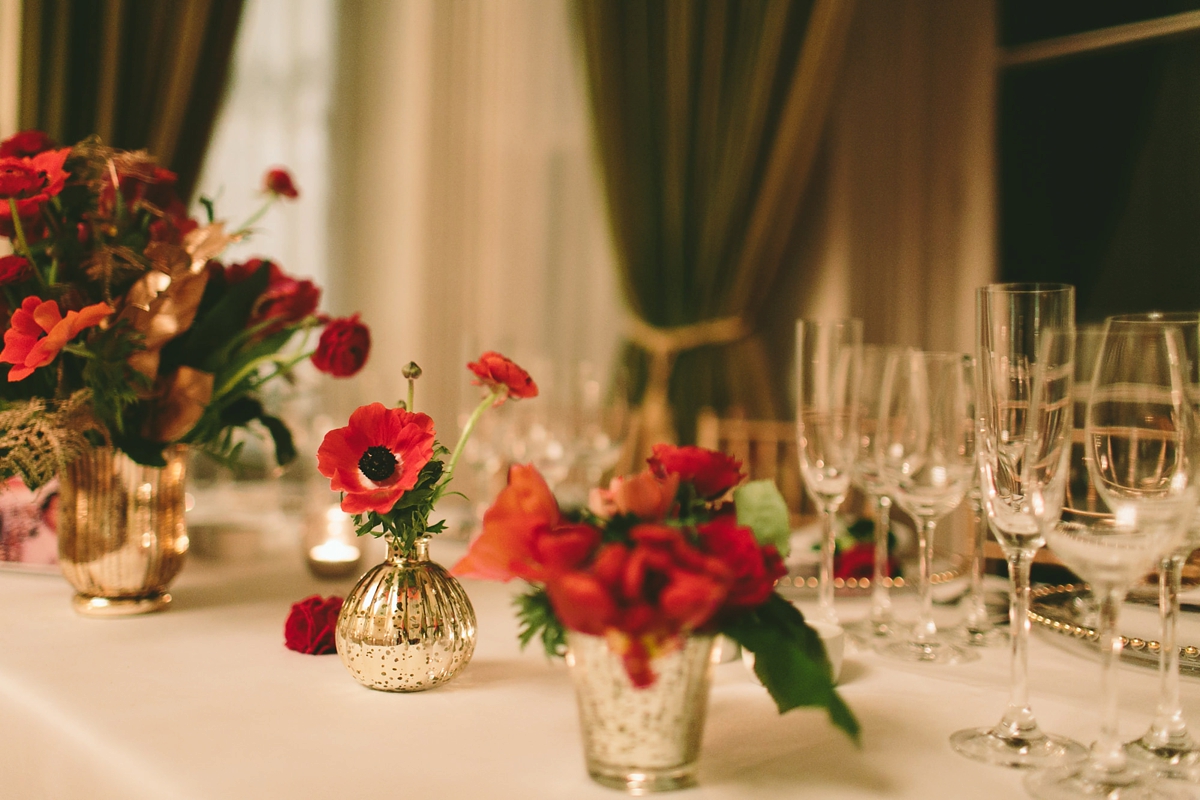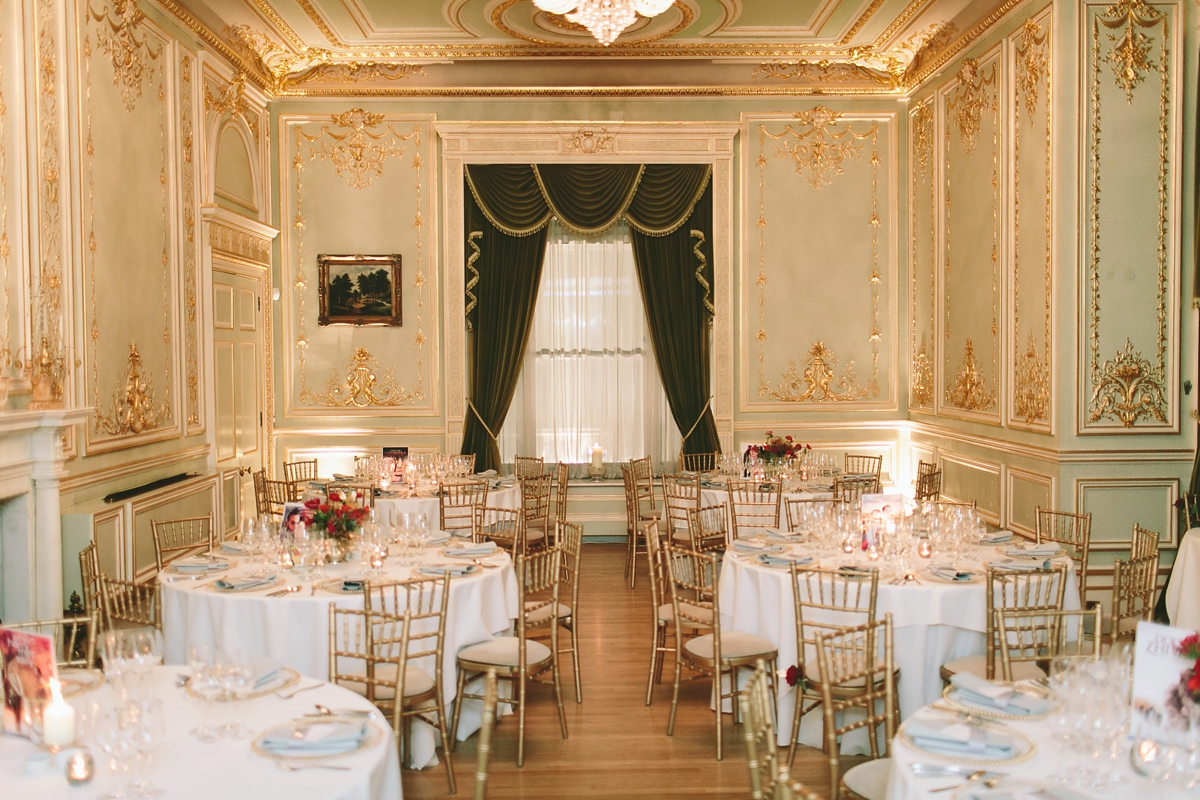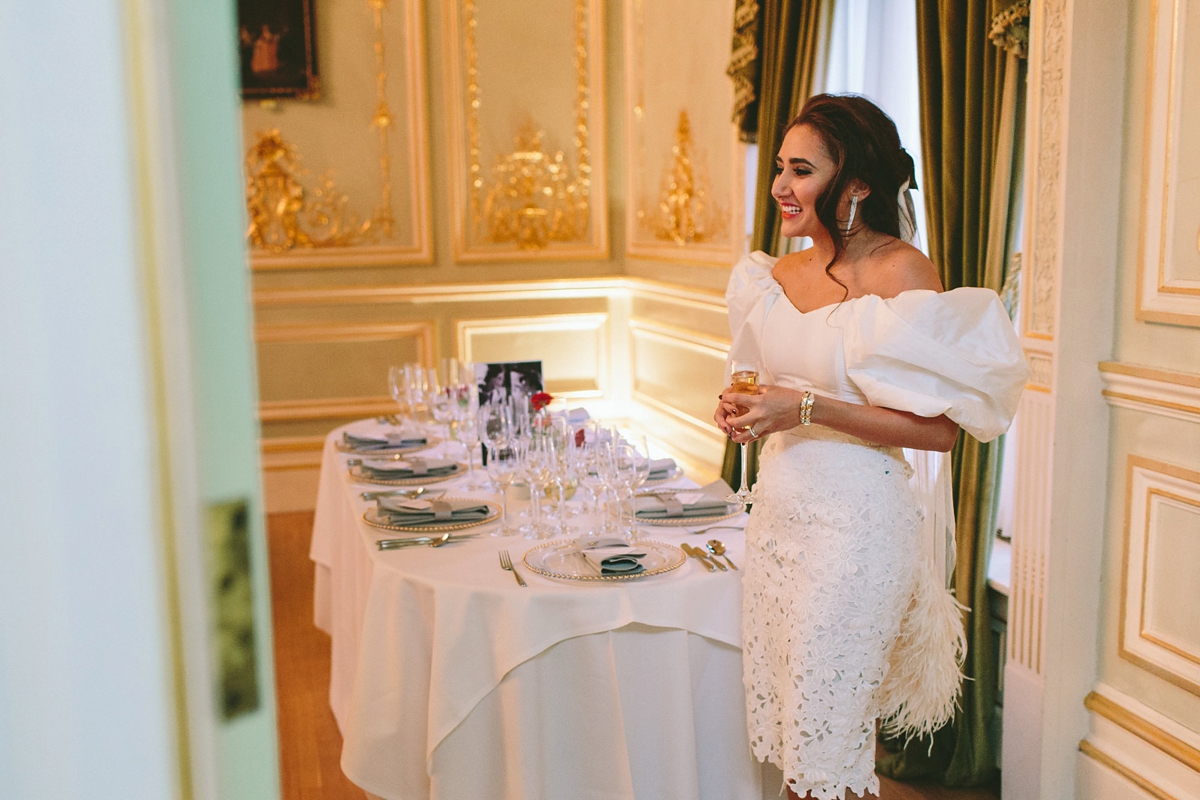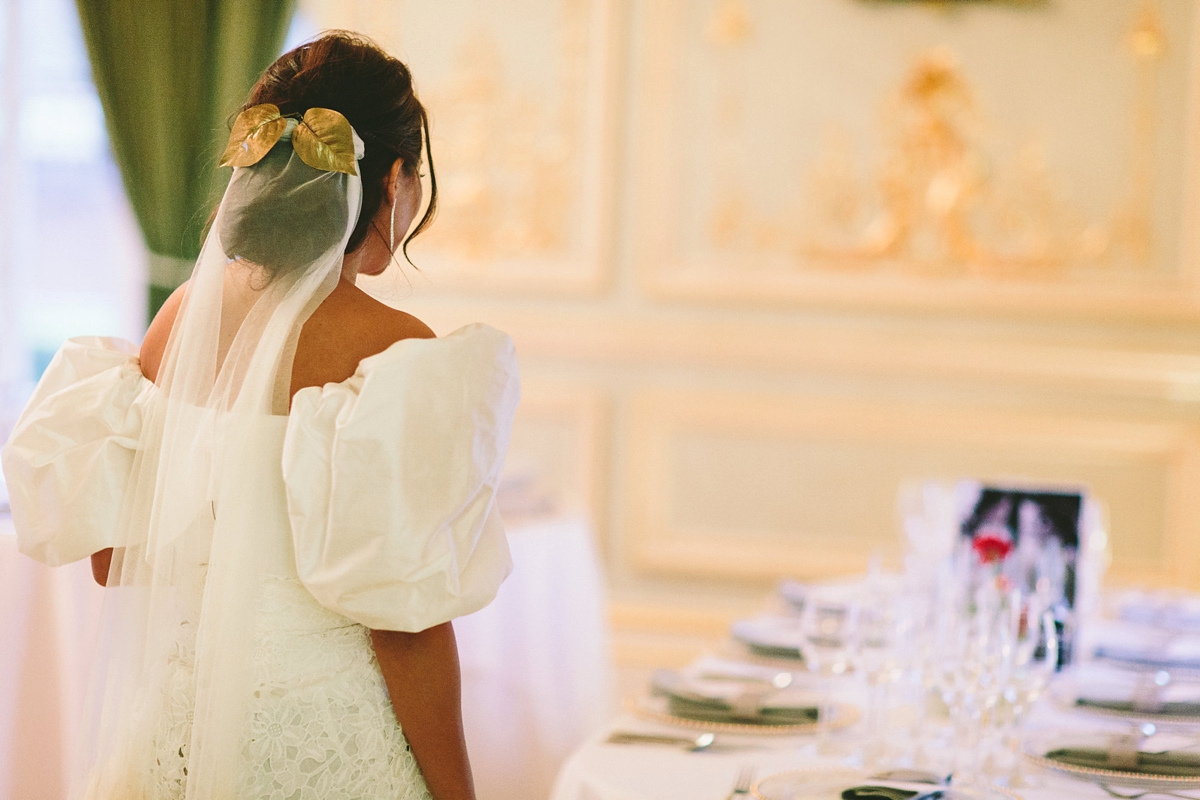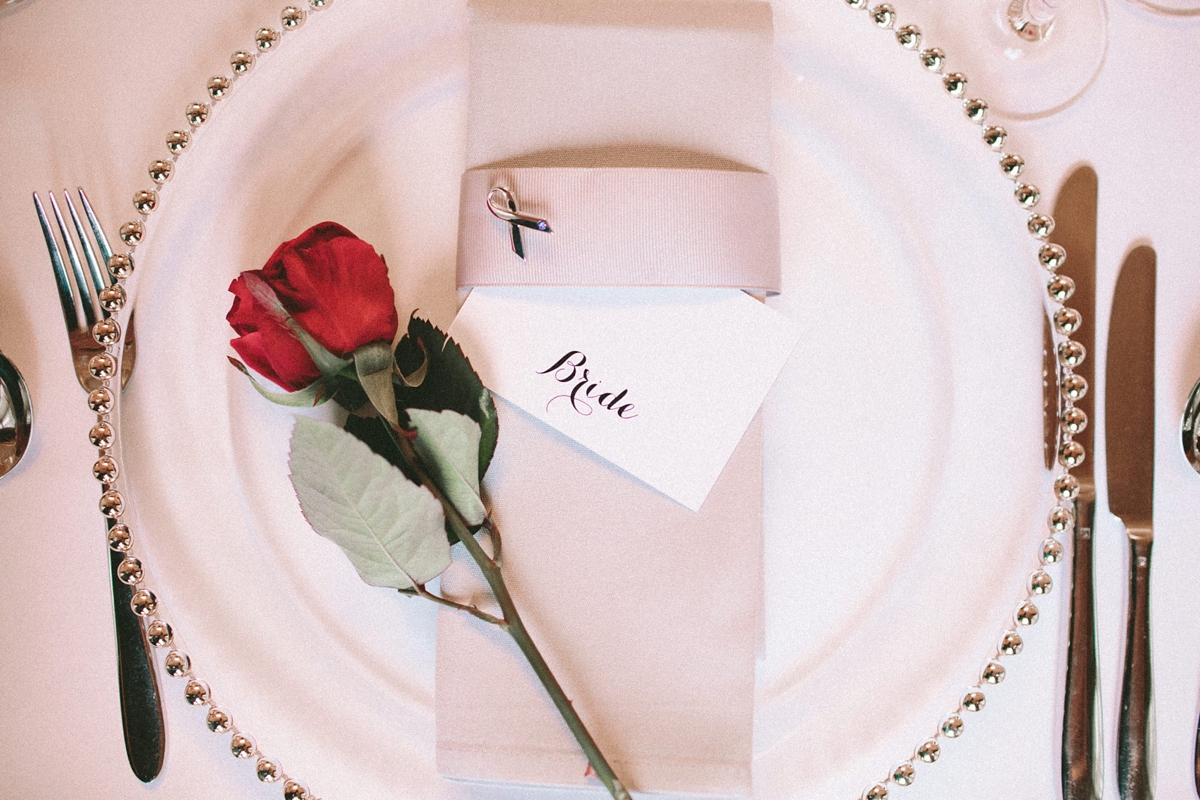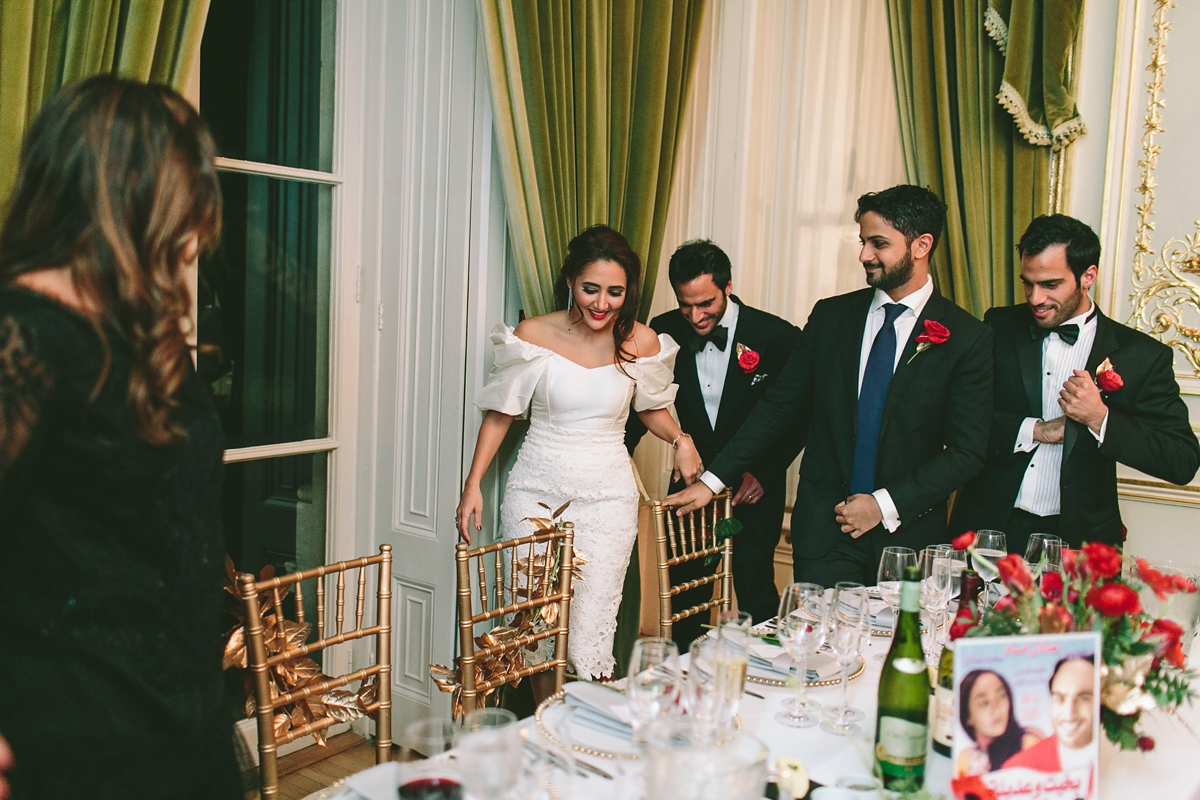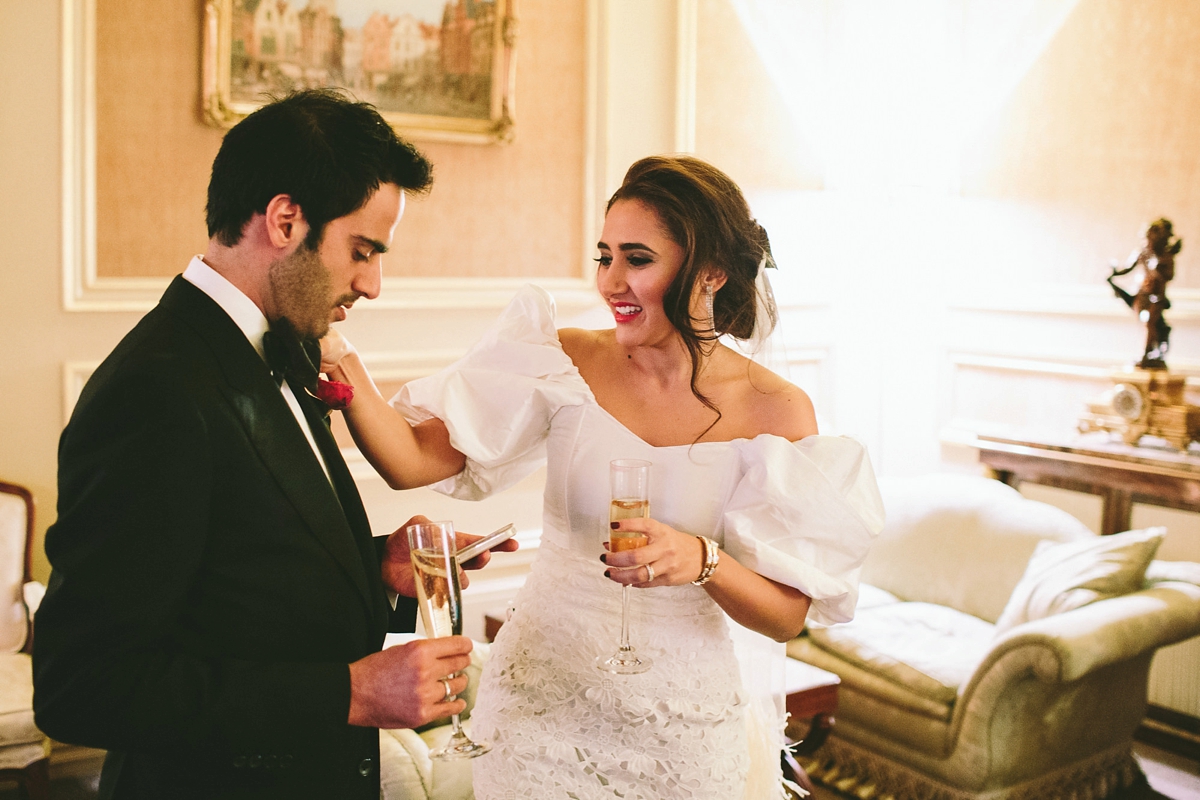 In a break from Arabic tradition Mennat asked her father to speak at the wedding, her favourite part of the day.
"In our culture most families do not speak during weddings and it was not something my father had to ever do previously. Seeing him get nervous, then speak the ever so thoughtful and meaningful words was special. His delivery came from the heart and had everyone in tears."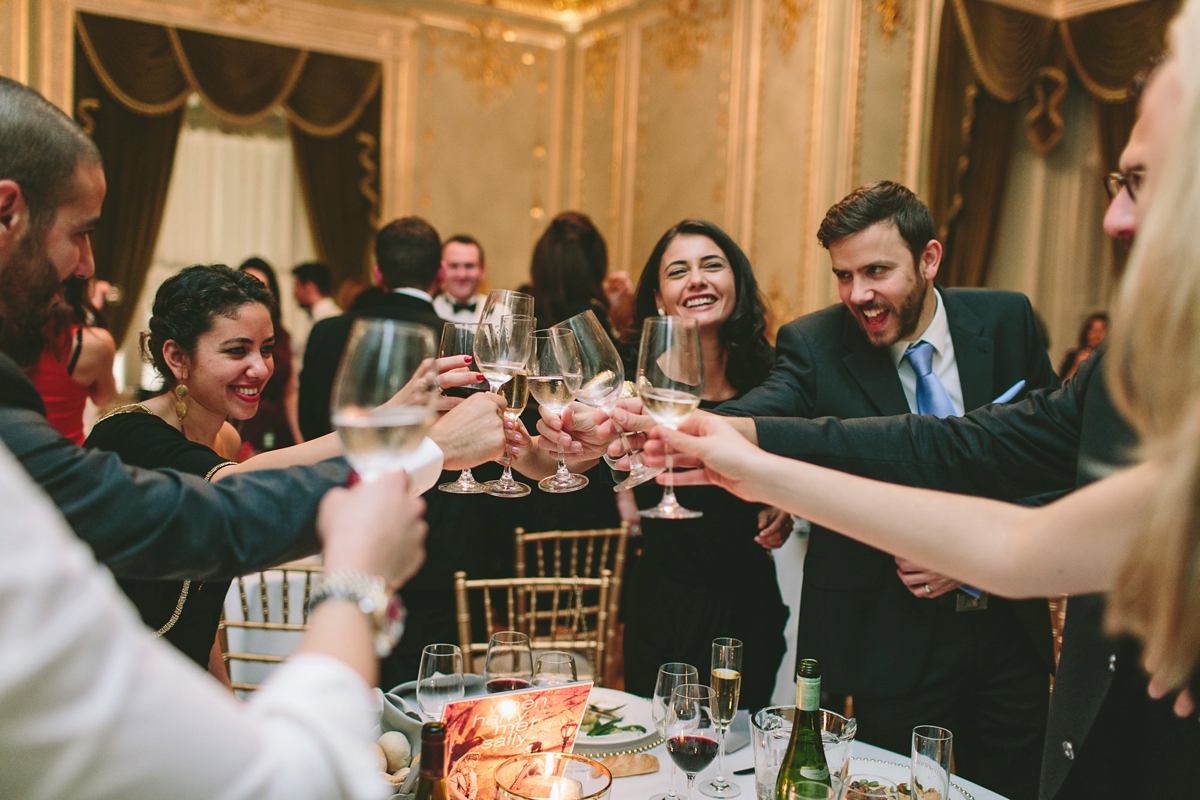 The delicious-looking wedding breakfast was created by Kalm Kitchen, and the newly-weds opted for an extravagant dessert station instead of a cake.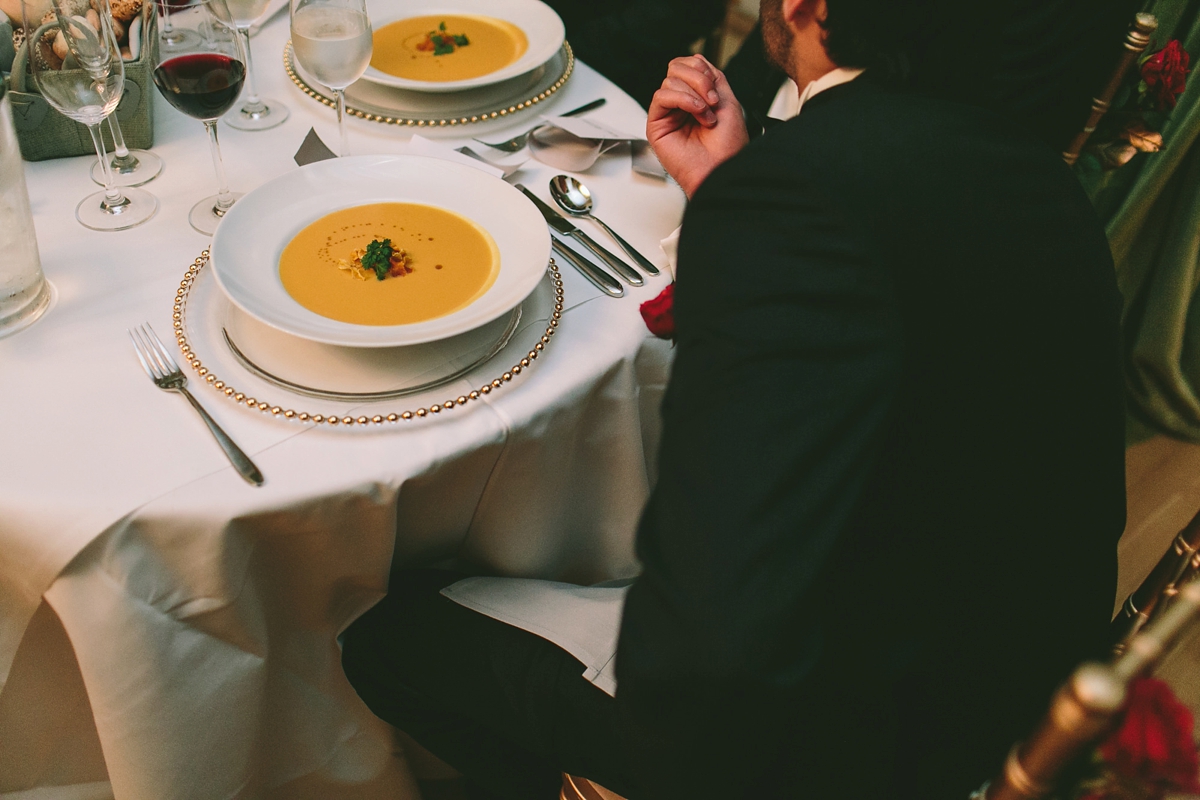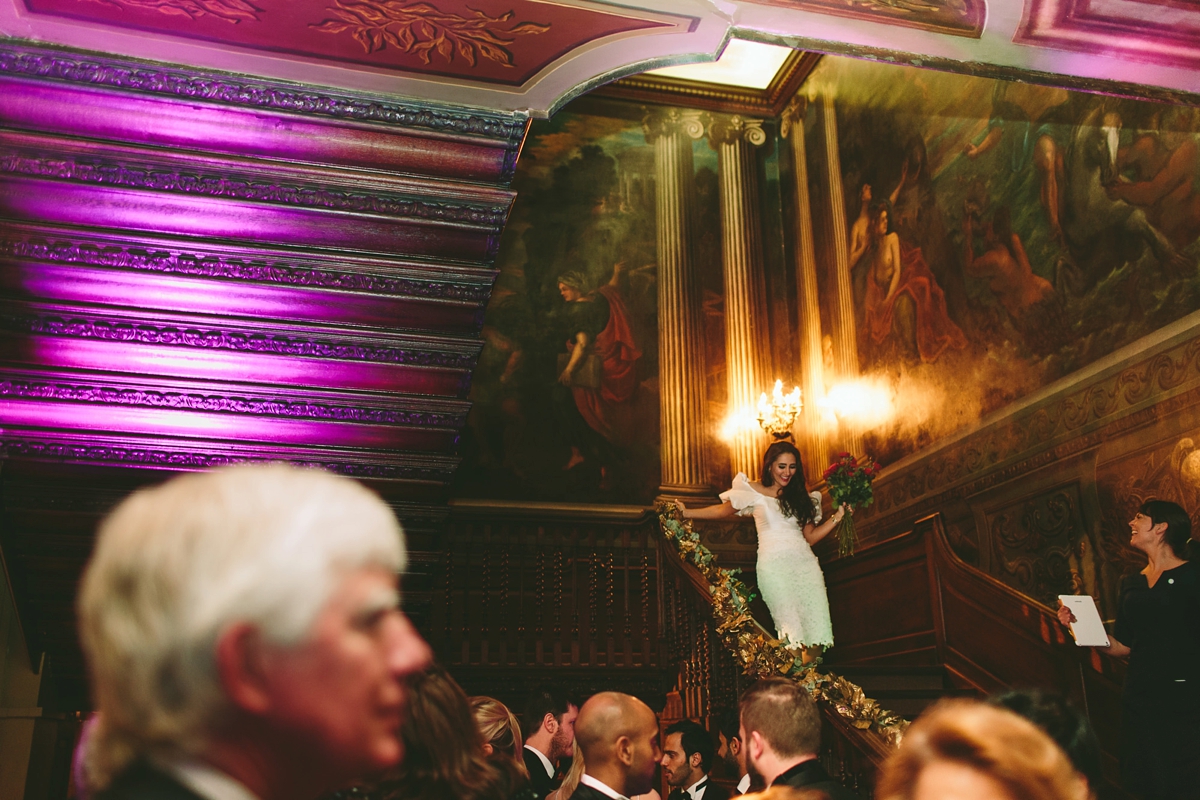 Mennat and Omar's first dance was to My Morning Jacket's 'Wonderful', played live by their band The Zu Zu Men.
"This song meant a lot to the both of us when we met and reminds us of the beginning of our relationship and how it all started."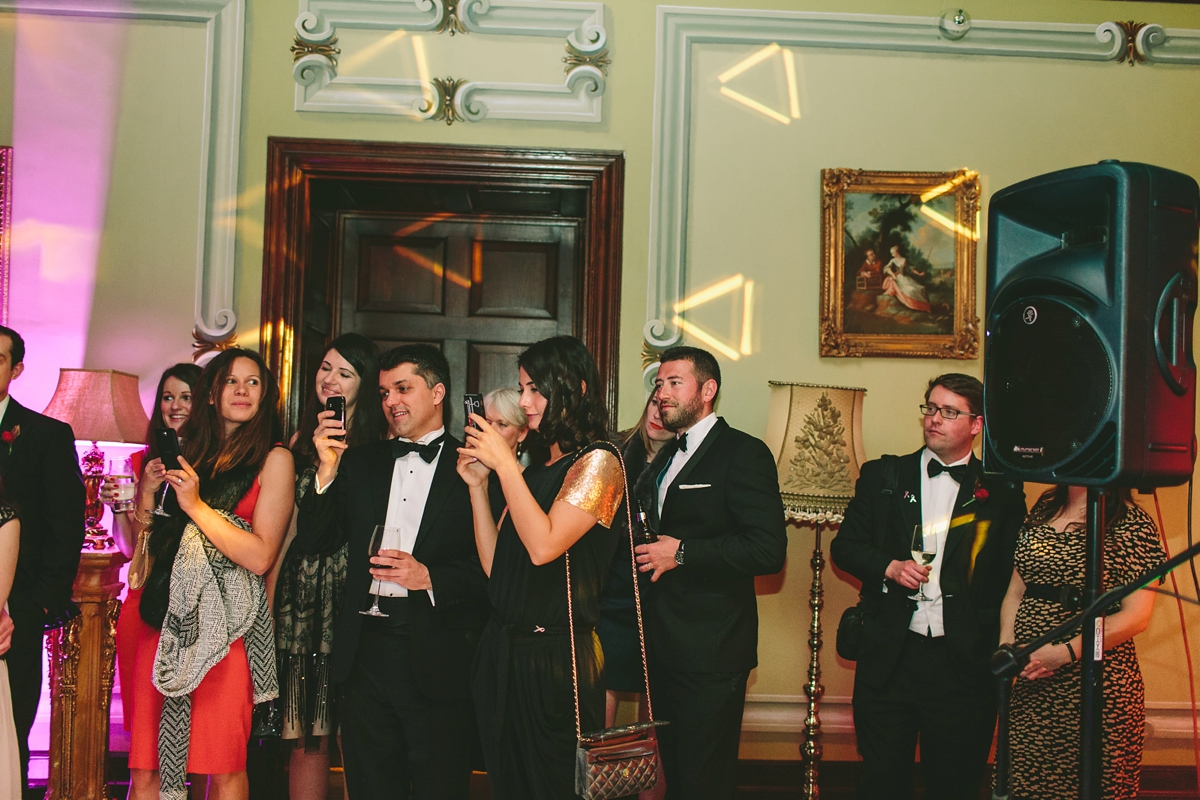 Words of Wedded Wisdom
"Try to focus on three details that personally represent you and your loved one. Bring them to life in the wedding and you will be surprisingly pleased with how appreciative guests will be of it."
Such a stylish wedding, congratulations Mennat and Omar on your wedding and thank you so much for sharing it with us. I do hope other brides will be inspired by your elegant choice of gown and inclusion of divine red roses. Thank also to Hector of We Heart Pictures for your work. If you love Omar's black tie style then we have so many more weddings for you to enjoy here.
Wishing you all a very happy and peaceful Christmas.
Ele xx