Picture a long, hot, summer day filled with full-blown English blooms and a country house straight out of Jane Austen. To me that sounds just dreamy, so I'm delighted to write about today's wedding.
Mr and Mrs Steele married on 3 June 2017 at Edmondsham House and Gardens in Wimborne, Dorset in a romantic, whimsical day inspired by a typical English garden party. Curl up, get cosy and read on. Mrs Steele is originally from Germany and met her husband-to-be, a company director, whilst living and working in England as an au pair.
"I was very keen on trying to create a typical English fête or garden party. We probably deviated from the original ideal quite a lot but essentially we wanted to create an environment where everyone felt comfortable and relaxed. We didn't want it to be too formal and were more concerned about everyone having a good time."
Photography Paul Underhill
The bride and her bridesmaids got ready in the beautiful house, with the bridesmaids choosing crisp, elegant gowns in mint green – so pretty and fresh for an early summer day. They looked lovely against the pure white of Mrs Steele's romantic gown. She found her Willowby Watters gown at Ava Louise Bridal Wear in Southampton. I love the slim, fitted top with its low back and delicate asymmetric floral appliqué. And what about that dreamily full, flowing skirt? For extra elegance she chose a cathedral length veil from Ivory and Co which looks so graceful and fluid as it trails behind her.
"I wanted a simple, romantic and very flowy dress. I fell in love with this dress straight away as it had everything I was looking for."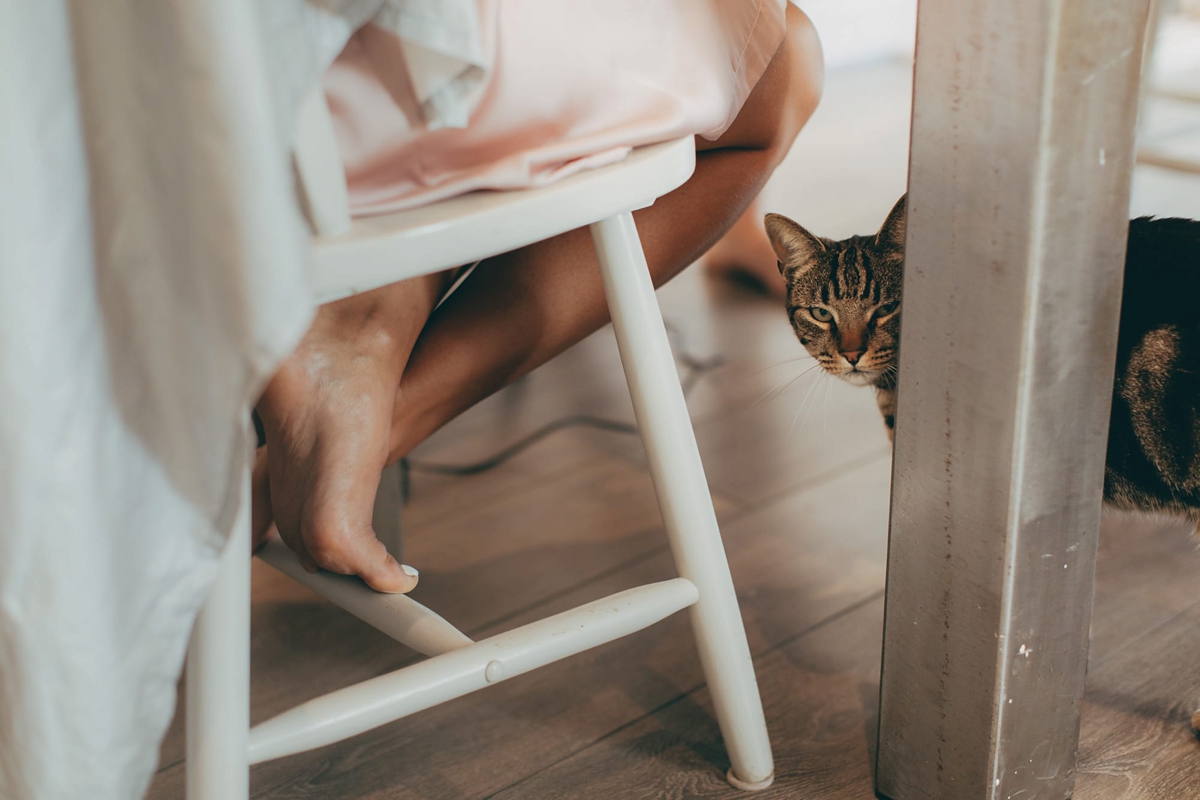 Time to talk flower crowns! Such a gorgeous style, Mrs Steele's half-crown of fresh flowers and foliage looks so summery and relaxed. If you love the boho style of a flower crown but want something a little more light and delicate then how about replicating her choice?
Mrs Steele chose a really evocative perfume for her wedding day; Versace Bright Crystal, which her mum wore when she was younger.  Opting for a pretty and relaxed finish, she added rose gold and moonstone earrings and bracelet from Auren and a rose gold birth bracelet, given to her by her mum as her 'something old'.
"I always loved this perfume when my mum wore it so she gave it to me for my wedding day."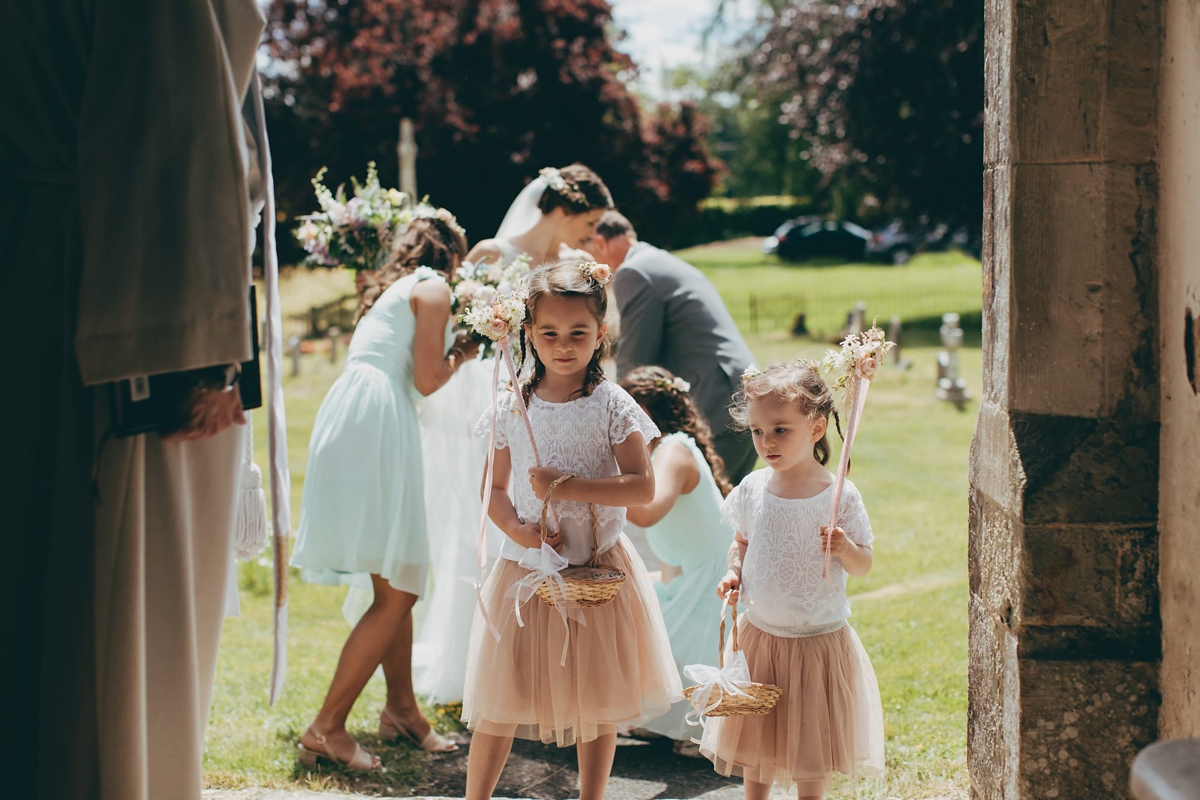 The couple found their rings on Etsy, the bride opting for a rose gold band to sit well against her chunky engagement ring and the groom choosing a plain gold band.
"We both loved the ceremony and also the evening and spending time with everyone."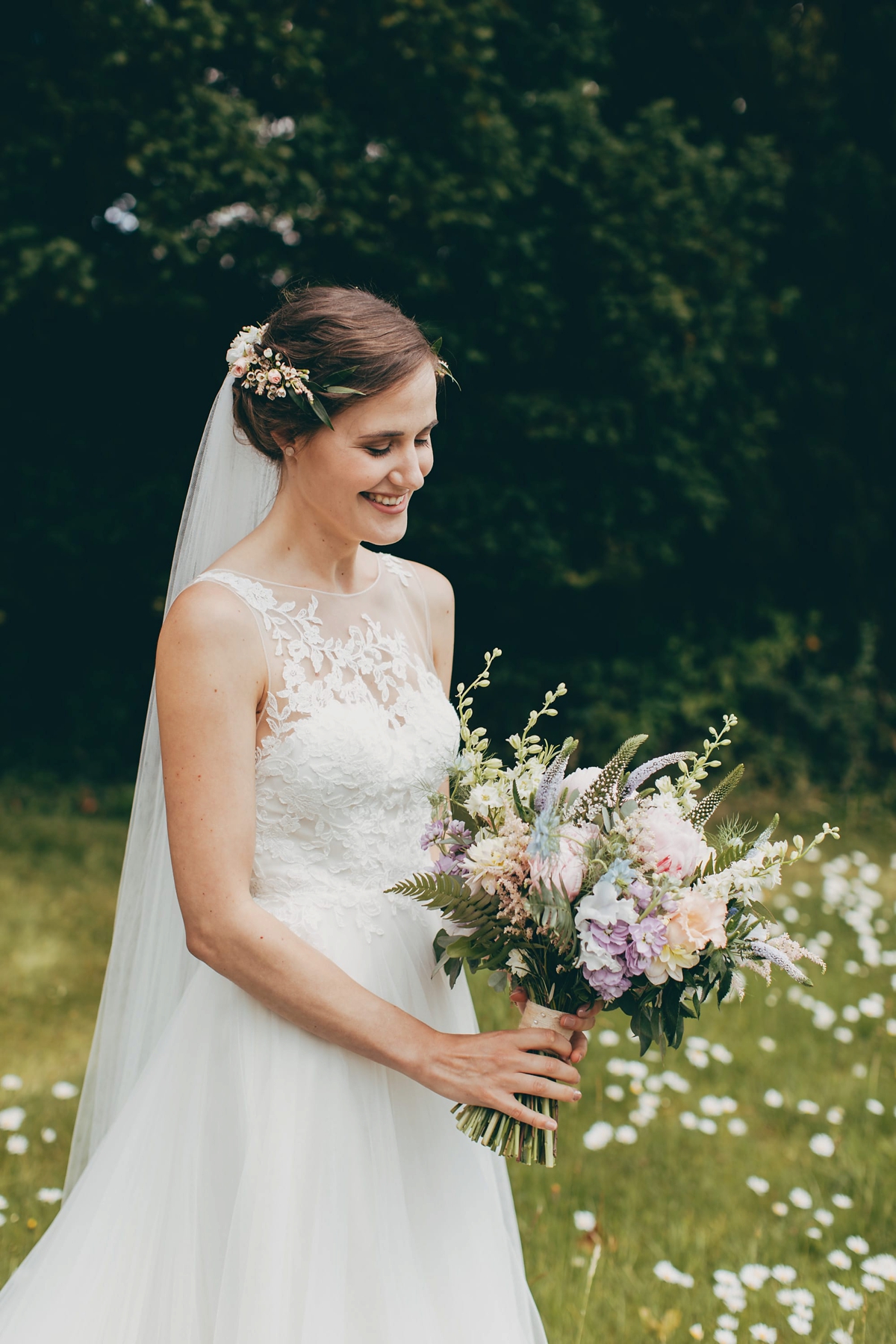 The softly-coloured flowers with their natural clusters of peonies and English country garden flowers, as well as the headpieces, are by Willow Floristry. At Love My Dress we love it when florists use seasonal, locally sourced flowers that celebrate the countryside like this. The flowergirls carried the loveliest flower-topped wands too – so sweet and traditionally English.
"We were so happy with the flowers they did; simply amazing. Willow did the bouquets and other bits to be worn whilst we did the leaves around the poles in the marquee and decorated the church and tables."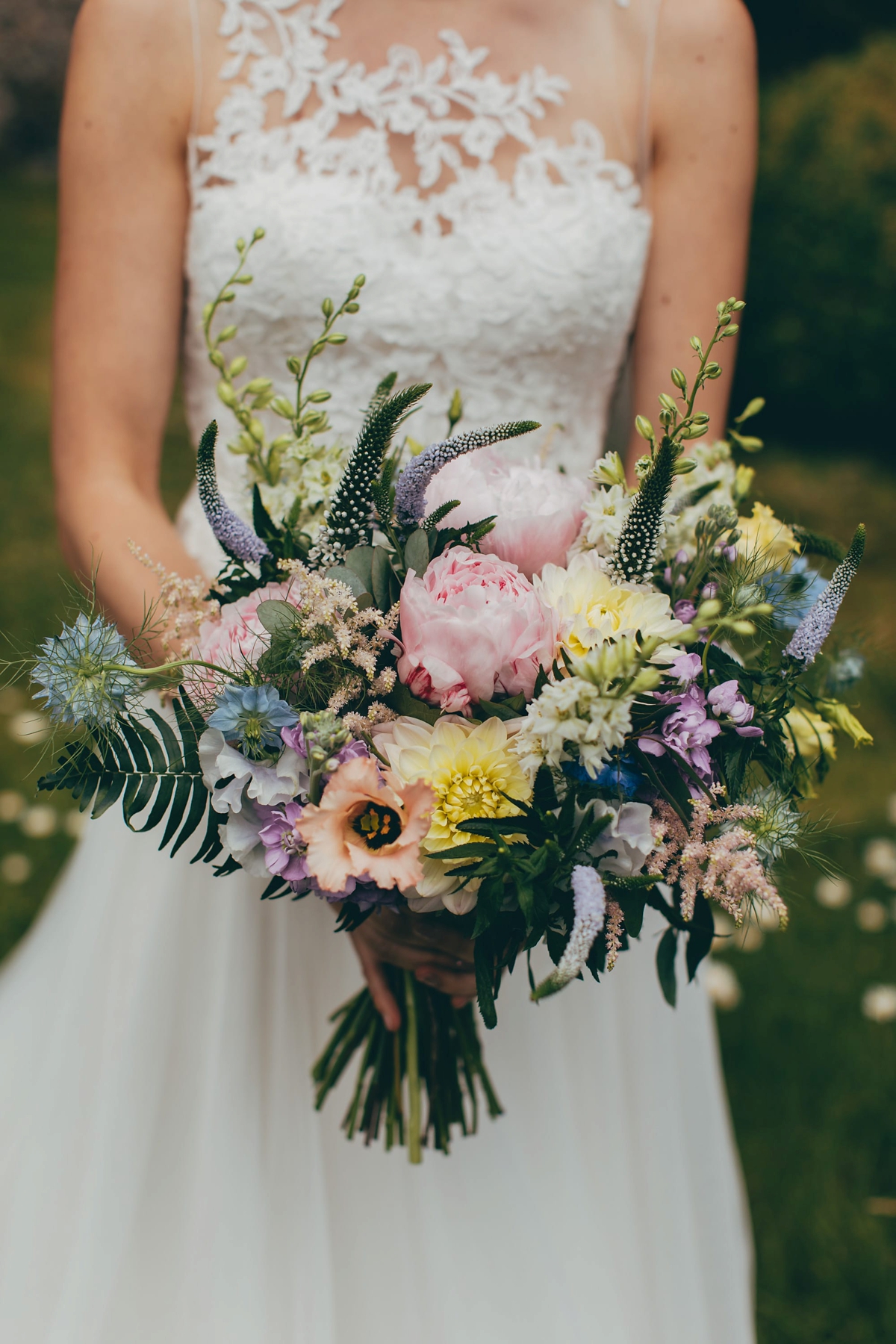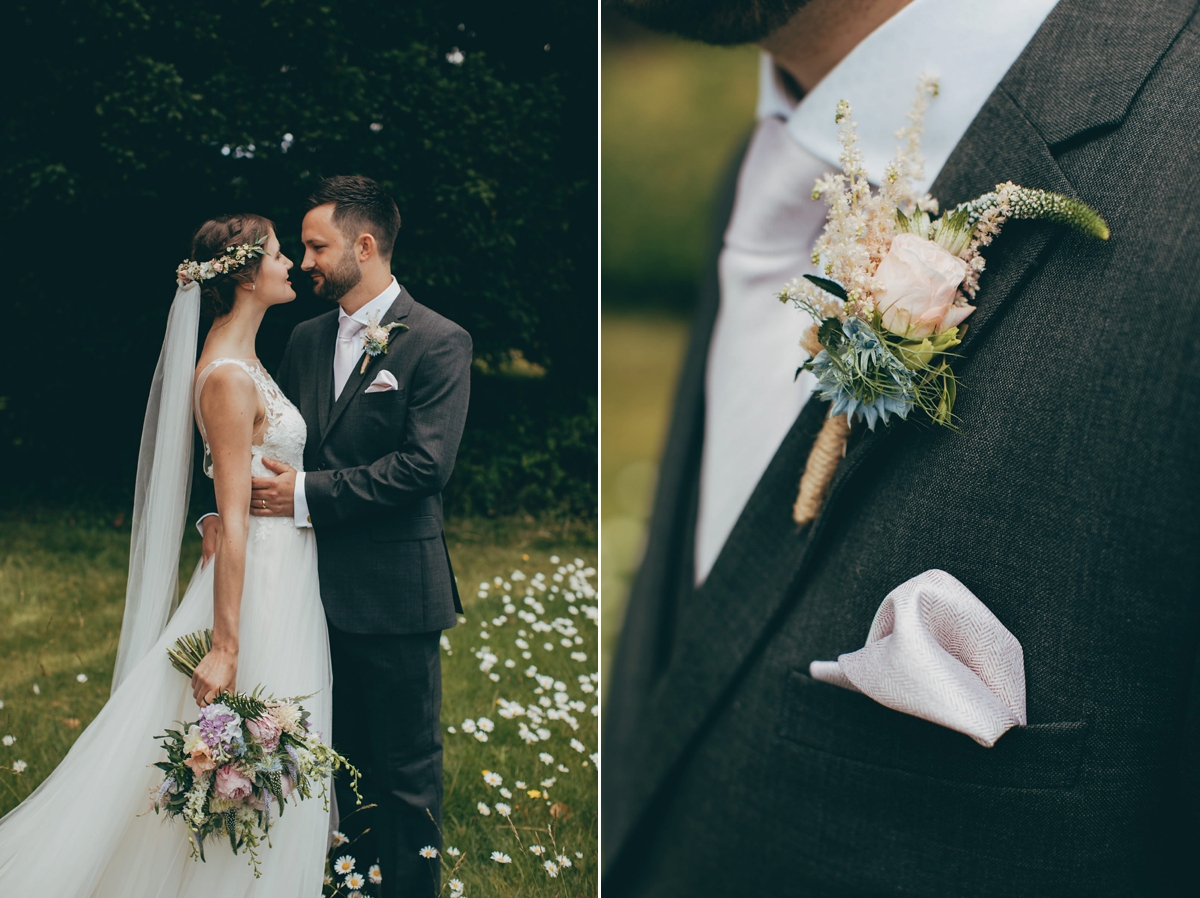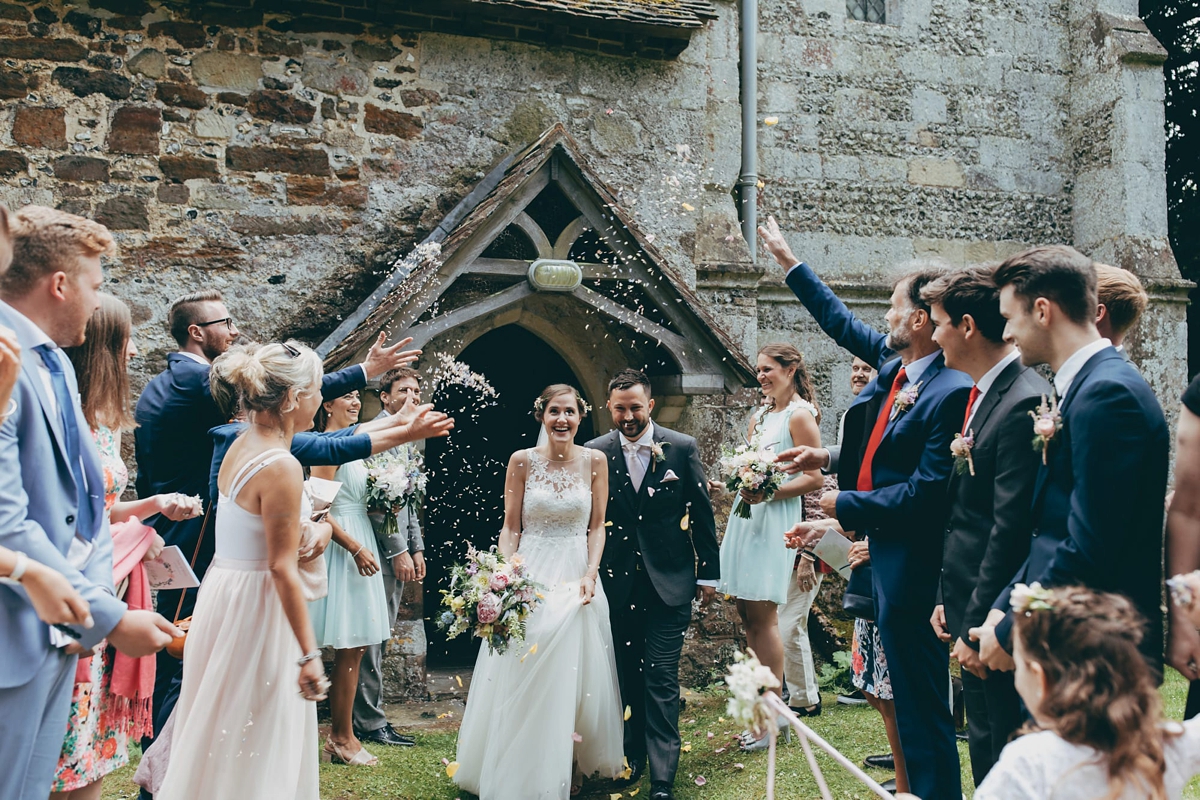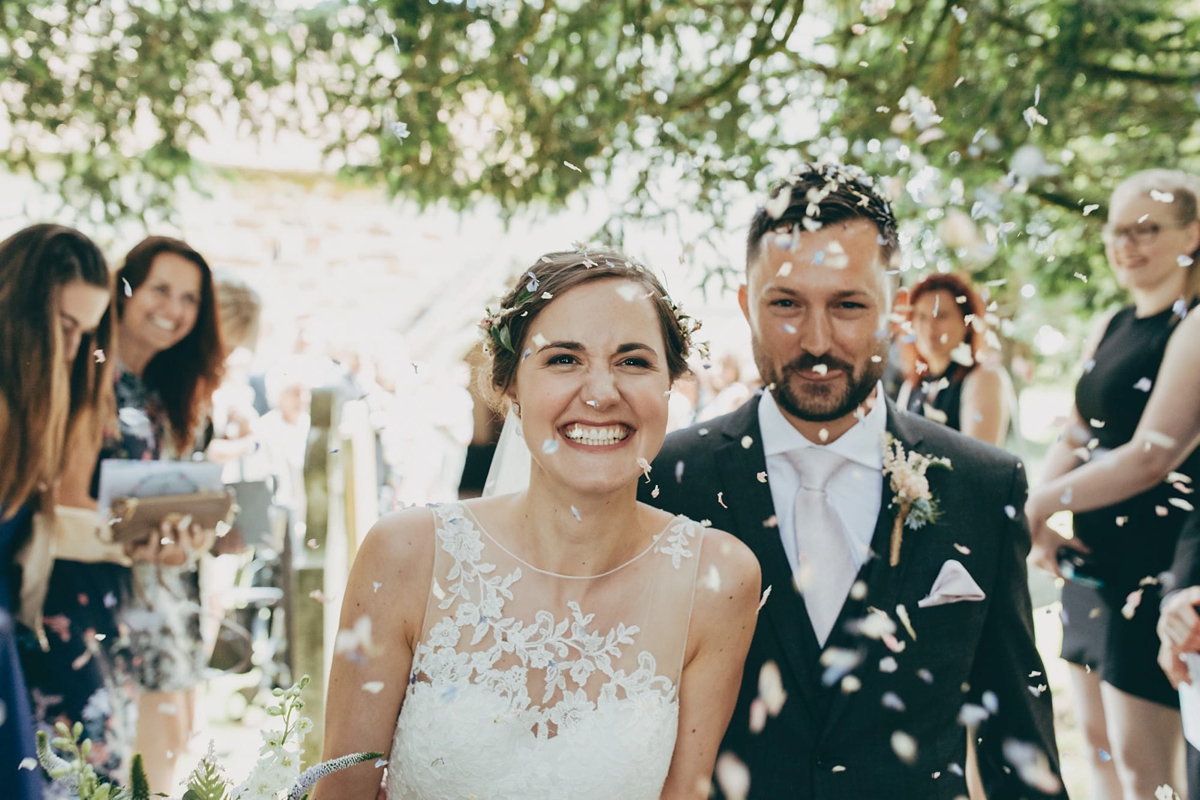 Edmondsham House is right next door to a beautiful, stone-built 12th century church, which the bride entered on the arm of her father. She looks just so ecstatic to be walking down the aisle to meet the groom, don't you agree?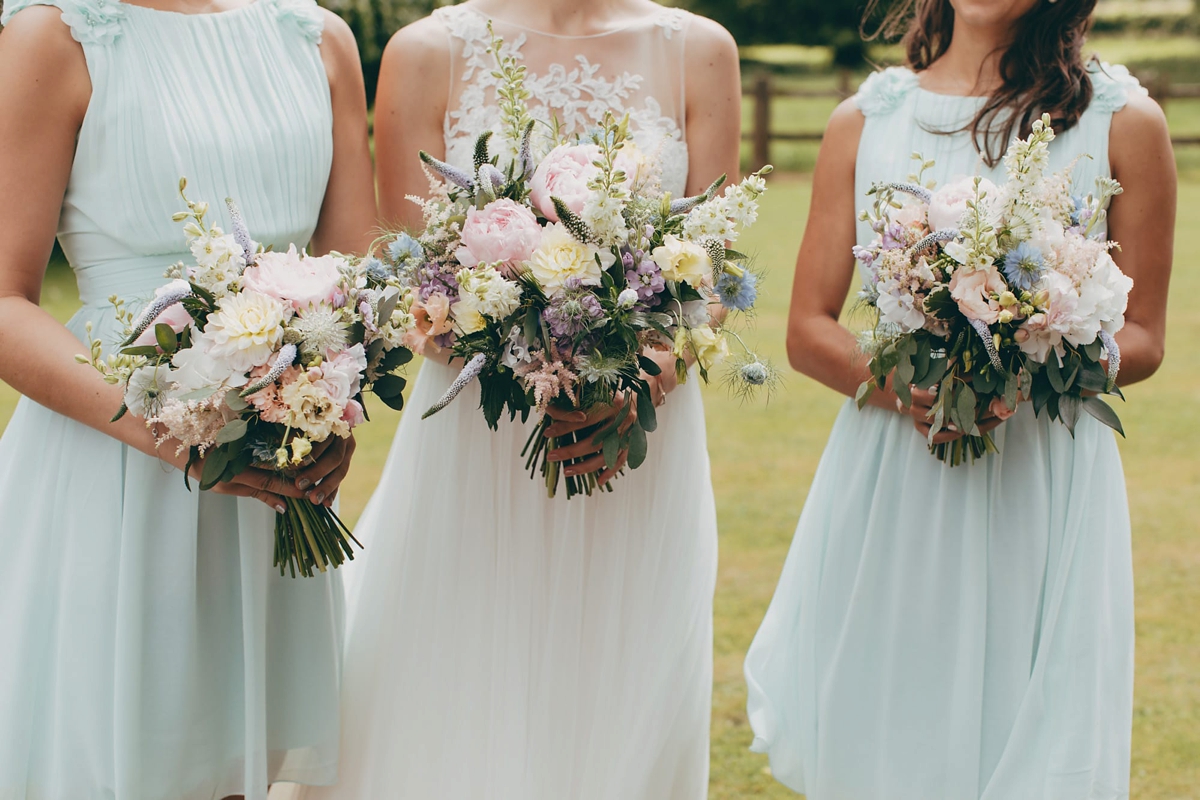 The couple asked Dorset wedding photographer Paul Underhill to record their day.
"Simply put, he was amazing. He was our best choice of supplier and we were over the moon with how he was on the day and the photos were great too."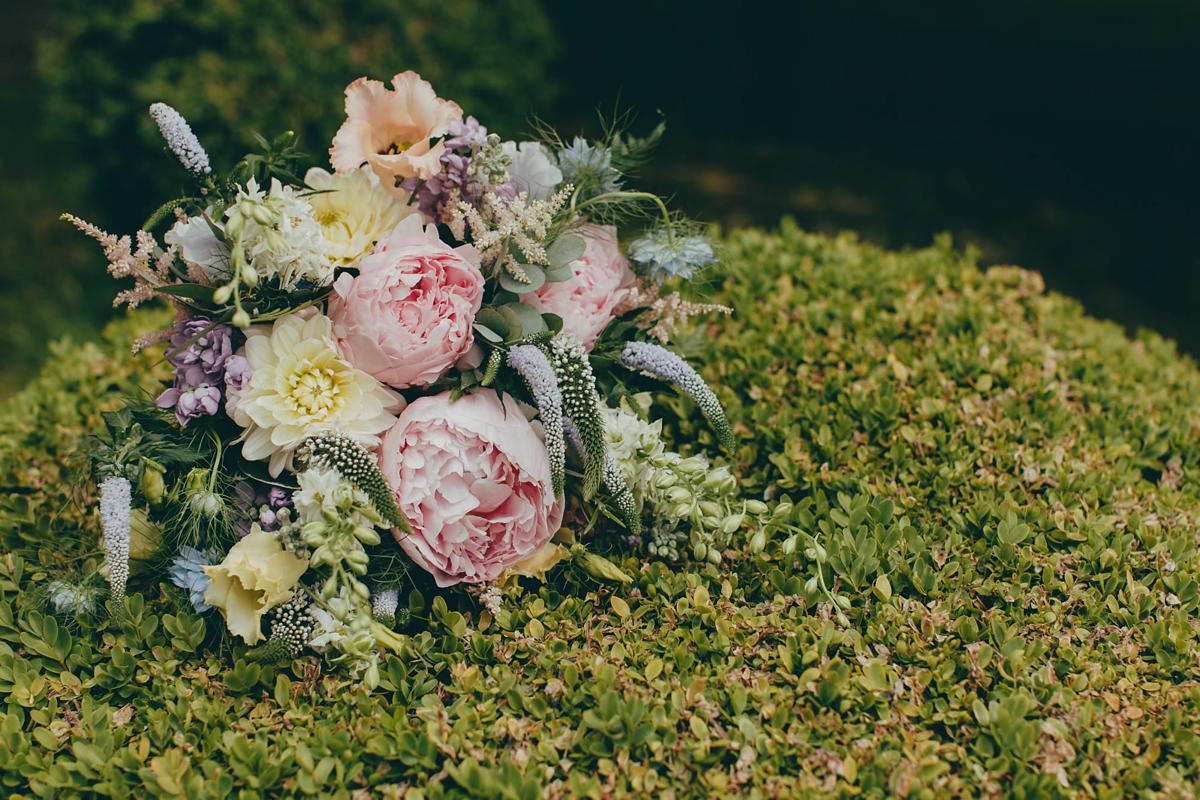 Walking back through to the gardens, the weather was perfect so they could all relax and enjoy the early summer's day over drinks and garden games including coits and jenga. The marquee looked fresh and elegant dressed with lots and lots of blooms and foliage. The pretty cranes fluttering down the back wall are such a pretty touch.
Their choice of venue was influenced by their wish to create an informal, relaxed atmosphere, for their guests to relax and have fun. They stumbled across the picturesque venue of Edmondsham House with its Tudor and Georgian building and fell in love with its typically English lawns and gardens and peaceful feel. The beautiful weather meant they were able to fully enjoy the setting and the spacious, elegant marquee.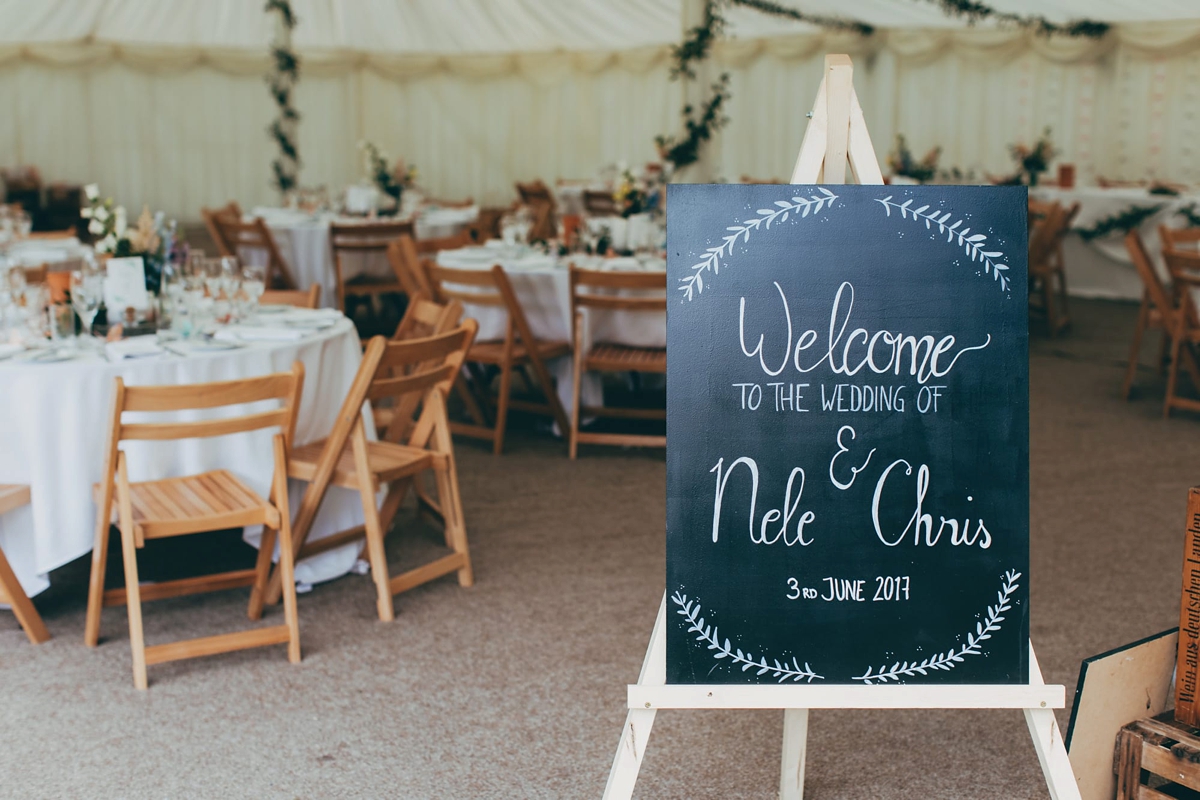 Now working as a marketer and illustrator, the bride designed all of this elegant stationery which set the tone for their garden wedding. She also created the quirky chalk boards which directed their guests around the gardens and all of the skilfully-crafted origami cranes which cascaded down the marquee's wall.
Mr Steele also got creative, building the artists easels and polished concrete centrepieces for each table, which were topped with candles and flowers.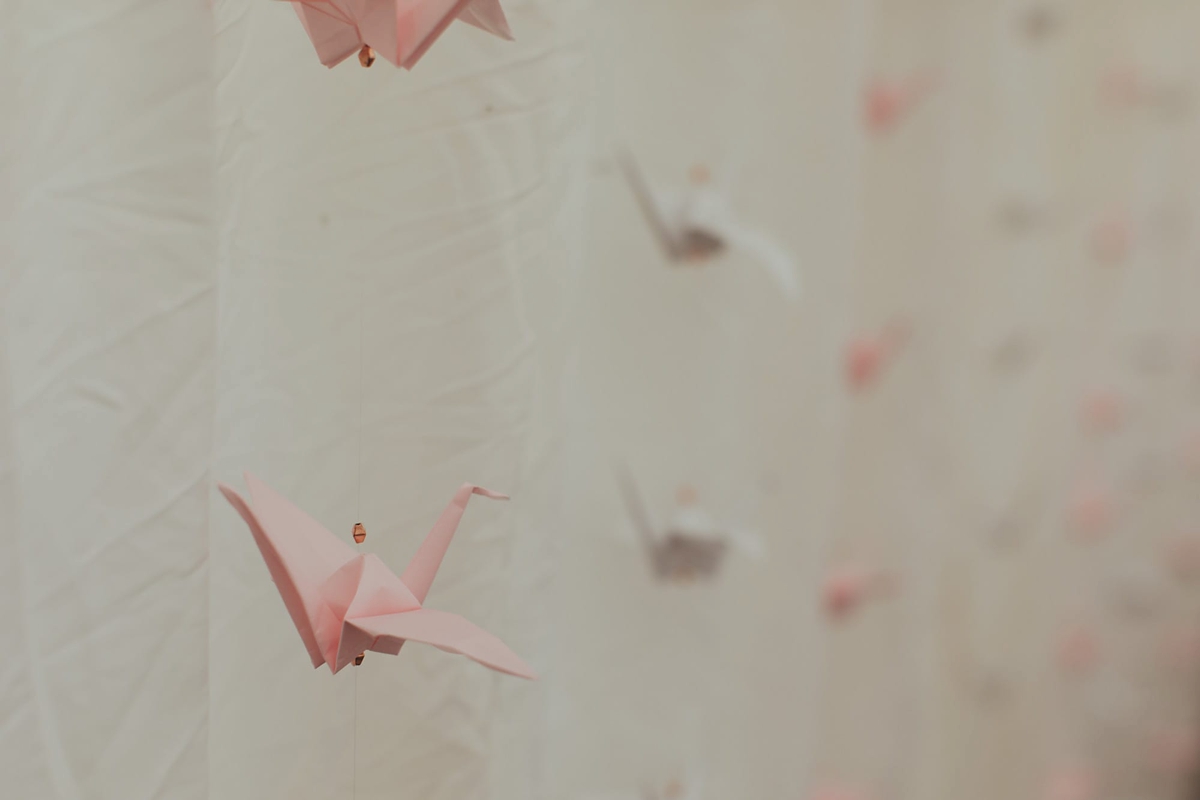 Mrs Steele is clearly very creative, baking this magnificent tiered cake herself and setting it atop a polished concrete cake stand made by her husband.
"We went with a three-tiered cake which was semi-naked and decorated with flowers."
The newly-weds and their guests danced the night away to music from DJ Phil, after a first dance to Ed Sheeran's 'Perfect'.
"We both love this song and it is perfect to dance to especially if you are not the most comfortable dancers."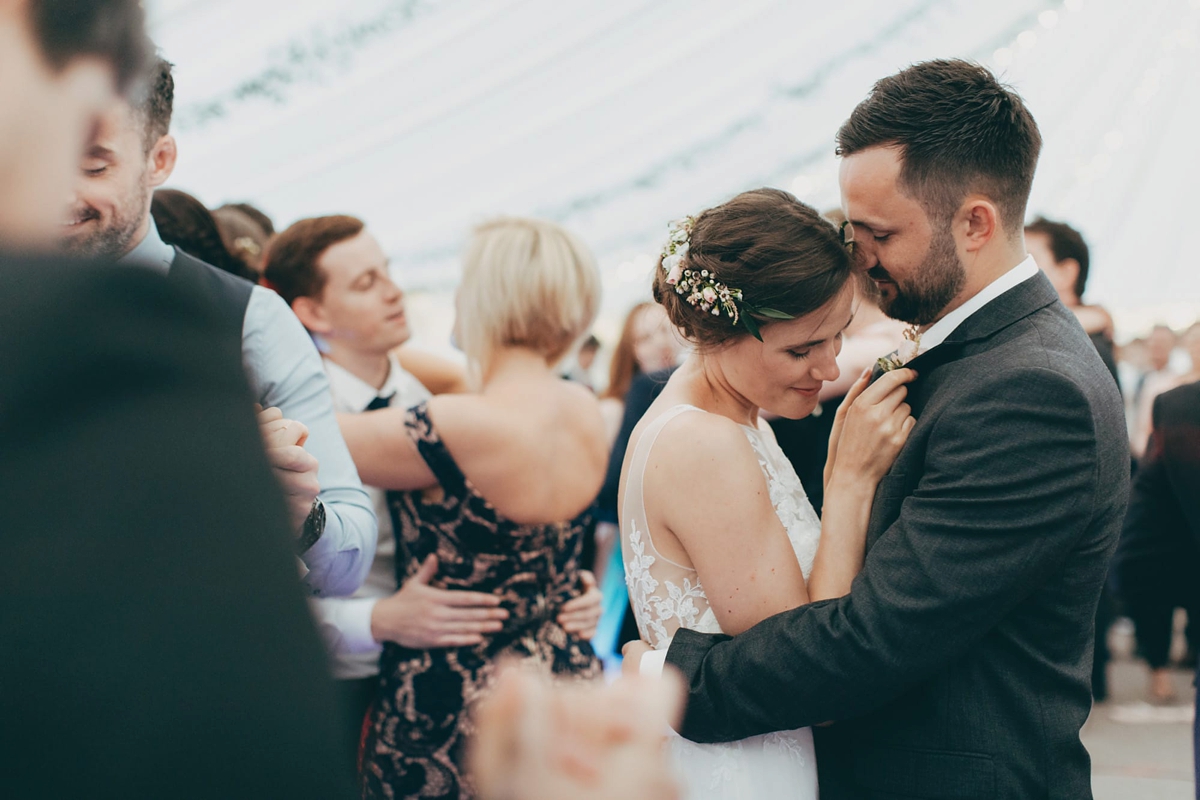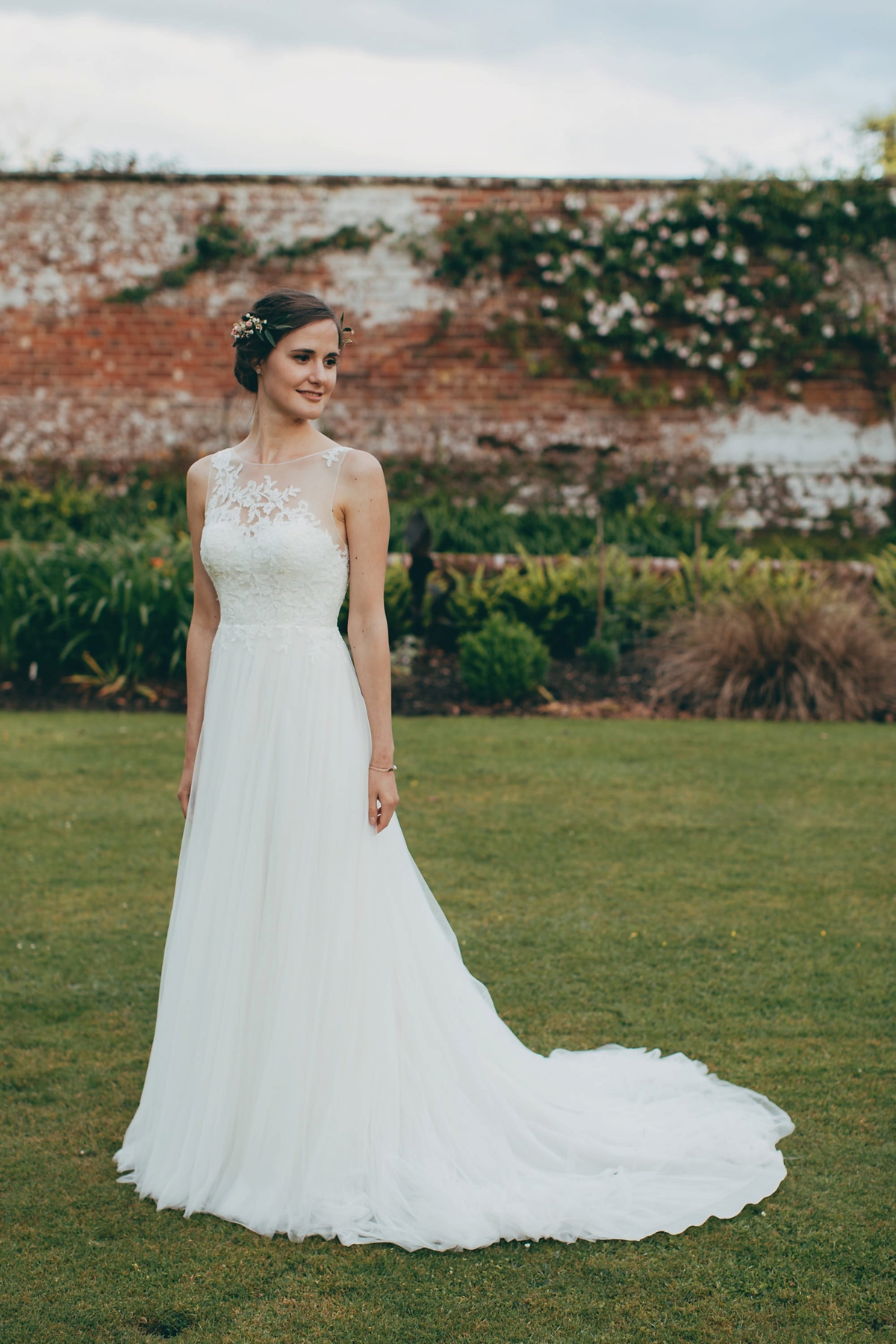 Words of Wedded Wisdom
"Everything won't go to plan but it doesn't matter. It's your big day and even if it thunders, rains and things get messed up you're still surrounded by those that matter the most so enjoy it."
Mr and Mrs Steele, sending so many congratulations to you on your marriage. What a delightful day, and I love the foliage and country flowers that run through it. Many thanks to Paul Underhill for your beautiful work; we hope to see some more soon on Love My Dress.
Ele xx