Are you feeling the chill of winter and madly day-dreaming about that magical summer holiday in Europe you took that was just perfect?
Well, have I got a little treat in store for you lovelies with the wedding of Jade, senior events executive at the Tower of London, and Gary, site project manager for his dad's construction company. The married at Château de la Ligne in Bordeaux, France on a hot summer's day on the 23rd of August 2016, tapping into their vineyard venue as the catalyst for the colour palette and making their day classically elegant, yet simple.
"We both love classic elegance that is simplistic, so we knew we wanted a wedding that followed this style. We married in a vineyard in France, so decided to bring the colour of the red grape into the styling. Gary and I decided upon Bordeaux as the weather is excellent, in fact it was 40 degrees on our wedding day! We also love red wine and great food, so it was a no brainer."
Images by Haydn Rydings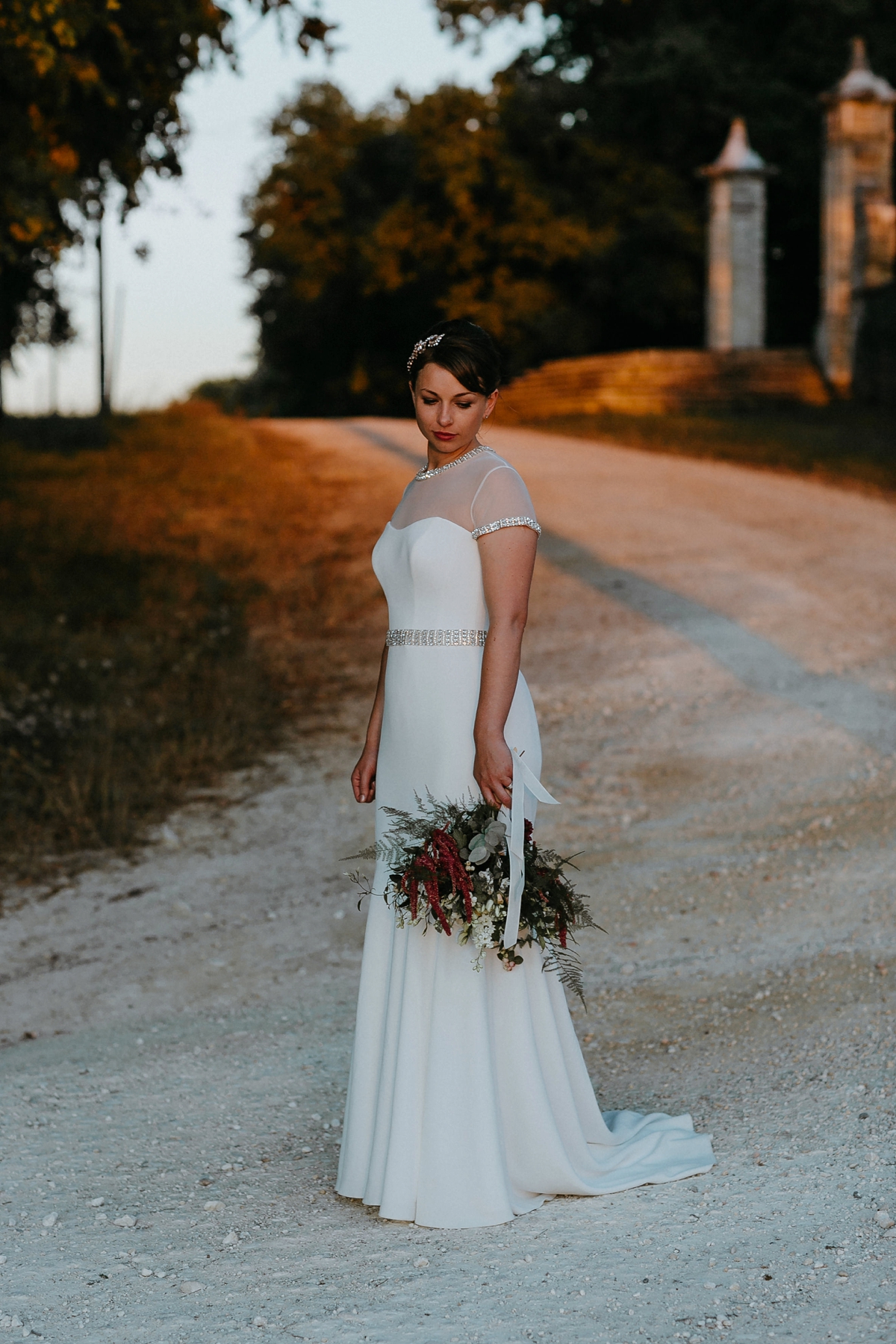 I love the relaxed photos of the fellas cooling down under the trees taken by Haydn Rydings, who the bride and groom found via this very blog.
"Haydyn's work is beyond beautiful. He is unbelievably talented and you don't even know he is there. Just a lovely guy who captures moments that last a lifetime and bring you back to that time. When we saw our images the first time I can't tell you how much I looked over them again and again.""My grandparents had a huge influence on my life for a period of my youth and early adult hood they were my guardians and brought me up. Sadly they both passed away before our big day and Gary had a locket made for me with them in it on their wedding day."
"Although I couldn't wear it on the day (it didn't suit my dress) it was the most thoughtful gift I've ever received and it really made me feel like they were with me on the day. Gary also brought me some beautiful stud diamond earrings."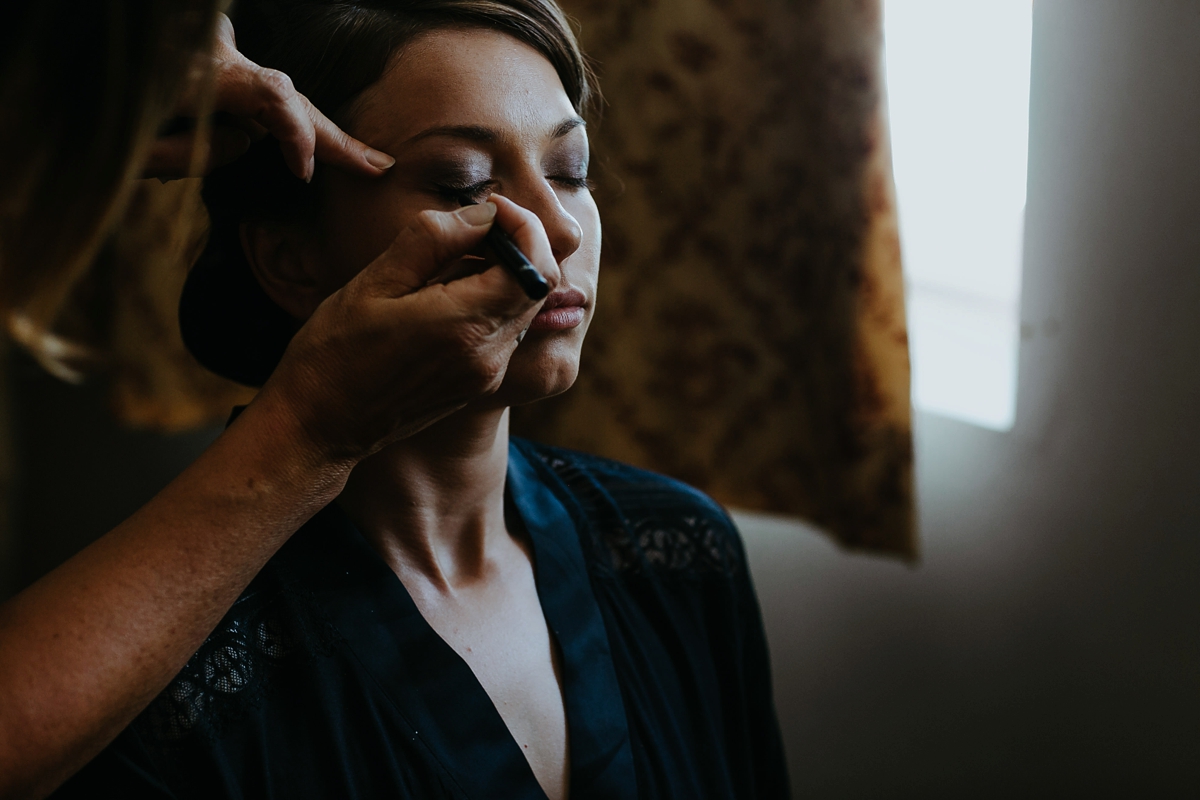 The beautiful bride shone in a chic modern Suzanne Neville gown, via the showroom in Knightsbridge.
"I genuinely thought I would have a fit and flare style dress, potentially tea length as that's my style normally and I love the whole 50s and 60s vibe. However, we went to Ellie Sanderson in Beaconsfield one afternoon with my maid of honour and bridesmaid. The girls pulled out the 'Brompton' style and was like you need to try this on."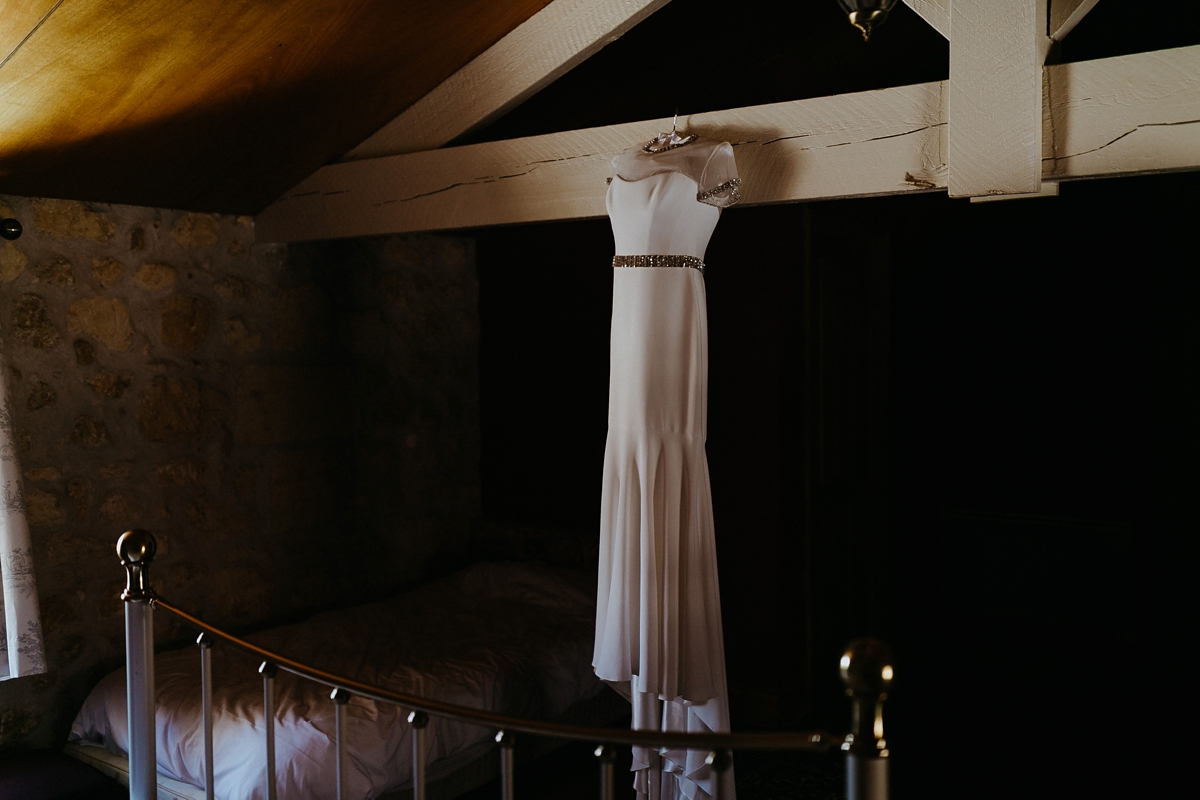 "Initially I thought it was beautiful, but not for me, as it was so fitted I thought it would show all my worst parts. I then went home to think about it and decided to book an appointment at Knightsbridge as there were a couple others I wanted to try, including the 'Savoy'. I then tried it with all my bridesmaids and they all said this was the one."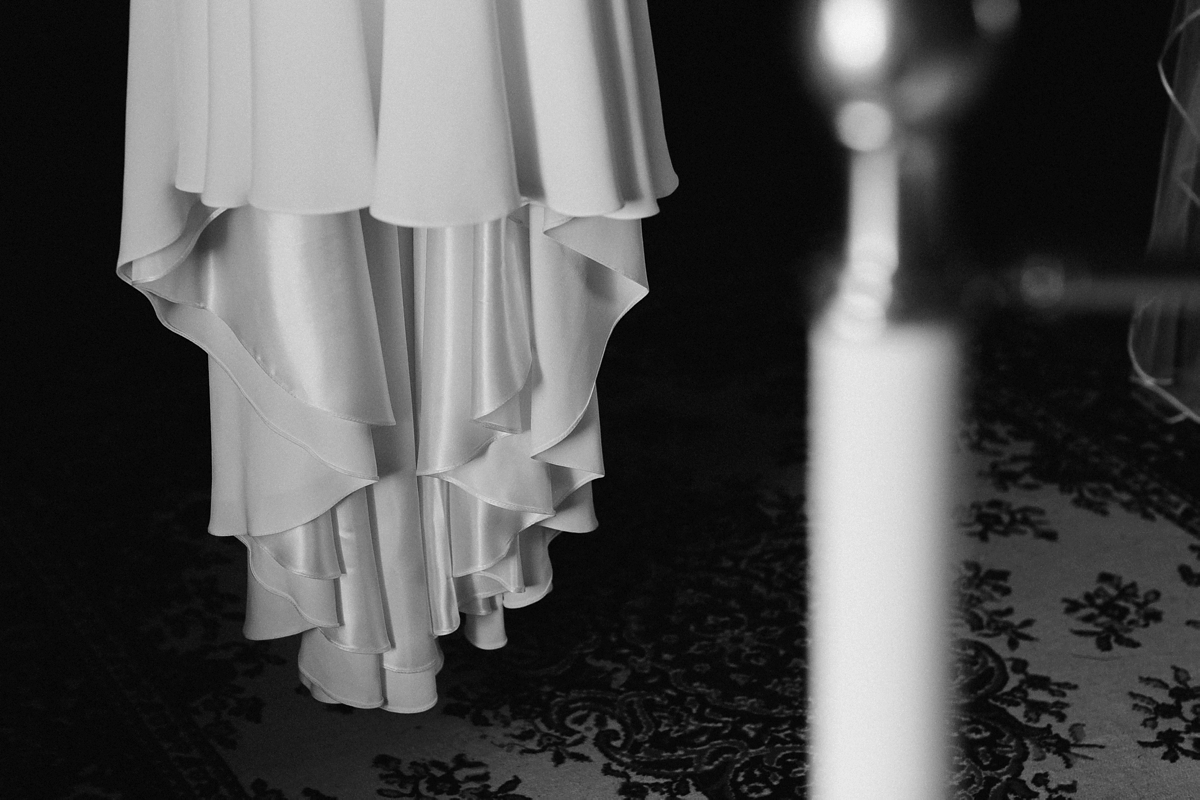 "I loved the style of the Brompton it wasn't a 'typical' wedding dress. I loved how it moved when I walked in it. I felt completely myself in this dress at my very best which as a bride you can't ask for more. One of the best things too was that it was made to measure, so not only did it fit me perfectly, I had the best experience going up to the shop and being fitted."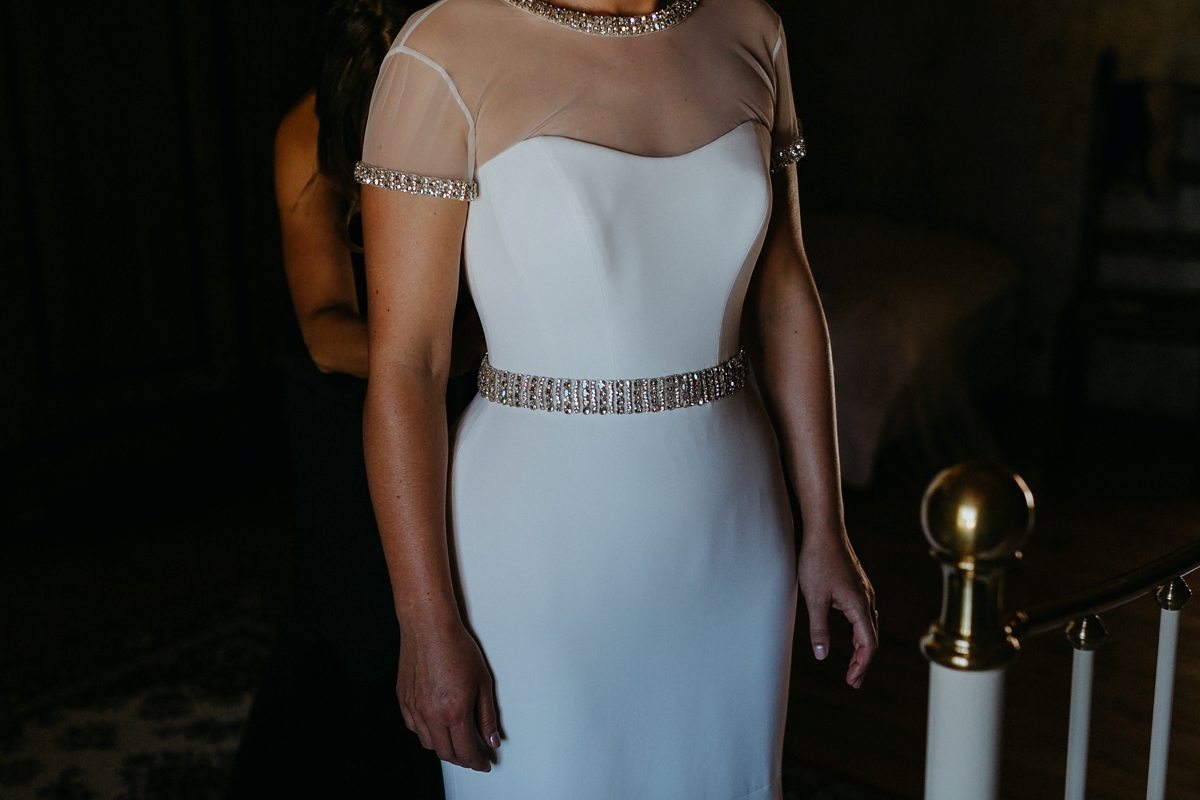 "My raw edge waterfall veil was by Suzanne Neville and my shoes by Rachel Simpson – who I discovered via your helpful wedding directory Little Book for Brides. I added a sparkling headpiece from Ellie Sanderson, my hair and make-up was by Laura Cawte and I finished off with a spray of Chloe Love Story – a favourite scent of mine."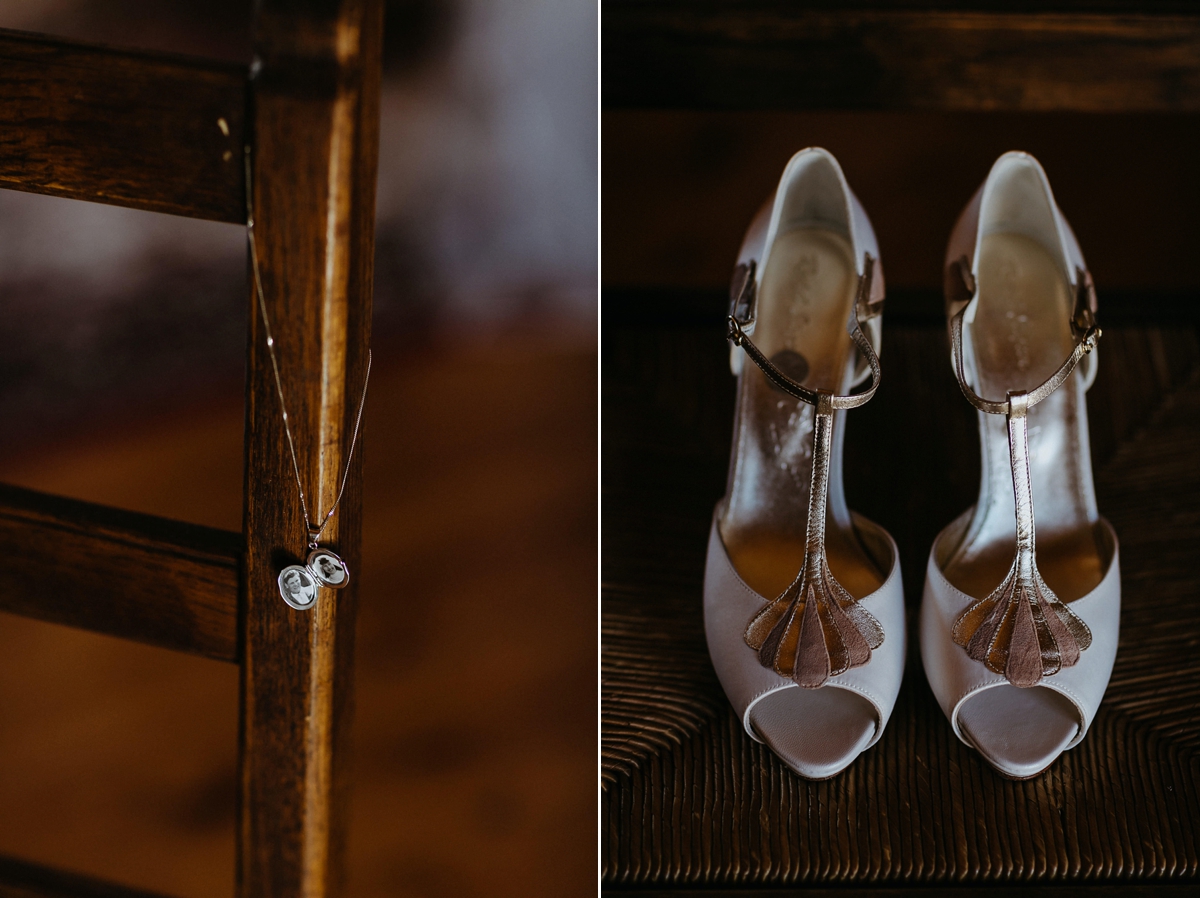 "We had been together nearly 12 years when we got married. We met through Gary's sister Sarah, who was my best friend at school. We were engaged after 9 years together for nearly 3 years before we got hitched."
Jade had to wait a little for her proposal – and there were two particular moments she thought it was going to happen, but alas, to no avail. Then, after oodles of patience, the magic moment occured.
"I had been hoping Gary was going to propose for quite some time – once on a trip to the Lake District and another when I returned from a trip climbing Mt Kilimanjaro. I was actually changing jobs and I went to back to work for 3 days before finishing in the role."
"What I didn't know though was quite some time ago Gary had contacted my colleague and friend and booked off the Friday from work when I got back from Kili. When he said you won't be going to work this Friday and I quizzed him, he convincingly told me it was because we hadn't seen each other and wanted to spend time with me."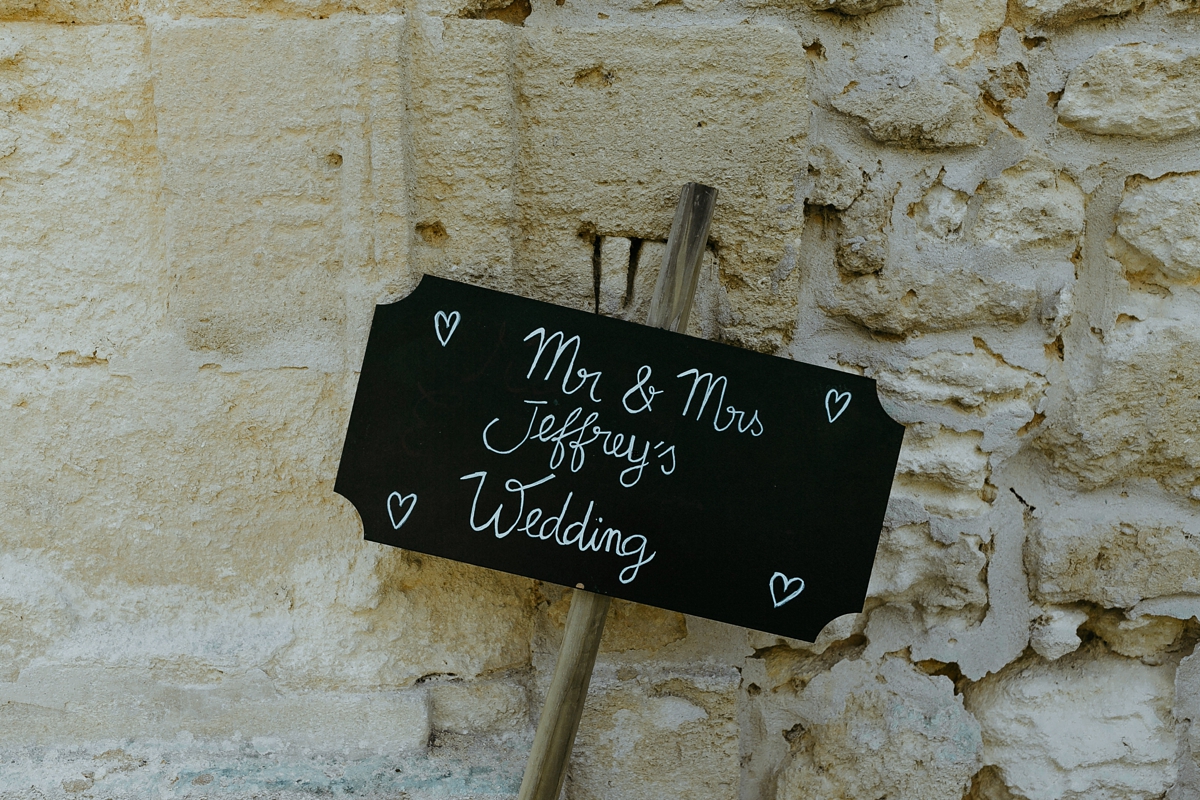 "In the few days before he told me all sorts of things like bring a passport, bring a bikini, you need walking boots, everything he could think of to throw me off the scent. Eventually I gave up thinking it was going to be a proposal and just went with it."
"I am a massive history geek and my favourite place is Hampton Court Palace, driving down the M4 that morning we went past a sign for the palace and I said wouldn't it be lovely if we were going there for the day. As we carried on it became more obvious we were going there and eventually he gave in and said that we were."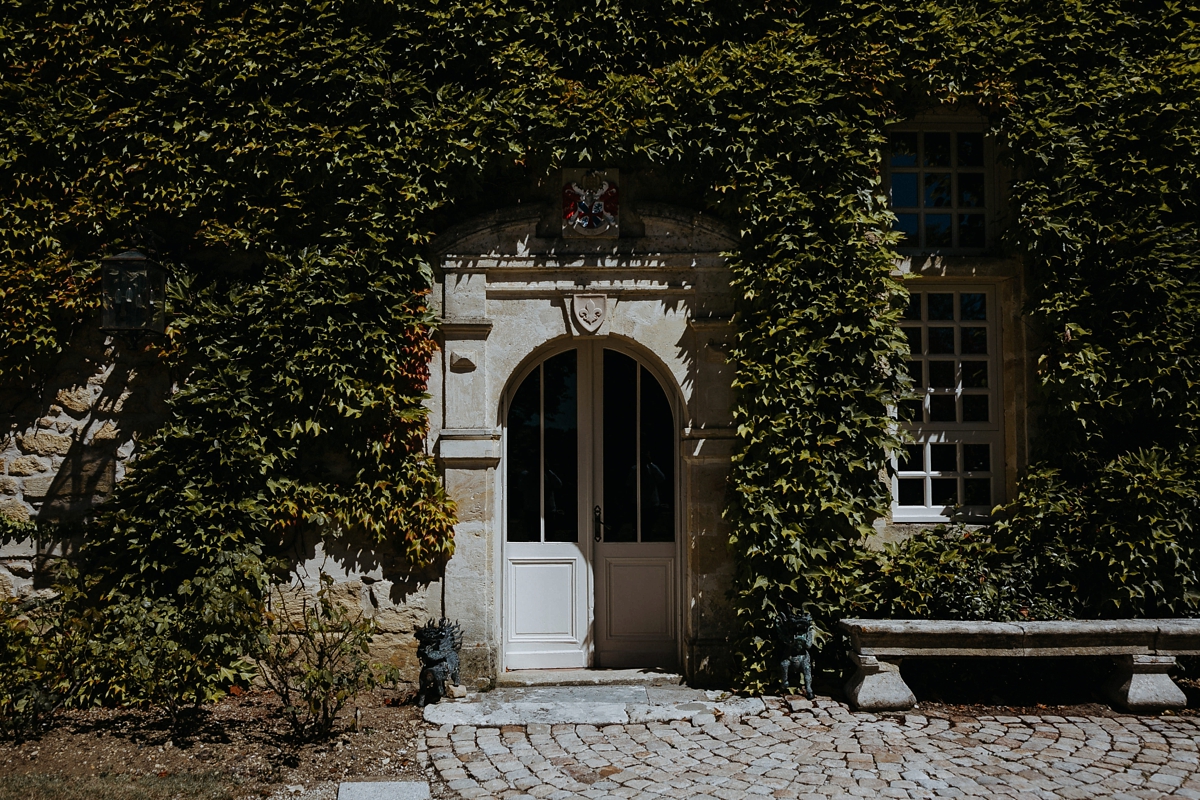 "I think because we went to a place we go often I had no idea. The gardens are just beautiful and my favourite spot is at the end looking out on the infinity canal towards Home Park. It was perfect, as firstly I had no idea what was about to happen and it was a crisp November morning with nobody around. As we walking he said 'What are you doing tomorrow?' to which I said 'I'm with you aren't I?'."
"Gary then said, Shall we go buy you a ring tomorrow?' I then went stupidly coy and he did the whole, will you marry me? I obviously said yes."
"He had brought a 'fake' ring to propose with and after having a moment together we spent a few more hours wandering in my favourite place before going to a local restaurant that he had booked for lunch. The next day we went to Hatton Garden to find my ring and have drinks and dinner with our friends. Gary is quietly romantic and not one for a big show so our proposal was just perfect for us and I genuinely had no idea."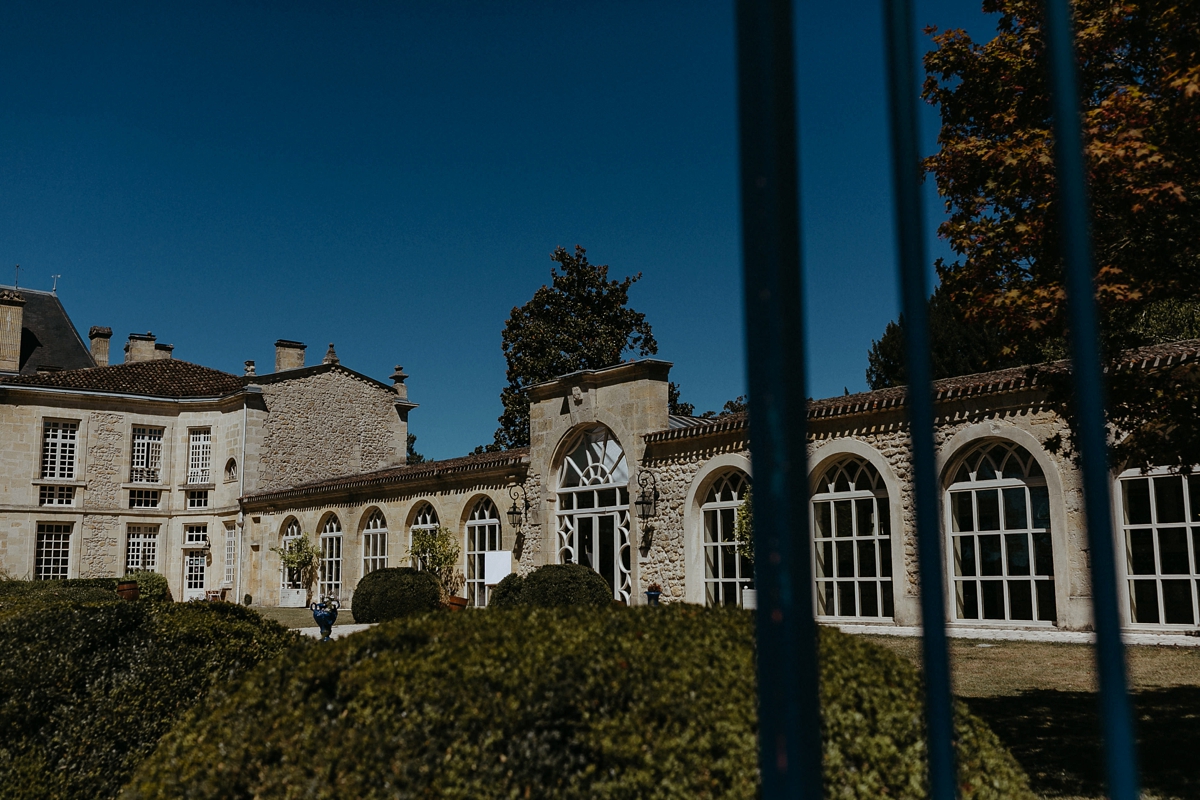 Gary sported a stylish Hugo Boss suit, an ASOS tie, a TM Lewin shirt and shoes from Aldo. His groomsmen wore Burton suits and the same shirt and tie as Gary, with their own shoes.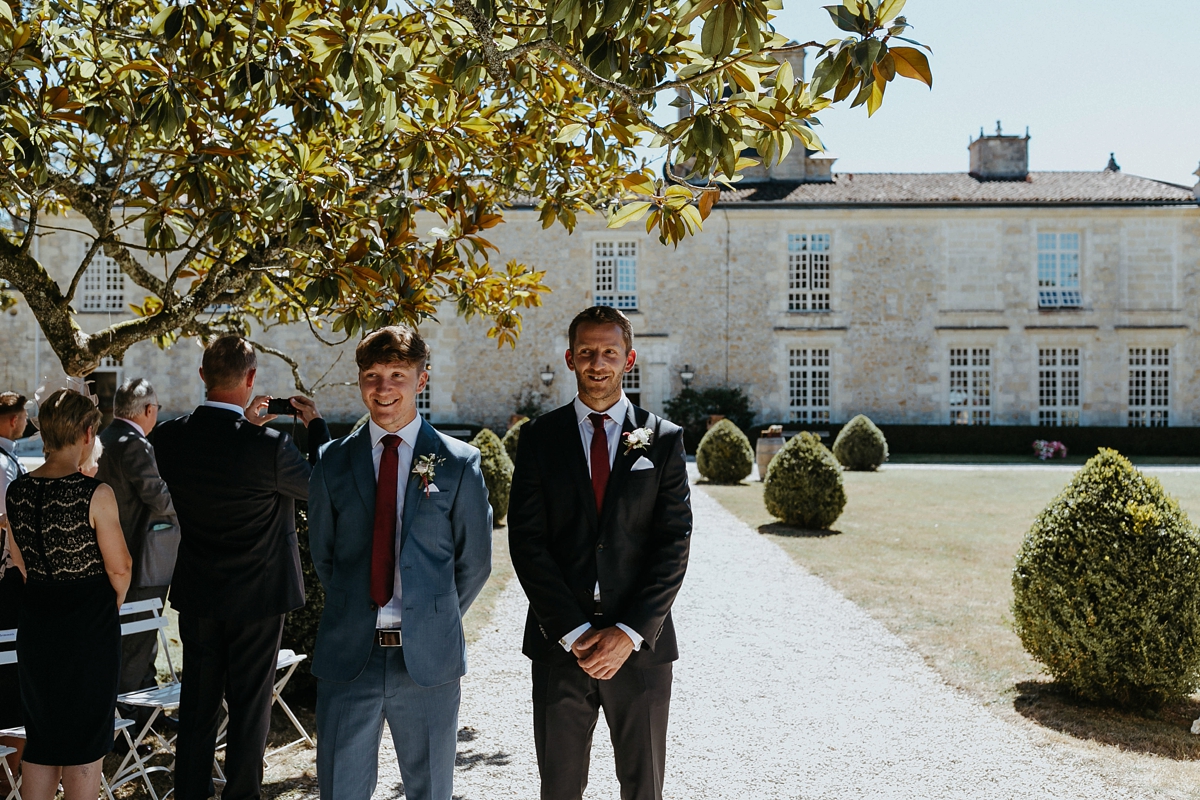 The maids donned stunning Vera Wang dresses from David's Bridal White collection, hair accessories from New Look and their own shoes and jewellery.
The sweet little helper's attire included a shirt and shoes from River Island – doesn't he look adorable?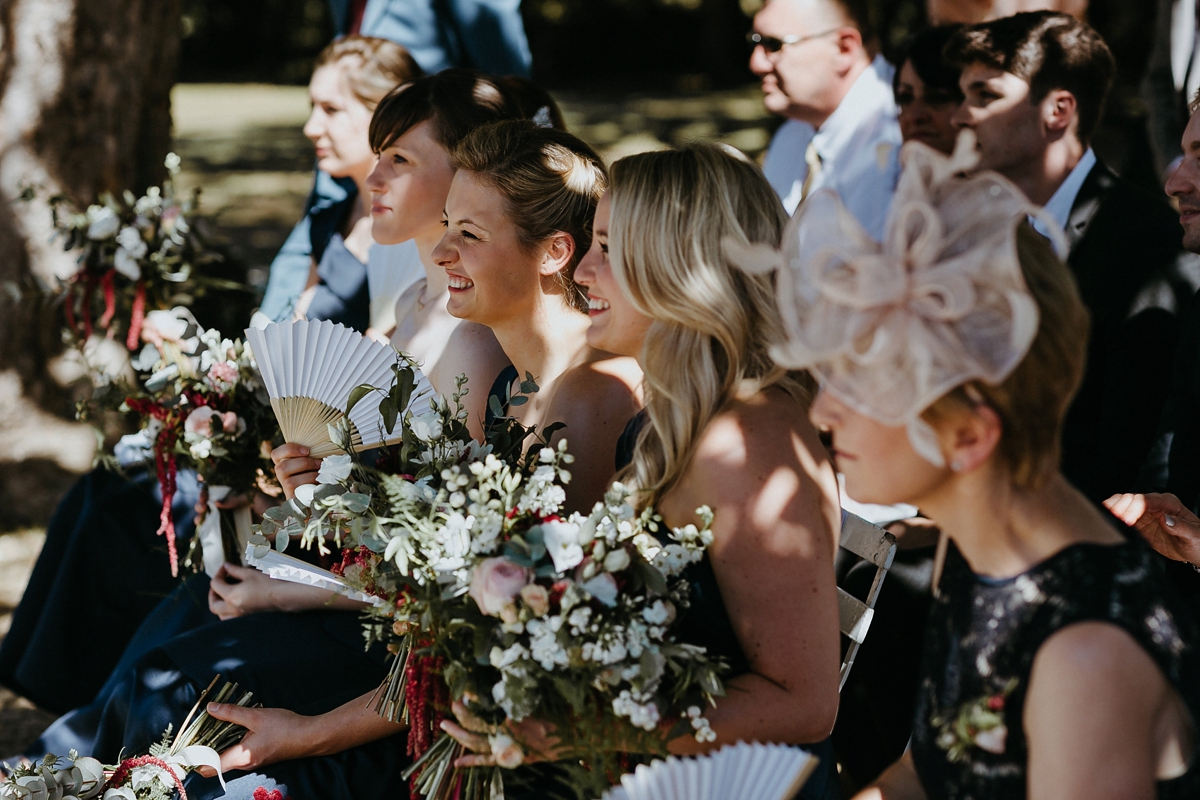 "My dad accompanied me for the walk down the aisle to an instrumental string quartet version of Damien Rice's 'The Blower's Daughter'. We got married in the UK three days before we flew to France but we wanted to keep the ceremony as true to a traditional one as possible."
"However, we both wrote a paragraph on each other which the celebrant included in the ceremony. Here is a section from mine when asked what do you love most about your partner;
There are so many traits that I adore about Gary. He has the most crude and ridiculous sense of humour for one. What I love the most is how he makes me feel – he gives me a sense of security. Gary is my home, as long as I am with him I feel at home.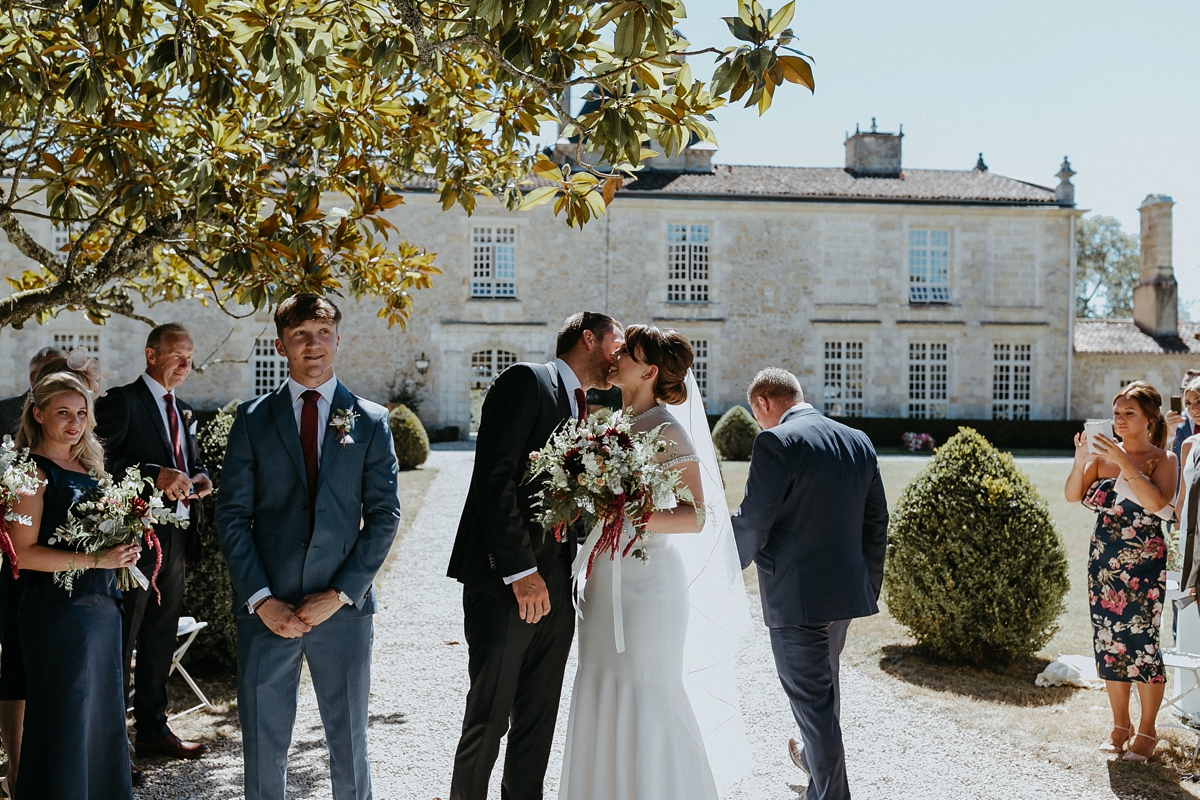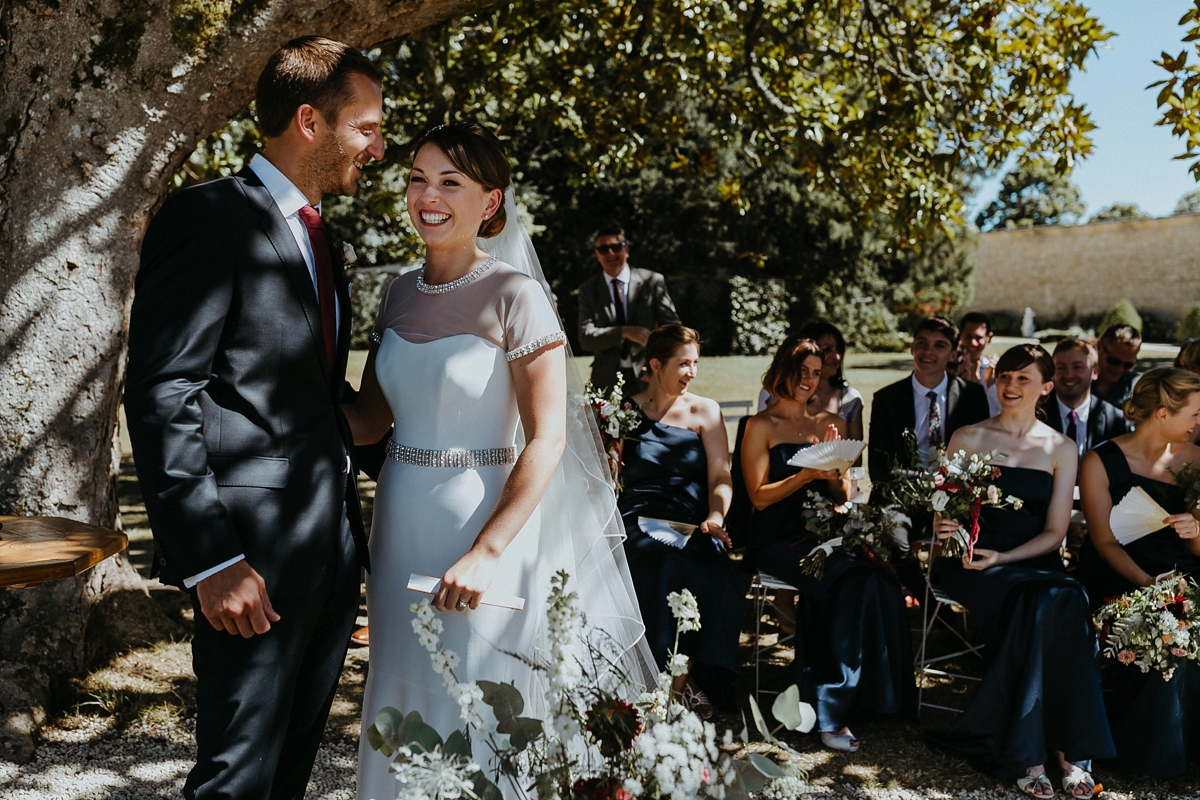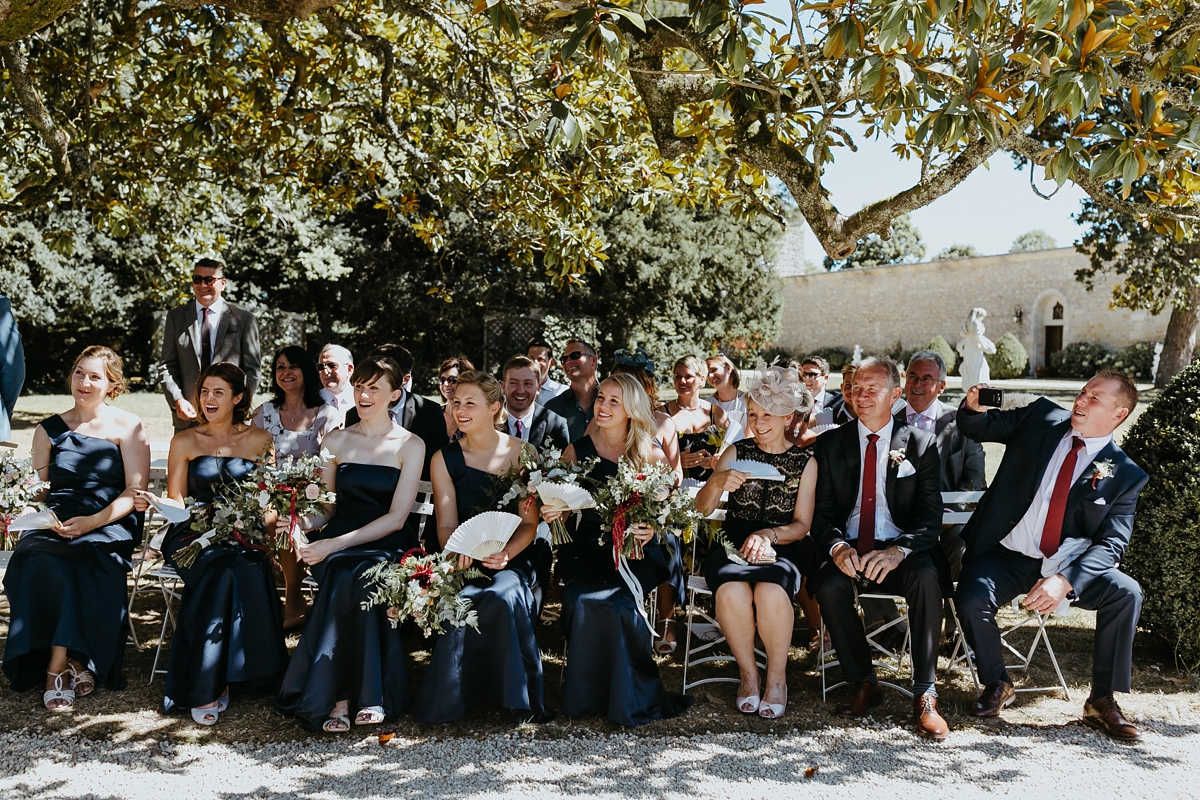 "Our rings were via Daisy Chain Jewellers in Hemel Hempstead. We went here on recommendation of my Nan, as she said Mark designed gorgeous jewellery at a reasonable price. I asked Mark to design my band of diamonds in same size as my engagement ring. Gary had a palladium ring."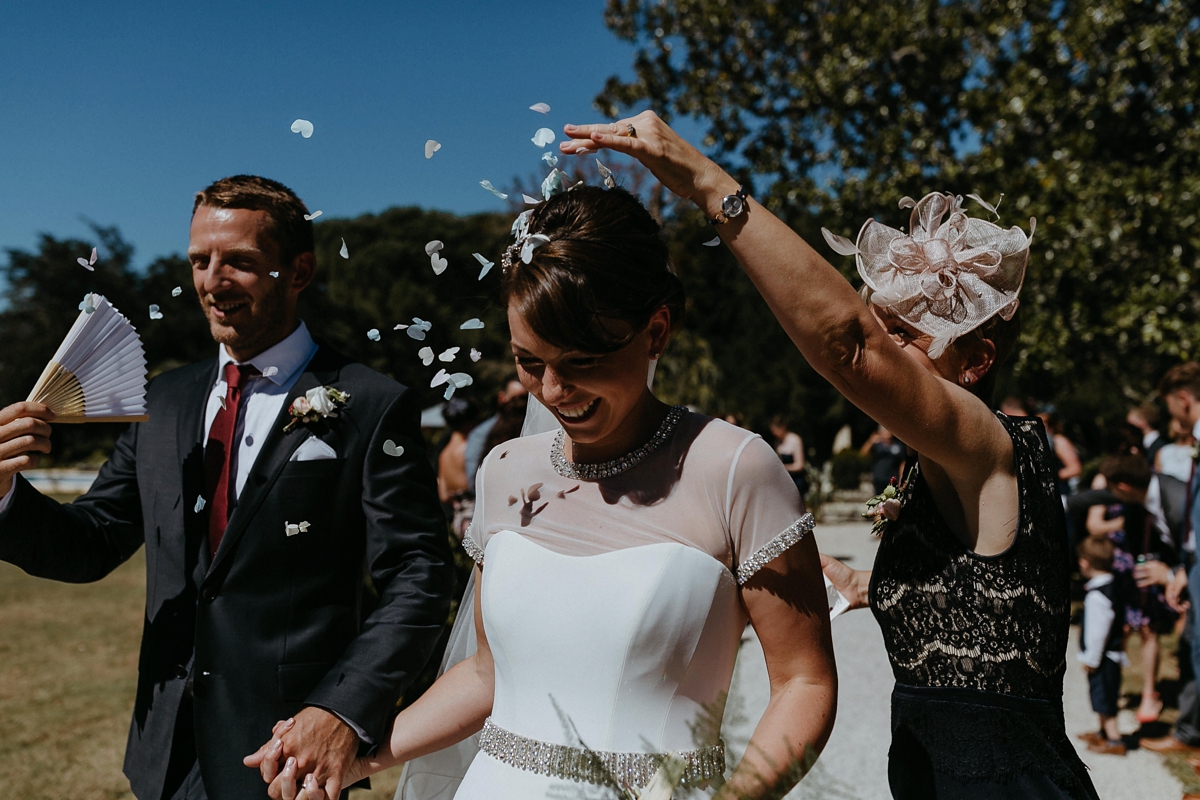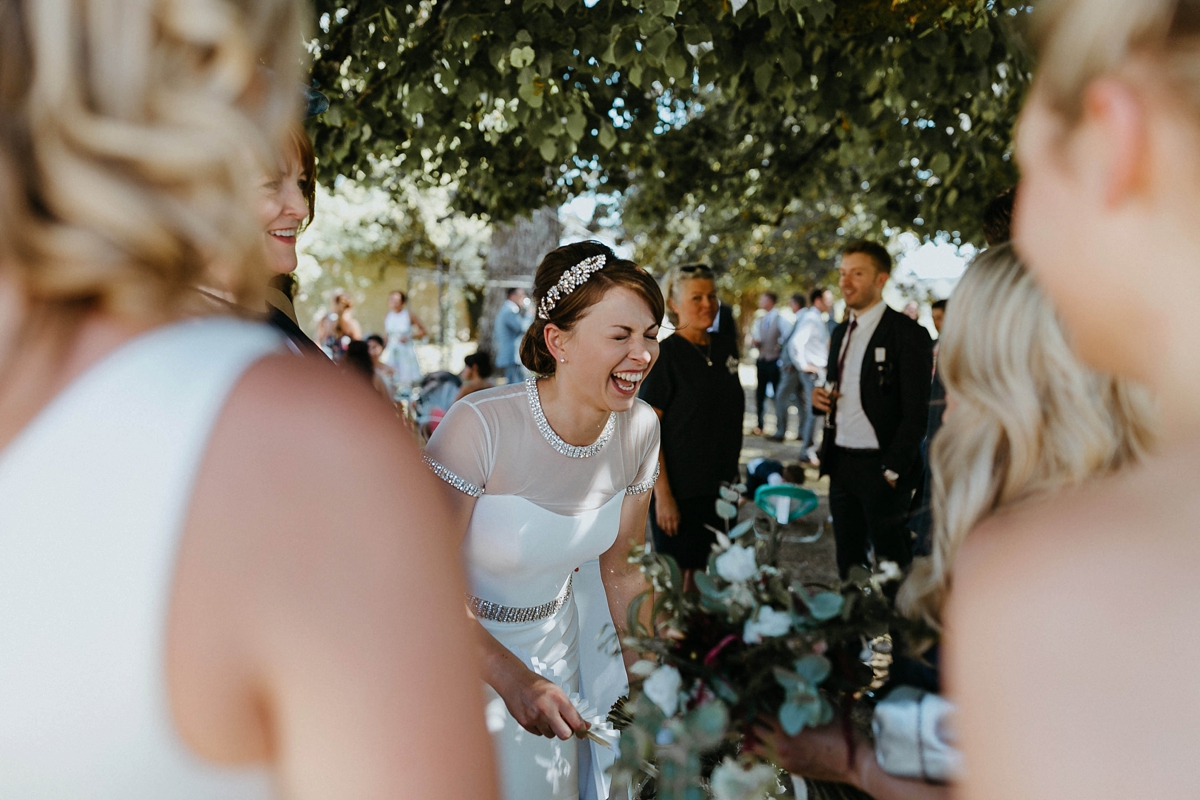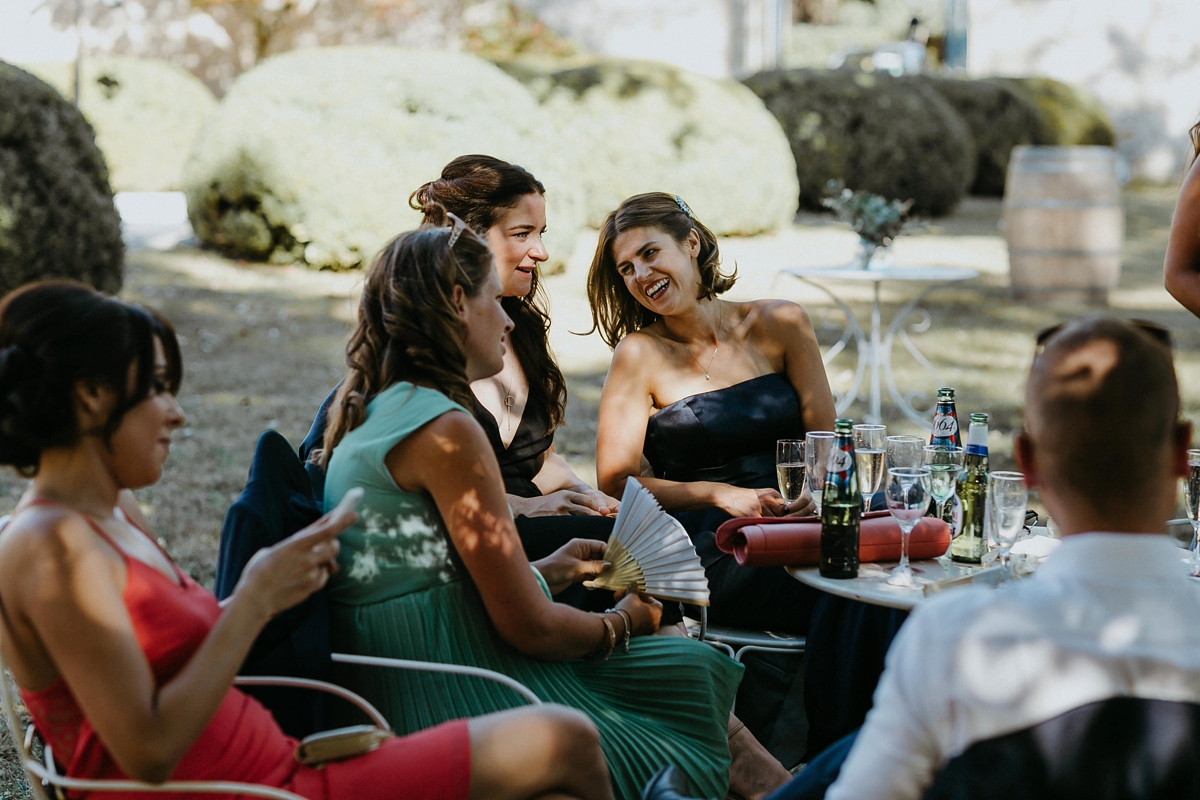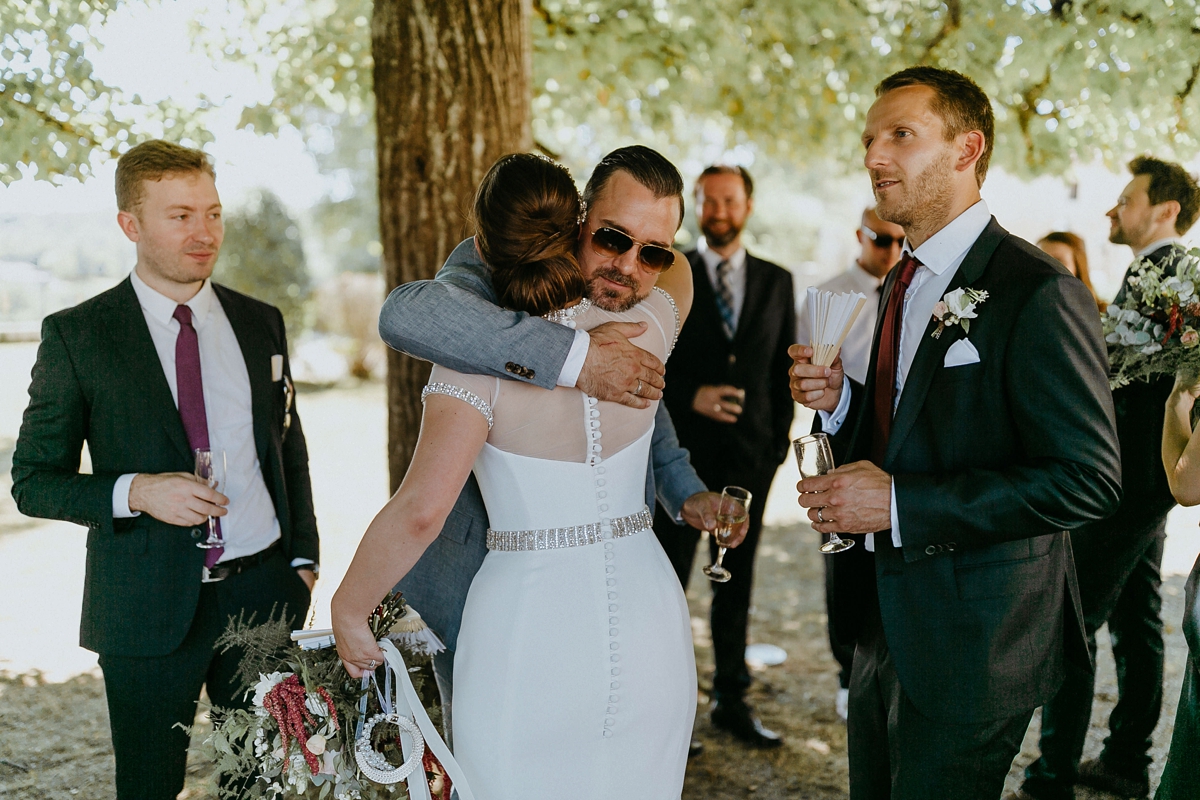 "Green Success florists were recommended by the wedding venue and Claire was a dream to work with. We both struggled with language barriers but she brought our brief completely to life and more."
"My bouquet was more than I could imagine, as were the table flowers. We wanted something organic and classic. I love foliage so we had lots of eucalyptus with deep red dahlias and white roses sprinkled through."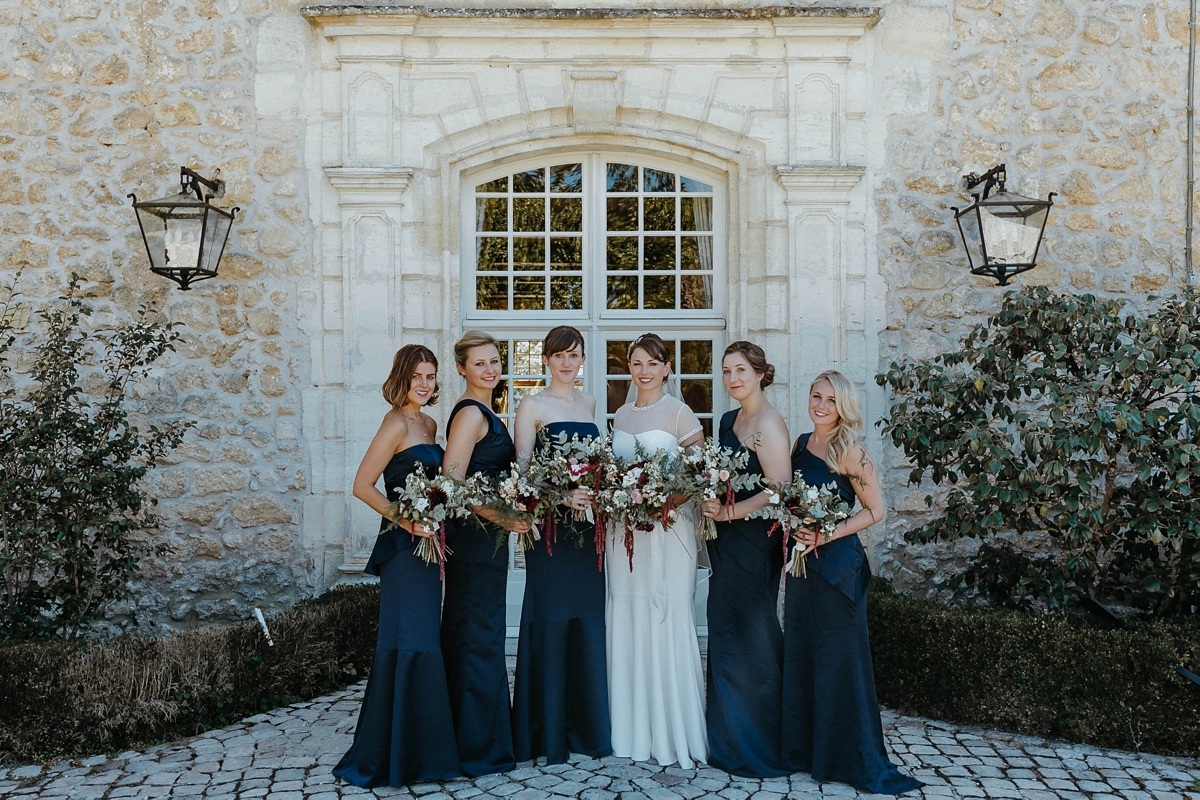 The couple took a trip to Bordeaux to look at three venues they had found online and Château de la Ligne was the first one they viewed – and as they drove up the driveway they both knew it was a very special place.
"The château had everything we were looking for – grandeur, privacy, location and most importantly it was so relaxed and we could envisage everyone there. It felt like a home rather than a hotel and Barry the manager was so welcoming and chilled out it just felt right."
"One of my very talented colleague from work designed and made our table plan and everything else was through Minted."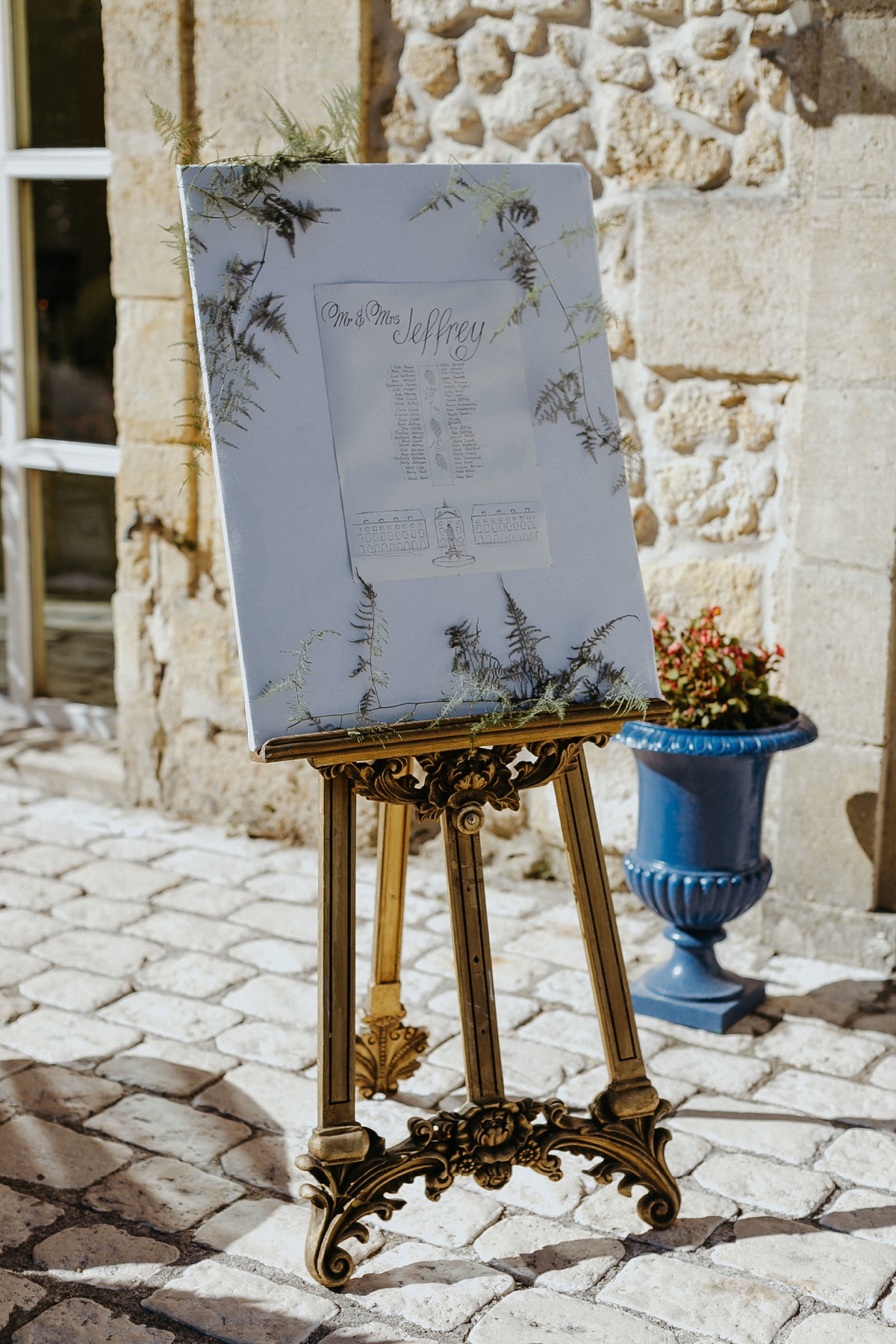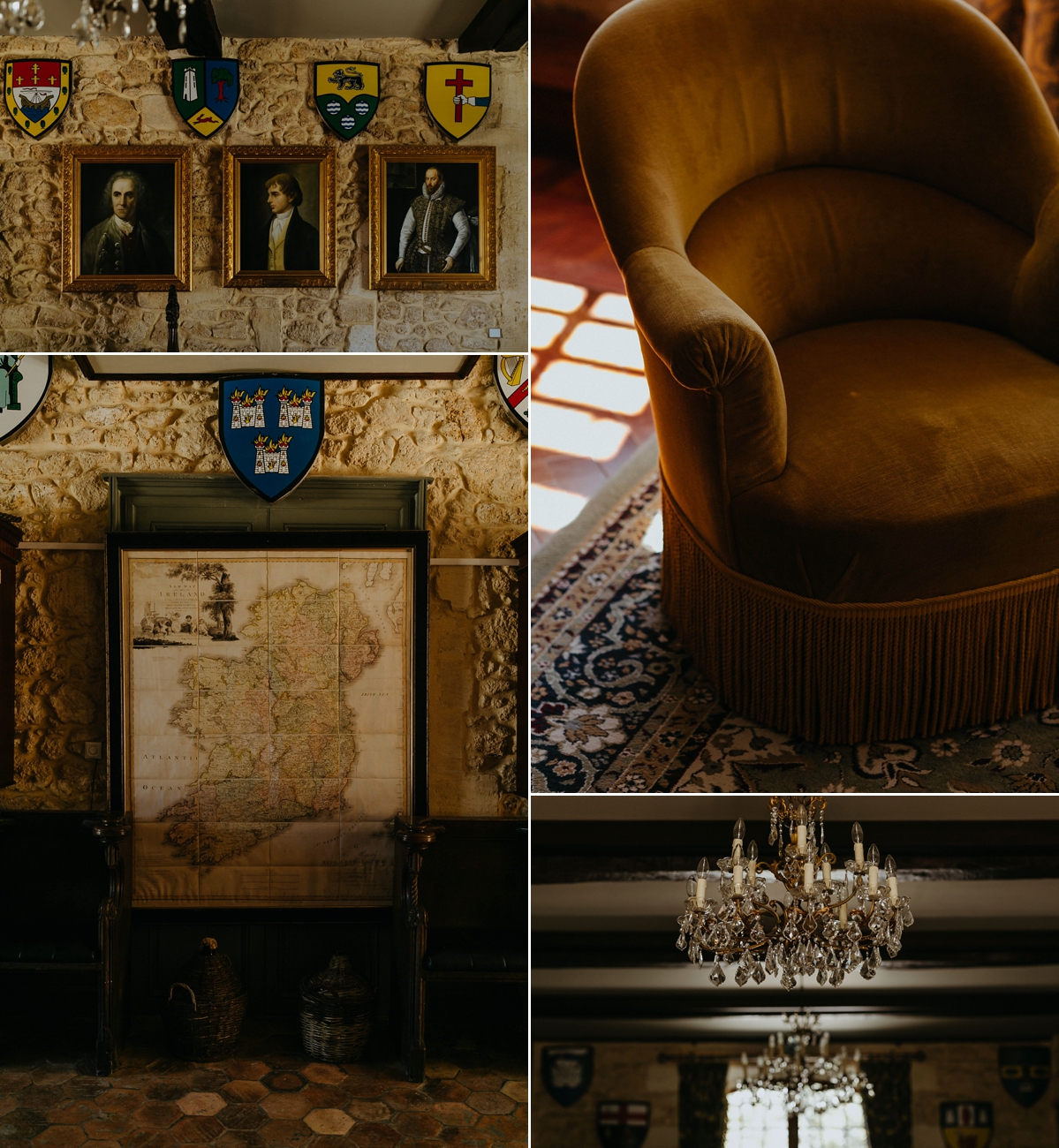 "The catering was done in-house. We decided not to have a wedding cake and put the money into a tier cheese tower instead which we carried on eating the next day whilst nursing hangovers!"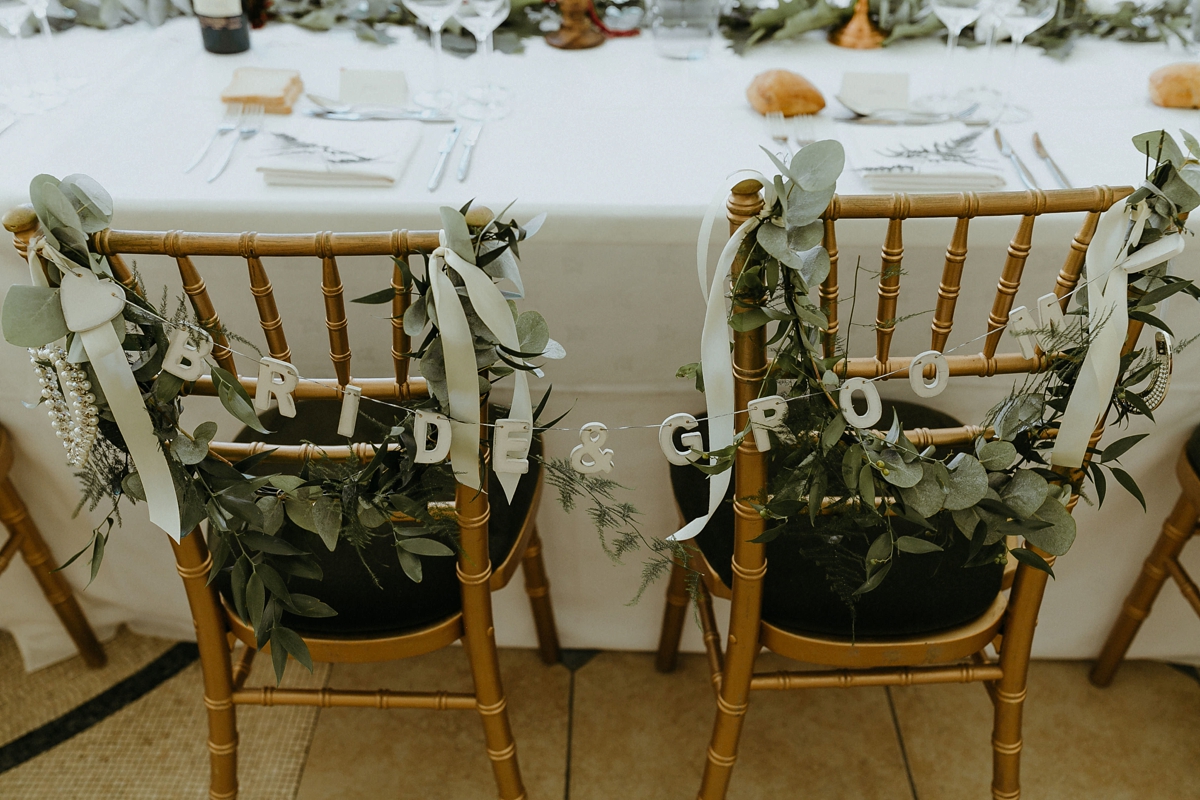 "We didn't provide wedding favours on the table but when guests arrived to stay we put in their room a bottle of red or white from the venue with a hand written tag from us."
"Apart from flowers we didn't have any other decor apart from paper fans in the sun (which was a god send) and I brought a few gold frames for signs. We didn't do a guest book but had a polaroid camera."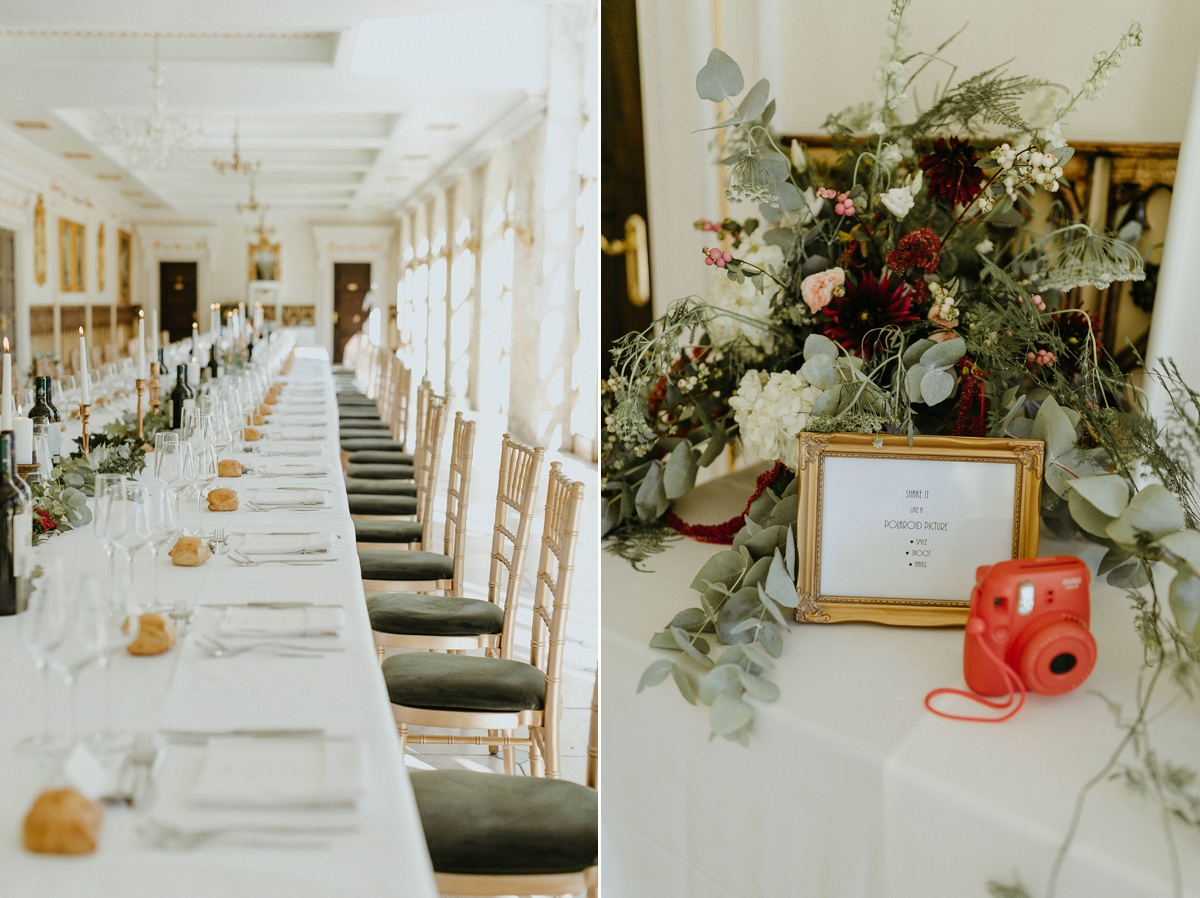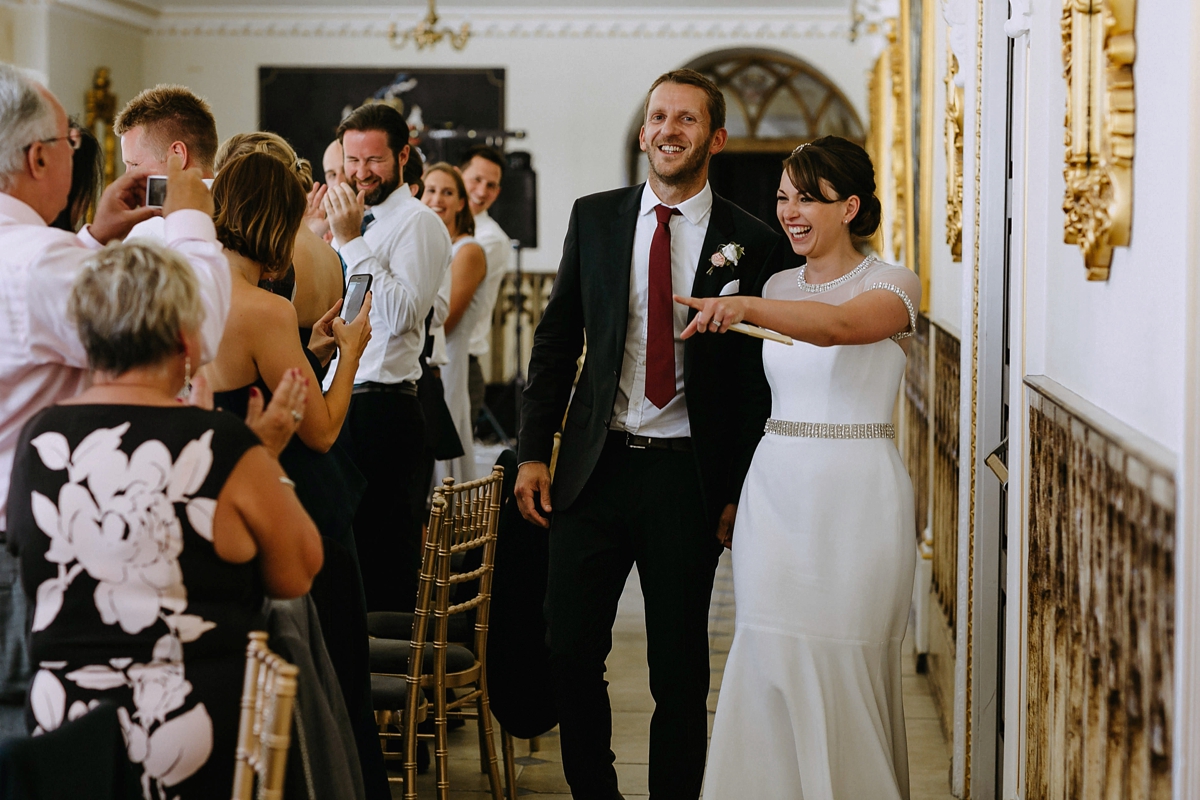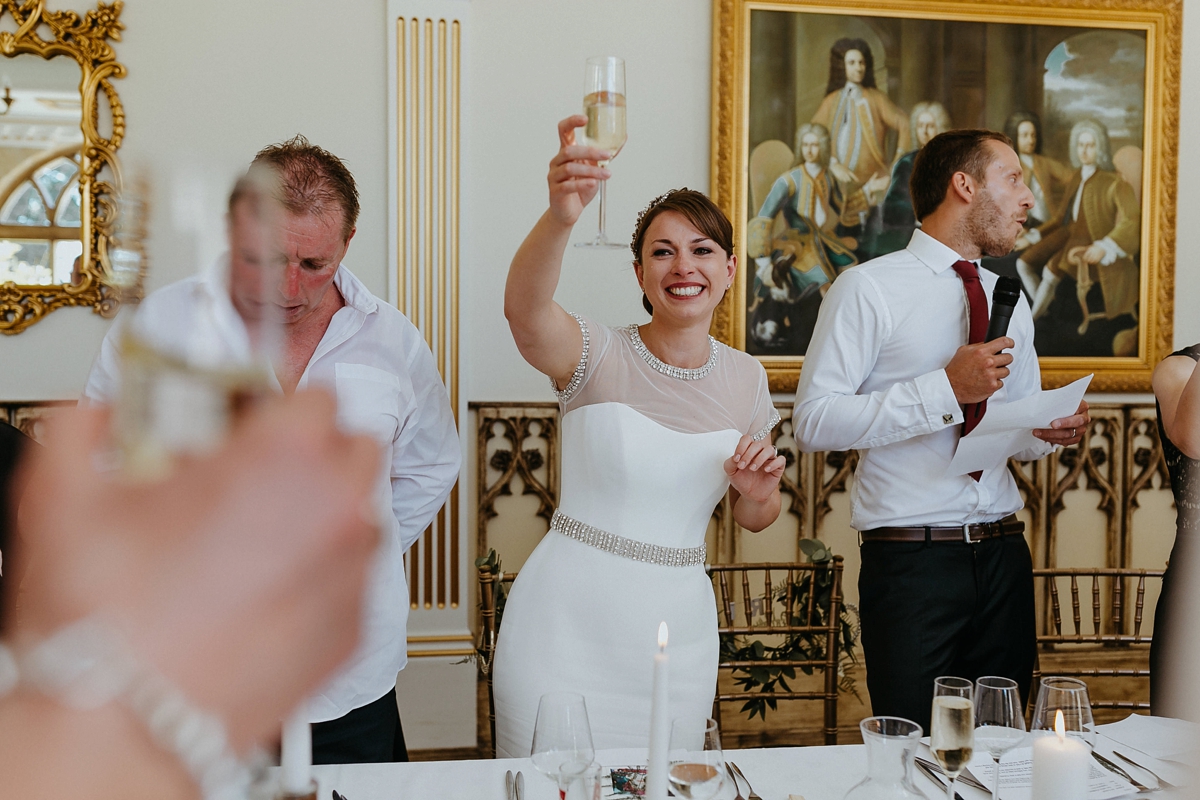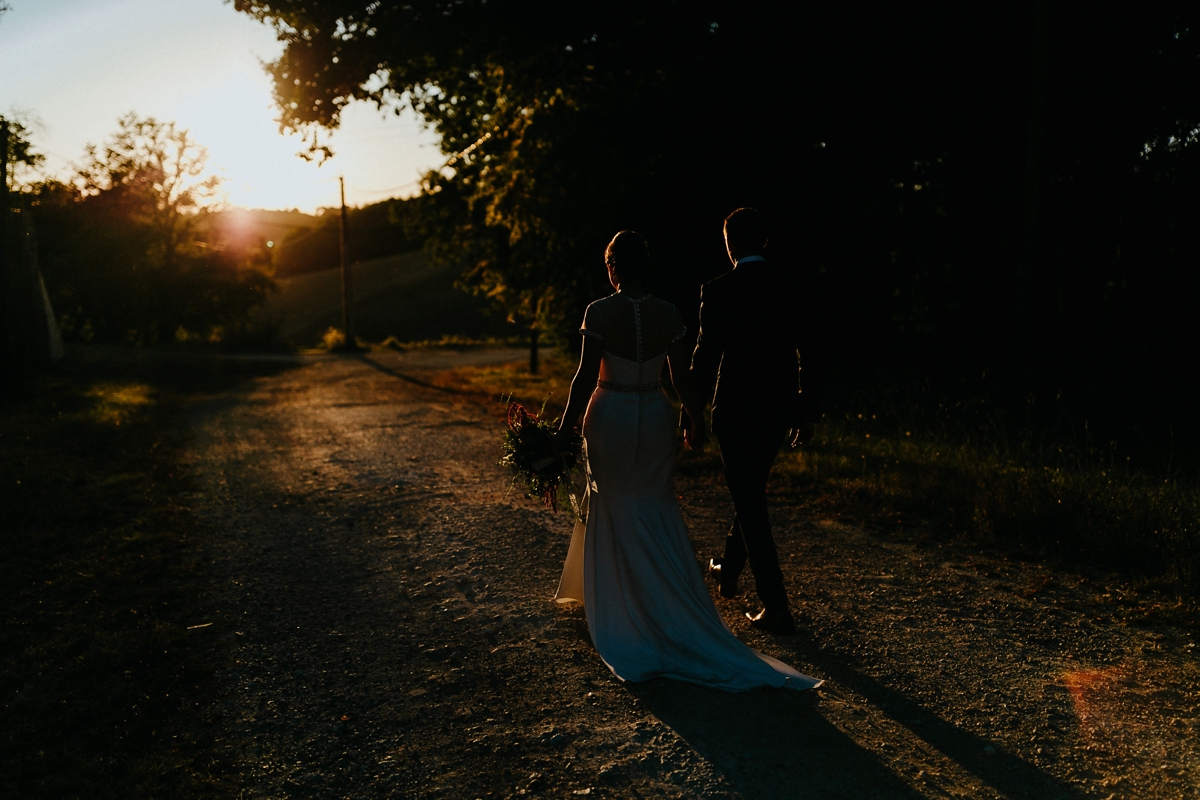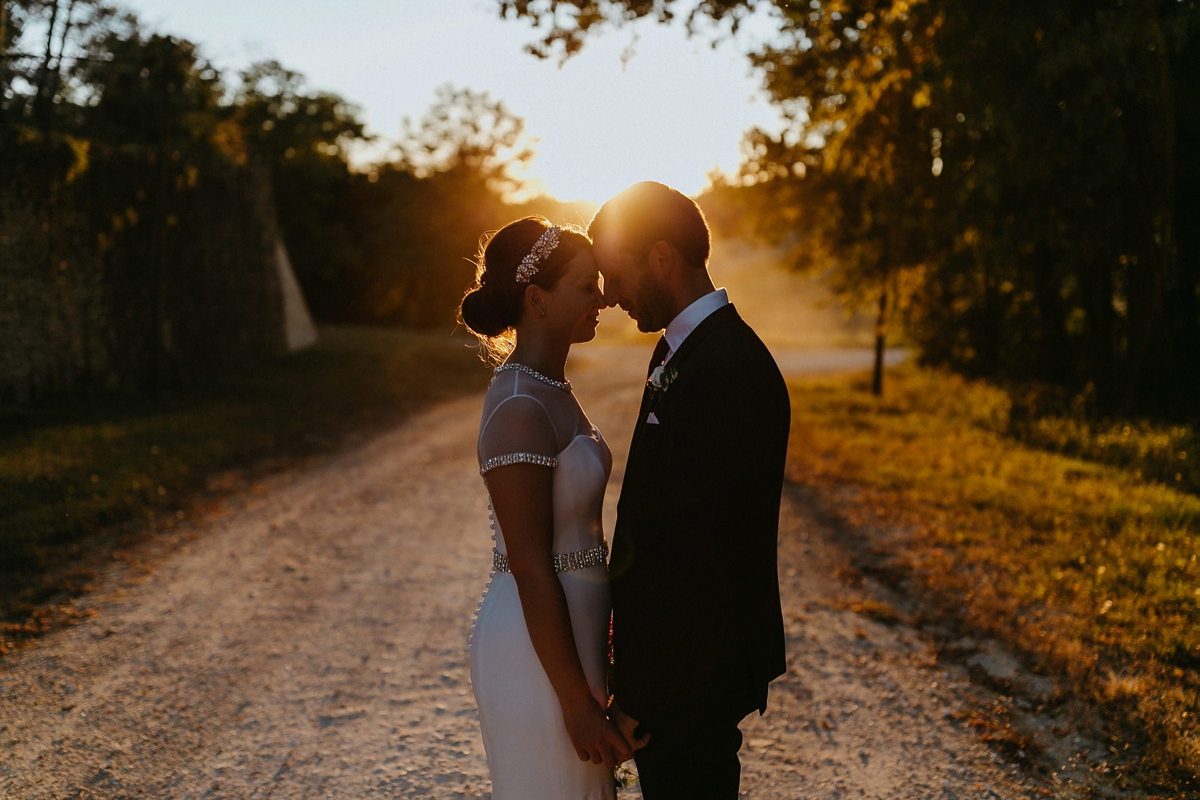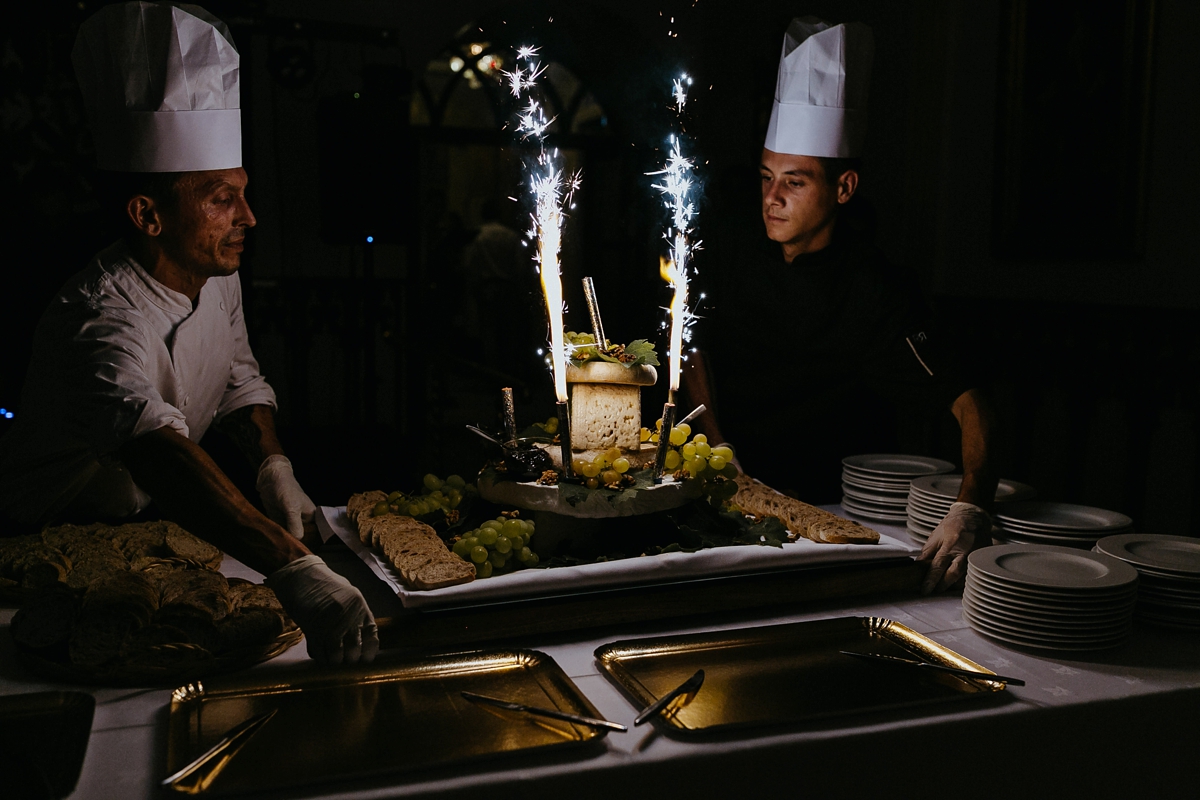 "The DJ was local and recommended by the venue. We were really sceptical about doing a first dance as I find it so awkward but in the end we thought we should as it's a good indication for your guests that the party has started. We chose Tom O'Dell's 'Grow Old With Me', which we both love but it's not our song as such. We have a guilty pleasure of loving hip hop and R'n'B and actually I would say our first dance that we have brilliant memories of was dancing to 'Work' by Rihanna." 
"I don't think I have a favourite memory as there are so many. Getting ready with my girls in the morning was great fun and extremely chilled. Definitely no bridezilla moments! I loved the moment before I walked down the aisle with my dad and the anticipation. I loved dancing to 'Work' with Gary and watching Gary's mum let her hair down. Overall, the best thing was seeing all your family and friends enjoying themselves and having a good celebration and being so happy."

Words of Wedded Wisdom
"Whatever happens this is your day, and you and your spouse do what reflects you as a couple. If you get stressed on the day, take time to step back and look at your guests. If they're happy and fed and watered, what else matters?"
We had an open bar for the 4 days that we were at the venue which was our biggest but best expense. This is what made the celebration like a relaxed house party. Everyone just helped themselves and there were no time constraints."
"Love My Dress shows the real bride in all the forms we come in, which is great as you can see for yourselves if things work. I love that it's about the real brides and particularly loved following brides to be on their journey."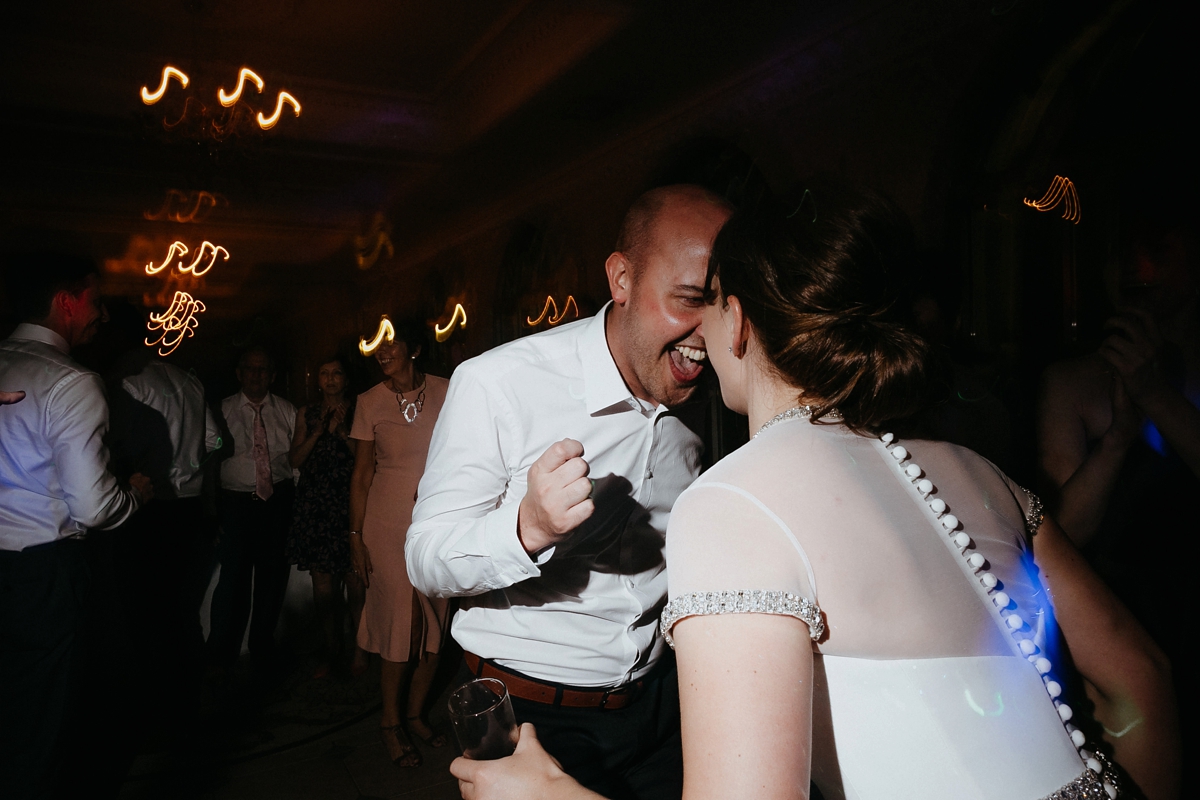 See, I bet you're feeling refreshed after hearing all about the couple's utterly gorgeous summer wedding outdoors at the vineyard. Thank you so very much lovely Jade and Gary for allowing us a sneak peek into your day – and a heartfelt thanks to Haydyn for catching the atmosphere in each and every image.
Take a look at these beautiful French château weddings we've previously highlighted on Love My Dress for even more divine inspiration – and have a wonderful weekend all!
Love Jo -xo-