There's something about the start of a grey new year that has you dreaming of colourful summer days isn't there? I was delighted when the joyful celebration I'm about to share with you landed in my inbox, so full of colour, happiness and the promise of slowly unravelling, light-filled summer evenings.
Primary school teacher Susie, wed her husband Keith, who works in international development, on 24th July 2017 at the lovely Dartington Hall in Devon, their union inspired by the bride's love of beautiful blooms.
"I used to work at The Garden House in Devon, where I developed a love of flowers, and my mother, Caroline Quin, is an artist, which I really think helped to define a natural style, with a twist. I am from Devon and have always visited Totnes, and first went to Dartington Hall after reading about it back in 2004/5. Keith and I visited the venue in 2011 and said if we ever got married, it would be there. It's the most fantastic setting, with beautiful gardens and it really reminds me of home."
Photography by Emma Stoner Photography
Photographer Emma Stoner has captured the July light in such a lovely way in these images, I particularly adore the image of Keith beaming from ear to ear, bathed in a beautiful dappled warmth as he waits for Susie to join him at the top of the aisle, and the stills of the couple bathed in a storm of colourful confetti.
"Emma is a fantastic photographer. We first fell in love with her website and her natural style. She is able to capture shots that truly define that short moment in time and we honestly felt that it was more like having a friend taking photographs of our big day. Her portfolio is fantastic and she really captured the different themes throughout the day, from getting ready, to taking my wedding dress out for a walk, to the main event and celebrations after. I truly recommend Emma to other brides, she has such a rare talent."
Susie and Keith made sure to visit Dartington Hall in both the summer and on a colder autumn day, allowing them to visualise their original floral colour scheme of white and blue in situ, and to decide that a more colourful botanical design would be beautifully effective in the venue.
Xanthe of Ivory Flowers in Bristol then brought Susie's colourful daydreams to life through delicate wax flowers, foliage and larger, impactful blooms.
"Xanthe had previously helped supply flowers for a friend's wedding that I helped with. The designs really appealed to me and we approached Ivory Flowers to see if they would make the 100 mile round trip from Bristol for our Devon wedding. Luckily they said yes. I suggested a colourful palate, including some key flowers such as scabious, roses and wax flowers."
"Xanthe was able to take these ideas and created the most beautiful colour arrangements I have ever seen, soft peaches complemented by eucalyptus, and different yet complementary textures. The Romantic Antique roses were absolutely divine and for the button holes we went for sea holly, which has an amazing shape and lasts well for days out of water."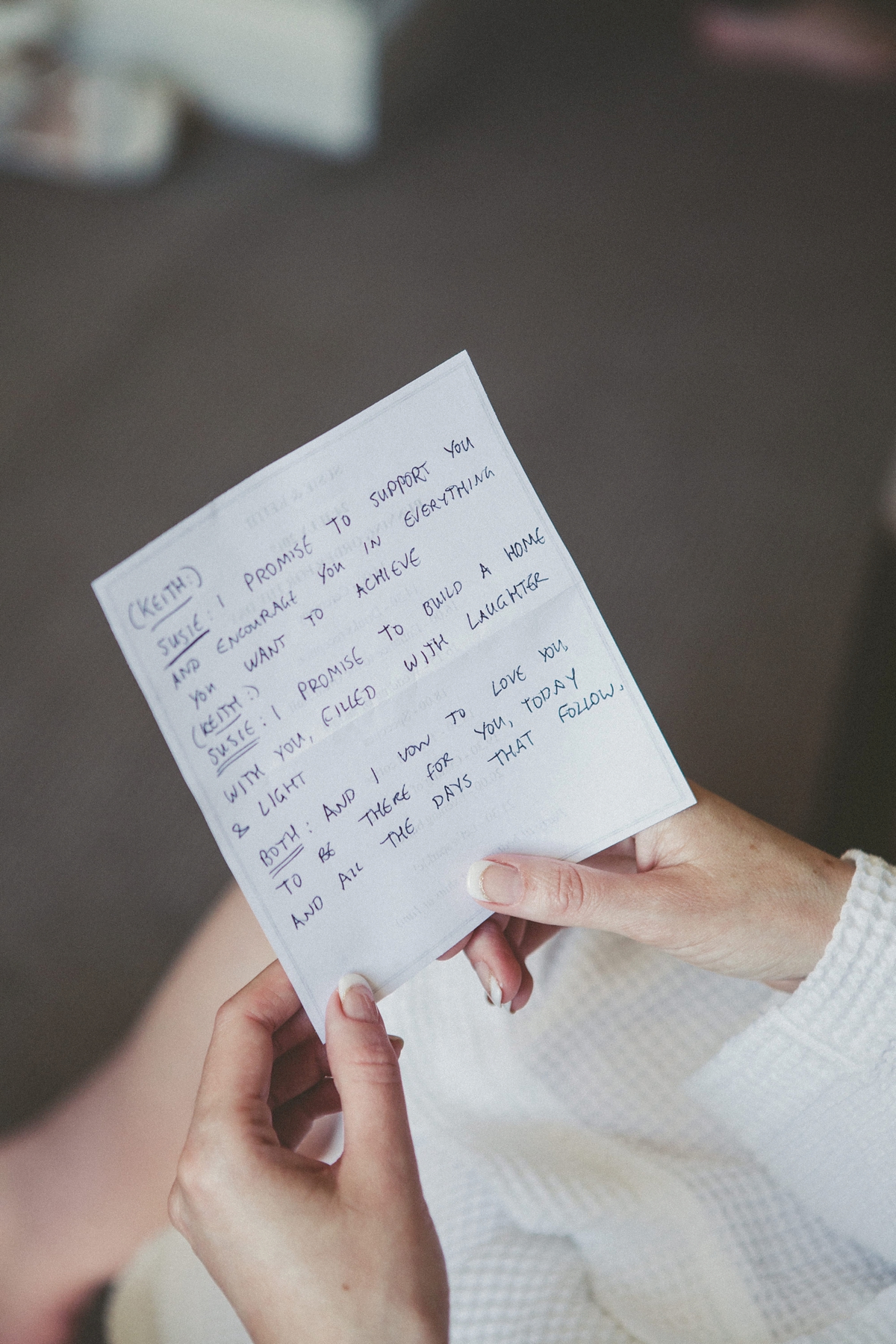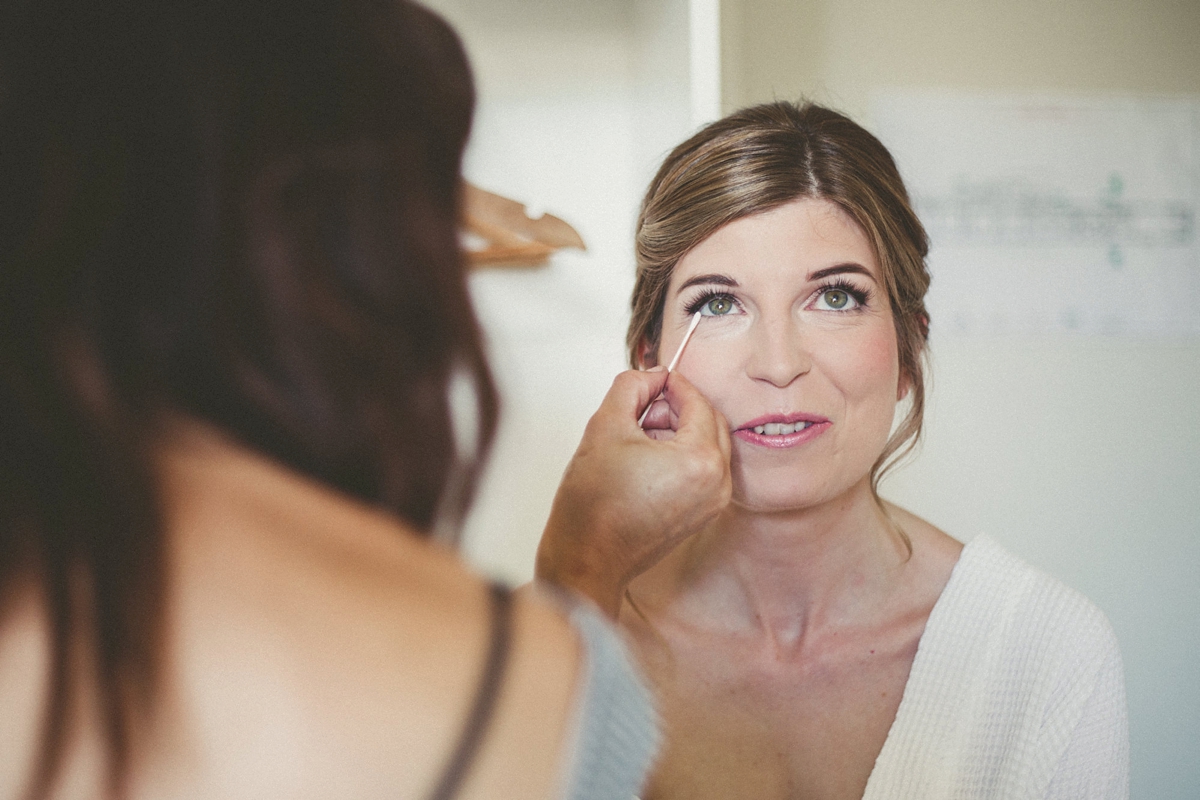 Susie purchased her strapless Kelsey Rose dress from Truly Delightful Bridal in Totnes, pairing it with Pearly Girly Low Irregular Choice heels, mirroring the polka dot design in her soft skirts and in the dresses of her flower girls. Dainty wax flowers adorned her elegant up-do, swept up by Hannah of Hair by Hannah, who made a 50-mile round trip on the day of the wedding. Susie's long-lasting make-up was expertly taken care of by Amy Elizabeth.
Sun by Lush, which Susie loves for its uplifting scent of sandalwood, mimosa and Brazillian orange oil, was her chosen perfume, the vibrant notes instantly transporting her back to her wedding day every time she wears it. A silver bracelet and earrings from Alex Monroe were our bride's finishing touches, while her lovely husband donned a blue Ted Baker suit and John Lewis tie to await his bride atop the sun-drenched outdoor aisle.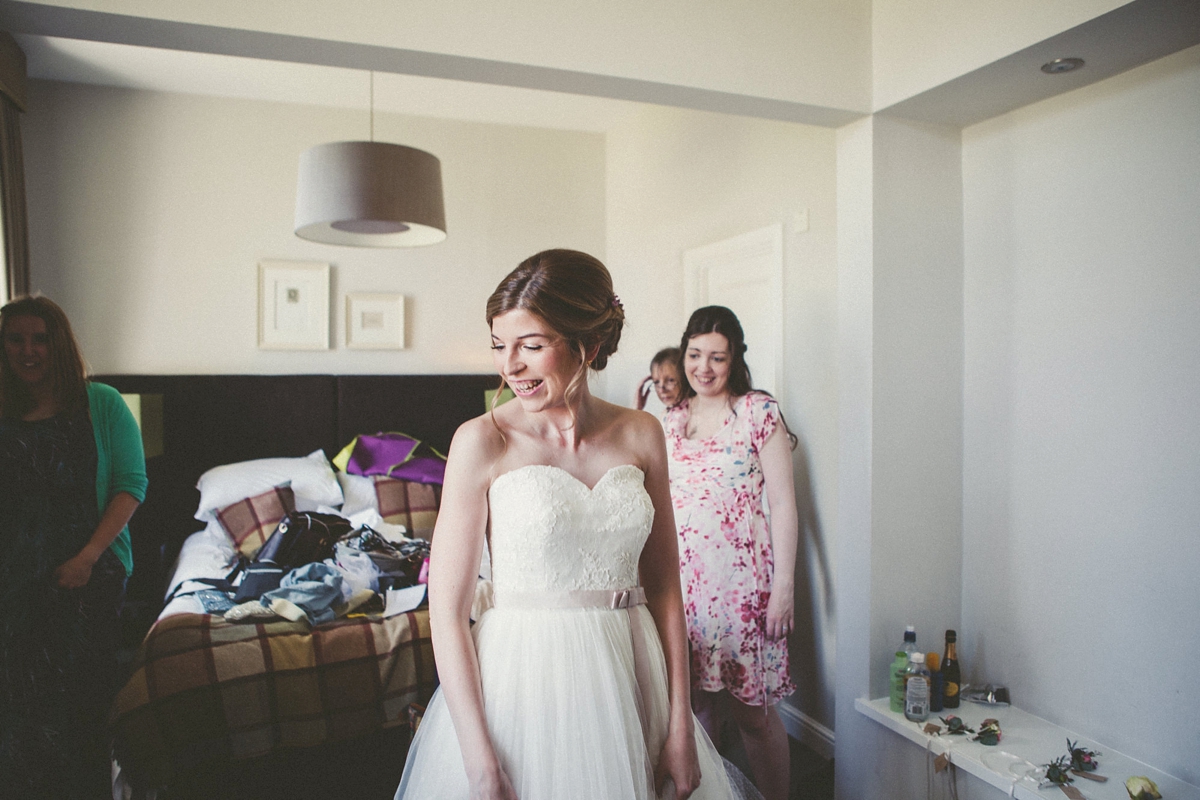 "I knew that I wanted to use local suppliers and had wanted to visit Truly Delightful Bridal in Totnes as I had a feeling I would find my dress there. It was the fourth wedding dress I tried on, and it wasn't really my style when I saw it on the hanger but when I put it on, it was just amazing."
"It has a number of tulle layers, one has polka dots in a scattered design and the top had very pale sequins scattered underneath lace. This meant it almost shimmered when you walked, it was just perfect."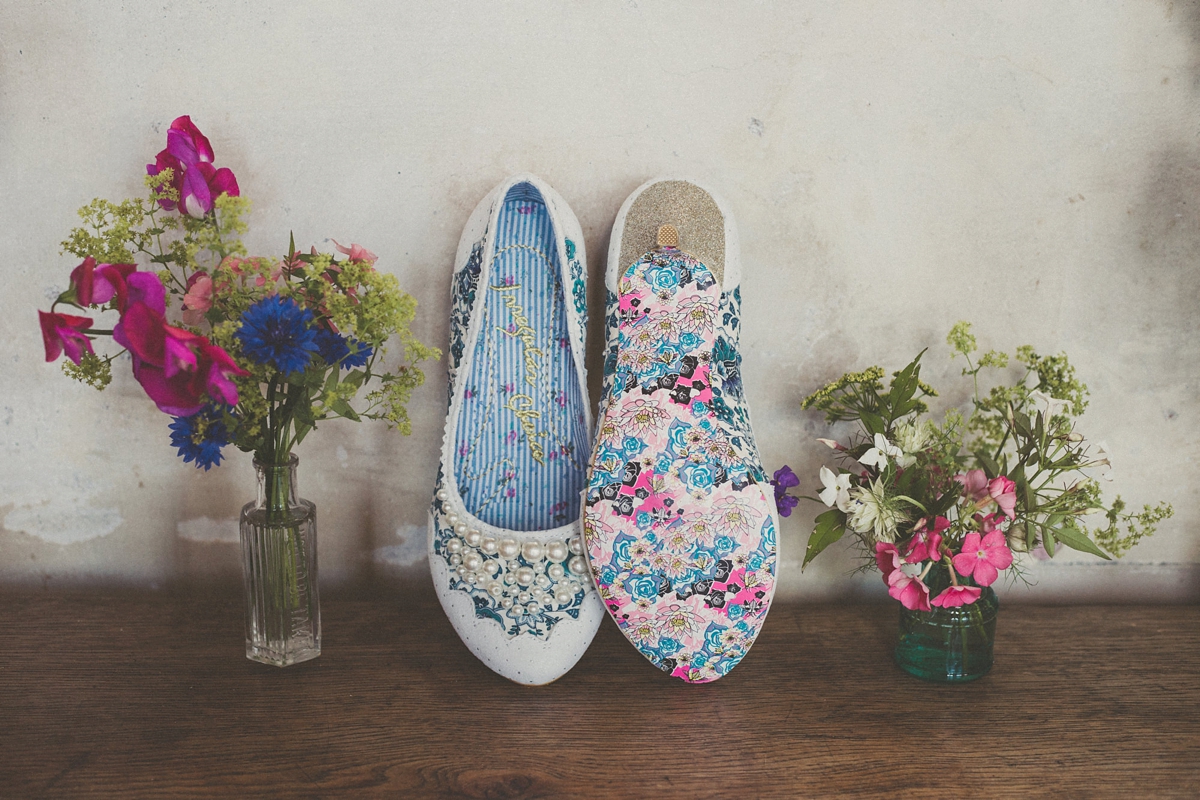 Susie's adorable 2- and 4-year-old flower girls, resplendent in their polka dot dresses from Truly Delightful Bridal and Yumi, walked down the aisle while she followed behind to the sounds of Holes by Mercury Rev, thinking of her beloved father as she drew closer to Keith.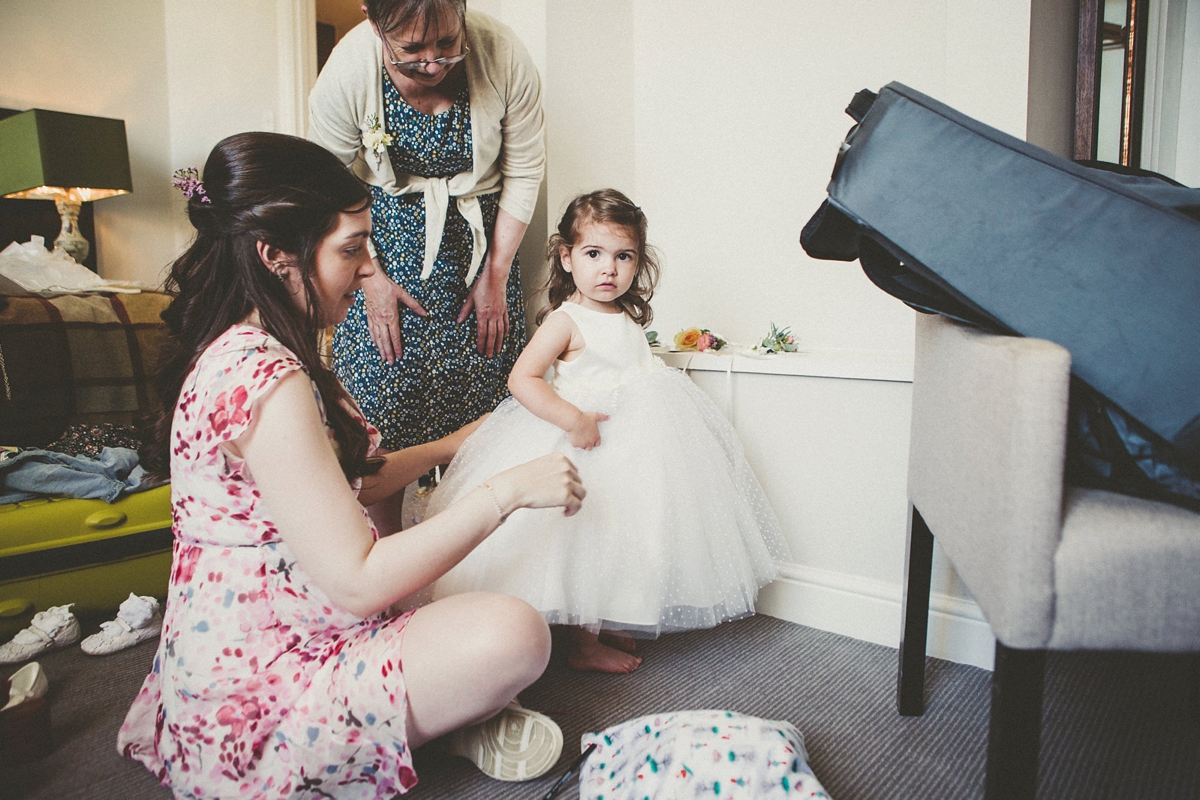 "We met by chance in February 2008, at the legendary After Dark Nightclub in Reading. Six months after I had travelled back to begin my MSc. My best friend, Jackie, was visiting and we very nearly didn't head out as she had been unwell. We met Keith that night (though I referred to him as 'stripy jumper man') and we kissed."
"We went on a few dates and then I found out I knew a group of his friends as I had worked in a music shop with them back in 2003. We were happy being boyfriend and girlfriend for many (many!) years until Keith proposed on 25th March 2016 and we gave ourselves 16 months to plan the wedding."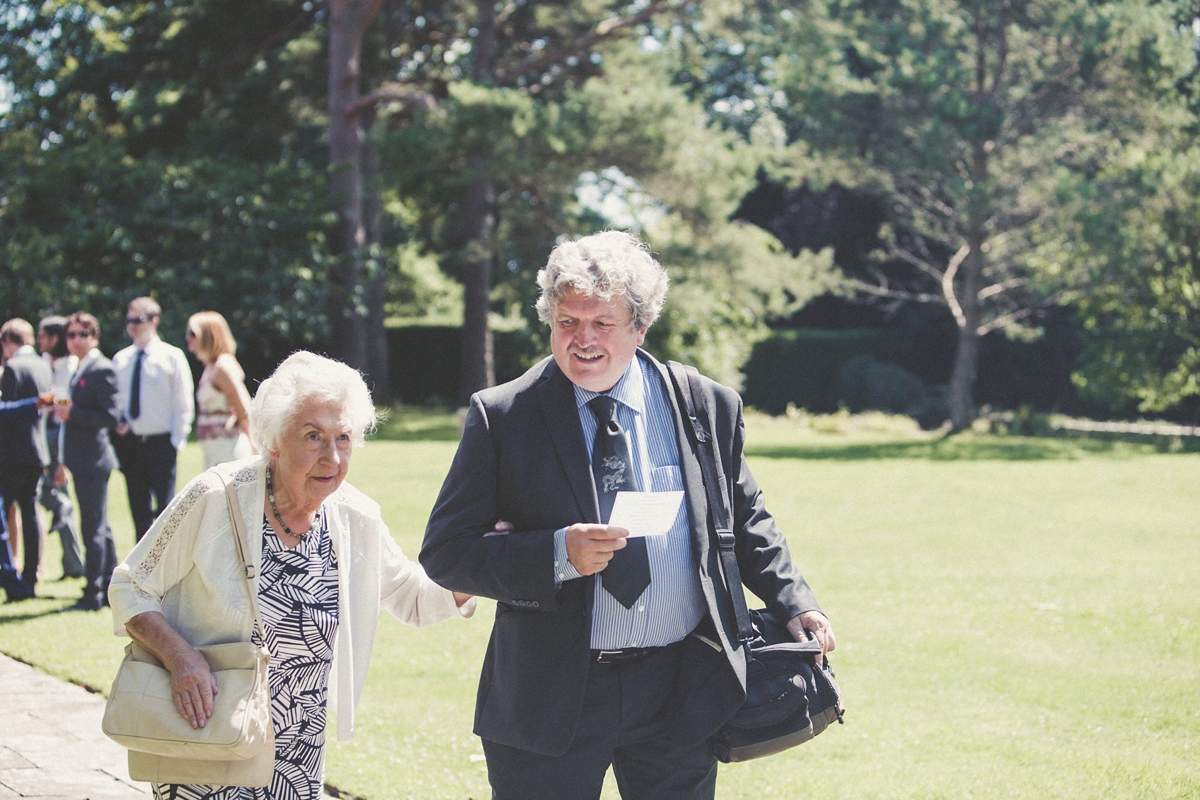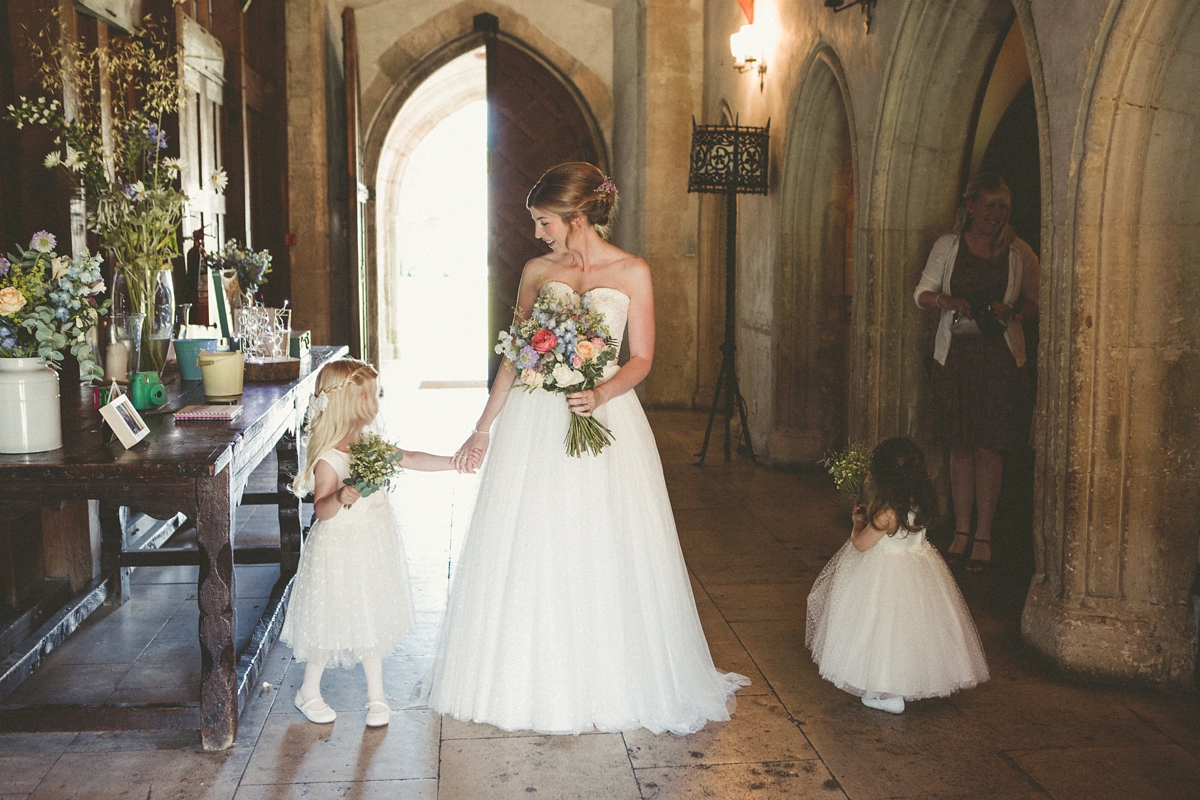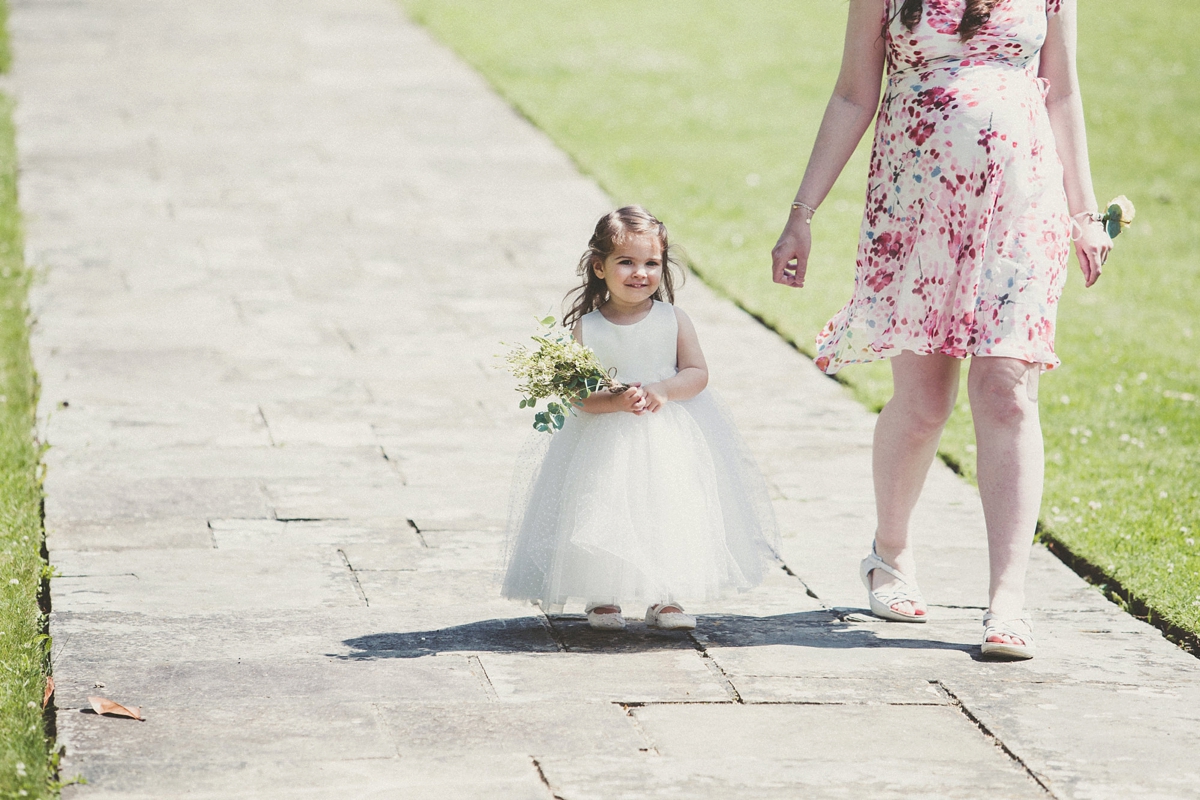 "My father, John, passed away in September 2013 so we decided that the flower girls would go on ahead and that I would make the long walk on my own. It was quite emotional but I'm glad I was able to think about him and my upcoming wedding while I was walking towards our outside ceremony."
"We decided to include our own vows, which we personalised on our day. We took it in turns to say each line so that it wouldn't feel like we were talking for too long and I'm so pleased we did this. We found a website which had a selection of different vows on it and used this as a basis for our own:"
Keith: I promise to laugh with you in times of joy, and to comfort you in times of sorrow.
Susie: I promise to support you and encourage you in everything you want to achieve.
Keith: I promise to always listen with compassion and understanding.
Susie: I promise to build a home with you, filled with laughter and light.
Both: And I vow to love you, to be there for you, today and all the days that follow.
Sealing their vows, Susie added a white gold band from Alex Monroe to her sapphire engagement ring, while Keith slid on a bespoke titanium band with silver inlay purchased from RING Jewellers in Brighton.
"I love Alex Monroe and knew I wanted an unusual wedding band. My engagement ring has an oval shaped sapphire in it, so it was difficult to find a ring that complemented my engagement ring without overpowering it. The wedding band has a natural wave to it and isn't rhodium plated so it has a lovely dark quality."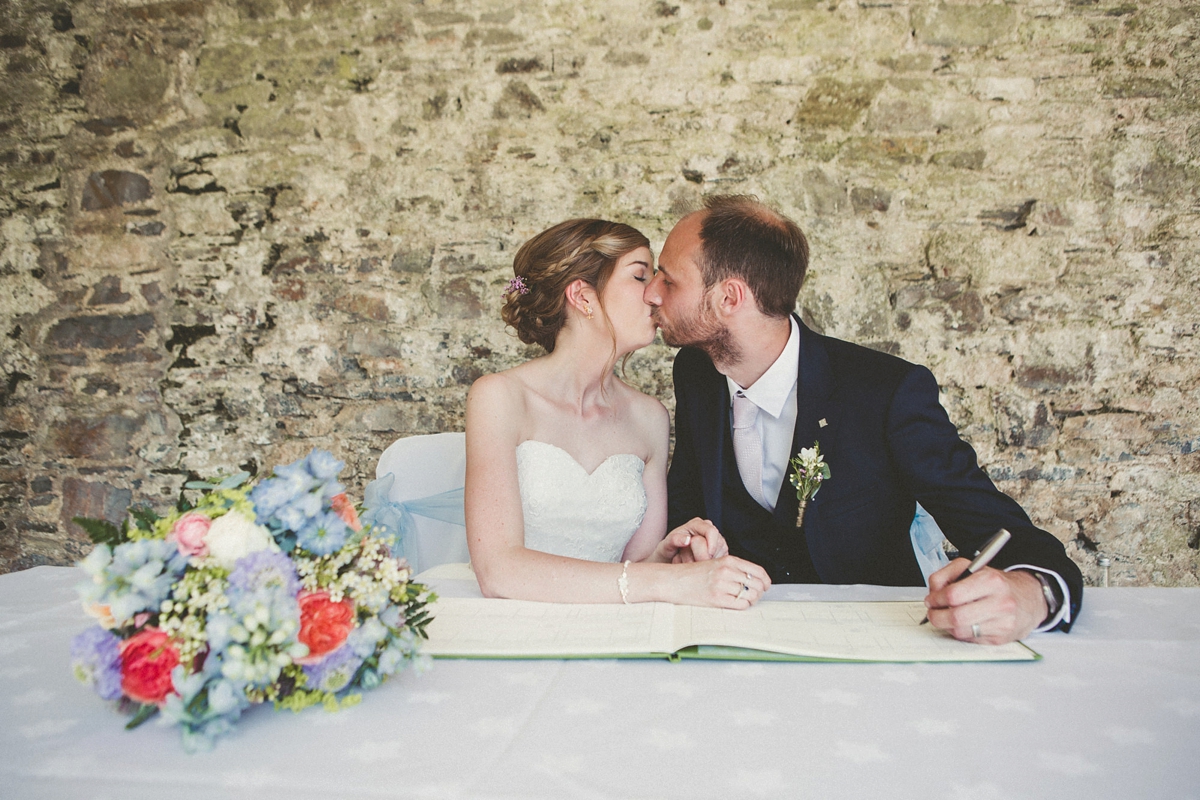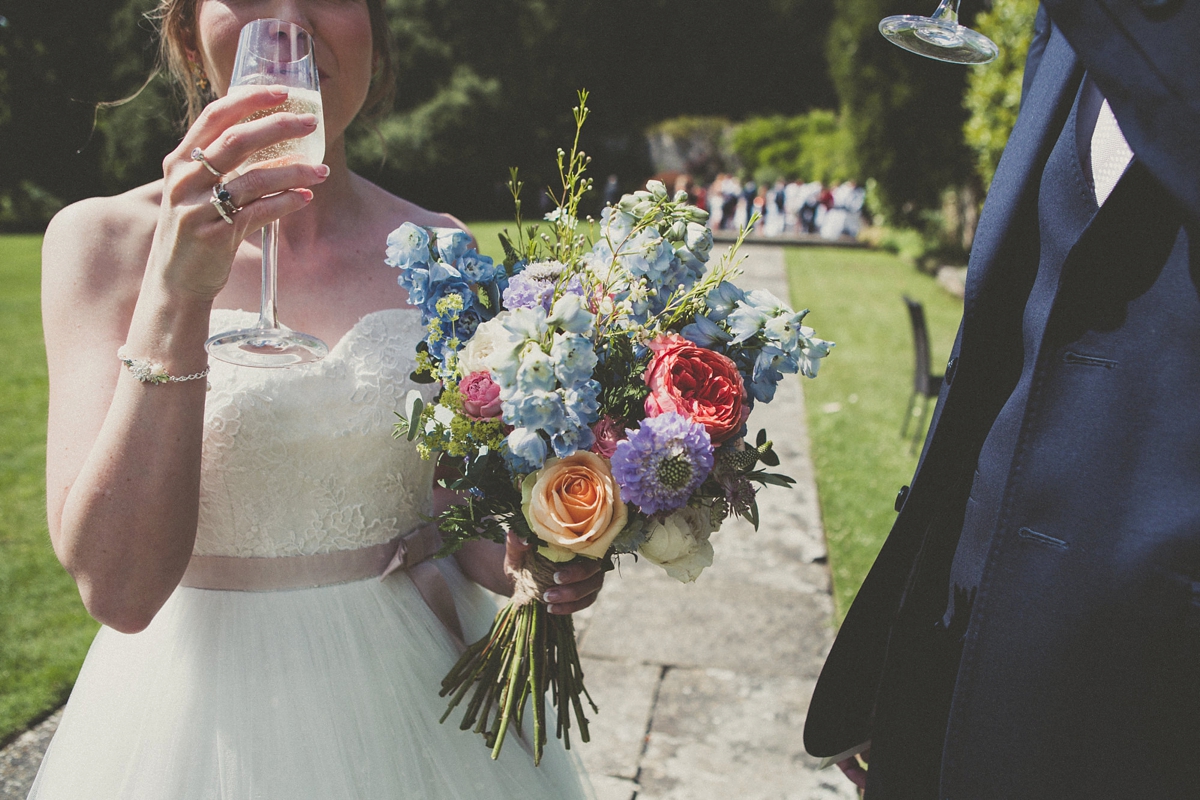 "We had the most amazing confetti from Shropshire Petals. Their July mix featured a mix of bright orange marigold flowers, with pink, blue and yellow petals. It was the most amazing confetti I have ever seen and lots was even floating above us two minutes after we had thrown it."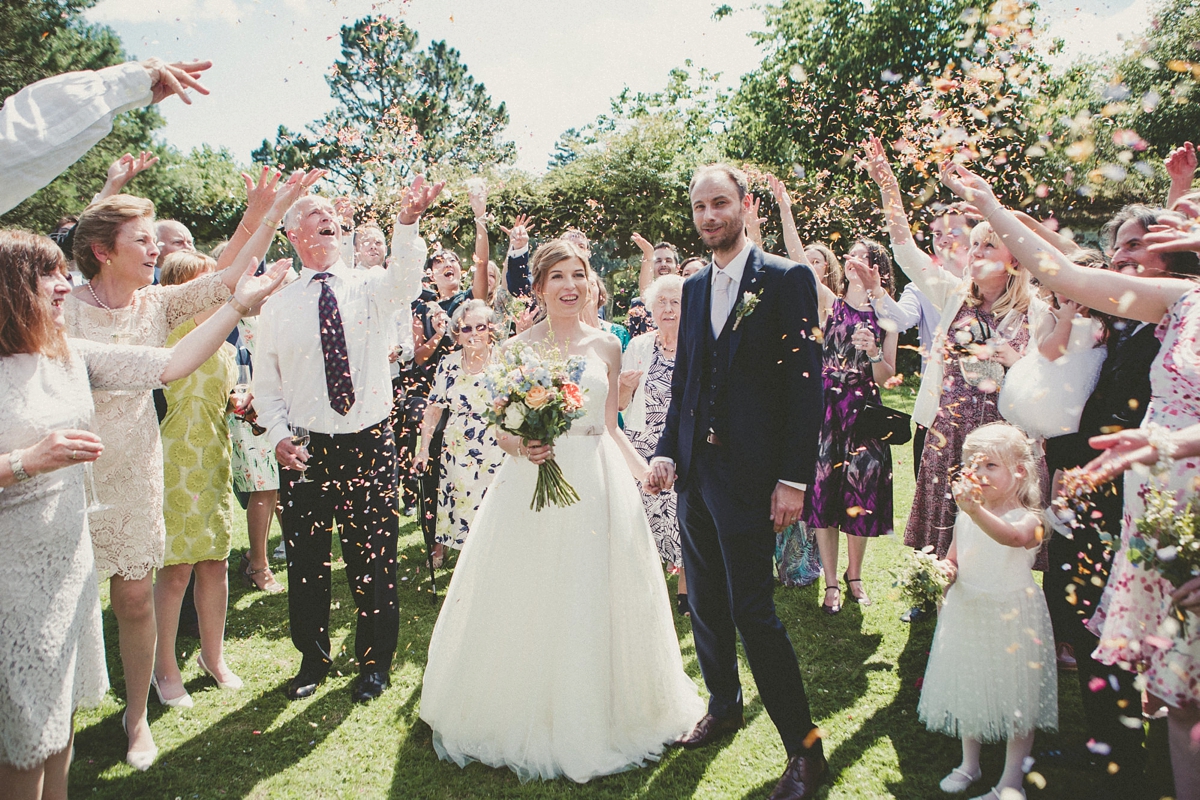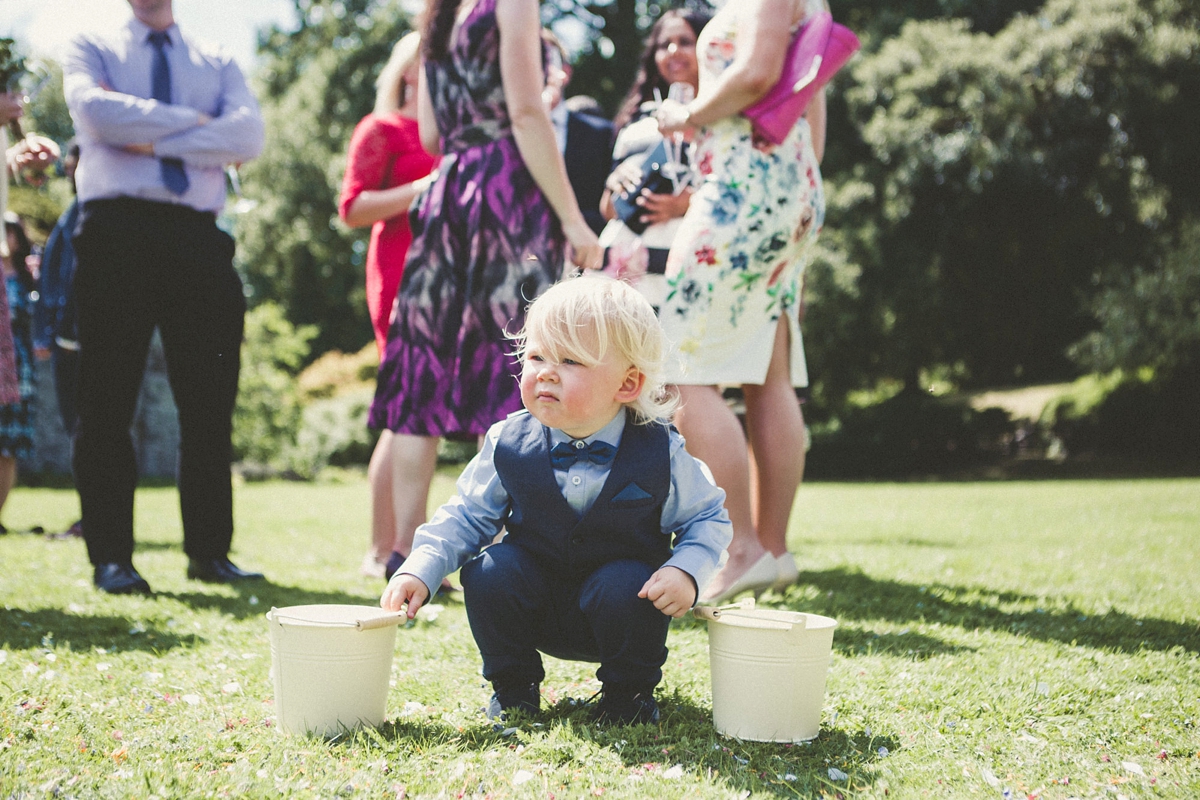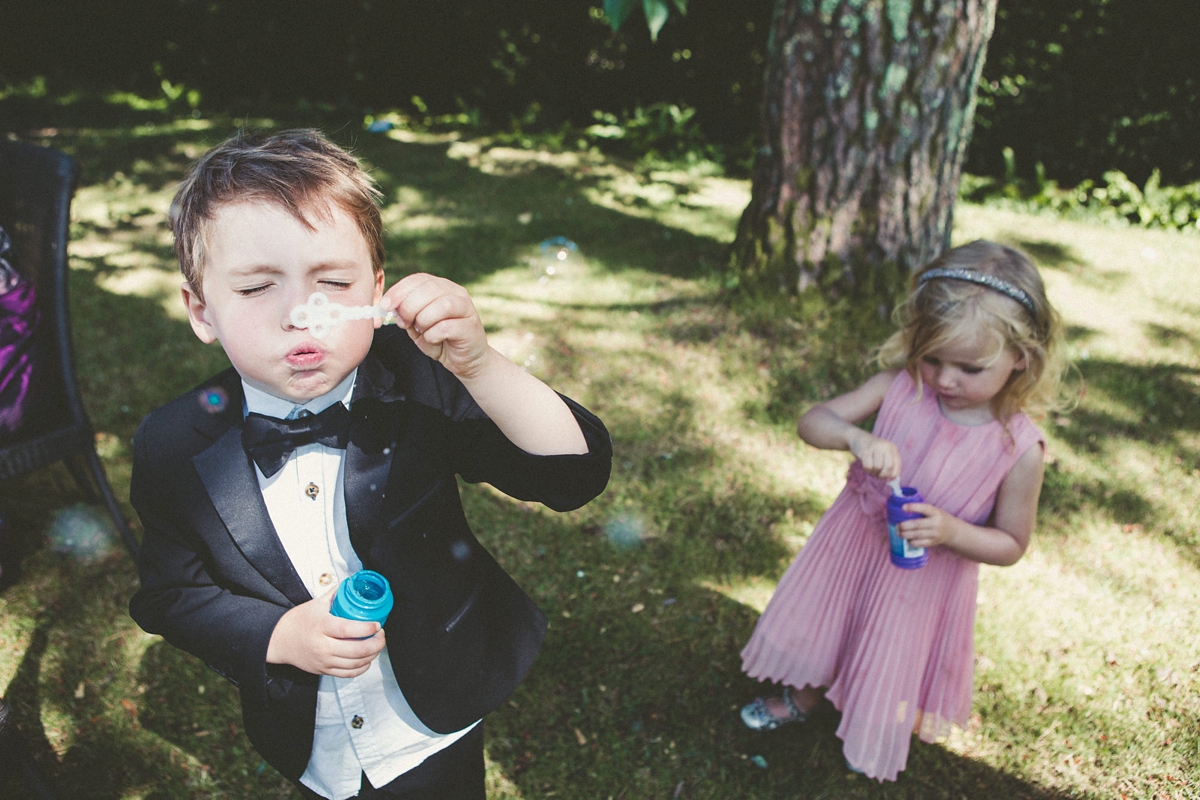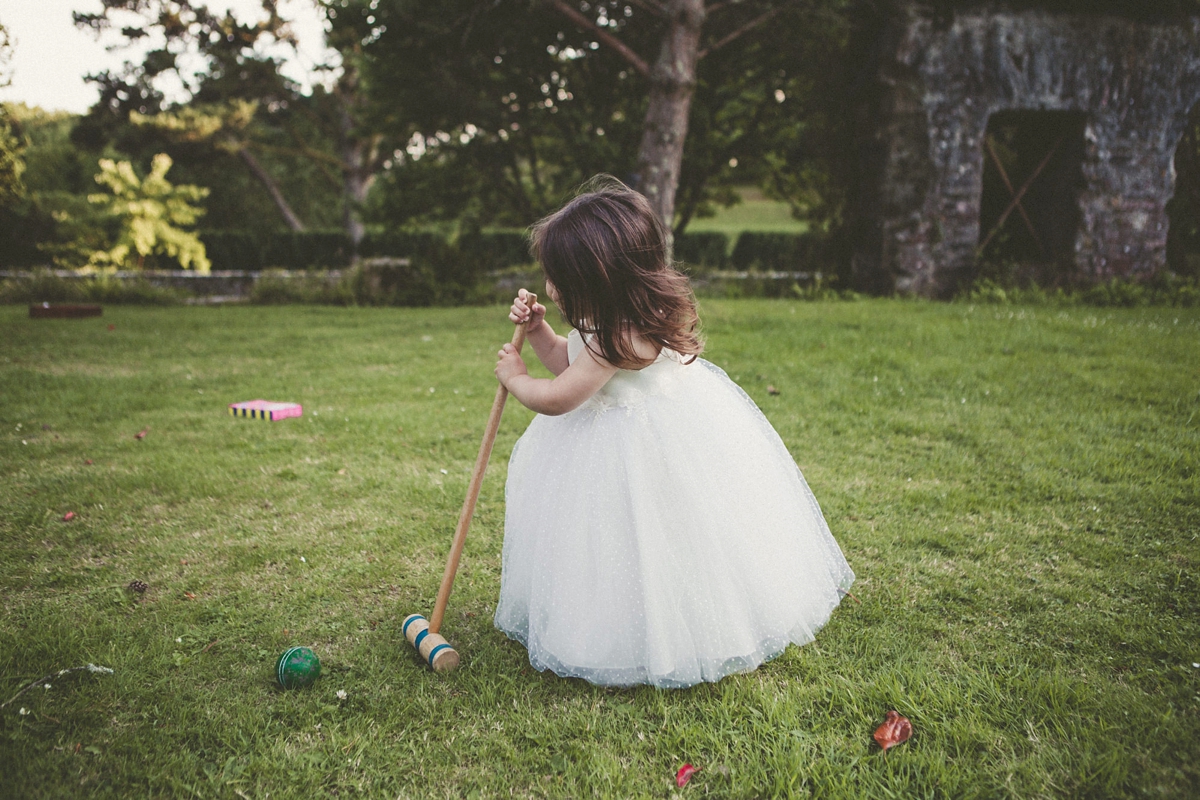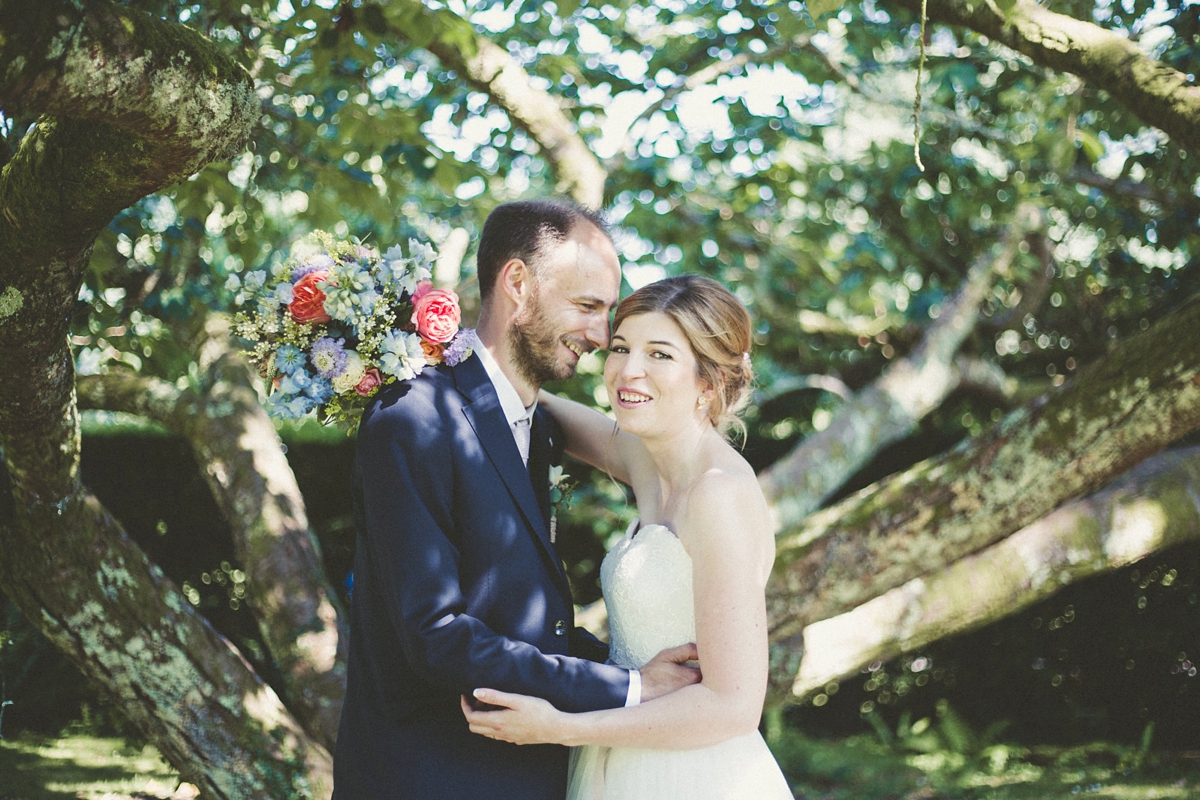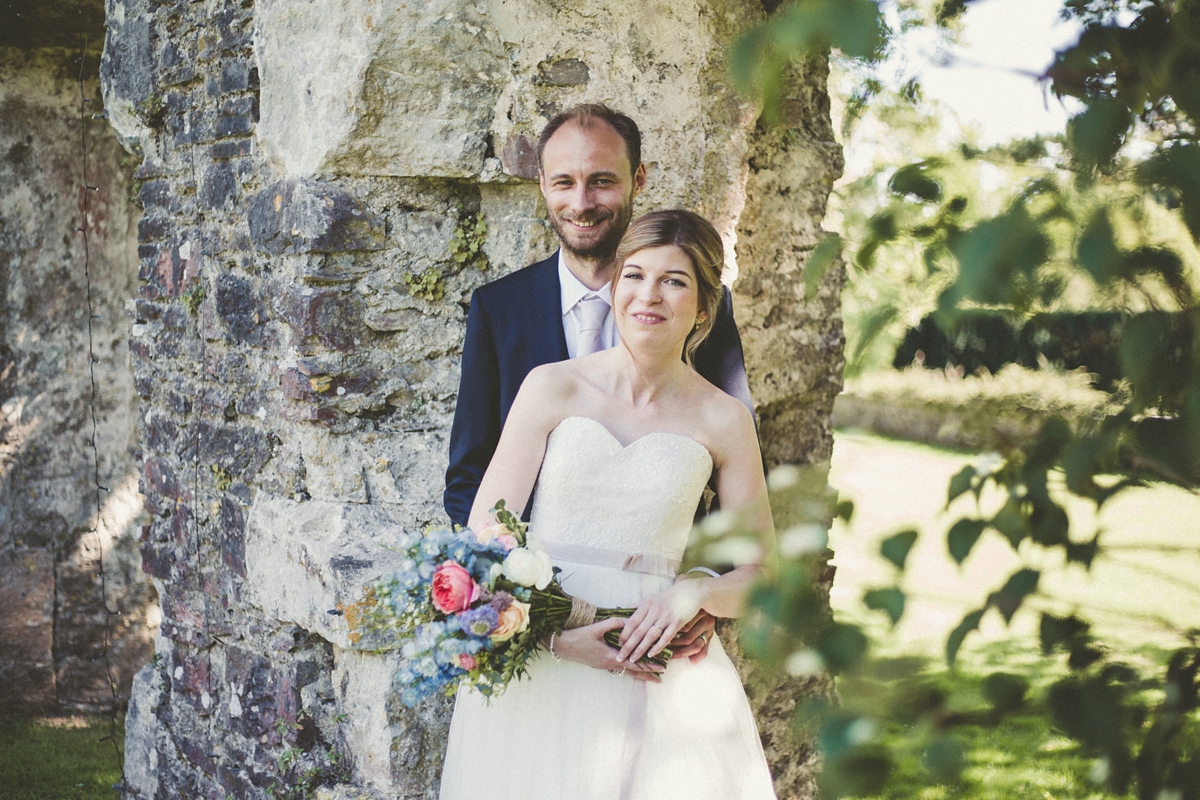 Susie and Keith accentuated the beauty of Dartington Hall with an array of decor sourced from Etsy; their 'Just Married' and personalised bunting created by GollyGoshBoo and their personalised guest book poster from BirdAndKeyUK. Honeycomb bunting and confetti balloons were sourced from Meri Meri and friends supplied a selection of garden games, which provided much entertainment for their guests under the clear summer sky before sitting down to a wedding breakfast catered by the venue. Oh, and that cake table, yum.
"I didn't want to compete with the shape of the building, as the Great Hall in Dartington is so grand. We decided that a selection of cakes would work better with the space and we found Queen Bee Cakes, a local supplier, who was able to suggest different flavours of cake which would complement one another."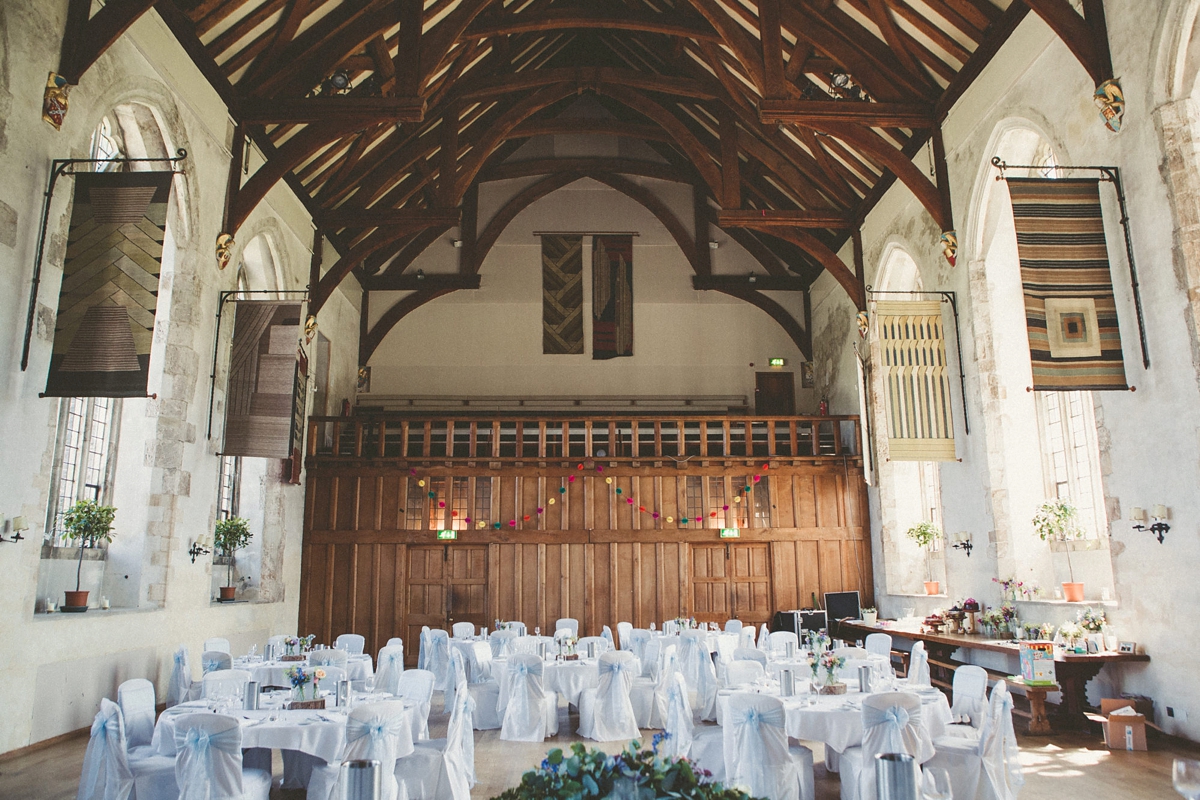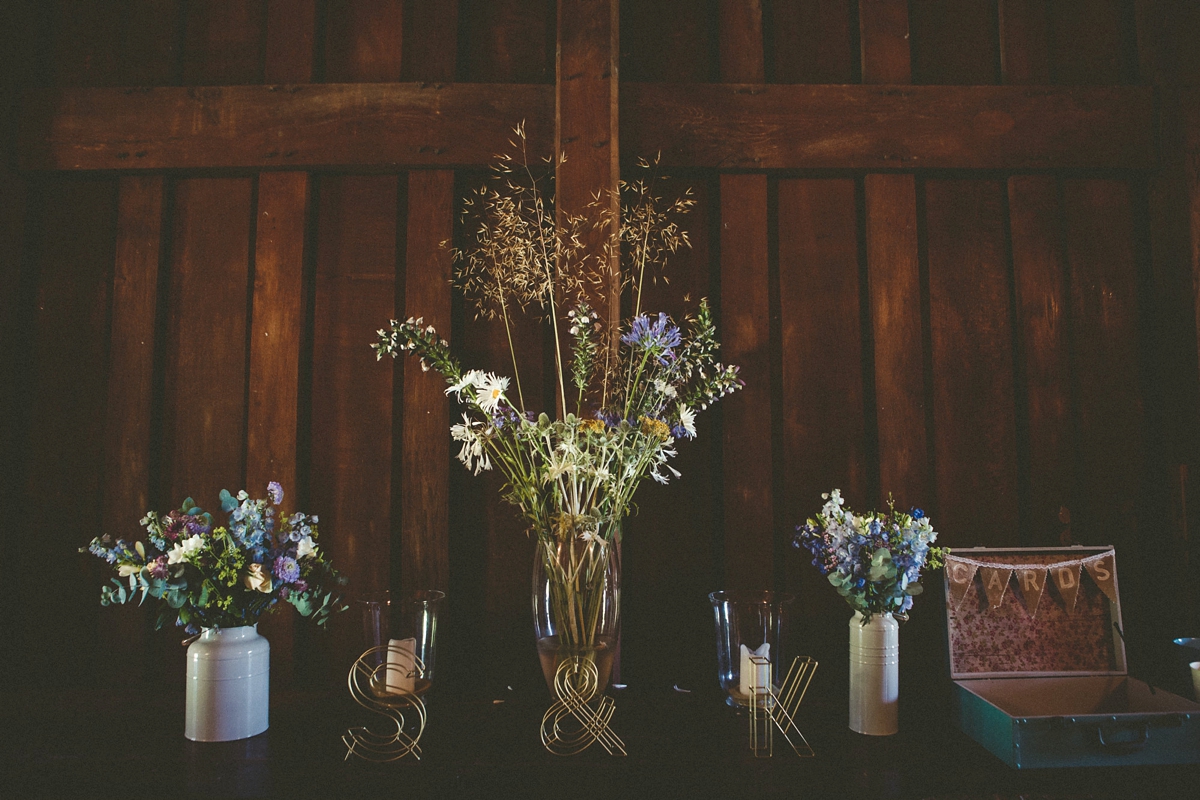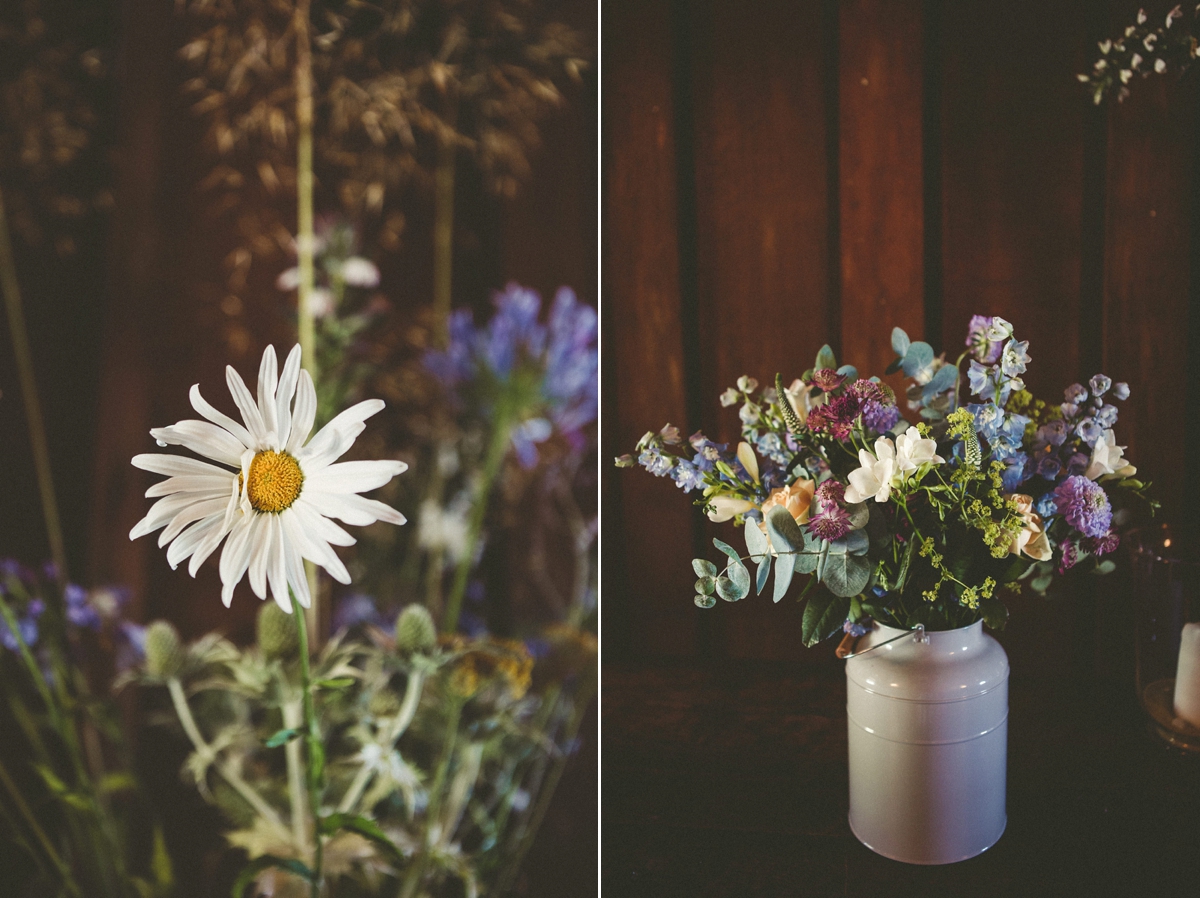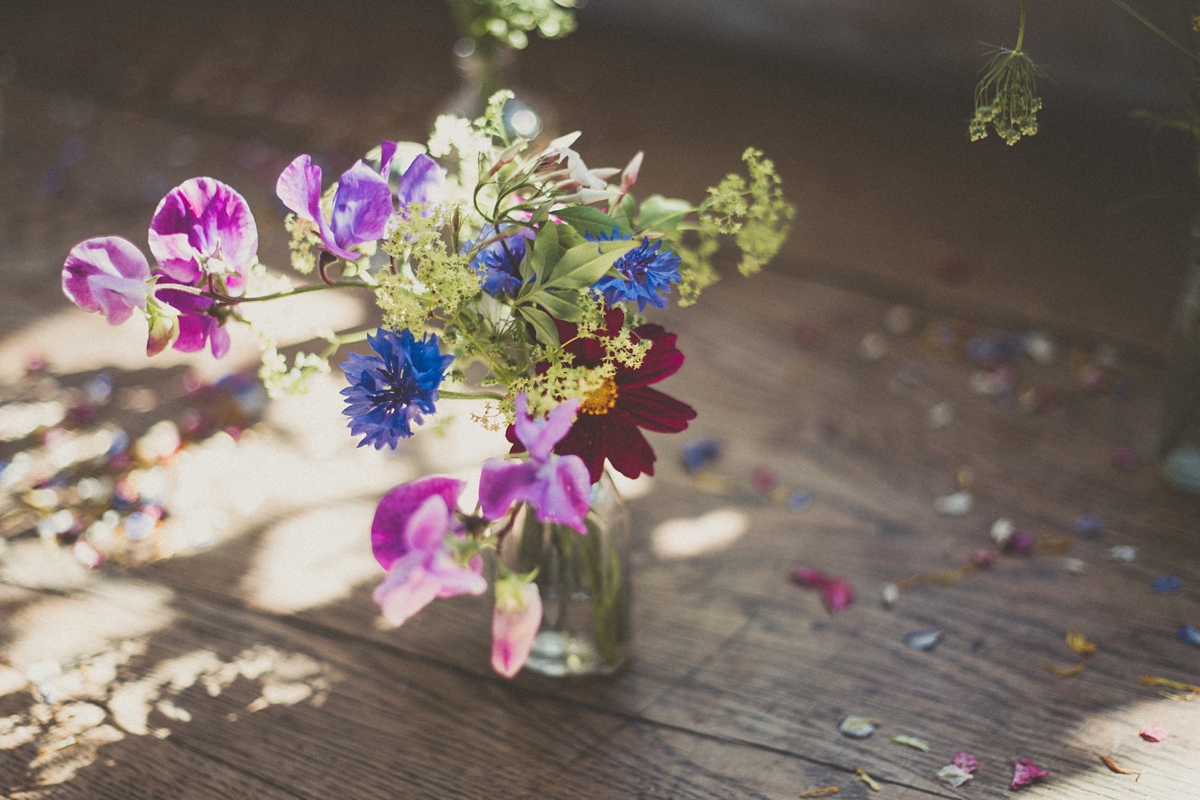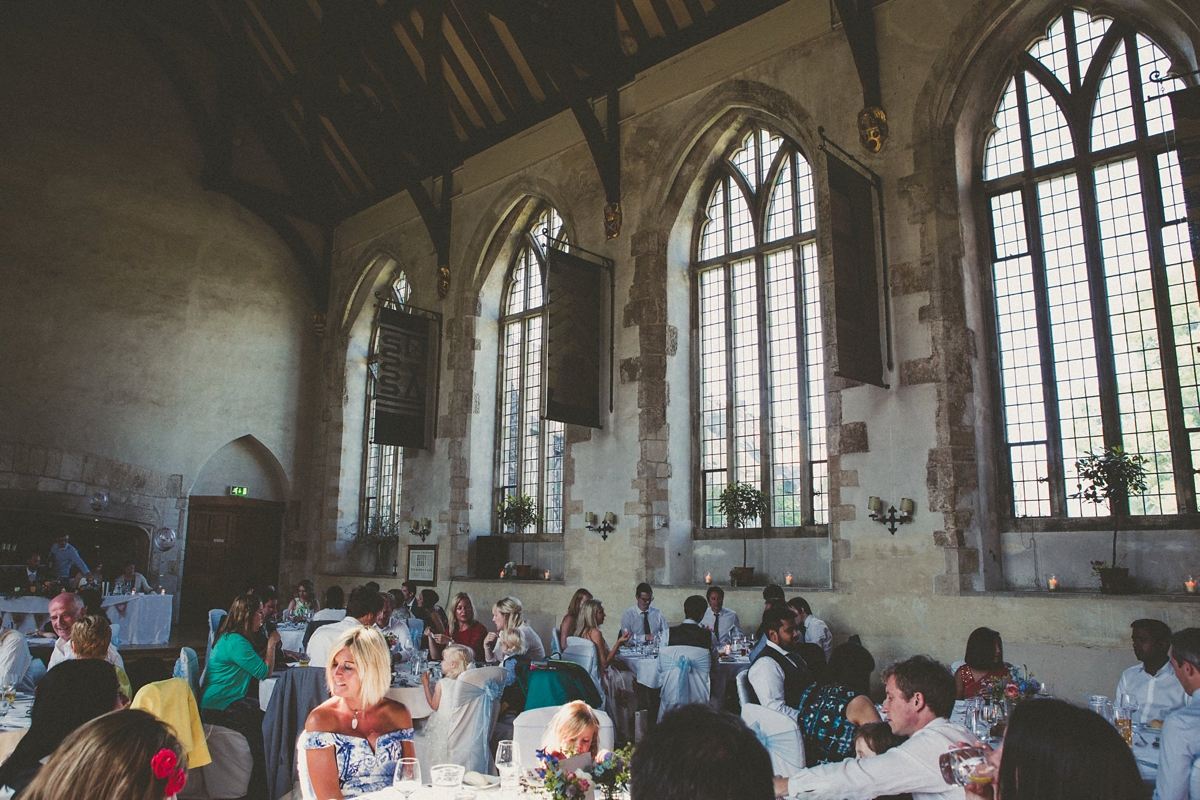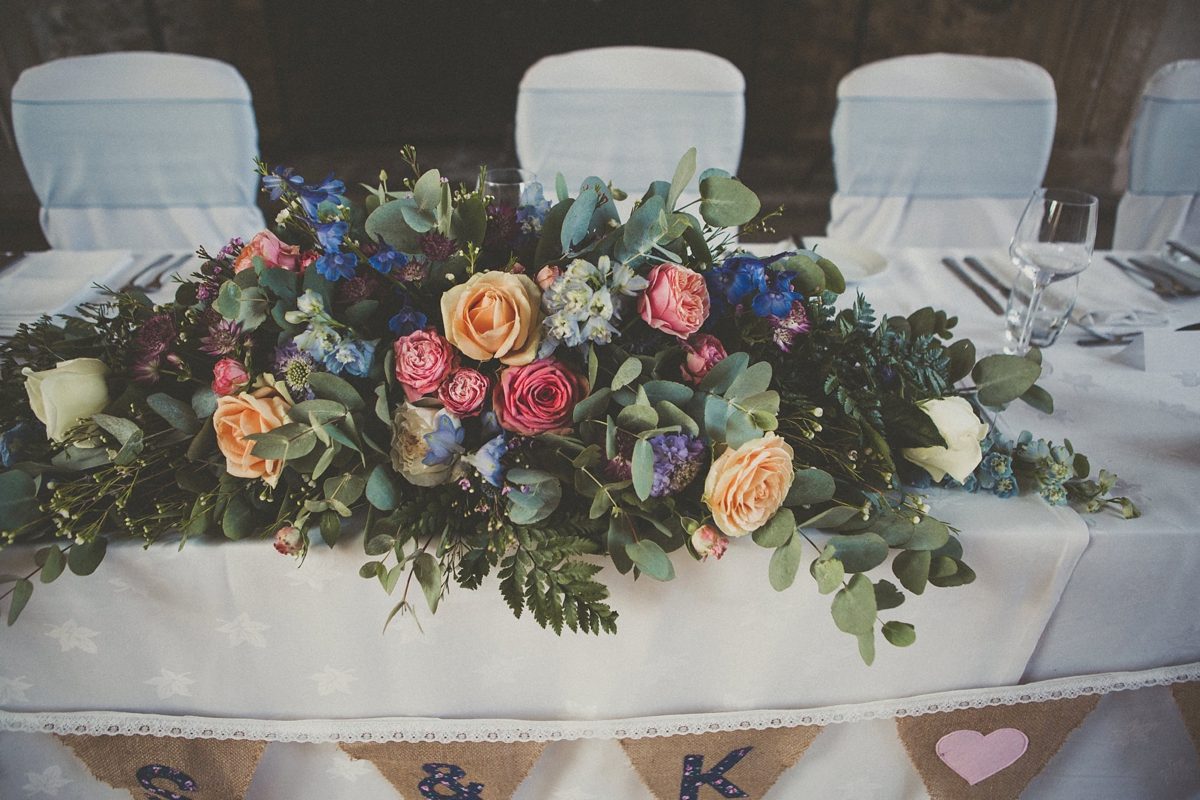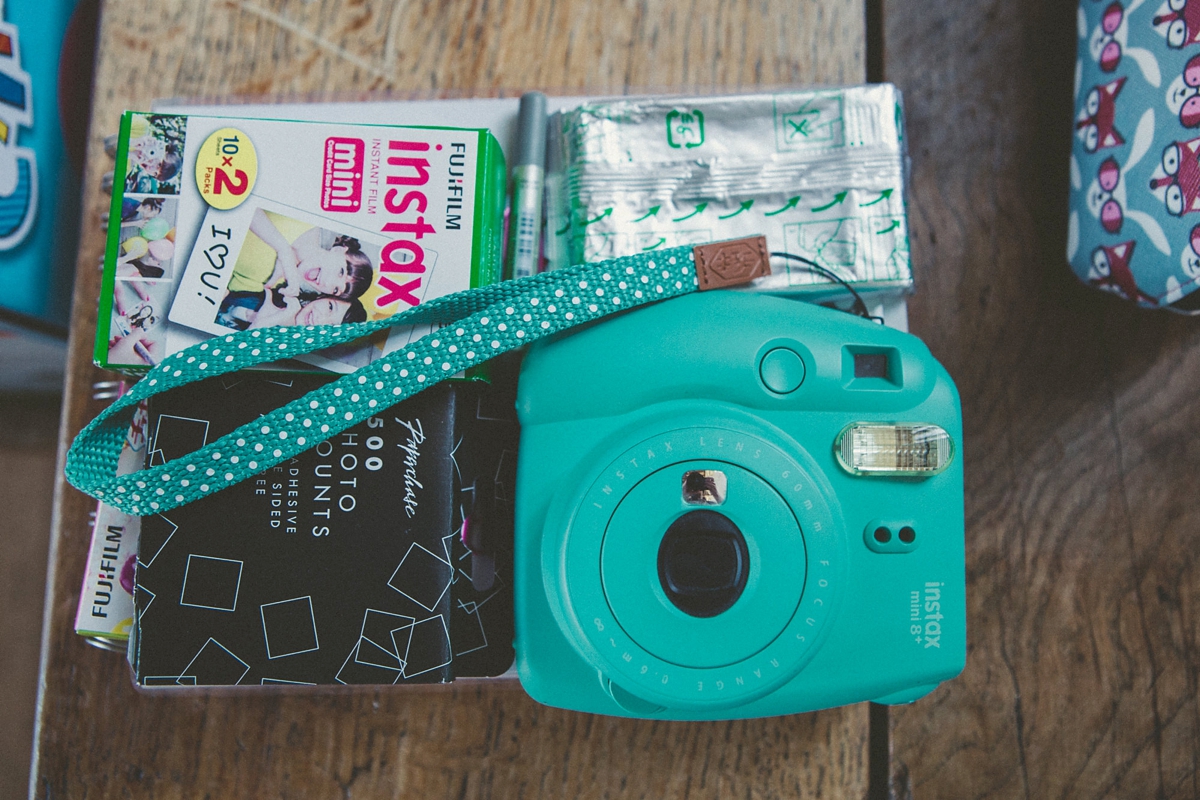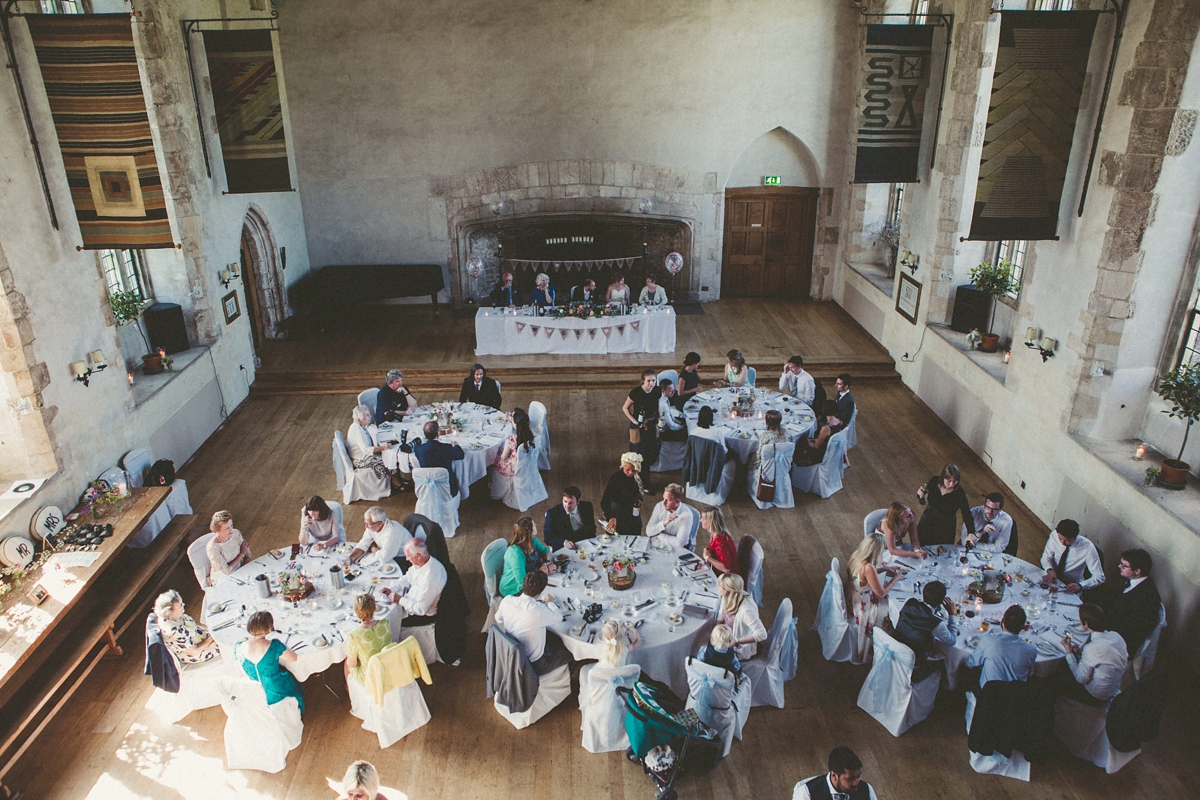 The newlyweds provided a selection of lovely favours for their guests including Lush bath bombs, heart shaped chocolates from Hotel Chocolat, and CDs from Be Our Guest Designs. For their first dance as husband and wife, Susie and Keith swayed to Something Changed by Pulp, a band they both love and have seen together twice.
"The CDs had a gorgeous personalised sleeve and disk which looked like a vinyl record. They were sent to us blank and we put together a playlist including songs from our wedding. Be Our Guest Designs also designed the most perfect personalised invites for our wedding, which featured an outline of our sausage dog, Hazel and red Acer leaves in memory of my father, John."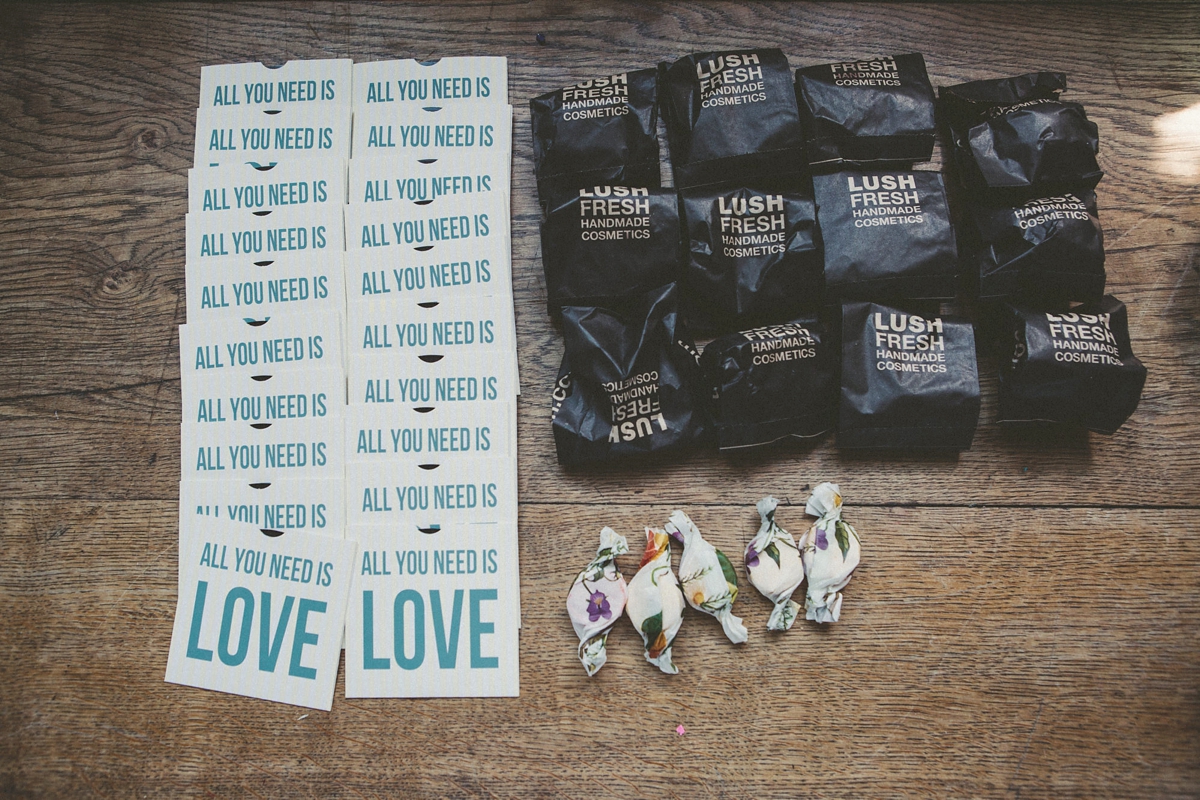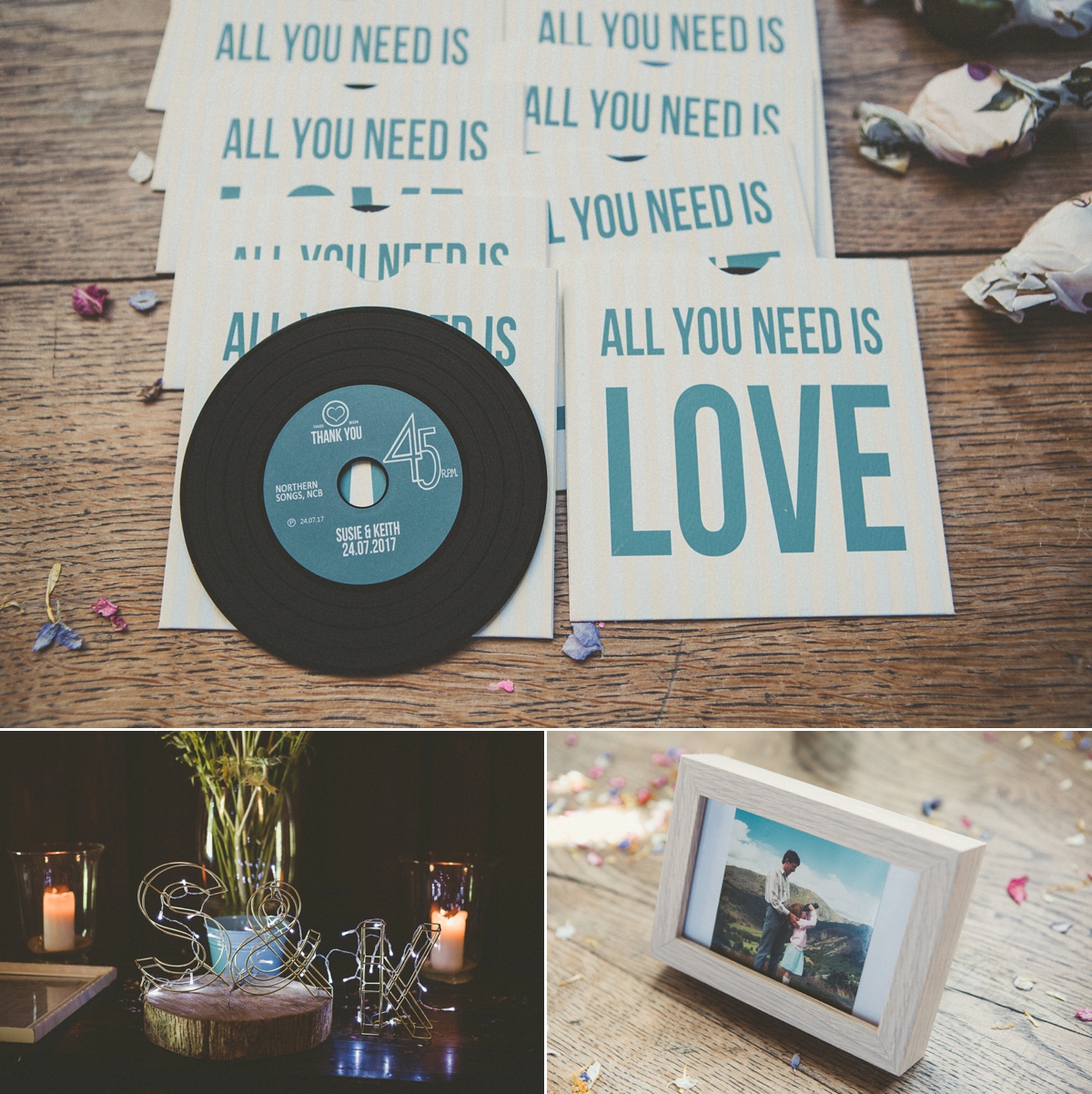 "I was sure I wanted a naked cake and Victoria sponges are my absolute favourite so we went for a strawberry and vanilla sponge and a lemon and blueberry sponge. We also had a gluten free chocolate cake and mini vegan Victoria sponge cakes. Emily has her own garden and decorated the cakes with flowers and fruit, which looked amazing. The cakes tasted delicious and our all guests commented on the them."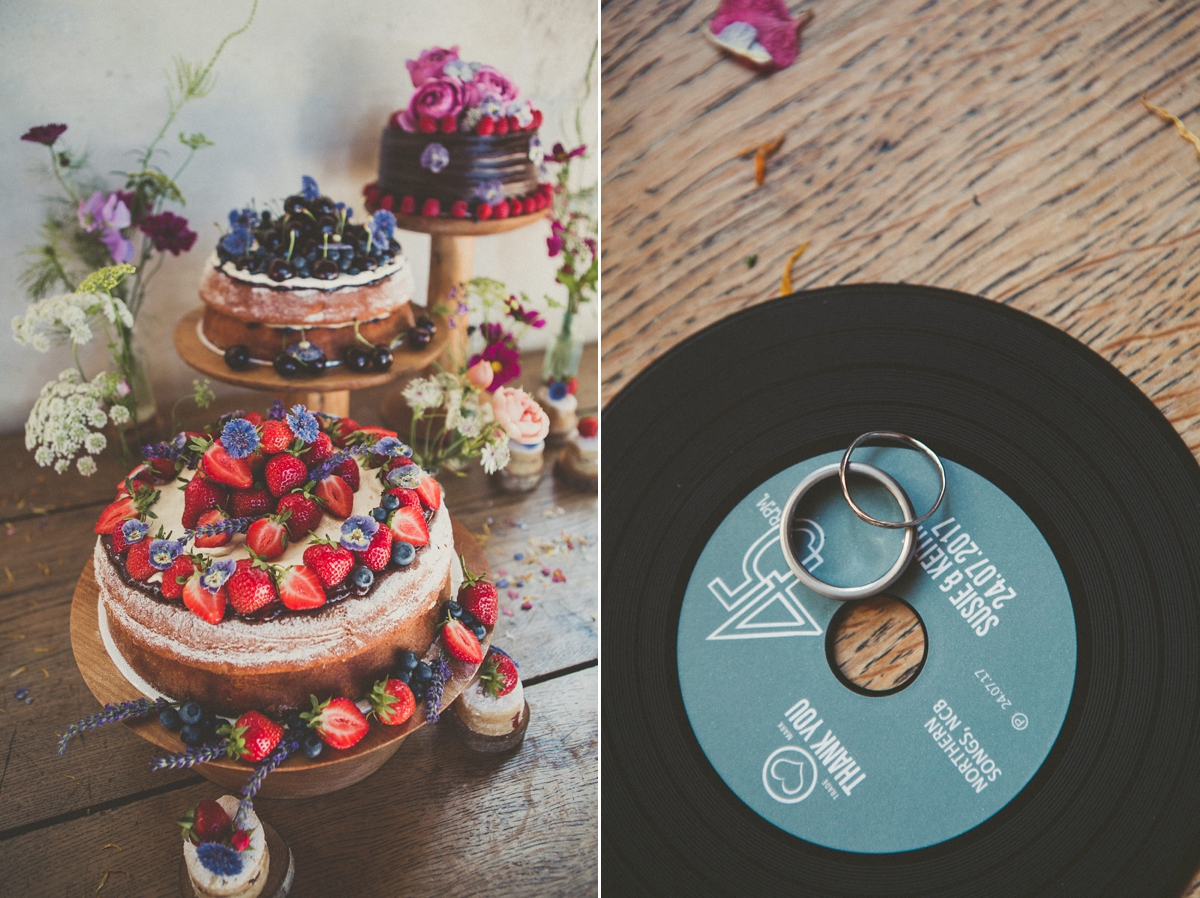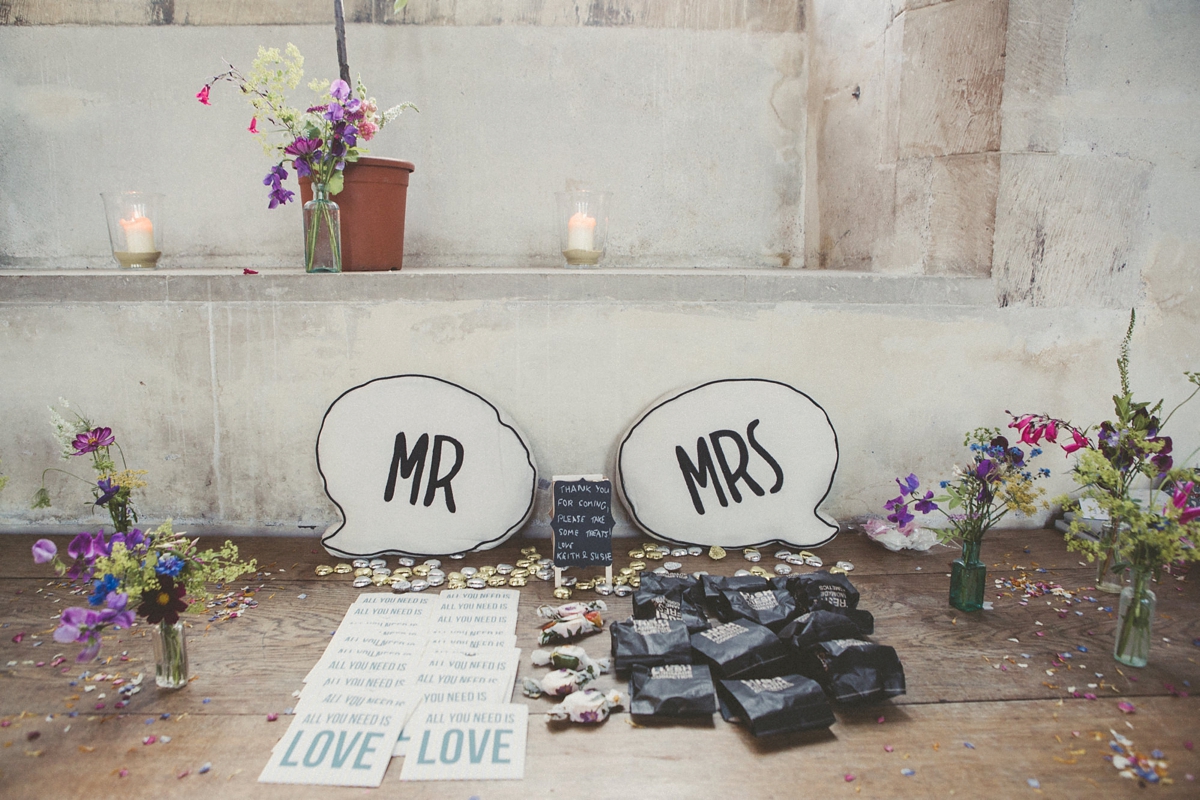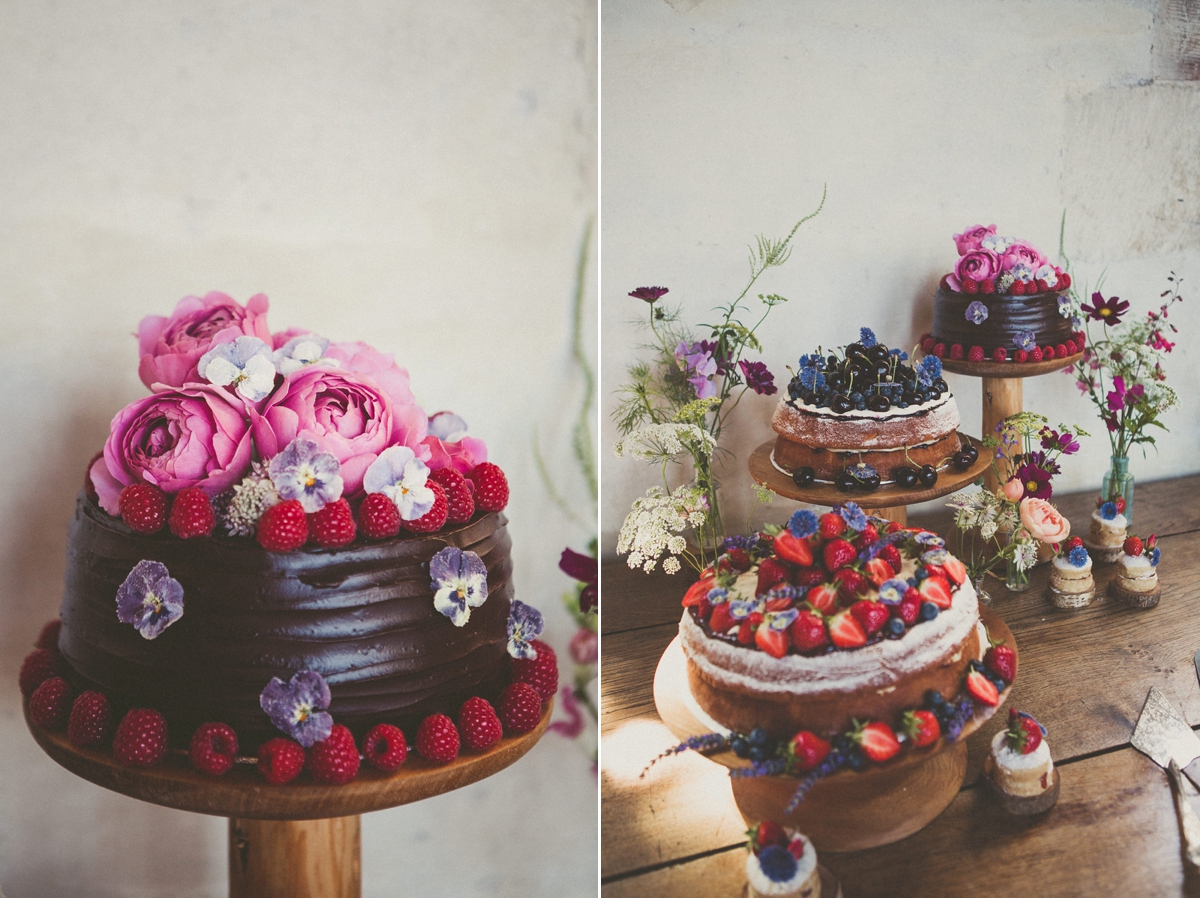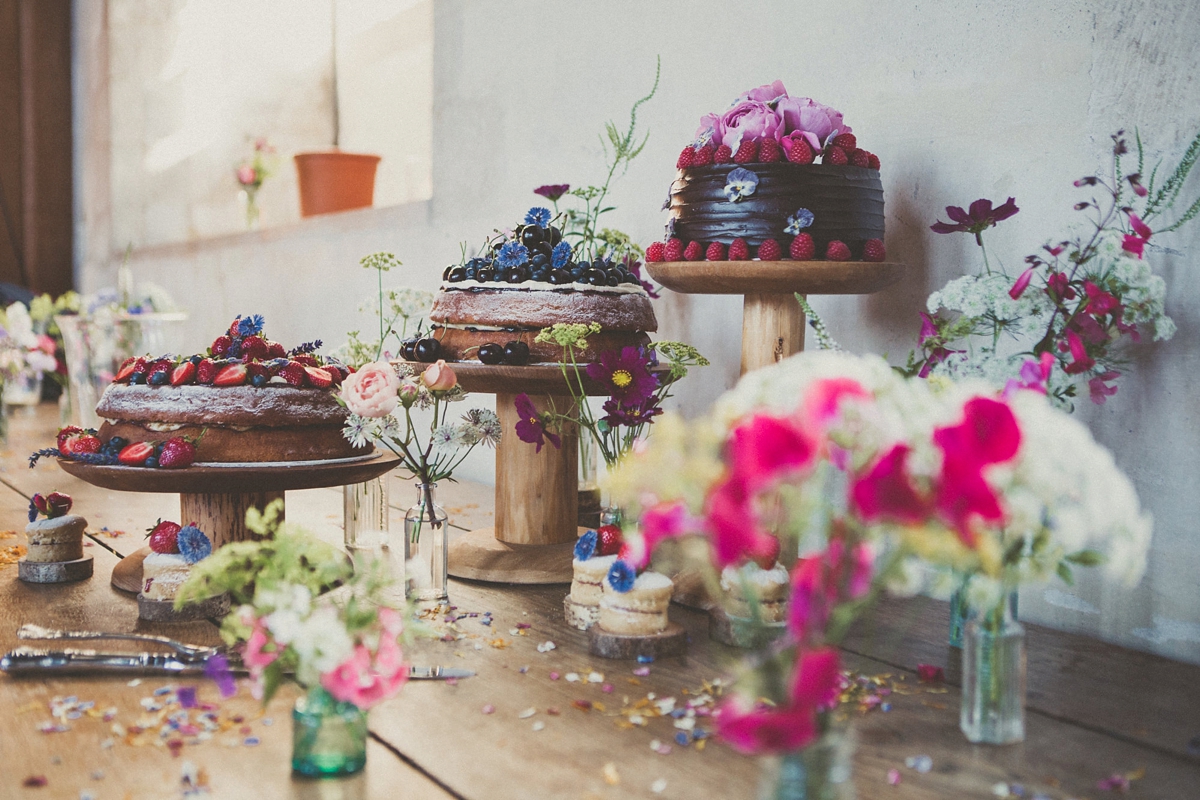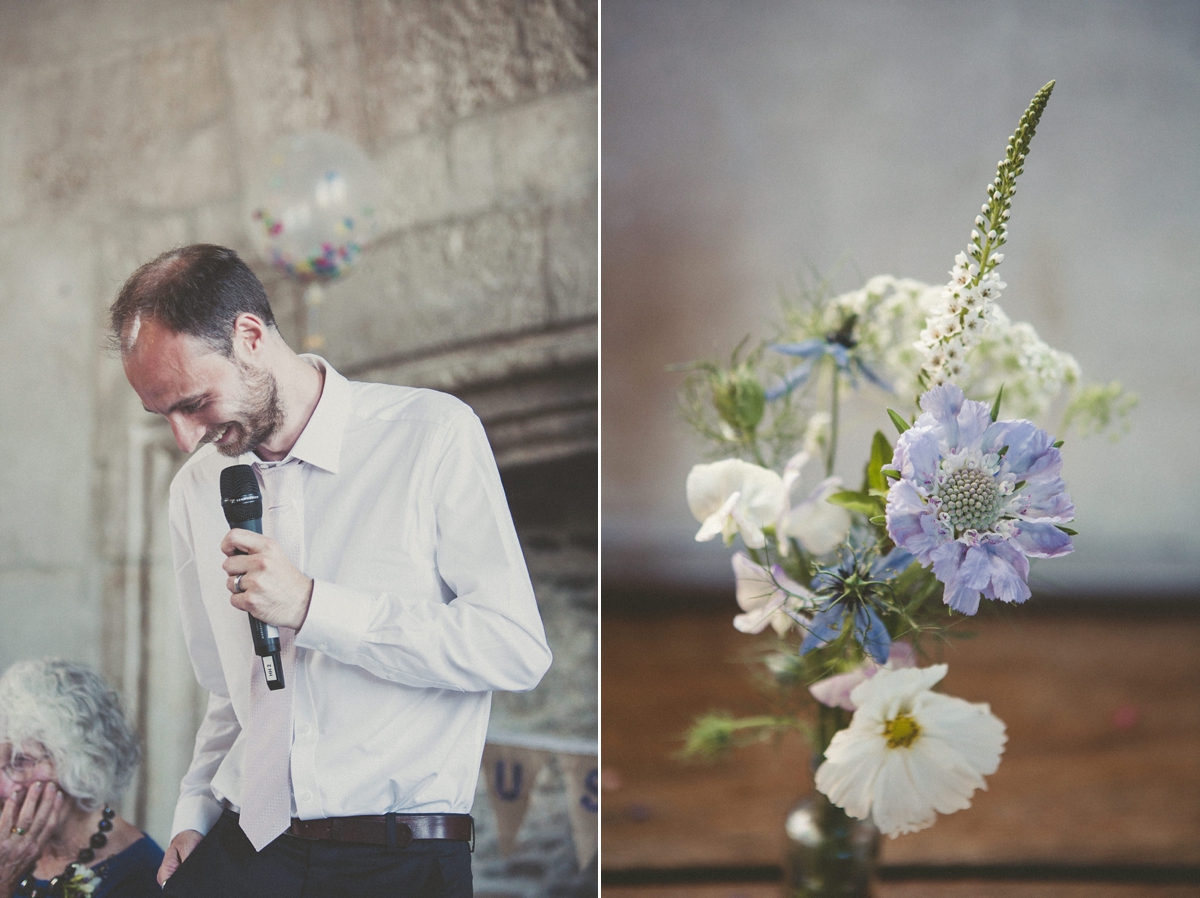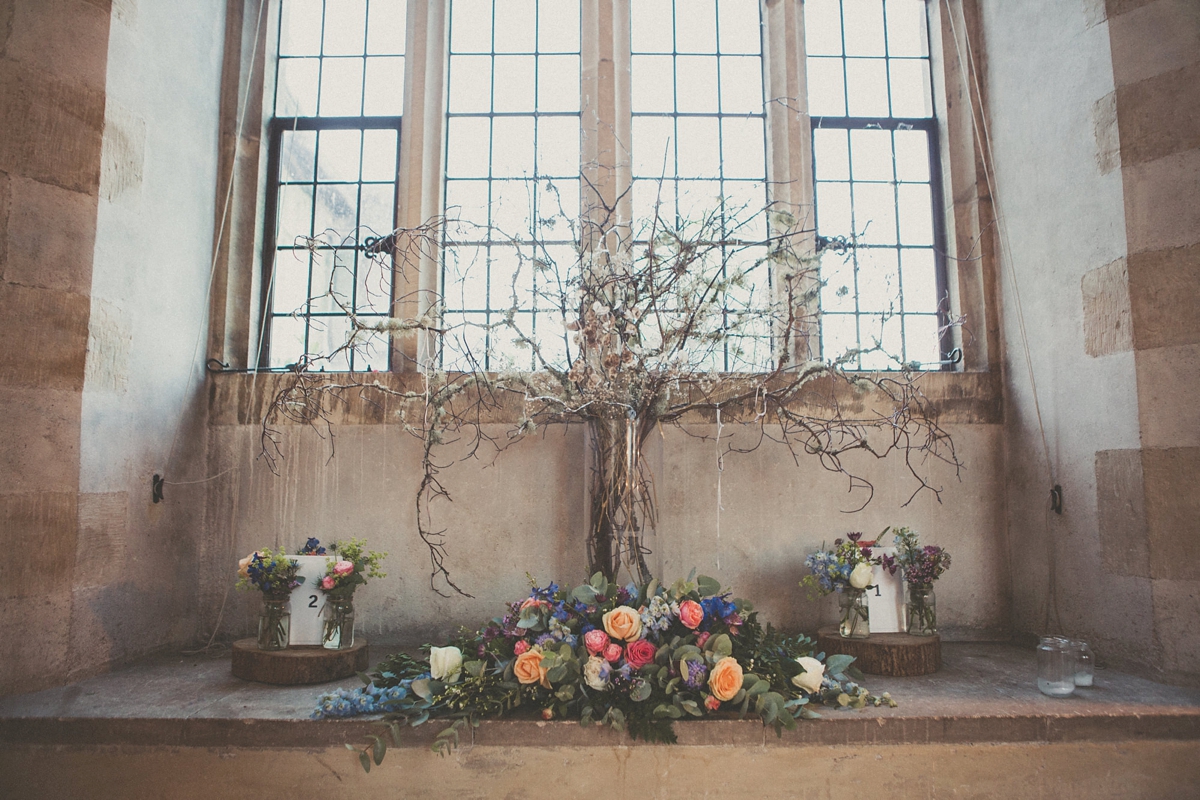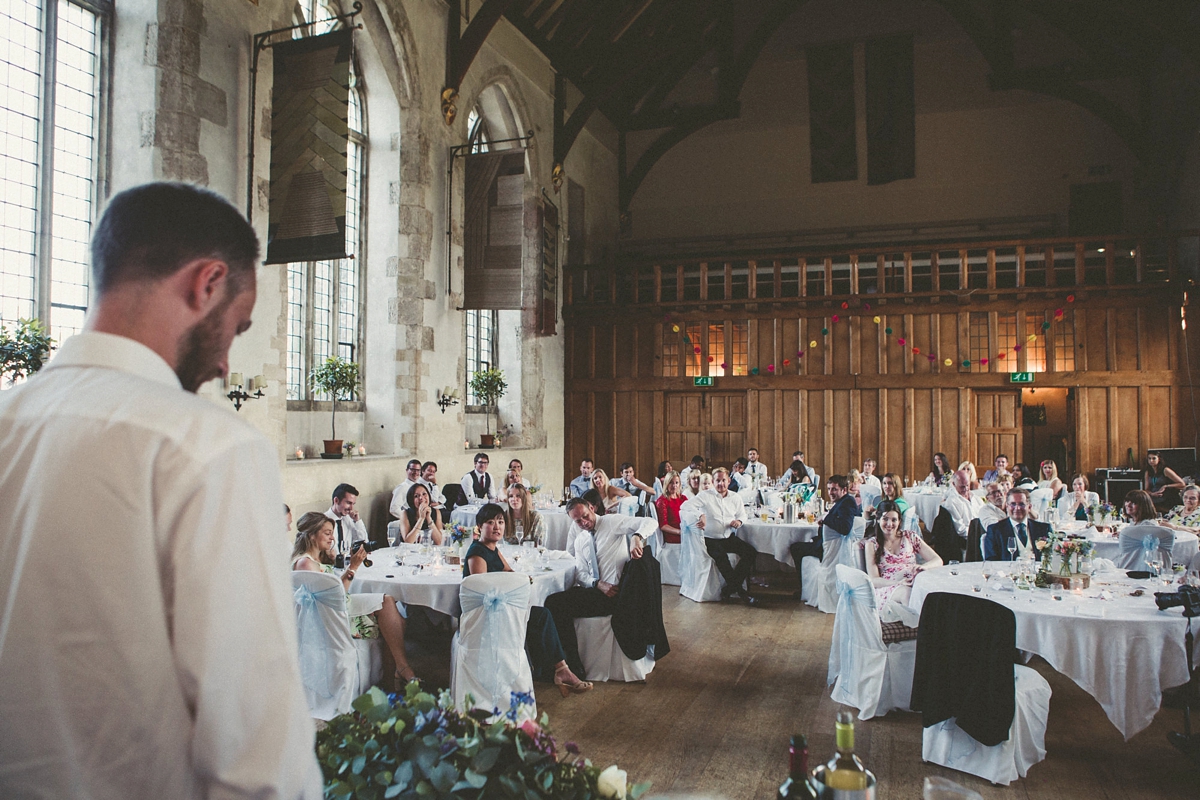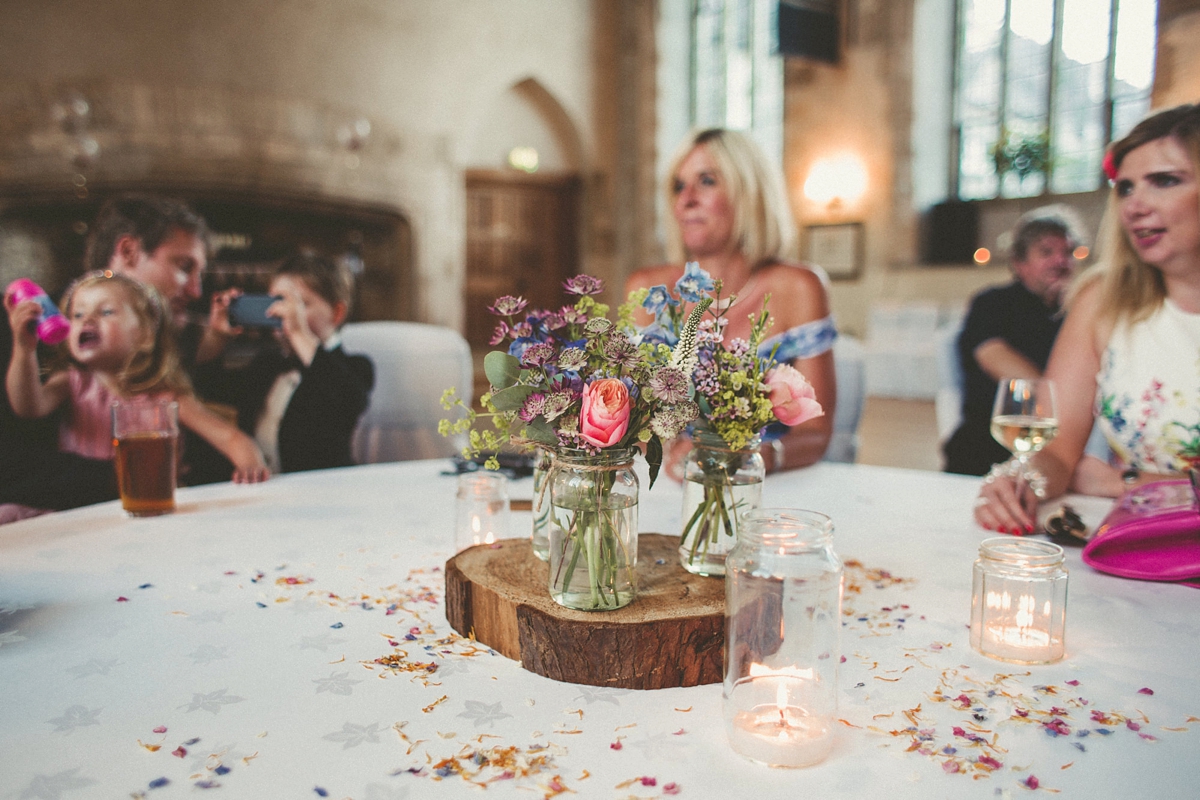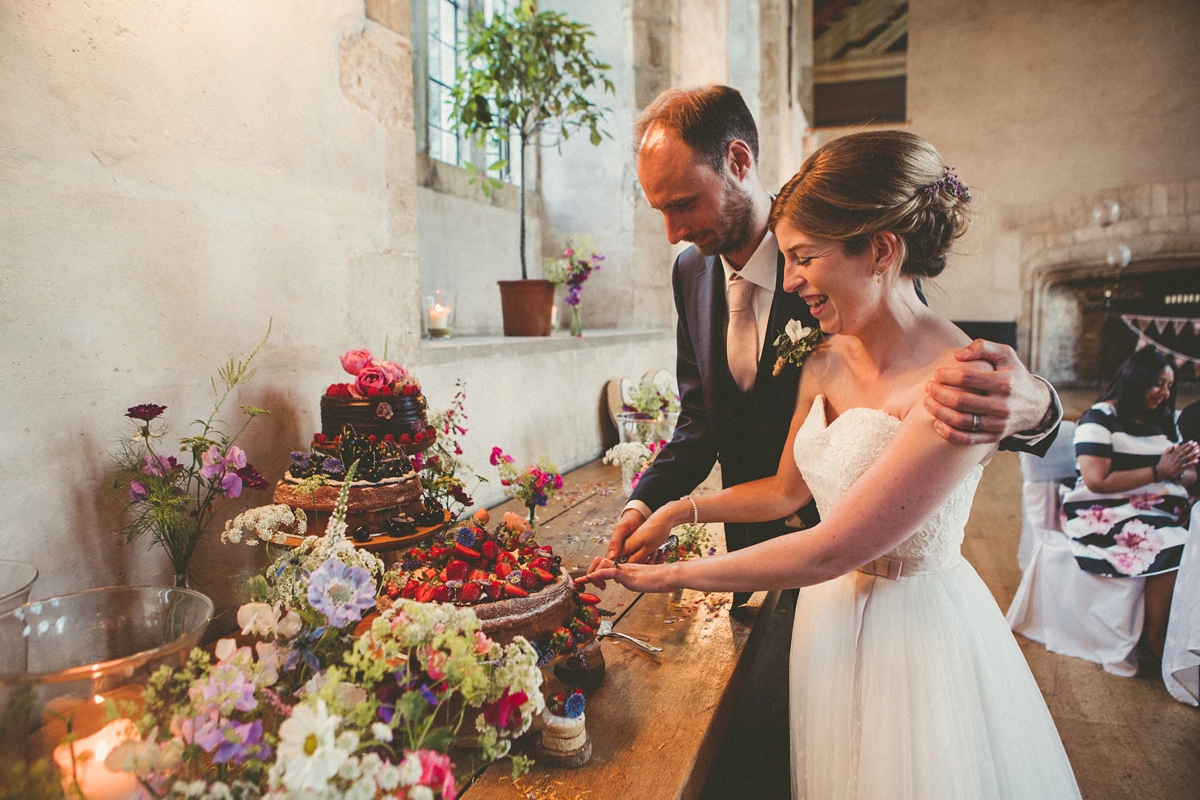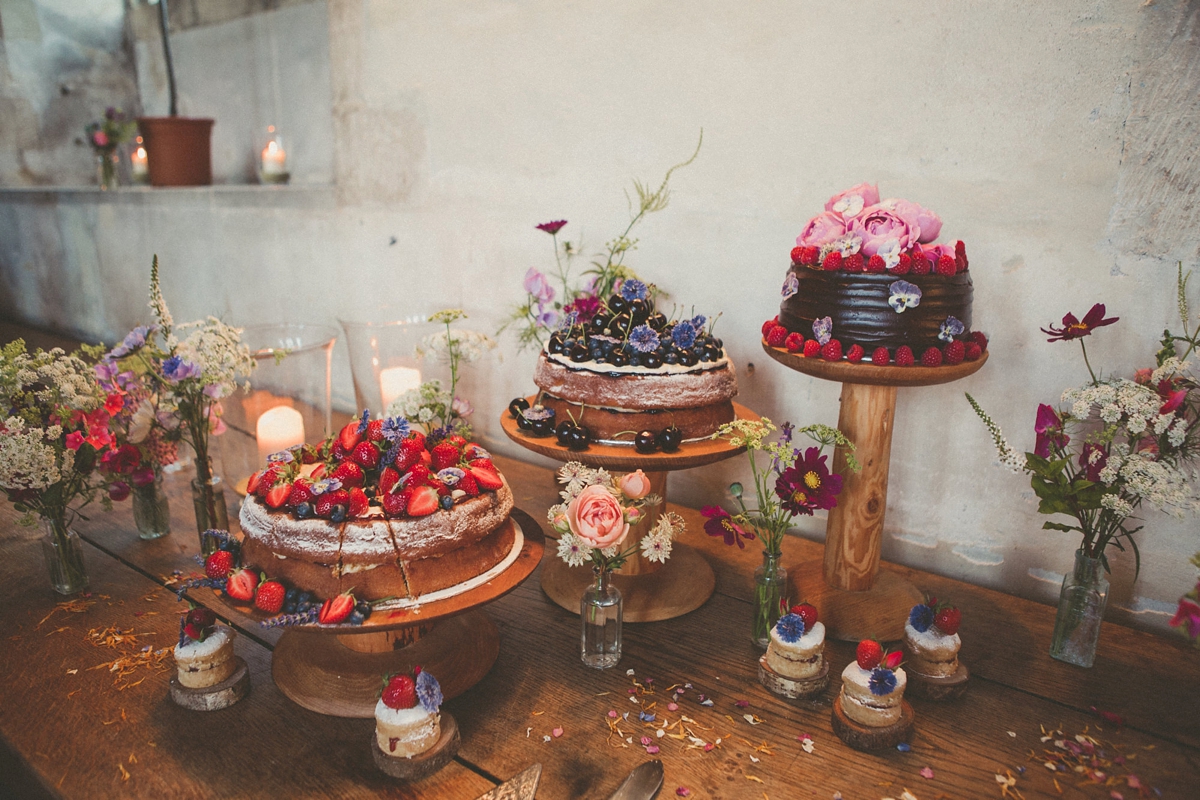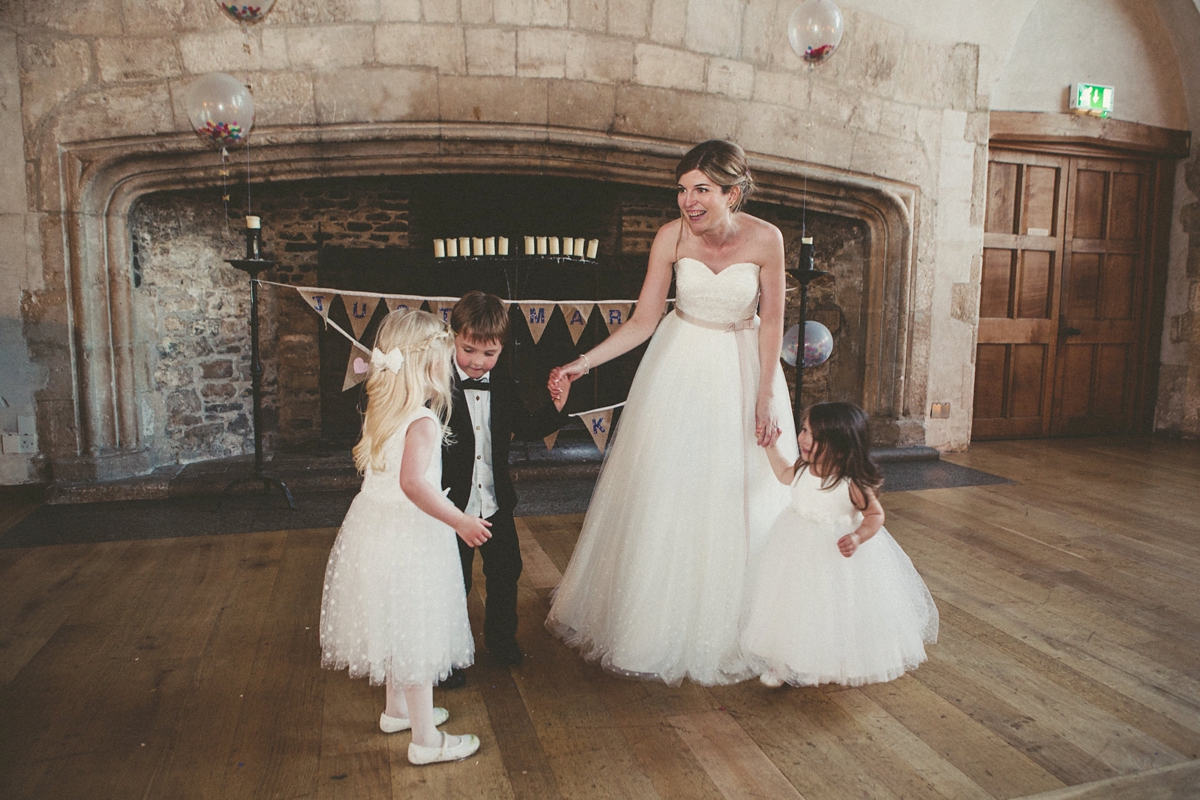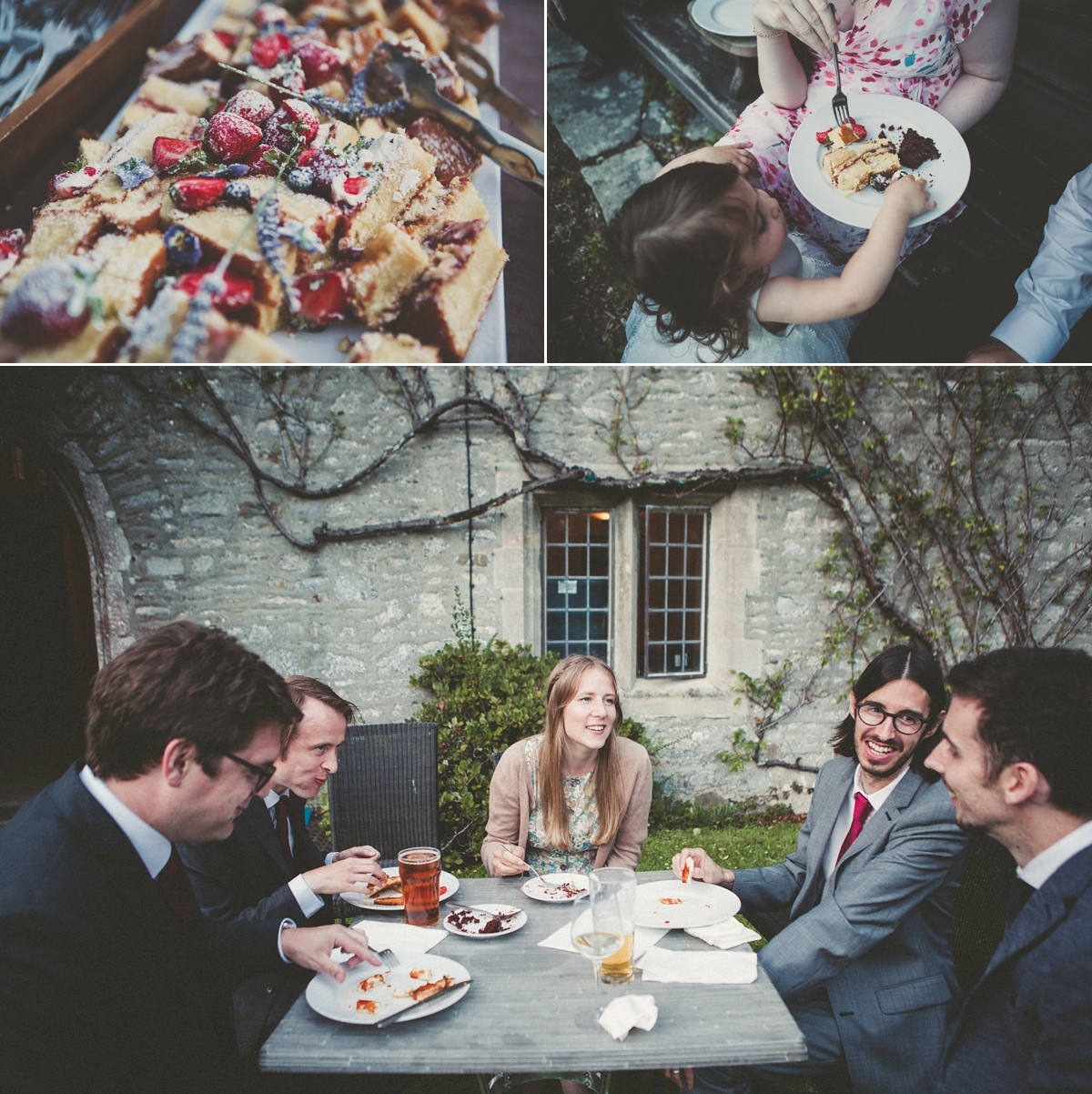 "My favourite part of the day was having sparklers at about 10pm. All our guests lined up and we tried to find lighters to light them all, it was hilarious and amazing all at the same time. Afterwards, we saved a few sparklers and used a long exposure to gain a picture of our initials and one of our guests, Murray, helped by drawing a heart in the middle."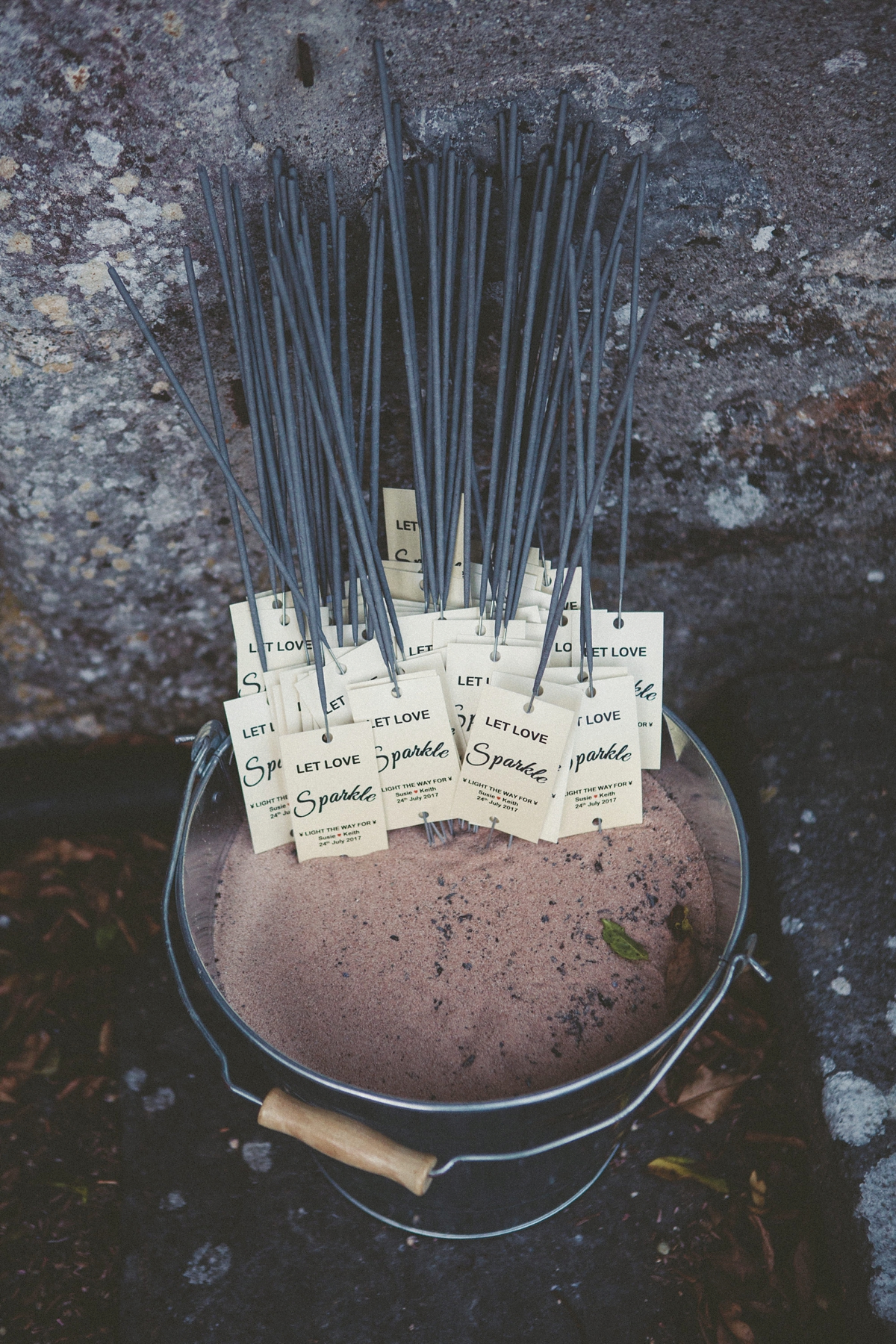 Words of Wedded Wisdom
"Planning a wedding can be difficult, especially if you're super organised like me. Accept help. I wanted everything to be created with one particular vision but with an incredibly busy job, it was good to let Keith run the planning for the details over the last couple of months. I assigned myself a few days of planning during school holidays, which helped to stop it taking over my life. You can still give creative direction while people are helping."
"When planning, the choice is pretty overwhelming. At first Pinterest boards helped to narrow down styles and designs we liked, then we quickly decided that we wanted to go with local suppliers as much as possible, for example by using Etsy suppliers to create bespoke designs. We tended to go for suppliers who lived in areas of the country we had connections with (e.g. Devon, Bristol and London)."
"Personalised touches are what made our wedding feel very special to us. Go with your heart and look online and use websites like Etsy to help you connect with people; you're supporting someone in their own creative industry, which is fab."
"On the day some things go wrong but it's really good to go with the flow. Also remember a wedding is a bit like any special day, there are still only 24 hours. Schedule in some time to have a wander together and just soak up the atmosphere – even if it's a short walk away from your guests, you'll be glad of that time together."
That just leaves me to say a huge thank you to the lovely Susie, Keith and of course Emma Stoner Photography for sharing this beautiful summer celebration with us all. I'm now in desperate need of some sunshine and a bouquet of vibrant blooms!
With love
Em x