What's the theme or style of your big day lovelies? One of the things I adore most about the gorgeous couples we feature here on Love My Dress is how they create such stylish and totally bespoke weddings incorporating their favourite things.
Alex and Joe's utterly glamorous wedding on the 18th of August 2017 contained loads of references to 'Old London'. Get set to be inspired by their stunning day, as you view their ceremony at The Asylum and the reception at a pub along the River Thames in this snapshot caught by their photographers Emily & Steve.
"We love anything and everything old fashioned, so our theme of the day was 'Old London'! We had Routemaster buses, cigars and whisky, newspapers for our order of services, and a record player in the venue. We choose The Asylum because we love the dark, derelict haunting feel it has and it suited our personalities and style of wedding. You can't not love it, it's a beautiful building and I fell in love in an instant when I saw it."
Alex chose a 1920's beaded beauty by Eliza Jane Howell – a treasured member of our wedding directory Little Book for Brides – via The Bespoke Wardrobe.
"I'm not a typical girlie girl and have a very straight up-and-down figure. I usually wear shift dresses so knew I wanted something that I would be comfortable in. I love anything from the 1920s and as soon as I put this dress on I loved it; especially the train that came away at the back and all the beautiful beading."
"Joe and I met six years ago through a friend on a night out. We were engaged for one year before the wedding. Joe proposed in Kefalonia in Greece during dinner on the beach just as fireworks went off. My friend who introduced us always told me that she knew a boy that she thought I would love, a year later we actually met and we found out she was right."
The glamorous bride shared her mum's Chanel scent on the day and added dusky pink heels from Monsoon (another one of our hand-picked suppliers in our handy little directory) and an exquisite beaded hair piece to match style of dress (designer unknown).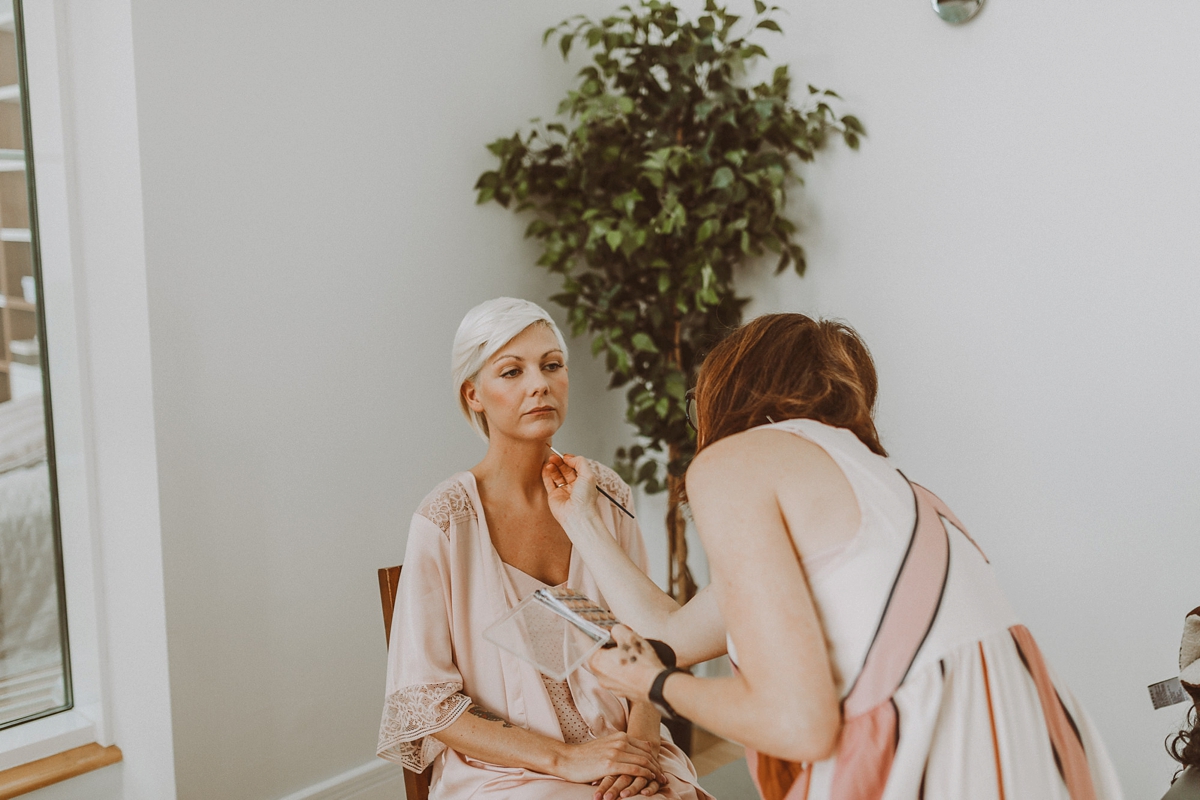 "I started with eight bridesmaids and eight matching dresses! However, over the months leading to the wedding, 4 of the bridesmaids became pregnant (call me the baby whisperer!). All the dresses went back and I opted for a mix and match theme, which I ended up loving even more than the original dresses. These were from all over but mainly from ASOS all in neutral tones – and Tracy Mead and her team at The Bridal Stylists did our make-up and hair."
"Our florist was Red Eden & Olive based in Clapham. I couldn't recommend Juliet more, she absolutely nailed what we asked for. I didn't want much colour and mainly foliage for the bridesmaids and we also had two beautiful urns for both venues."
The groom's stylish tuxedo was by Charles Tyrwhitt and paired with a gold Albert chain and totally fitted in with the old fashioned theme.
"Joe always knew he wanted a tux, as it suited our style and the day. The best men's and ushers suits were hired from Moss Bros – they were exactly what we needed and the boys looked so smart on the day – and they all wore braces whilst the groom had a waistcoat."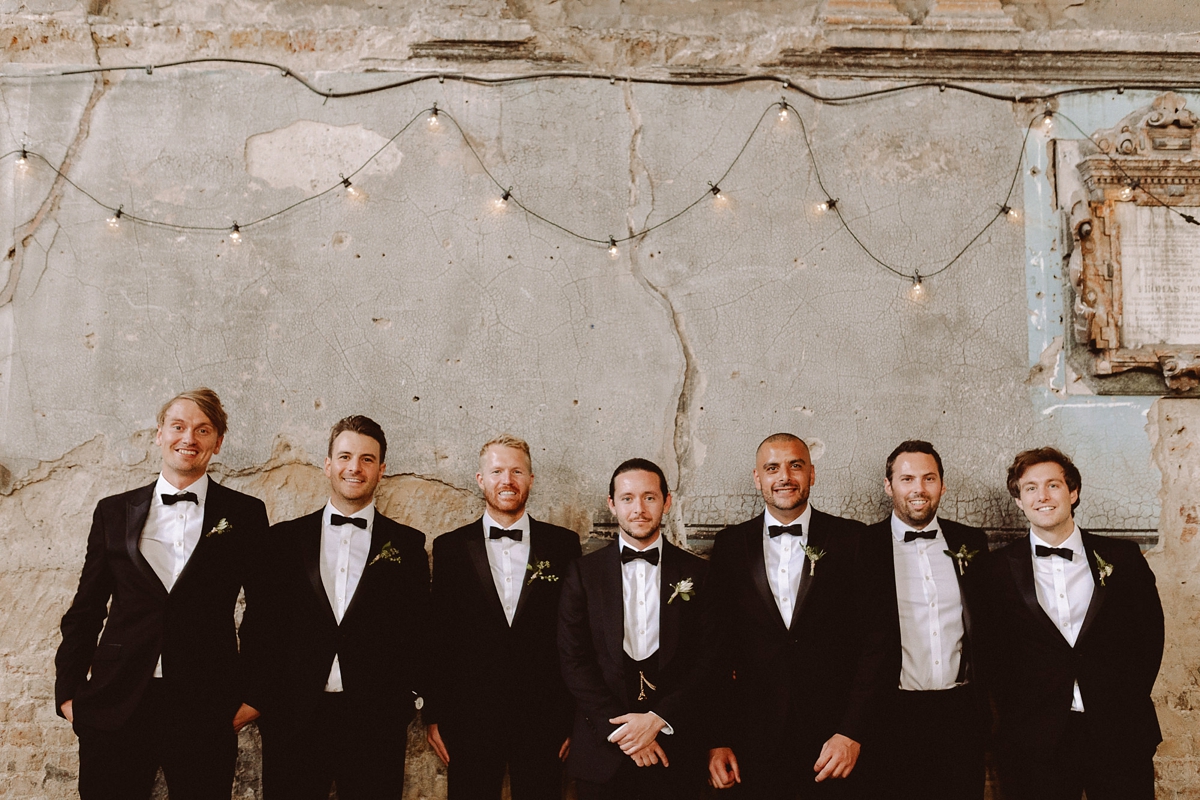 "My dad walked me down the aisle which was lovely, a memory that you won't forget, to Lana Del Ray's 'Young and Beautiful'. The song means a lot to us and it sounded so beautiful with the acoustics of The Asylum. There was something very haunting about it."
"Our registrar was Ricardo Jackson from Southwark Council and oh my, did he make the ceremony amazing. He was so much fun, everyone commented on how much they enjoyed it and didn't know what he was going to do next!"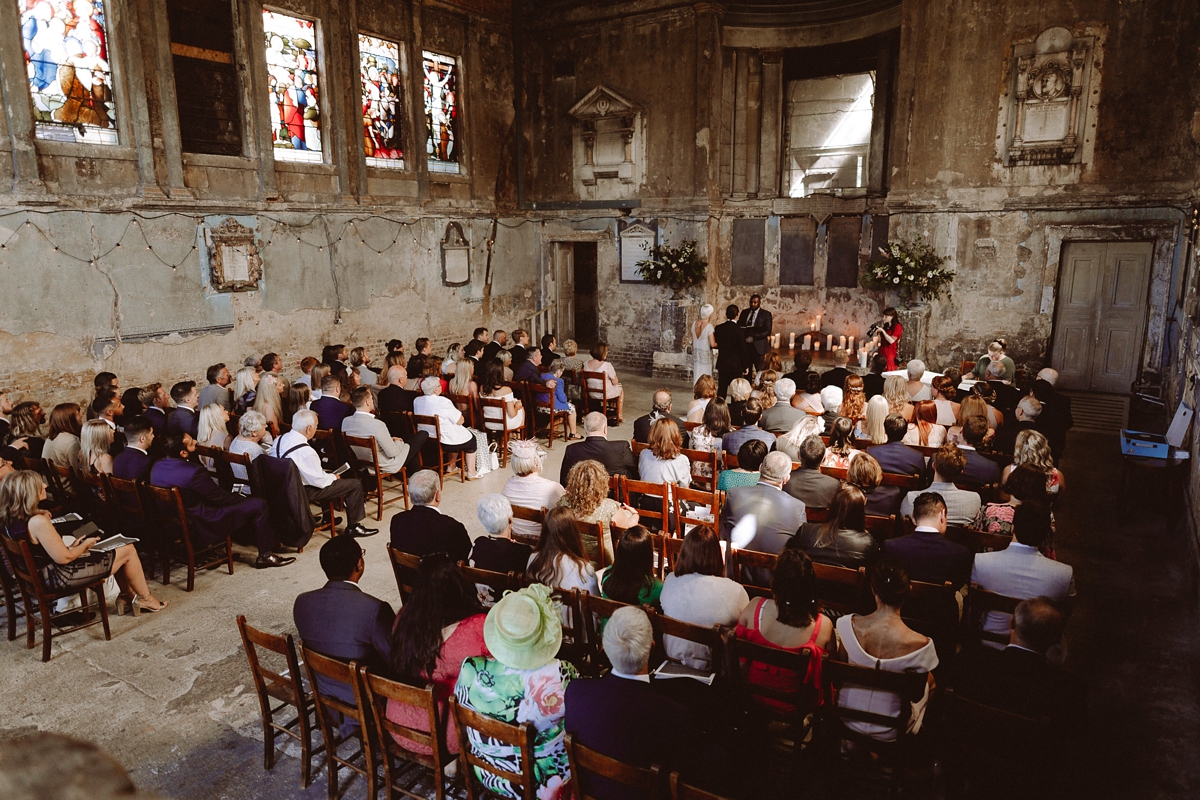 "We didn't exchange our own vows but we did get everyone to sing a song – 'It Must Be Love' by Madness on vinyl and played it on a record player we bought each other. The song was special because on my nan and grandad's 50th wedding anniversary my grandad sang it to my nan in front of everyone."
"My nan sadly isn't with us anymore so this was a tribute to her; she would have been so happy to see it and I wanted to do something for her on the day. Everyone was singing their hearts out and it was a very special, fun alternative."
"My brother Ben did a reading of 'He's Not Perfect' and it was actually written by Bob Marley!
He's not perfect. You aren't either, and the two of you will never be perfect. But if he can make you laugh at least once, causes you to think twice, and if he admits to being human and making mistakes, hold onto him and give him the most you can. He isn't going to quote poetry, he's not thinking about you every moment, but he will give you a part of him that he knows you could break. Don't hurt him, don't change him, and don't expect for more than he can give. Smile when he makes you happy, yell when he makes you mad, and miss him when he's not there. Love hard when there is love to be had. Because perfect guys don't exist, but there's always one guy that is perfect for you.
I absolutely adore this memory from the couple's big day which was their favourite moment. If only one could bottle these feelings!
"I think our favourite part of the day was the ceremony. You are so full of emotion and that first moment when you see each other and reassure each other is very special. We were both trembling with nerves and had hold of each other very tightly."
"Looking out to the crowd and seeing everyone you love watch you marry the man you love in such a beautiful setting is just a wonderful wonderful feeling. I just wish you could bottle it up. I also loved the speeches – seeing everyone laughing and hearing such nice things being said is very touching and for weeks after I just felt so full of love for everyone."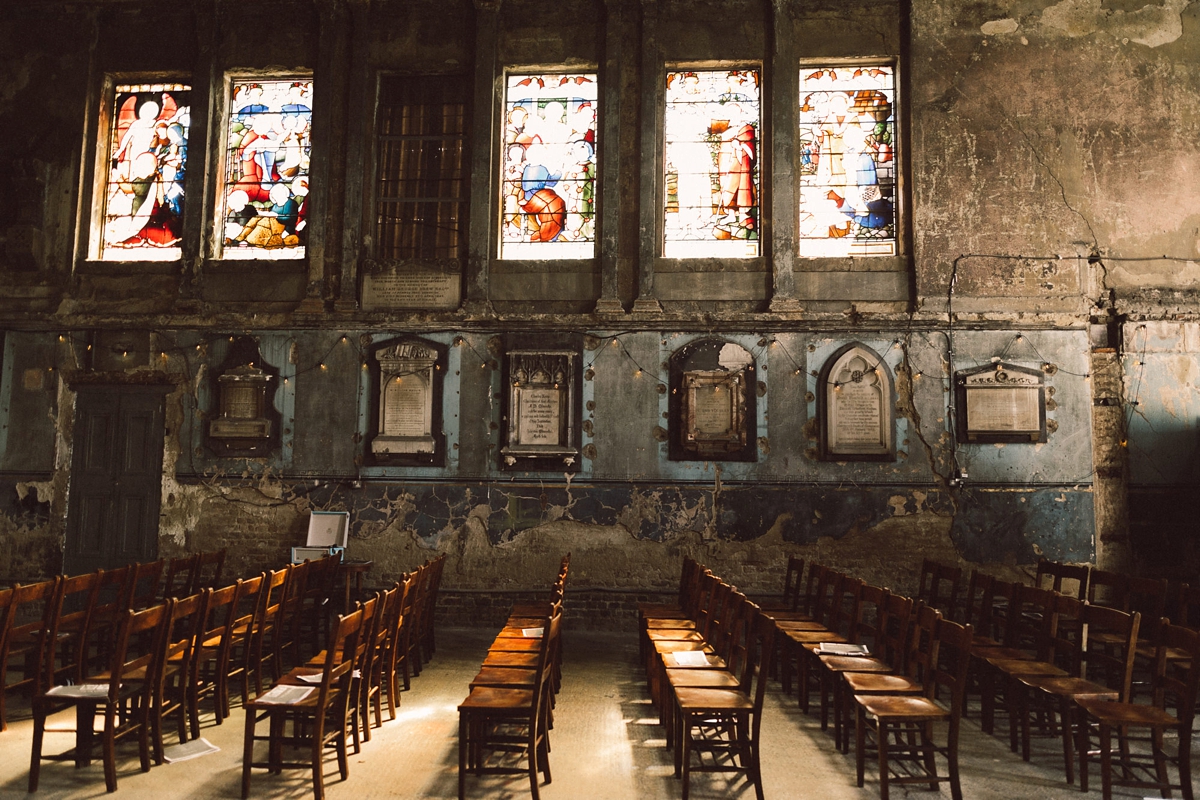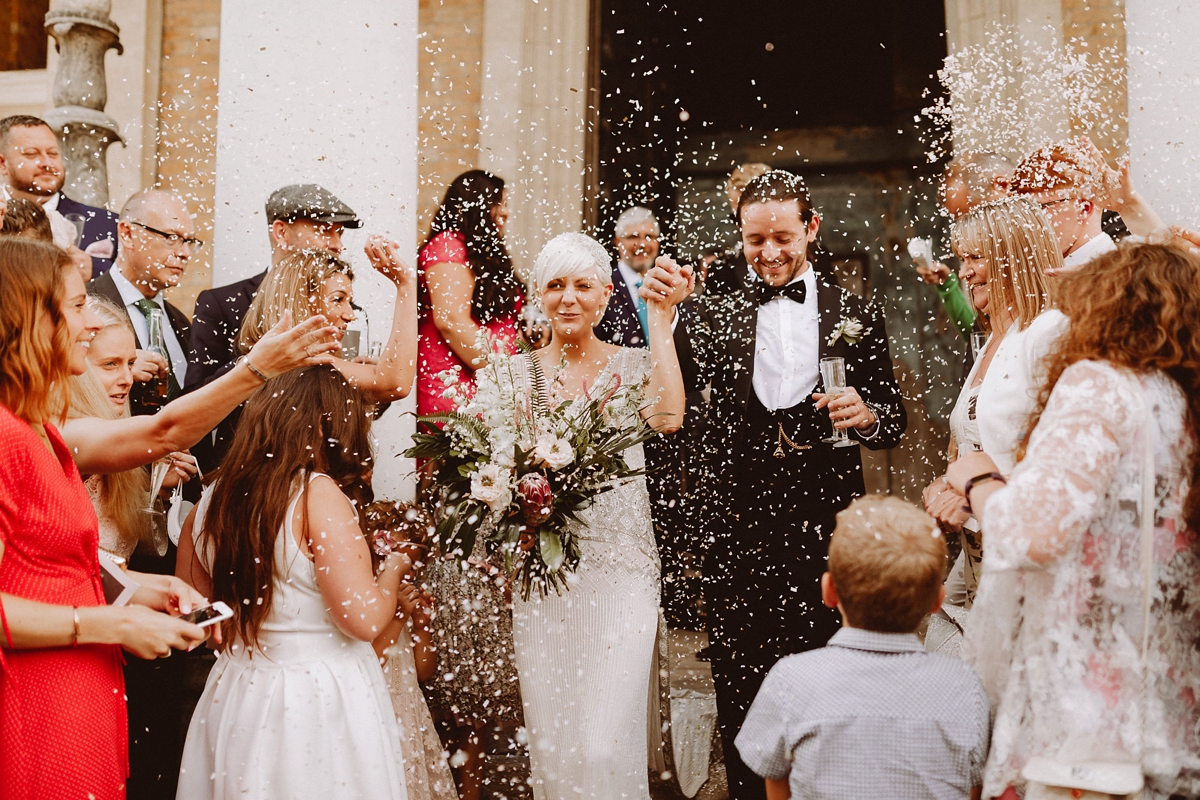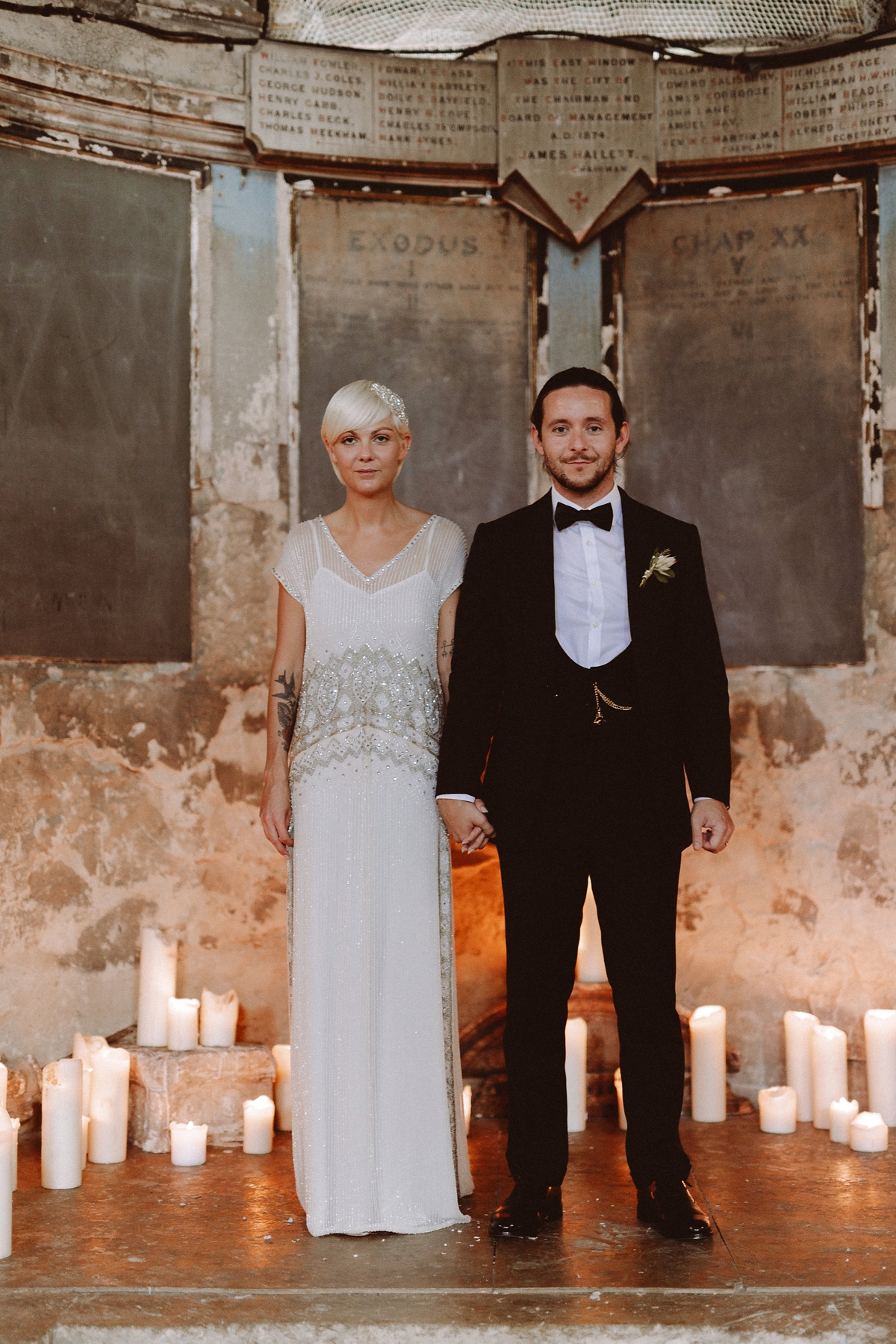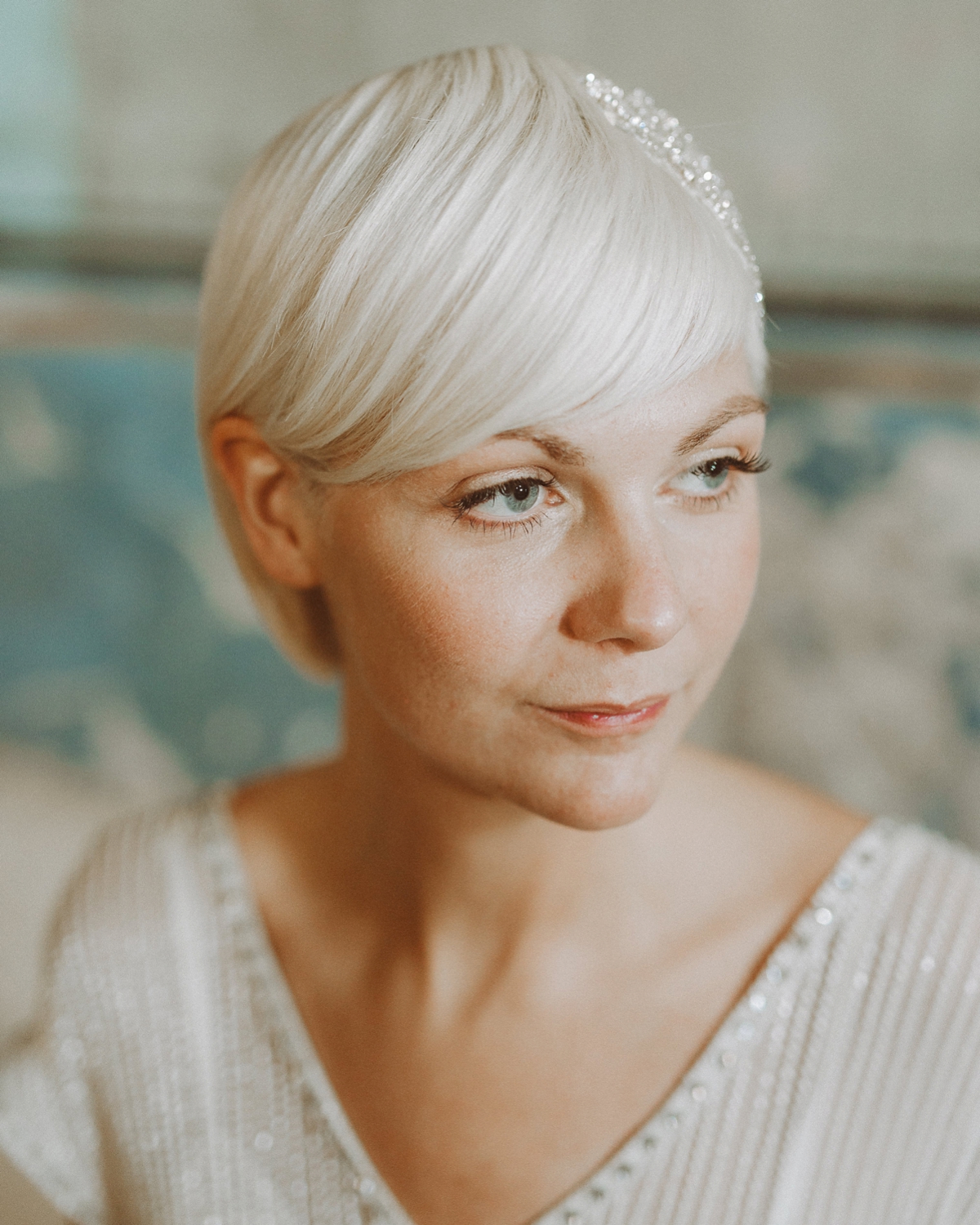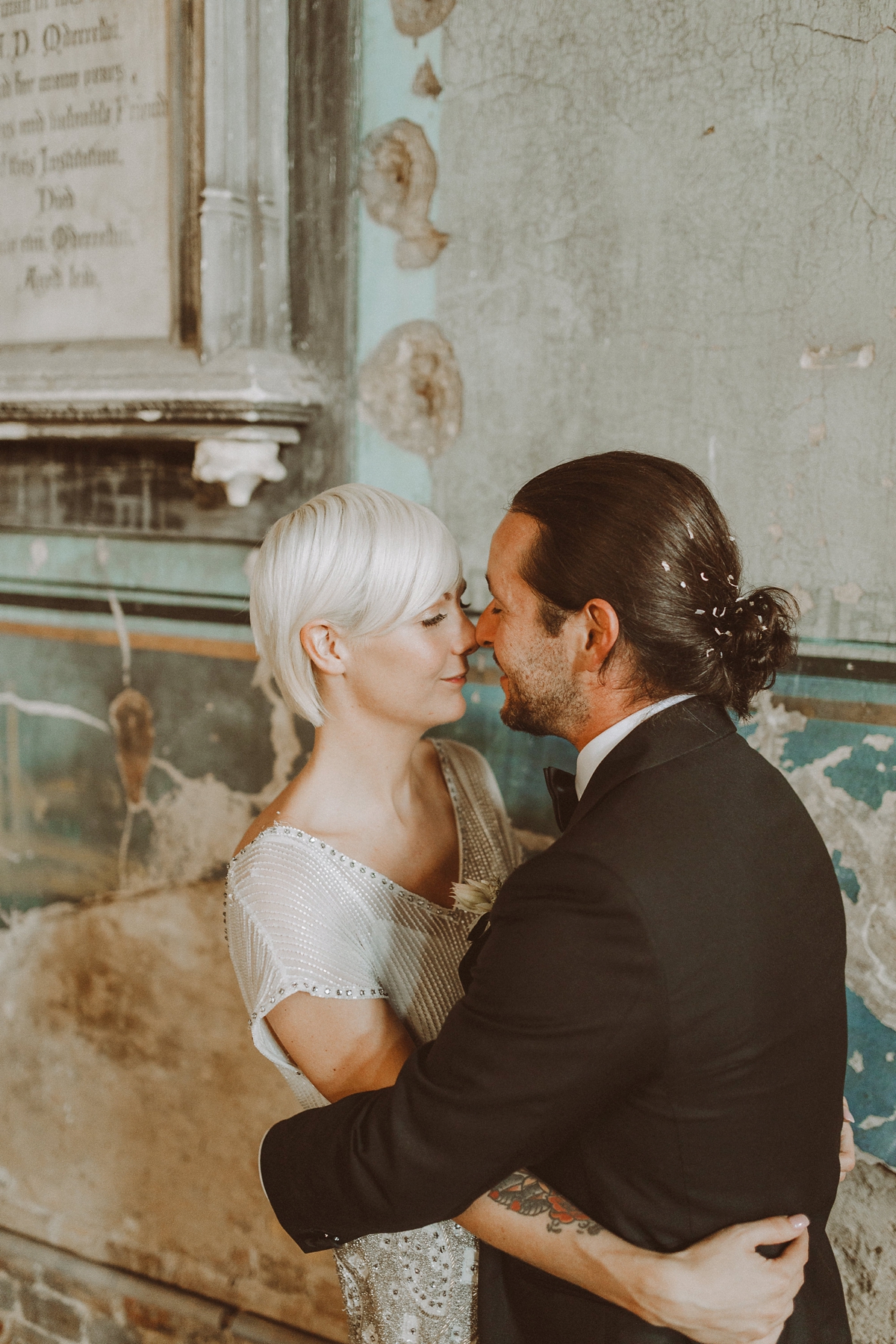 "We have always loved Greenwich and The Trafalgar Tavern was actually the pub we were sat outside when we first spoke about getting married. We now live in Greenwich, 5 minutes away from our venue which we walk past every day. I love the history of it and the beautiful views of the river from all the open balconies. It couldn't have been more us and I smile every day when I walk past it."
"Everyone travelled to the reception in two Routemaster buses (of course!) and we had a 60's playlist on the bus including Jackie Wilson, The Beatles, and The Kinks."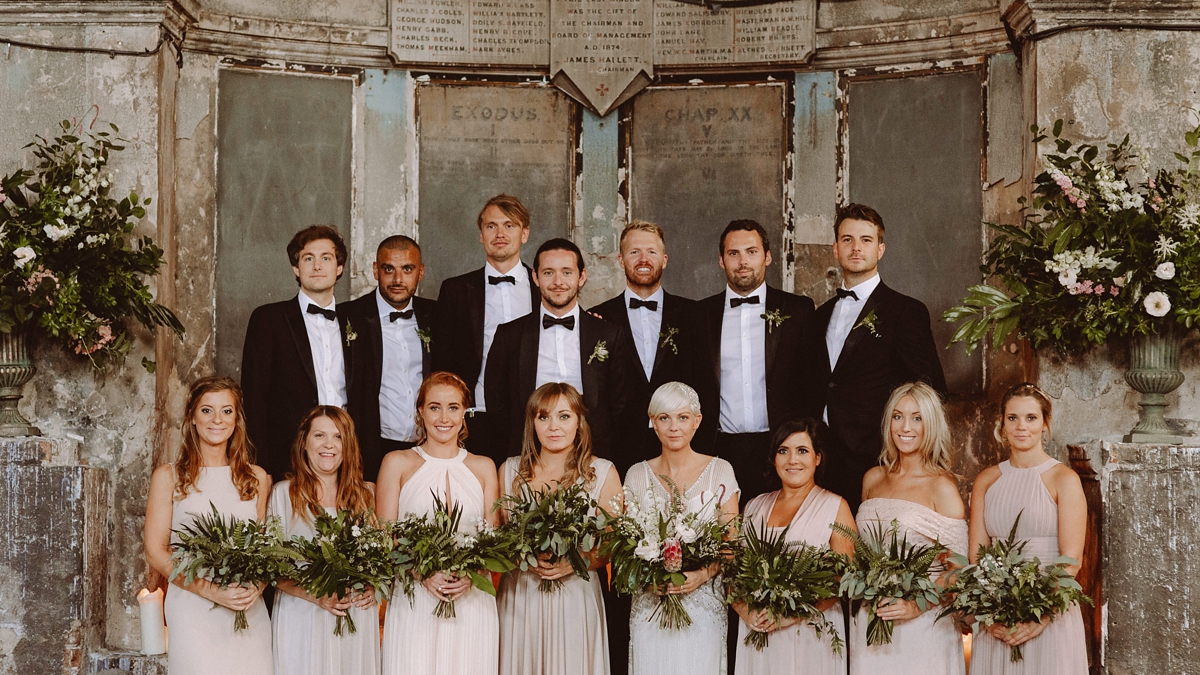 As the couple are both arty and creative, they wanted everything to be their own ideas, so sorted out the various stationery items (with help from Alex's best friend) and decor for styling the pub. I am in awe of their brilliant gin bottle table plan – what a work of art!
"Joe and I hand drew the seating plan ourselves and we just loved designing it. It was a gin bottle theme as every table was a different type of gin – our favourite tipple of course. Then the table centre piece was the gin bottle with flowers in. I also collected a mix and match of candle holders from charity shops for months to decorate the tables."
"My best friend Jane and I designed all the wedding stationery ourselves and got them printed. We also designed our newspaper order of service which was one of my favourite things of the wedding. It was great to see everyone enjoying them and I loved getting my creative side on. They had a page of photos, a page about the history of the venues, a page about the bride and groom's party and then a song on the back. Every page was named after a song. We got them printed via Newspaper Club."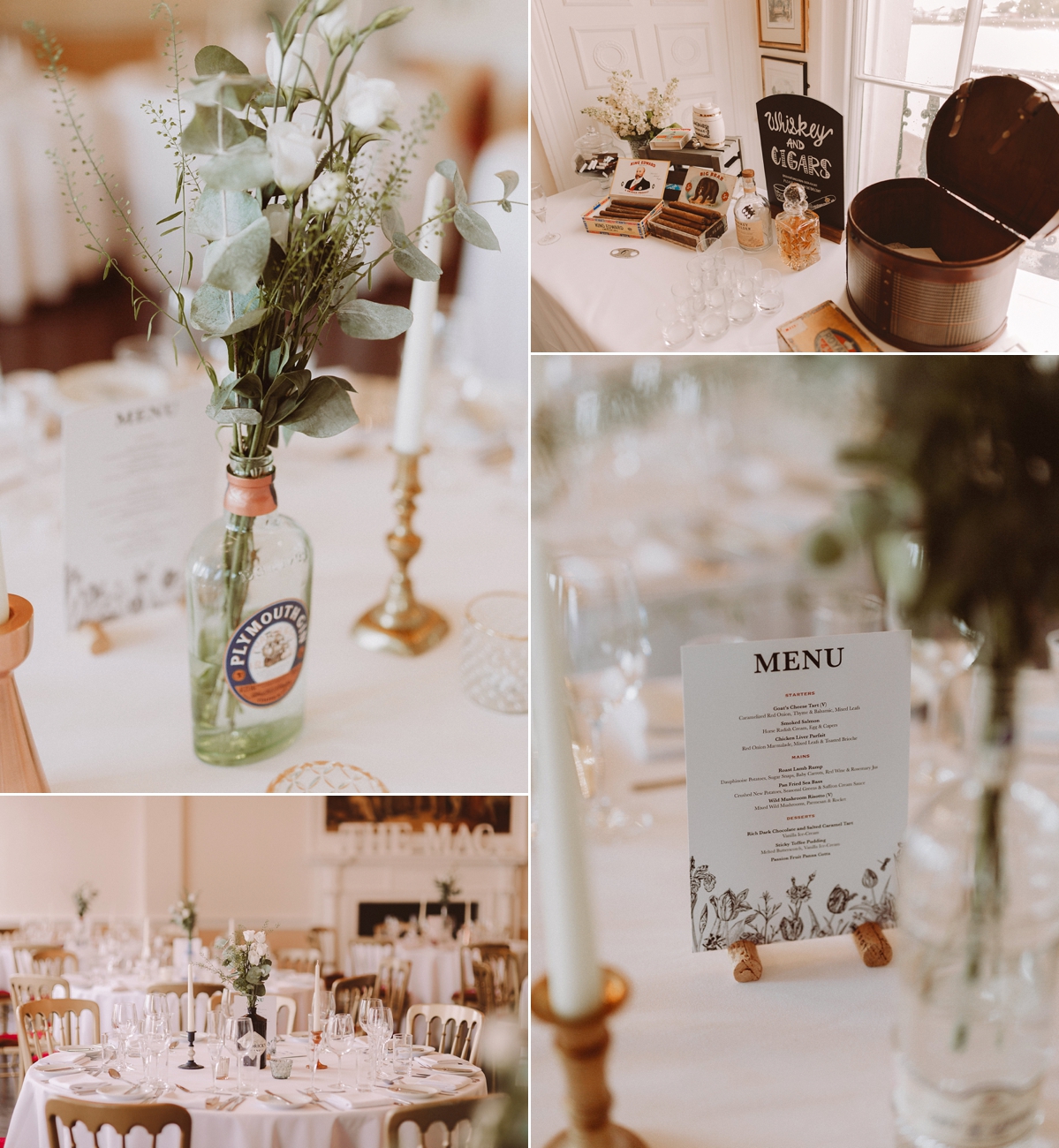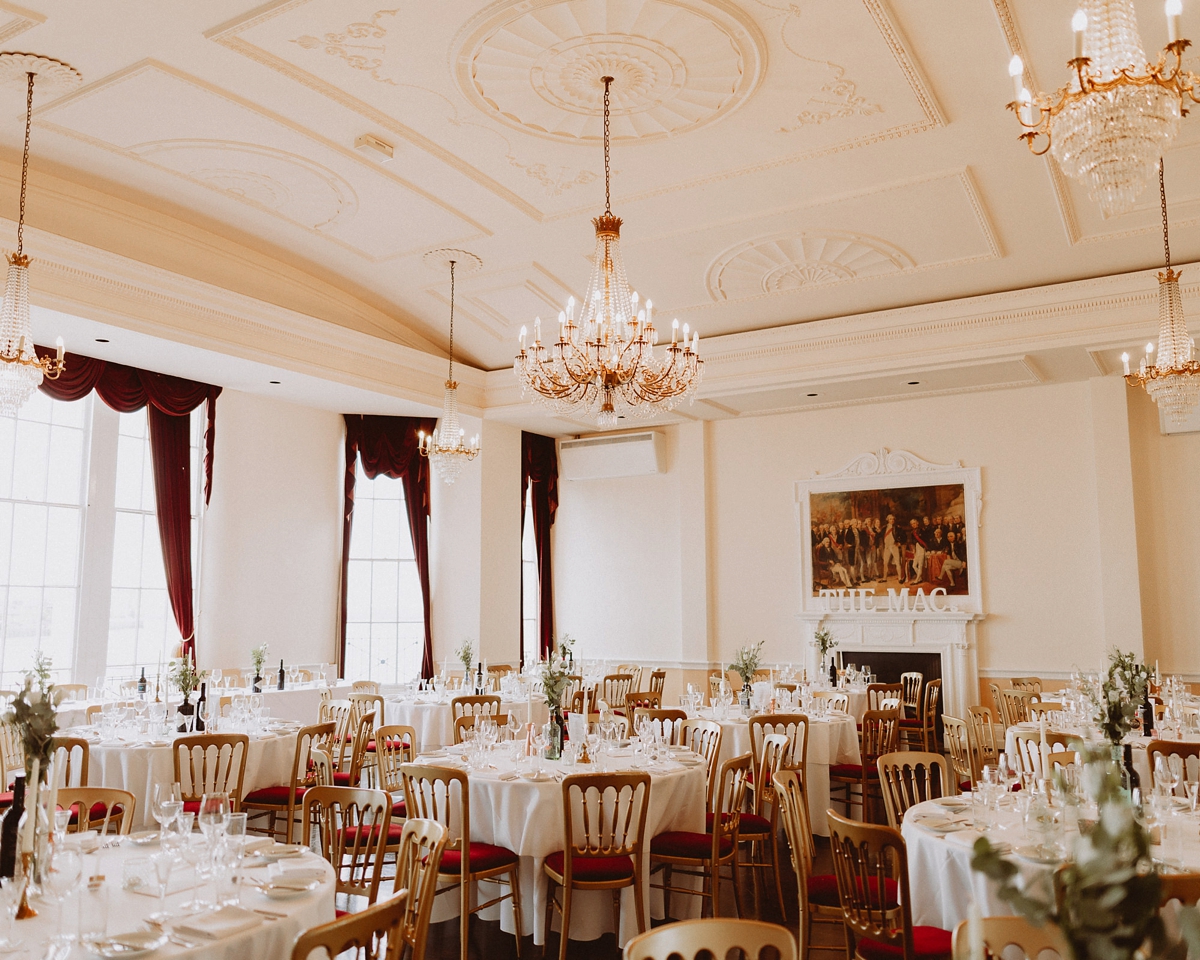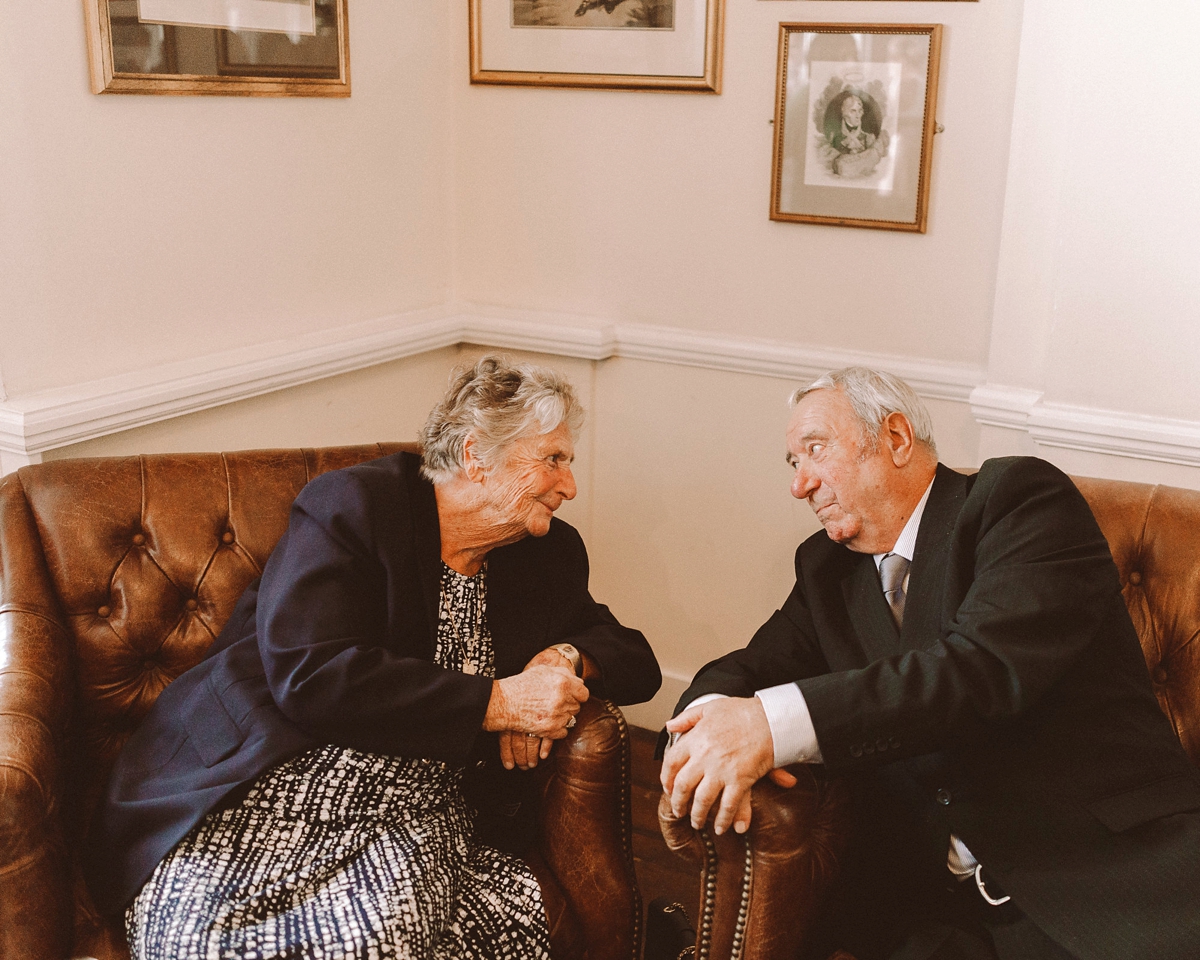 Fitting in nicely with the 'Old London' theme were the decanters of whisky – and cigars that were brought back by the bride's brother from Costa Rica, which people could smoke on all the balconies along the River Thames.
"Hayley Stanton is well known for her quirky cake designs. We went for a black chalkboard cake and the layers were chocolate orange, pistachio and red velvet."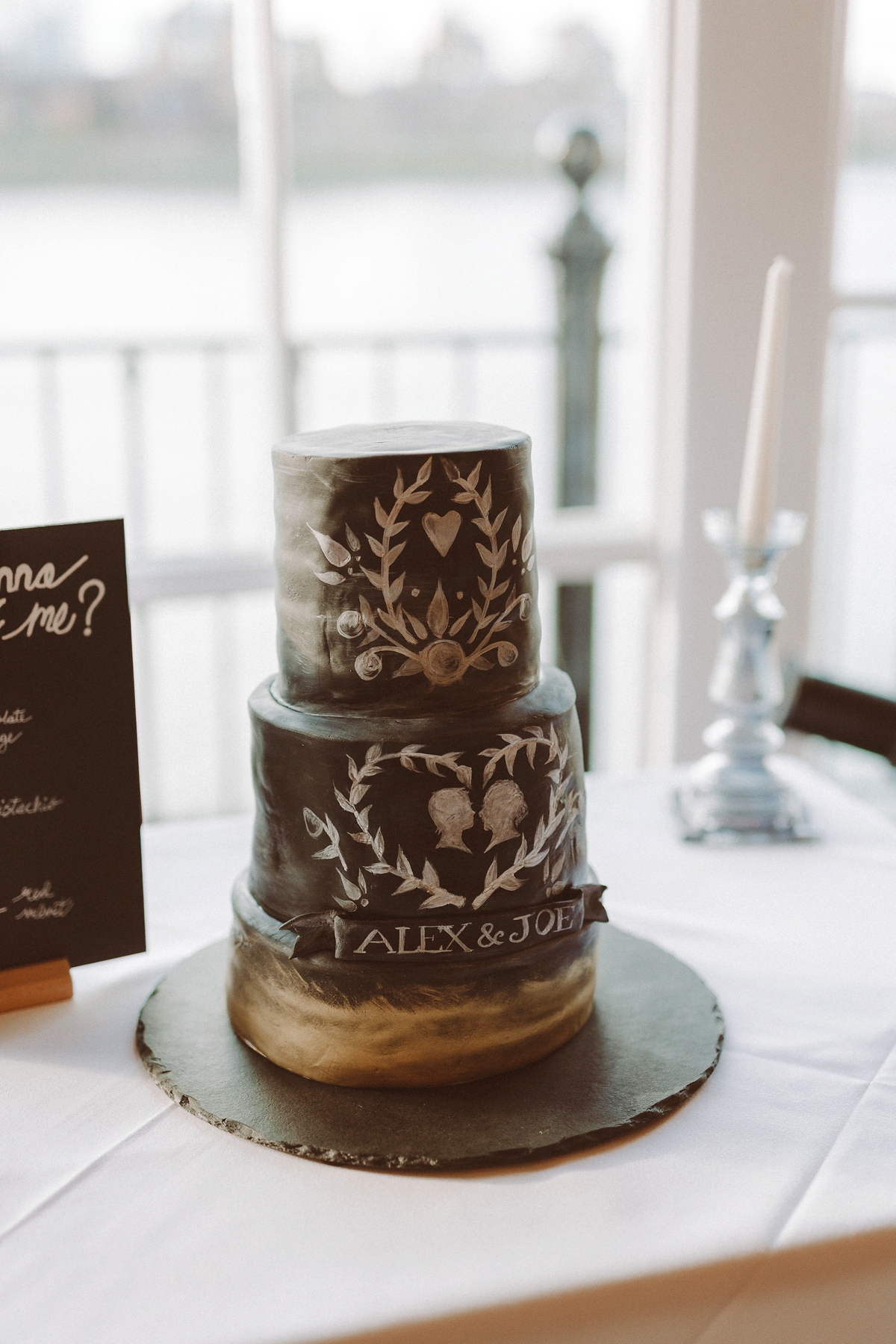 "Our favours were a shot – we brought shot glasses for everyone and had a bride's choice and a groom's choice which the ushers went around with."
Music was a massive part of the couple's day, with a range of eclectic artists including Ray Charles, The Beatles, Jackie Wilson, the Drifters, and Bay City Rollers. They arranged a singer/pianist for the day and a band for the evening.
"We booked our daytime singer and pianist Lily Davies through Alive Network. She set the mood perfectly for our day, singing old blues and swing and has a really beautiful voice. Our band Alive were absolutely amazing and had everyone dancing all night, so we couldn't have been happier when they started playing."
"They even got the groom up to join in with his favourite Strokes song. They played mainly a lot of old rock songs so everyone loved them. The first dance track was 'Baby I'm Yours' by the Arctic Monkeys. The song suits us down to the ground with its very old sound."
"Joe and I made THE MACS sign for the fireplace and we had a 'Death Till Us Party' sign for the dance floor."
Words of Wedded Wisdom
"Enjoy yourself – everyone says the same thing. But just simply enjoy yourself, don't worry about things going wrong or tiny details not being quite right. What people will remember is that they had fun! You won't remember anything else. Don't forget to dance the night away, my feet didn't leave the dance floor once our band started.
Take time out every now and again to be with your new husband and take everything in, it goes too quickly not to."
"Tailor your day to you, don't try and do things just because they look good or other people had them. If you understand it, that's all that matters.
Love My Dress gave me inspiration throughout. My favourite feature is the real weddings – I loved looking through them and getting real inspiration and hearing what brides have to say about their days."
"Our original budget was around £22,000 – we exceeded this and ended up spending around £30,000. We don't regret over spending, as we are proud that we were able to save the money and now we have a wonderful day to look back on."
Oh my. I've not been to The Asylum, but on my next trip over the seas am going to add it to the 'must-do' list and pop by. If you've fallen for Alex and Joe's ceremony venue, I urge you to check out more decayed decadence examples here from our LMD archives.
Thank you so much to Emily & Steve for sharing all the sweet details of the couple's simply stylish big day and capturing delightful memories they will forever treasure.
Love Jo -xo-