Hi lovelies, I hope that those of you who've returned to work after the Christmas break are easing back in gently. I have a beautiful celebration to share with you today, sure to banish those January blues.
Lucy, brand editor for Threads, a luxury social commerce company, wed husband Dickon, a project manager at Dentsu Aegis on 3rd November 2016. Their ceremony was held in St Michael's Church, followed by a fun-filled reception at the utterly fabulous Aynhoe Park right next door.
"We chose an Autumn wedding because we love the beautiful colours at that time of year. Our venue, Aynhoe Park, is so full of hidden curios and nooks and crannies that it lent itself to everyone staying cosy while exploring the house. It was the only venue we viewed – and the only place we could have imagined holding our wedding. It's eccentric, spectacular and full of history (and stuffed animals; something we share a love of). What's more, the proximity to Oxford was important to us; Dickon was born there, and I studied at the university."
Images by Andy Gaines Photography
Lucy layered a chapel length silk tulle veil over her incredible feathered Lanvin gown – soft and completely unadorned, simple but luxurious. She echoed this latter sentiment when it came to her shoes, finding a pair of mid-heeled, ivory satin Jimmy Choo at Bicester Village that she wore all day.
"My dress was by Lanvin, and purchased for an absolute bargain on The Outnet. It's a past season dress that I'd always loved, so I was very lucky to spot it online. With its slim silhouette and feather trim, it was much more me than a ball gown, while the modern Art Deco mood fitted the venue perfectly."Our bride wore Vanille Galante by Hermès, a light, creamy and distinctive fragrance and an ode to Lucy's favourite flower, with lots of ylang ylang. She added some pearl earrings from Liberty in Love, keeping her accessories simple and minimal.
"My bridesmaids and I had our hair put up in messy chignons and buns by the cool and gifted Shelley Brookes from Daniel Hersheson, while our natural make-up was left to the expert hands of Natasha French. I had the bridesmaids' dresses custom made from a seller on Etsy as I'd become a bit obsessive about the idea of ivory velvet multiway dresses."
"I asked my girls to wear metallic shoes and pearl jewellery of their choosing – I wanted them to feel like them on the day, rather than me just dressing them up identically."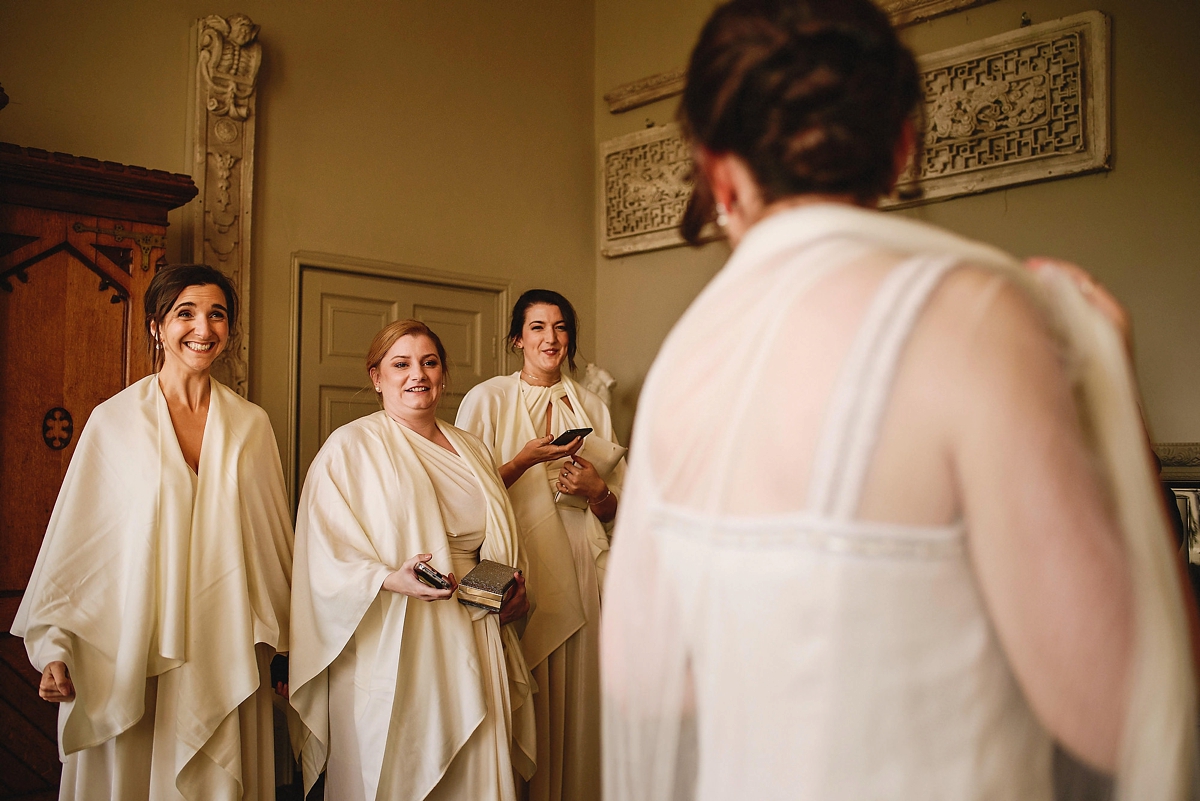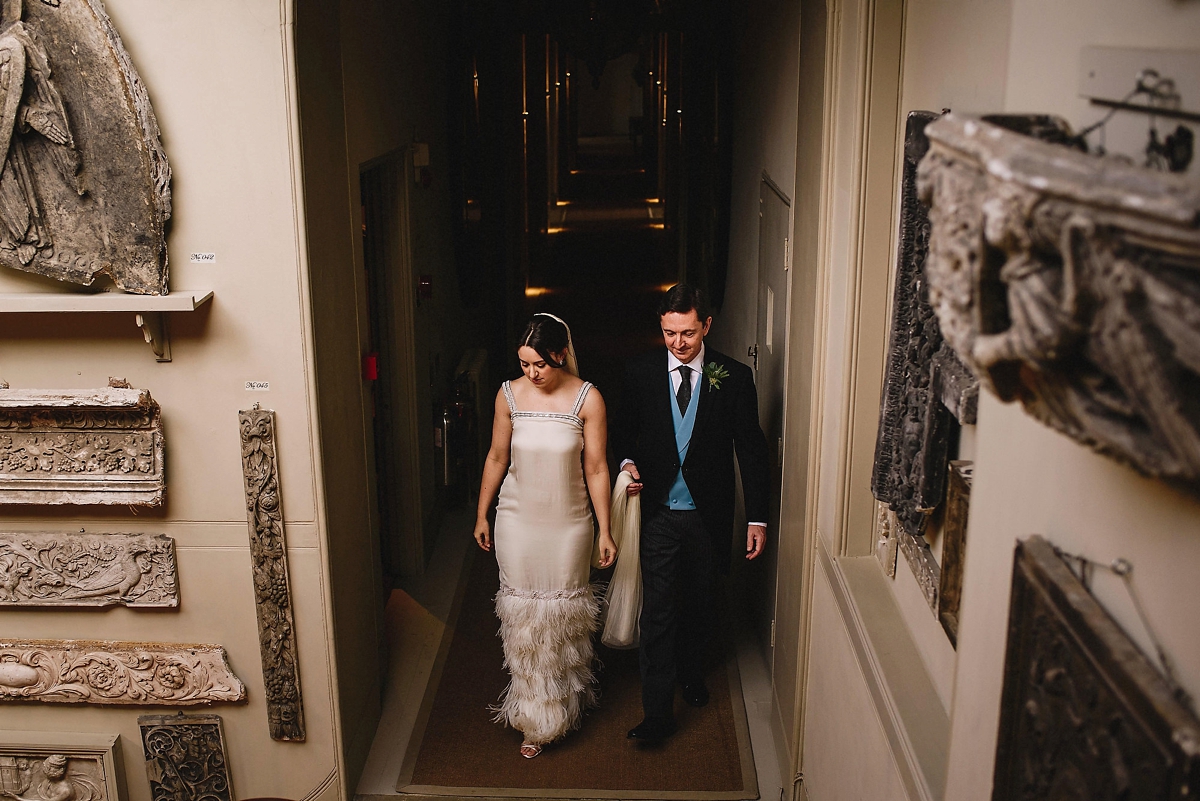 One of Dickon's oldest friends acted as a 'page boy' and wore his own take on morning dress, and Dickon, a traditional man himself, also wore morning dress – an ensemble sourced from a charity shop in Oxford a few years ago. His dark racing green Richard James tie, sweetly embroidered bunny rabbits, was a gift from his loving bride along with his cufflinks.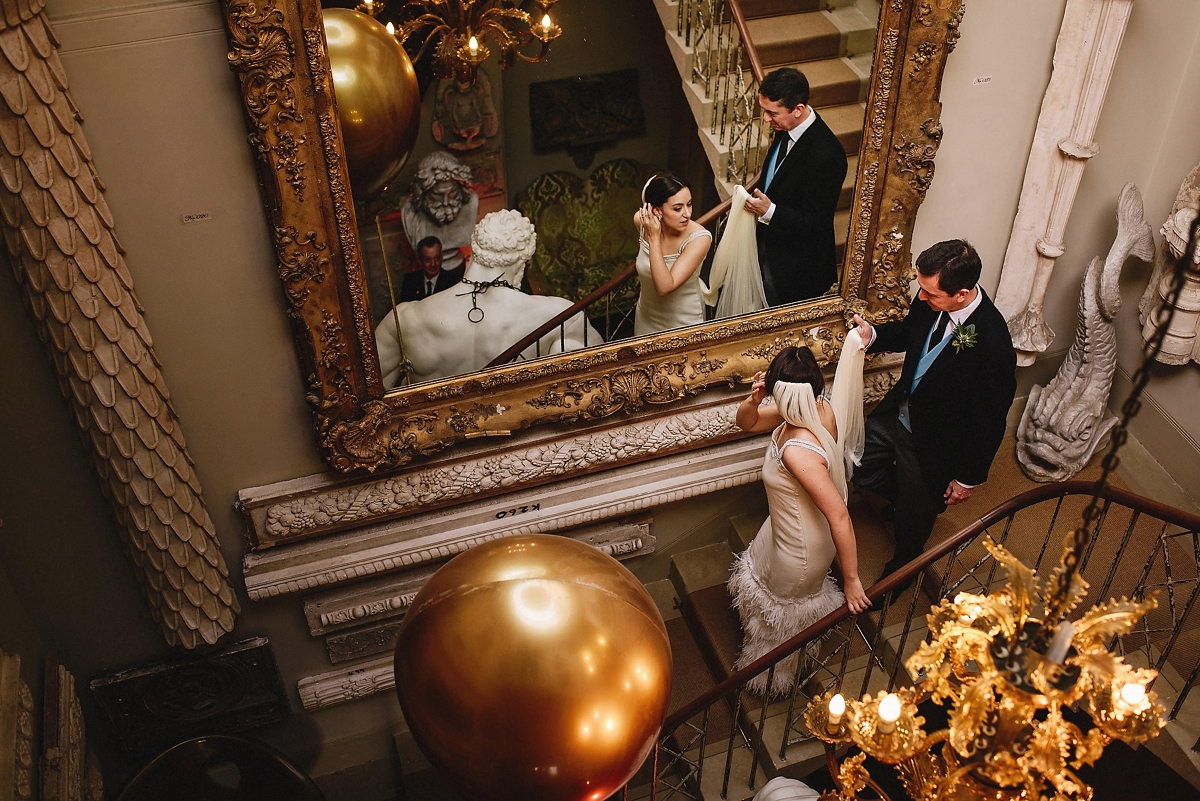 "We'd crossed paths before, but we met properly at a mutual friend's house party – like all good modern love stories before the advent of Tinder. After one drunken night (an excellent idea) and three years together, we got engaged on holiday. After a stint in Croatia, a road trip across Bosnia & Herzegovina, we arrived in Kotor, Montenegro."
"On a little island called 'Our Lady of the Rocks', Dickon got down on one knee and asked me to be his wife – (spoiler alert) I said yes. We were engaged for 18 months before we walked down the aisle."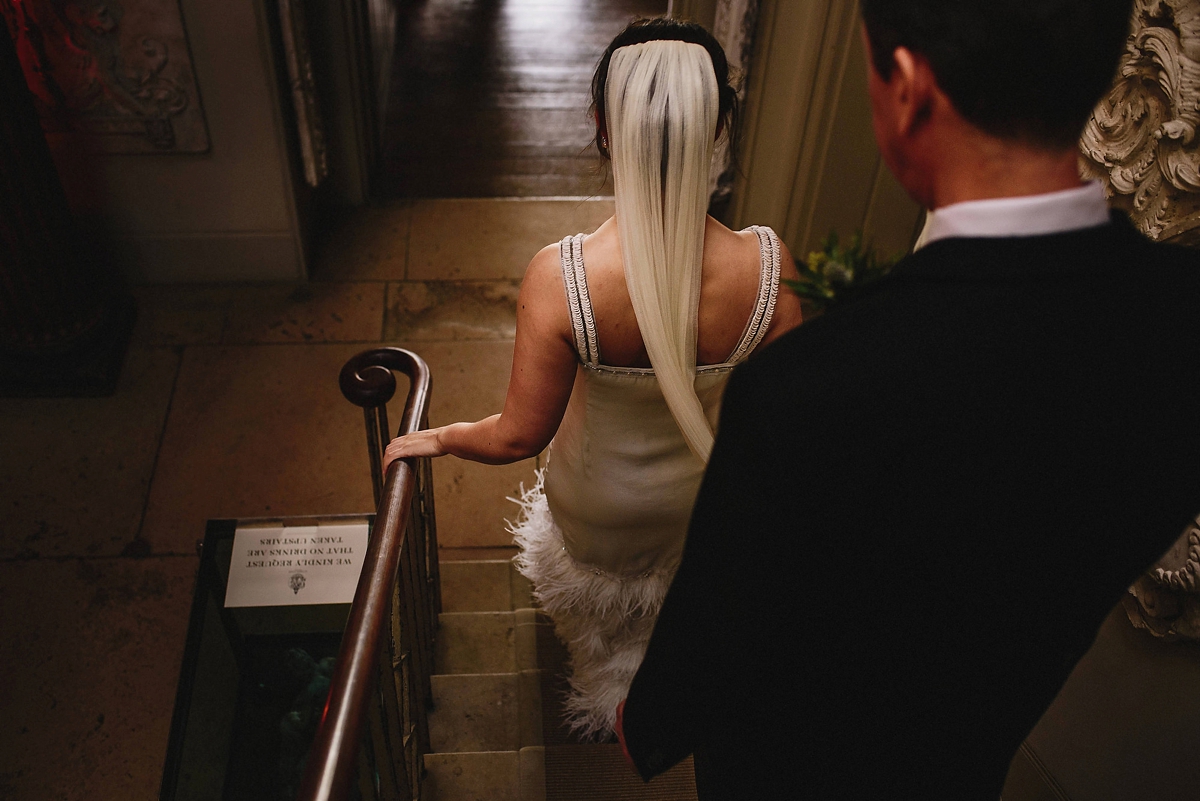 Lucy's father, Jeremy Garside, accompanied her down the aisle. Touchingly, Dickon says his favourite part of the day was seeing his soon to be wife walking towards him. The couple love organ music, and found a wonderful organist, Gareth Giles to play Lucy into the church. Our bride comes from a musical family, so music played a strong part throughout the day.
"I walked down the aisle to the organ solo from Saints-Saëns 3rd Symphony. A beautiful, powerful piece of music and great for making an entrance. During the signing of the register, we continued the Saints-Saëns theme with 'The Swan and The Aquarium' from 'Carnival of the Animals', played on the piano. The atmosphere was magical."
"We went with straight-down-the-line vows from the Church of England. Though we most certainly omitted the 'obey' clause. We had three readings – two from the Bible (Ecclesiastes 4:9-12 and Song of Solomon 2.10-13; 8.6-7). We chose these are we felt they best represented how we feel about our relationship and marriage as a whole – it's not about idealism; it's about understanding, about supporting each other. That's what makes love work in the long term."
"This is the reason we chose our last reading: 'Scaffolding', a poem by Seamus Heaney. A metaphorical poem about marriage, it was written for Heaney's wife during something of a rough patch. But the message is this: if your relationship is built on strong foundations, you can weather the storm."
The new Mr and Mrs Prior exchanged 22ct rings bought from a tiny antique jeweller in London's Victoria, simple yellow gold wedding bands with a bit of history that didn't cost the earth. Charmingly, they opted for blowing bubbles, rather than confetti (zero mess!) and selected a range of foliage and white blooms to decorate their church and reception room.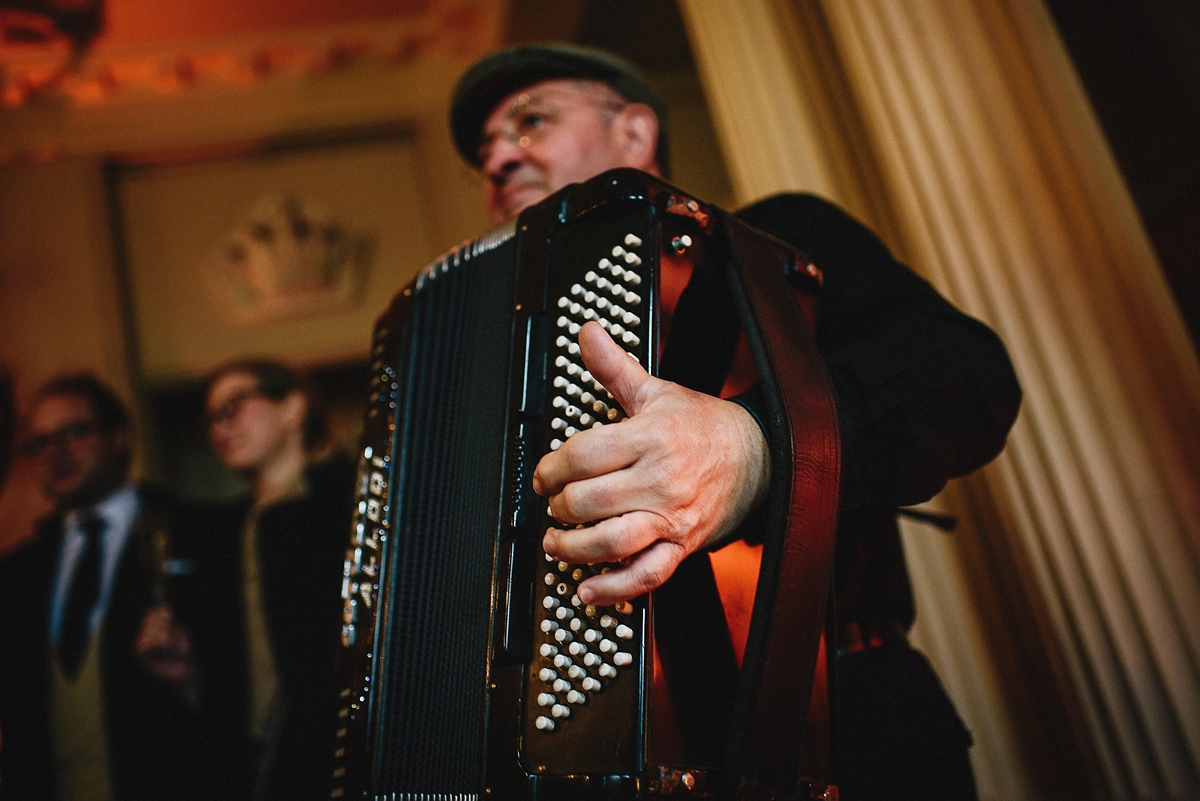 "We wanted a very natural, botanical look – white flowers, lots of ferns and foliage. With this idea in mind, we left the hard work to the talented Katie Griffiths. For the church, we had beautiful urns filled with palms, eucalyptus, white roses and snowberries, and the aisle was lined with ferns. The bouquets and button holes mirrored this, while we simply had green leaves as central table decorations in glass vases. It felt very modern and elegant; a foil to the maximalism of the venue."
"To complement the ferns, we had both fern filled and gold balloons from Bubblegum Balloons. They were whimsical and looked fantastic in the venue – they also provided an excellent game of balloon keepie-uppie later on in the evening. The venue, being as full of curiosities as it is, needed very little adding to it so we let that guide the rest of our planning."
"Adding too much more to a venue that contains a taxidermy giraffe held up by balloons may have been a case of gilding the lily."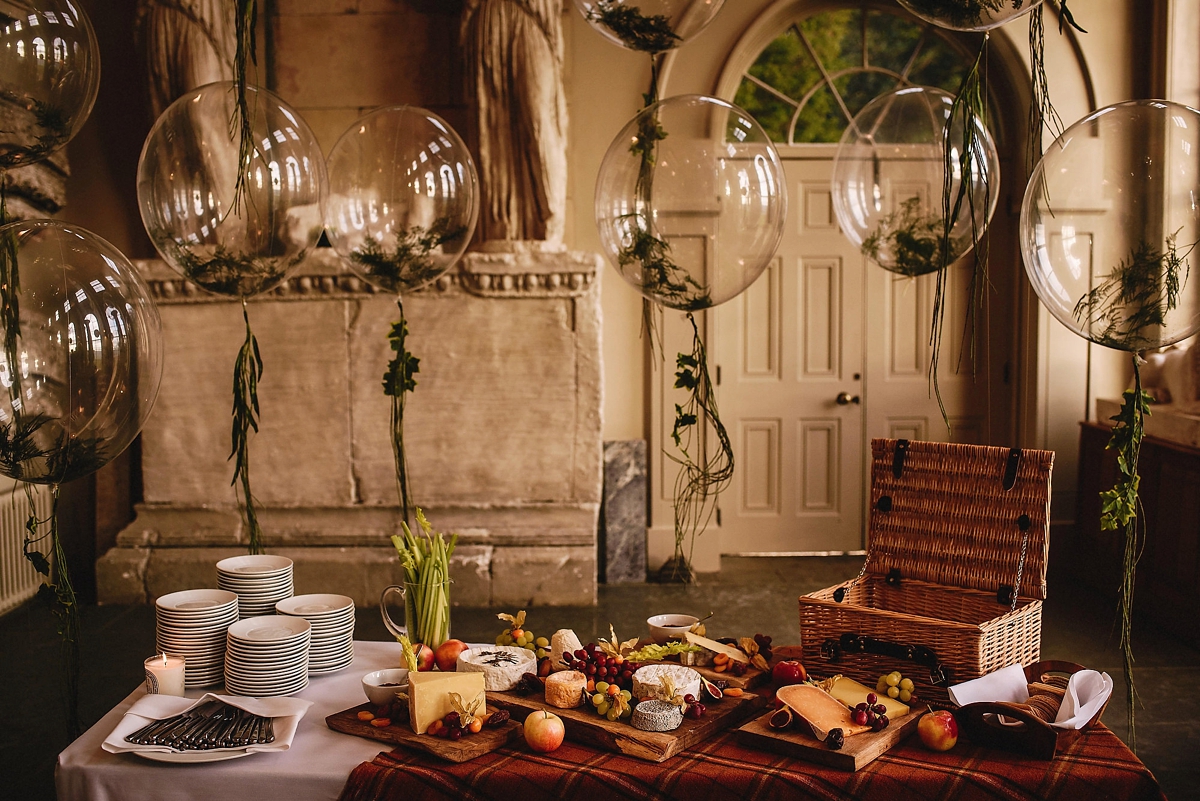 The couple attached table number cards to small plaster Greek busts in a nod to the some of the antiquities found around their venue, and in a nod to Lucy's passion for perfume, their day was scented with divine Diptyque Figuier candles. Lucy drew the invitations herself, a border of flowers and winter fruits topped off by a pheasant couple. The design was then sent to Typoretum for letter pressing and printing, and the seating plan, menus and place cards were printed by Colt Press.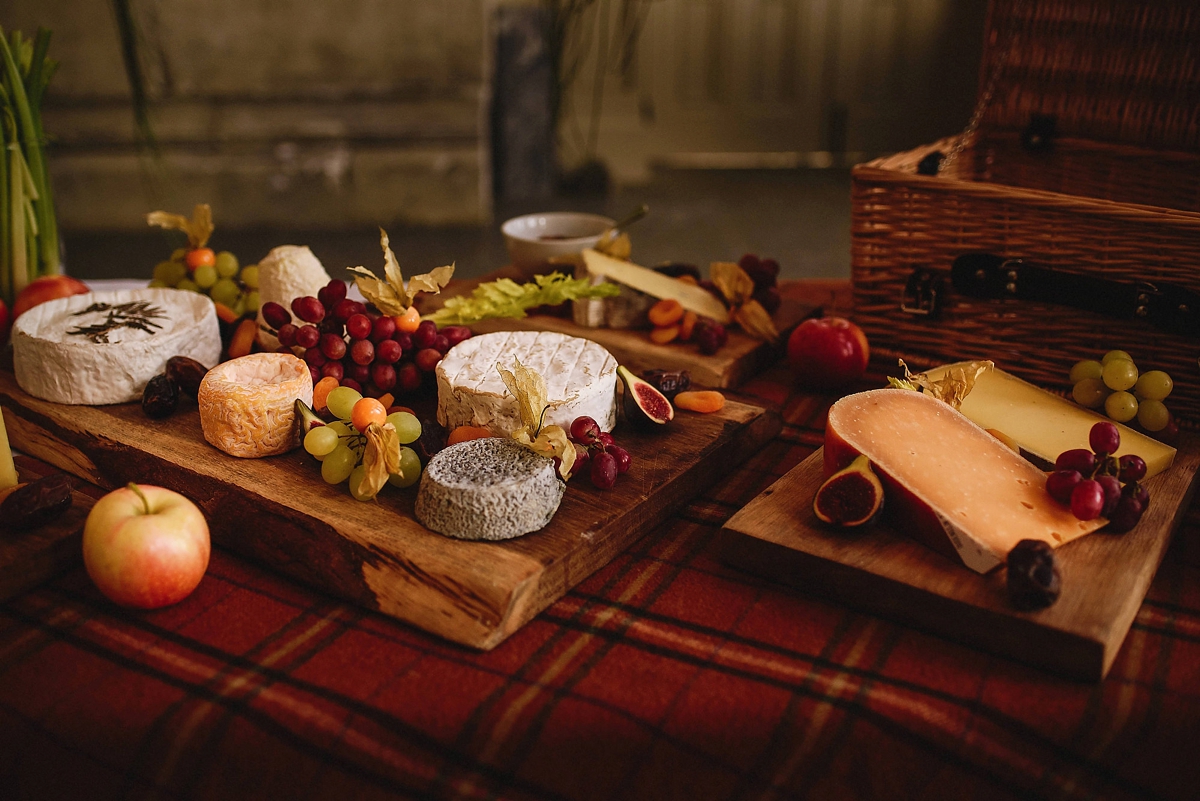 "In essence, it was our love for the venue, and our shared love of the eccentric, which knitted things together. We were never going to be a couple to stuck rigidly to a colour scheme or particular theme, and we're very glad we didn't – letting the incredible venue speak for itself let us relax a huge amount during planning and on the day itself."
"Our amazing photographer was Andy Gaines. We chose him as we're not ones for posed, formal photos –we wanted real moments to be captured throughout the day as that's what tells the story of your wedding – and these are the photos you'll actually want to look back on in years to come."
"As requested, Andy went full Martin Parr on us and we couldn't have wanted any more from our wedding photos. Absolutely beautiful, hilarious, and artistic photographs that we will cherish for a lifetime. What's more, Andy is the nicest guy you're ever likely to meet."
"Really cool, wonderfully nice and charming, he's exactly the sort of photographer you want at your wedding. He captures those micro moments he knows you wouldn't want to miss – and he does it with impeccable skill and artistry."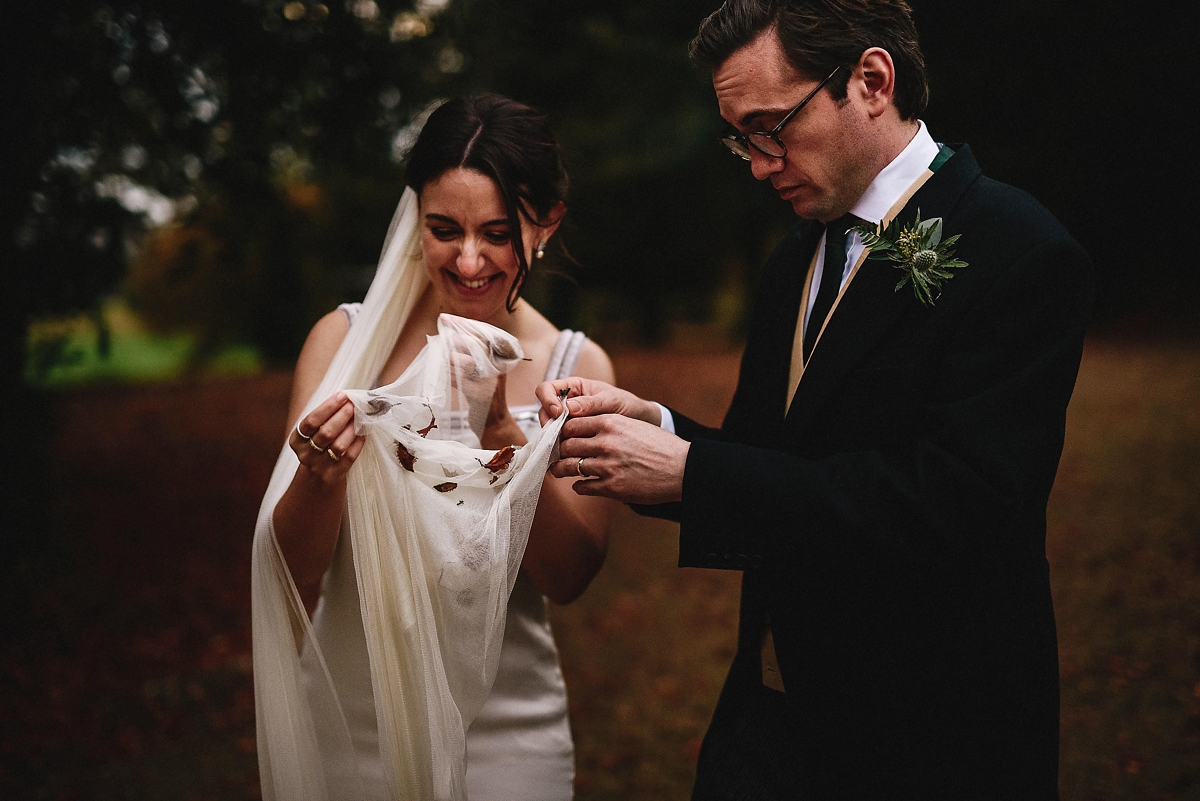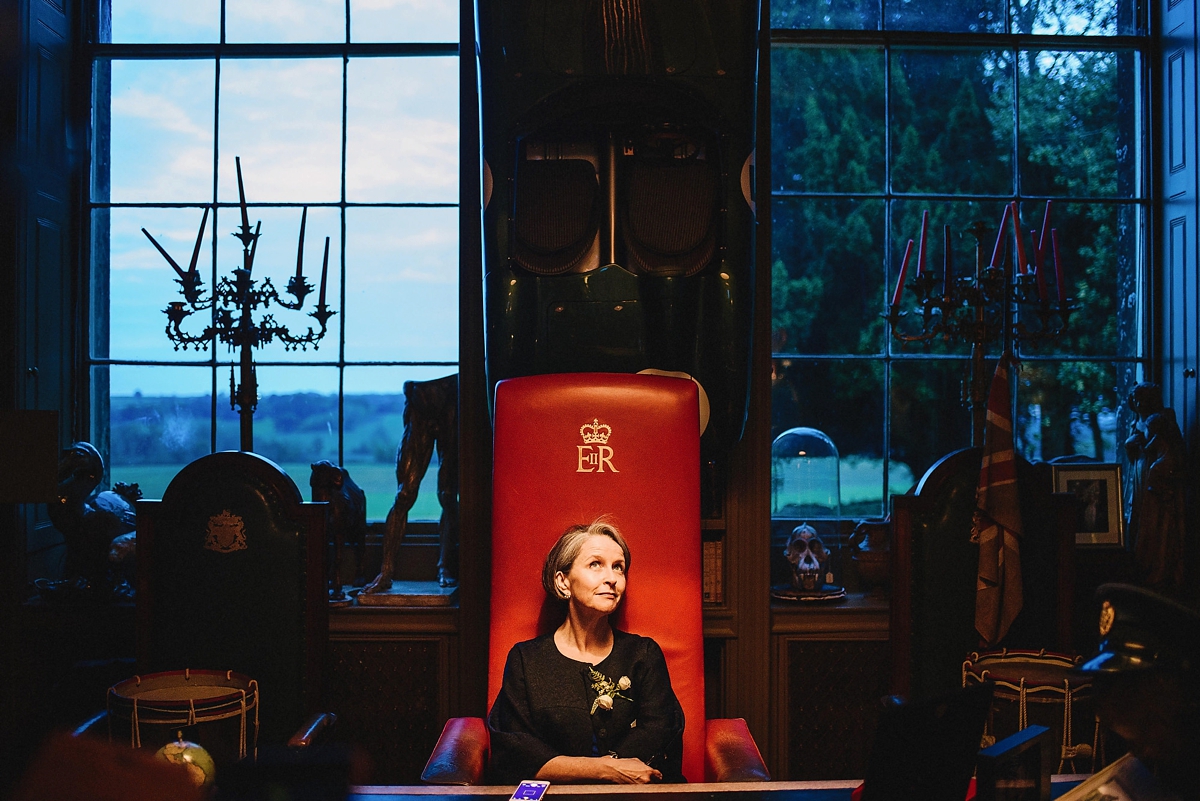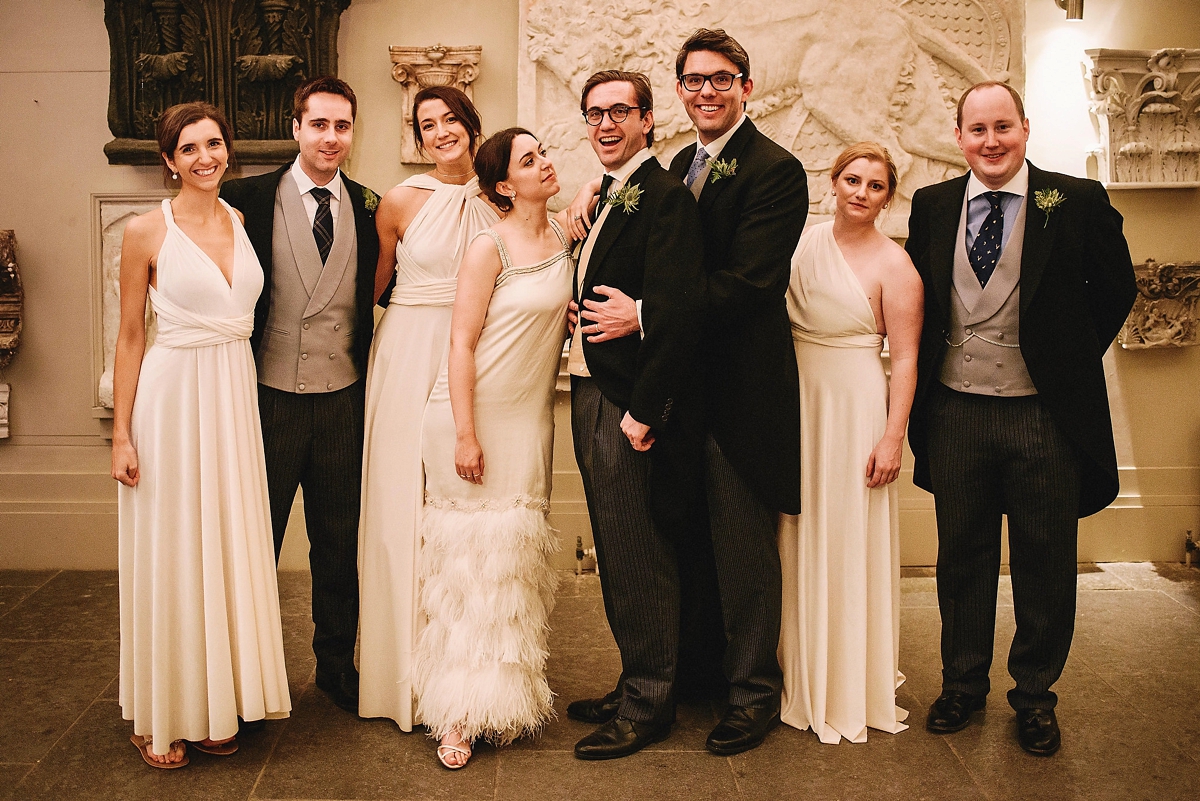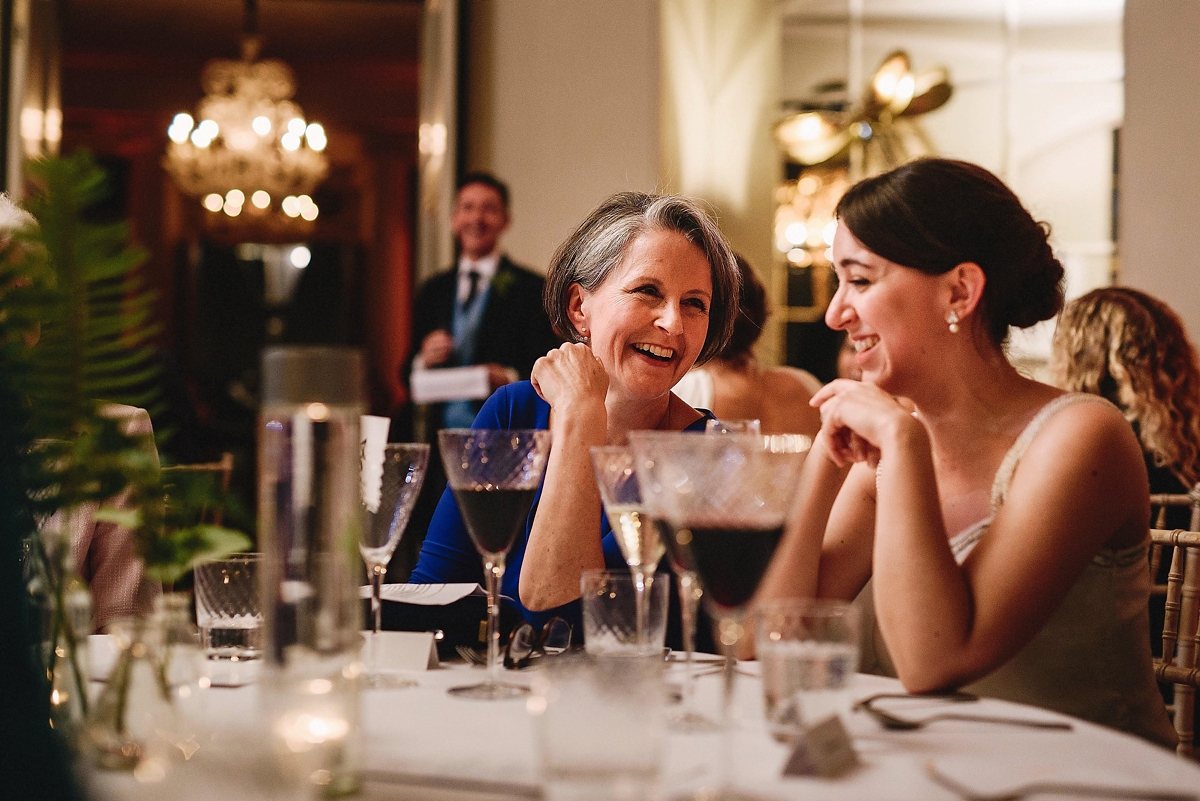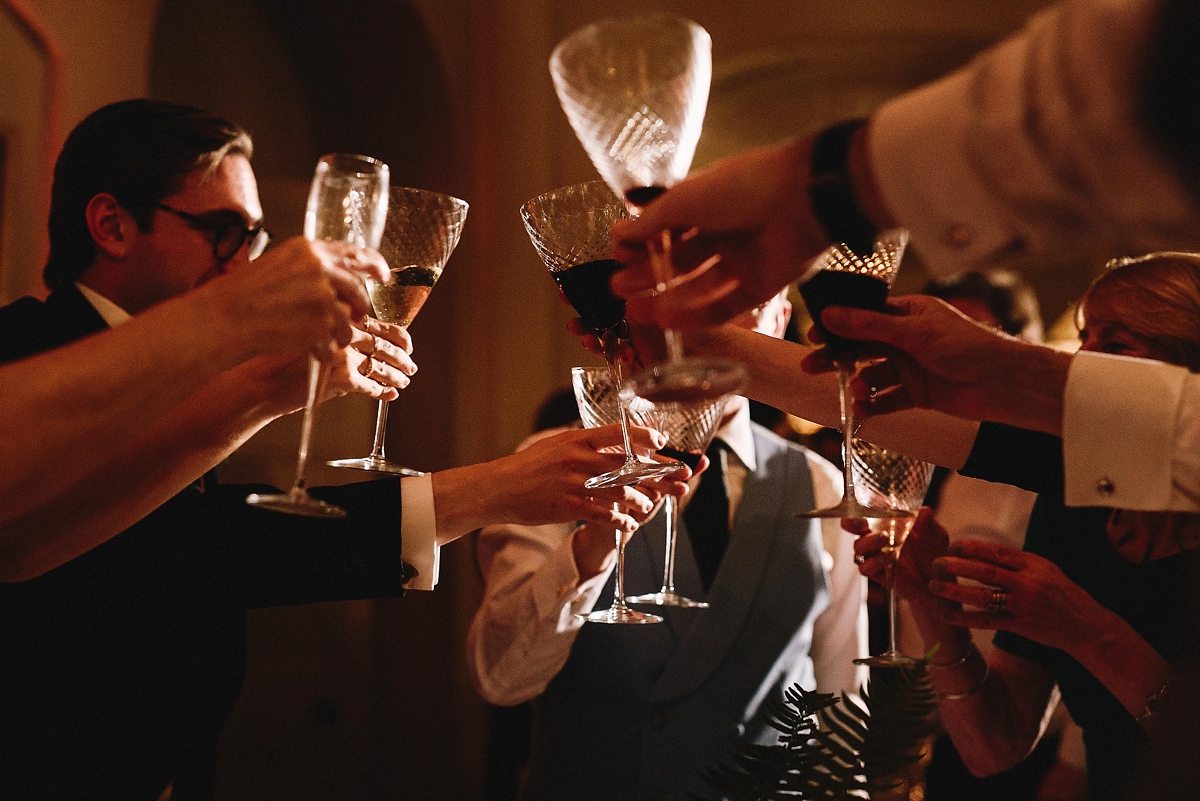 "We used the excellent kitchen services at Aynhoe Park. The food during the tasting was absolutely incredible. Before and after the wedding breakfast, we served a smorgasboard of cheese from Oxford Cheese Co. One of the best ideas we had: we had pretty much a constant stream of cheese."
"Instead of a cake, we had a croquembouche. We'd take pastry and crème patissiere over fruit cake and fondant any day – it's a tower of choux buns held together with spun sugar. Plus, you traditionally cut it with a sword (and Dickon didn't miss and chop his new wife's head off!). It was absolutely delicious, and fun."
It's so lovely to read that the newlyweds adored every aspect of their day from start to finish; the food, music, and excitement all playing a part in their joy. Lucy remembers fondly partying and laughing endlessly, surrounded by their closest friends and family – seeing them so genuinely happy for her and Dickon is the feeling that has stayed with her since the wedding, along with the memory of Dickon's smile at the end of the aisle.
"We went for a triple whammy with entertainment. As soon as we entered the venue, we were greeted by the wonderful accordionist Claudio Allodi, who played during our cheese and drinks reception. After the meal, Don Kipper, a Balkan/Klezmer band, played incredible music that you can't help but dance and smile to."
"I'd heard them play previously at an event at The Royal Academy in London and just knew they had to play at our wedding. The lighting and sound for the whole event was produced by Anton Williams from Mission Events. Anton is a man of multiple talents who did an amazing job of DJ-ing until the early hours."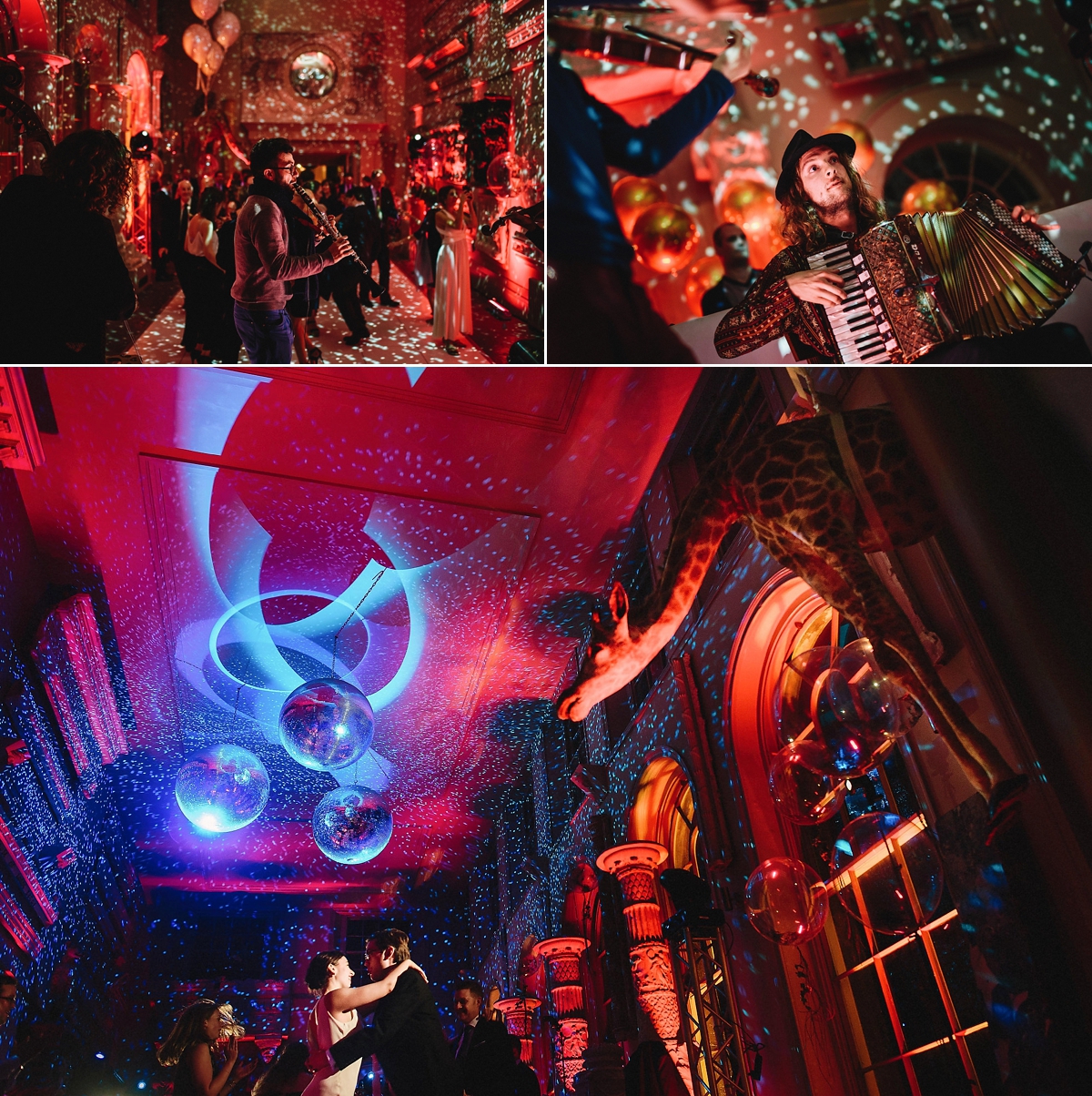 "We had deliberately chosen to not have a first dance, so it wasn't a disaster when I'd popped off to the loo while the band started playing. As we now know, no one will start dancing until someone has embarrassed themselves in front of a room of people, so Dickon got up and started doing a strange Cossack-style dance to Don Kipper – unanimously guests' highlight of the wedding."
"I joined in once I was back in the room, but not after Dickon had already danced with his friend Matthew Gibbard. So, there WAS a first dance, I just wasn't necessarily part of it. As a request, however, the band played The Cantina Band music from Star Wars (I'm a closet fan), so we did get to dance to that together."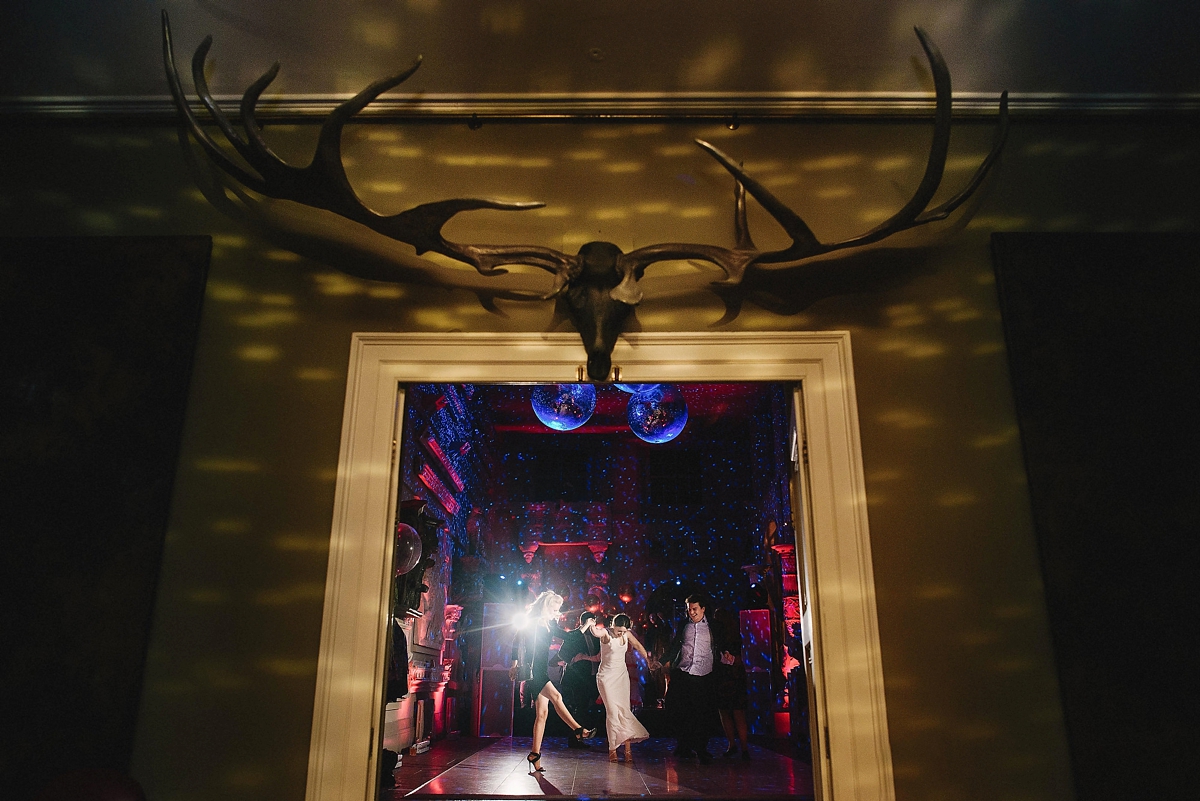 "As much as I loved the feathers, they were never going to be practical for dancing – so I opted for a reception dress. An ivory silk, bias cut dress from Stone Cold Fox. Really simple and comfortable, it kept going in it until around 2am – then I layered on a feather-trim jumper from Elizabeth and James. Cosy and a nod to my wedding gown."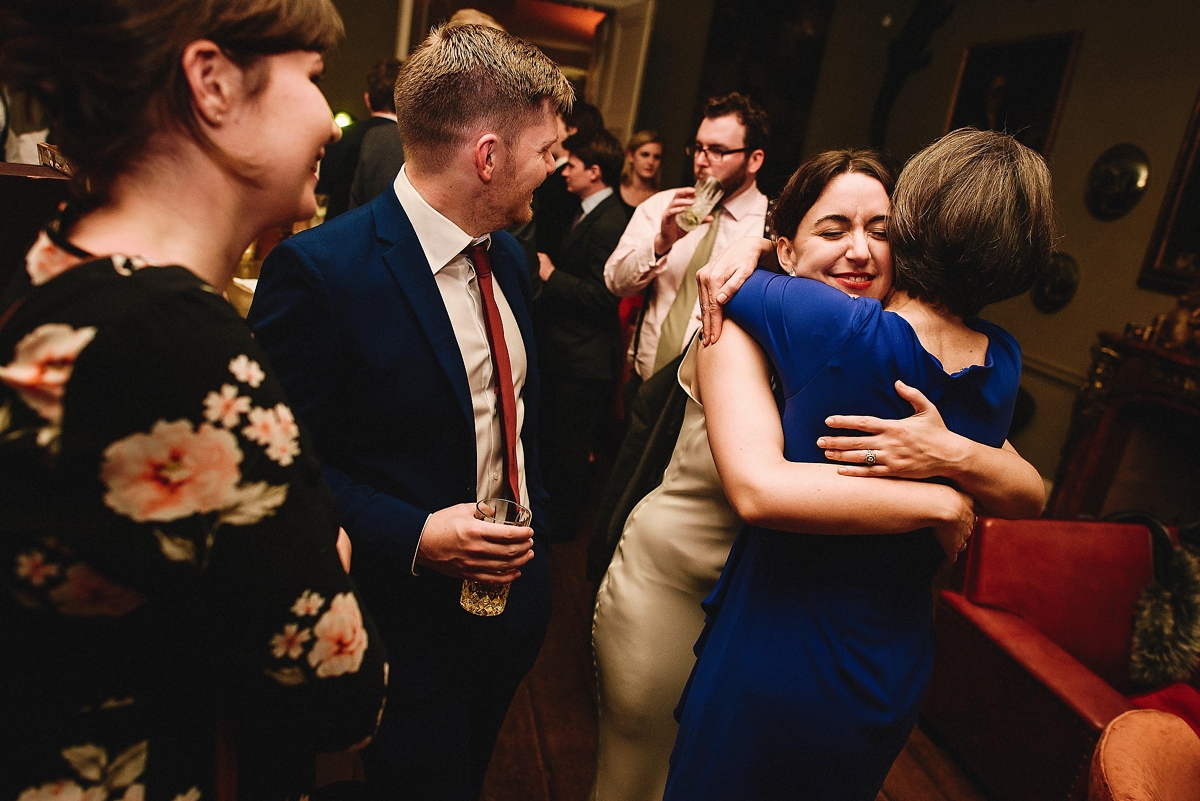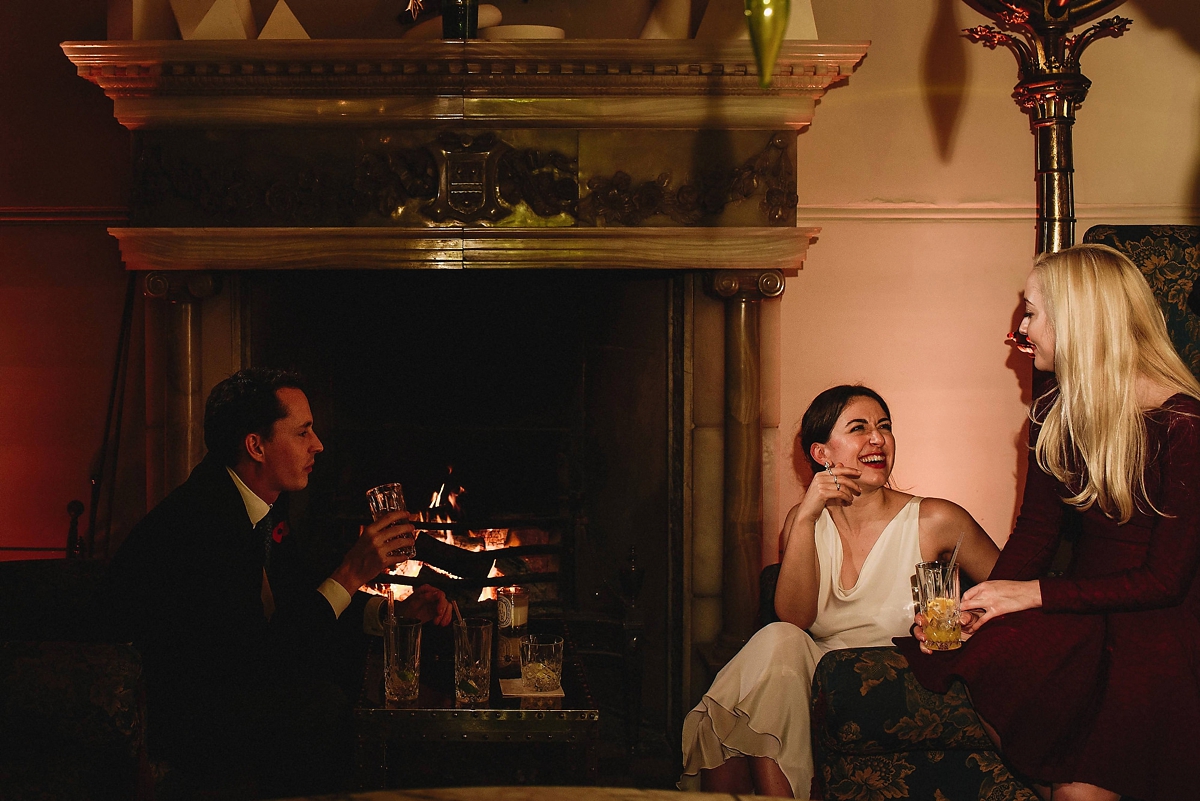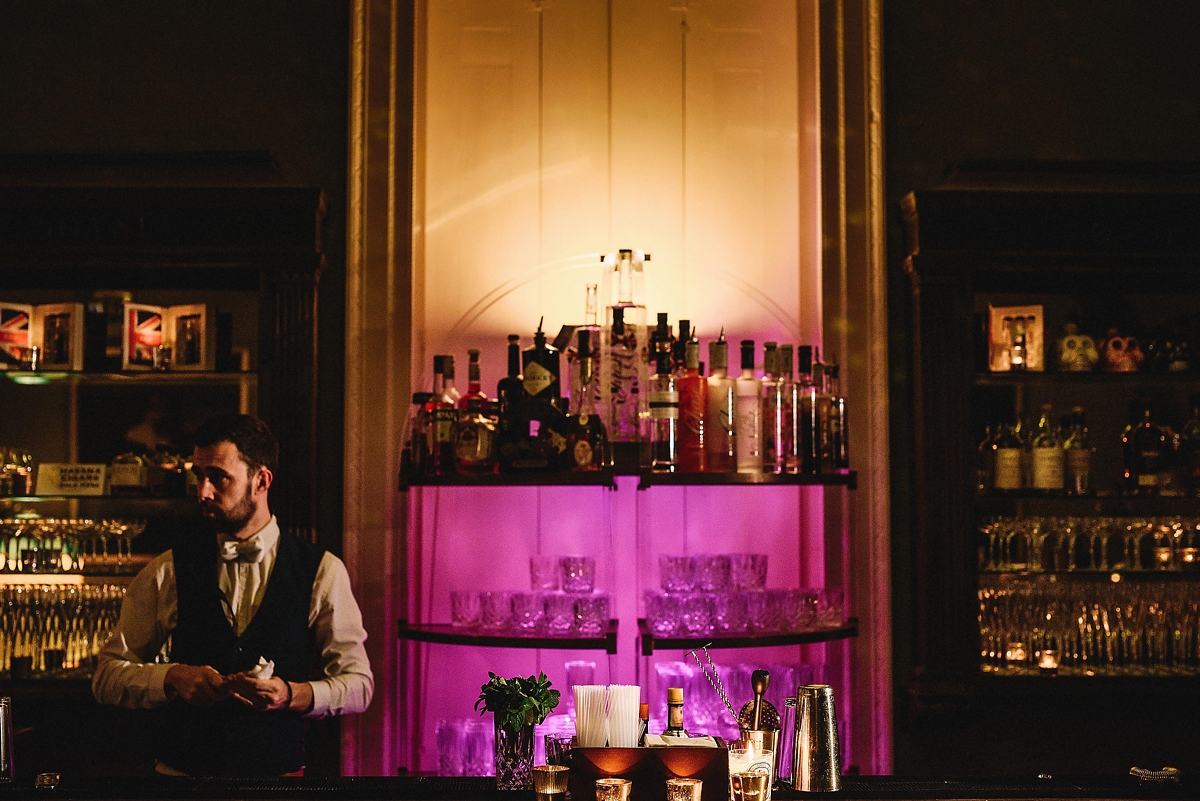 Words of Wedded Wisdom
"Think back to weddings you've been to – what did you actually notice? I'm betting it wasn't the minute colour-matched details or the specific flowers on the tables – I bet it was the big things. The food, the music, the venue, the company. So don't sweat the small stuff. On the day, I promise you, you will not notice any little details that have gone awry, and neither will your guests. So put your money where it matters, throwing a terrific party for your nearest and dearest, and into the best photographer you can afford as, when the day is over, that is what will remain for the rest of your lives together."
"Weddings, while obviously about you as a couple, are really for other people; otherwise you could just elope. So always be conscious of how your guests will feel at your wedding – will they be hungry, will they have fun, are there any lulls in the day, who do they really want to sit with? It's very easy to just look at things from your own perspective as a couple, but it's important to make friends and family enjoy the day as much as you do."
"Don't obsessively read wedding magazines (except when you've only just started planning) – they make you doubt yourself. If you've bought a dress you love, or booked a vendor you think looks great, trust yourself. Don't let a magazine make you think otherwise."
"People on the day commented how relaxed and happy I seemed. That's because I'd planned a terrific party and I was going to have fun! Let go of any worries on the day and party until they tell you to stop – you only get one chance to enjoy your wedding."
"We'd lived together for quite a while already, so we had most things we needed for the house. We came up with a few ideas (we'll be eternally grateful for our new toaster) but, principally, we just asked for a contribution to our honeymoon. Our gift to each other came in the form of a beautiful Singapura kitten, Percy, who is now firmly part of the family!"
A huge thank you to Lucy (who you can find on Instagram) for these very insightful words, Dickon, and of course Andy Gaines Photography for these lovely images. And take a look here for more gorgeous Aynhoe Park weddings that we've featured on our pages.
With love,
Em x