It's always a real pleasure to write up a wedding from my beautiful home county of Northumberland and today's elegant day is such a lovely one to share with you all.
Let me introduce our bride and groom.  Emily, a geologist, and Ross, a physics teacher, married on the 7th of August 2017 at Eshott Hall near Morpeth, Northumberland.  The couple met while working together a few years ago and Ross proposed in a lovely low key manner in their own home.
Emily looked incredibly chic in a beautiful gown by Pronovias, which she purchased from Mia Sposa in Newcastle.  I just adore the delicate embroidery and that fabulous low back.
"My Pronovias dress was a classic design that was understated, but with really nice details, especially the back, with some simple detailing.
We never really had a particular style or theme in mind, but we were influenced by a few things.  Eshott Hall is a Georgian country house, so we wanted to fit in with that and just wanted to keep the colours muted.  The pale blue bridesmaids' dresses and dark green kilts influenced the colour scheme a bit, then the florist and venue did the rest."
Photography by Georgina Harrison
Today's gorgeous photographs come to us courtesy of one of my favourite photographers, Georgina Harrison.  I just love her bright and light style.  If you have a few extra minutes to yourself today, take a look here for more weddings photographed by Georgina- they're all absolutely lovely and perfect to cheer up a January afternoon.
"Georgina was great and made us feel really relaxed throughout the day.  Her photos were perfect and captured everything we asked of her.  The little touches like the slideshow, website and USB she sent us after the wedding were lovely extras."
We absolutely adore Georgina and her work and cannot recommend her more highly. Explore Georgina's beautiful website here – she'd love to hear from you today if you are looking for a wedding photographer of your own.
The elegant floral arrangements were by Diana Kaye Florist, based in Fenwick's in Newcastle.
"They did the flowers for Emily's sister's wedding in 2015 and they were lovely.  We went to them with a pretty loose brief and picked out a few flowers and colours we wanted, then asked them to tweak it a bit to add thistles to the buttonholes as the groomsmen would be wearing kilts.  In the end the colours they picked were perfect, the dusky pink roses were exactly right and sat beautifully with the other flowers chosen.  There were even some thistles hidden in Emily's bouquet which tied everything together."
On her feet Emily wore Romy 100 by Jimmy Choo, while for perfume she chose Addict by Dior- her usual scent of choice.  Her earrings were loaned to her by her aunt Min, to whom she is very close.  Borrowing jewellery from loved ones, or wearing pieces which once belonged to family or friends is such a lovely way to keep them close on the big day.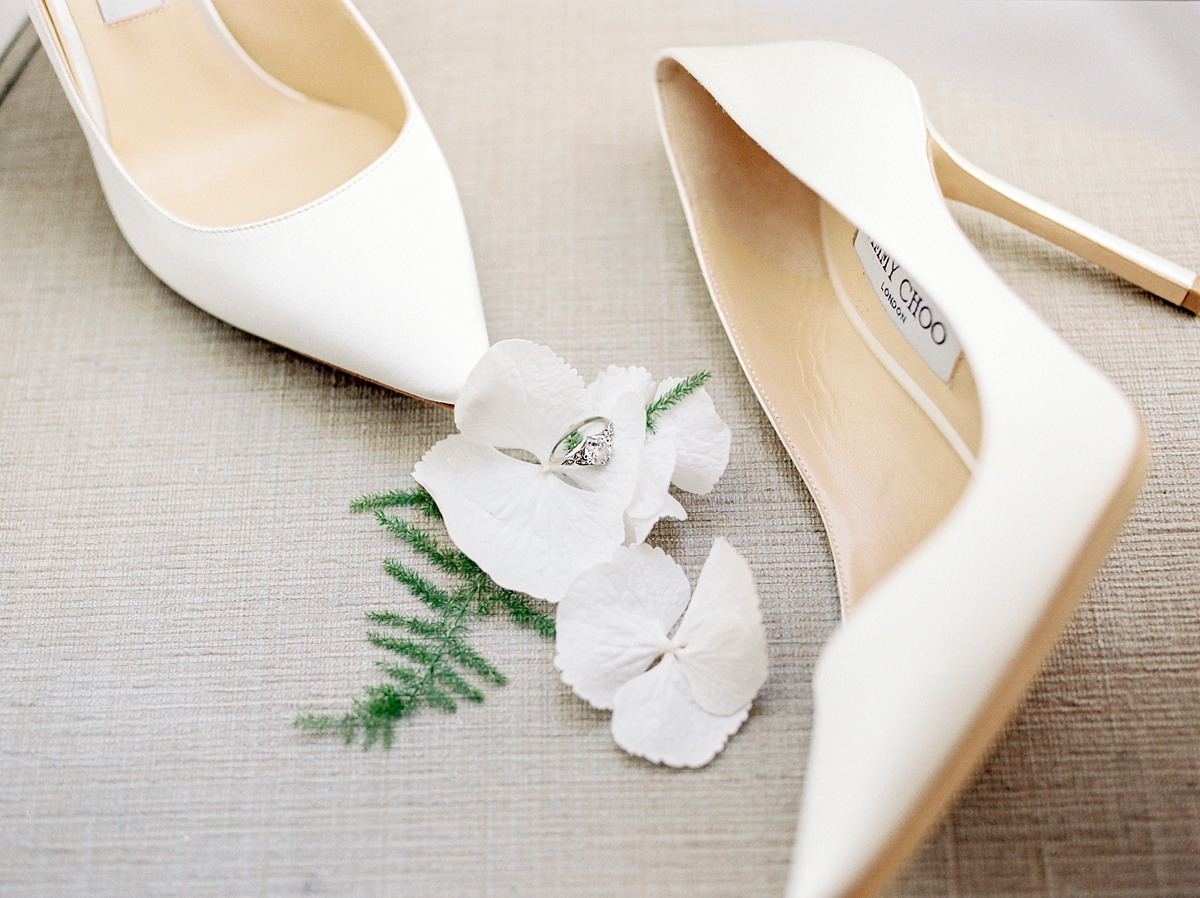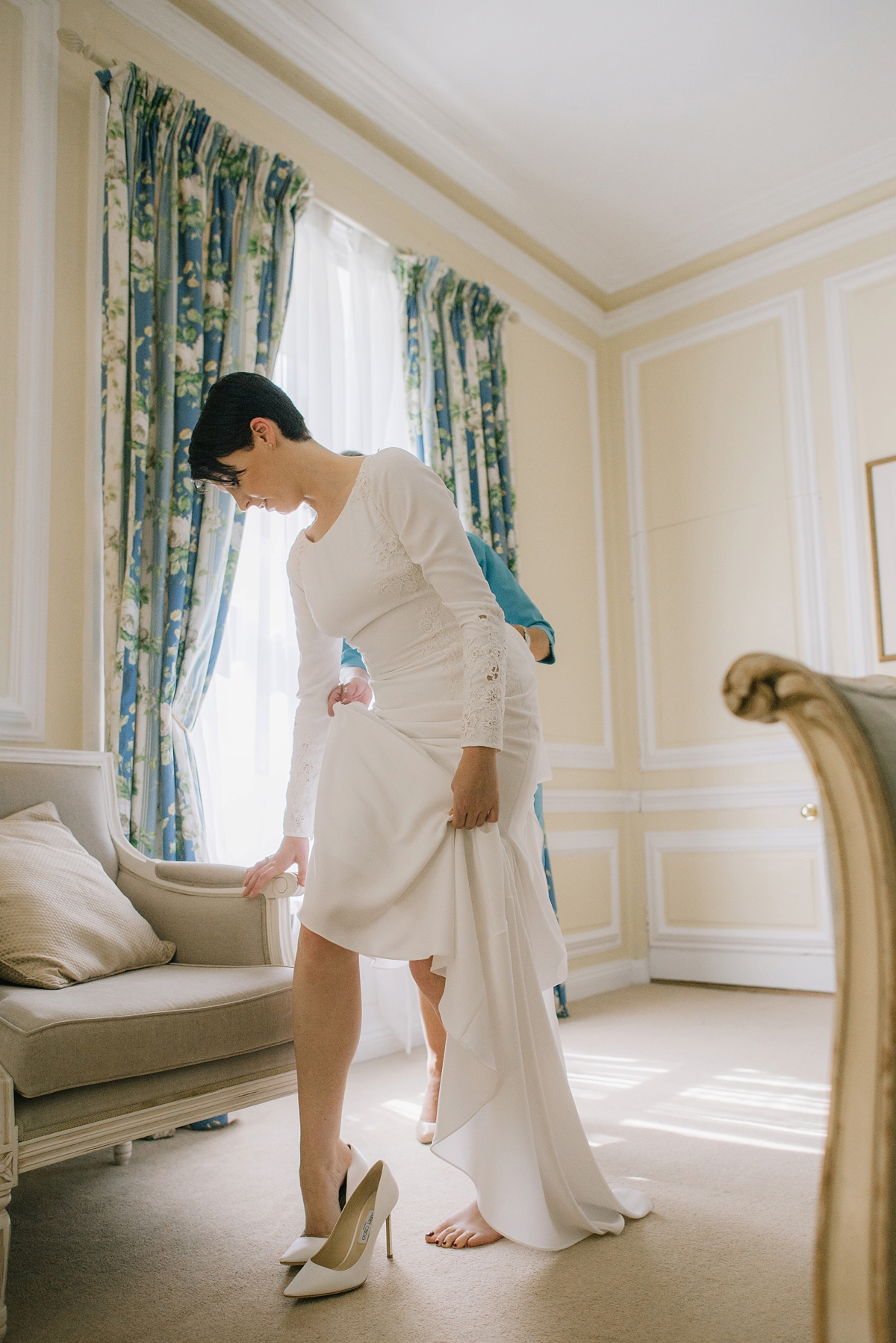 "We wanted a venue that was somewhere midway between Emily's family in Hartlepool and Ross' family who are mostly in Scotland."
"Also, we love Northumberland and so it seemed like the perfect place. We wanted somewhere that we had exclusive use and where we could stay the night before and the night after the wedding."
"Eshott Hall had all of those things so we went to stay a night there, as it operates as a hotel most of the time.  The food and rooms were lovely, the entrance hall, front reception rooms and countryside were amazing.  Moreover, there was the option to get married in the fernery in front of the venue, which was a definite selling point for Ross."
Ross wore full highland dress which he purchased from Milsom and Main.  He and his groomsmen (as well as the couple's dog, Luigi) all accessorised with emerald silk bow ties, made by Ross' mum .
"We got engaged on 15th October 2016, the day before Emily's birthday. We were in the kitchen and I (Ross) gave Emily her birthday card a day early because I was quite nervous.  I didn't even have the ring, as it was being re-sized, just a picture of it in the card."
"It wasn't anything big or romantic and some more planning probably wouldn't have gone amiss, but it certainly wasn't a big showy proposal as Emily would have hated that."
The bridesmaids looked lovely in dresses from Ghost, worn with bracelets from Mappin and Webb in Newcastle, which Emily and Ross gave to them as gifts on the day.
Emily walked down the aisle with her father Ray to 'Calum's Road' by Sharon Shannon and their loved ones (furred and non-furred) watched them exchange their vows.
"Our dog Luigi was diagnosed with cancer in February and had to have his back left leg amputated. He wasn't originally going to come to the wedding but after what's been quite a tough year we wanted him there."
"Ross' mum made him a matching bow tie to fit on his collar and Emily's mum spent a good portion of the morning brushing him to look his best.  He sat in front of the front row looking bored for the ceremony, then walked back down the aisle by our side."
For readings, Emily and Ross chose 'The Amber Spyglass' by Philip Pullman and 'Love's Philosophy' by Percy Bysshe Shelley.  The extract from the Amber Spyglass goes as follows- its such a beautiful choice.
I will love you forever; whatever happens. Till I die and after I die, and when I find my way out of the land of the dead, I'll drift about forever, all my atoms, till I find you again… I'll be looking for you, every moment, every single moment. And when we do find each other again, we'll cling together so tight that nothing and no one will ever tear us apart. Every atom of me and every atom of you… We'll live in birds and flowers and dragonflies and pine trees and in clouds and in those little specks of light you see floating in sunbeams… And when they use our atoms to make new lives, they won't just be able to take one, they'll have to take two, one of you and one of me, we'll be joined so tight…"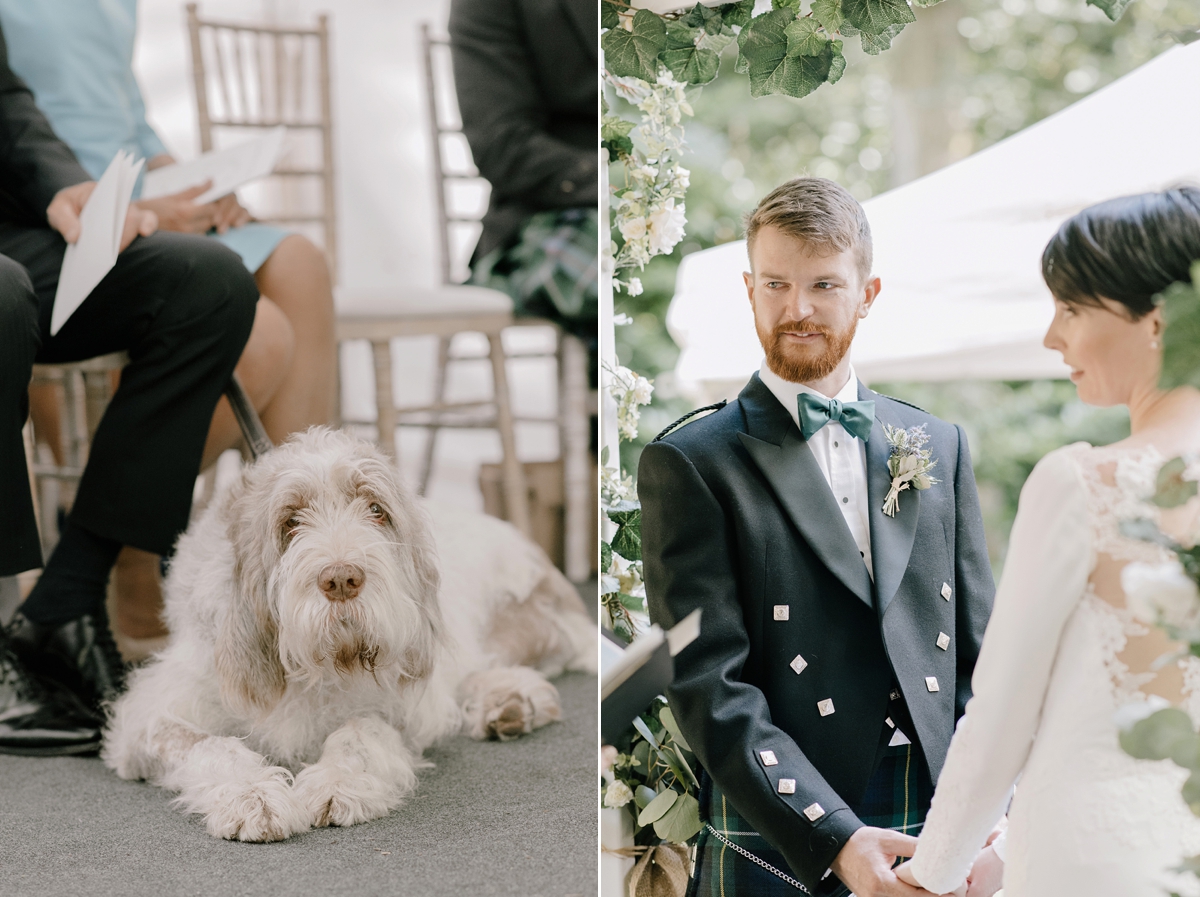 To underpin the vows they had just made to one another the newlyweds exchanged rings purchased from Mappin and Webb in Newcastle.
"Emily bought me a watch as an engagement present from Mappin and Webb and the staff were great, giving us a bottle of champagne to say congratulations. We went back in to look at rings and picked out a simple band for me and a delicate band with small diamonds for Emily that would sit well beside her engagement ring."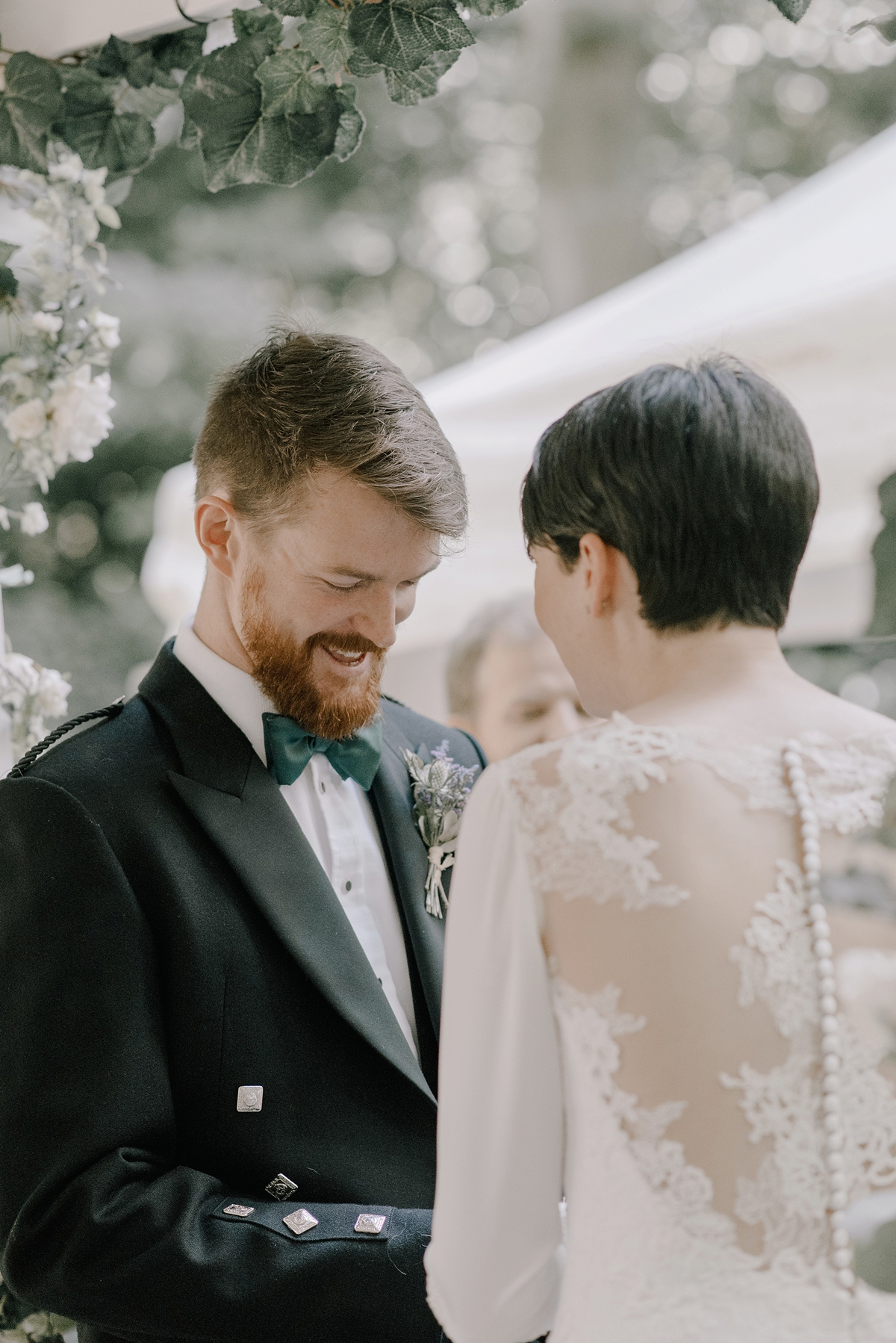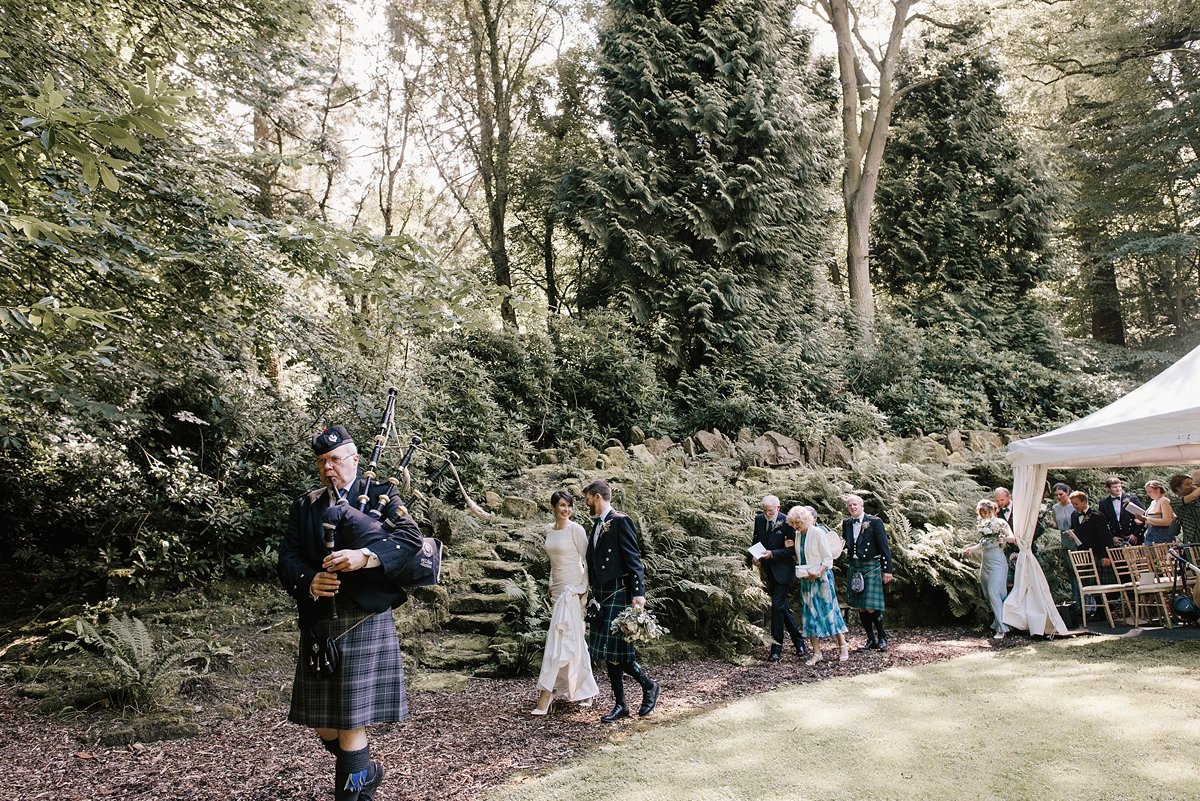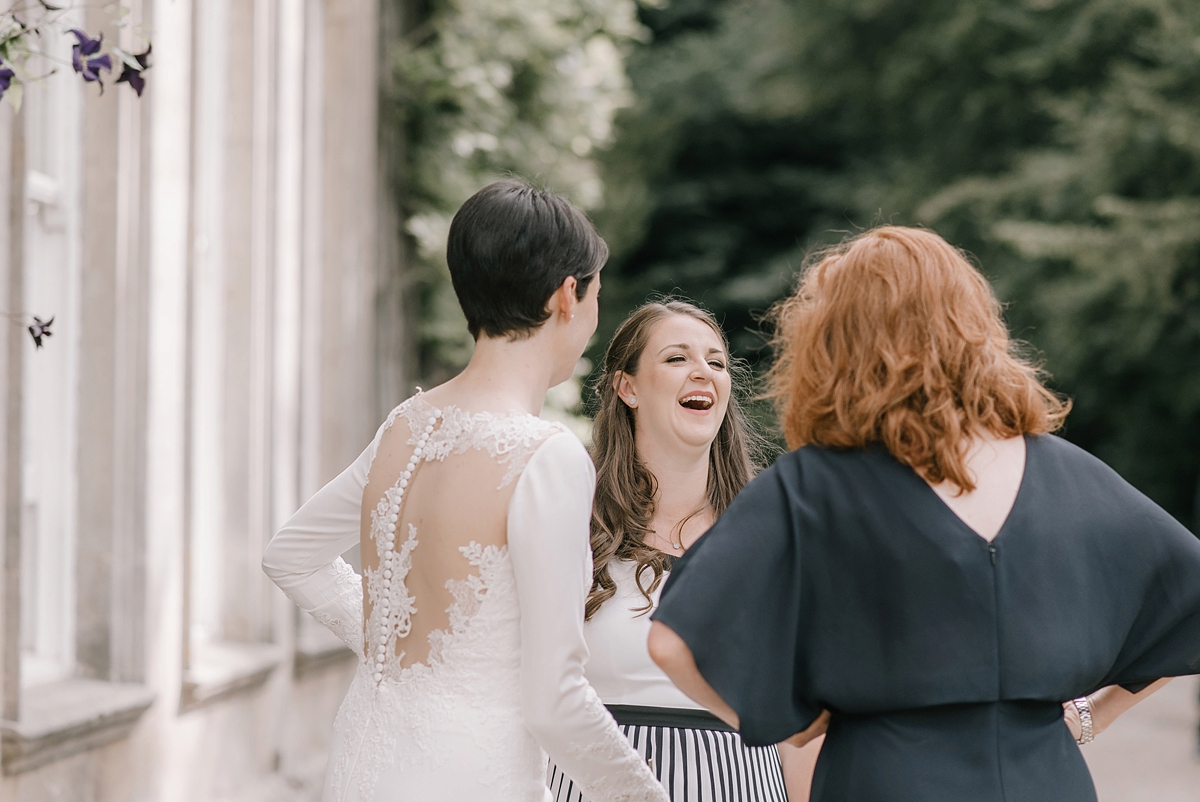 Ross' aunt Pat made Scottish tablet for favours, then bagged them in small sheer fabric bags, half in duck egg blue to match the bridesmaids' dresses, half in emerald green to match the groomsmen's bowties.
Eshott Hall provided the menus, table plans, place cards and menus, while the wedding invitations and order of ceremony booklets came from Feel Good Invites.
The gorgeous three tiered cake was by Dawn of The Master Cakesmith in Ellingham.
"The cake was made up of carrot, lemon drizzle and salted millionaire's shortbread layers and had plain satin white icing with some lace detailing cascading down and real flowers to decorate it.  We went for a tasting around Christmas time and were sold."
"Ross and Emily's mum went to the final consultation and chose a lace detailing similar to that on Emily's dress.  The little lego figures were a gift from our friend Louise so they stood beside the cake on the stand."
The couple also chose a cheese cake, which was provided by The Northumberland Cheese Company and topped with bride and groom cake toppers that Ross carved himself.  My own wedding cheese was from this company so I can happily vouch for their deliciousness.
Entertainment came in the form of Wandering Wings, who kept the dance floor full and everyone dancing.   For their first dance as a newly married couple, Ross and Emily chose 'Guiding Light' by Voy Fance.
"We don't really have 'a song' but we went to a Foy Vance gig in Aberdeen a few years ago and both like his music. The lyrics were important to us and a song about guiding each other home seemed fitting."
Words of Wedded Wisdom
"We wanted the day to be as stress free as possible, which meant avoiding too many extras. Having a relaxing morning is important so make sure the groomsmen are up to speed on what needs doing the night before."
So many thanks to Emily and Ross for sharing this stylish and sophisticated day.  For more weddings on the blog from the beautiful Eshott Hall, take a peek here.  For more brides in gorgeous Pronovias, come this way.
Much love,
Shona x