It's amazing how much can change in a year. Little did I know this time last year that I'd be sitting here writing wedding features for Love My Dress and what a pleasure it is.
I hope you've all had a wonderful Christmas so far and if there are any newly-engaged lovelies reading this, congratulations and welcome! It's really fabulous to have you with us, and if you haven't already, please head to Facebook to join our private Love My Dress group and also visit our beautifully curated directory Little Book for Brides, which is packed with super-talented suppliers eager to help you create your own individual wedding day.
I'm starting out with my first feature in 2018 with a real bang as I get to share this utter beauty of a wedding with you. We're celebrating Emily and Michael, who married on their tenth anniversary – 9 September 2017 – at St Stephen's, Hampstead Heath, London. Mixing vintage elements with modern quirkiness, the couple made their wedding truly a reflection of them, their loves and their tastes, all in one big, fuss-free party with their loved ones. Emily is a womenswear fashion buyer and, as you can probably tell from her bridal style, has a deep love for all things vintage. Her exquisite 1950s strapless two-tiered gown is from Elizabeth Avey, a boutique she came across on these very pages.
"I always knew I wanted to wear a vintage dress. I love the idea of wearing a truly unique dress with history! I had seen an article with Elizabeth Avey on Love My Dress whilst dress hunting online and decided to pop in one Saturday with my mum. Love My Dress was probably my most visited blog for ideas. I love reading the real weddings and it's also great to search for your photographer/designer/venue etc to do some research. I also really enjoyed the Sunday email; some of the stories were touching and so helpful."
Photography We Heart Pictures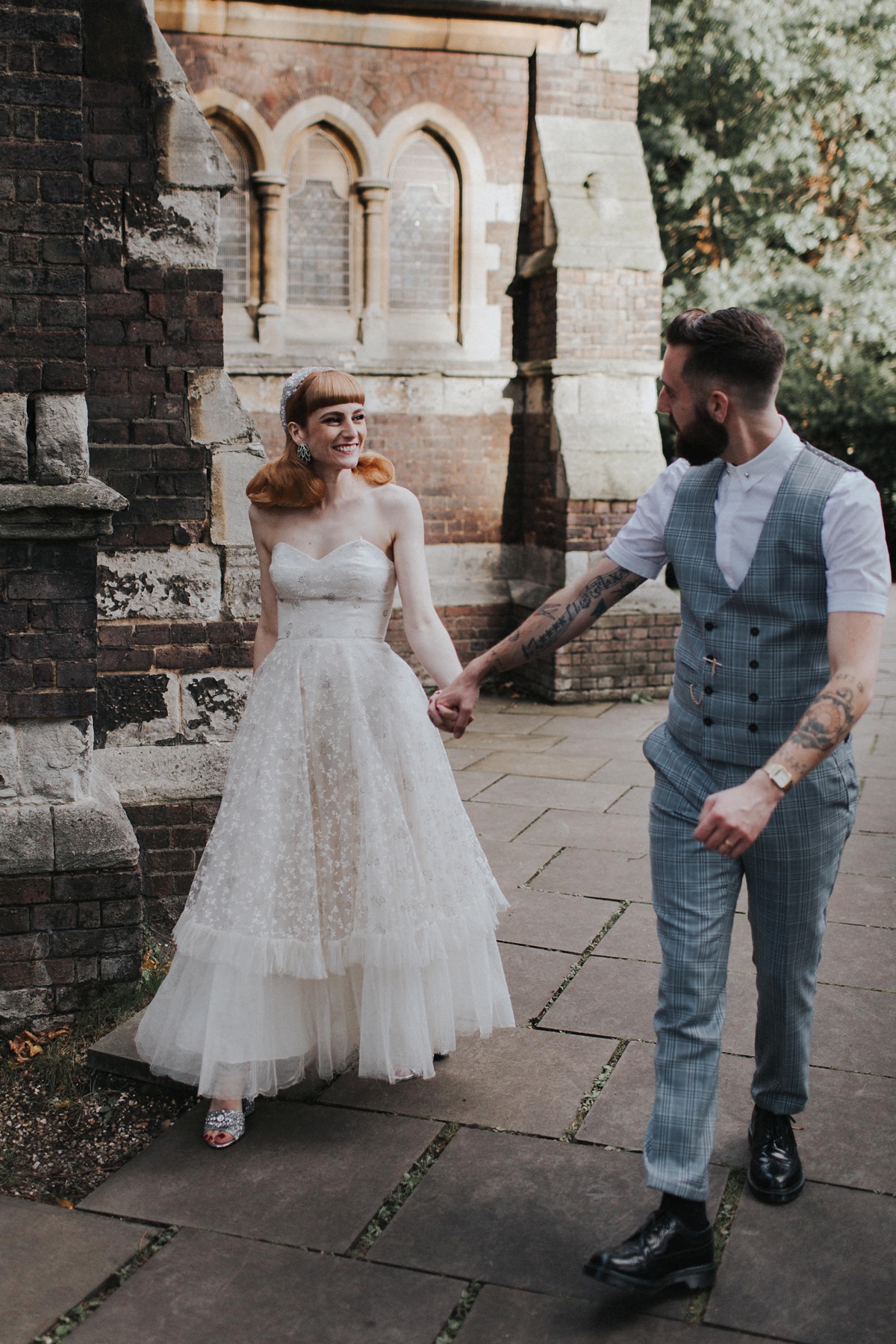 "Elizabeth's shop is out of this world! The level of service you receive is also amazing; even when I had a change of heart about my wedding dress Elizabeth let me change it, no questions asked. I went back to the shop to see if there was something else. Looking around the shop something caught my eye. It was a beautiful '50s strapless full-skirted sparkly wonder! I was always put off by strapless but the cut on this dress was so beautiful that I fell in love. It even had a matching jacket; I was sold."The beautiful couple got engaged on their eight year anniversary, having met at school and dating from the age of eighteen.
"Telling me he had a present to give me but we had to go somewhere to open it, he dragged me along to Alexandra Palace, our favourite London spot. We sat down on a bench (which we have now claimed as 'our bench') and he handed me a box. Inside the box was a white book. It was filled with Polaroid pictures of us together over the last eight years in chronological order."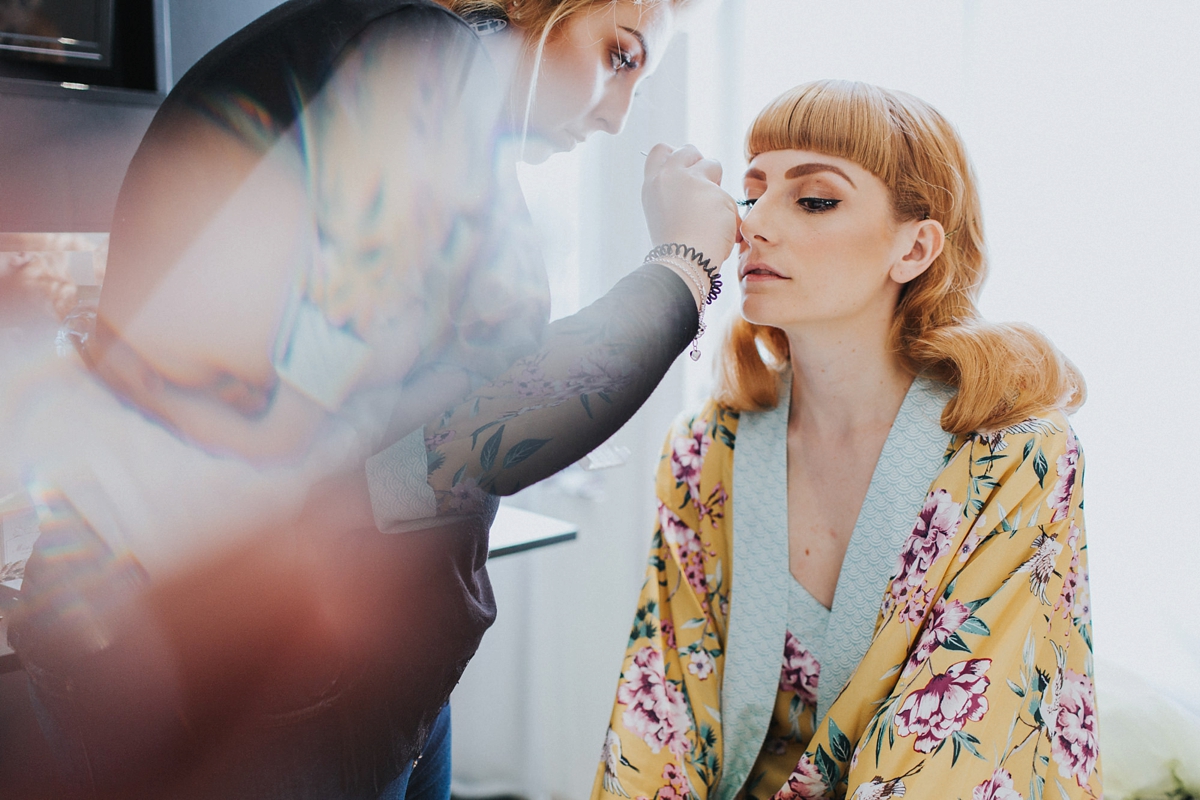 "As I approached the end of the book, the words 'the end' filled the page. He told me to keep turning the pages, the next page read 'actually' then the next read 'one more thing'. The last page was a Polaroid of a ring with the caption 'will you marry me?' and with that Michael was on one knee, ring ready in hand."
"The ring was a sapphire and diamond vintage beauty which he purchased from the Pop Up Vintage Fair at Ally Pally six months before. It was then that he told me the wedding date! It would be on our ten year anniversary, two years to the day after our engagement."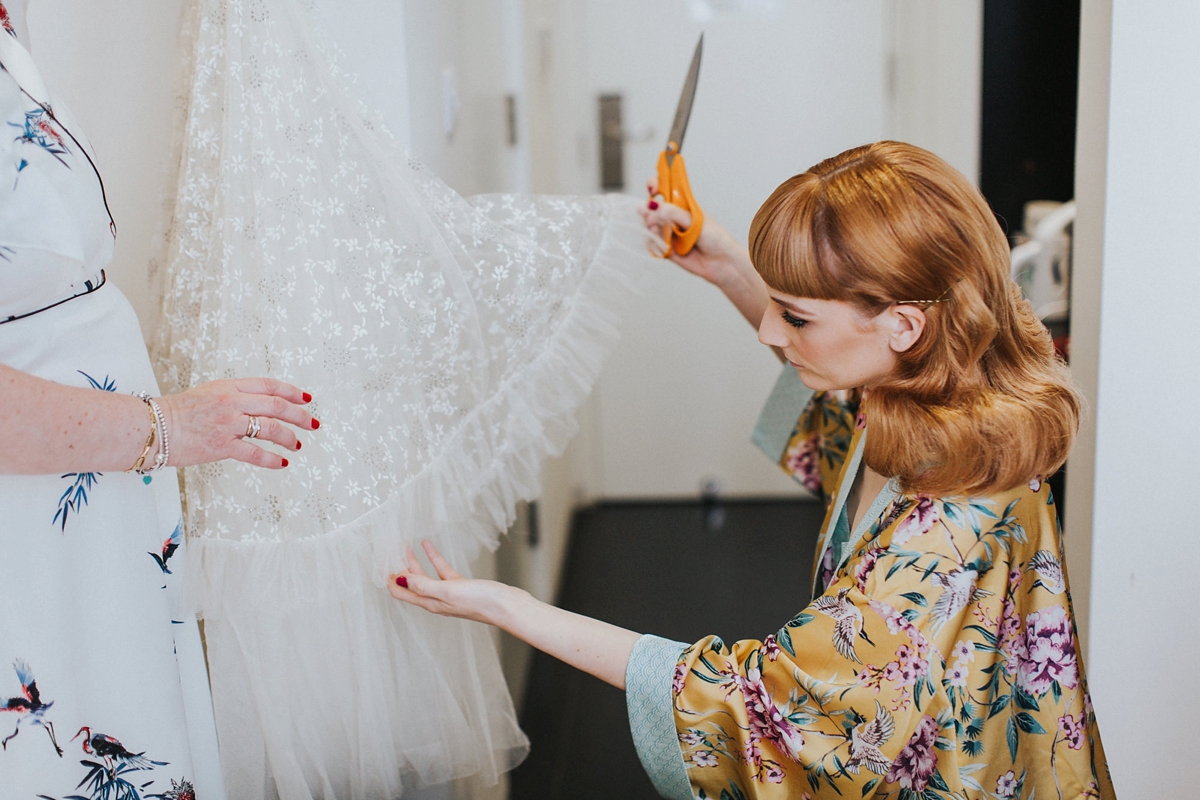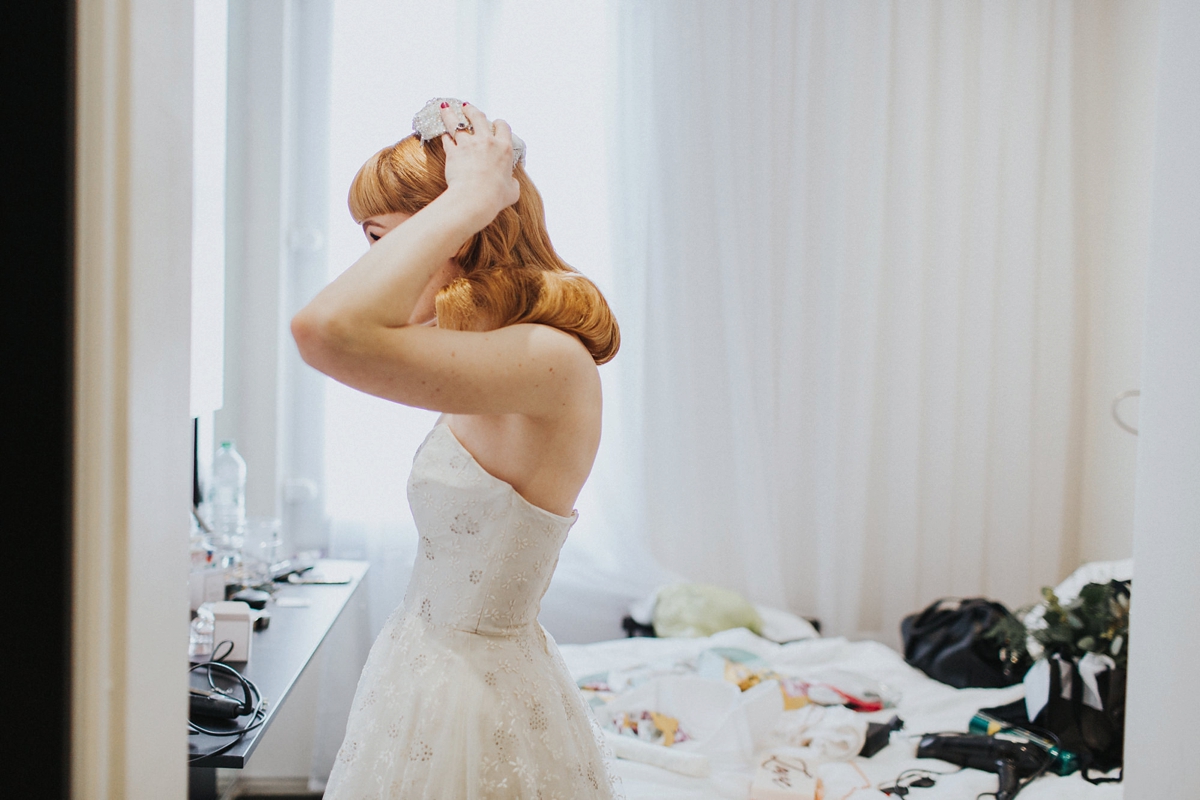 "I found an amazing pair of vintage green ear rings at the Pop Up Vintage Fair that happens to be held in our wedding venue. They were clip-on and added an extra colour to the outfit.  My mum let me borrow her pearl bracelet; it was important and special to wear a piece of her jewellery on the day."
"The only other jewellery I wore was a vintage green ring that Michael had bought me for my 21st birthday. I always wear it and it wouldn't have been right not wearing it on my wedding day, plus it matched the ear rings perfectly."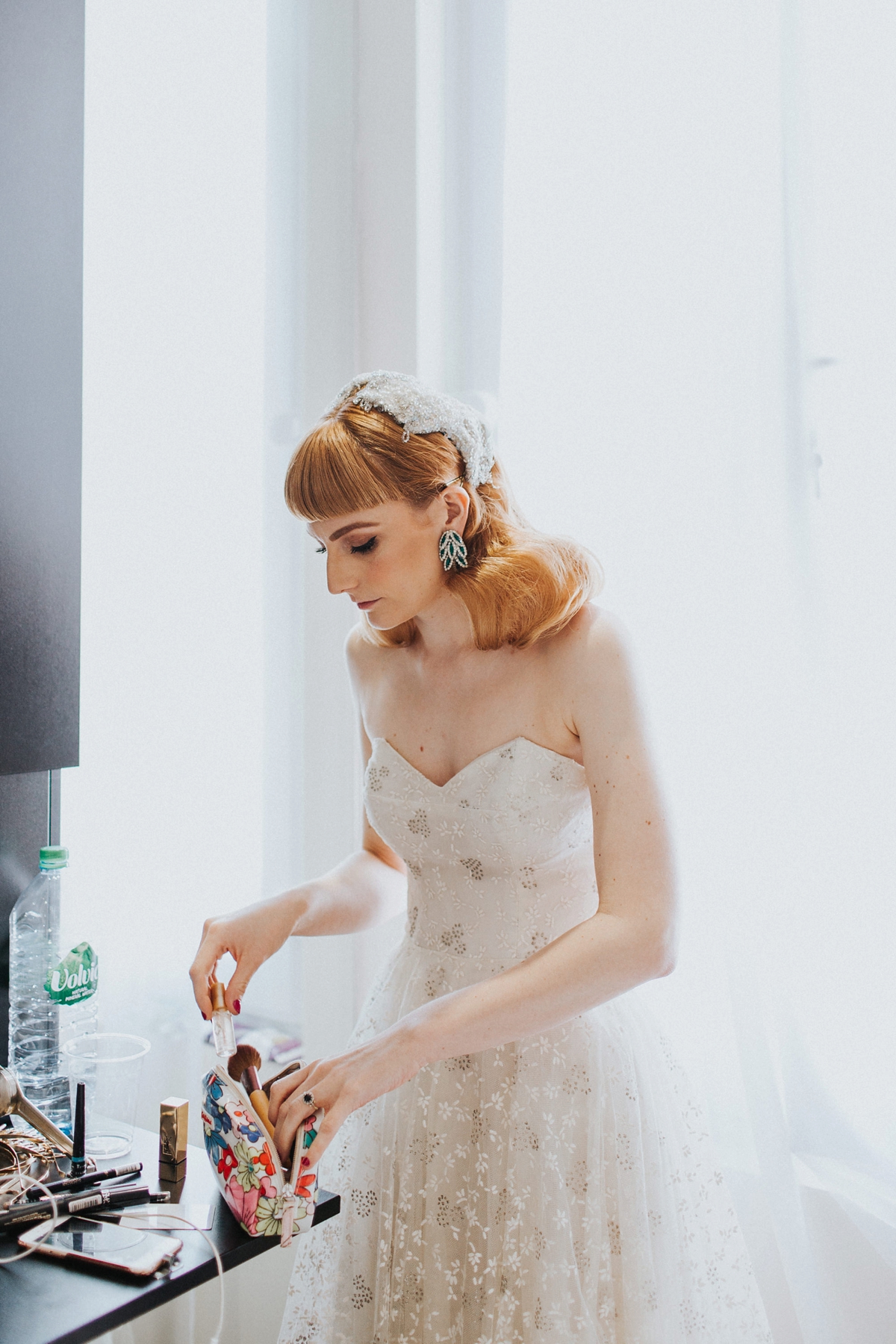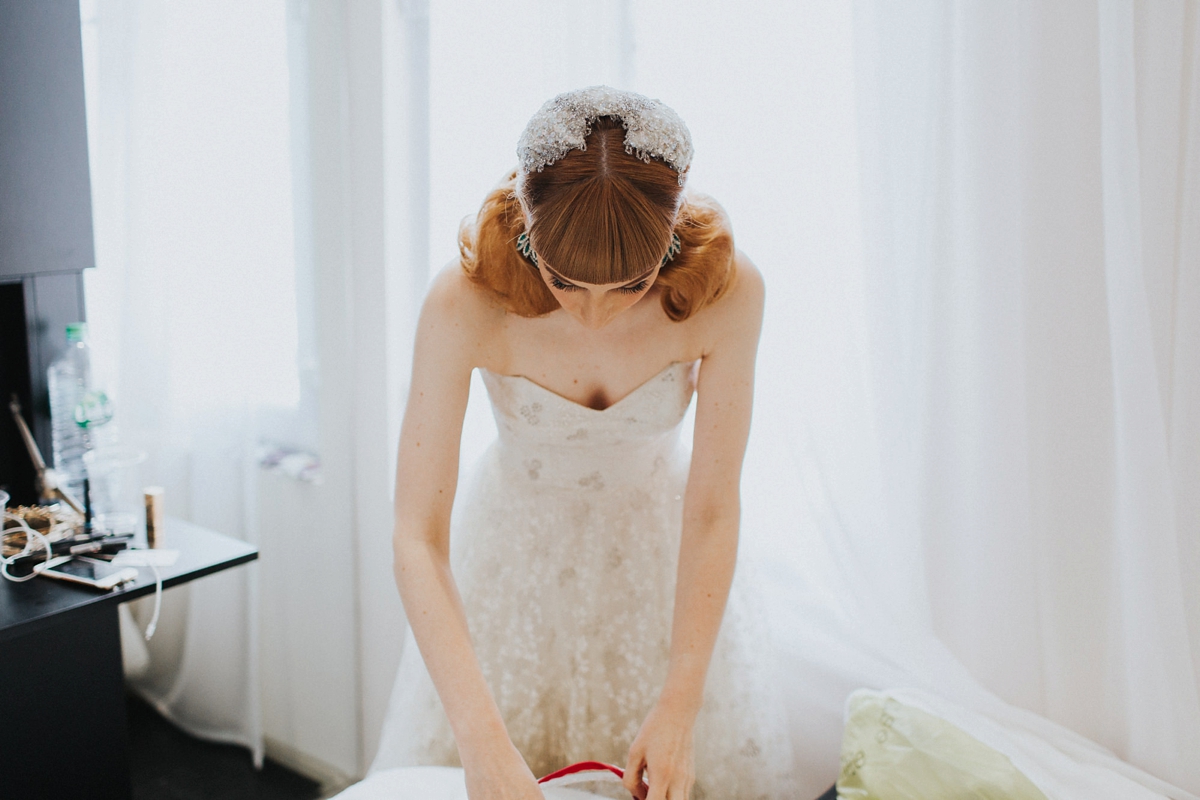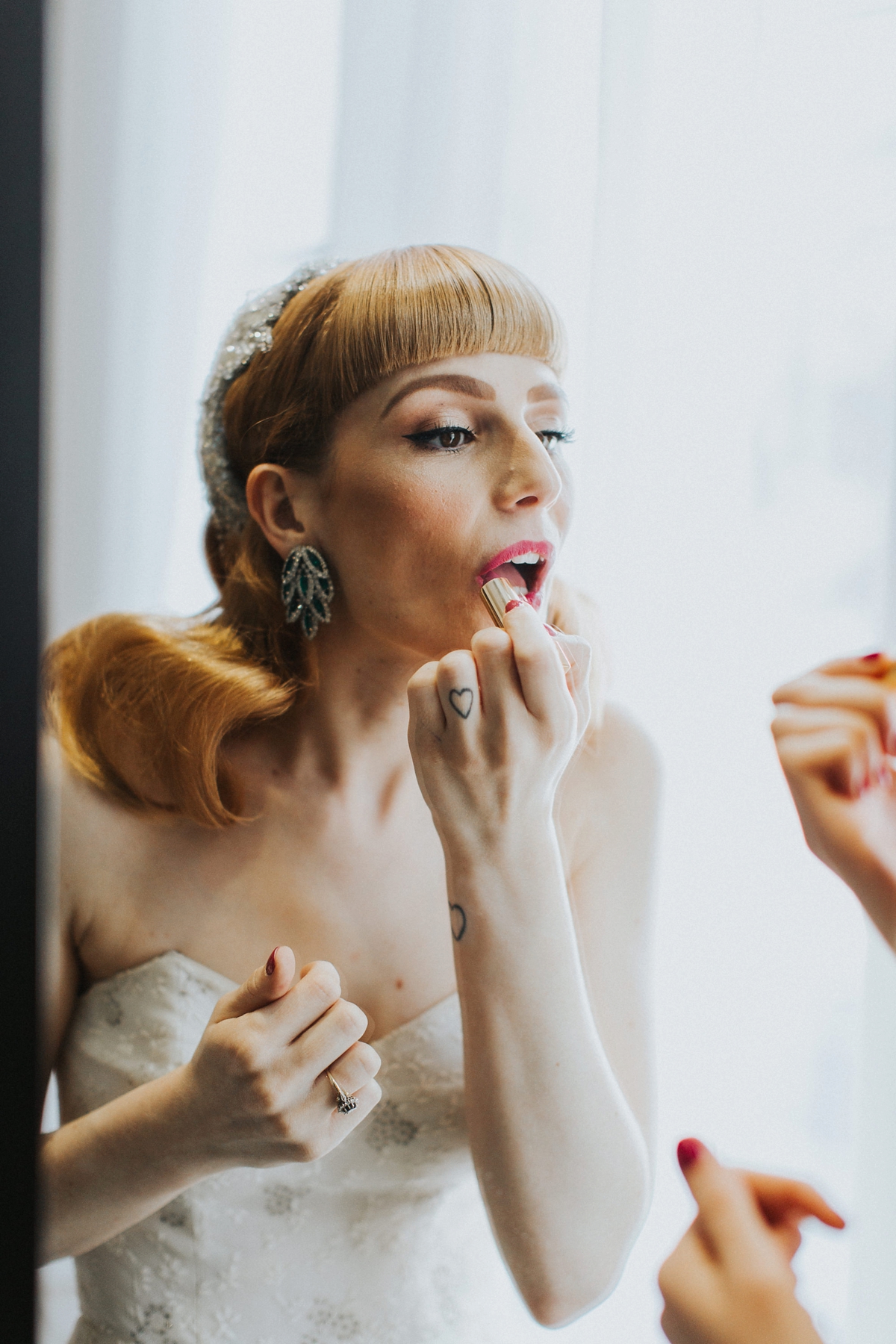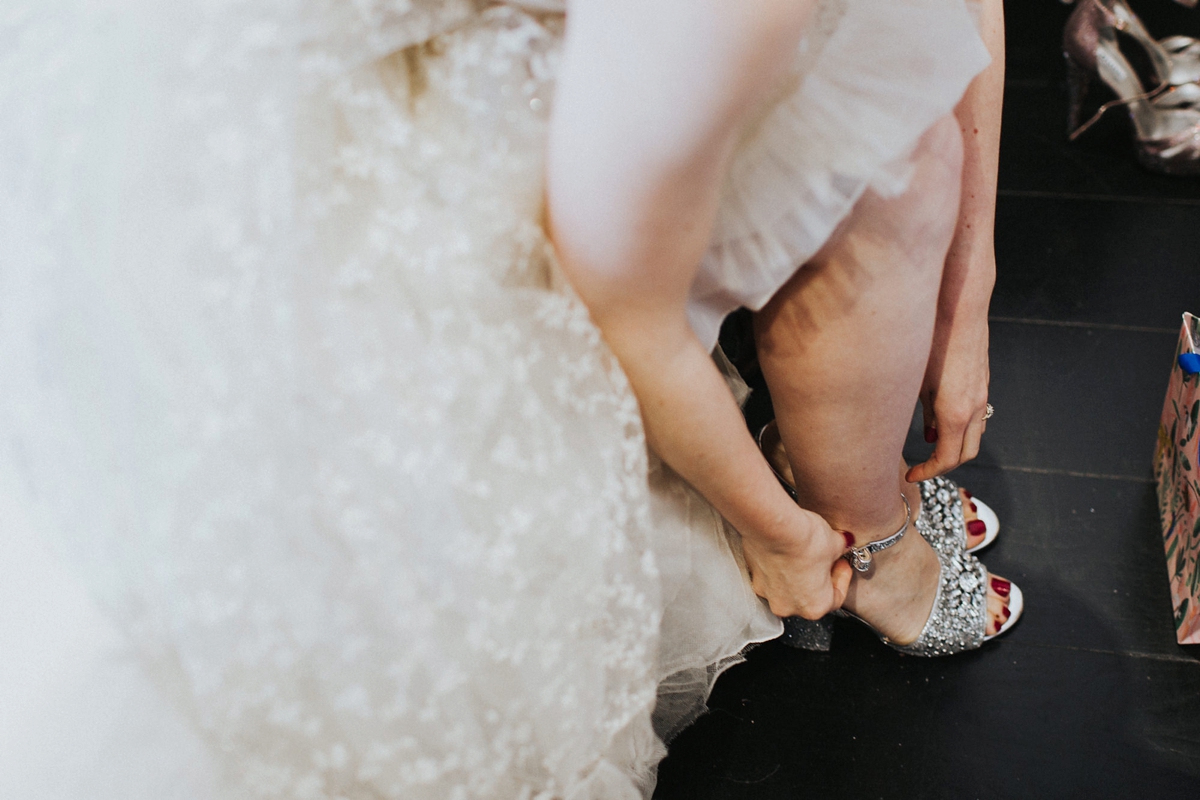 The bride struggled to decide on wedding shoes, buying a total of ten pairs but eventually opting for a pair of sparkly Topshop heels. To complement the detailing on the original '50s gown, she found a sparkly retro-inspired half headpiece on Etsy. Isn't it unusual?
Her hair was set into '50s film-star waves by Alex from Pretty Me Vintage and her brother's fiancée Hannah applied her natural and glamorous makeup with its strong red lip. Beautiful.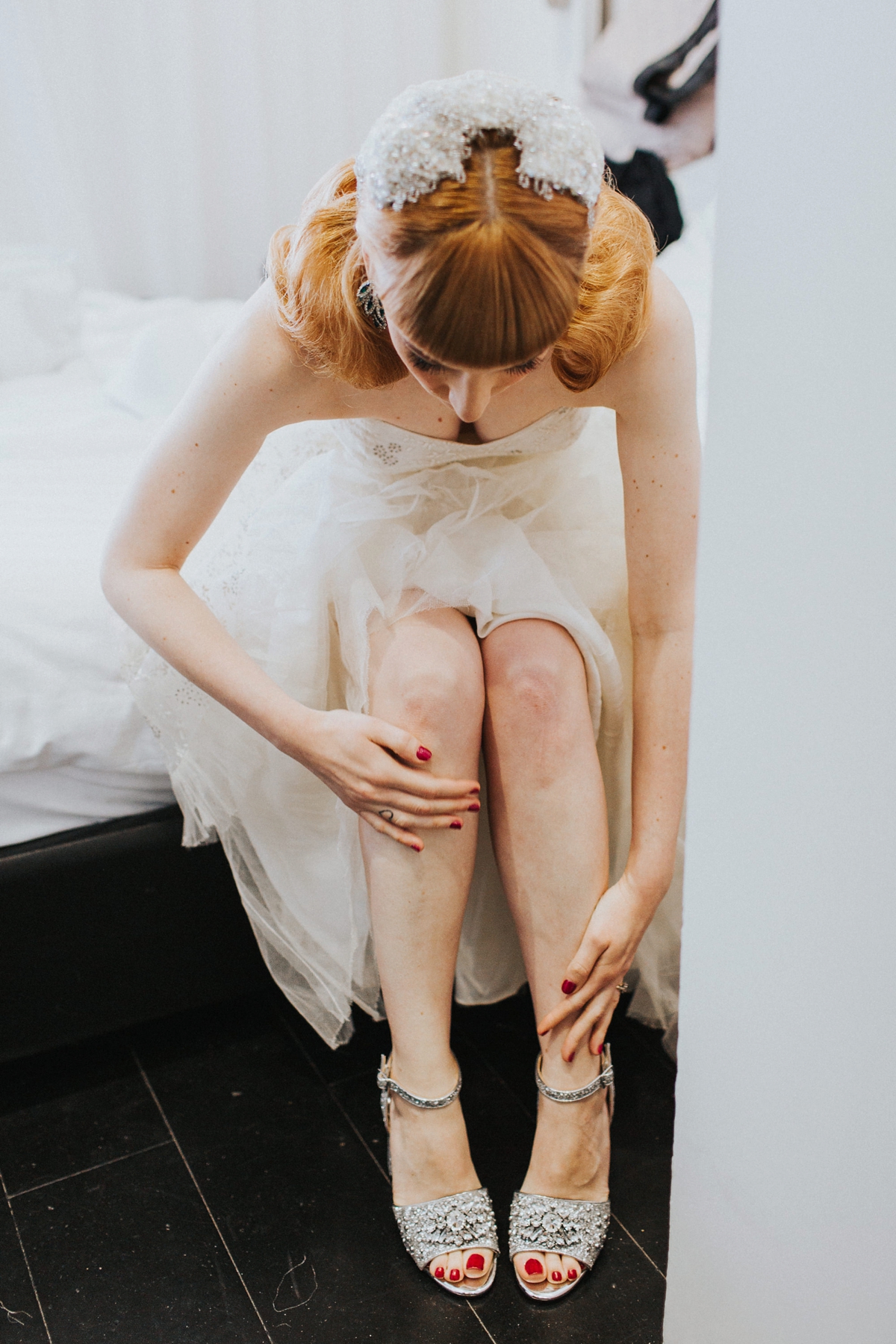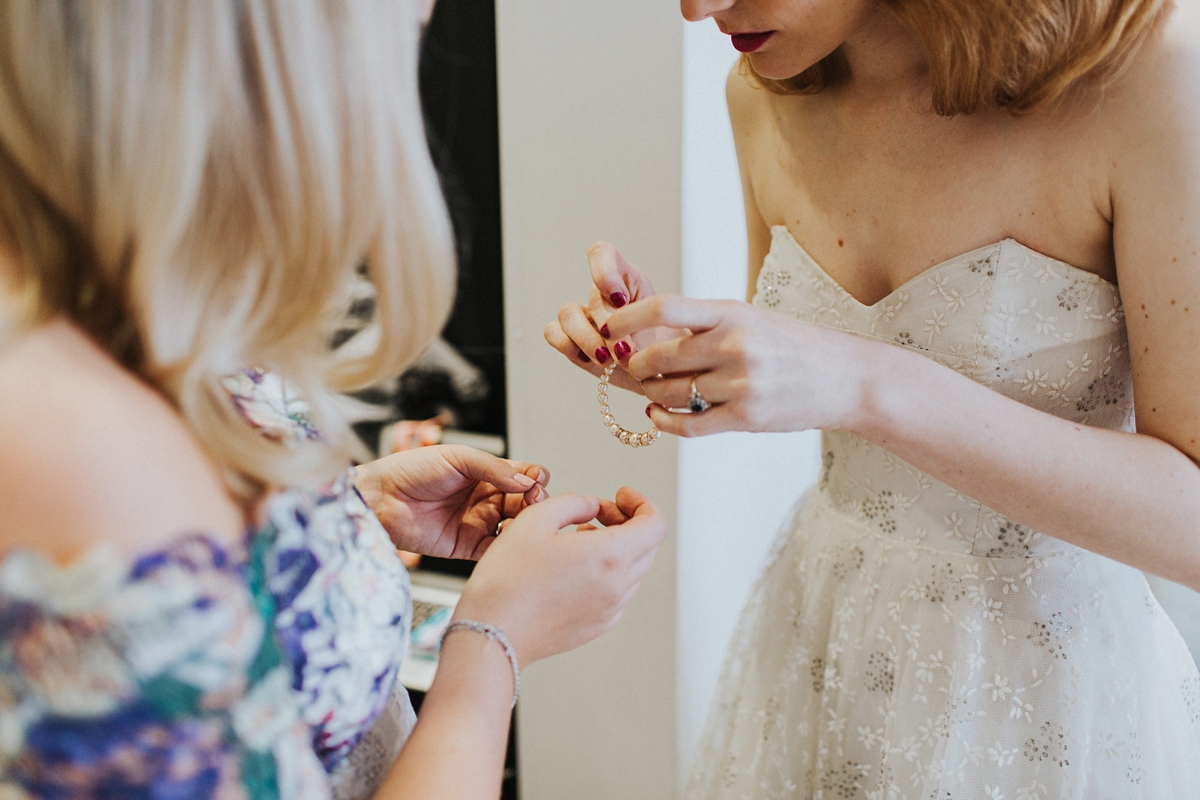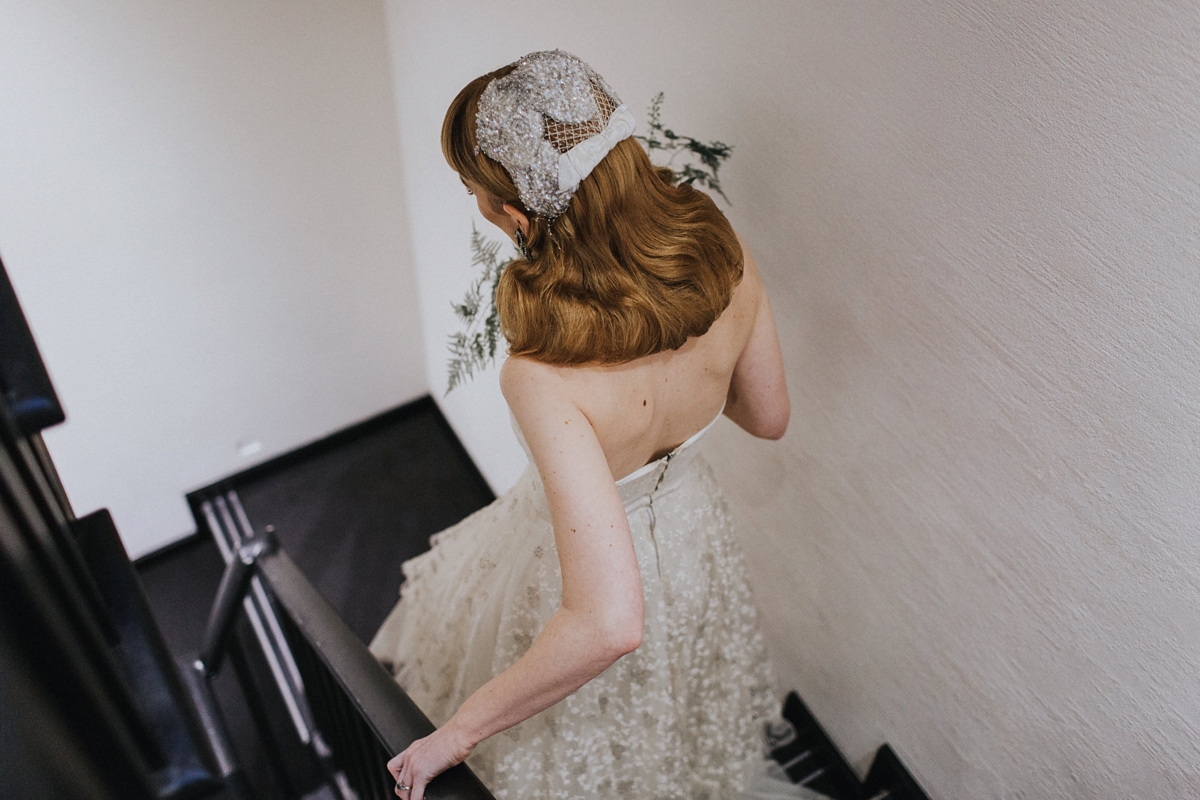 The bridesmaids dressed in super-bold, bright ASOS jumpsuits. This creative bride copied the print to carry throughout the day's styling. I really love this idea; so personal and different.
"I knew I didn't want a colour scheme as such but after much debating and searching for bridesmaid outfits I found these amazing floral jumpsuits. This then loosely became a print theme for the day. I scanned the jumpsuits in to make the background for all the invitations, order of the day and so on."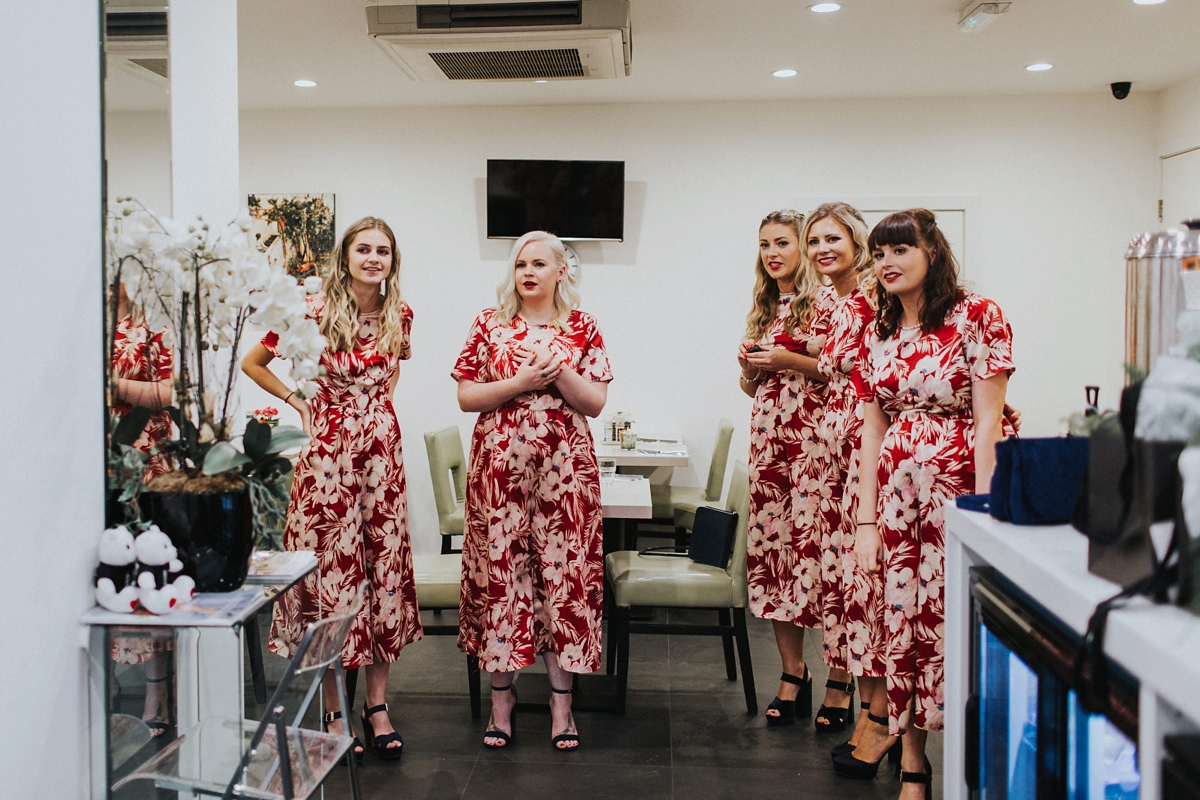 They added heart hair clips from ASOS and an initial bracelet in silver or rose gold from notonthehighstreet given to them by Emily.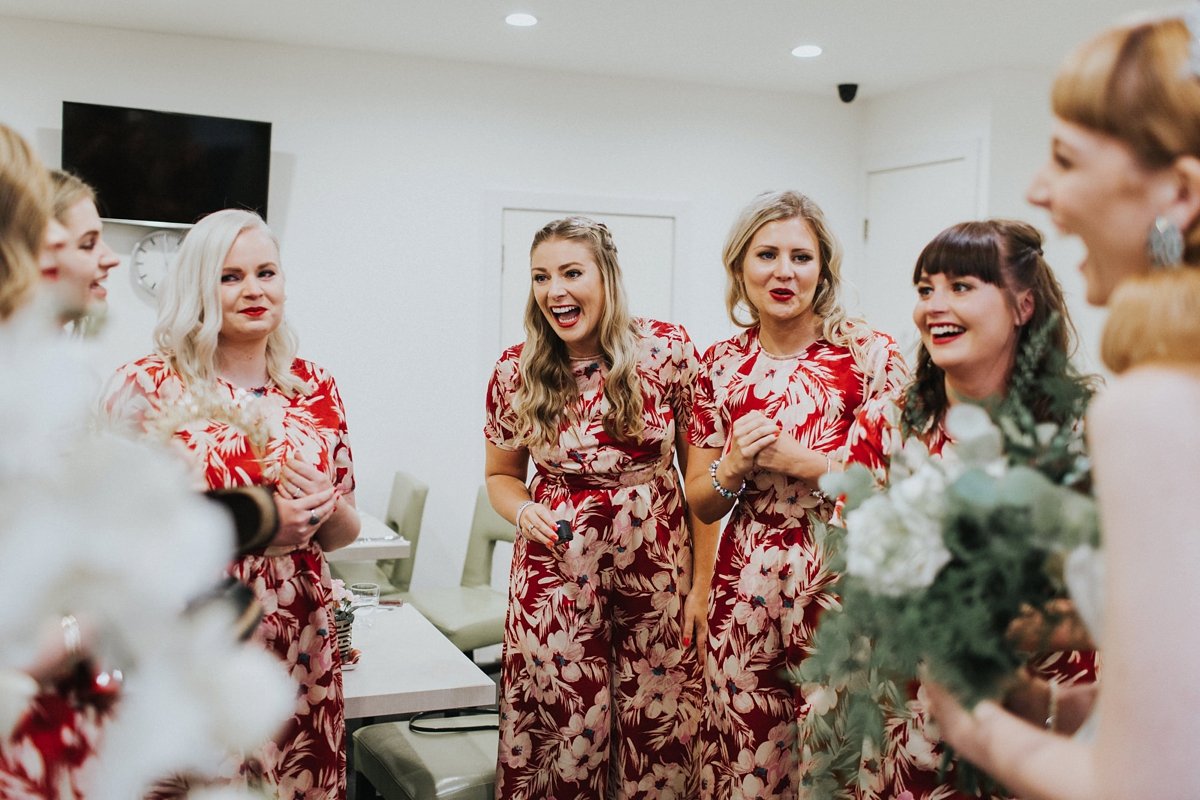 I am such a fan of natural-style flowers so these from Grace & Thorn are right up my street.
"Flowers were quite daunting to find; it's an area completely out of my comfort zone. As the bridesmaids were going to be head to toe floral in their jumpsuits I wanted their bouquets to be very simply. I also wanted just ivory and greenery in my bouquet as I already had a lot of detail on my dress. Grace & Thorn offer a ready to wear bridal service where you can pick and choose your style of bouquets."
"It was perfect for what I wanted; they were so friendly in helping me choose what bouquets were right for me. I opted for the 'keep it green' bridesmaids bouquets and 'white noise' bridal bouquet for myself. It really was completely fuss-free and easy."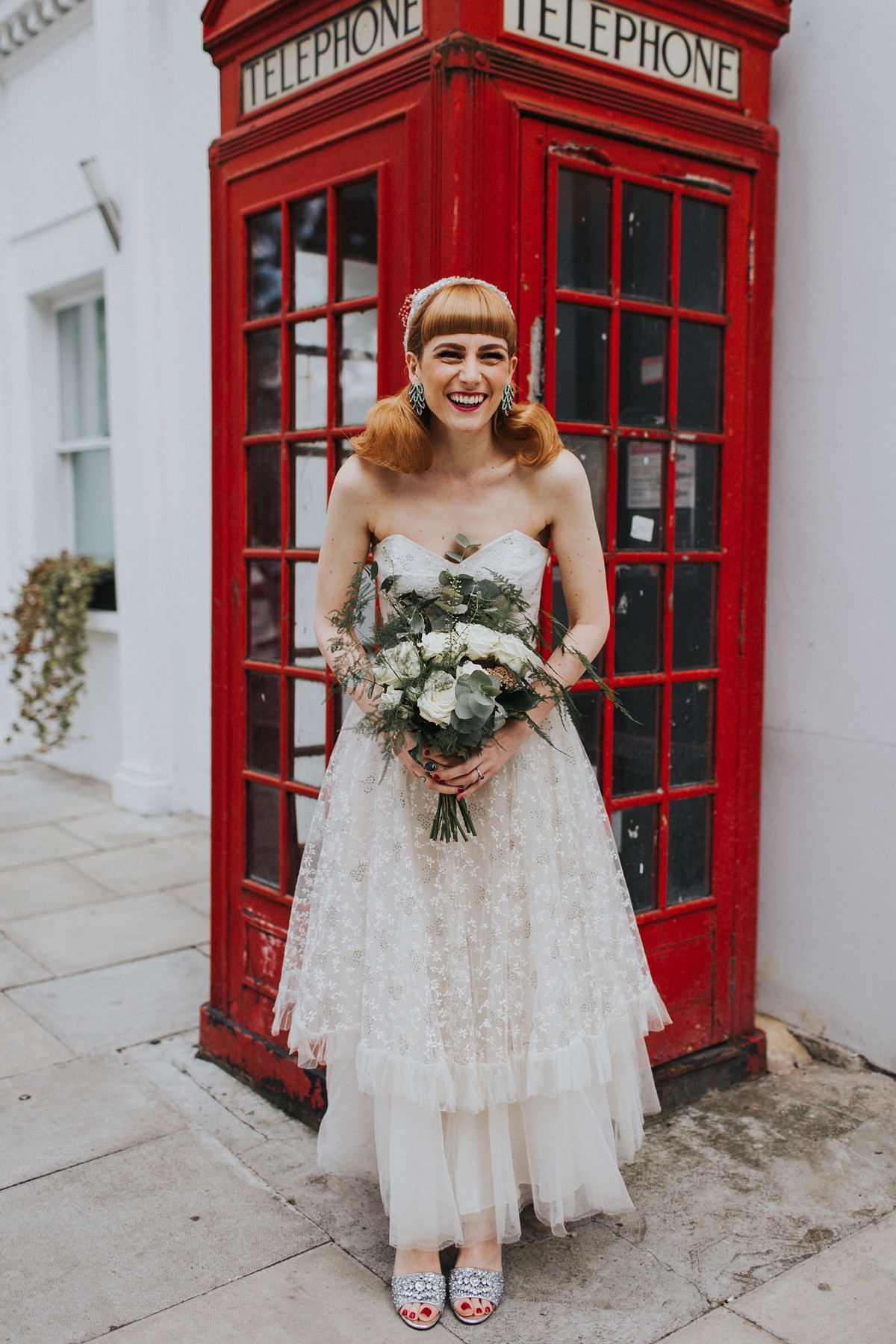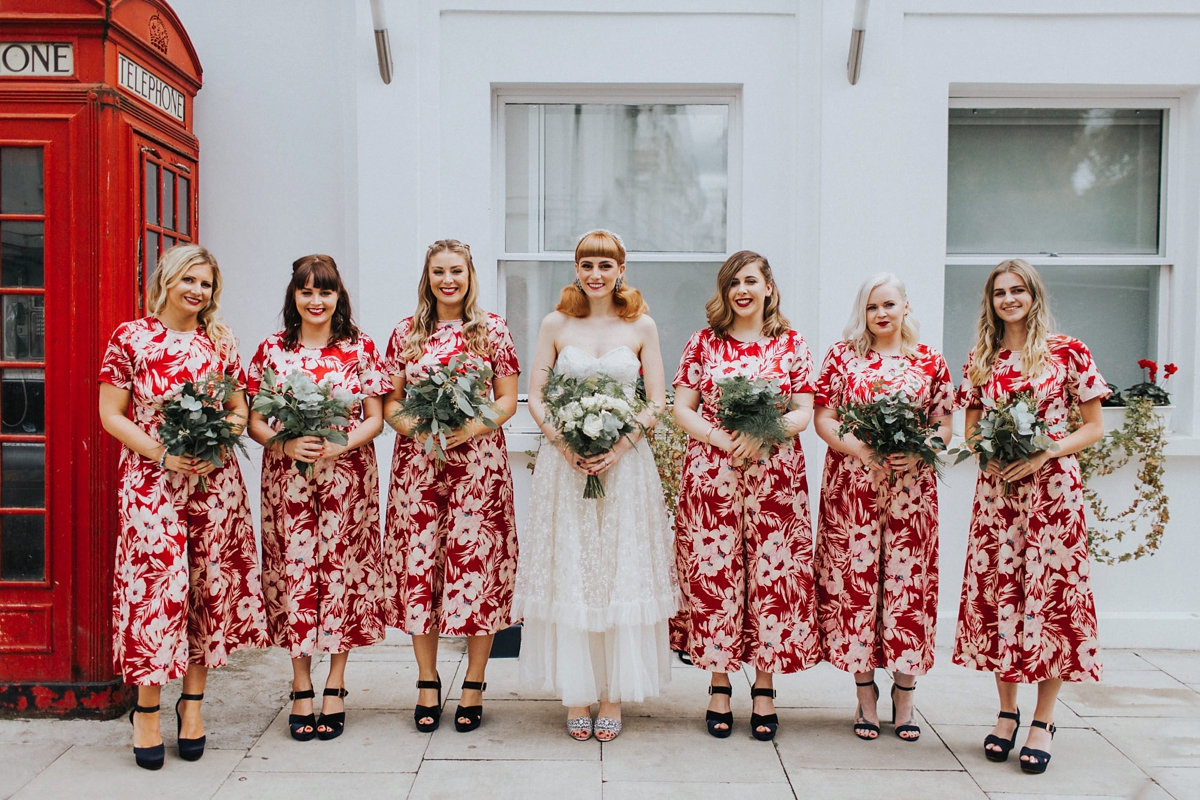 I think that these images of Emily and her bridesmaids walking to the venue are my favourite. Light-filled and elegant, they really portray the happiness and excitement of the bride.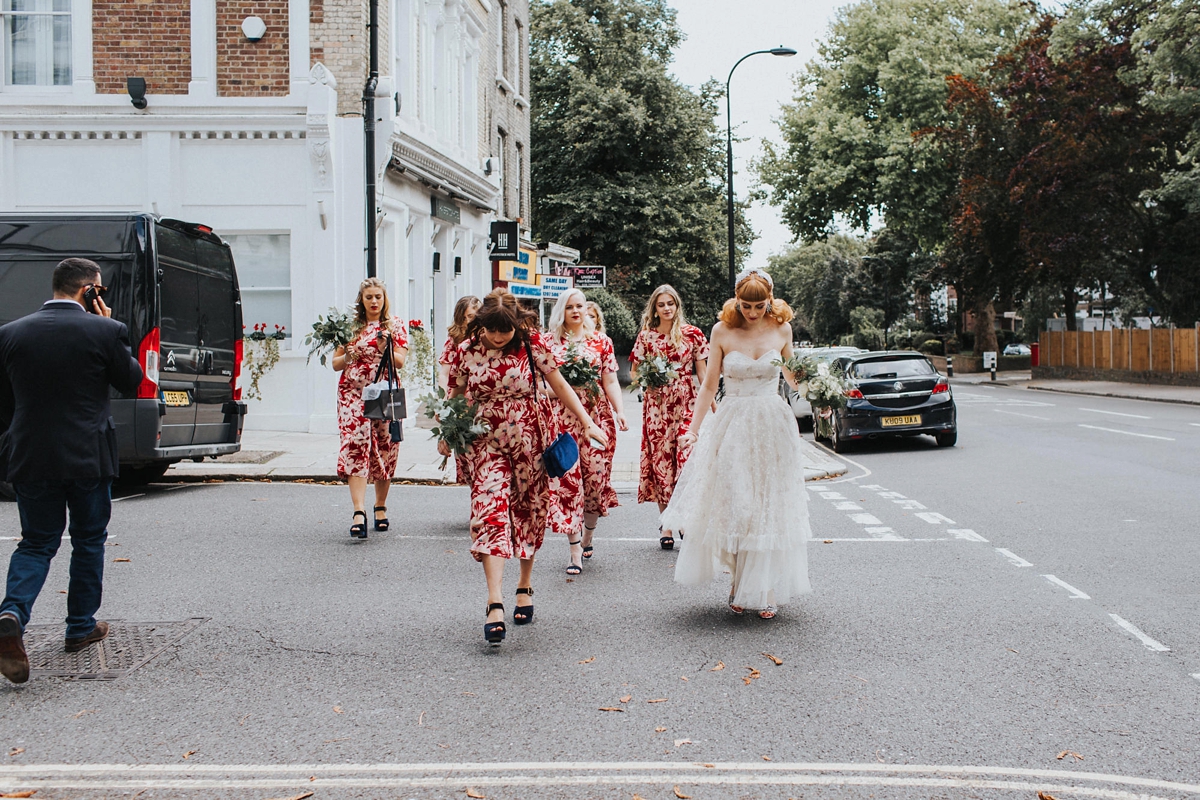 "Finding the right photographer was probably one of the most important things for us. We took a long time looking through wedding blogs and Instagram looking for natural photography with a fun twist. We came across We Heart Pictures and loved their style. Their photos are like works of art. Hector was amazing! He made us feel so at ease and not awkward in front of the camera. Hector managed to capture all the emotions of the day – those special moments that you can look back on and truly cherish forever."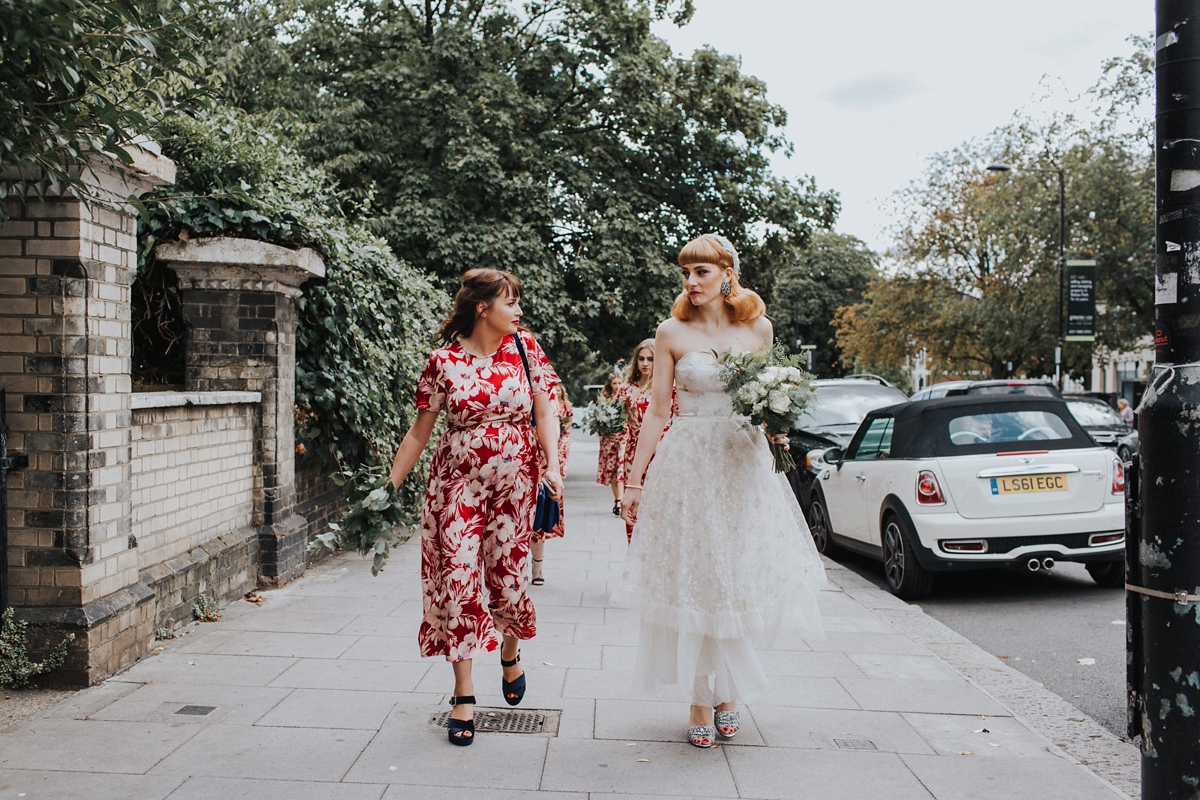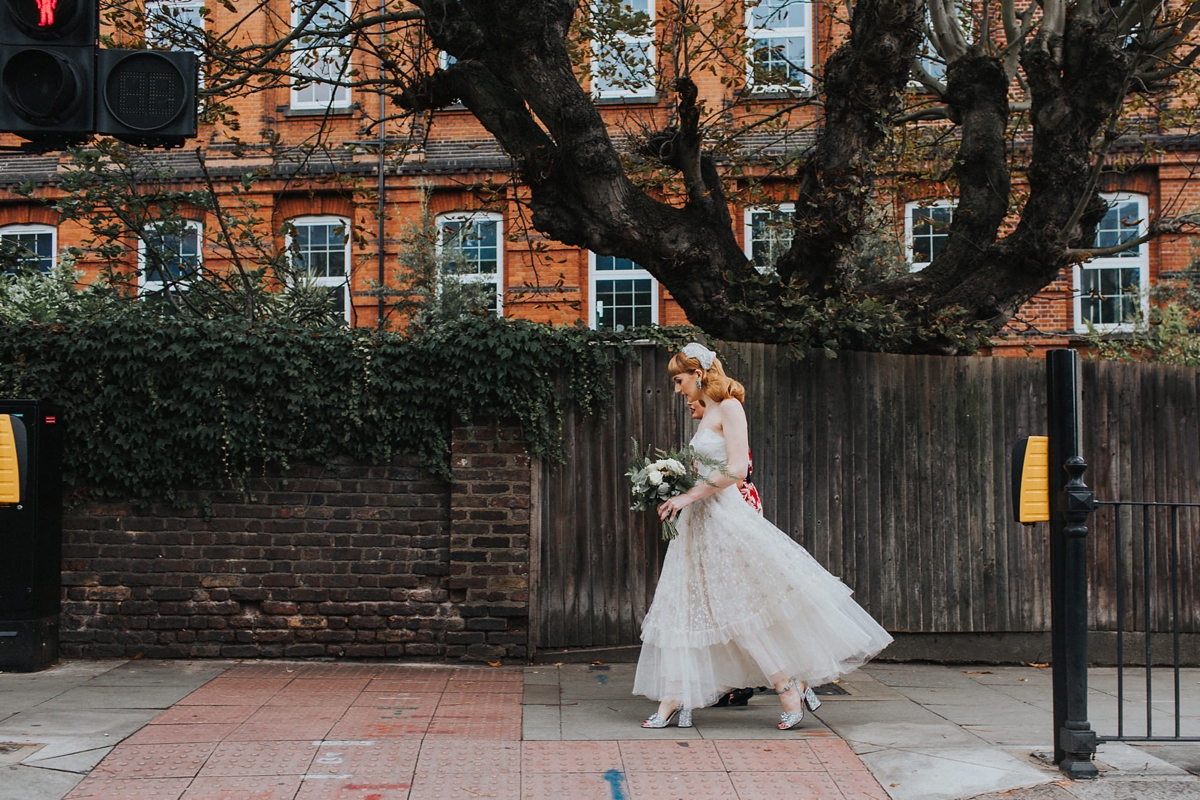 The couple found their perfect venue, which let them host the ceremony and reception in the same place, in St Stephen's, Hampstead Heath. They really wanted a London venue which would give them a fun, timeless space to party and this incredible building offered just that.
"St Stephen's in Hampstead Heath was the first and only venue we saw; as soon as we set foot in the building we knew it was the one. We loved that we could have the ceremony and reception all under one amazing roof. I also loved that my dad could walk me down a pretty amazing aisle. Put simply, it was perfect for us and exactly what we wanted."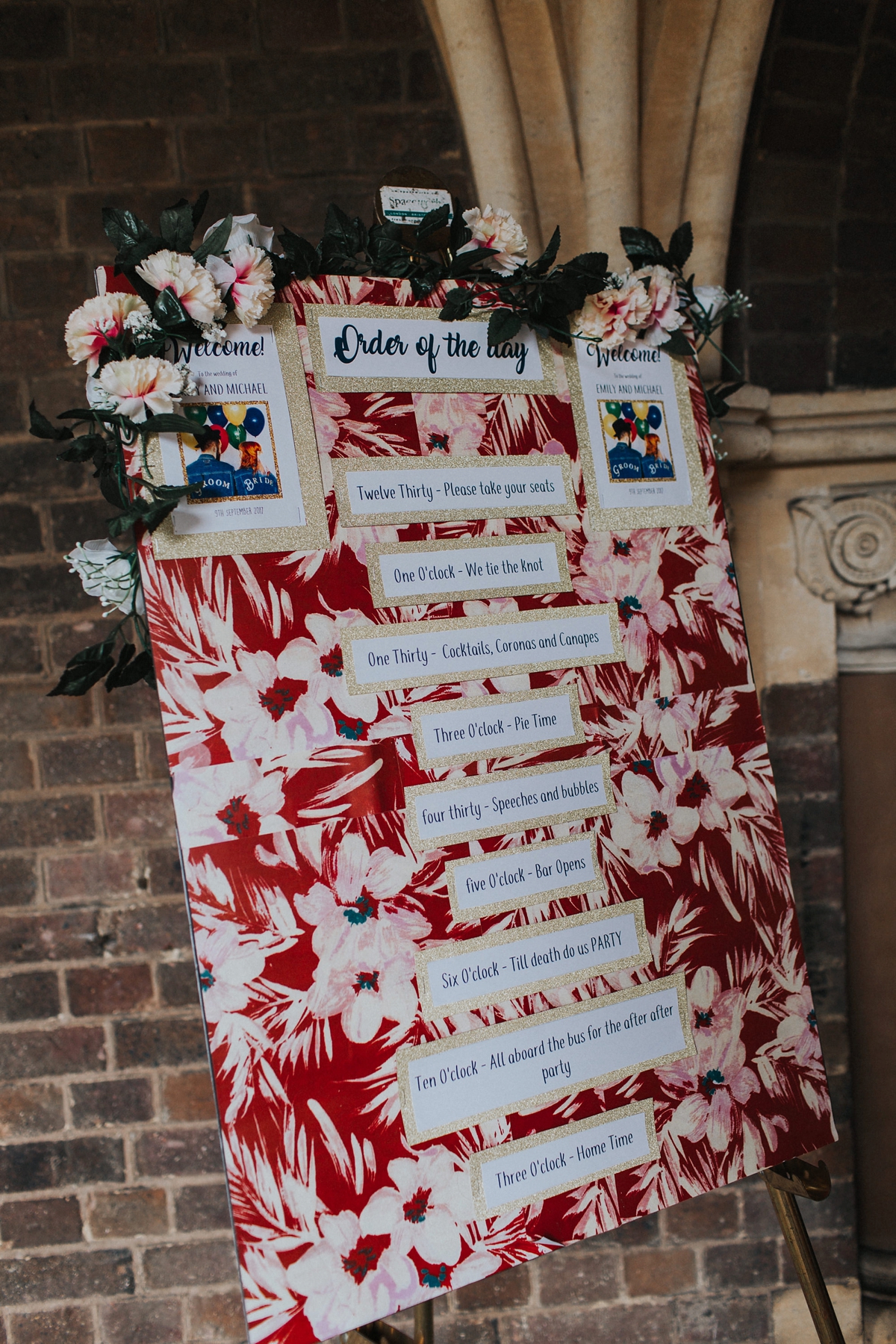 "We had both said from the beginning we were going to do the wedding our way. We wanted to have some traditional elements but the main focus was a really good party for our family and friends! It sounds cheesy but we wanted a day to celebrate how much we love each other and that would be the most important part."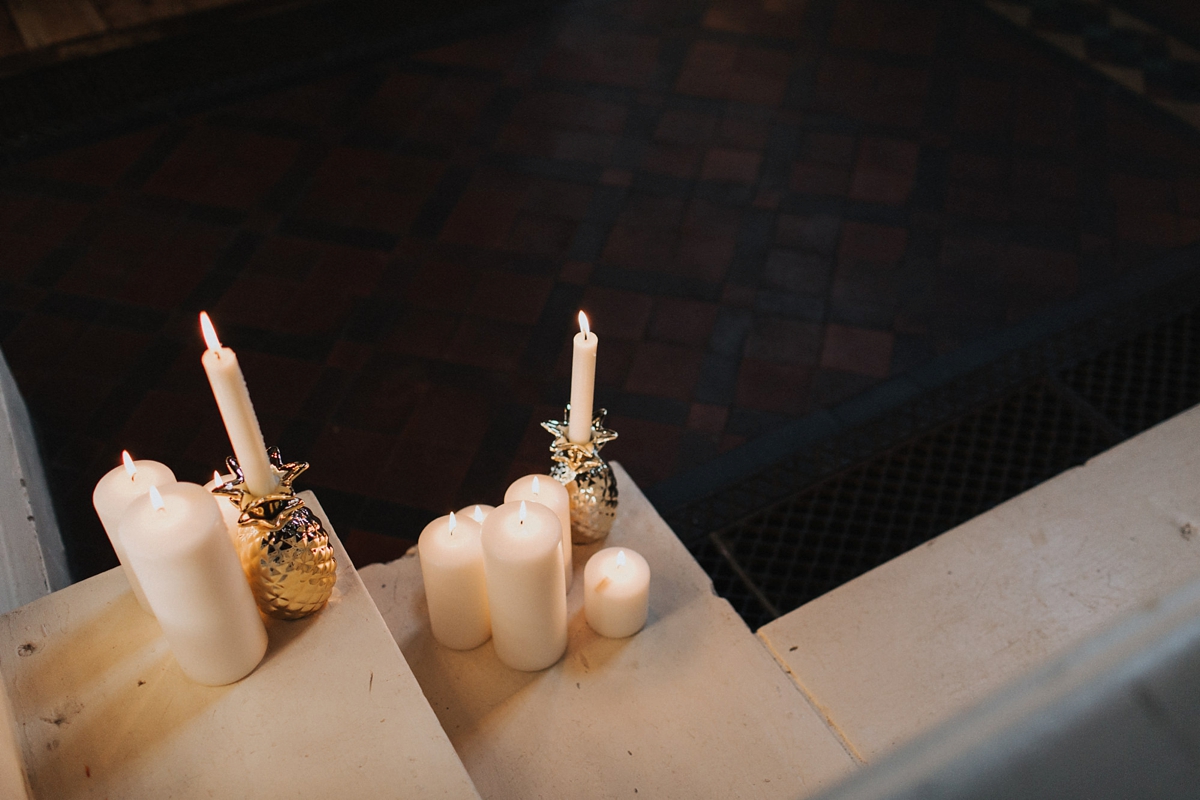 Just like the bride Michael chose to be true to his own quirky style, wearing a slim-fit checked Label Lab  waistcoat with a short-sleeved white shirt found at Religion at ASOS. With Dr Marten shoes and a vintage pocket watch bought at a vintage fair, doesn't he look great?
The church looked so beautiful with those bright fairy lights wound around the pillars and those statement balloons with their long, elegant tassels lining the aisle. The couple chose The XX's 'Angels' for the bride to enter to with her father.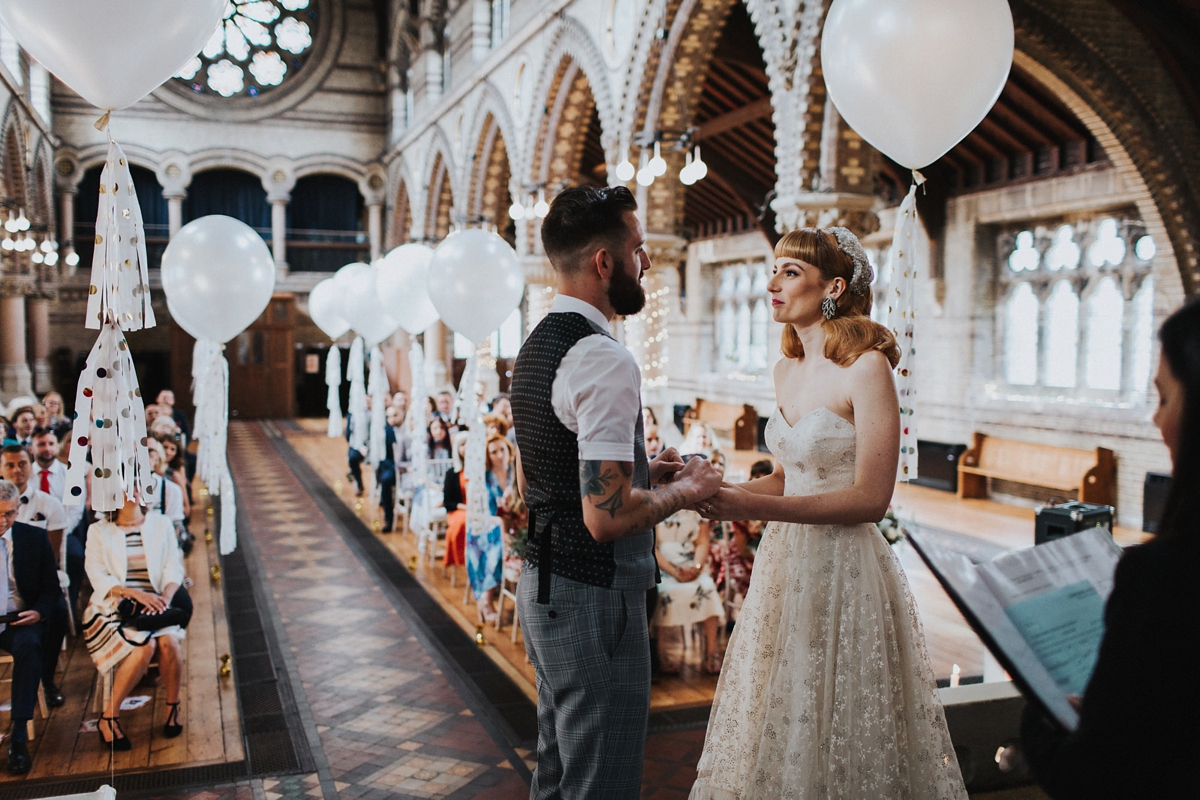 "The song's beautiful and held fond memories of Michael and me seeing them together at Glastonbury. I really enjoyed walking down the aisle. I felt so calm and happy walking towards Michael with all of my loved ones around me. It really is the most amazing feeling."
Readings were delivered by friends Chelsea and Rhiannon, who combined lyrics from 'Angels' and 'Our Son' for a personal feel.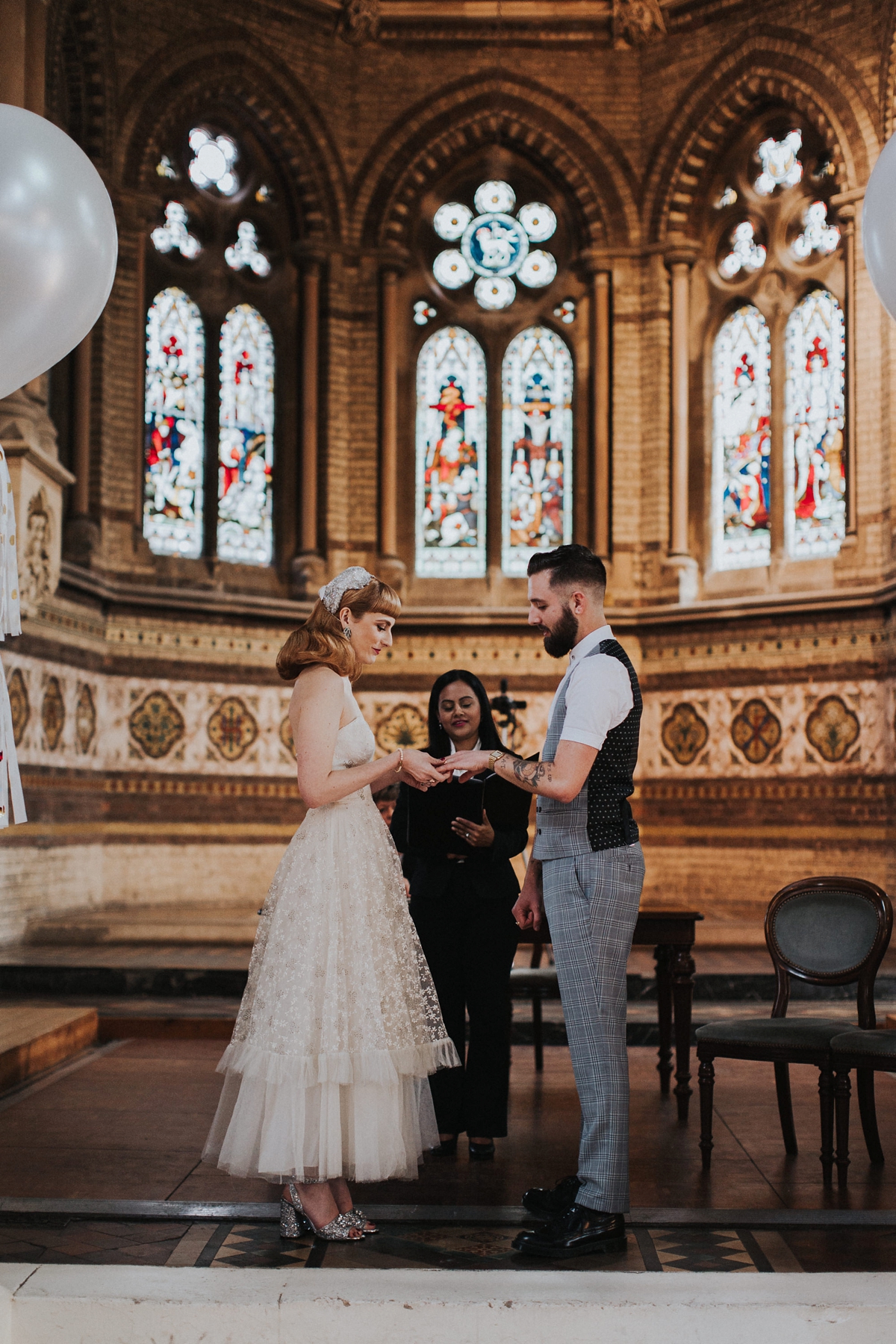 "It was so lovely not knowing what was coming and the words were beautiful. It was a really emotional moment during the ceremony."
"My ring was custom-made from COO Jewellers. We found them at a wedding fair and loved their honest and friendly approach. Michael's ring was his great grandfather's – a beautiful rose gold band. COO Jewellers resized Michael's ring and engraved both with the wedding date."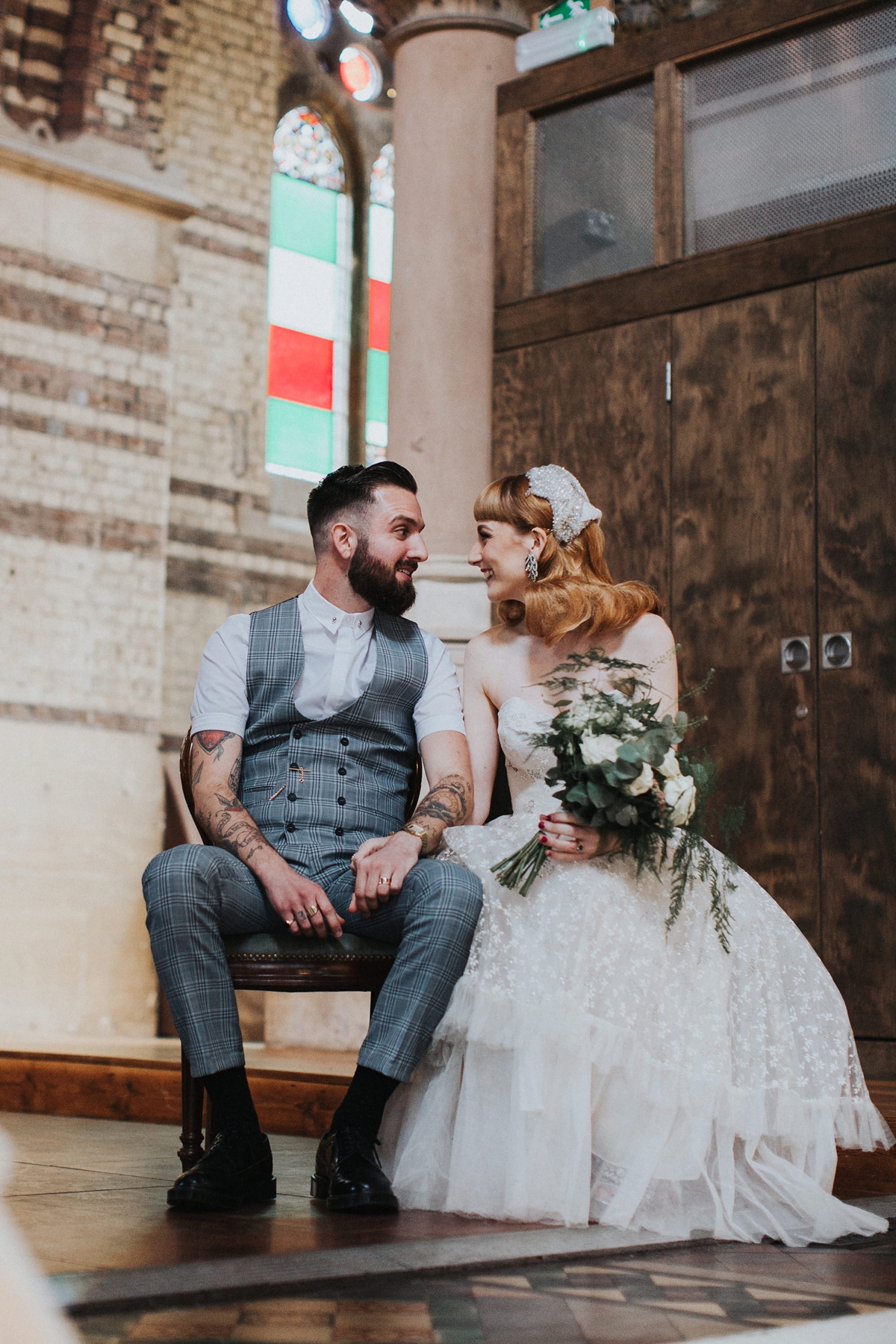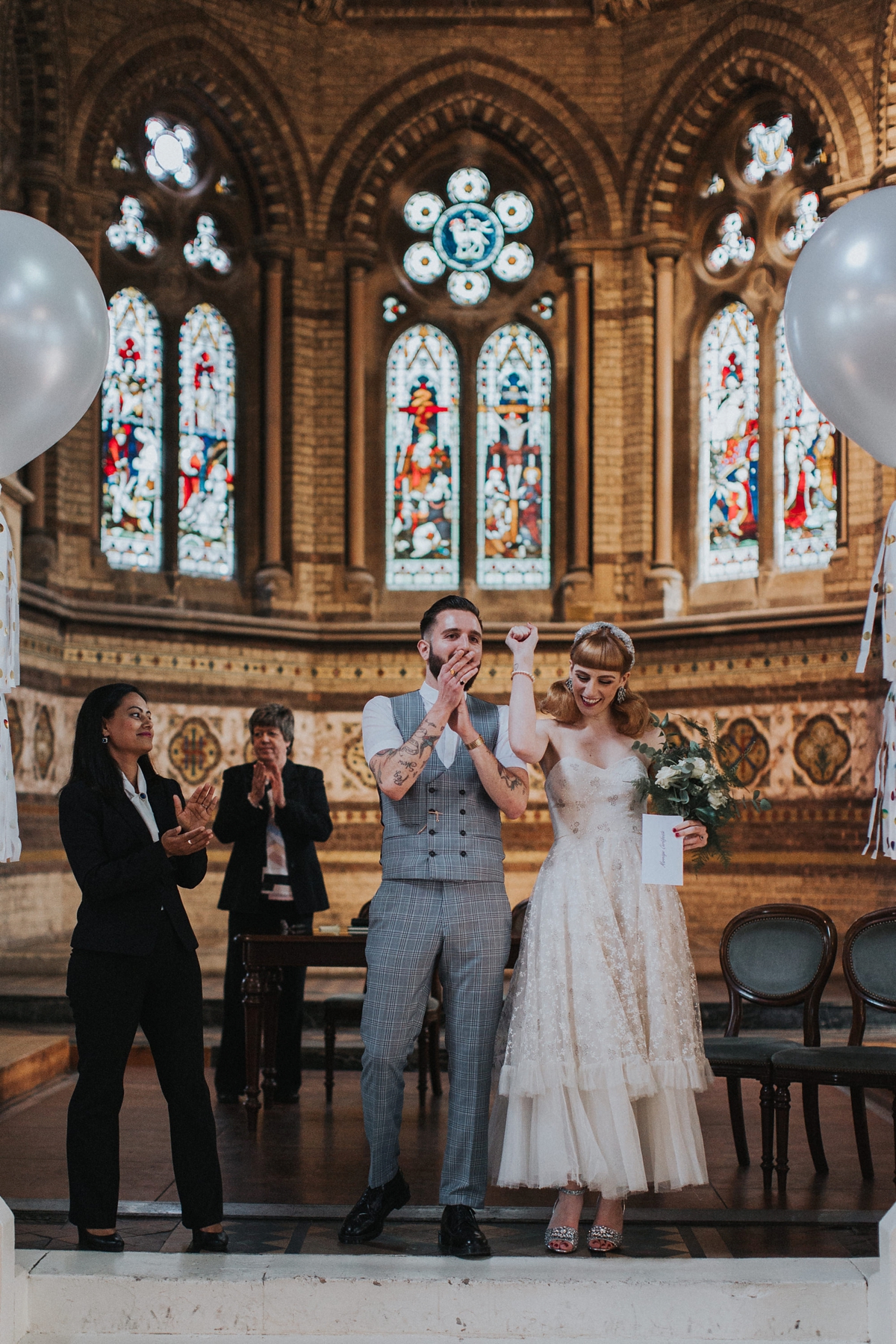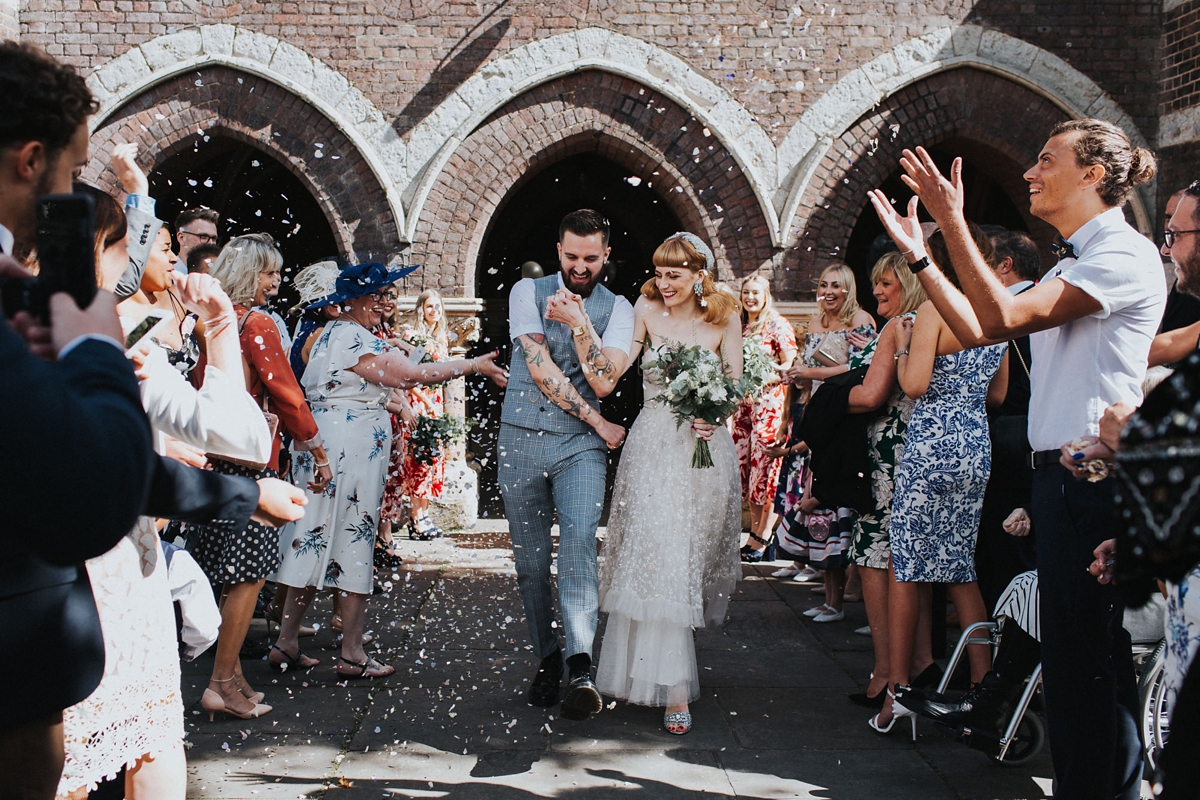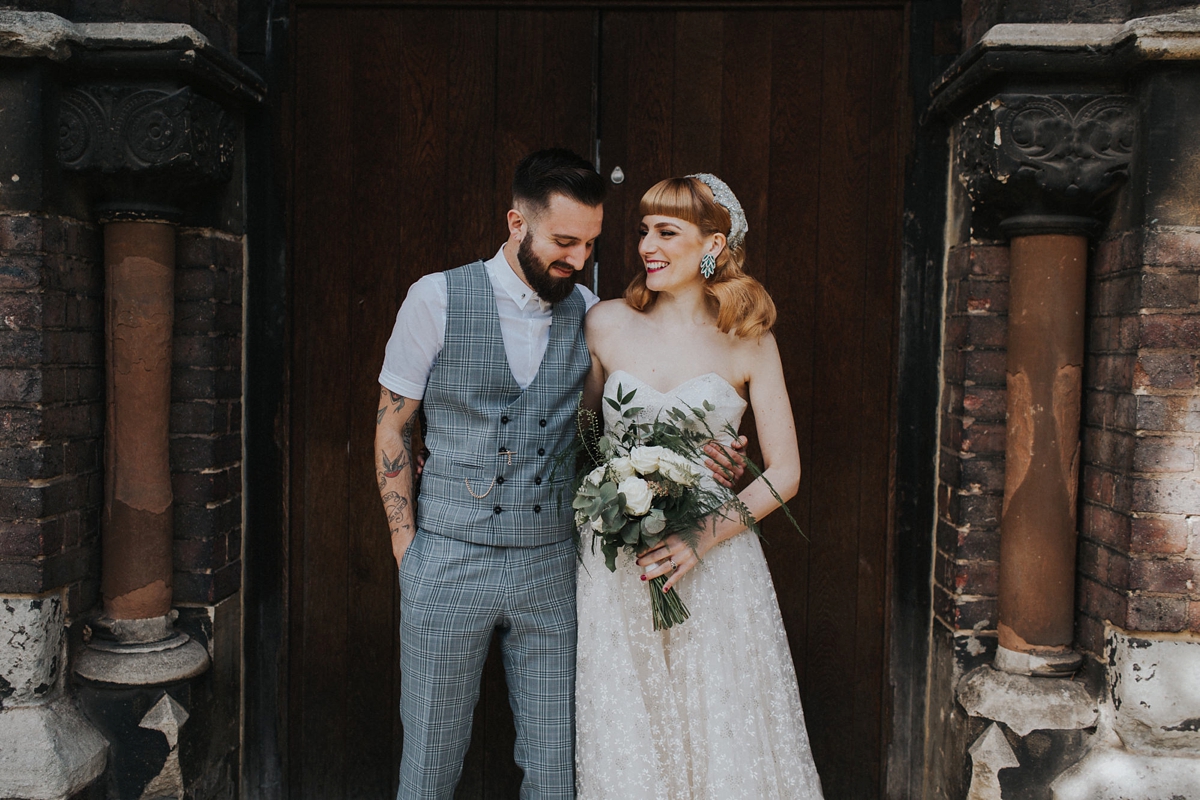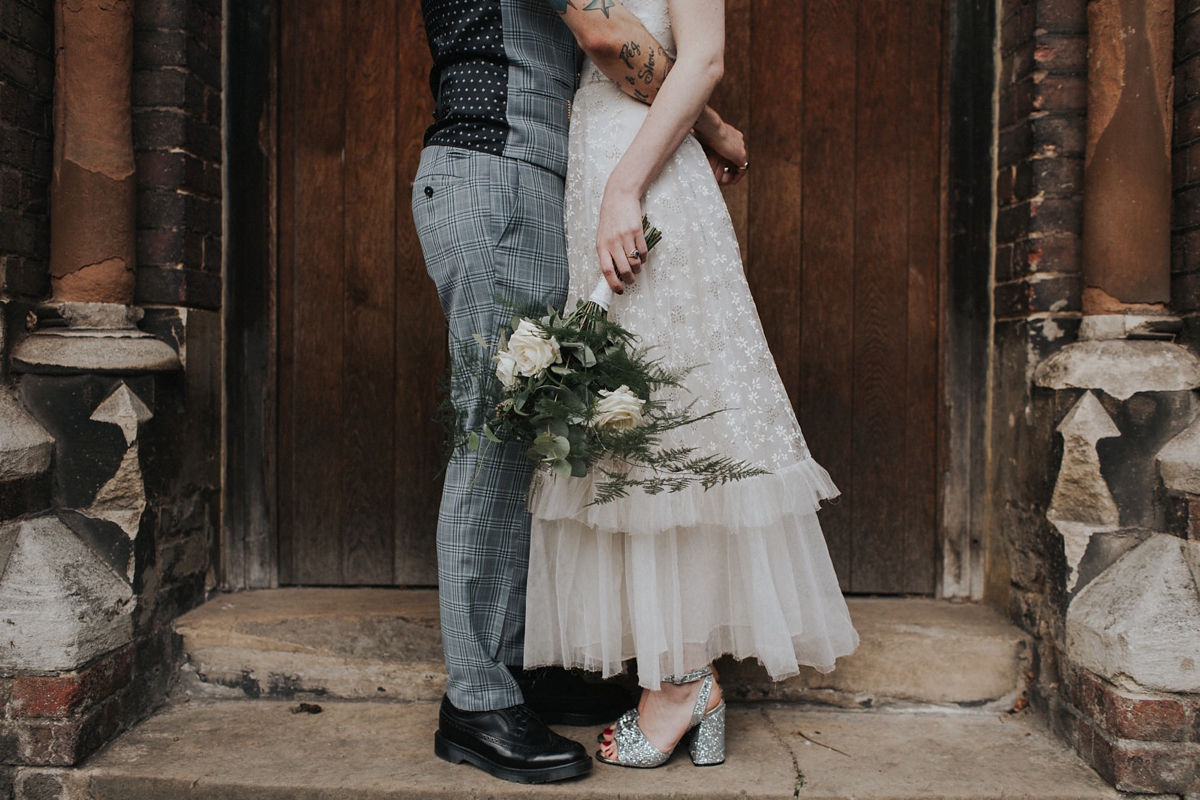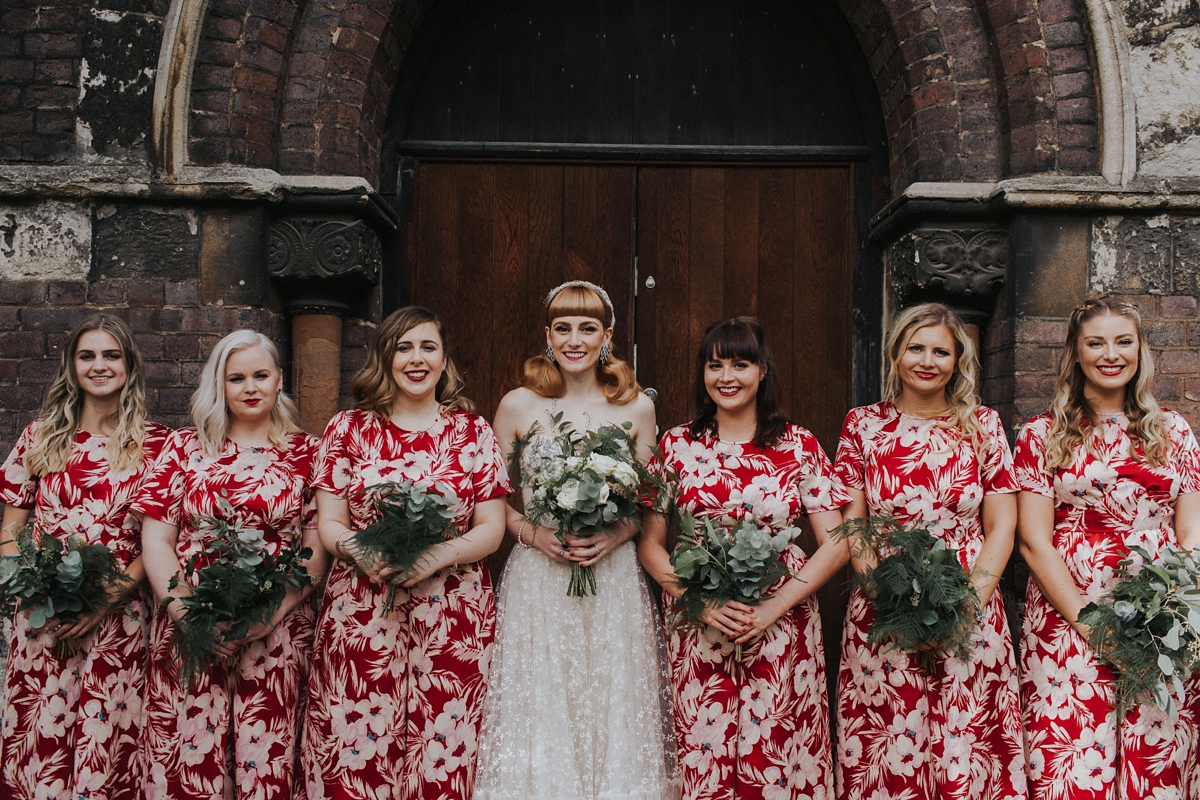 After the ceremony, the spectacular venue was transformed into such a magical space for the wedding reception.
"For the table decorations we wanted to bring some quirkiness to the venue. The balloons doubled up as table centre pieces and I found these amazing gnomes from TK Maxx, one playing the maracas and one playing the guitar."
"They were colourful and perfect and I started building around these. I found larger garden gnomes on ebay and painted them all white. We also had cactus vases from Primark which we added flowers to along with fish-shaped glass vases from Tiger."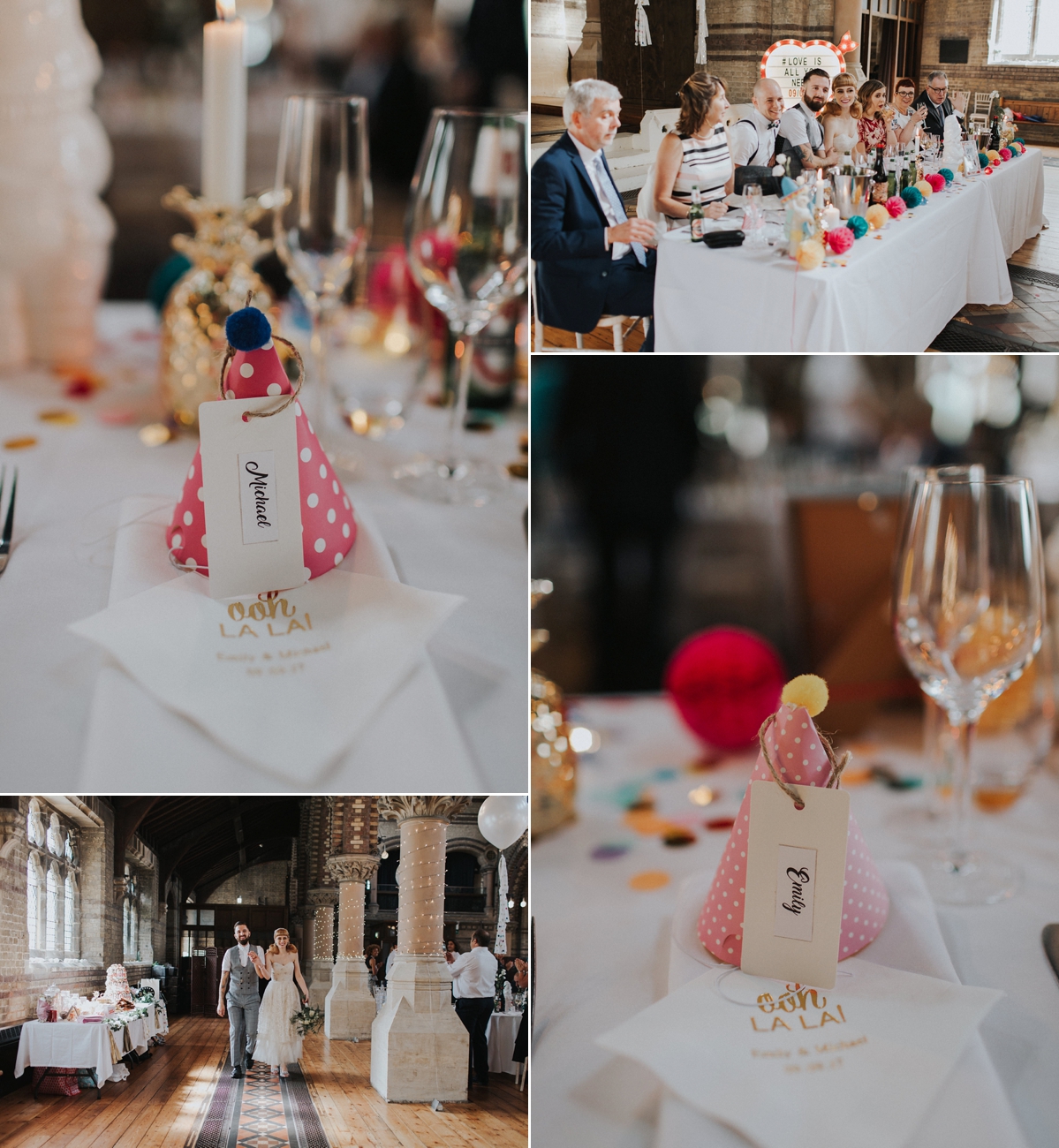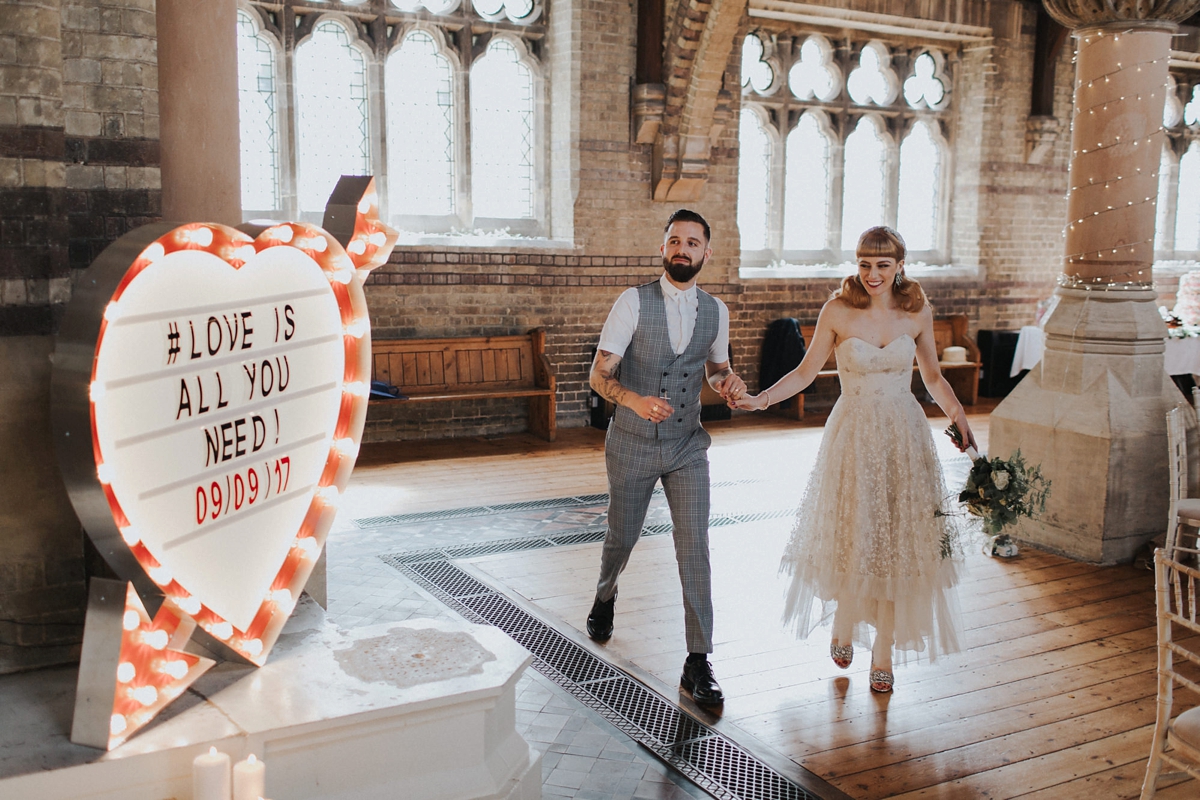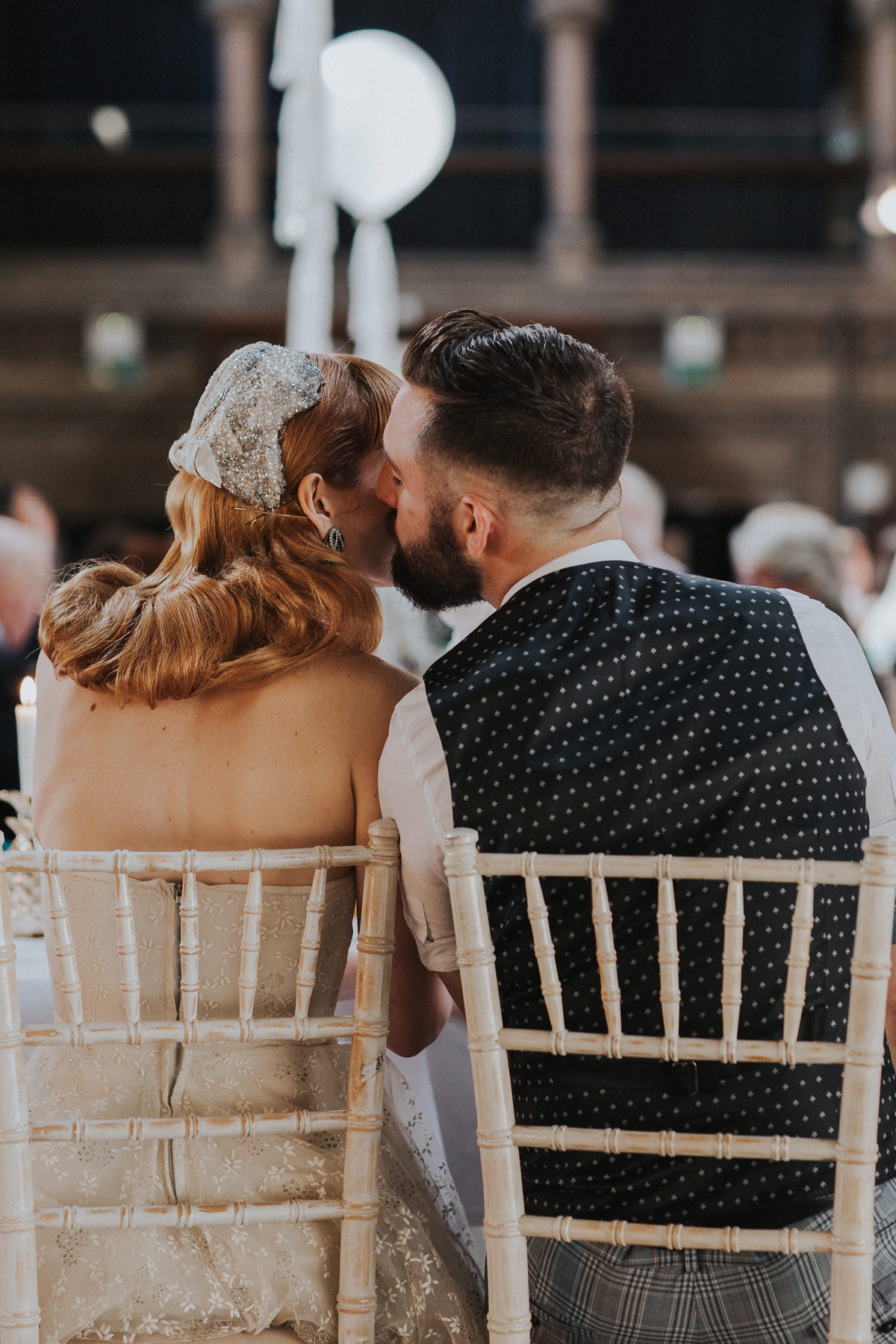 A proper British feast was delivered by The Humble Pie and this pretty spectacular cake was from Anges de Sucre.
"As soon as we got engaged we had our hearts set on a hearty British dish and decided to go for pies. The Humble Pie provided all the catering for the day which included canapés, pie and mash and evening food. Guests were so impressed by the food and loved the no-fuss element of the meal. The service we received was outstanding."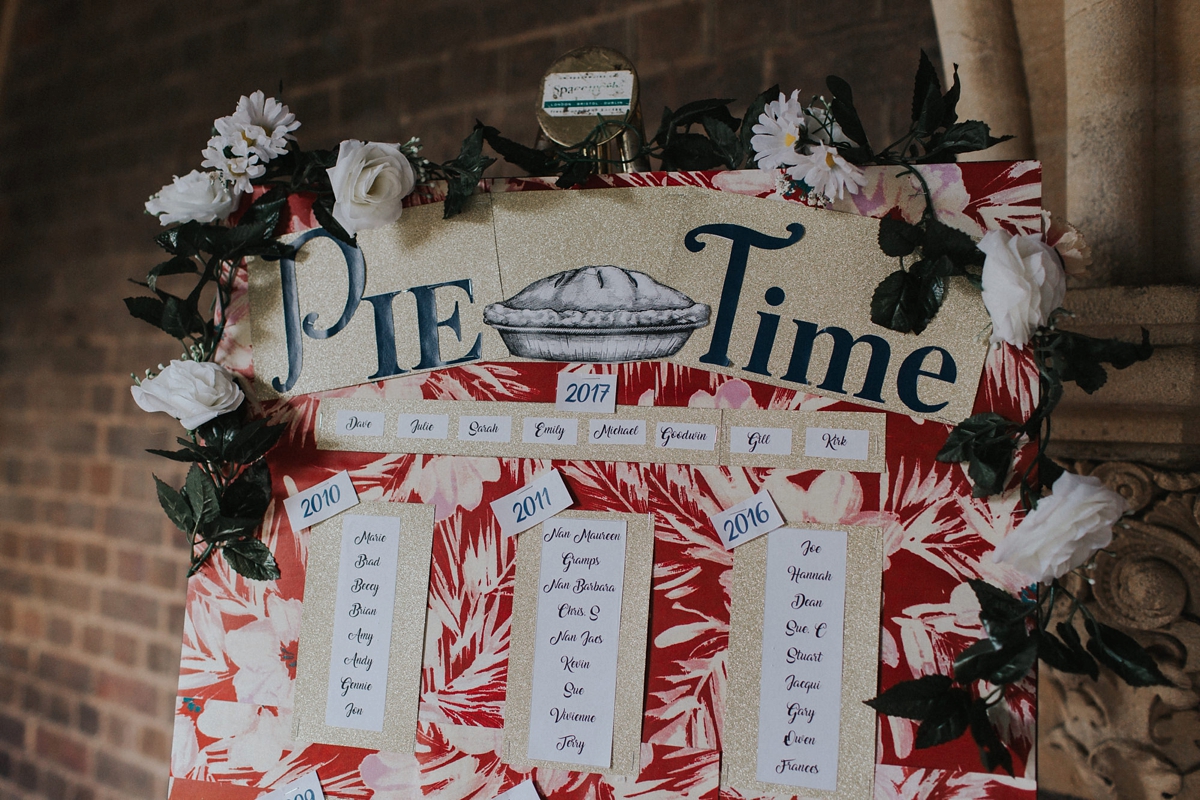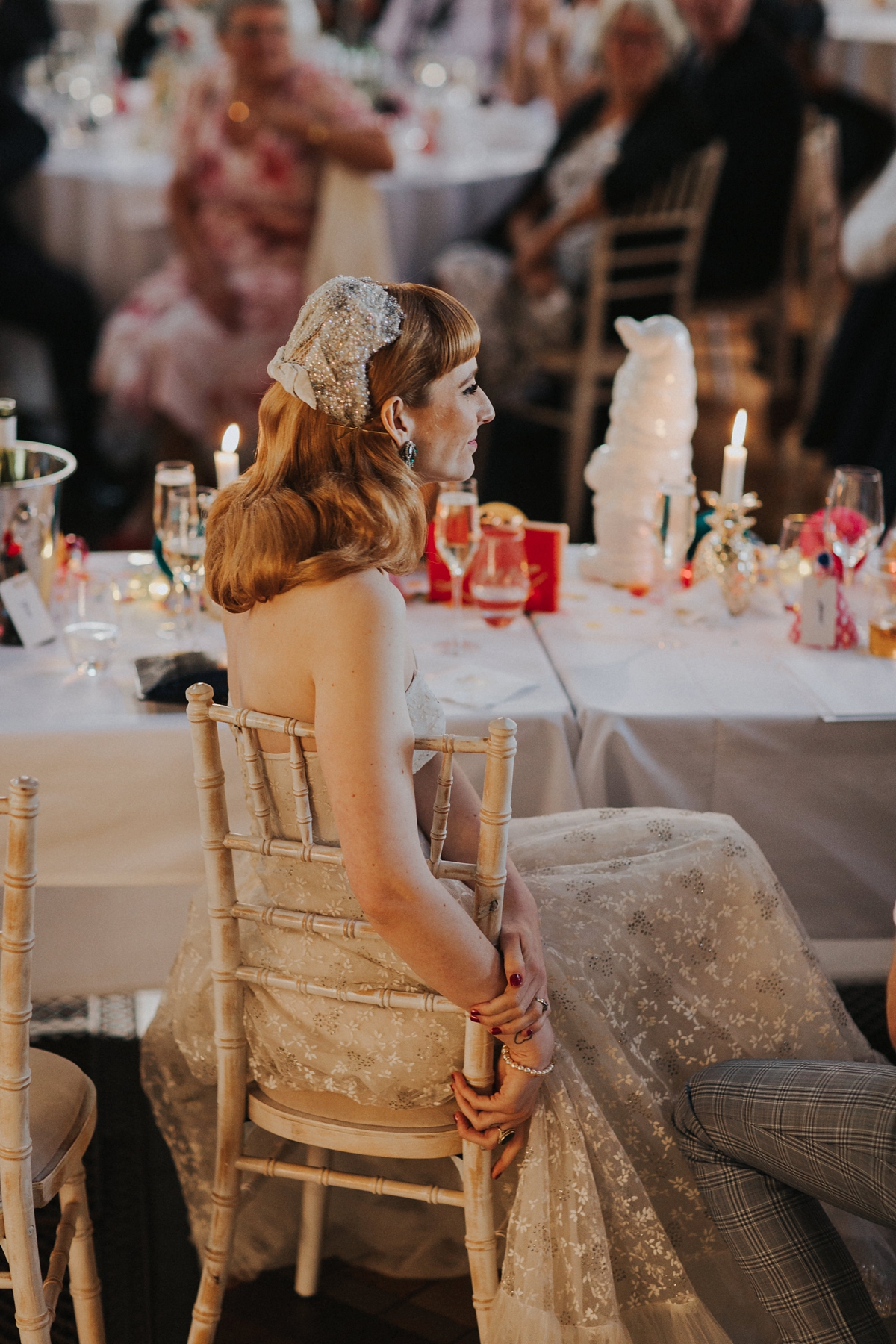 The bride's brother built this incredible bar from old wooden pallets and Emily created the 'Drunk in Love' sign for the front. She also designed and made all of the stationery – using Polaroid photos for the save the dates and using this theme across the invites, table numbers and thank you cards which were then printed online.
"Place cards were mini party hats for each guest with their name tied to the top of the hat. It was really fun to look out at our guests in their party hats while we ate. Definitely a fun way to brighten up the tables!"
"Our cake was from the amazing Anges de Sucre. I first saw their cakes in Selfridges on my lunch break just after we got engaged. Their designs are amazing and really unique. We decided this was the wedding cake of dreams and went for the three-tiered pink master piece!"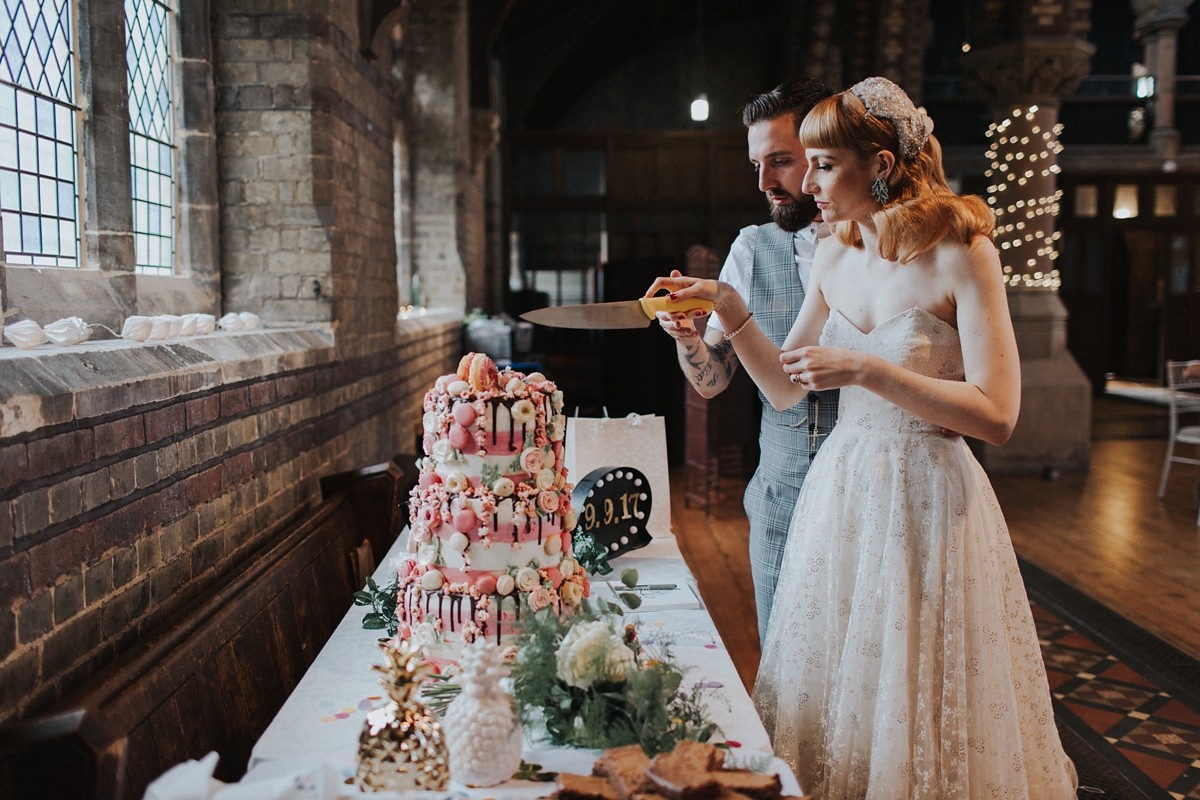 "As the venue was so large we opted for a large light-up vintage heart sign from Light Couture. They were so helpful and really reasonably priced. You can have any wording you like on the heart and we opted for The Beatles' 'Love Is All You Need'.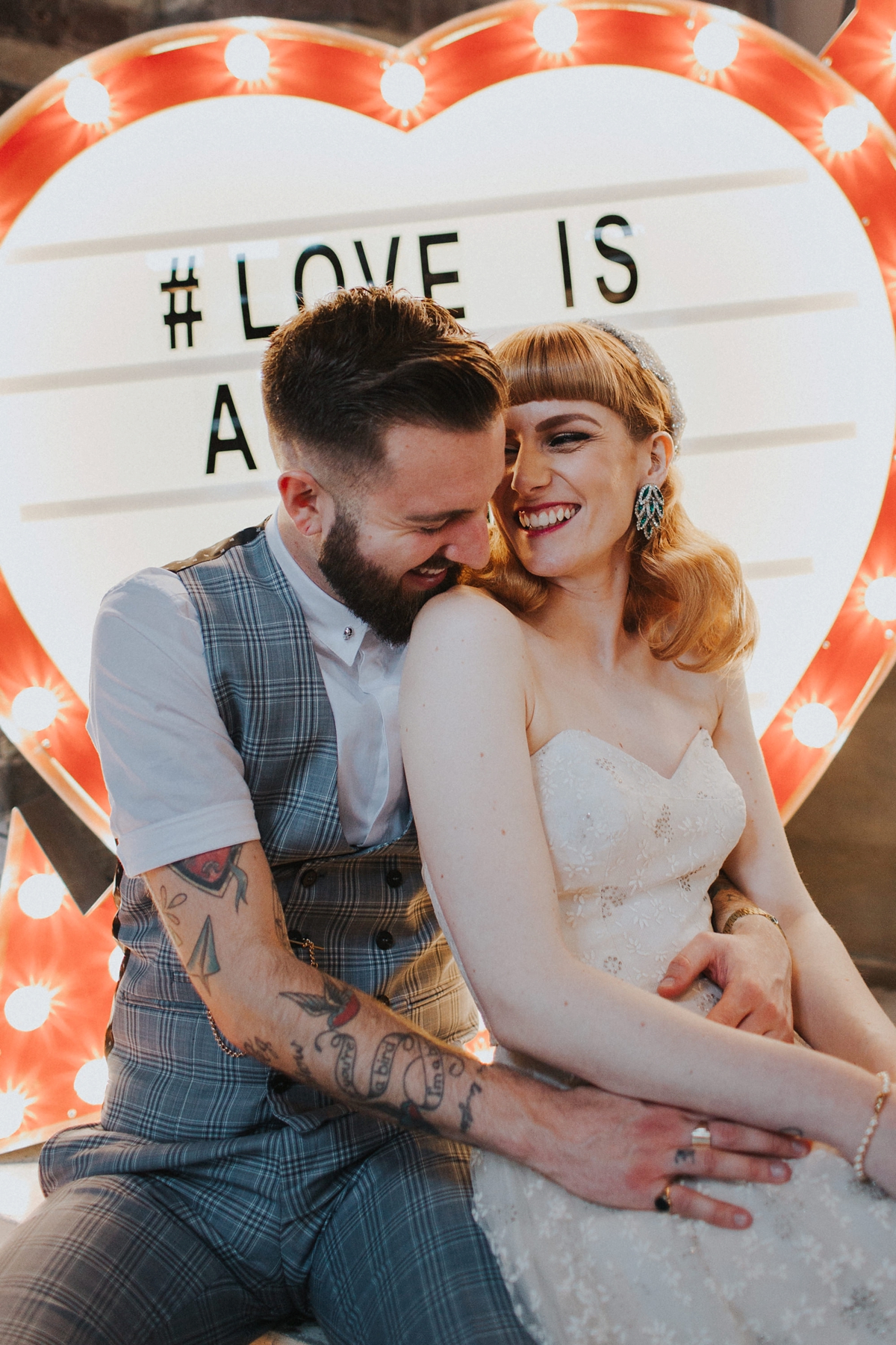 Keen to make the most of the day, the couple held an after-party at The Chapel Bar in Angel, taking their guests there in a vintage red bus from London Retro Bus Hire.
"It was perfect. You can hire the upstairs venue with a beautiful outside area fit for 85 people with a reasonable minimum bar spend and they even provide bacon sandwiches. We decided to hire a vintage red bus to transport guests from St Stephens to the after party. This turned out to be one of the best parts of the day – never underestimate eighty drunk guests on a thirty minute party bus with Kelis' 'Milkshake' being played full blast."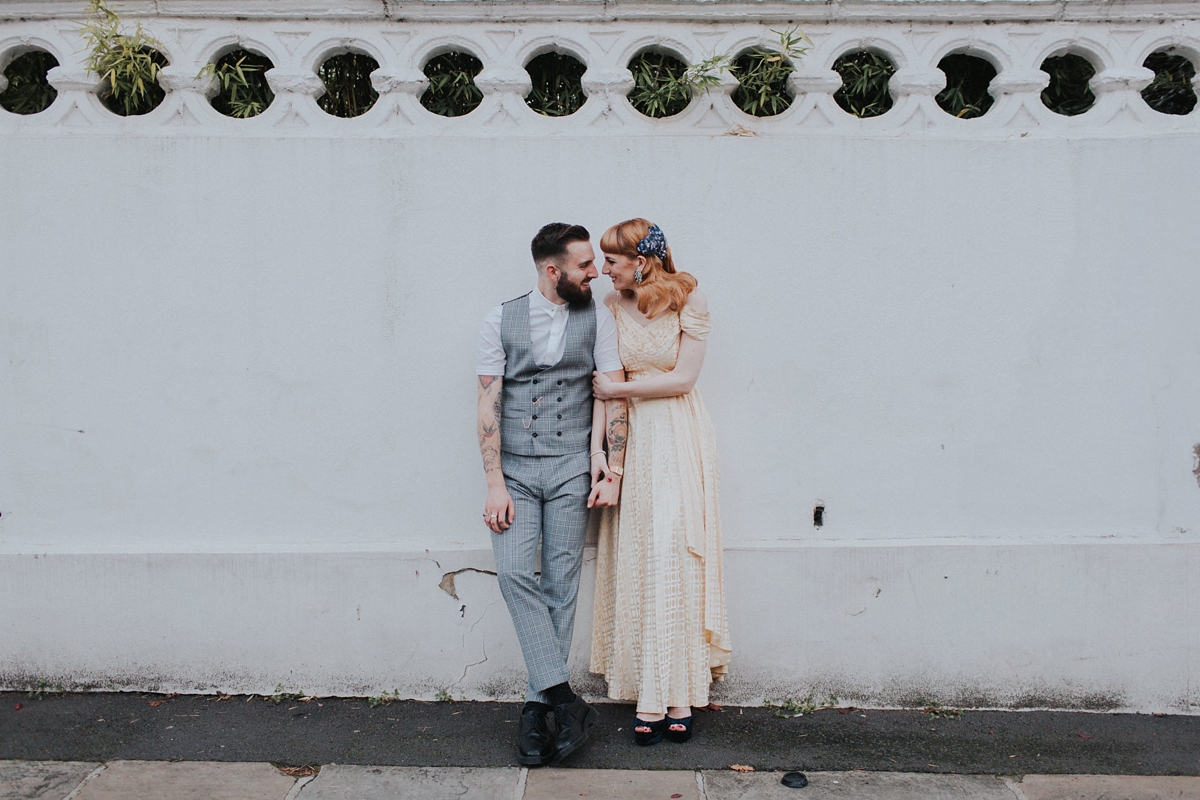 Emily changed into a second Elizabeth Avey gown for the evening – a 1940s silk gold dress originally from Harrods paired with a 1950s half hat from Etsy.
"It was a dress that was made for dancing in. As Elizabeth Avey's prices are so reasonable I could actually afford to have two dresses, something I never thought I could have."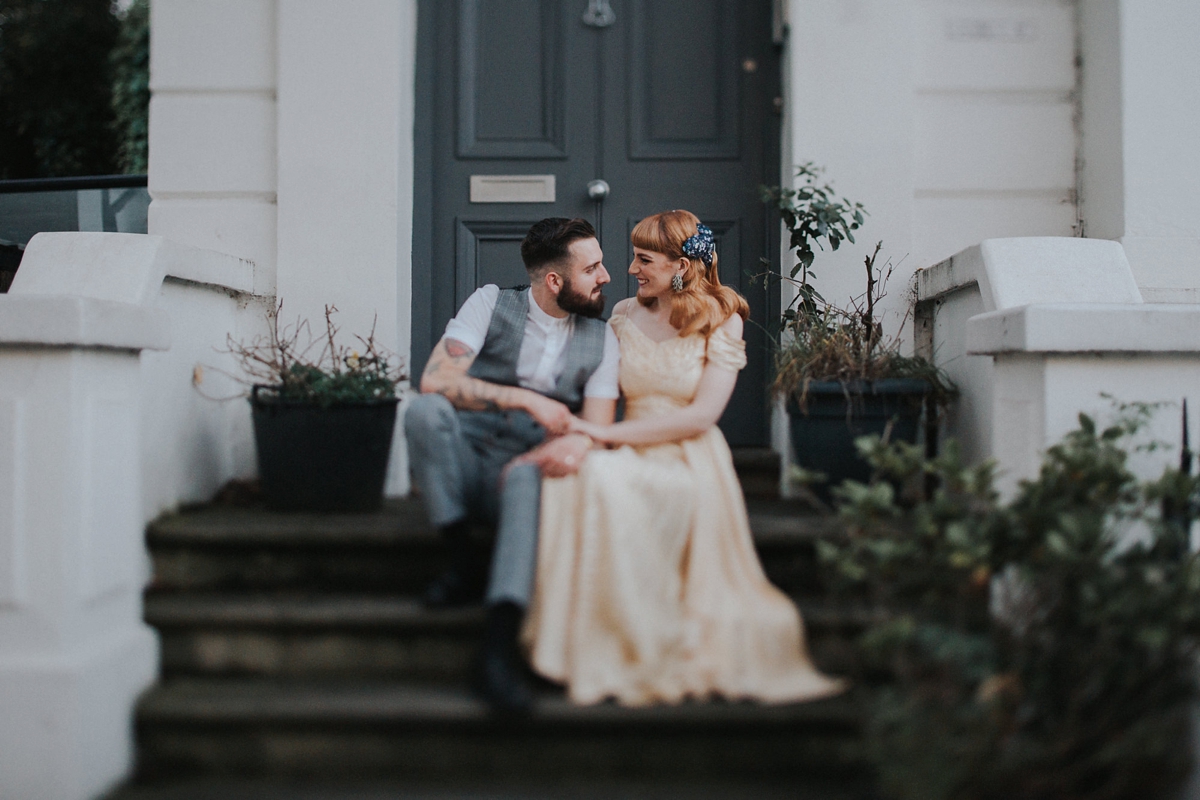 The party started in St Stephen's with a set from Disco Wed, with a first dance to Jackie Wilson's 'Higher and Higher'.
"We only agreed on our first dance song the weekend before the wedding. We wanted something upbeat and natural as we hated the idea of an over-choreographed dance. It was a complete fluke on the day as we actually looked like we knew what we were doing. It was something we were both dreading but ended up loving! Having all your loved ones around you as you dance with your new husband it the best feeling."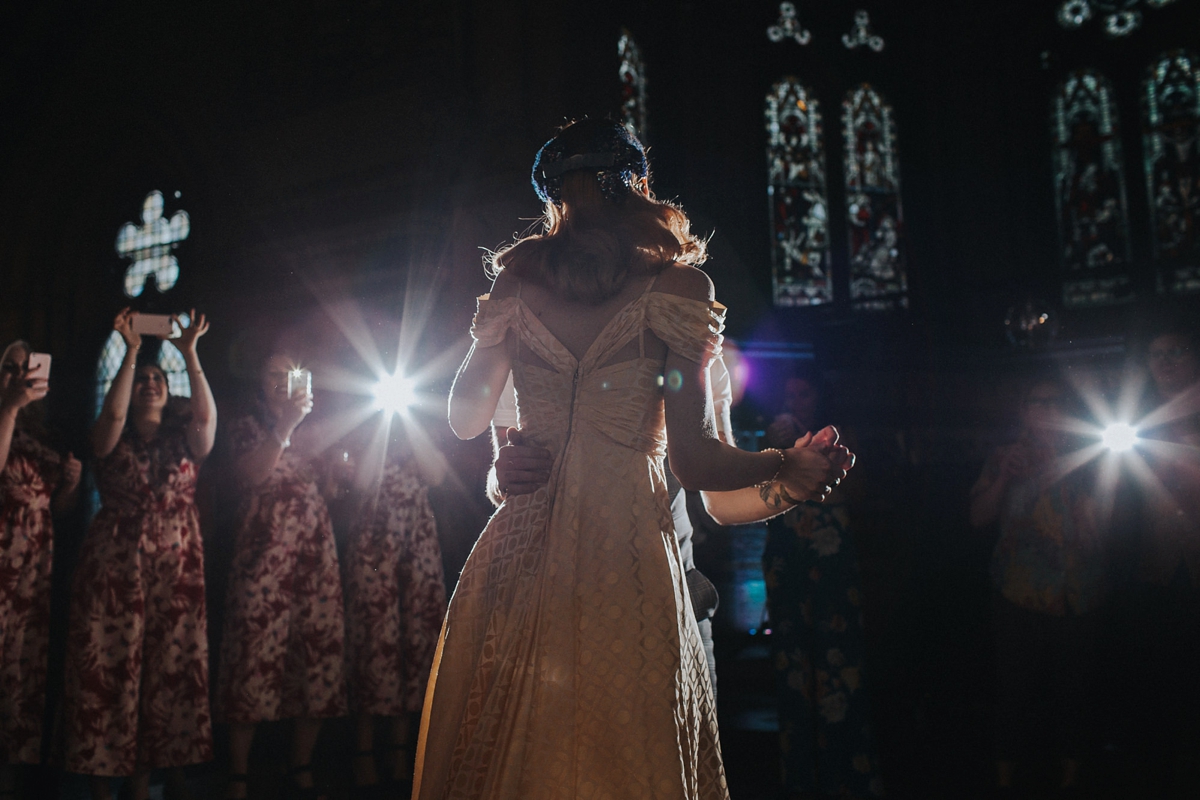 "Finding the perfect DJ took a lot of time. We found Disco Wed at A Most Curious Wedding Fair in Shoreditch and instantly clicked with Paddy. Their ethos was everything we wanted, particularly their stance on not playing any songs with a dance routine. You select twenty songs that you have to have played and they create a playlist for you. Greg our DJ was out of this world; the dance floor wasn't empty once."
Words of Wedded Wisdom
"Follow your gut and enjoy it! Embrace the planning together – it really is the best day of your life."
"It's easy to get carried away, attending the wedding shows and getting lost on Pinterest but try to remember that it is only one day and it's the people that make a wedding, not the expensive extras."
"Try and make the week before the wedding as chilled as possible. We left too many things to this week and it was too stressful. If planning the whole day yourselves like us, don't forget to allocate jobs to your wedding party."
"Enjoy the day and embrace everything that comes with it, from the hen party to getting ready with your bridesmaids on the morning of your wedding. You will feel like the luckiest and most loved person in the world."
Emily and Michael, I'm in love with your style and the entire quirky and magical feel of your venue. Thank you so much for sharing your day with us, and for your kind words about Love My Dress too.
Many thanks also to We Heart Pictures for your beautiful work.
Wishing you all a very happy New Year, and I can't wait to share some more beautiful weddings with you in 2018.
Ele xx