If I could go back in time and plan my wedding all over again, today's dreamy outdoor affair would be top of my inspiration board with its personal touches and perfectly curated greenery.
It really is a treat for the eyes and as an overseas wedding, it's also getting me extremely excited for holiday season! So without further ado, let's meet today's couple. Alice, a Product Development Manager, and Garrett, a Recruitment Manager, were married on 3rd February 2017 in Garrett's home country of South Africa.
"As Garrett is from South Africa and his mum lives in Cape Town, it's a very special place for us. When he proposed, there was no question where we would be married. All the vineyards we had visited on previous trips had been beautiful so we knew we definitely wanted that outdoor relaxed garden feel to the day."

Images by Wesley Vorster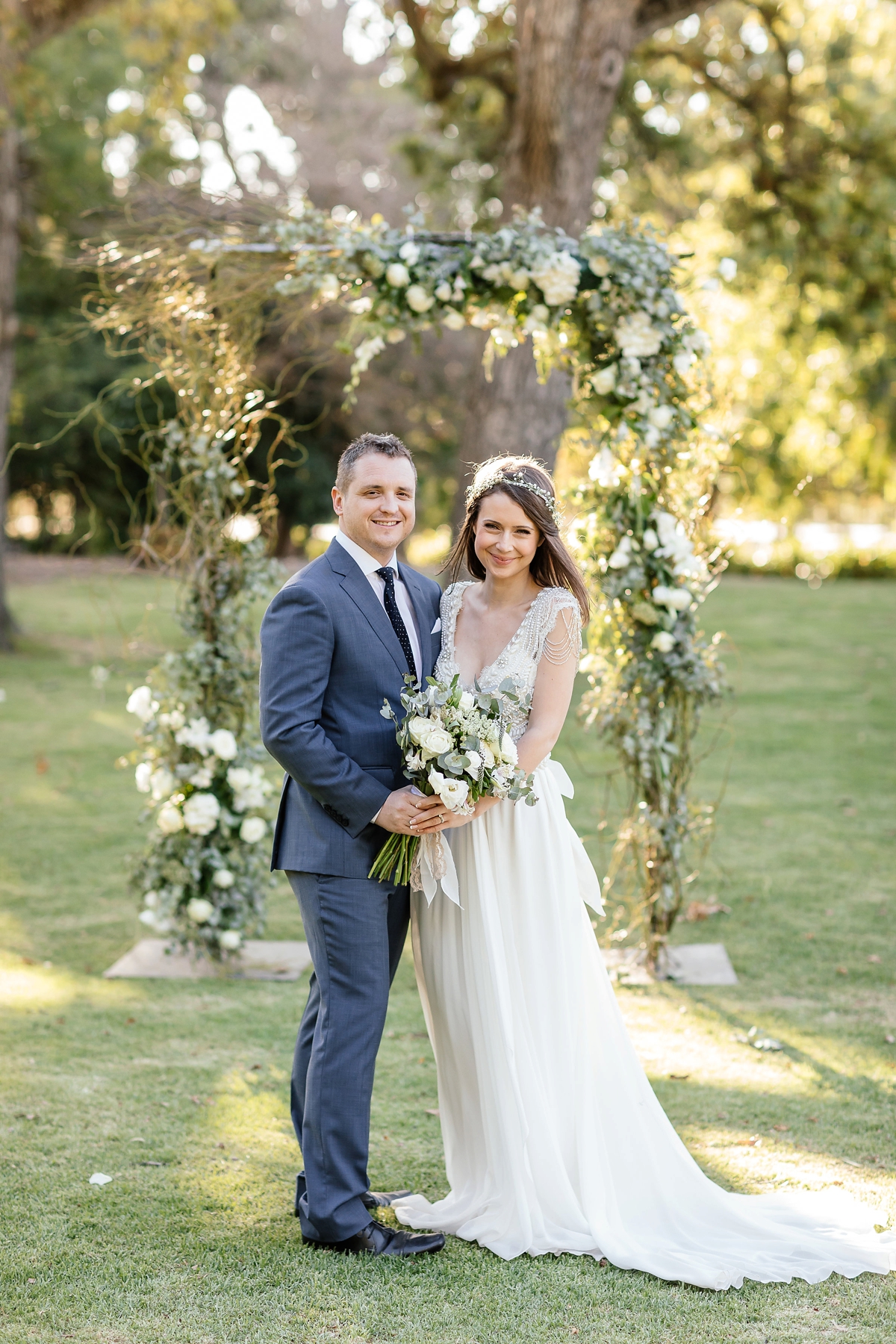 Photographer Wesley Vorster was on hand to capture the stunning location on camera and the mixed greenery, table garlands and hanging bulb lighting made for some spectacularly elegant photo's indeed.
Alice walked down the aisle with her dad in a beautiful beaded Anna Campbell gown, accessorised with ASOS shoes, a hair piece made from baby's breath by N Concepts, and an Anna Campbell cuff.
"I had always loved Anna Campbell dresses and I really wanted a lightweight flowing skirt, especially since the weather was going to be so hot. I really liked the beautifully beaded top and was torn between this Coco dress and another which had the beaded loops on the shoulders. Felicity at Jean Jackson Couture in Manchester suggested we add the loops onto the Coco dress, which then made it perfect."
Though she wishes she had longer hair on the day, Corle Barnard was on hand as the hair and make-up artist, to create Alice's naturally elegant bridal look.
The bridesmaids complimented the relaxed vibe in light grey pleated ASOS dresses with custom-made necklaces via Etsy, and her flower girl led the way in a white full-skirted Debenhams dress.
Once engaged they agreed on the Nooitgedacht Wine Estate in Stellenbosch, South Africa as the venue. With the wine estate providing a ready-made stunningly beautiful backdrop, decor was kept simple yet natural.
"I did a lot of Pinterest research during the planning and we both loved the idea of an outdoor wedding with lots of fairy lights. We wanted it to be simple yet elegant, with green and white as our main colours."
Garrett opted for a custom-made blue-grey two-piece suit made in Hong Kong, with a matching polka dot tie. His groomsmen took a more laid-back approach in crisp white shirts and blue-grey suit trousers also custom-made in Hong Kong.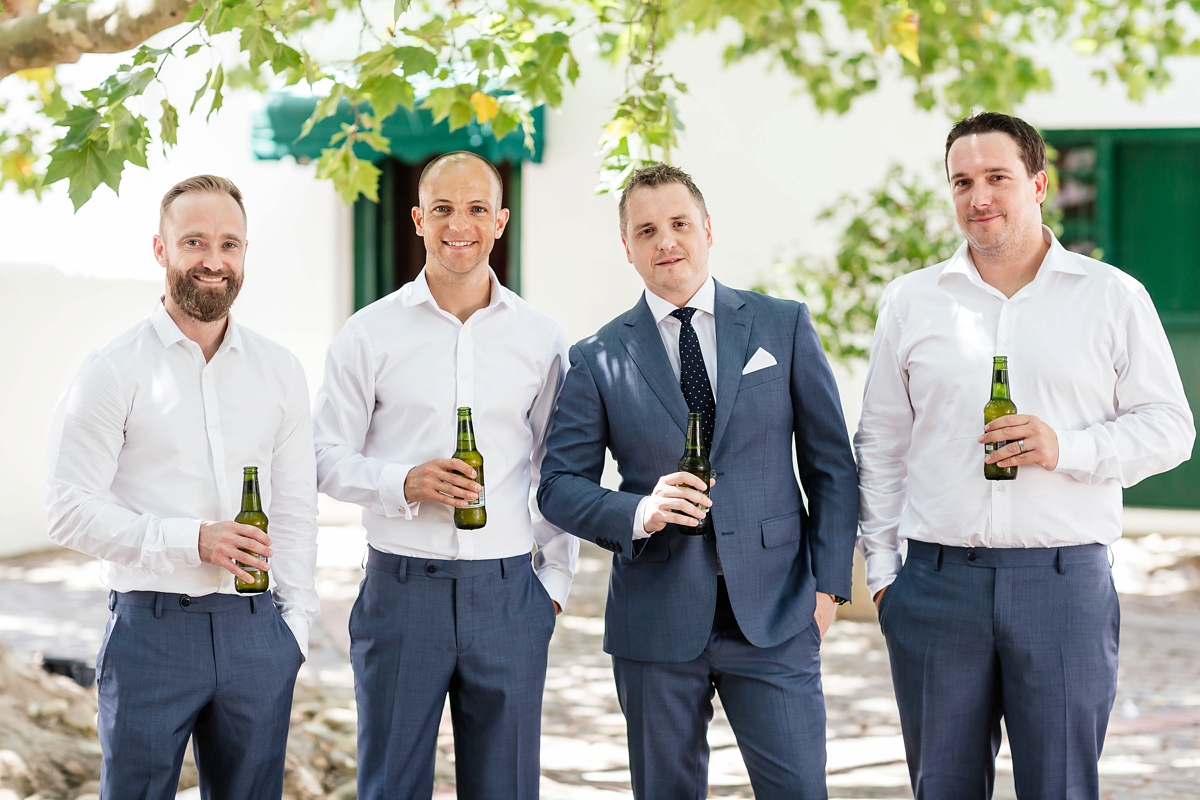 When both Alice and Garrett moved separately from the UK to Hong Kong, fate intervened and led them to each other via mutual friends in 2011.
"I moved to Hong Kong in 2009 from the UK, Garrett moved to Hong Kong in 2010 after working in London for 4 years. We met through mutual friends on a Hong Kong junk boat. We hit it off instantly and soon became very good friends. After a couple of years of friendship we finally got together in 2013. Garrett proposed in York on 23rd December 2015 whilst we were back in the UK visiting my family for Christmas. We were then engaged for just over a year before our wedding day."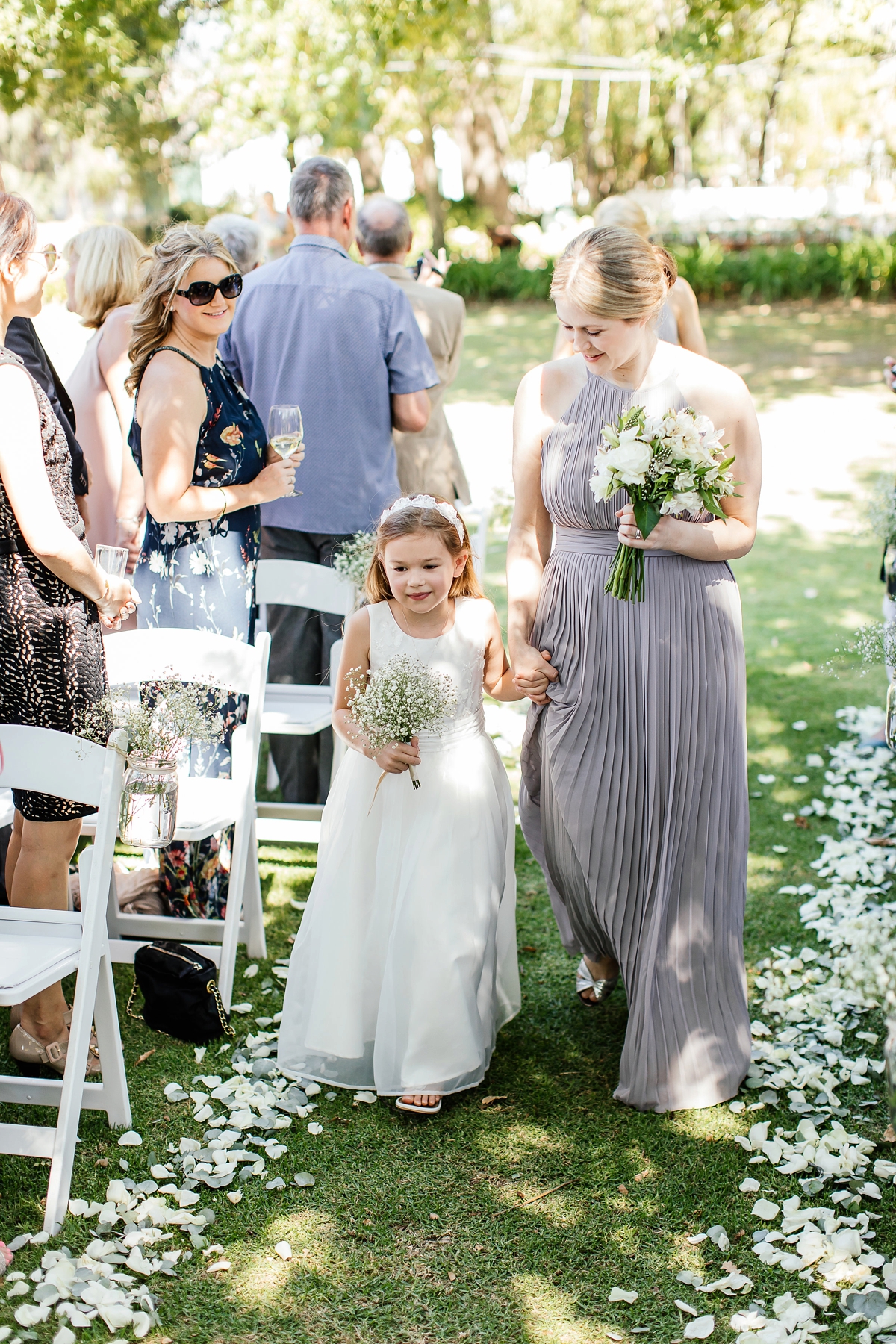 "My favourite but most nerve-wracking part of the day was walking down the aisle to Garrett waiting for me. It was very surreal!"
"As soon as we saw each other the nerves disappeared and it was as if we were the only ones there (cliché I know)".
For the sunny outdoor ceremony, the couple chose their vows from a list provided by their marriage officiant:
"On this day
I Give you my heart
My promise, that I will walk with you
Hand in hand
Wherever our journey leads us
Living, learning and loving
Together Forever."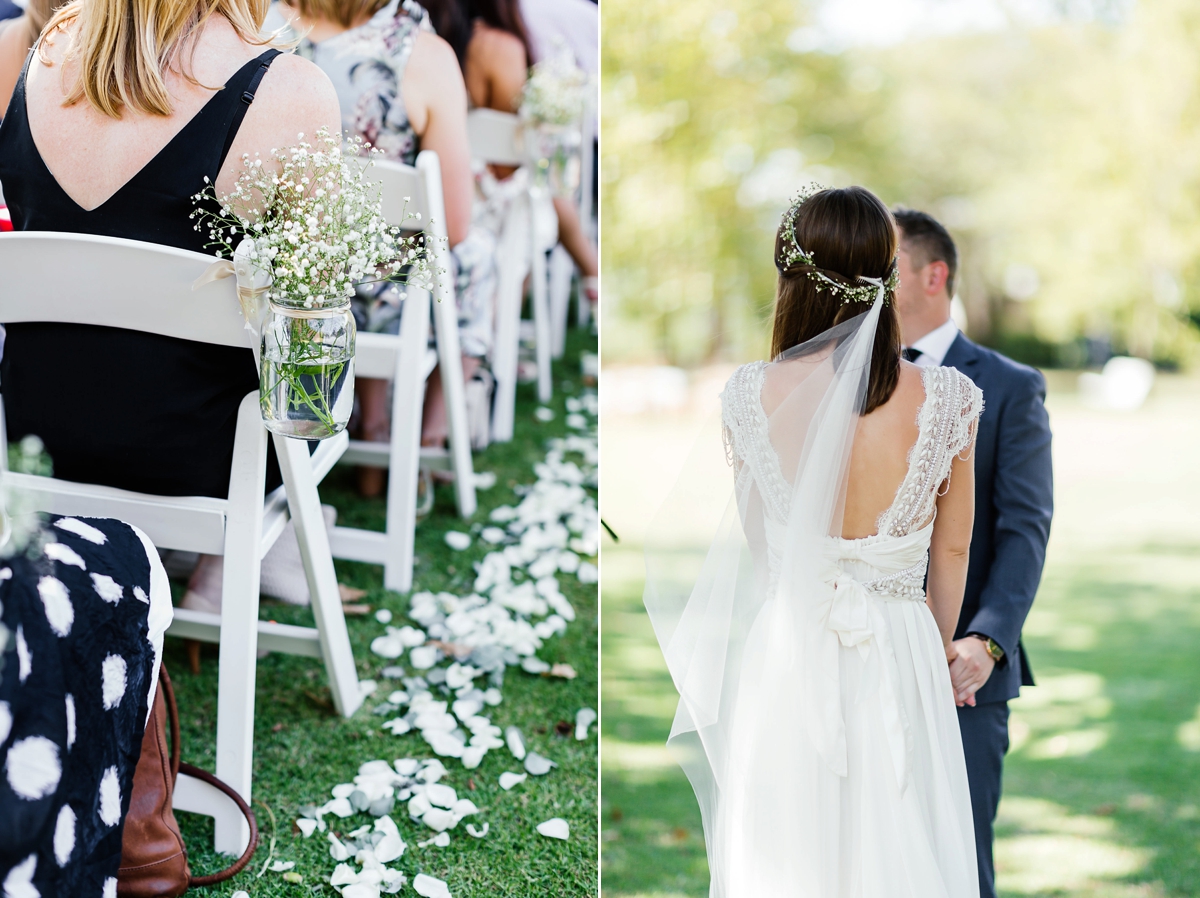 They exchanged wedding rings made by Ryder Diamonds UK in front of their family and friends from all over the world, in a ceremony bathed in warmth, light and love.
"We went to a couple of different ring suppliers before deciding on Ryder. The service was brilliant and super helpful, with a good range of rings to look at before selecting what we wanted, and they also provided an engraving service."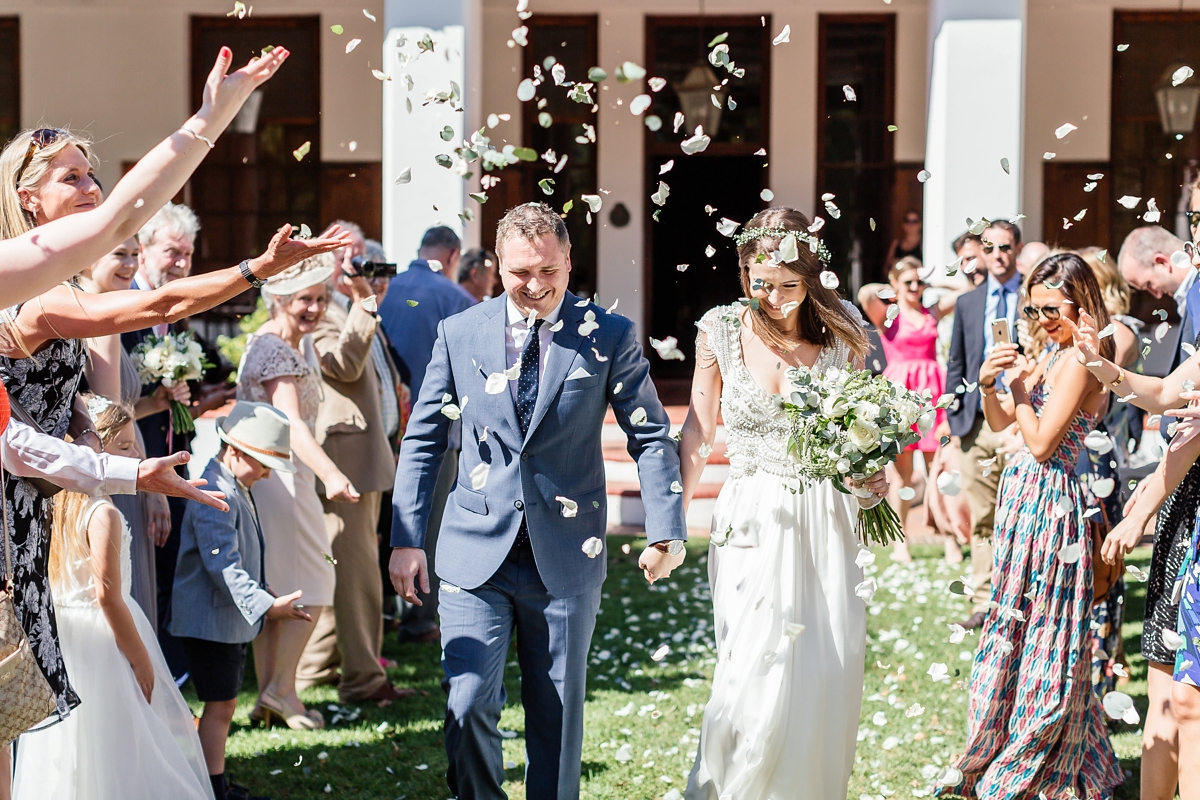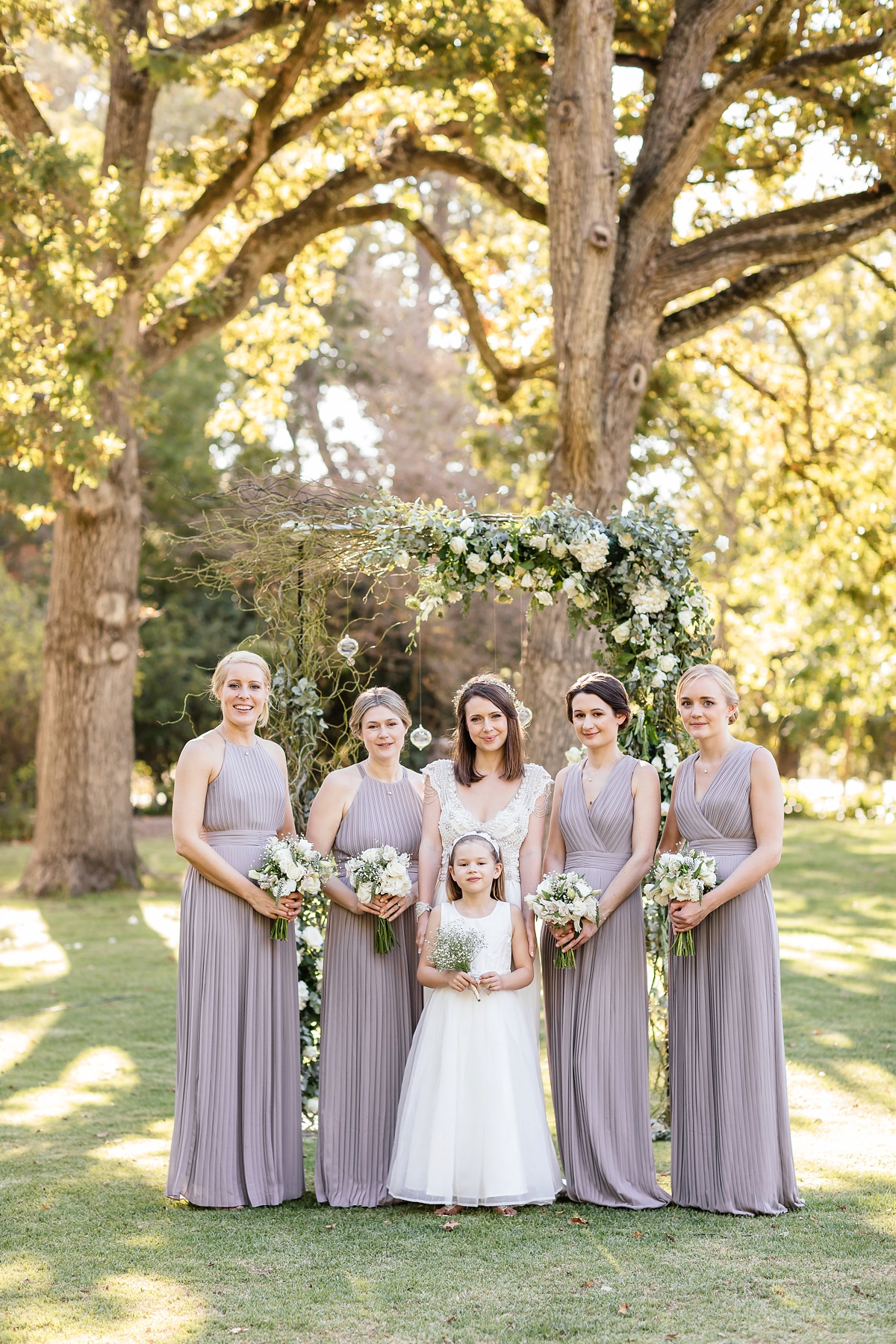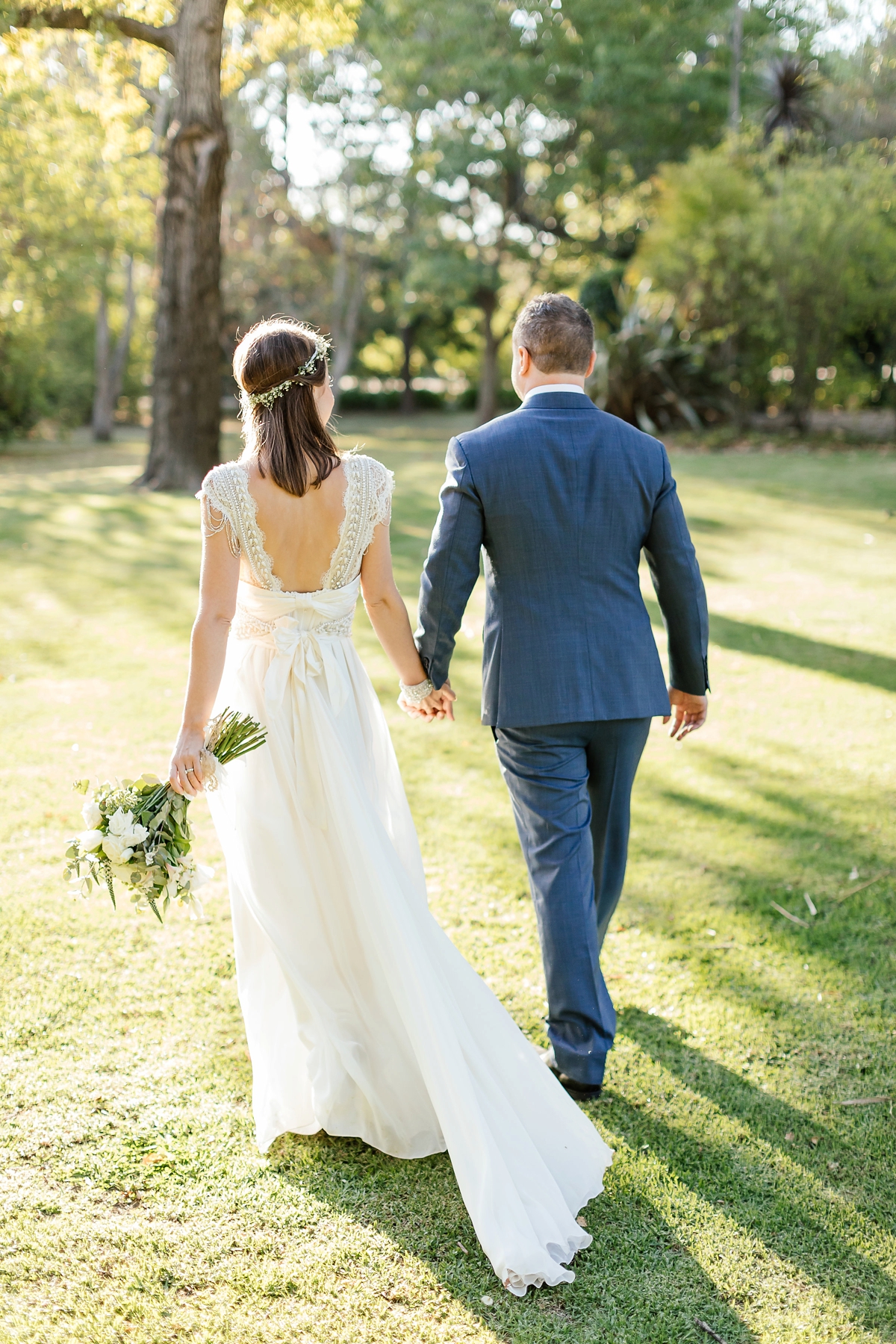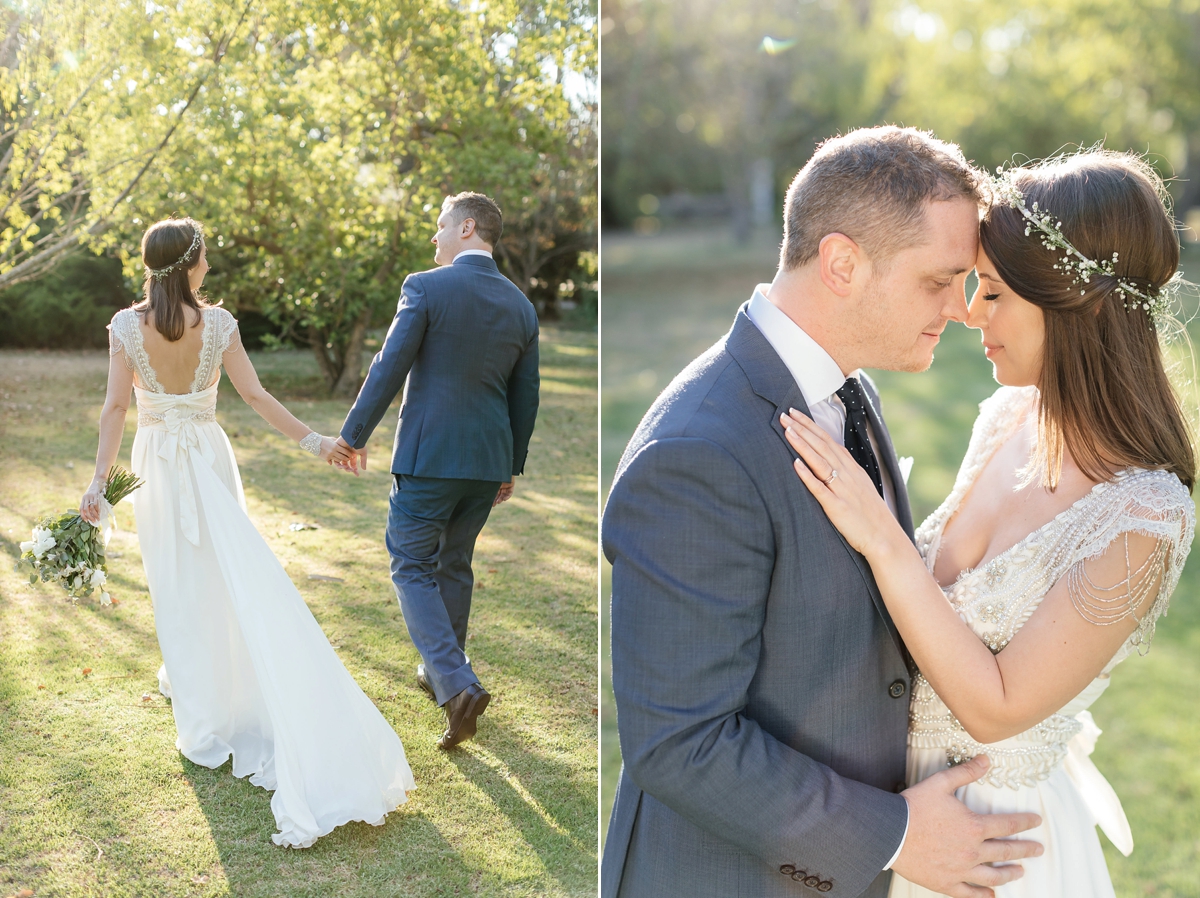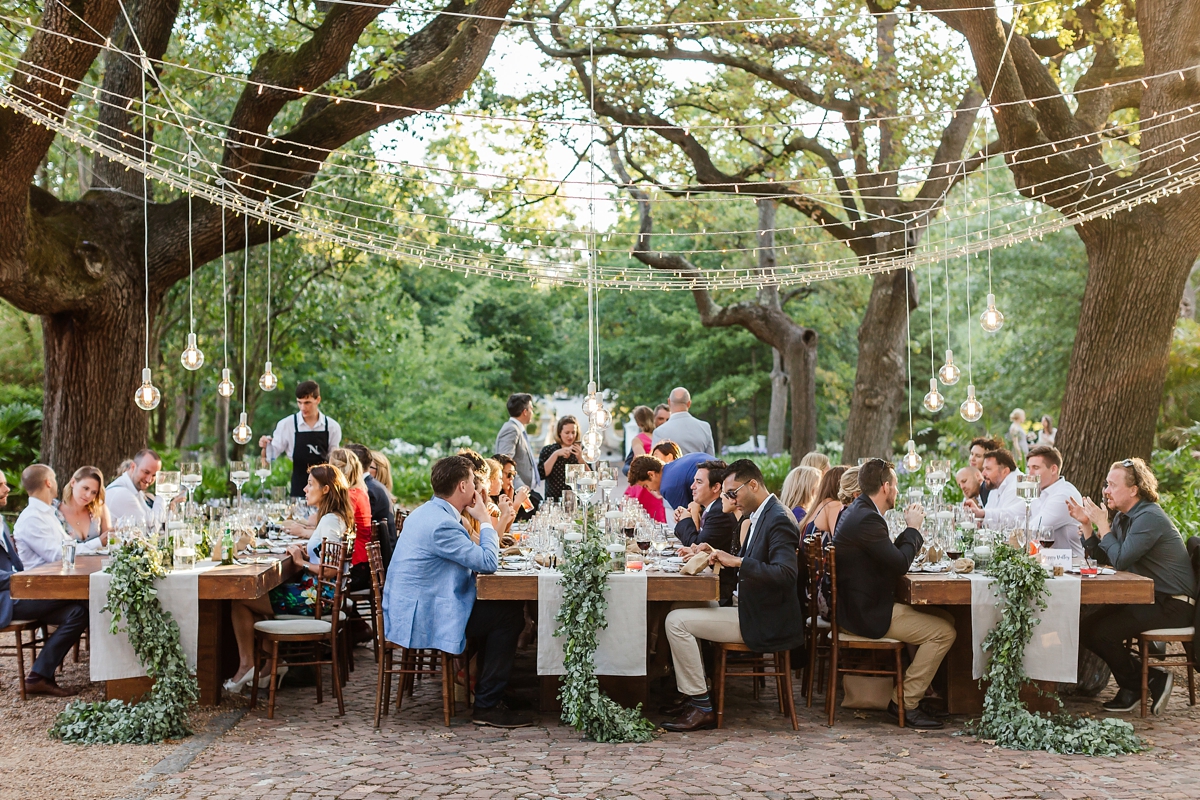 The couple created a garden party vibe to the day with a 'pre-drinks' area decked out with palette day beds, wicker chairs, lawn games, and most importantly, a gin bar.
"We had giant Jenga, Noughts and Crosses and croquet. We wanted it to have a fun, garden party feel."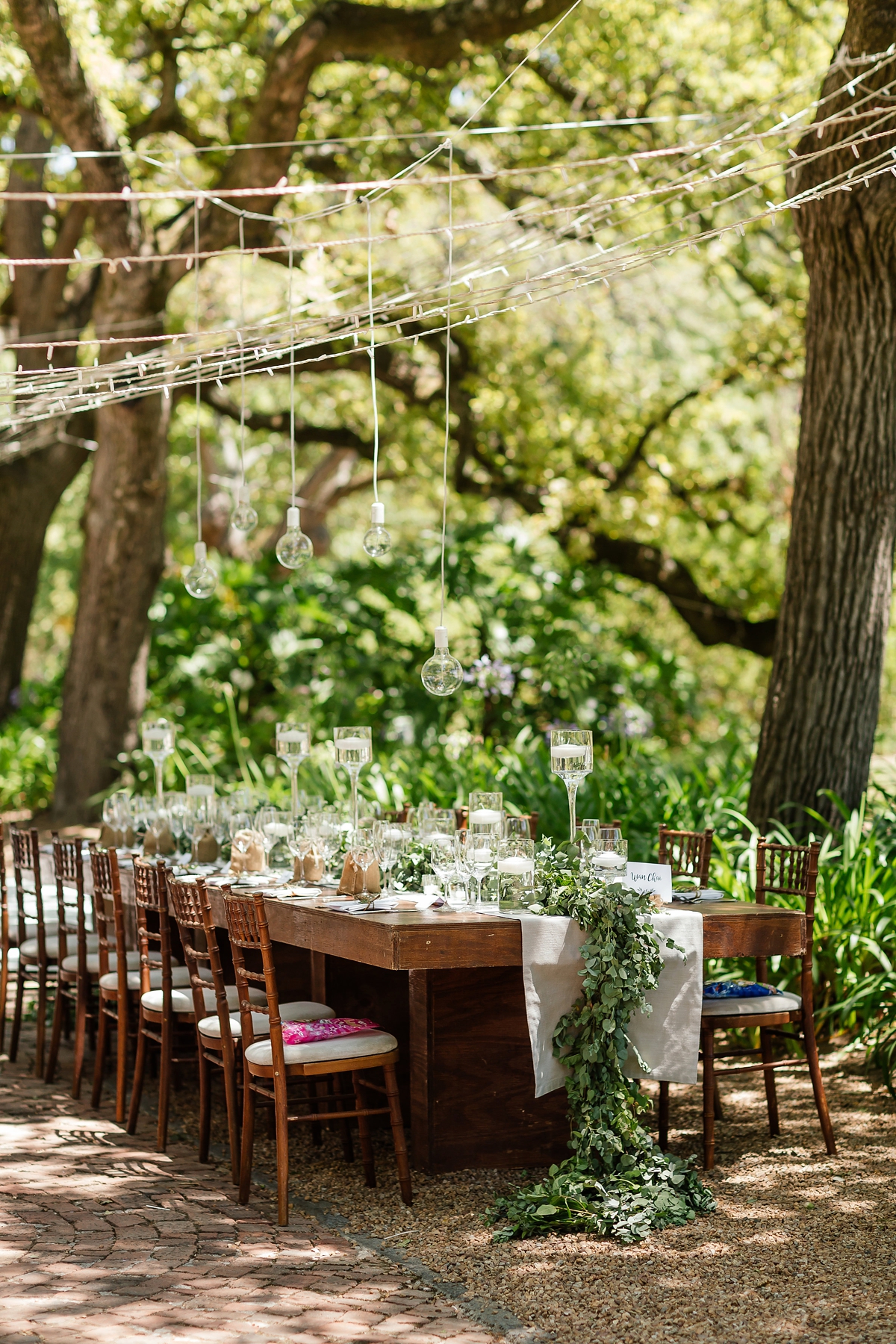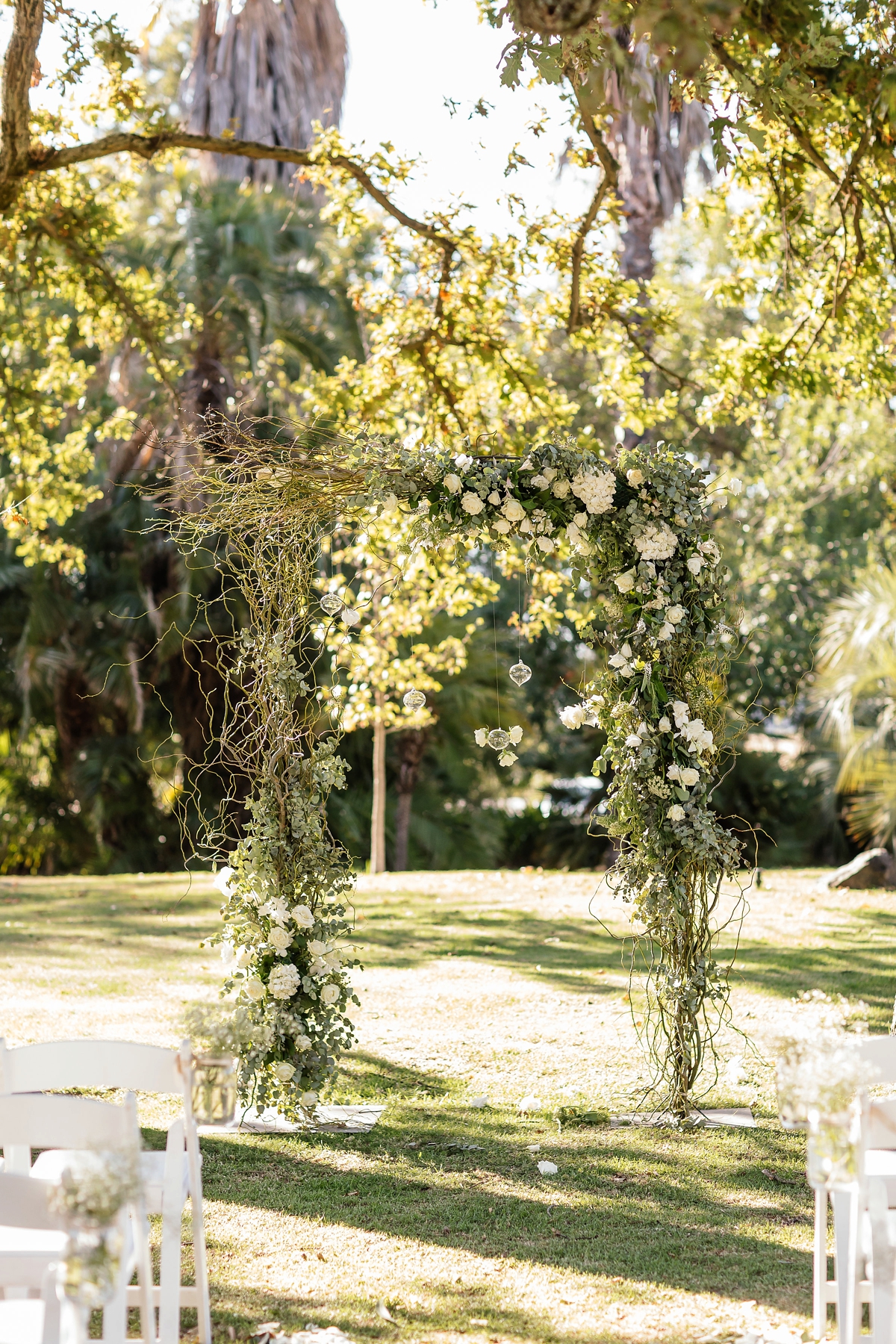 Guests were able to sip their cocktails to the sweet sounds of acoustic guitar player Werner Denner, and with a nod to the weddings location, they were also treated to hessian draw string bags containing biltong and mini bottles of Amarula, a cream liqueur originating from South Africa as their favours.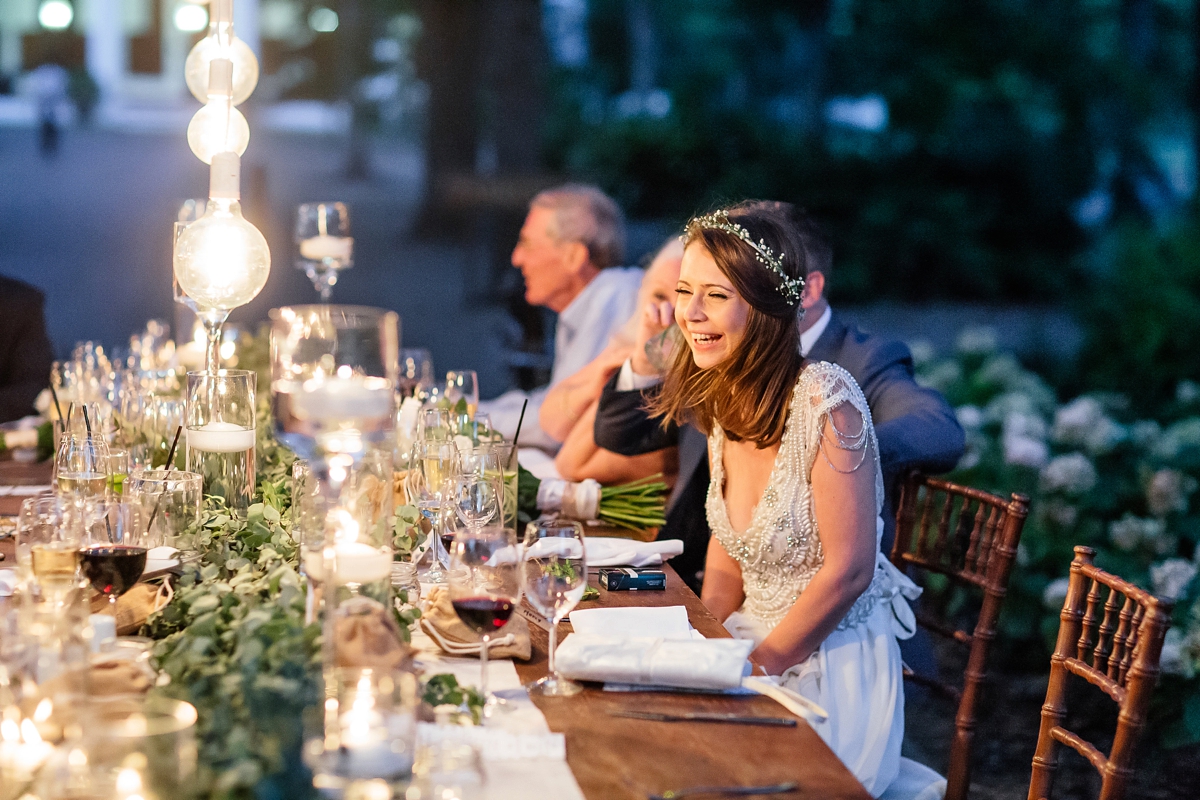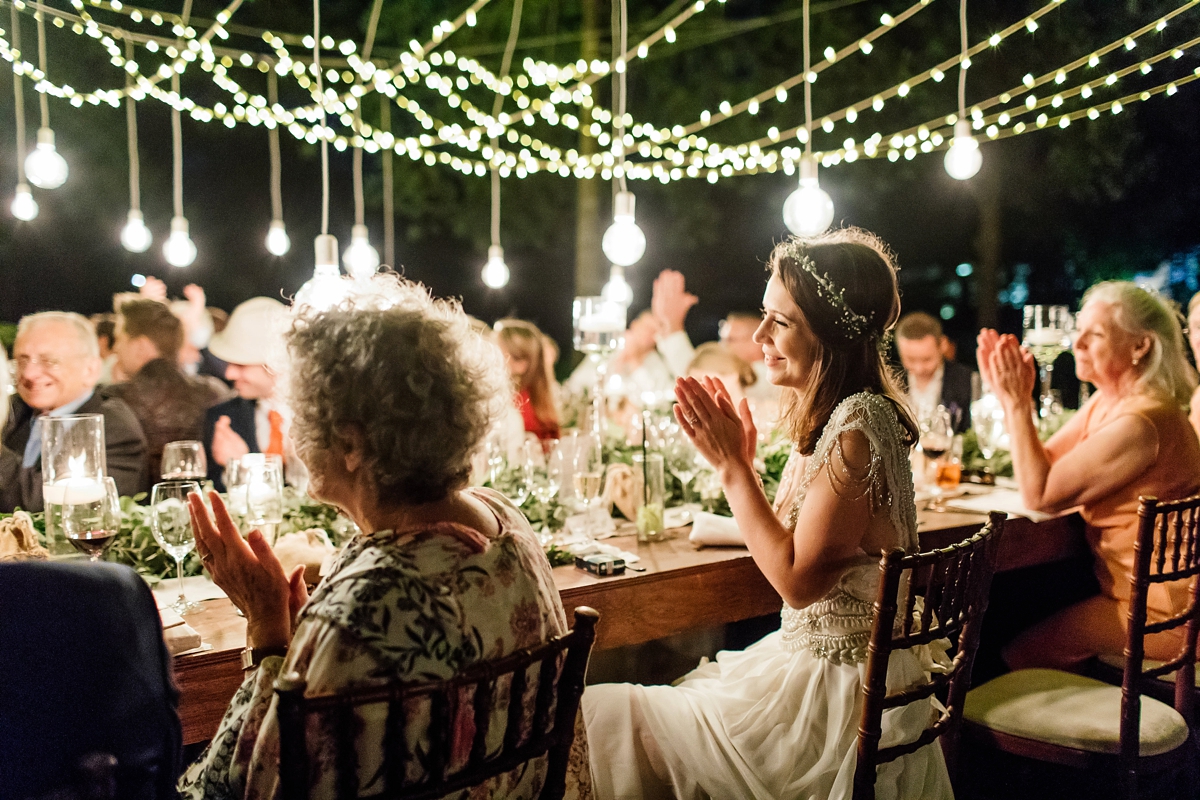 I'm sure you'll agree this is one gorgeous wedding day with a vibrant mix of guests from all over the globe.
"We were so lucky to have so many of our friends from all over the world join us on our special day and seeing everyone together enjoying themselves, dancing, drinking and having fun, was the cherry on the cake."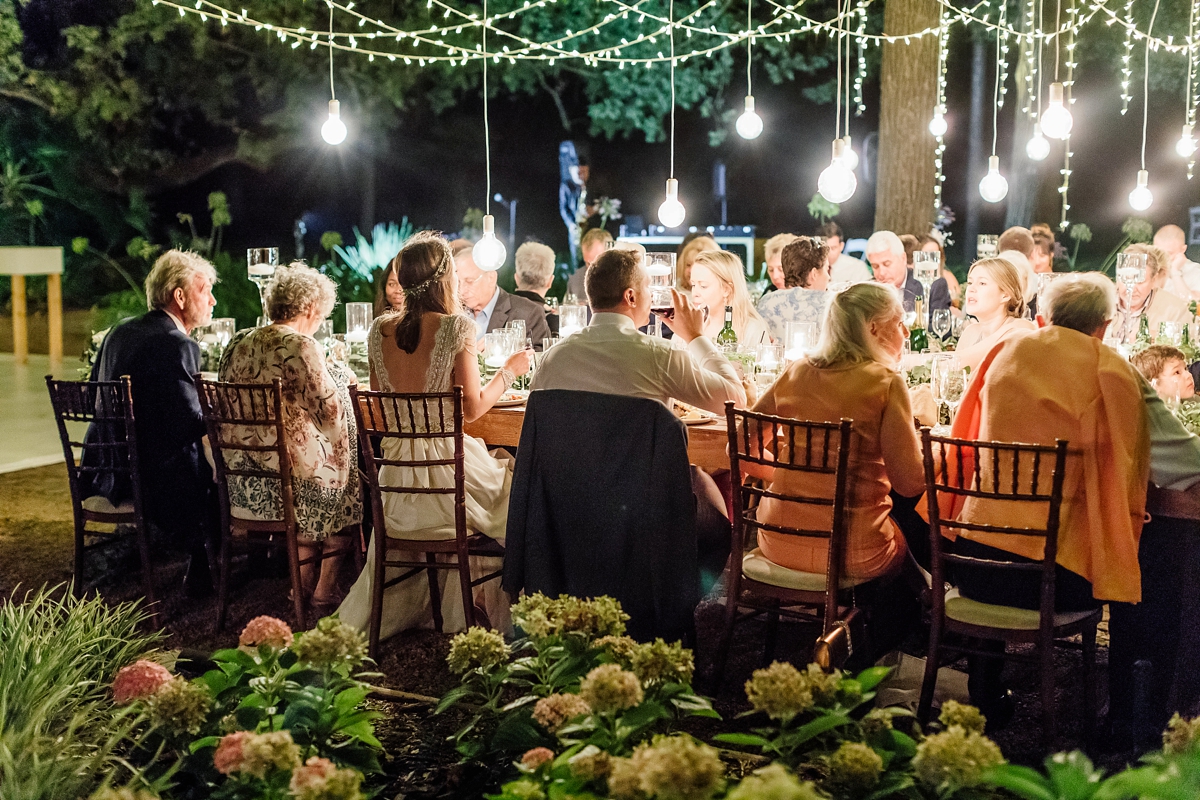 Words of Wedded Wisdom
"My advice would be not to stress too much. I know it's easier said than done but everything comes together in the end. There will be certain things that are out of your control but when it comes to the day, none of it will matter. Seeing all of your closest friends and family together celebrating your love for each other is all that matters and that's what you will remember looking back".
"Also, looking back we wish we had gone round to each table to have photographs with everyone, or arranged group pictures with our HK/UK/SA friends as there are some people who aren't featured in any of the photographs".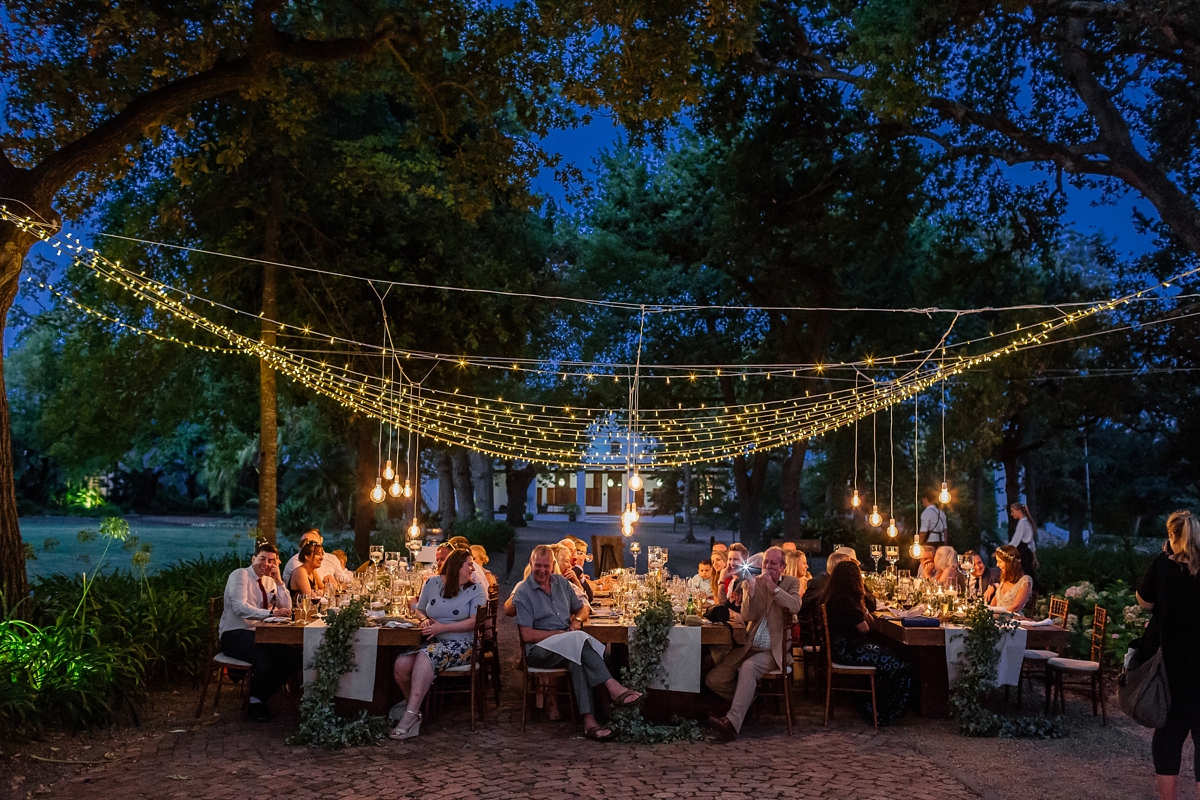 A huge congratulations to our beautiful newlyweds for pulling off such a stunner of a day. I also can't tell you how grateful we are to Wesley Vorster for sharing these gorgeous images with us.
Until next time…
Much love,
Holly x
Credits & Thanks