February already, how did that happen?  I can't pretend I'm not pleased we've edged a little closer to spring I must say!  That said, today's pretty vintage-styled wedding is an autumn celebration and reminded me I also love this colour- filled time of year.  I hope you love it as much as I do.
Meet Brendan and Karen, self employed actors who work in musical theatre.  Brendan is also a lyricist and Karen is a barre and yoga instructor.  The couple married at the stunning Asylum in Peckham, London, followed by a reception at Topolski on the 2nd of October.  It may sound like a contradiction but I love how this day is both simple and straightforward yet full of drama all at the same time.
Karen looked gorgeous in a stunning gown by Eliza Jane Howell, who I'm thrilled to say is also a member of our Little Book for Brides.
"I loved everything about my dress; the vintage inspiration behind it, the cut and flow of the dress.  It looked elegant and classy but still soft and romantic."
"I love a bit of vintage, in particular the style of the 1920's and 30's.  When I found my dress it was the perfect mix of 1930's elegance with a soft hippy hint of the 70's, which is very me!  We got the colour scheme by looking at what flowers were in season in autumn.  Heather symbolises good luck and good fortune and is a colour that we both liked.  It's also rustic yet soft and romantic.  All of this tied in well with the look and feel of the chapel."Karen did her own make up, using Laura Mercier products, while Katie Oropallo styled both Karen and the bridesmaids' hair to perfection. On her feet, she wore shoes from TK Maxx while for hair accessories she got creative and made them herself.
"I made my hair accessories myself by using a vintage necklace from Paris (that was handmade by a dresser at the theatre where I was working) and a couple of my late Grandma's brooches.  I clipped the brooches onto the necklace and then tied the necklace around my head."
The bridesmaids looked lovely in floral dresses from Zara, paired with hair accessories and earrings from Etsy, which were a gift from Karen on the day.
"I chose slightly different earrings for each bridesmaid as they all have their own style and I wanted their jewellery to be something that they would wear again."
"Brendan and I met at work whilst performing in the musical 'Spamalot!' at The Palace Theatre in London and we were together for about eight years before we got engaged.  Brendan proposed on Christmas Eve in Paris (where I was working at the time)."
"We started to plan the wedding as soon as I got home in the new year and were married in October.   We only planned the wedding for about nine months as we knew exactly the kind of thing we wanted and were keen to keep it as simple as possible."
Karen was accompanied down the aisle by her father, to 'The Book of Love' by Peter Gabriel.
"We wrote our own vows.  Both of us looked online to get ideas and then wrote them individually and we didn't hear or read each others until the actual day.  They were both very different and it felt really special for us both."
"We had two readings – The lyrics to 'My Romance' by Doris Day and 'Ever Increasing Circles' by Helen Marsh.  We chose one each and the words in them reflected our feelings about the day and the commitment that we were making."
Brendan looked very smart in a plum suit by Ben Sherman, which he wore with accessories from Ted Baker.
"The whole day was amazing but our favourite part was probably the ceremony itself.  The Asylum is so unique and atmospheric, it's hard to describe exactly how it felt but the time in there was really special to us.  Second favourite was the meal at Topolski as we are big foodies!"
"It was fresh, healthy and tasty and really informal as we had sharing plates that people helped themselves to on each individual table which made it fun and relaxed."
For scent Karen chose Doson by Diptique, while for jewellery she chose a simple pearl on a gold chain which had belonged to her late Grandmother and a pair of earrings from TK Maxx.
"They had a pearl in the middle and the diamonds around the edge were the same shape as my engagement ring so they were perfect.  They also had an art-deco design, in-keeping with the whole style of the day."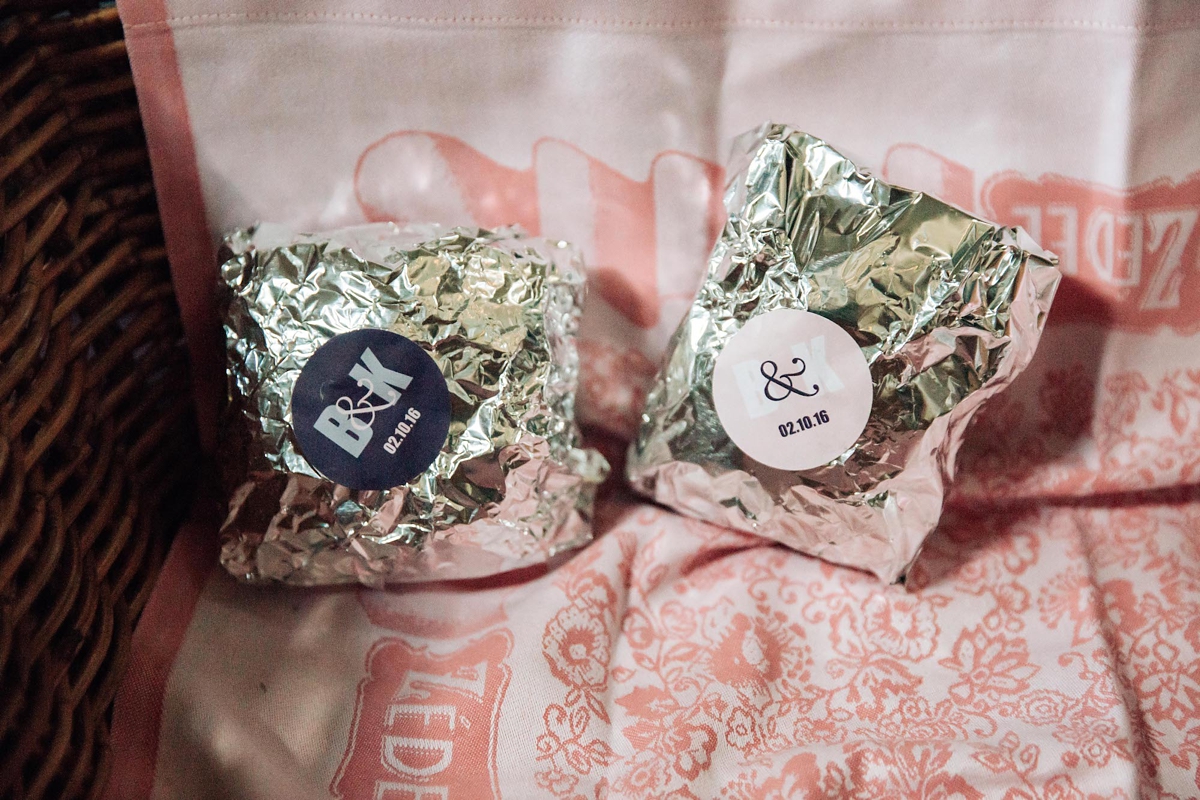 Today's fabulous photographs are the work of Becky Lee.  I love how she has captured so many emotions from the day and how Karen and Brendan look to be having so much fun in their portrait shots.
"Becky is based in Jersey and is a friend of ours.  We loved the more natural shots and didn't want too many posed photographs.  She captured the feel of the day perfectly."
Flowers were provided by Triangle Nursery and put together by Brendan in the days running up to the wedding.
"We ordered the flowers the week before and had them delivered to our flat two days before the wedding. We watched the tips on Triangle Nursery's website about how to put together floral arrangements and bouquets and Brendan did most of it."
"We felt so proud that we had saved money but also created our own floral arrangements for the whole day."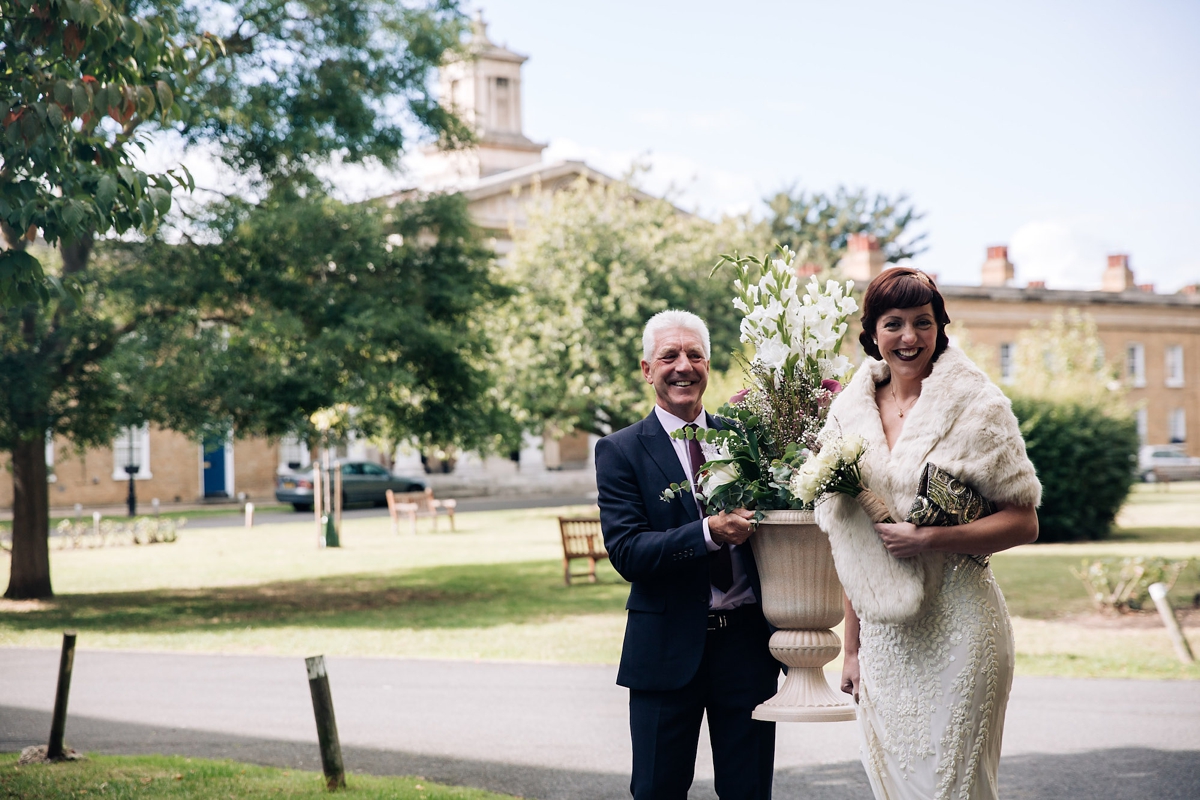 To transport everyone from the Asylum to the reception at Topolski, Karen and Brendan hired a traditional Routemaster bus from London Retro Bus Hire, before stopping off for a few photos at some famous London landmarks.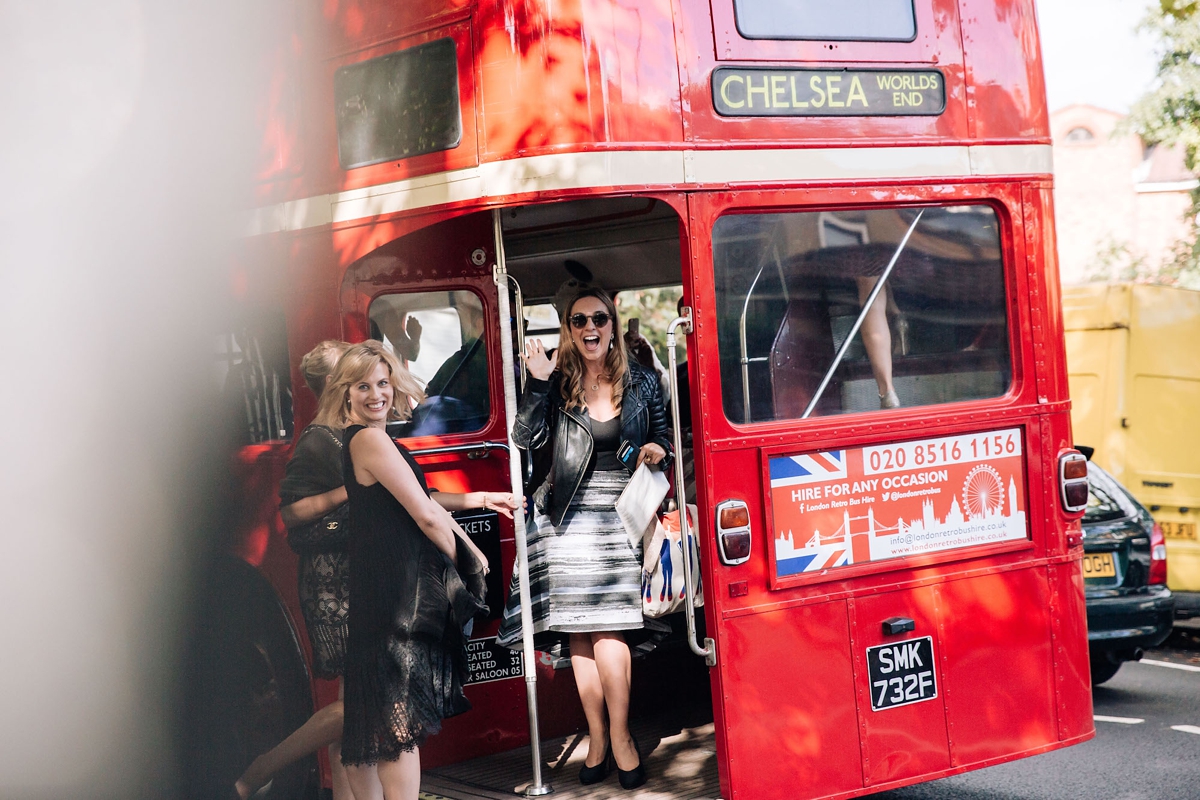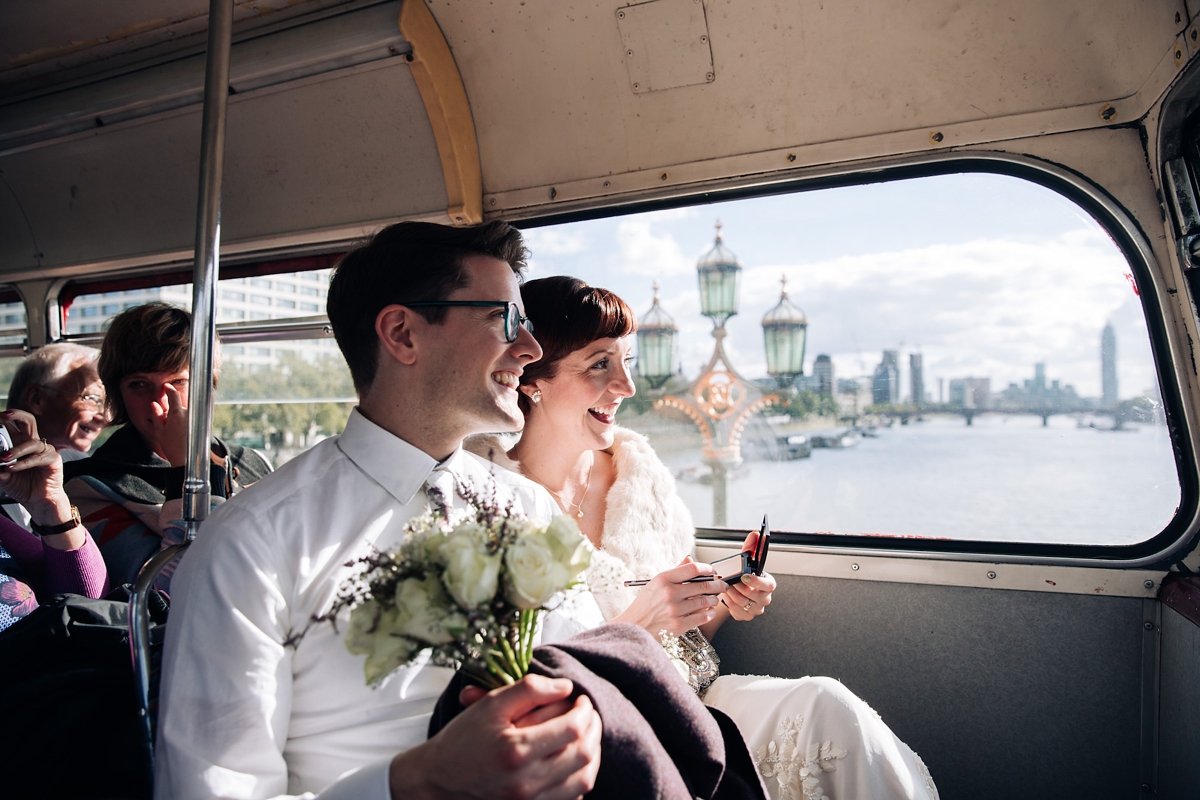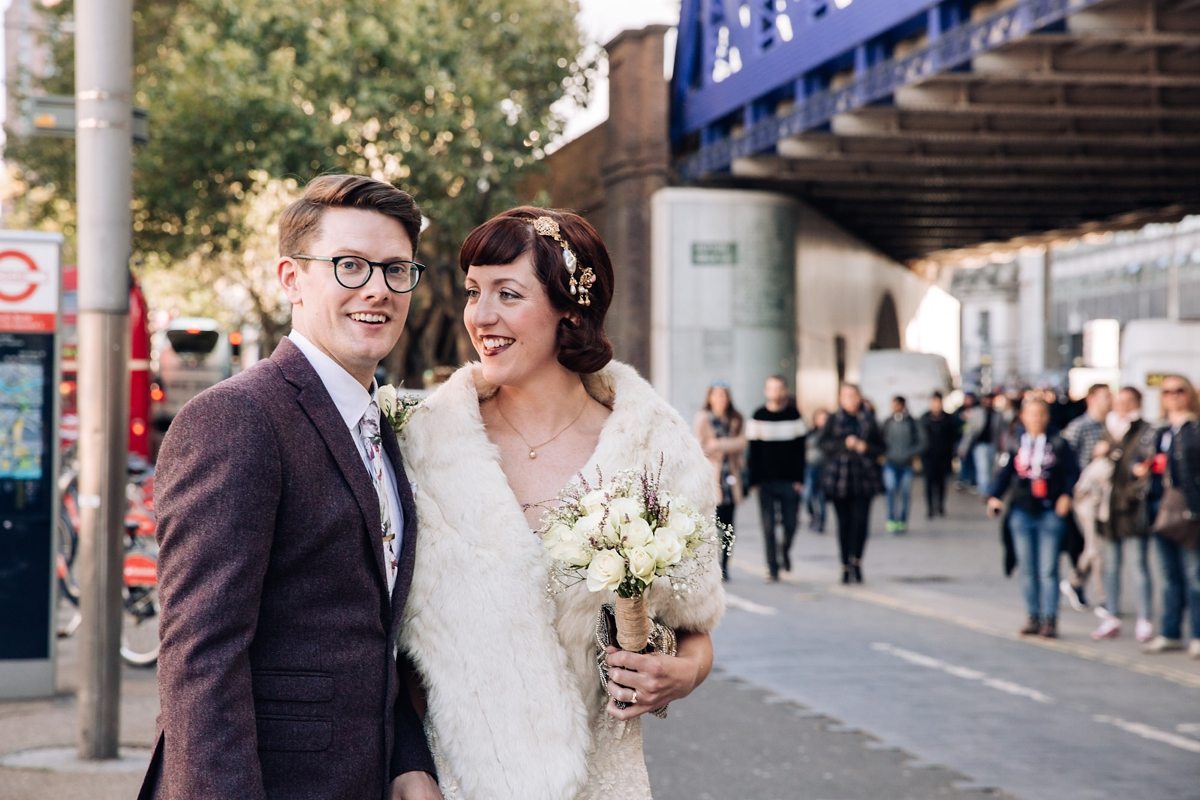 Entertainment came in the form of DJ Krystalroxx and Brendan also wrote Karen a song which he sang during his speech entitled 'I Love You More' (swoon).
"Our first dance was to 'It had to be you' by Harry Connick Junior. We liked this track as it's quite theatrical (at the beginning) and we love the big band sound."
The cake (including personalised versions of the bride and groom) was the work of friends and was decorated and designed by actor friend Gary Murphy.
"We used Paperless Post for all our invites and correspondence. We then printed out our own menu cards, wrote our own name cards and drew up a table plan using a notice board that we used to have in the kitchen."
Huge thanks to Karen and Brendan for sharing their hugely personal and beautiful wedding with us today.  Have you fallen in love with Karen's gown too?  Take a peek here for more Love My Dress brides in Eliza Jane Howell and here for some more wedding inspiration from the Asylum chapel.
Much love, S x