We have something very special indeed to share with you lovelies today; an Irish castle wedding decorated simply and elegantly with green foliage that will make you yearn to visit and explore it for yourselves.
The couple are Mr and Mrs Six, who married on 7 August 2017 at Wilton Castle, Enniscorthy, Co Wexford, Ireland. The couple came across from America for their day, where Mrs Six works as an emergency room and forensic nurse as well as studying for her Doctor of Nursing Practice qualification. Mr Six works in Washington, DC on religious freedom projects that bring together congressional staff, organisations, and influential leaders for a common cause. Their love of holidaying in Ireland inspired them to marry there, and they chose the beautiful Wilton Castle to host their grand yet simple celebrations, at which their religious faith was the heart.
Mr and Mrs Six were engaged for just six months before their wedding day. They first met in August 2014 at Capital Life Church in Washington DC and got engaged two years later in the Austrian Alps. The groom's little sister captured the romantic proposal on her phone, and you can see it here.
"We had been dating for almost two years when we decided to celebrate Christmas in the Austrian Alps with his family. He set aside a day during this vacation for just the two of us to spend time together. We visited a castle and went to see views of some of the most beautiful mountains. We like to get dressed up and I was thinking we would be going to hear a symphony that afternoon, so I was wearing a bright red, floor-length dress."
Film by PhotoMV
"Instead, he brought me to an opening in the mountains full of freshly fallen snow, where he had hired a violinist to play our song. Our family was hiding out of sight waiting to set off fireworks. There was a path of rose petals in the snow leading to an overlook where he bent down on one knee and asked me to marry him. I said yes and was met with fireworks and hugs and tears. It was magical."
Photography by Arabella Smith
Mrs Six's simple, effortlessly elegant gown is the Gina gown by BHLDN. It's wonderfully cut and its simple corset top and column skirt really flatter her figure. I really adore how the gown is transformed by the addition of the high-necked lacy Dahlia topper, also from BHLDN, for the ceremony. Her long drop veil, which she chose to wear covering her face whilst she walked down the aisle, was a custom-made design from LaceMarry.
"I loved the buttery texture and how simple it was. It didn't need any frills to make a statement."
The bride applied her own natural makeup, looking truly radiant, and wore her hair long and sleek, with the addition of a few stems of baby's breath. Her choice of perfume was Dolce & Gabbana's Dolce Rosa Excelsa.
"My husband bought me this perfume as a gift when we were dating. He often calls me by my middle name, Rose, as a way to show affection or another way of saying 'I love you'. He said the name and smell of this perfume reminded him of me, so I have worn this perfume on every special occasion, ever since."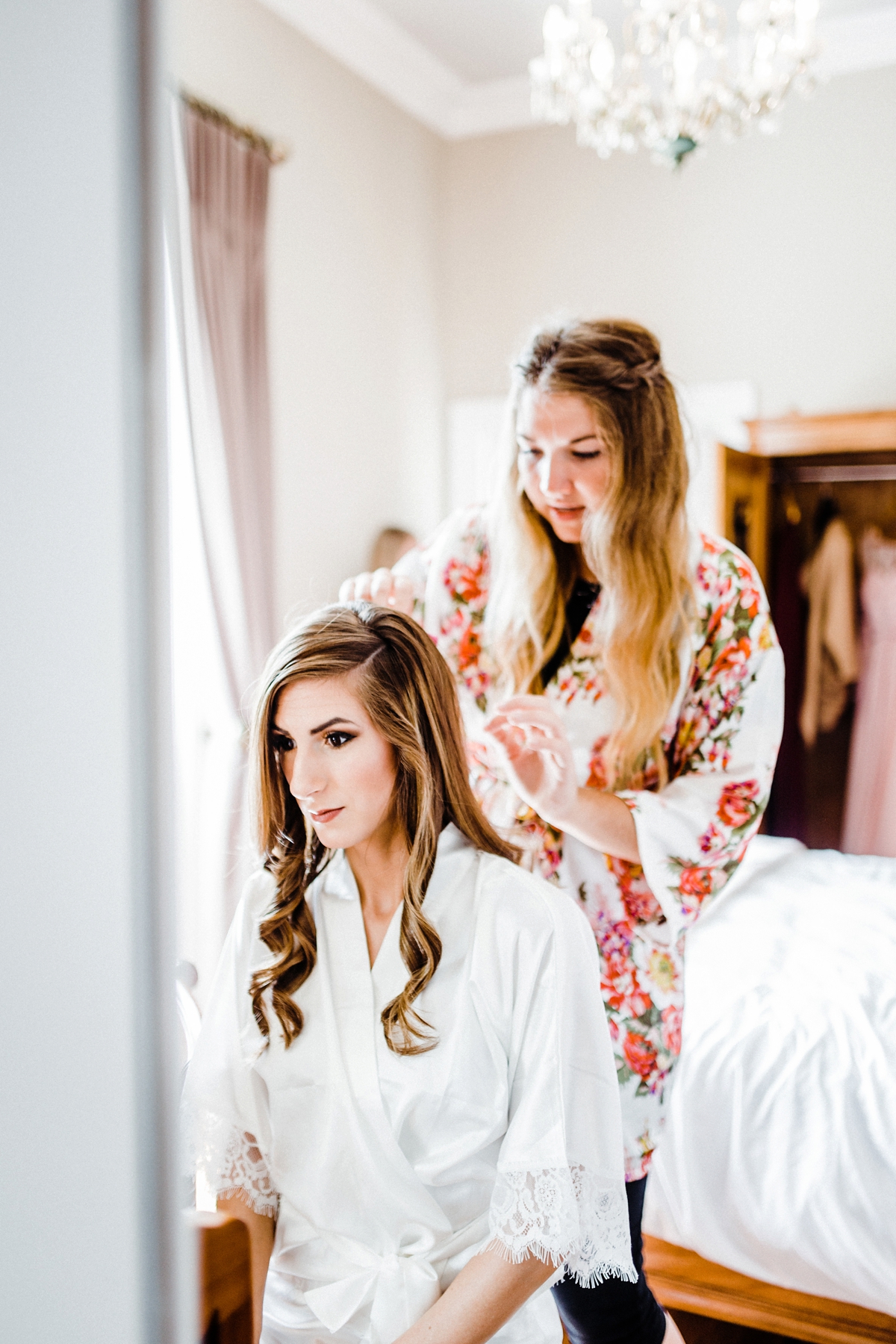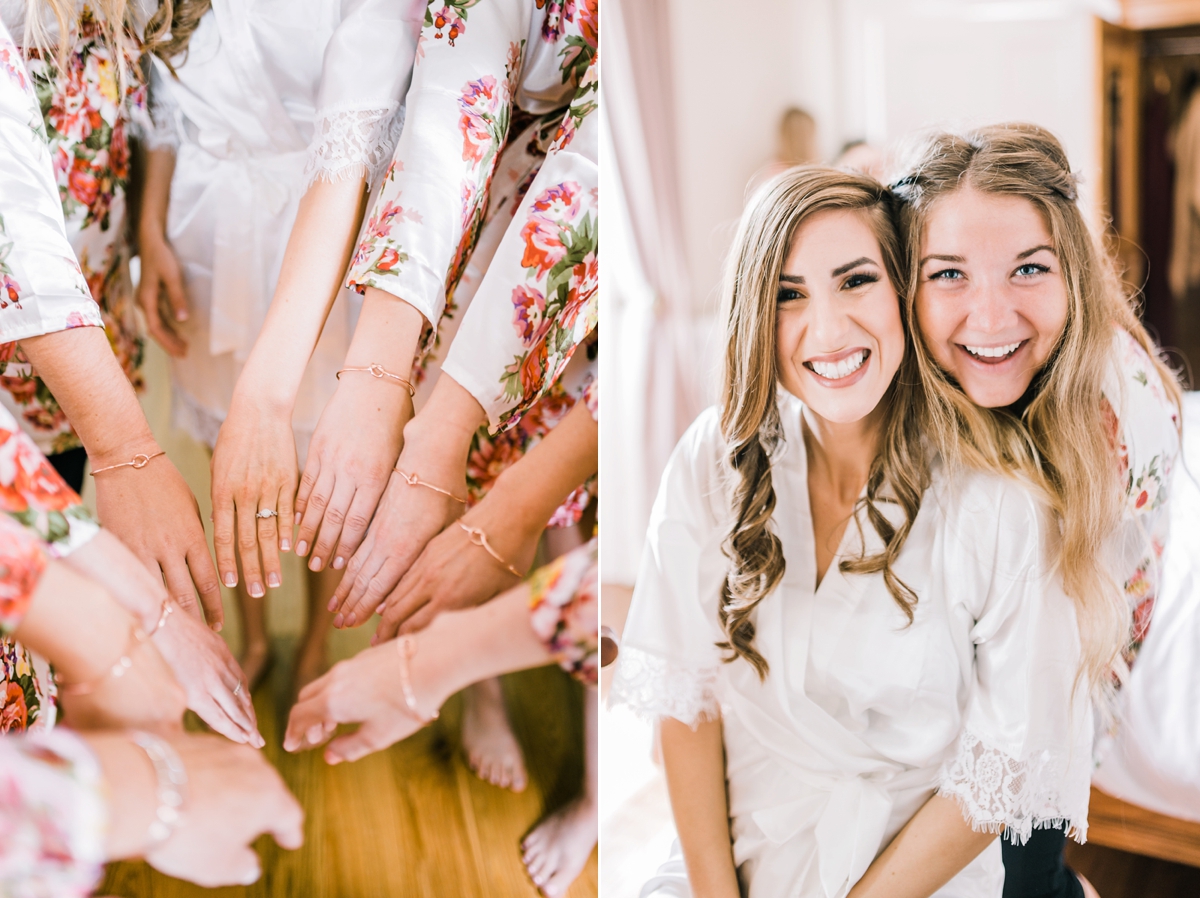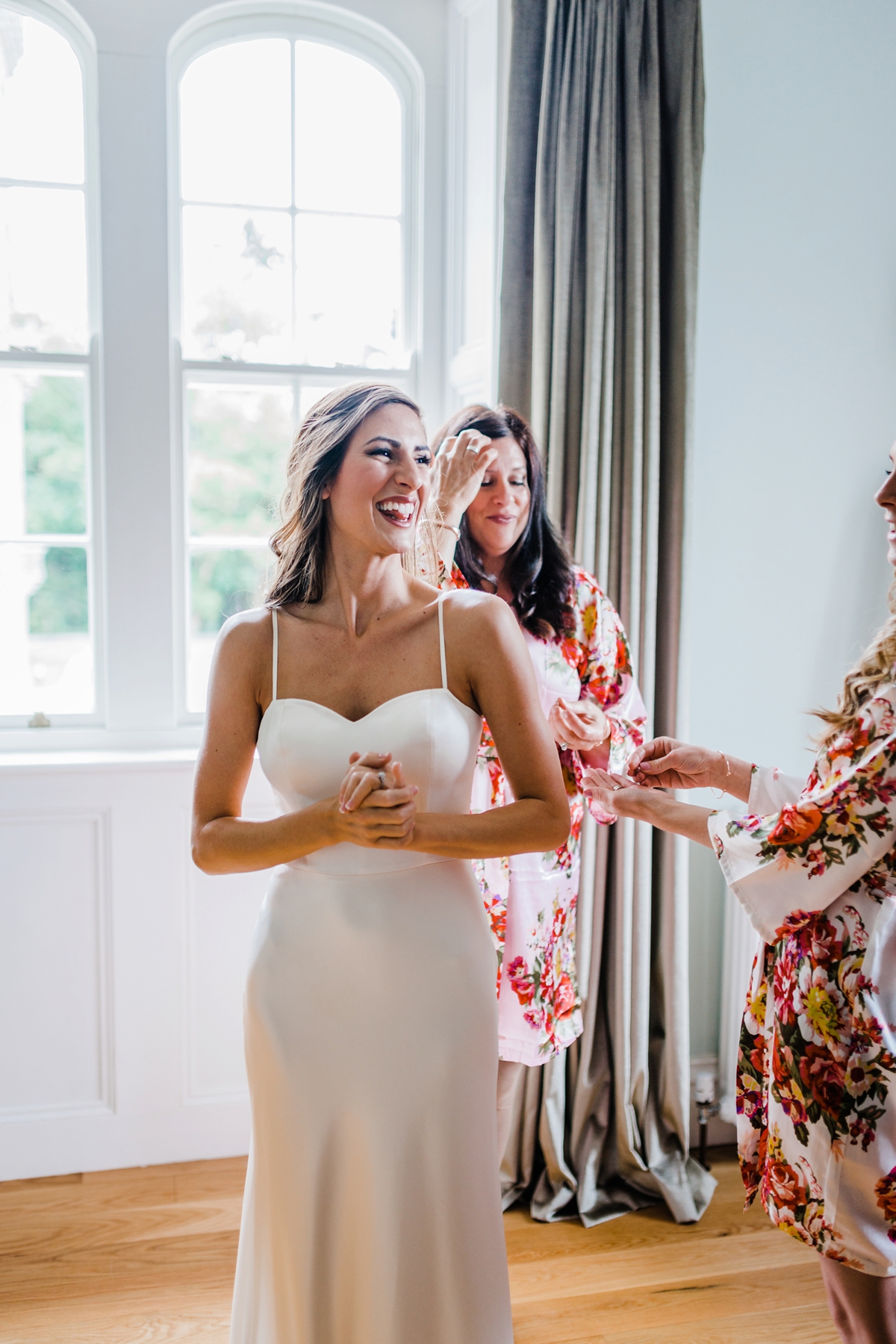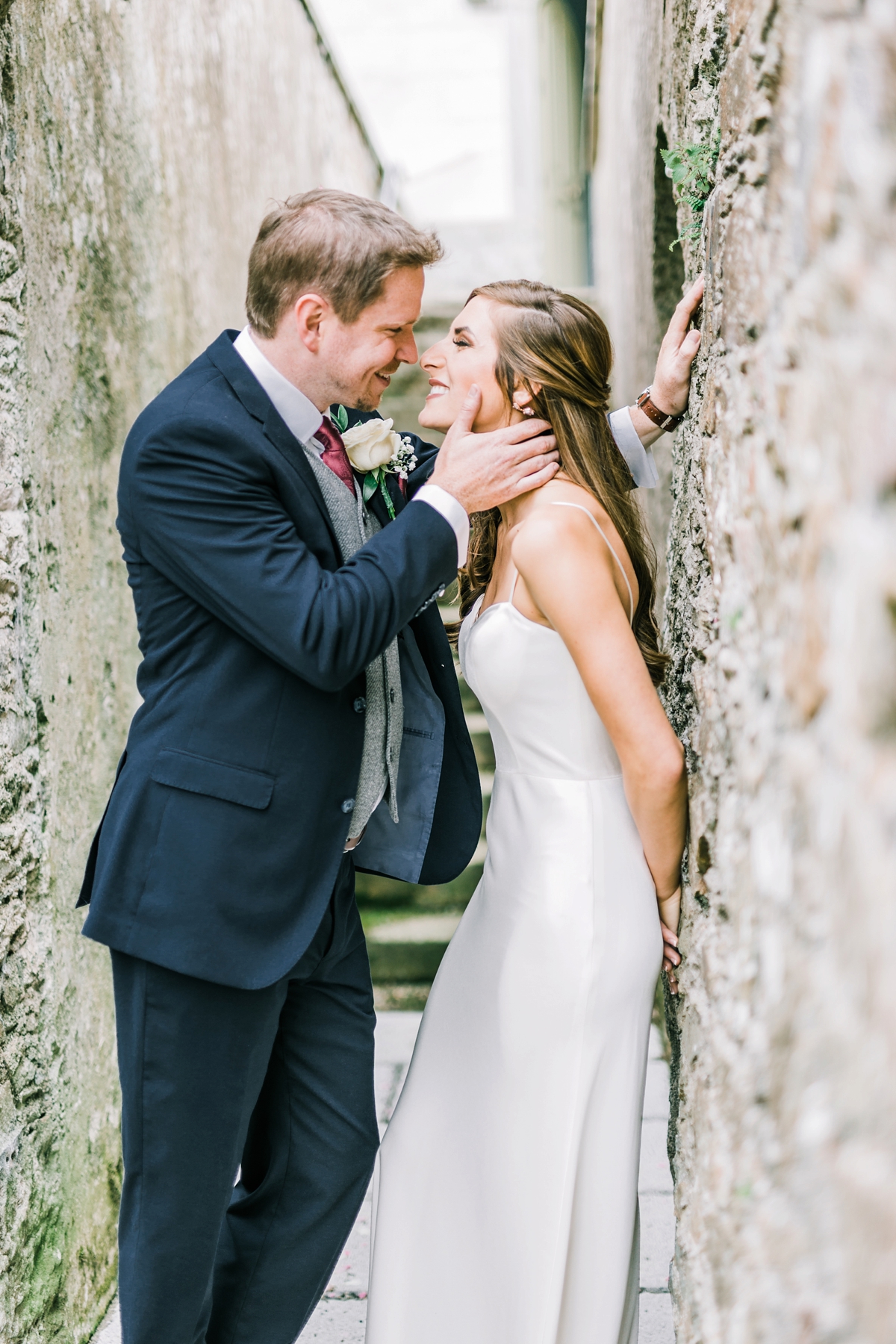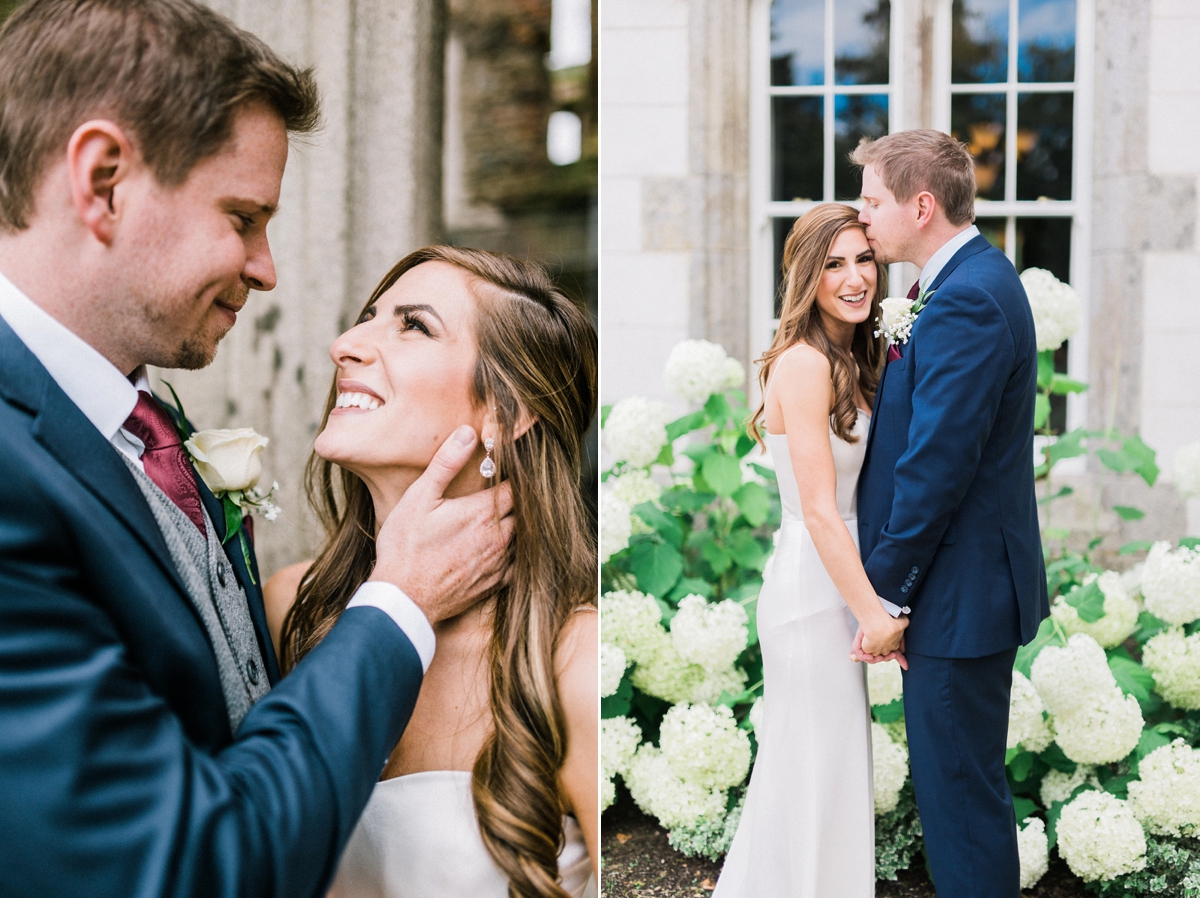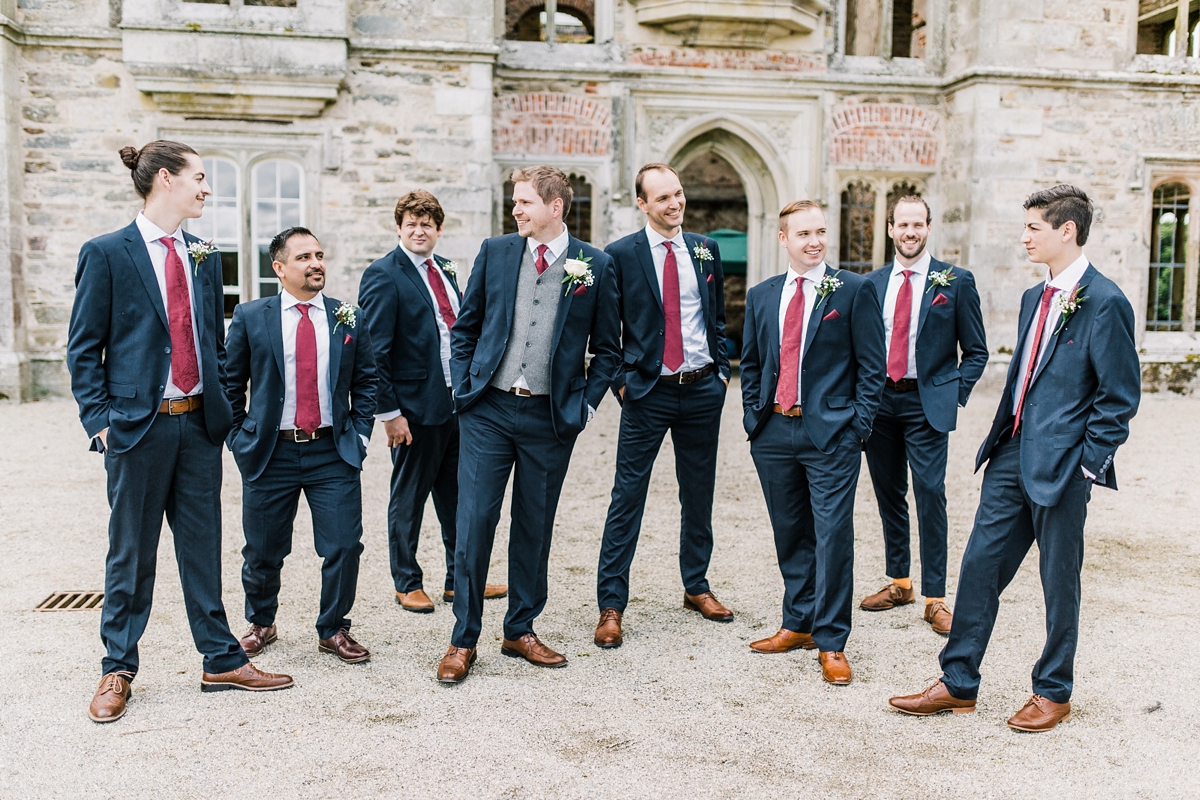 The bride's talented best friend and bridesmaid Zaneta Magierska put together the flowers for the day, assembling pretty bunches of white gypsophila for the bridesmaids and creating an natural-feel bouquet of thistle, foliage, white roses and flashes of red for the bride. More flowers decorated the castle, as well as swathes of ivy.
"Our castle manager was phenomenal; he just went outside and grabbed a ton of ivy to put on our wedding arch and decorate the castle with! Other than that, the castle had so much character that we didn't really need decorations. We just added a few flowers here and there."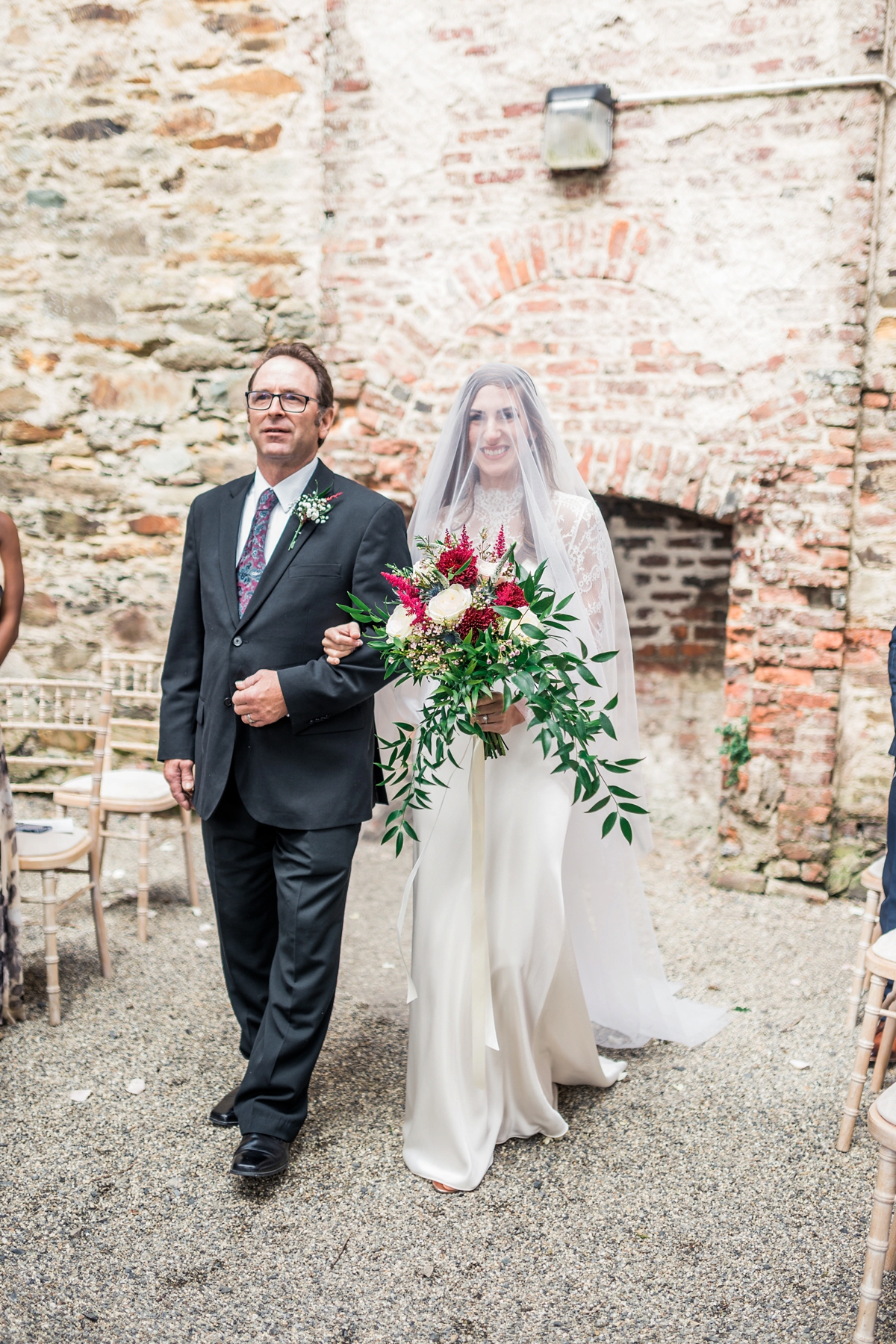 Mr and Mrs Six married outside in the castle grounds underneath an ivy arch, the bride walking down the aisle on the arm of her father to a an instrumental version of 'How Long Will I Love You' (the couple's song) performed by Sacred Sounds. Mrs Six has shared these meaningful words to explain the significance of the ceremony and vows for her and her husband.
"The sun peeked through the clouds right as I began to walk down the aisle and meet my soon-to-be husband. Our ceremony was short and sweet but held so much meaning for us. To profess before our closest friends and family that we choose to love one another forever and honour God through our marriage was a defining point in our lives. There was so much anticipation leading up to this one instant and it was filled with so much joy. There was this feeling of 'at last' – this day we had dreamed about forever was here, and even better than we could have imagined."
"The groom's father is the most wonderful pastor and father-in-law. He was our officiant.  We chose traditional wedding vows. The wording is so familiar and perfect. We took communion together to emphasise how we want our marriage to reflect that of Christ and the Church in the Bible. We also added a Celtic hand-fasting to pull in a sweet, Irish tradition."
"We had several of our close friends choose Bible verses to read during our ceremony. It allowed them to not only stand with us during our vows, but speak words of encouragement and meaning into that moment."
"We wanted to emphasise how joining together in marriage is a choice that we are making, and a promise. It is a choice that we will make every day, despite how our feelings, circumstances, status, or health may change. We choose to love one another from this day forward, and that is a promise."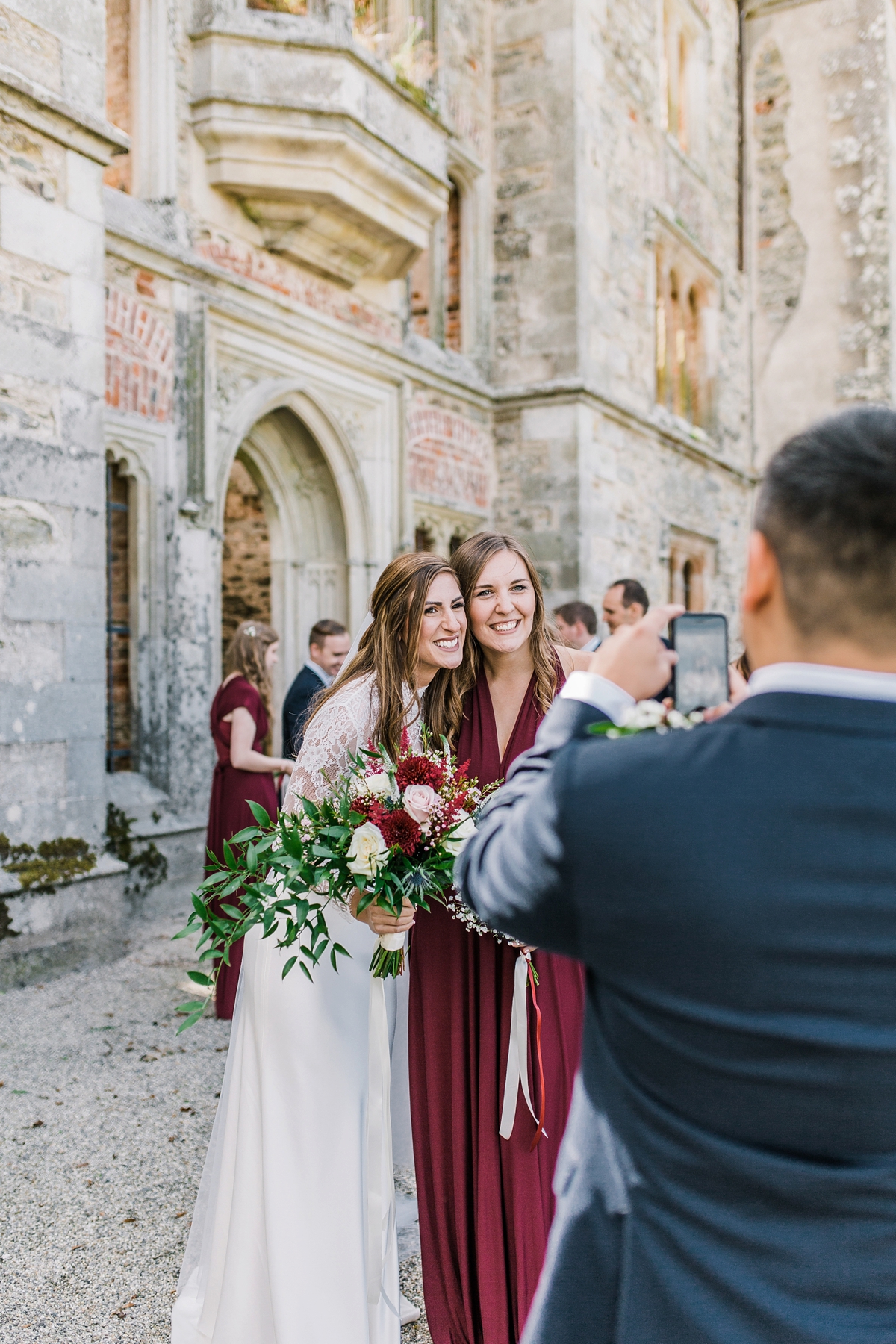 Photographer Arabella Smith has captured the joy of Mr and Mrs Six's day wonderfully in her fine art-style, light-filled images, and she comes so highly recommended by the newly-weds. The 'first-look' photos are amongst my favourite; the couple look so, so happy and in love. The groom was dressed in a suit from The Groomsman Suit, adding an ornate Sibosun pocket watch, a grey waistcoat and a red tie to match the bridesmaids.
"Arabella captured our wedding in a way we never could have imagined. She managed to catch the light and joy of each moment in her pictures. Arabella was so kind, flexible, and considerate. Choosing her as our photographer was one of the best decisions we made!"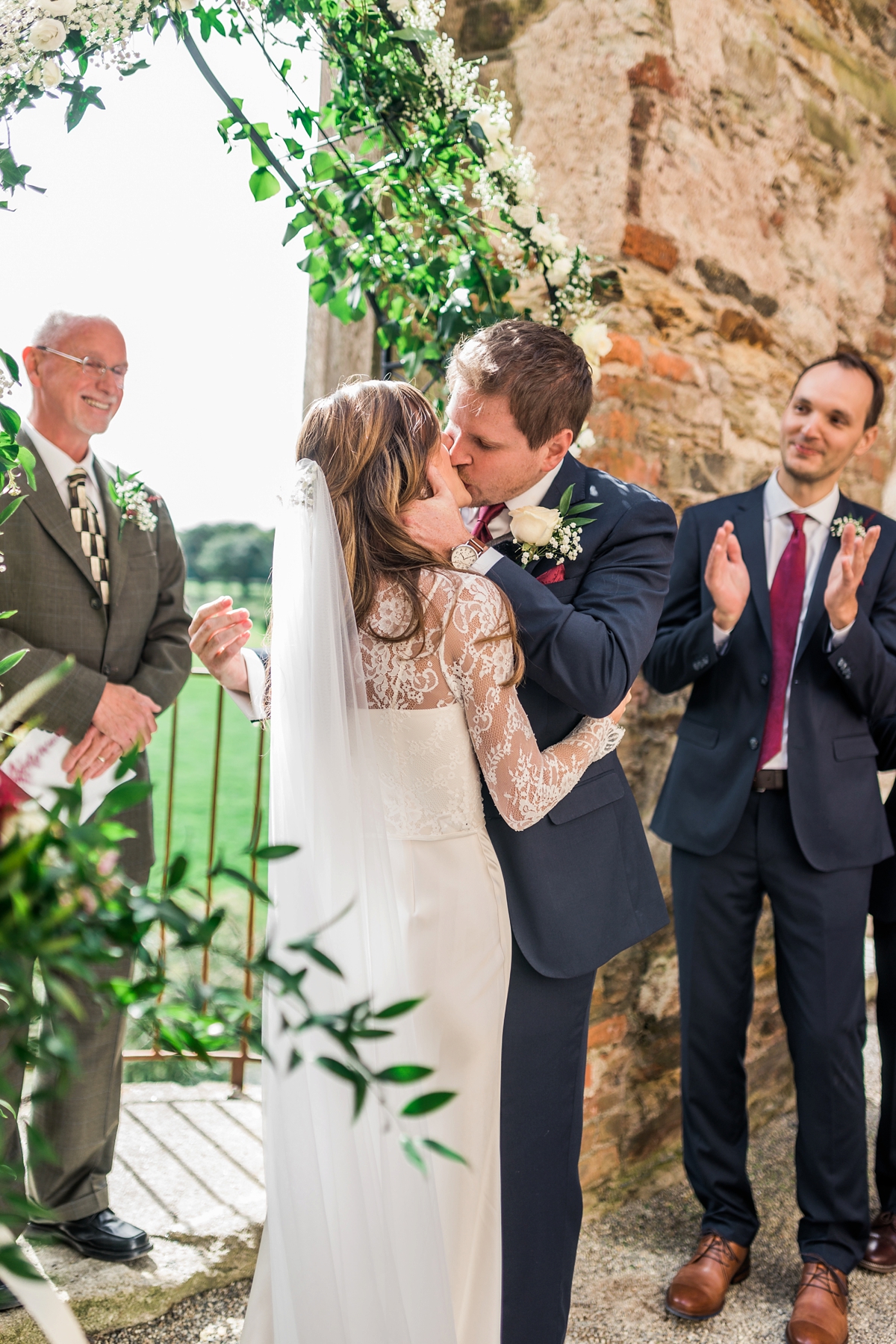 Meanwhile, Mario Vaitkus of PhotoMV was in attendance to record the day on film, combining fast-paced drone footage of the castle with heartfelt shots of the newlyweds.
The bridesmaids' Lulus maxi-dresses, each worn in a different style to suit their personal taste, mirror the graceful cut of the bride's gown, and the deep burgundy is wonderful against the green countryside and pale stone of the castle. They wore shoes from Amazon and accessorised with matching rose gold earrings and bracelets from thegemco, and matching floral robes by DiamondStiletto for getting ready in the morning.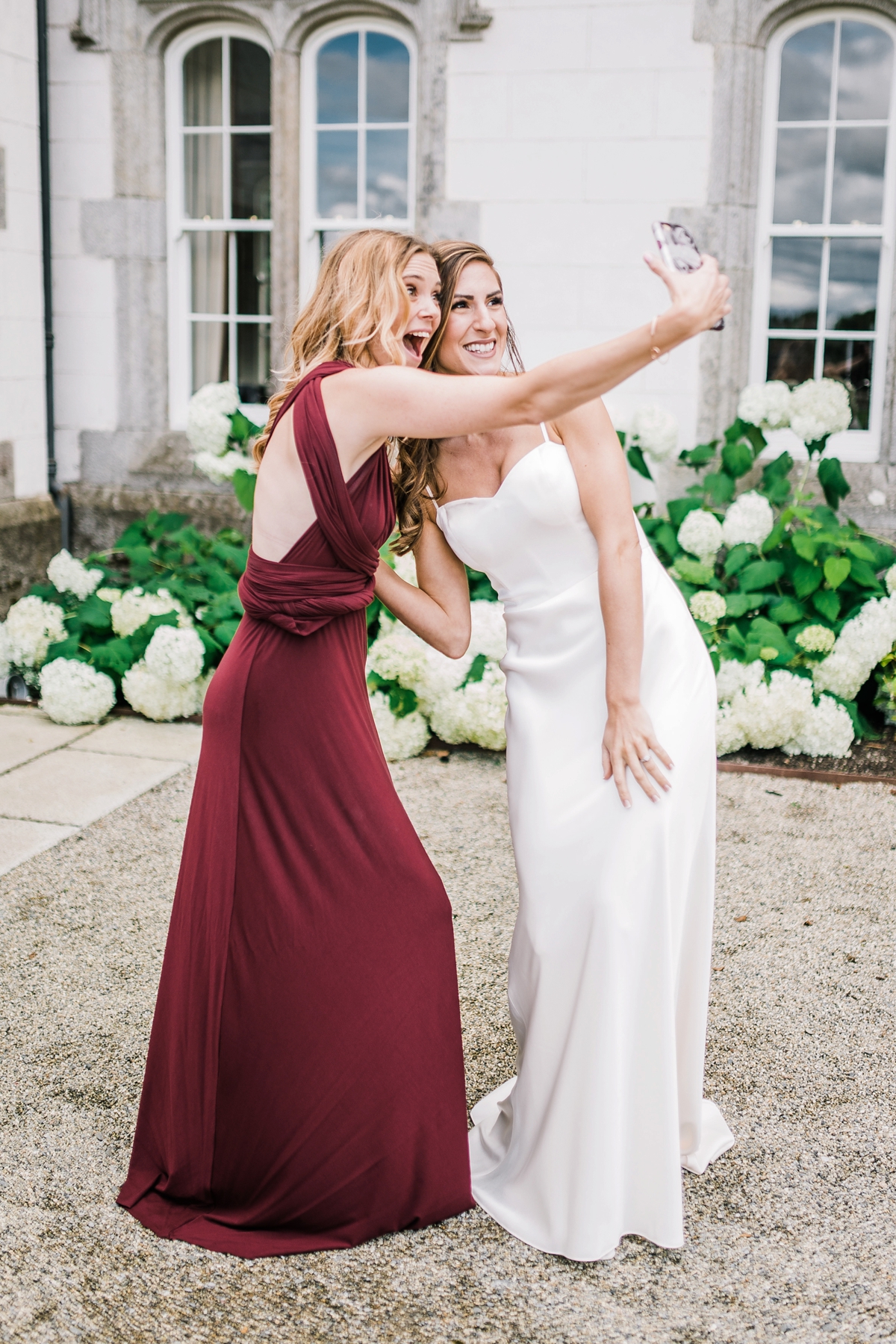 The castle made the perfect location for a wedding banquet and dance. The long table was decorated with fresh green foliage, elegant stationery and crisp crockery and glassware, encapsulating their 'grand but simple' scheme perfectly. The banquet was provided by The Wedding Caterers and the hog roast from The Spitting Pig.
The tiered cake was also by Zaneta Magierska, decorated with fresh flowers.
"I loved having everyone sit at one banquet table for the meal. We had an intimate wedding, so it allowed for this and created the close-knit family feel we wanted for the reception."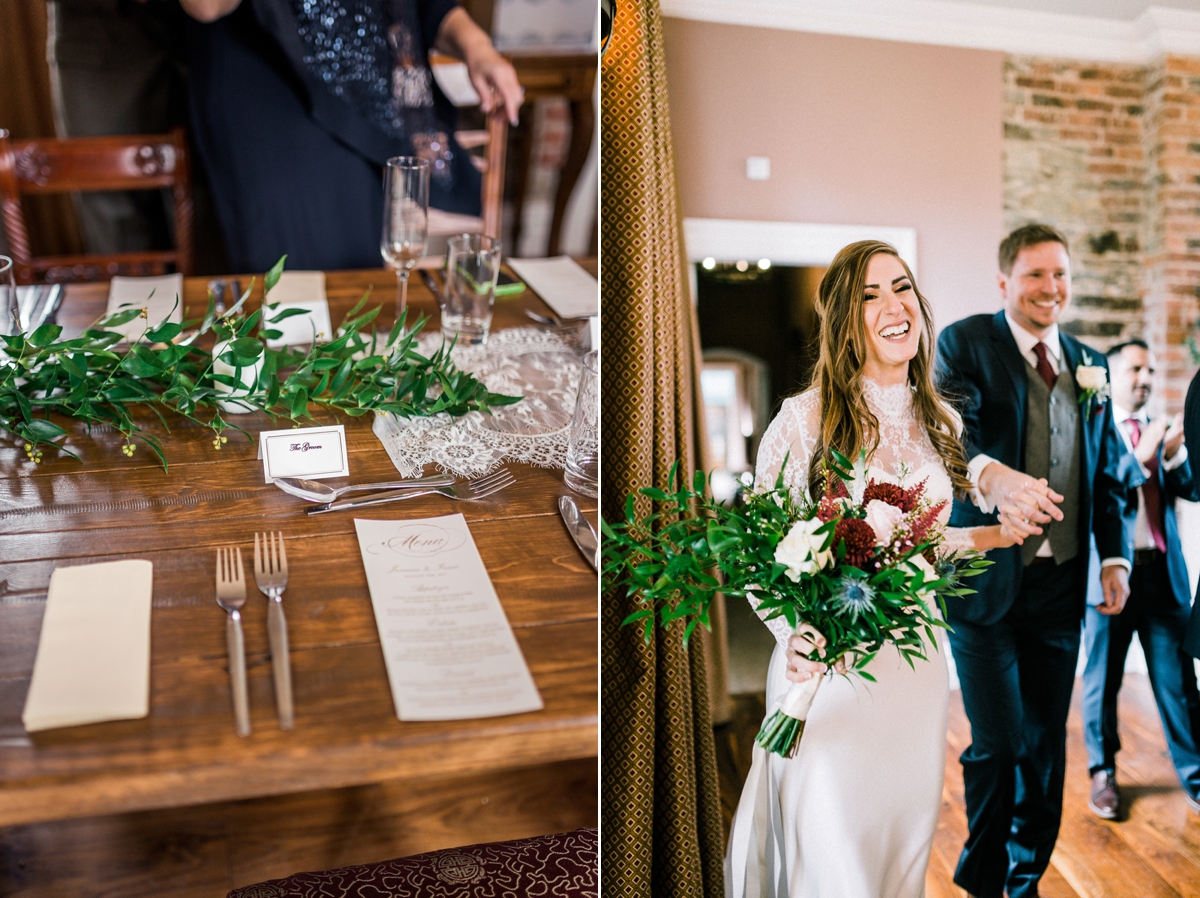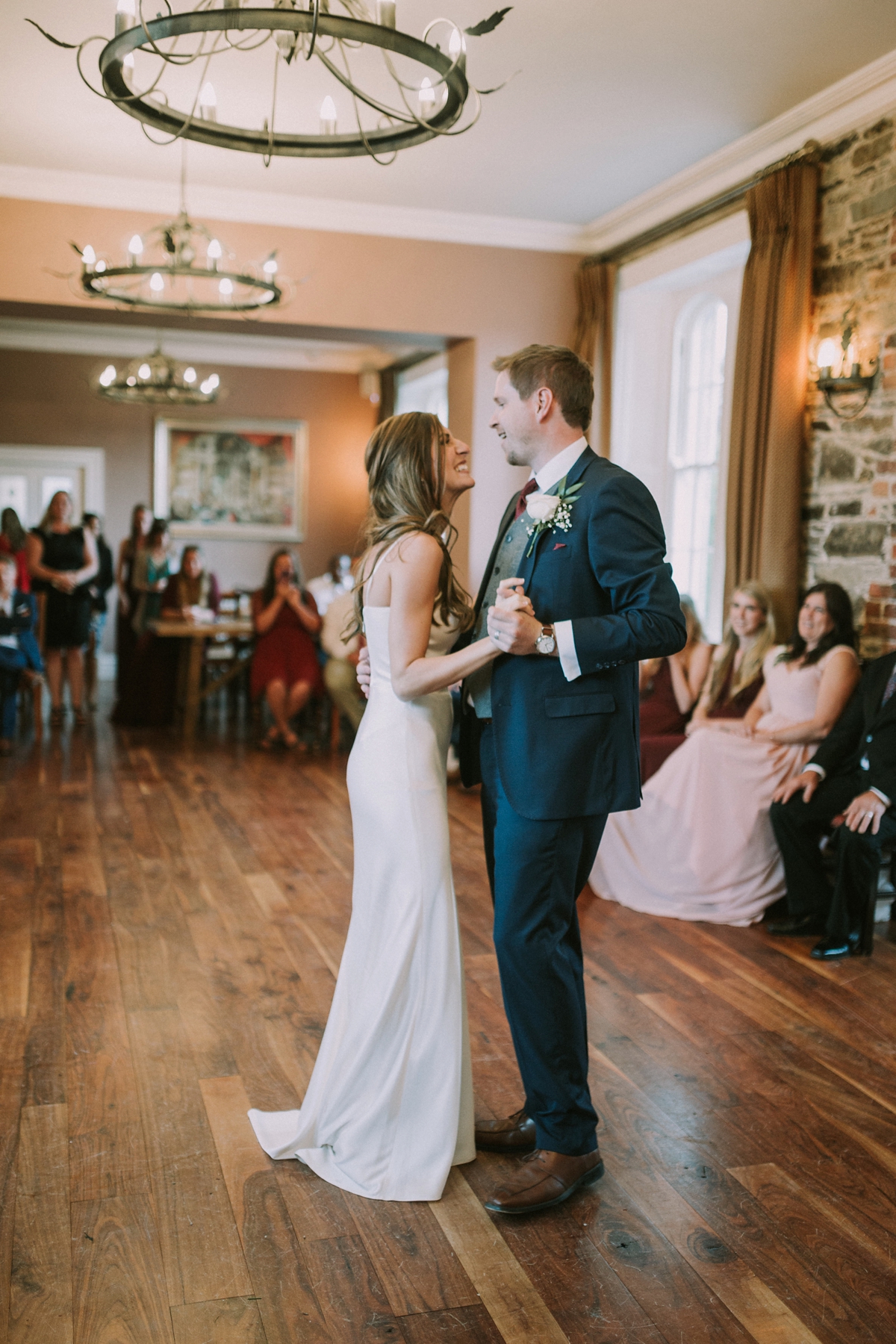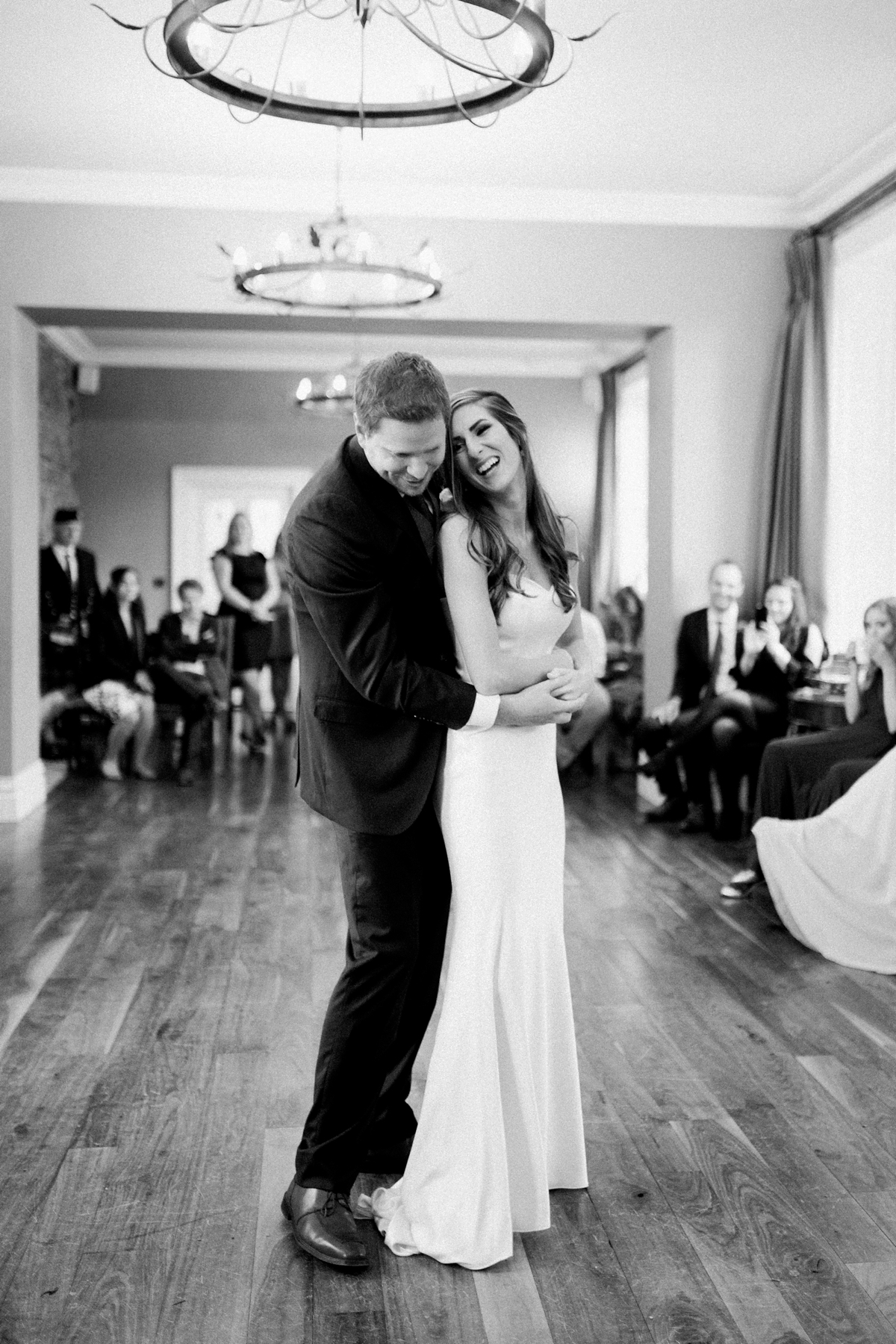 Words of Wedded Wisdom
"Try to enjoy every moment as it comes. Make planning your wedding adventurous and fun. Don't be afraid to make bold decisions, abandon traditions that are silly to you, or take up new ones that can be meaningful. Weddings should be as unique as we are. This is the chance for soon-to-be husbands and wives to profess their love for one another with everyone closest to them any way they want to!"
"Try to avoid comparisons and perfection. Learn to compromise. In the end, always place working on your soon-to-be marriage above planning for your wedding day, because in the end, this is what matters most."
Many thanks to Arabella Smith for sharing these exquisite images with us today. I love how you've caught the joy and beauty of this celebration. Sending congratulations to Mr and Mrs Six as well as many thanks for sharing your wedding with us. For more beautiful castle wedding inspiration we have a whole host of weddings to enjoy on Love My Dress here.
Ele xx