Happy Monday all! I do hope your weekend has been well-spent and you're now ready to sit, down, relax and enjoy today's wedding (preferably with a cup of tea!). Do you ever read one of our real wedding features and wish you'd have been able to attend? This one is sure to be no exception…
With a relaxed vibe and fun being the order of the day, Vicky, a Marketing Manager at Prezola (the most amazing wedding gift list provider, who we've linked to below) and Graphic Designer Andy's wedding seems to have been such a joyous occasion, keeping friends and family at the heart of it
Giving themselves just one year to plan, they decided upon 7th October 2017 as their wedding date. Vicky and Andy's main requirements for their big day were that it was a relaxed and casual affair with fun, food and music being the main focus points.
Film by This Modern Revelry
"We chose a really cool venue in Wiltshire which is actually a café and small business hub. There was a great outdoor space plus a field next door, and the café had a chilled, industrial vibe, which we loved. After seeing so many wedding venues with their set packages, we knew we wanted somewhere completely flexible so we could style it as we liked. Neither of us are soppy so we wanted a casual wedding that was more like a fun party with lots of food, dancing and great music!"
Photography by Elaine Williams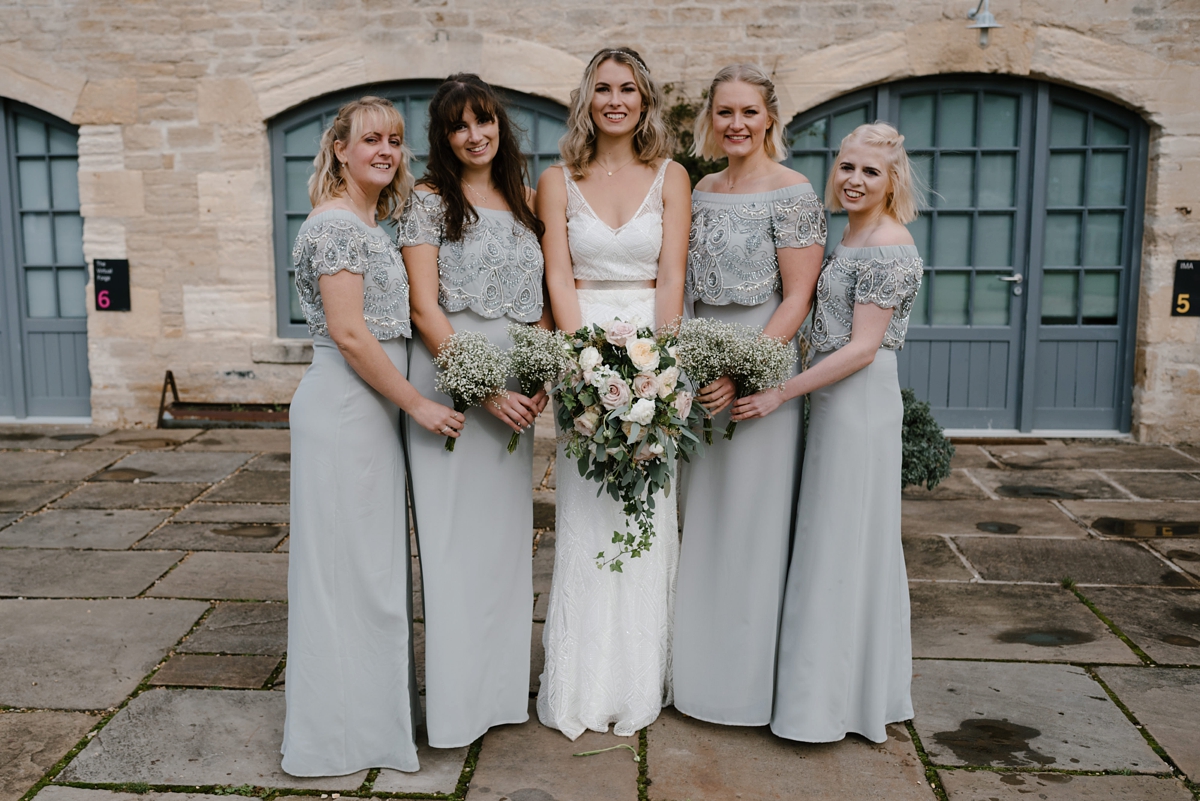 Capturing the day on camera with her unique photography style was Elaine Williams who kept the couple at ease throughout the day, with This Modern Revelry on hand to capture it on video.
"We loved Elaine's style and she even gave us an engagement photo shoot so we could relax and get to know her a bit before the wedding day.""We met whilst we were both at university in Bath…working at McDonald's, so it's a McLove story! Andy proposed whilst we were on a weekend getaway in Amsterdam. We were walking back from a restaurant when he got down on one knee on a canal bridge all lit up with festoon lights. It was so sweet!"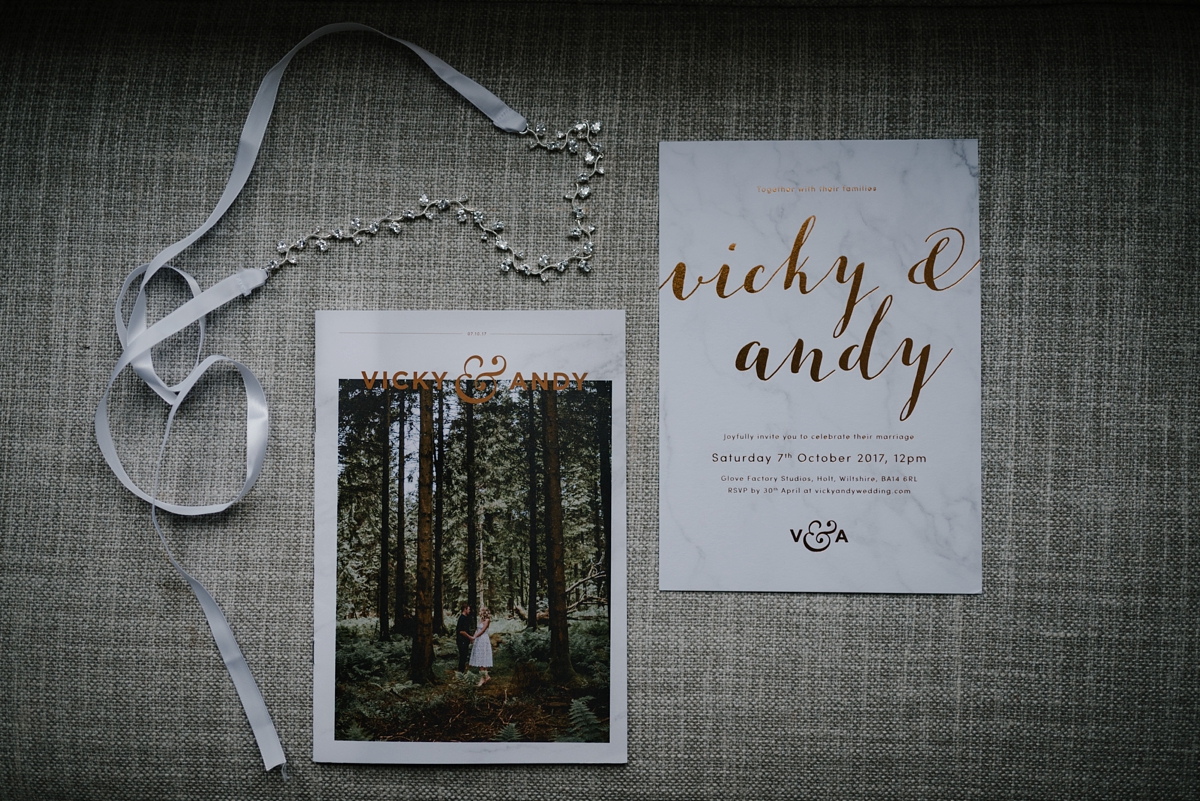 When it came to choosing her bridal look, Vicky went against the grain and chose a head-to-toe stunner of a two-piece from Flossy & Willow, accessorised with a Charlie Brear belt, delicate jewels and a short veil.
"With such a casual wedding I didn't want a big princess-style dress whilst roasting marshmallows! I did however still want a show-stopper with all the special details any Bride would want. It wasn't something I would have chosen straight away usually but it fit the style of the day perfectly."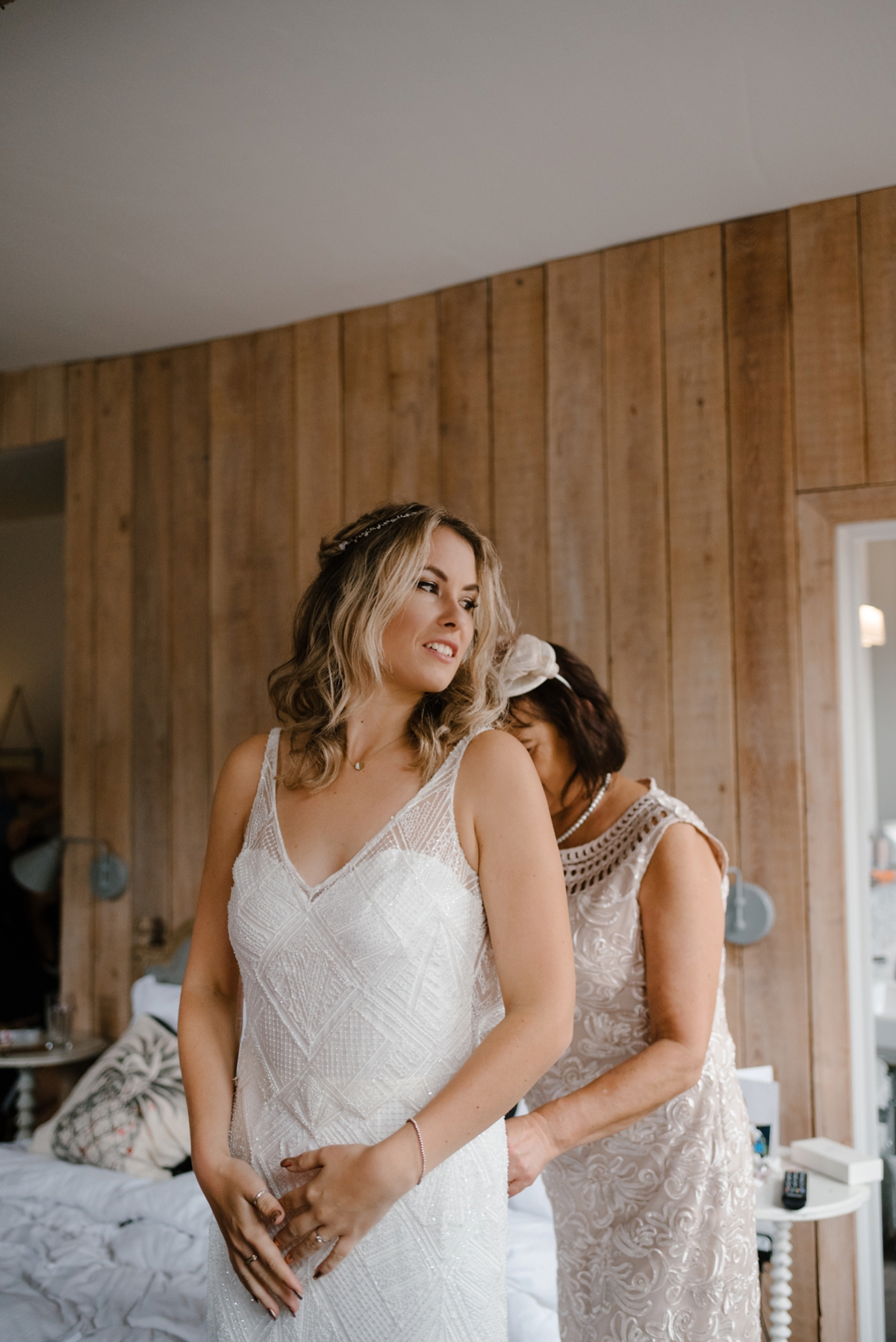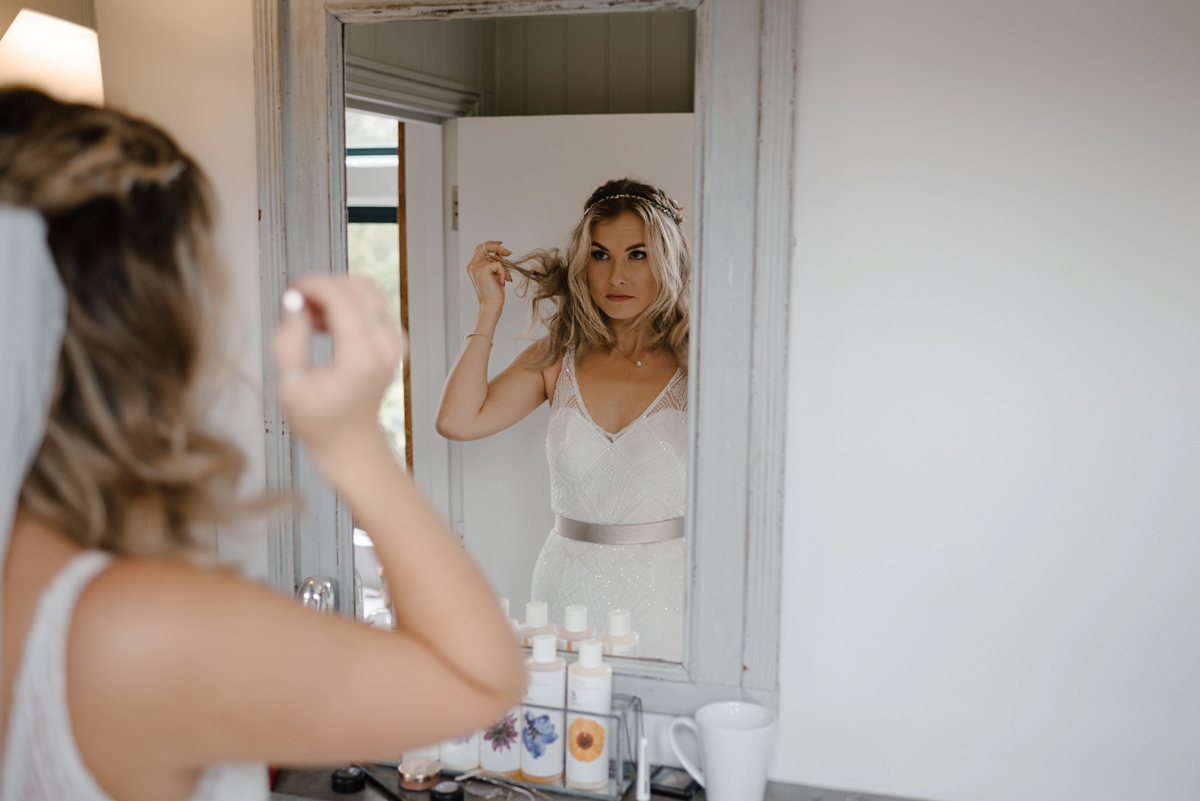 Vicky's bridesmaids looked glorious in grey, beaded gowns from our fave, ASOS.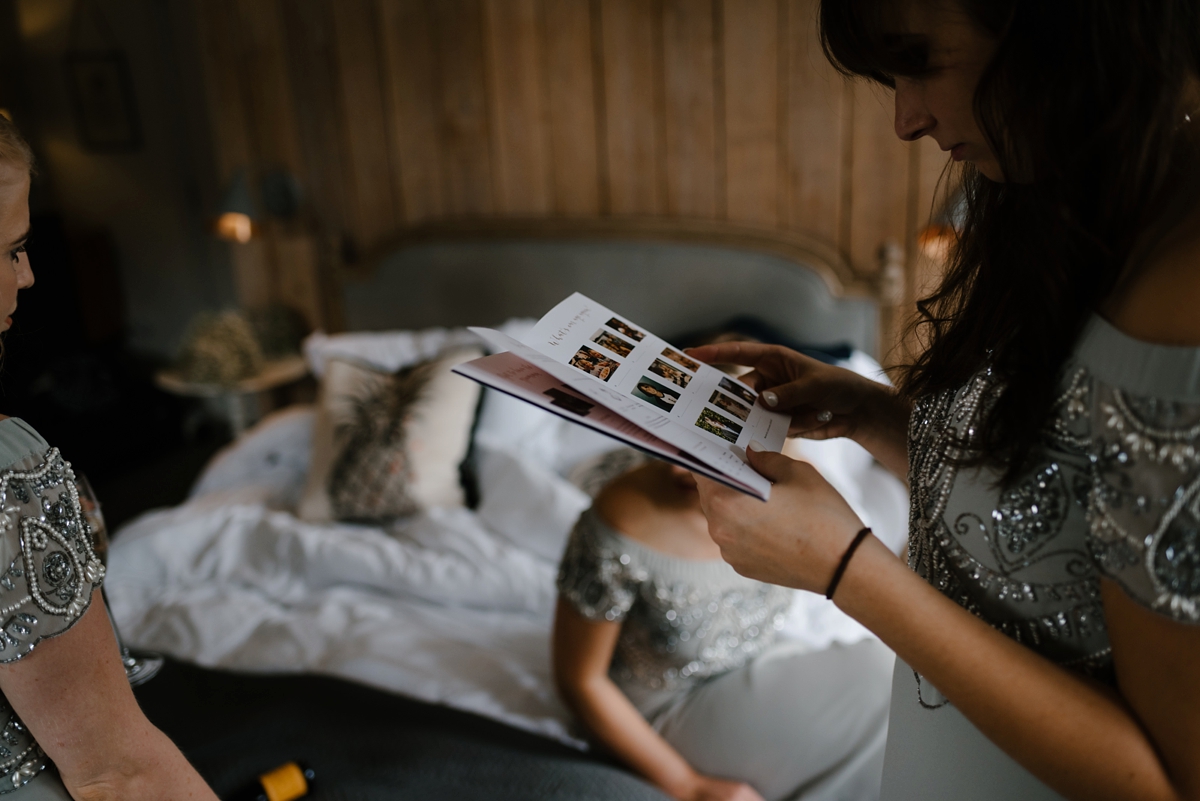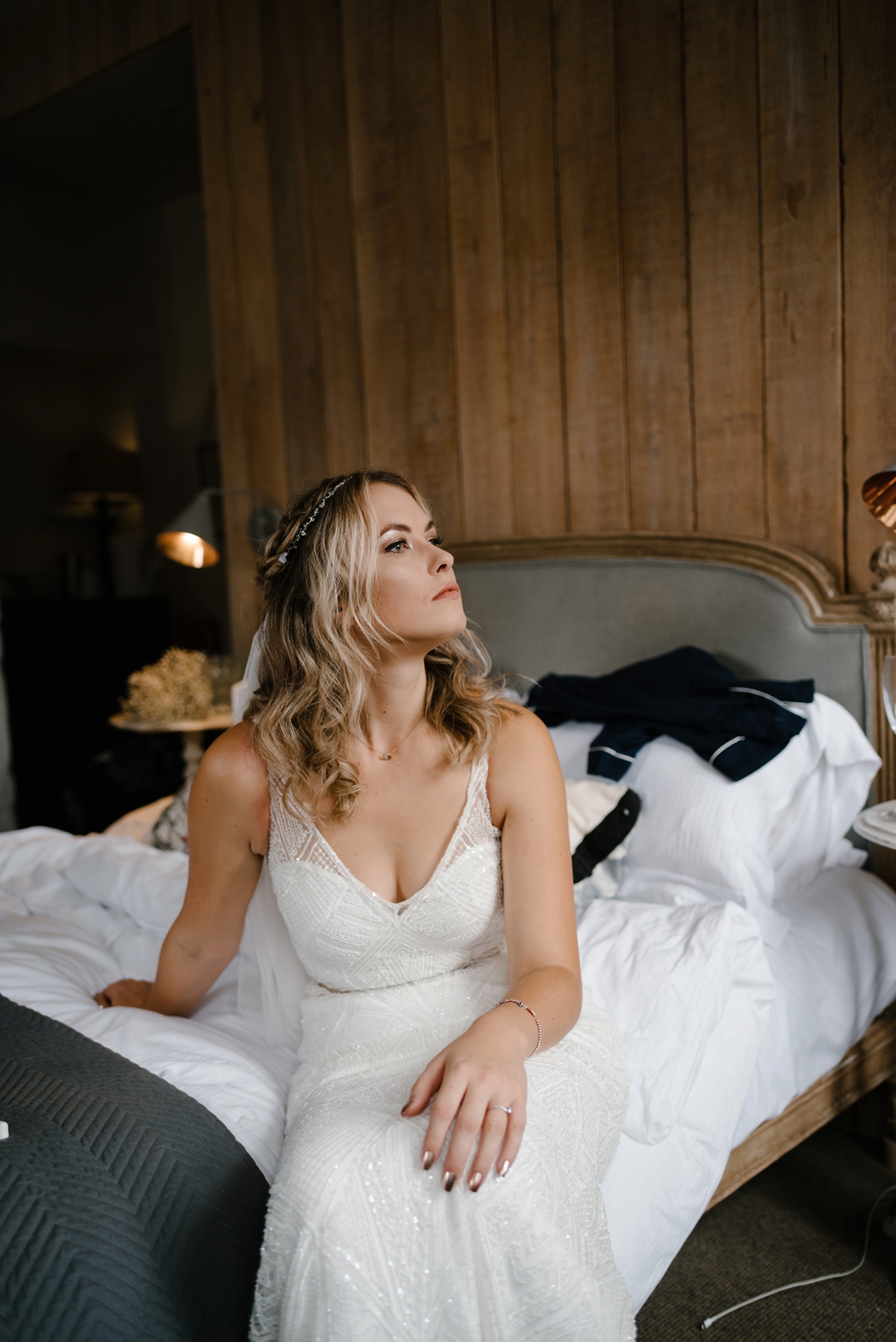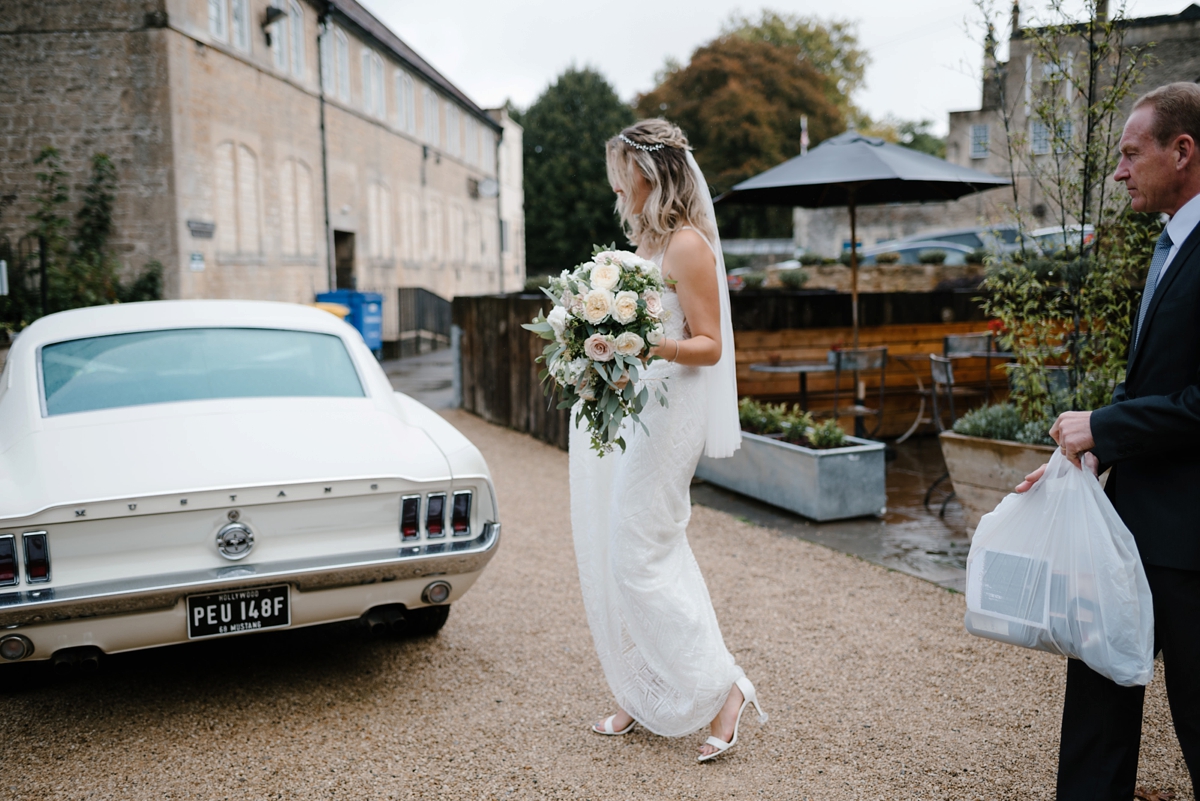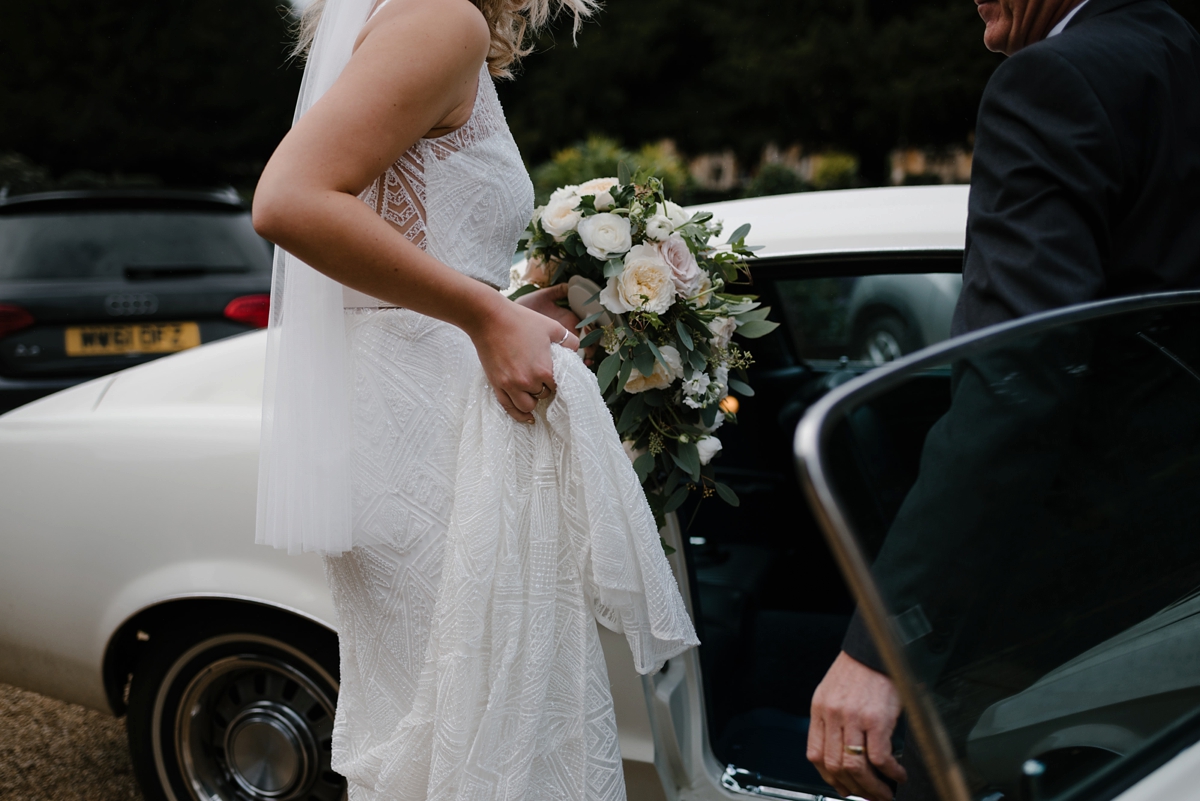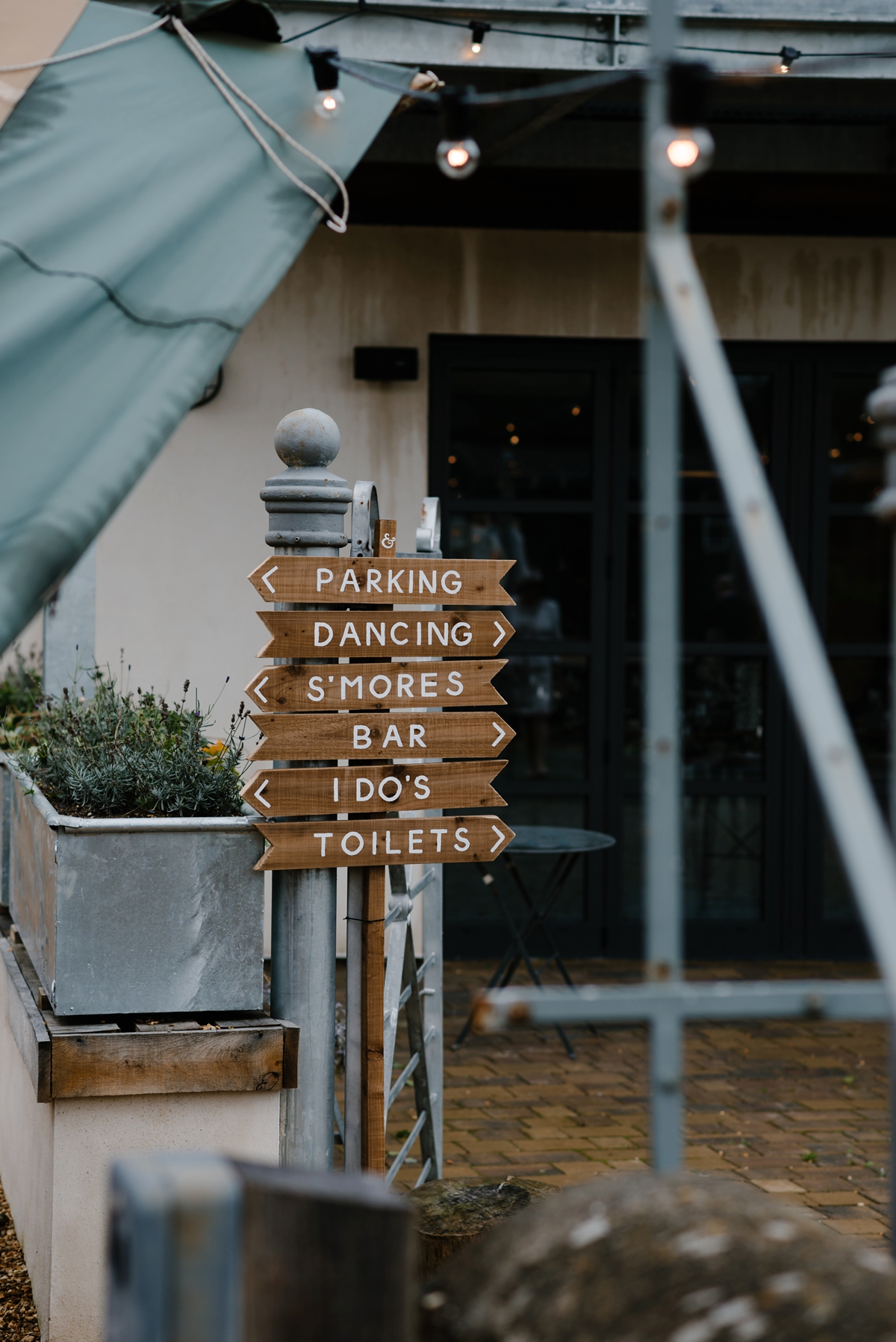 Although not a traditionally religious ceremony, the Bride and Groom kept some traditions with Vicky's Dad walking her down the aisle to Obadiah Parker's acoustic version of OutKast's 'Hey Ya'.
"My Dad would never usually show emotion but he's so traditional that I think he really loved walking me down the aisle. It was hard for him to see me get married in a tipi with fire pits and sparklers, letting go of a traditional wedding, but he really enjoyed it all in the end."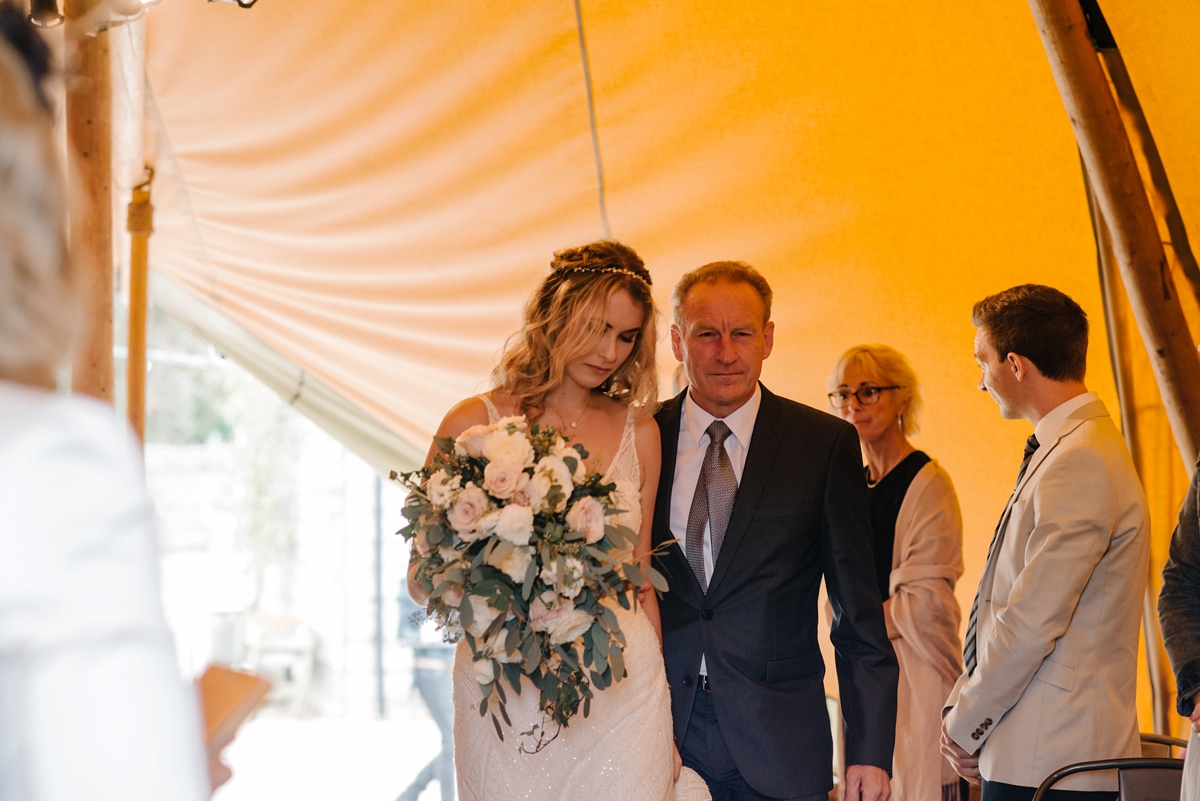 They also tailored their vows to be more personal, adding the odd humorous anecdote in keeping with their carefree personalities.
"We definitely tailored our vows for each other. We didn't like the serious bits of marriage like being seen in the eyes of the law as a matrimonial couple, so we focused on having adventures together and saying why we're each others favourite person. They were sweet and personal yet funny, with nods to ordering Domino's after a big gym session or how we point out every dog we see."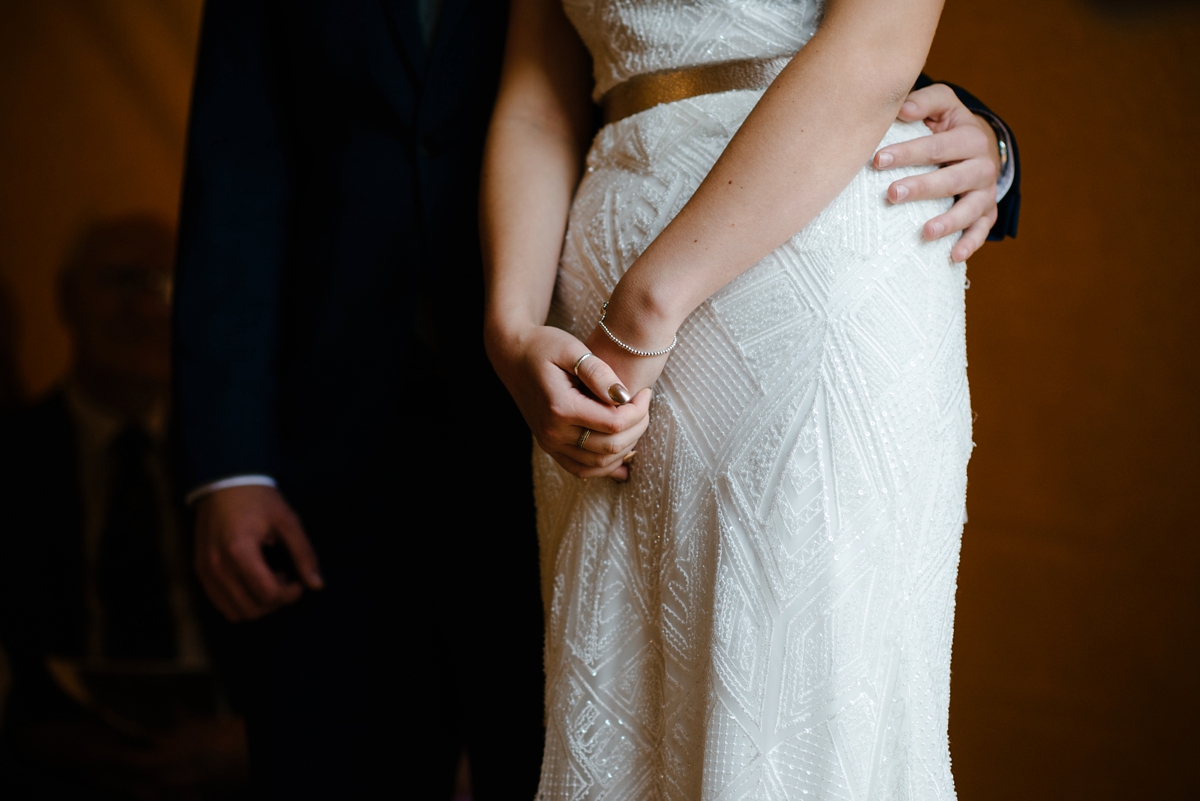 Vicky's vows…
Growing up, cartoons teach us that love is a fairy-tale, but as I've grown up I know that's not true. It's imperfect real life. Making mistakes together, creating happy moments and being a team to pull through when things get tough. It's no fairy-tale but as long as I'm with you, I wouldn't change it for the world.
Andy, I promise to love you with all of my heart every day, because being with you is my favourite place to be.
I promise to give you my best version of myself, to stay positive and to try my best not to be grumpy when really I'm just hungry.
I promise to be there for you when things get tough, to come and find you when you feel lost and to pick you up if you ever feel down.
I promise to point out every dog we see because it's one of the many quirks I love about us. I love who you are and so much of me is you.
I promise to explore the world with you and have great adventures, because there's no one I'd rather travel with than you.
I promise to do my best not to focus on being perfect but instead be perfectly imperfect as we make our own mistakes in life and learn from them as a team.
You are my best friend, my other half, my everything, and I'm so excited to be with my favourite person for the rest of my life.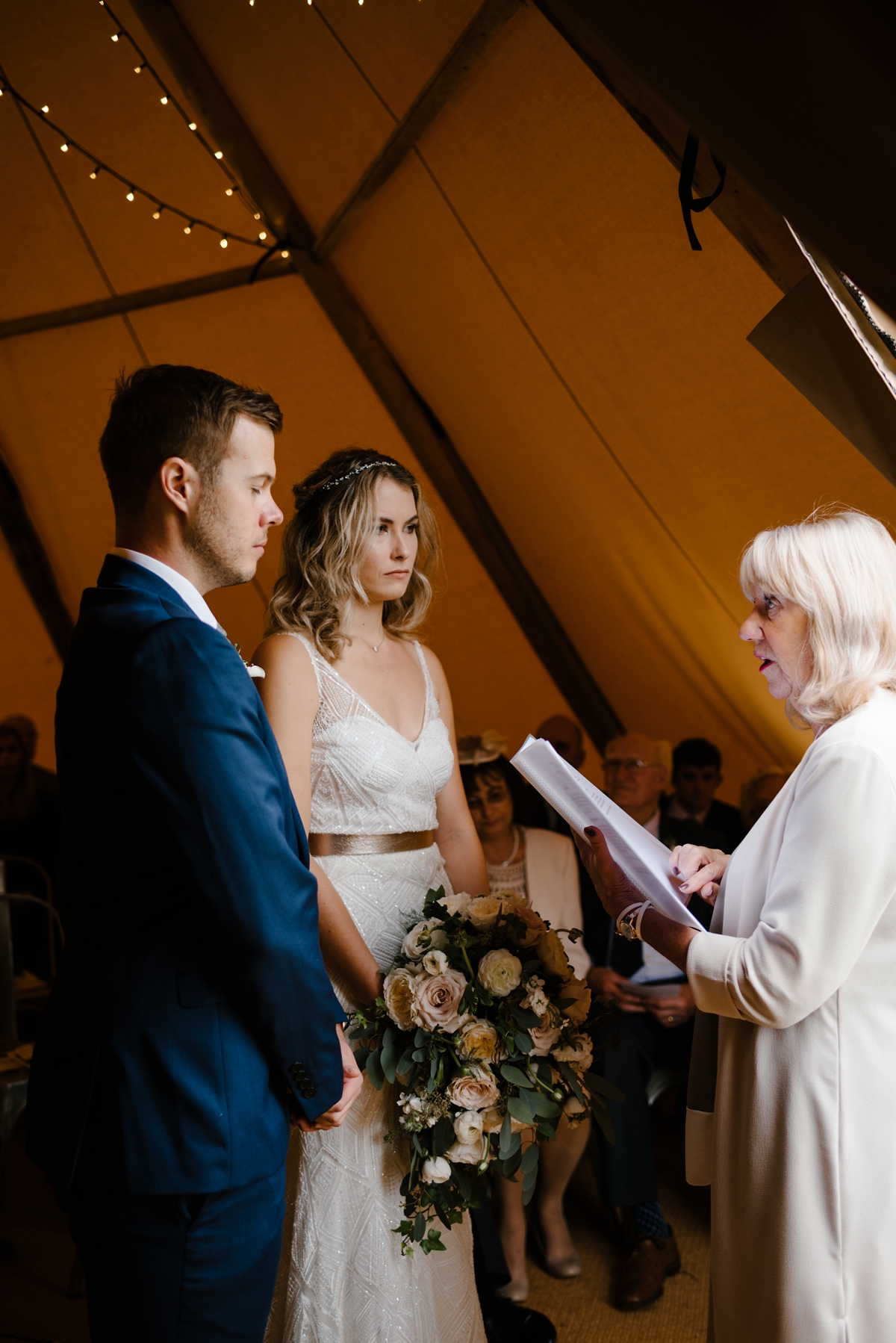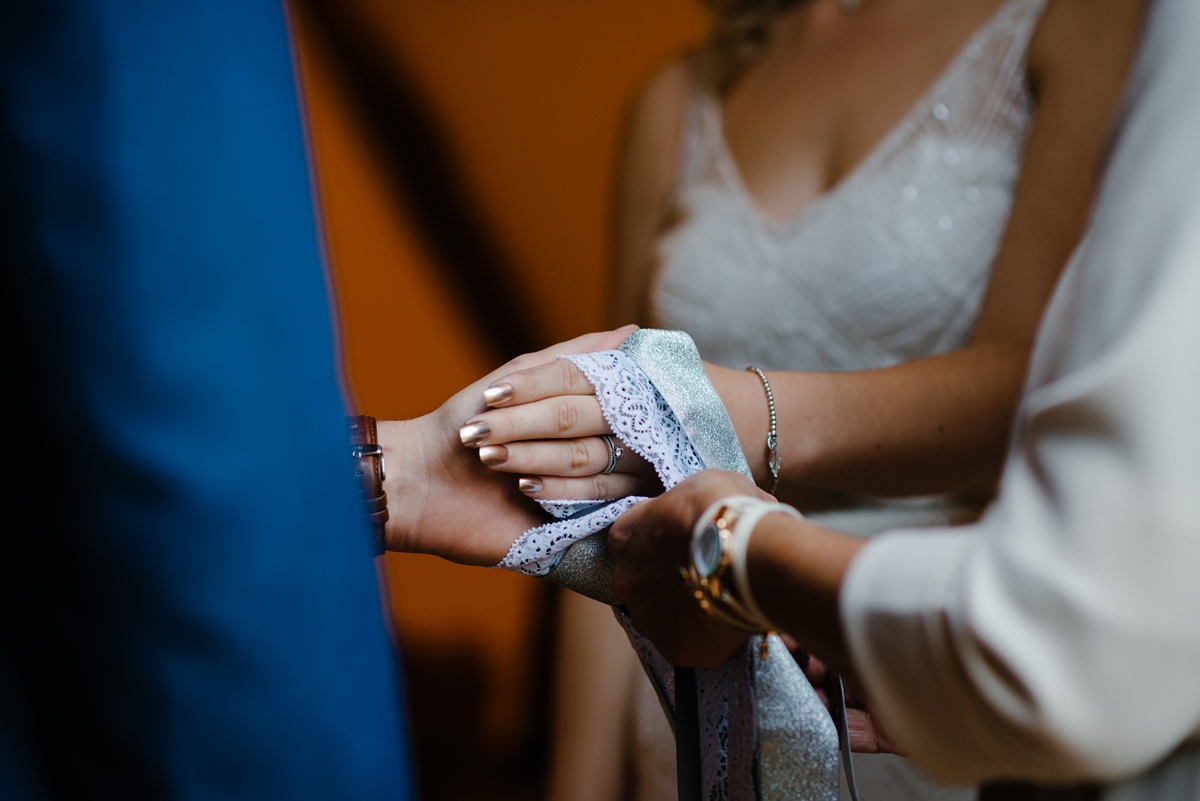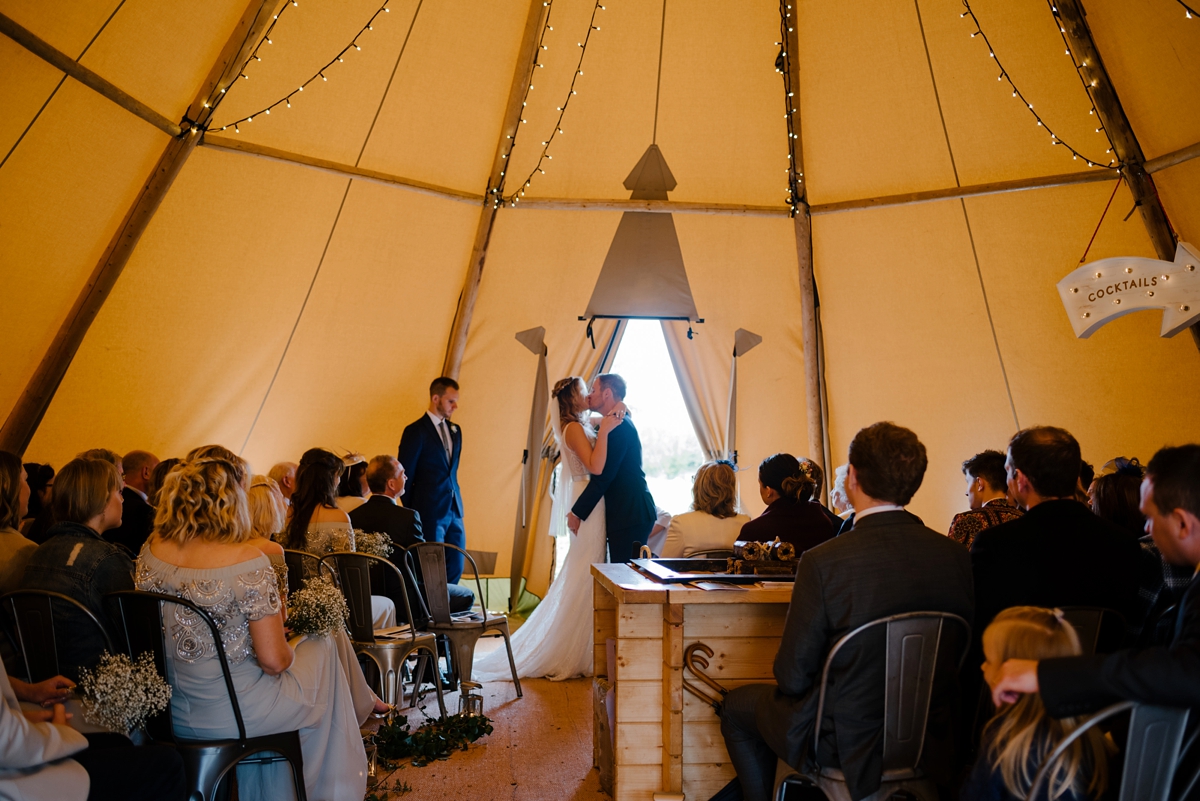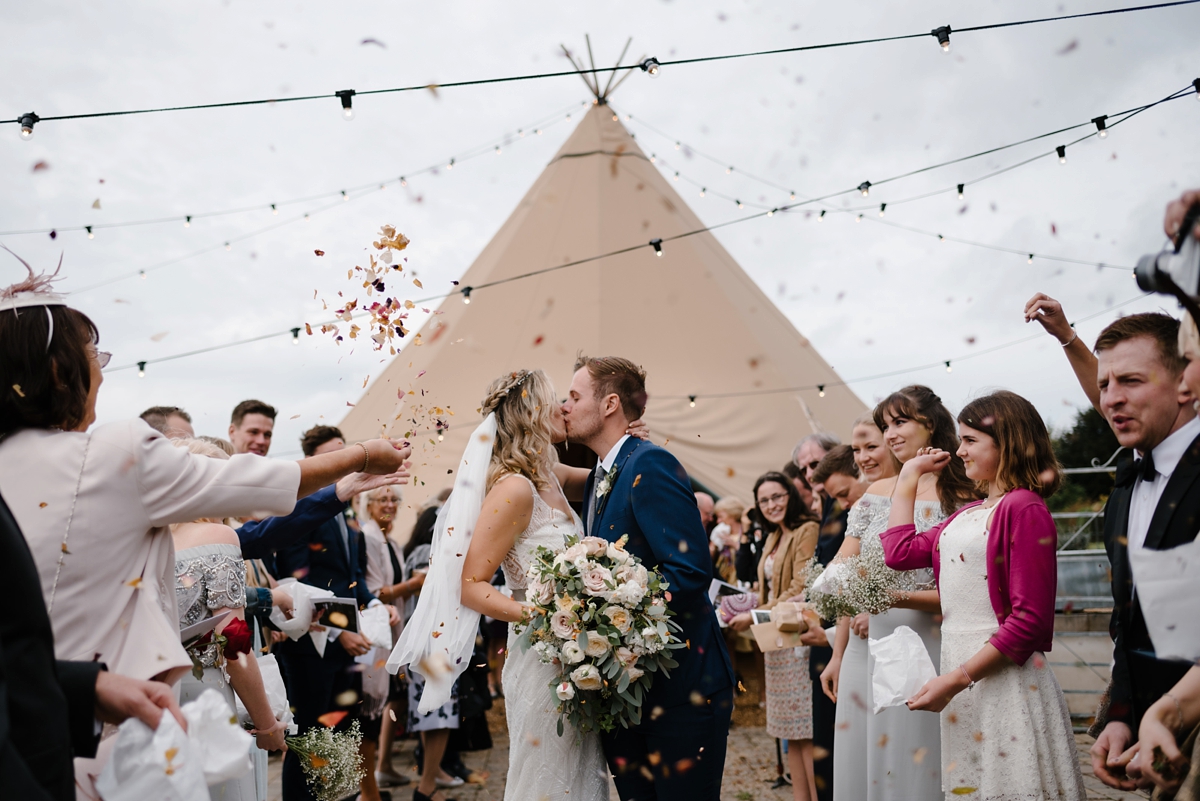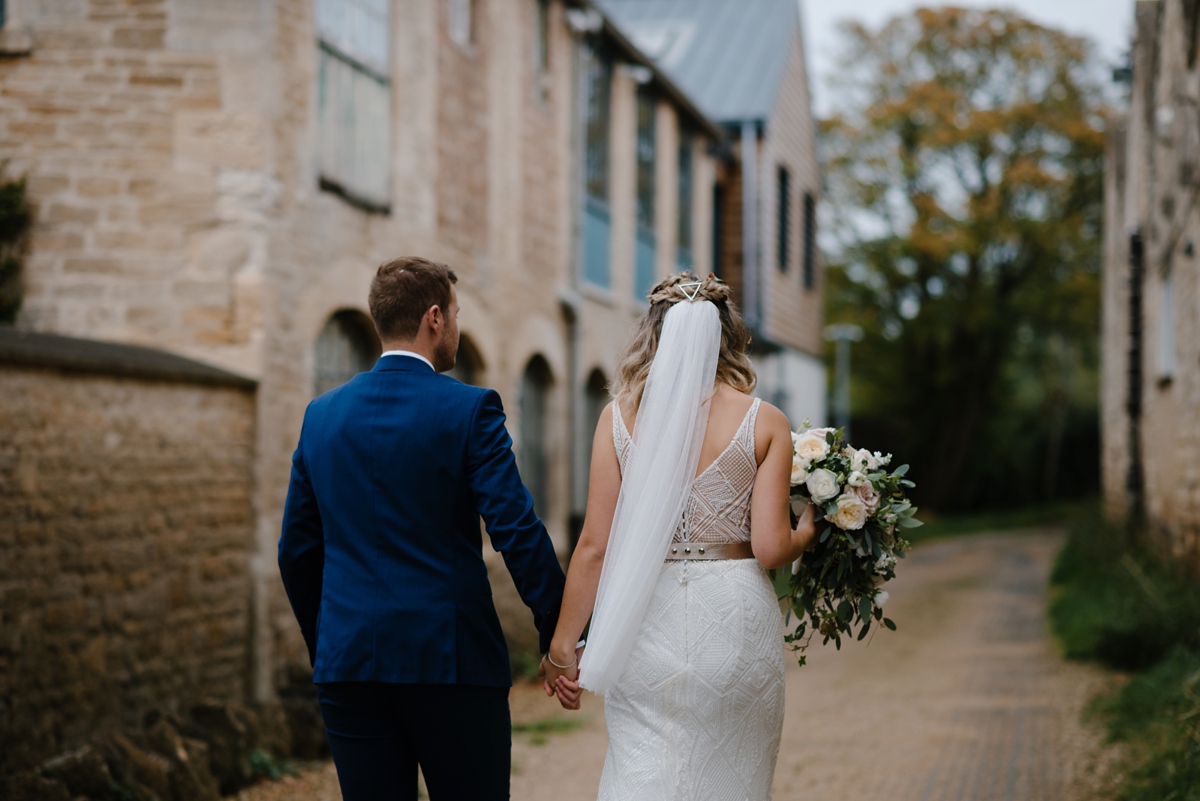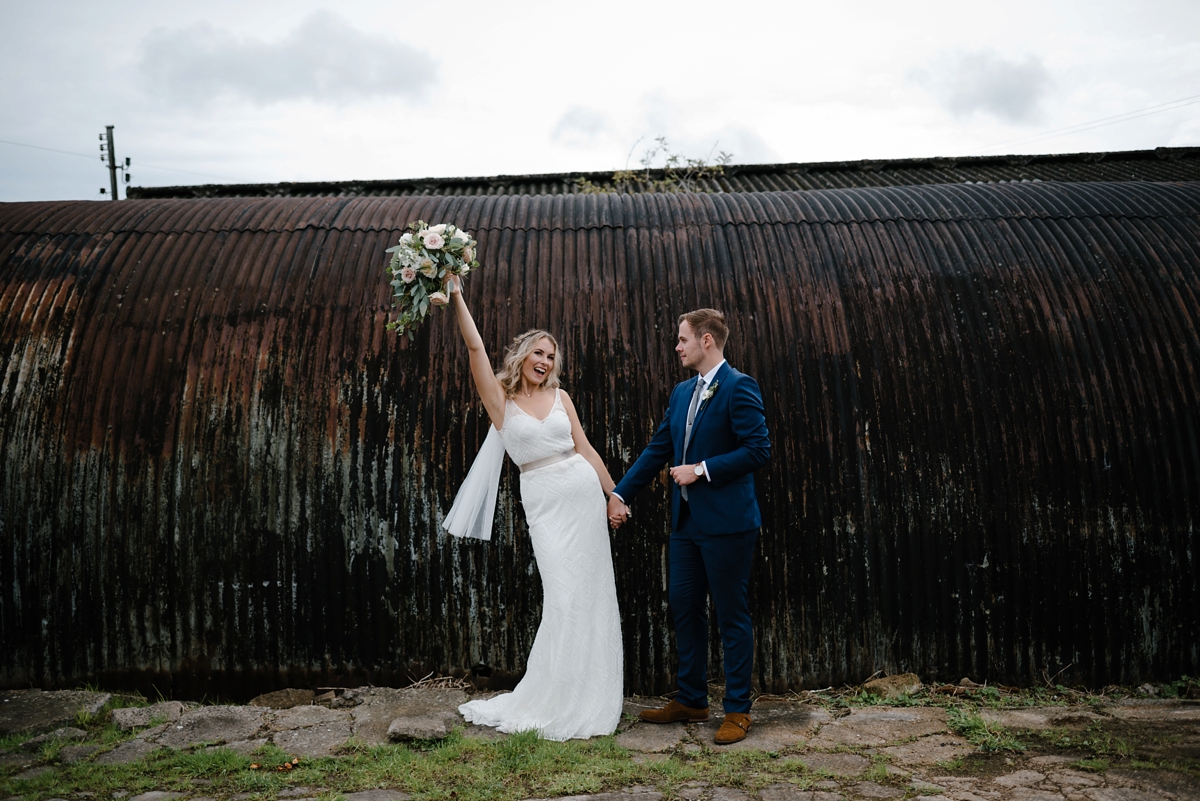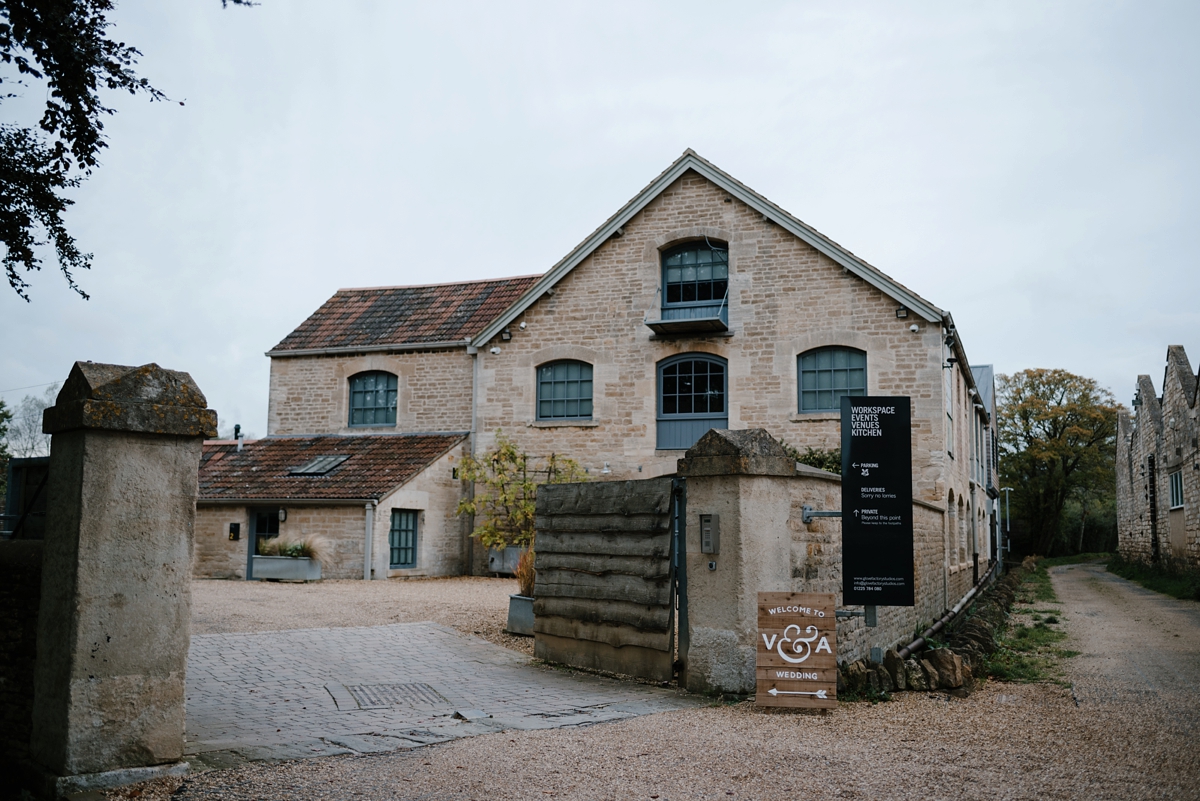 Their wedding breakfast was an American-style feast including nachos, bourbon chicken, sweet potato wedges and Banoffee pie as an ode to where Vicky grew up, and a European twist as a nod to Andy's nationality with Caprese salad and beef brisket.
"I grew up in New York so we had various nods towards American culture like roasting S'mores on the fire pits. We had a his and hers menu so guests could choose between the Brides menu, Grooms menu, or a mix of both."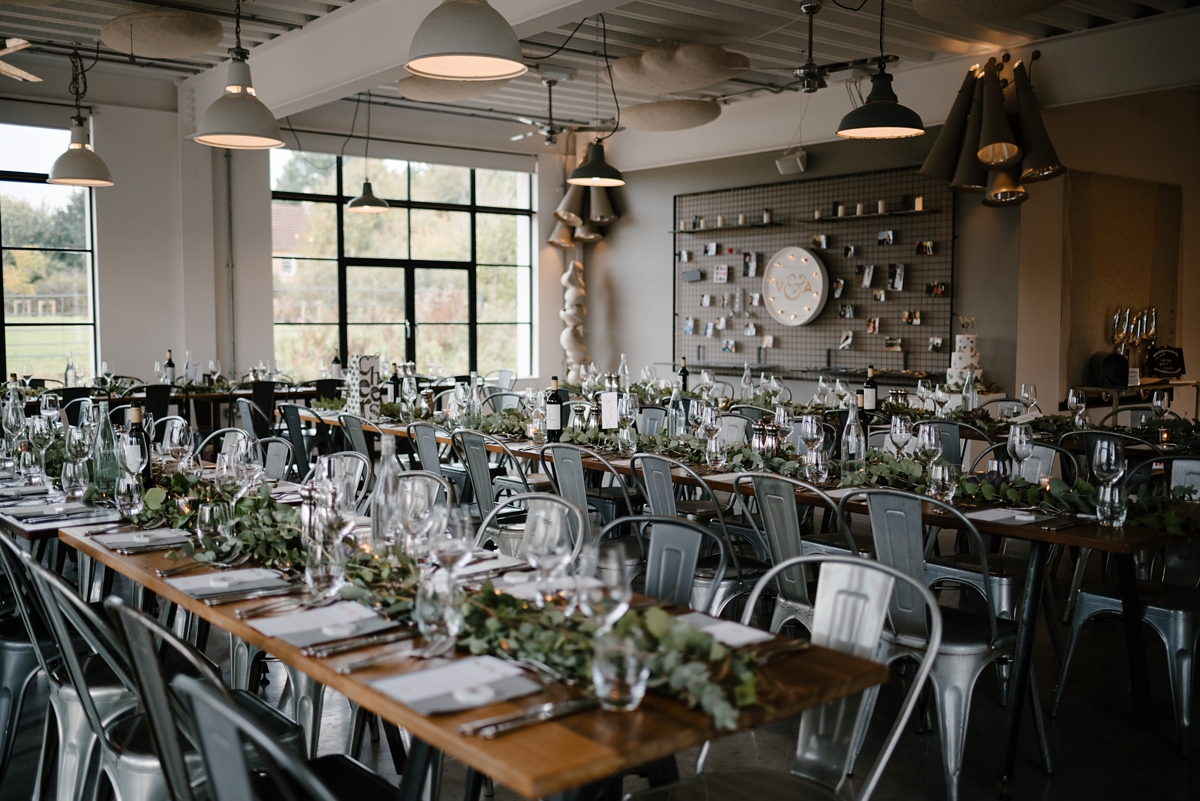 The couple erected a tipi in the outdoor space at the venue to host the celebrations. In keeping with the industrial vibe, Vicky chose a palette of copper colours and metallic textures for the décor, creating the perfect ambience with low-key lighting and adding a few personal touches such as V&A light up letters and sign posts.
The flowers were a truly beautiful mix of greenery and dusty pinks, with eucalyptus garlands adorning the tables.
"I wanted lots of greenery to match the theme of the day. My David Austin roses matched my belt and I love the way the petals are on these particular flowers compared to normal roses. We used eucalyptus and ivy down the tables with copper fairy lights entwined and silver tea light holders for a soft atmosphere. We hired silver Tolix chairs to match the cutlery and kept the wooden tables bare which all looked gorgeous together."
"We created a cocktail bar in the tipi and made our own cocktails; a 'Blushing Bride' for me and a 'Mint-to-be Mojito' for Andy. We also had a 'Drunk in Love' cocktail which was made with cranberry juice and Prosecco, and an Espresso Martini in the evening."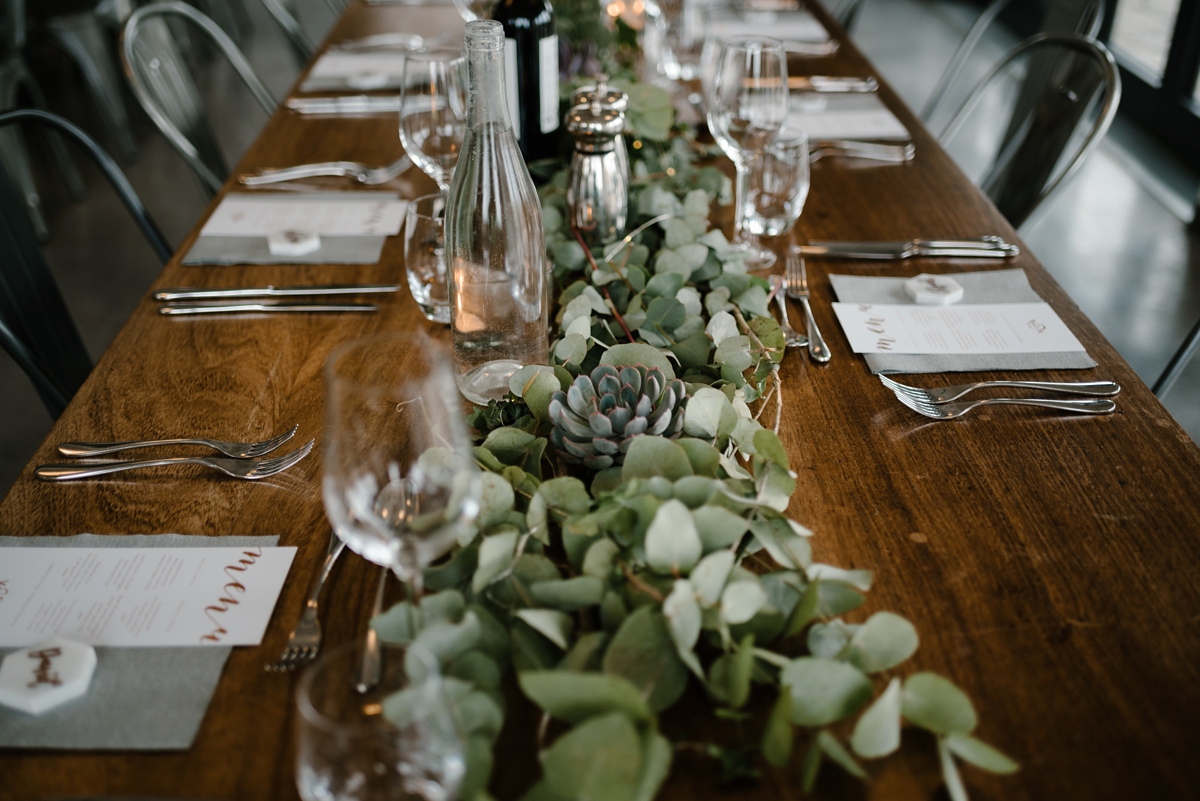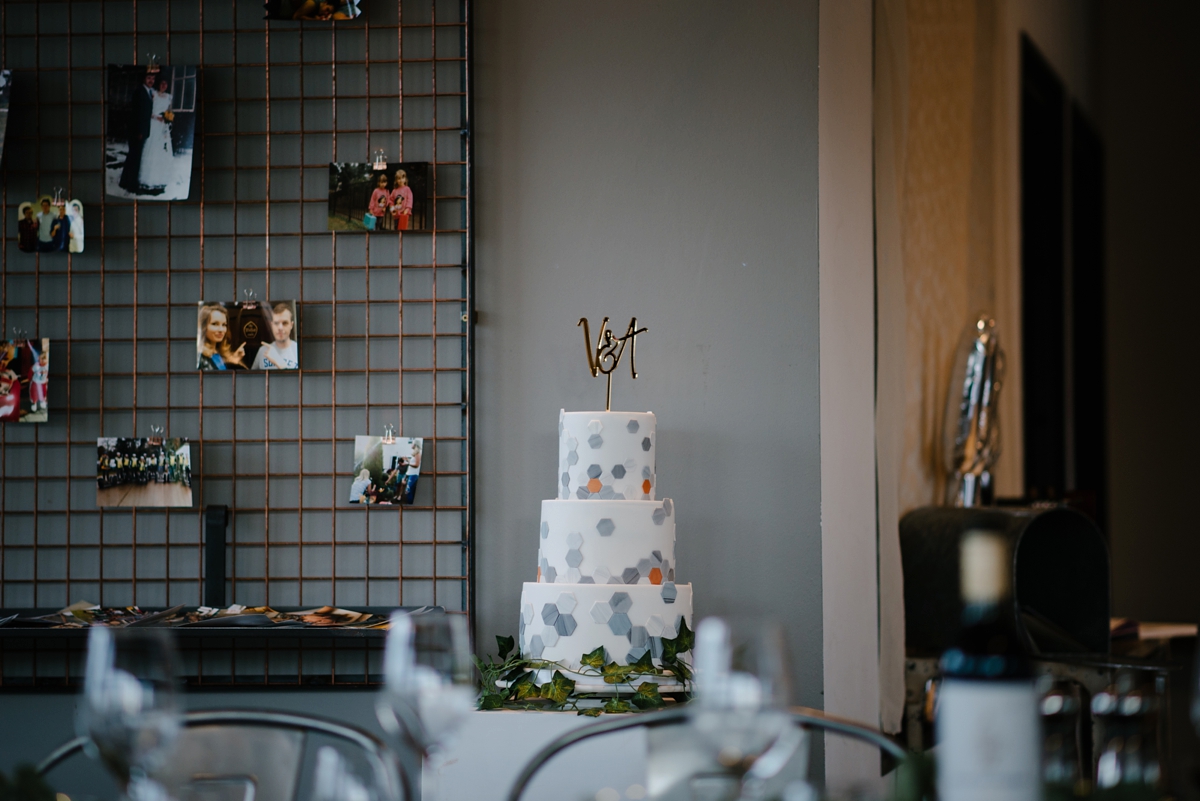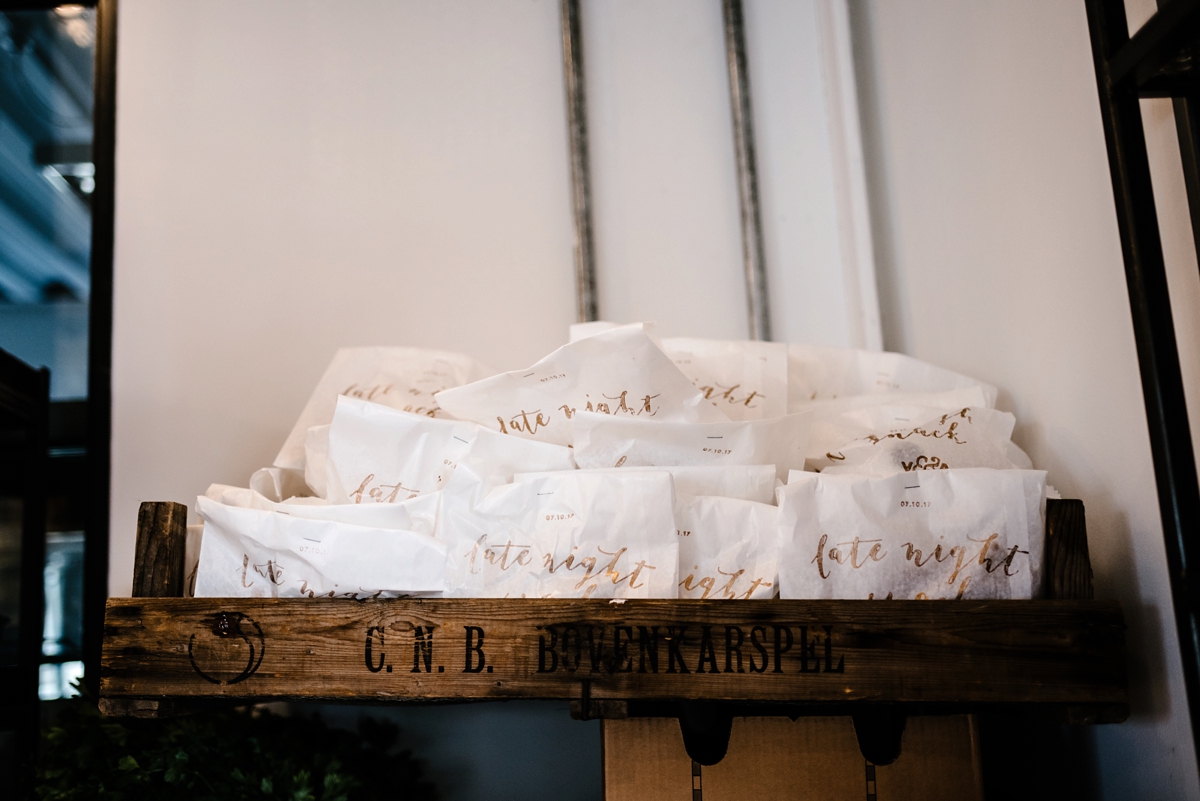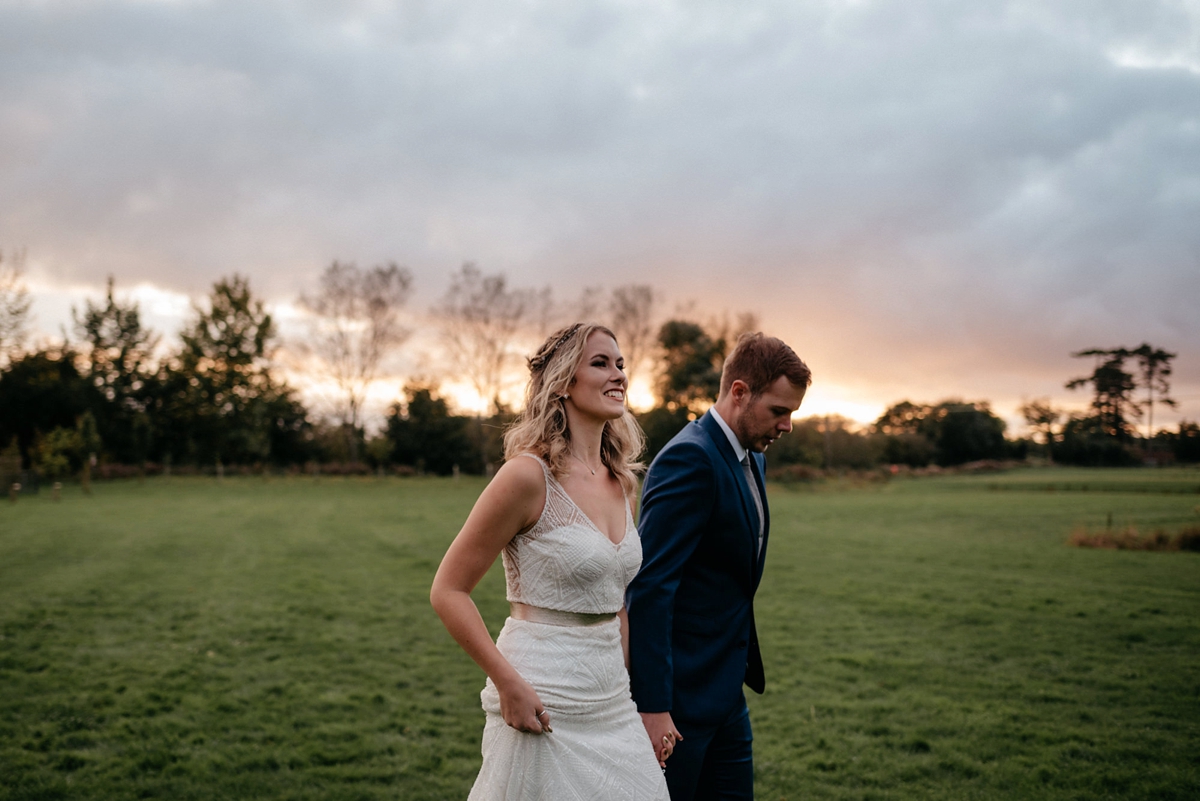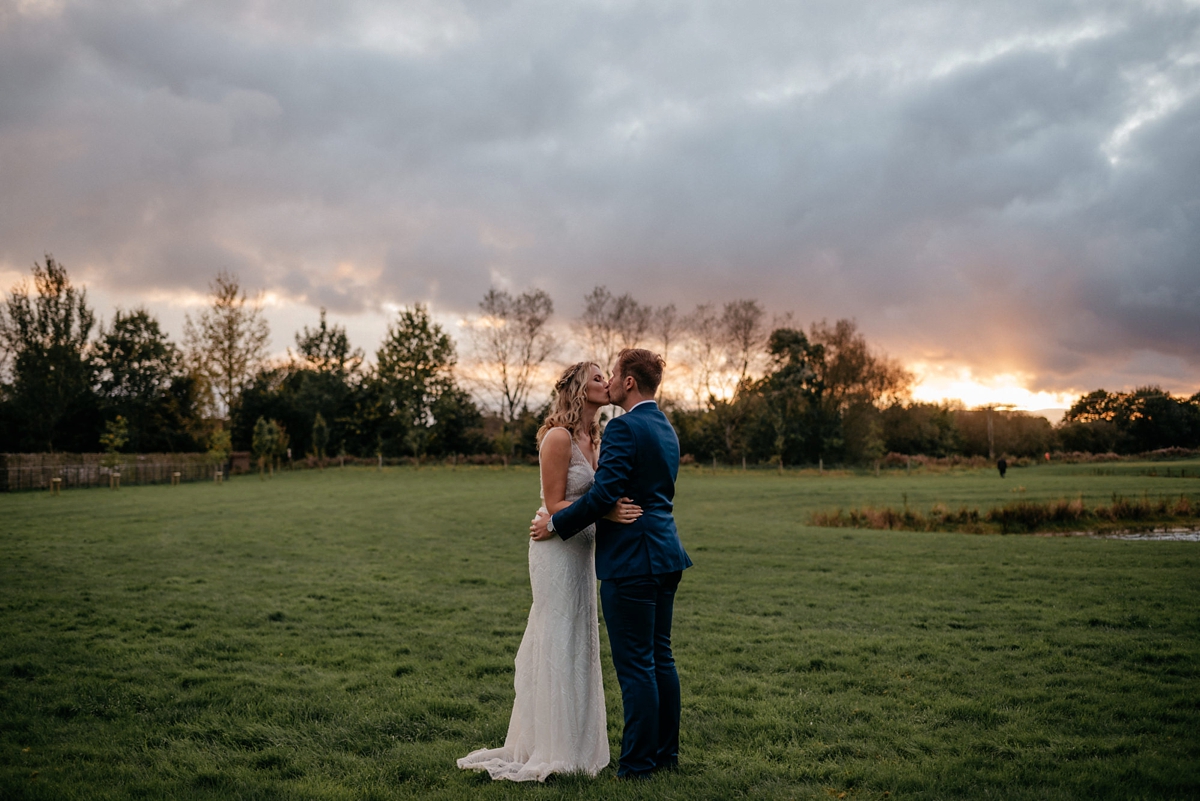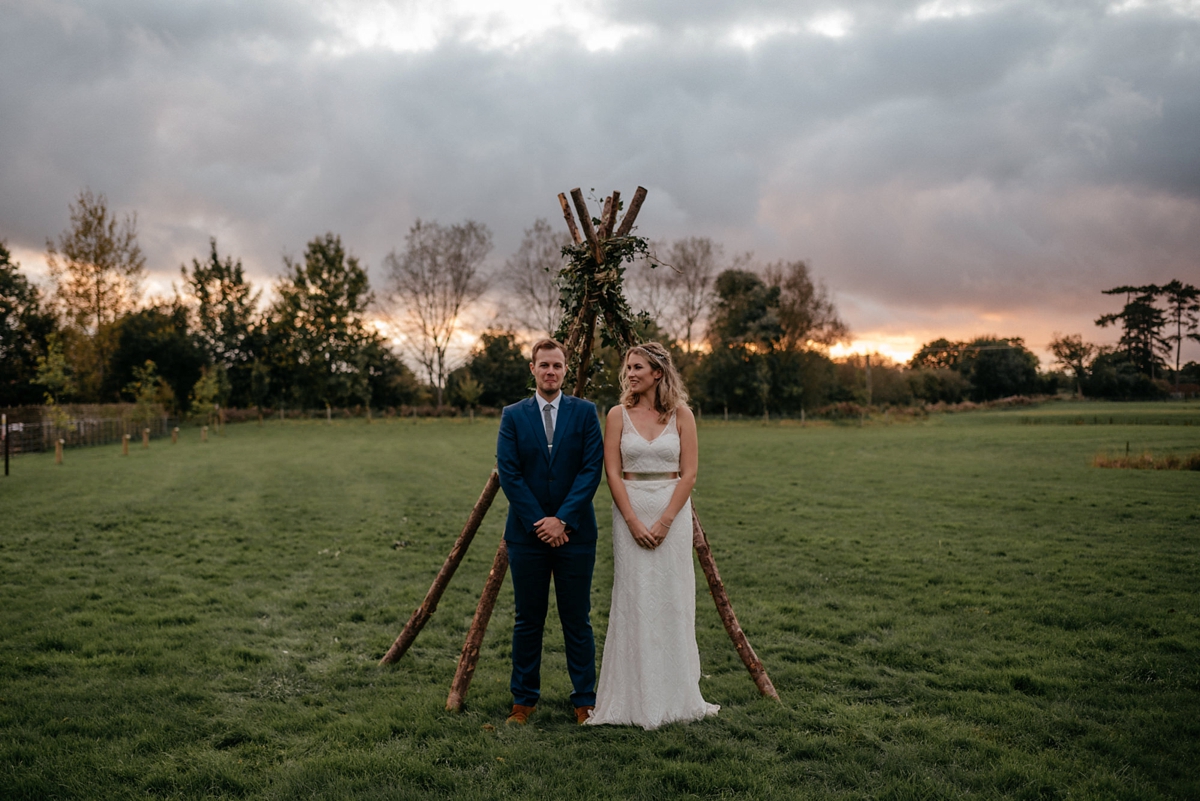 Once the 3-tiered marbled wedding cake, made by Sandra Monger Cakes, had been cut and devoured by the guests, was when the fun began, kicked off with a first dance to 'Levitate' by Imagine Dragons by the Bride and Groom. The Crossfades, a 4-piece rock band from Bristol then followed keeping the guests entertained until late into the night.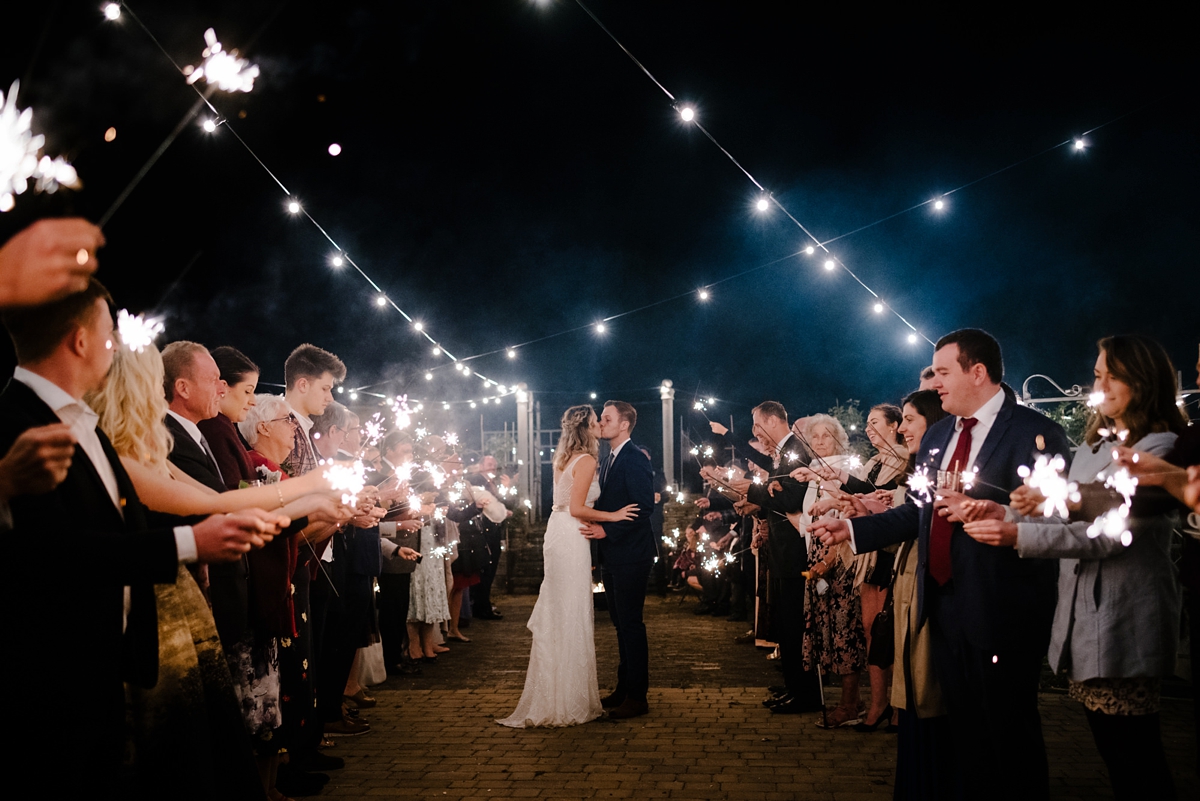 Vicky and Andy also went down the photo booth route, hiring a vintage Gatsby themed booth from Booth19, which went down spectacularly well with the guests commenting on how much they loved it.
"The evening was my favourite part of the day, once all the major bits were over and we could just relax with friends and family. There's so much I would have done differently on reflection, but it's important not to dwell on it as it's all in the past. I think a second photographer would have been a good idea though as we were rushing around trying to get photos done, and didn't have time to relax. A second photographer could have shot both of our reactions walking down the aisle so we didn't have to rush family portraits."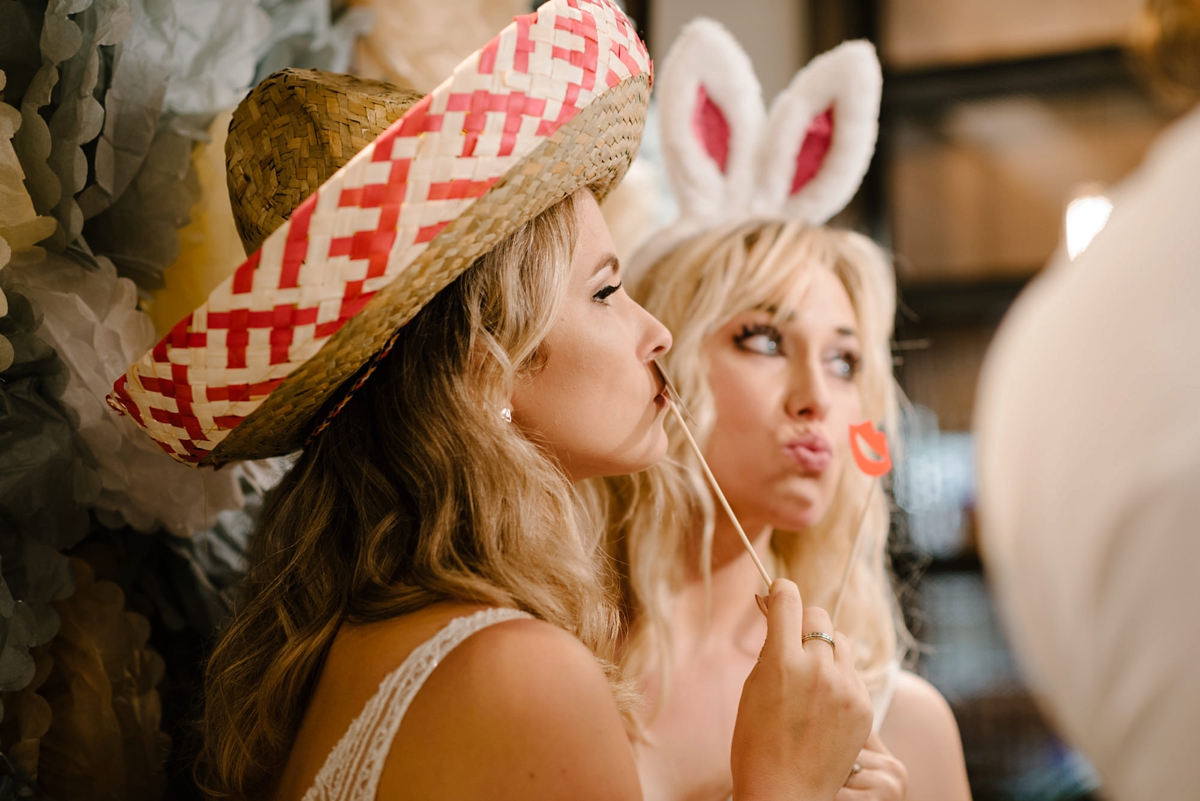 Words Of Wedded Wisdom
"The whole day was such a blur so it's a real struggle to remember it all. I really wish we had stepped back from it to really take it in but there was too much going on! I sometimes wish I'd had a wedding planner to take away the stress of various parts. I was so involved in all of the planning of the day, there was so much detail I wanted to get right and it almost took the magic away from just enjoying the day."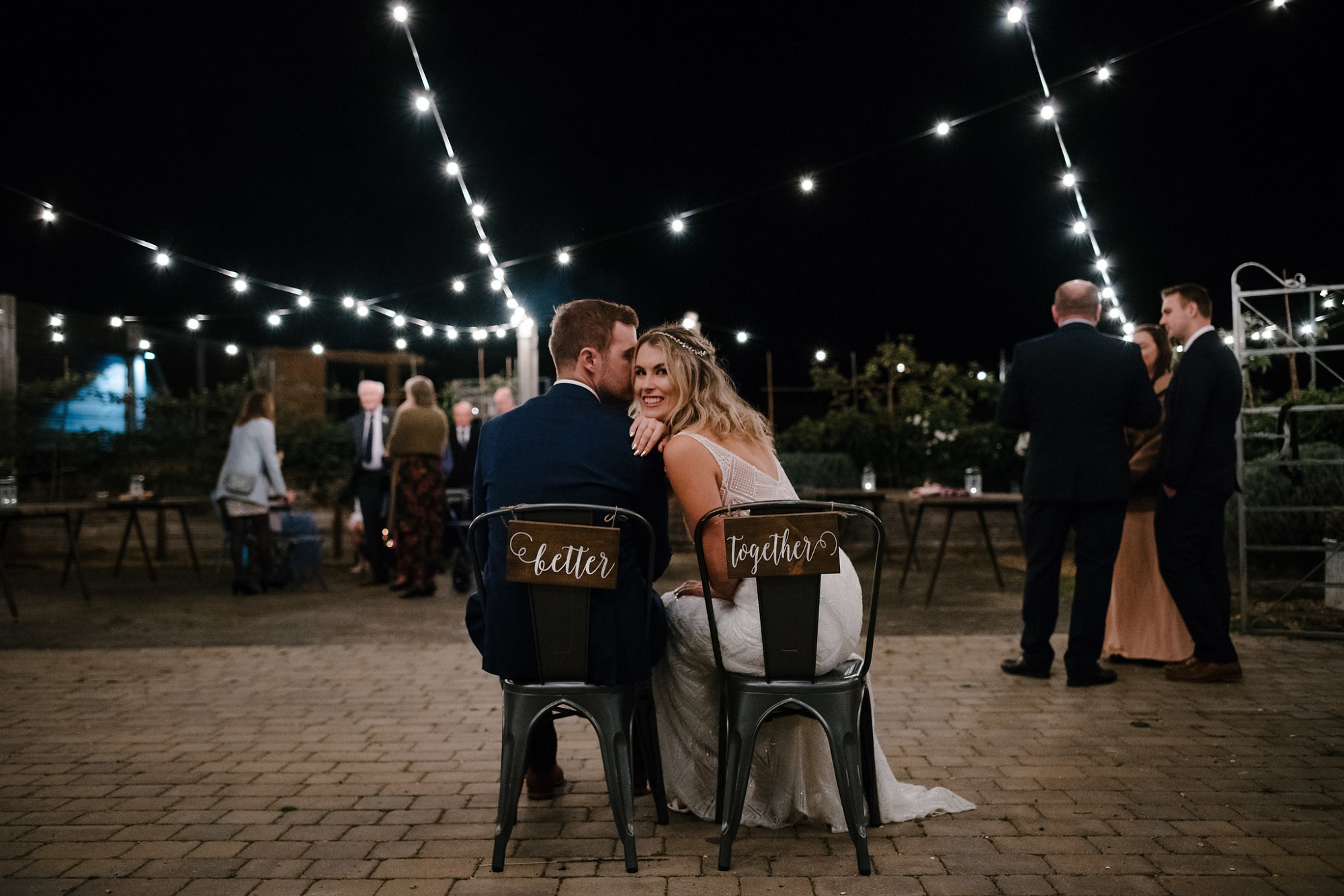 Congratulations to Vicky and Andy for planning such a gorgeous day! And here's to many more years of happiness and adventures. Special thanks also to Elaine Williams for the beautiful imagery and the way she perfectly captured the essence of the couple's personalities.
Until next time…
Much love,
Holly x