You may or may not be aware that every year, Pantone, the world authority on colour, announce a 'colour of the year'. The announcement has a huge impact on fashion and trends around the globe, and this includes the wedding industry.
In 2016 for example, Pantone forecast what they called 'rose quartz' as the colour of the year, and before long, 'Millennial pink' was everywhere – everywhere!  To be honest, Pantone are usually pretty spot on in their colour forecasting which is why it was such a surprise back in December when Pantone declared that their 2018 colour of the year was….Ultra Violet.  Now usually, the wedding industry would be in raptures over Pantone's annual colour choice, but there was a distinctly muted response over the choice this year. And being completely honest, I could see why. I just wasn't feeling that Cadbury purple.
But there are others who had a different view and could see immediately how this most bold and dramatic of hues could have a home within weddings. These beautiful images sent in by Joanna at Woburn Bridal boutique in Milton Keynes are full of gorgeous design ideas inspired by the colour Ultra Violet. Joanna Southwell who runs Woburn. Joanne from Woburn Bridal tells us more…
"When the Pantone Of The Year was announced as Ultra Violet at the end of last year there was a lot of negative comments. It was too bright, too old fashioned or just too much. People could not see it working in their weddings and a lot of professionals did not want to work with it. I however, loved it!"
Images by Sarah Brookes Photography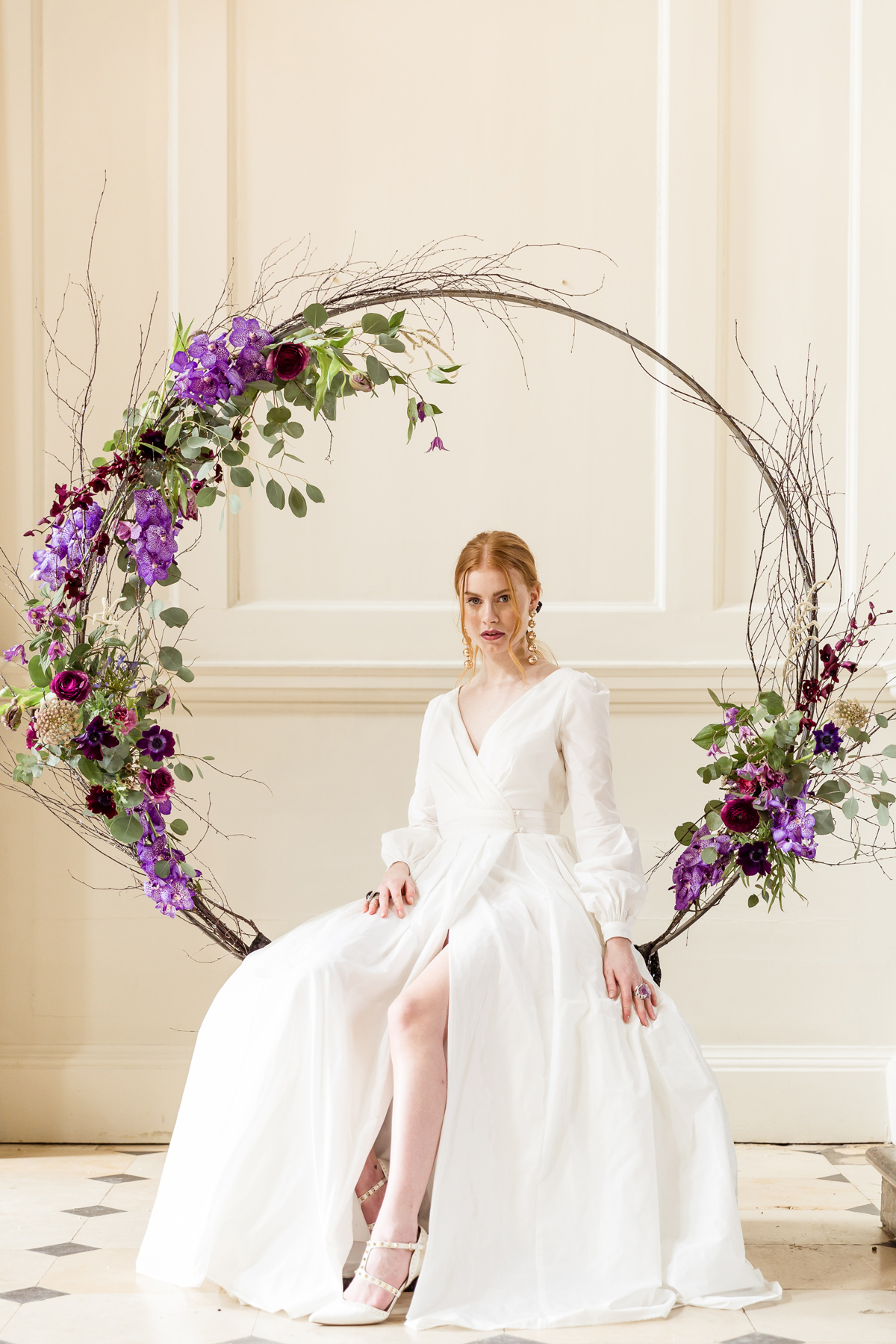 "As soon as I saw it I thought the colour would look amazing when paired with other moody tones, not to mention how it looks with white and ivory – stunning against a wedding dress. Inspired by this, I decided to ask my favourite group of wedding professionals to create a shoot in celebration of Ultra Violet.  The brief was a high fashion, moody and glamorous, with references to the Cosmos."
"The day of the shoot was a typical January day, grey and dull but creating wonderful moody shadows inside at Chicheley Hall. The marble pillars and stark white walls worked perfectly with our moody palette and when the sun came out in the afternoon we were able to explore the gardens and take advantage of the vast grounds."
"The amazing images from our photographer Sarah Brookes  were created by choosing a light and spacious part of the room so that the backdrop would stand in its own light and not be over shined by anything. The brightness of the ceremony room is something for a bride and groom to consider when choosing a venue as this can impact on the images.
This is why Chicheley makes a wonderful wedding venue and one Sarah enjoy shooting at. She balanced brightness and shadows throughout the shoot taking advantage of the January weather."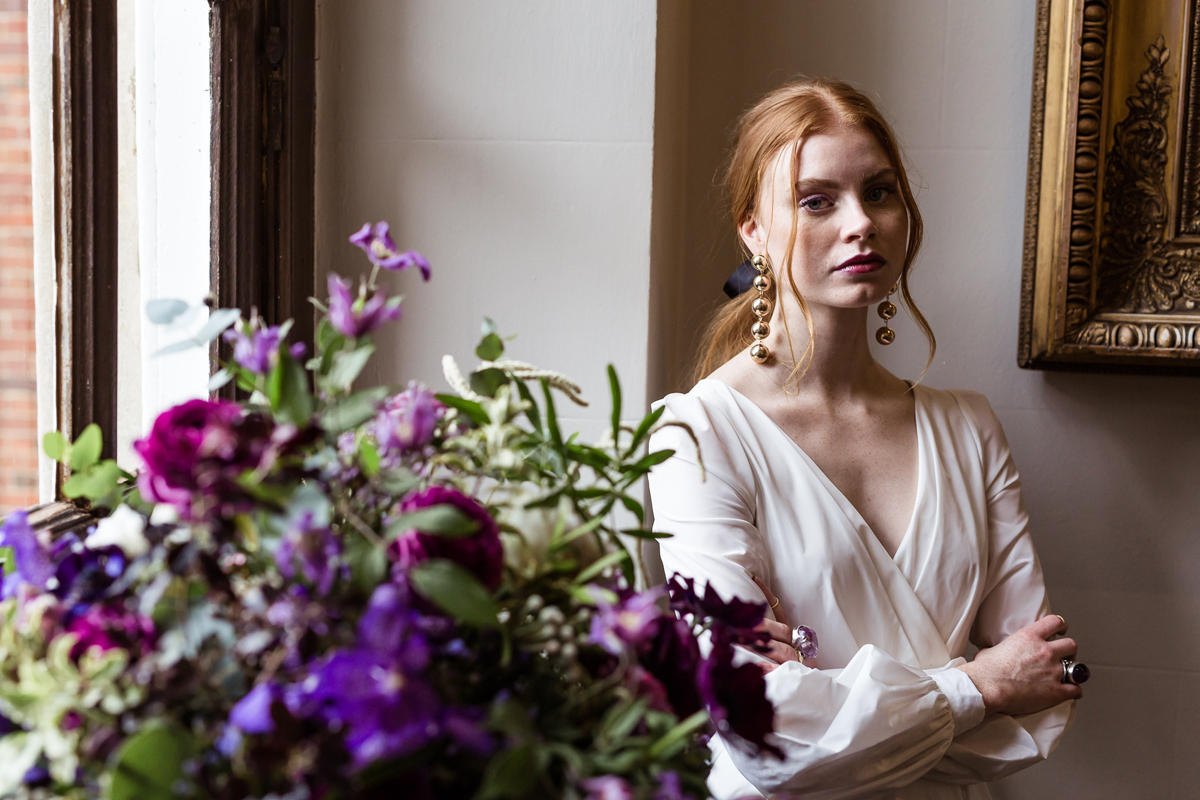 "We chose the dresses for the shoot in the same way we approach a bride to be who comes to us looking for their perfect bridal look. We thought about the venue, colour palette and the look and feel the bride wanted to achieve. In this case the brief asked for glamorous but fashion forward and something that would work well in the grand surroundings of Chicheley Hall.  It of course had to look fabulous against Ultra Violet."
"I chose two looks for the shoot by Sassi Holford and Muscat Bridal. Look one was a wrap dress with a high split and long structured sleeves from Sassi Holford that looked stunning paired with a ponytail and star pins by Kelly Spence Bridal Accessory Design. We finished the look with Florence shoes with gold studs."
"For the first Make Up look Kate used a beauty essence gel to hydrate and minimise pores, a good concealer under the eyes and round the nose was that all that was needed as she wanted the beauty of the skin to show through. A purple eyeliner was blended upwards from the lash line into an eye gloss to create a subtle smoke. Lots of mascara and an aubergine lip stain finished the look."
"The second look by Muscat Bridal was sleek and fitted with the most gorgeous off the shoulder detail and looked stonking styled with our leather jacket by Starlover. Morna from Wedlock finished this look with a braided up do with gold hard wear looped through."
"For the second dress Kate created a more dramatic look so added an intense matte purple lipstick and full on pewter glitter to the lids. The same eye gloss was used to highlight the high points on the face."
That incredible veil below by the way, is from the new Woburn x BowenDryden collection.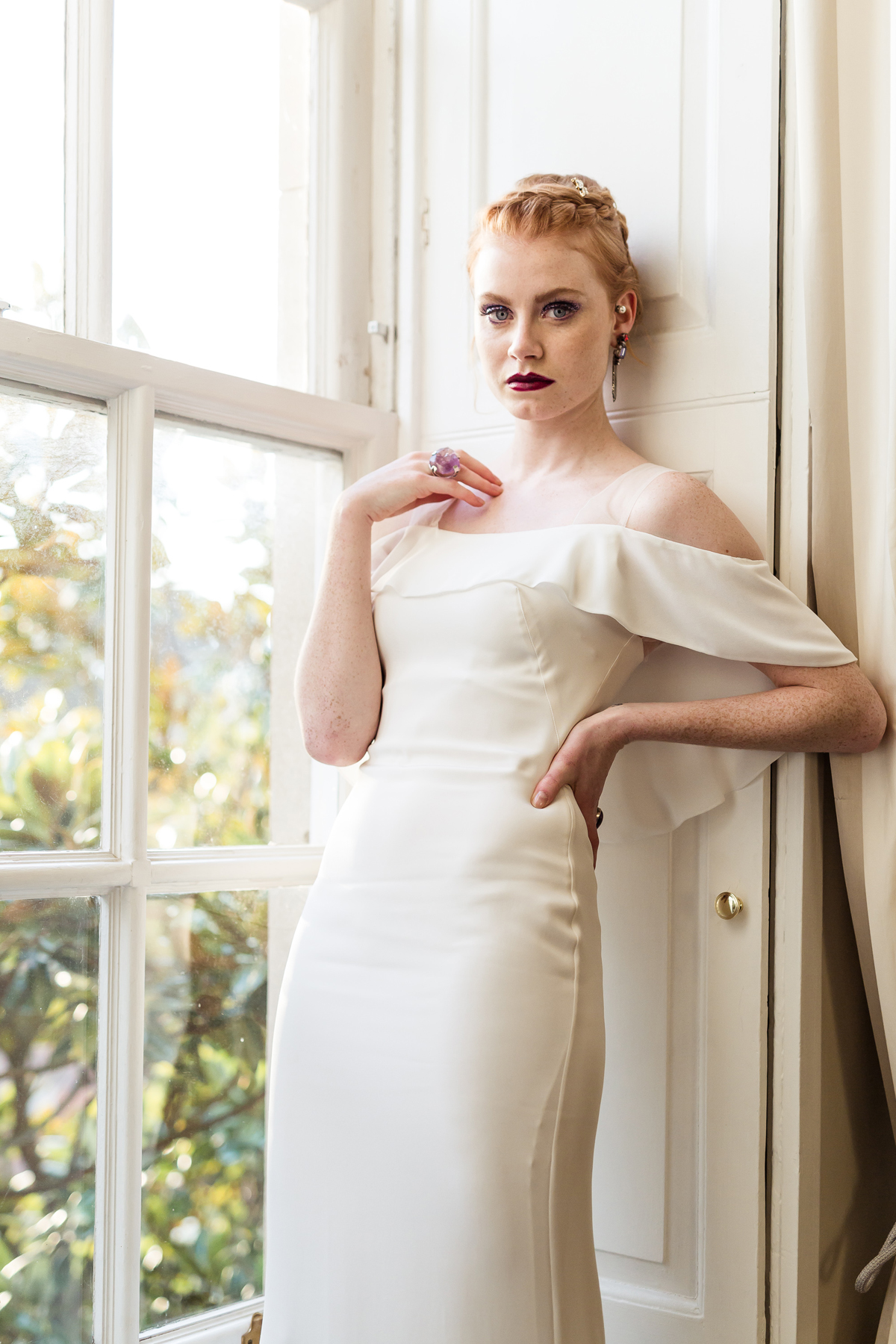 "A wild and decadent floral display for the fireplace and table scape was created that looks stunning against the black and white marble of Chicheley Hall. The oversized bouquet was wrapped with hand dyed silk ribbons added more glamour and impact."
"Becky created a show stopping Moon Gate for the shoot. The full circle was decorated with primarily seasonal flowers picking up tints and tones of violet including Anemones, Ranunculus, Syringa, Parrot Tulips and Agapanthus. She added Earl Grey Roses and Wax flower to lighten the scheme and finally, to add drama whilst ramping up the Ultraviolet, stunning Vanda Orchids."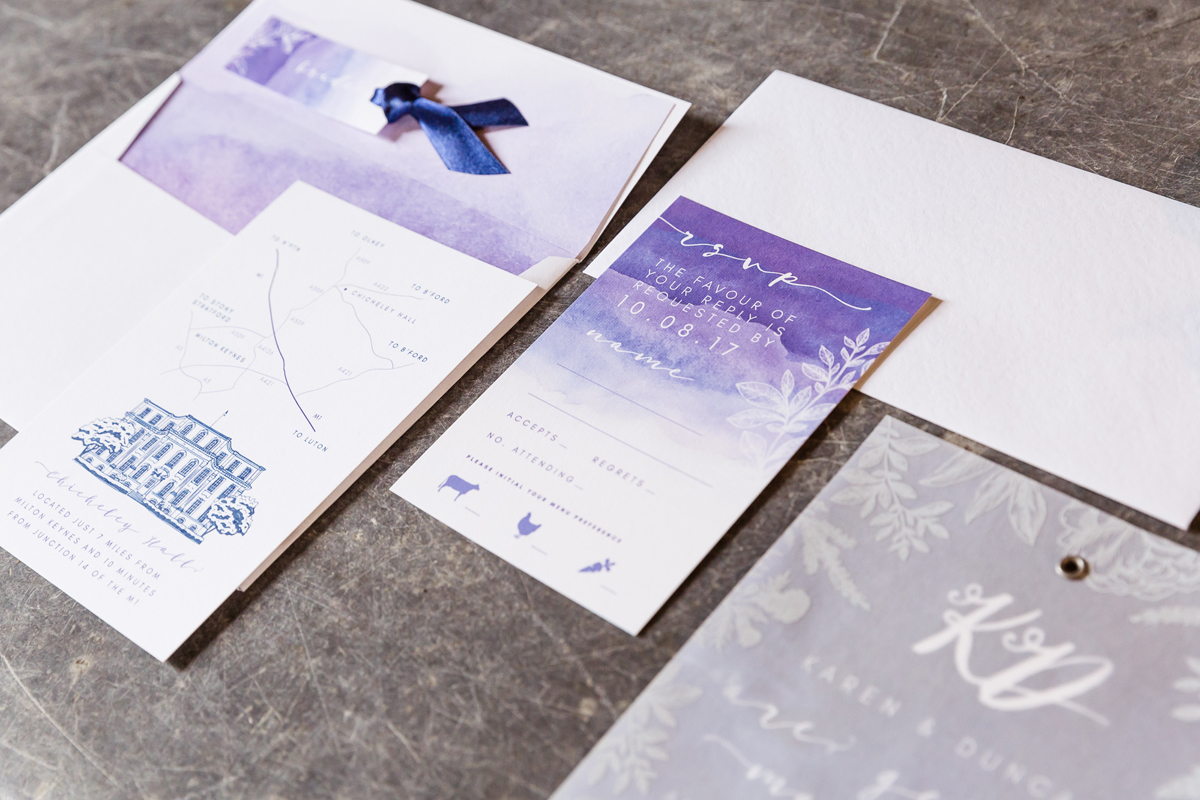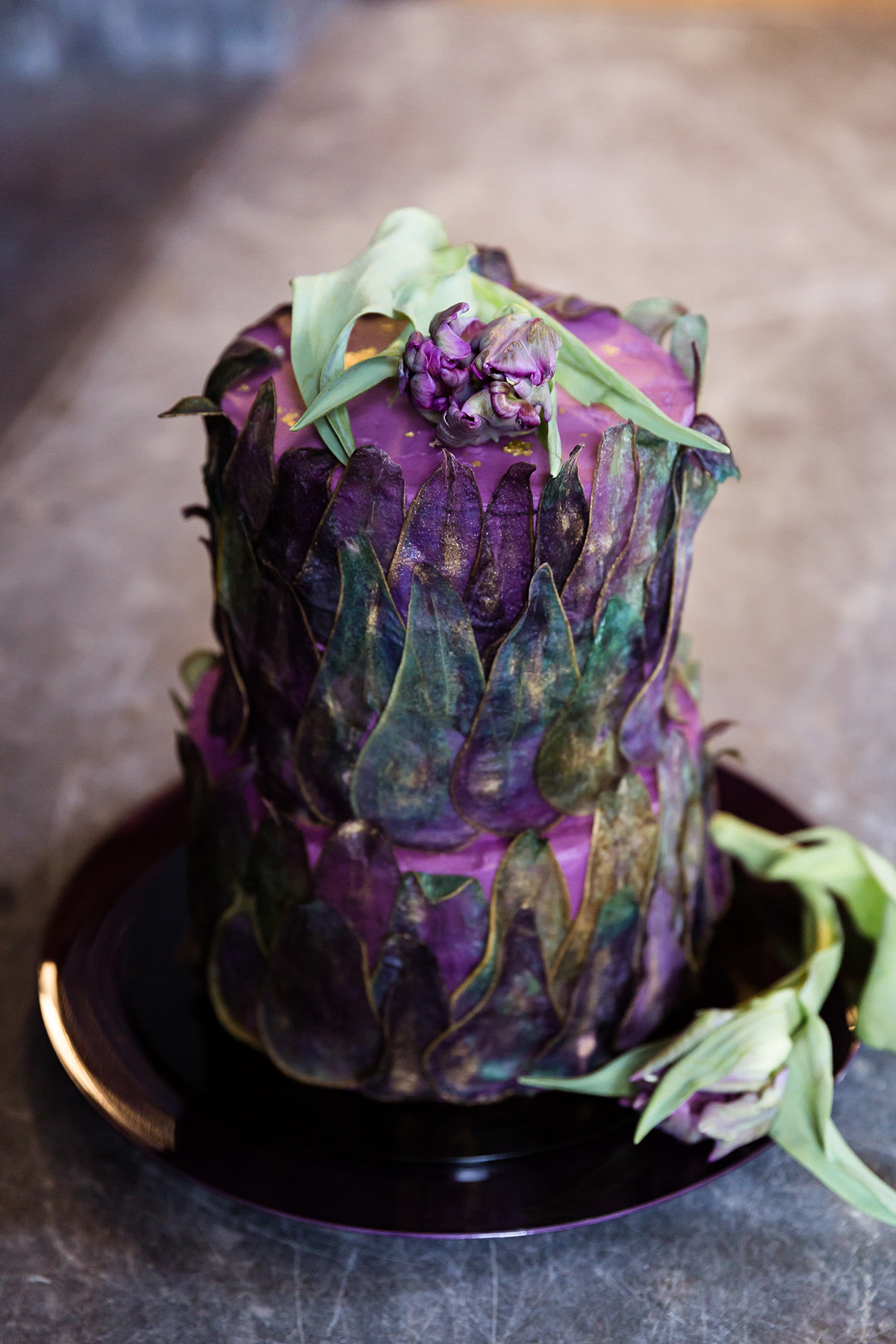 'The stationery was designed for the bold cosmos palette to create a balance between the strong tones and softer textures. Using a watercolour design brought a subtler element to the colour and the vellum swing overlay of the invitation added a crisp contrasting layer to the rich tones beneath."
"The cake was created especially for the shoot with a revolutionary method of dying thin slices of pear. Emma dyed the slices for over three days to create the ombre effect and finished the edges in gold to tie in with the desired palette. The pear was layered over all three tiers and topped with gold leaf and purple tulips."
"Hall and Co styled the tablescape, fireplace and brought ultra violet tones with a cosmic touch to reflect Pantone colour of the year. The palette of colours included deep purples; black and gold to suit the moody photo shoot style. Hall and Co created a dramatic table using skulls, crystals and multi-height candles against the striking marble fireplace at Chicheley Hall. The cosmic features included ultra violet crystals on speckled galaxy-like plates with gold chargers and cutlery creating a luxury wedding style. We think it demonstrates how these bold colours can create a beautiful wedding for any stylish bride to be."