Well hello and how are you on this wintery day? It's currently quite bright outside my window but chilly in the extreme so I'm happy to be warm and cosy on my sofa. And my sofa leads me rather nicely into today's feature because right now, we're all about furniture.
Actually, we're looking at the fabulous furniture that you can add to your wedding gift list with Prezola plus we're sharing details of their wonderful 'group gifting' option so now's definitely the time to get comfortable.
If you're new to Love My Dress or if you're just starting to think about your gift list, let me introduce you to Prezola who are our favourite gift list company. Not only do they curate a gorgeous edit of brands, products, honeymoon funds and other gifts for you to select from, they're also as passionate as it's possible to be about service, your experience with them and even the environment too. The team has won more awards than I can mention here and every one has been incredibly well deserved. In short, there's much to love.
Lead image, The Oscar Loveseat, Amalfi Soft Wool
Image above, Percy Armchair in Quilted Velvet Fushia
But let's get back to furniture shall we? Prezola puts all of the best furniture and electrical brands right at your fingertips so you can compile the ultimate list for your stylish home. From high street favourites like Habitat and Heals to boutique brands such as Graham & Green and Oka, not to mention an exclusive partnership with Sofa.com, the choice is inspired.
So where do you start and how do you choose? Well, I'd definitely recommend taking a look at some of the newest brands to join the Prezola family. I'm a big fan of Swoon Editions, the brand that was founded with a rebellious spirit and one aim – to offer beautifully handcrafted furniture to make every home remarkable. I love their Zabel range and the media unit and bar cabinet would give any room an instant makeover.
I also can't get enough of different textures and fabrics in my home at the moment so Graham & Green has everything I want. From gorgeous quilts in delicious colours to amazing rugs, there's so much to choose from. Just take a look at the cowhide gold chevron rug for starters!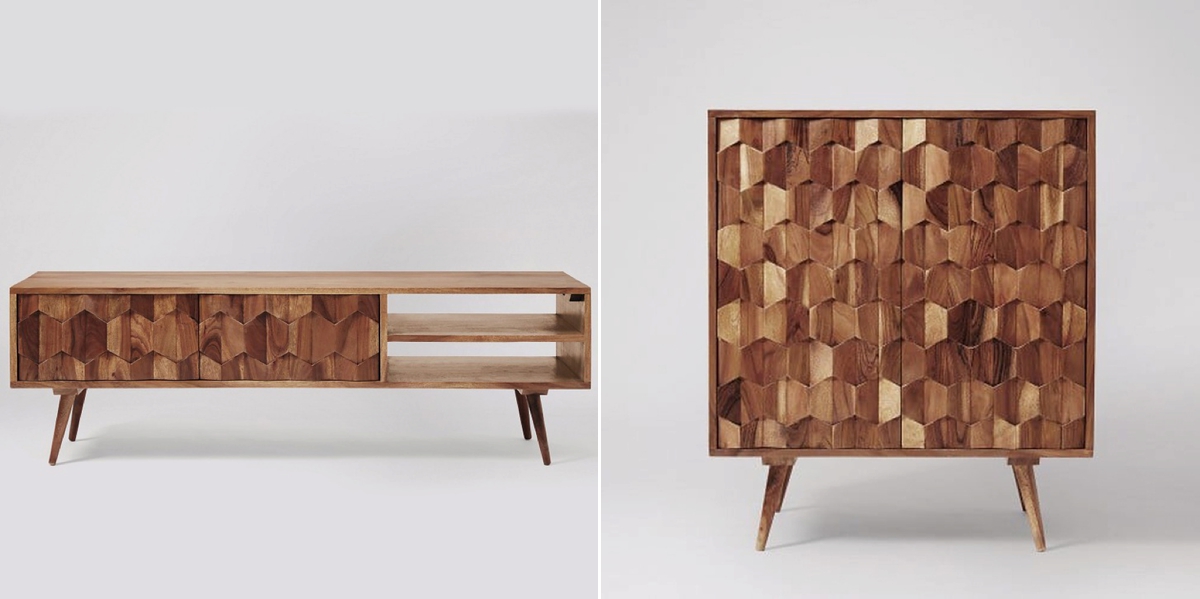 Swoon Editions Zabel Media Unit + Zabel Bar Cabinet
You also want your home to have plenty of spaces for relaxation so a sofa you just want to sink into is another must-have. The Oscar sofa puts a modern twist on the iconic Chesterfield design and the loveseat version is perfect for newlyweds. I'd also go for an armchair too and The Percy looks like it would be ideal for long afternoons with a good book. Oh, and I'll take the matching footstool too please!
Lastly, it's time for bed. Made.com has a rather gorgeous copper bedframe (top left below) that's caught my eye and I love the Sumatra bed from Lombok too. If I was going classic, the Verona or Sienna bed by Feather & Black would definitely tick all the boxes for me and I'd add an Eve mattress to my list too for a guaranteed good night's sleep.
Now, if you're thinking that all these items look amazing but might be a little too much for your guests to purchase then don't worry because Prezola's excellent 'group gifting' option is here to help. Essentially, group gifting allows you to crowd fund the bigger items on your list. If you add a £500 chair for example, ten guests could each contribute £50 to buy it for you and it's all managed online to make the whole process super simple.
There are no limits and no minimum spend so guests just pay the amount they'd like to contribute. This is such a brilliant idea and you can find out more here.
So, 2018 is definitely the time to add furniture to your gift list and Prezola has everything you could possible want.
To find out more about Prezola, their gift list options and much more, do take some time to visit their website.
Love,
Tamryn x